Trendy Outfits With Rain Boots For Women Of Style
Rain boots are an essential part of every girl's fall wardrobe. Especially for those who live in areas that experience a lot of rainfall. Unlike winter or hiking boots, such boots serve only one purpose, to keep your feet protected from the rain. However, this does not mean that they can't be functional as well as stylish.
There are many cute and practical rain boots for women. If you accessorize properly, you can really make a statement with your boots!
Boots for women have been in style for many years and now boots are really making a big splash! We have put together a gallery of some fashionable outfits with stylish boots that we know our readers will just love. There is something for everyone, so get ready to start pinning!
Comfy Rain Boots For Stylish Girls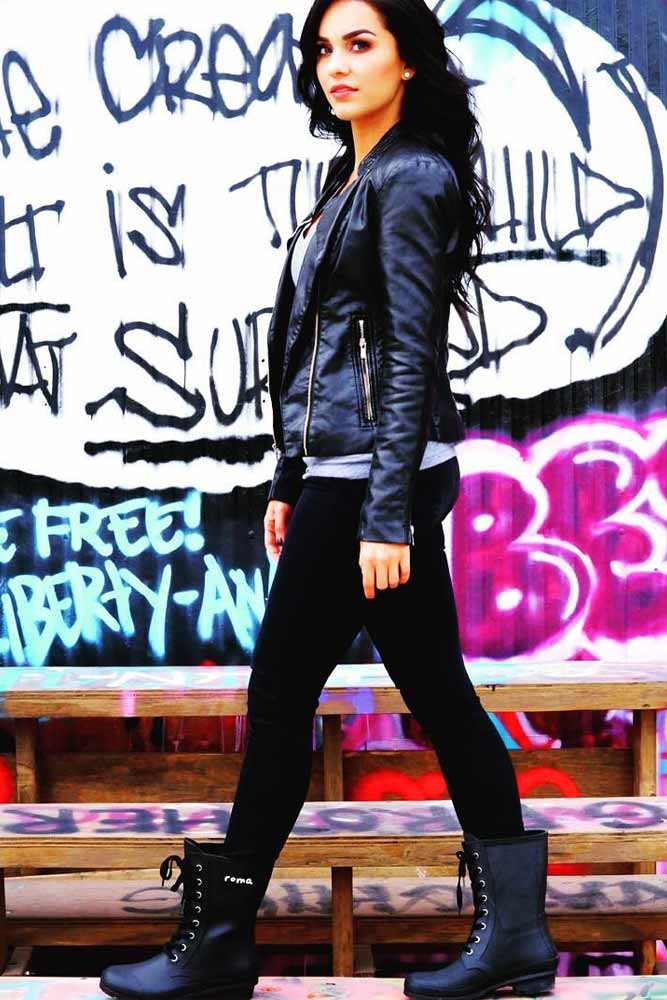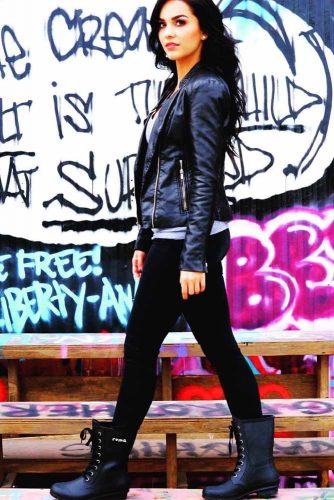 Source: romaboots via Instagram
These black short rain boots are stylish and comfortable! They are perfect for a walk in the park on a brisk fall day. Pair them with your favorite jeans, comfy top, and moto jacket for a look that's chic and sporty!
Casual Outfit With Rain Boots For Women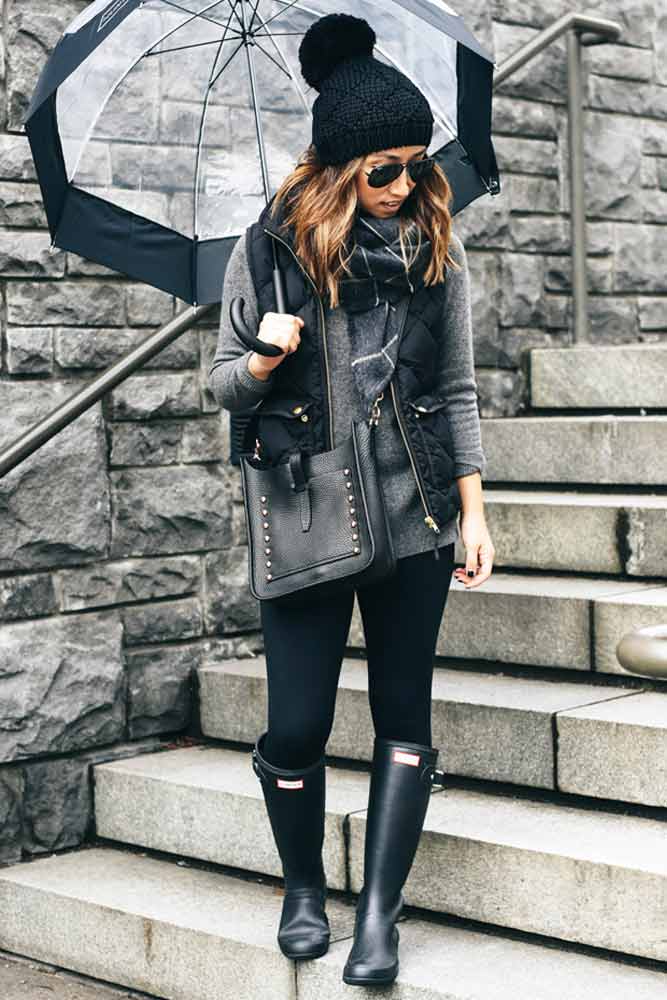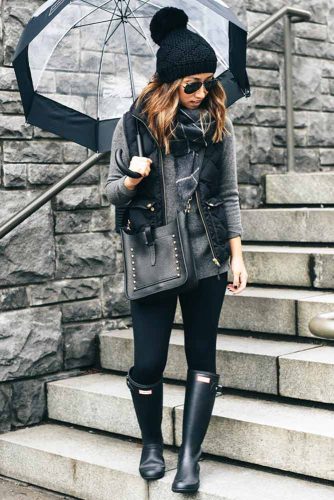 Source: crystalinmarie via Instagram
These black rain boots are good for hiking and fishing. Wear your favorite black skinny jeans, a hoodie, and a vest for a completely carefree vibe.
Trending Idea For Cute Outfits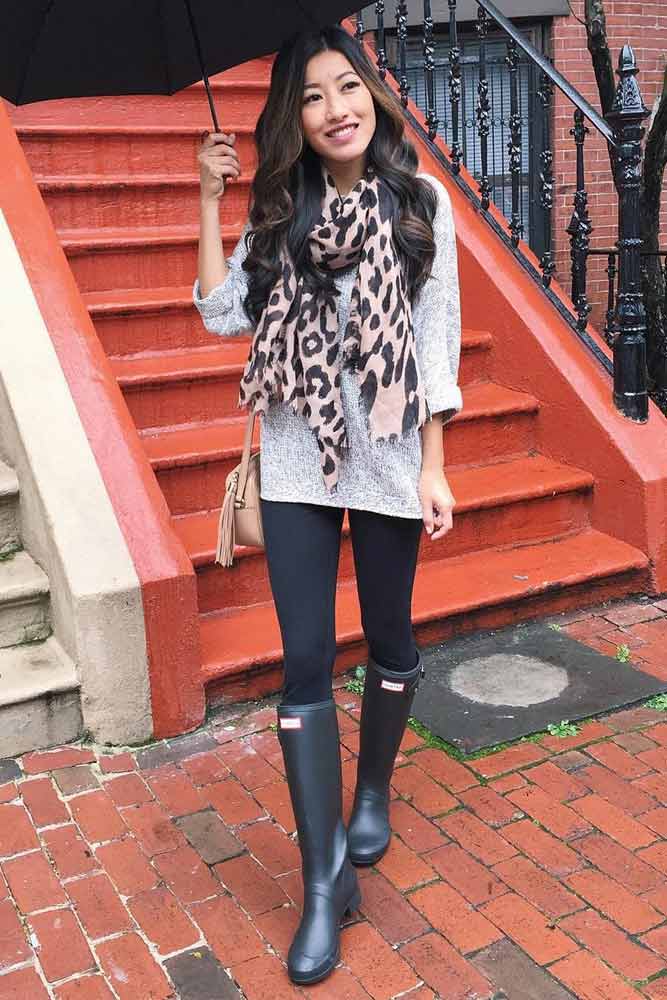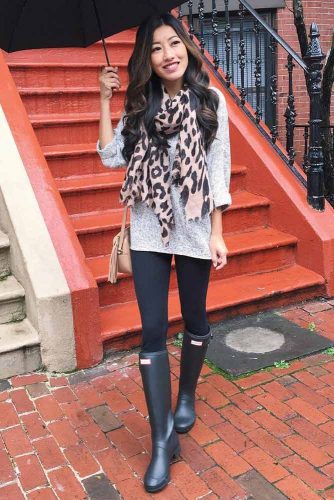 Source: jeanwang via Instagram
This look is perfect for a rainy day shopping adventure with your girlfriends. Don your favorite black leggins, a gray sweater and print scarf. Finally, these high black boots are both practical and stylish. You'll be ready to cruise the shops with this sassy look!
Ripped Jeans With Rain Boots Outfit Idea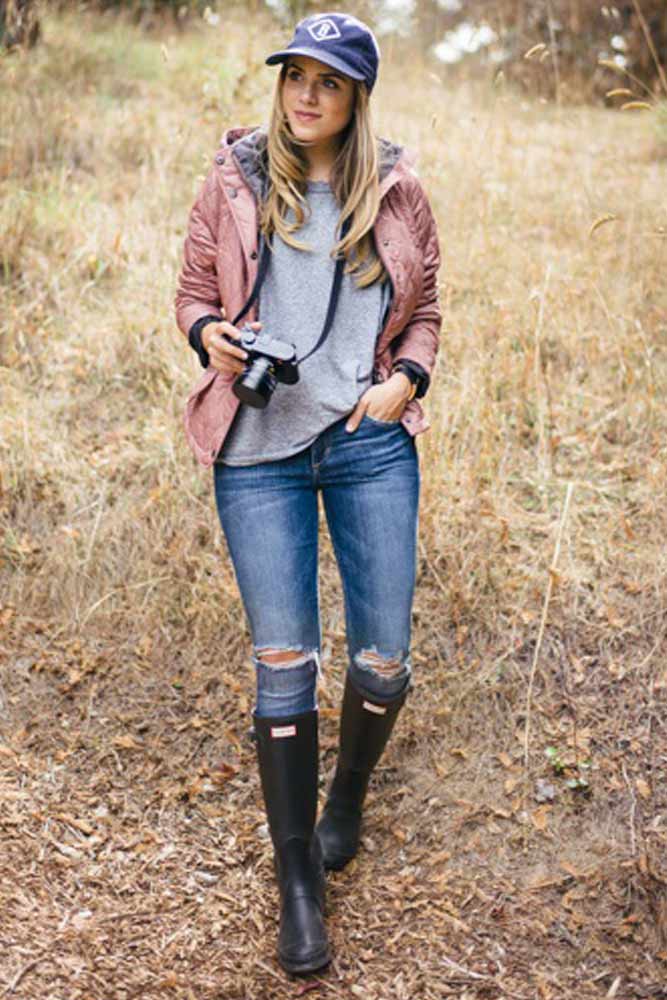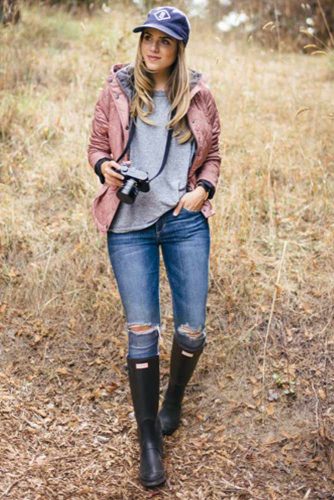 Source: Galmeetsglam
If you're feeling adventurous, why not sport these trendy black boots with ripped skinny jeans, a comfy sweatshirt, and your favorite fall coat? And we never say no to hats, especially in the fall, so don't forget your favorite newsboy or baseball cap to complete this breezy look!
Comfy Idea With Red Rain Boots For Your Fall Outfits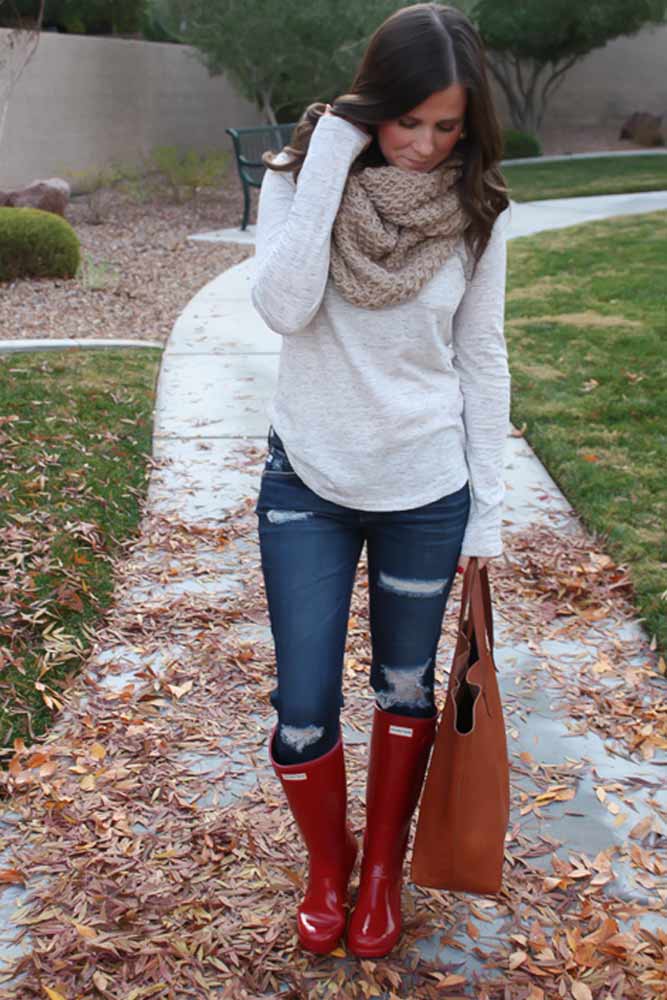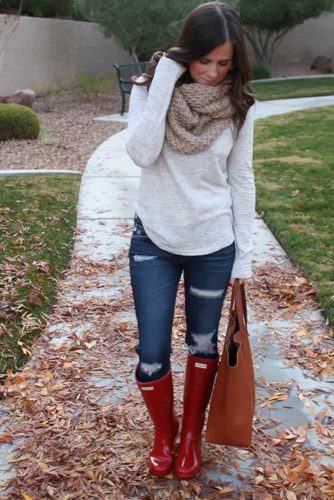 Source: The Northeast Girl
If you want to stand out from the crowd, these candy apple red boots will certainly make a statement. And fall is all about the layers, so don't forget to wear your favorite big scarf to really pull this look together!
Cozy Outfit Idea For Cool Weather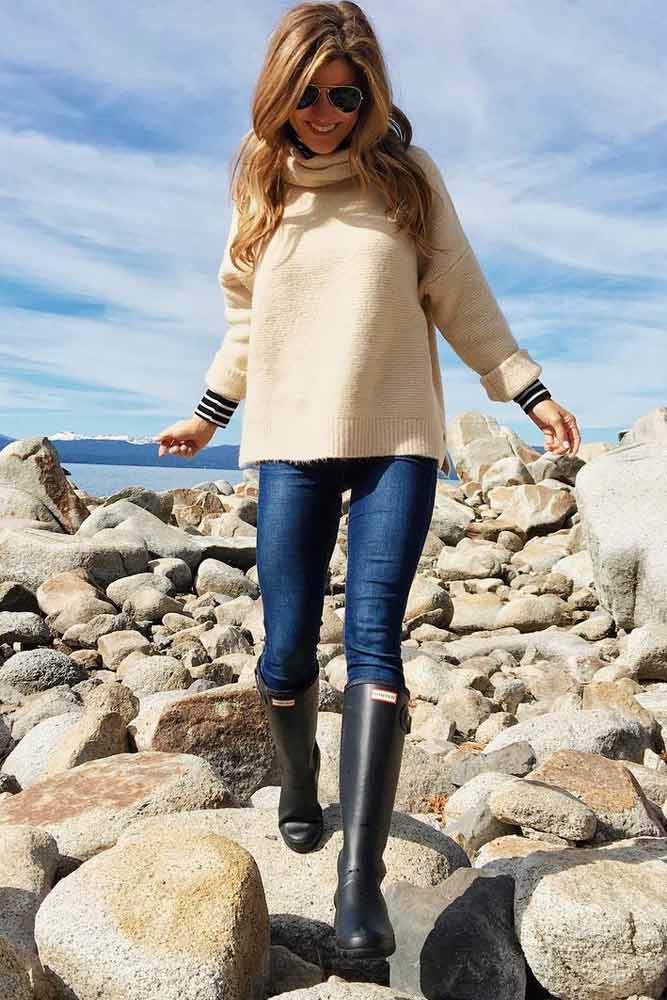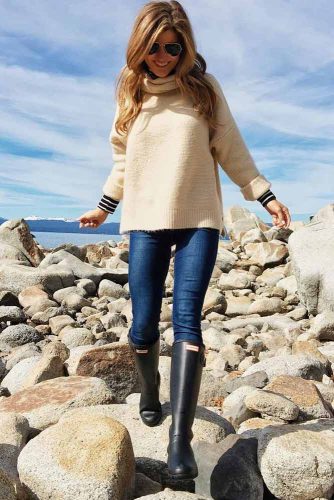 Source: brightonkeller via Instagram
It's no secret that women love fall for the Fashion and this look is no exception! The dark skinny jeans and striped shirt are very stylish. However, if you top it off with a cozy big sweater, you'll be set for those cool fall days! These black boots are a perfect way to complete this trendy look!
Popular Idea For Winter Outfits With Rain Boots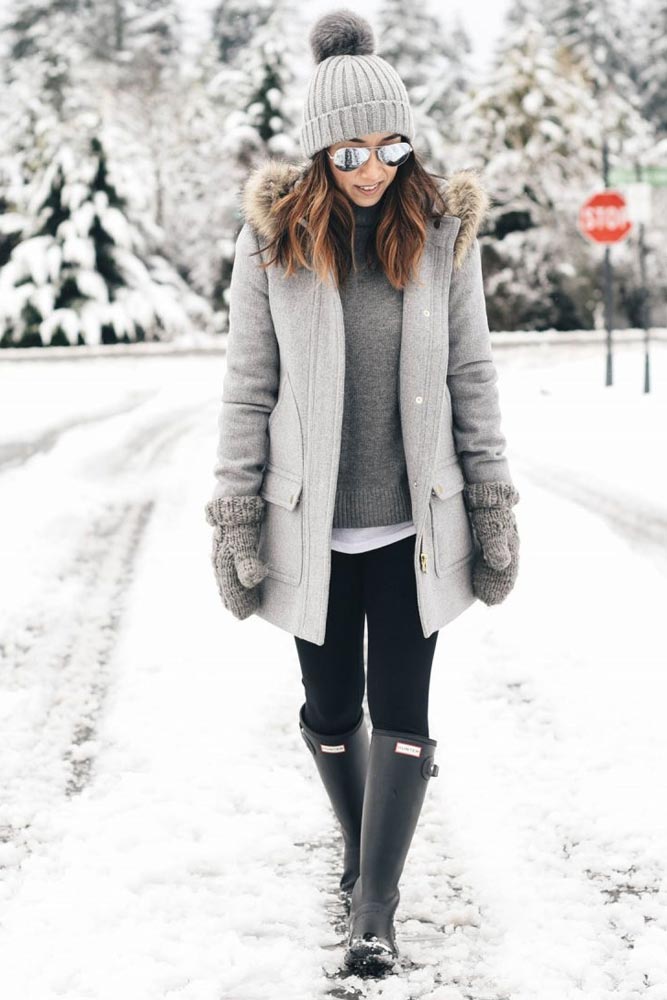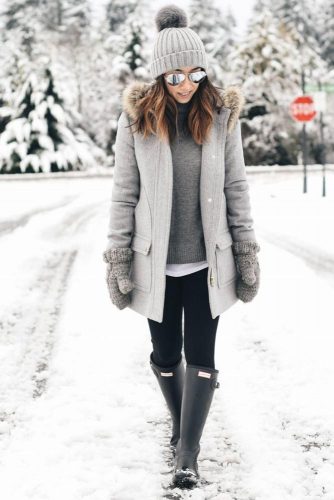 Source: Crystalinmarie
Boots are also popular during the snowy winter months as they protect your feet from snow and ice. These high black boots are both practical and stylish when paired with a winter coat and knit hat! Don't forget matching gloves because, baby, it's cold outside!
Chic Idea For Rainy Day Outfits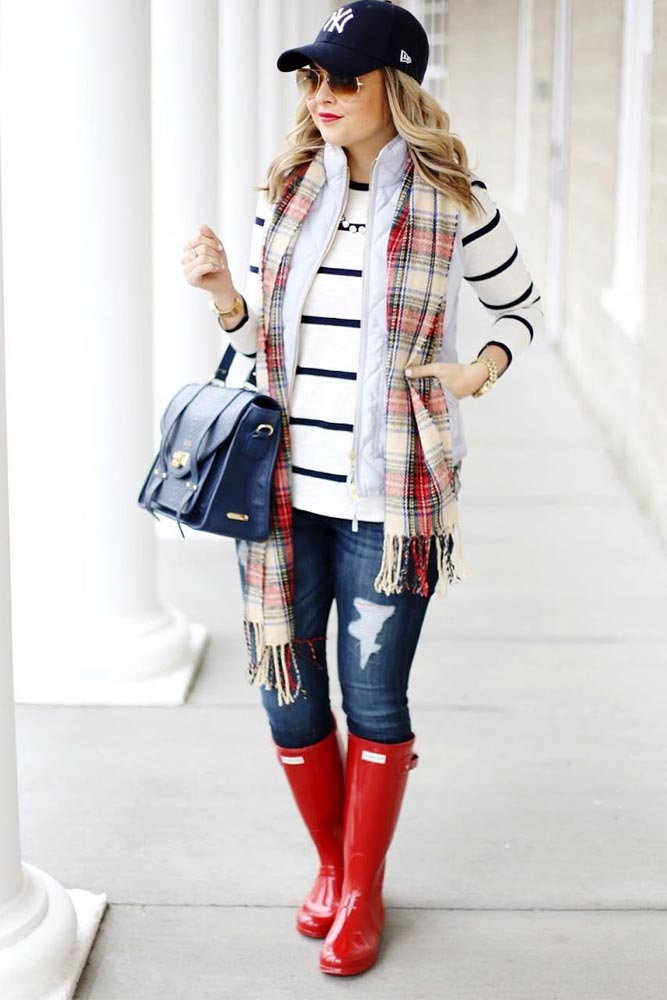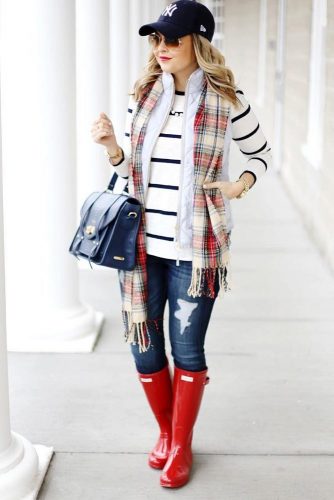 Source: krystin_lee via Instagram
Here is another trending look with sexy red boots. Pull on your favorite ripped jeans with a striped shirt. Top it off with a red plaid scarf, a cute hat, and a designer bag like the one pictured here for a look that's sophisticated and chic!
Fun Idea For Cute Fall Outfits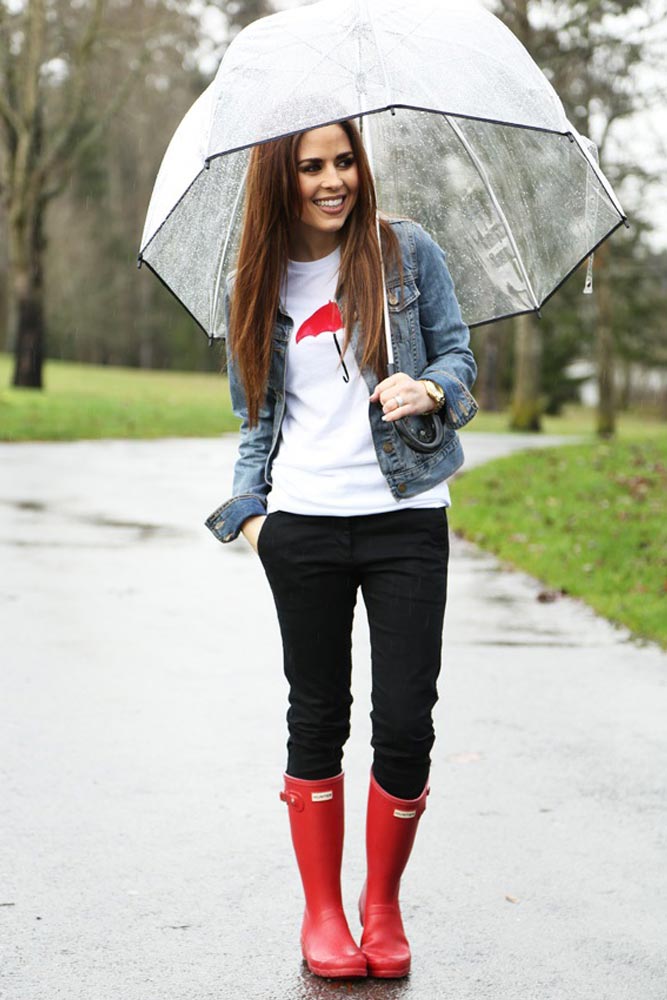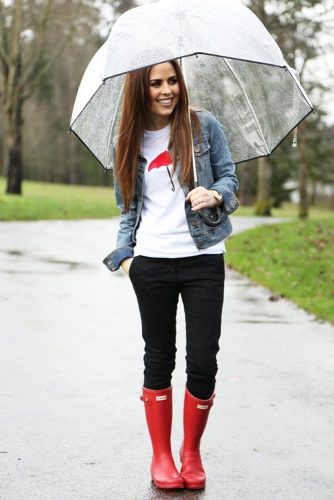 Source: Dresscorilynn
Red boots are so stylish. This cute look with red boots, dark skinny jeans, a comfy t-shirt, and a denim jacket is the perfect look for a rainy fall day!
Stunning Look For Fall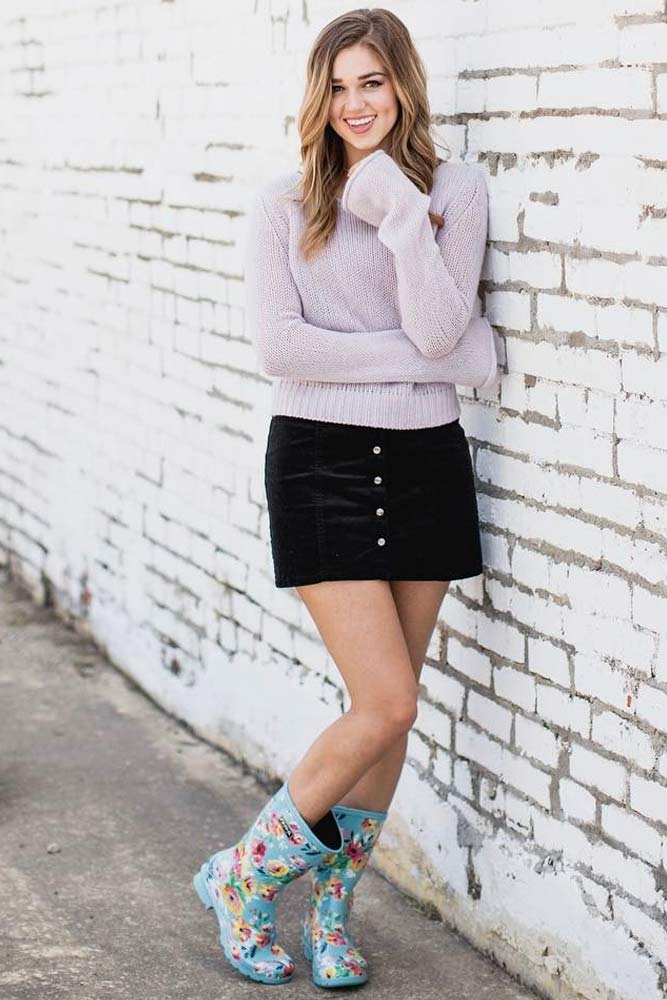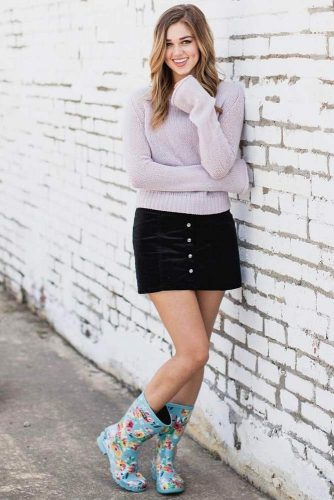 Source: legitsadierob via Instagram
Boots can even be worn with a cute mini skirt, such as the one pictured here. The short skirt and sweater is a perfect fall combo, and the print boots make this look super chic and girly!
Bright Idea For Hunter Boots Outfits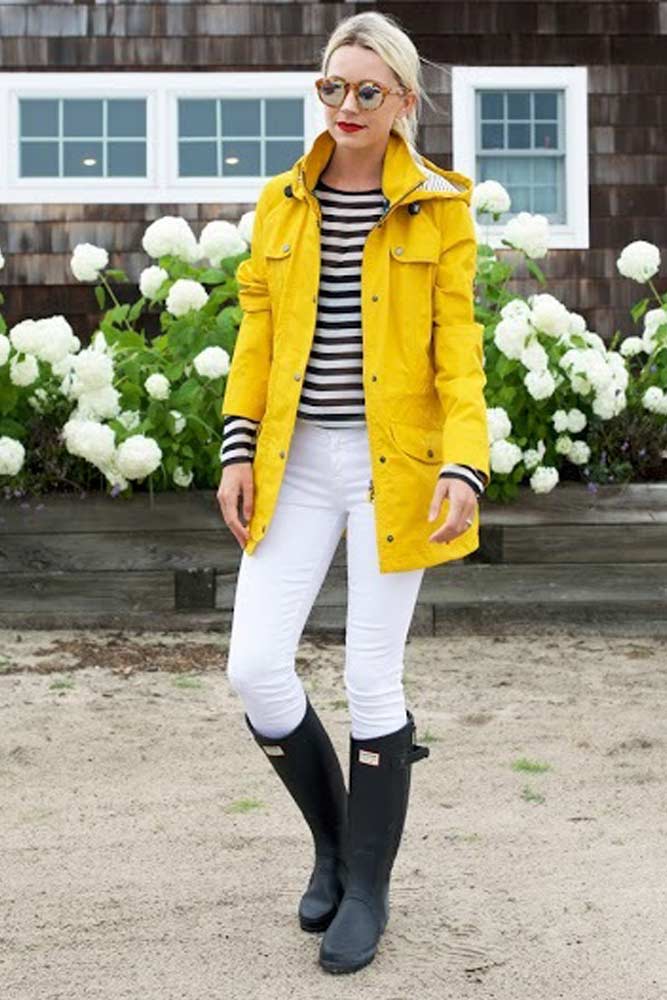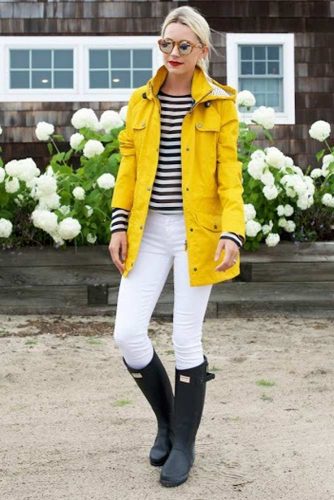 Source: The Atlantic Pacific
The bright yellow rain coat really makes this look stand out. The black and white combo with black hunter boots is classic, but the raincoat gives it a vibrant burst of color on an otherwise cloudy day!
Black Skirt Look For Your Fall Outfits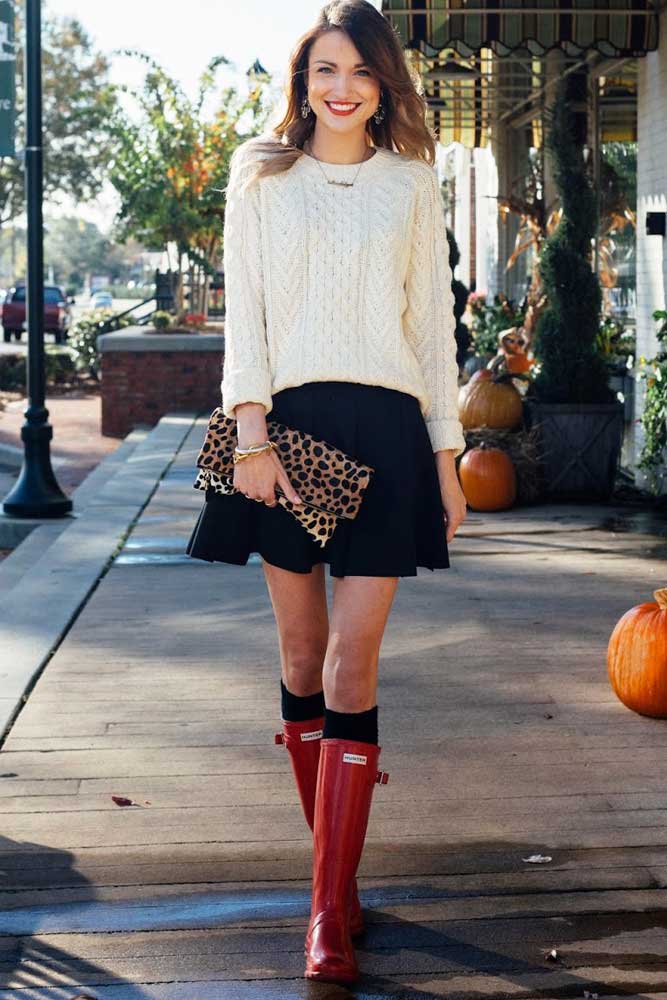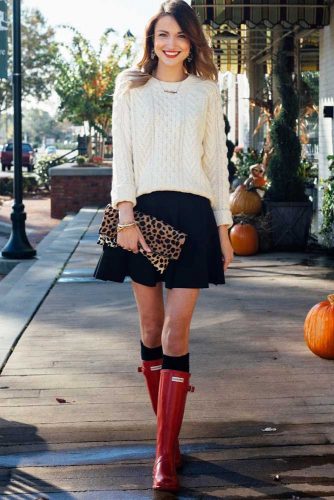 Source: Littleblondebook
This look is so pretty and feminine. The short black skirt and oversized white sweater are very girly and sweet. However, if you pair it with shiny red boots, you'll show off your sassy side!
Glam Girly Look For Casual Outfits
Source: Blondhairpinkheart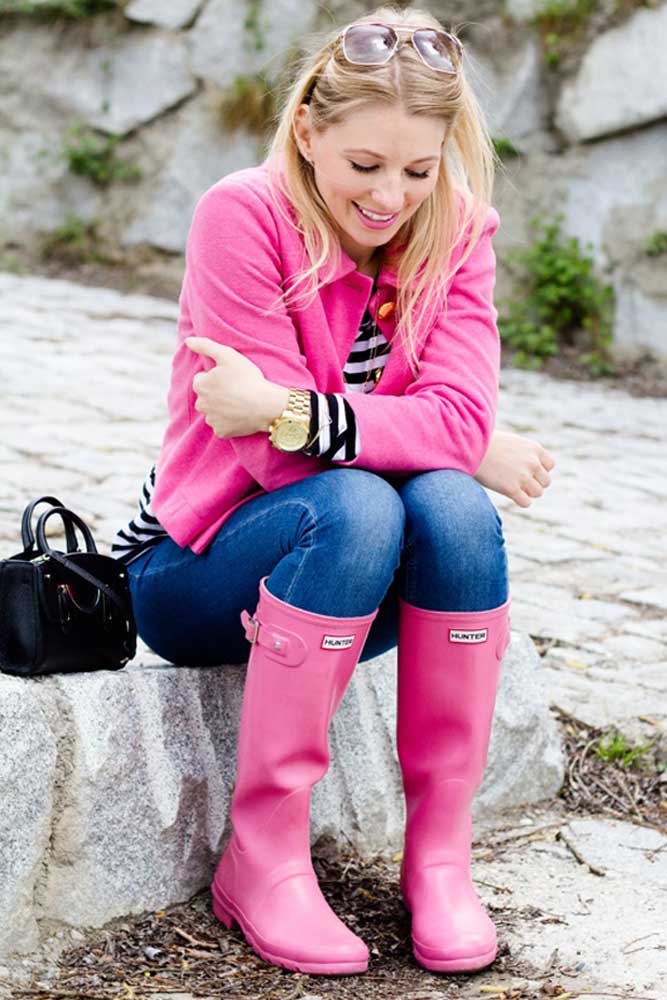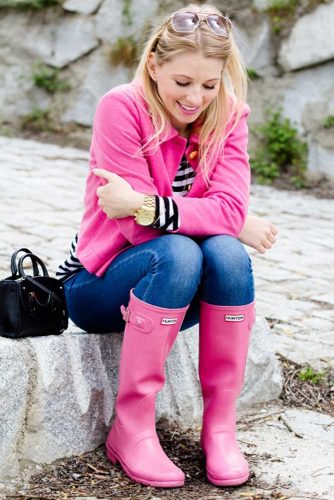 Pink is a color that will never fall out of favor. And who says pink is just for spring or summer? These bright pink boots are just too cute for words! Pair them with a matching pink jacket, and you'll be pretty in pink!
Super Casual Look For Rainy Weather
Source: Lovelenore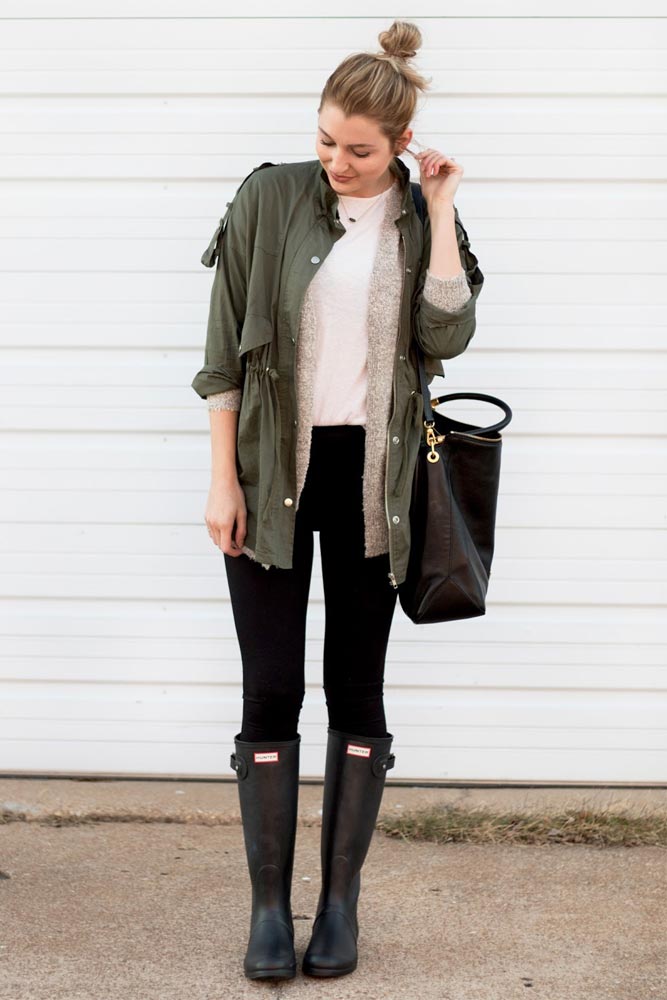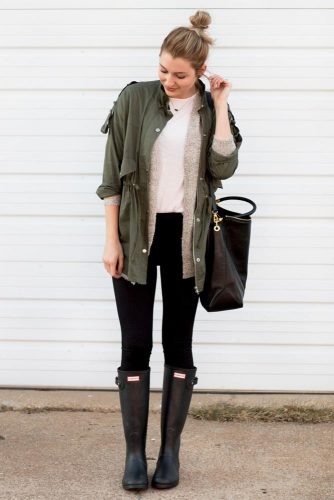 We all have those rainy days when we don't feel like dressing up. This relaxed look with a white tee, military jacket, black skinny jeans, and shiny black boots is perfect if you are going for a relaxed, chill vibe.
Adorable Rainy-Day Outfit Idea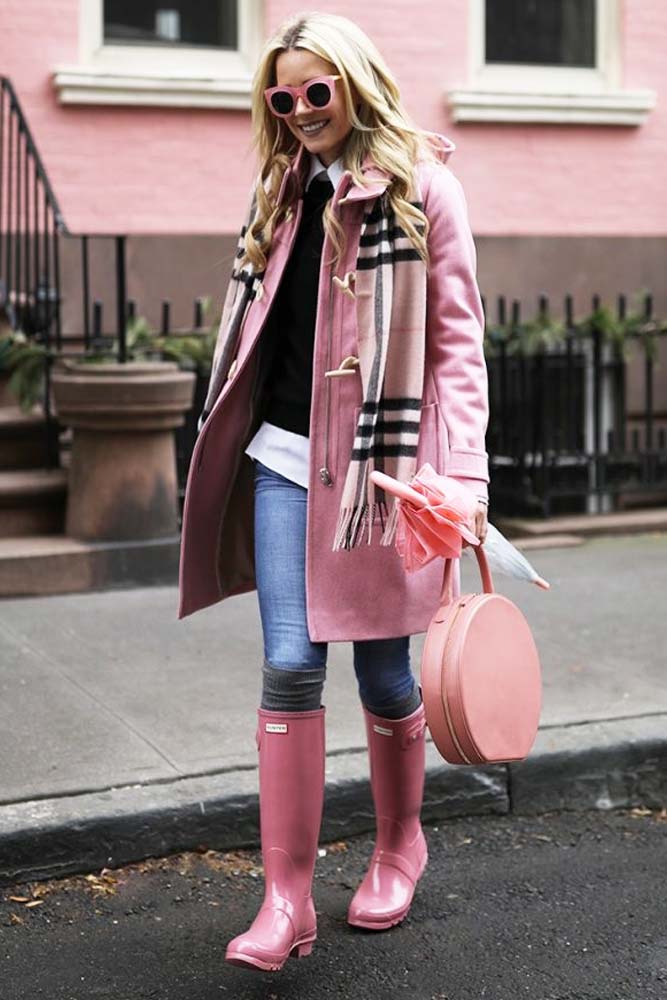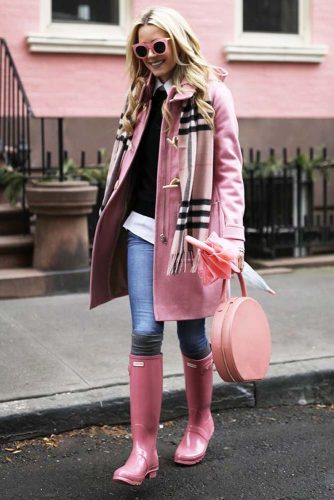 Source: The Atlantic Pacific
If you are feeling especially girly, this look oozes cuteness! The layered shirt combo with light skinny jeans shows your relaxed side, but the pink boots, coat, and pretty pink plaid scarf says you can be feminine and chic, as well. We really love the pink hatbox purse to pull it all together!
Casual Rainy Boots Look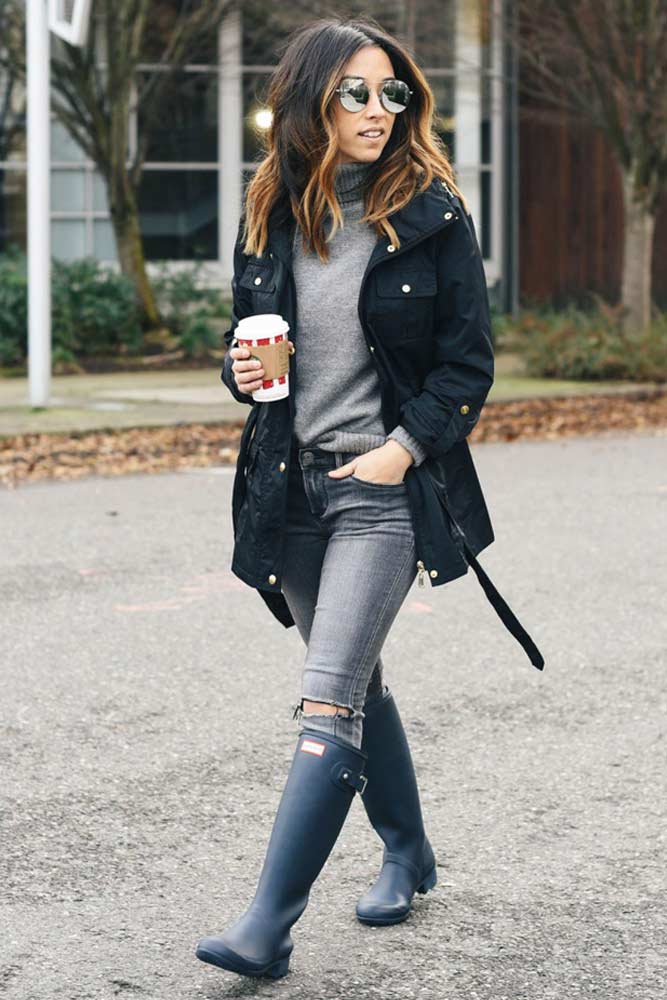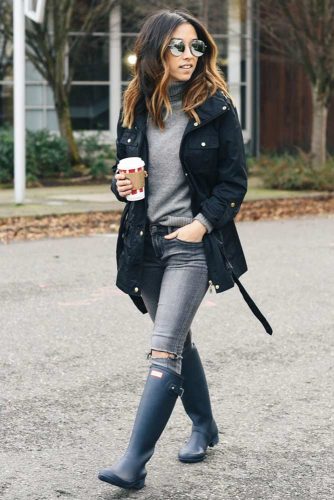 Source: crystalinmarie via Instagram
For an everyday look, pair the boots with ripped jeans and a longer jacket.
Stylish Look For Every Day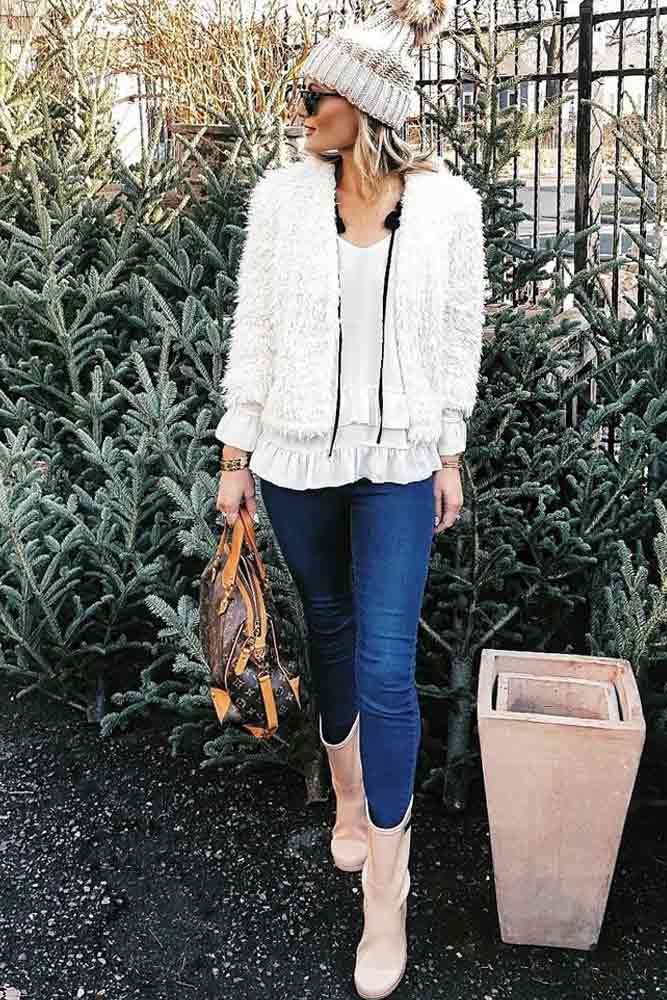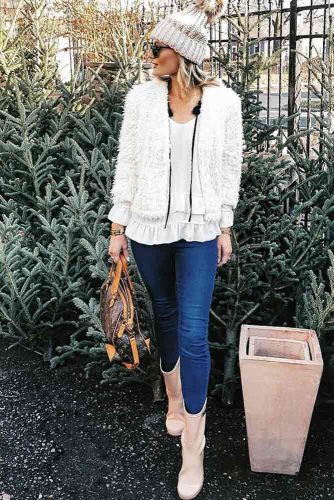 Source: champagneandmacaroons via Instagram
For a more stylish image, opt for subtler colors and spice things up with boots in soft powder color.
Cute And Comfy Outfit Idea With Red Boots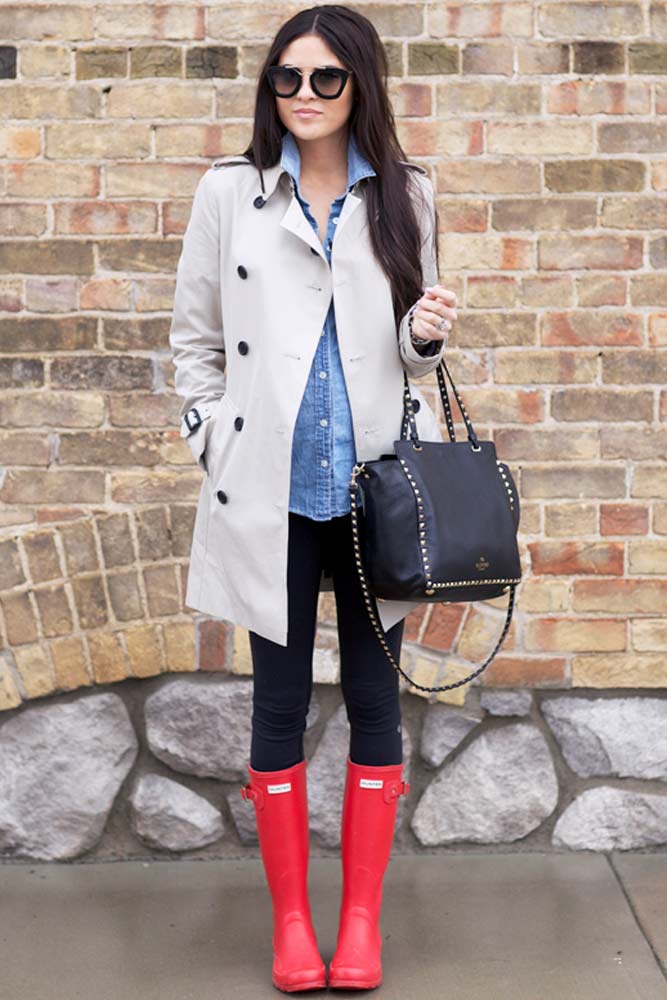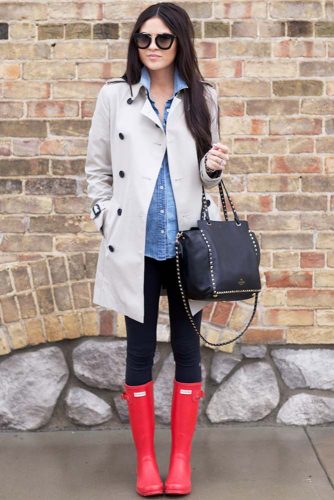 Source: rachparcell via Instagram
If you are looking for a vivid accent to complete your casual image, go for red boots.
We hope you are inspired by our cute rain boot looks for fall! Now get out there and buy your favorite boots in every color to match all of your favorite fall outfits!
Black Trousers With Oversize Sweater Outfit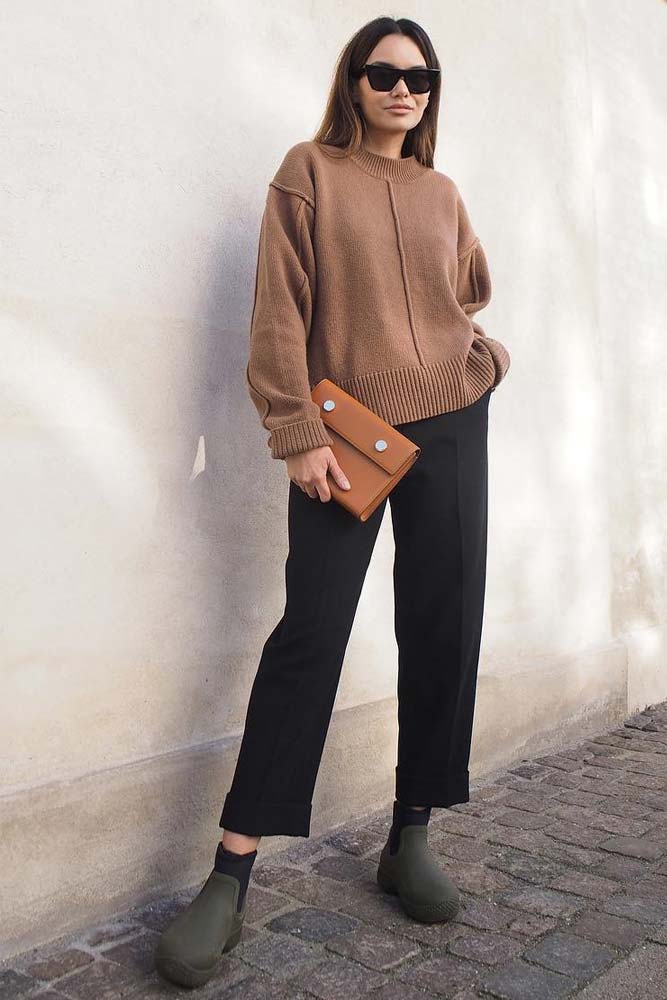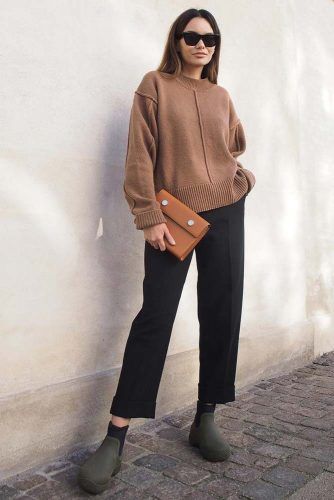 Source: fundachristophersen via Instagram
Plaid Skirt With Jacket Outfit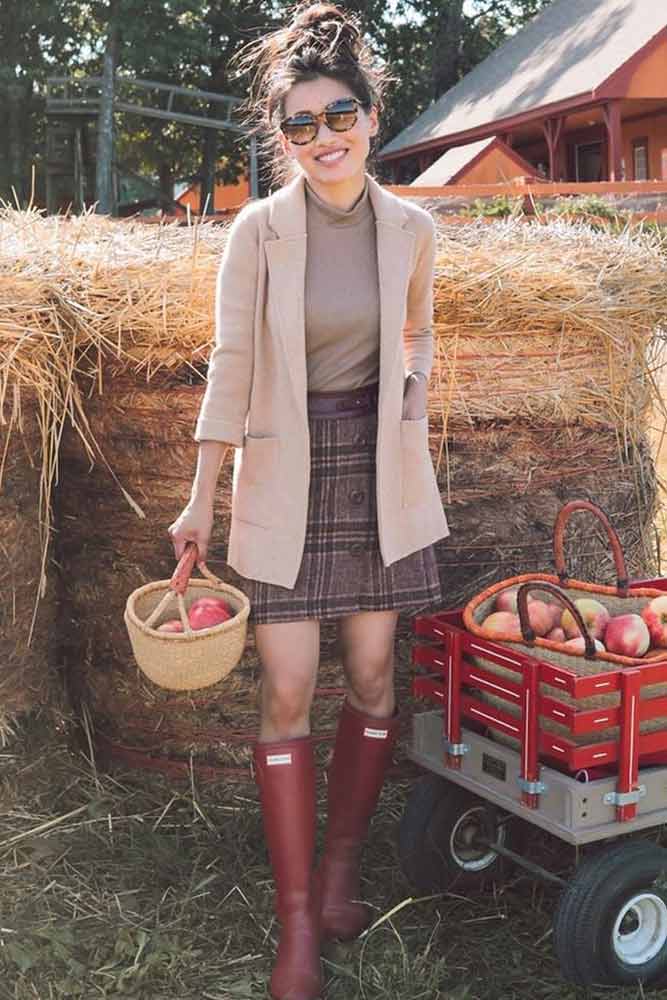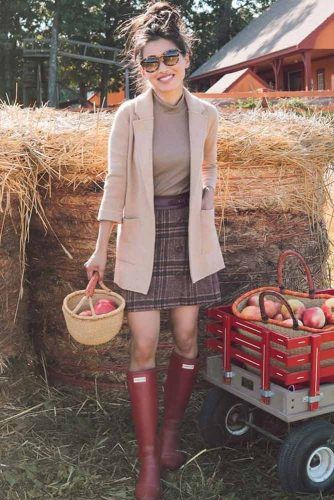 Source: jeanwang via Instagram
White Trousers With Knit Sweater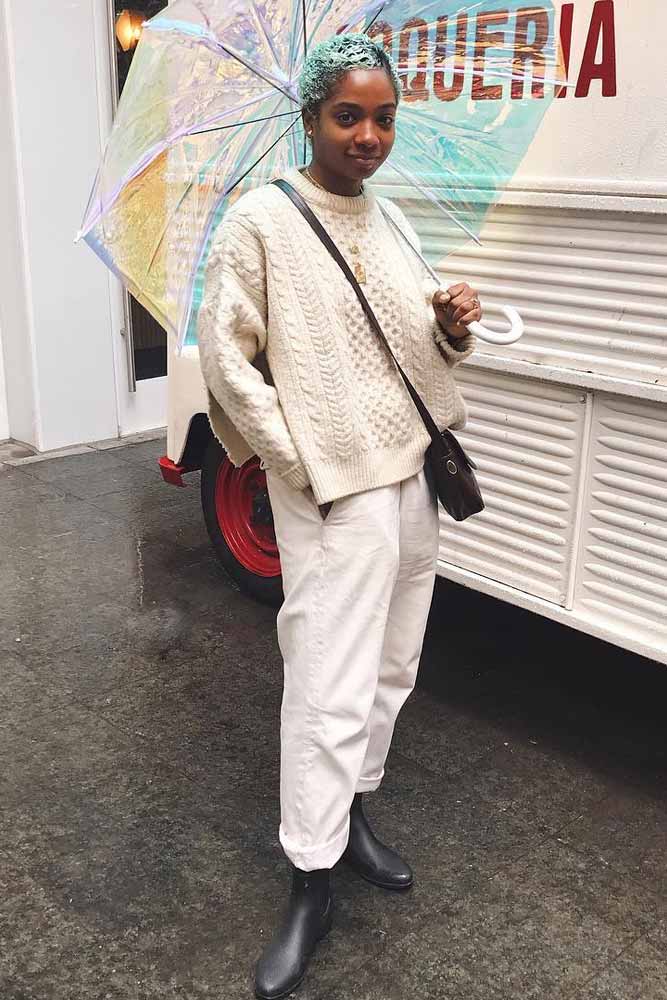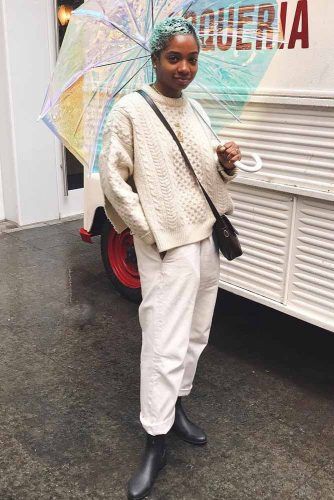 Source: cinnamonryan via Instagram
Gray Coat With Scarf Outfit Idea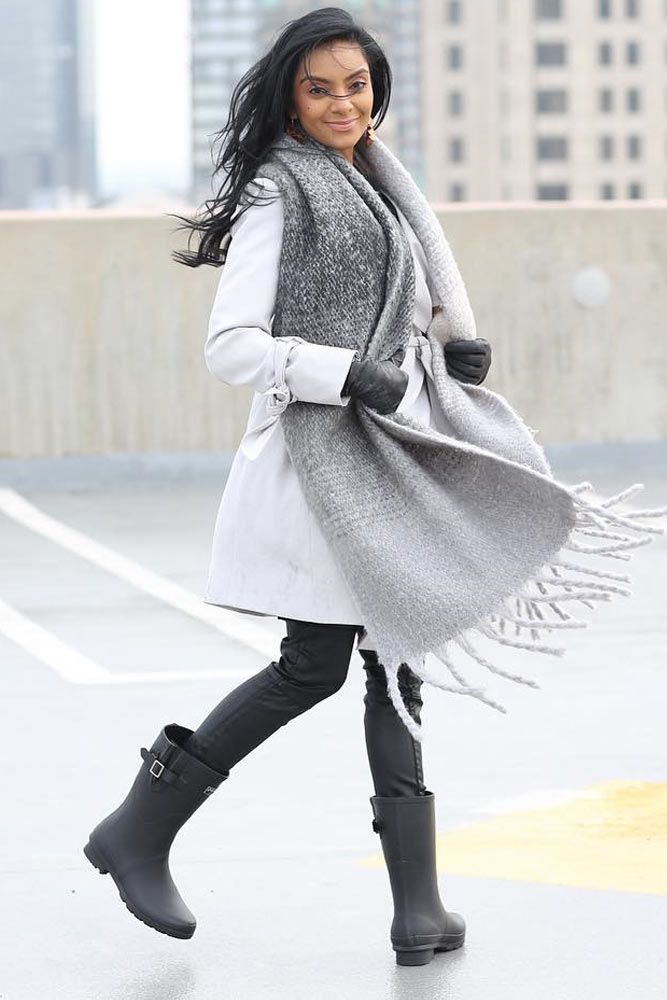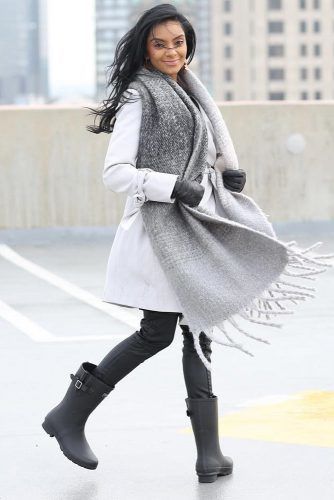 Source: romaboots via Instagram
Plaid Cardigan With Print Pants Outfit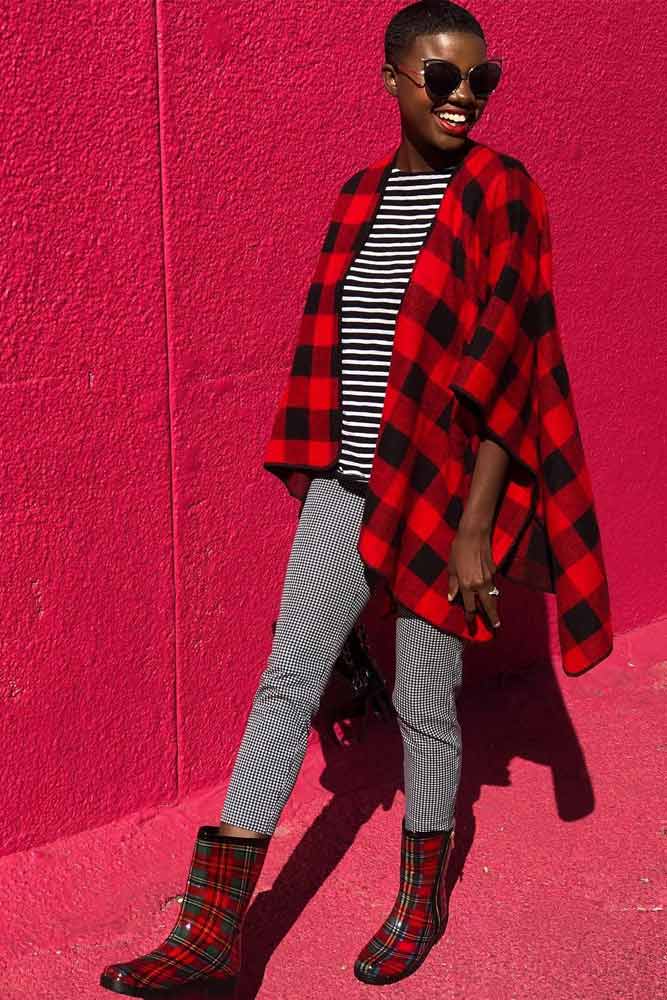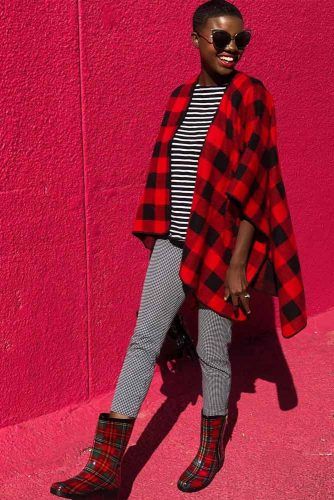 Source: authentically.b via Instagram
Striped Playsuit With Parka Jacket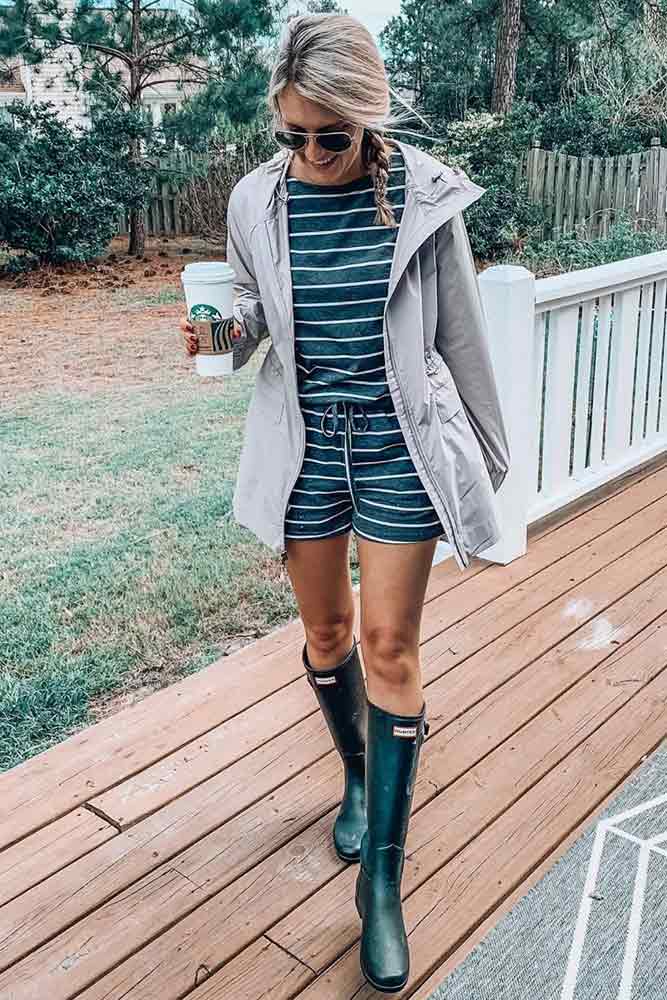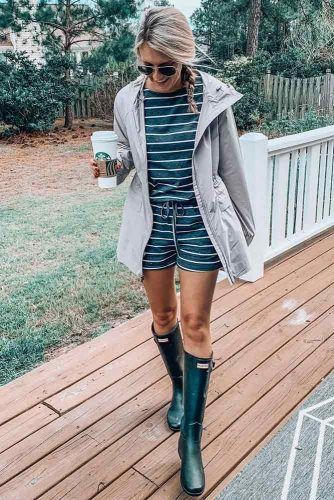 Source: whitney.lynn.m/ via Instagram
Pink Sweater Dress With Fur Jacket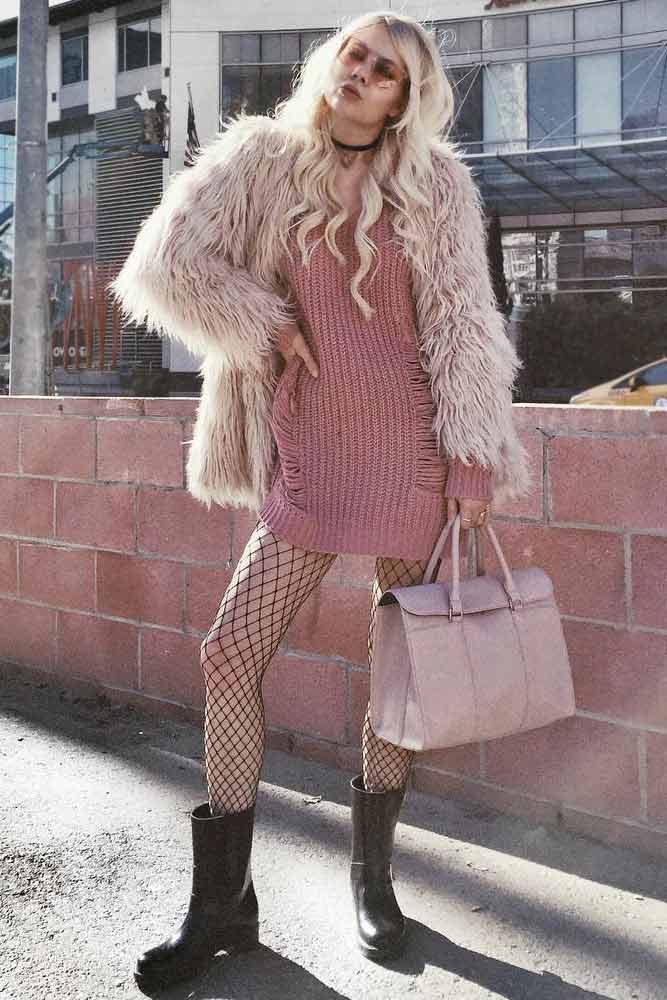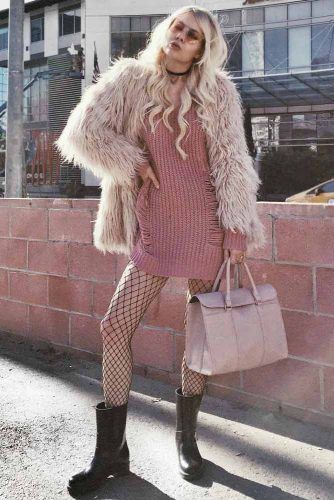 Source: sarahloven via Instagram
Sweater With Skinny Outfit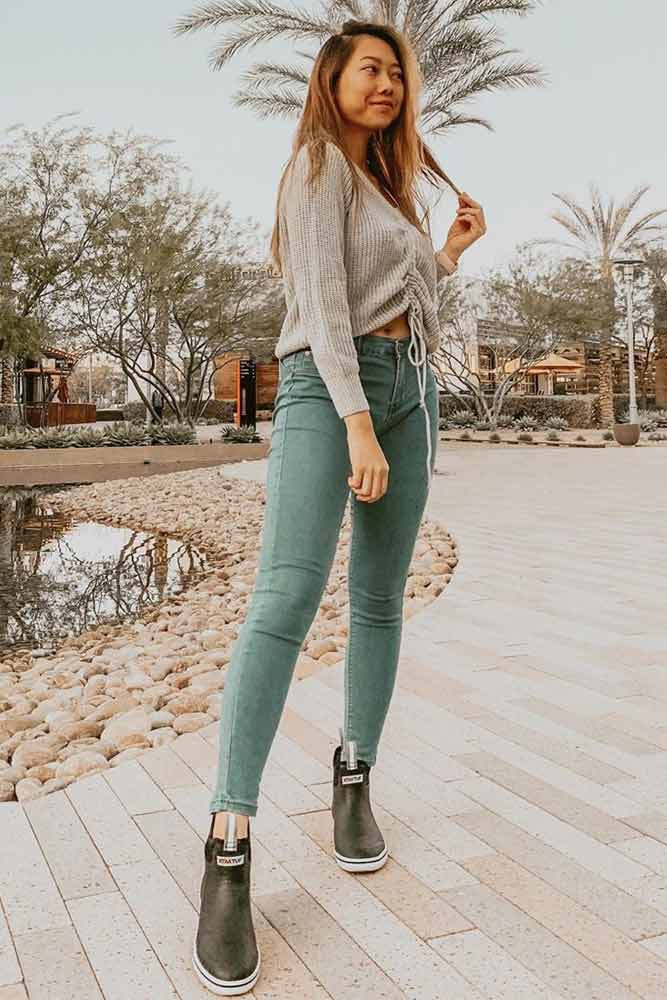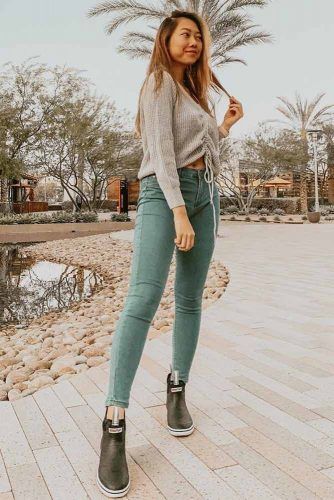 Source: camilla.law via Instagram
Yellow Parka With Jeans Outfit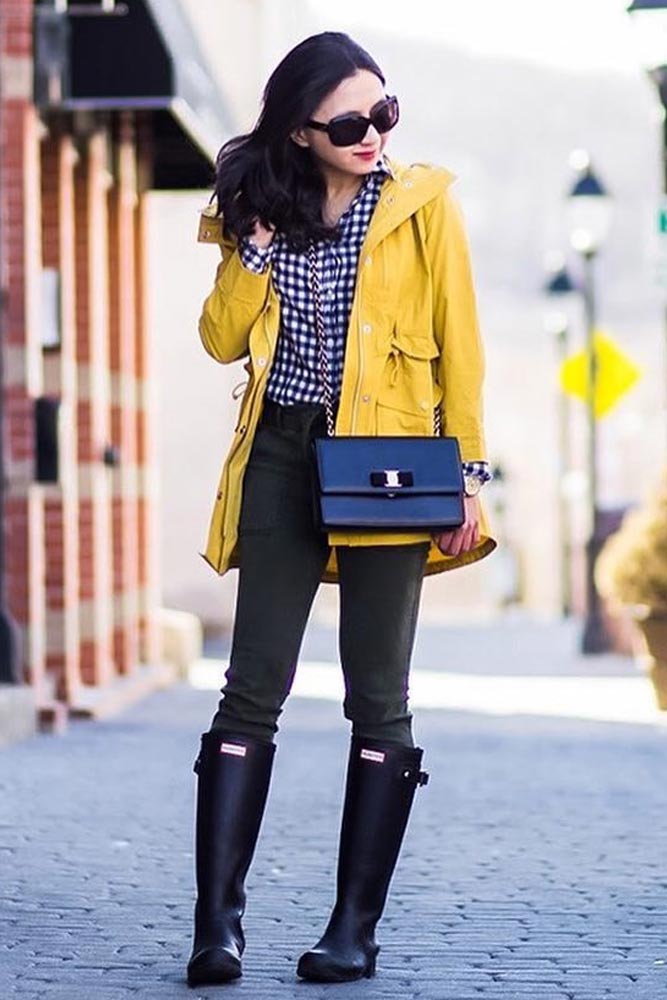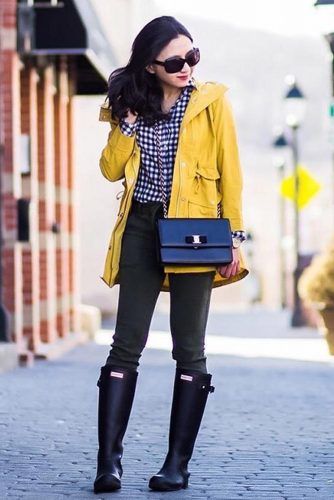 Source: ffnff via Instagram