We live during the technological era, and that means that there are countless ways of entertainment never known before available. You can play various games on your mobile phone, play station or computer. However, there are also classic activities that will help you and your kids get away from digitalized reality at least for a while. What we have in mind are Perler beads. There are so many interesting things that you can create with the help of these beads that it is hard to list them all. Nevertheless, we managed to gather the best ideas and designs for you or your children to give a try to!
Perler Beads Art Lesson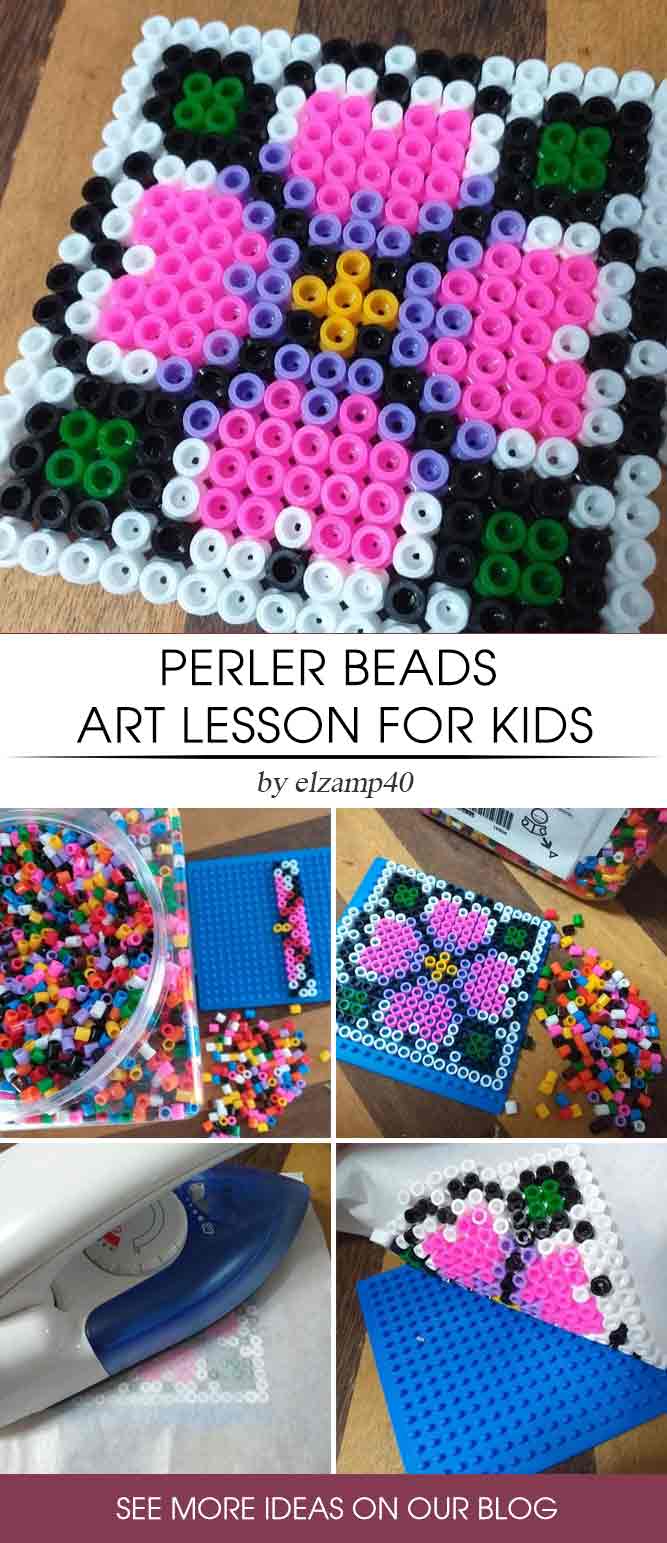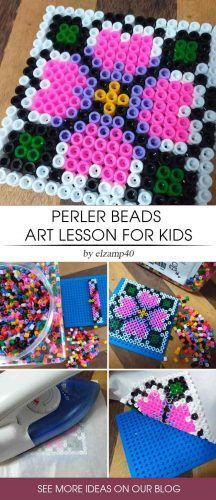 In case you have never heard about Perler beads, or you have no clue how to use them, we have it covered for you! The process is very simple and joyful. All you need to do is to:
Get a set of perler beads and a pegboard.
Choose the design or pattern you want to create.
Arrange the beads on the board so that they form the pattern.
Turn the iron on.
Put some wax paper over the design.
Use the iron to melt the Perler beads together.
Flip the design and iron the other side for the best effect.
Put the design on a flat surface and place something heavy on it.
Let it cool off.
Done!
Source: elzamp40 via Instagram
3d Perler Beads Unicorn Craft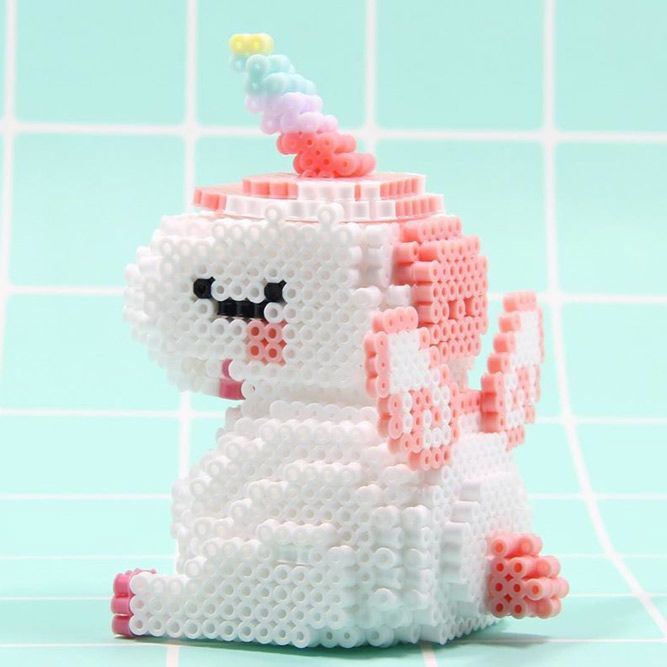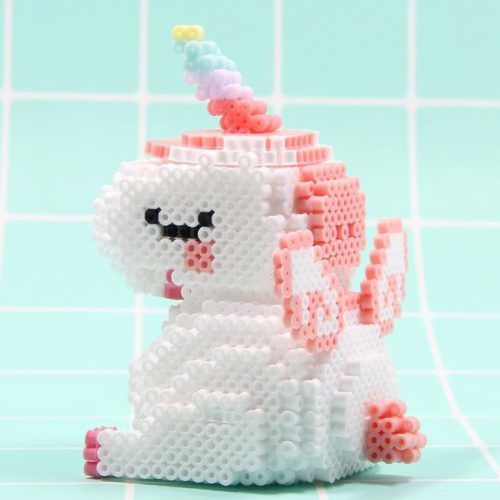 Now, when you know how it works, it is time we move to some interesting perler beads patterns. The truth is that you can be as creative as you like when it comes to this activity. The fact is that you can even create 3D patterns using Perler beads. All you need to do is to create the components of your design and then glue them together. As you can see, your hard work may result in something as beautiful as this fairy tale unicorn!
Source: qianfanwu via Instagram
3d We Bare Bears Perler Beads Craft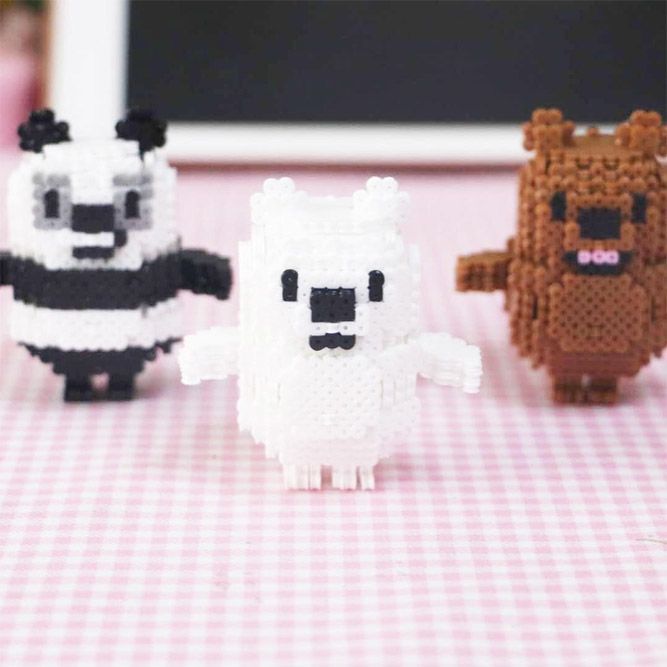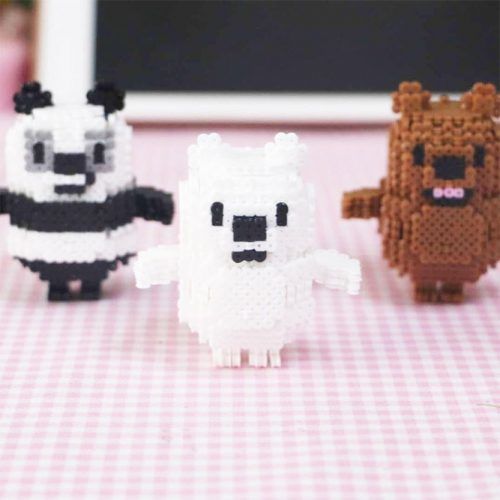 In case unicorns are not your cup of tea, there are many other perler beads designs out there. If you like bears more than unicorns then this company of a polar bear, grizzly bear and panda may be precisely what your interior is still missing.
Source: qianfanwu via Instagram
Tom And Jerry Perler Beads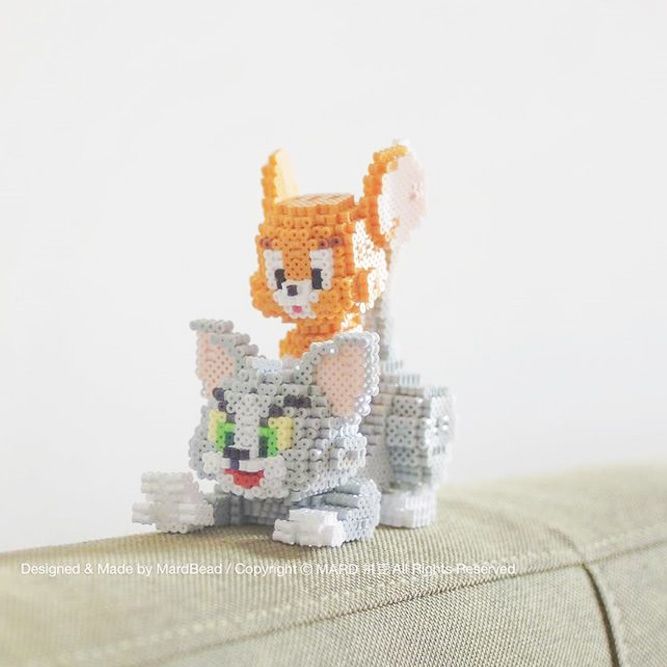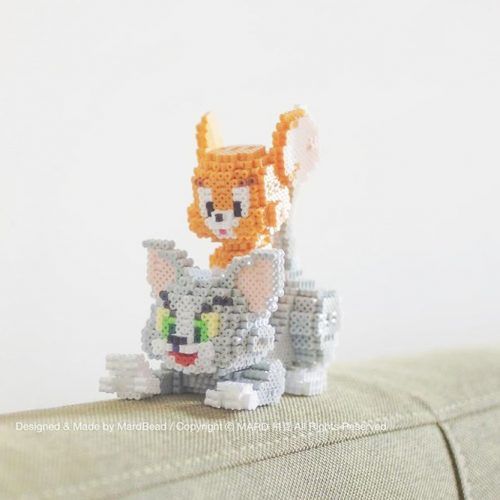 Surely, some Perler beads patterns are easy, and the others are not so much. That is why you shouldn't be frustrated if you can't create such a complex Perler bead design as Tom and Jerry at first. Keep practicing, and you will come to the point, there is no doubt about it!
Source: mard_bead via Instagram
Bookmarks Perler Beads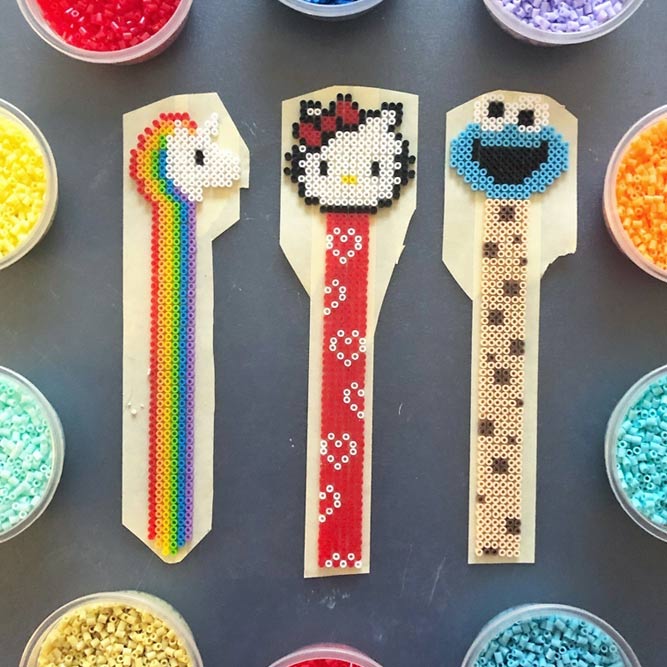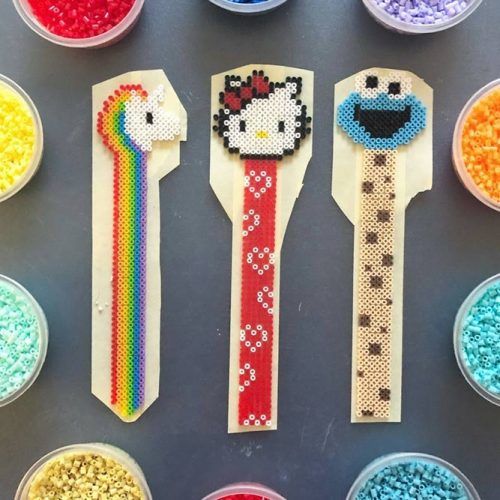 The fact is that perler beads animals can also be used as the bookmarks too. If you create such a masterpiece, you will kill two birds with one stone. First, if all – you are truly skillful, second of all – you will never miss the chapter you are currently reading!
Source: perlerias via Instagram
Necklace Perler Beads Craft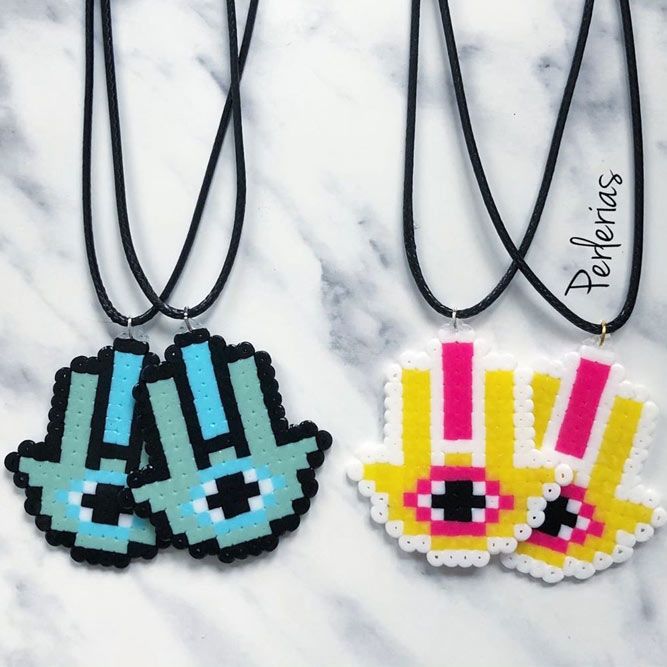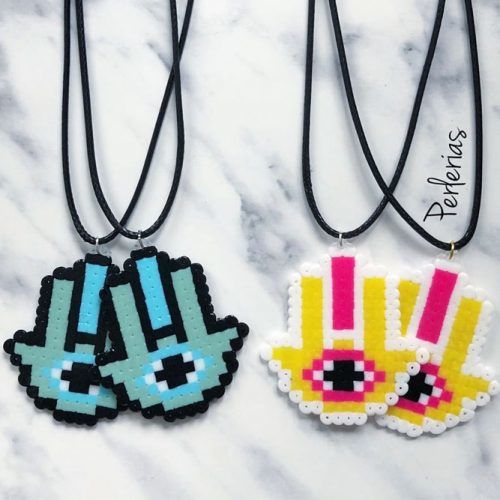 Bookmarks and toys are not the only things that you can easily create using Perler beads. The thing is that you can also succeed with the creation of one of a kind necklace if you wish. You can use such a necklace as a unique present or your own jewelry piece.
Source: perlerias via Instagram
Keychain Perler Beads Idea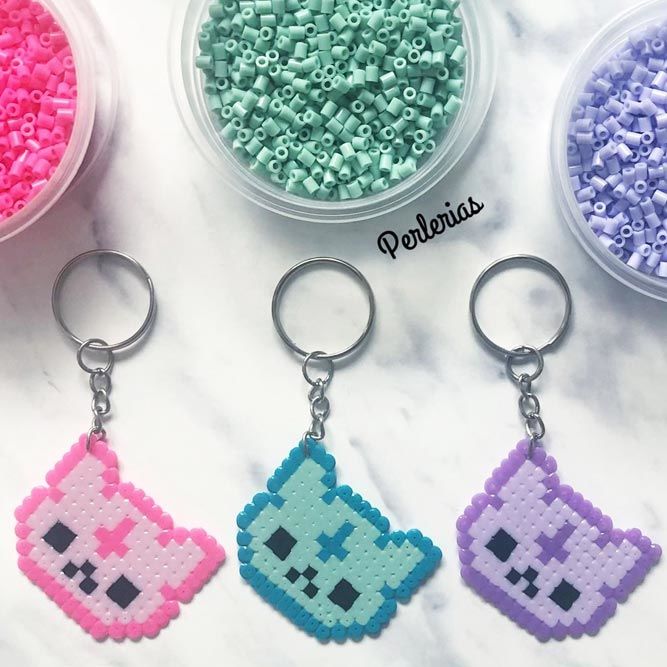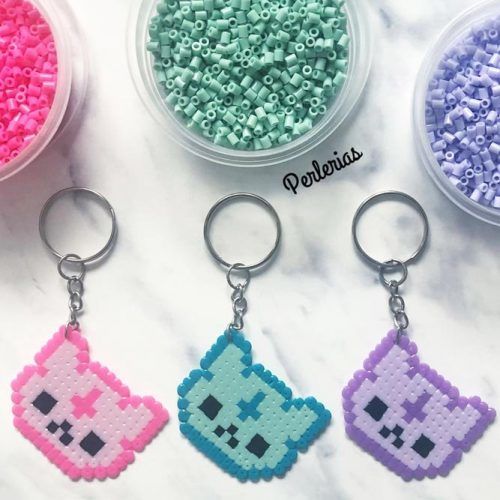 Can't find your keys? It is time you hang them on a keychain! What is more, you can easily create a personal and fun keychain using Perler beads. Besides, you can even create various-shaded keychains for the rest of your family so that no one ever misses the keys!
Source: perlerias via Instagram
Earrings Perler Beads Idea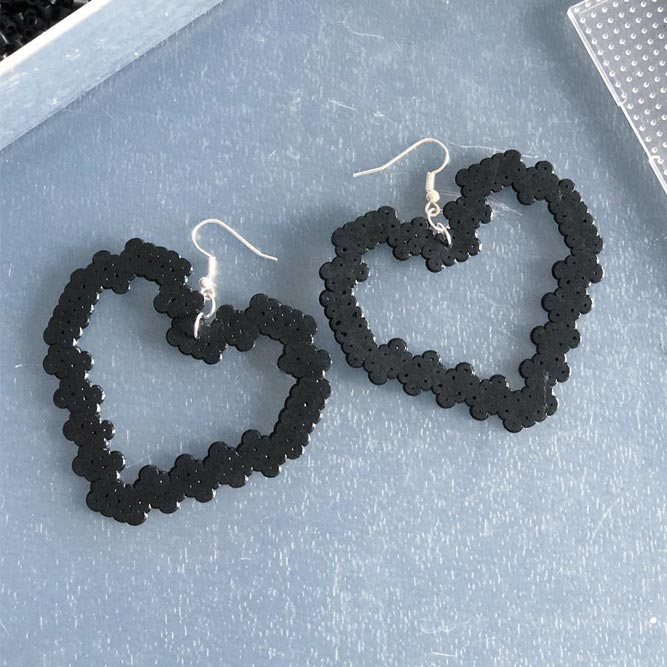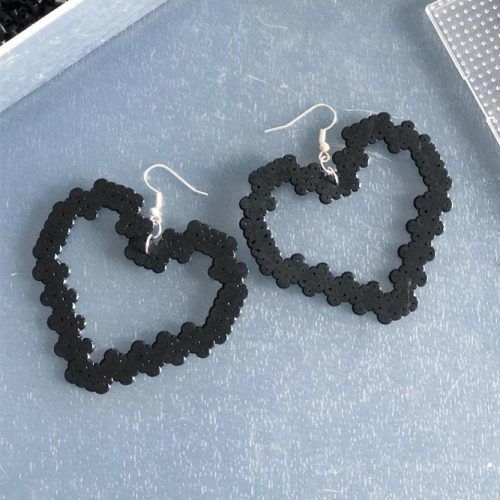 Every girl loves her jewelry. The fact is that there are never enough of unique earrings to wear, are there? If you think the same, we may know a way of how you can deal with the issue. All you need is a nice design in mind and a set of perler beads. As you can see the outcome is an exquisite set of earrings!
Source: perlerias via Instagram
Mario 1-up Perler Beads Idea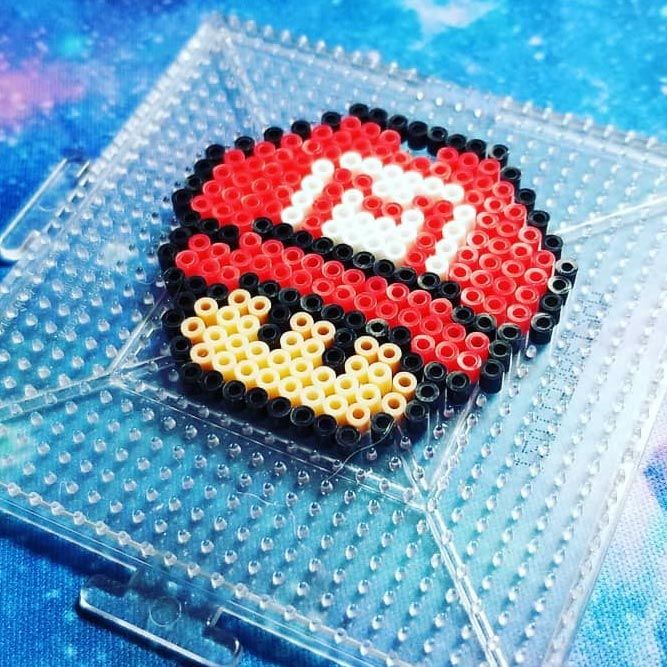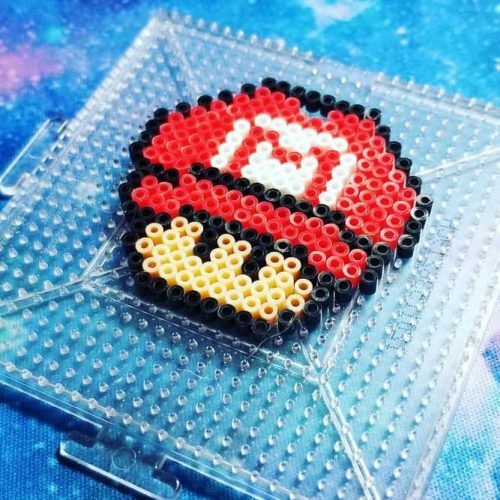 If you are a devoted Mario fan, then you certainly need to create this design. Using Mario perler beads and a few your skills, you can succeed with the creation of such a cure Mario design.
Source: salt_pixie_perlercraft via Instagram
Star Wars Perler Beads Craft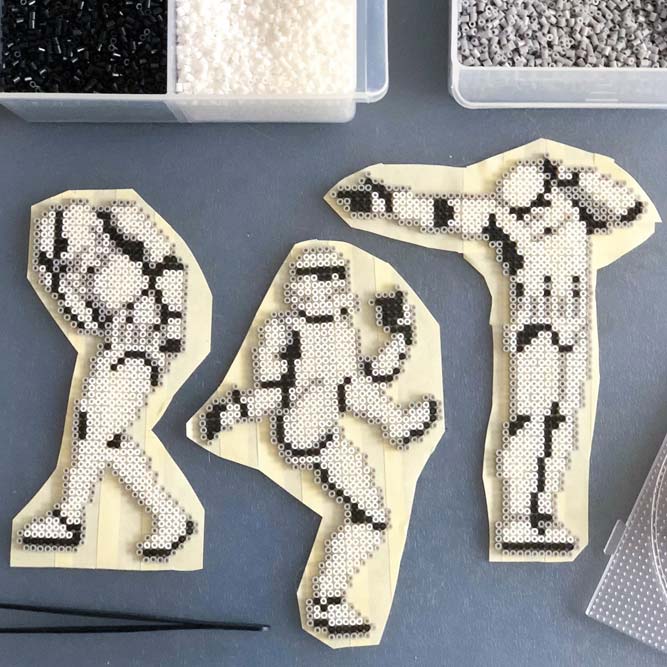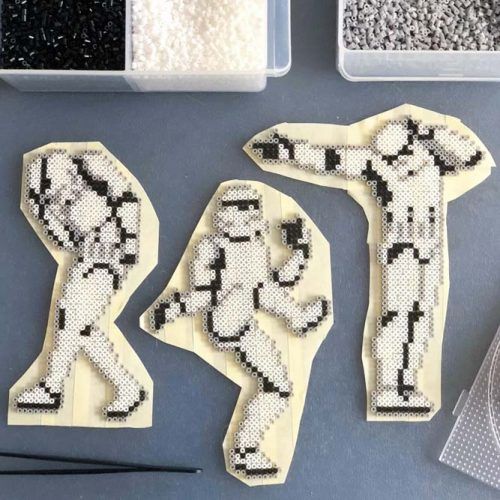 There are also star wars perler beads ideas for those who know every episode by heart. You can create your warriors the way you know them, or you can use your imagination and add some moves to their serious figures.
Source: perlerias via Instagram
Earphones Holder Craft Idea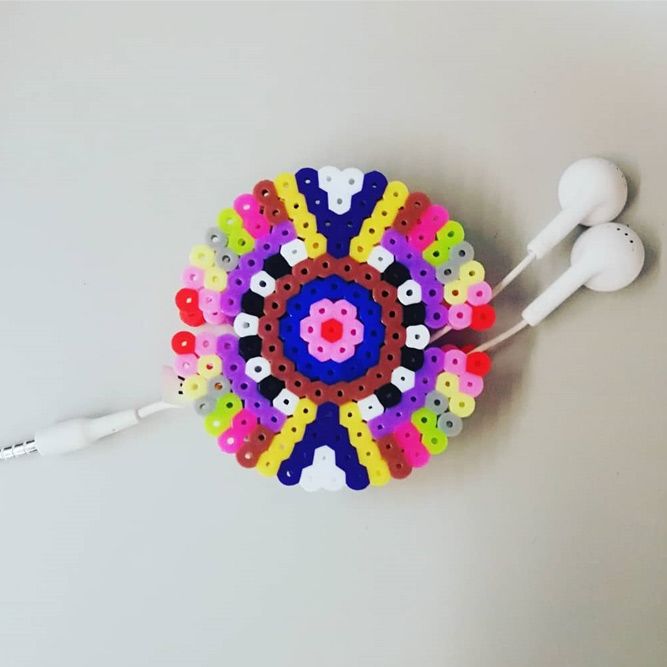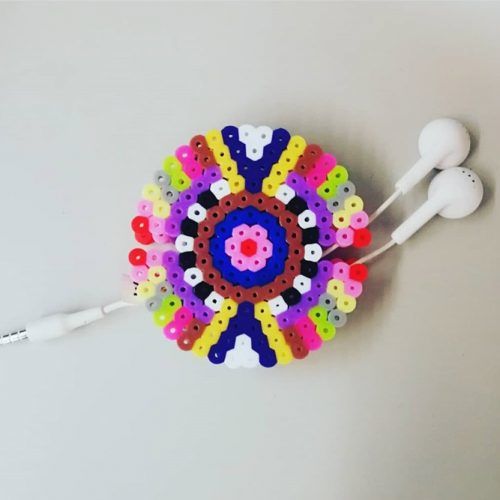 Perler beads designs can be not only nice to look at but also quite useful in the household. How many times have you had to disentangle your headphones? We bet – lots! A nice perler bead earphones holder will ensure that this will never happen again!
Source: aze.pixeles via Instagram
Perler Beads Wreath Idea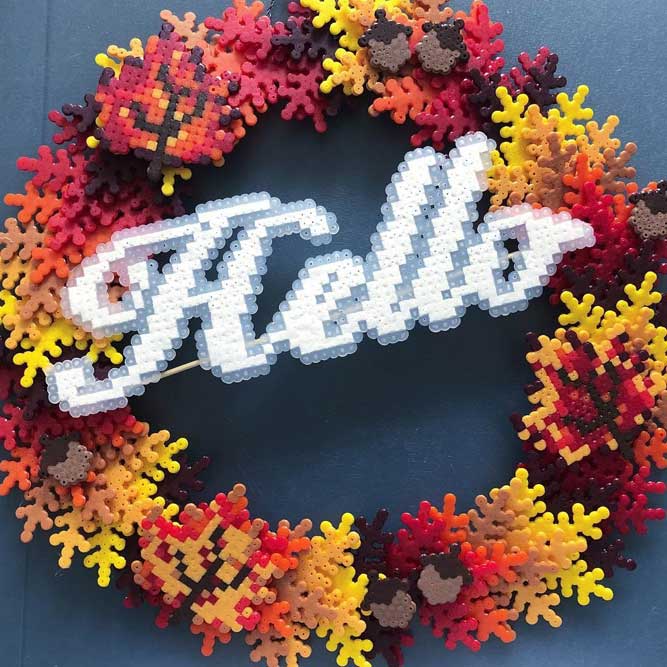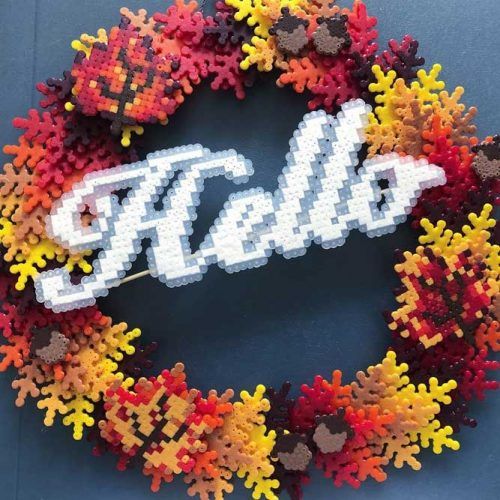 There are many decorative elements that you can create with the help of something as simple and affordable as Perler beads. For instance, a lovely perler bead door wreath will add special charm to your home décor no matter the occasion.
Source: perlerias via Instagram
Cactus Perler Art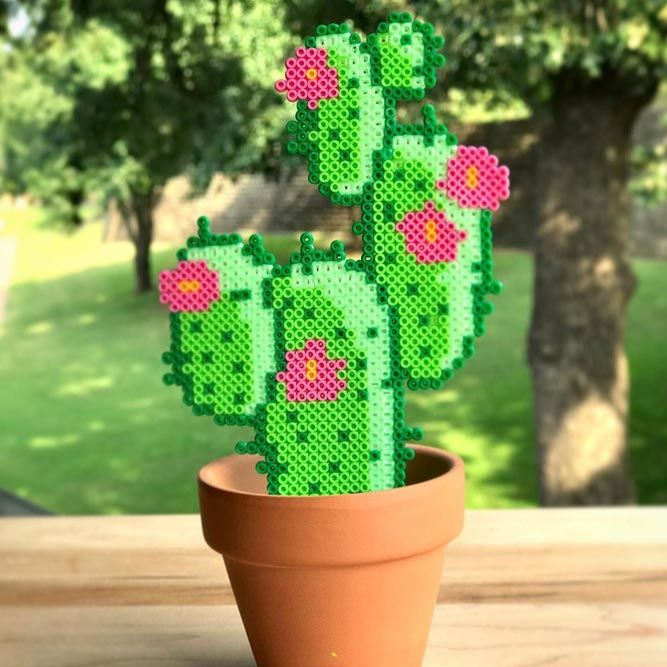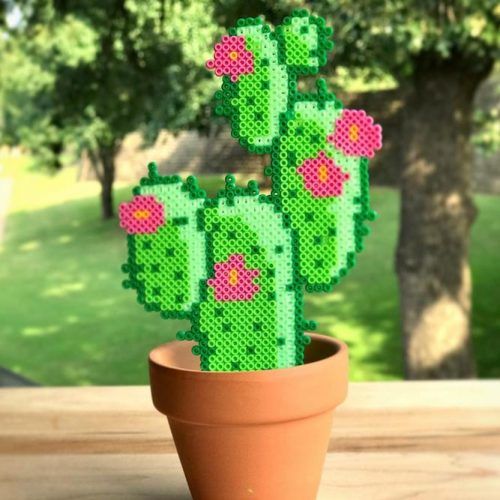 It seems that perler art has a limitless range of ideas to experiment with, and that is true. If you think that a real plant is something that you cannot afford, then a sweet perler cactus is precisely what you need.
Source: bloombeads4u via Instagram
Bookmarks Paws Craft Idea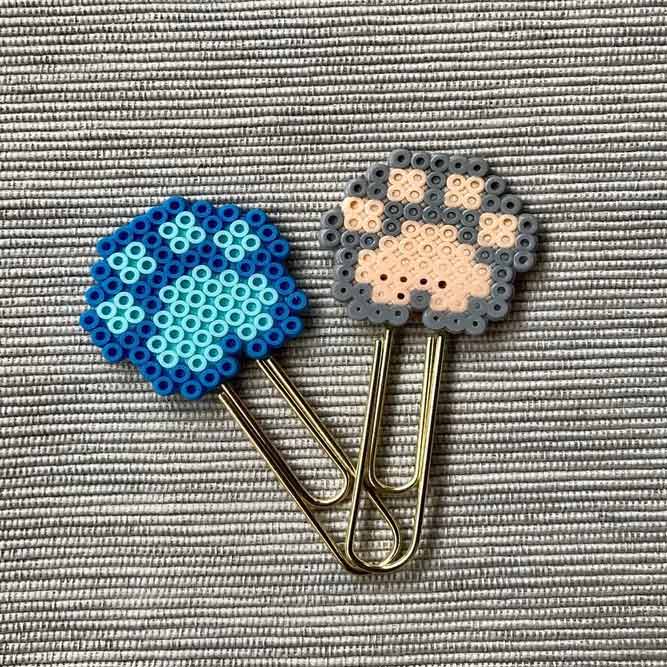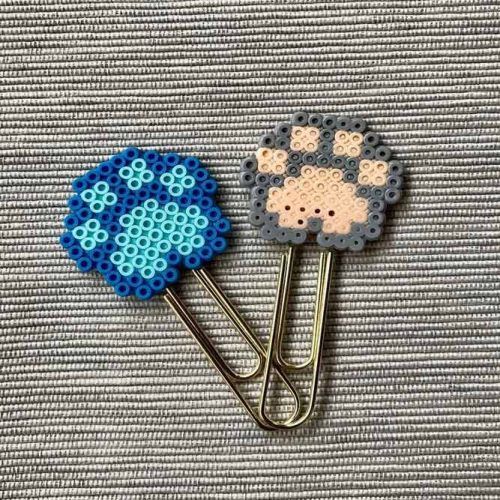 Regular paperclips are pretty dull and boring. If you think the way we do, then you will rush to put this perler bead idea in life! Sweet perler paws will take any simple paperclip to the next level of extraordinary!
Source: bloombeads4u via Instagram
Pokemon Perler Beads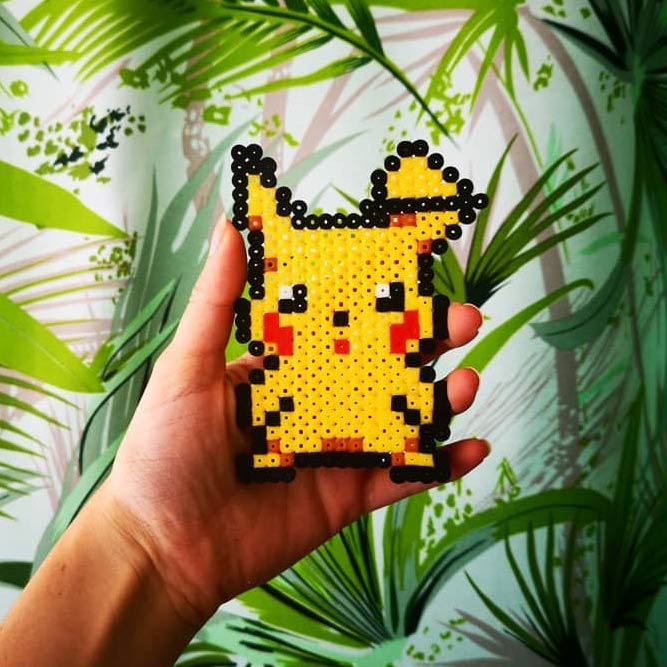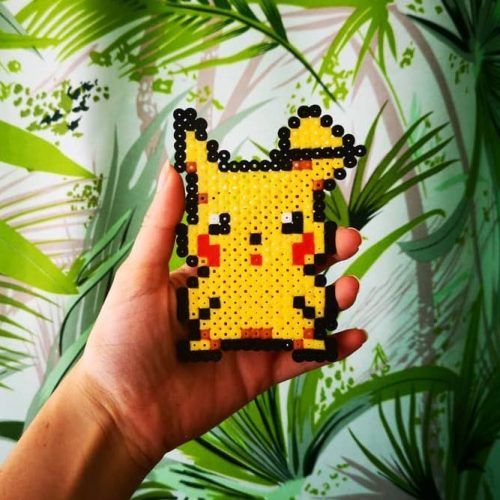 Rejoice, all the Pokémon fans! Pokémon Perler beads are what you need to create your favorite Pikachu. With a creation like that, you will level up in the eyes of other fans in no time.
Source: lachicadeojosverdes via Instagram
Summer Fruit Coaster Set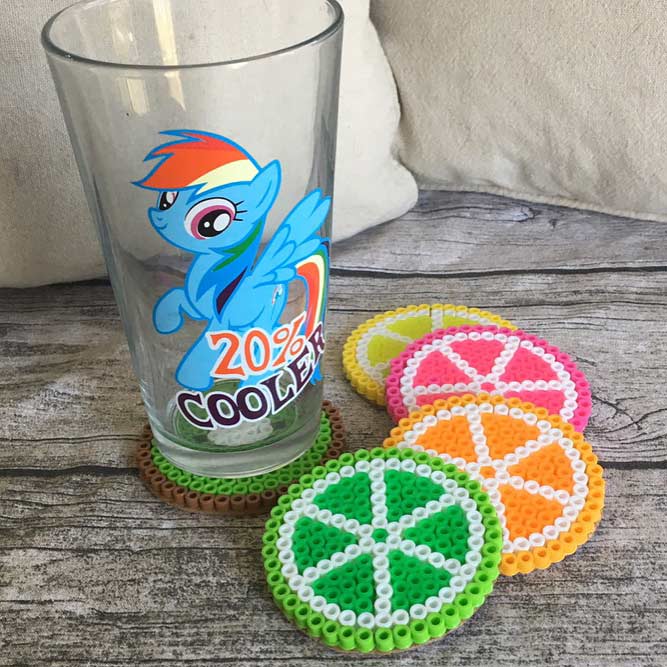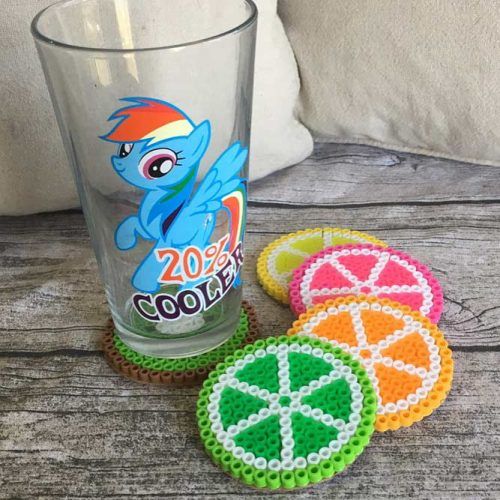 Coasters are irreplaceable in the household; we all know that. However, if you think about getting a pack of coasters at the store – we have something different in mind. Why not try to make your very own summer fruit coasters with the help of perler beads. We think it is a worthy idea to give a try to!
Source: hollohandcrafted via Instagram
Small Hearts Craft Idea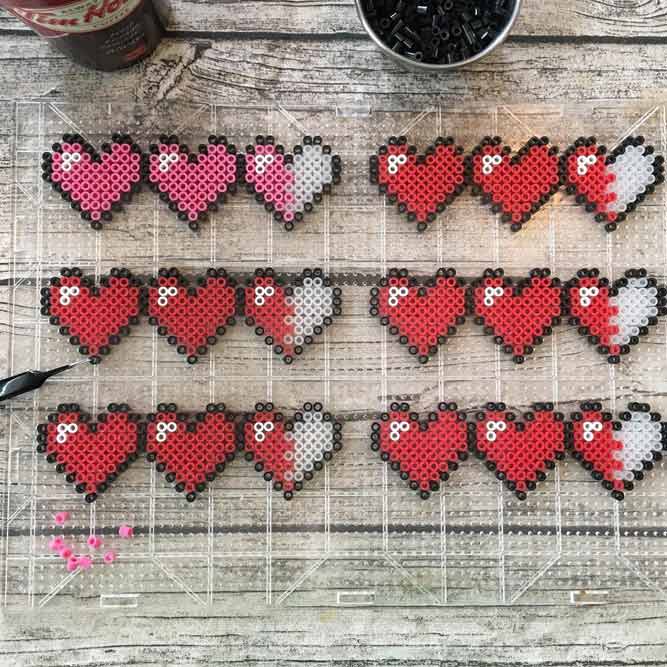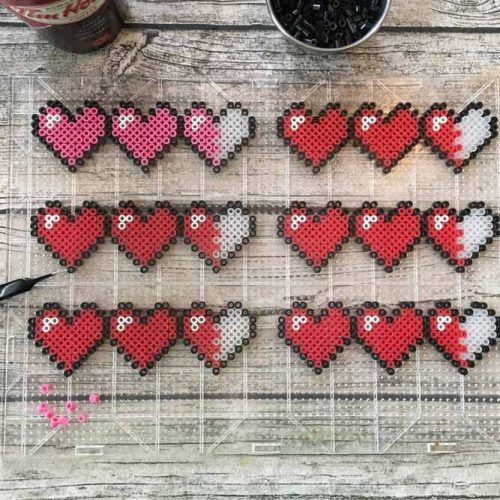 There are many abstract ideas that Perler beads can be used for. For example, a set of small hearts in pink and red colors can be used to complete a personal gift idea. Besides, you can also make tiny magnets out of them and hang them on the fridge. Be creative!
Source: hollohandcrafted via Instagram
Emoji Perler Beads Idea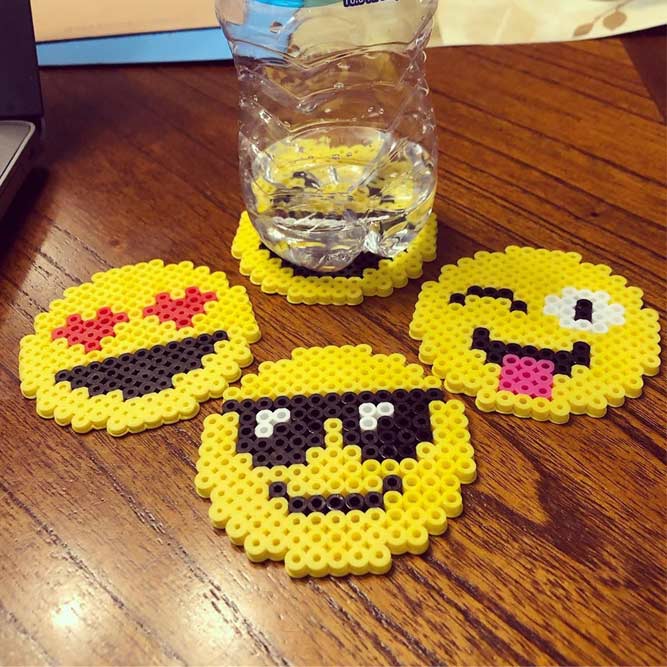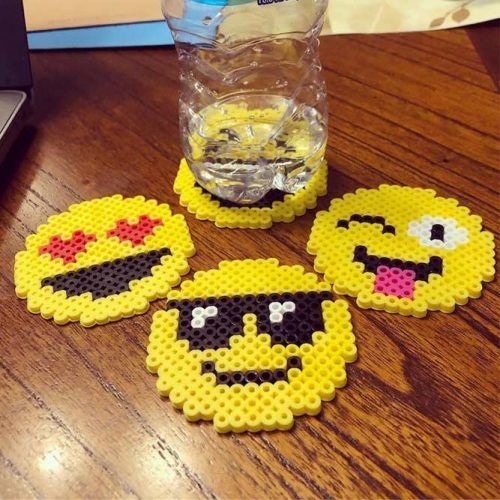 Emoji Perler beads make suitable coasters as well. With fun coasters like that, you will rarely spill anything from your glass or cup. What is more, surely your guests will adore the emoji coasters more than anything!
Source: ladydi_goods via Instagram
Football Lovers Perler Gift Idea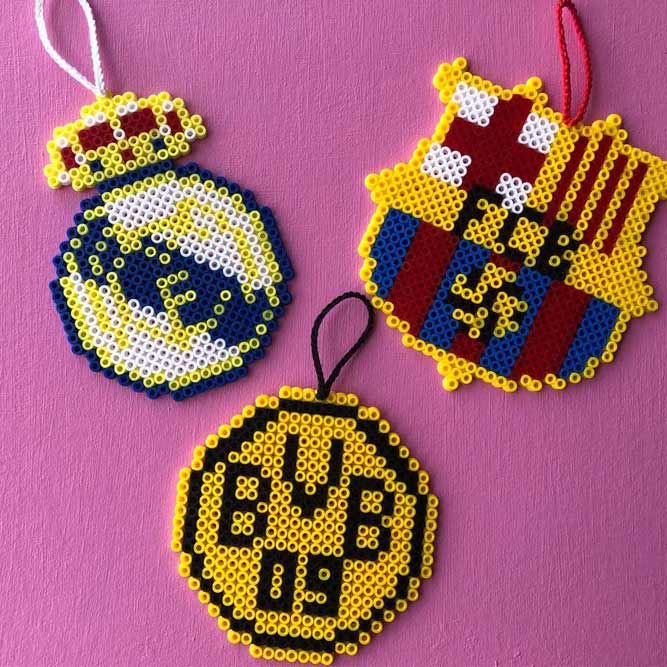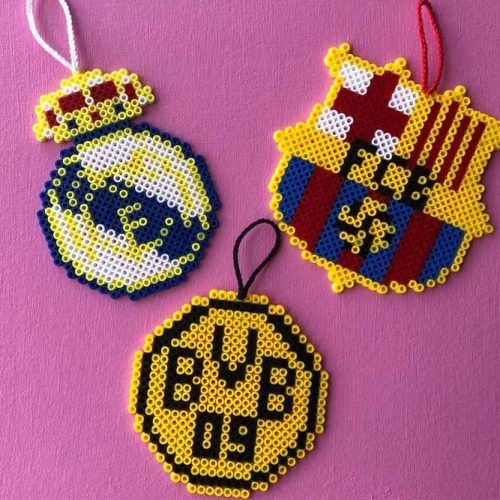 In case you are a football fan or you know one, then a fitting Perler gift is a must. It may take you a while to succeed with a suitable pattern, but the result will surely be worth it. See for yourself!
Source: magic_fair_ via Instagram
When you get tired of your usual online gaming, it is time to think about some different activity. We happen to have one in mind. Perler beads are one exciting activity that will win over the hearts of both adults and kids!