A lavender color comes in the following shades: lilac, orchid, thistle, mauve, and plum. In its essence, lavender is between pale light to medium purple.
What does lavender symbolize? This color is often associated with love, devotion, purity, silence, serenity, and wonder. When used in art and design, lavender hues are supposed to invoke the feelings of romance and nostalgia in people.
Read on to discover how to incorporate amazing lavender hues in your decor, image, and life in general.
Wedding Décor Designs In Lavender Color
Source: morozova_wedding via Instagram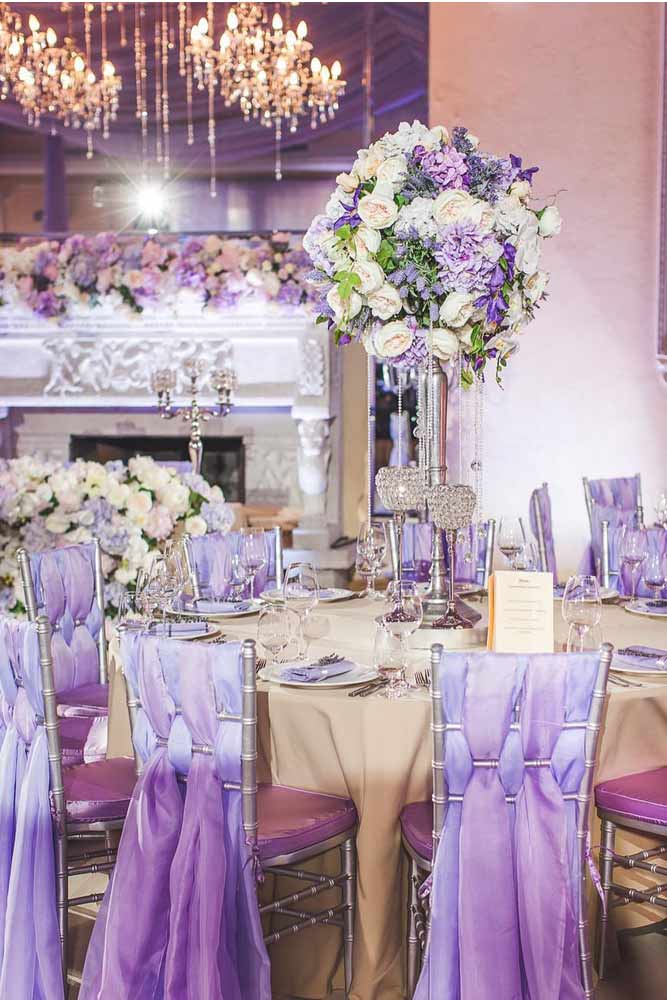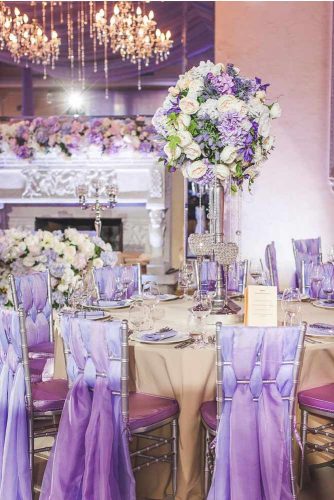 Many couples choose to have a lavender color wedding ceremony theme. That's partly because of the symbolism behind this color but also because it looks soft and pairs well with other hues that are often used in wedding themes.
There are colors that go well with lavender. For example, lavender hues are often paired with white. Look at this wedding décor idea. White and lavender look very fresh and pretty with each other. Pastels also match with lavender, and this tablecloth in beige proves that.
Wedding Lavender Cake Idea
Source: domikprianik via Instagram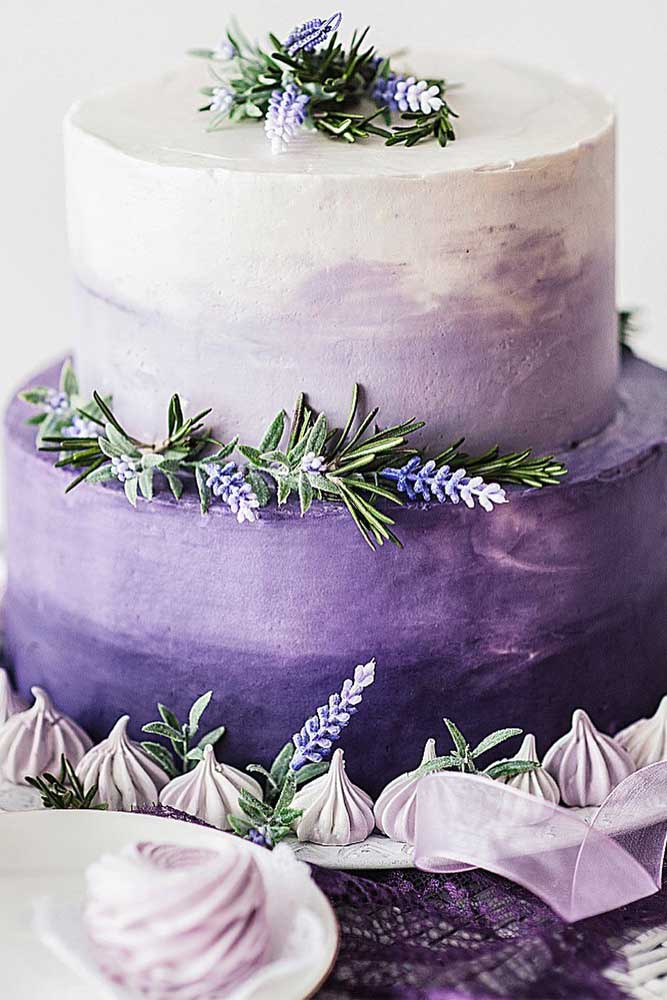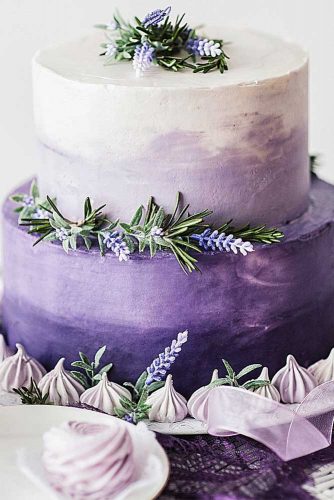 If you have a lavender color wedding theme, you can't go wrong with the cake in the same color scheme. This big wedding cake has white and lavender frosting and looks super delicious. And inedible lavender flower décor is added to make this cake appear like a piece of art.
Wedding Invitations With Lavender
Source: 4lovepolkadots via Instagram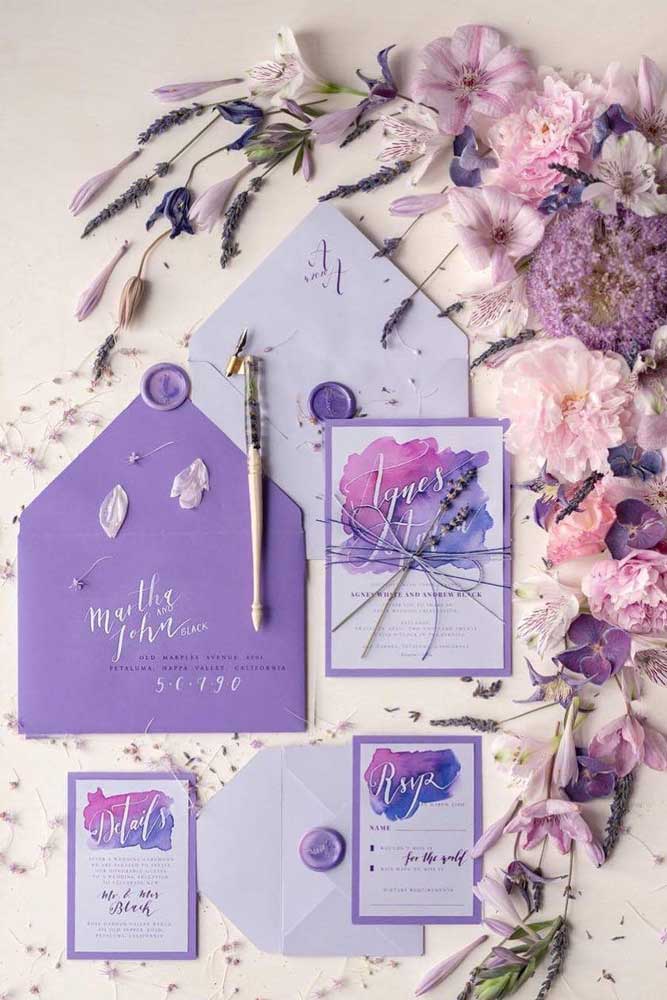 When couples decide what kind of wedding invitations to choose, lavender is among the most popular color. Maybe it is so because lavender looks super sweet and unlike pink, it is not girly. And pink, lavender, and white pair well together. Switch on your imagination and combine these hues for the perfect wedding invitations.
Casual Lavender Outfit Idea
Source: whoisthatblonde via Instagram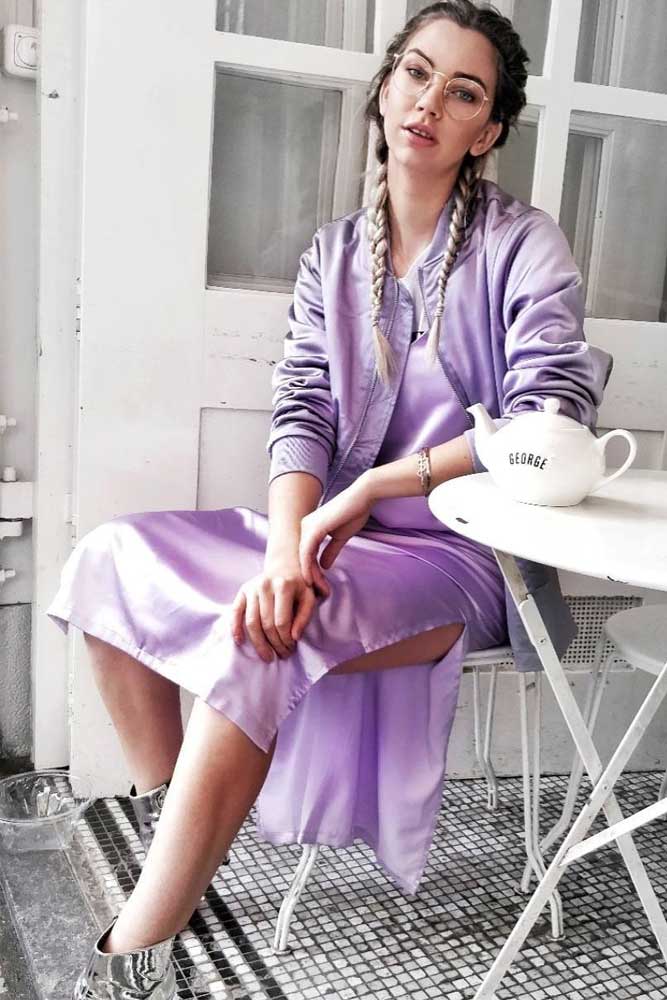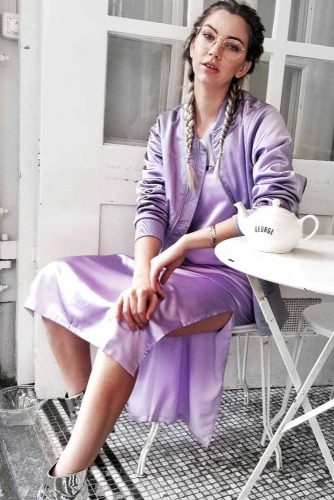 Lavender outfits are fashionable this year, and we owe that to Pantone. This model's image is so adorable with a long lavender dress made of silk and a lavender jacket. Stylists decided to combine the soft-colored outfit with silver footwear, which turned out to be an excellent choice, in our opinion.
Lavender Accents In Your Style
Source: aroundthewaygyrl via Instagram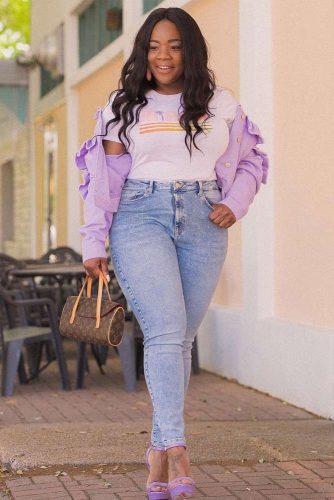 To rock this hue, you do not have to go all purple lavender. This delicate color can act as an accent in any outfit idea. This model wears baby blue jeans, a white T-shirt, and her image is played up with the lavender jacket and the high heels in the same color. The result is totally glammed up!
Pastel Lavander Dress Design
Source: hapatime via Instagram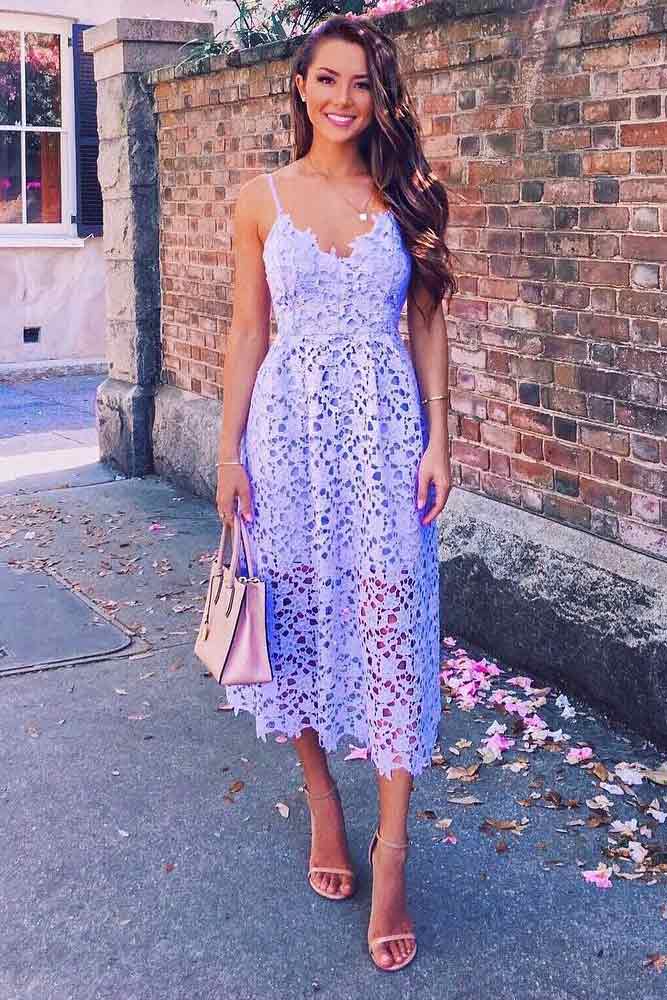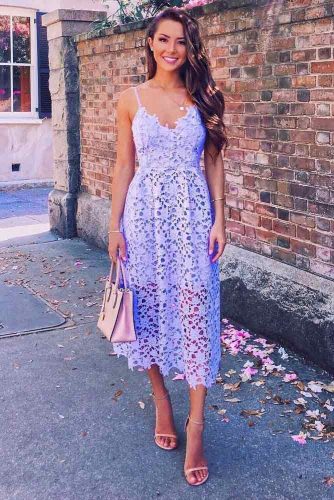 Are you going to put on a lavender color dress but not sure what shades to pair it with? Look at this outfit idea, isn't this the definition of Style? Here the model matches her lavender long summer dress with nude shoes and handbag. Overall, it is a nice idea to pair a lavender dress with neutral hues like beige, coffee, etc.
Matte Lavender Eyeshadow For Stunning Look
Source: glamtrashmakeup via Instagram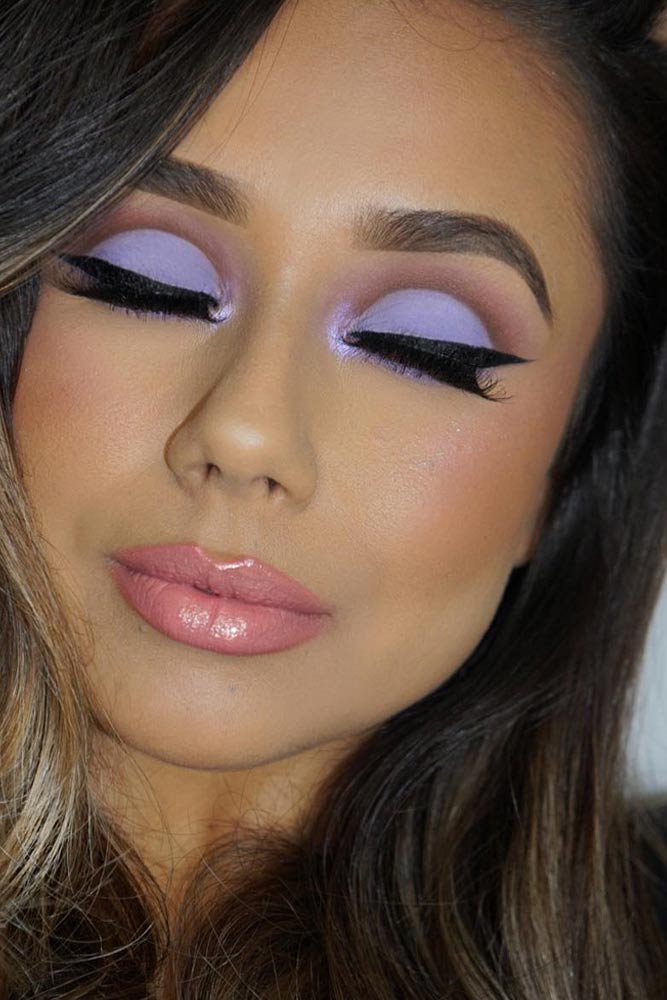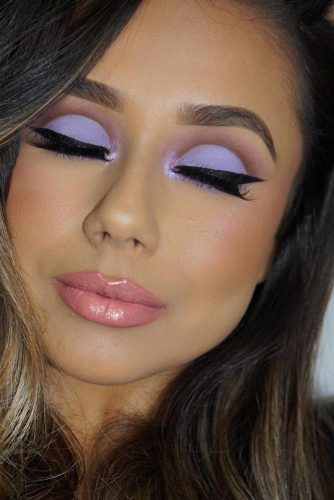 This matte lavender eyeshadow really compliments this model. Subtle shades like this make any image more delicate. Overall, when it comes to eye makeup, lavender color shades are usually applied to flatter green eyes, hazel eyes, and dark brown or black eyes. Eyeliner will make them look brighter for an evening event.
Party Makeup Idea With Glitter Lavander Eyeshadow
Source: amrezy via Instagram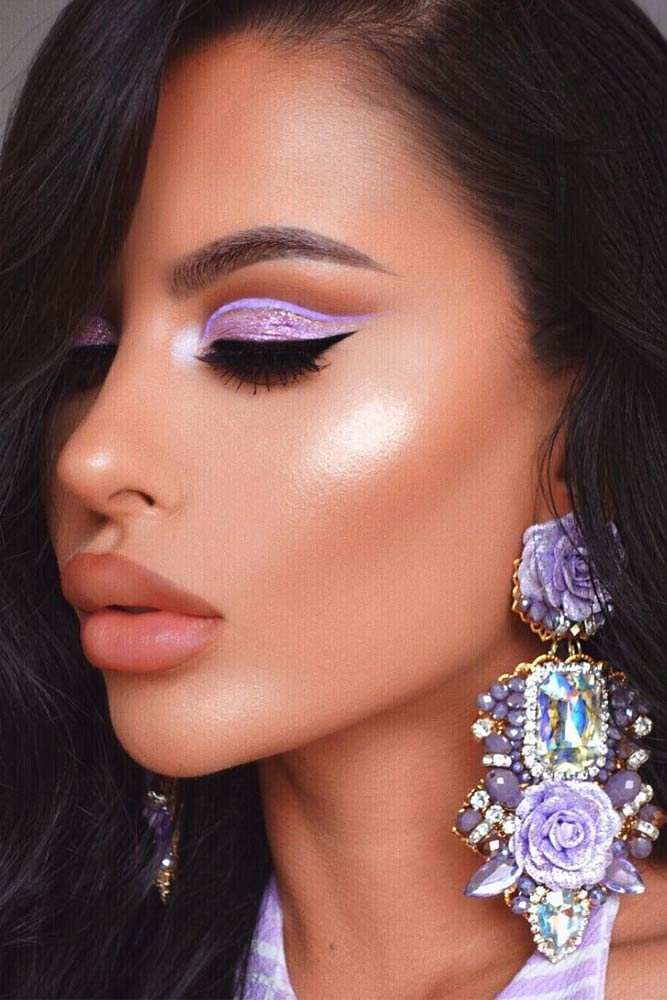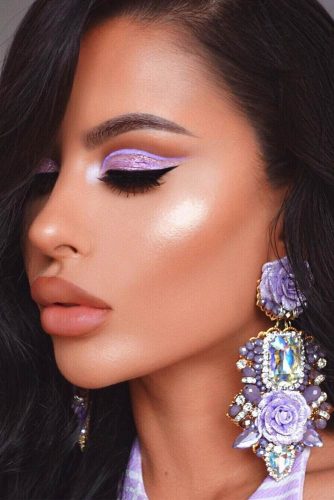 The makeup idea you can see in this picture will be appropriate for a party or some special occasion. This look would be too vivid for wearing every day. The glitter purple hue and black eyeliner define this model's eyes and make them pop. And the lip makeup stays subtle. The look is gorgeous.
Bold Eyes With Natural Lips Makeup Idea
Source: shainaa_m via Instagram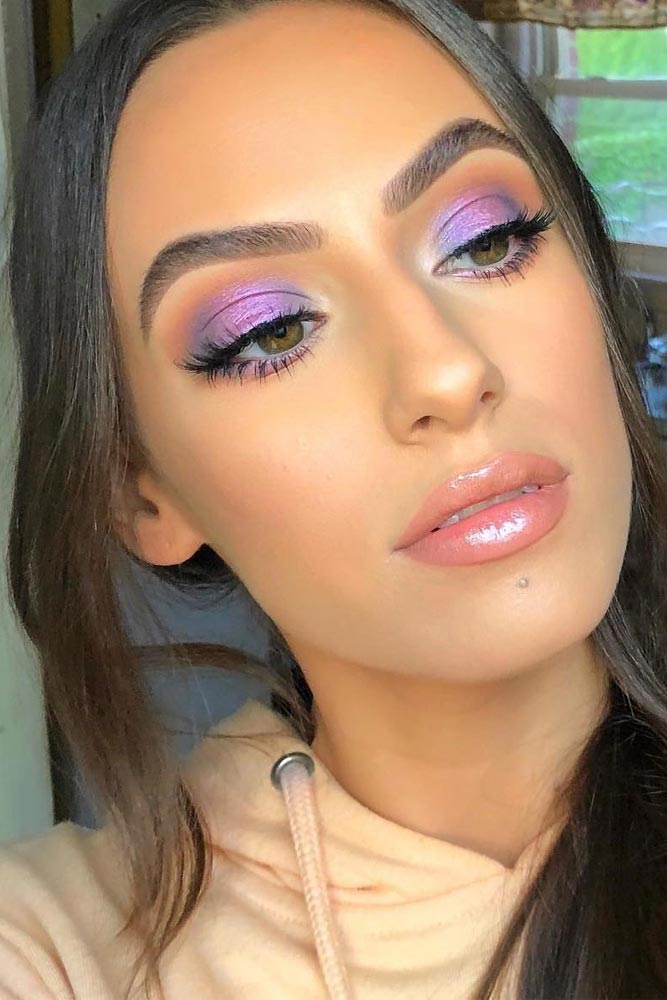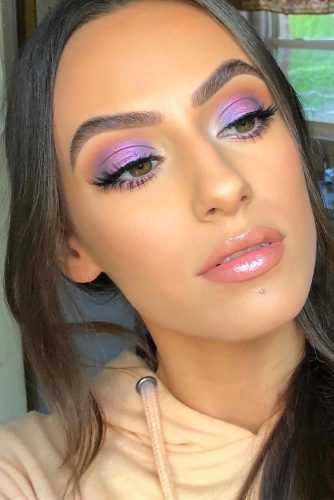 When it comes to vivid and dark lavender color accents in makeup, you are unlikely to see the look where both eyes and lips do the talking. That would be too much. That's why it's either lavender lipstick or lavender eyeshadow. In this picture, the model rocks awesome smokey eye in juicy lavender hues.
Matte Nails Art With Lavender Pattern
Source: olgastognieva via Instagram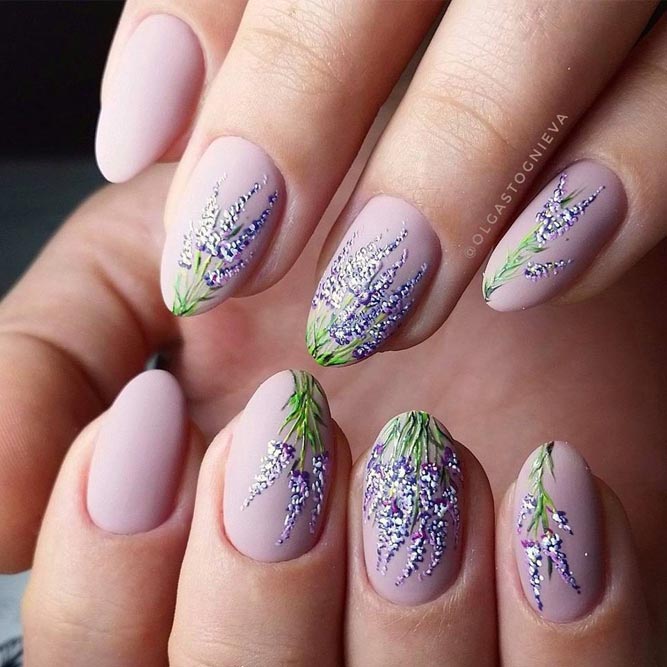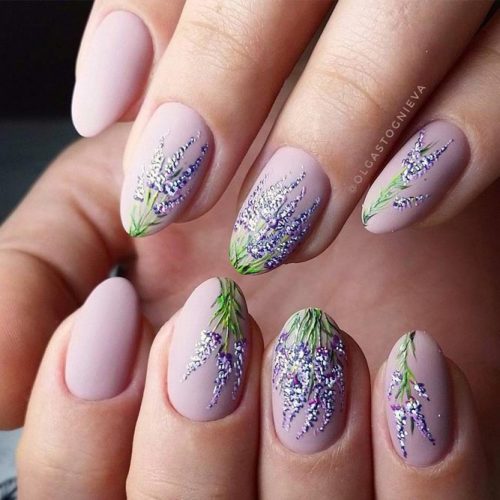 This nail art idea looks charming with the eye-pleasing matte lavender hue and ethereal lavender plant patterns. This manicure is actually super simple to recreate. Just paint your nails with lavender nail polish after applying base coat. Wait until it dries and apply one more coat. Finish with mattifying top coat. Apply stickers that depict lavender flowers. And finish with one more coat of the top. Voila! This manicure idea is great for every day.
Lavender Ombre Nails Design
Source: kapus_nails via Instagram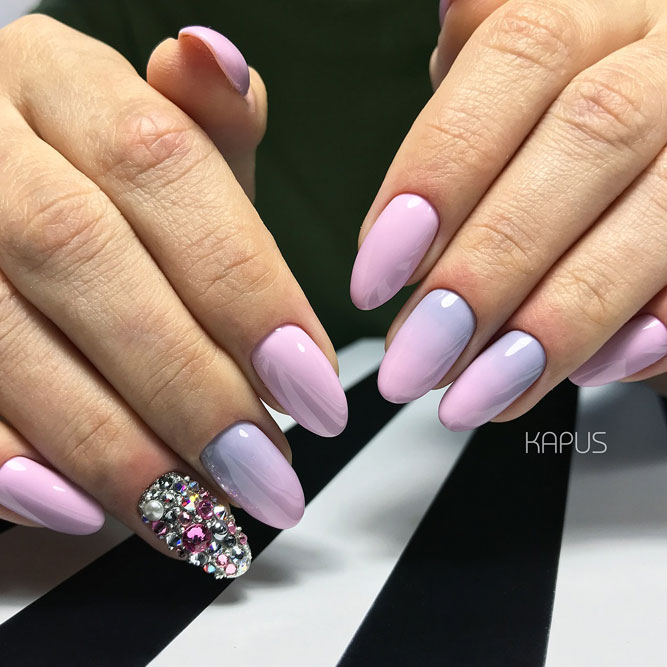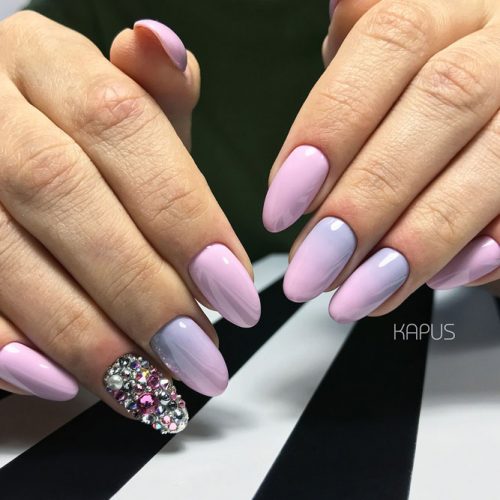 How to recreate this nail art? For a cool and fab lavender ombre nail design like this, you will need two nail lacquers, one in a light lavender color, and one in a dark lavender color. Also, you will need a makeup sponge, base coat, nail lacquer remover, and top coat. Follow these simple steps:
1. Apply one layer of base coat that you like. 2. Apply one strip of light lavender nail polish to the makeup sponge and right below it, apply a strip of dark lavender nail polish. 3. Now press the makeup sponge onto your fingernail. Reapply the polish to the sponge for every nail. 4. Wait until each nail dries before repeating the process for the second and third coats. Let it dry. 5. Clean up the mess with nail lacquer remover. 6. Apply top coat. 7. As for the accent nail, apply sequins in silver and purple or pink hues. That's it! Your stunning mani is done.
Easy Nails Design In Lavender Color
Source: sarahsnailsecrets via Instagram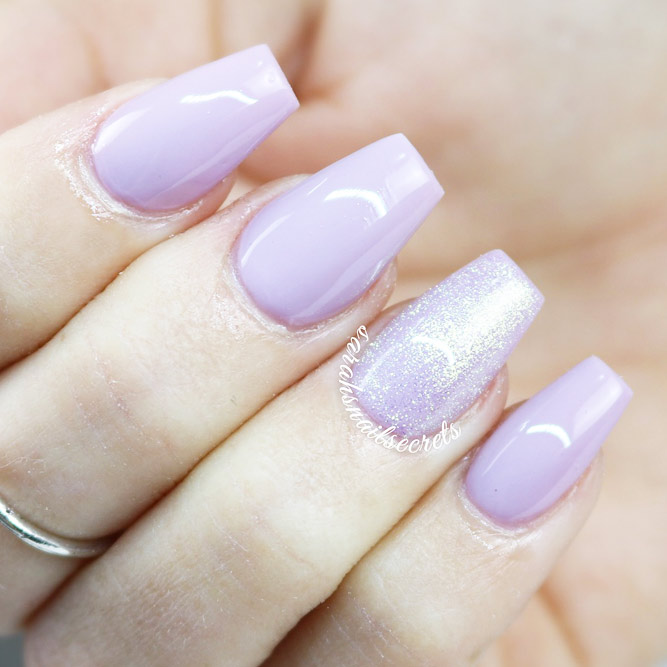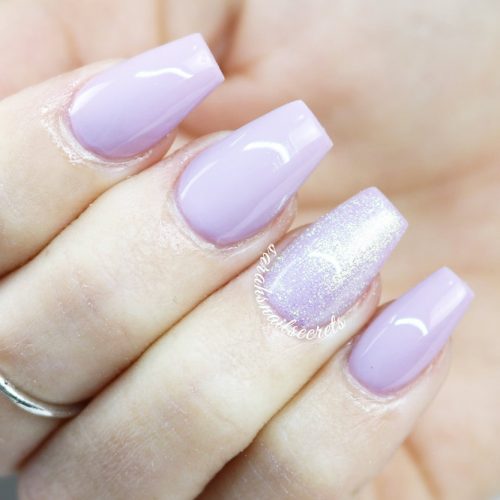 The best thing about this nail design idea is that you can wear it anywhere. It is modest enough to sport at work. And it is also very elegant, so you can rock a lavender mani with a glitter accent even if you have a formal occasion to attend.
Amazing Lavender Color For Your Hair
Source: chemically_electric via Instagram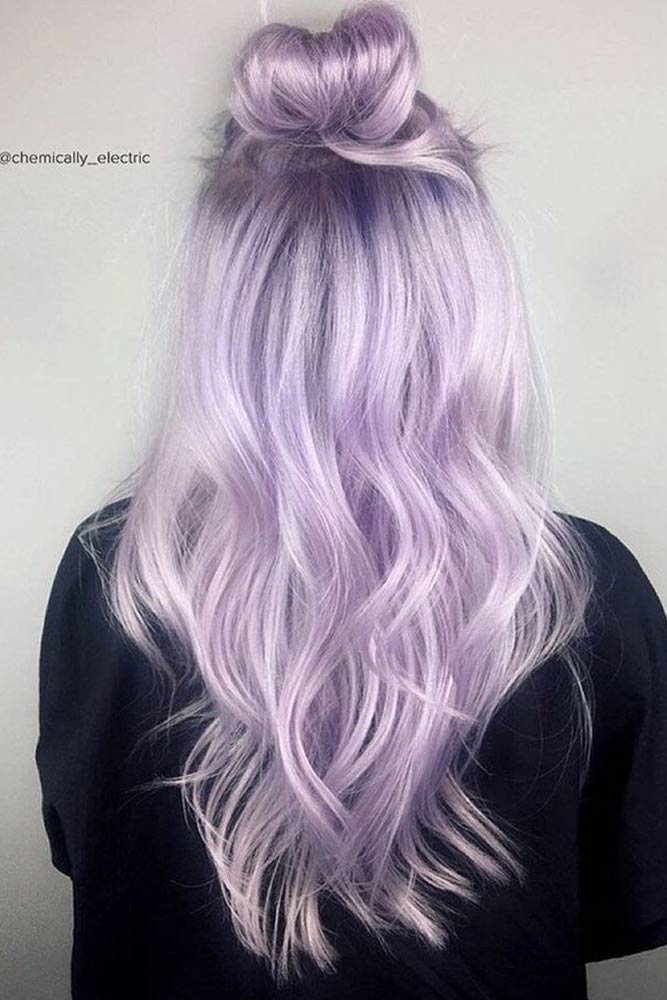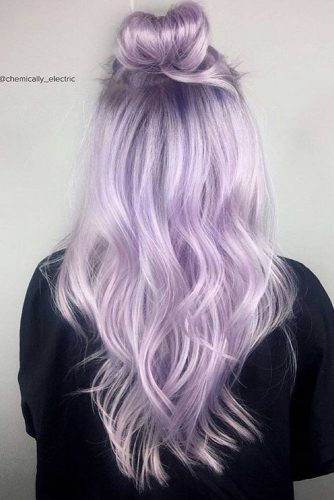 Lavender color hair has been in for some time already. It would be a nice choice if you are tired of being blonde and wish to add a subtle splash of color to your image without going over the board.
Buns Hairstyle To Show All Lavender Shades
Source: lichipan via Instagram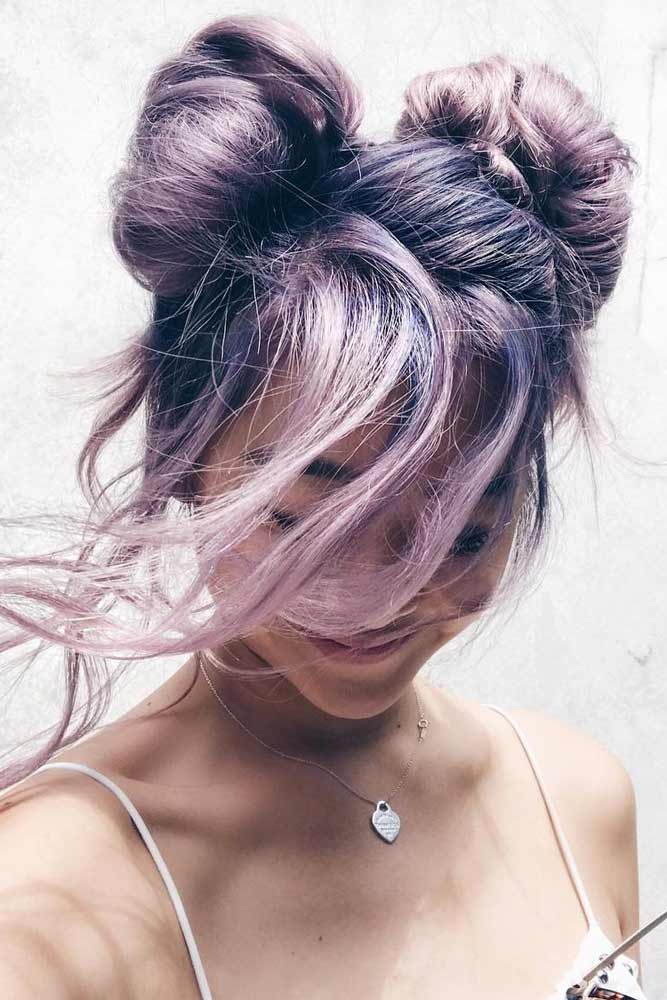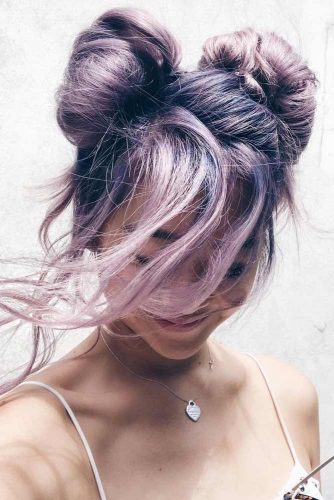 These buns look otherworldly adorable, especially with this fab lavender hue. When you look at this pic, the color may seem lilac to you, but it's not. Lilac is a grayish purple and it's pale, while lavender is more saturated and has some blue tint in it.
Brown And Lavender Ombre Hair Color
Source: tastesliketania via Instagram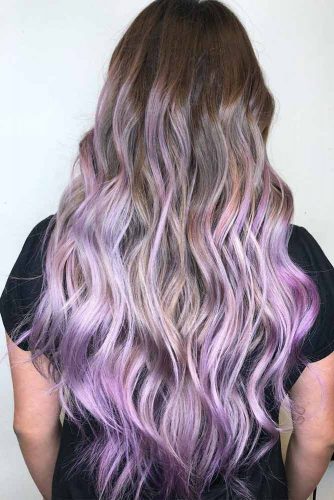 This wavy hairstyle is perfect for purple colors because it helps accentuate each of them. If your tresses are naturally wavy, you can apply sea salt spray to get a captivating hairstyle like this.
Arm Lavander Flowers Tattoo Design
Source: mimilina_tattoo via Instagram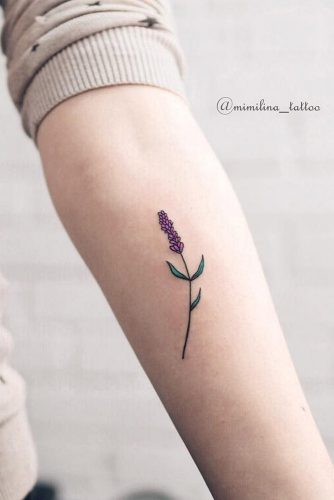 Get a discreet floral lavender tattoo like the one in this picture if you a person with a delicate soul yet somewhat rebellious attitude. This tattoo design looks quite realistic, how do you think?
Collarbone Minimalistic Lavender Tattoo
Source: tattooist_banul via Instagram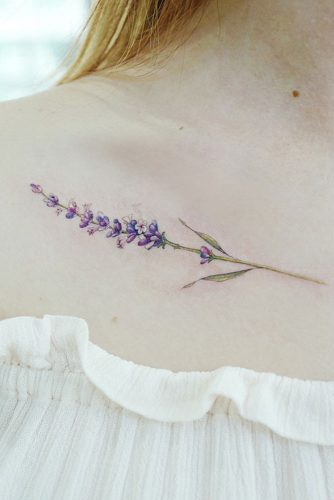 Floral tattoos are popular all around the globe, so you can't go wrong with one. This lavender tattoo design looks so lovely and also very delicate on this model's collarbone.
Watercolor Lavender Flower Tattoo On The Leg
Source: mini_tattooer via Instagram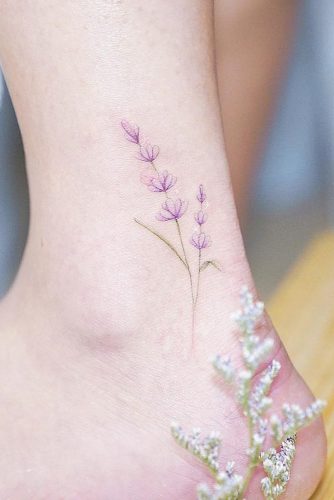 A tattoo like this is tiny, yet, it will be visible in the summertime. And it will also complement your footwear, so you should pick the latter accordingly. This tattoo appears so neat; we love it!
Now you know how to incorporate lavender hues in your image and your life. But don't leave so soon. On our blog, we have more curious info for you.