Hooded eyes are characterized by featuring an extra layer of skin drooping over the crease. As a result, the lid appears much smaller. The eyes often look drowsy. It might sound terrible, and you might wonder at some point: are hooded eyes attractive?
Even though such eyes do not have typical shape, with some tips on proper makeup, you can make them look super attractive. To prove this, you might have a look at celebrities with hooded eyes, among whom are Taylor Lautner, Jennifer Lawrence, Taylor Swift, Kirsten Dunst to name the few.
And if you ask yourself: do I have hooded eyes, simply take a closer look at the crease in your eyelid and try to notice if it's visible or hidden. If it's hidden under the brow bone or lid's upper part, then you have hooded eye shape. And if you already know that you have such eye shape, you might have noticed how difficult it might be to make the eyes pop.
Makeup artists admit that this is the hardest eye shape to work with because the smallest mistake of applying shadow can totally ruin the overall look. So, if you are wondering how to enhance hooded eyes, you might want to check some of the makeup ideas that can help your eyes look beautiful anytime and anywhere.
What Is A Hooded Eye?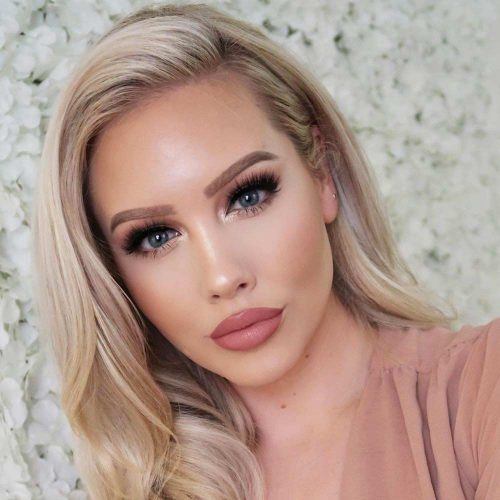 Source: Instagram/jessanista
Just before you rush to try on eyeshadow looks that are fit for hooded eyes, you need to determine that it is your eye type. So, what are hooded eyes, and how are they defined? Hooded eyes are called that because of excess skin that is folding from your browbone down to your lashes. Not all ladies are born with those. Hooded eyes can be the result of aging as well. however, no matter the reason, you need to be aware of the practical and useful ways to enhance those eyes of yours, and we are going to help you with that!
Should Hooded Eyes Wear Eyeliner?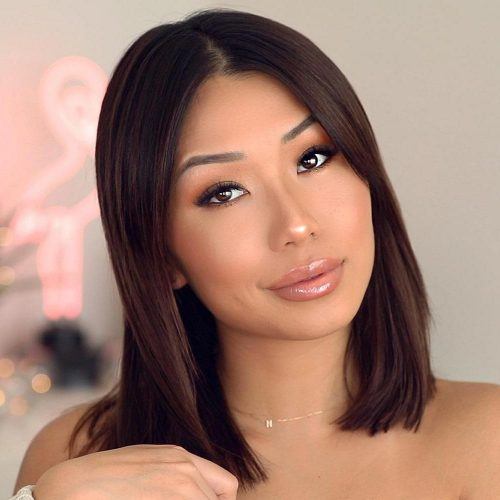 Source: Instagram/jennydo_
If you have hooded eyes, you may already know that winged eyeliner for hooded eyes is basically inexistent. Well, that is where you are mistaken. The reason why you have been failing with your liner makeup is that you have been applying the wrong product in an unfit way. We are going to provide you with some essential tips that will help you sport a sassy liner look anywhere you are headed with ease!
Tight lining – use your liner on your upper lash line waterline, so that your lashes will look thicker, and the eyes will look well-defined.
Use adhesive liner stencil for smooth and even application;
Waterproof and oil-based eyeliners work well on hooded eyes;
Invest into the quality eyeliner;
Whenever applying liquid liner, let it dry out for a few minutes with your eyes closed;
Experiment with an upside-down cat eye look;
Do not stick to back liner only, experiment with various shades too;
Always apply primer first and setting spray last to make your makeup hold in place;
How Can I Fix My Hooded Eyelids Naturally?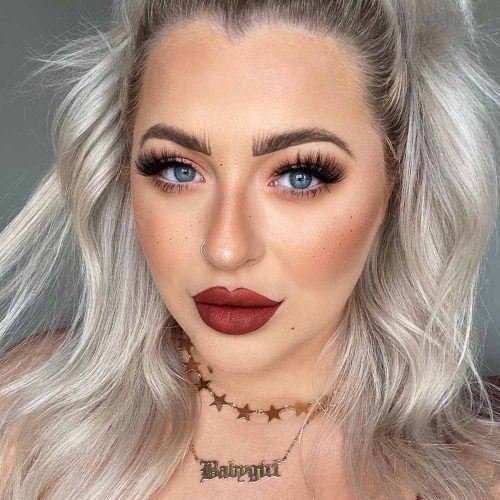 Source: Instagram/babsbeauty_
Apart from perfect makeup for hooded eyes, there are also other ways to deal with the issue effectively and naturally.
Chamomile tea – due to its inflammatory properties, chamomile tea bags, as well as a cup of chamomile tea before bedtime, can assist you in the elimination of hooded eyes effect.
Green tea – it is a potent antioxidant so that you can drink the tea and use the bags later on your eyes to reduce that hooded eye effect.
Cucumber juice – helps to tighten the skin around your eyes;
Aloe Vera gel – will calm your eyes so that eyelids go away;
Ice water – you can either wash your face with ice-cold water, or you can use ice cube over the lids to get rid of hooded eyes.
Healthy diet – if you eat well then, your skin will be more elastic and better looking so that there will be no hooded eyes effect.
Egg whites – this product is not only very rich in protein and should be added to your diet, but can also tighten the skin over your eyes so that the hooded eye effect disappears.
Keep away from the sun – sun rays result in premature aging, and premature aging leads to hooded eyes, if you do the math, you will try to keep away from the sun;
Sleep – there are countless positive effects that sound sleep can bring into your life, hooded eye effect reduction is clearly on the list.
Makeup Ideas With Eyeliner For Hooded Eyes
Cat Eye Makeup Looks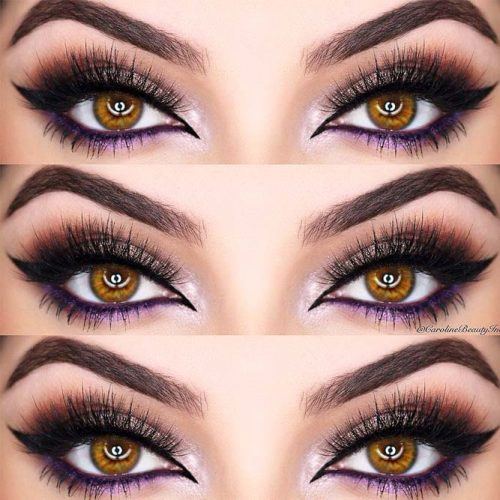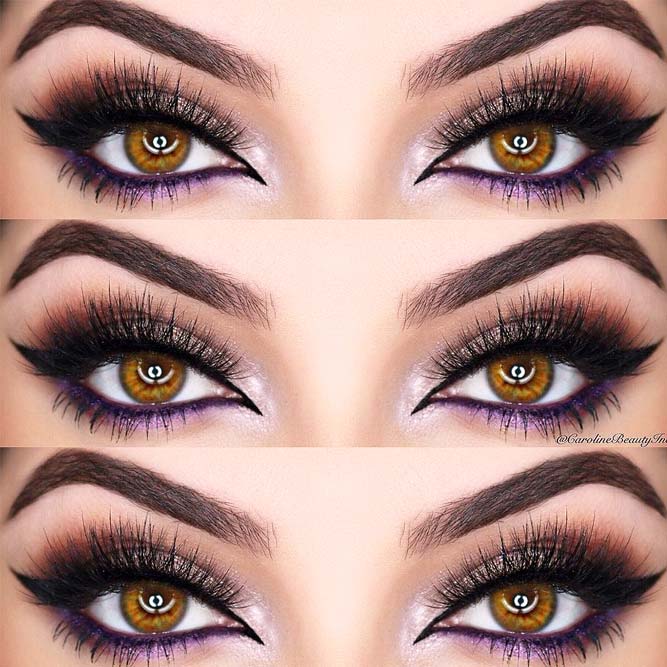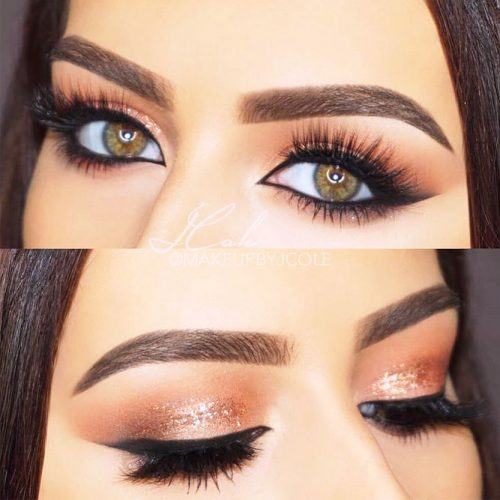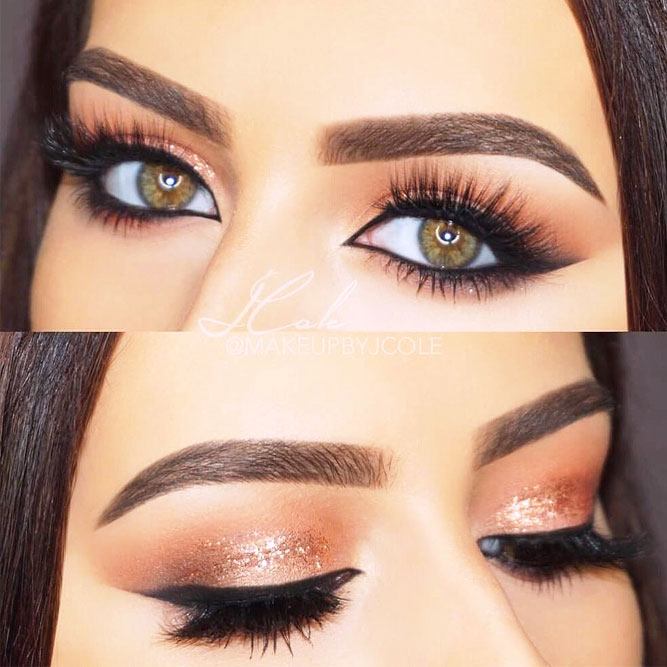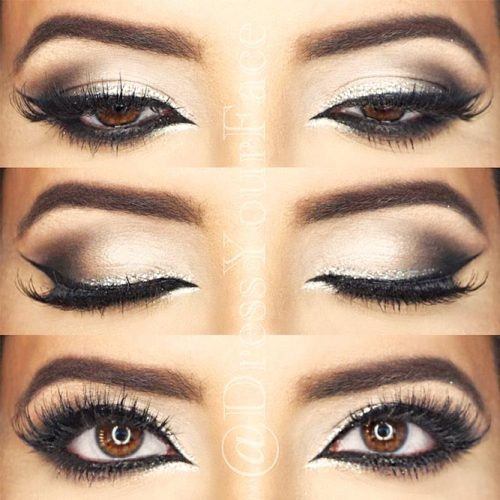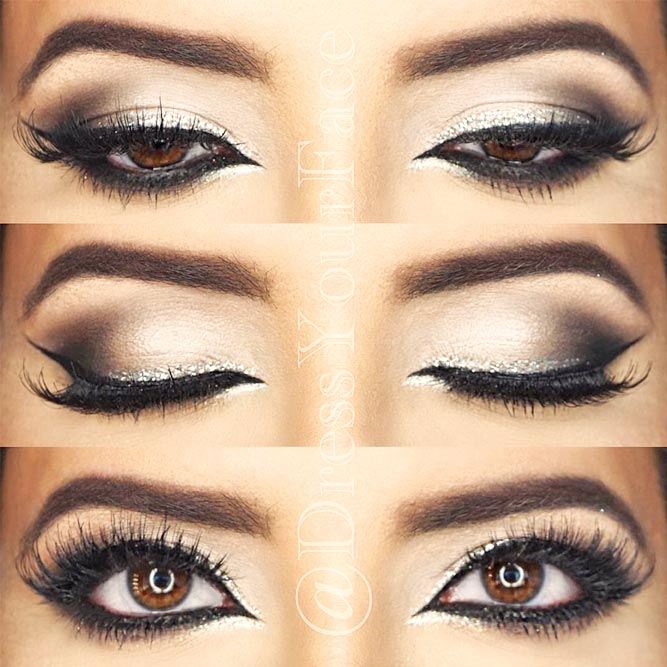 Source: Instagram/carolinebeautyinc, Instagram/makeupbyjcole, Instagram/dressyourface/span>
Cat eye makeup is perfect for hooded eyes, and here is why: blending the shadow a bit outwards makes your eyes appear longer and lifts them up. Also, since there is not enough space on the upper lid, try to put an accent on the lower lid by using eyeliner. And in case you wonder how to enhance hooded eyes, you can get experimental and elongate the line below the eyes even more.
Makeup Ideas With Arabian Eyeliner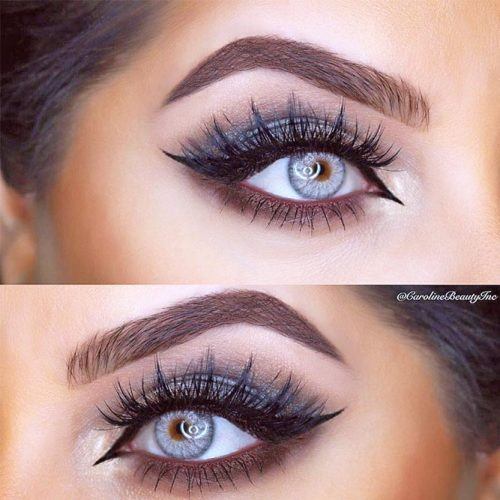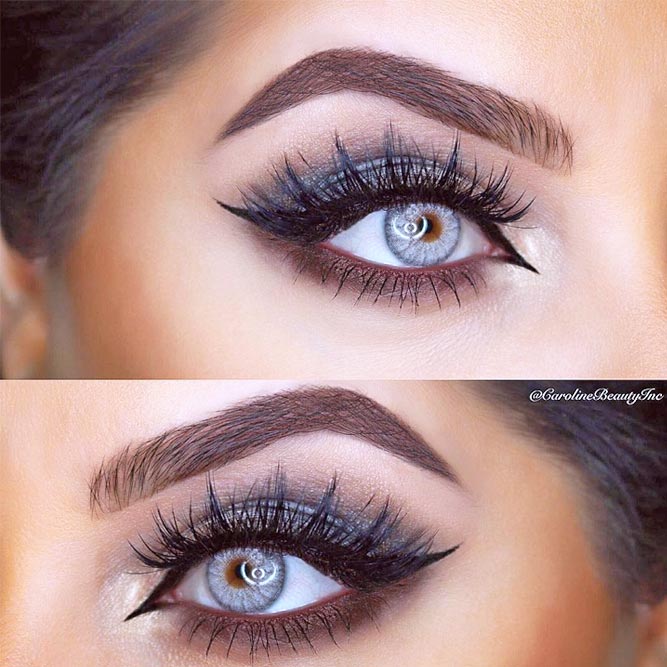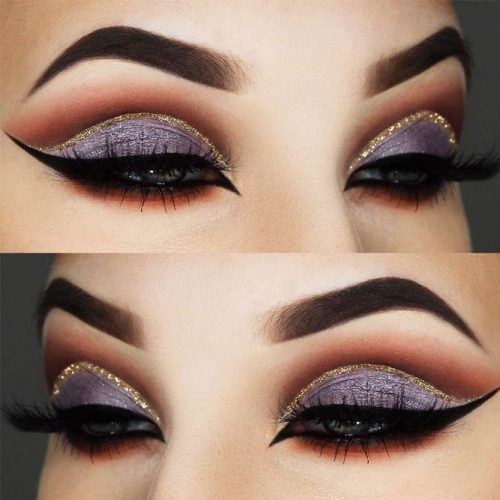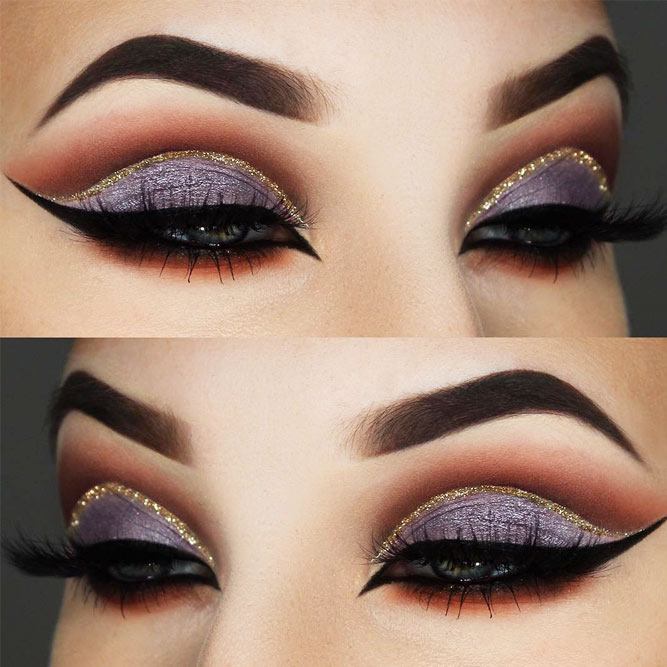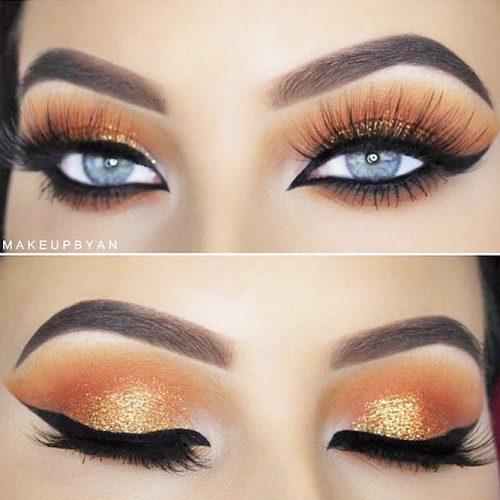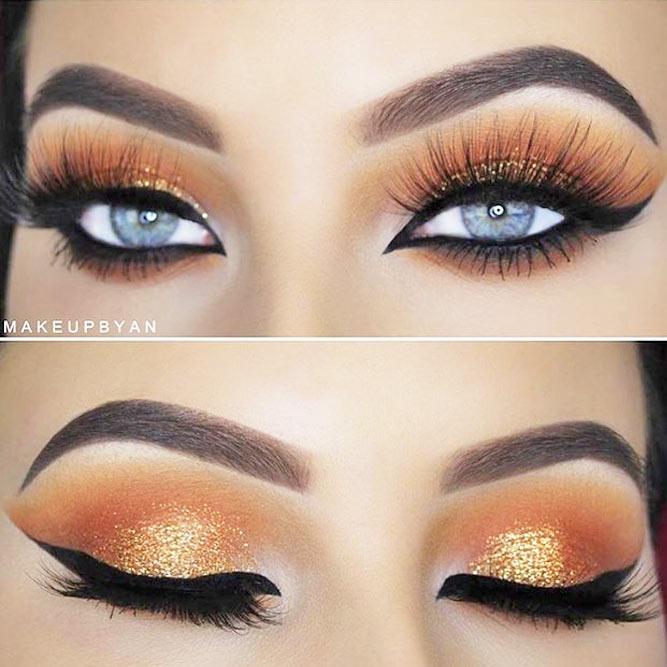 Source: Instagram/carolinebeautyinc, Instagram/julsxbeauty, Instagram/makeupbyan
You may even add some bold colors like purple to neutral toned cat eye. So, if someone is asking: are hooded eyes pretty, show up with the cat makeup, and everyone would admit that such eyes are gorgeous.
Smokey Eyes Makeup Ideas
Smokey Eyes Makeup With Bold Eyeliner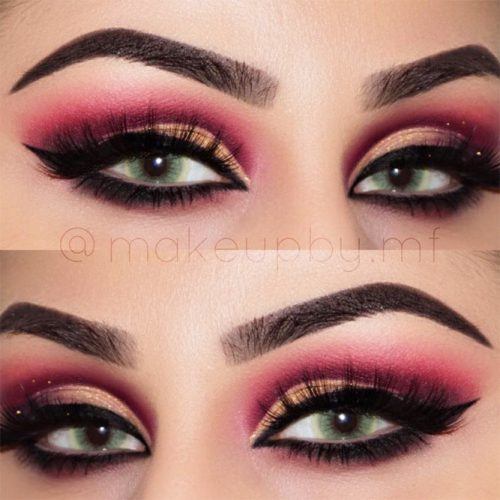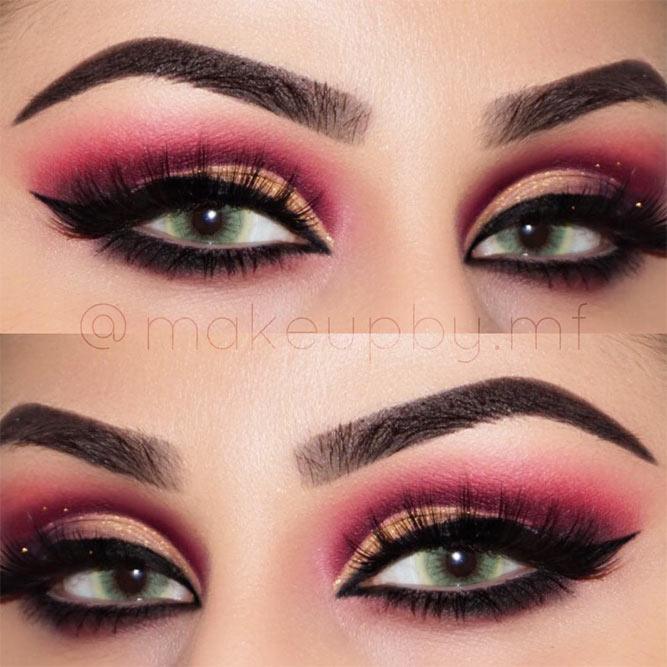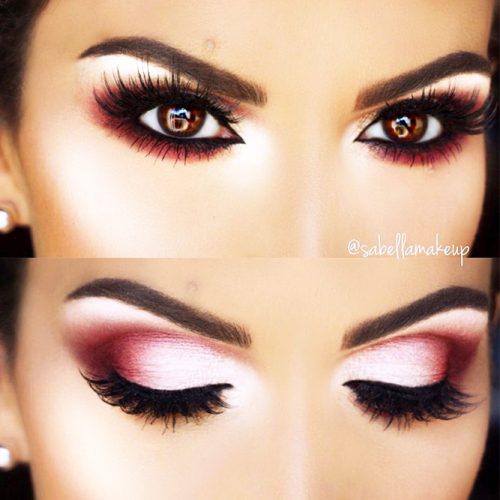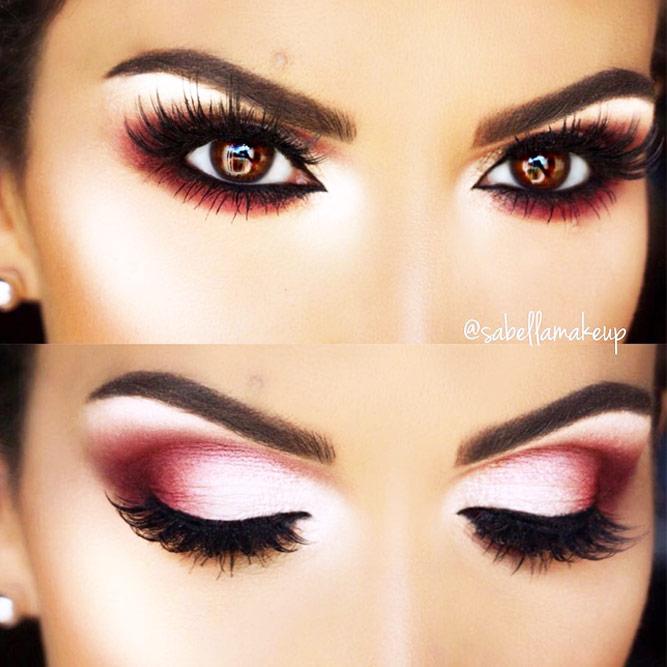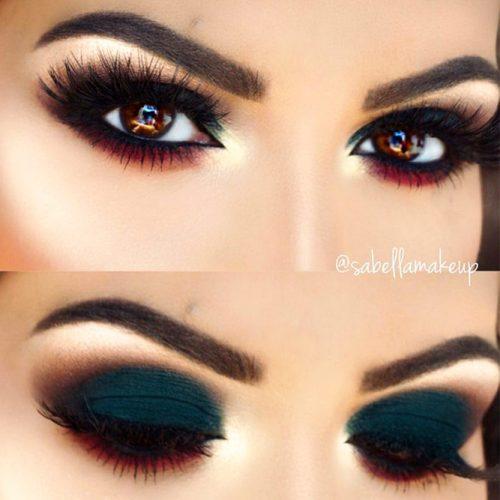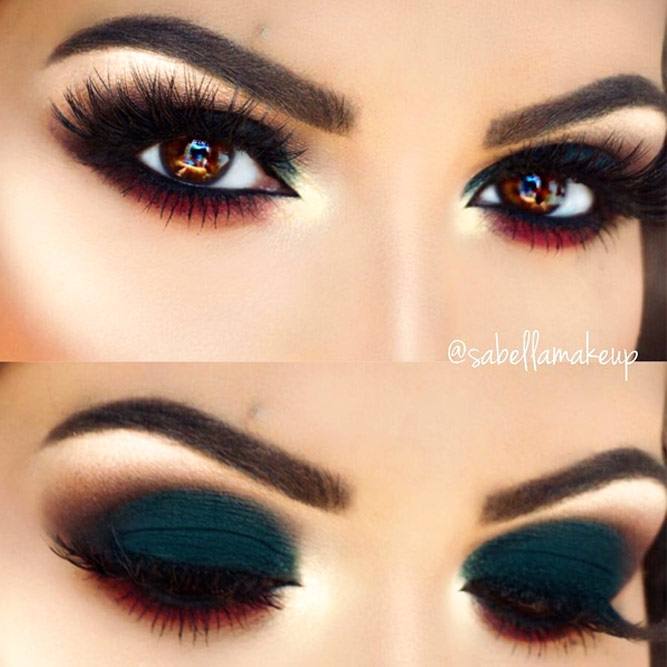 Source: Instagram/makeupby.mf, Instagram/sabellamakeup, Instagram/sabellamakeup
Smokey eye makeup always looks attractive and mysterious but it requires some time and efforts. Smokey eye makeup for hooded eyes might take even more time, but it's definitely worth doing it because, as a result of it, you would look unspeakably gorgeous.
Glitter Smokey Makeup Ideas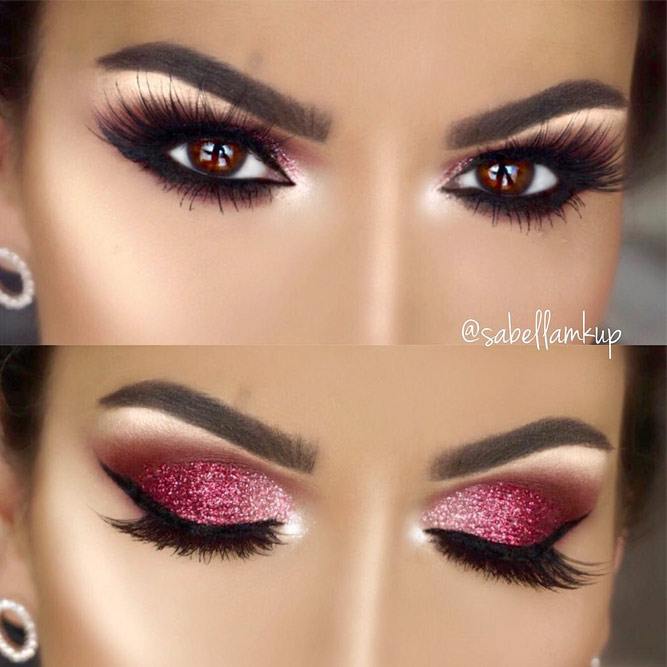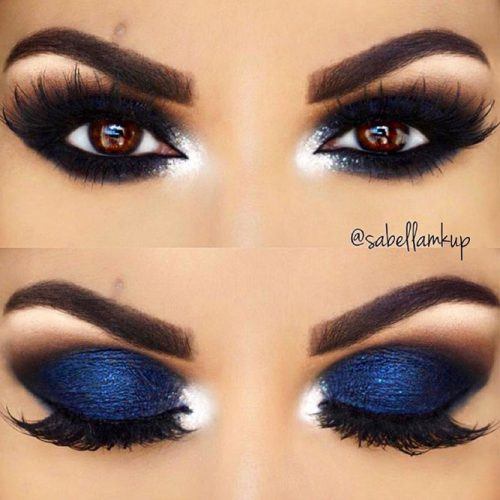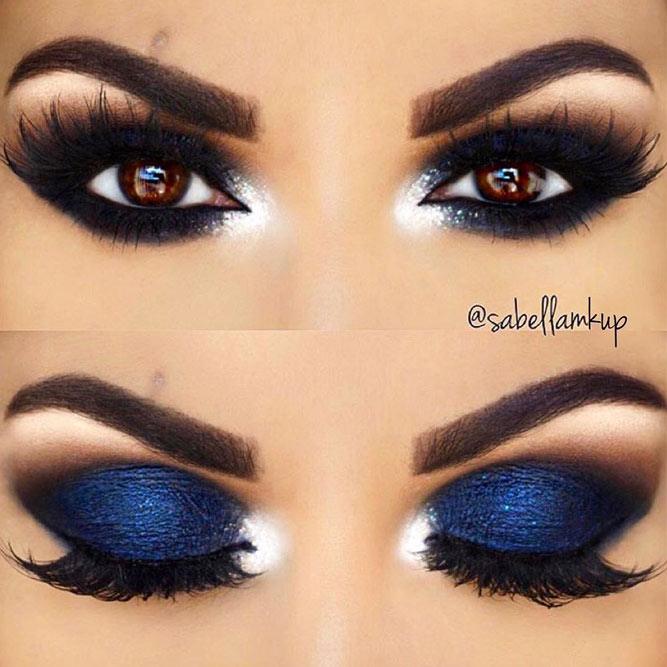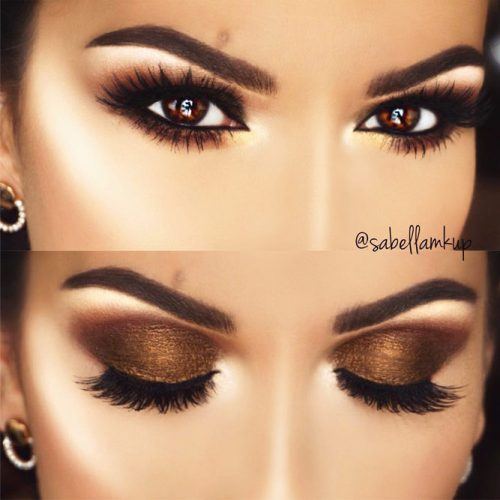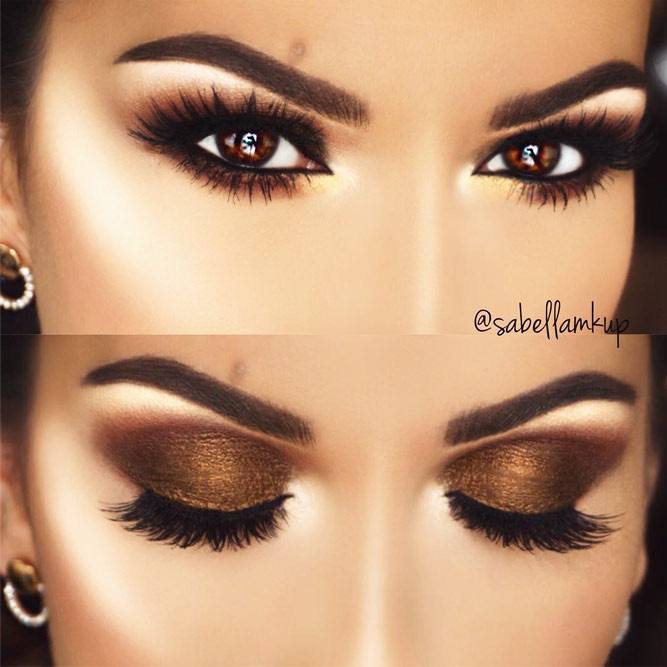 Source: Instagram/sabellamkup
If you're looking to minimize your upper brow bone, stick with matte shades. Such makeup will look great at work or during the daytime.
If you're more into warmer colors, you should definitely learn how to do smokey eyes for hooded eyes. With some copper hue eyeshadow added, you'll look irresistible.
You can also create a "cut crease" by applying some eyeshadow, which can fake a higher fold on your eyelid and transform the hooded lid into the makeup masterpiece.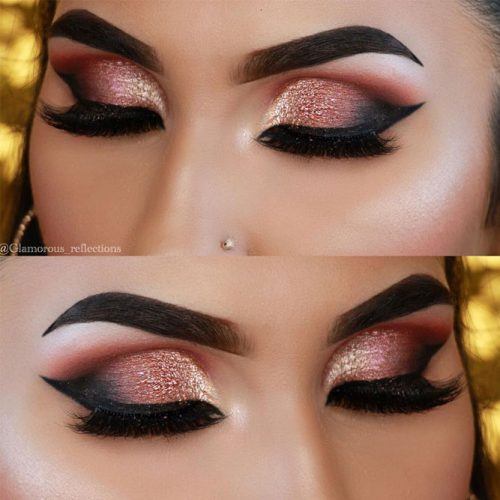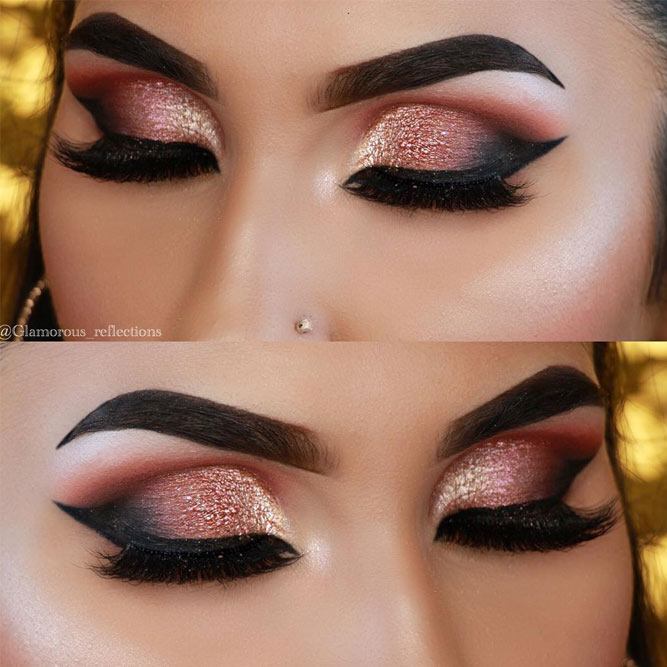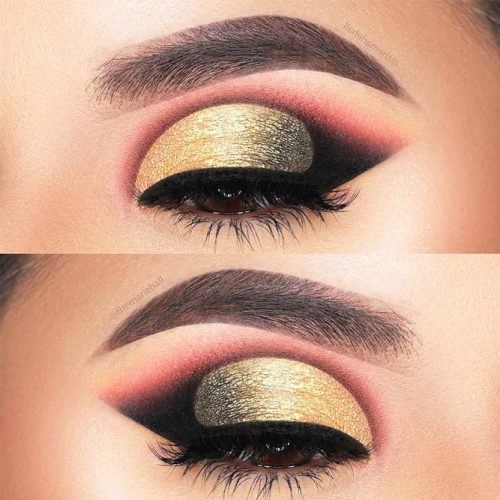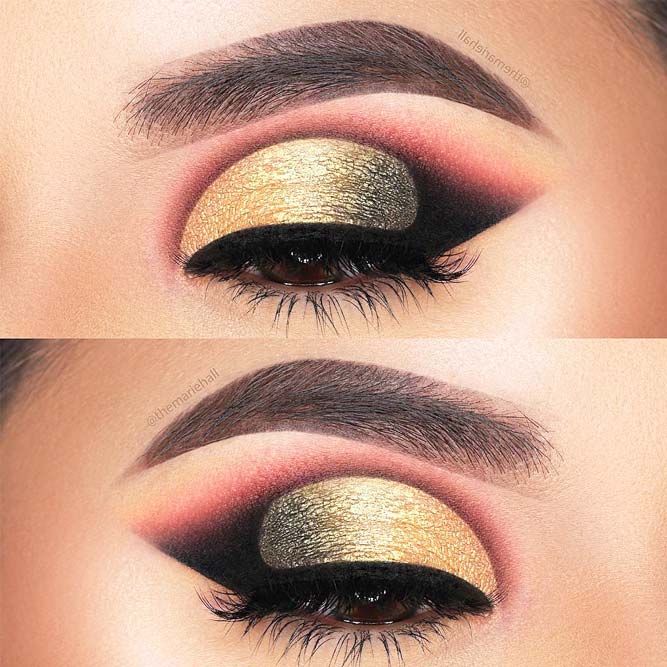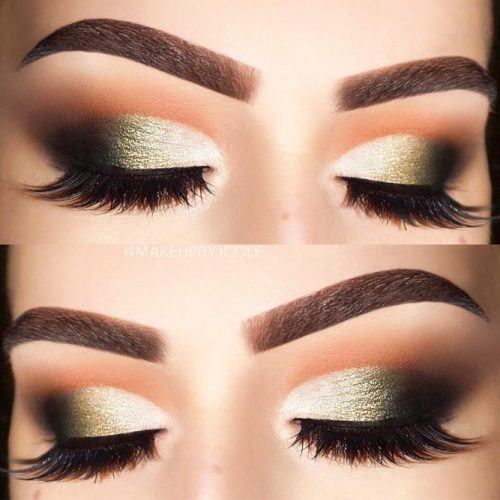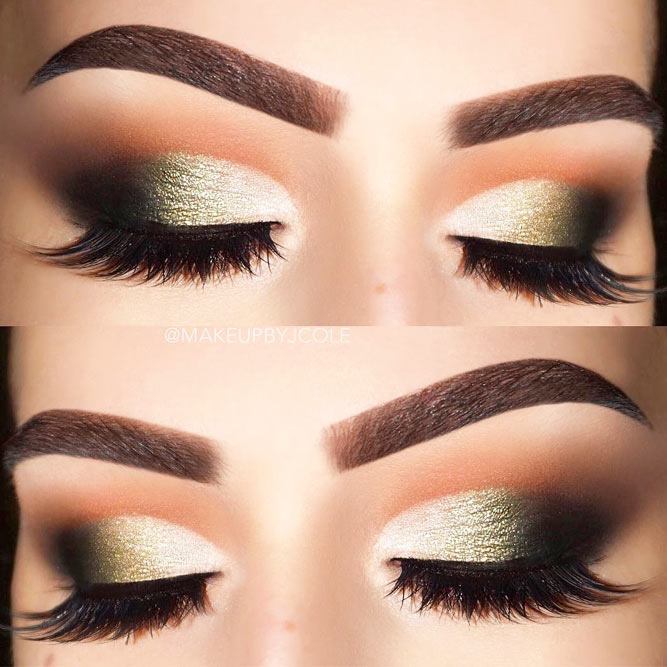 Source: Instagram/glamorous_reflections, Instagram/makeupbyjcole, Instagram/makeupbyjcole
The trick is to apply the shadow above the lid. In such case, you'll manage to create a crease where there isn't a natural one. You could also use medium-toned eyeshadow for hooded brown eyes to make them pop up. Finish the look with a volumizing mascara, and you are ready to impress everyone around.
Shimmer Smokey Eyes Makeup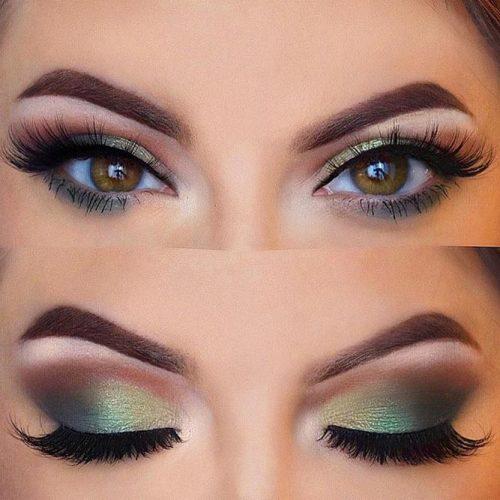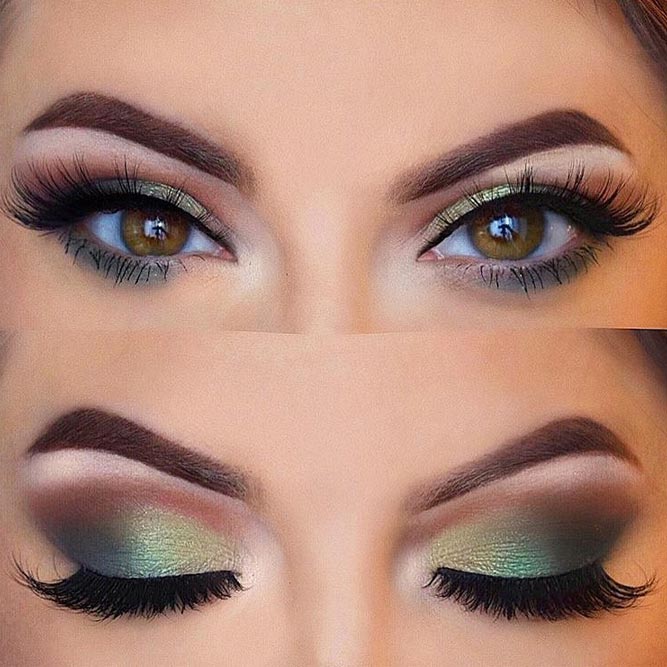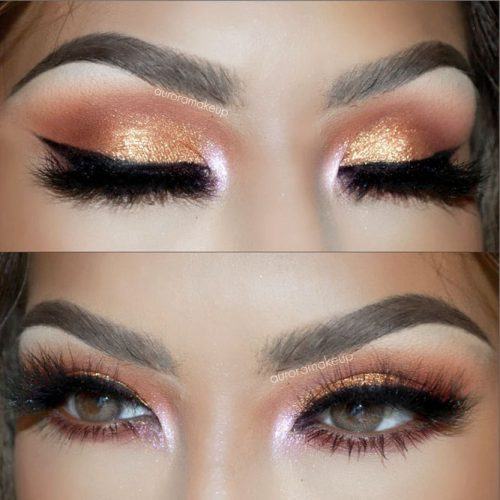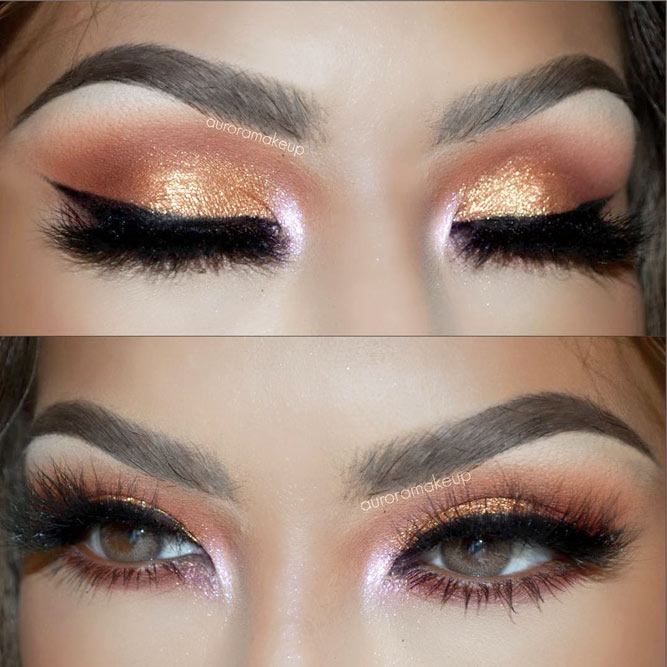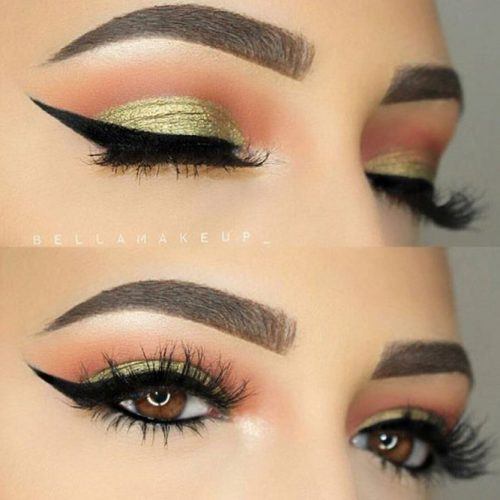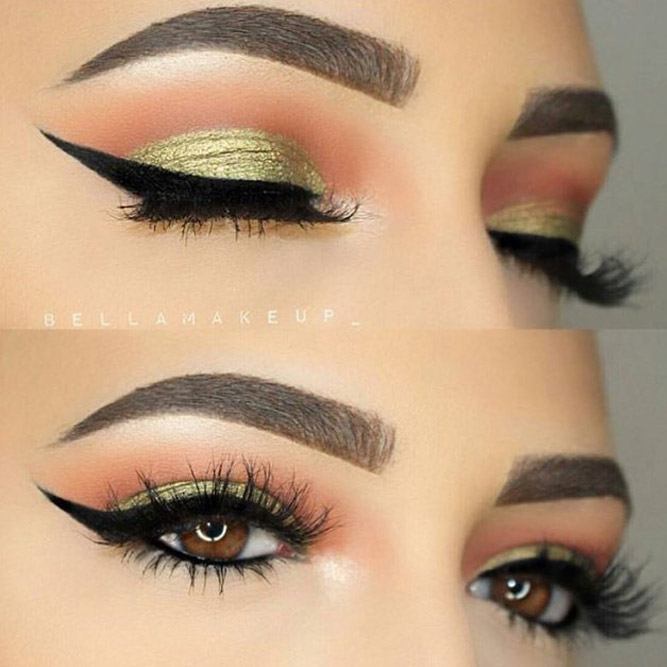 Source: Instagram/makeupbyliha, Instagram/auroramakeup, Instagram/bellamakeup_
And here are some more tips on creating perfect makeup for hooded eyes.
Never accentuate your natural eye fold. You need a new crease just above the natural one.
Use matte eyeshadow as opposed to shimmery underneath your brows to make the brow bone appear smaller.
Apply the eyeliner strategically and make it the star of the 'show.
Learn how to apply mascara properly and take advantage of using waterproof mascara.
Experiment with various shades of eyeshadow and never underestimate the proper use of eyeshadow.
Smokey Eyes Makeup In Nude Shades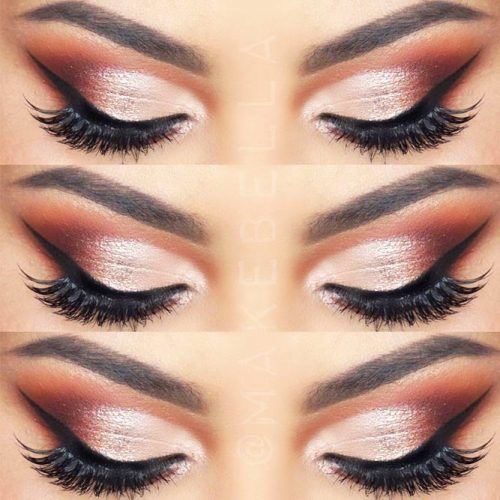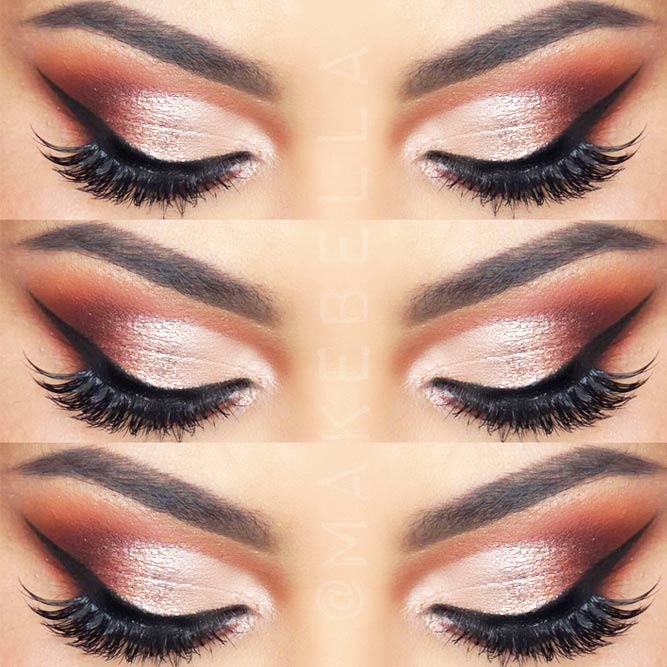 Source: Instagram/makeabella
Makeup, in general, can help any woman look mysterious and different all the time. It's like art, but the pallet is the face, on which you can create any image you want depending on how you feel. Makeup can also help hide some 'problematic' zones. So, if you have hooded eyes and are wondering how to fix hooded eyes with makeup, you can simply follow some small tricks and create perfect makeup for hooded eyes.
Natural Makeup Ideas For Hooded Eyes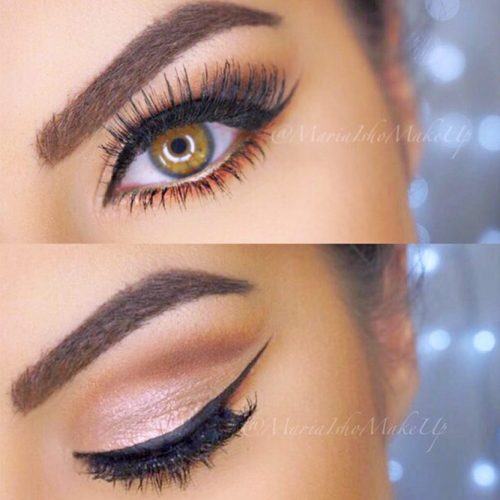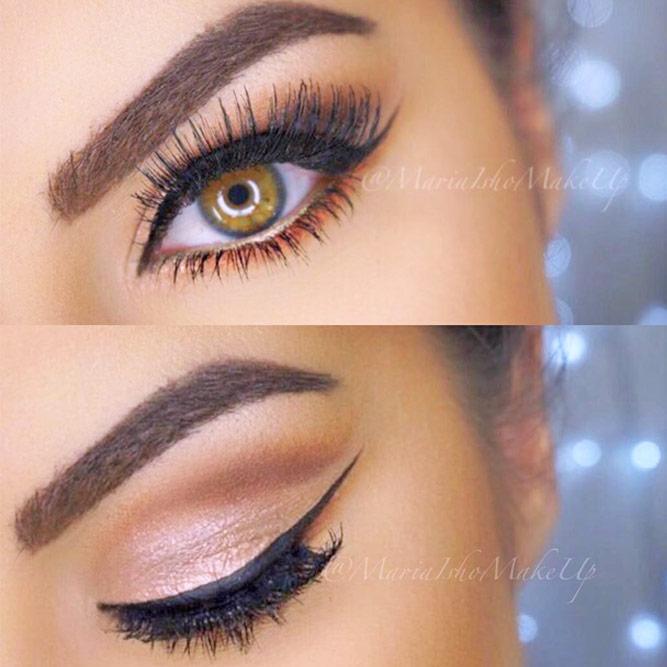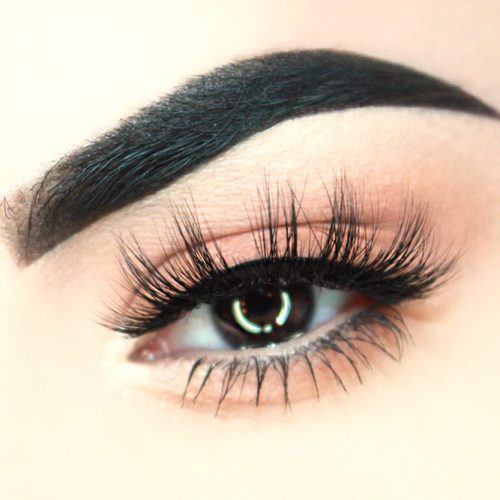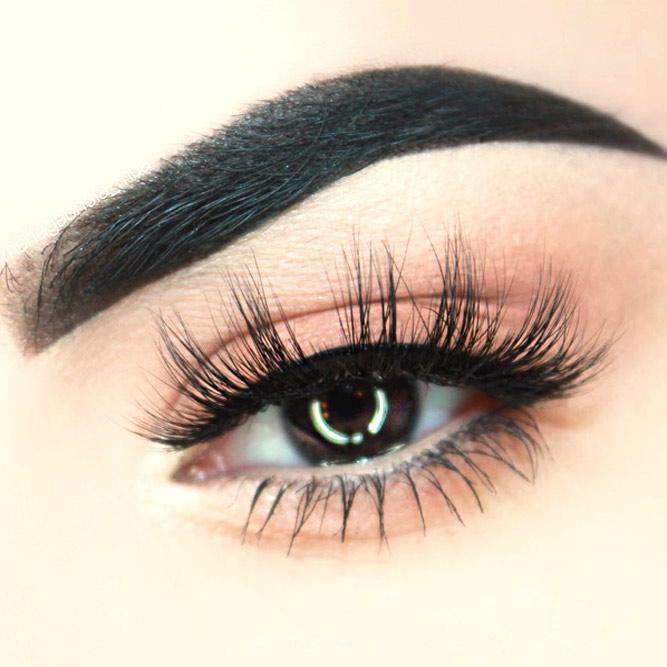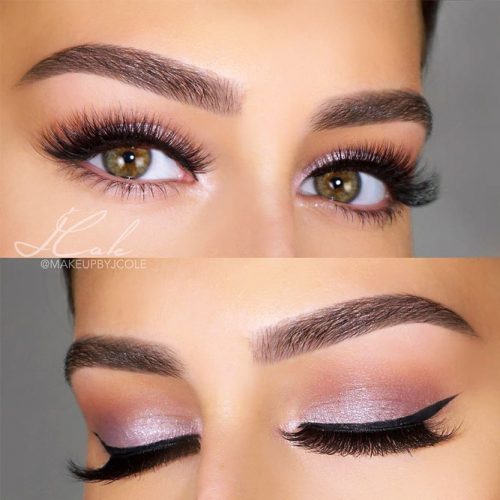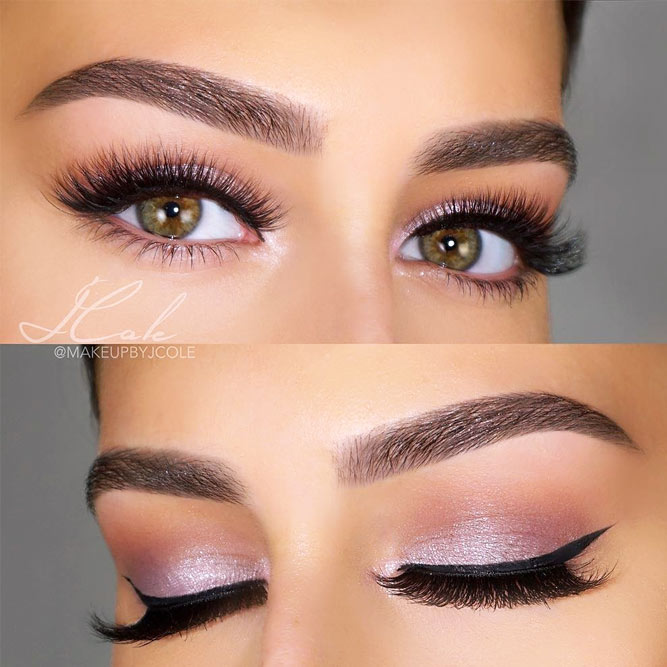 Source: Instagram/mariaishomakeup, Instagram/mariagabriela_mua, Instagram/makeupbyjcole
For example, you should know that shimmery shadow is perfect for such eye shape as it creates the illusion of light where there is typically darkness. With the help of the thin liner, you can create a very nice and refreshing look, which is especially good for the daytime as it looks very natural. Apply some mascara to the upper lash line, and you'll achieve that natural-looking yet beautiful effect.
Cut Crease Makeup Ideas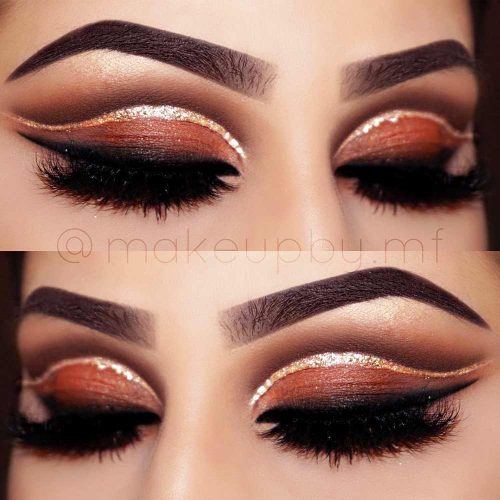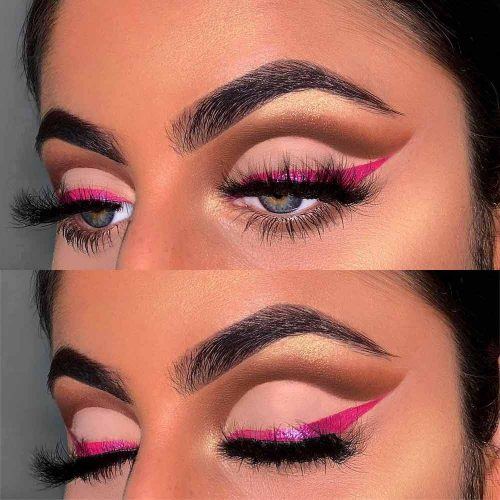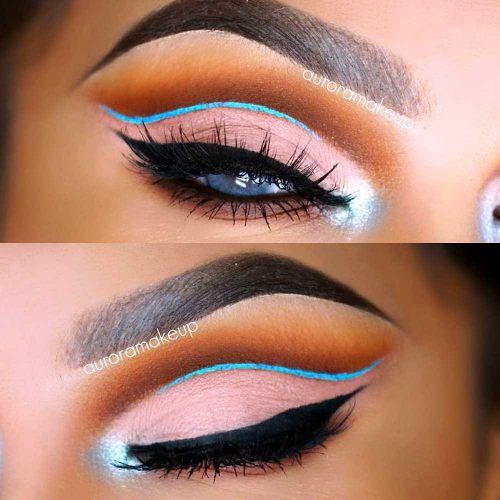 Source: Instagram/makeupby.mf, Instagram/sayehsmakeup, Instagram/auroramakeup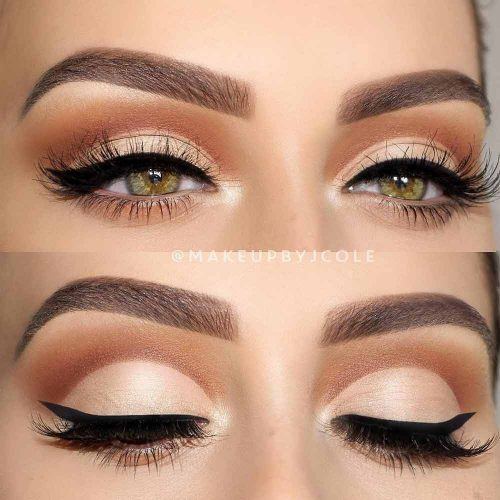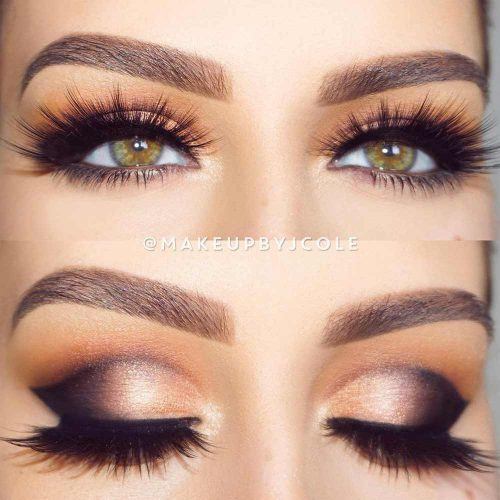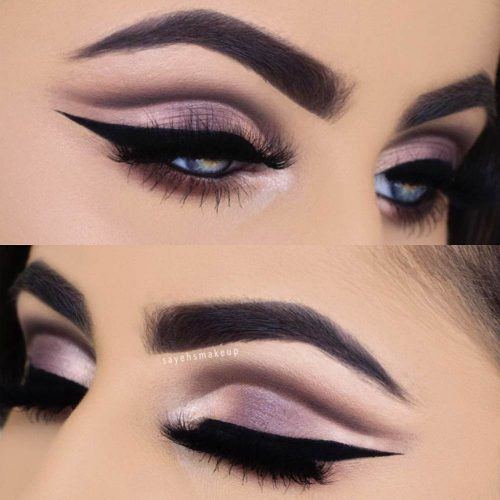 Source: Instagram/makeupbyjcole, Instagram/makeupbyjcole, Instagram/sayehsmakeup
If you are looking for the best eyeshadow for hooded eyes, we have a full compilation at hand. However, just before we proceed, you need to know one thing – cut crease makeup is the most beneficial to the hooded eye type.
How To Do Makeup For Hooded Eyes?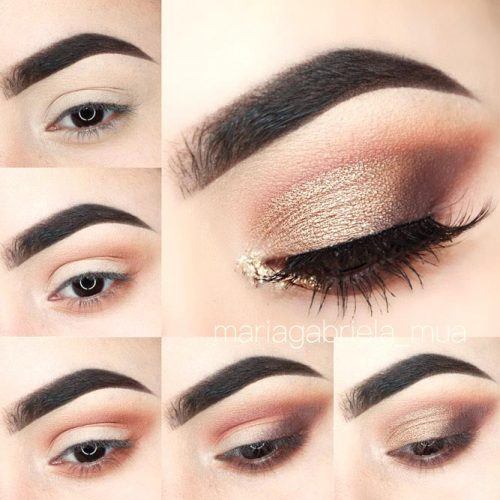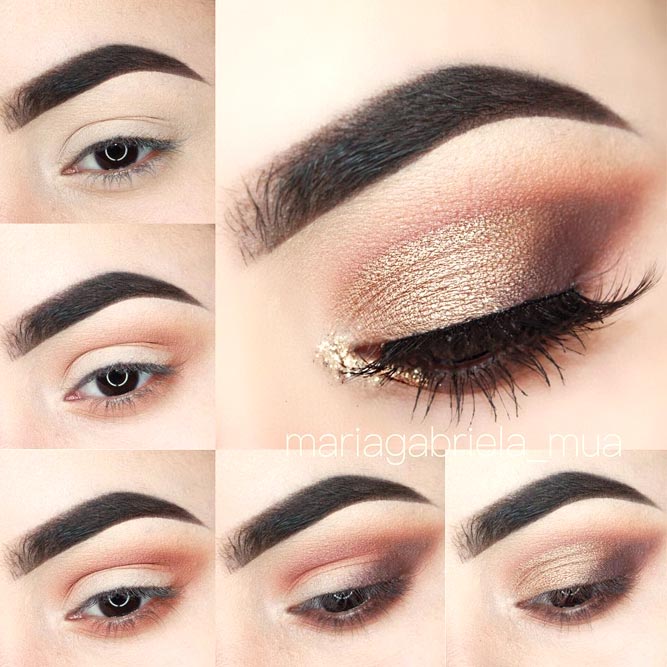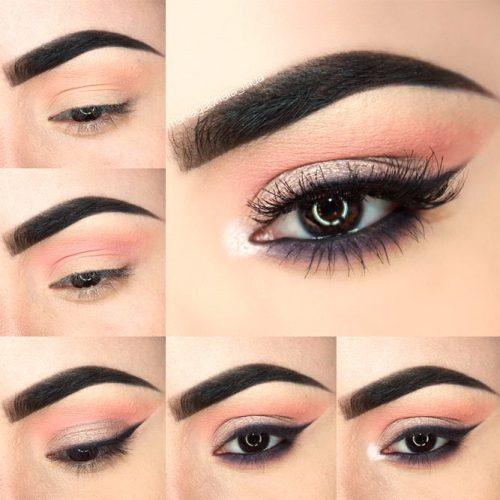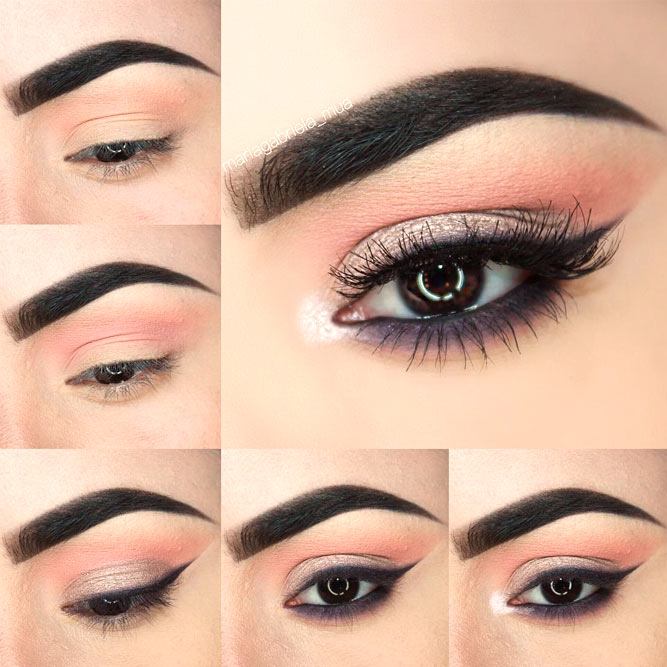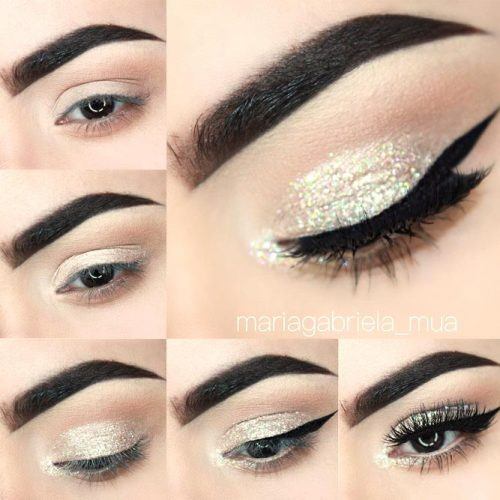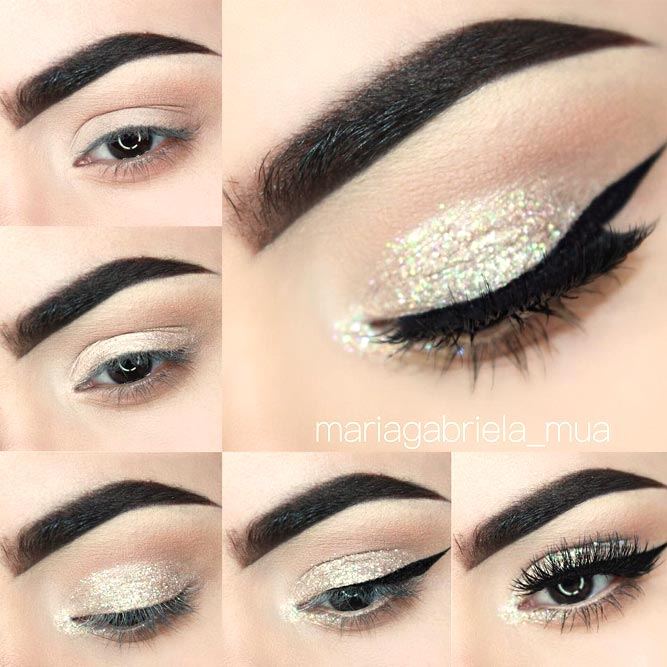 Source: Instagram/mariagabriela_mua
If you are eager to learn how to do your makeup, you can follow this hooded eyes makeup tutorial and learn some tips on how to do it perfectly and easily.
First of all, you should know that it's best to apply makeup with your eyes open because it can be hard to find your natural crease with your eyes closed. So, always open up the eyes while doing the makeup even when you are tempted to close them.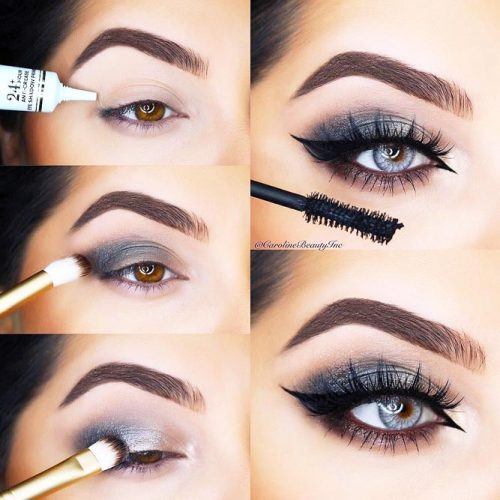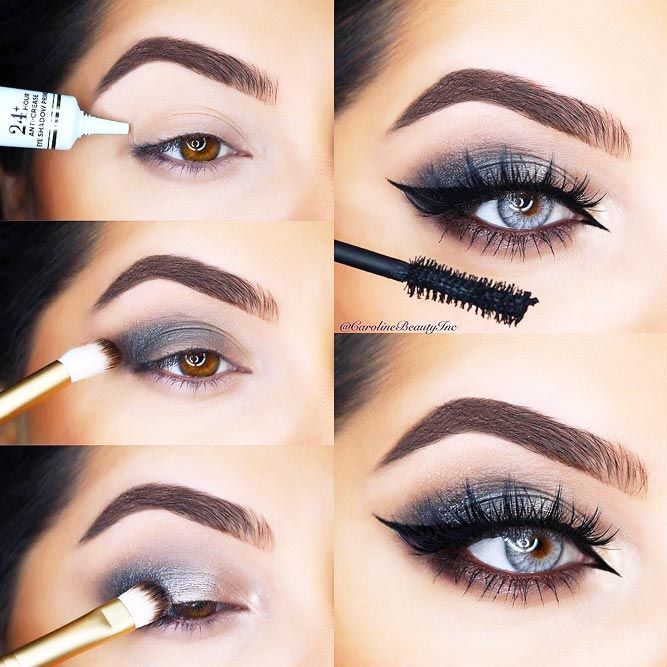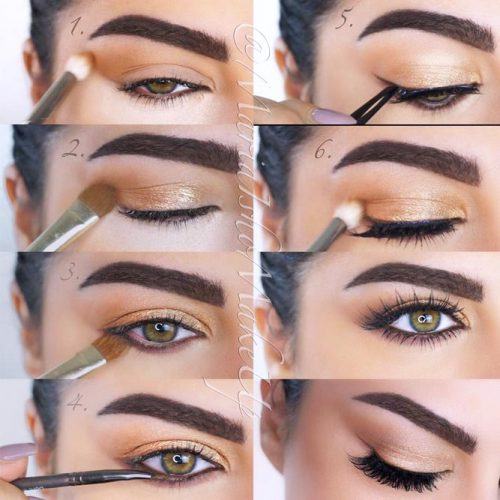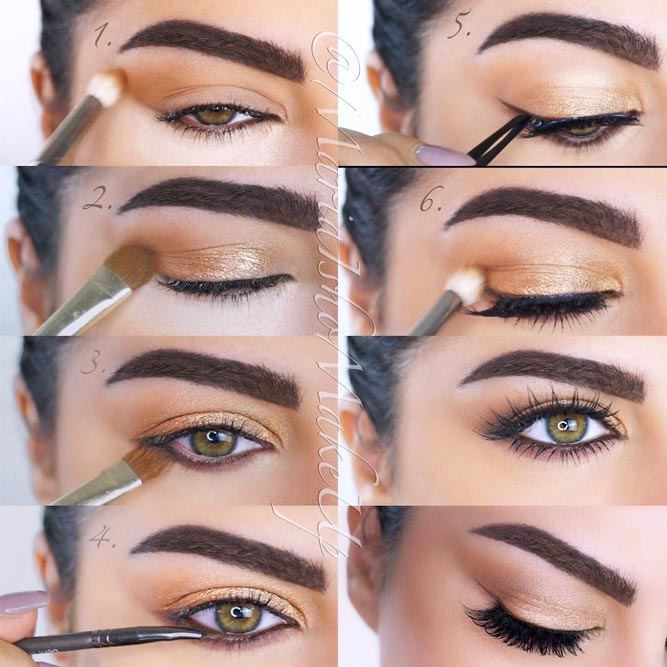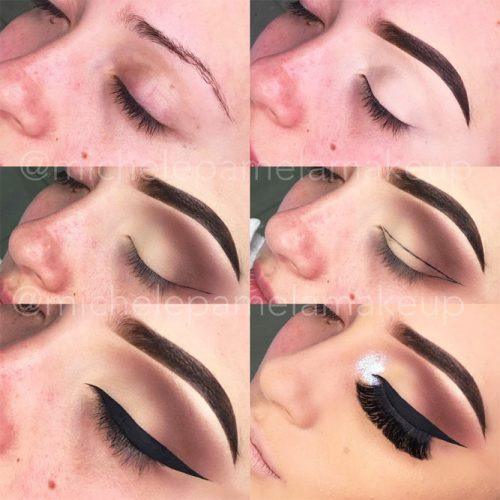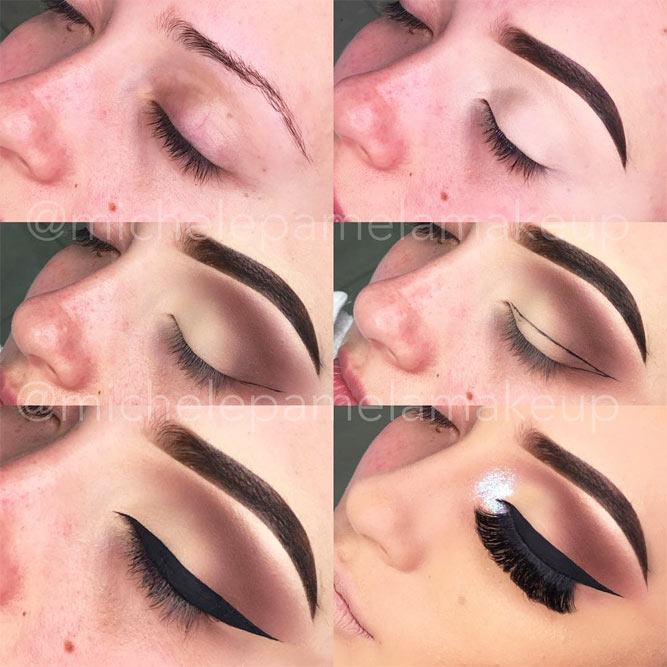 Source: Instagram/carolinebeautyinc, Instagram/mariaishomakeup, Instagram/michelepamelamakeup
Apply the eyeshadow just above, where you're marking your crease as opposed to in the natural fold of your eyelid. In such a way, the color will not get lost.
Make sure that you use waterproof mascara. Since the lashes touch the brow bone, typical mascara might smudge, and you should definitely avoid that.
FAQ: Hooded Eyes
What ethnicity has hooded eyes?
Hooded eyes as well as epicanthic folds occur most frequently among such ethnicities as East Asians, Southeast Asians, Central Asians, North Asians, Polynesians, Micronesians, Native Americans, Mestizos, the Khoisan, and the Malagasy.
What are the advantages of hooded eyes?
You can get away with not blending your eyeshadow perfectly as there is less space between your lid and the brow bone meaning that you won't spend too much time doing your makeup. Smokey eye does not look too dramatic on you and only accentuates your beauty.
What celebrities have hooded eyes?
Many celebrities have hooded eyes like Blake Lively, Emma Stone, Camilla Belle, Olivia Munn, Samira Wiley, Charlotte Rampling, Chrissy Teigen, Julianne Hough, Claudia Schiffer, Megan Fox, Kate Hudson, Jennifer Lopez, Tyra banks, Naomi Campbell, Miranda Kerr, Catherine Zeta Jones, Eva green, Adriana Lima, Anne Hathaway, Lucy Lui, Jennifer Aniston and others.
Was this article helpful?