Your eyes are the windows to your soul. Anything that reflects in your eyes comes from deep within, and sometimes the things in them speak louder than any words coming from your lips. There are many different eye colors, but there is one that is prevailing, and there is a good reason for that. What we are talking about are, of course, brown eyes. Brown eyes are simply stunning, yet really understated when it comes to the ways you can bring them up. You may not know it, but the best thing about brown colored eyes is that you can rock any combination of makeup! It is true anything on the scale from dark eye makeup to the brightest shades can be applied to those gorgeous brown eyes. Today, we are going to dwell on the matter in detail so that after reading the review, there are no questions left on whether or not you can rock that smokey eye looks that you have seen in the recent fashion magazine!
Why Are Brown Eyes The Best?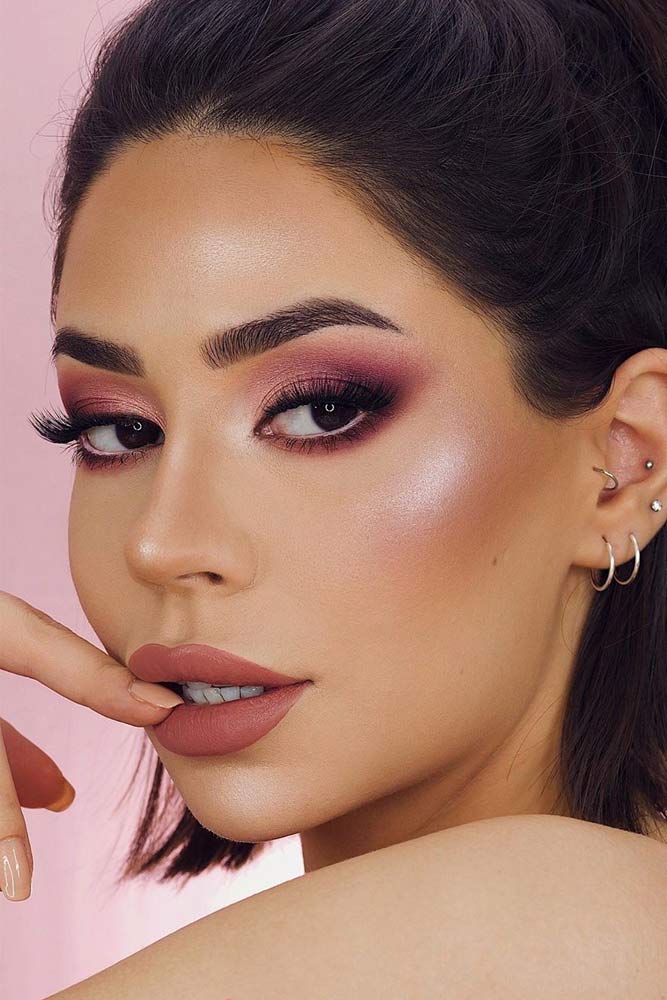 Source: Instagram/dianamaria_mua
Of course, you may say that the fact that you have pretty brown eyes makes them the best. However, we are going to name a few issues related to your health that brown eyes are said to deal with best than other eye colors.
Dark brown eyes are stated to filter UV rays better, and that works against certain diseases.
Macular degeneration happens to brown eyes less than to all the other eye colors.
It may seem like something insignificant as long as you are not faced with the issue, and luckily to your eye color, you may never face those conditions, and that is great news!
What Color Lipstick Goes With Brown Eyes?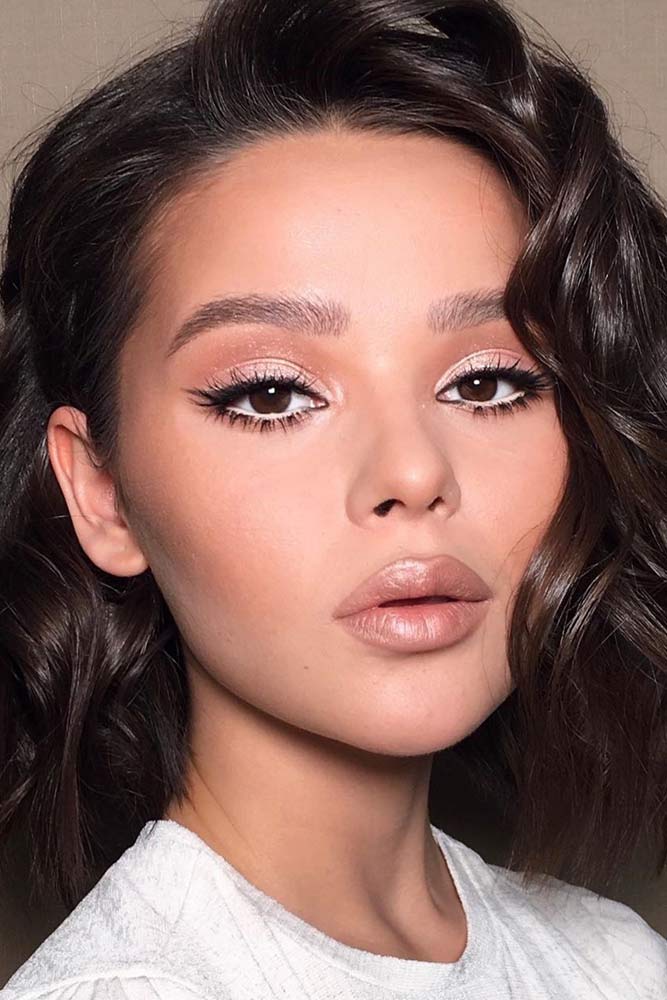 Source: Instagram/piminova_valery
The truth is that depending upon various shades of brown eyes, you can choose the perfect lipstick to complement the color. It is always best to have a try of a certain lipstick on your own, but we are going to try to guide you in the right direction:
Those shades of brown eyes in the sun sparkle with gold need corals and reds with gold undertones to them.
If you have a green undertone to your brown eyes, bronze lipstick may become your best friend.
Do not forget about the classic – red suits all.
Coral and geranium hues will freshen your face up, and brown eyes will reflect that.
Muddy lipstick tones – keep away from those.
A word of advice would be to put a lot of attention to the finish that the lipstick comes in. The fact is that even if you pick the shade that you are used to, but the finish differs, it will play out differently on you too.
How do I get pretty brown eyes?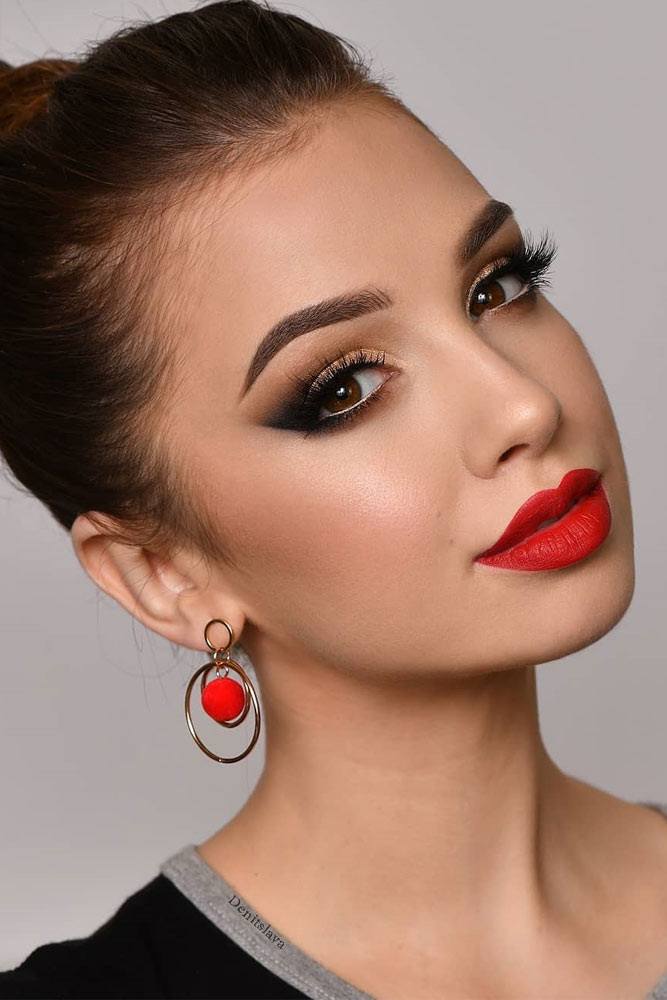 Source: Instagram/denitslava
We have mentioned it already that brown eyes are very beautiful on their own. However, there is a list of tricks that you can try out to bring those beauties of your out.
Eyeshadow – it goes without saying that eyeshadow is one of the best ways to compliment your pretty eyes and in the case with brown eyes, there is a lot to consider.
Eyeliner – step away from regular black liner and try a green, purple, or metallic one for a change.
Mascara – you will be surprised how well purples mascara frames brown eyes.
Accessories – it is said that gold accessories can bring the warmth of your eyes out.
Clothes – there are many colors that accent brown eyes well, blue colors, and some warmer ones like coral are on the list.
What Eyeshadows Go With Brown Eyes?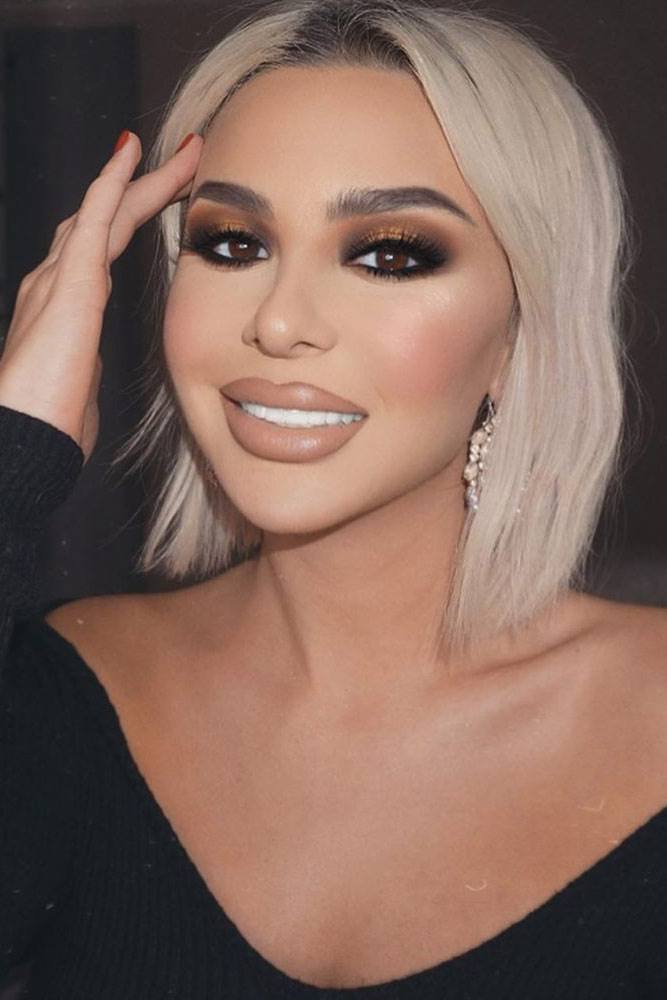 Source: Instagram/vanitymakeup
To be honest, almost all colors go well with brown eyes. However, we are going to list five favorites here:
Rusty-colored shades
Purple eyeshadow
Deep bronze colors
Metallic teals
Golden cream shades
What Makeup Looks Best With Brown Eyes?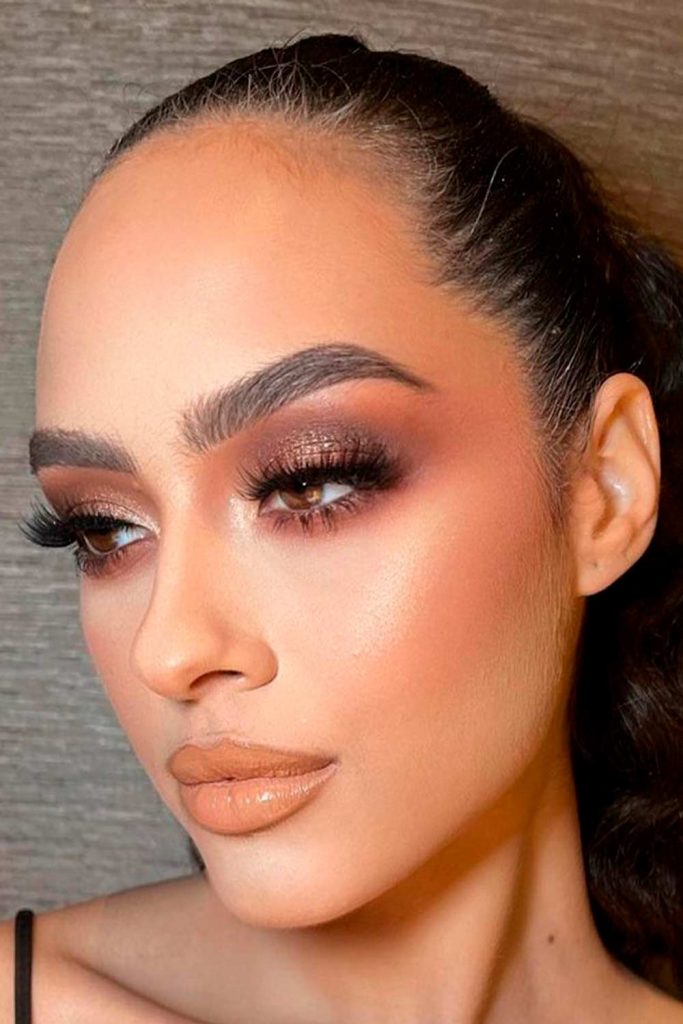 Source: Instagram/samerkhouzami
We have discussed the best suitable eyeshadow for brown eyes, but there are also some tips that you need to consider when you are putting on your makeup:
Contrasting hues are the ones to grant you that pop of color that you may need.
Silver and blue eyeshadow look marvelous with brown eyes. The trick here lies in not using them under your lower lash line.
You wouldn't want the brown hues to blend with your eye color, that is why opt for peachy browns or silver browns in the first place.
What Do Brown Eyes Mean Spiritually?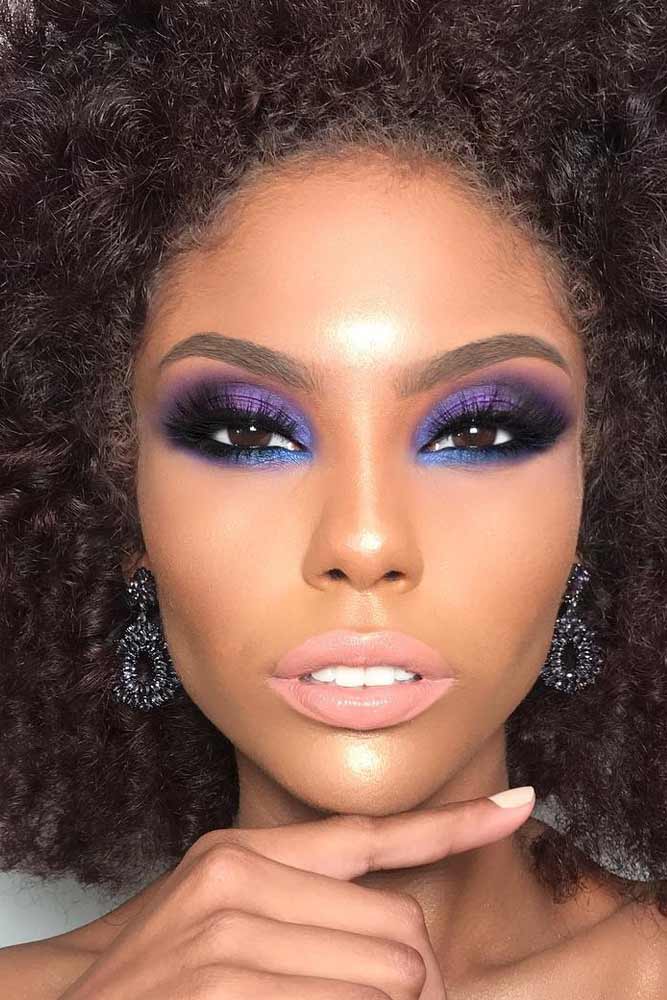 Source: Instagram/wallacemakeup
Would you like to learn what your eye color says about your personality? Well, it is claimed that those with brown eyes are usually confident and easy-going people. They have lots of friends that adore them for their love for freedom and attractive character. Also, people with brown eye color are extremely family-oriented and care deeply about nature.
Does this description fit your persona?
Green Glitter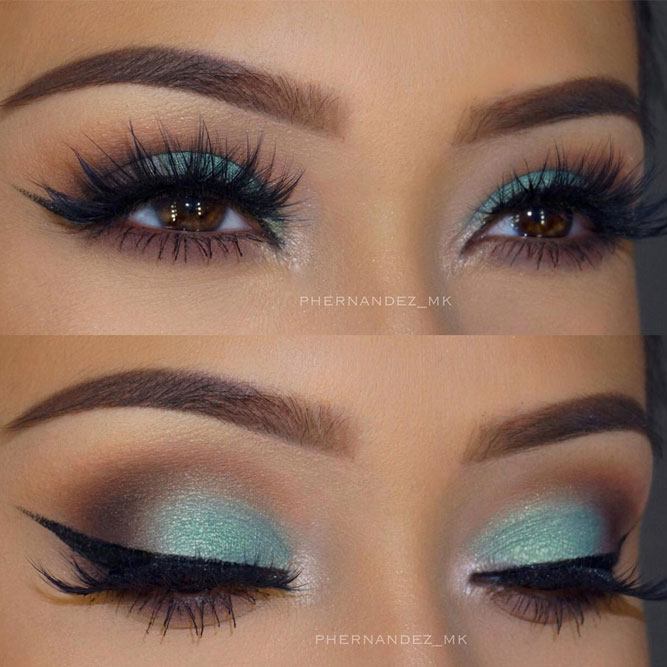 Source: Instagram.com/priscilla_fhern
Green eye shadow is stunning on those with brown eyes. While you might be hesitant to try such a bold color, it looks quite pretty with thick black liner.
Glimmery Gold & Black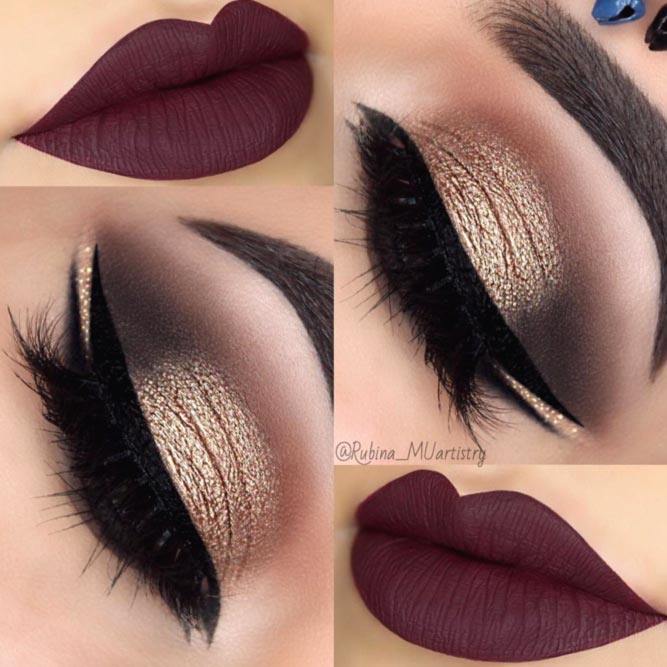 Source: Instagram/rubina_muartistry
The black eye-liner in this look really contours the eye, while the gold shadow helps emphasize the size and shape of your beautiful eyes. This combo is especially beautiful with deep red matte lipstick.
Navy Blue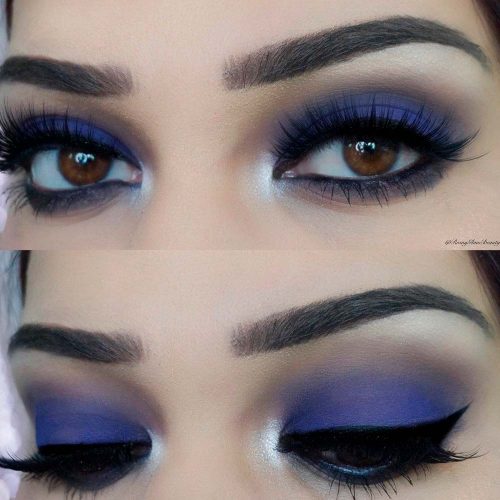 Source: Instagram.com/romyglambeauty
This look is great for a night out on the town. Navy blue eye shadow looks best when paired with neutral tones. To achieve this look, apply a matte neutral shade to the crease and then apply matte navy-blue eye shadow over the entire eyelid and blend with a brush. Use black or smokey gray liner to complete the look.
Cranberry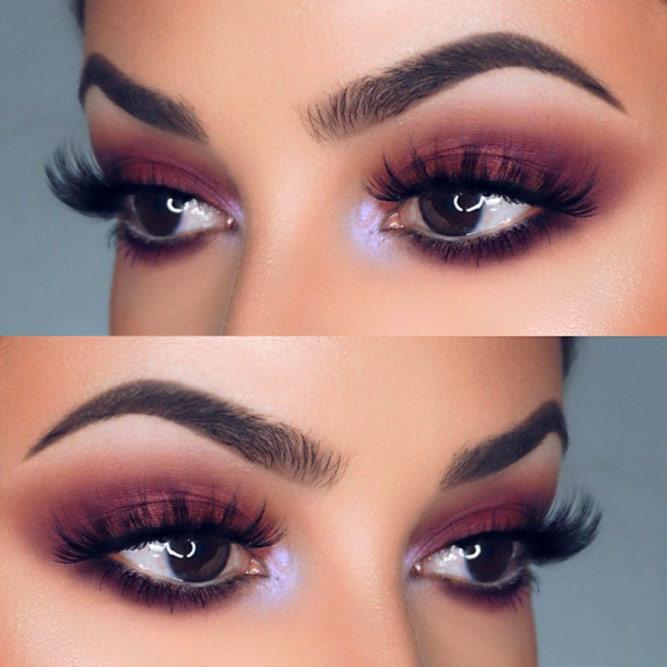 Source: Instagram/dianamaria_mua
This look is perfect for those who don't like heavy eye-liner (or any at all). This stunning shade of cranberry will really bring out your gorgeous eyes!
Smokey Purple Matte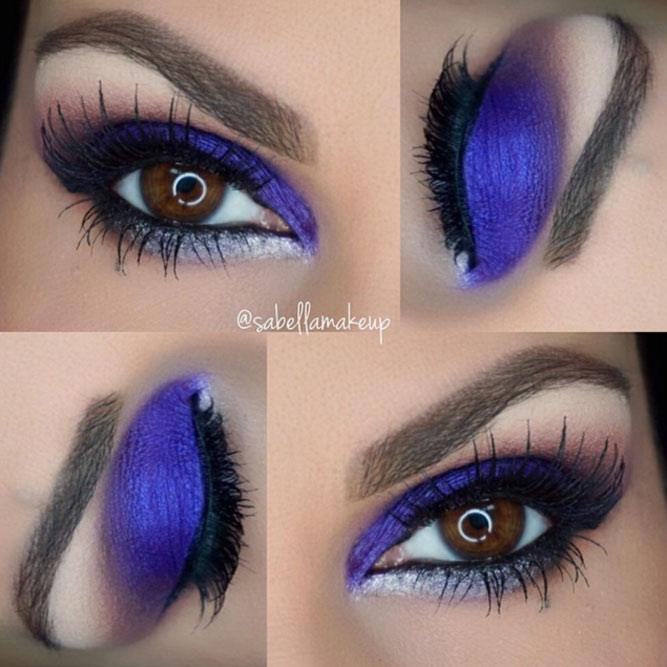 Source: Instagram/sabellamakeup
Purple is especially stunning on brown eyes! This dark matte purple on the eyelids is paired with silver liner for a perfectly sultry and smokey effect.
Brown & Black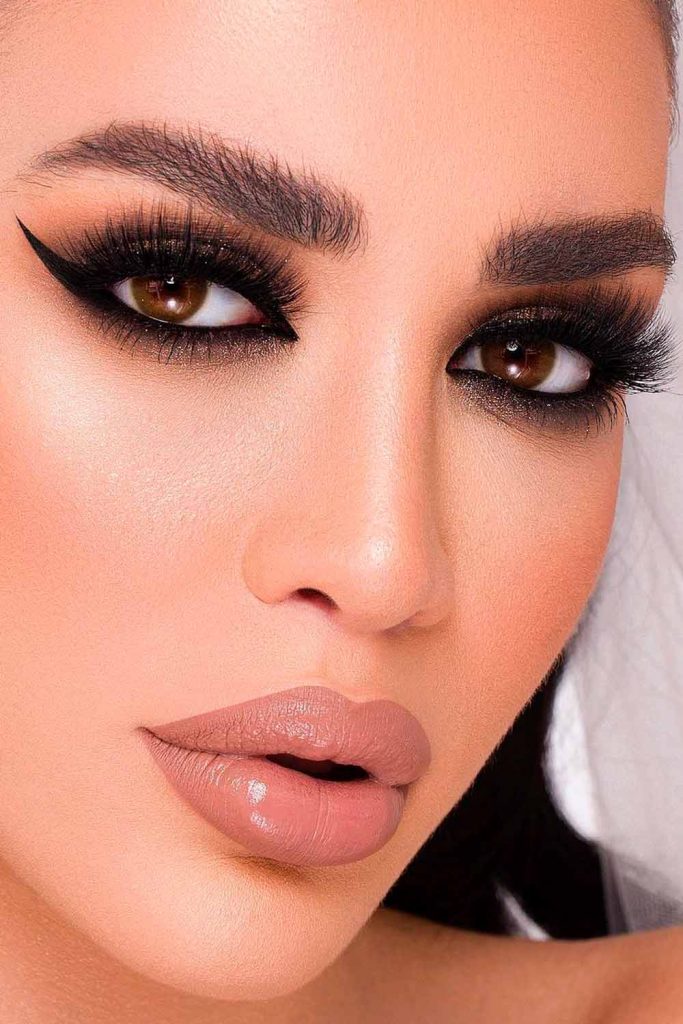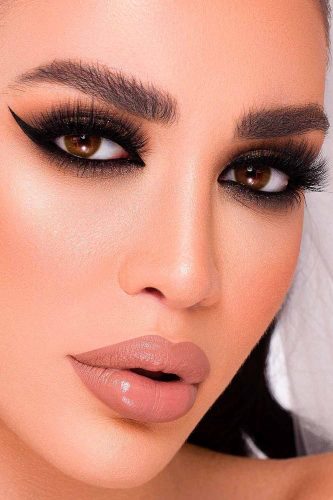 Source: Instagram/samerkhouzami
If you are going for a dark and edgy look, try this black and brown combo. Pair it with nude or matte caramel lipstick, and you are ready to rock!
Purple, Green & Gold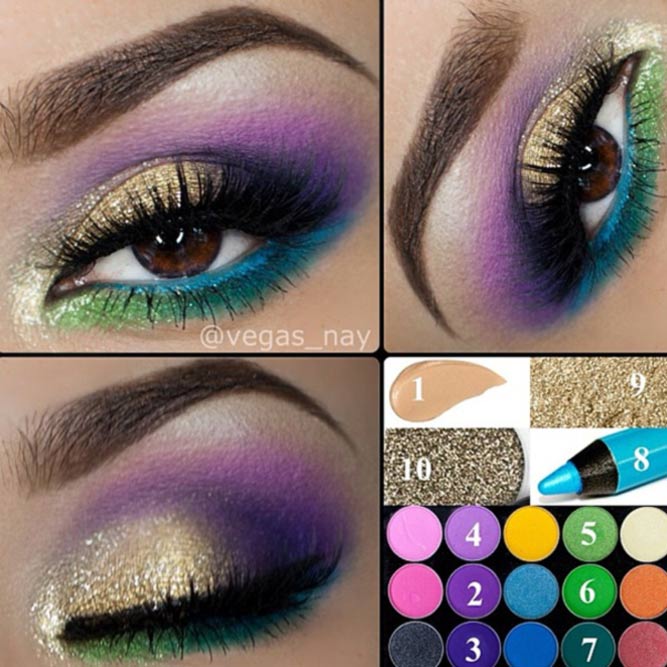 Source: Instagram/vegas_nay
We love glittery eye-shadow and this cute combo of sparkly lavender, pretty pink, and gold. This makeup is ideal for those hot summer nights!
Dark Brown Smokey Eyes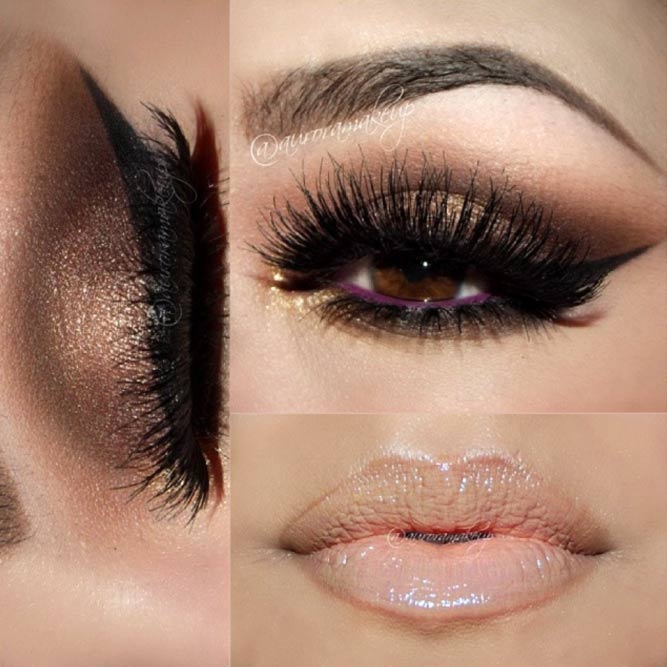 Source: Instagram/auroramakeup
This look with dark brown lower lids and a slightly lighter shade of brown on the upper lid and dark black liner takes a steady hand and a bit of practice. But we promise it's worth the effort!
Double Winged Liner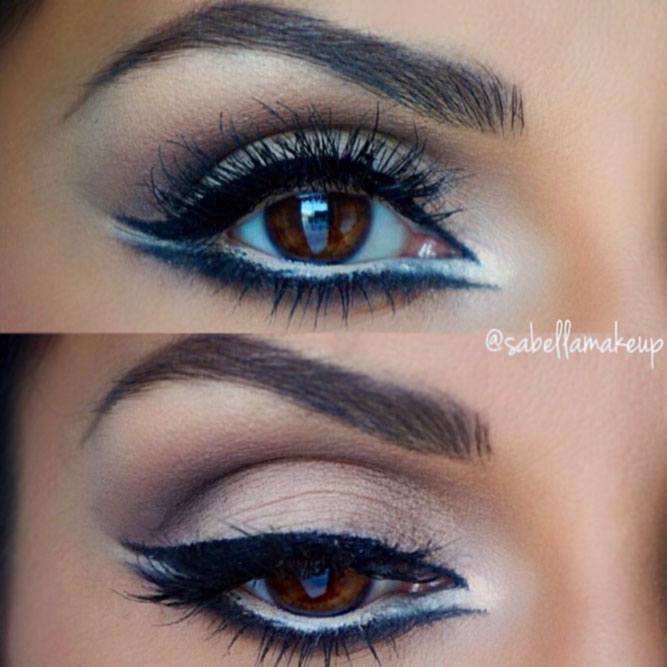 Source: Instagram/sabellamakeup
This look is so simple yet so amazing. Simply pair dark brown or black double winged eye-liner with a white waterline to emphasize the size, color, and shape of your eyes.
Deep Blue Glitter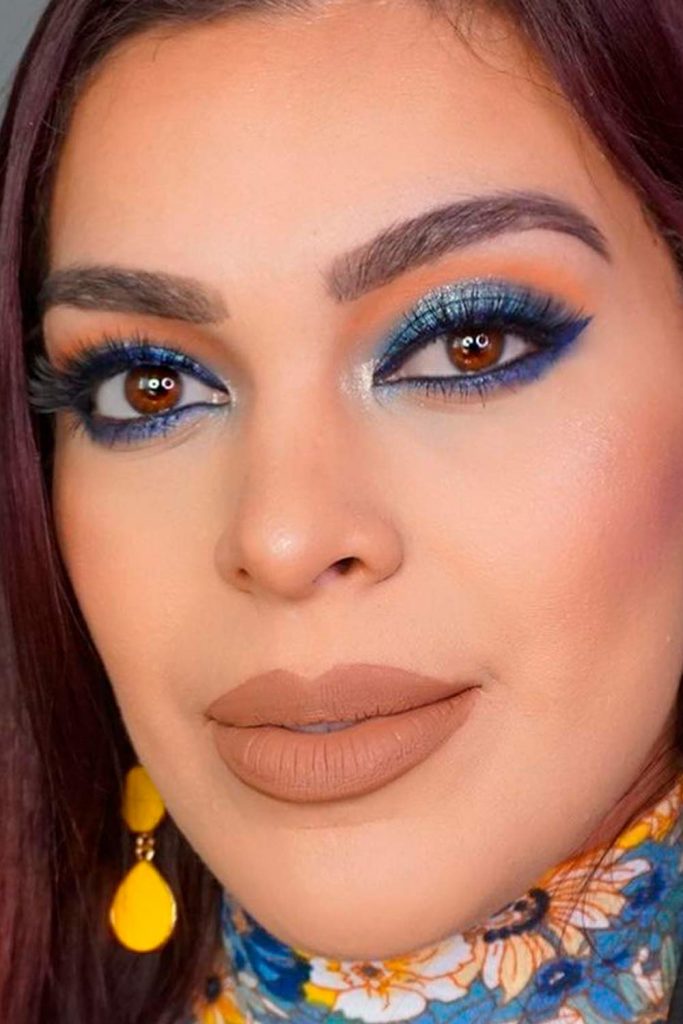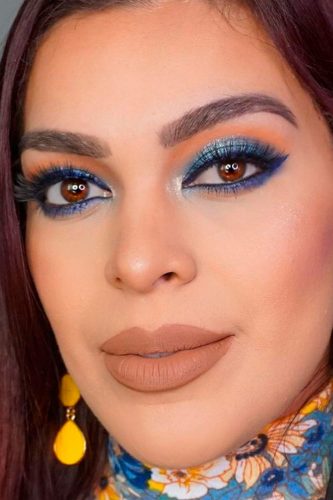 Source: Instagram/auroramakeup
This deep blue eye-shadow is fabulous on its own, but when paired with dark navy blue liner on the outer corner, it really pops!
Sky Blue Cut Crease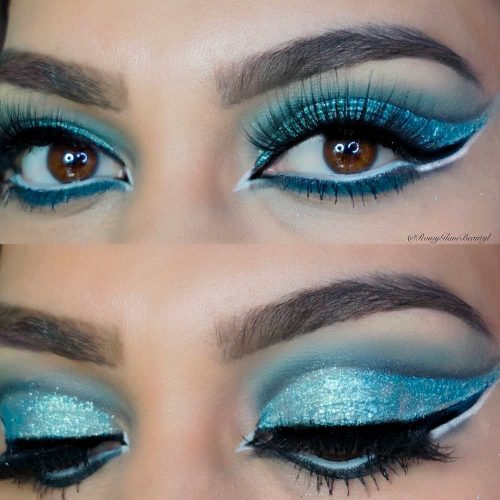 Source: Instagram/romyglambeauty
Pink Glitter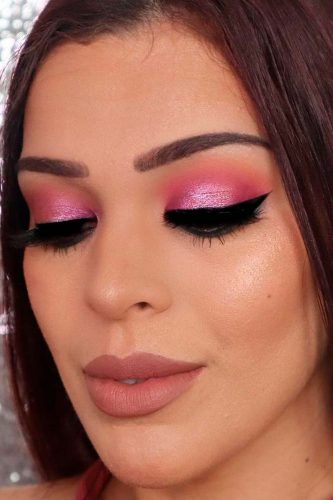 Source: Instagram/romyglambeauty
This gorgeous pink glittery eye-shadow and matte black liner pair perfectly with nude matte lipstick for a fun and flirty vibe.
Burgundy, Gold And Black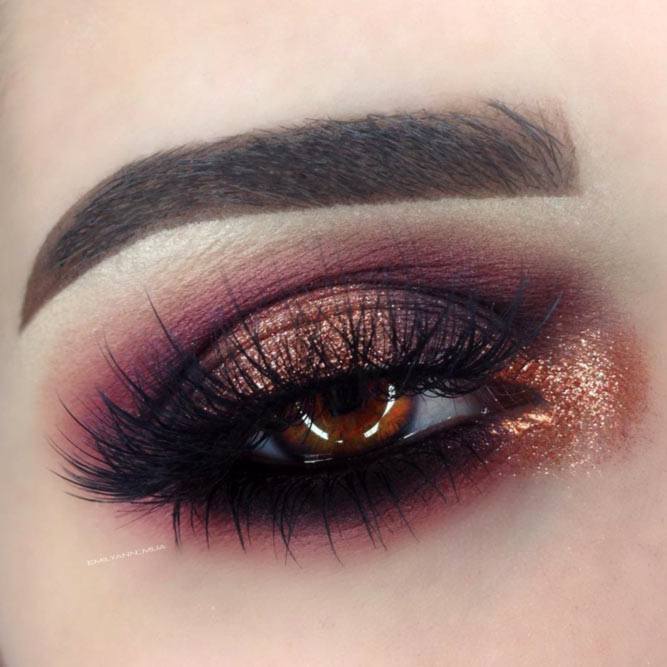 Source: Instagram/emilyann_mua
We love this combo of shimmery brown shadow on the lower lid with pink on the upper lid.
Silver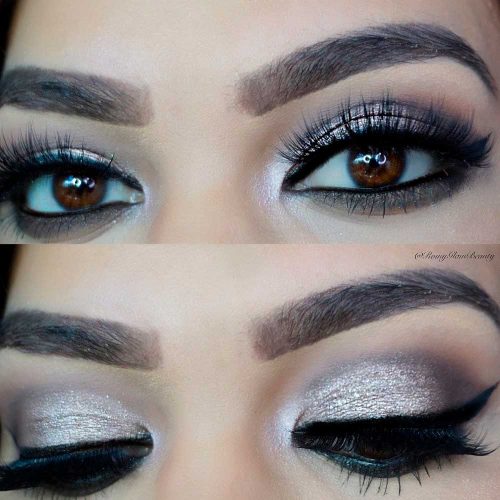 Source: Instagram/makeupbysahira
Silver shimmer eye-shadow will really enhance the brown specks in your dark eyes. Apply it to the upper and lower lid and line your eyes with medium to the thick black liner to accentuate the look.
Shimmery Burgundy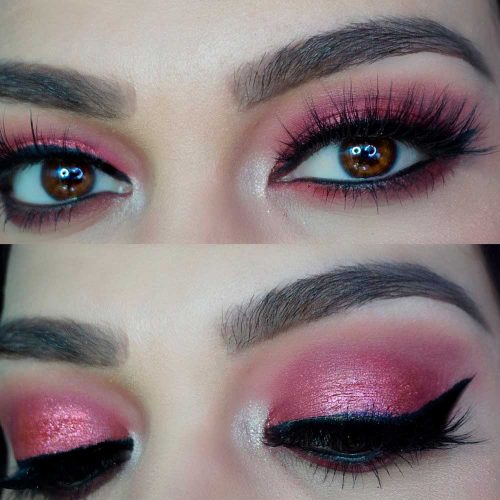 Source: Instagram/romyglambeauty
Burgundy doesn't just work well for lips, but it also brings out the brown in your eyes! This shimmery shade of burgundy eye-shadow is super sexy and sultry.
Red Glitter Shadow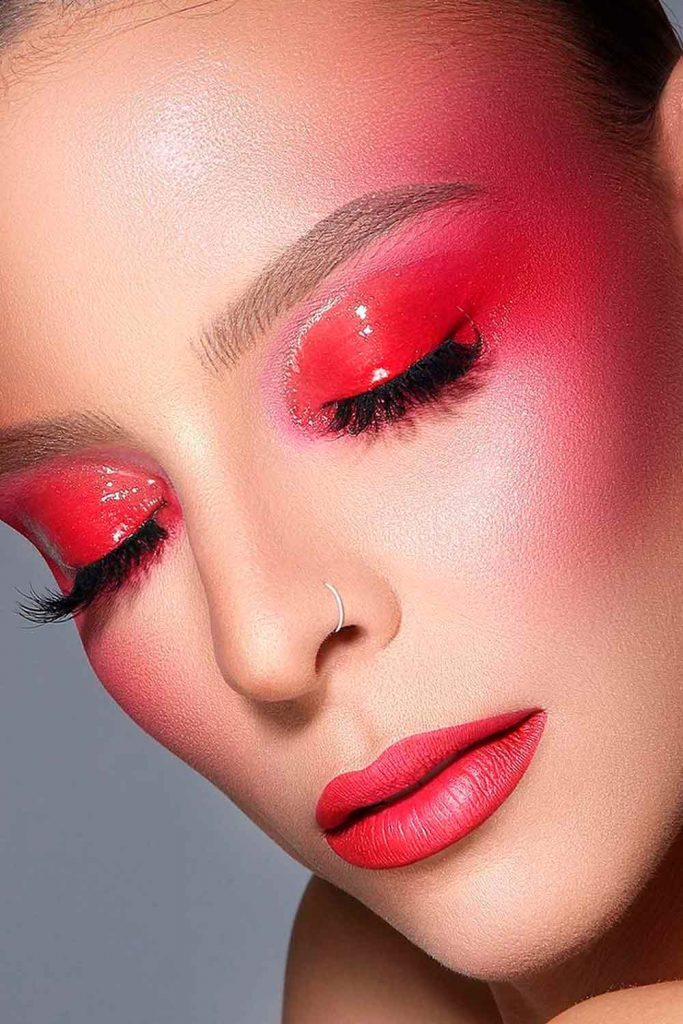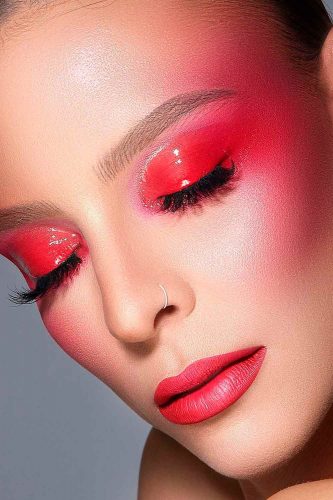 Source: Instagram/samerkhouzami
Red is always sexy, but this glittery red eye-shadow is over-the-top sexy when paired with deep red lipstick.
Brown Eyed Girl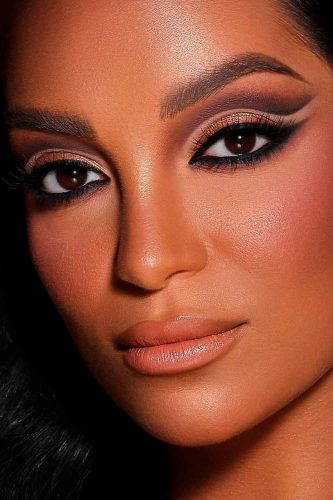 Source: Instagram/samerkhouzami
If you want an earthy look that is still sexy, you'll love this totally seductive combo of nude matte lipstick with deep brown matte eye-shadow and cut crease liner.
Seductive & Smokey Dark Grey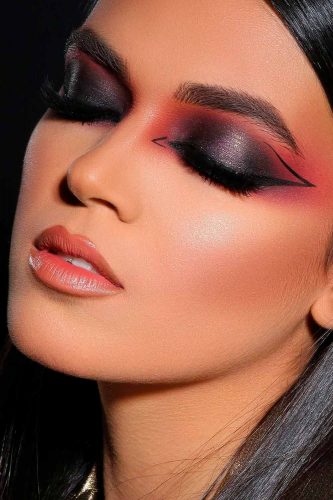 Source: Instagram/samerkhouzami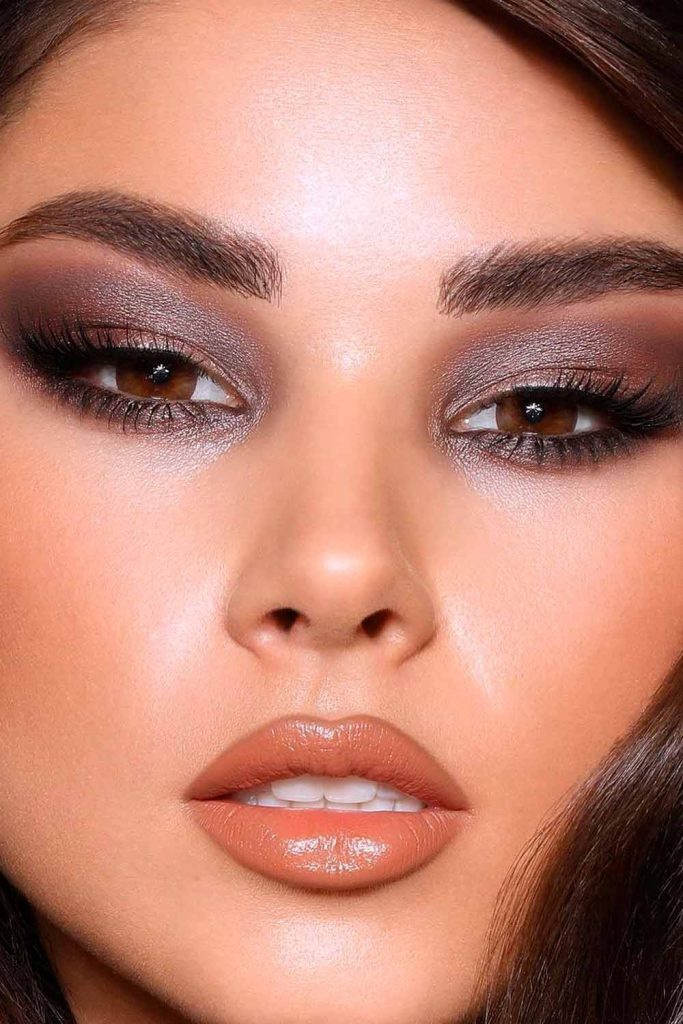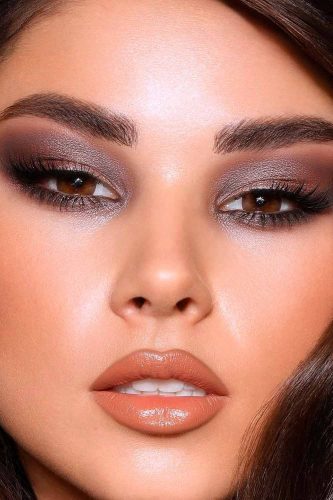 Source: Instagram/bouba
We think this dark grey with a pop of matte burgundy brown makes the perfect smoky eye, if you are going for a seductive vibe. Remember to apply base shadow before the dark grey so that it will blend more smoothly and last longer. When paired with nude matte lipstick and thick black lashes and eye-liner, this look is off the charts sexy!
Purple Lids & Liner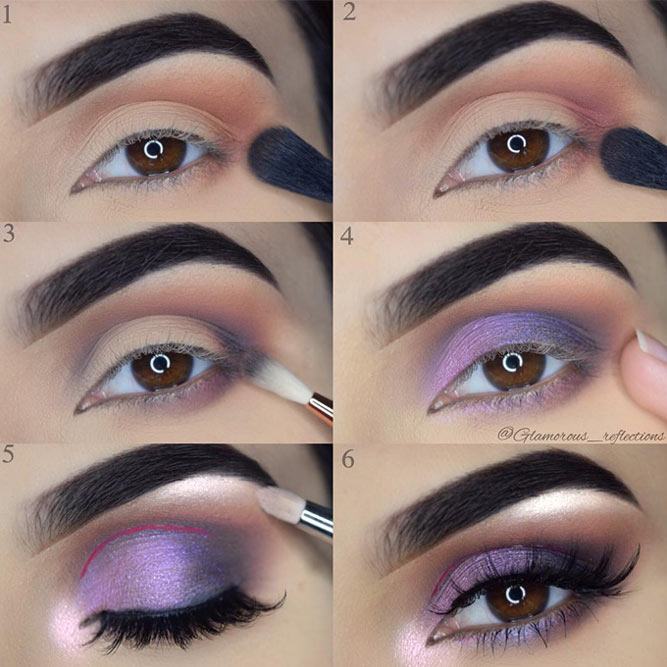 Source: Instagram/glamorous_reflections
Purple really makes your beautiful browns pop! This dark purple eye-liner under the eyes is stunning but we totally dig the sparkly lilac eye-shadow that really makes this look stand out!
Purple Shadow & Shimmer Blue Waterline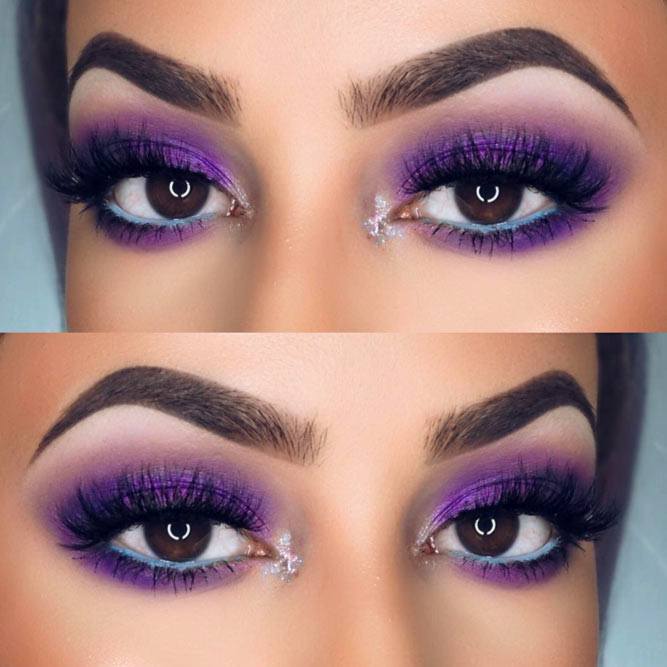 Source: Instagram/dianamaria_mua
As we said before, purple is ideal for brownish eyes, but when you add this sexy, shimmery blue waterline, it makes your eyes larger and brighter.
Green & Brown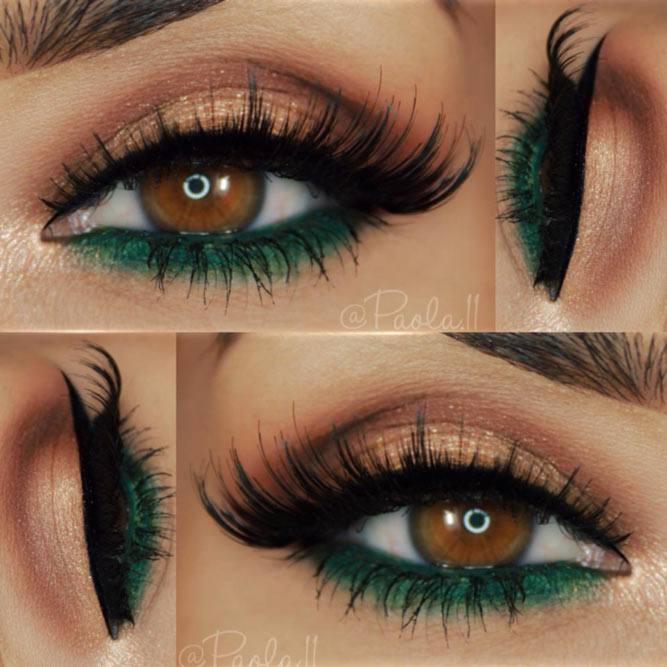 Source: Instagram/paola.11
This dark green shimmery waterline under dark brown eye-shadow is especially pretty on those with brown-colored eyes.
Matte & Shimmer Smokey Makeup Idea For Brown Eyes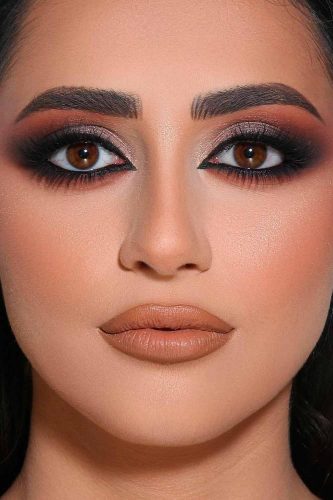 Source: Instagram/samerkhouzami
The combination of smokey grey and brown shadows is great for both every day and special events. This look is incredible, and your eyes will be sparkling like champagne!
Red Smokey Eye With Gold Glitter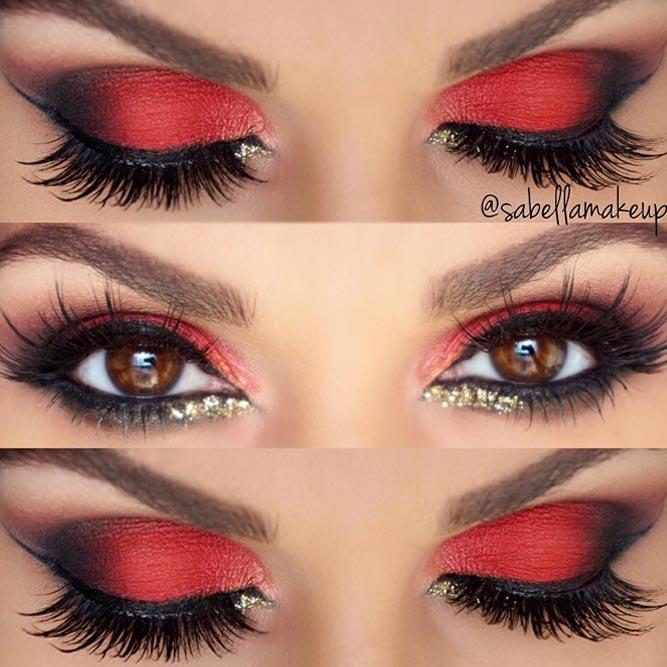 Source: Instagram/sabellamakeup
To get such a wonderful look, apply black matte eyeshadow to the outer corner. Then apply red eyeshadow to the lid. Highlight the inner corner with gold glitter eyeshadow. Do it if you want all eyes on you!
Soft Nude Cut Crease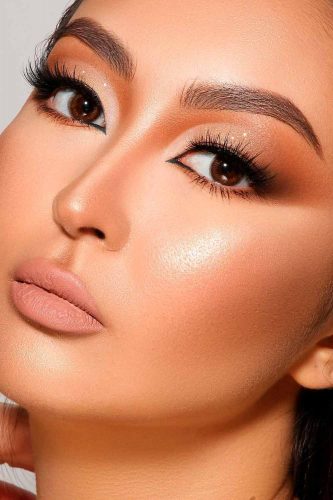 Source: Instagram/samerkhouzami
Rose gold isn't just for jewelry — it also makes for a flattering shade of eyeshadow. Apply glitter rose gold eyeshadow to the lid and brown shadow for the cut crease. Then apply black eyeliner, and your eyes will shine bright in the rays of the sun.
Dark Purple Burgundy Shimmer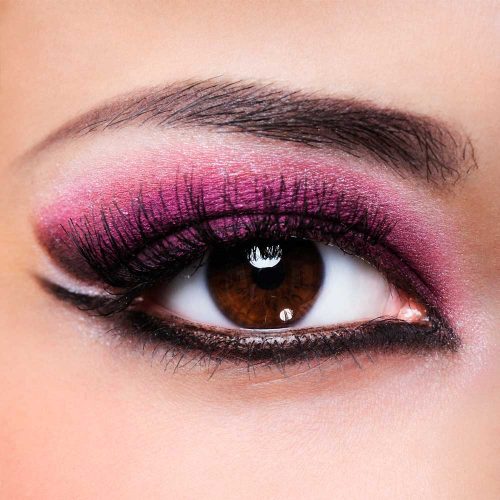 Source: Shutterstock
To amaze everybody, try this gorgeous purple burgundy smoky eye look. Burgundy makeup will accentuate your beautiful eyes and make them chic. Try it today!
Gold & Brown Cut Crease Makeup Idea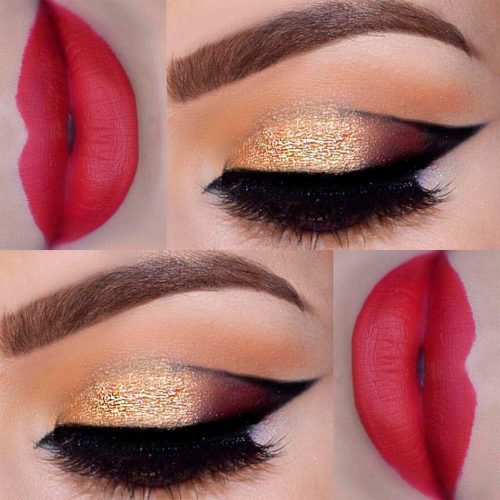 Source: Instagram/romyglambeauty
This cut crease makeup look will work great for a special occasion because it is sparkling and quite vivid. The thick black eyeliner is what makes it stand out even more.
Matte Smokey Makeup Idea For Brown Eyes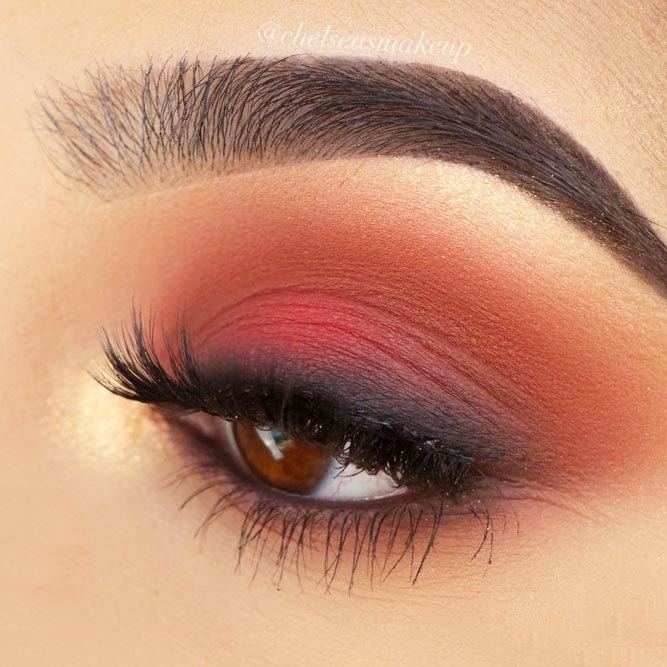 Source: Instagram/chelseasmakeup
All things matte have taken the world of fashion by storm. And trendy makeup is not an exception here. This model's eye makeup resembles the sunset, don't you agree?
Smokey Eyes Makeup With Eyeliner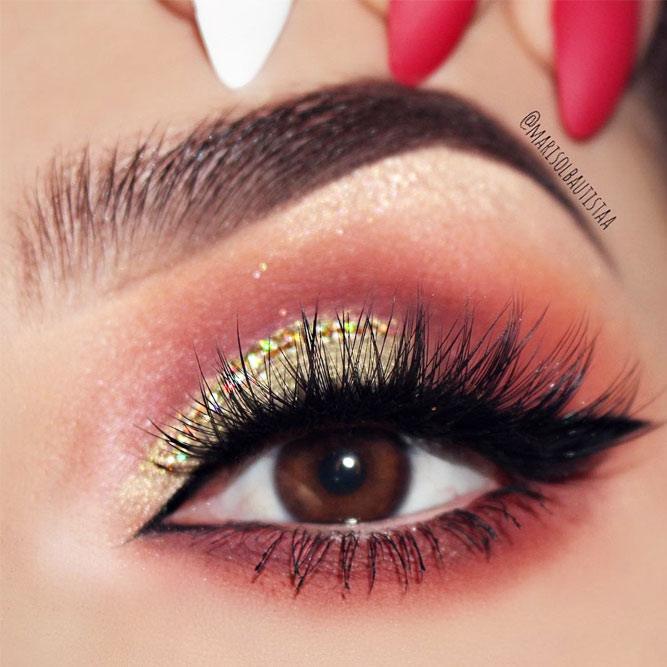 Source: Instagram/marisolbautistaa
This eye makeup is the definition of fabulous with its combination of gold glitter and pink shades. And it's an evening look that can work nicely for a date.
Shimmer Nude Shadow For Brown Eyes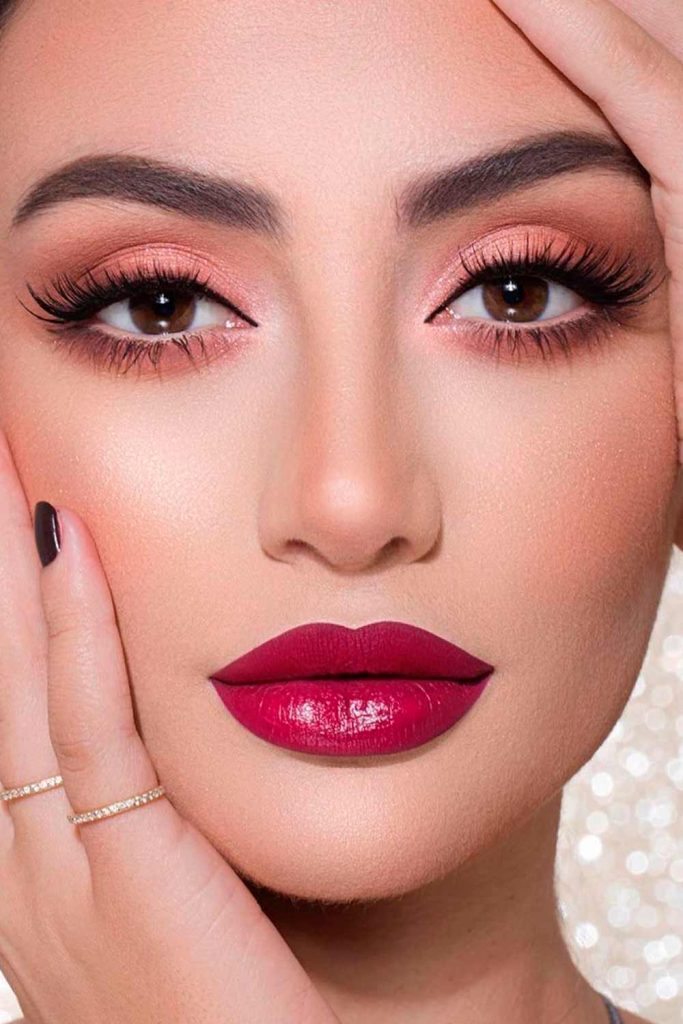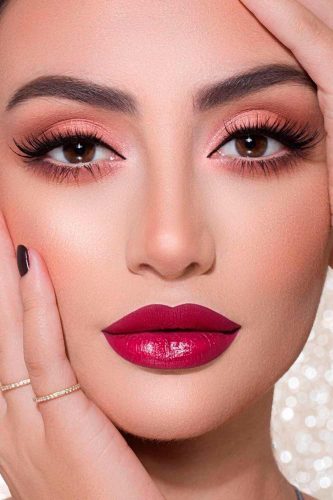 Source: Instagram/samerkhouzami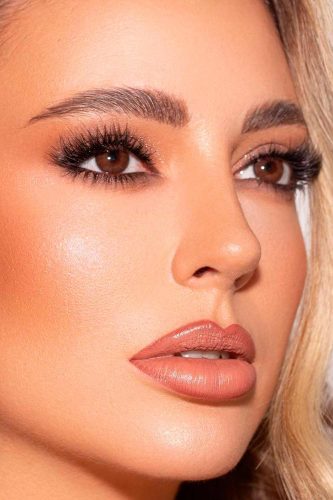 Source: Instagram/bouba
Neutral shadows are very popular at the moment. However, not all the eye colors look great when adorned with pink nude shades. Brown eyes belong to those that look exquisite with such makeup. See for yourself!
Purple Smokey Shadow With Smudge Line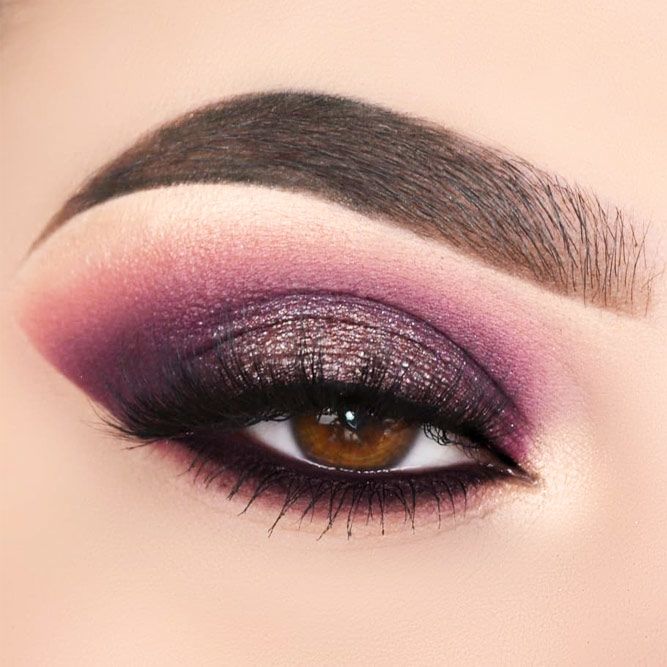 Source: Instagram/caterina_triant
Smokey eyes never go out of fashion. All that changes is the scale of shadow to try out this time. We suggest you pay your attention to dark purple smokey look if you are getting ready for an evening out.
Gray Glitter Shadow With Black Eyeliner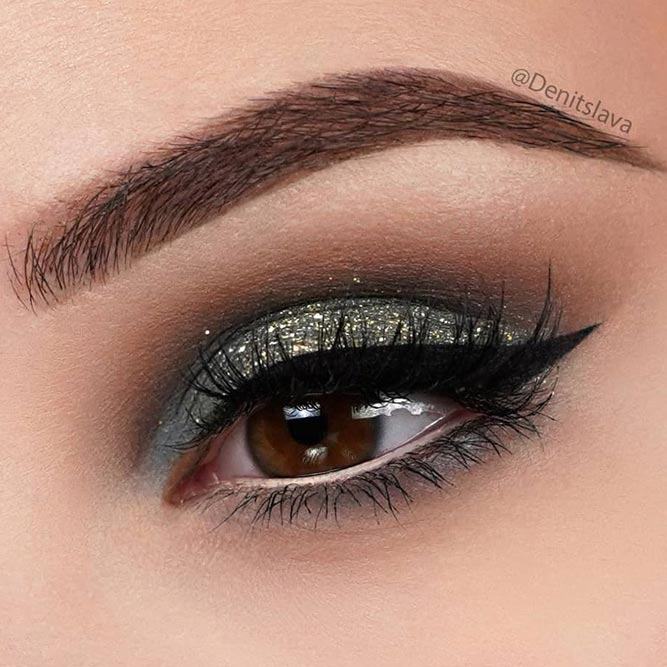 Source: Instagram/denitslava
Some people say that glittery makeup ideas are fit for party looks only. We beg to differ. This gray glittery eye makeup idea for brown eyes can be easily pulled off during the daytime as well.
Step By Step Makeup For Brown Eyes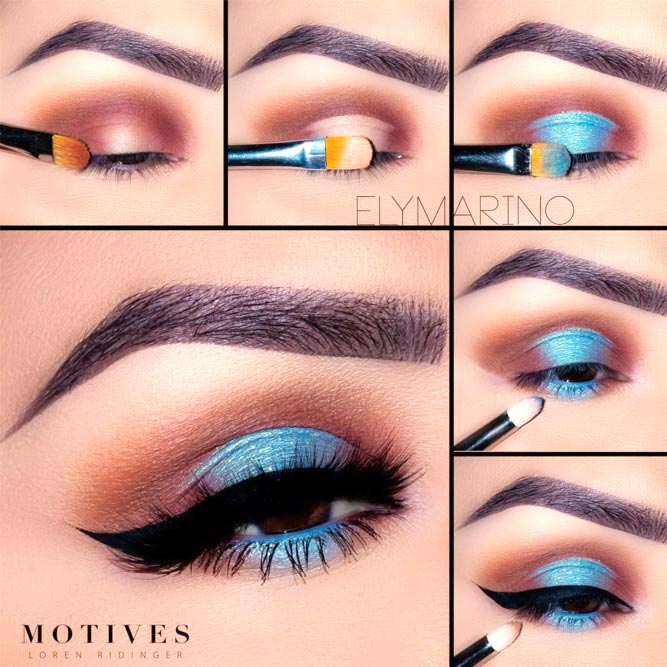 Source: Instagram/motivescosmetics
What is unique about this
makeup for brown
eyes is the combination of cold and warm shades in one look. Blue looks pretty extravagant when paired with copper.
Makeup Tutorial For Brown Eyes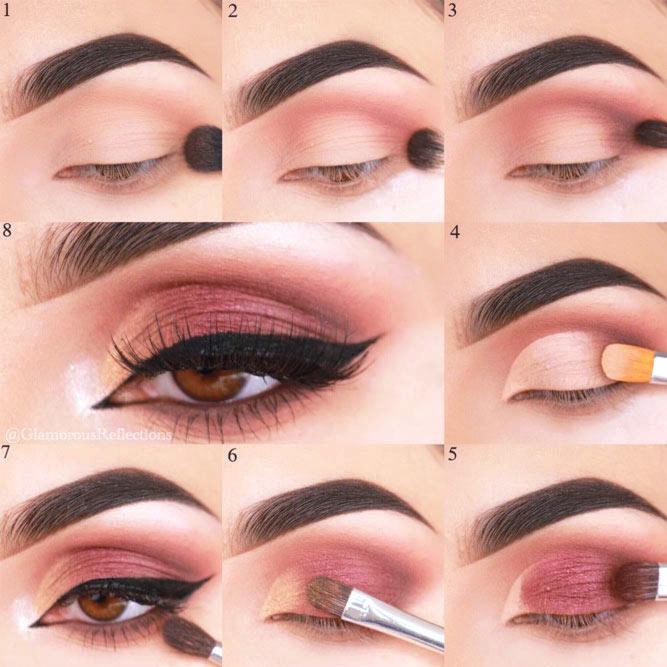 Source: Instagram/glamorousreflections
This visual tutorial is so simple that even the real beginner will recreate it. This makeup look is bright yet subtle. Go for it if you have a night out on the town with your friends.
Smudge Eyeliner Makeup Tutorial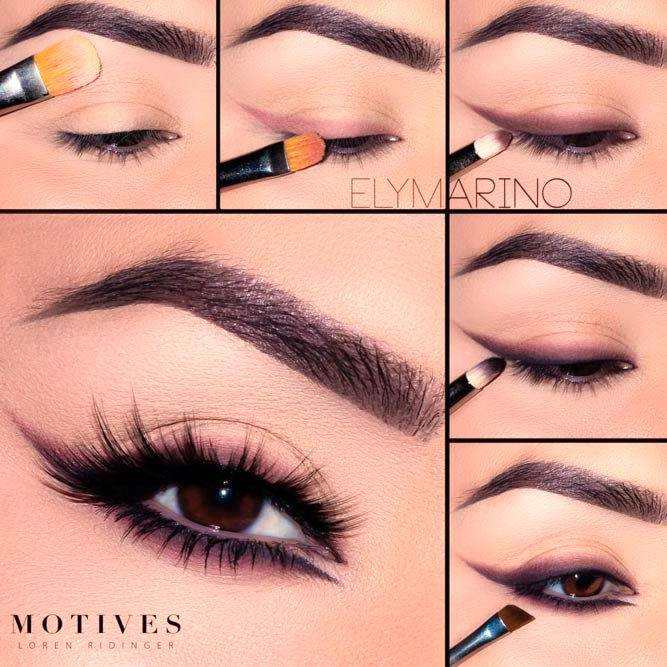 Source: Instagram/motivescosmetics
Your eye makeup will appear super dreamy and sexy if you apply eyeliner and then smudge it with a special brush or a makeup sponge. You will look stunning!
We hope you love these sexy eye makeup combos for brownish eyes! Remember to pin your favorite looks so that you can practice them later!
Pink Glitter Cut Crease Makeup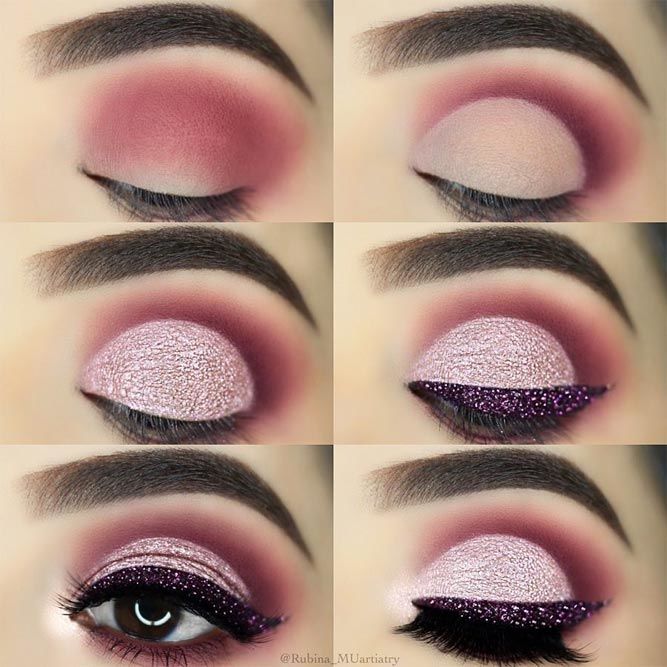 Source: Instagram/rubina_muartistry
Cut crease makeup requires some skills to be perfectly completed. However, with this step-by-step tutorial, you will not only easily succeed with the task but will also apply a makeup that makes your gorgeous eyes stand out.
Gray Smokey Makeup Tutorial For Brown Eyes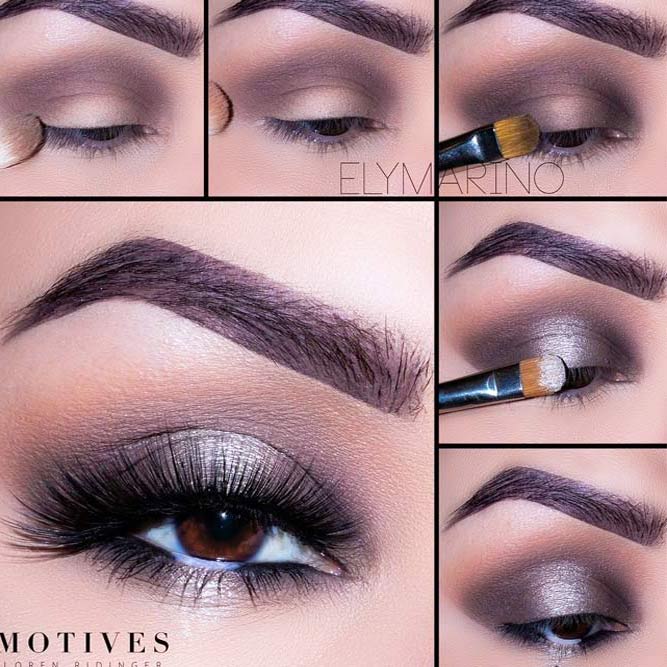 Source: Instagram/motivescosmetics
If you are looking for a daily makeup idea for your stunning brown eyes – we have it covered for you. With this gray smokey eye tutorial, you will look flawless on a regular basis.
Gray Glitter Smokey Eyes With Black Eyeliner Tutorial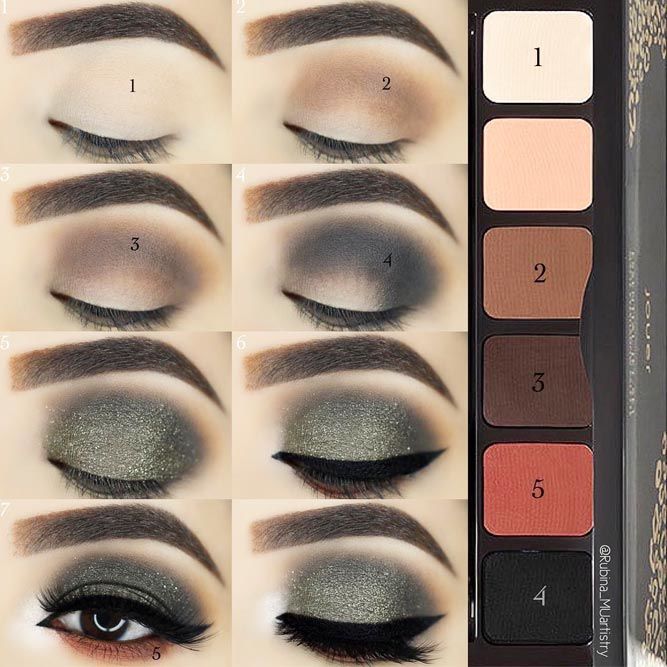 Source: Instagram/rubina_muartistry
Those of you who wish to achieve that oomph effect with your eye makeup – then you need to experiment a little. The best way to do so is to combine a smokey eye technique with a black liner. As you can see the outcome is ravishing!
FAQ: Brown Eyes
Why are brown eyes so common?
Brown eyes are more common among people who live in warmer climates, like nations that lie on the equator. This is because brown eyes contain more melanin (compared to other eye colors), which causes the brown colors of the iris and better protects the eyes from sunlight.
Are there different shades of brown eyes?
There are dark brown eyes, light brown eyes, honey brown eyes, hazel and amber. The rarest shade is amber, only 5 percent of people around the world have this eye color.
REFERENCES:
Eye color develops from iris pigmentation and the scattering of light. Dr. Dubow explains how eye color can't be predicted by a color chart. Source
Eye color is a polygenic phenotypic character determined by two distinct factors: the pigmentation of the eye's iris and the frequency-dependence of the scattering of light by the turbid medium in the stroma of the iris. Source
How to Make Brown Eyes Stand Out. Brown eyes are beautiful on their own, but they can stand out even more with the help of makeup, clothing, and accessories. Source