Embrace The Gold Glitter Trend In Your Life
Gold glitter is something that most of you use only on the rare festive occasion. However, these days the glitter has made its way into modern fashion, and anything from makeup and manicure to hairdos involves it. Today we are going to present to your attention some modern ways of adding glitter to your regular look. With these ideas, you will surely become the center of attention and fashion icon no matter where you are headed. So, let's take a closer look at this golden compilation!
Lighting matters. Remember that glitter is 3-dimensional and if you apply it wrong, it will appear dull instead of sparkling.
It is all about precision. To solve that drama equation, you should be very precise. Otherwise, it will look just messy.
Have fun rather than be serious. Makeup with glitter is like a game - play it in a cheerful mood.
Now let's discover how to apply glitter to various parts of your face so that it looks just right!
Eye Makeup Ideas With Gold Glitter
Source: kurlykaya via Instagram, makeupbyhertta via Instagram, alexandra_anele via Instagram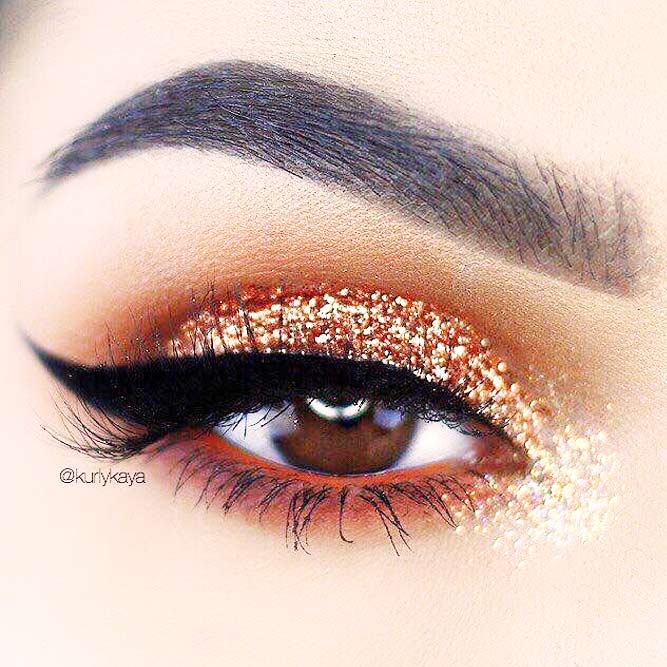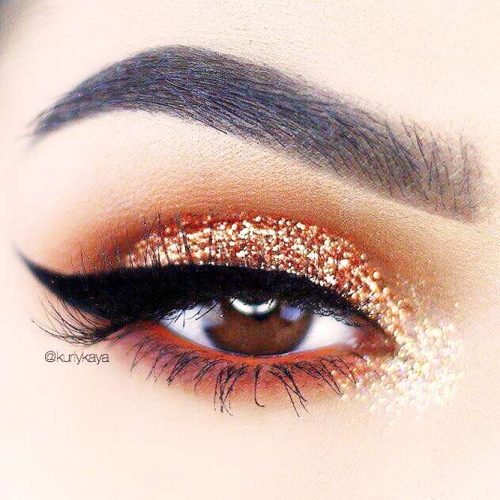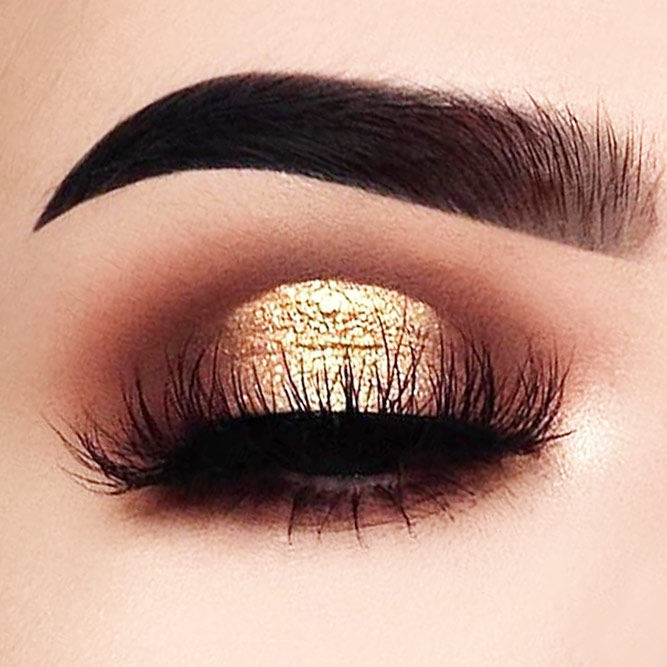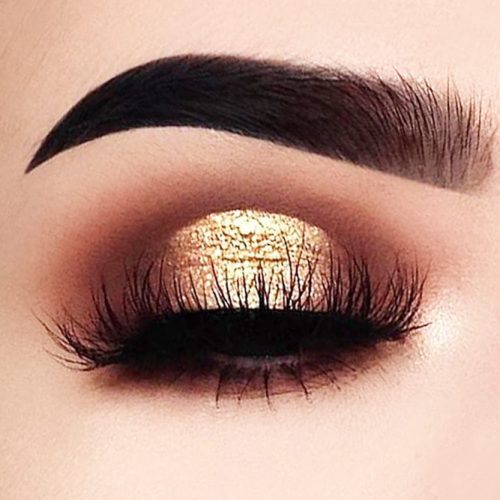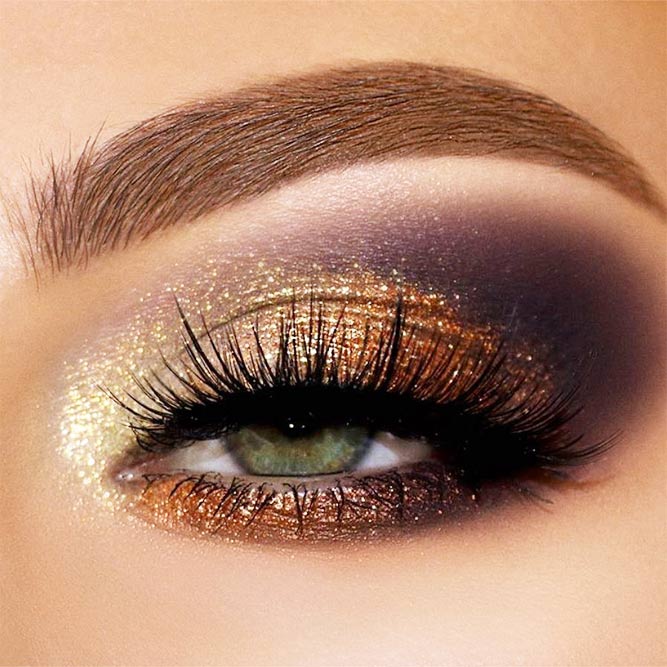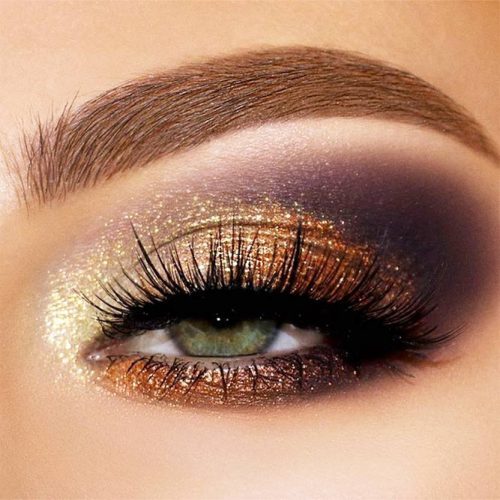 First, let's discuss how to apply gold glitter makeup to your eyes.
Apply eyeshadow primer to the eyelids and make sure it covers all corners. The primer will reduce extra oil and ensure that the glitter stays on. Dust some transparent loose powder under the eyes to avoid any stuck glitter pieces. This powder should be wiped away after you finish the glitter application.
Apply cream eyeshadow to your eyelids. Pick a shade you prefer. The cream can help hold the glitter.
Dip the eyeshadow brush into water, then paper-towel-dry it till it is a bit damp.
Source: melissasamways via Instagram, meliysabel via Instagram, beautybybaran via Instagram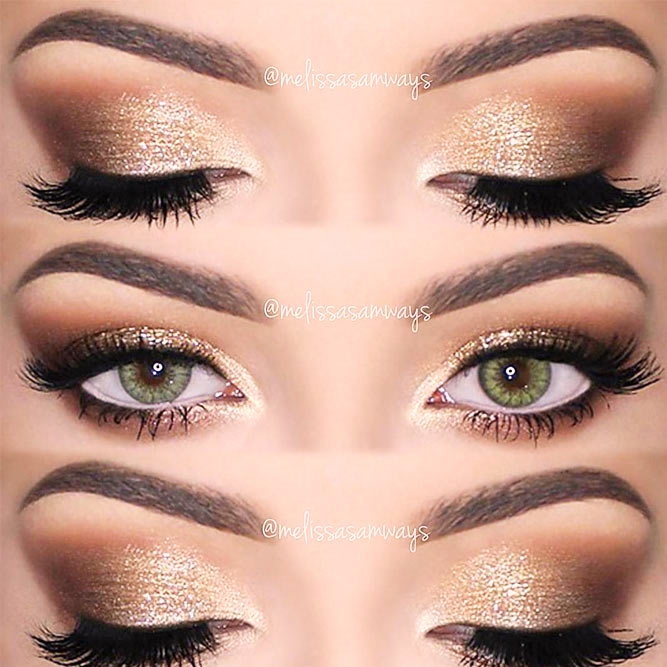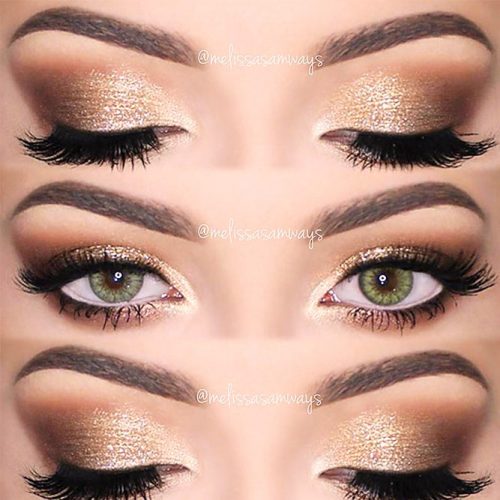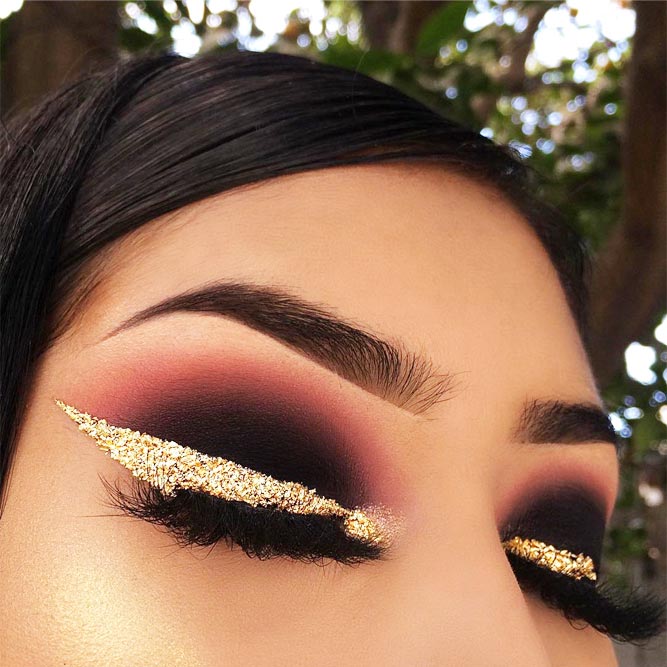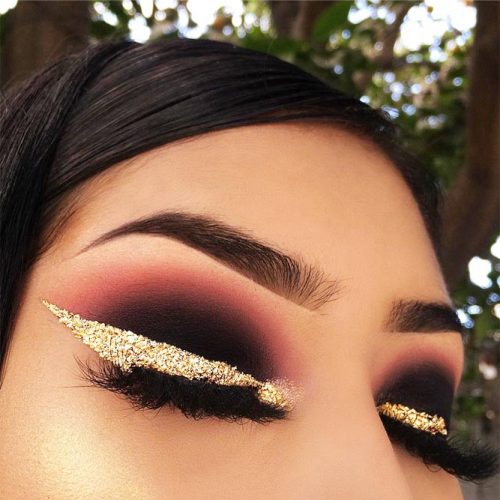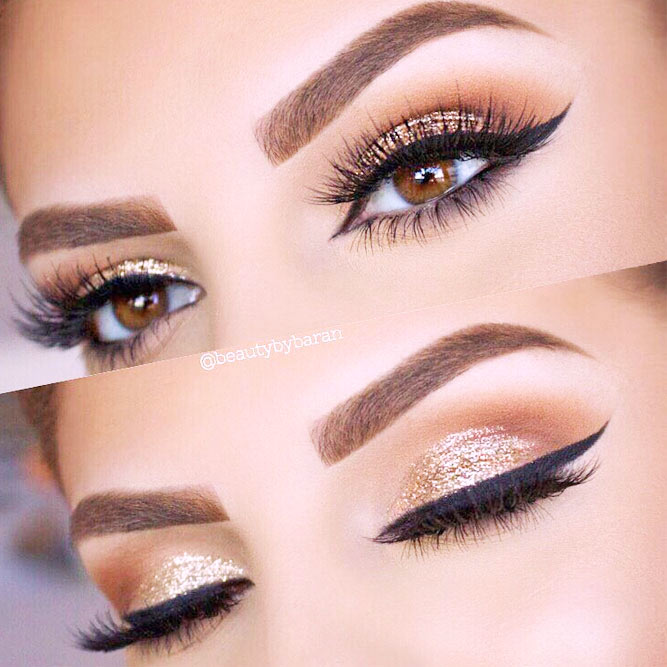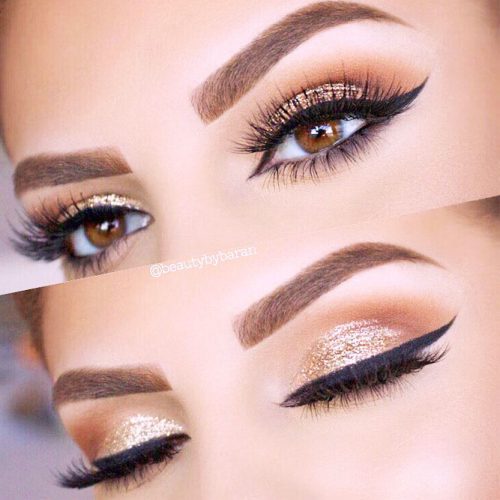 Holding some tissue under your eye, apply the glitter eyeshadow to the lid. Press the brush gently. When all glitter pieces are set, remove the excess glitter from your eyelashes. Just blink fast, touching a tissue with your eyelashes.
Fan the face with some paper. Remove that tissue from under your eyes. Several cotton swabs dipped into makeup remover will help get rid of fallen glitter. Voila!
And in general, whenever removing the glitter from anywhere, it is advisable to use oil-based remover.
Lip Makeup Ideas With Gold Glitter
Source: missjazminad via Instagram, sara_mua_ via Instagram, vladamua via Instagram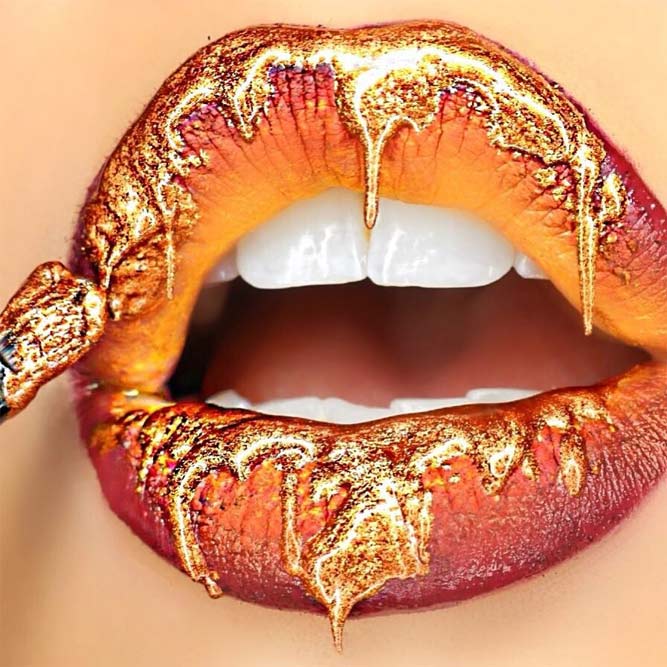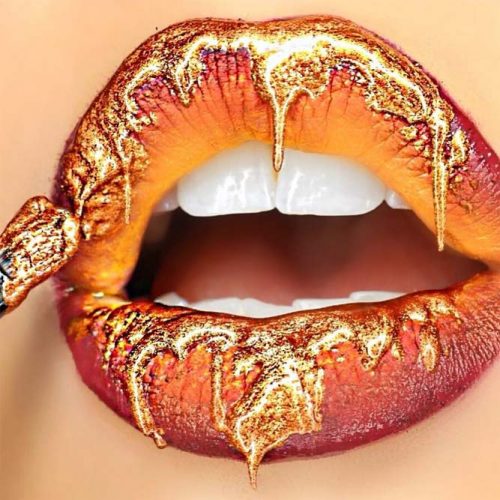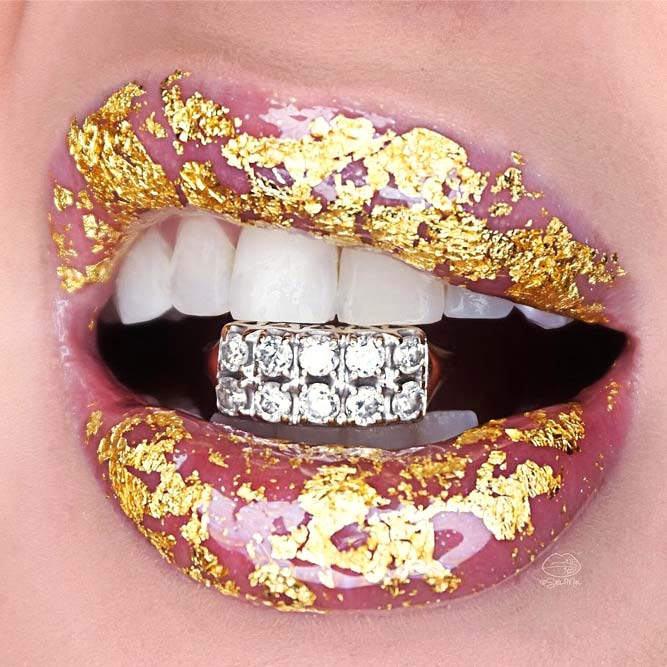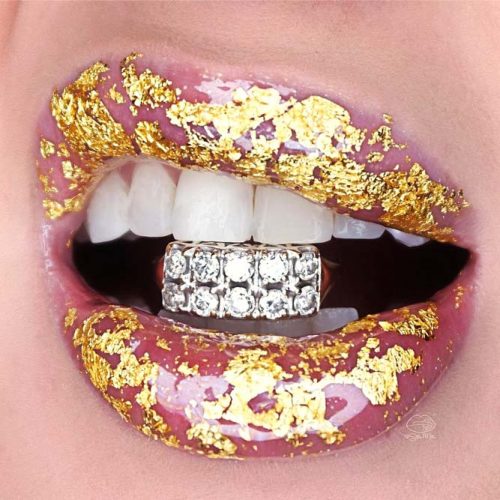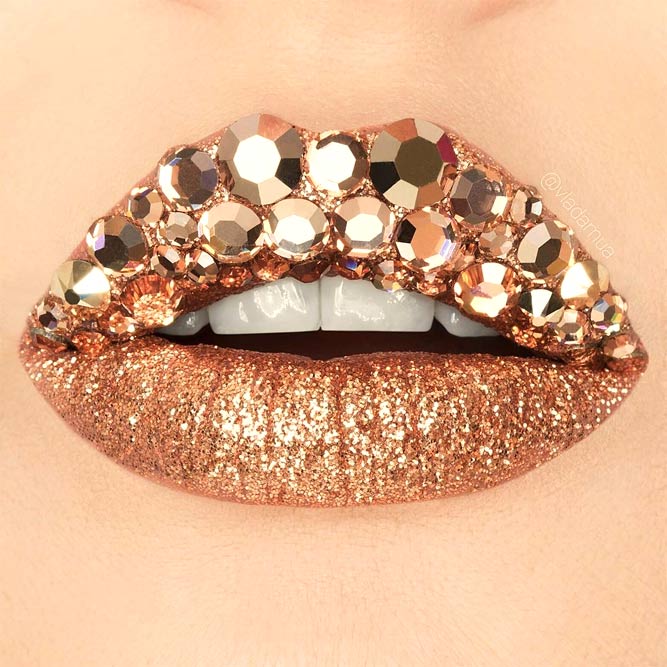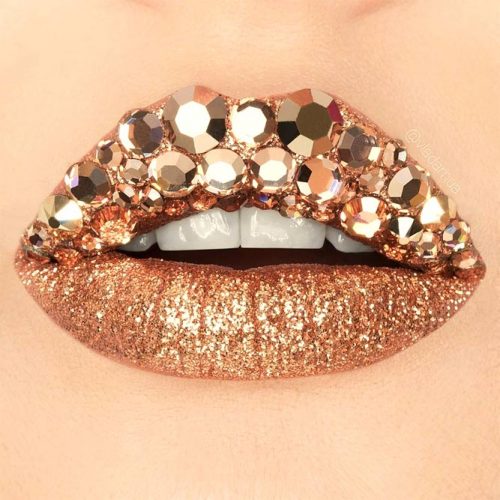 Wish to rock glitter gold on your lips?
Start with exfoliating the lips. Just dampen the lips with water and exfoliate them, using a lip scrub or just a clean and a very soft toothbrush. Several seconds will be enough. Rinse the lips with lukewarm water and apply lip balm. This step is not a must, but chapped lips won't let the makeup look good.
Apply creamy lipstick (preferably the one from a tube for glitter to stick). Apply the first coat, blot it, using a tissue. Apply one more coat but don't blow it this time. Thus, the glitter will better adhere.
Source: jennbischof via Instagram, vladamua via Instagram, vladamua via Instagram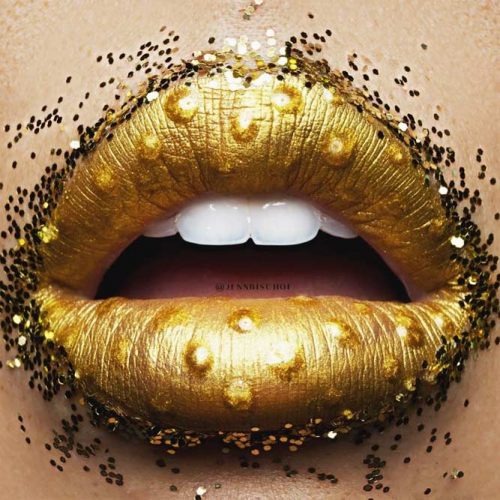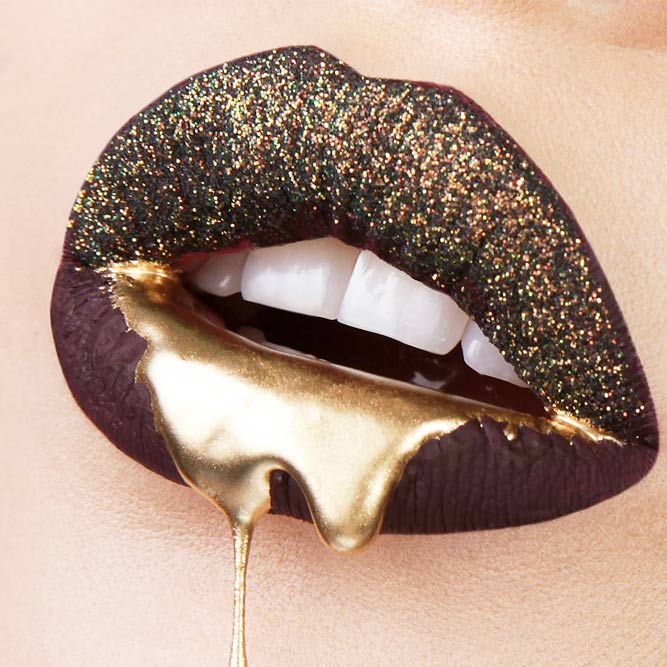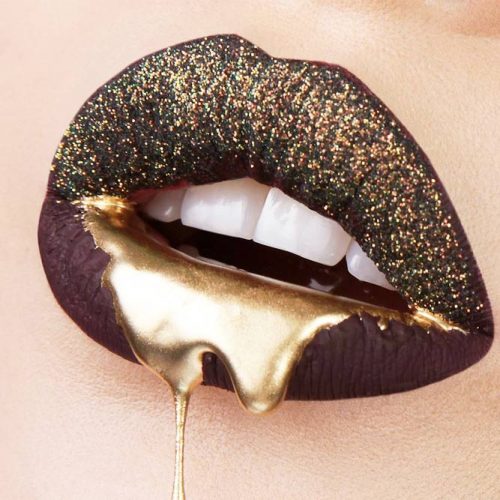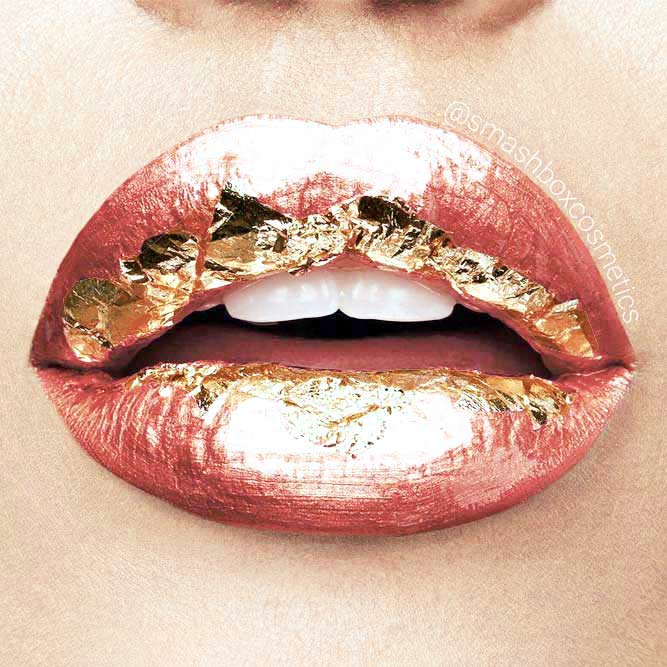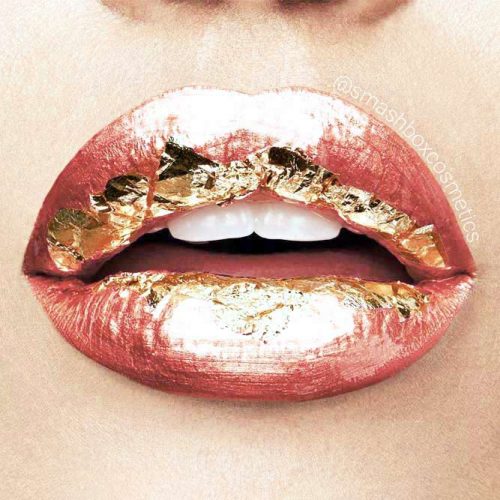 Use only cosmetic glitter on your lips. Purchase only fine gold glitter as it's the only way to ensure that the look will be smooth rather than grainy or chunky.
Apply glitter over the lipstick, with a special lipstick brush or your finger. If the glitter won't stick, apply transparent lip balm and try again.
Finally, press the lips together instead of pressing a napkin like you are used to doing. It's because napkin is likely to remove most of the glitter.
Always remove the glitter before going to bed. Any oil-based product for makeup removing will do.
FestIval Makeup Looks With Glitter
Source: makeupbethx via Instagram, festival_makeup via Instagram, georgiaannabel via Instagram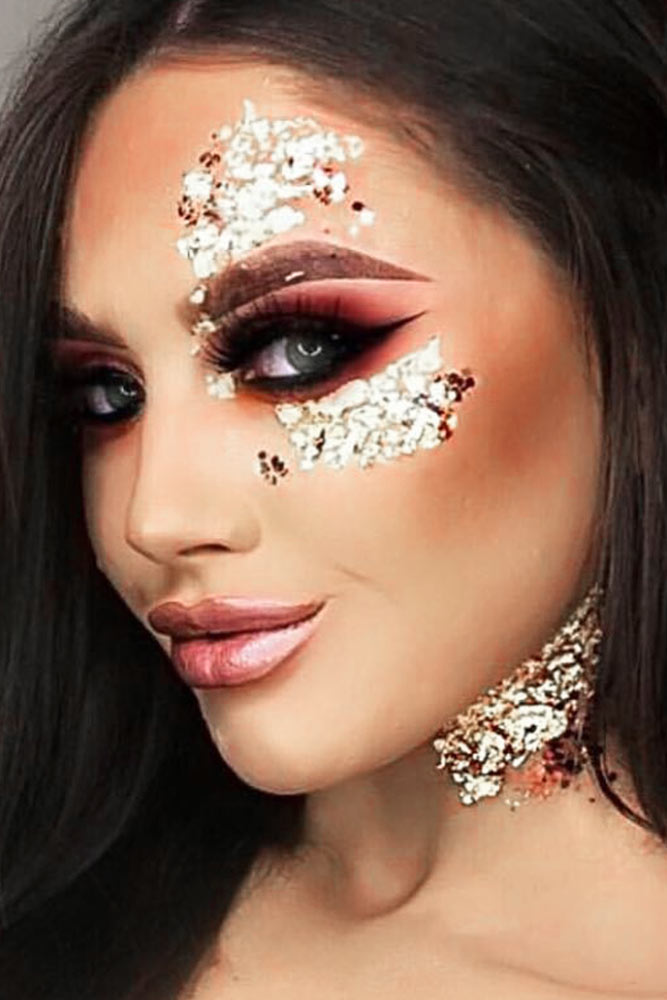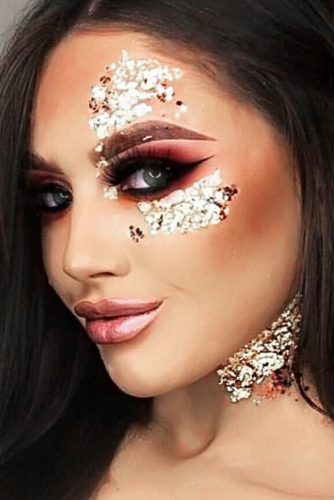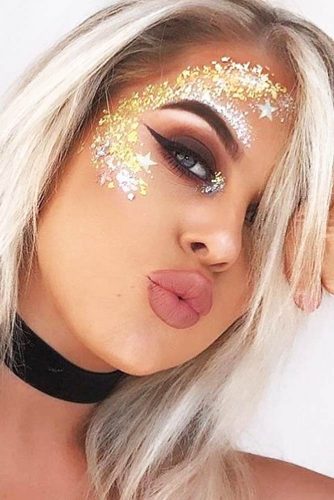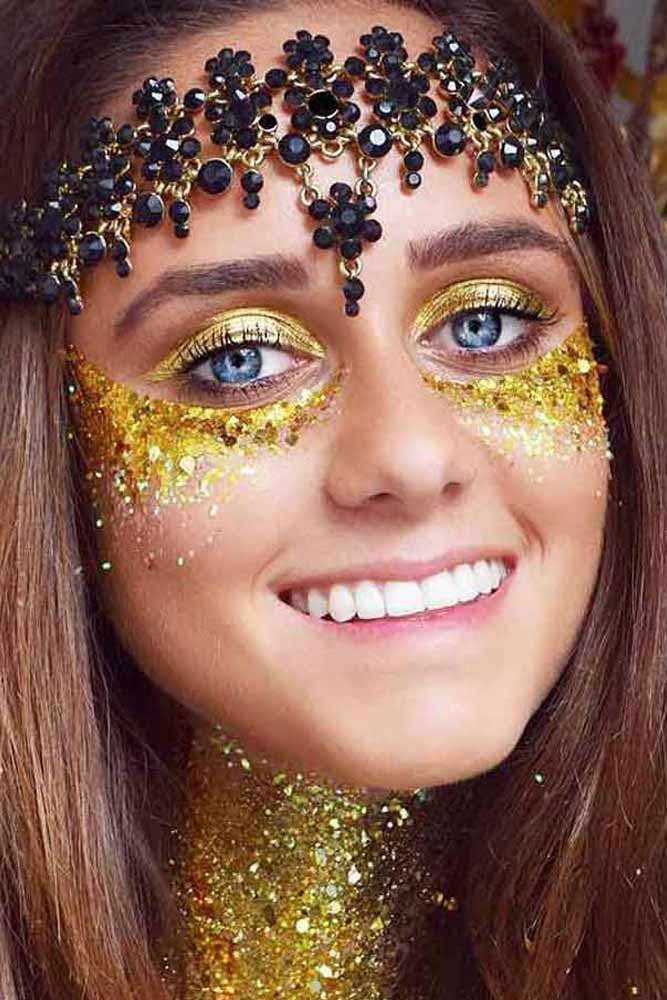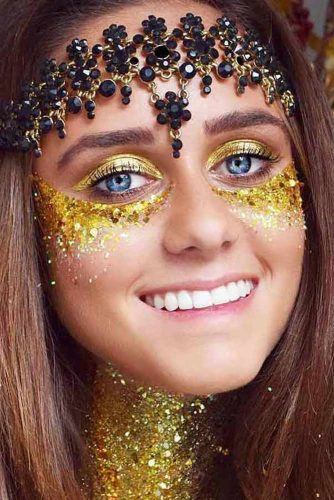 Face glitter makeup is easy to apply with our tips.
Start with applying primer and also foundation. Then apply setting spray or setting powder if you need.
Pick clear adhesive or gold glitter glue that is skin-safe. But you can replace it with Aloe Vera gel if you wish to save some money. And as for the glitter, only use special quality glitter for cosmetic purposes.
Source: michelletoopxx via Instagram, schloewe via Instagram, festival_makeup via Instagram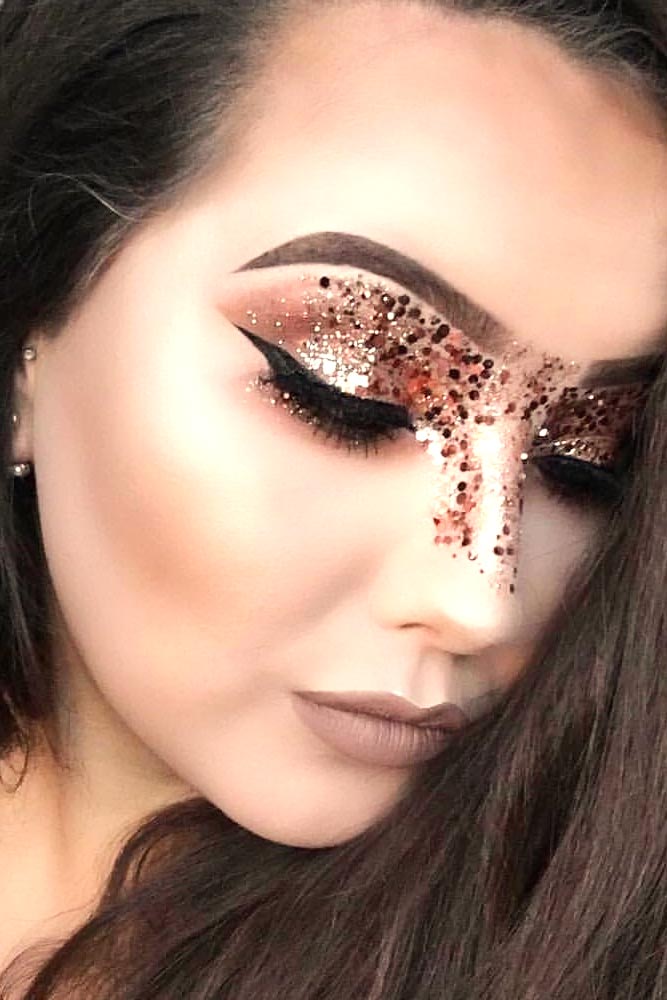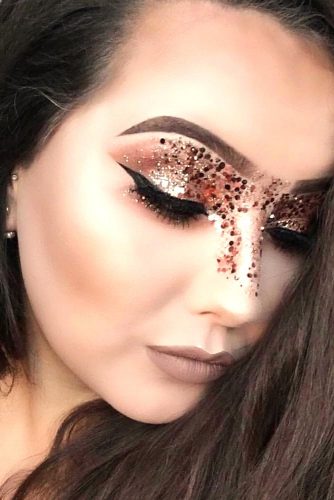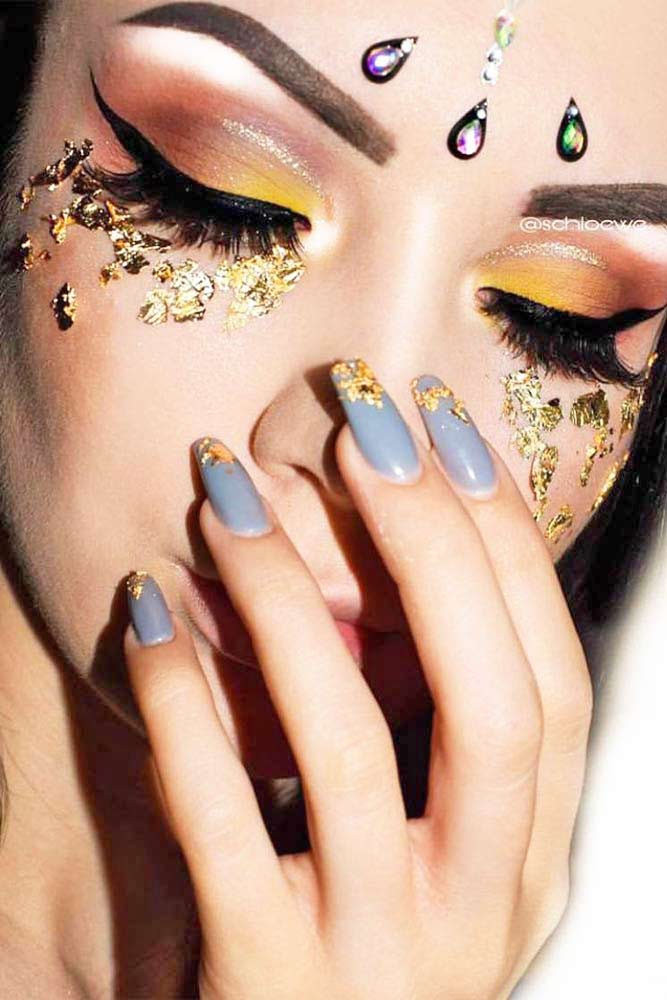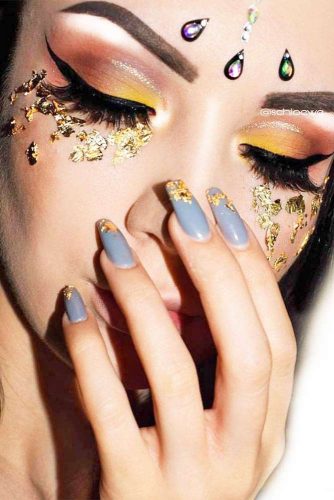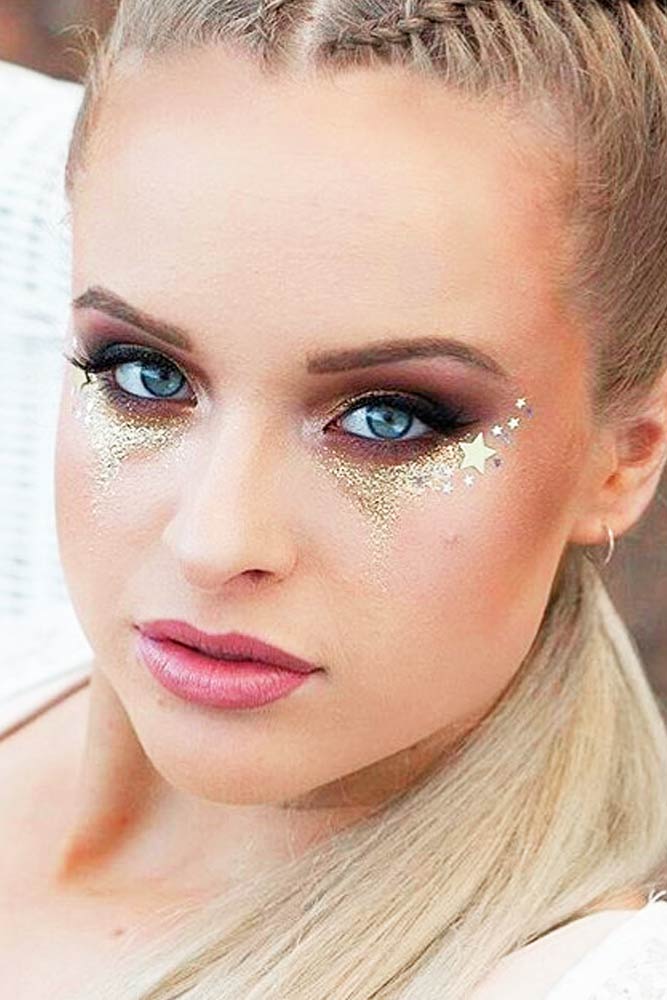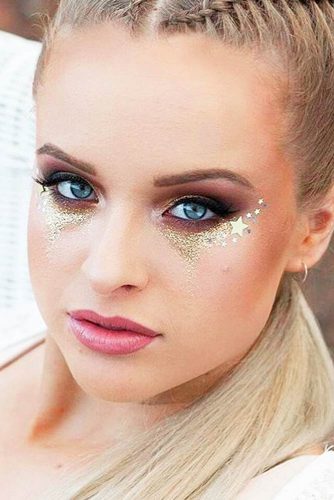 A brush for makeup that has stiff bristles will work for the adhesive application. Apply the adhesive in smaller areas, or it will dry out before you manage to cover it with glitter pieces. Apply the glitter, using that same brush. When the desirable pattern is created, you can make it more dimensional by applying additional glitter layers. Now you are ready to sparkle!
And look at these festival glitter ideas, aren't they breathtaking?
Night Makeup Ideas With Gold Glitter
Source: etya_mua via Instagram, michellypalmamakeup via Instagram, dreyzzydrey via Instagram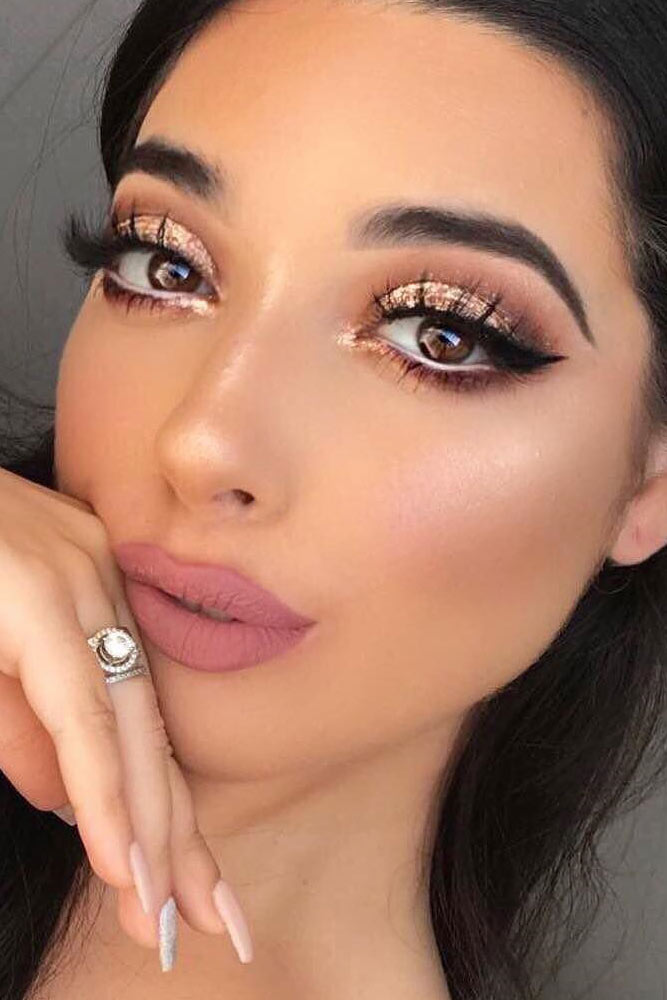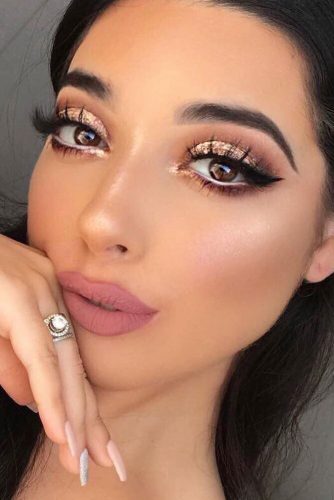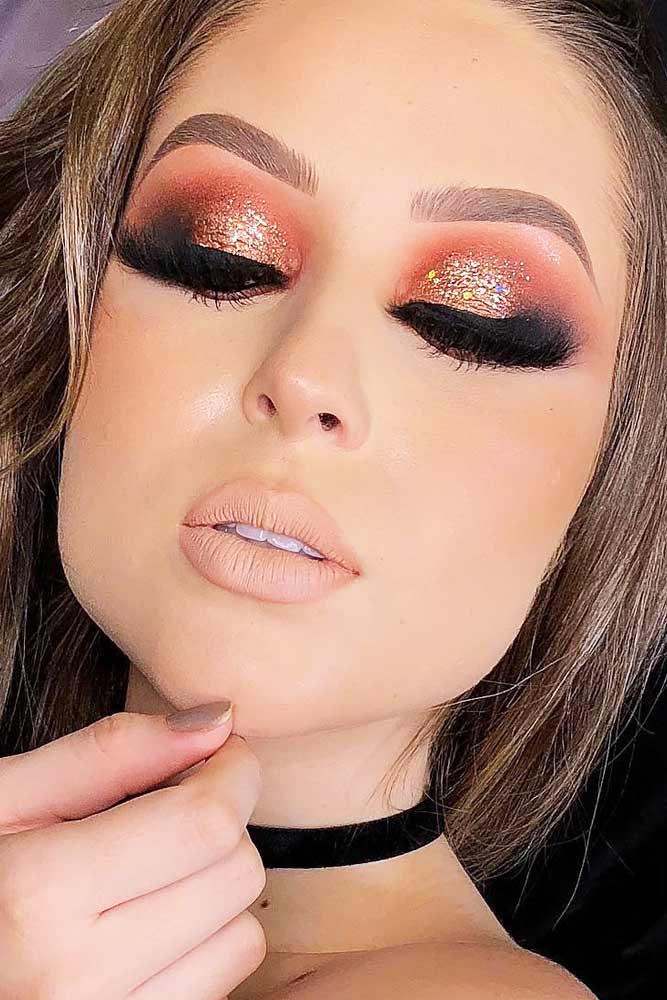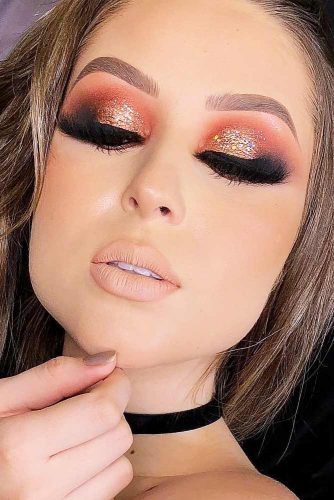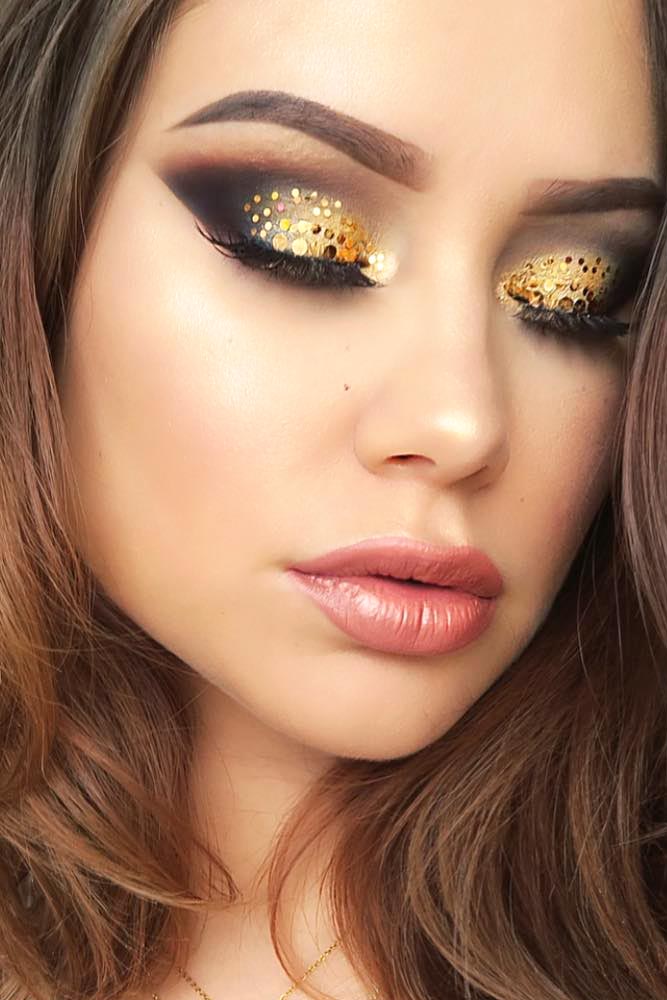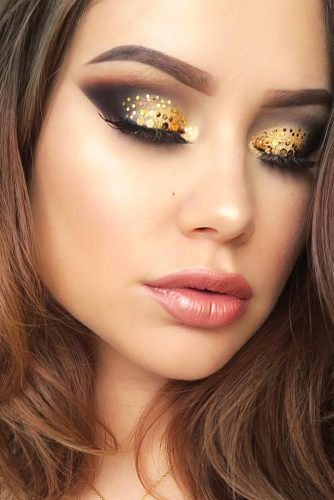 If you're still not sure if gold glitter is for you, we can reassure you that today glitter is not for teenagers only. Many celebs like Rihanna, J Lo, and Kristen Stewart proudly sport glitter makeup. Someone prefers subtler looks with glitter eyeliner, while others like putting more glitter on their faces. But the thing is that most fashionistas do that today. So, keep up!
Sparkly Nail Art Designs With Gold Glitter
Source: solinsnaglar via Instagram, celinaryden via Instagram, celinaryden via Instagram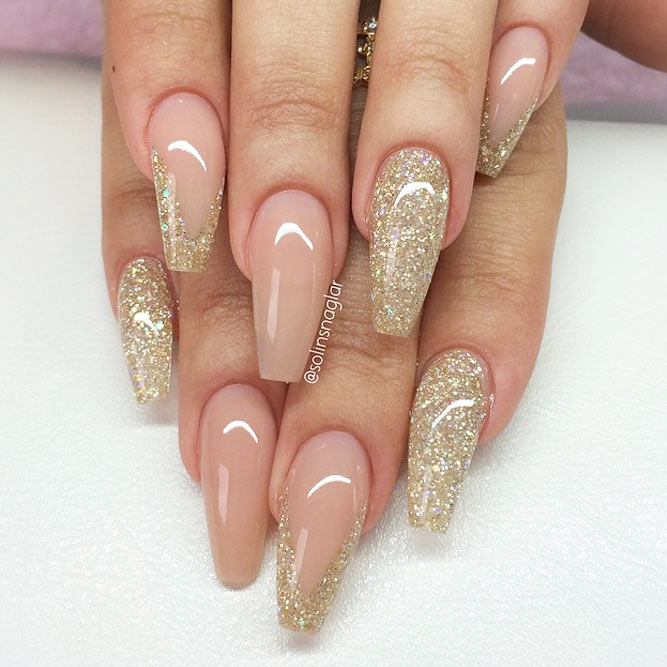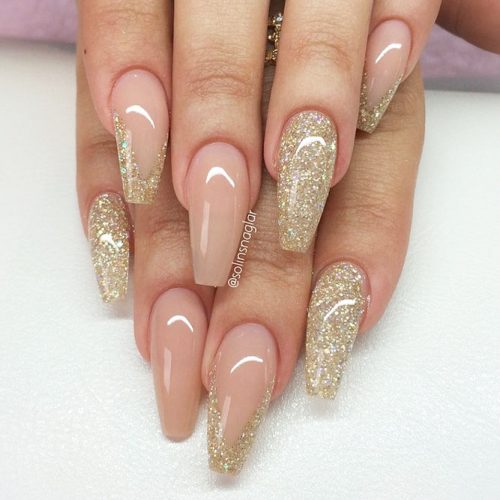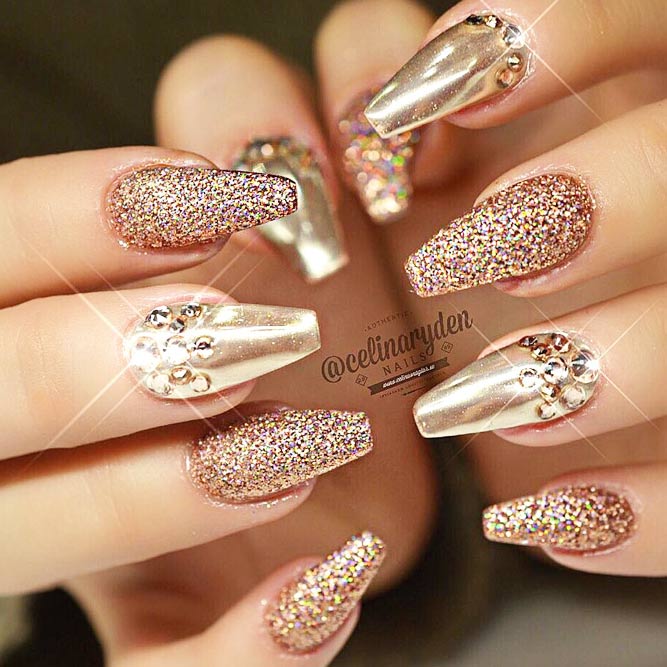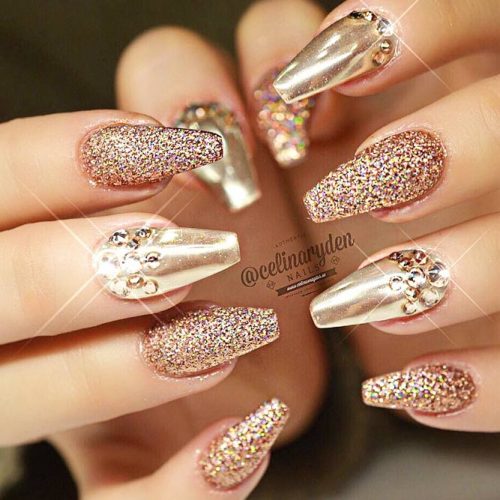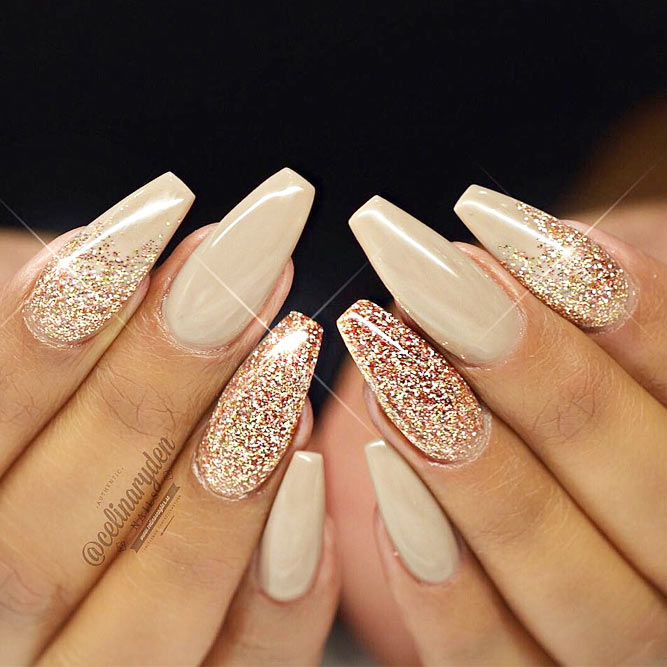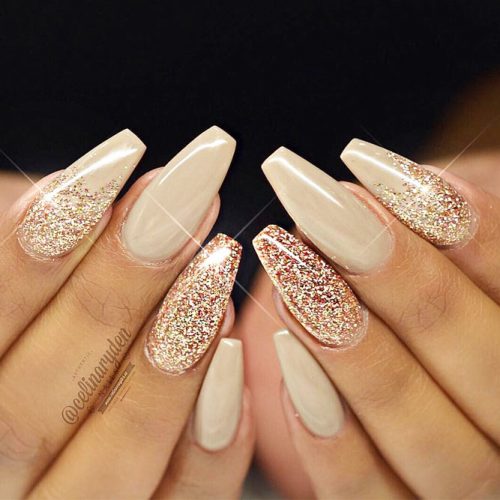 Source: beautybymerii via Instagram, _linadoll via Instagram, tonysnail via Instagram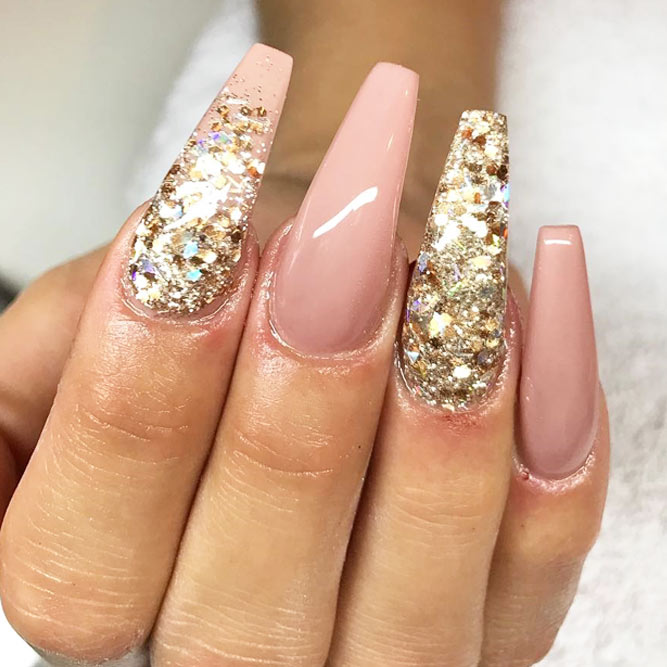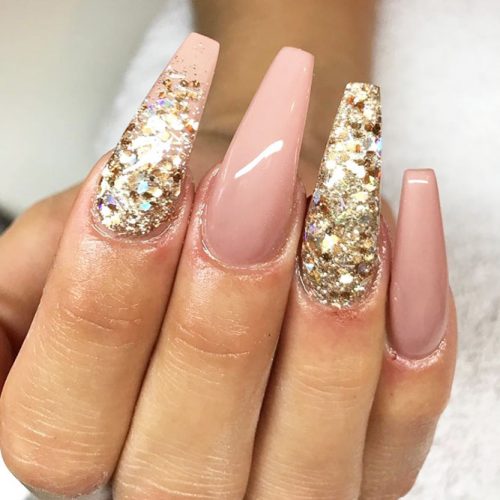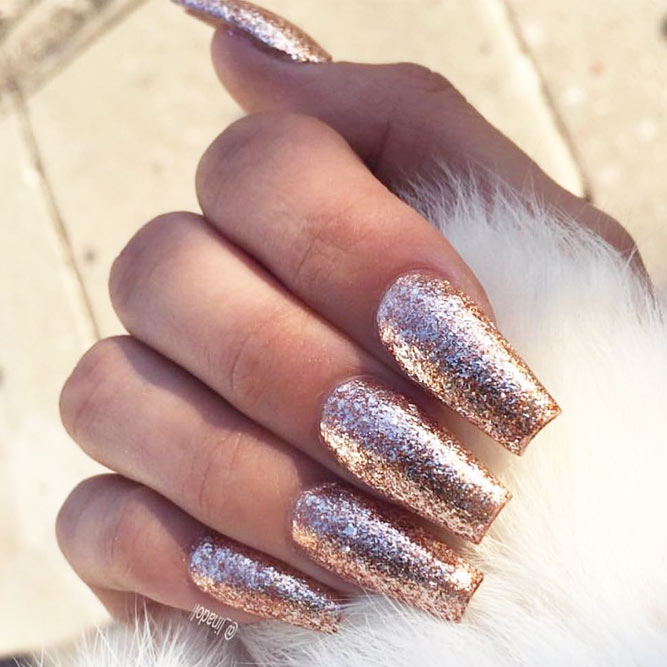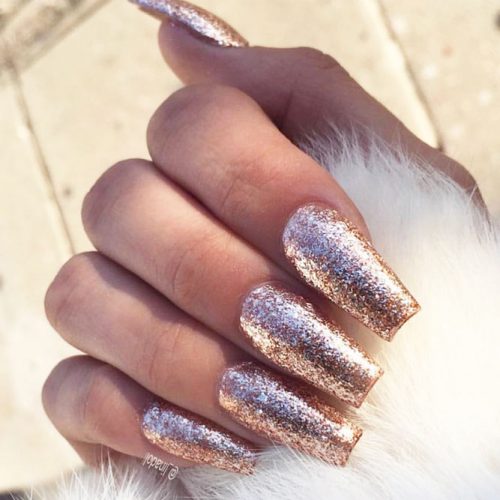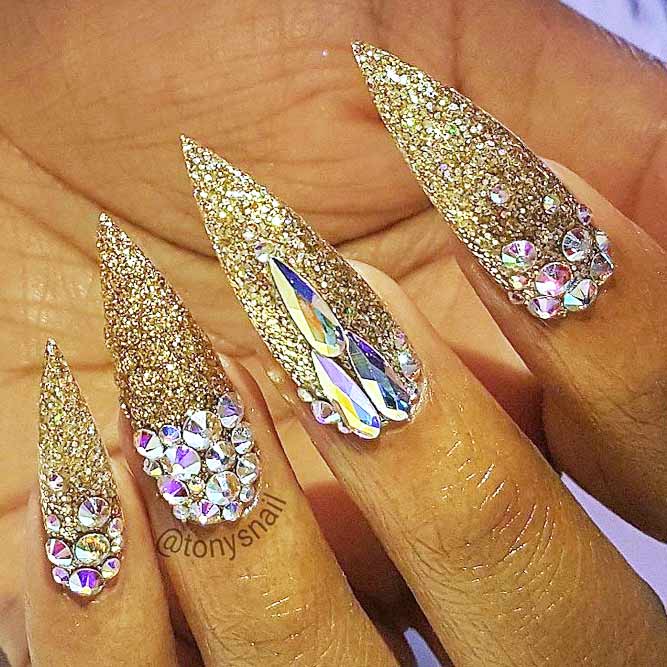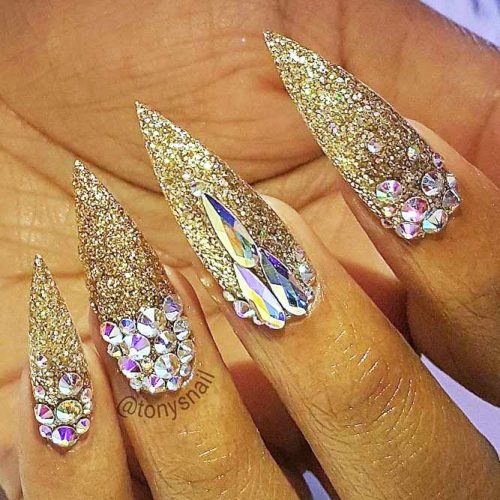 Gold glitter is the easy way to create shimmer manicure that will be perfect for any occasion. These festive nails designs help you feel simply out of this world.
Gold Glitter Hairstyle Ideas
Source: lauren_hallworth via Instagram, gogetglitter via Instagram, cielohairsalonandspa via Instagram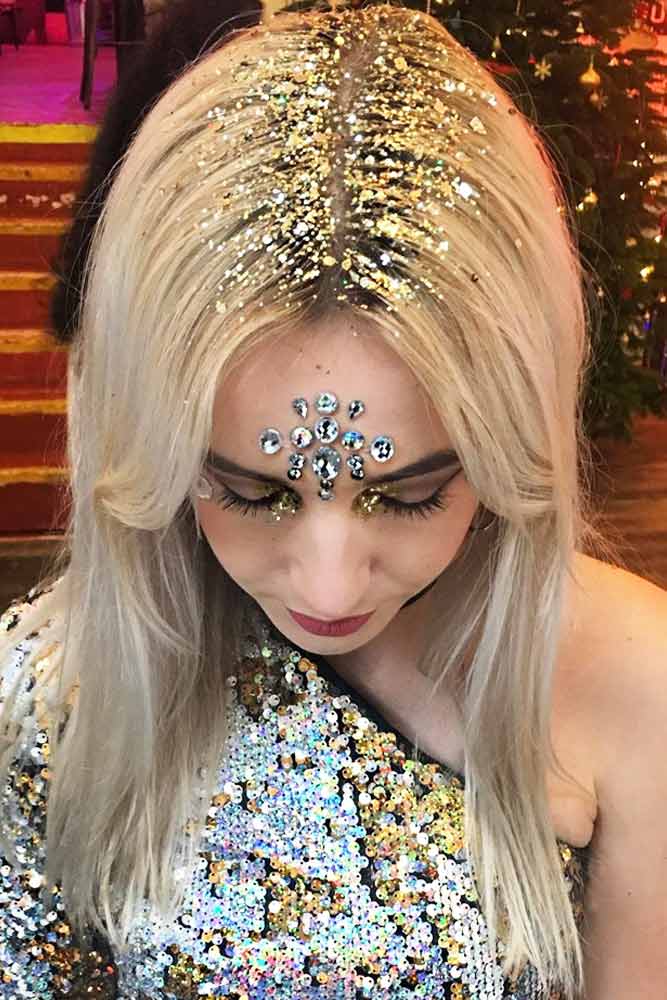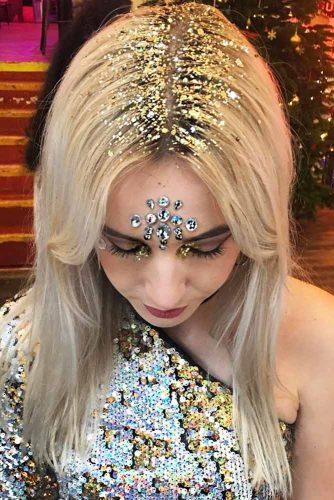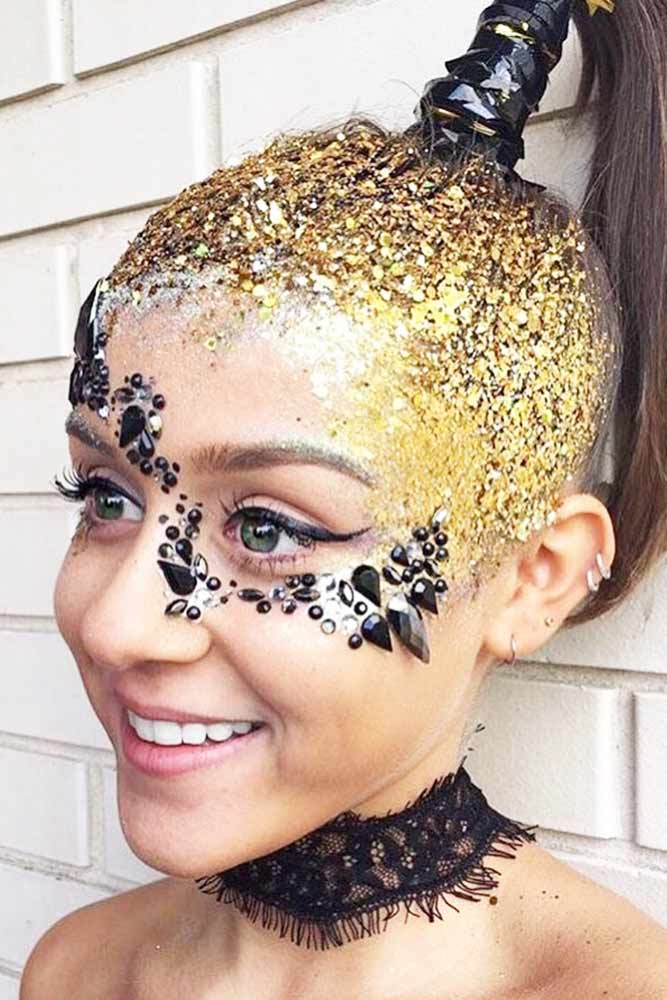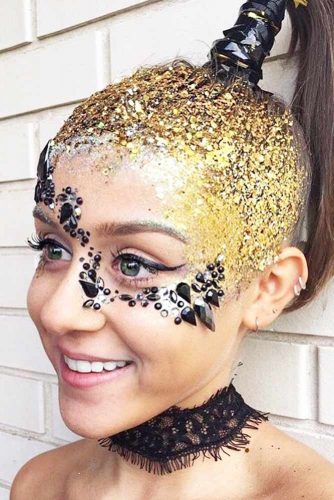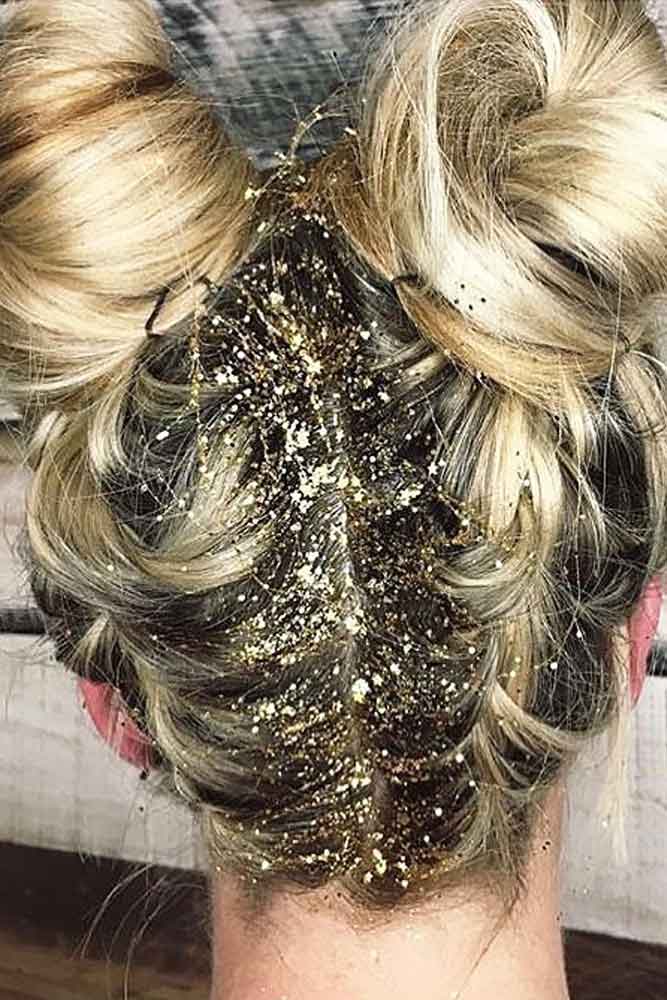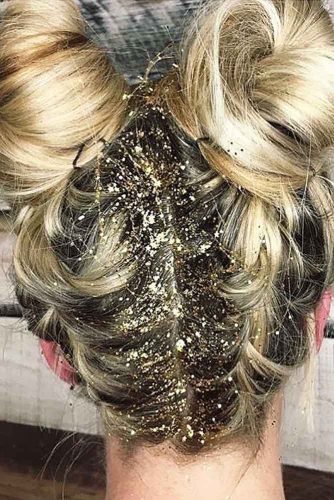 Gold Glitter Shoes Designs
Source: madelineanne_stylist via Instagram, cudaniewidypl via Instagram, oldnavy via Instagram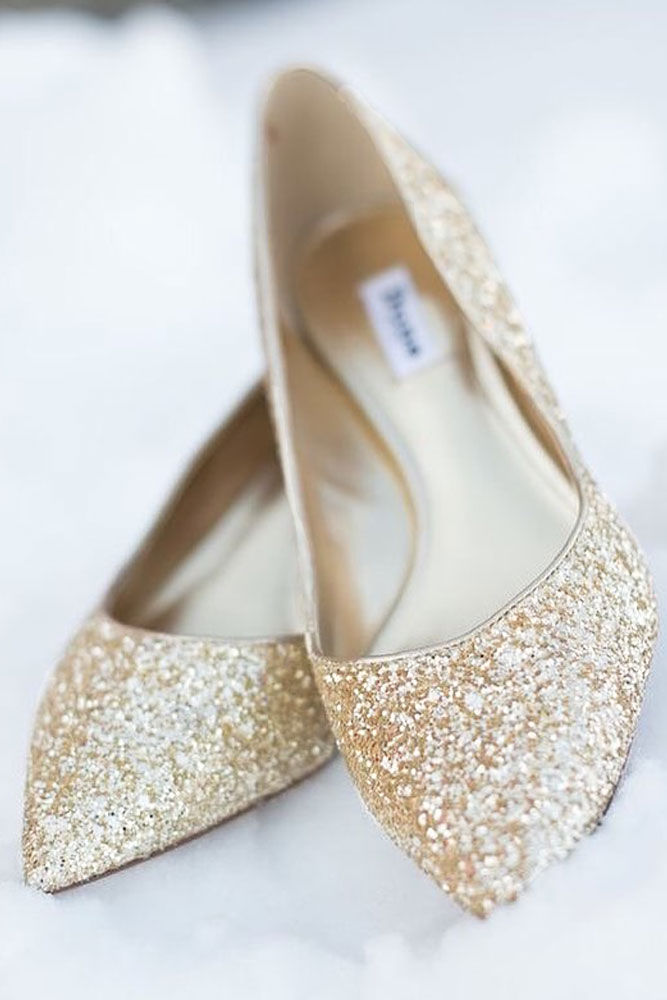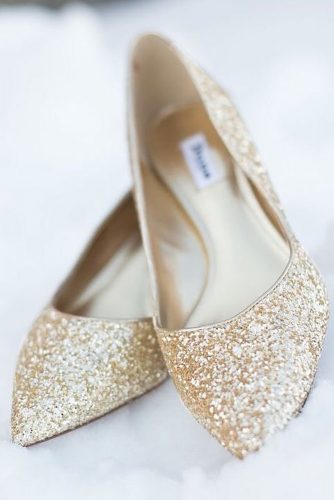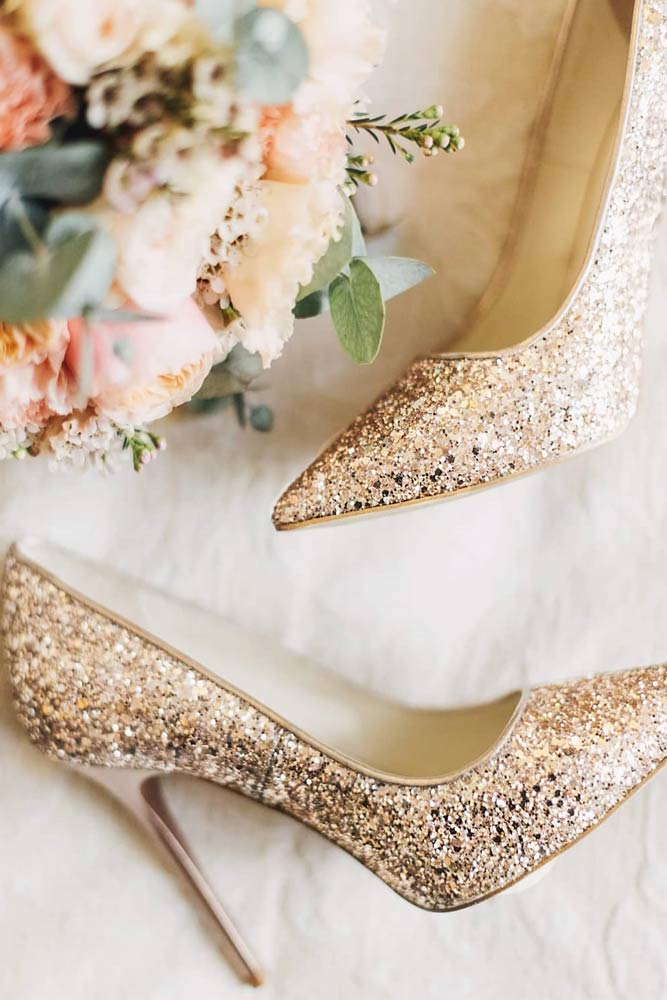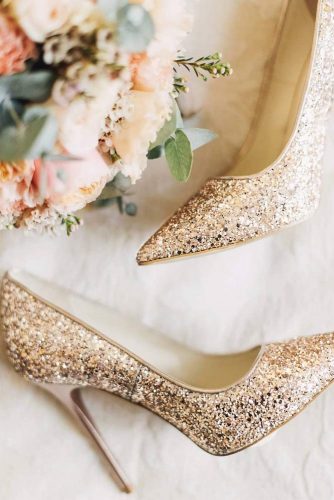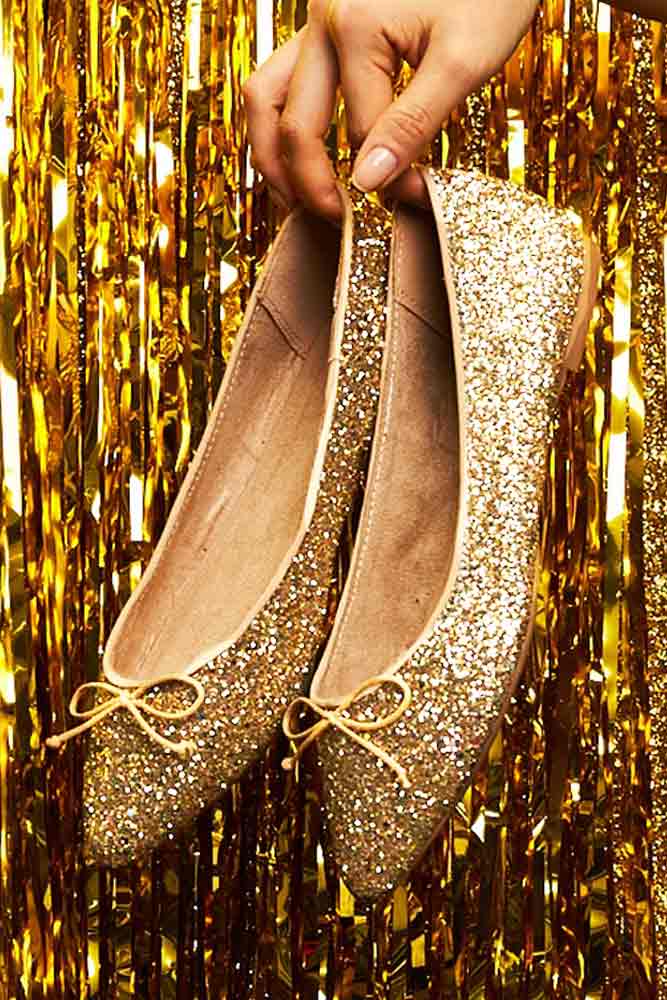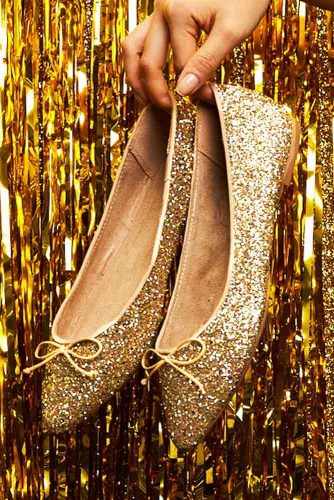 Aren't these hairstyles ideas with gold glitter awesome? Try to recreate them, following our pictures.