Makeup for older women is as important as for any other age group. It's not only the way of self-expression. It's an empowering tool in the life of almost every woman. Makeup gives you the feeling of an upgraded version of yourself. Though, as well as it lends you wings, makeup can cut them off when applied improperly. With our ultimate tips on how to apply makeup for older women, you have nothing to worry about.
Prime Your Skin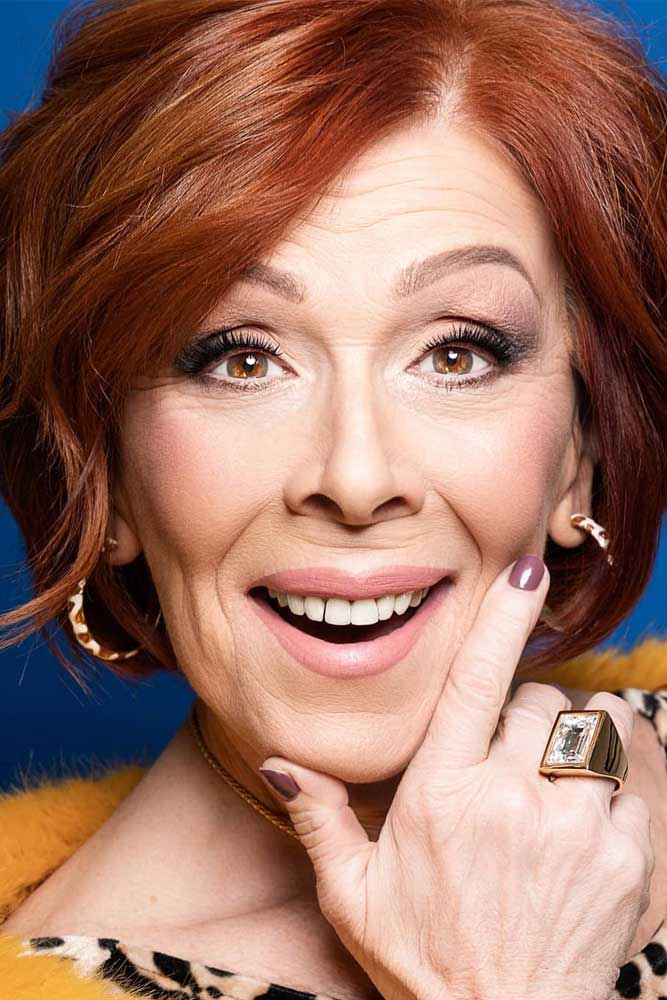 Credit photo: Instagram/andrey.loos
Even the best makeup for older women can be totally wasted if applied without a primer. You should always consider its application before the actual makeup because of the numerous benefits it gives. Priming helps to even out and brighten up the complexion, reducing wrinkles, fine lines, and large pores appearance. It moisturizes the skin and makes the foundation, mascara, and eyeshadows glide on perfectly. In addition to the better application, a primer ensures your makeup stays put and flawless during the day.
Use The Appropriate Foundation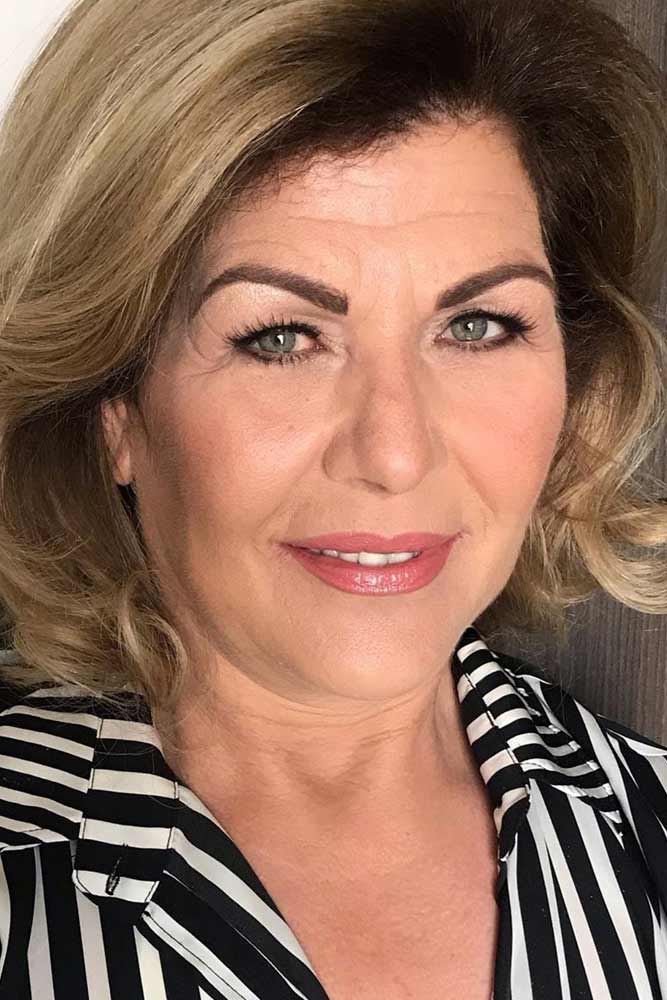 Credit photo: Instagram/anastasiyakhavinamakeupartist
One of the most essential makeup tips for older women would be to always match your foundation to your skin type and environmental conditions. You should keep in mind that for aging skin, you can't use the same foundation that you used a decade ago. First, your foundation should become lighter in texture. Avoid creamy formula unless its winter months, when your skin becomes especially dry. During the summer season, you may confine to a tinted moisturizer, as your face can still become too oily.
Apply The Concealer Properly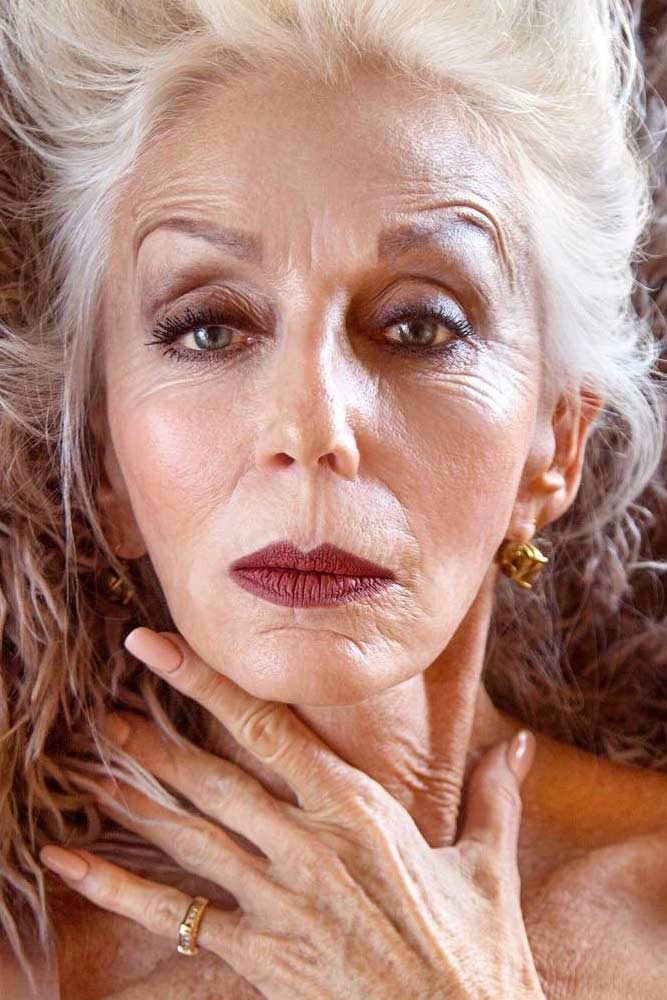 Credit photo: Instagram/colleen_heidemann
There are a couple of makeup tricks for older women to remember to make the most out of the concealer. First, apply it after the foundation, not before. The order is so important because it gives you more control over the amount and precision of the application. Second, don't apply the concealer directly under your eye. Add it to the cheekbone apex instead. In this way, the concealer will reflect the light back up and disguise the dark circles. Third, to camouflage age pigmentation, go for a darker shade of concealer, as the lighter one will give the spots an ashy look. And last but not least, mix the different shades of your concealer to match your natural complexion and apply it to the areas where extra coverage is required.
Keep Focus On Your Eye Makeup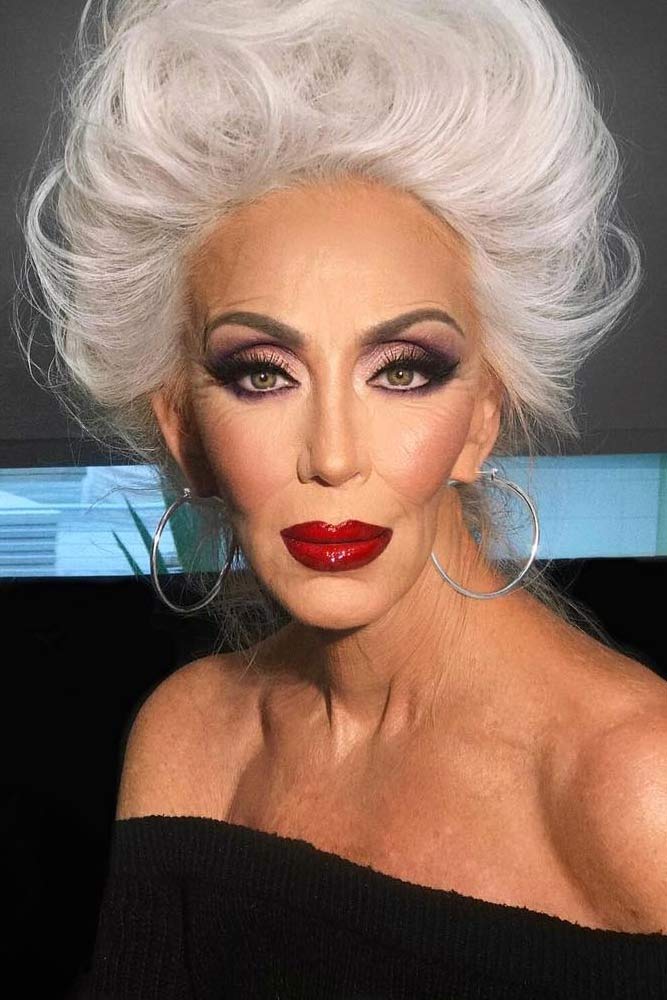 Credit photo: Instagram/colleen_heidemann
The eye makeup for older women is arguably the most important part of the whole routine, as that's where you should draw the attention of others to. This will shift the focus from your fine lines and wrinkles to your beautiful eyes. Thus, you'll want to enhance their color with the most flattering eyeshadow shades.
If you have hazel or brown eyes, gold, brown as well as blue shades will make them pop. For blue-eyed ladies, the most complimenting would be copper, brown, gold and blue-gray hues. To intensify dark eye colors, go with saturated bold shades.
To keep your eye makeup in place for the whole day, don't forget about a trusty primer.
The mascara also plays an important role in the makeup for older women. It's better to skip the ones that are aimed at curling and lengthening in favor of voluminous ones. You also should consider switching the intense black color to something more natural, like brown or blue. The latter, by the way, will make your eyeballs appear whiter.
For added skin glow and eye sparkle, apply a highlighter to the inner and outer eye corners.
Take Advantage Of The Blushers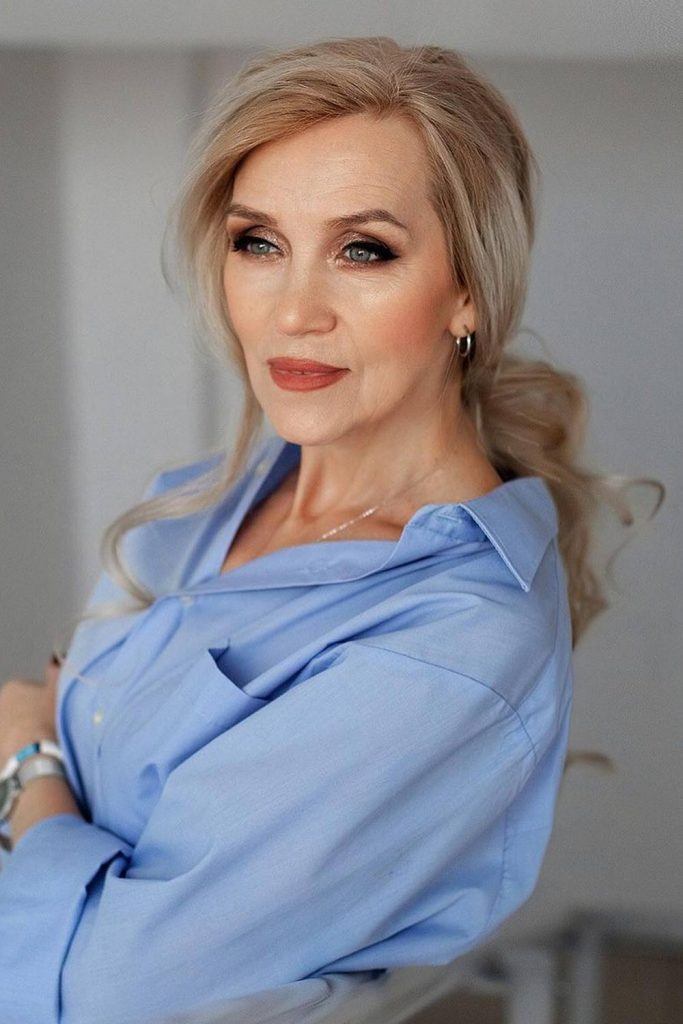 Credit photo: Instagram/tanya.borisovskaya
Natural makeup for older women features fresh and soft blush on the cheeks. Opt for cream textures instead of powders, as your skin most likely has a tendency to get dry. It also requires a special application technique, which will emphasize the eyes and make wrinkles less visible. To find the right place where to put the blusher, which is your cheek apples, you need to smile. Use brushes with synthetic bristles to apply the product, as they work with cream formula better. The key to success in getting a natural look is proper blending.
Ideally, you'd want to polish and secure everything with a powder. However, don't forget that we most likely have dry skin and powders will make it even drier.
Make The Lips Plumper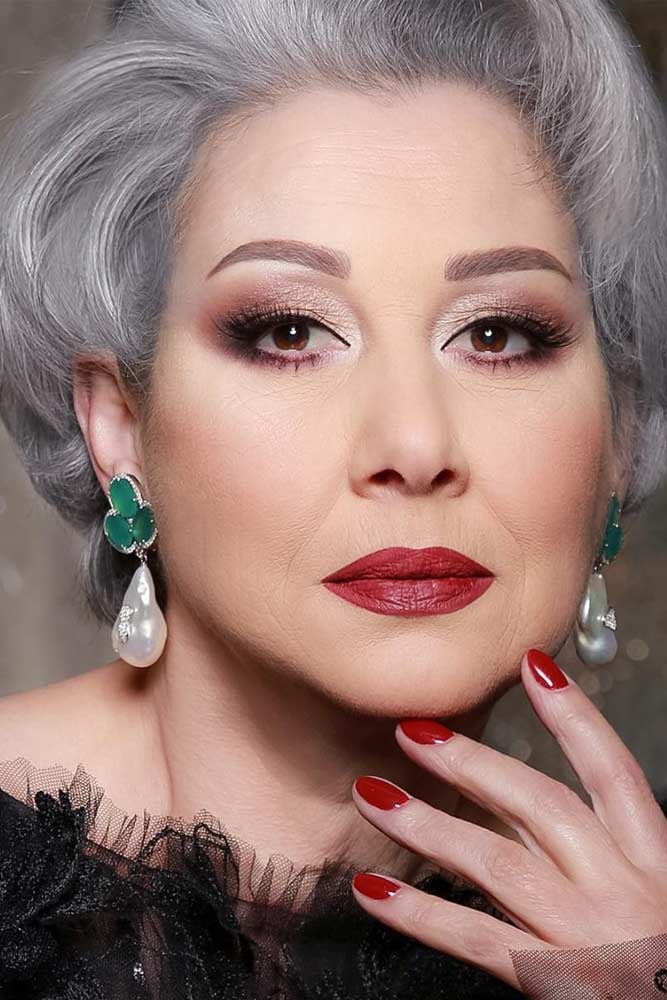 Credit photo: Instagram/samerkhouzami
Even if you're after a simple makeup for older women, it's impossible without a lip makeup. As your lips have probably become thinner with time, you'll want to use a special plumping technique to make them voluptuous.
Start with a bit of highlighter applied to your cupid's bow. Then, outline your lips with a liner in natural color, going a little beyond your natural lip line. This will not only make your lips seem fuller but also help the lipstick stay longer.
Take Care Of Your Skin
To make their fine lines less visible, older women resort to applying moisturizer under the foundation. This step plumps the skin up temporarily and makes it look smoother. Also, if taking care of your skin properly, you can reduce the appearance of fine lines dramatically. Your number one helper in this struggle is a serum with hyaluronic acid as the main ingredient. Apply it after cleansing and before moisturizing. No special makeup for older women will give you such an amusing effect.
How Should An Older Woman Apply Makeup?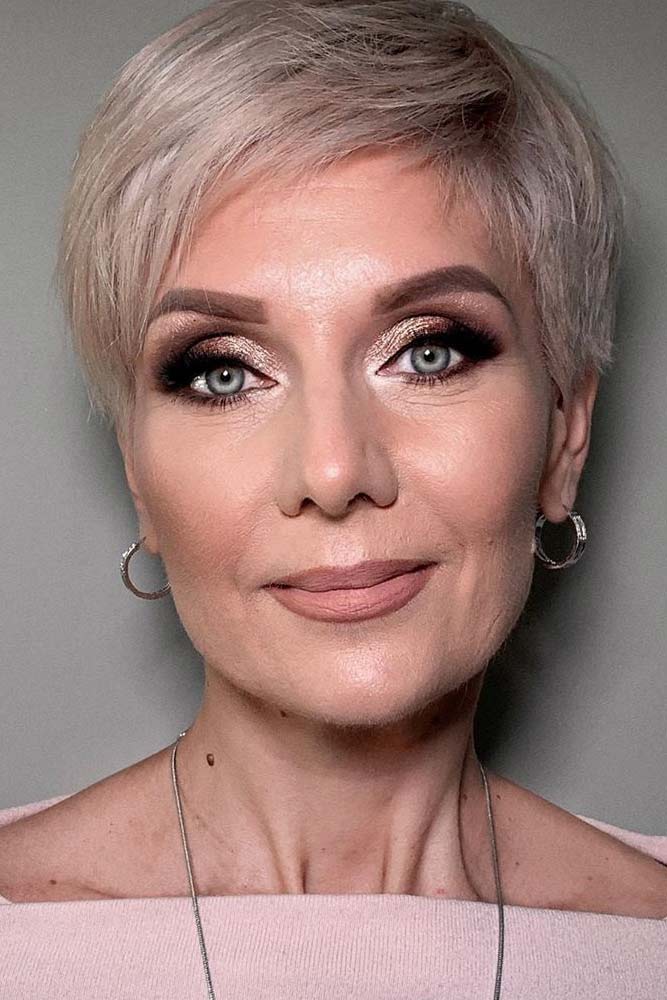 Credit photo: Instagram/mariya_malcheva
There are many modern trends that every older woman would like to try, but the rumors as to what is appropriate and what is not for older ladies, stop them. That is why we are going to discuss the ways how you should apply makeup when you are no longer 40.
Skincare – apply all the products from the center up. Such an approach will ensure flawless application and improved blood circulation.
Do your brows first – you will be surprised how much well-groomed brows mean in your daily makeup routine. We are sure that you will discover fresh eye makeup look in no time.
Don't try to fight the asymmetry – our faces become asymmetrical when getting older, there is no use in trying to win over it with the help of makeup.
Use the makeup sponge for moisturizing, not for more makeup.
Reinvent the crease – apply darker shadow to the lid and blend up with lighter tones.
Experiment with your liner.
Center the makeup coverage at the center of your face.
What Color Eyeliner Should An Older Woman Wear?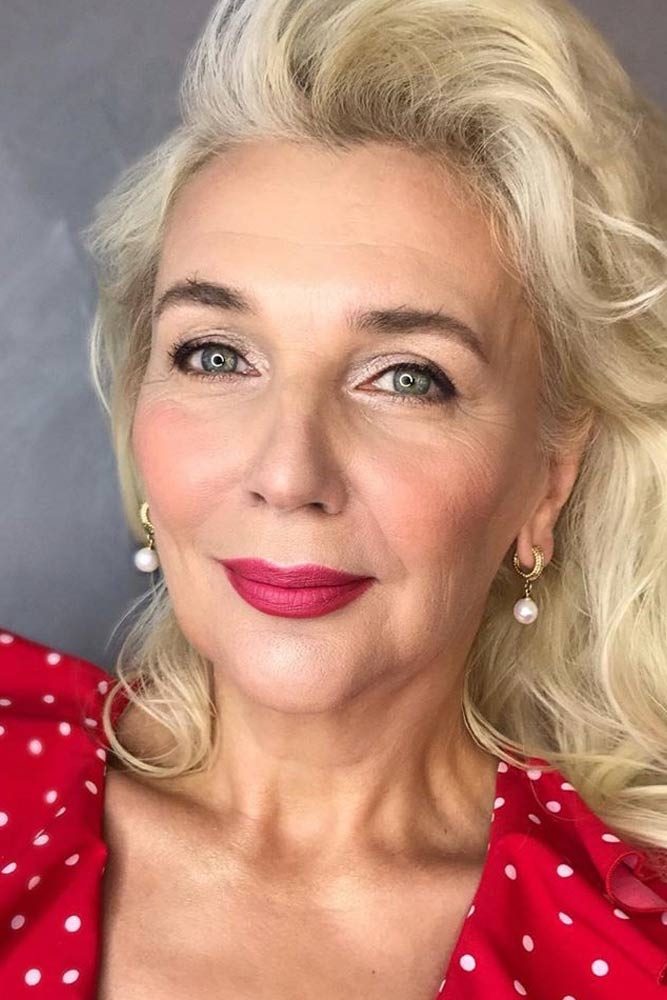 Credit photo: Instagram/karinaporokhnenko
We all age, and that is inevitable. However, just like we undergo the changes, so should our makeup routine. When you get older, you may find out that the black liner on your eyes does not look that appealing as it used to. Nevertheless, it does not mean that you should forget about lining your eyes forever. On the contrary. Such colors, like moss green, lavender, and soft brown, will add that beautiful sparkle to your eyes that you may have considered being lost!
What Is The Best Foundation For Older Ladies?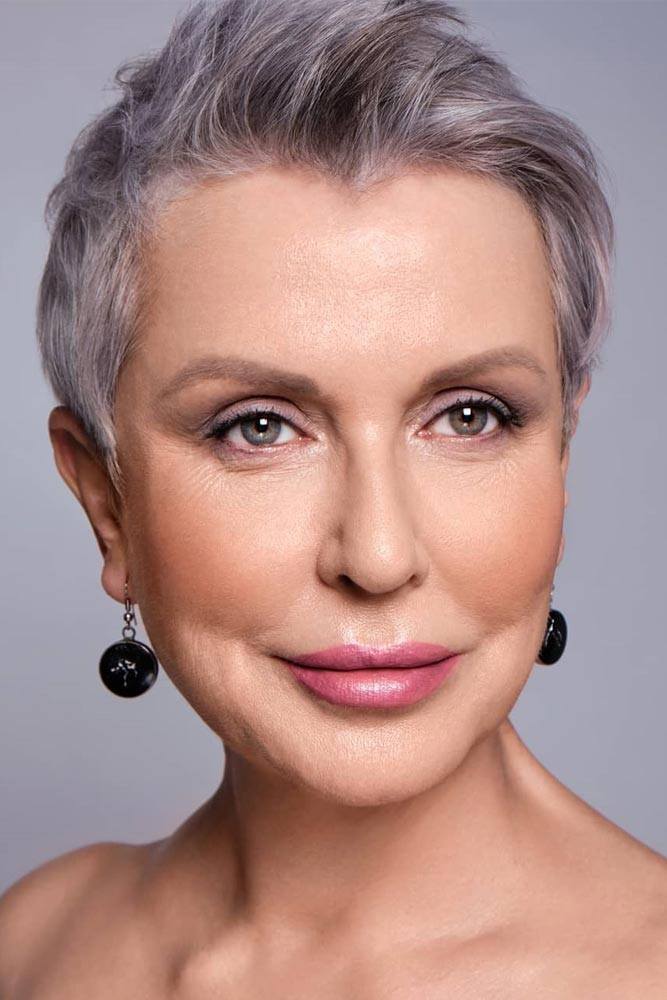 Credit photo: Instagram/mark.preobrazhensky
It is hard to name the best foundation brands for all the older ladies out there since all of them are different. However, there is one thing you need to remember – the foundation that you used to wear for years will not work on you that great when you turn 60. You need a foundation for mature skin, and luckily these days, there are lots of those on offer, and the price range is also different so that you can find something suitable for you personally.
How Do You Hide Wrinkles With Makeup?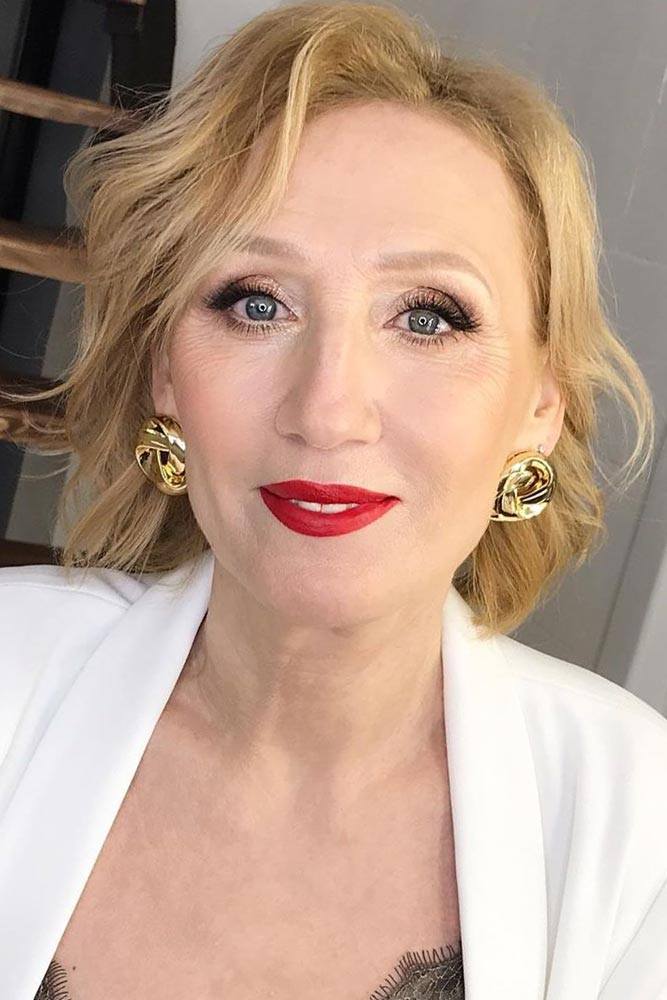 Credit photo: Instagram/sholohova_mua
It may seem that there is nothing that you can do about those wrinkles without a good plastic surgeon at hand. However, you can hide away most of them with a proper makeup routine:
Moisturize – wrinkles appear because our skin gets drier with age, proper moisture can take care at least of some of the wrinkles.
Retinoids – these are designed to make your skin produce more collagen, the more collagen – the fewer wrinkles, as simple as that.
Go easy on anti-age creams – two products at the time are enough.
Priming – silicone primer is the best you should opt for.
Foundation – choose the one that moisturizes your skin well.
Eye makeup is designed to draw away the attention from the wrinkles
Make sure that your lipstick does not blend into the lines
How Can Makeup Make You Look Younger?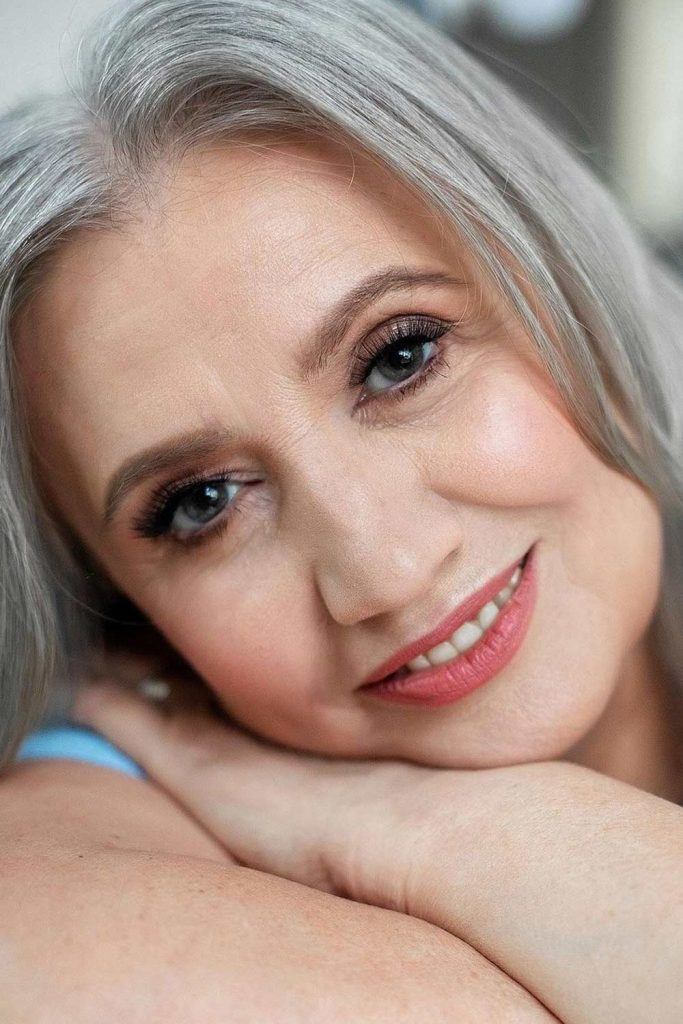 Credit photo: Instagram/tanya.borisovskaya
There is also a list of makeup tricks that may aid you in your wish to look younger:
Conceal the dark circles under your eyes;
Go easy on the foundation;
Do not use too much powder;
Add a little blush to the cheeks;
Do not forget about mild highlighter;
Keep your brows good-looking;
Define your eyes with quality mascara;
Always wear a flattering lipstick.
What Color Lipstick Makes You Look Younger?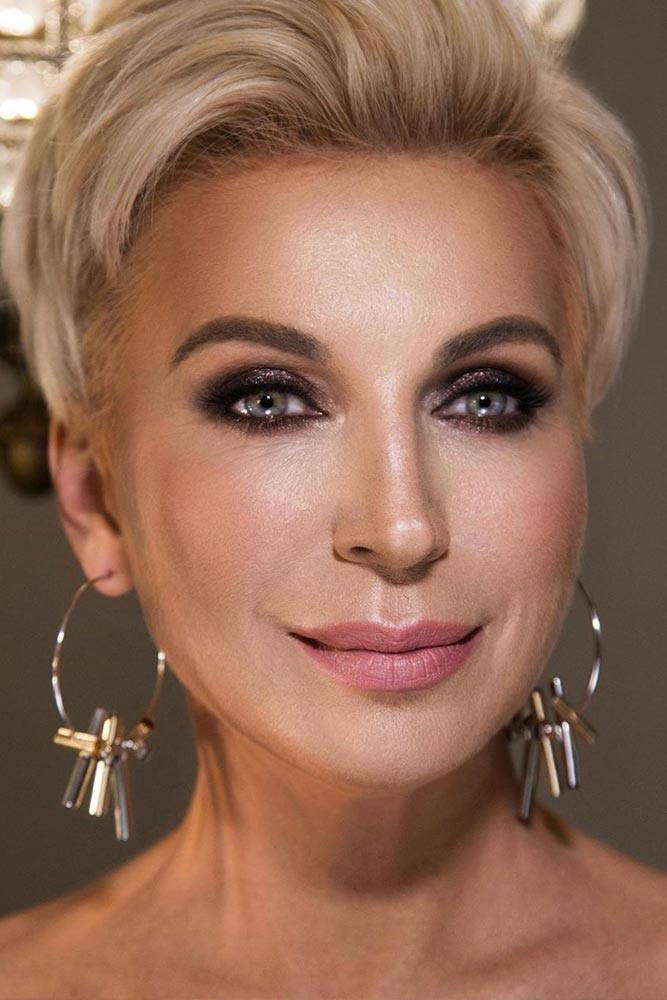 Credit photo: Instagram/lenamotinova
It is a little easier to define all the lipstick shades that are flattering to the younger complexion. When we get older things, tend to get a little more complicated. The truth is that if you want to define your lips properly, you should experiment with a vast palette of colors in single lip makeup. The makeup experts suggest that you apply a lighter lipstick shade at the center and then darken the hue up as you are moving to the outer edges of your lips.
Smokey Eyes Makeup Ideas With Bright Lips
Credit photo: Instagram/beautypigments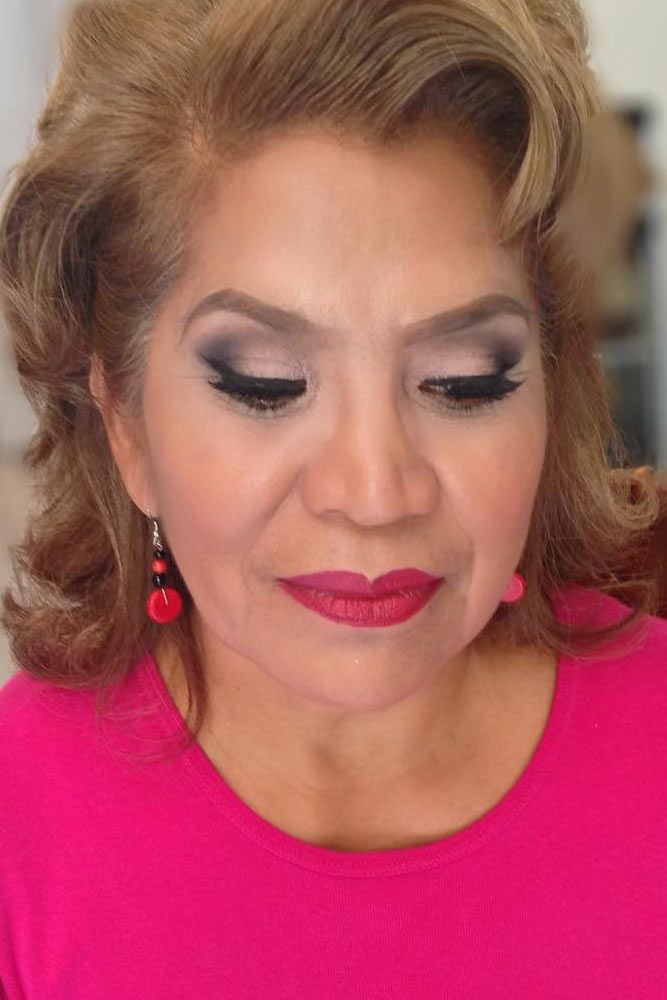 Credit photo: Instagram/andrey.loos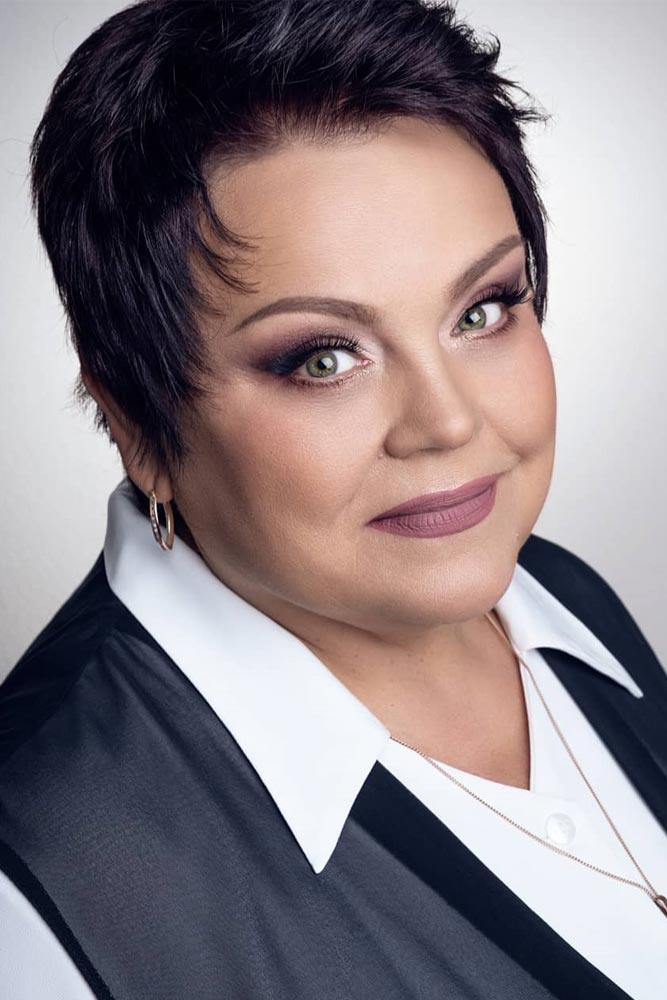 Credit photo: Instagram/chrismonteiromakeup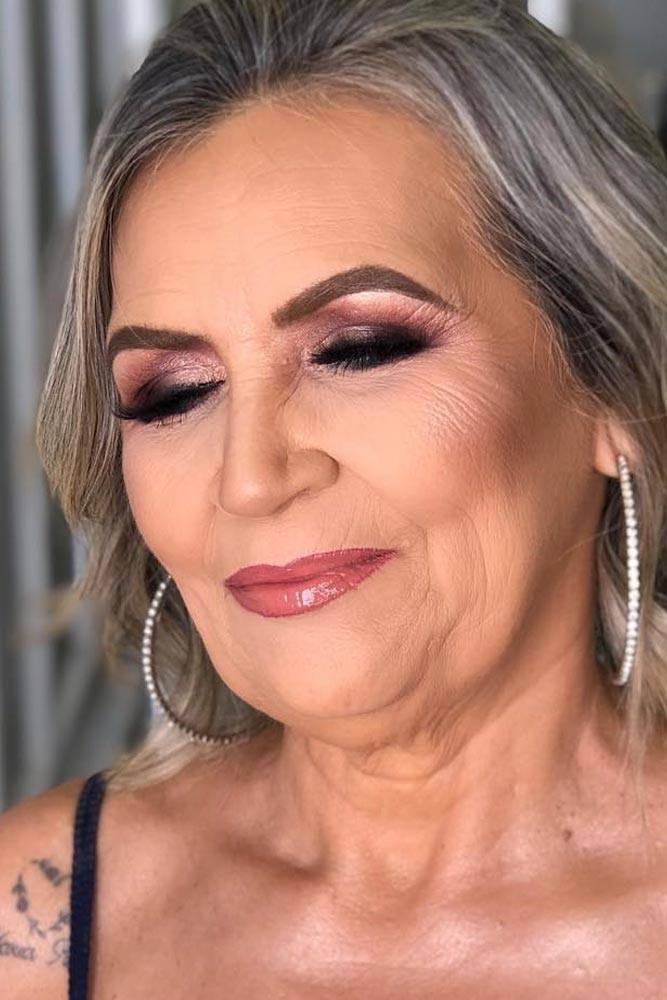 Credit photo: Instagram/igorsemushin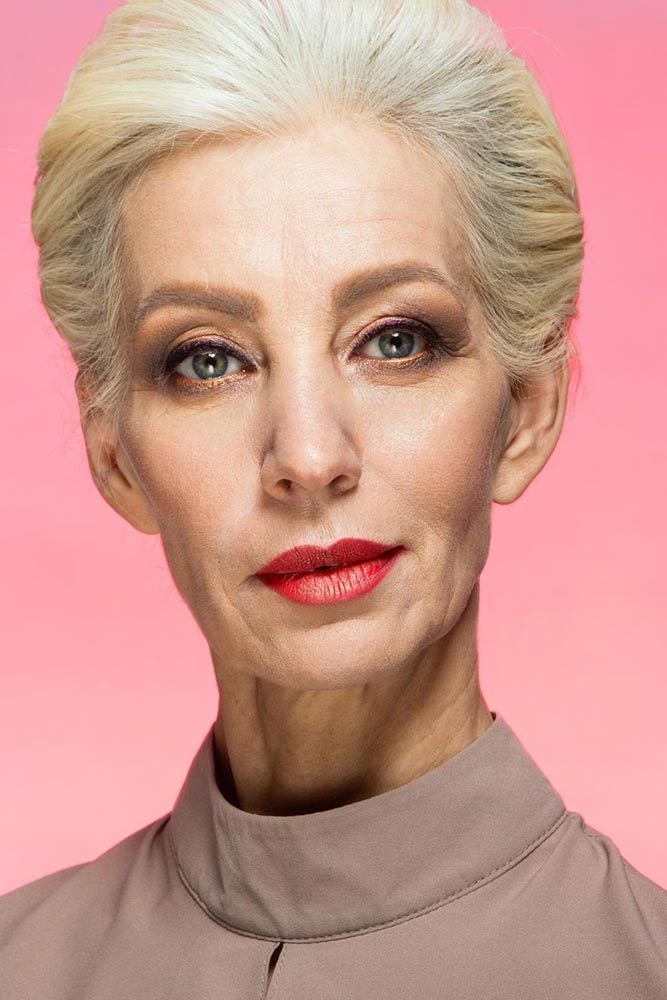 Credit photo: Instagram/akobir_ashurkulovich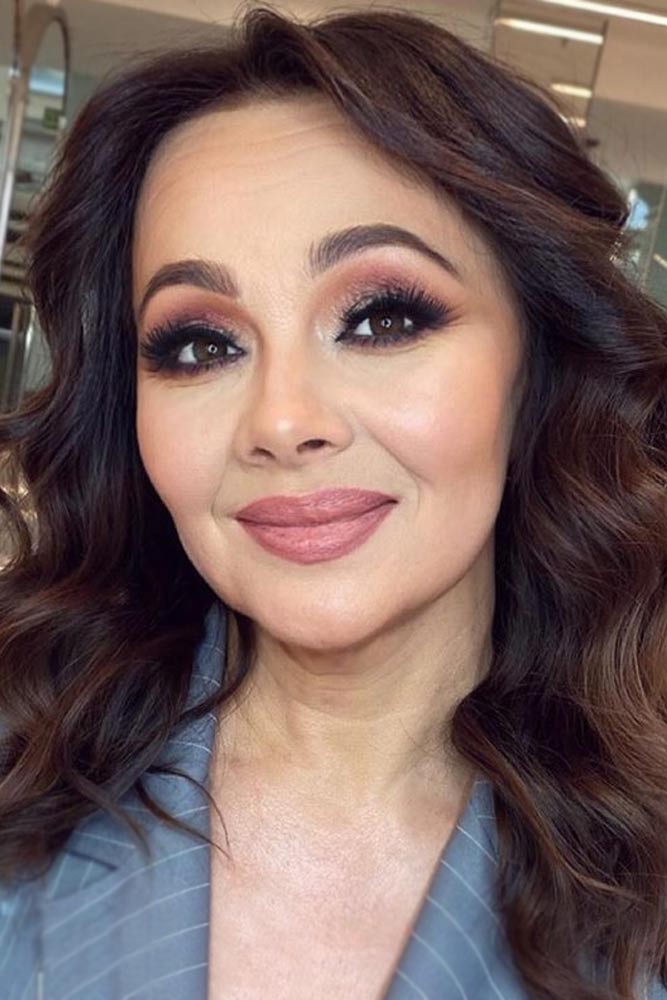 Smokey Eyes With Natural Lips Colors
Credit photo: Instagram/tanya.borisovskaya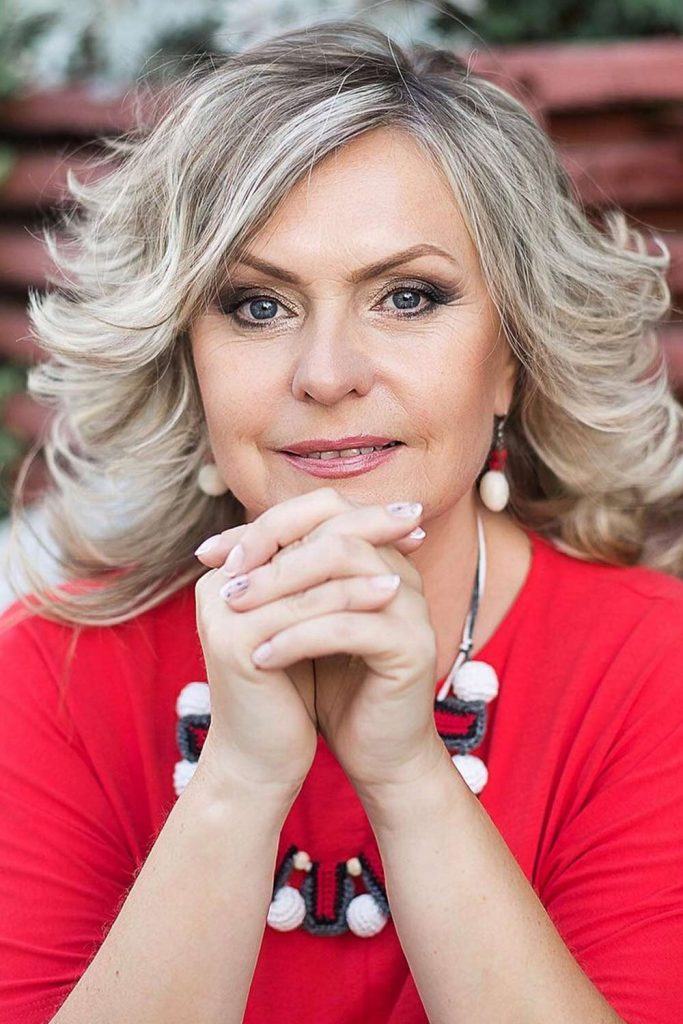 Credit photo: Instagram/andrey.loos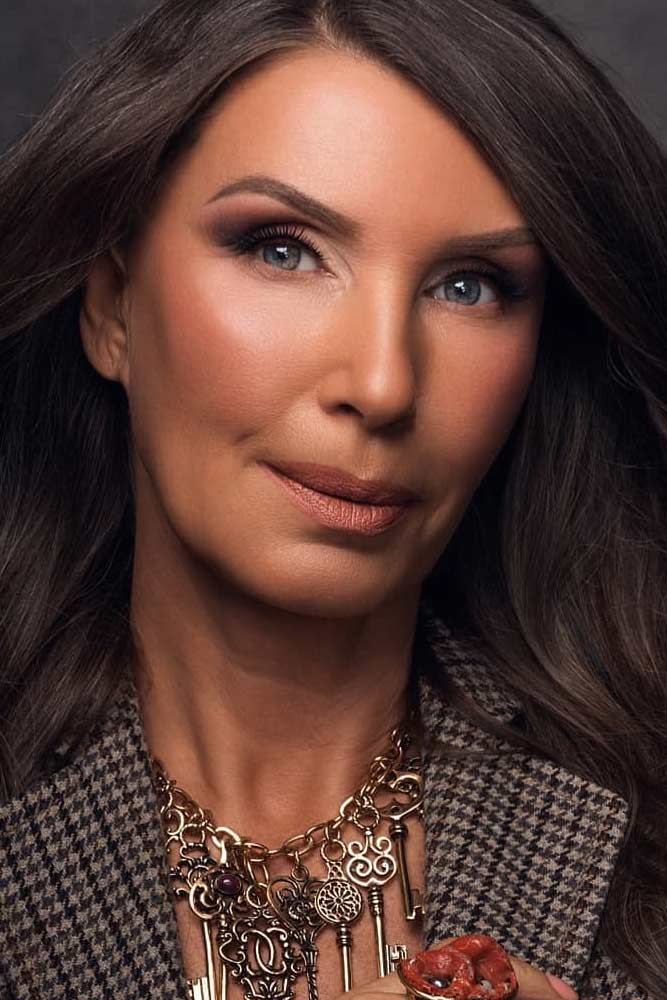 Credit photo: Instagram/claudiuscharlesmakeup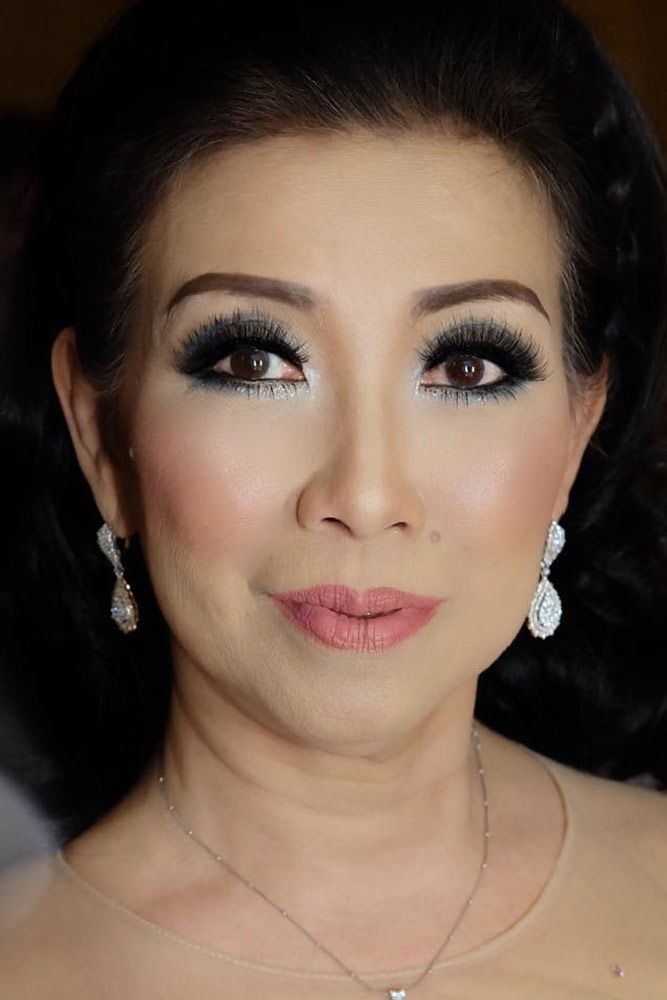 Credit photo: Instagram/claudiuscharlesmakeup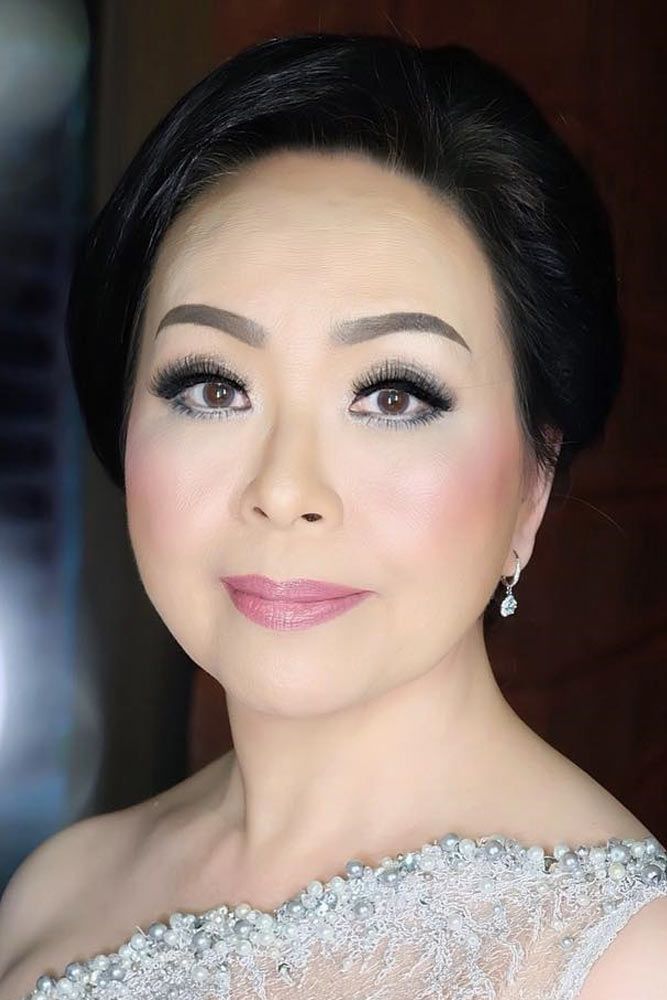 Credit photo: Instagram/akobir_ashurkulovich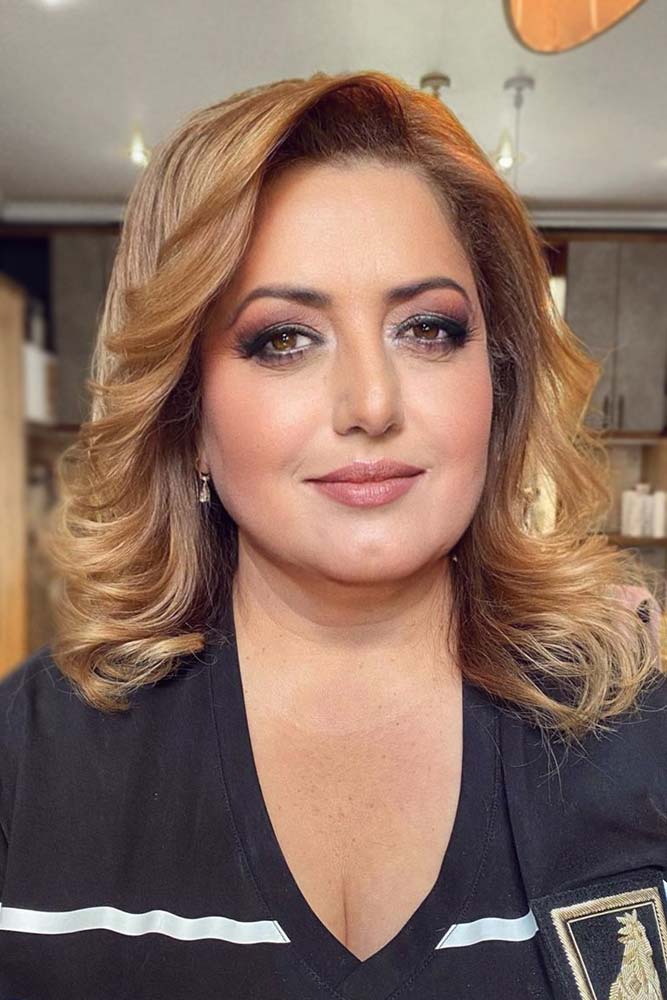 Credit photo: Instagram/mary_arutyunova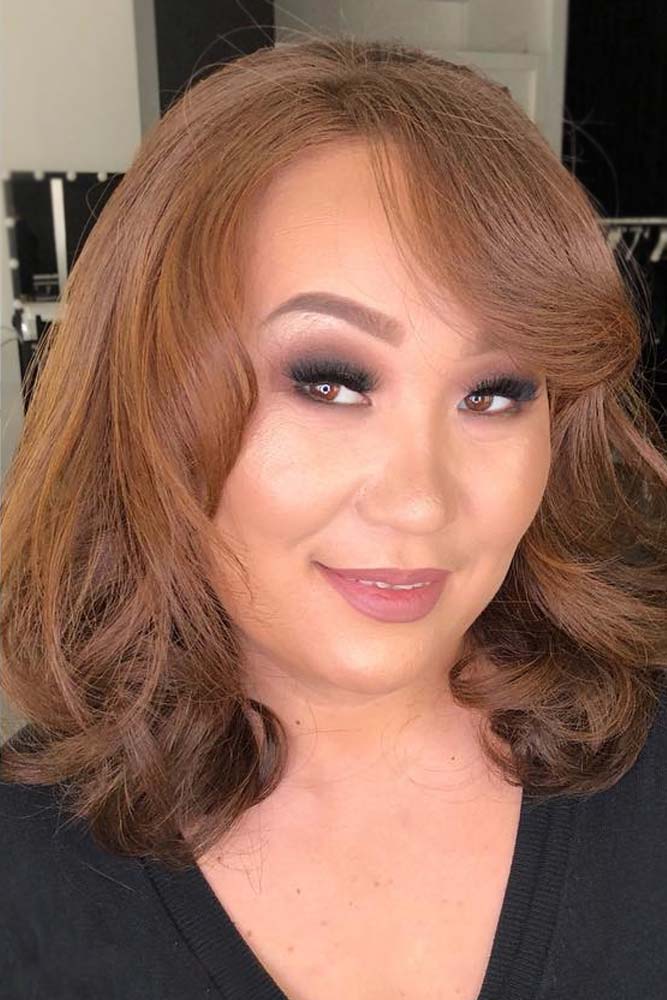 Now, when you have all of the most essential tips on the makeup for older women, check out the most flattering makeup ideas for mature skin.
Simple Natural Makeup Ideas
Credit photo: Instagram/marilyn_carlisle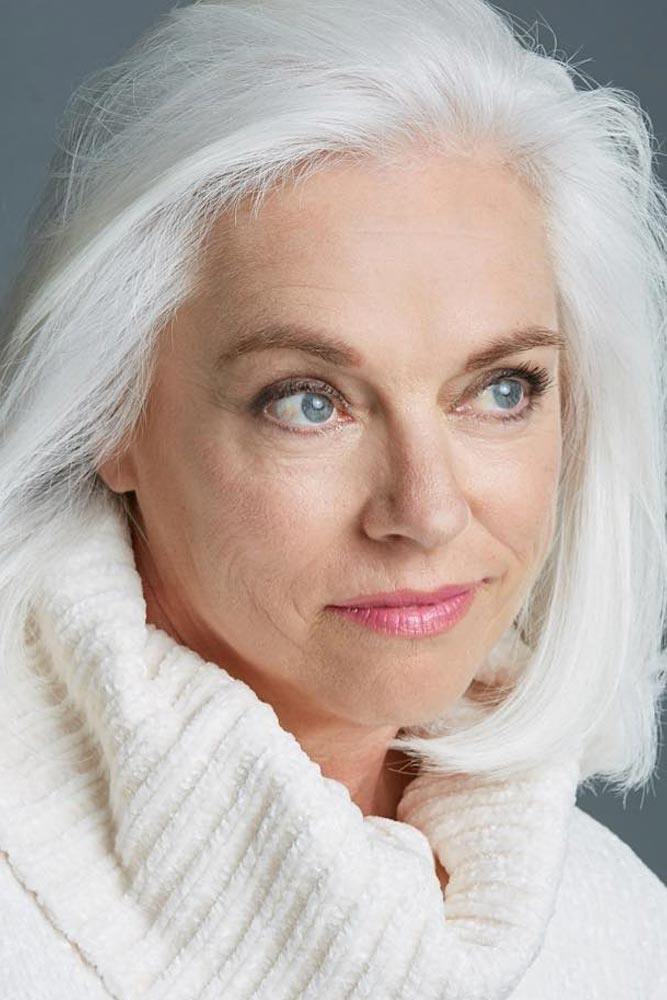 Credit photo: Instagram/le_renard_argente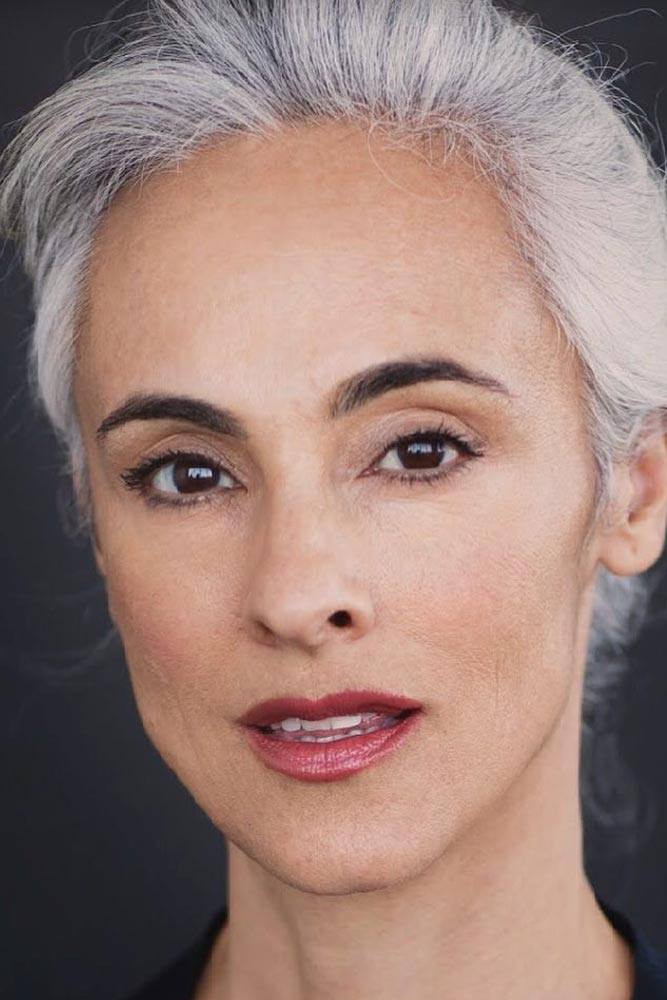 Day Night Makeup Ideas
Credit photo: Instagram/tanya.borisovskaya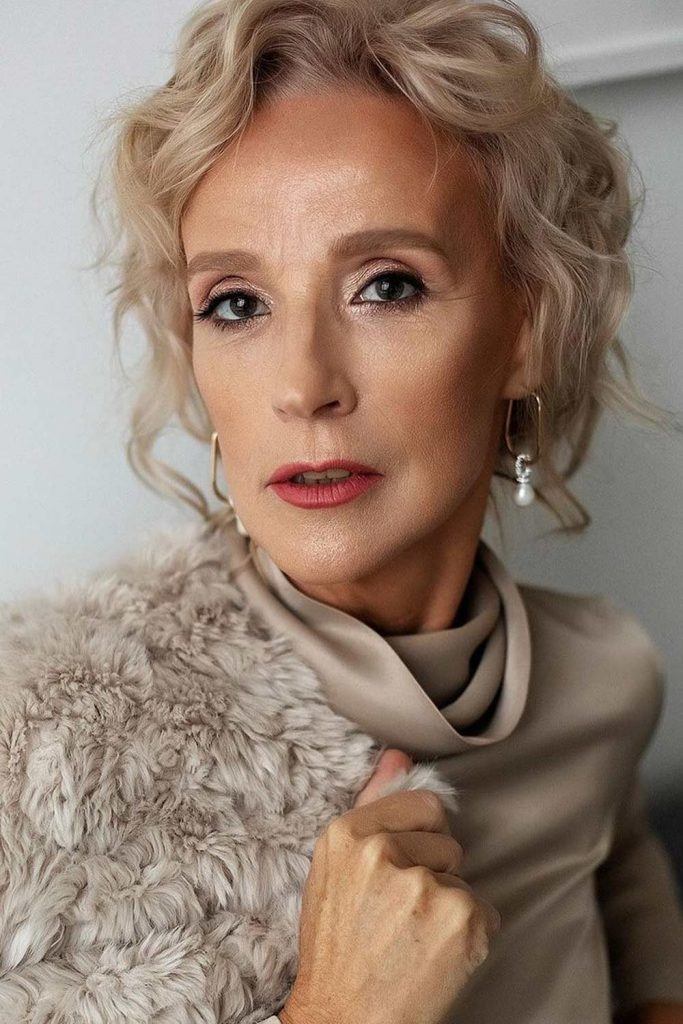 Credit photo: Instagram/tanya.borisovskaya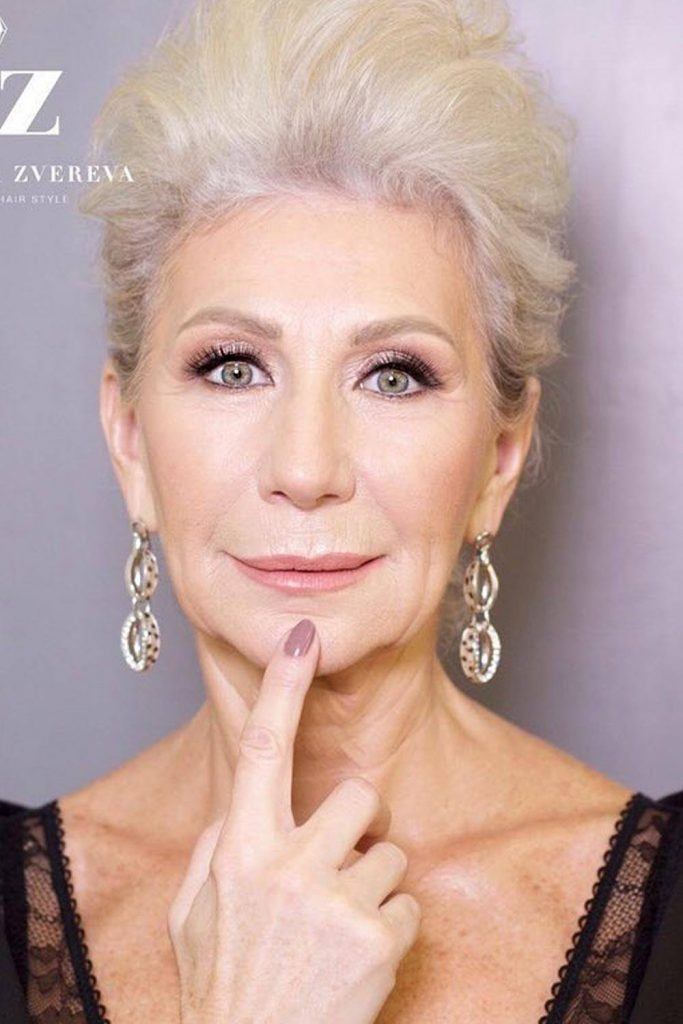 Credit photo: Instagram/tanya.borisovskaya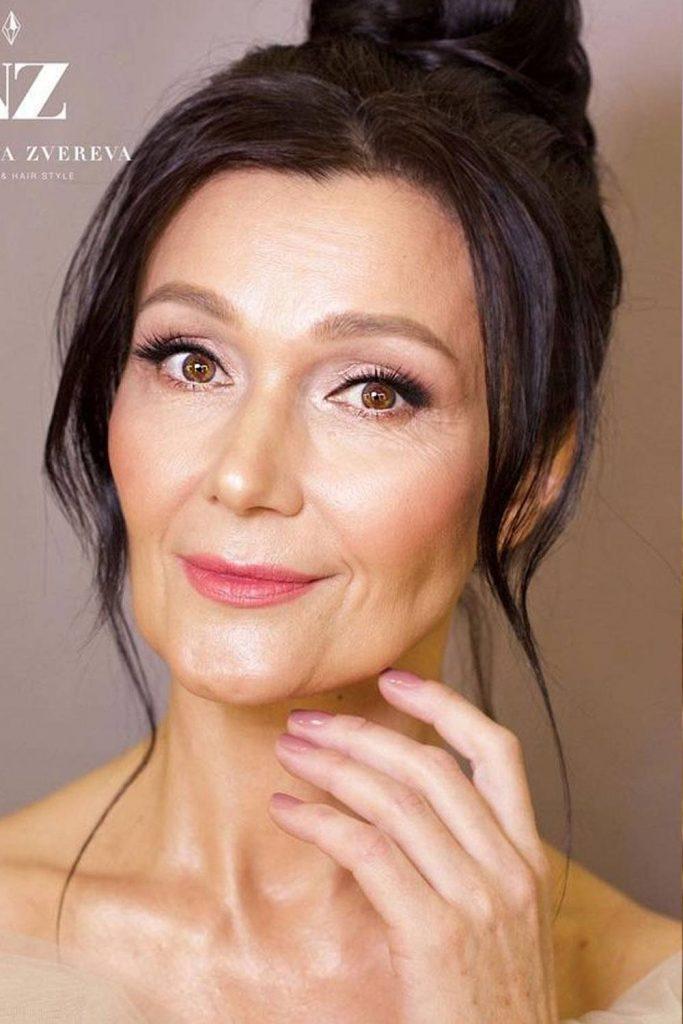 Credit photo: Instagram/jelena_jagnjic_make_up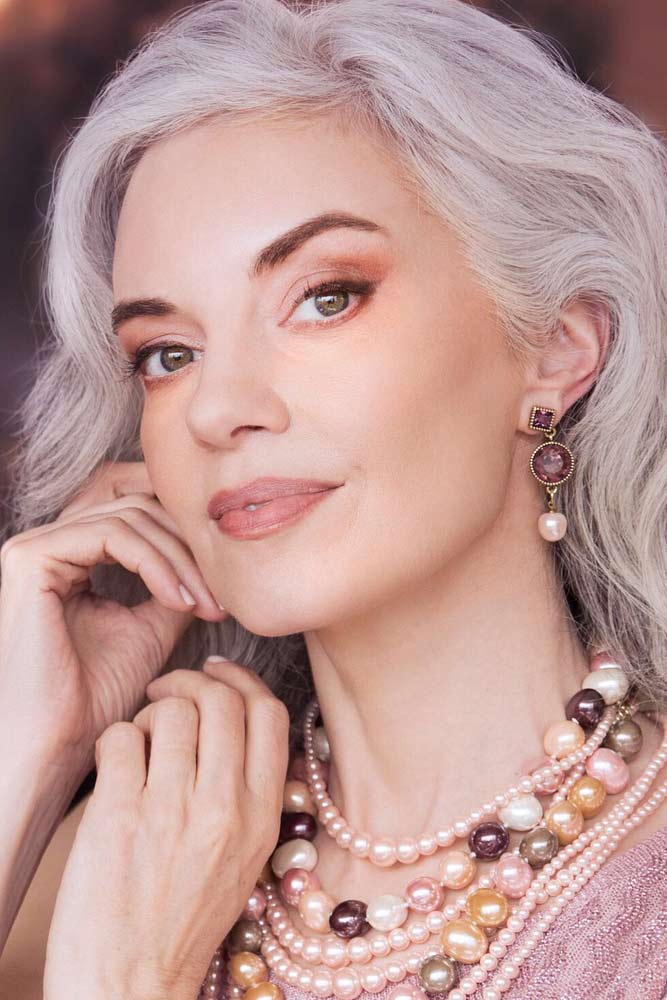 Credit photo: Instagram/samerkhouzami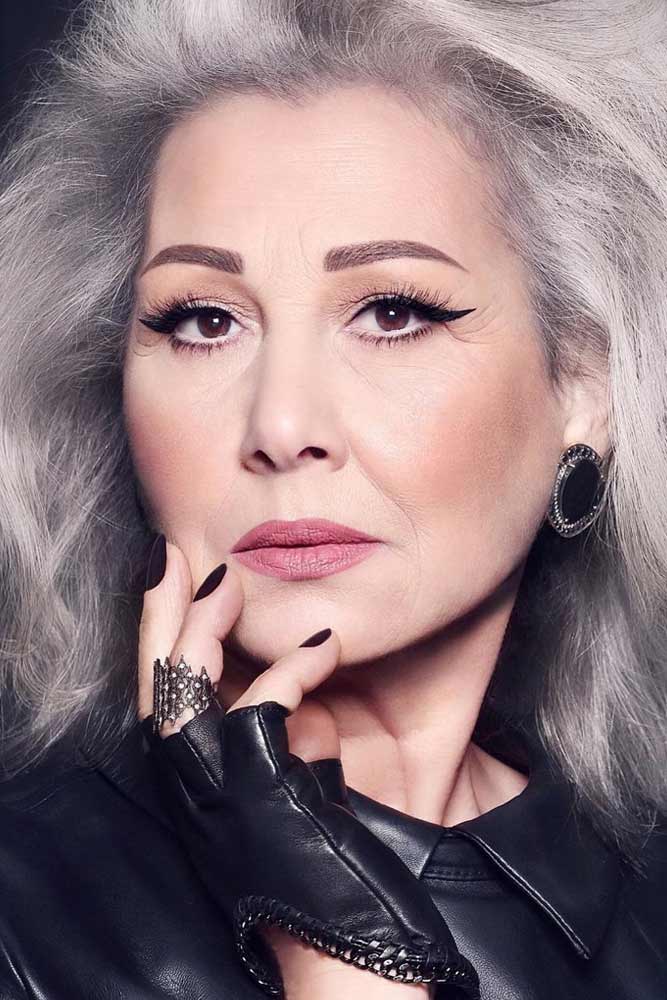 Credit photo: Instagram/heididaus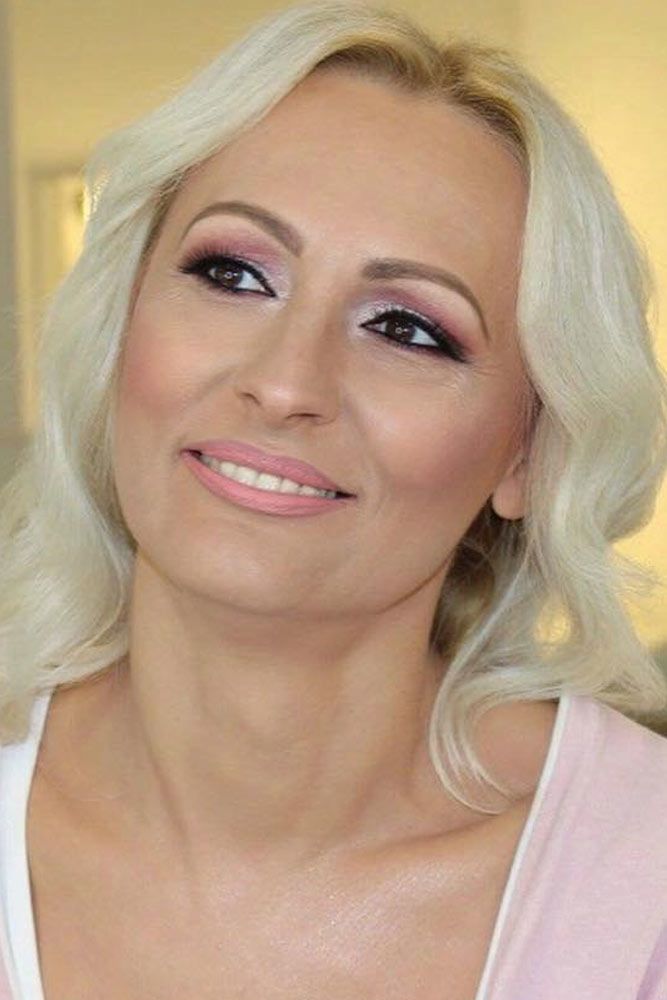 Credit photo: Instagram/karinaporokhnenko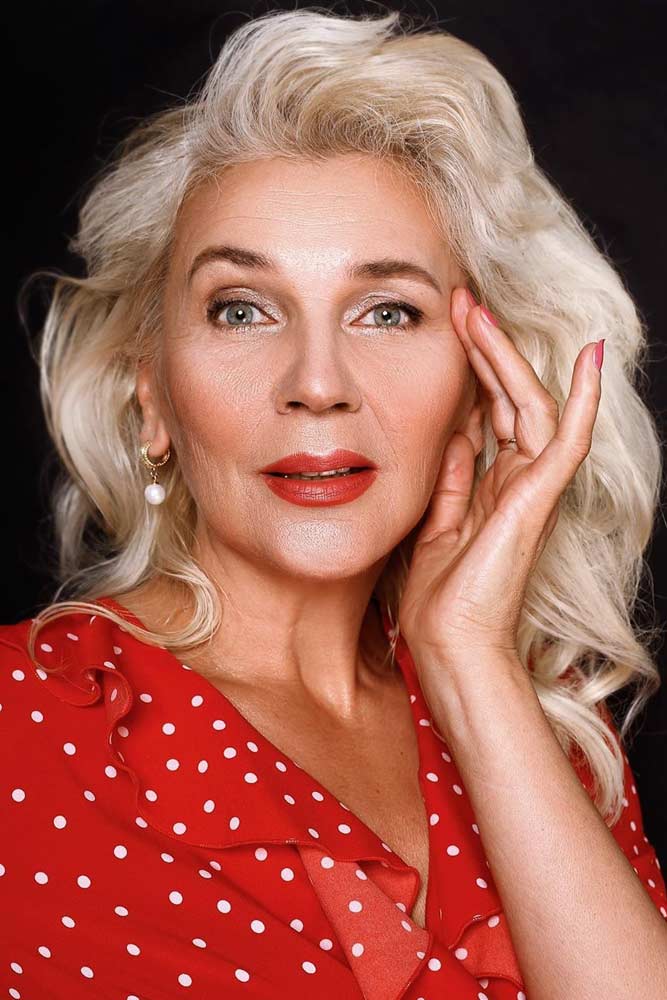 Holiday Makeup Ideas
Credit photo: Instagram/maryamremias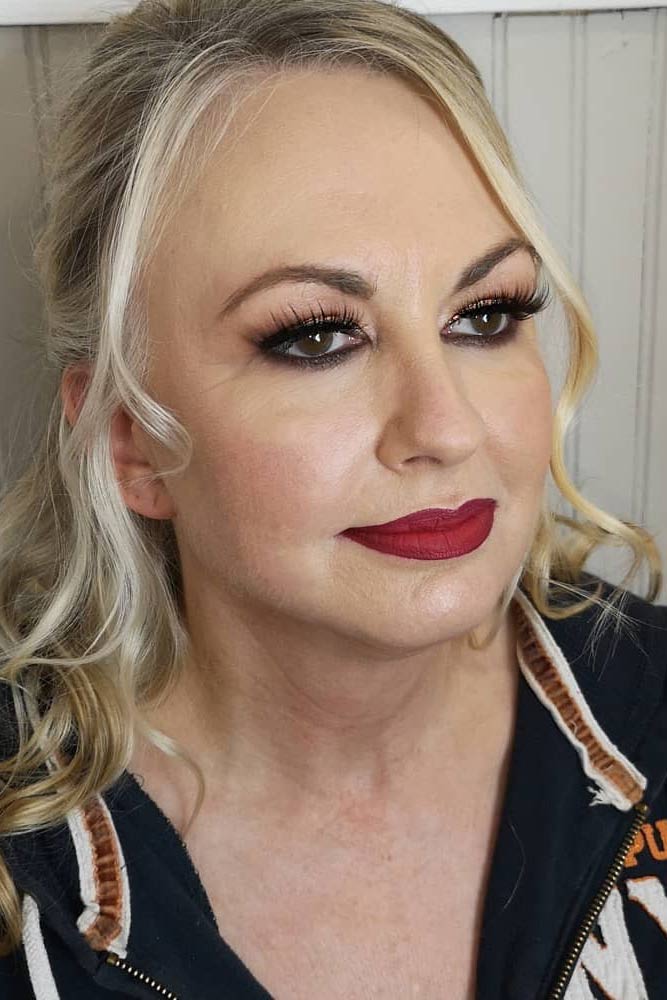 Credit photo: Instagram/leena_makeup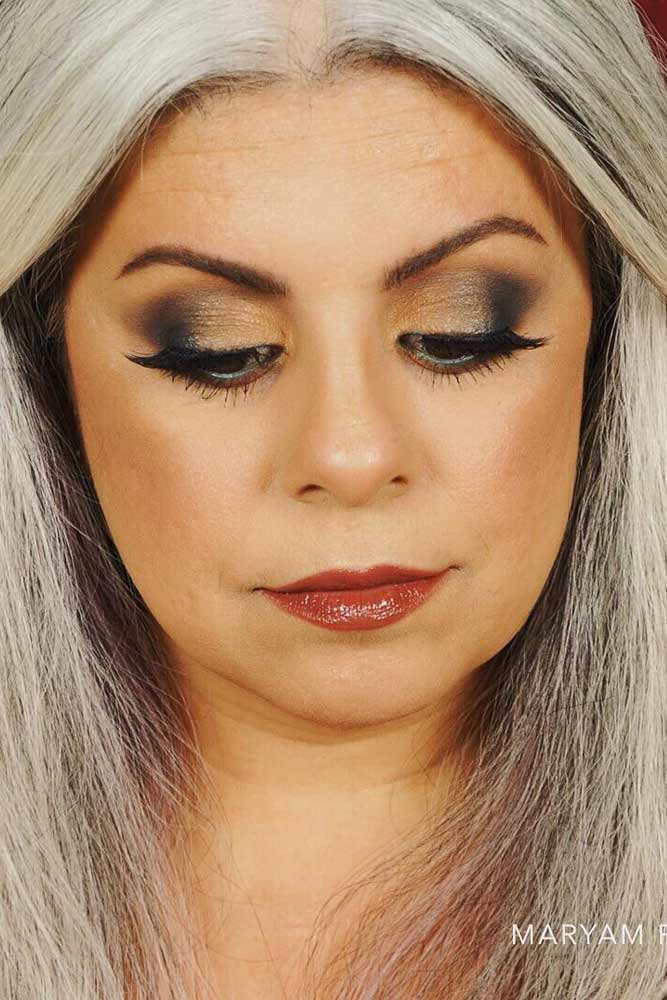 Credit photo: Instagram/maryamremias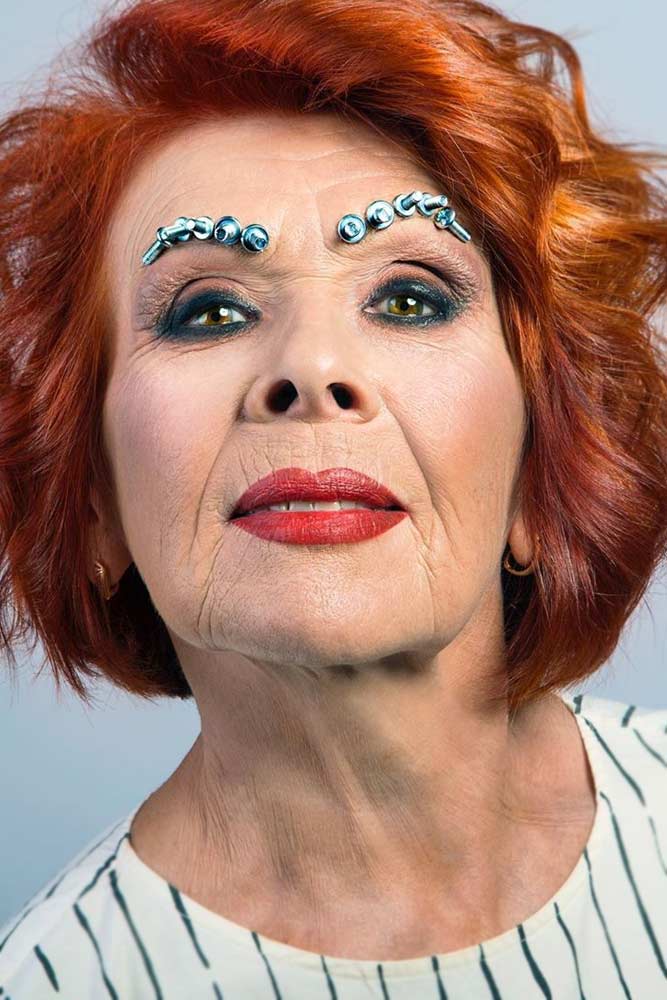 Makeup Transformations For Older Women
Credit photo: Instagram/jelena_jagnjic_make_up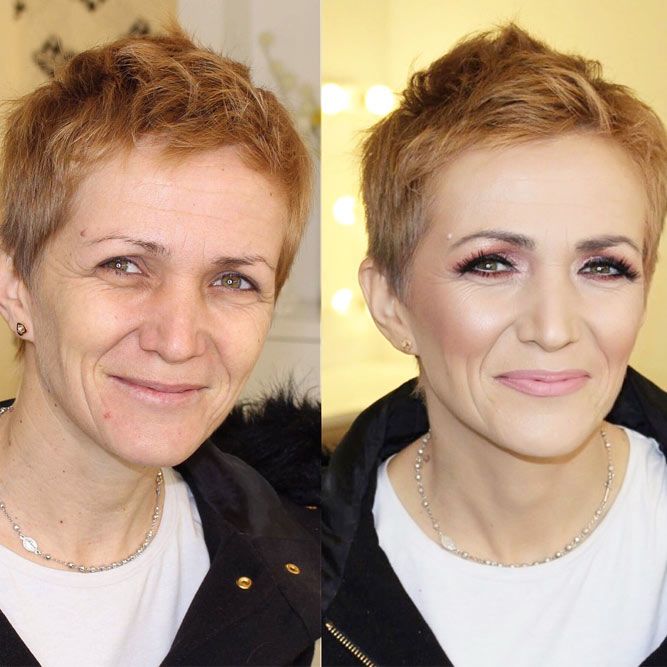 Credit photo: Instagram/igorsemushin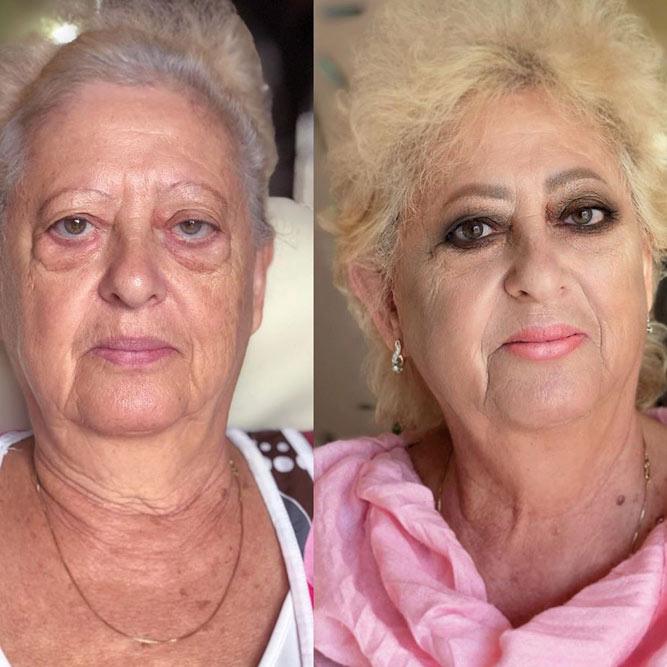 Credit photo: Instagram/igorsemushin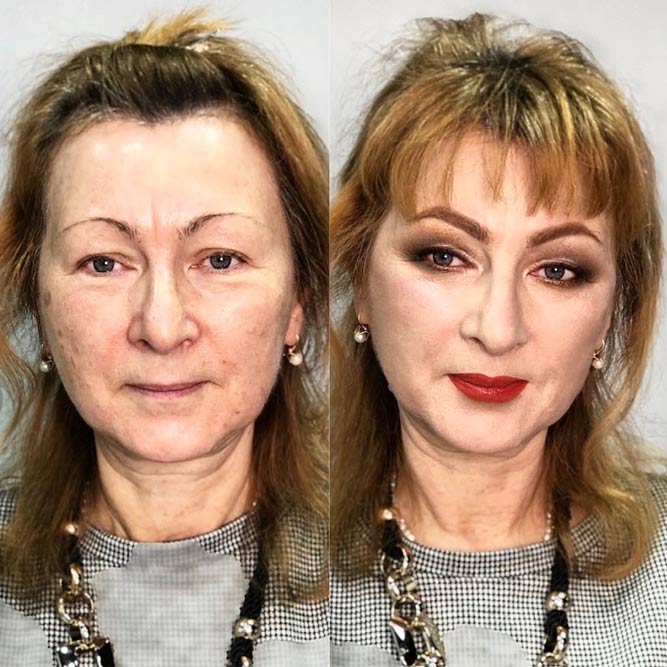 So here you have it. The most essential tips on how to bring your mature skin makeup regime to the next level. We are almost certain that from now on, no makeup tutorial for older women needed, as you've mastered this science.
FAQ: Makeup For Older Women
Is matte foundation better for older skin?
Matte foundations are pigmented and provide heavy coverage, that is why they are more likely to crease accentuating every wrinkle. Choose foundations that have sheer coverage and a dewy luminous finish instead, cushion foundation is one of a good example.
Should an older woman wear mascara on bottom lashes?
Older women should not wear mascara on lower lashes. Firstly, because it draws attention to dark circles and under-eye lines and wrinkles. Secondly, it can give toy an appearance of a drooping eyelid. Opt for a subtle, blended line on the bottom lid instead, avoid black color.
REFERENCES:
Ready to learn how to apply makeup for mature skin? Here, we're sharing tips on makeup for women over 50—and makeup for older women in general—so you can flatter your aging skin. Source