If there is something that every girl says she cannot live without, it would be her lip balm. And if you are like most girls you have multiple lip balms: one for your purse, one for your nightstand, one in your bathroom, one in your care and so forth. Even though most lip balms only cost a few dollars, this can add up over time. And of course, as women, we tend to misplace at least one of our lip balms on a regular basis.
Not only that, but many of us are allergic to some harsh ingredients that are often used in name brand lip balm or lip scrub. This is why many women are making homemade lip balms out of only a few simple organic ingredients.
There are many advantages to making your own lip balms and face mask. All you need is a few simple ingredients, most of which are probably already in your kitchen or bathroom cabinet.
Chapped and dry lips are more common during the cold months, but a lot of women rely on their lip balm year round. If you look at some ingredients on your store-bought lip balm, you will see that they contain such ingredients as alcohol, mineral oil and artificial flavorings.
However, if you make a DIY lip balm, you can rely on organic and natural ingredients that are more beneficial for your lips.
Most Common Ingredients In Homemade Lip Balm
Following is a list of some of the most common base ingredients used in all natural lip balm:
Vitamin E: Vitamin E is beneficial for skin, hair, nails and lips as it contains antioxidants and anti-aging properties that can help destroy free radicals.
Coconut oil: Coconut oil has many benefits. You can use it directly on your lips or made a homemade lip balm with coconut oil. Coconut oil has antifungal and antibacterial properties and is an excellent moisturizer.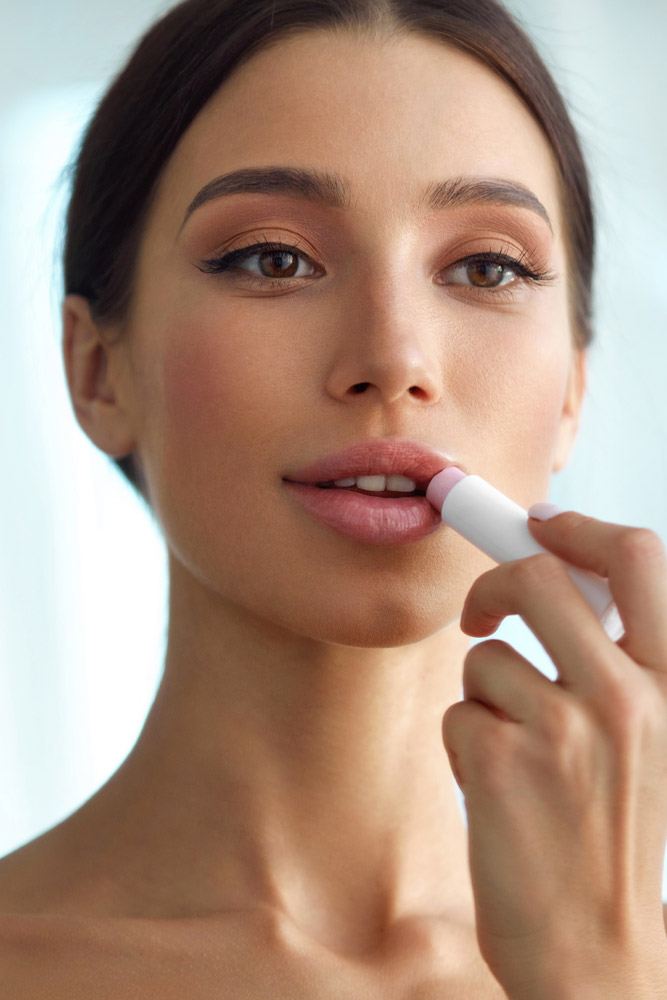 Olive oil: Olive oil contains oleic acid with is known for its moisturizing properties.
Beeswax
: Beeswax is always a good starting base for a DIY lip balm as it gives it a smoother and firm constancy. As well, it is a natural moisturizer and is also antibacterial. In addition, as it naturally has a light honey scent, it smells nice as well.
Other Ingredients You Can Use In A Homemade Lip Balm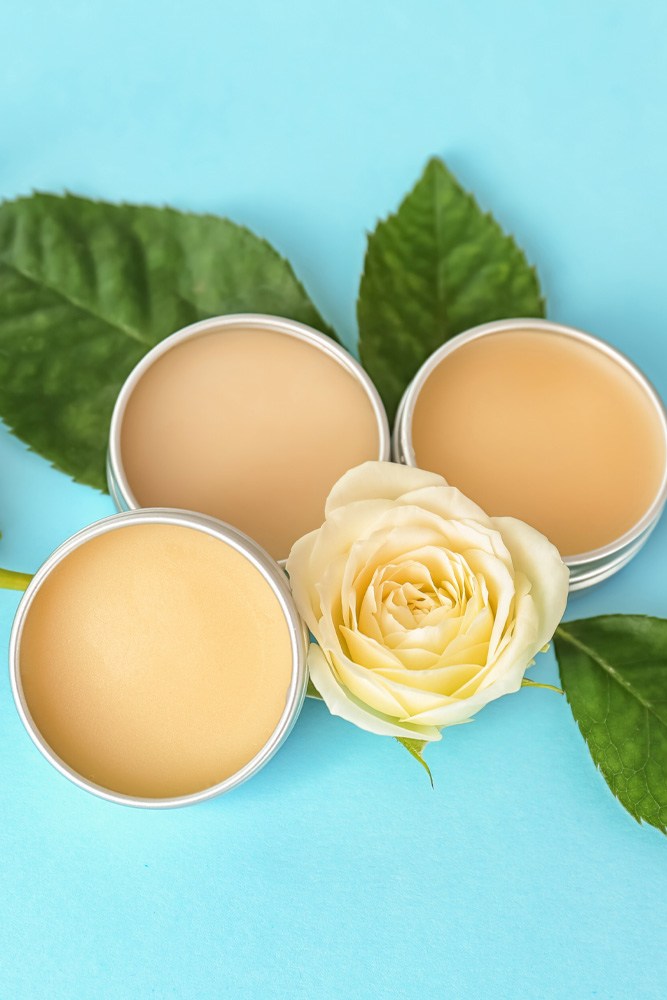 Almond Oil: to soften lips
Apricot Oil: good for sensitive skin
Avocado Oil: excellent moisturize
Castor Oil: glossy and smooth texture
Hemp Seed Oil: conditioning
JoJoba Oil: nourishing
Pomegranate Seed Oil: nourishes dry lips
Sunflower Oil: heals dry lips
Materials Needed To Make DIY Lip Balm
Following is a list of the most common materials you should have on hand for your homemade lip balm: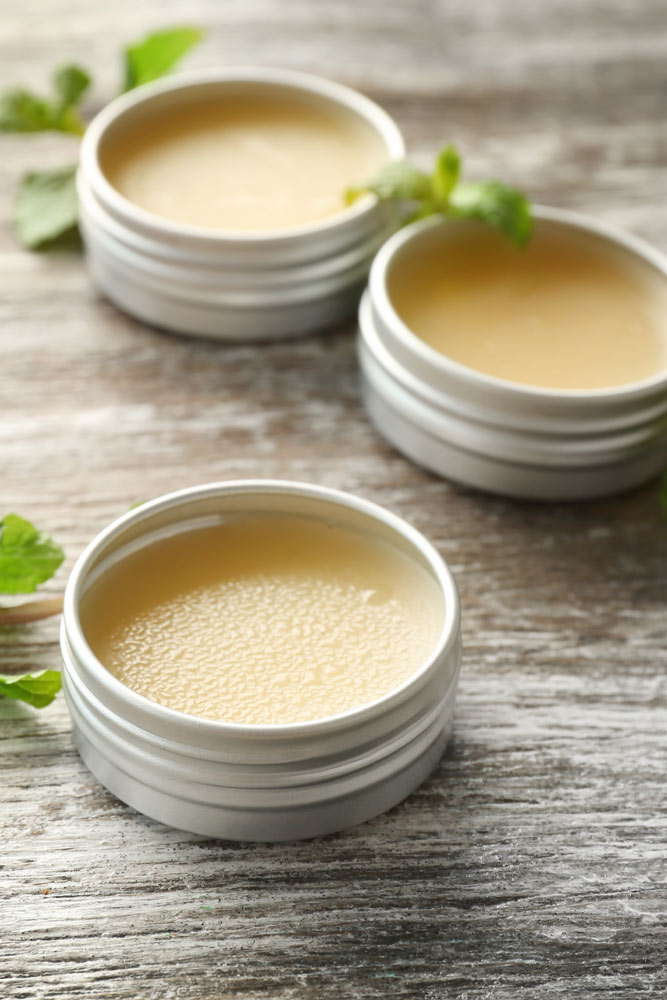 Oils & Beeswax (Vegans may use Candelilla wax)
Herbs for infusing:

Chamomile
Dandelion
Goldenseal
Lemon Balm
Rose Petal
Violet Leaves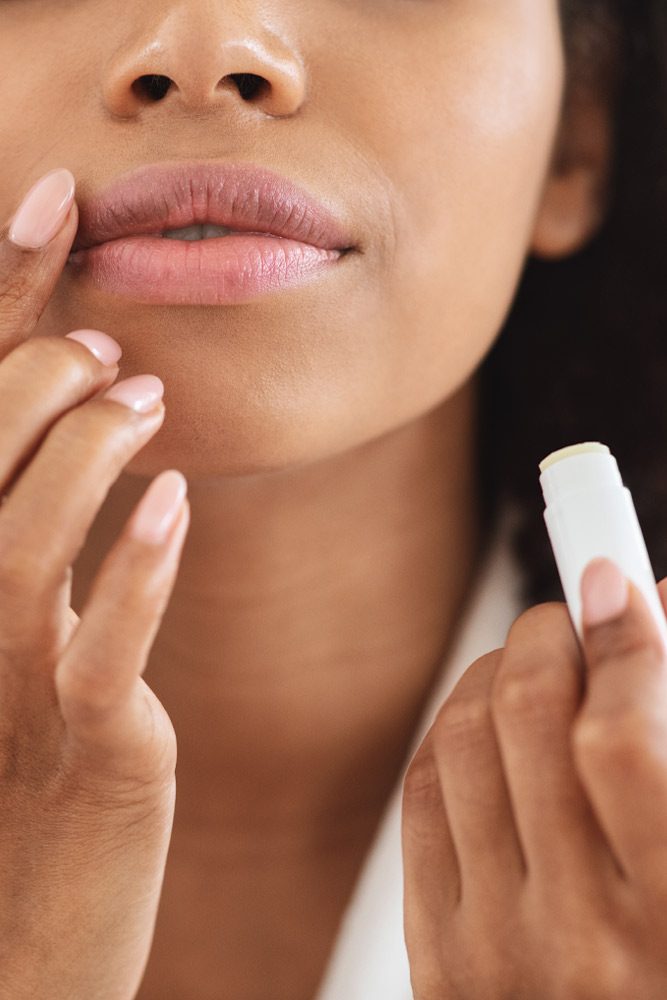 Essential Oils:

Almond
Clove
Lemon
Lime
Orange
Peppermint
Tea Tree
Vanilla

Lip Balm Tubes, Tins & Labels
Lip Balm Filling Tray
Heating Gun
Now comes the fun part: how to make a lip balm at home! As well, we have included some recipes for some of our favorite homemade lip balms!
How To Make Your Own Lip Balm
Following is a basic formula for making DIY lip balms. You might need to tweak it as per the specific recipe you choose to make: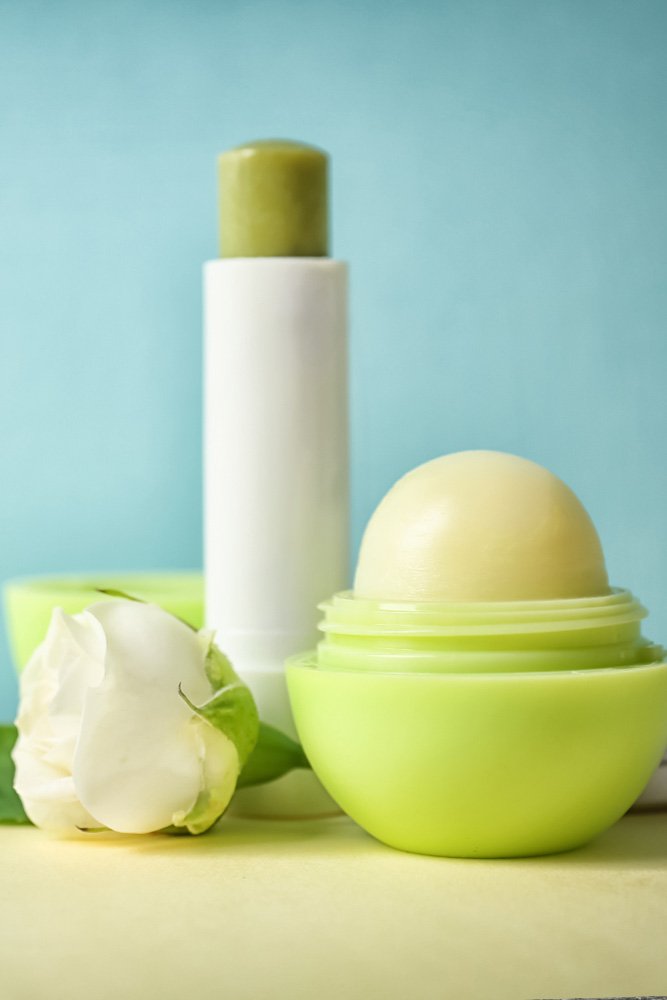 Ingredients:
1 part beeswax
3 parts carrier oil (olive oil, castor or coconut oil are the most common)
Optional

Solid butter such as Shea or cocoa butter
Essential oils (see above)
Directions:
Gather all of your ingredients.
Combine carrier oils, beeswax or candelilla oil and solid butter (optional) in a heatproof jar or measuring cup.
Place the jar in a saucepan contain a couple of inches of water and heat at a low heat until melted together.
Remove jar from pan and add a few drops of essential oil.
Pour into tins or lip balm tubes.
Allow to cool
Now that you have the basic idea, here are some of our favorite recipes for DIY lip balms.
Recipes For Homemade Lip Balm
cocoa_honey_lip_balm">
Cocoa Honey Lip Balm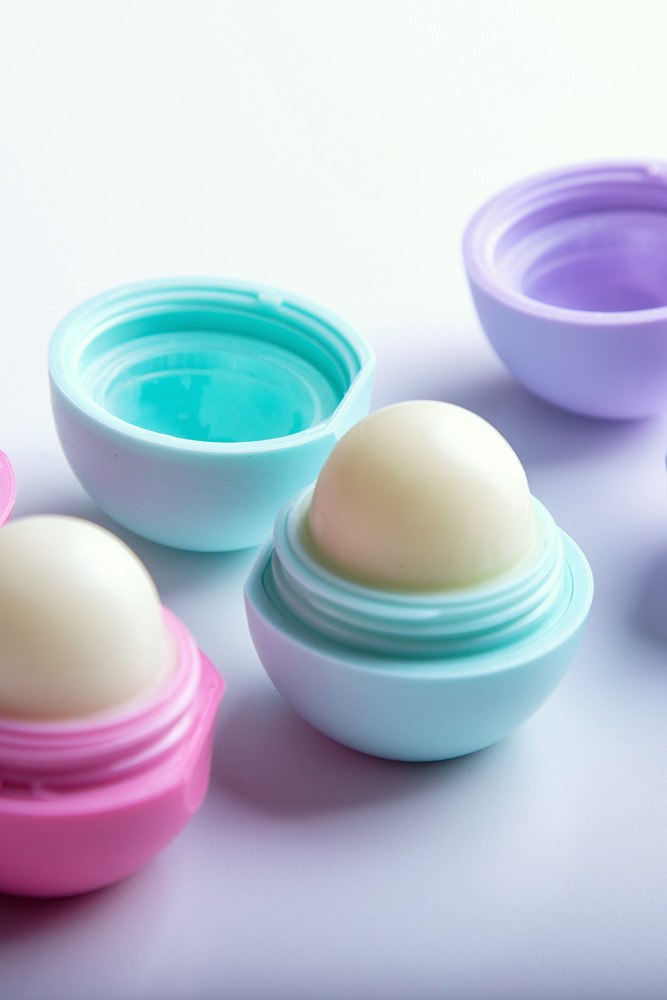 ½ tbsp Jojoba Oil
1 ½ tbsp Castor Oil
3 tbsp Coconut Oil
2 tbsp Shea or Coco Butter
3 tbsp Sweet Almond Oil
4 tbsp Beeswax pastilles
½ tsp cocoa powder
½ tsp honey
Directions: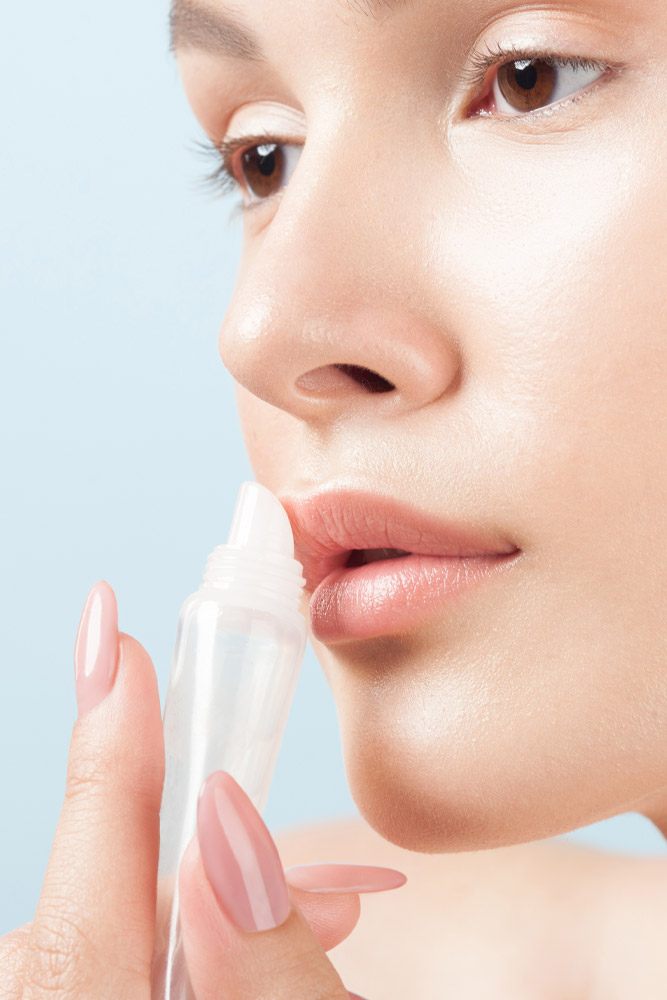 Combine all ingredients in a measuring cup(make sure it is heat proof.
Place in saucepan with a few inches of water.
Heat over low to medium low oil blended
Pour into lip balm tins or tubes.
Allow to cool completely
Raspberry Lemon Lip Balm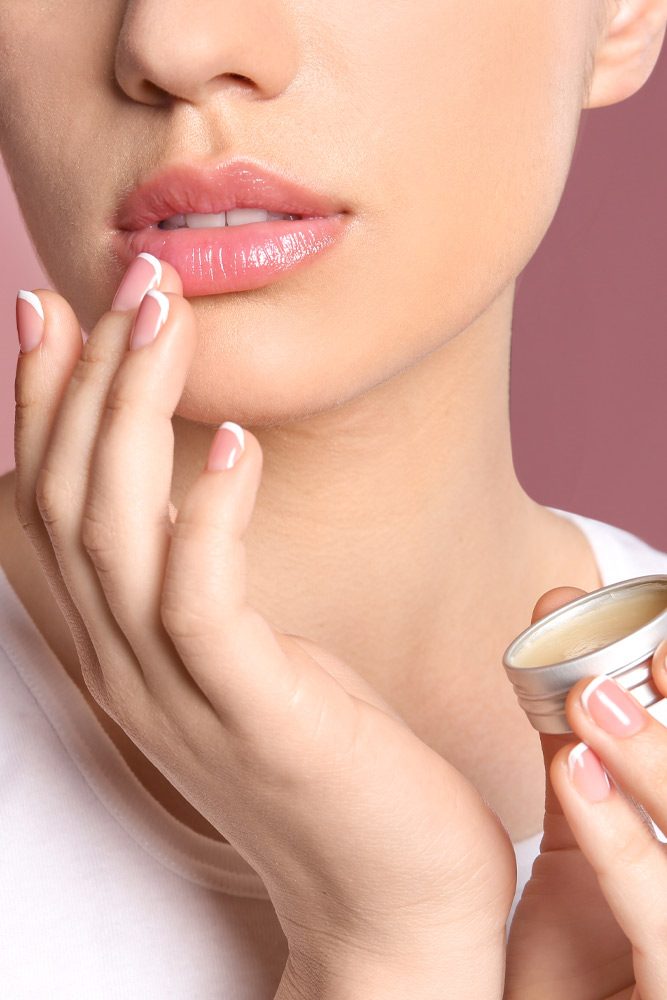 Ingredients:
Lip balm tubes or tins
Microwave Safe Bowl
Spoon
3-4 drops Lemon Essential Oil
2 tsp Raspberry Gelatin Mix
2 tbsp Coconut Oil
Directions:
Place coconut oil only in microwave safe bowl and heat for 20 seconds.
Add raspberry gelatin and mix until well blended.
Microwave again for 20 seconds.
Add essential oils and stir.
Pour into tins/tubes
Allow to cool.
Vanilla Coconut Oil Lip Balm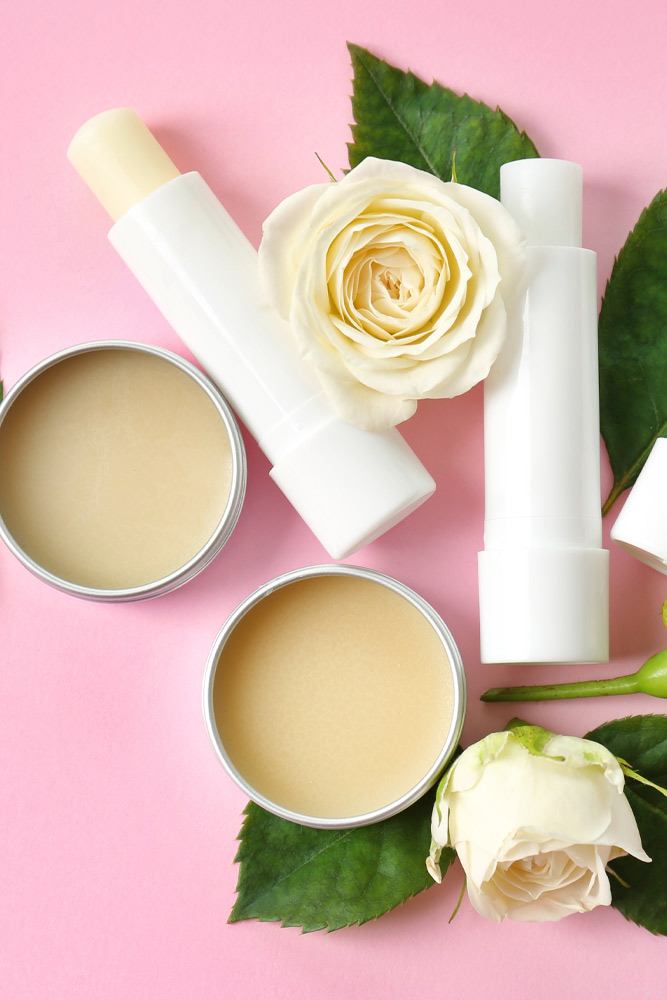 Ingredients:
1 tsp pure vanilla extract
2 tbsp beeswax pastilles
2 tbsp cocoa butter or mango butter (or 1 tbsp of each)
2 tbsp organic and virgin coconut oil
Directions:
Measure equal parts butters and beeswax into a heatproof glass jar.
Add coconut oil.
Merge in a few inches of water in a saucepan.
Heat on medium-low heat until melted.
Remove immediately and add vanilla extract
Still, to combine and add to lip tins or tubes.
Allow to cool. ( or you can refrigerate it to set)
Minty Chocolate Lip Balm Recipe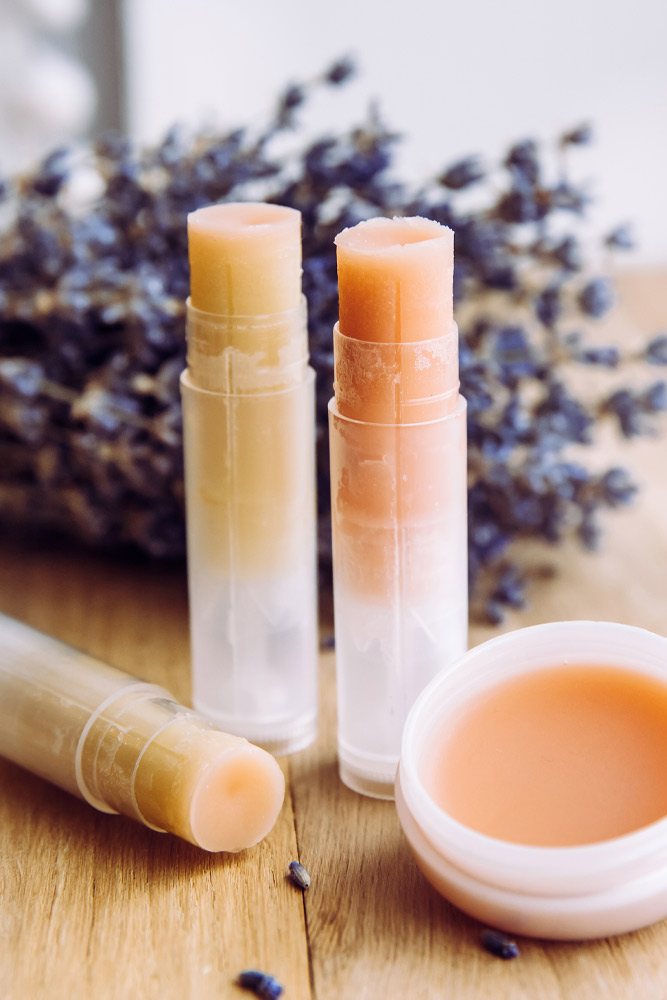 Ingredients:
⅛ cup Coconut Oil
1 tbsp Beeswax Pearls (or grated)
½ tbsp Shea Butter
½ tbsp Cocoa Butter
½ tsp cocoa powder
½ tsp honey
3 drops peppermint essential oil
⅛ tsp Vitamin E oil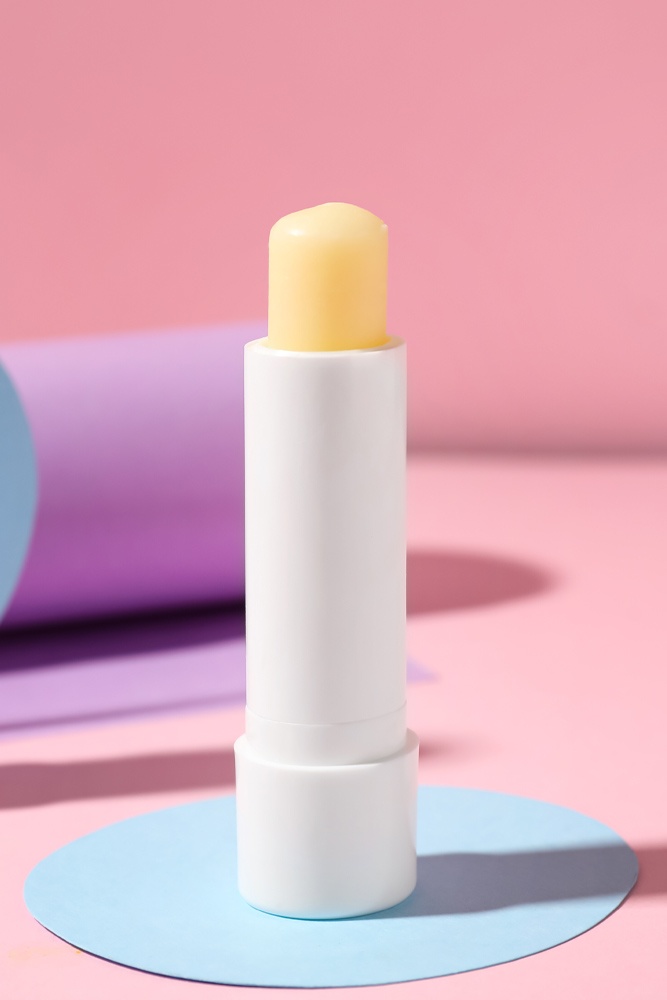 Directions:
Place cocoa butter and Shea butter in small pot.
Add coconut oil.
Heat over low heat for approx. 20 minutes. Stir occasions and do not allow mixture to reach more than 175 degrees.
Add beeswax. Allow to melt and combine.
Remove from heat and add honey, vitamin E, essential oil and cocoa powder.
Stir oil smooth and well-blended
Pour into tins/tubes.
Allow to cool and set for at least 3 hours.
We hope you find these recipes for homemade lip balm to be useful. Remember you can use any of the above ingredients and formula to create your own!
FAQ: Lip Balm
Why lip balm is bad for you?
Lip balms that contain phenol, menthol, or salicylic acid make your lips drier. As a result, you apply more, and the cycle continues. When you use some of these products, you may also get a tingling sensation. This either irritates the skin or, like an exfoliator, removes the outer layers of the lip skin.
Is Vaseline bad for your lips?
If you're not allergic to Vaseline, it won't make your lips dry. Nonetheless, it might not be the ideal option for lip hydration and preventing chapped skin. Other remedies for dry lips include Argan oil and Shea Butter lip balms.
What is good for lip hydration?
White petrolatum, lanolin, shea butter, beeswax, and ceramides are all moisture-locking ingredients to look for in lip balms. Glycerin-based lip ointments are also moisturizing. Because petrolatum is a byproduct of petroleum oil, some experts avoid it.