Almost everyone these days is well aware that skin types differ, and the regime that suits dry skin is utterly unacceptable for the oily kind and vice versa. However, very often, it is easy to leave such an essential factor as the skin tone. It is true that skincare routines for light and dark skin are not the same. To come up with the best black skin care routine, there is a list of vital points to take into consideration. Today we are going to accent those points along with the best dark-toned skin products to think about implementing into the daily care routine. If you want your makeup for a darker skin tone look perfect keep your skin fresh and beautiful with these tips!
Black Skin Care Routine
Regular Cleansing and Moisturizing Regime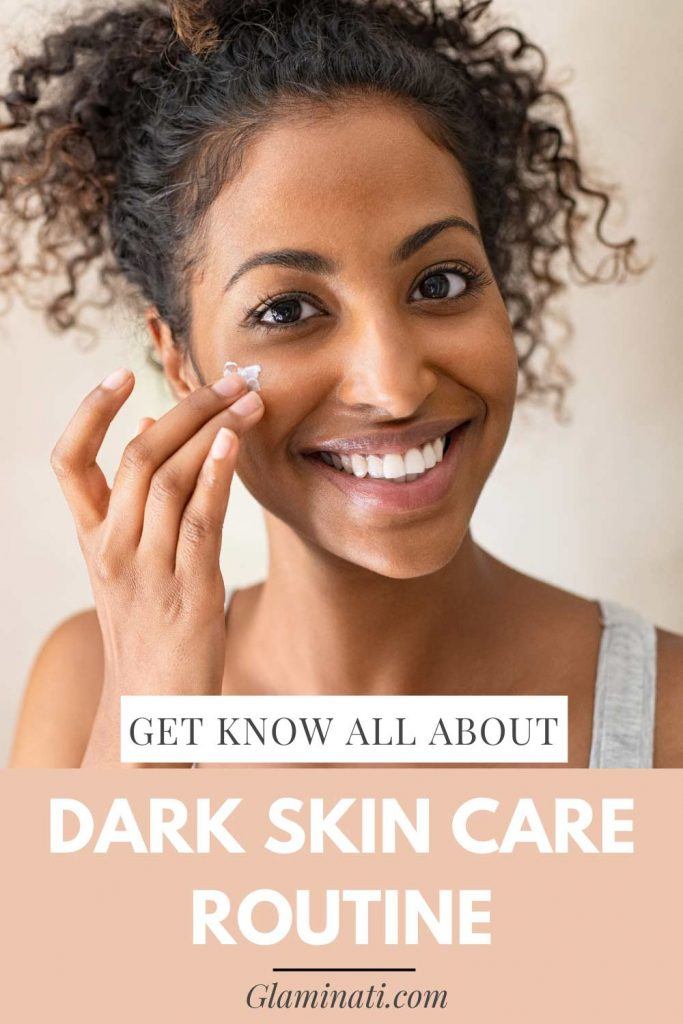 When it comes to skin care for black women, it is not that different from that of ladies with light skin tones. You should start the day with cleansing and moisturizing. As to the cleansing, it is best to do right after you get out of the shower. What is more important, you should not forget to wash the cleanser off. When you pat your face dry, it is essential to work some moisturizer in. Due to genetics, darker skin is more prone to drying out, so that you should be generous with the moisturizer you use. Some sources claim that petroleum jelly is one of the best moisturizers there is. However, it is proven to cause acne, and that is a side effect not to neglect. Lastly, it is advised to keep away from heavy exfoliation since it will do you more harm than good.
Don't Forget About Sunscreen For Black Skin Care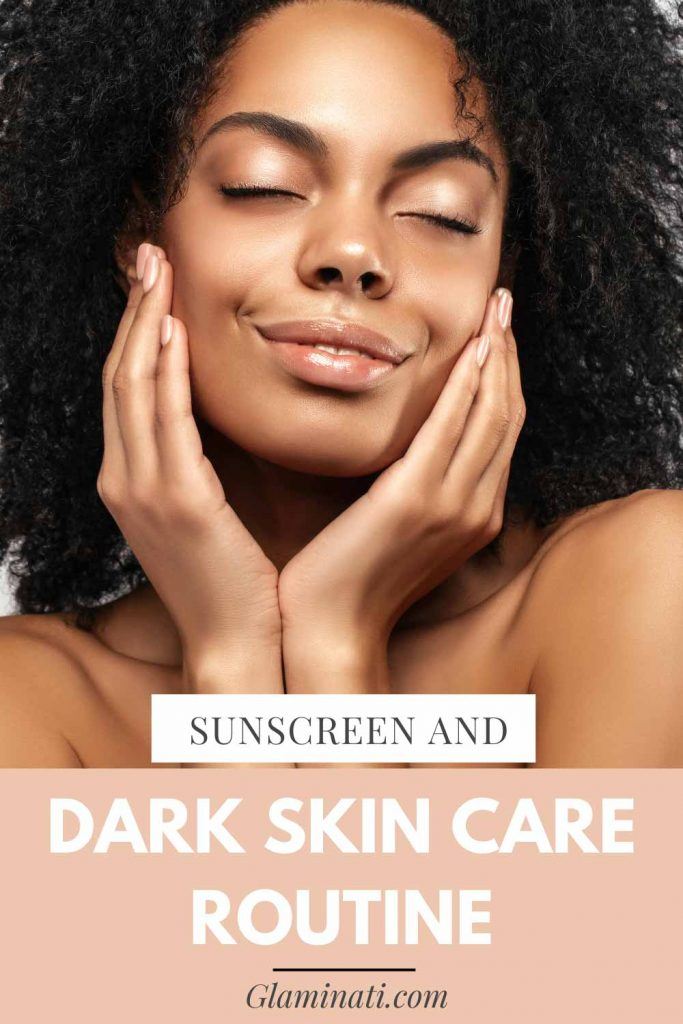 No matter how warm and light the sun rays are, you should always wear sunscreen. There is a widespread though the misleading assumption that black people do not tan. They do, and thus, effective skin care for black skin routine must include a quality sunscreen.
The best sun protection would be the waterproof one, and that is no lower than 30 SPF. What is more, the sunblock is to be worn all year round. The good thing is that most face moisturizers come with an SPF formula included so that you do not need to use a dozen of various products to defeat the purpose.
The Best Treatment for Hyperpigmentation Needs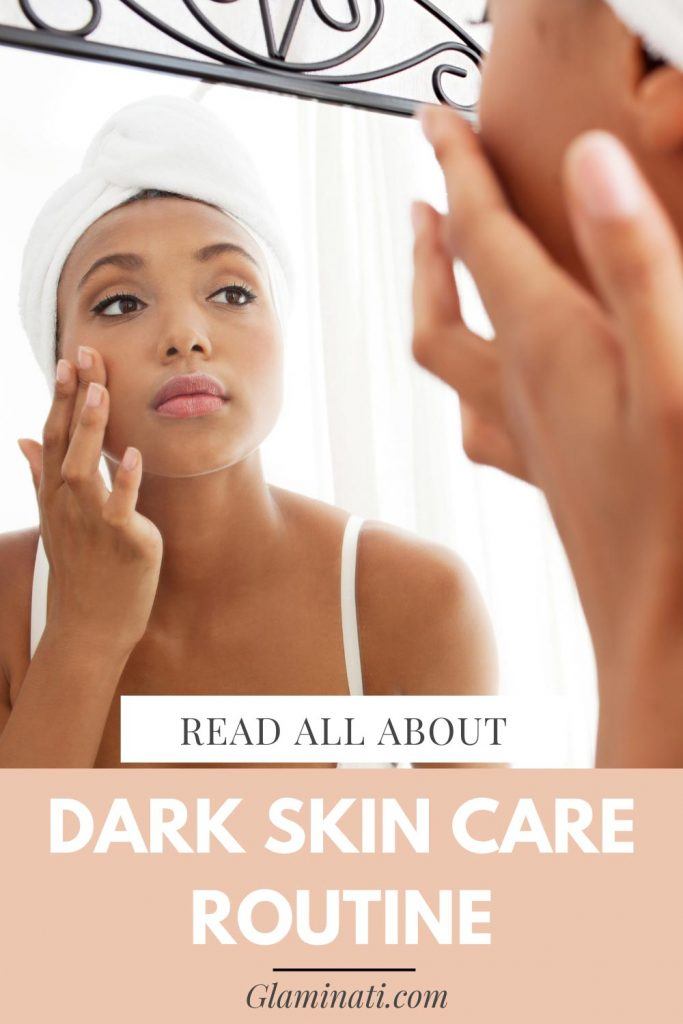 Hyperpigmentation is an issue that can affect people with different skin tones. The main problem that it causes is discolored areas on the skin. Some people try to deal with the matter using a sunscreen. While it prevents the patches from spreading, it does not deal with the current issue. In order to fight hyperpigmentation off, you should consider such black skin care products as:
Retinoid-including
Hydroquinone
Kojic acid
Vitamin C
All the elements can indeed be separately implemented into the daily routine. However, such products as kojic acid and hydroquinone come packed with a bunch of downsides, which can only worsen the issue. That is why it is recommended to opt for such care products, which are said to contain the elements in a safe dosage.
Acne Treatment is Important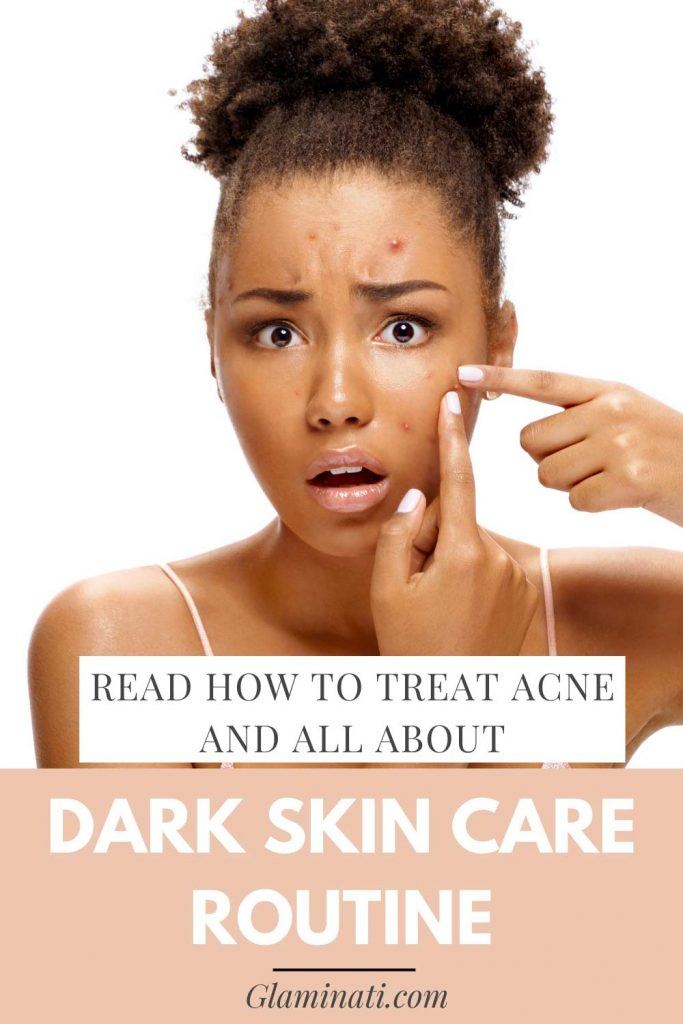 Dealing with acne is never easy, whether these are dark skin tones or any other skin tones. There should be a proper approach chosen for every particular case, so a visit to a dermatologist is usually a must. It is vital that you realize – the dark spots left after acne are not permanent. They are not scars and can be dealt with and cured effectively. Also, it is advised to refuse from all the heavily scented beauty care products and perfumed detergents to improve the situation.
A Well-Balanced Diet is a Cure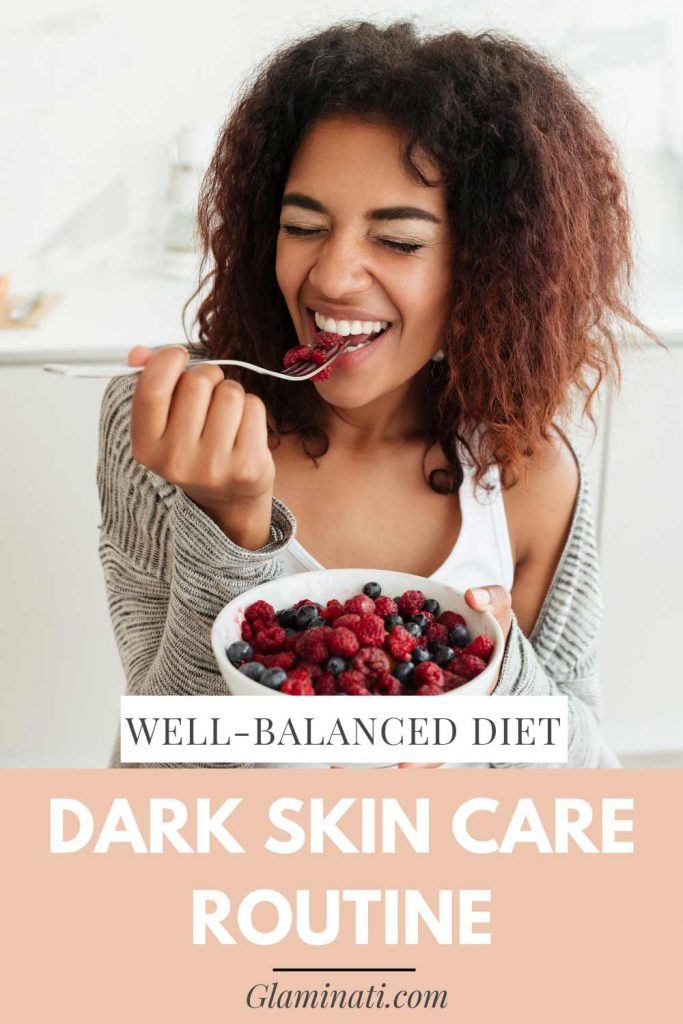 Very often, it is easy to underestimate the fact that you actually are what you eat. The thing is that any eating disorders can lead to poor skin condition and black skin tones are not the exception. That is why it is crucial to eliminate processed foods, alcohol, and sugary products from your diet. To keep your skin at its best, it is advised to consume more of:
Vegetables
Fruits
Whole grains
Healthy fats
Fish
Eggs
Legumes
Chicken meat
In case you are aware of the fact that you suffer from acne or eczema, it is best to discuss with a dermatologist what to cross out of your diet list and what to introduce instead.
Keep it Easy With Exfoliation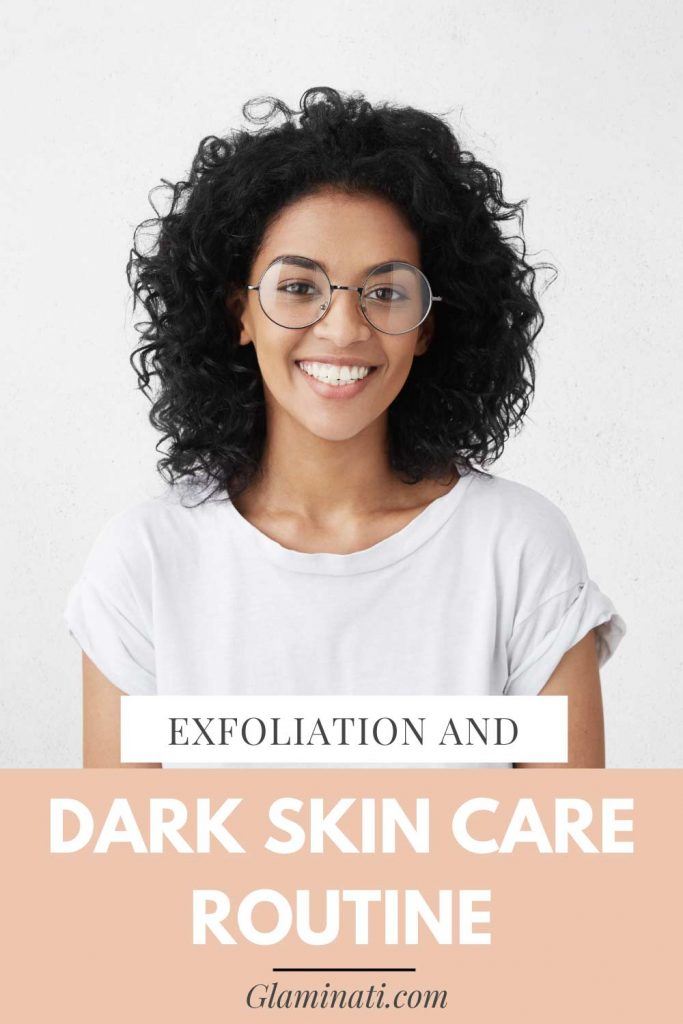 There are many beautiful black women, and we all tend to envy their perfect skin and fabulous looks. However, if you approach the skincare routine correctly, you can end up with the same flawless and healthy skin in no time. It is a known fact that dark skin tones are more sensitive to exfoliants than all the others. That means that every time you use an exfoliant, you should observe the way your skin responds to it. in case you see that your skin feels somewhat irritated than nourished, then you should cut on the exfoliation. For most women with darker skin tones, once a week is enough when it comes to exfoliation. Besides, it is advised to use a gentle and nourishing exfoliant rather than a harsh one.
Sleep Regularly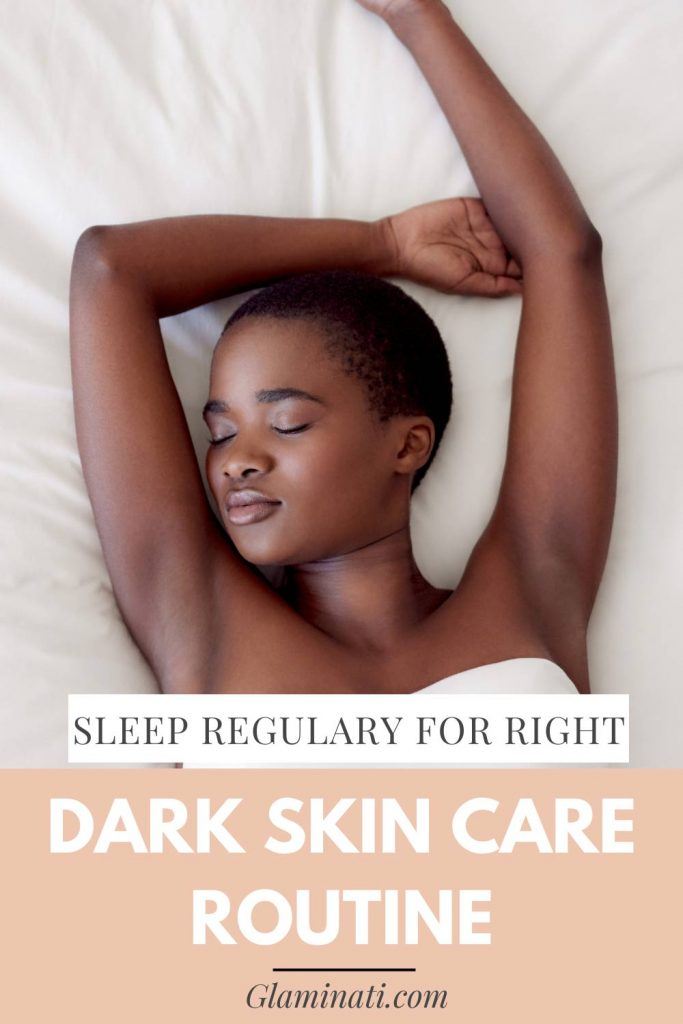 There is a reason why they say that all women need their beauty sleep. No matter how compelling your dark skin care routine is if you are not getting enough sleep regularly, there will be no visible effect whatsoever. Regular sleep regime adds up to all the regeneration process that your body undergoes, resulting in a better general look, healthier skin included.
Best Products for Black Skincare
*We may earn money from affiliate links on this page. Please check out our disclosure policy for more details.
Jacq's Organics Nourishing Face Moisturizer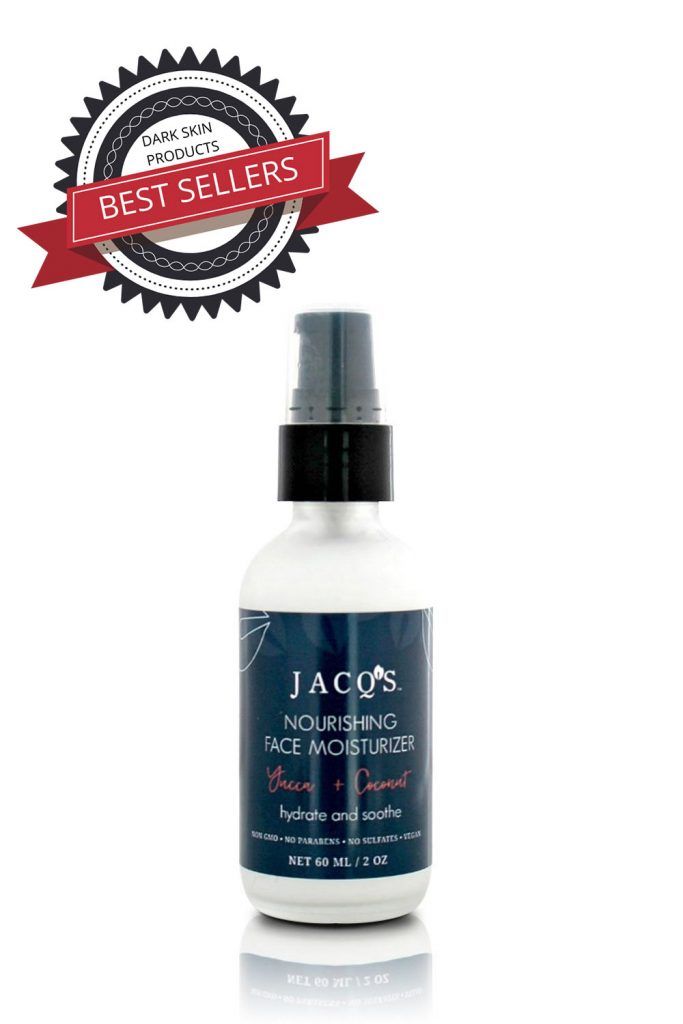 Credit photo: shopjacqs.com
Among all the skin care products for black skin, dark-toned ladies prefer those produced by a black-owned brand. Jacq's Organics belongs to the list. The moisturizer that the brand offers is truly a gentle one. What is more, the formula includes all-natural ingredients that are proved to fulfill the task they are aimed at. If you are looking for a deeply-hydrating moisturizer, then this would be the one.
Specific Beauty Advanced Dark Spot Corrector Pads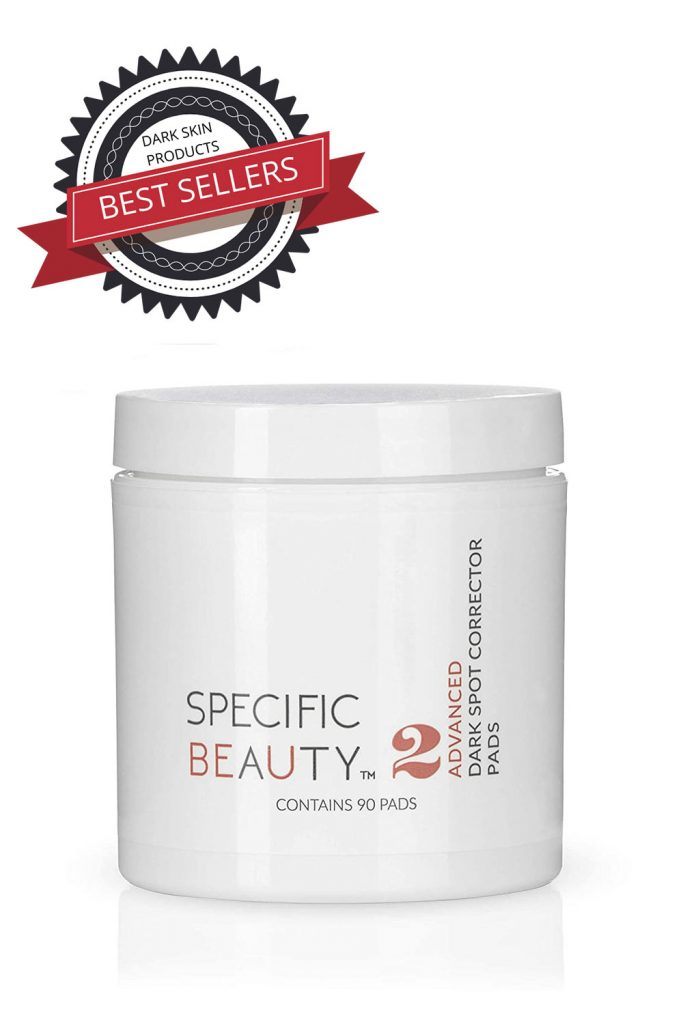 Credit photo: specificbeauty.com
Dark spots can be really irritating and as challenging to deal with. However, Specific Beauty chose to approach the matter from the view of multicultural ladies, making their production stand out. Particularly designed for darker tones, the pads deal with those dark spots like nothing else. Besides, the ingredients list full of botanical elements, and antioxidants serve brightening purpose and is claimed to even out the skin tone perfectly.
Unsun SPF30 Tinted Mineral Sunscreen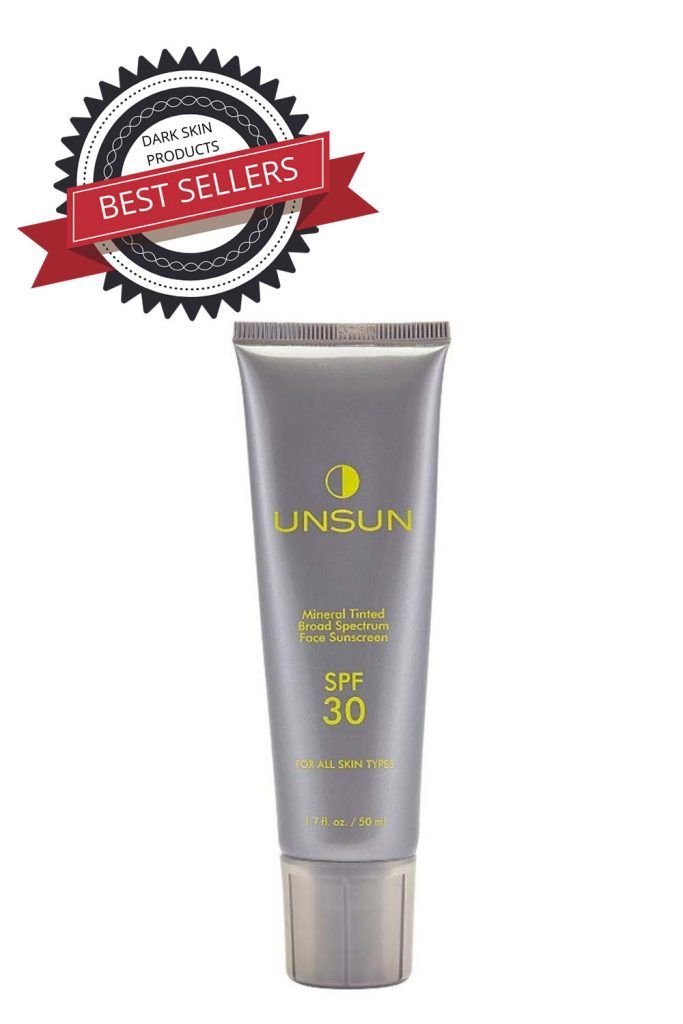 Credit photo: unsuncosmetics.com
Nothing inspires perfection better than the personal experience of the issue. After Katonya Breaux went through sun damage problems when she was in her 30s, she decided that she will come up with the sunscreen formula fit for dark-toned ladies, and she did. The Unsun is the sunscreen filled with all sorts of natural ingredients that usually serve more than one purpose, think jojoba oil and coconut one as the example. So, if you are looking for both a protective and nourishing sun protection, Unsun is the answer.
Re: Fresh Organic Toning Facial Mist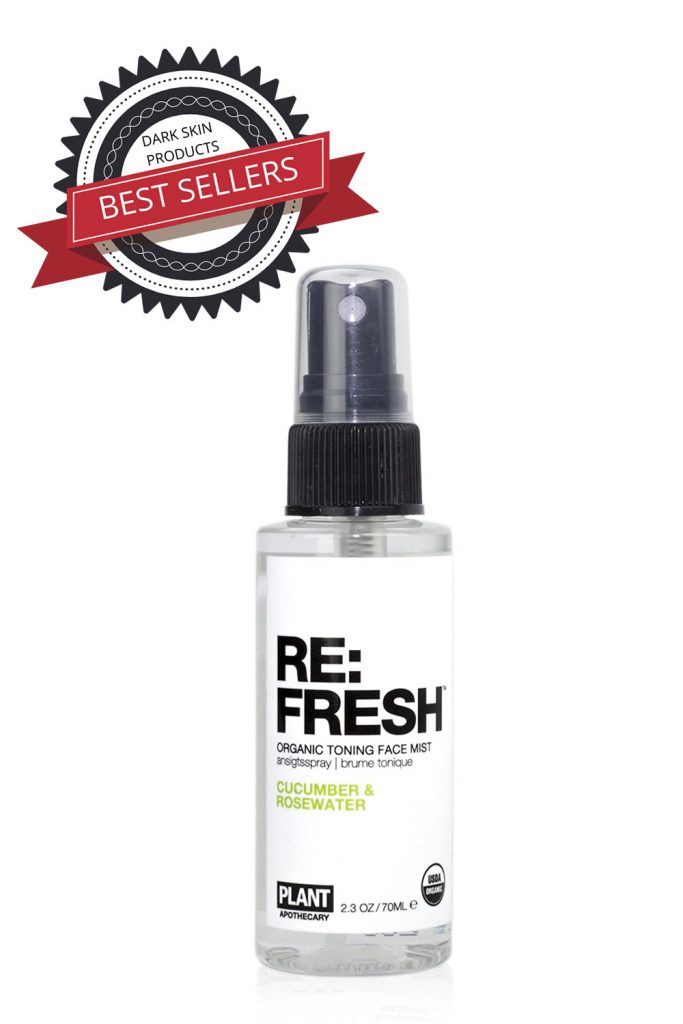 Credit photo: refreshcosmetics.com
On our list of the best skin care products for black skin, we would also like to point Re: Fresh out. The facial mist is produced by a black-owned brand and consist of natural ingredients only. That means no matter how sensitive your skin is, the chances are that it is going to suit you well. The instant feeling of freshness and soothing is what this product is designed for.
BeautyStat Universal C Skin Refiner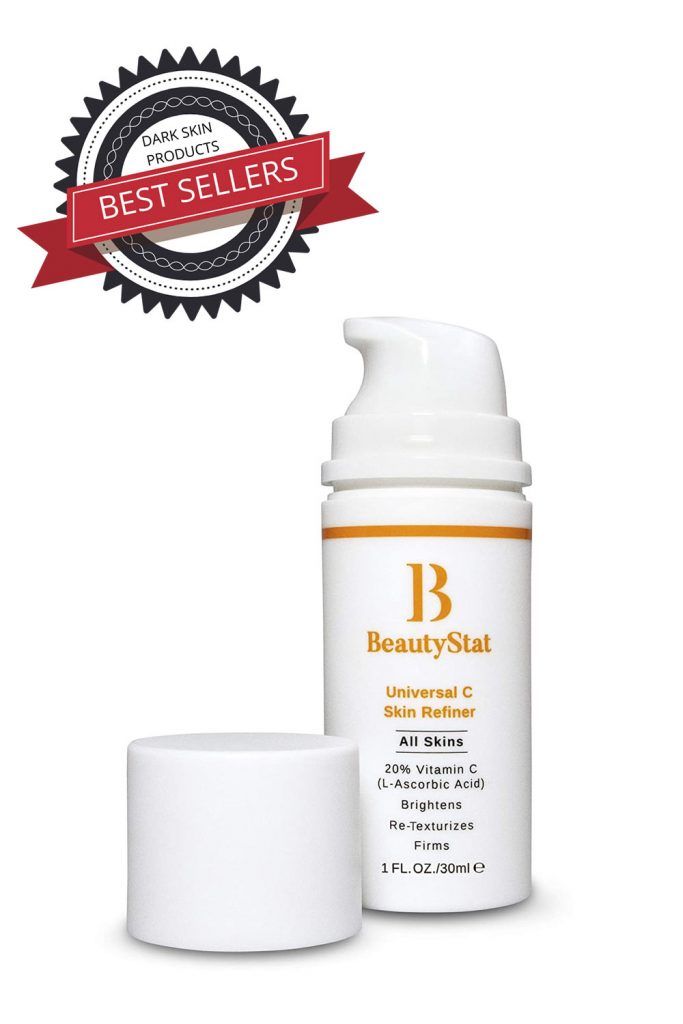 Credit photo: beautystat.com
Whether you are interested in black owned skin care products or not, skin refiner from BeautyStat should be on your to-buy list. The thing is that the product is not only highly-researched and tested, it is developed to deal effectively with sunspots and hyperpigmentation like nothing else. What is more, you can use it solely as your daily care product, or you can put on makeup over it since it serves as a perfect and professional primer as well.
FAQ
What is good for black skin?
Here are top 5 essential skincare tips for black skin:
Everyday cleansing is vital for black skin as well as moisturizing. To avoid skin concerns, opt for noncomedogenic products. 

Never leave your house without a thick layer of sunscreen.

If your skin is hyperpigmented, it makes sense to use special treatment.

Deal with acne once it pops up. 

Drink enough water and maintain a healthy diet.
How can I make my black skin glow?
To provide your black skin with the ultimate glow, here is what you should do:
Always remove makeup and cleanse your face in the evening. Never sleep with makeup on.

Opt for a cleanser that does not contain sulfates and lathers moderately. 

Treat your skin with care. 

Make exfoliation an integral part of your beauty regimen.

Use a mist toner free from alcohol.

Maintain a good level of hydration from the inside.

Do not overuse oils.
What natural products are good for black skin?
As your skin is very prone to breakouts, you should steer clear of the products containing chemicals. So, make sure your skin care has natural ingredients. You want to look for such essential oils as rosemary, jojoba, citrus, sage, as well as shea and cocoa butter, aloe vera, olive oil and the like.
Which oil is best for black skin?
Lavender essential oil is considered the most beneficial for black skin no matter its type. It helps to restore balance, boost blood flow circulation, detox and heal minor skin burns.
Thoughtful and well-researched black skin care is what makes you shine everywhere you go! It is hard to believe, but a proper daily routine and well-preserved beauty care regimen can make you look better than any makeup would ever do. All you need to do is to plan your daily routine and implement the right products into it, as simple as that!