Fresh And Trendy Style Ideas With Black Jeans
Black jeans are a true classic that won`t ever go out of style for. So many people all over the world choose them for any occasion they have coming in their life that we have thought some fresh ideas are needed. Are you a fan of rocking your black jeans casually or you prefer them to match your going out outfits? We have chosen some special options that will for sure spice up your personal style.
What To Wear With Black Jeans In Summer
Summer Outfits With Linen Shirt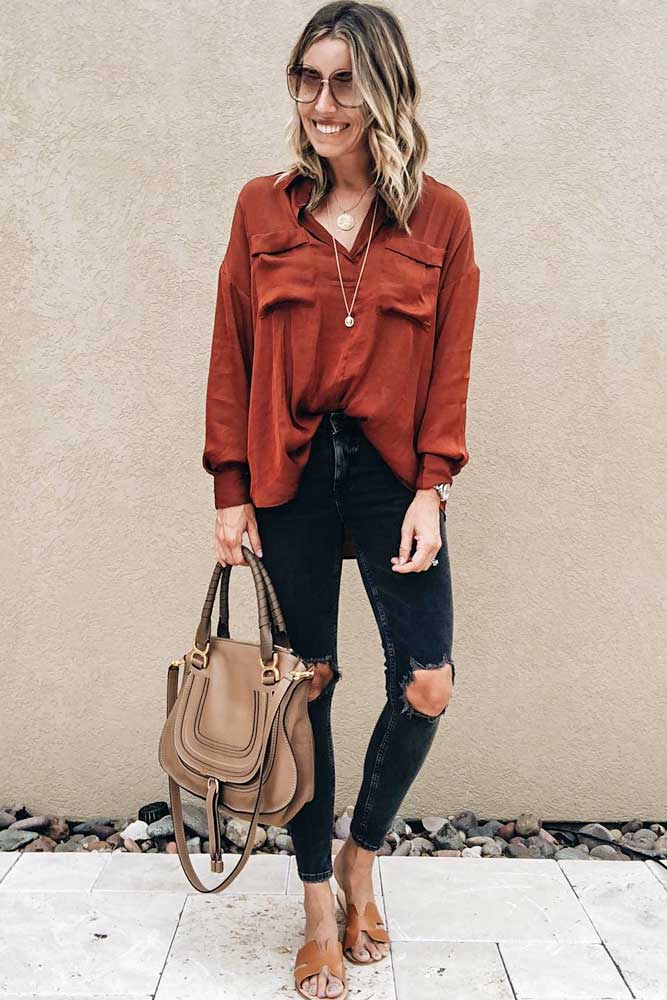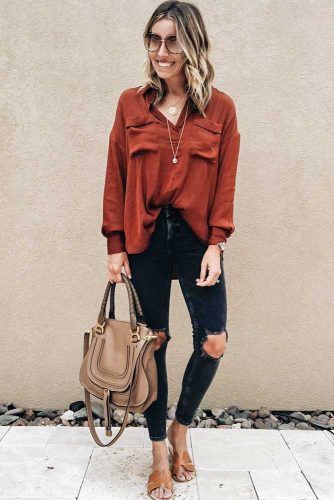 Source: jaimeshrayber via Instagram
Summer is here, but you still can`t say no to your favorite pair of distressed black jeans? Well, add a linen shirt of any color your heart desires and your outfit is ready for any occasion. Either it is just a quick walk around the town or a working day.
Casual Outfits With Shirt And Sneakers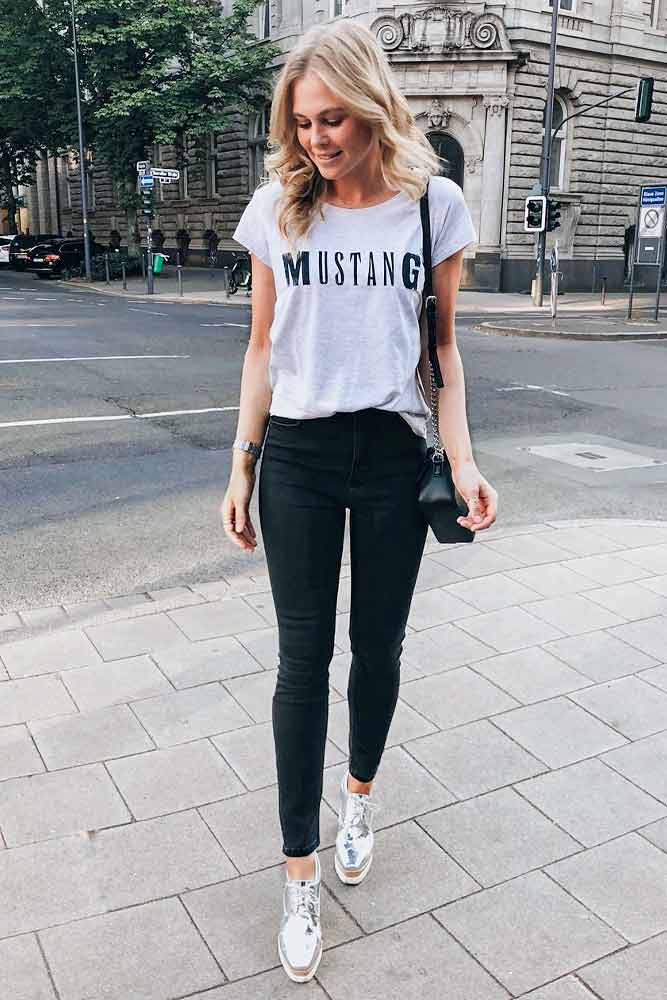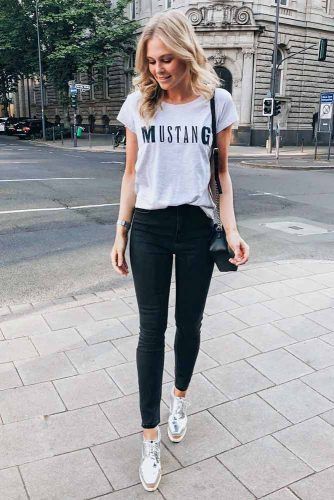 Source: sunnyinga via Instagram
Some people say that there is nothing better than grabbing the favorite t-shirt and rocking it for the day with a pair of jeans. Such an idea can be so stylish too. Choose an interesting print for the shirt or the extraordinary color that will go so well with the black skinny jeans.
Black Jeans With One Shoulder Striped Top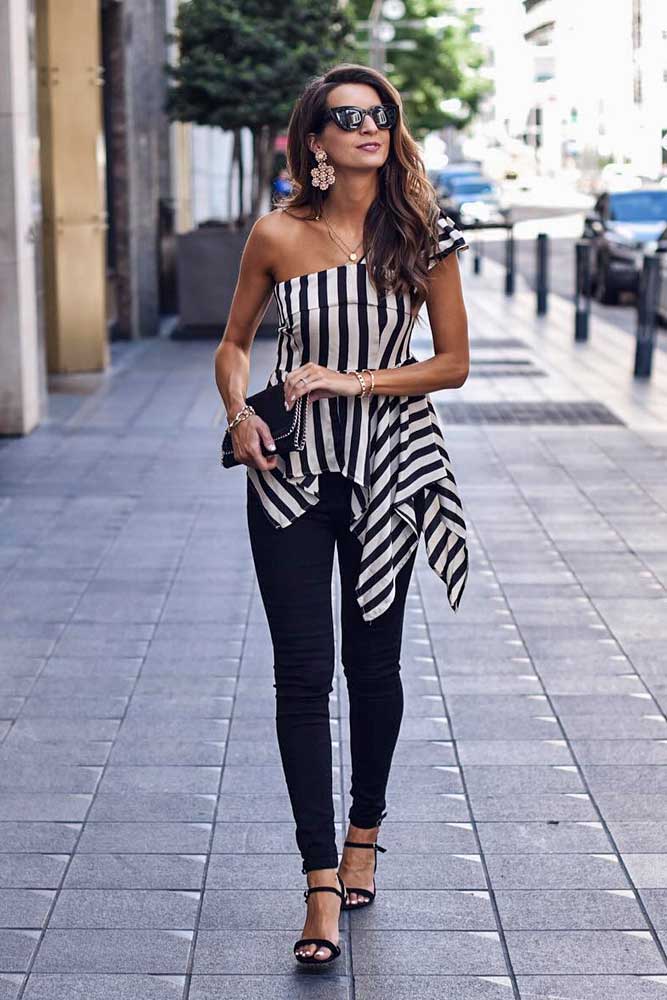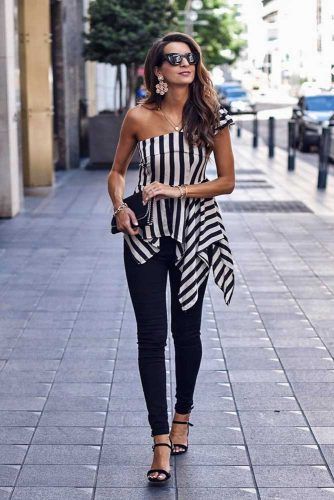 Source: myviewinheels via Instagram
If you choose a creative and extraordinary top for going out, pick a simple pair of black skinny jeans to go with it, and you will be surprised with how well they will combine. A striped one shoulder top like these looks magnificent with back denim, doesn`t it?
Grunge Style With Black Jeans And Boyfriend T-Shirt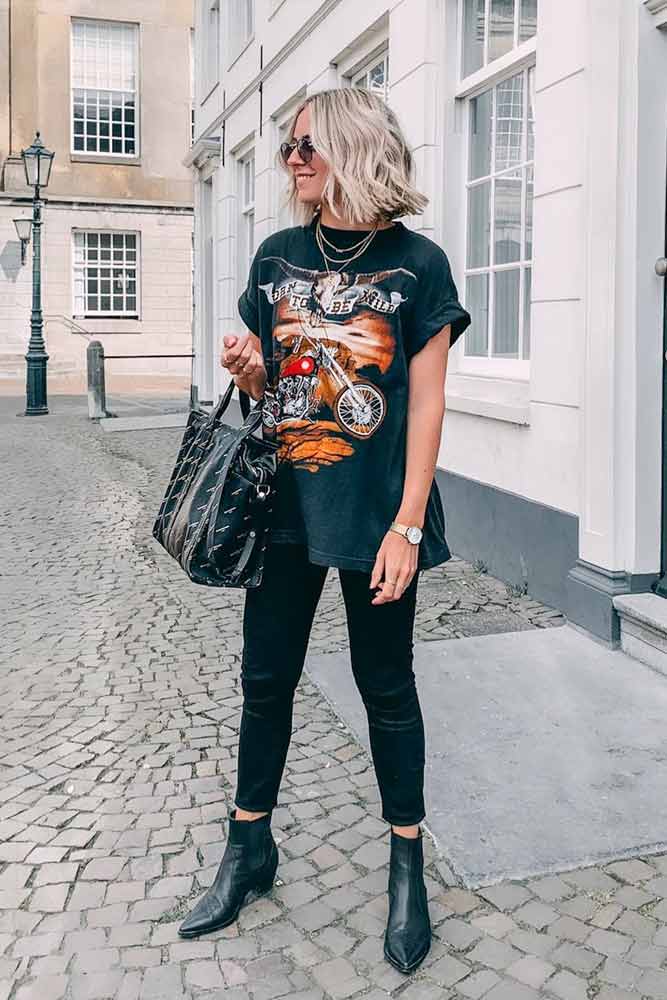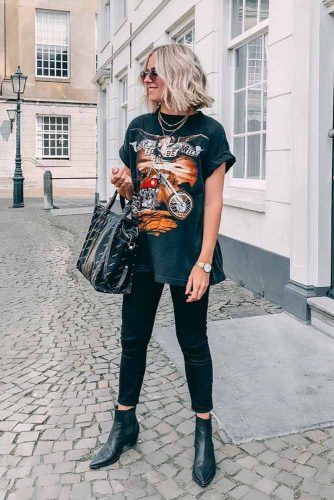 Source: liangalliard via Instagram
These days you can mix and match almost anything you want, and it will result in a trendy outfit. The combination of a biker-boyfriend T-shirt, black skinnies, and cowboy boots is the best proof to the point.
Hat + Brown Blouse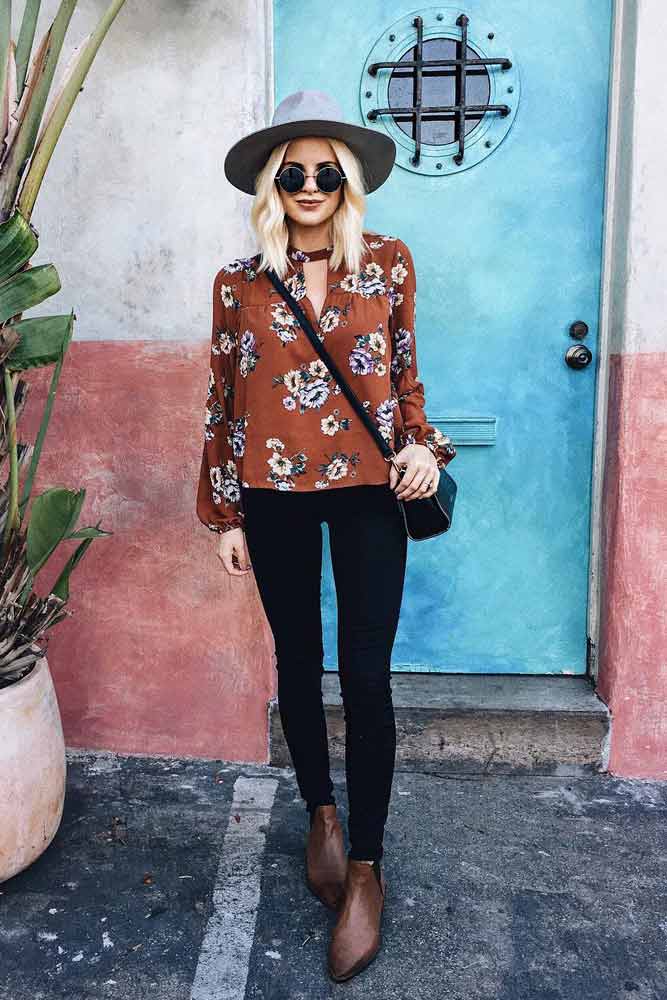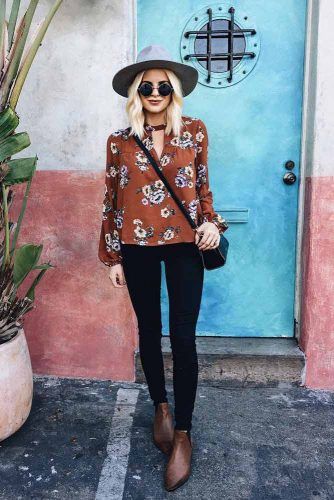 Source: kathleen.post via Instagram
Call it a hippie or a boho style, the point stands – black jeans suit the outlook perfectly. To stick to the basics of street fashion, we suggest that the boots and the shirt share the related hue.
Black Flared Jeans With Silk Top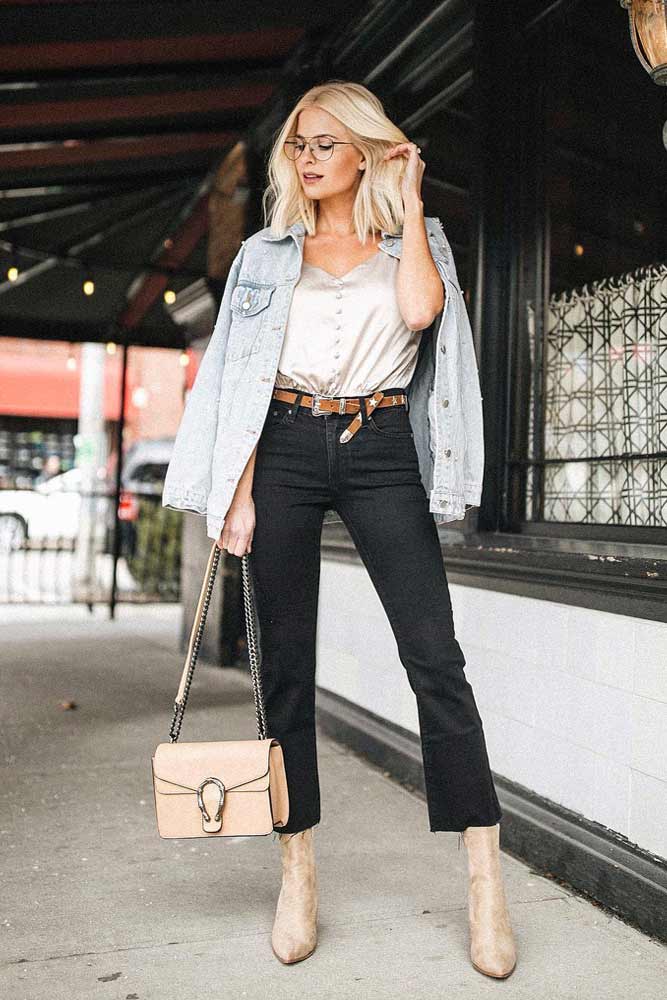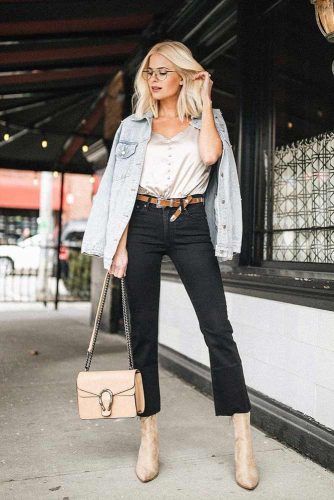 Source: kathleen.post via Instagram
In case you haven't been aware of the fact that flare jeans are back in town – they are. If you happen to have a pair of those in your wardrobe, combining them with a silk top and jeans shirt is a stylish option.
Black High Waisted Skinny Jeans With Long Sleeved Top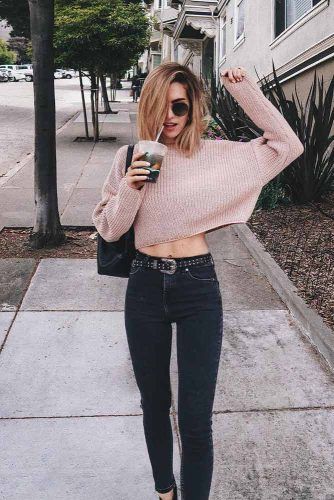 Source: nicholeciotti via Instagram
If it is a bit chilly outside and you are wondering what to put on to keep up with style but feel warm at the same time – we have a suggestion. A long sleeved sweater and a pair of high-waist black jeans are something to consider.
Black Jeans With Plaid Shirt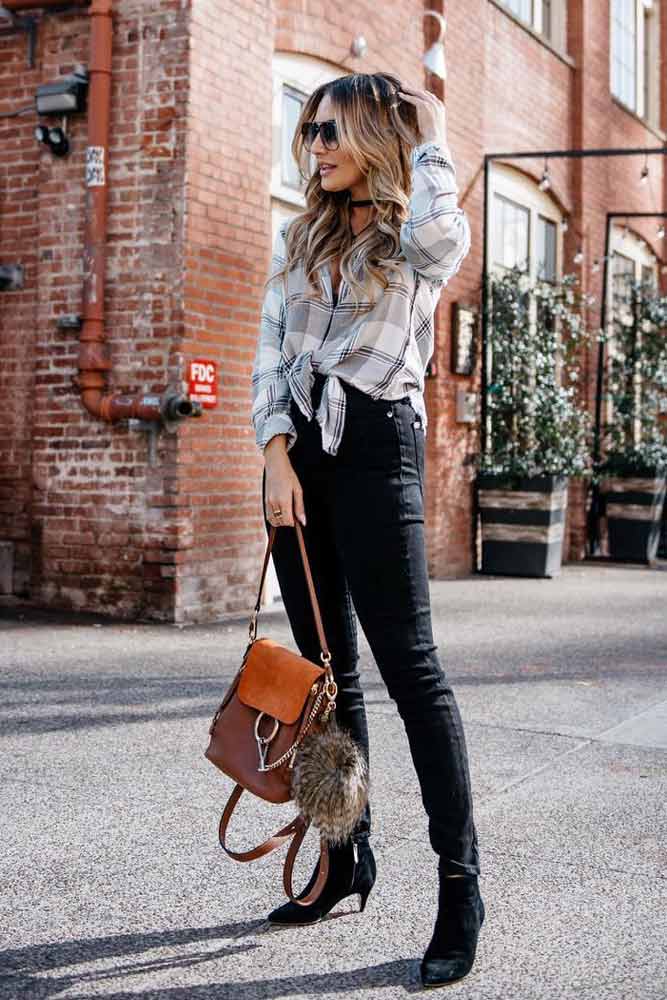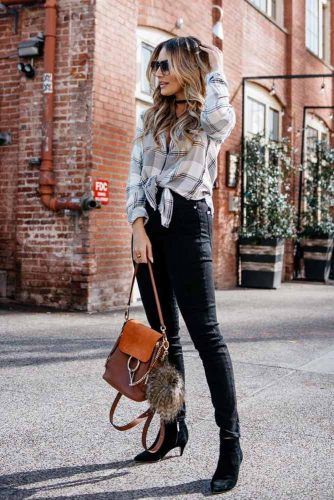 Source: oliamajd via Instagram
Whenever you think plaid shirt – you think grunge. However, there are other ideas to introduce the shirt into too. Black heels, black jeans, and the plaid shirt make a fashionable match, don't you think?
Classic Style With Black Jeans And White Blouse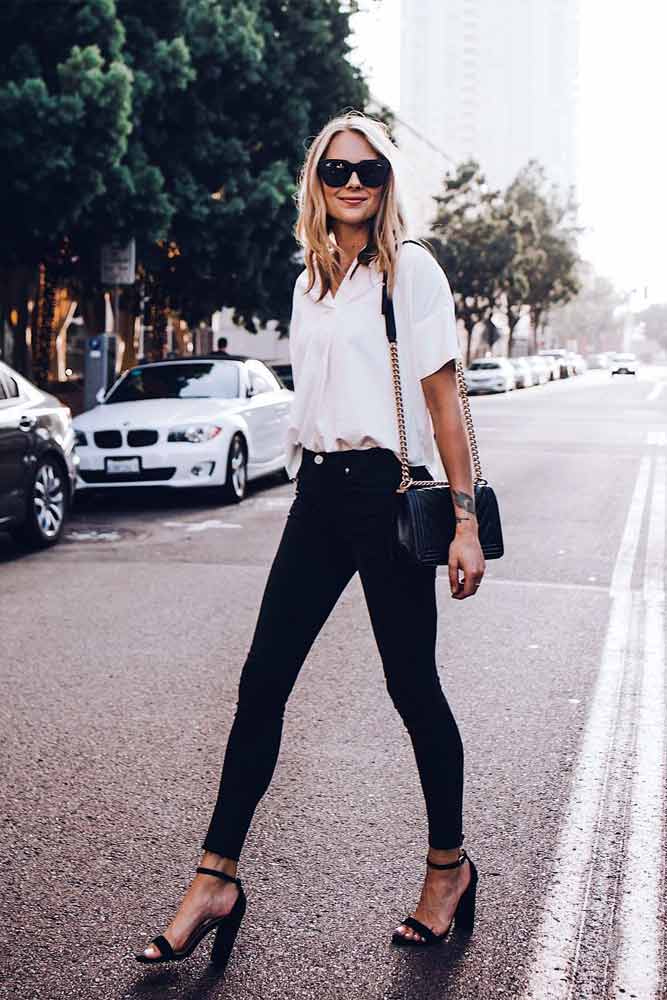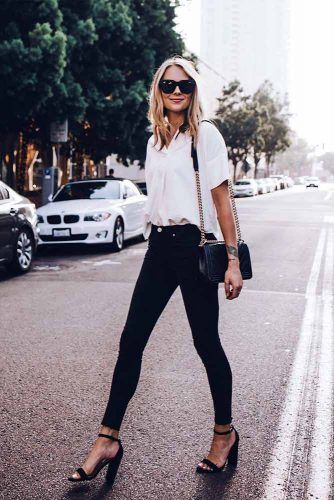 Source: fashion_jackson via Instagram
Not only casual looks can be paired with black jeans, classy ones too. For instance, a light white blouse and heeled sandals look extraordinarily organic combined with black jeans.
How To Wear High Waisted Black Jeans
Black Outfits With Short Leopard Top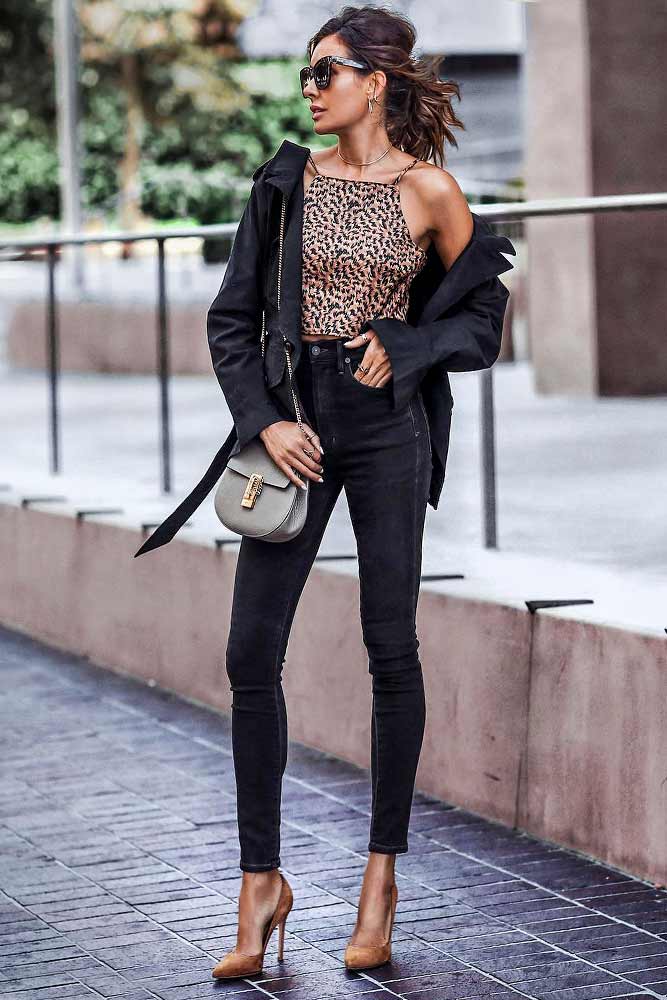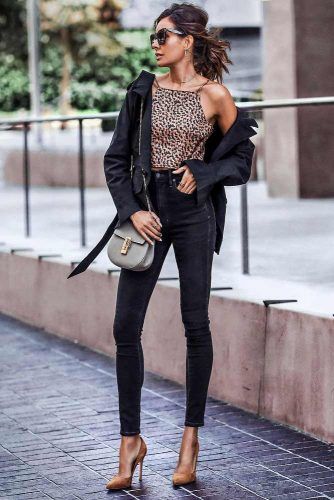 Source: fashionedchicstyling via Instagram
Black high waisted jeans are a must for the wardrobe of every girl who considers herself to be stylish. They are essential; as they look perfect with everything helping you shape your figure a bit more on the daily basis. Such a leopard top will look perfect with them, as it is a nice little detail that will change the whole outfit game.
High Waisted Black Jeans With V-Neck Blouse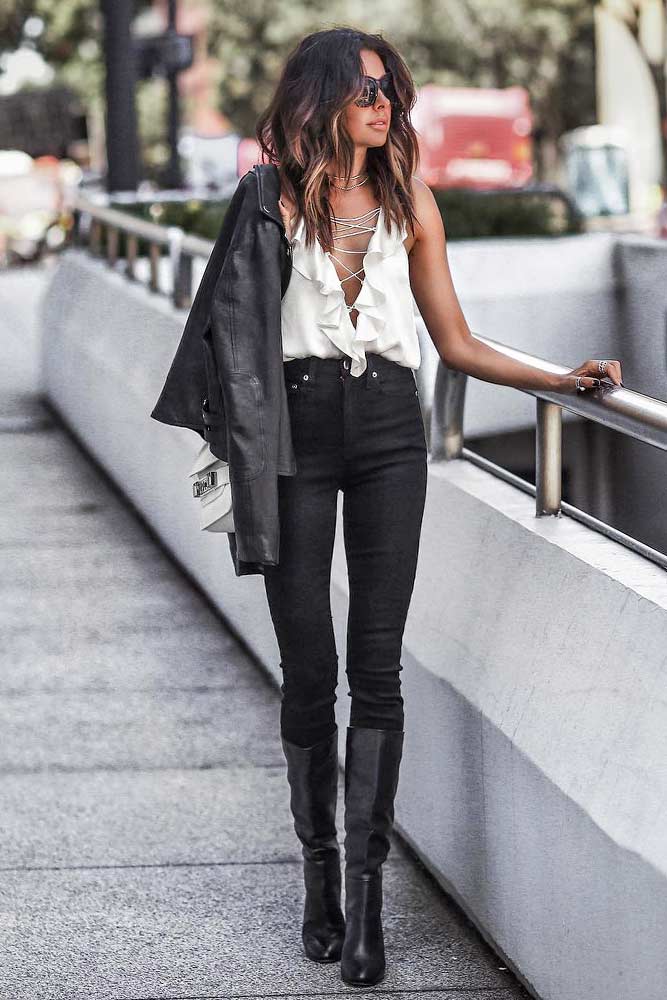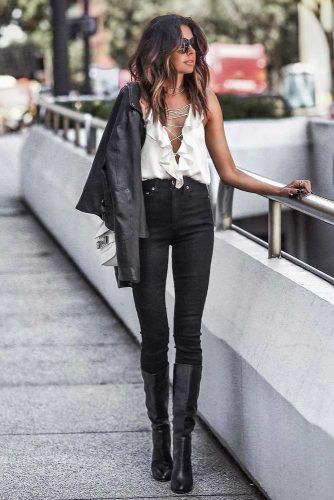 Source: fashionedchicstyling via Instagram
A V-neck Blouse is the match for the black high waisted jeans. Such a combo will make you feel like a queen during the day on any occasion, even if it is super casual. Choose different colors and enjoy how gorgeous you look.
With Black Transparent Blouse And Top Underneath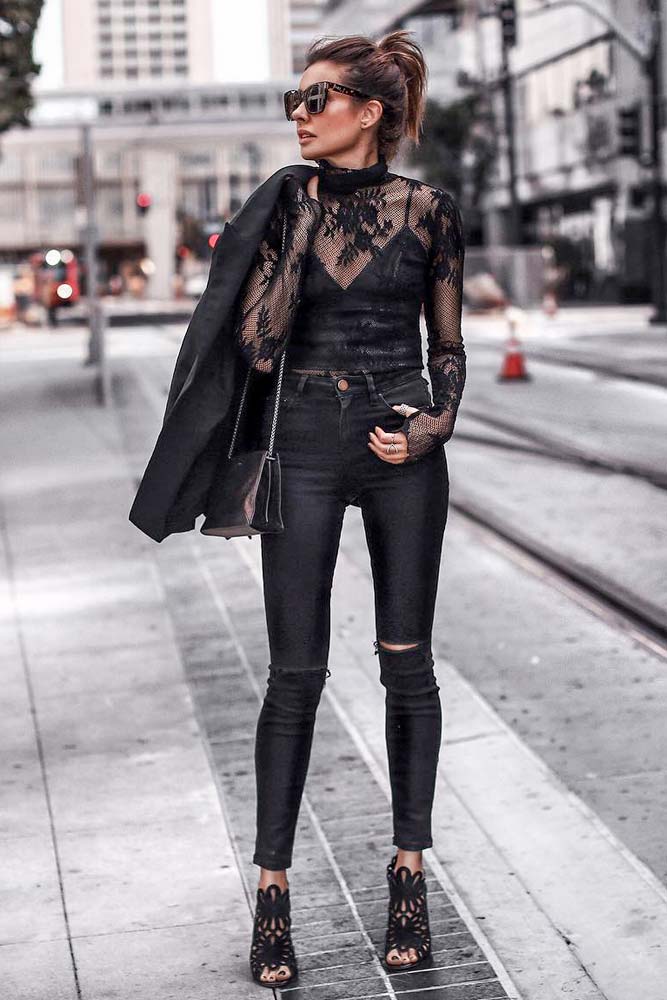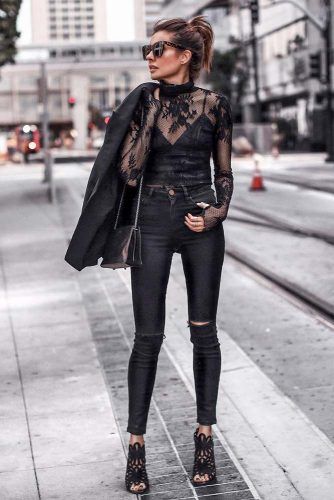 Source: fashionedchicstyling via Instagram
A transparent blouse with a pattern is a new definition of style this year. Add a little black top underneath and choose high waisted black jeans for your outfit match. Wow! You look like at any moment you are ready to hit the runway!
How To Wear Black Ripped Jeans
Ripped Jeans With Brown Blazer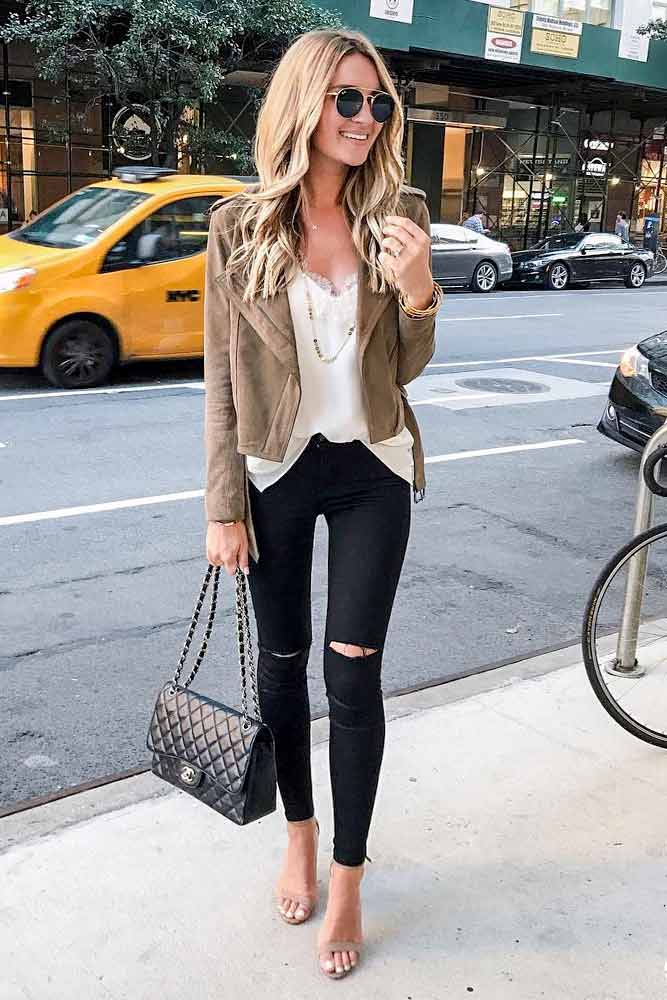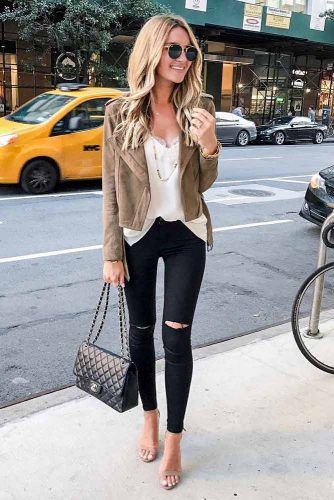 Source: kaitlinkkeegan via Instagram
After the fuss that ripped black jeans brought to the fashion industry, it can be necessary to read how to rock them with everything you love. For example, we love mixing styles, trends, colors, and materials. In addition, an outfit that consists of ripped black jeans and such a nice brown blazer is the true definition of style for a daily basis.
Outfits With Long Denim Shirt And Ripped Jeans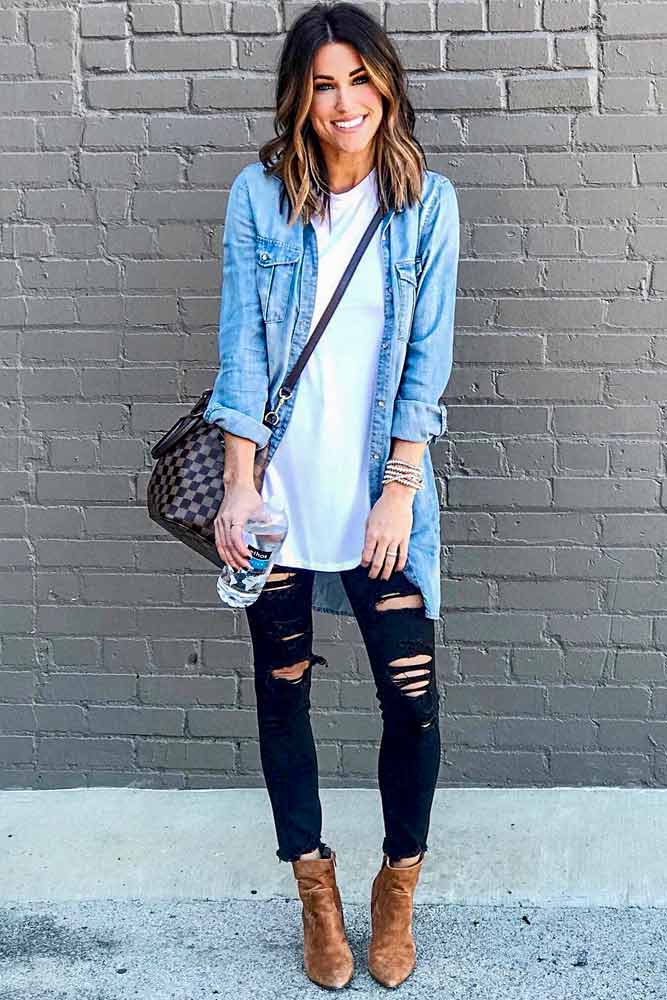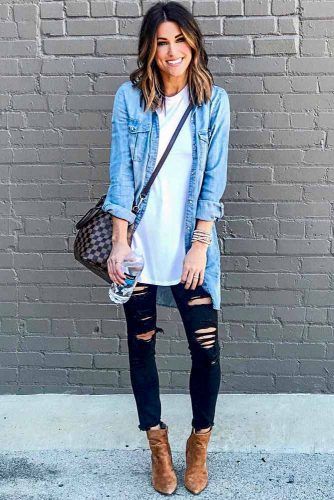 Source: thesisterstudioig via Instagram
Do you prefer relaxed and stylish at the same time outfits that make your daily style even better? Then go for this look with black jeans brown shoes and a long t-shirt and a denim shirt on top. Basic but classic.
Classy Milk Sweater And Same Colored Heels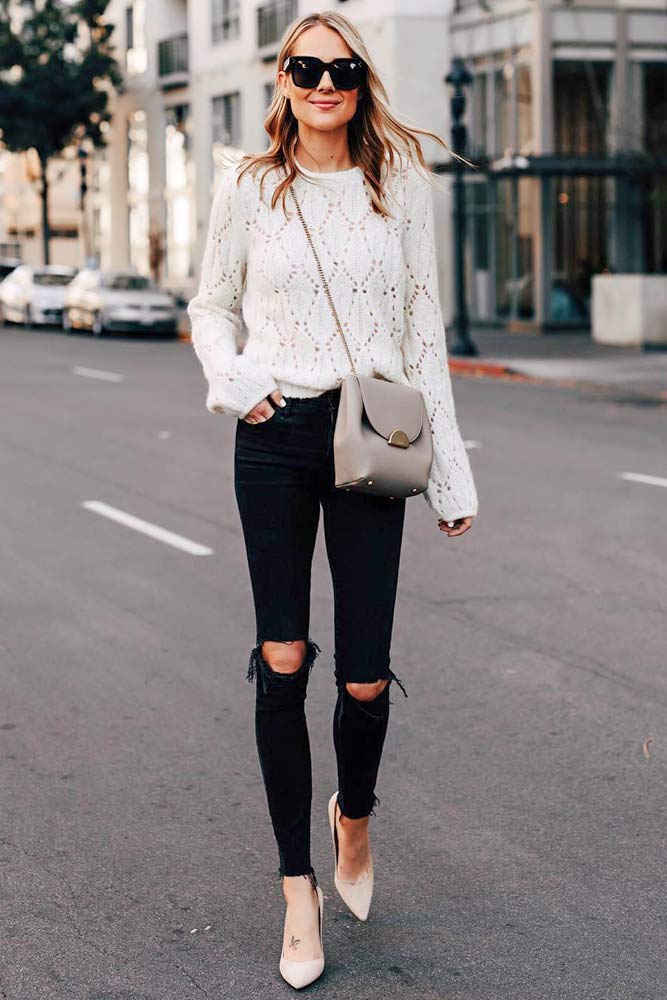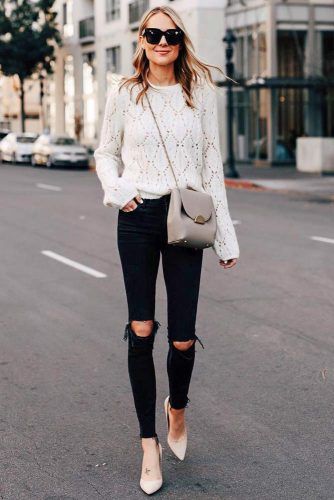 Source: fashion_jackson via Instagram
A milk colored sweater should be the part of every girl`s wardrobe as it is basic and will go with everything. For instance, take a look at this outfit with black ripped jeans. Sweet but brutal at the same time it gives a certain vibe to the whole appearance. Choose the shoes of the same color, and you will feel so good during the day.
Back To Black – Monochromatic Look With Black Jeans
Monochromatic Look With Black Velvet Coat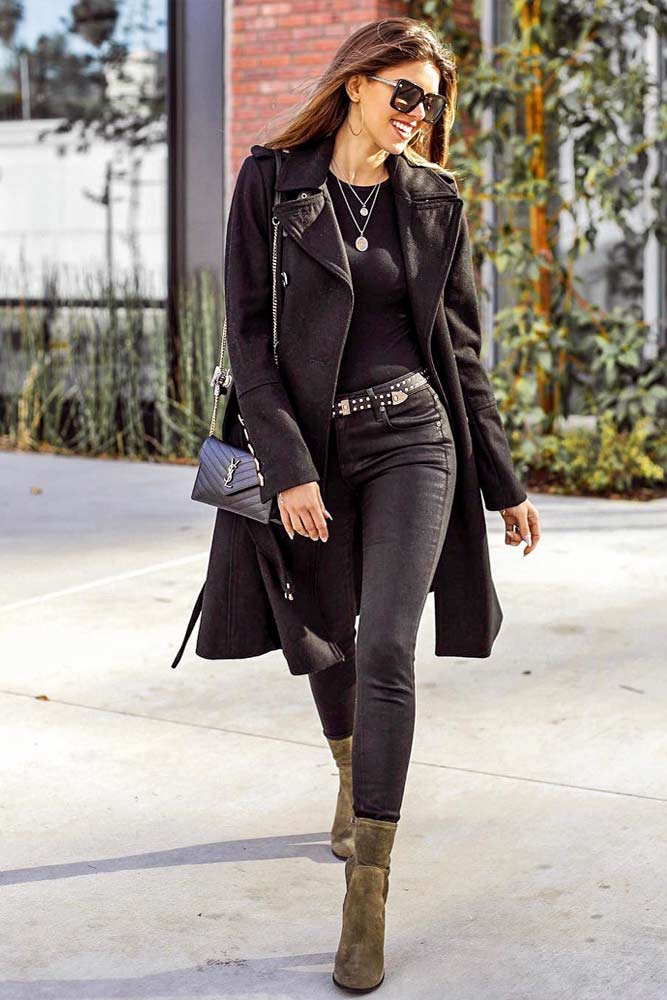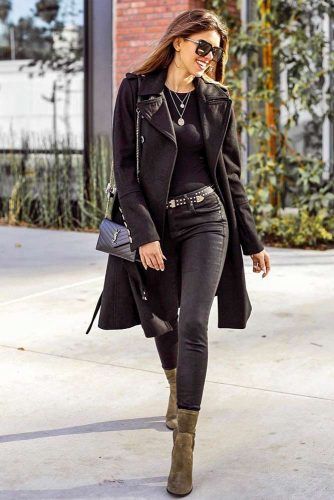 Source: thecharmingolive via Instagram
As you have understood, a total black is a perfect option for every woman who wants to rock her outfit without putting much effort. This mood matches this outfit too. Just pick a simple black velvet coat and add a pair of black jeans. This is a perfect variation that will make you feel awesome.
Black Blazer + Black Summer Top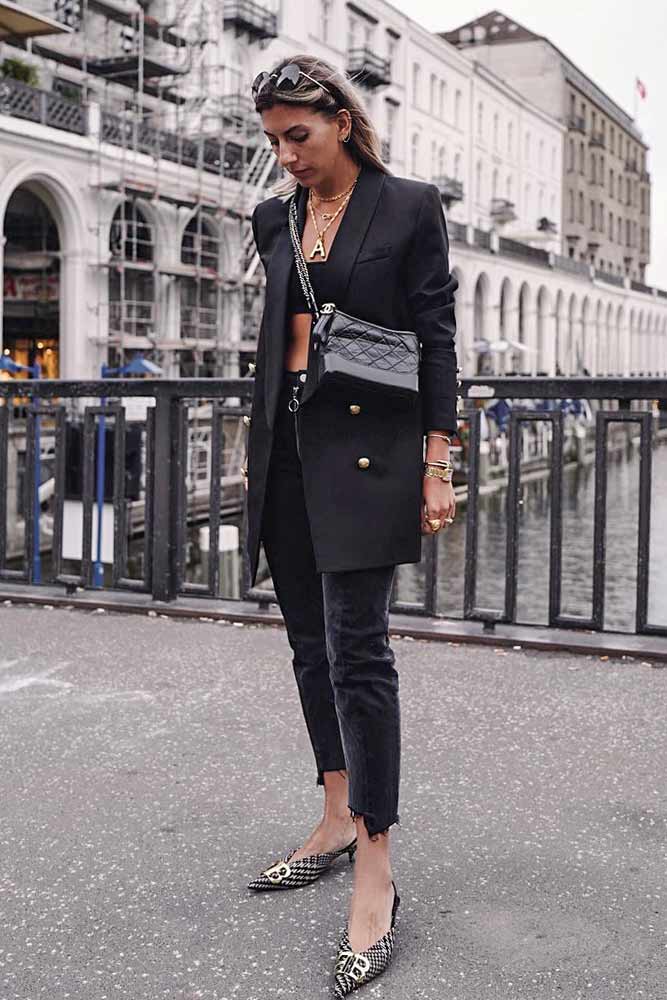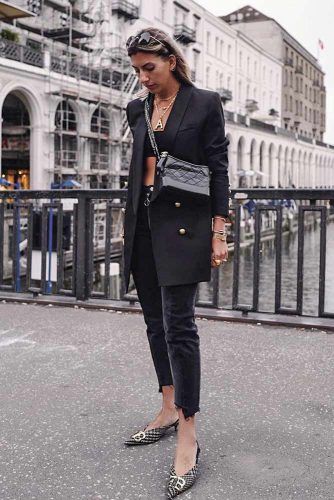 Source: aylin_koenig via Instagram
What can be more chic looking than wearing a black blazer over a small black summer top? Definitely, a look that will make you feel confident and sexy during the day. Love it!
Oversize Sweater With Black Ripped Jeans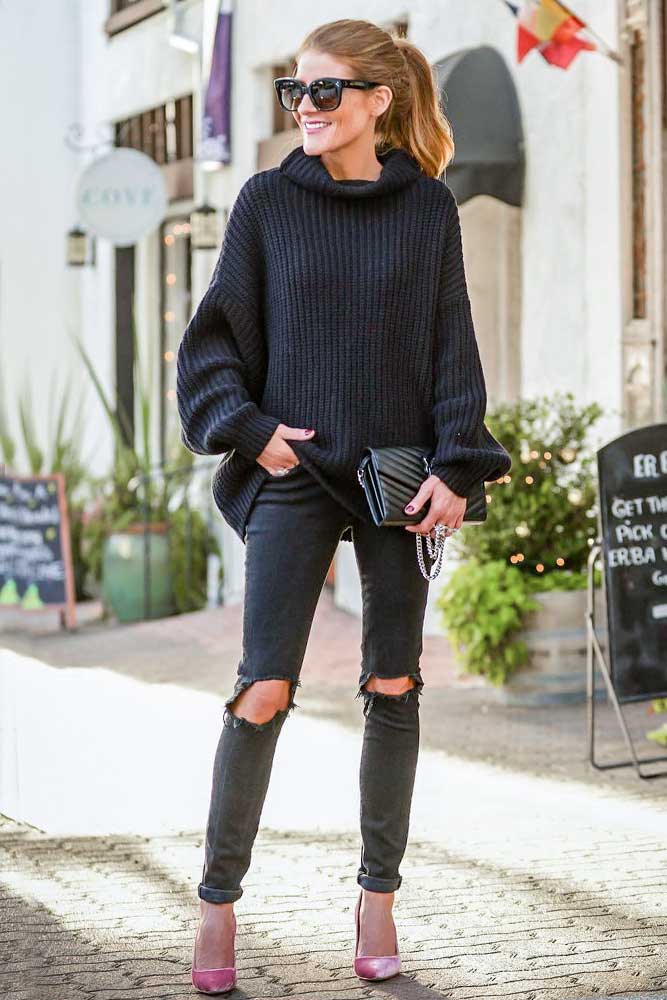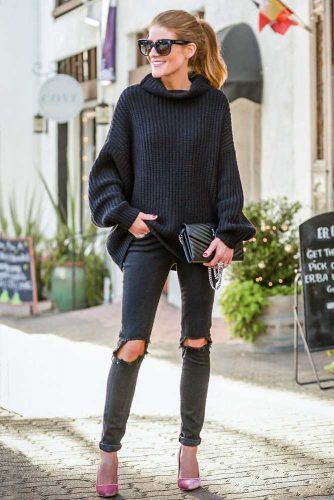 Source: currentlycaro via Instagram
As you have already understood your black distressed jeans with an oversize sweater is a perfection together. A relaxed outfit for your casual day that will still make you look stylish and trendy.
How To Wear Black Jeans In Winter
Black Jeans With Faux Fur Jacket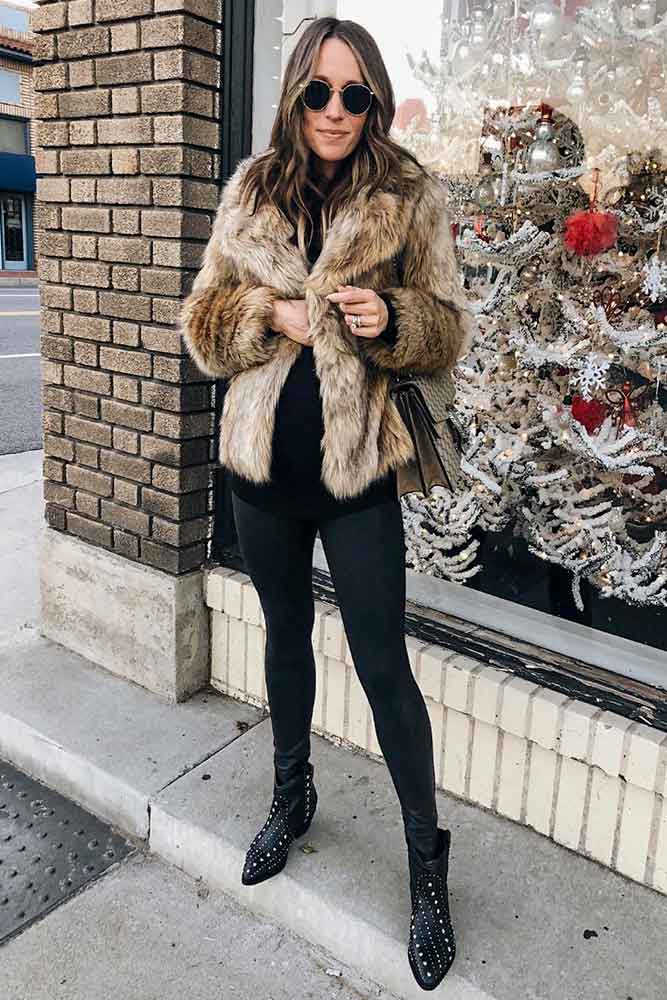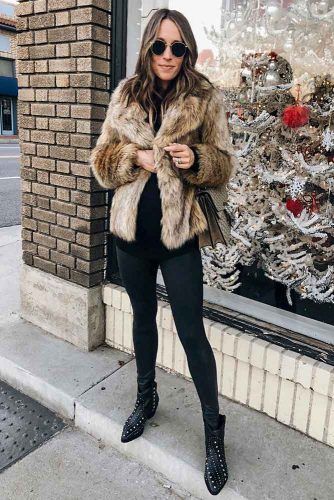 Source: itsybitsyindulgences via Instagram
We love how gorgeous black jeans look with everything no matter what season. Just have a look at this idea with faux fur. Unique color of your coat will look so good going in pair with your black canvas jeans. They will also give you a great possibility of slimming down your figure a bit as black trousers create an illusion of a slim figure.
High Waisted Black Jeans With Cream Color Fur Coat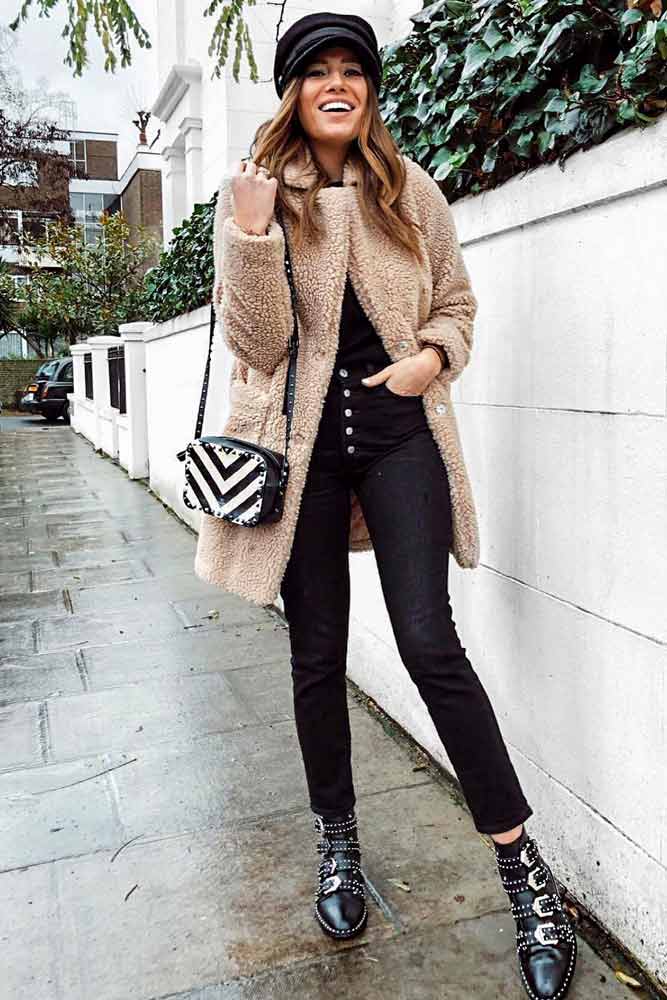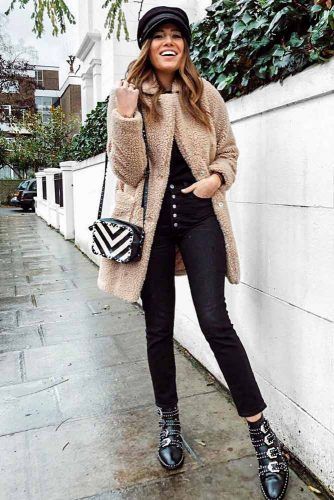 Source: wearetwinset via Instagram
As you have understood, we have gathered up the trendiest style ideas that you can find this season that go so well with black jeans. A teddy bear cream coat goes so well with classic black denim. The play with colors, in contrast, will make your outfit look so great.
With Classy Grey Coat And White Sweater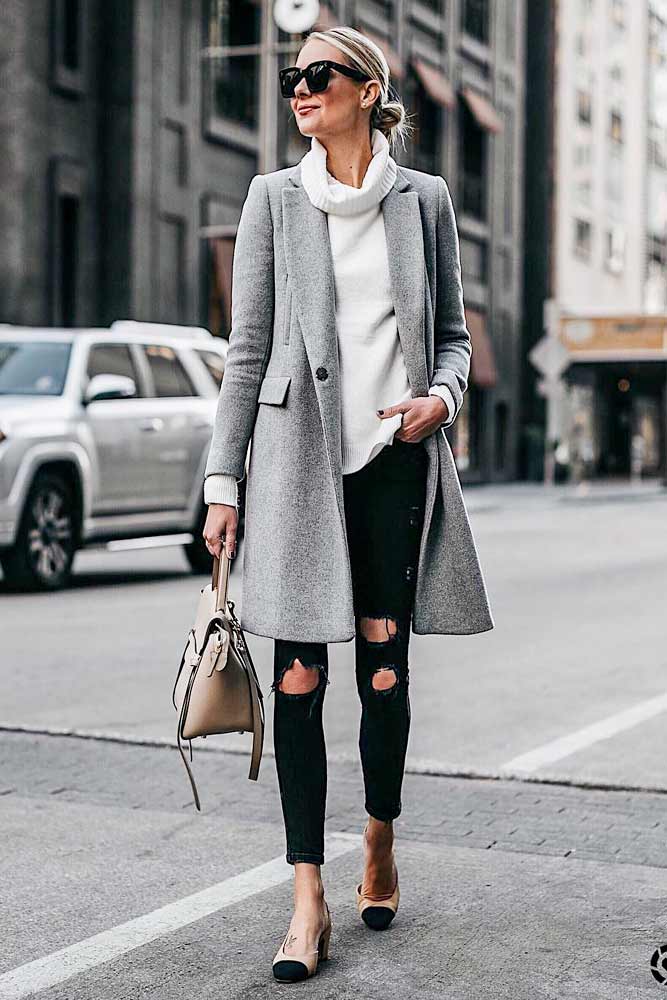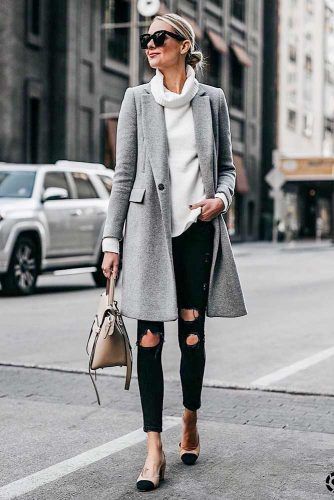 Source: fashion_jackson via Instagram
It is not a secret that black ripped skinny jeans have been on top of the fashion word for a few years now, and they don`t seem to fade any time soon. That is why we came up with such an amazing idea of wearing two classic colors such as white and black. Combine them together, and you will get grey that we have chosen for a coat. So stylish but preservative at the same time.
Spring Outfits With Black Jeans
Oversize Sweater With Shirt Underneath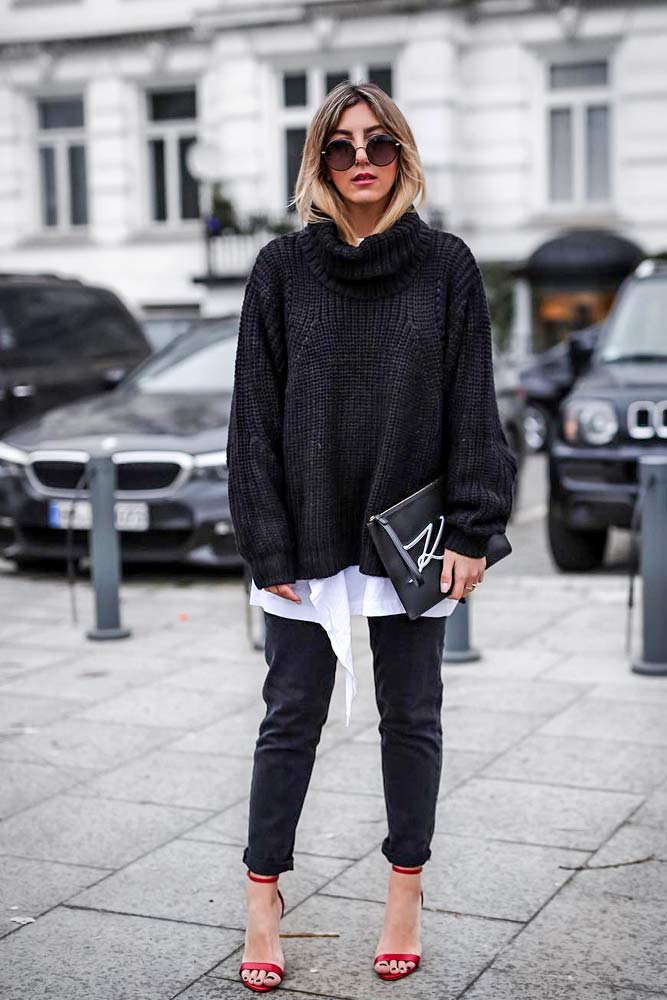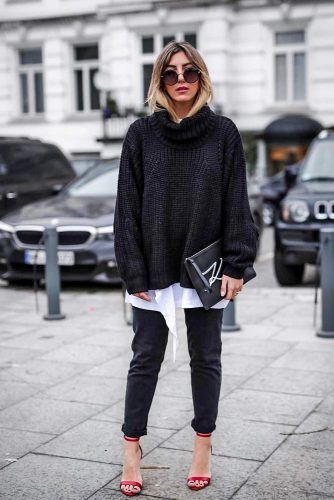 Source: aylin_koenig via Instagram
We have mentioned that black jeans are a perfect match for any season, so why don`t you rock them when warm spring days come? Take an extremely fashionable oversize sweater and put it on top of the long white shirt. The contrast of two colors and sizes with black skinny jeans will make you look so stylish that everyone will be amazed at your sense of fashion.
Black Jeans With Denim Jacket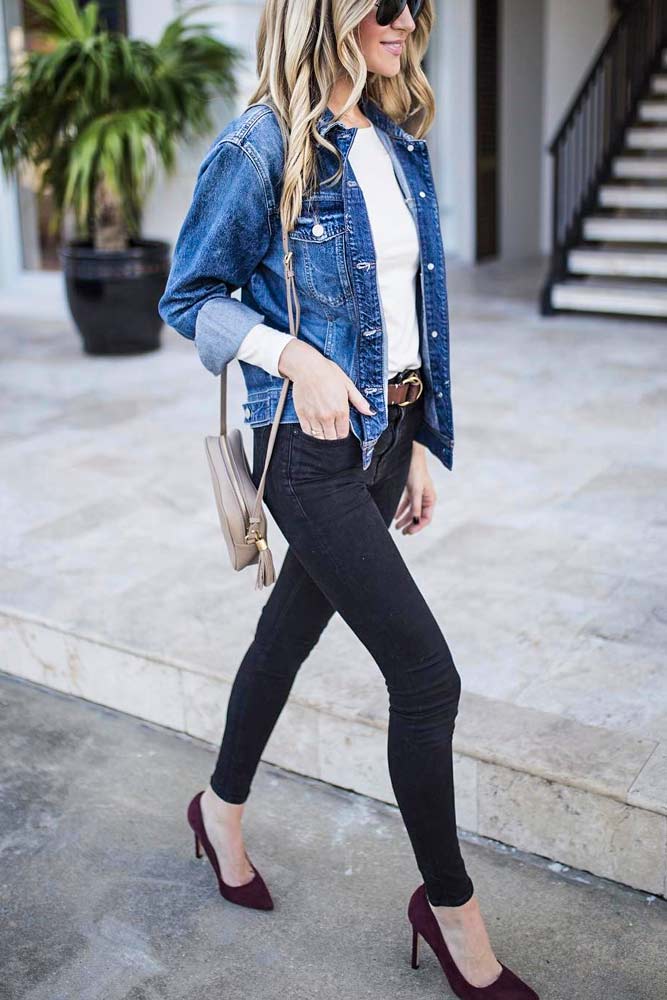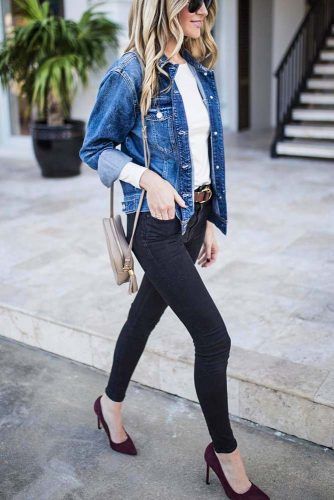 Source: kaitlinkkeegan via Instagram
Wearing black skinny jeans is a great way to spice up the wardrobe of blue denim lovers. Combine the blue jeans jacket with black skinnies and take a look at that combo. You will truly love what you see. We love this outfit idea as you can add beautiful colorful accents like bright red lips and it will still fall under the category of casual.
With Off The Shoulder Sweater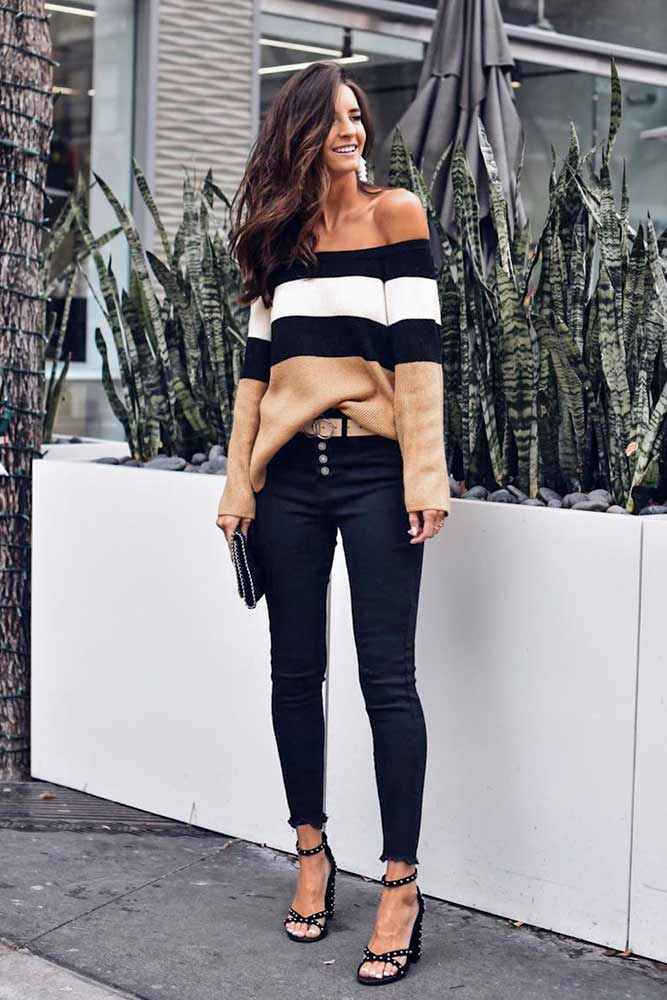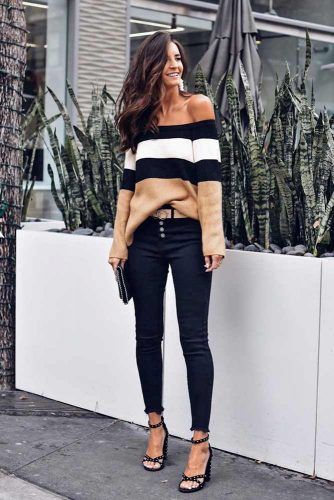 Source: myviewinheels via Instagram
If you are looking for something extraordinary but casual at the same time we would recommend you getting an off should sweater. Wearing with high-waisted black skinny jeans will make your appearance super relaxed and stylish even on a daily basis.
Outfits With Black Jeans For Fall
Ripped Jeans With Brown Coat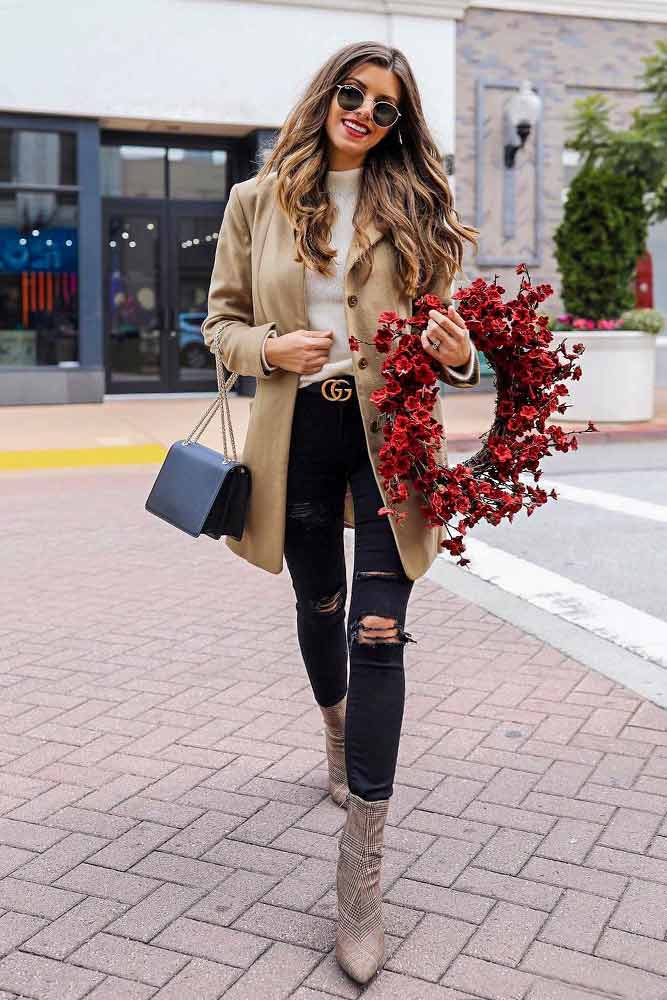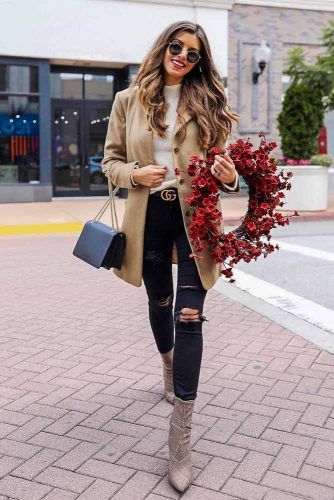 Source: aylin_koenig via Instagram
Fall is the cozy, warm and romantic season when you can mix your style with so many interesting ideas. Black ripped jeans with a brown coat will look stunning together. A combination of such different styles will make your wardrobe look so good during this fall season.
With Sweater And Denim Shirt Underneath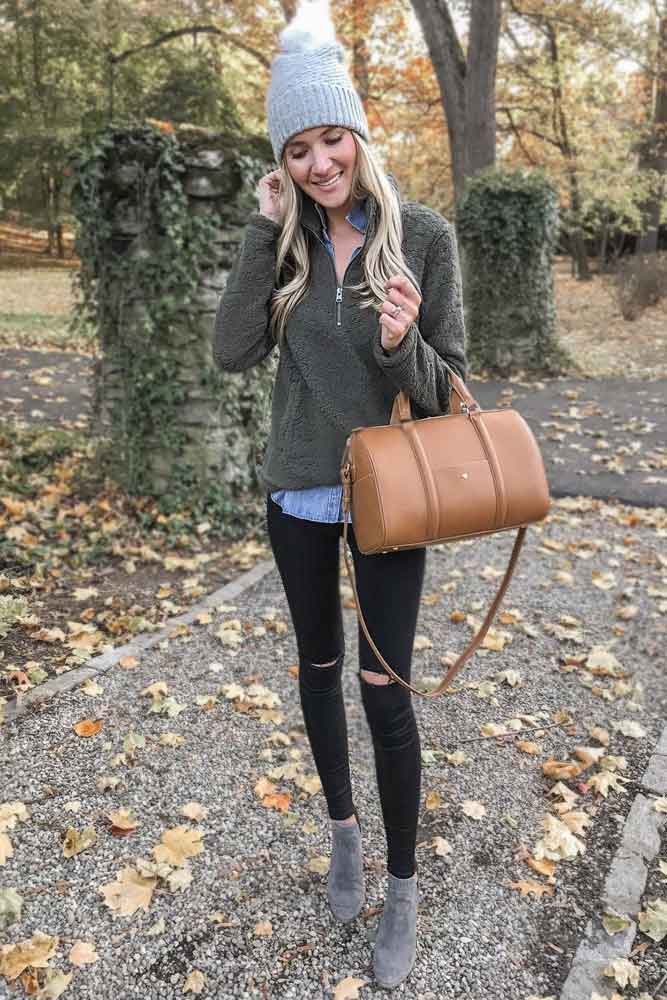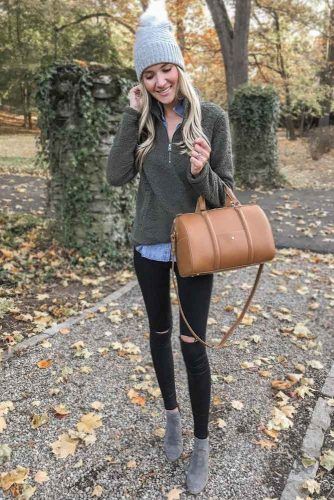 Source: kaitlinkkeegan via Instagram
Black skinny jeans are classic, and they will never go out of style. Pick any sweater you love and add a blue denim shirt underneath it. These two pieces will look amazing with black skinny jeans, don`t you think?
Monochromatic Look With Black Leather Jacket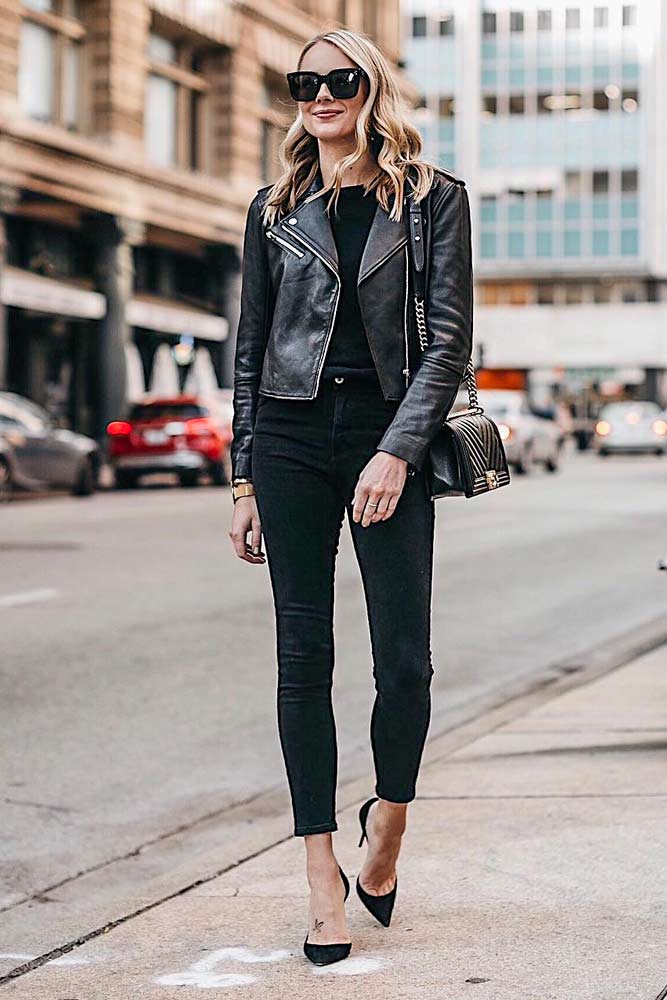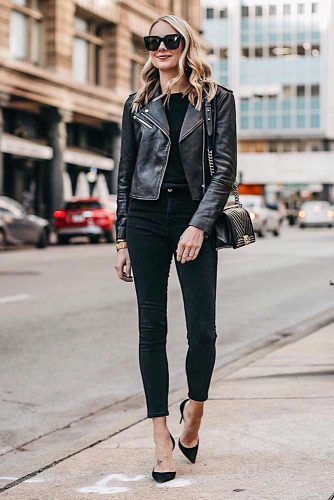 Source: fashion_jackson via Instagram
A total black look will make you look fierce and powerful, it`s the magic of this color. Add a black leather jacket and a black t-shirt to go with your black skinny jeans and you will be ready to rock that day like a hero.
Cool Style With Leather Jacket And Boots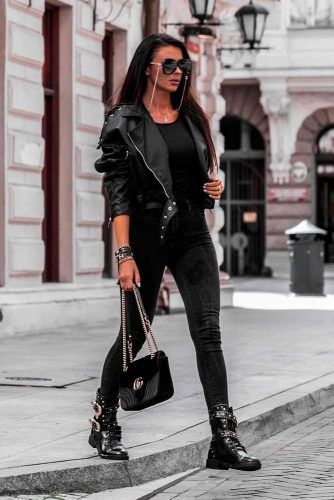 Source: olavogaa via Instagram
It may seem impossible to succeed with a vamp look that can be worn on a regular basis. However, if you know which details to opt for and how to match them correctly – you can achieve the goal in no time. We would advise you to go for a total black look with a heave armored boots involved together with a leather jacket.
Cozy Look With Cardigan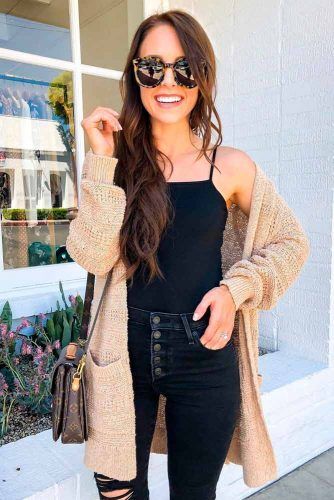 Source: darylanndenner via Instagram
Black jeans are not only about the edginess, but you can also involve the pair into a cozy look too. All you need is a fitting cardigan together with your attitude.
Flared Jeans And Trench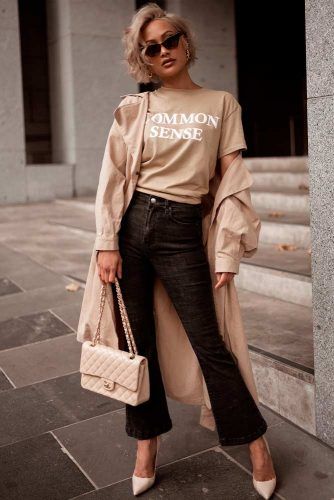 Source: micahgianneli via Instagram
You may be already aware of the fact that flared jeans are trotting their way back into modern fashion, but you may still be at a loss as for what to combine them with. It if is fall outside, then a trench and a T-shirt will do.
Elegant Grey Sweater And Ripped Black Jeans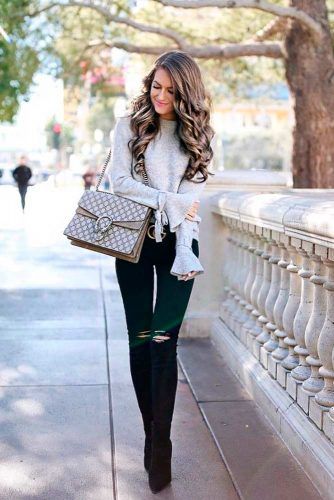 Source: cmcoving via Instagram
Who could have thought that ripped jeans can result in a classy and elegant look? We did! Besides, we will share the secret to achieve the result. It is all about the elegant sweater to match!
Casual Outfit With Oversize Coat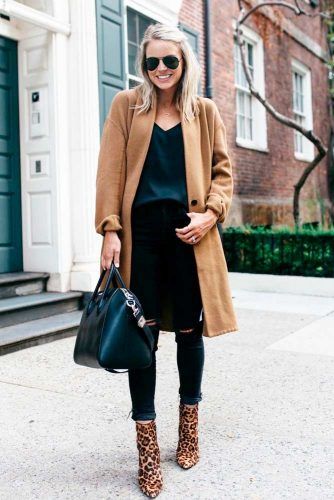 Source: styledsnapshots via Instagram
Even a casual look needs an accent to stand out. It would be quite usual to pull off the jeans and oversized sweater look. However, add a pair of leopard printed boots, and the look will go to the next level of stylish!
Olive Jacket And Ripped Skinny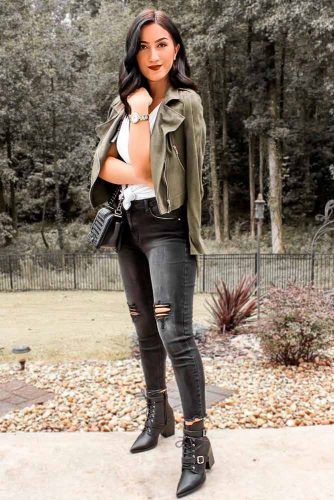 Source: _azrak_ via Instagram
Beauty comes in simplicity. If it is an everyday look you are looking for, then this olive jacket matched with black jeans will come in more than handy!