There are two things about women that remain true to life throughout the centuries: their desire to express themselves and their love for all sorts of jewelry. It is also true that each of us chooses her particular style as well as the manner of expression, but the point remains. Today we are going to talk about the statement jewelry and ear piercings in particular.
When you think about it for a while, it is easy to assume that statement jewelry is that kind of jewelry that attracts attention and helps you express yourself. That is true. However, there is a shade of meaning to it that it is best never to leave out. Statement jewelry is supposed to be elegant and fitting. It is not enough to put on yourself something bright but tasteless and then call it your statement jewelry impact – no.
If we talk about statement earrings here, it should be noted that such earrings are supposed to be bold and unique, but they should also attract favorable attention instead of amusement. Now, when we cleared the matter of definition out, it is time to have a closer look at all the types and varieties of such earrings there are!
Statement Earrings Types
Studs Key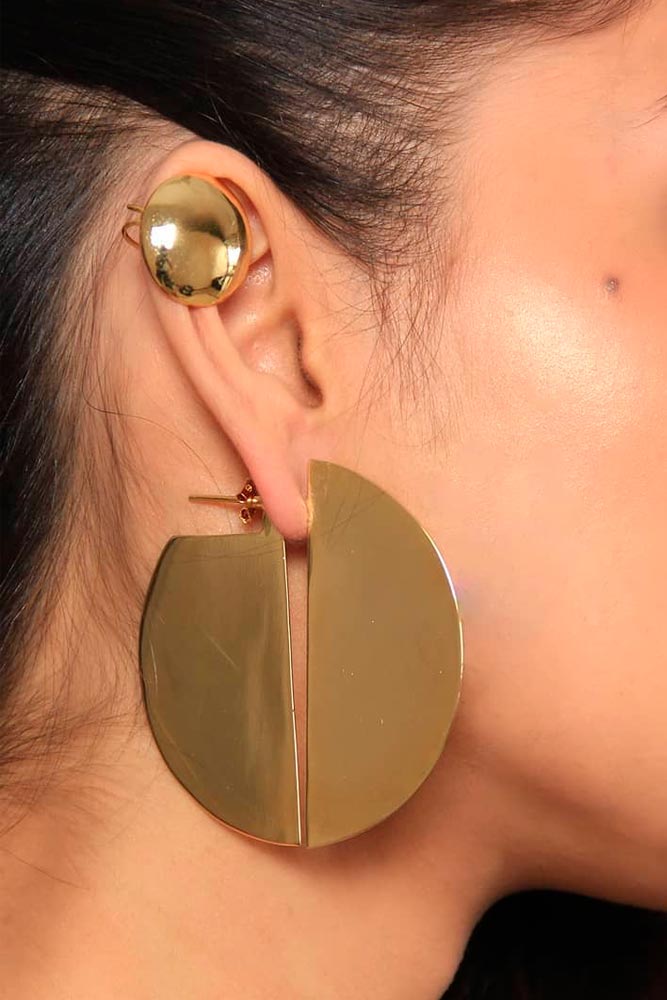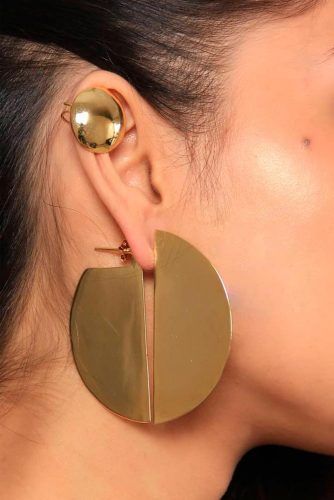 Source: comocollective via Instagram
As a matter of fact, many say that stud earrings are the most common as well as the most comfortable ones. The fact is that these earrings come in all possible shapes and sizes not to mention colors and designs. In the majority of cases, these earrings are not the dangle down ones. The stud kind of hugs the ear so that the connection is barely seen since the pin gets right through the ear. The removable back is also there to secure the earring so that you do not lose it.
Hoops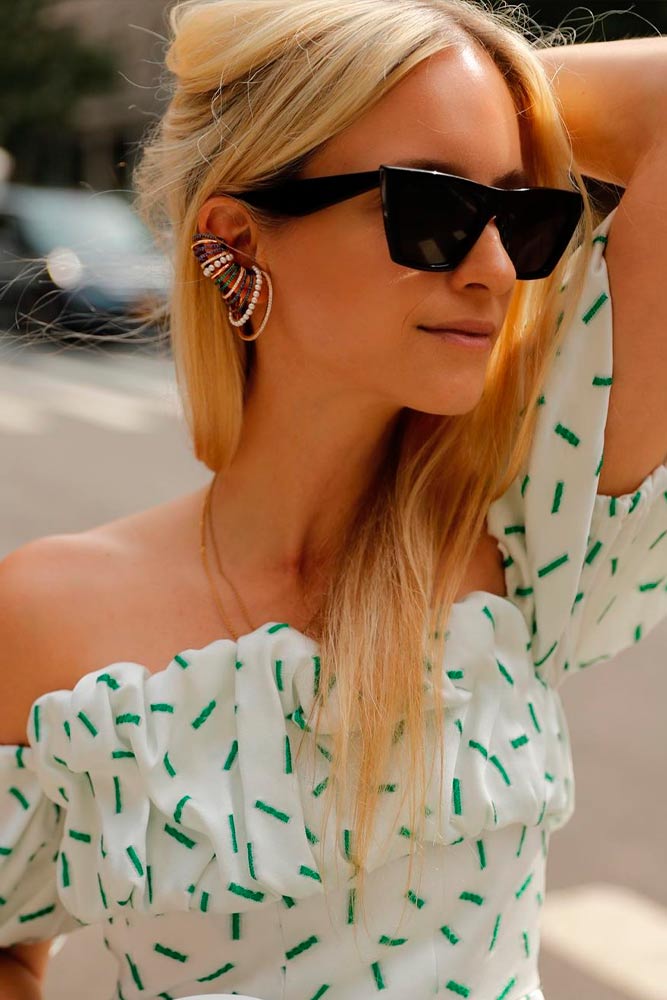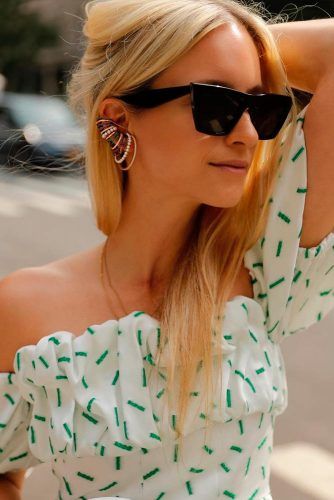 Source: thefashionguitar via Instagram
The truth is that hoop earrings are as widely used as stud ones. However, the mechanism is entirely different. Very often, you can see circular hoops, but that is not a mandatory rule so that these days, you can also come across triangular and square ones too. A hoop earring comes with a tiny wire that actually goes into the ear hole and then gets into the back of the earring. That is the way the security part about this type of earrings works. The variety of designs, shapes, and sizes to choose from is huge and impressive, so that it is not that difficult to find your perfect earing design with a hoop.
Drops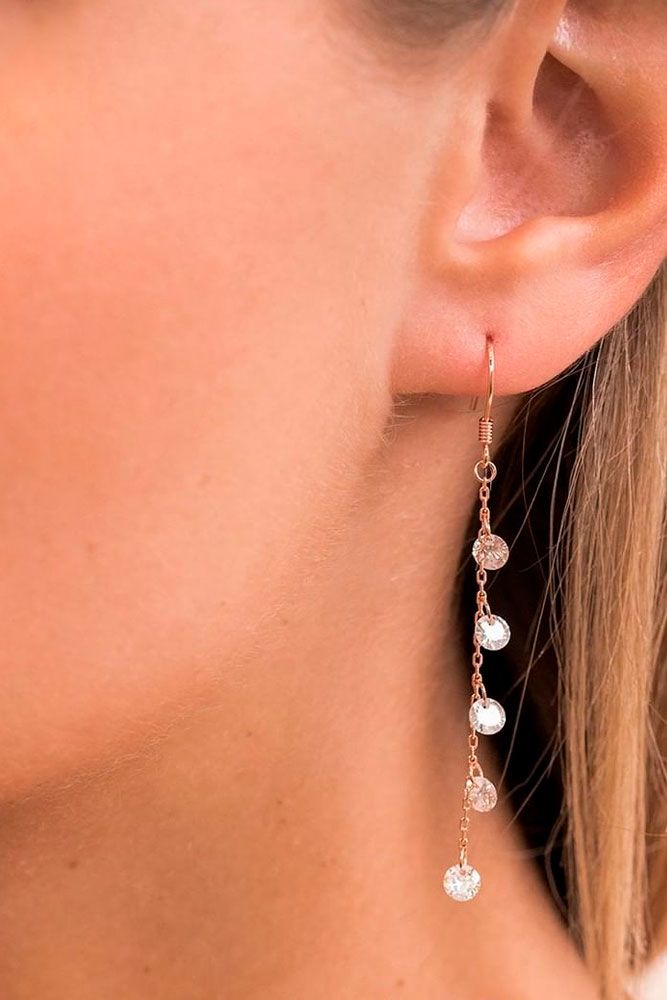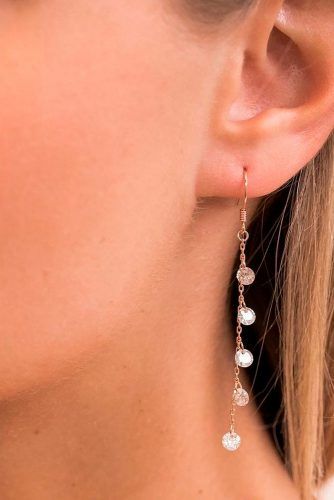 Source: lizas.jewellery via Instagram
Drops are the earrings that are surprisingly different in the number of designs and shapes they can come in. The peculiarity about this earring type lies in the fact that while it is still connected to the earlobe it drops down below the ear in the majority of cases. It needs to be noted that some drops can sit right below the ear too.
Dangles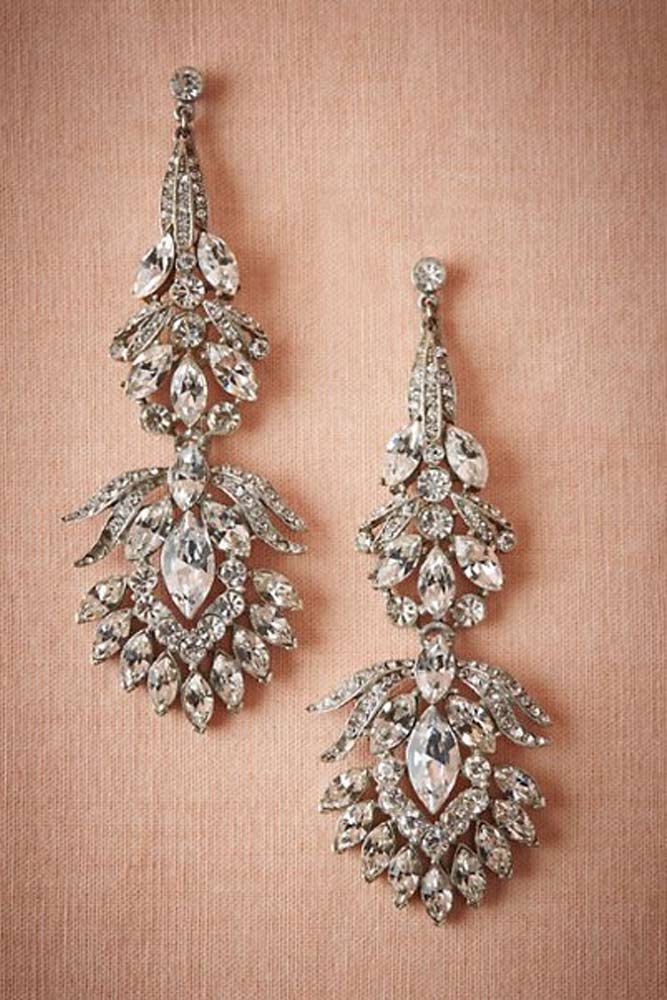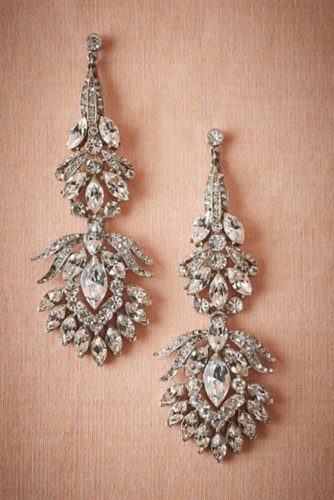 Source: bhldn via Instagram
The name dangles defines the amount of movement these earrings have. They are similar to drops in the way they connect to the ear lobe, but the rest is entirely different. The truth is that dangles can get pretty large size-wise. Besides, all the celebrities prefer to wear those to all sorts of formal occasions, and usually they prefer diamond earrings to all the other types of dangles. These earrings are insanely beautiful due to the flexibility and the number of sparkles that tag along.
Chandeliers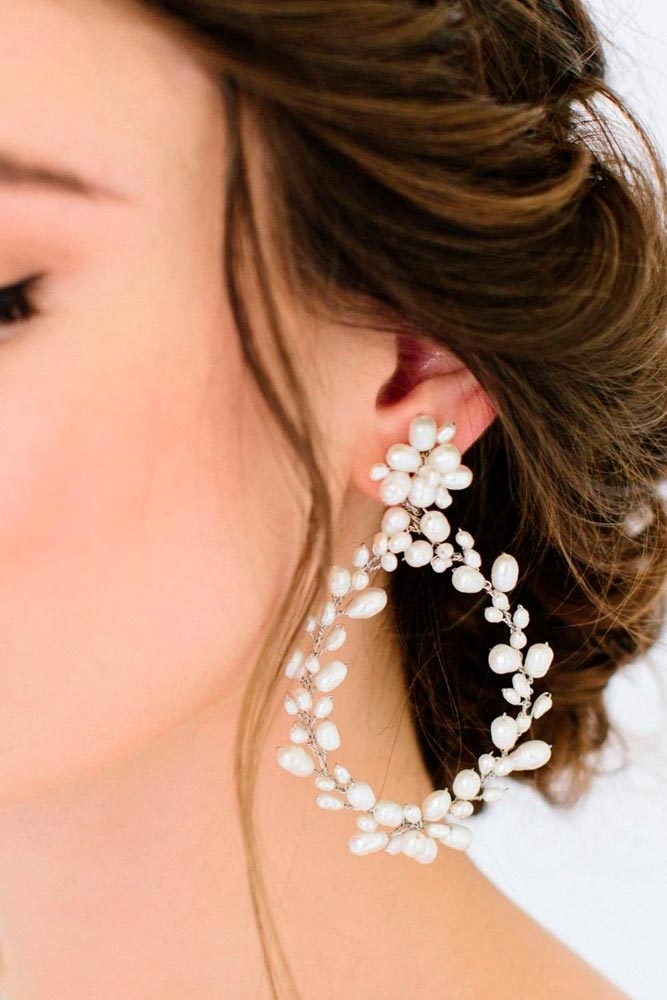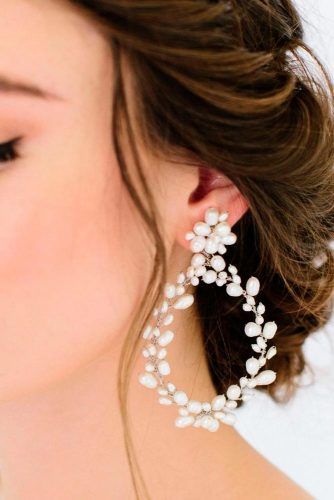 Source: mirellecarmichaelphoto via Instagram
If you think about it for a while, you will come to the conclusion that all earrings types interact with each other in one way or another. For instance, chandelier earrings are the perfect mix of studs and dangles that results in something entirely different and magical. This type of earrings gets its name from the shape that resembles the chandelier. These pearl earrings couldn't represent the category better. And, needless to say, we bet that every elegant woman would be beyond happy to have such a delicate accessory in her jewelry organizer.
Huggies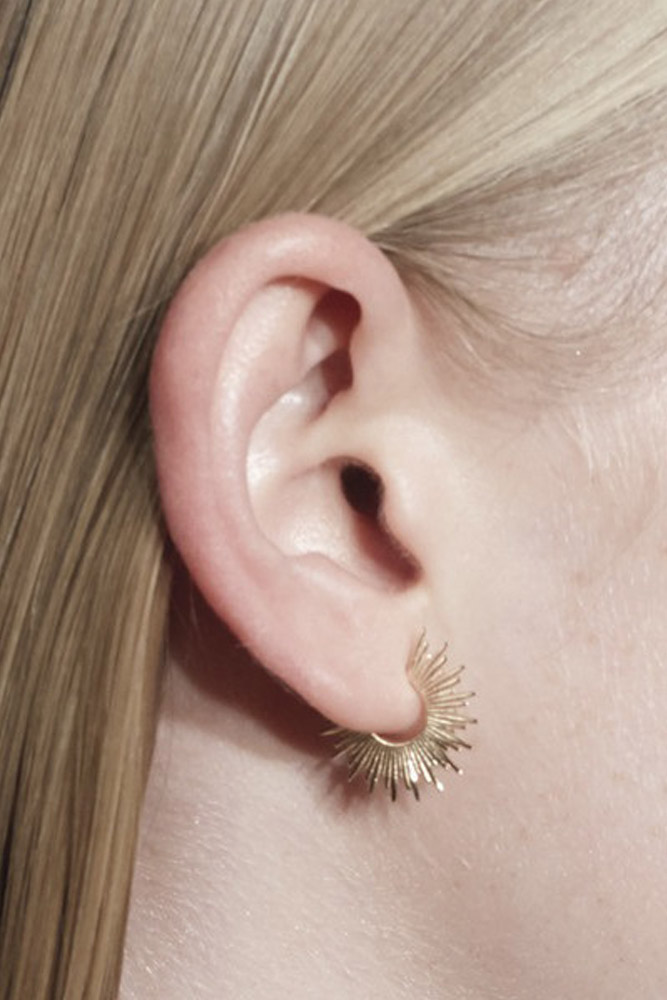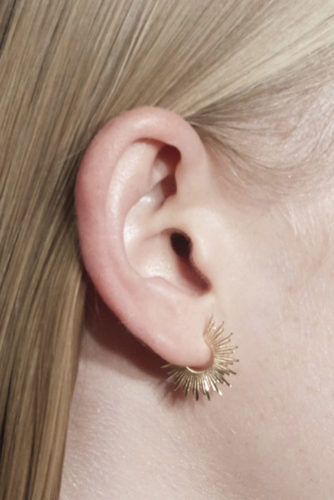 Source: sarahandsebastian via Instagram
We know that not all of you are the equal fans of large earrings that is why we suggest huggies to your attention. You can easily say that they remind hoops, and that would be true. What makes this type different is that they are usually smaller in size and the sort of hug the ear, leaving almost no space free between the earring and the ear lobe. The most precise comparison would be to compare huggies with usual rings you wear on your fingers.
Tear Drop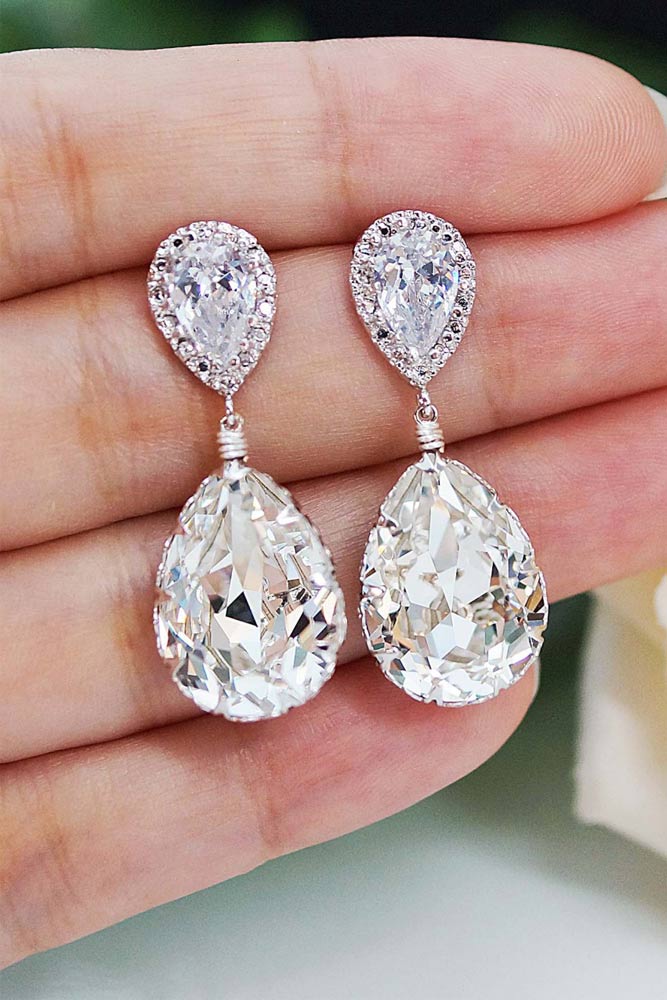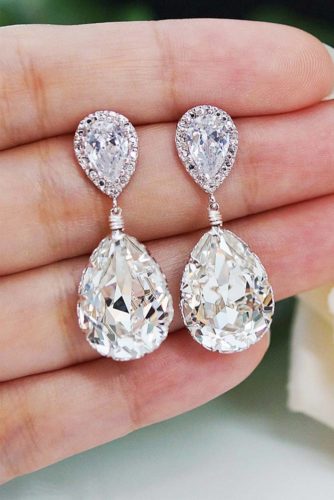 Source: earringsnation via Instagram
Tear drop earring is the simplest to differentiate from all the other types. The fact is that the shape that the earring comes in is always tear-shaped. It does not matter how many elements the earring has, they will be all shaped the same though being different in size. Besides, such an earring is supposed to drop down in the vast number of cases.
Ear Cuffs
Source: aniepopainie via Instagram
Some people falsely assume that ear cuffs are something that the modern era has brought into fashion. However, when you look through history starting with thousands of years ago women wore these earrings, and there are many drawings supporting the notion. Nevertheless, it is safe to say that recent fashion ignited the spark of interest to these statement earrings once again. The ear cuff is the type of earring that goes up the outer ear curve. The length may differ, but the outline remains. In the majority of cases the ear cuffs connect to the ear in few places. Since it is the statement earring very often cuffs are heavily encrusted with all sorts of stones and other decorative details.
Levers Back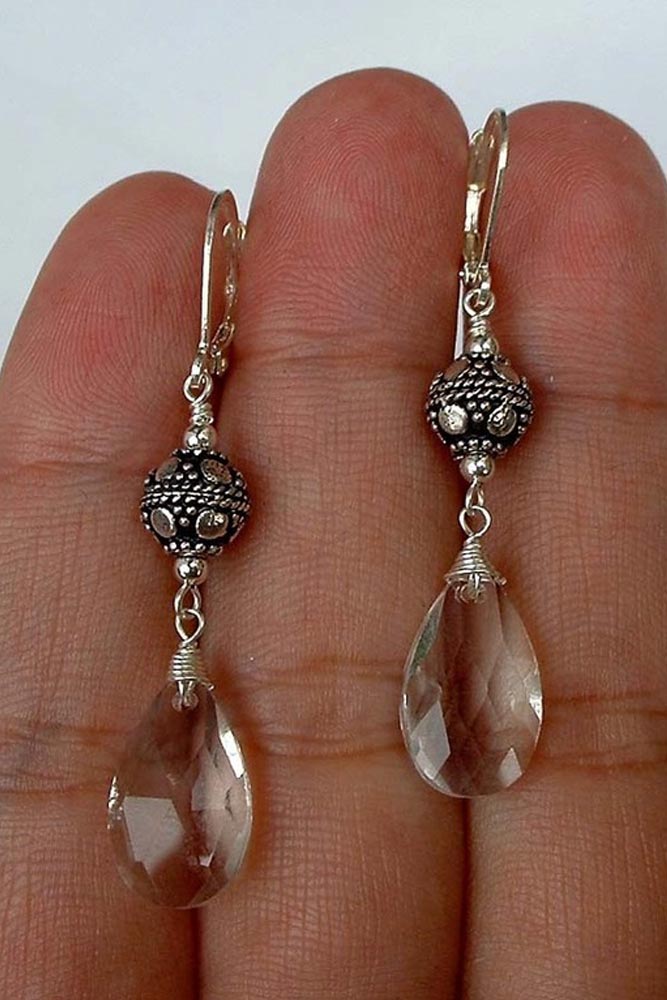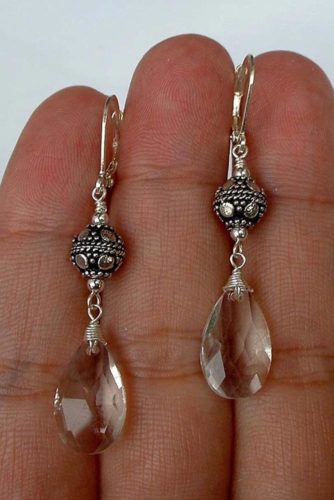 Source: designtheoryjewelry via Instagram
If you are looking for one of the most secure earrings types, we say that lever back must be it. If you wonder what a lever is the closest to that would be the fish hook. The thing is that such an earring gets into the ear, and the shape it is made is already enough to keep it in place. Yet, the lever backing is what introduces that extra security. If you happen to be one of those who always loses one of her earrings, you need to pay closer attention to this particular type.
Fish Hooks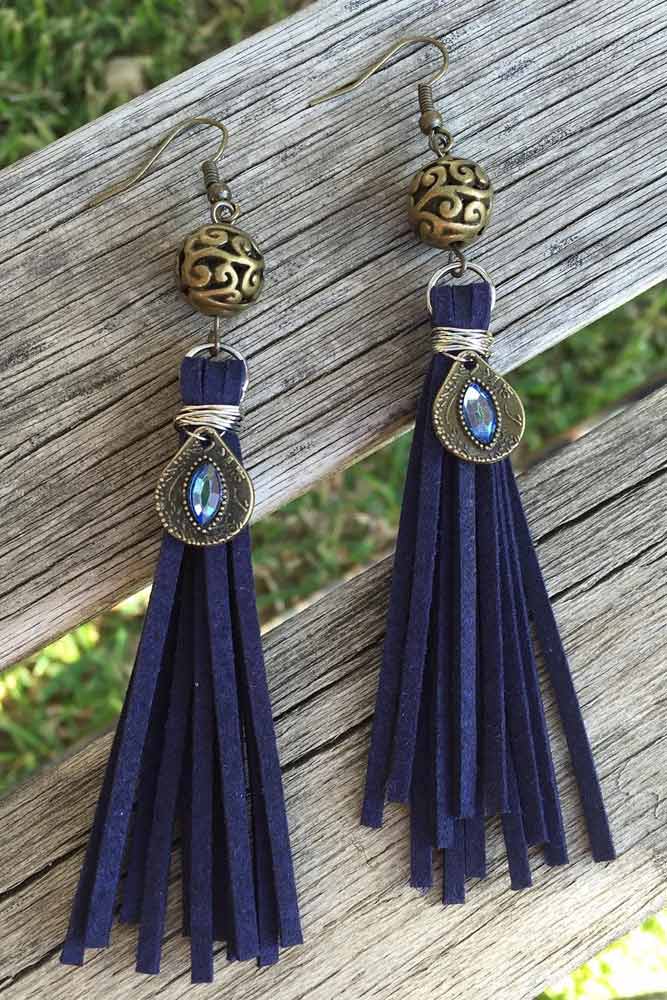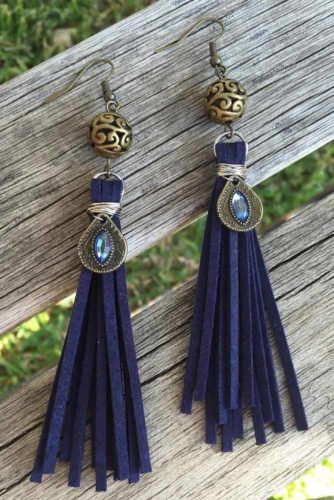 Source: hermosa_cosa via Instagram
Among all the earrings for women, fish hook one is the type with the weirdest name. Well, that is only if you hear it for the first time. The truth is that the earring actually reminds of a fish hook, but that particular shape is what prevents the earring from falling out of your ear. Even though there is no backing at all to this earring you shouldn't worry much as for losing it.
Statement Earrings Designs You'll Love
Bold Colored Tassels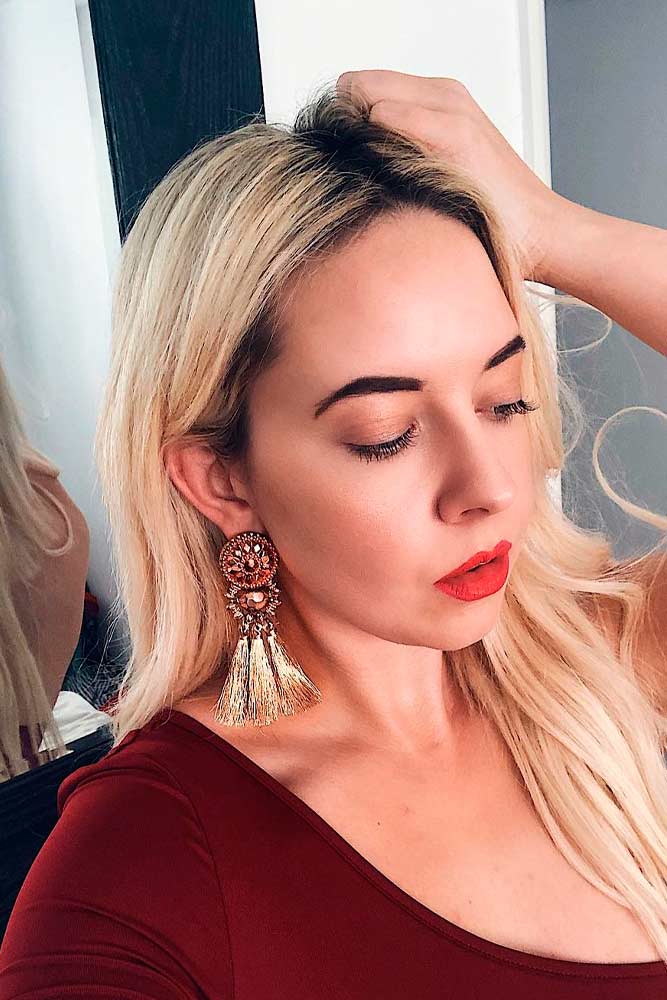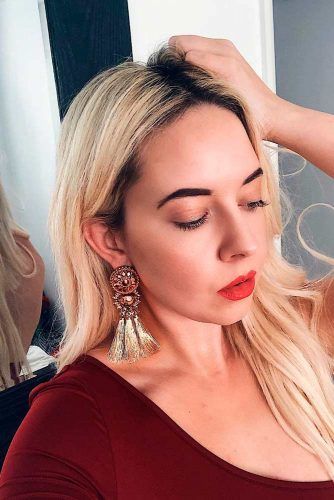 Source: thedarcyanderson via Instagram
Now, let's pay a little attention not so much to the types as to the designs of statement earrings. Colored tassels are very popular these days, and there is no wonder why. The fact is that due to the vibrancy as well as the unique design these earrings will help you make a statement no matter what you are wearing. What is more, if you match the earrings and your look you will reach that level of perfection that many can only dream about!
Graphic Earrings Design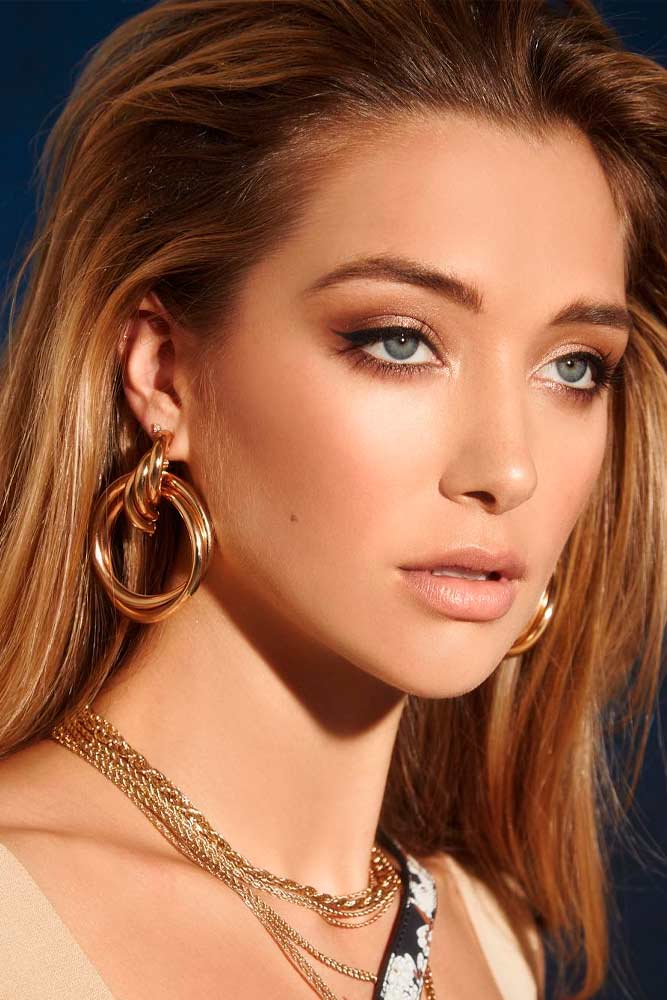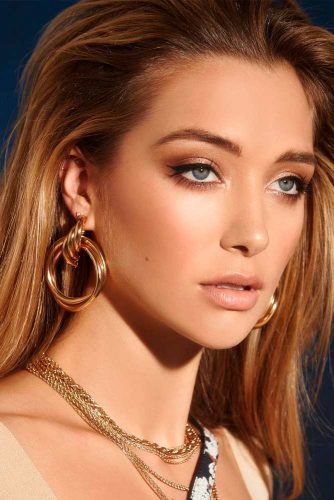 Source: colettebycolettehayman via Instagram
If you ask us, we would say that graphic earrings add that daring vibe to the look. Besides, they do not have to be identical. The fact is that if your statement earrings slightly differ from one another, that will make people look twice to get it. That is how you double the attention you get!
Duster Earrings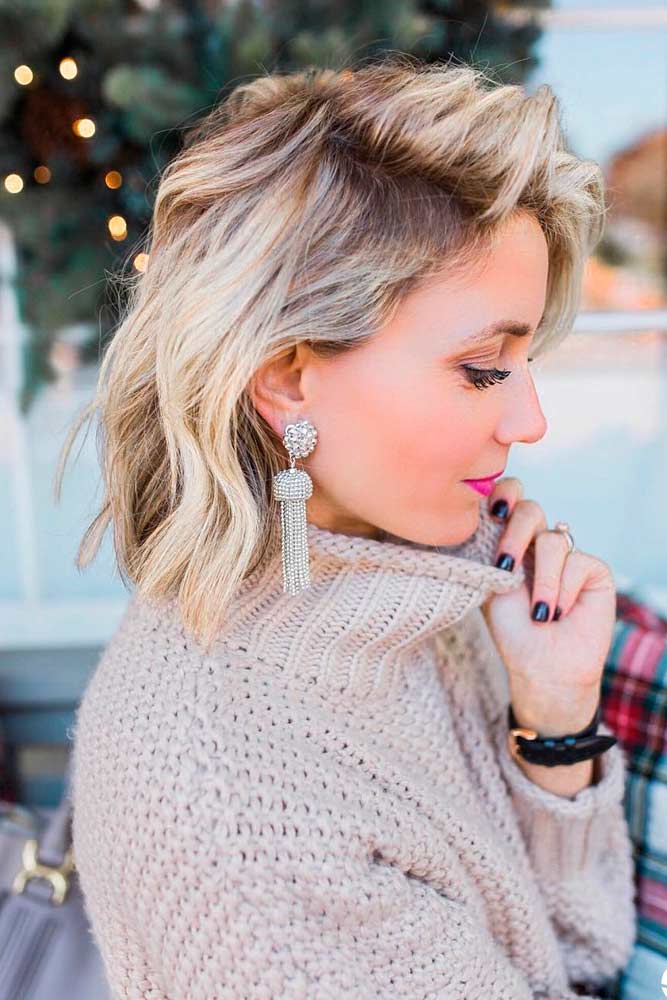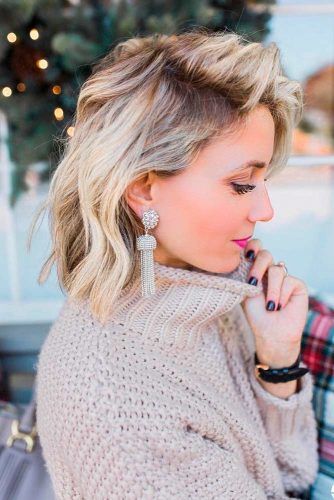 Source: city.peach via Instagram
Duster earrings are beautiful due to several reasons. First of all, they suit everyone, and there is no exception. Besides, the shape of the earrings adds length to the face, and that is significant at times. Lastly, these earrings are all about the drama but also about the gentleness. The way they graze the neck is indescribably beautiful and fragile.
Architectural Design Of Earrings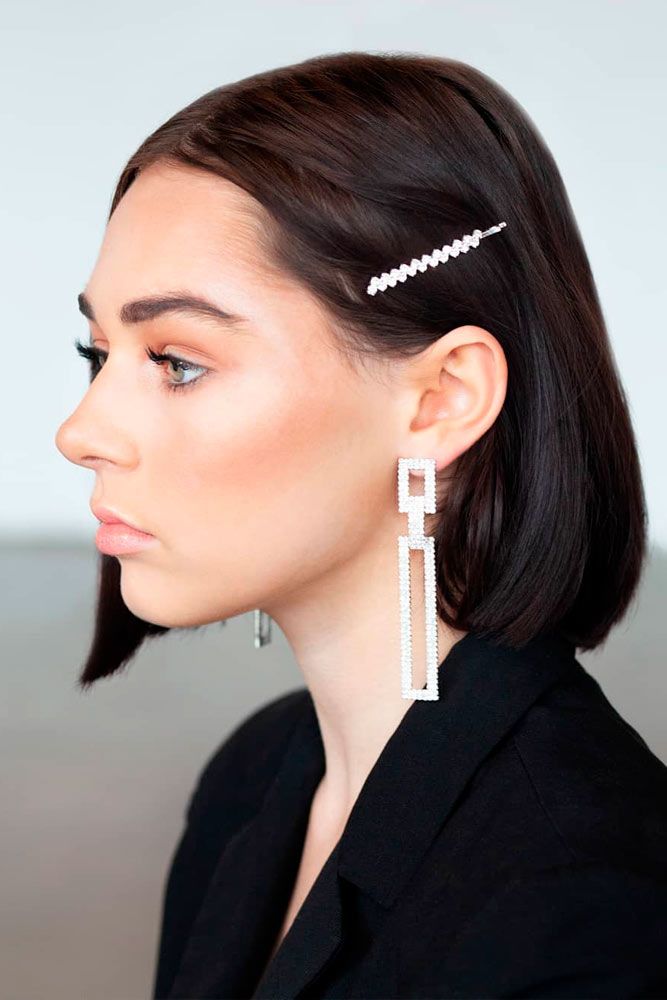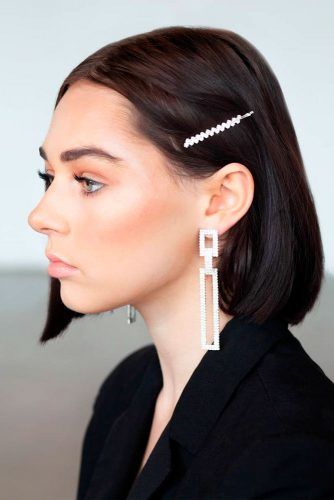 Source: melbournemartini via Instagram
Truth be told that some kinds of statement earrings can't be worn to work on a regular basis since they are too formal of catchy. That is why you need something that can even and balance the look without taking it over the edge. That is when architectural earrings come to the stage. As the name suggests, they usually come in geometrical shapes, and even though they may be encrusted with stones, the balance is preserved. Plus, you can pair them with your favorite hair clips to finish your casual look uniquely.
Sculptural Earrings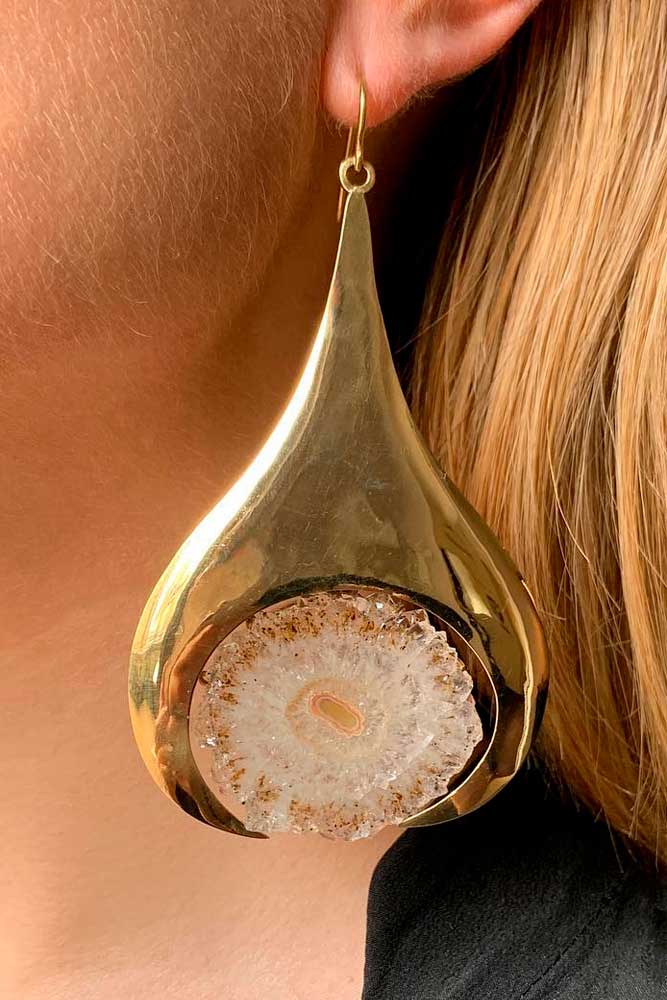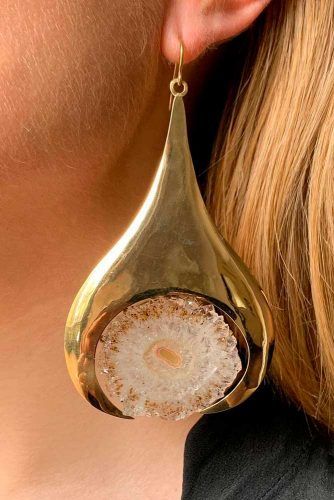 Source: mahnazcollection via Instagram
Sculptural earrings are very often over the edge, unique and large. When you choose such earrings as your statement element you are bound to keep the rest of the outfit simple. Otherwise you will cross that invisible line between stylish and tasteless. One more thing, these earrings are very heavy for the most part, so that you need to wear them carefully.
Bling And Sparkle Earrings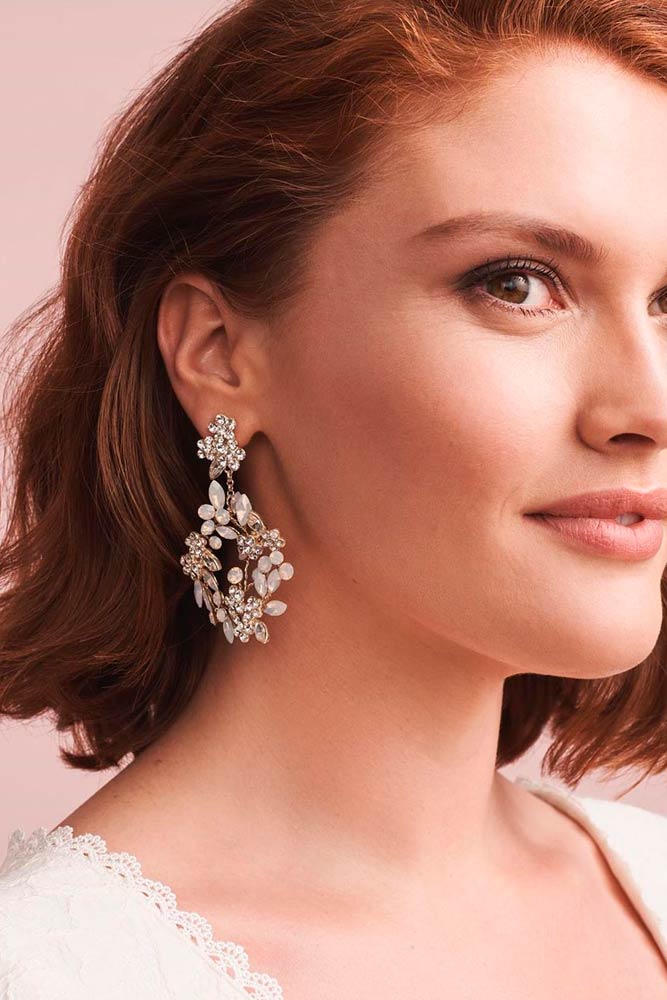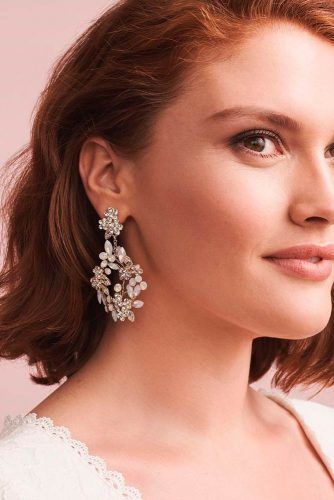 Source: davidsbridal via Instagram
Whether you like it or not, but the notion of cute earrings is perceived by all of us differently. That is why what we are going to say about sparkle earrings is that they are super trendy at the moment. You may say that they used to be on the top of the trends decades ago, but it seems they are having a major come-back once again. So that, if you have a pair of crystal-encrusted earrings lying in your jewelry box, it is time you breathe in new life into them.
Hoops Earrings Design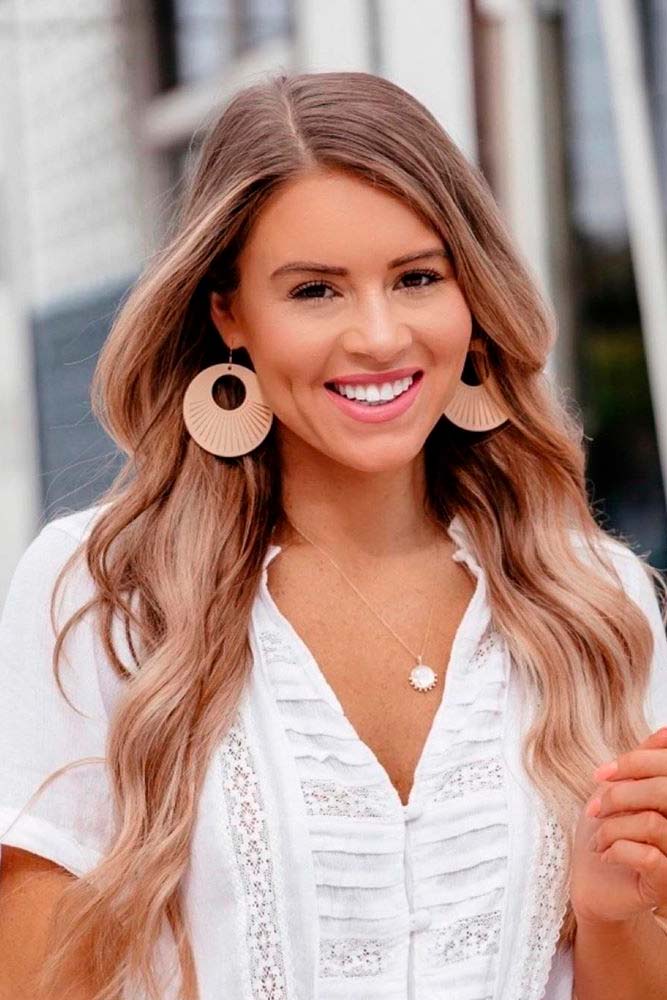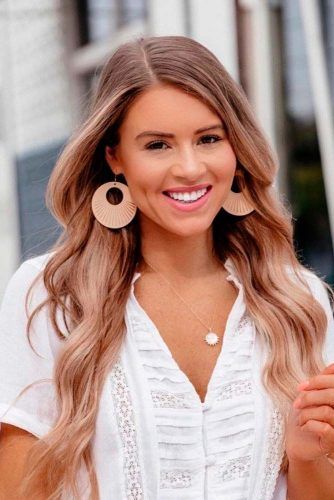 Source: whitswhims via Instagram
You already know the way that hoops work by this time so that all you need is to choose a suitable pair to sport. Judging by the recent runaways it is safe to say that angular hoops, as well as circles, are all the rage these days.