When Halloween is approaching one could choose between various scary Halloween makeup ideas to create the perfect image for oneself for this fun and exciting holiday.
Halloween is the time when every person could become someone else, and choosing a proper Halloween makeup is going to be essential for turning into someone else, be it a skeleton or a zombie nurse.
Green Glitter Skull Halloween Makeup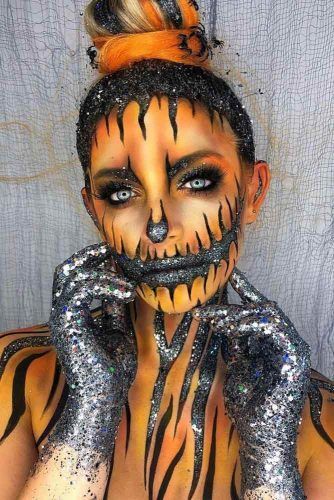 Source: gogetglitter via Instagram
Are you thinking of the combination of something horrifying yet a bit glamorous at the same time? Then paint the skeleton teeth with the black pencil, make your yes black as well and add green glitter to your eyebrows, nose and around the mouth and neck area. Wear an appropriate dress, and here you are – you are horribly beautiful!
Pink and Black/White Broken Face Art for Halloween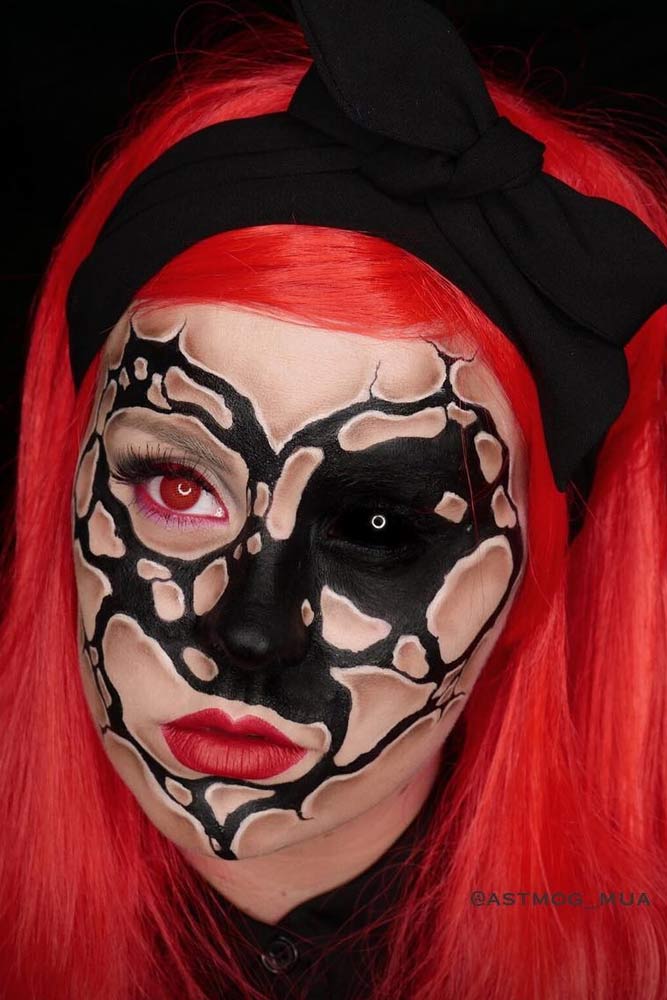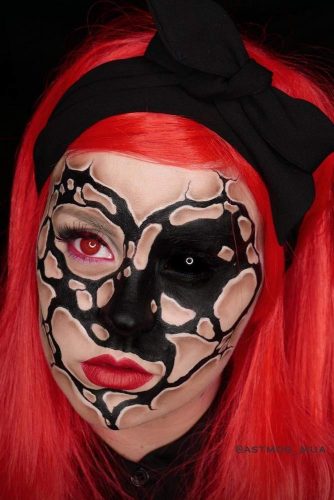 Source: astmog_mua via Instagram
Looking for something creative for Halloween? Ask your artist friend (or do it yourself) to paint the black web on your face. Add some pink color around your eyes and a red lipstick if you want to get that scary yet feminine look.
Flowers And Distressed Skull Makeup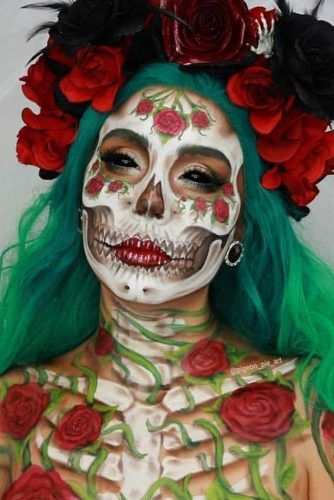 Source: pigeon_pie_art via Instagram
Scull is a very popular look for Halloween. Make it a bit more interesting by either painting flowers on your neck or simply wearing it on your hair. Insert a small skull sculpture into your flowers and you'll achieve a scary and exciting look.
Stitched Doll Makeup Idea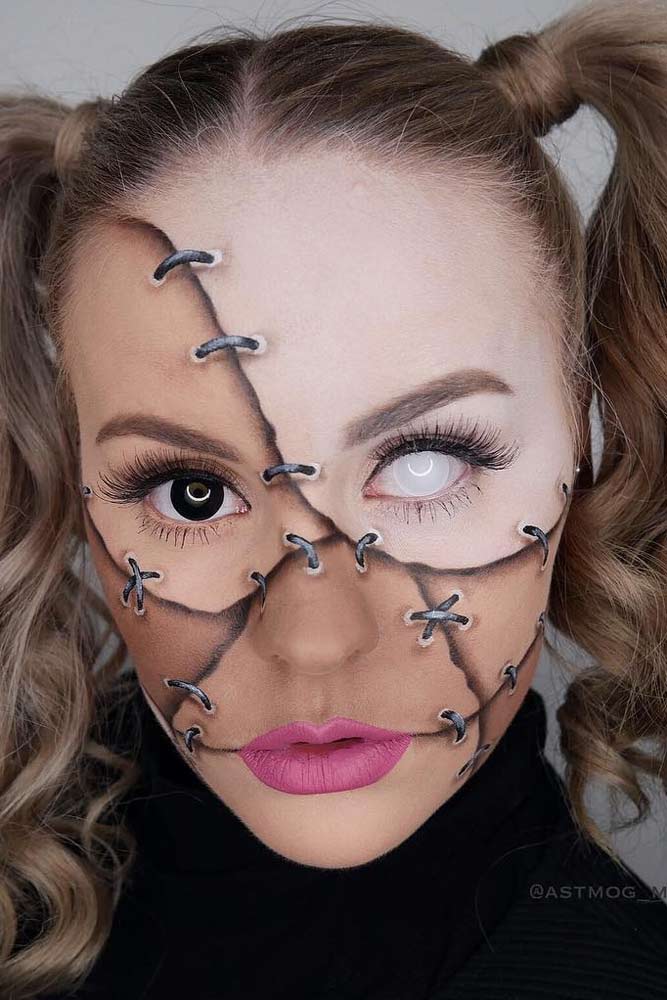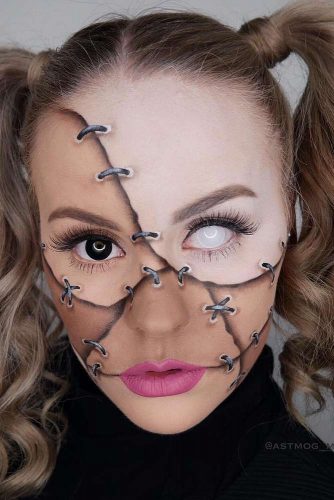 Source: astmog_mua via Instagram
"What's that?" – if you want everyone around you asking that question, – go for a stitched make up idea. It might take some time to achieve such a look, but it's definitely worth the efforts. A proper hairstyle and clothes will add some mystery to the overall image.
Creepy Mermaid Makeup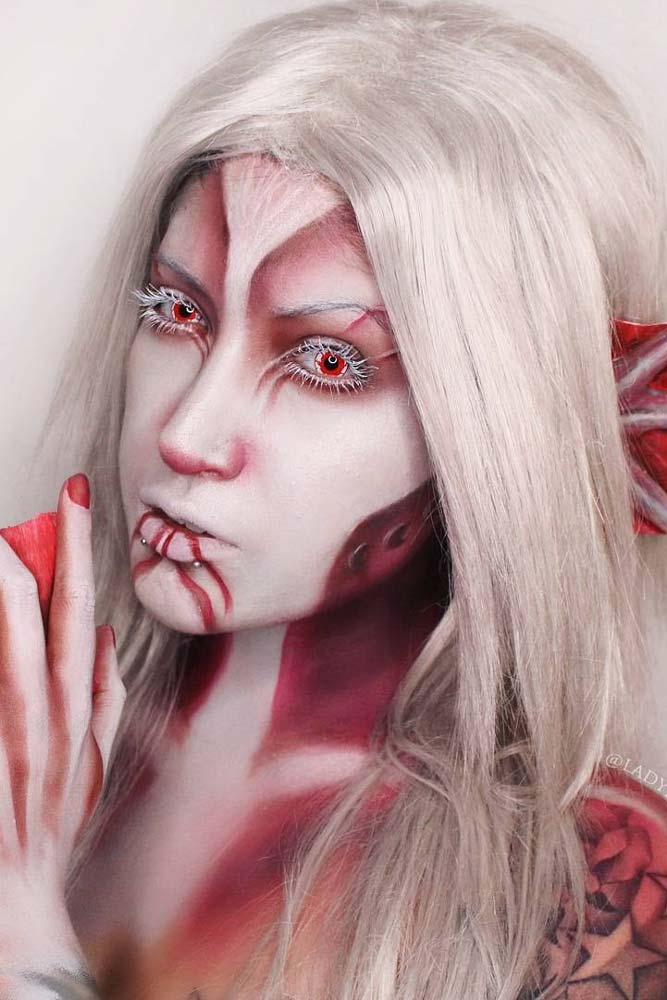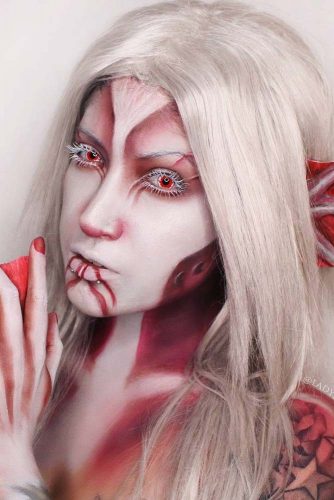 Source: ladyparadoxx via Instagram
Do you love mermaids? One of the scary Halloween makeup ideas is creating a creepy bloody mermaid look. Add lots of red color mixed with white one to achieve that dramatic effect.
Scary Doll Makeup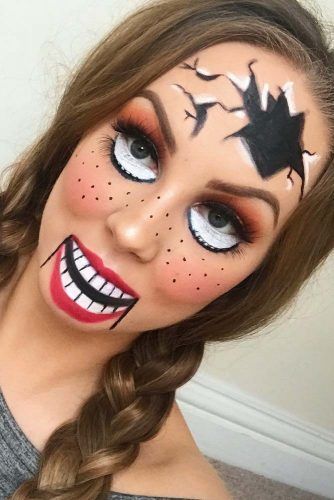 Source: nicolelouisemakeup_ via Instagram
Dolls aren't always pretty, - they can be scary too. To create that scary doll effect, make all your face white while putting lots of black around the eyes. Any lipstick would go well with this makeup. If you opt for a very dramatic effect, create the illusion of a hollow heart and paint some insects there. You could go with butterflies too – it would look a bit less scary though.
Nun Halloween Makeup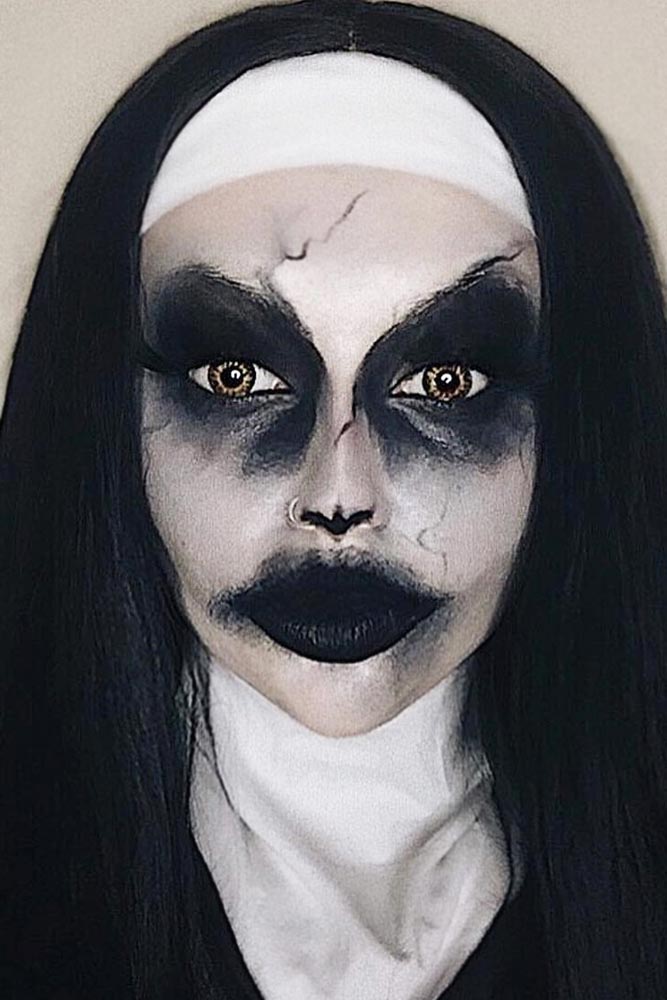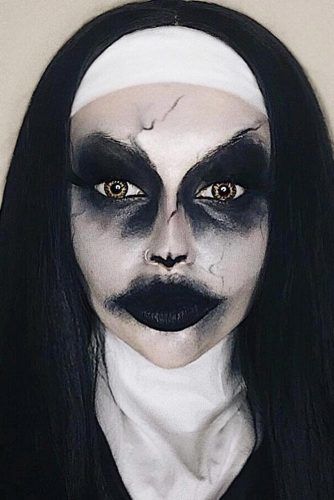 Source: spookylilpeach via Instagram
Scary Vampire Makeup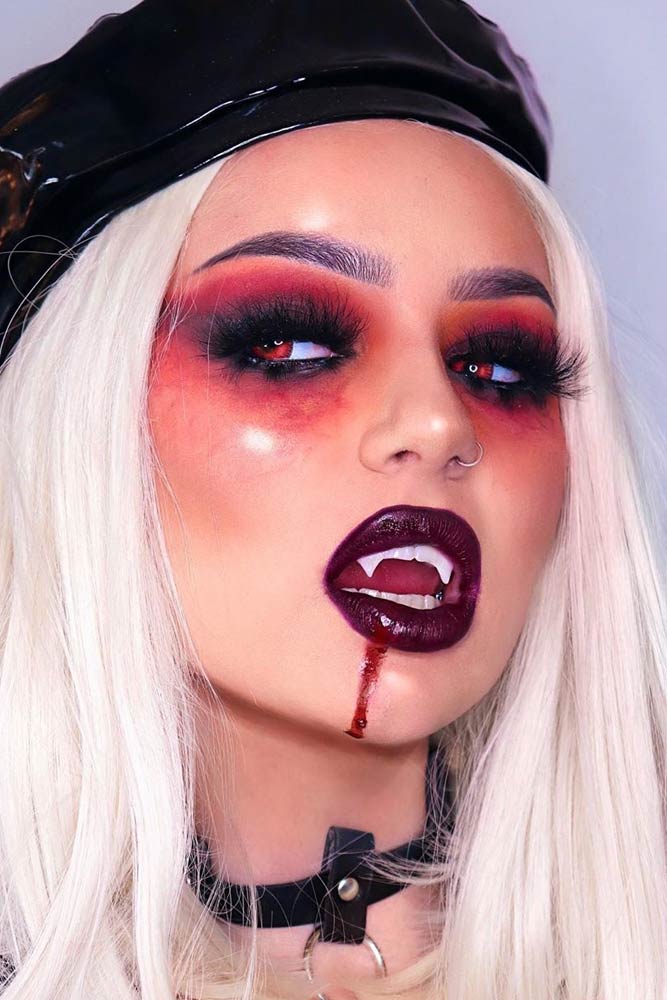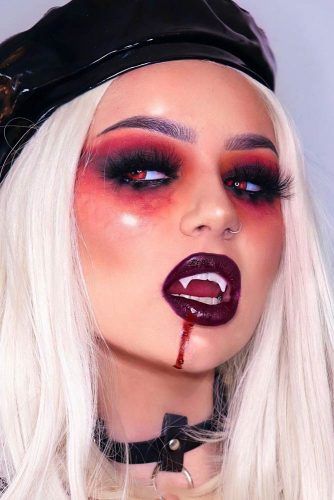 Source: sarinanexie via Instagram
Joker Scary Makeup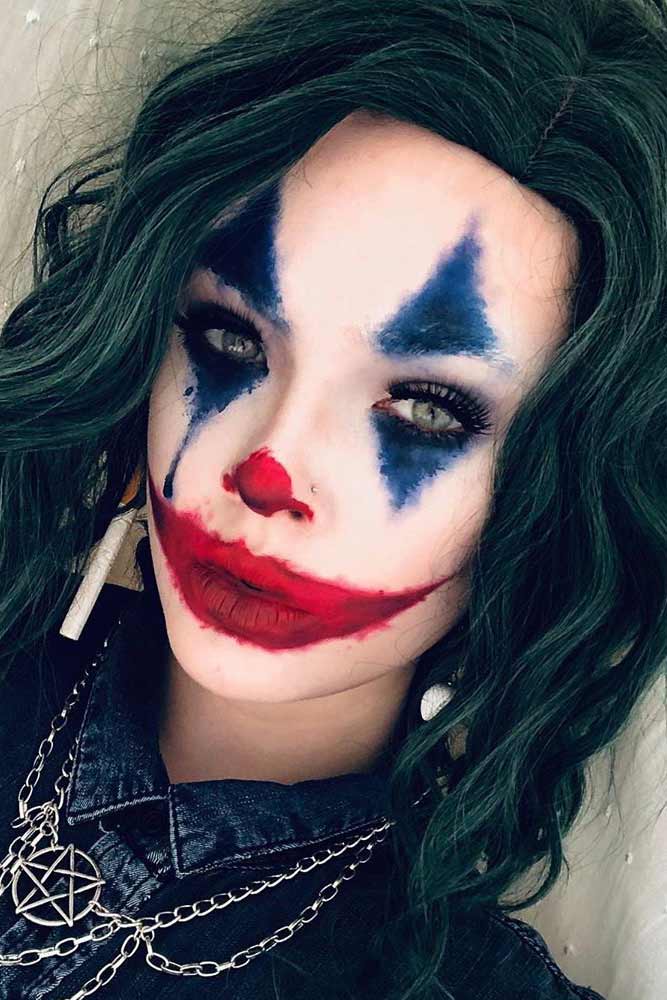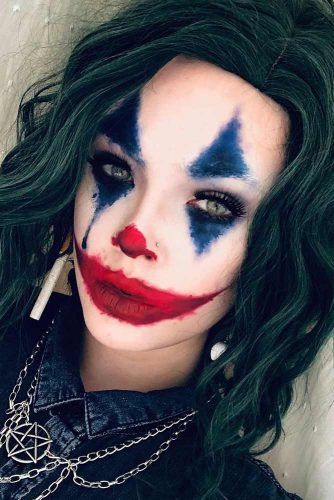 Source: xknifeplay via Instagram
Bloody Scary Makeup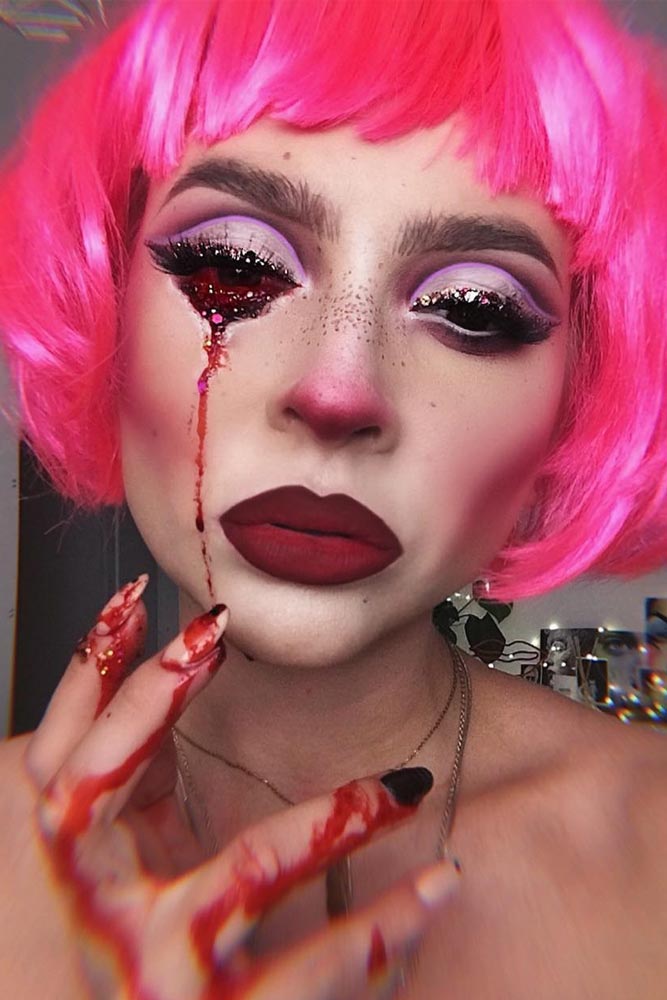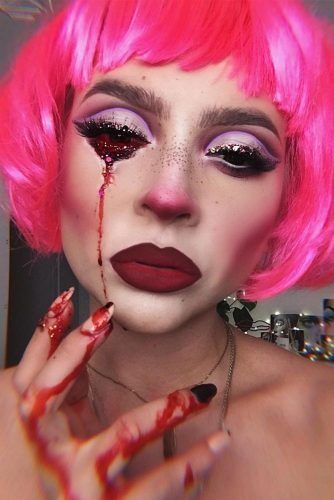 Source: giamariewaits via Instagram
Bride Of Frankenstein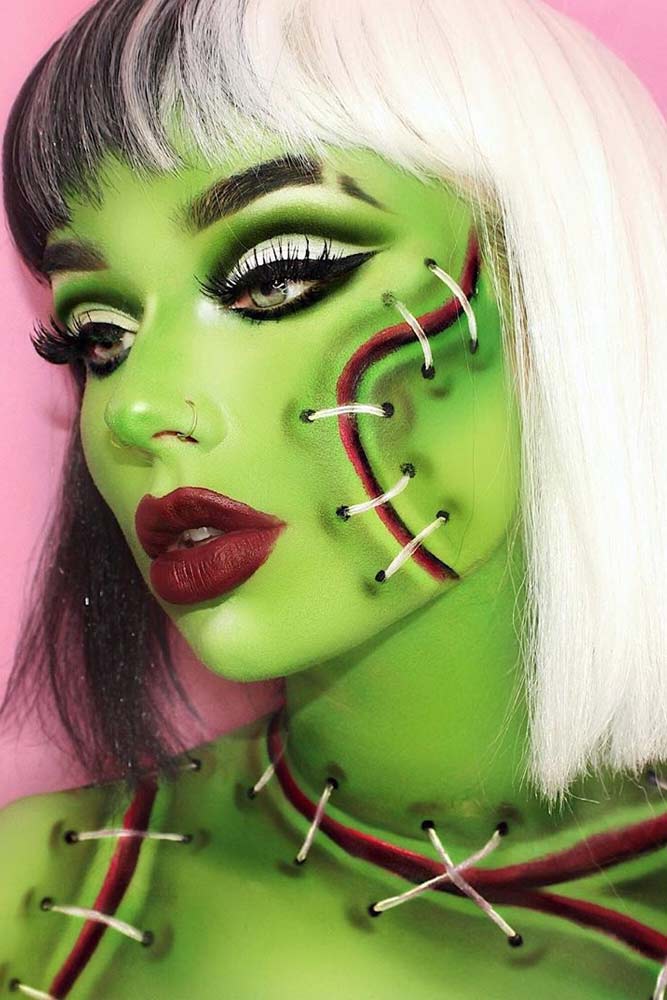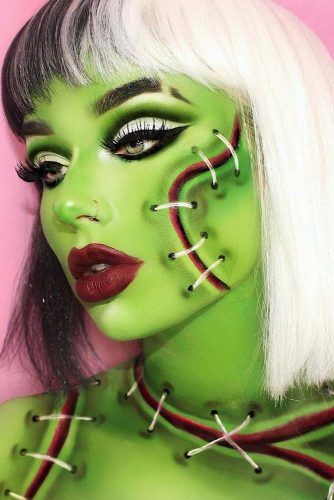 Source: typical_white_girl_sfx via Instagram
Zombie Girl Halloween Makeup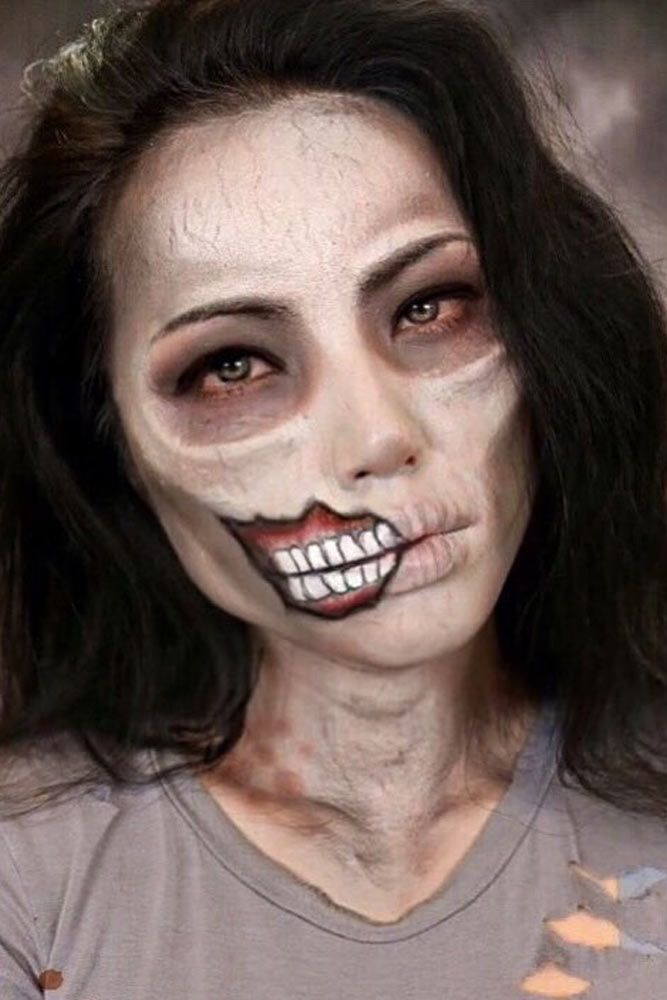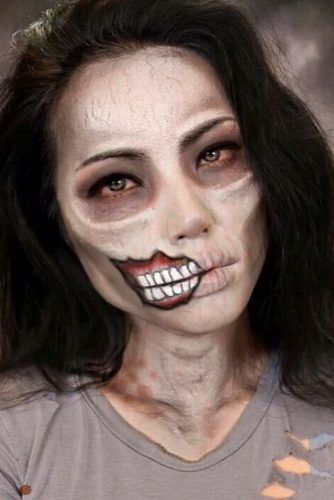 Source: promisetamang via Instagram
Comic Halloween Makeup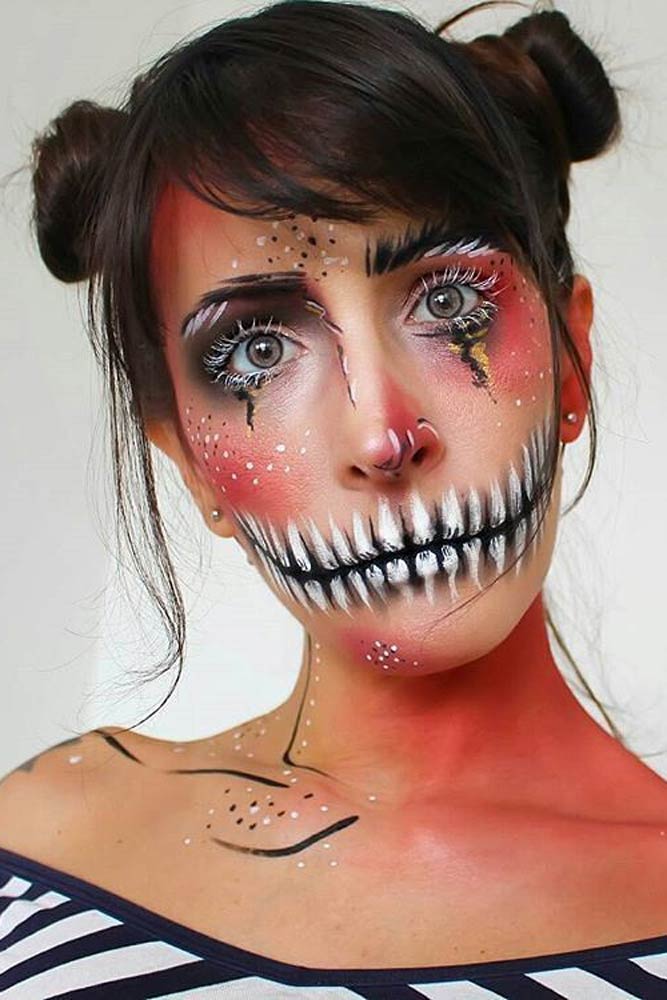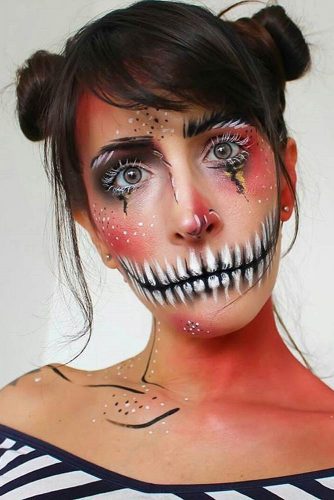 Source: _niu__ via Instagram
The skeleton teeth always look pretty scary. For a more impressive effect, you could paint the tears or lightning near your eyes. You could also experiment with the colors, - add some pink, yellow or white.
Magic Flowers Painting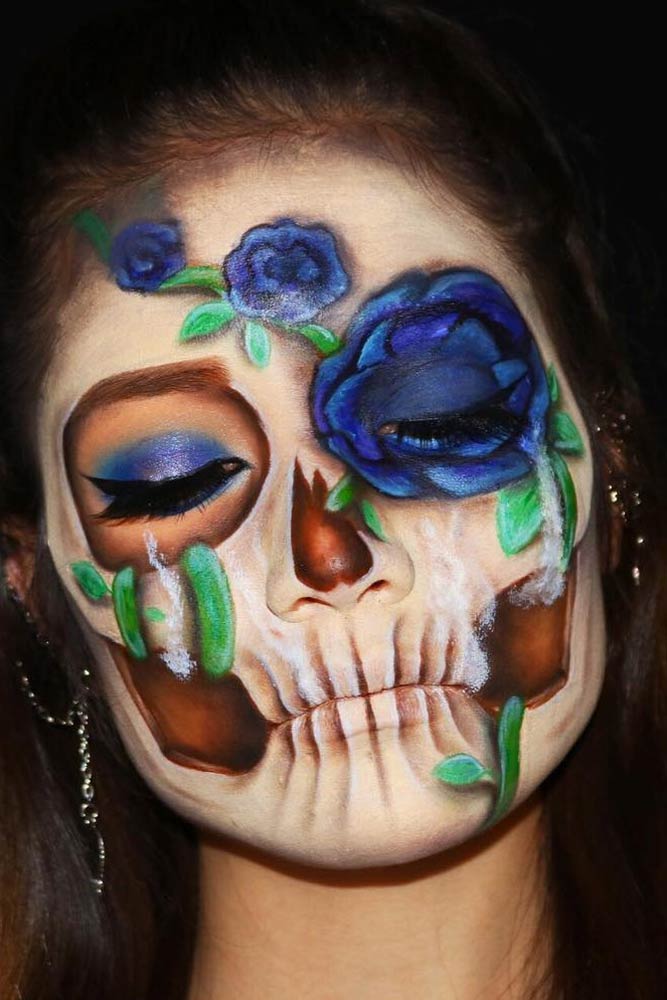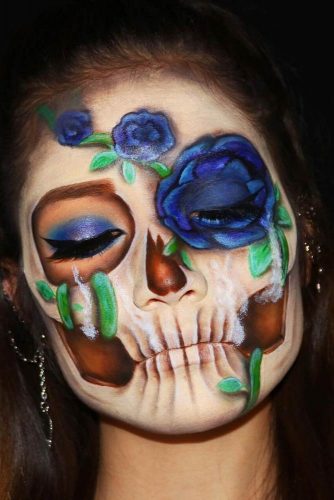 Source: nikki.paint via Instagram
Create the magic flowers you've seen in your dreams on your face, - and all of your friends will be greatly impressed. Use all the variety of colors, - magic flowers can be grey or black or blue. Add some leaves and make your face look as if you were coming from the Hade's kingdom.
Greed Skeleton Halloween Makeup Idea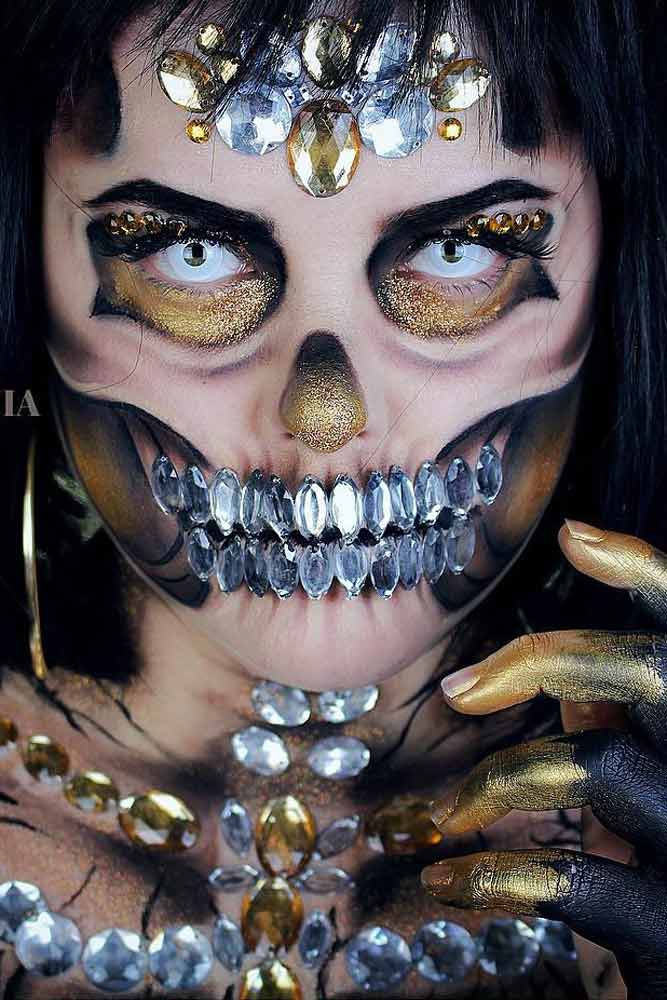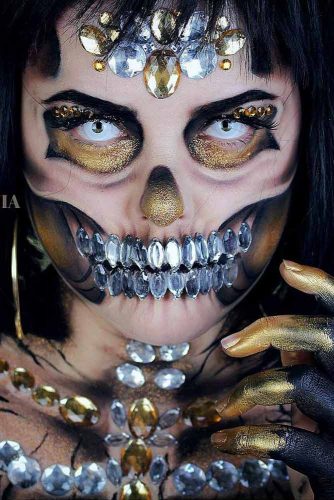 Source: lauramaquia via Instagram
If you are looking for the unique combination of skeleton and robot, this makeup idea would serve you the best. With the help of silver and gold metal chains, combination of goldish and black tones for the makeup, you'll look like no one else.
Easy Makeup Look for Halloween Night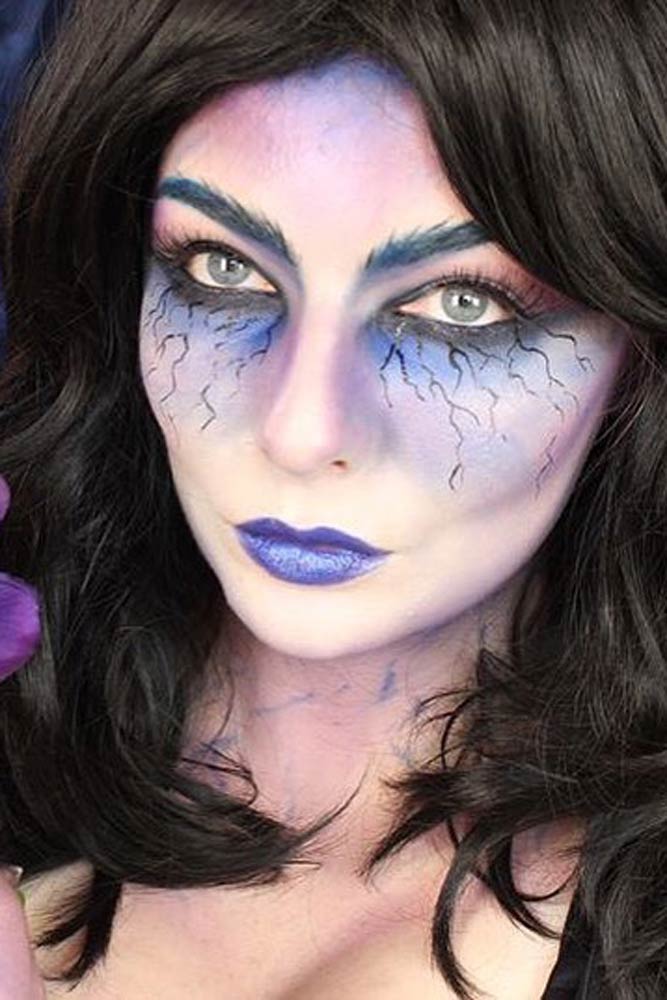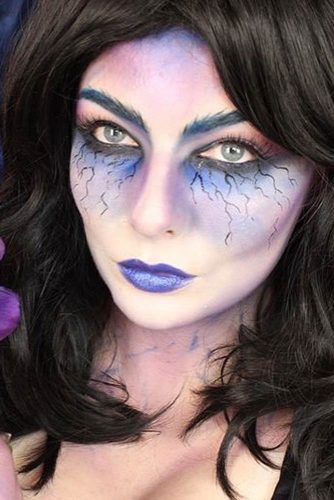 Source: bethanyfae via Instagram
If you are short of time for a sophisticated Halloween makeup, simply paint some lines in the form of a tree root or lightning coming from your eyes. Add unusual lipstick color, like a blue one, wear an appropriate dress, and you are ready for a Halloween party.
Bloody Red Riding Hood Makeup Idea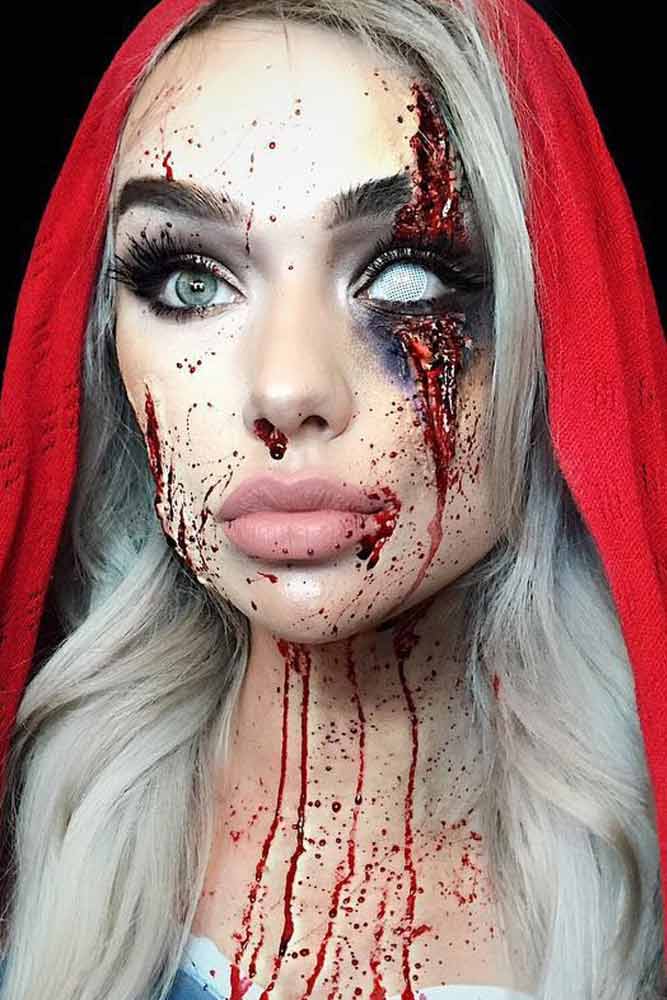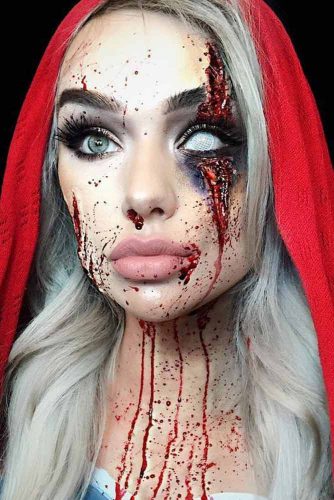 Source: typical_white_girl_sfx via Instagram
Red Riding Hood is a character that everyone is familiar with. However, we suggest to your attention a completely new interpretation of the image. With such a makeup, you will be the center of attention no matter where you go!
Creepy Black Queen Makeup Look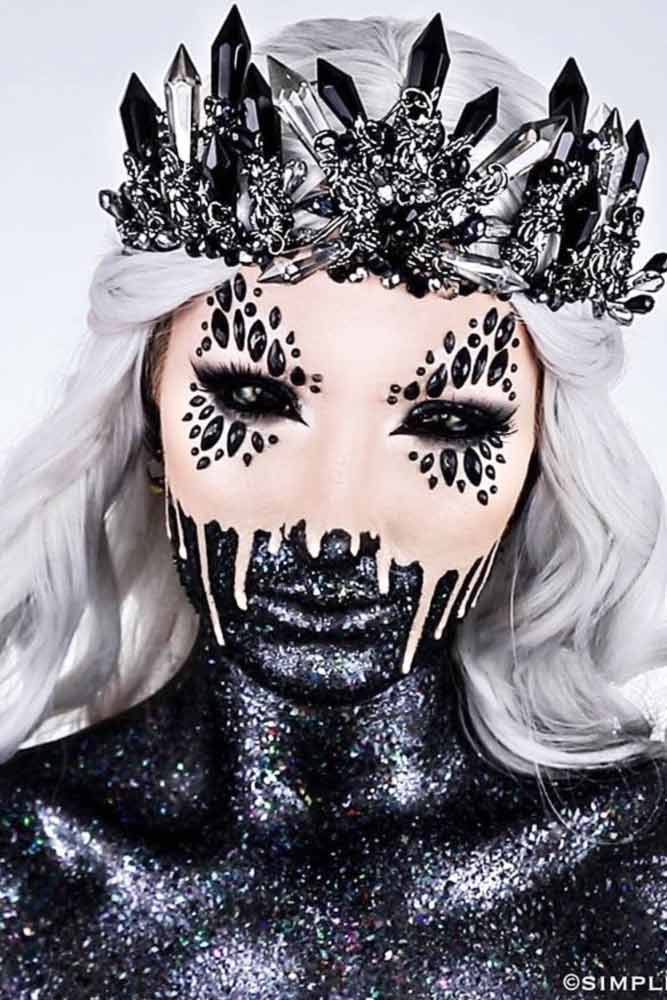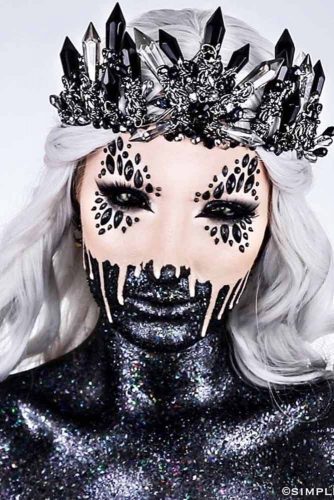 Source: simple.symphony via Instagram
Every girl dreams about becoming a princess, but we know how to take the matter further. A real black queen is a fitting image for those of you who like to rule and stand out! Try it out, and it will be Halloween to remember!
Dorian Gray Creepy Makeup Idea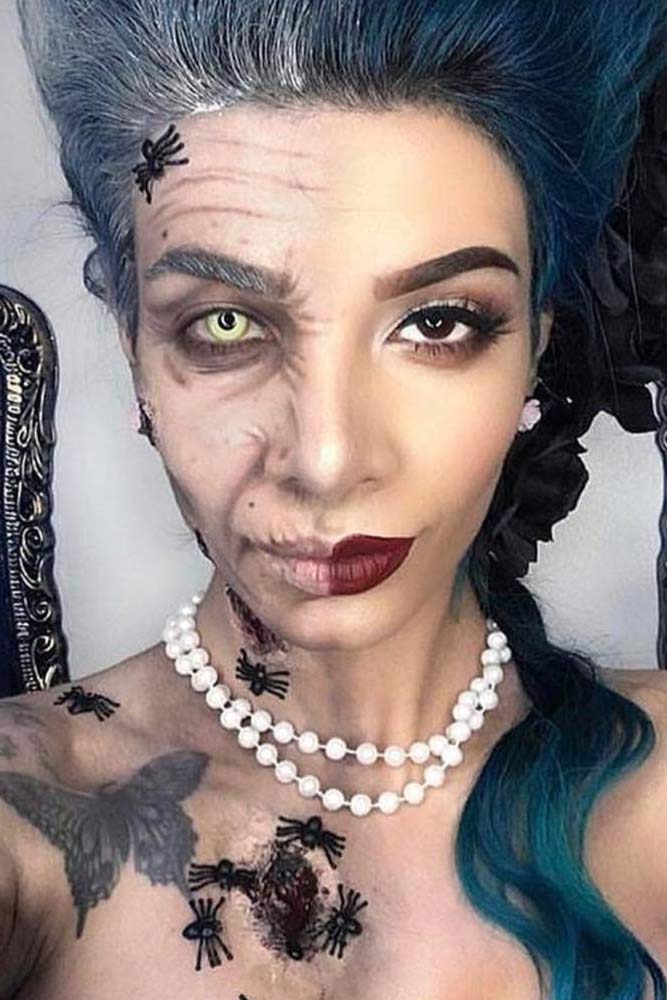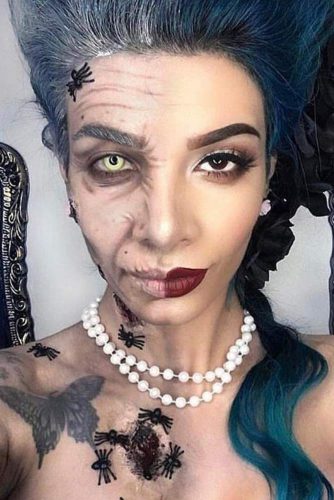 Source: lilmoonchildd via Instagram
We all know the story of Dorian Gray but rarely do we think of putting it back to life, don't we? That is why we suggest to your attention this horrifyingly beautiful look to try out and replicate.
Twisted Nurse Makeup Idea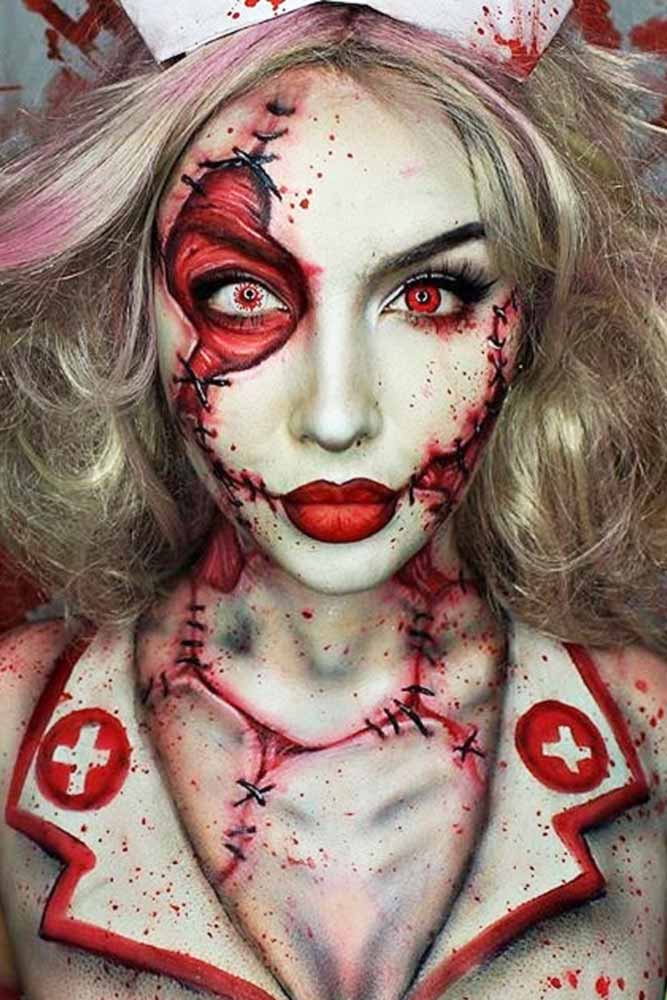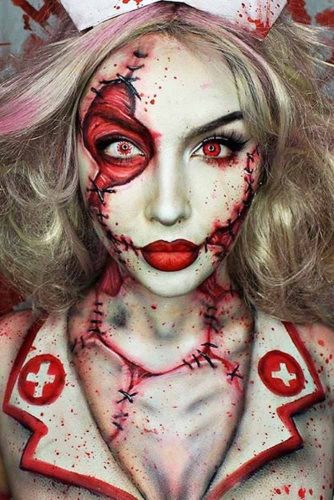 Source: ellie35x via Instagram
Most of us think that nurses are good, and sassy nurses are most commonly used as an inspirational image when the Halloween season is coming. However, our version of a nurse image is totally twisted and scary – are you sure, you will be able to deal with this share of terror?
Demon And Pumpkin Makeup Idea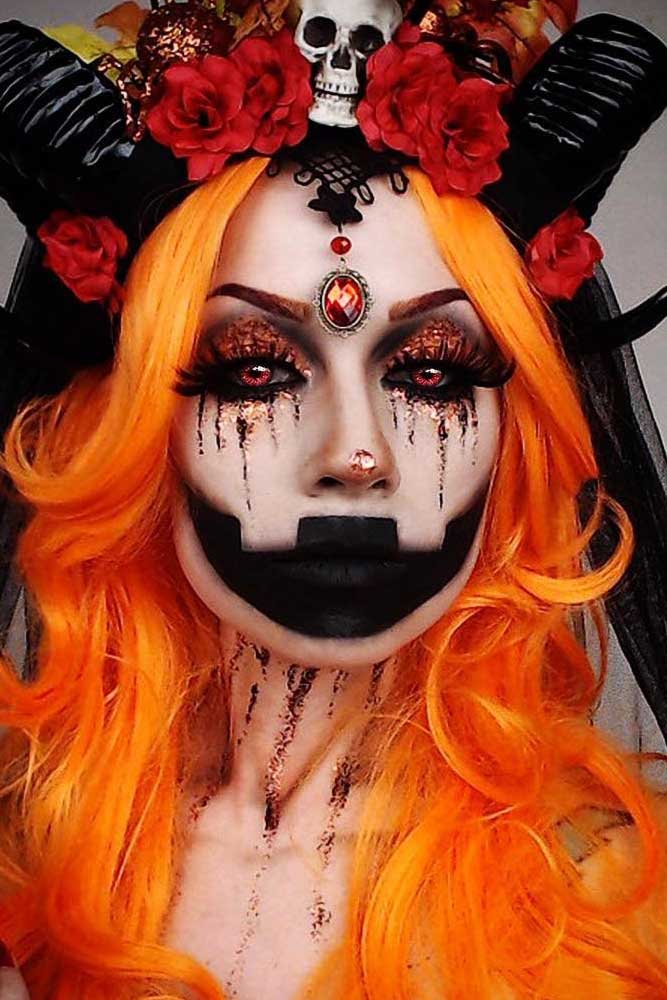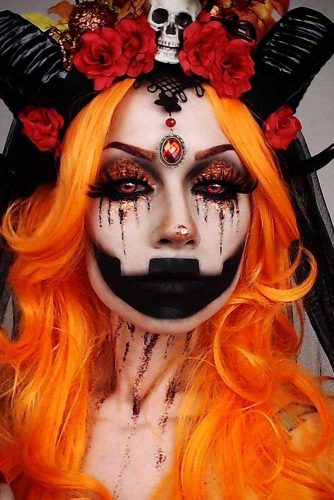 Source: thetrashmask via Instagram
Demons and pumpkins are the usual attributes of Halloween that is why combining the two to create a party image is a worthy idea. In case you are interested in an outcome – see for yourself!
Bloody Clown Makeup Art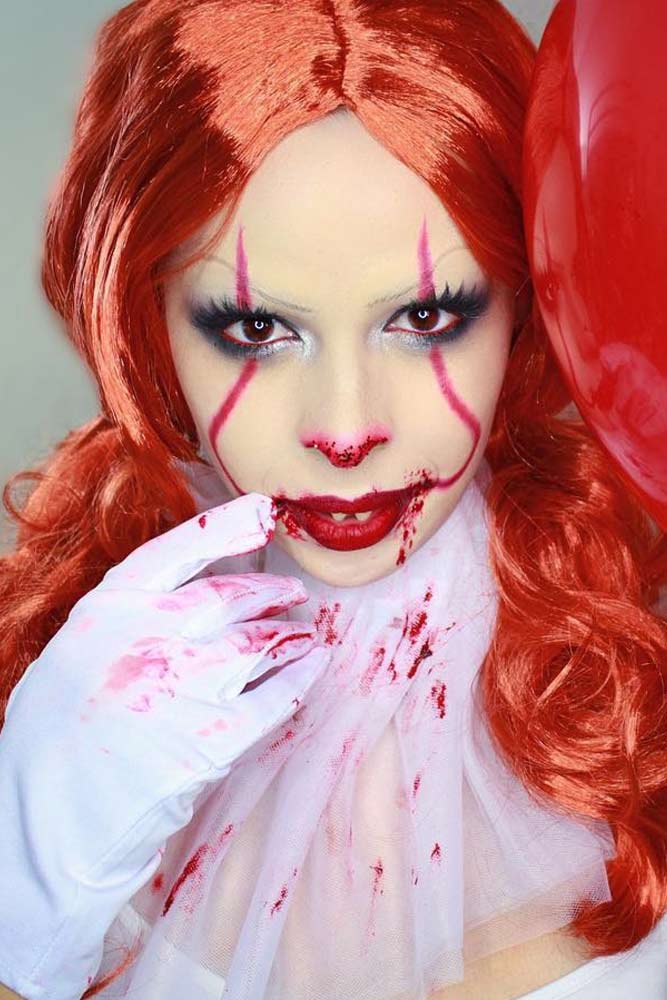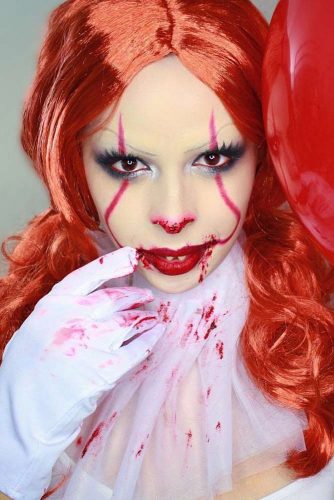 Source: modelkrystala via Instagram
Clowns are scary. Do not trust us? Just have a look at this bloody clown makeup, and we are sure that you will reconsider your attitude to them. However, with such a makeup you will rule the party, that is for sure!
Galaxy UFO Halloween Makeup Idea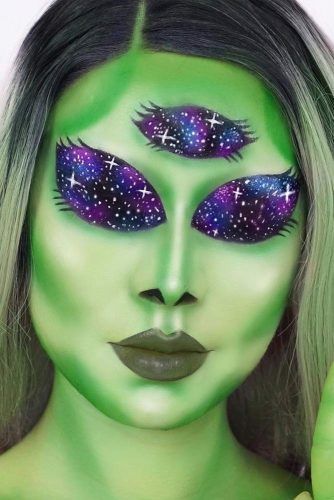 Source: jessamarie37 via Instagram
Tired of regular Halloween monster makeup ideas? We have something unique in store! How about granting yourself unusual alien galaxy makeup? It may take you some time to succeed with it, but the result will be worth the effort.
3D Venom Halloween Makeup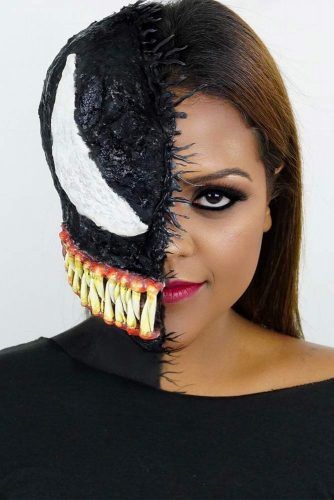 Source: aninha via Instagram
If you are a dedicated commix fan, then you should better pull off your favorite character look. How about the unbelievable Venom 3D image?
Black And Gold Demon Makeup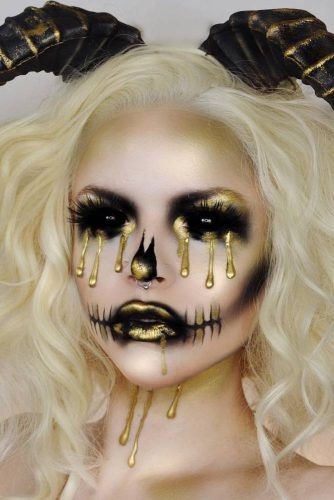 Source: kimberleymargarita_ via Instagram
Very often, we imagine demon as someone over the edge scary. What about a sassy demoness look? It is still bitsy horrifying but also hot as hell!
Zombie Halloween Makeup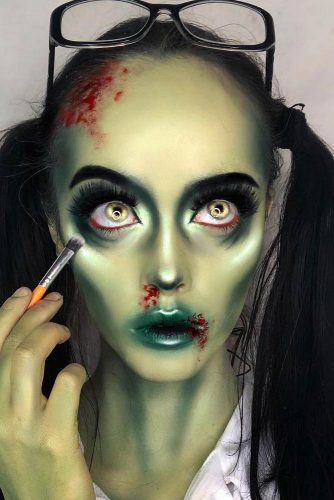 Source: artbeautychaos via Instagram
Zombies are always trending, that is why if you do not want to step away from the tradition, you can try this cute undead schoolgirl look.
Mother Of Dragons Makeup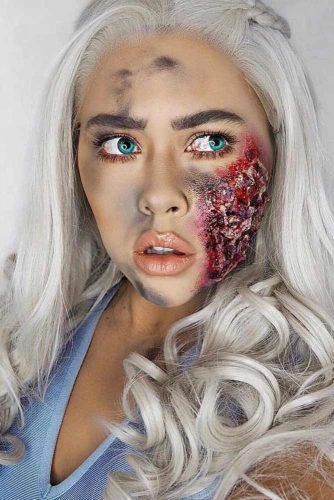 Source: scarlettmakeupartist via Instagram
Incredible Khaleesi, beloved Mother of Dragons is the hottest trend there is! Don't hesitate to replicate the look before your girlfriends do!
Mosquito 3D Makeup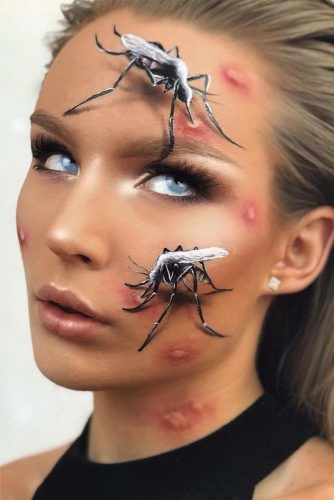 Source: melllani_ via Instagram
You do not need scary makeup to spread the terror anywhere you go. No, all you need is a scare 3D bugs all over your face. As simple as that!
Scary Voodoo Halloween Makeup
Source: ssssamanthaa via Instagram
Being a pretty doll on a regular basis is nice, but Halloween demands a sacrifice. Not an actual one, but makeup-wise. The voodoo doll look will suit the occasion like nothing else!
Creepy Fortune Teller Halloween Makeup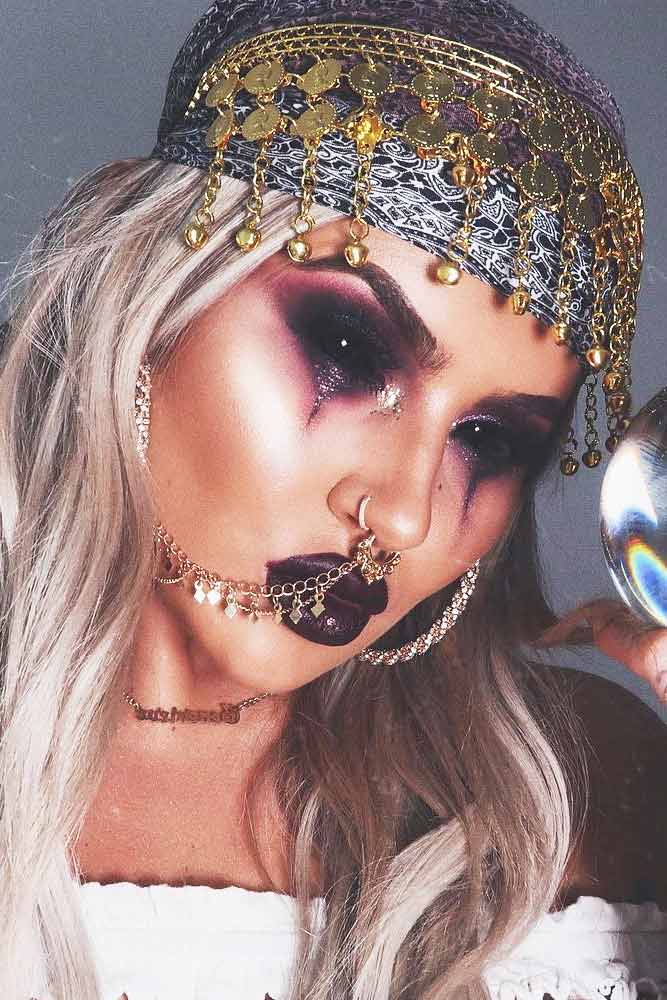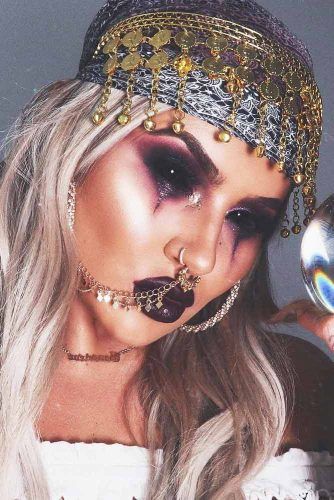 There is always something creepy about fortune tellers, don't you think? They usually know something that you don't. If you wish to scare your friends on Halloween, but you want to look sassy at the same time – the fortune teller makeup with a darker twist to it will do.
Source: jamiegenevieve via Instagram
Evil Mermaid Halloween Makeup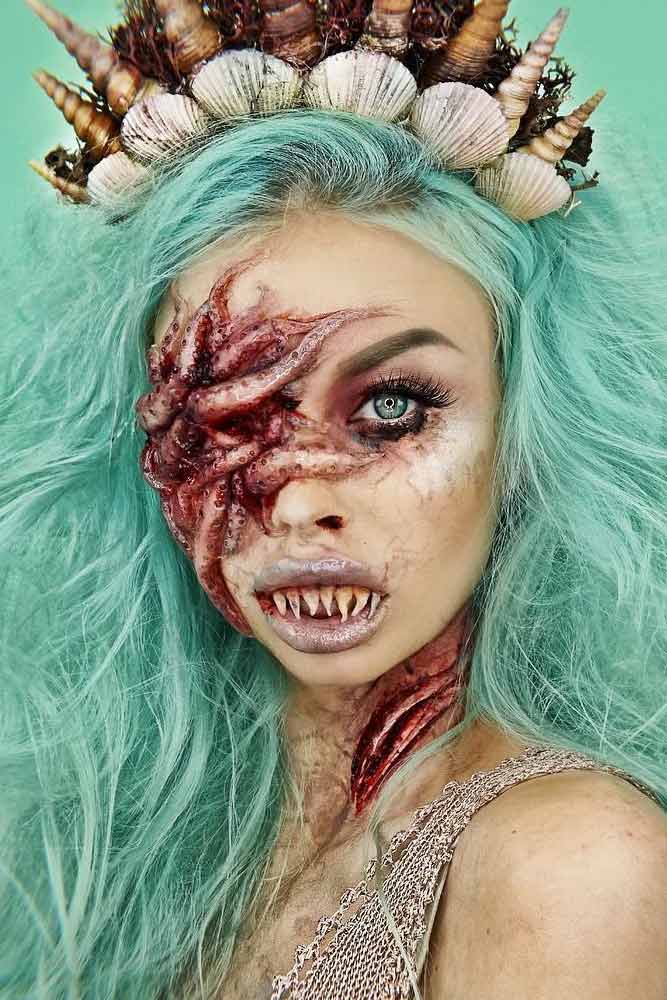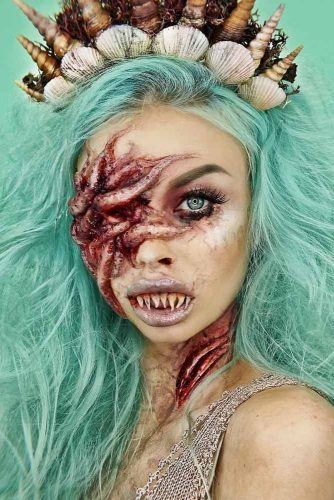 Source: maureennaudts via Instagram
Mermaids are fantasy creatures that everyone is in love with. Mostly, they are good-looking and kind, but how about those who have been corrupted by evil? Such makeup requires some skill and effort, but the result will be worth it!
3D Cuts Halloween Makeup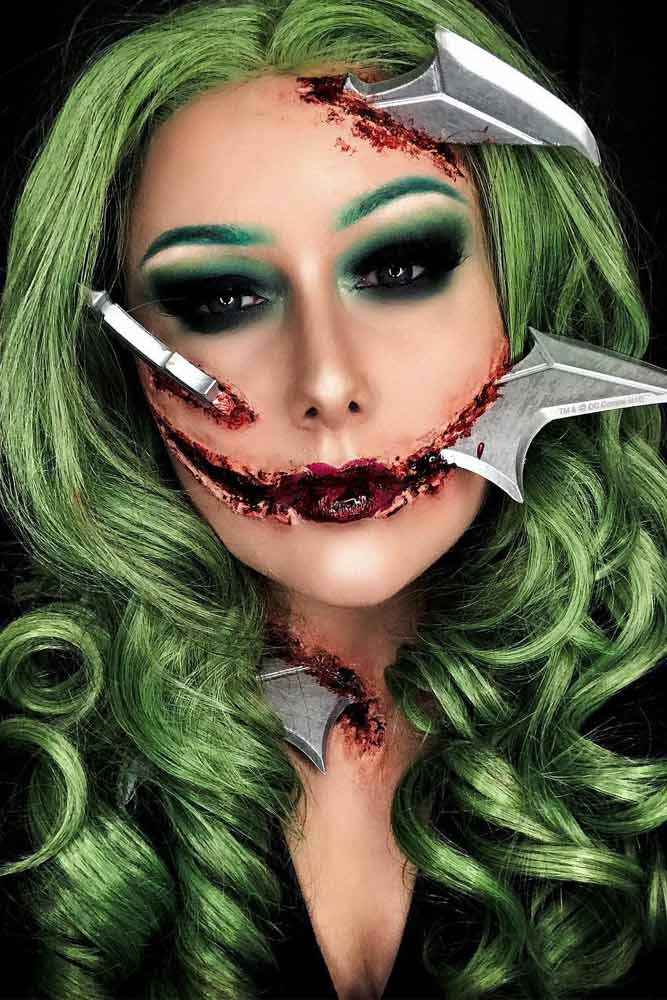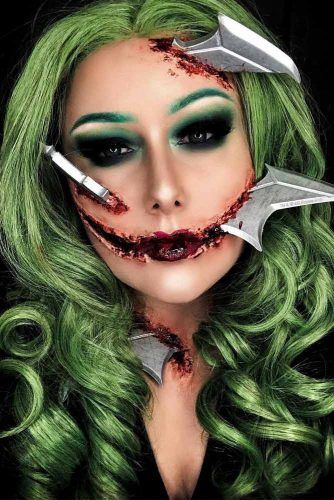 Source: danamarieartistry via Instagram
Those of you who are willing to go as far as to come up with a real 3D makeup for Halloween, we have a creepy idea in mind. These 3D cuts will make many shudder with fear just from one glance.
Scary Devil Halloween Makeup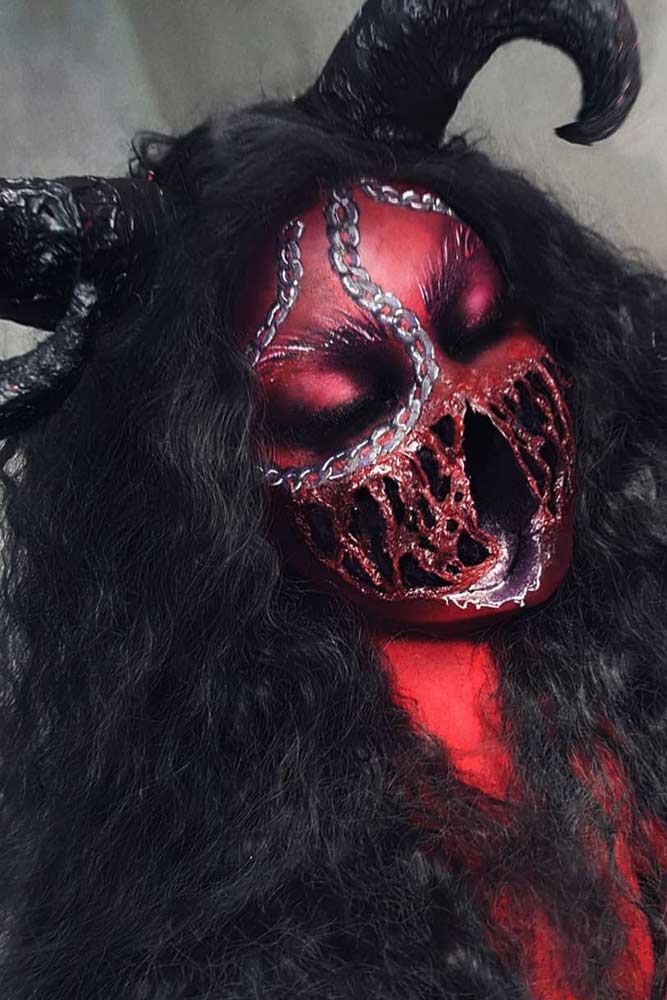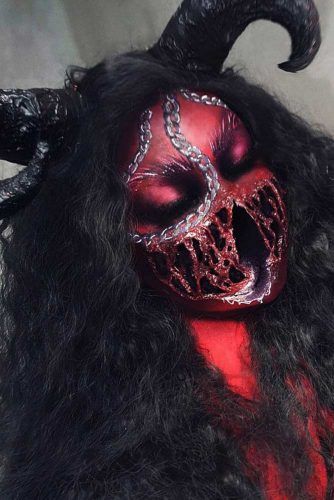 Source: bangtsikitsiki via Instagram
Who is the lord of evil? The devil himself, you will say. Would you dare to transform into the dark lord for one night? In case you would, this look is surely worthy of being replicated.
Half Monster Face Makeup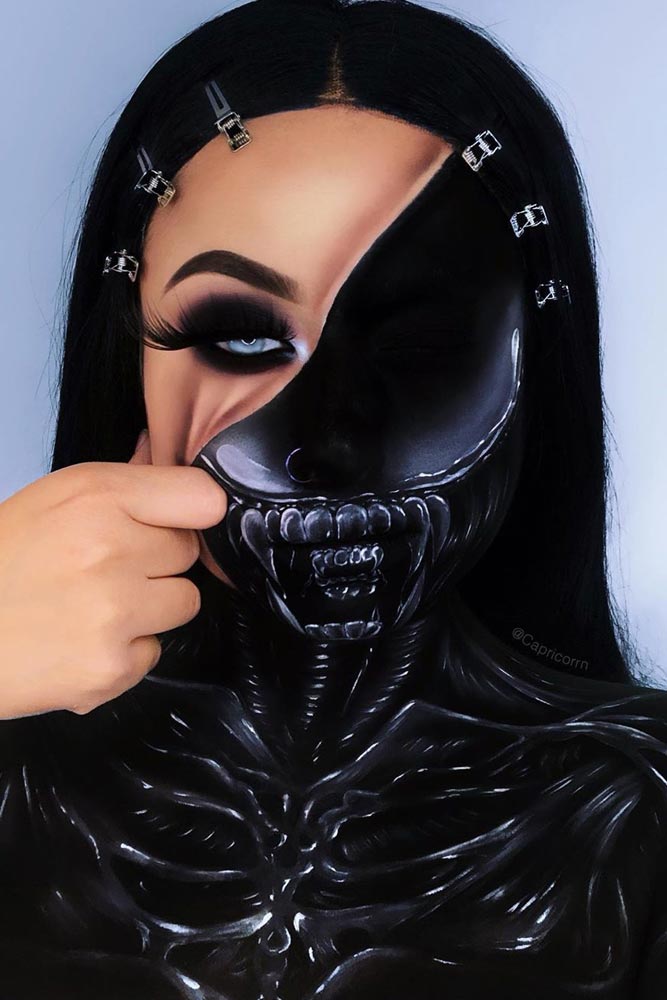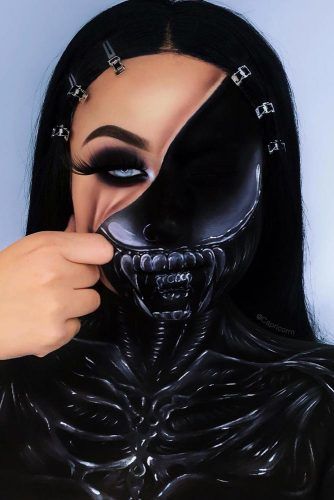 Source: capricorrn via Instagram
There is always a little monster living inside each and every one of us. Halloween is the time when you can show the darker side of you off. This half-monster look can come more than handy when the time comes.
Queen Bee Halloween Makeup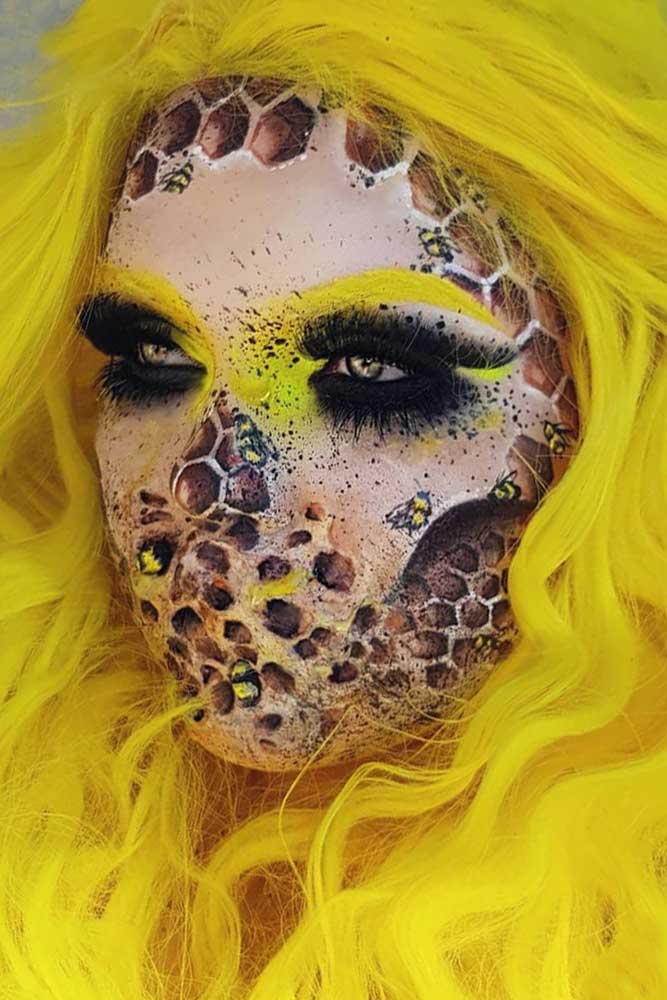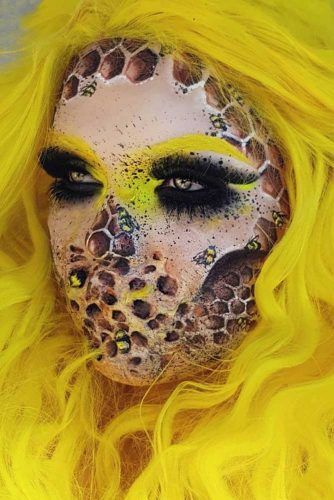 Source: bangtsikitsiki via Instagram
People often underestimate the role of bees in world's ecosystem. If you belong to the category who values the little things which produce tasty honey, pay your respect with this Queen Bee look sported on Halloween.
Scary Clown Halloween Makeup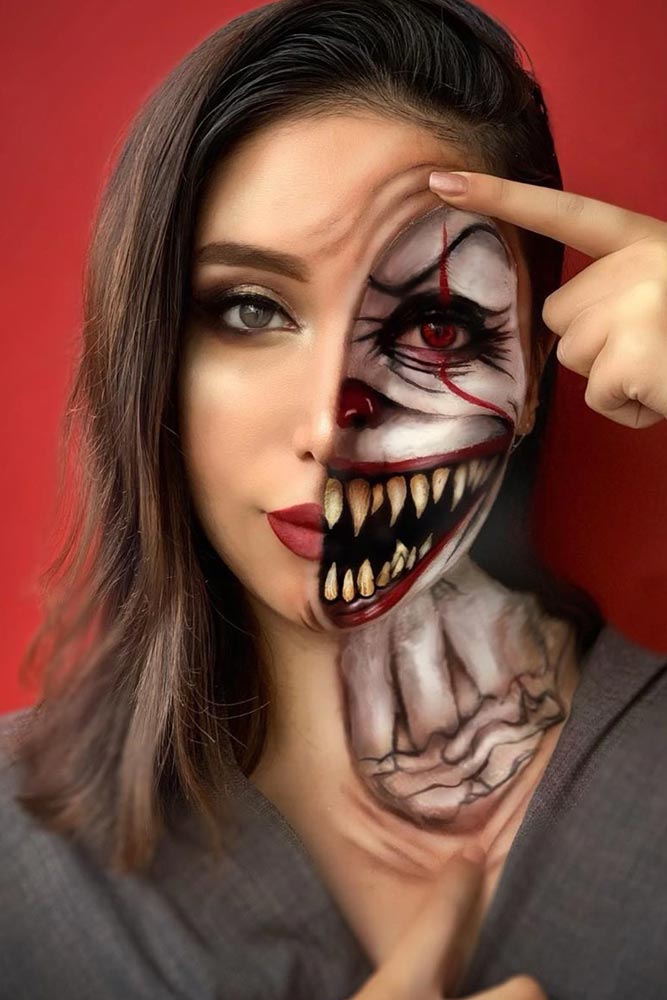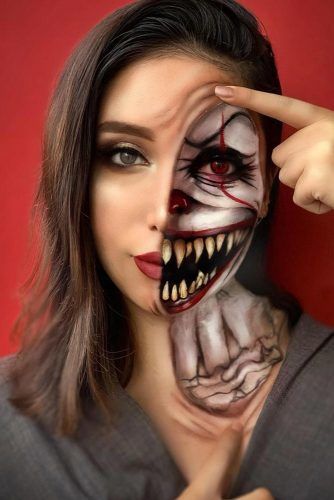 Source: asalfaceart via Instagram
Many people consider clowns scary even though their main purpose is to entertain little kids with their tricks and jokes. Invest in terrifying clown myths with this not less terrifying makeup.
Plastic Surgery Halloween Makeup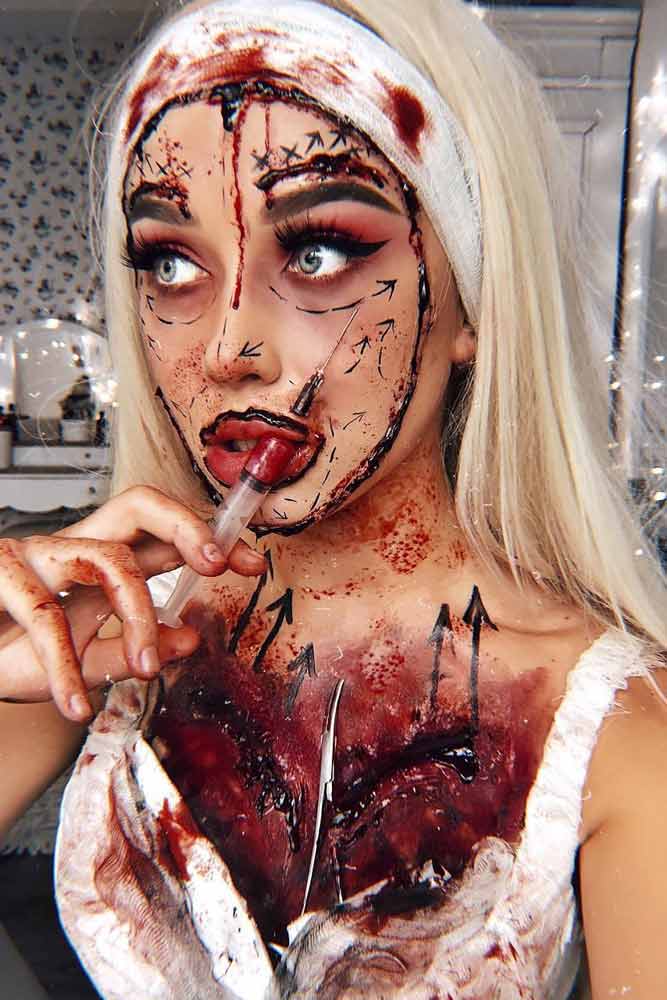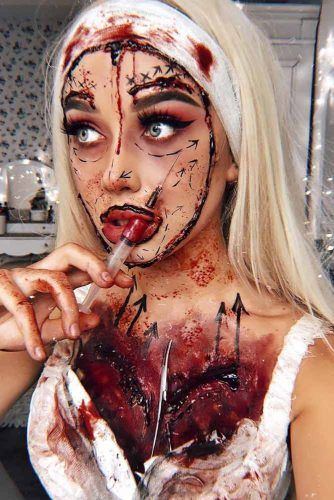 Source: powerpuffmoniq via Instagram
Sadly, many women fall, victims of plastic surgery, these days. It is time to show the world how plastic beauty looks from the inside.