Choose Your Ultimate Goth Makeup Look For Everyday Wear
Who said that you can wear the goth makeup only for Halloween or if you belong to the specific subculture? Don't listen to those boring people. If you're in the mood for some drama, it's better to have it on your face than in your life.
Glam Goth Makeup Ideas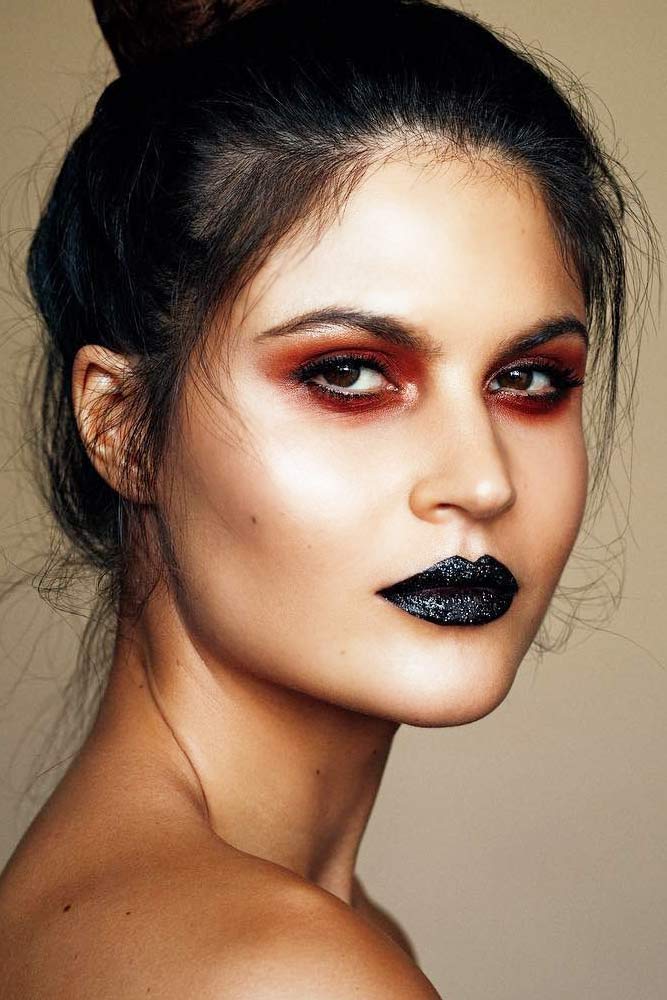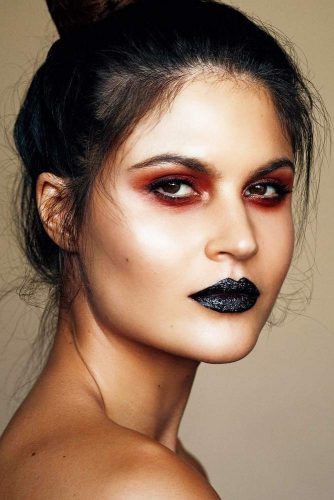 Source: brianloveco via Instagram
Today, there are no strict rules when it comes to makeup. So, if you want to cover your bold dark lips with glitter, thereby achieving glam goth makeup look, you're welcome to do so. Just don't get carried away too much and leave your eyes matte. You don't want it to become kitsch, instead of zest.
Soft Goth Makeup With Black Lipstick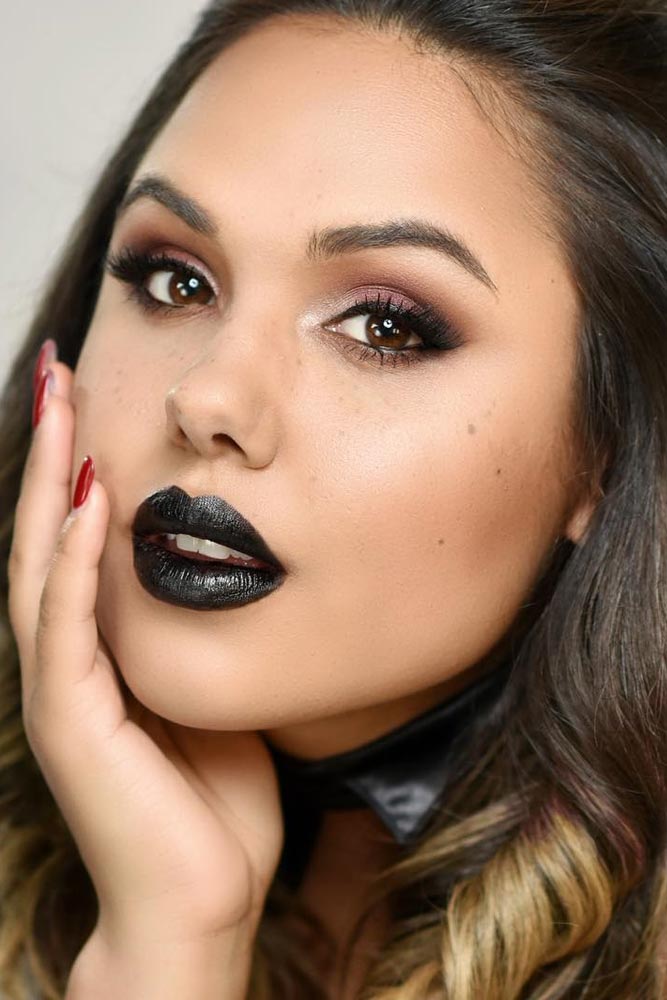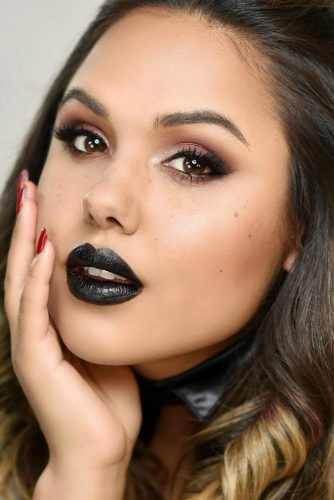 Source: kristiniadeb via Instagram
It's okay to go bold with both, your eyes and your lips. However, such look most likely wouldn't be wearable. To adjust it a little bit to the casual environment, try out soft goth makeup. To achieve the look, you accentuate the lips with a black or off-black lipstick. As for the eyes, you will need to do a lot of blending. Color-wise, opt for brownish eyeshadows. Create a gradual transition from the light-beige color in the inner corner to the deep chestnut in the outer one through the rose taupe on the lid.
Pastel Goth Makeup Idea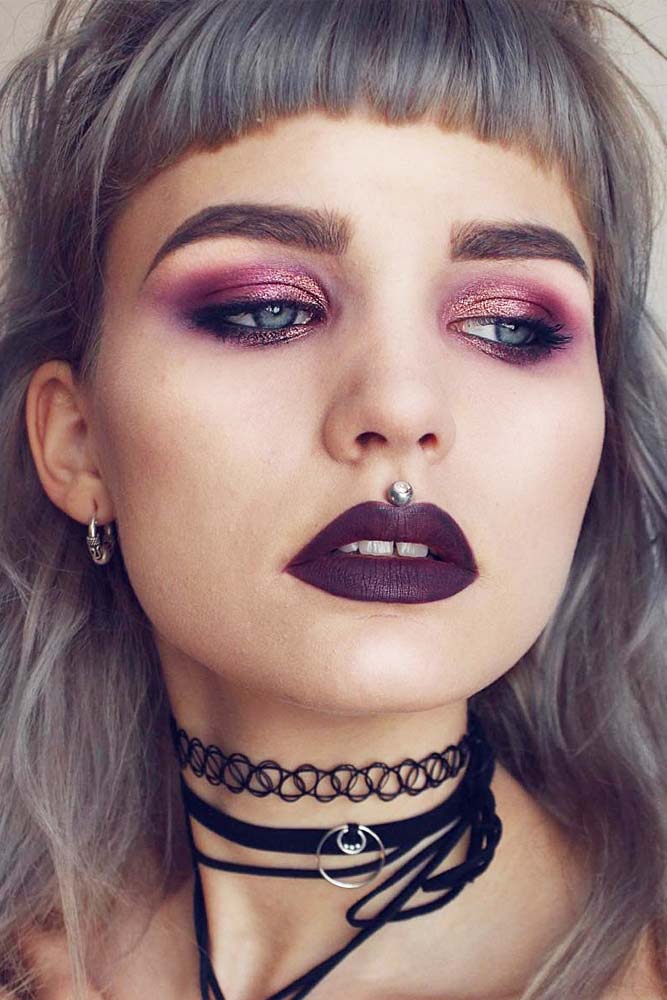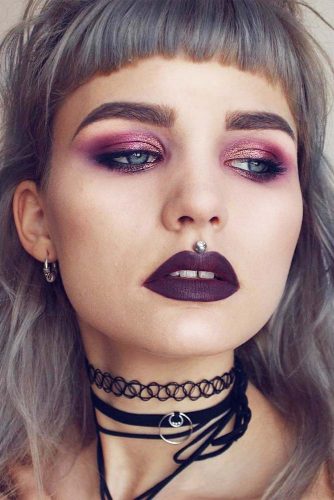 Source: aatypi via Instagram
Are you a romantic person, however, still would like to spice up your look a bit? Then you should definitely try the pastel goth makeup. Sounds intriguing, right? In practice, instead of blacks and off-blacks, you just use colors. End of story. The lips are still bold and the eyes are still dramatic, only with another color spectrum. Make sure though the colors match. In this way, your look will come out elaborate and pulled together.
Everyday Goth Makeup Idea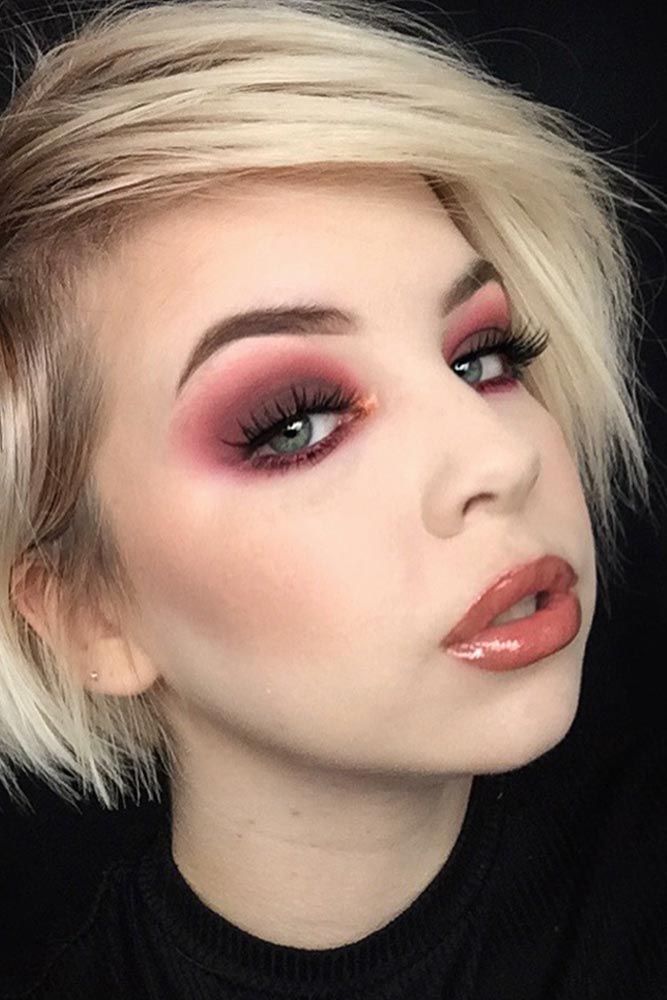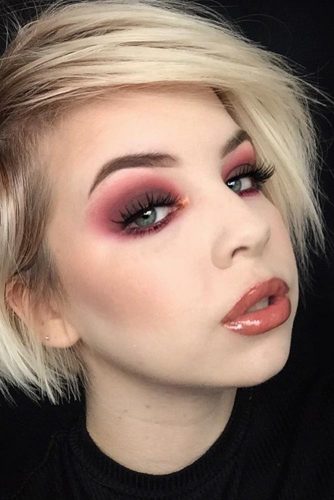 Source: keylartistry via Instagram
Don't hesitate to show off a beautiful goth makeup every day. Switch the dark matte lipstick to a neutral lip gloss, and here you go. If you're still slightly unsure whether your look is appropriate for the daytime, add a pop of color to your eyes and cheeks.
Simple Goth Makeup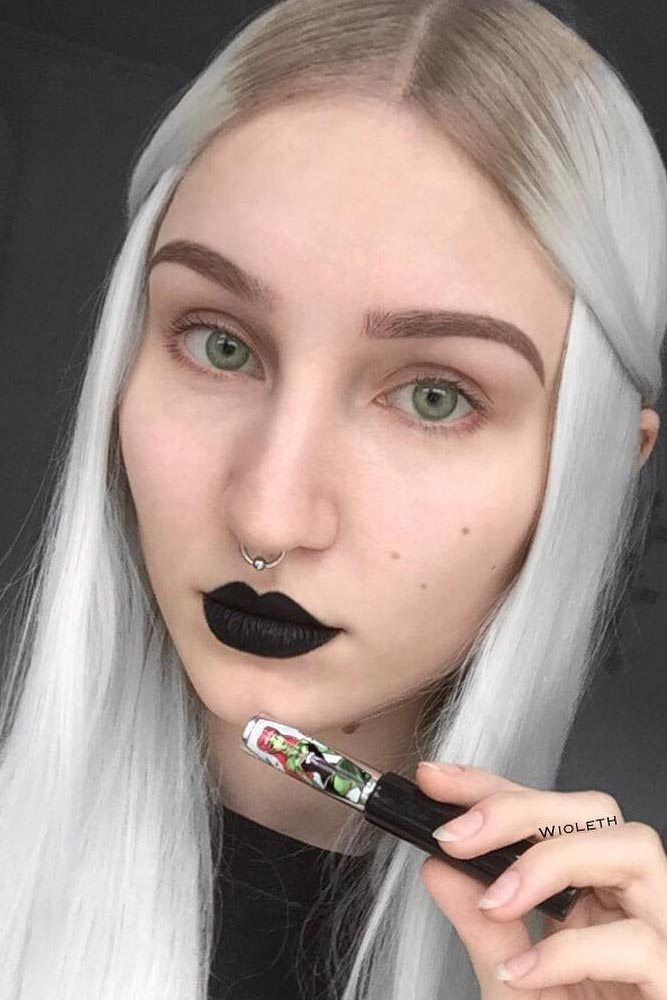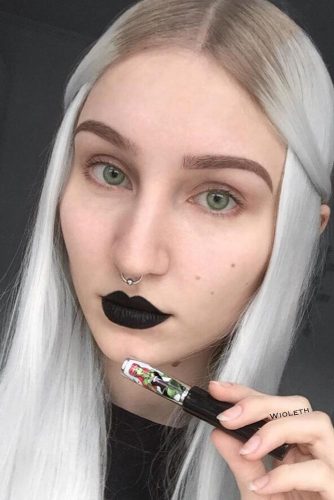 Source: wioleth via Instagram
For those who are in a rush or just reluctant to bother with a lot of makeup, we have a simple goth makeup idea. Accentuate your lips with a black opaque matte lipstick and add one coat of mascara to the eyelashes. Ensure, however, that your skin looks flawless. Apply a thin layer of light coverage foundation and a concealer if needed.
Goth Makeup Ideas With Purple Lipstick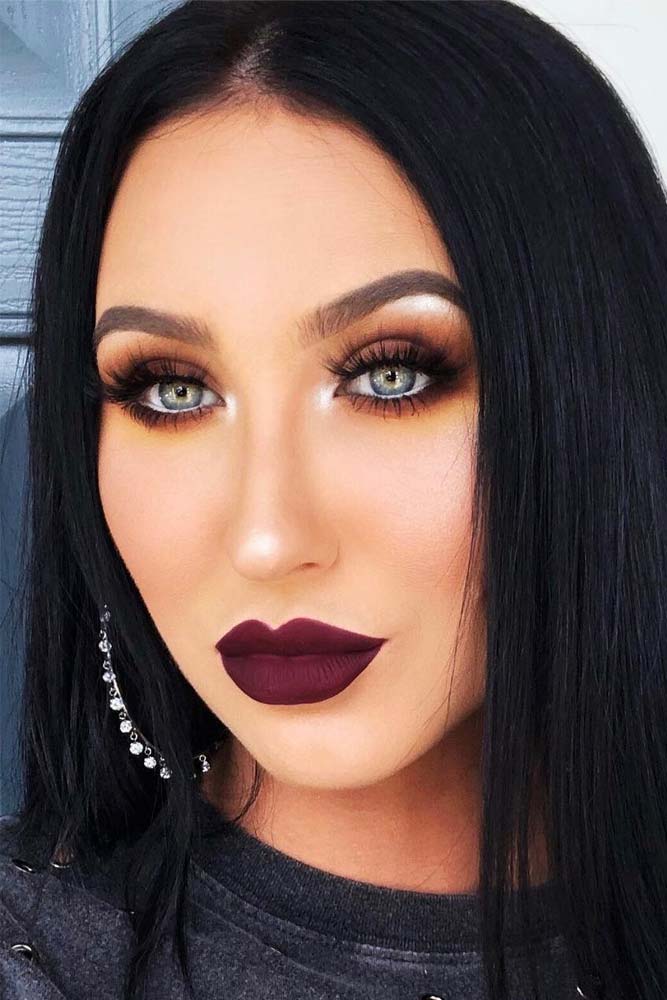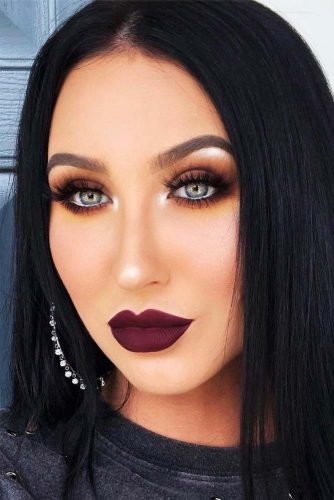 Source: wioleth via Instagram
With a purple lipstick, you can create a myriad of goth makeup looks. Simply changing your eyeshadow color, you can sport a new makeup style every day. Don't limit yourself to neutral eye makeup only. Try on different colorful combinations paired with purple lips.
Modern Goth Makeup With Red Lips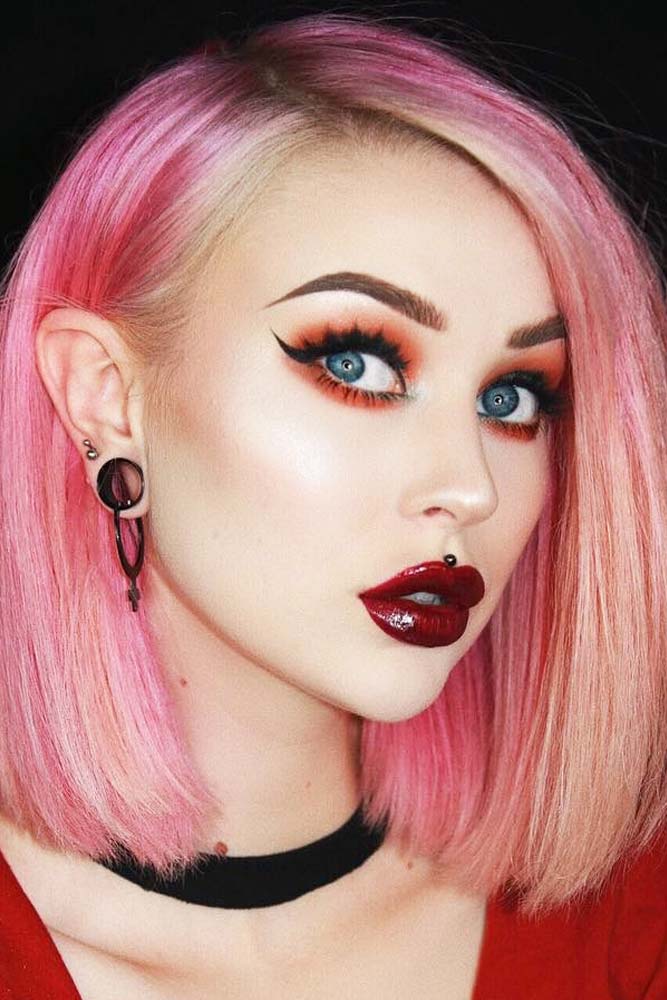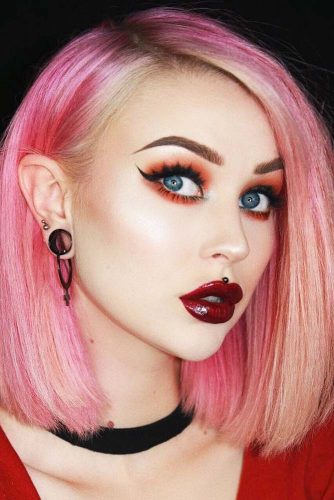 Source: evelina.forsell via Instagram
The red color is considered attractive by default. To pull off the sexy goth makeup, go with this flamboyant shade on both, your eyes and lips.
Goth Modern Makeup In Purple Color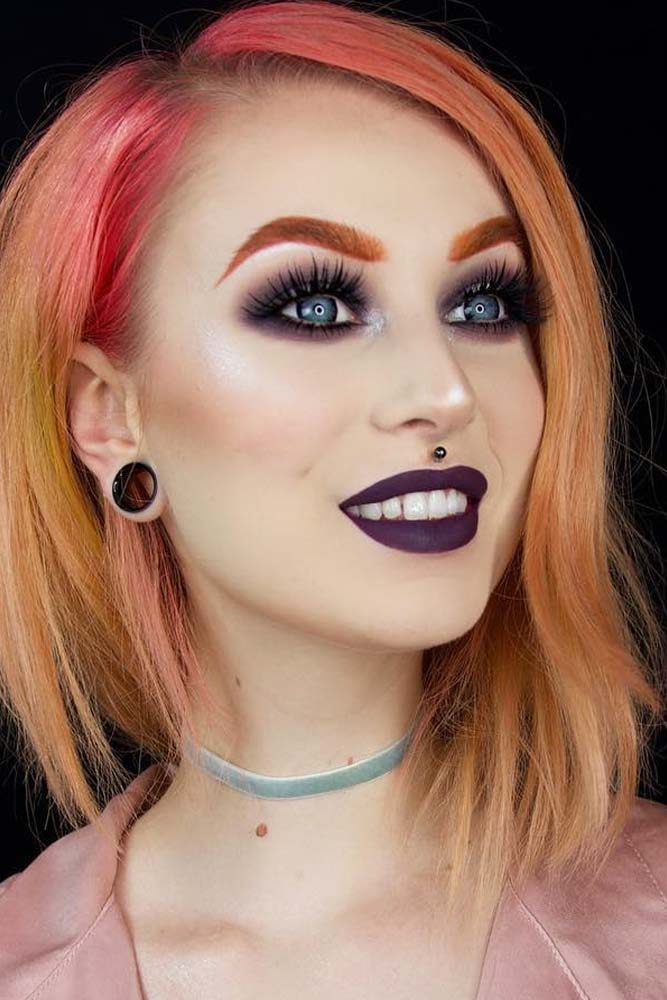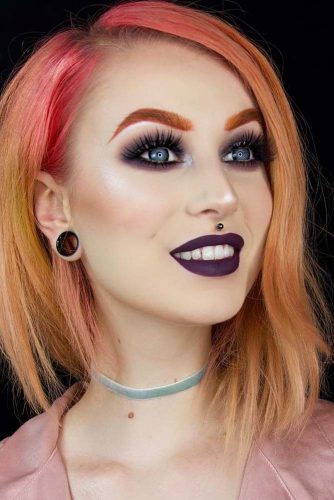 Source: evelina.forsell via Instagram
As we pointed out earlier, purple lipstick is the perfect alternative to black one. In case you're looking for some goth makeup ideas, we suggest going all purple for a start. Eyes, lips, cheeks, even eyebrows if you like, should be colored purple. If it's too much for you, make the eyebrows match your hair color.
Goth Makeup Idea In Burgundy Color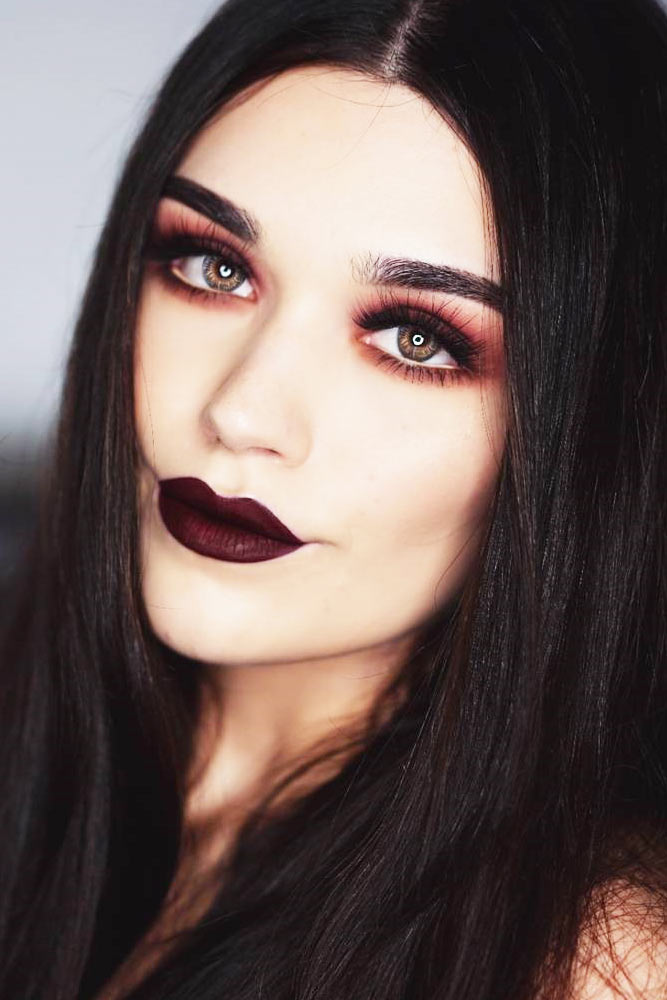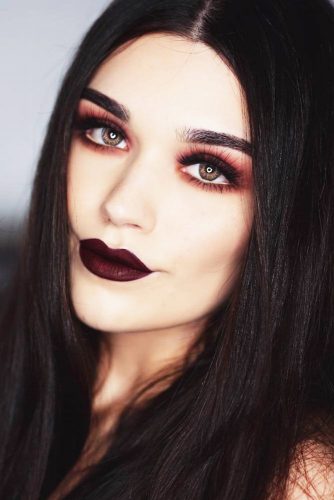 Source: easyneon via Instagram
If you're after the femme fatale style, this burgundy goth girl makeup is made for you. Wine-red eyes and rotten cherry lips create a dangerously appealing vampy look.
Goth Eye Makeup With Black Shadow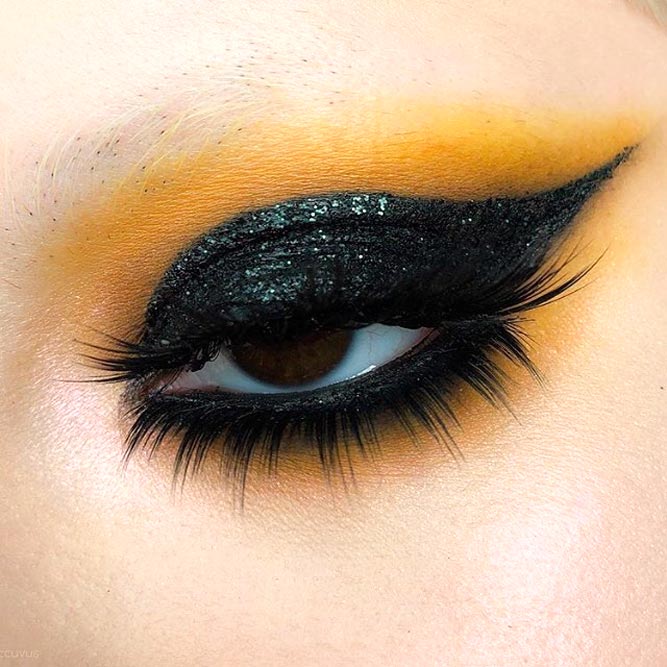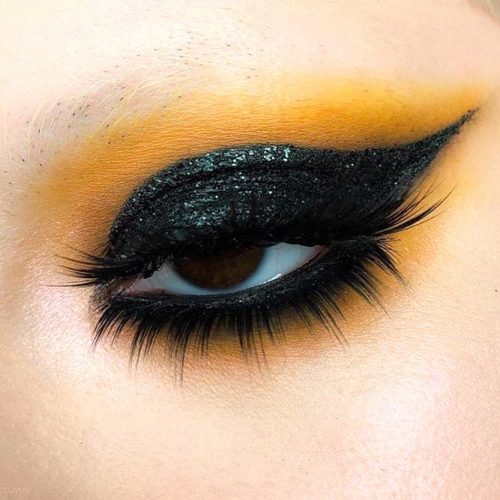 Source: Succuvus via Instagram
What goth eye makeup can go without black eyeshadow? Either as a base or as the main lid color, it should always present in the gothic look.
Goth Eyeliner Makeup Art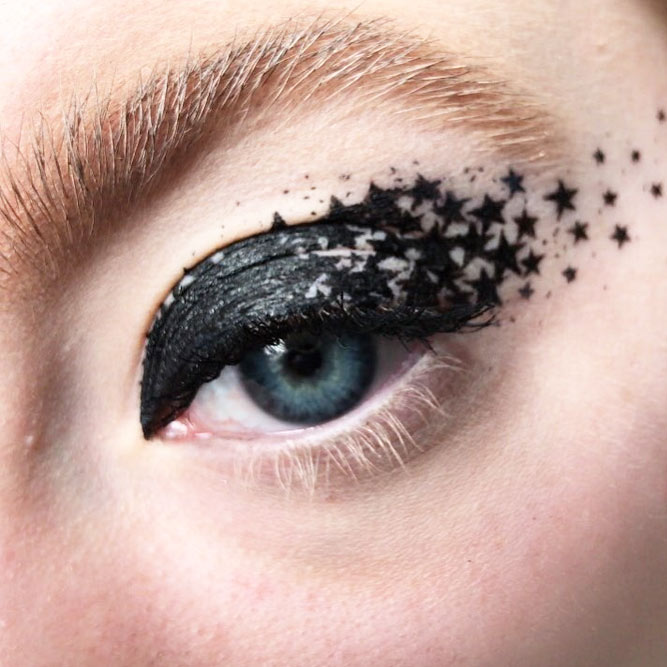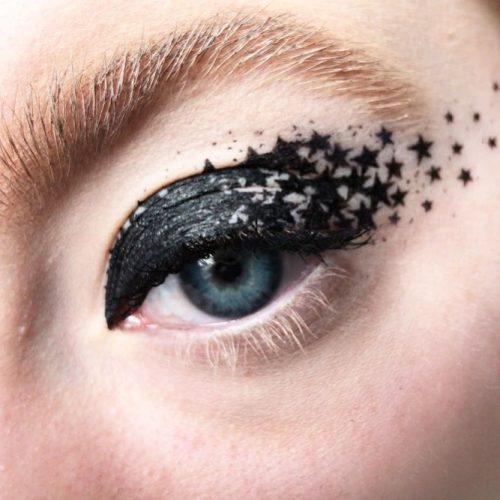 Source: pinkishpiendel via Instagram
However, it shouldn't necessarily be eyeshadow. You can opt for a gothic face paint and create a star dispersal look on your eyes, or any other creative pattern your inner artist feels like drawing.
Glossy Shadow In Red Color For Goth Makeup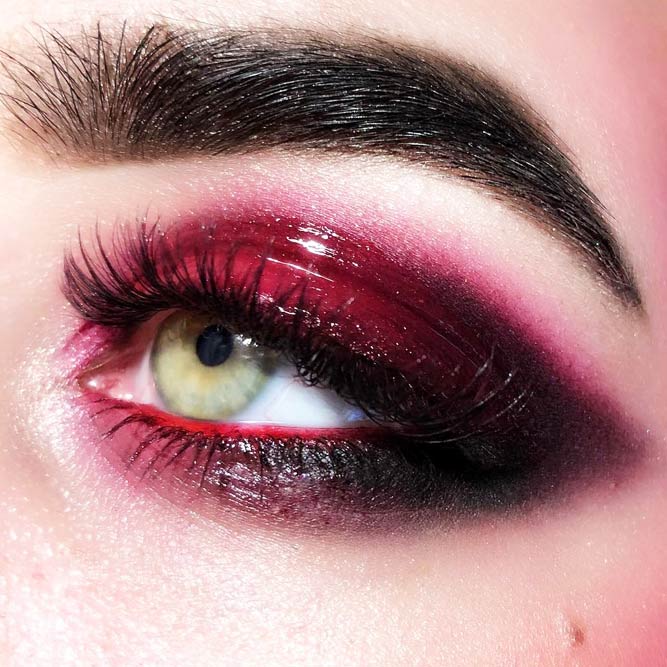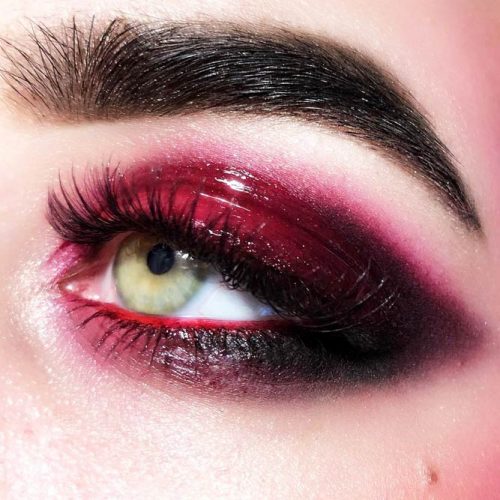 Source: privetvenera via Instagram
How about making really dramatic goth eyes effect? Glossy red eyeshadow will help you out accomplish this. To intensify the look, use the black base. Ensure, however, that to make it wearable, you employ high-quality products only so that your eyeshadows won't crease.
Nude Lipstick Color For Goth Makeup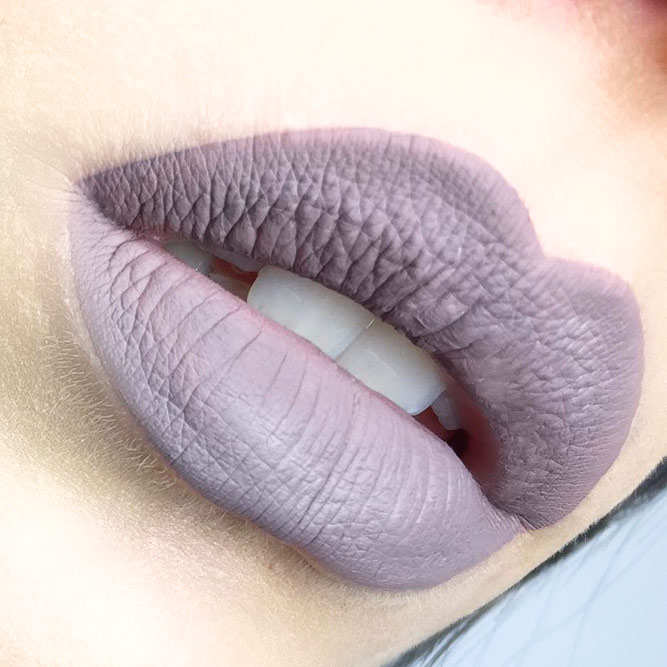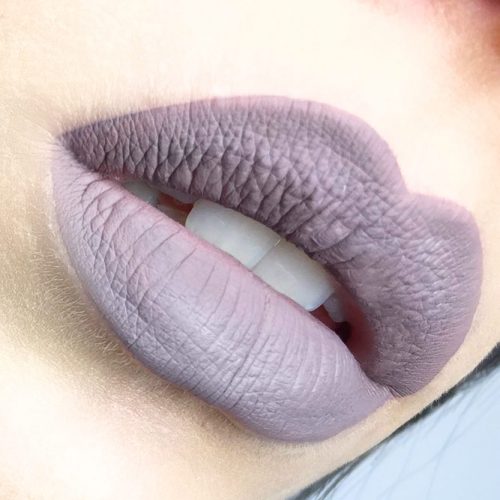 Source: jessicahazemua via Instagram
Enough for the eyes. Now, it's time for the lips. Let's start with the basics, nude lipstick. As you understand, goth nude lippy isn't the same as the ordinary one. It should have a gothic air. Try to play around with undertones. The greyish-lilac hue will work just fine.
Black White Lips Ombre For Goth Makeup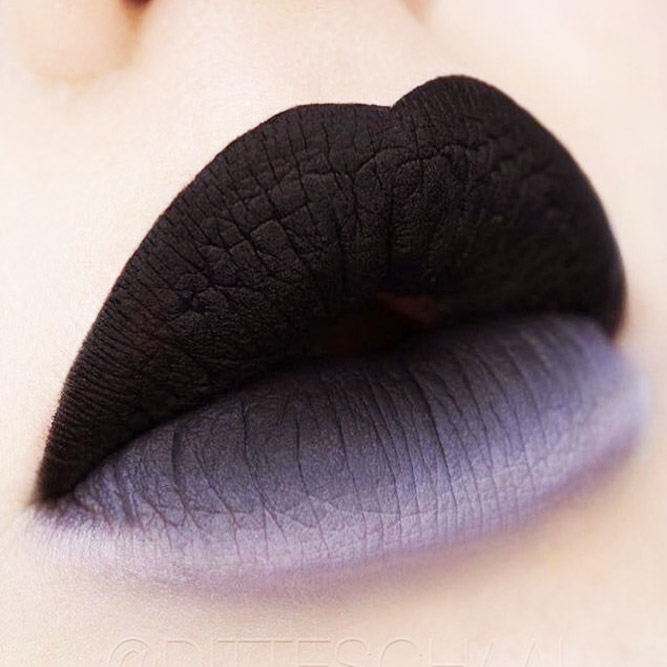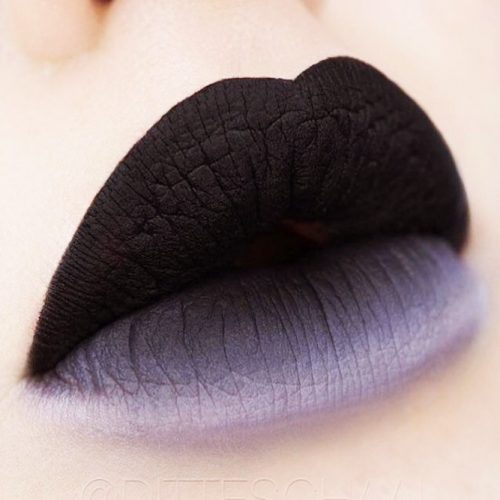 Source: ditteschaal via Instagram
You're so much into gothic makeup that everything seems clear with you? Not so fast. Why don't you leave a touch of mystery with black and white ombre effect on your pout? It's like, there's a light at the end of the…lip.
Burgundy Shade For Goth Makeup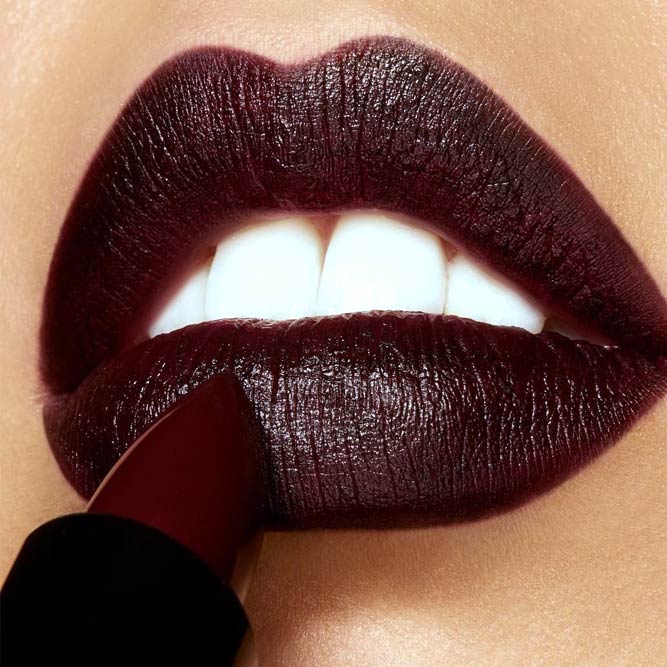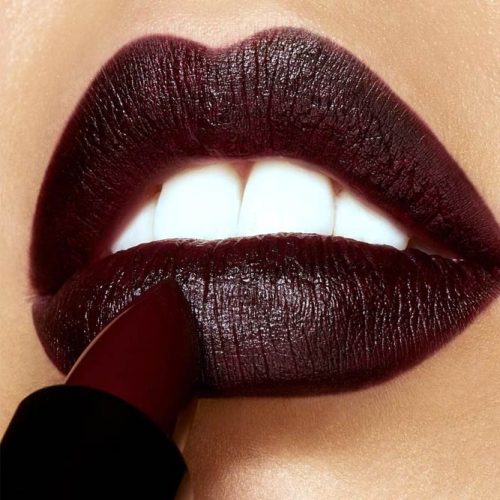 Source: covergirl via Instagram
Maybe, the best goth lipstick is yet burgundy. Black lips look too obvious, while reddish-purple hue reminds you of vampires, which are, according to the cinematography, amazingly attractive creatures. Besides, it makes your teeth look whiter, which is also highly beneficial for us.
Eyeliner Tutorial For Goth Makeup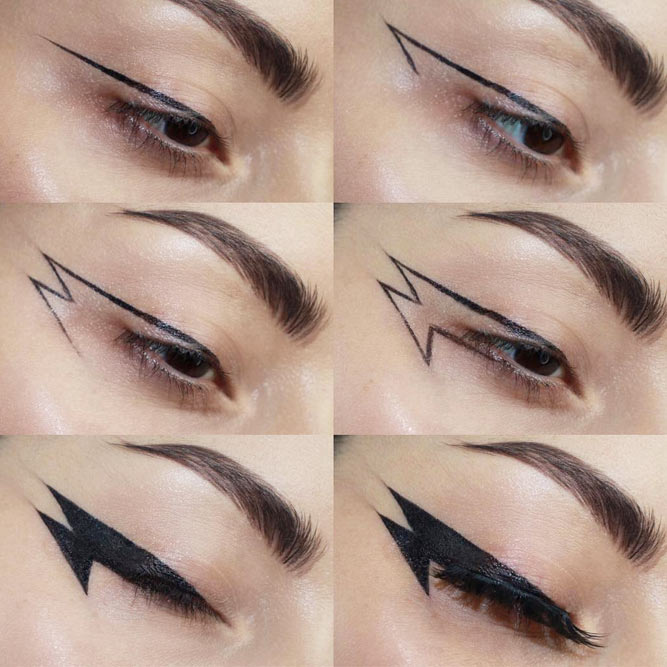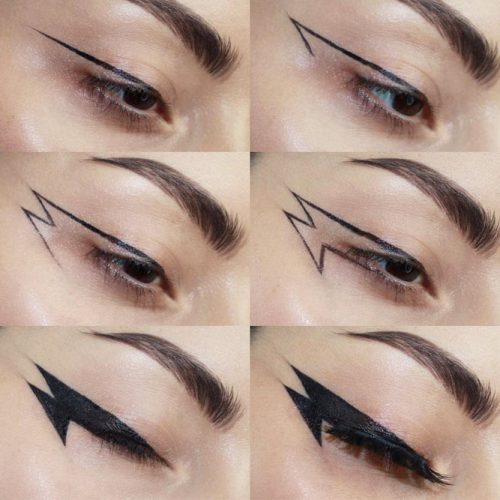 Source: juscallmetara via Instagram
So, enough blabbing. Let's work some magic! In this tutorial, we'll teach you how to create a lightning bolt look with your favorite goth eyeliner.
Draw a straight line from the apex of your upper lashline toward the temple area. It should be parallel to your lower lashline.
Draw a short line from the temple end of the first line toward the outer corner of the eye. However, don't join the line with the corner, leave it half-way.
Mirror what you've got so far so that the free end of the lowest line stops at the orbital bone.
Draw a short line from the outer corner of the eye toward the apex of the V-line. Again, don't join them together. Stop a bit further than the free end of the lowest line.
Join the free end of the line from the outer corner with the free end of the lowest line. Fill in the outline of the lightning bolt with the eyeliner.
Apply false lashes.
Black Goth Eyes Makeup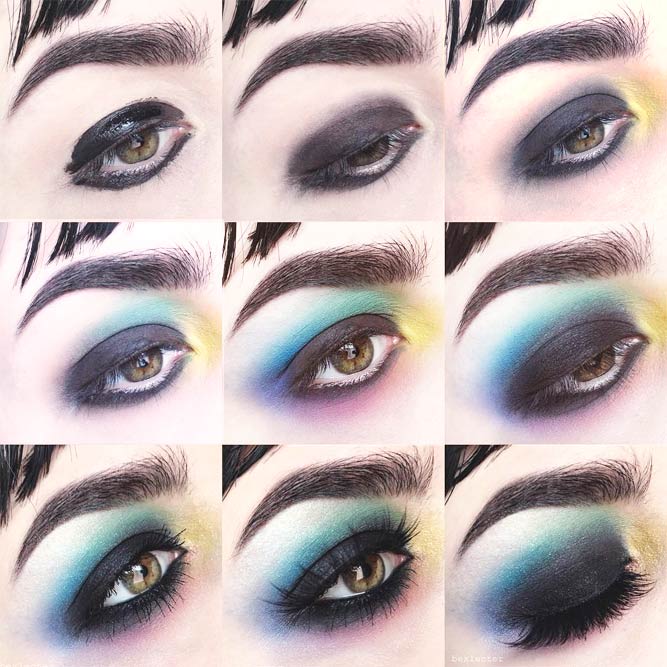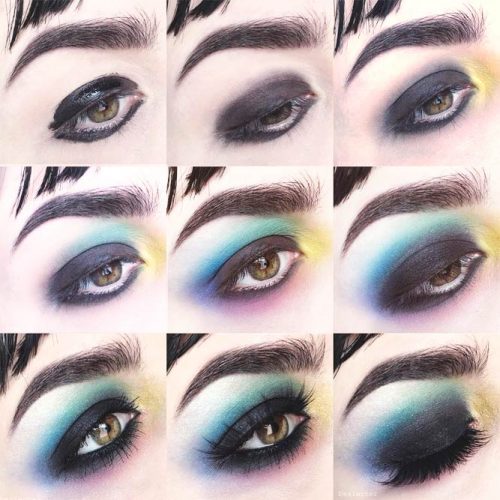 Source: bexlecter via Instagram
Here's another goth makeup tutorial with a pop of color:
Create the base with black eyeliner, cream shadow or eye pencil. Apply it to the upper and lower lid.
Smudge it out outward and blend all the harsh lines at the edges.
Highlight the inner corners with some gold shimmery eyeshadow.
Apply matte green eyeshadow to the inner part of the crease and blend it out.
Continue applying eyeshadows in the following order: matte bright-blue shade to the outer part of the crease, dark blue to the outer corner of the eye, purple to the outer part of the lower lashline and pink to the inner part of the lower lashline. Blend everything together and buff in the edges.
Add black eyeshadow to the upper and lower lid to intensify the look and set the base. Repeat the blending.
Drag a kajal or black gel eyeliner along your upper and lower waterline and add intense black mascara.
Apply false lashes.
Clean off any flaws, like the eyeshadow fallout and mascara marks.
Dramatic Eyes Tutorial For Goth Makeup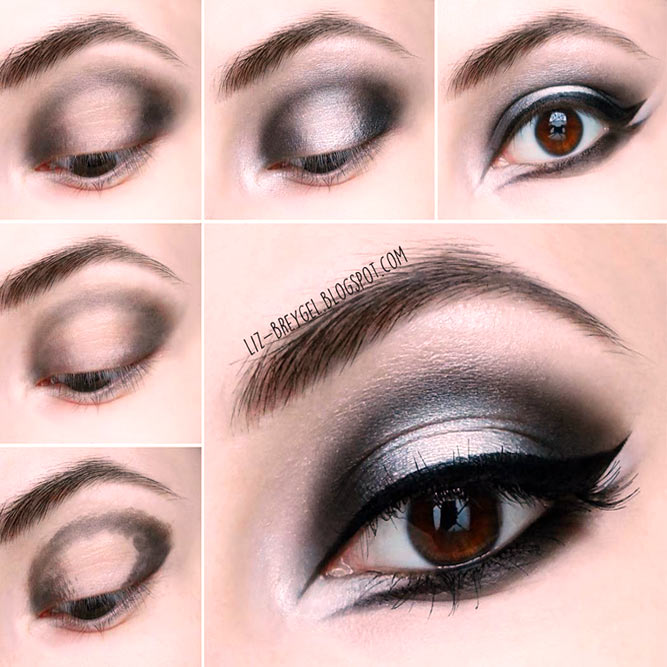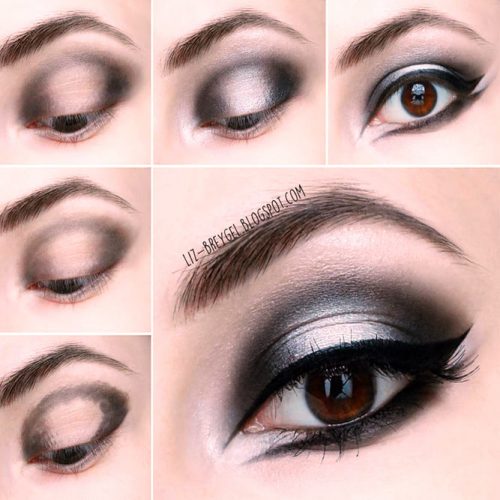 Source: lizbreygel via Instagram
And our final tutorial on how to do goth makeup is as follows: 1. Create the base for the black color with a black pencil. Apply it with light strokes to the outer and inner corner of the eye and through the crease. 2. Smudge it out a little and blend the edges with a domed brush. 3. Add intensity to the base with matte black eyeshadow. 4. Apply frosty white eyeshadow to the central part of the lid and blend the colors together. 5. Apply eyeliner to the upper lash line, shifting the beginning closer to the nose bridge, and flick it out. Draw a straight line along the lower lashline so that the ends stand out. Smudge it out a little. 6. Fill in the spaces between the lines with white eyeshadow. Finish the look up with false lashes.