Do you often apply eyeliner? Then you are probably out of ideas already. After learning how to apply eyeliner perfectly, it is time to get creative and try bold looks. Express yourself with your makeup.
We would like you to become familiar with the most popular and most complimenting eyeliner styles. Some of them are appropriate for daily wear, while others can be sported on special occasions. That means that you will never be bored!
Explore red carpet-worthy eyeliner looks and get ready to practice. If you wonder how to apply makeup like a professional, all you need is our article, the best eyeliner that stays on, good lighting and mirror and, of course, the steady hand.

Eyeliner Styles
Luxe Style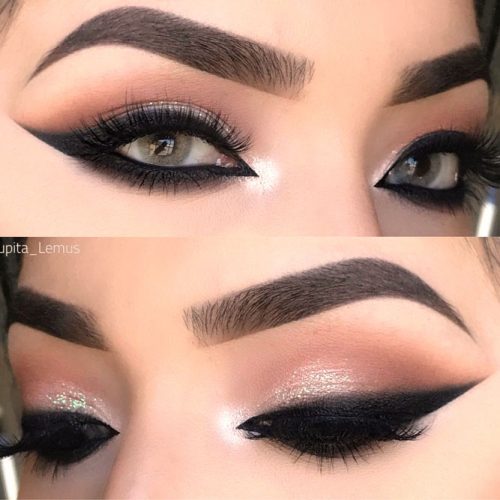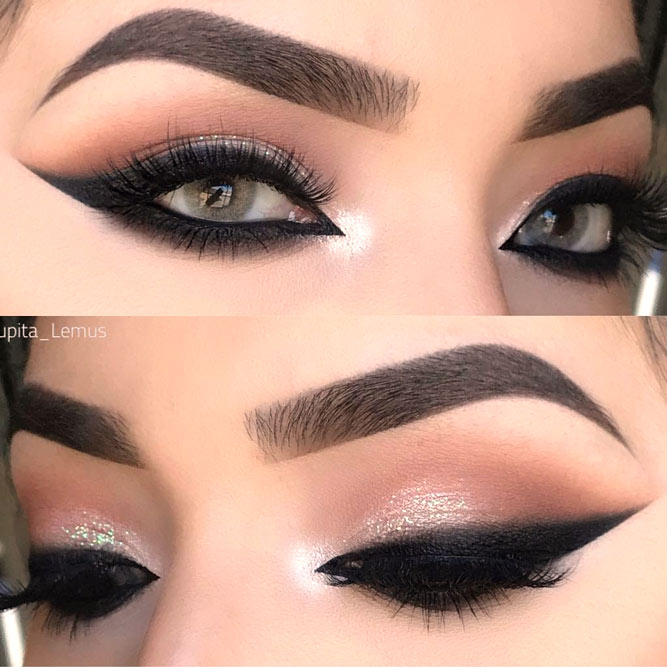 Source: Instagram/lupita_lemus
A luxe eyeliner style is appropriate to wear in the evening. As you can see, these makeup looks are done with the help of liquid eyeliner for the most dramatic effect. Painted both on the upper and lower lids, from the inner to farther than outer corners, the line surrounds each eye completely.
Pin-up Eyeliner Look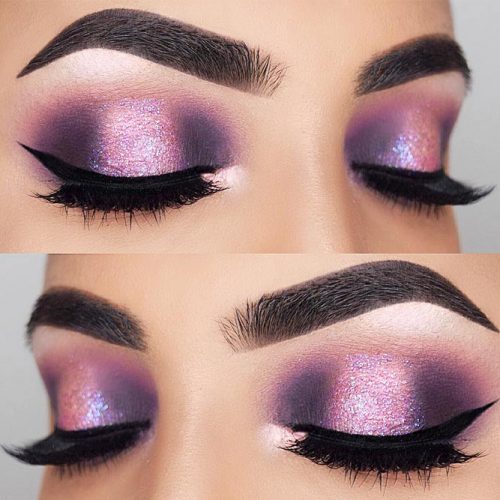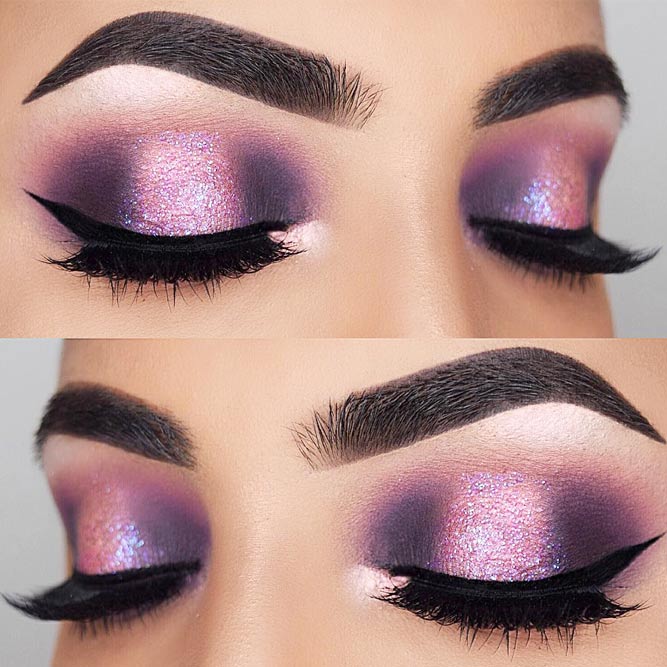 Source: Instagram/shivangi.11
'Opt for a pin-up style only on special occasions' is among the most popular professional makeup artist tips. The line is painted on the upper lid only, starting thin in the inner corners and thickening towards the center and finally curving upward farther than the outer corners.
Egyptian Eyeliner Style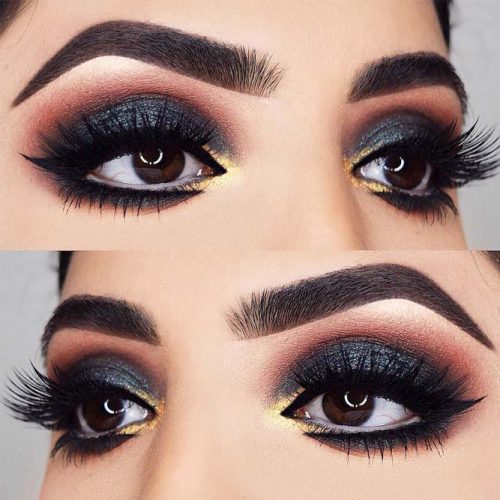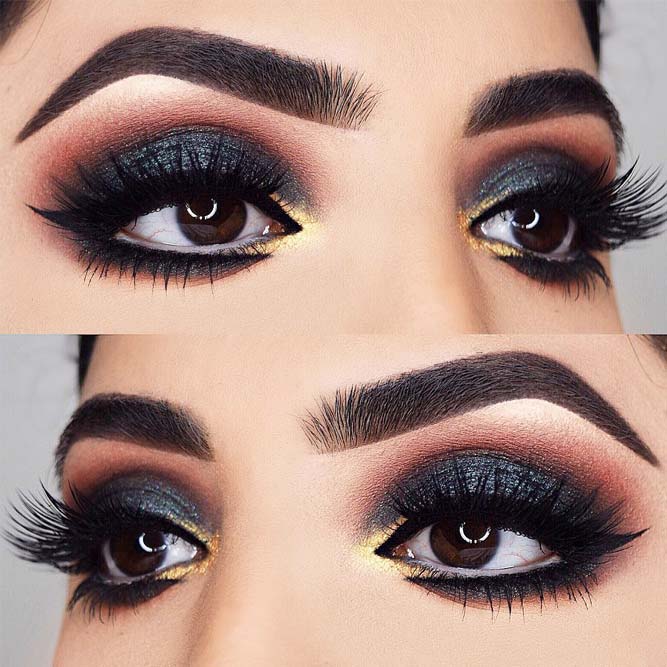 Source: Instagram/shivangi.11
How to apply eyeliner so that your girlfriends would envy you next time you have a night out on the town? Go for an Egyptian style. The style got such name because women and men in ancient Egypt put on somewhat similar makeup. The lower line is curved upward in the end, but it does not reach the inner corner in the beginning, going a bit downwards starting from the center. It is advisable to use the best waterproof smudge proof eyeliner in black on the upper and lower lids. The inner corners will be in gold.
Basic Style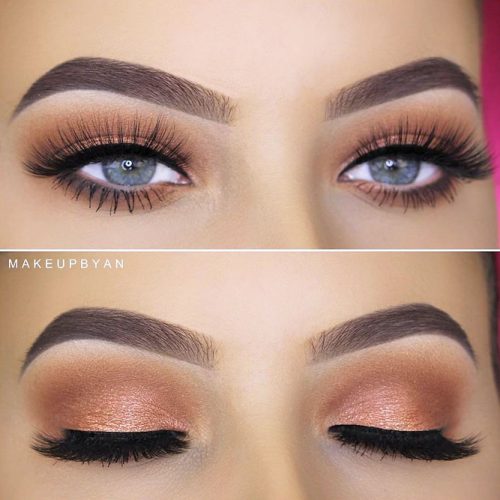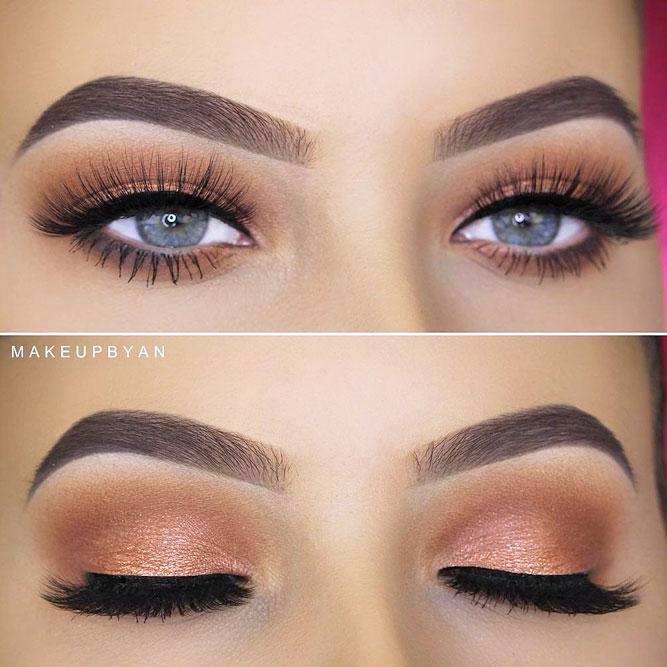 Source: Instagram/makeupbyan
A basic eyeliner style is ideal for everyday wear. It's a line painted on a woman's upper lash line. It begins thin in the inner corner and becomes thicker closer to the middle, ending with a small tip.
Classic Style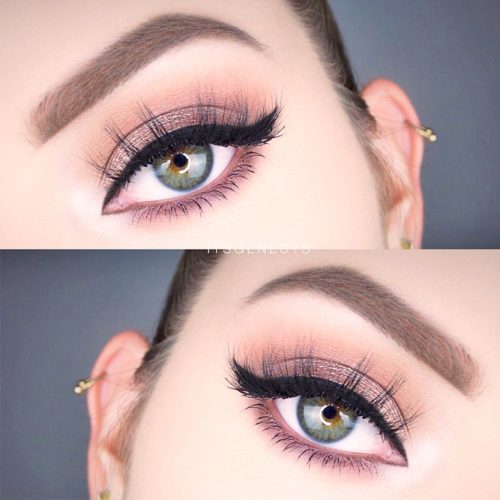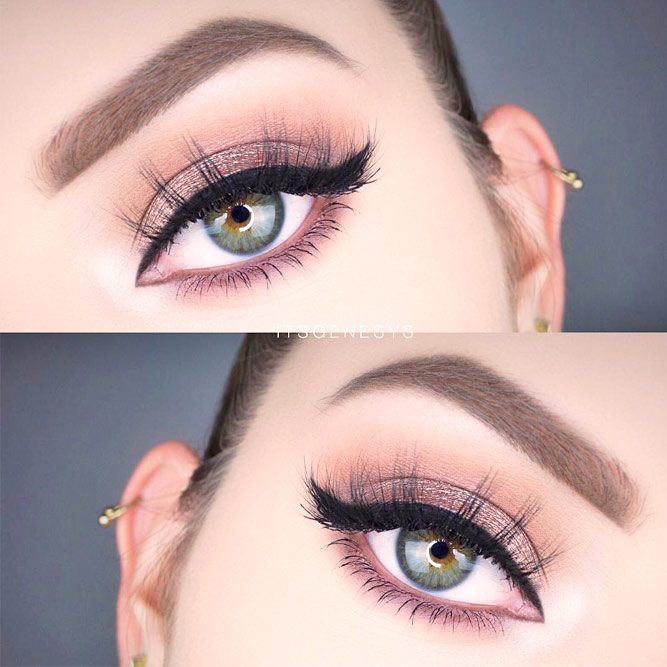 Source: Instagram/itsgenesys
How to put eyeliner on correctly in a classic manner? You should line only along the upper lash line. The line begins thinner in the inner corners and then becomes thicker gradually without thinning back.
Feline Eyeliner Style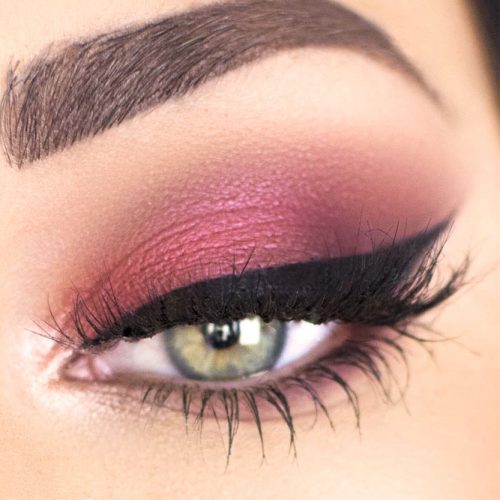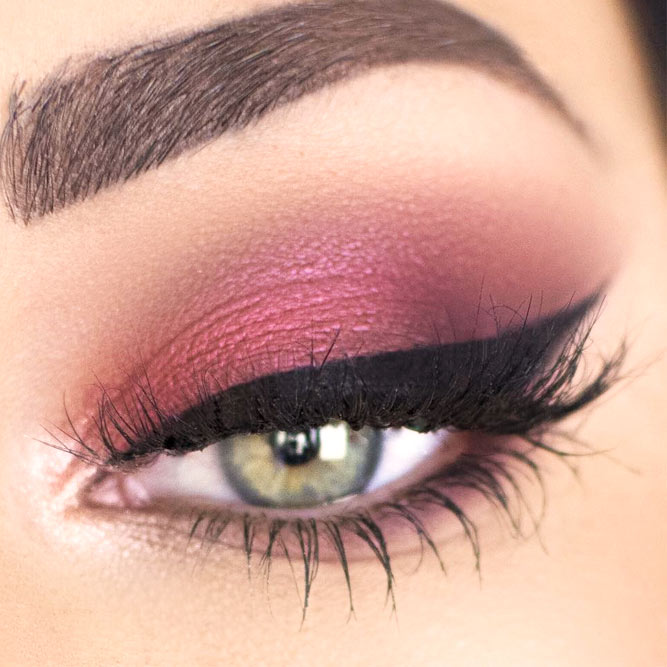 Source: Instagram/makenziewilder
A feline eyeliner style will work great for a romantic evening. Line along the upper lid, thickening the line towards the outer corner and then ending it with a distinct tip. As a result, it will resemble the cat eye style a bit.
Everyday Style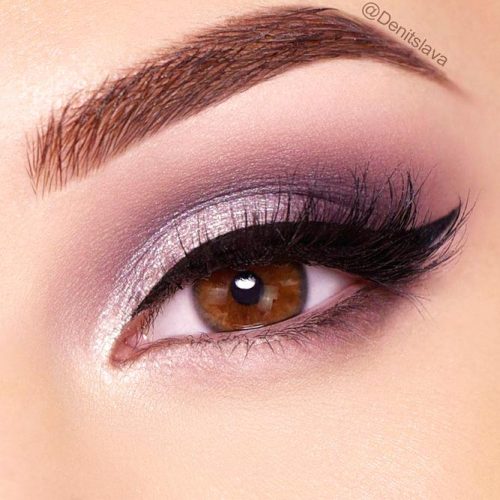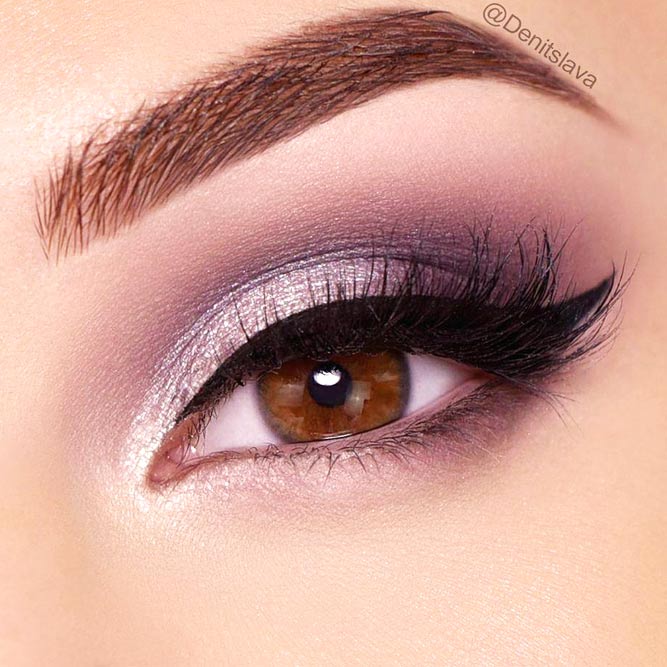 Source: Instagram/denitslava
Beginning thin a bit higher than the inner corner, the line thickens towards the outer corner and ends in a defined and long tip. As you can guess from the name of the style, it works best for every day.
Smooth Eyeliner Style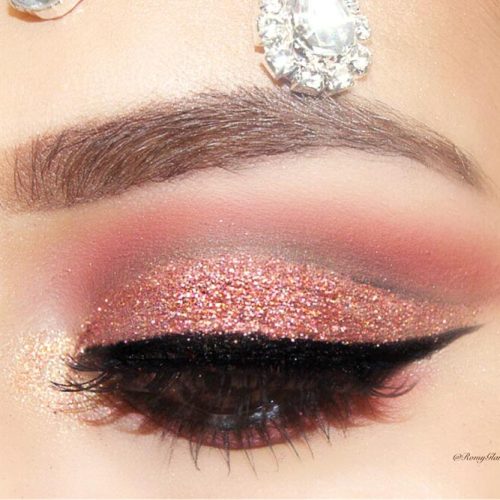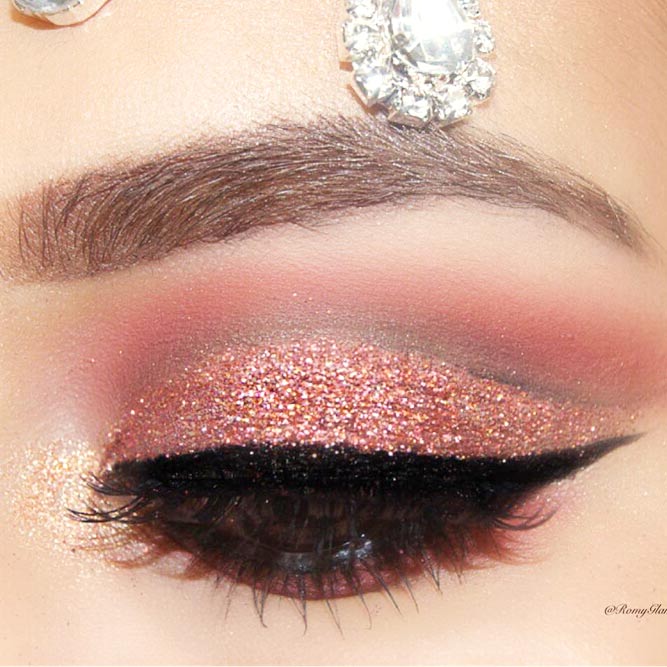 Source: Instagram/romyglambeauty
A smooth eye liner style will do for everyday makeup. Line along the upper lash line and extend the line at the outer corner a bit. The width of the line should be approximately the same everywhere.
Dramatic Style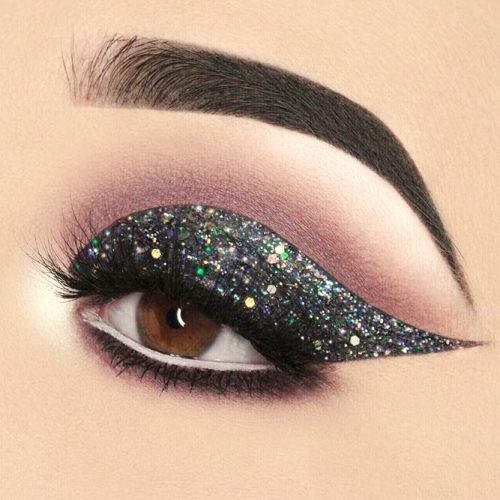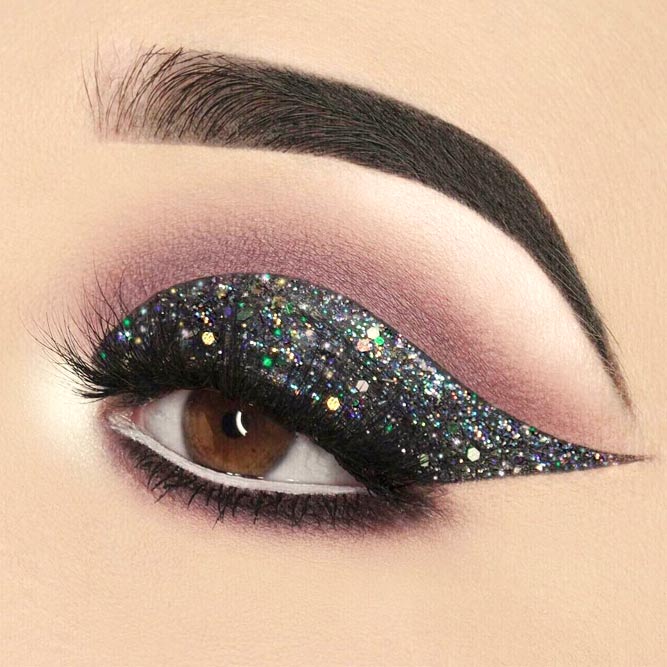 Source: Instagram/molliexjayne
Here is one of important eye makeup beauty tips: sport a dramatic eyeliner style only on special occasions. One of the major characteristics of this style is a super thick line that covers practically the whole upper lid. The tip is very long and extends up towards the brow.
Open Wings Eyeliner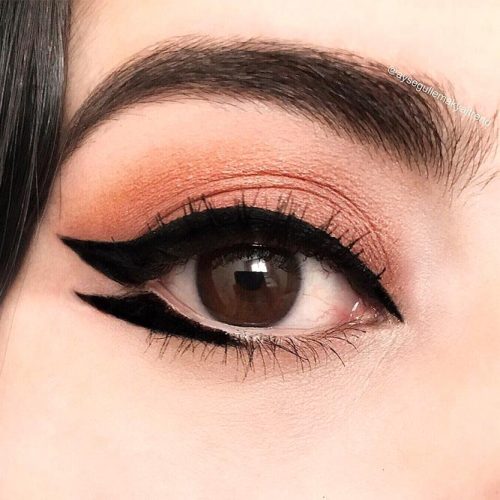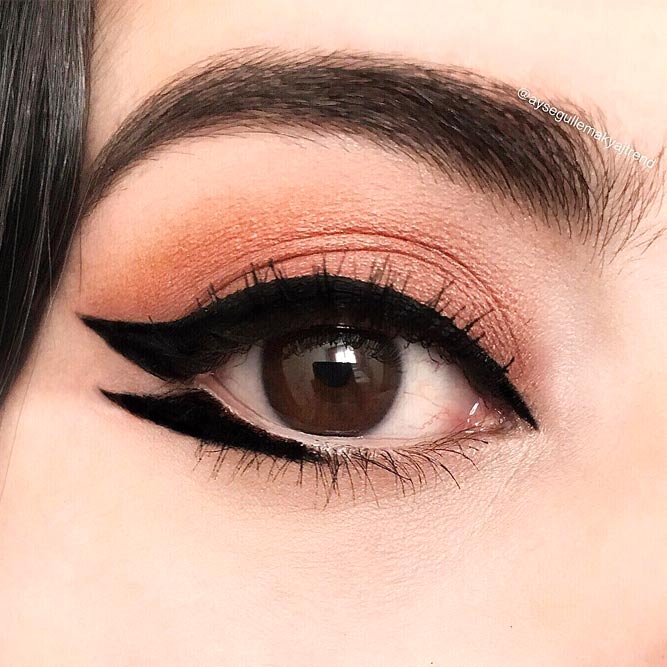 Source: Instagram/aysegullemakyajtrend
We believe that it's one of the rarest but not less complimenting eyeliner application techniques. The lower and upper lines are separate and never intercross. The lower line begins from the pupil area and moves outwards. Both lines end in wings.
Bold Style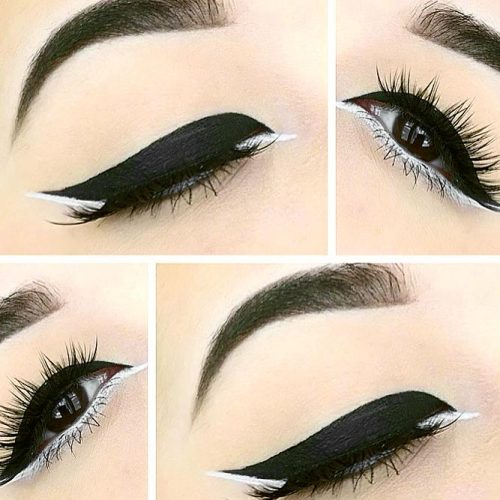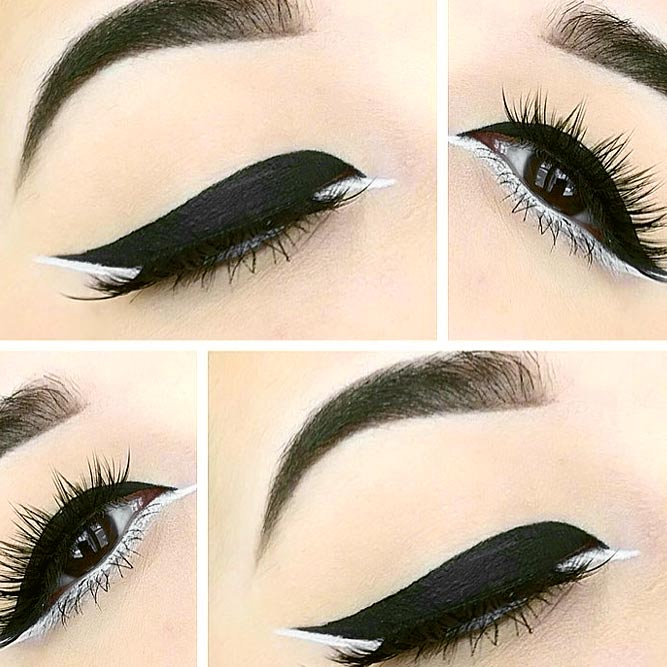 Source: Instagram/brandi.x0
A bold style is appropriate for special events only. You can sport a thick black line on the upper lid only or spice things up with a white thick line on the lower lid, too. Then the lines will go side by side in the outer corner to end in two long, separate tips.
Makeup Ideas With Different Styles And Colors
Black Eyeliner Ideas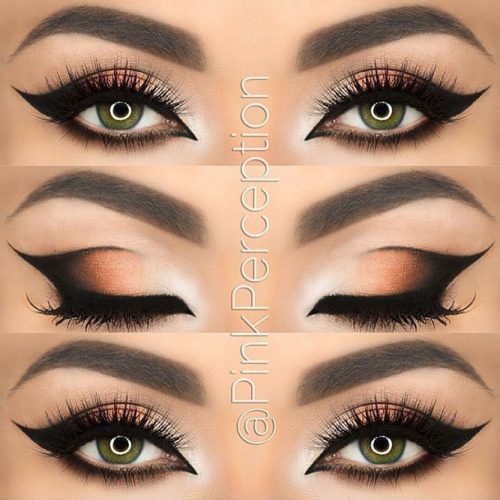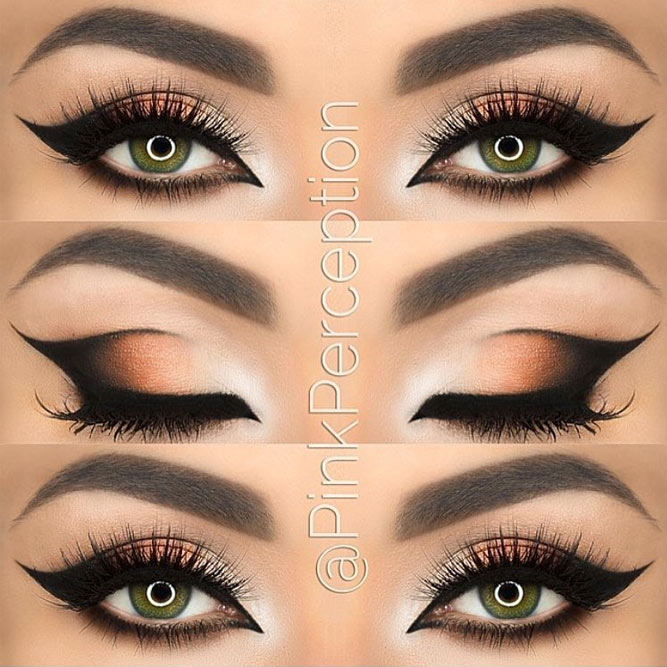 Source: Instagram/pinkperception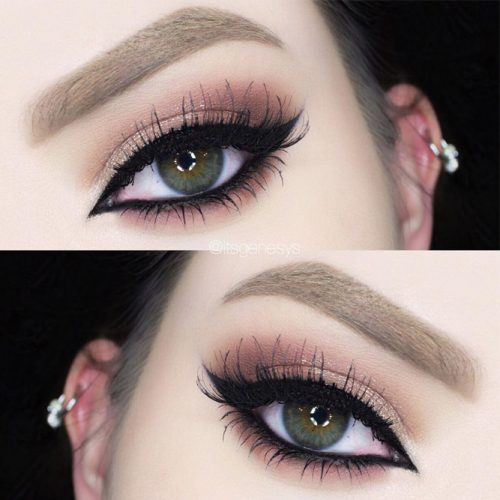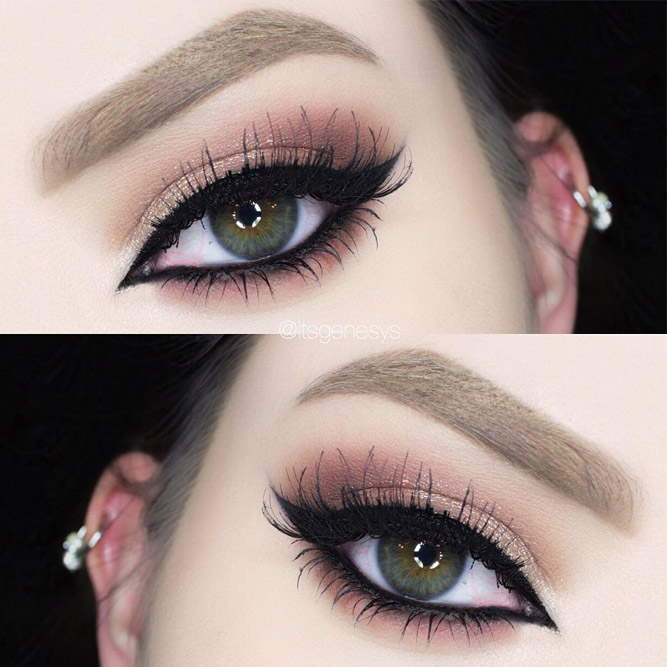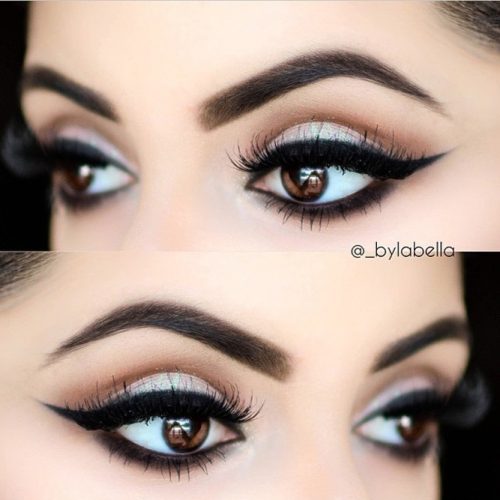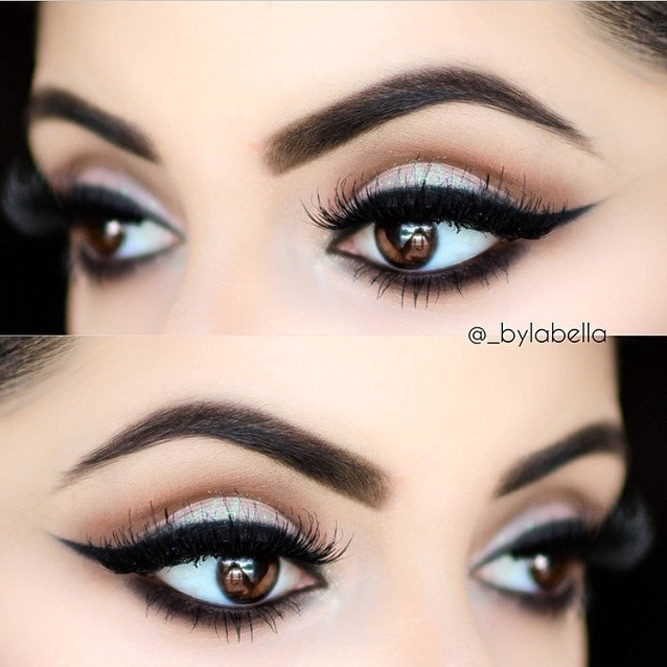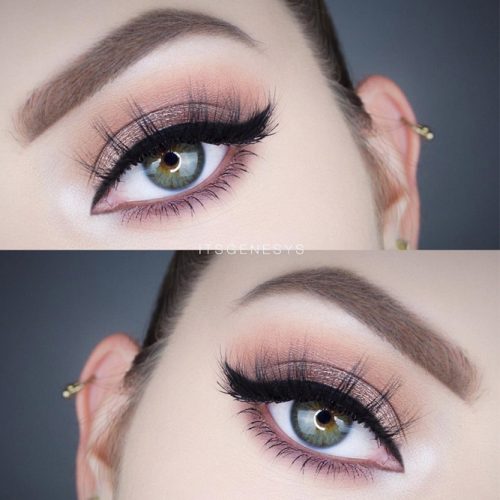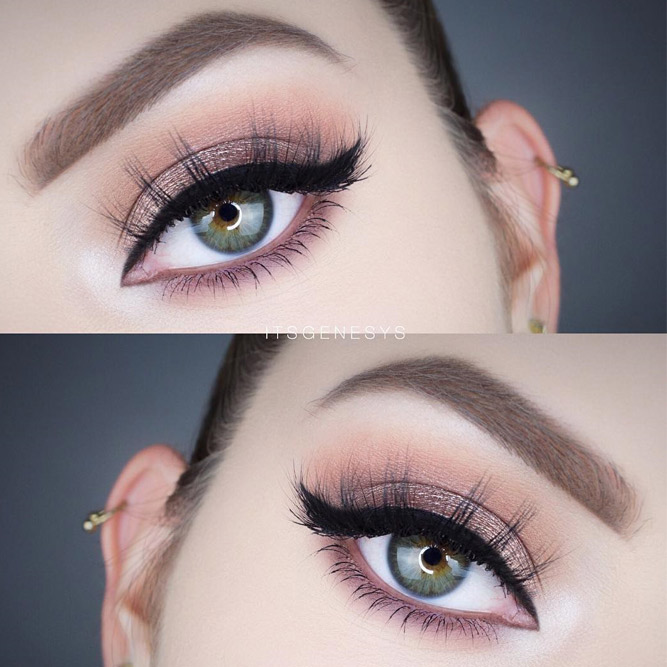 Source: Instagram/itsgenesys, Instagram/_bylabella, Instagram/itsgenesys
Follow our makeup tips, and much attention from the sexiest guys is guaranteed. First, you need to figure out which eyeliner techniques suit your face shape and eye shape.
Colorful Makeup Ideas You Need To Try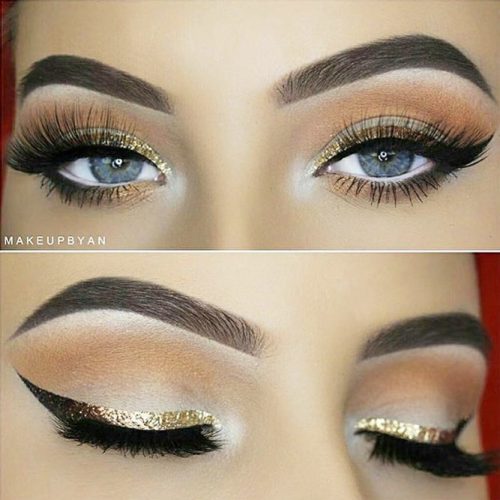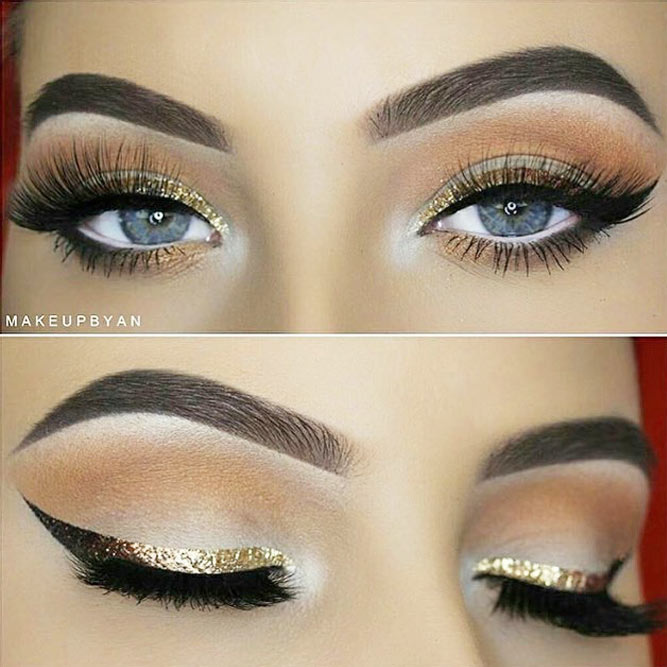 Source: Instagram/makeupbyan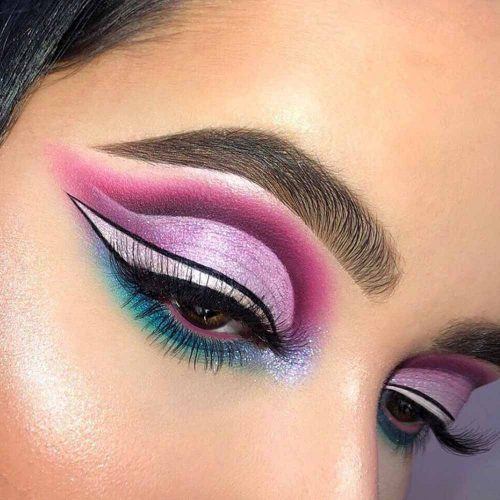 Source: Instagram/jessicarose_makeup, Instagram/nevenamaresh
Makeup ideas change over time. But as for eyeliner techniques, while we encourage you to try something new now and then, keep in mind several options that will never fail you.
Colorful Cut Crease Styles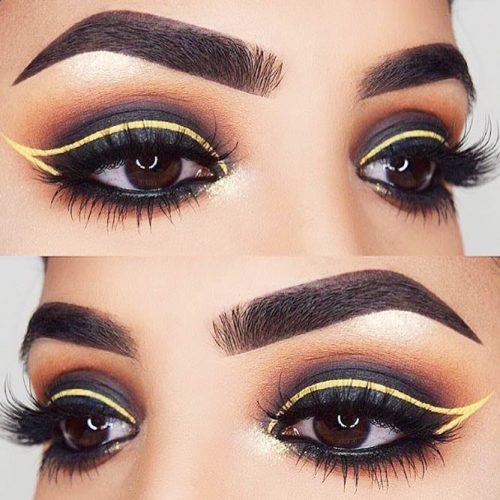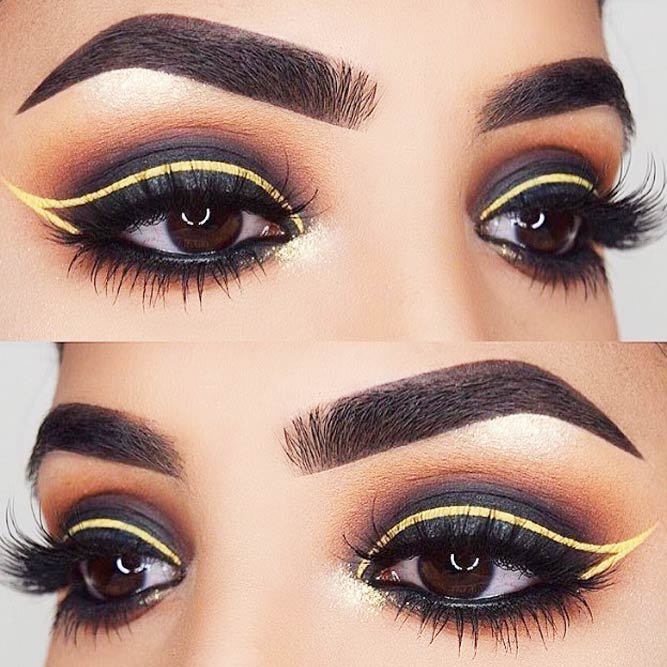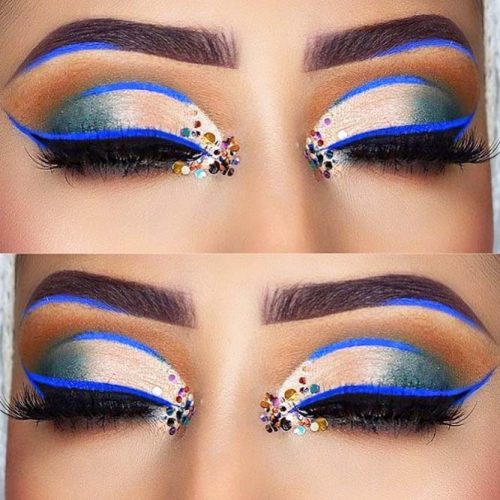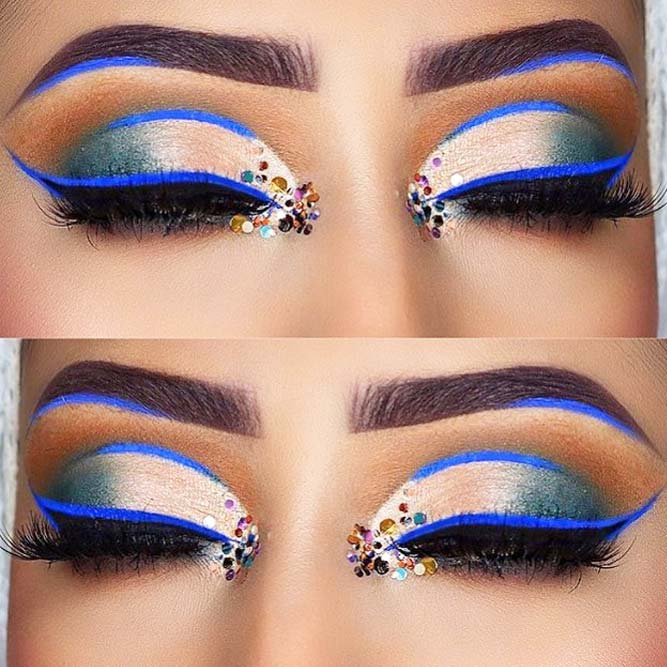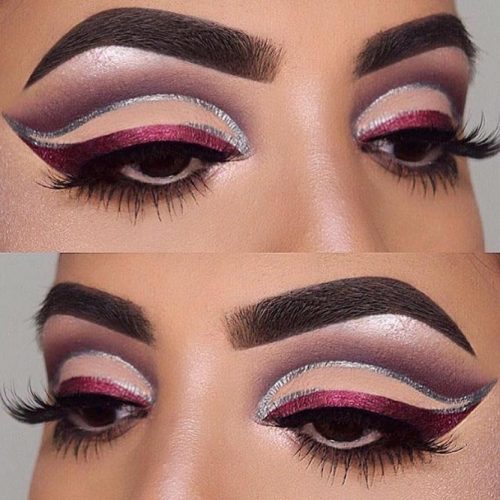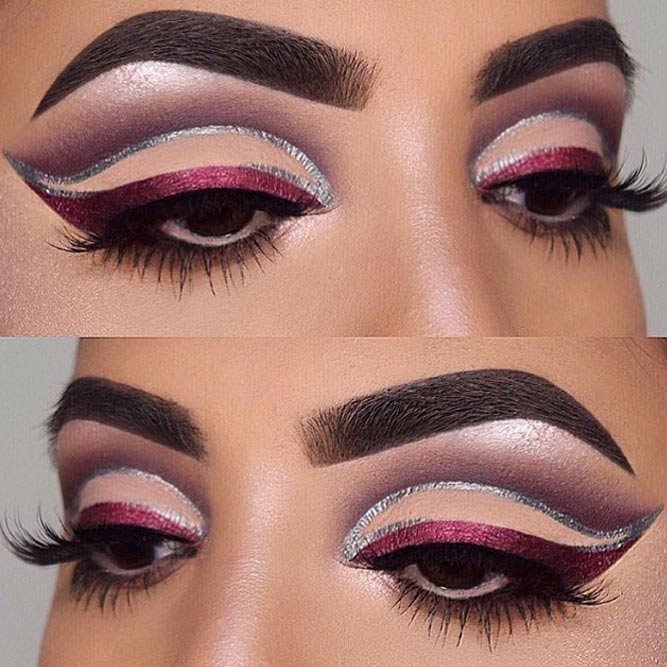 Source: Instagram/shivangi.11, Instagram/divaadana, Instagram/shivangi.11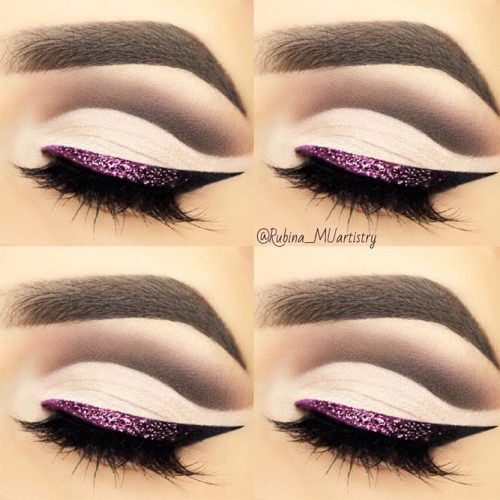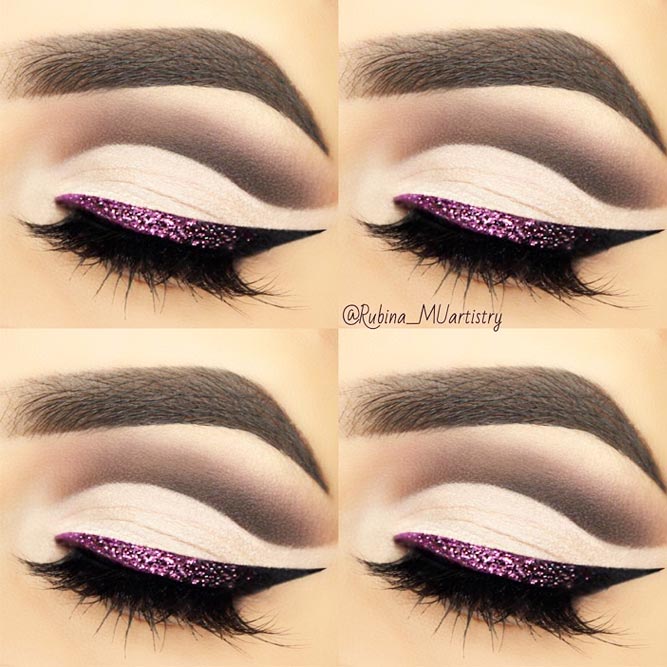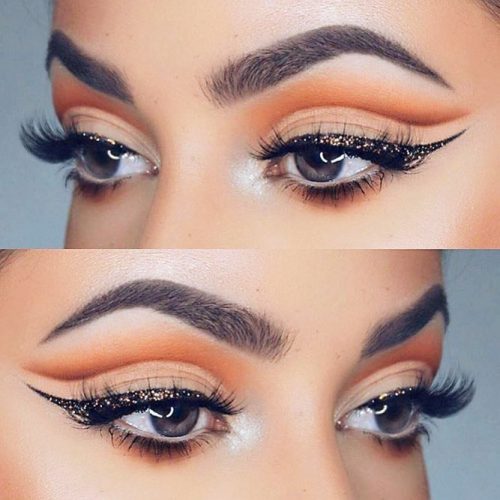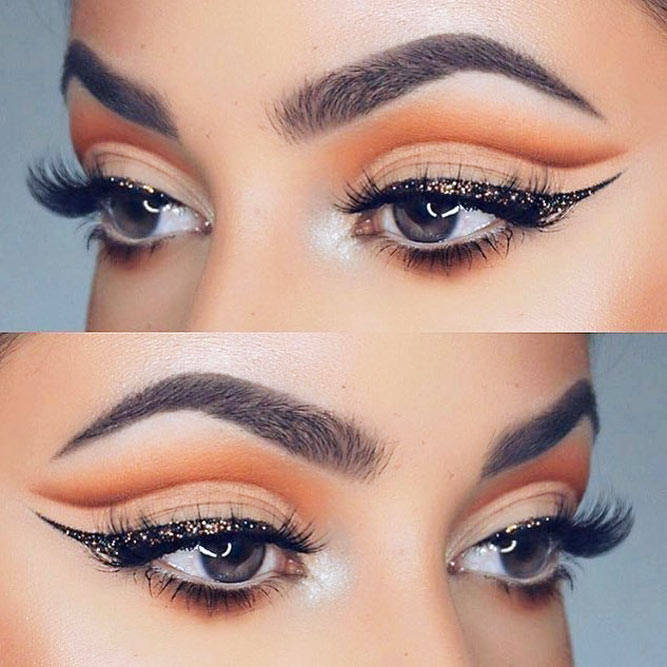 Source: Instagram/rubina_muartistry, Instagram/dianamaria_mua
To make your eyes really stand out from the rest of the face, glitter or color eyeliner is a good way. It is easy to create trending look if you mix color or glitter with the traditional black eyeliner for the right shape.
Creative Colorful And Classy Black Styles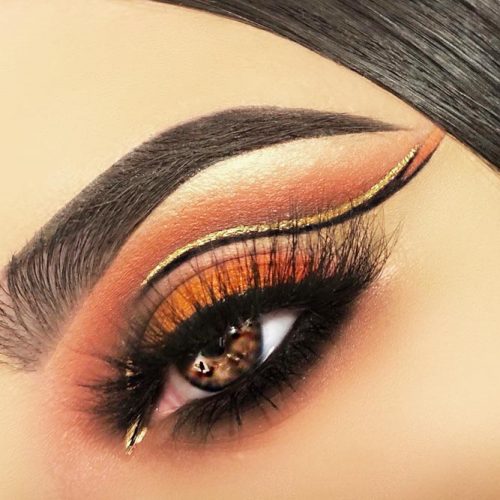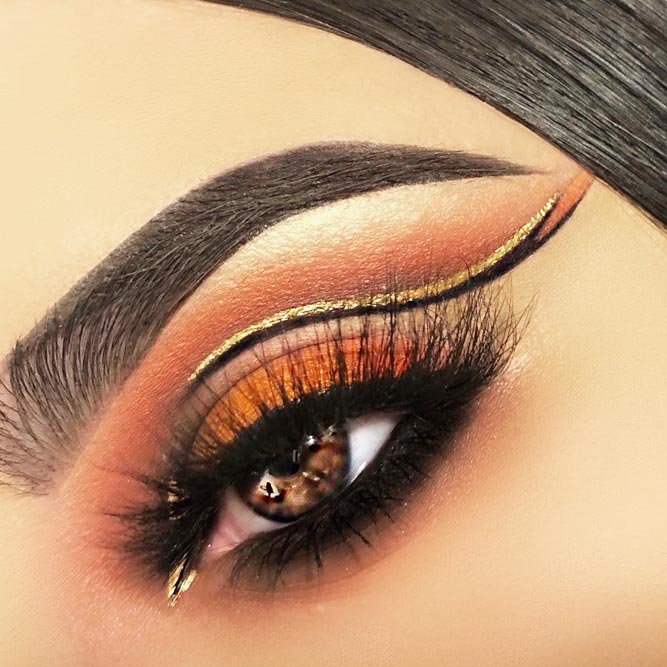 Source: Instagram/littledustmua, Instagram/zoemexiamakeup
Source: Instagram/littledustmua, Instagram/carolinebeautyinc
So, stick to a classic black variant or add some pop of color or glitter to your look. Just make sure that it will only enhance your beauty. Also, use eyeliner of the highest quality only.
New Creative Styles With Black And Color Eyeliner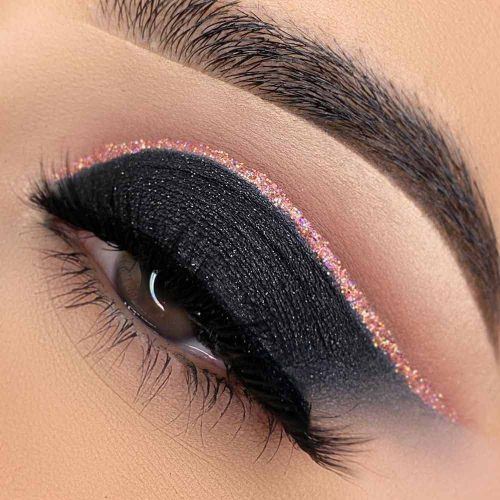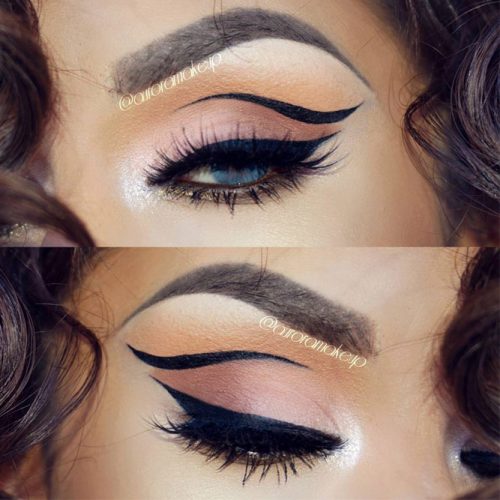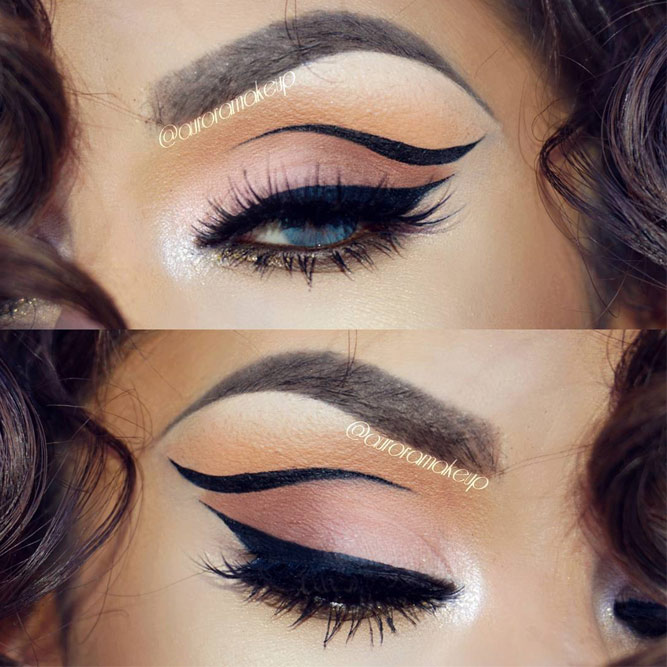 Source: Instagram/zadojn, Instagram/auroramakeup, Instagram/divaadana
As for the styles, each one has its pros. For example, a winged thick line can easily replace eyeshadow. And an elegant flick line goes great with lipstick in deep and vivid colors.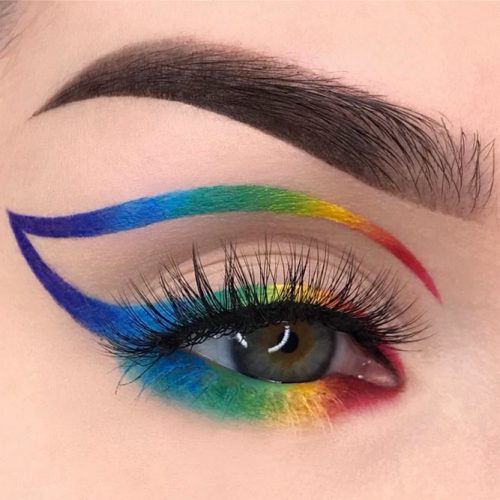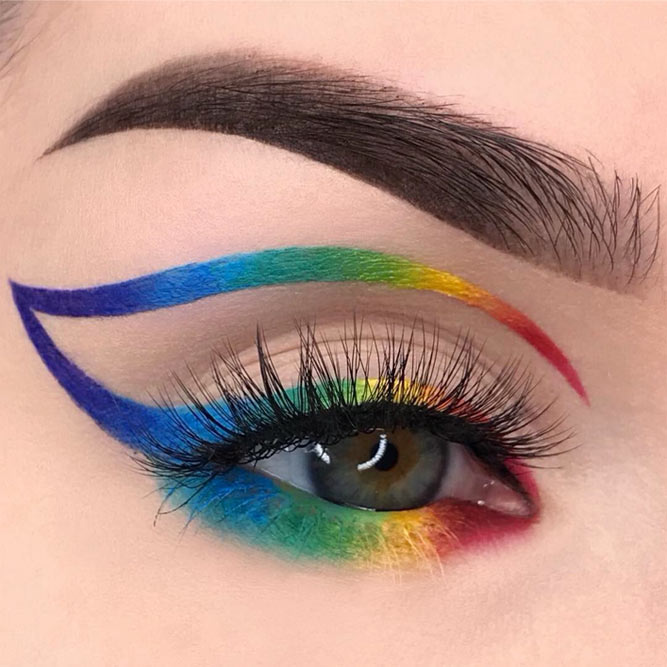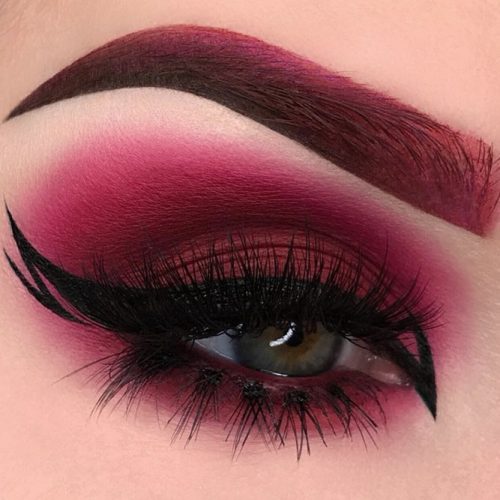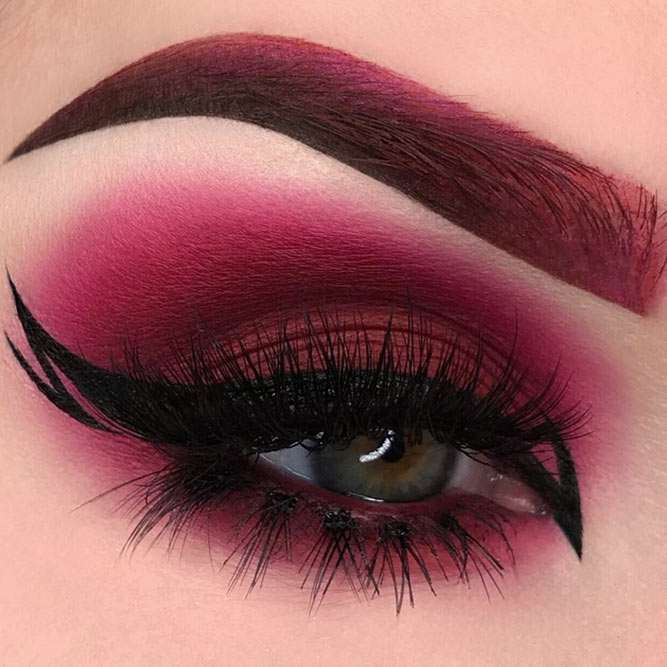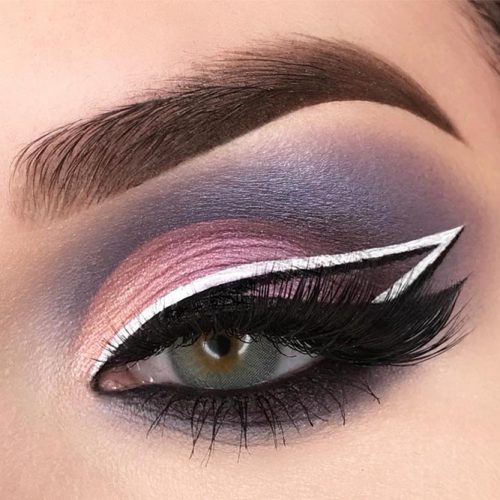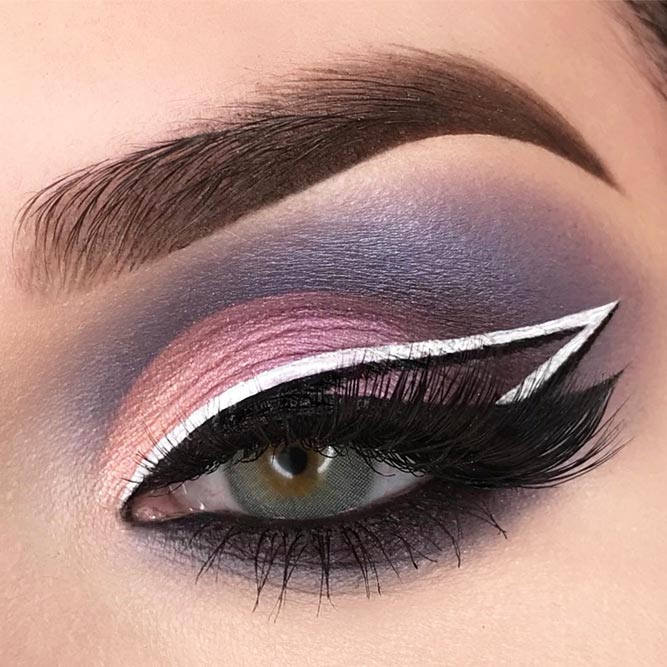 Source: Instagram/swayzemorgan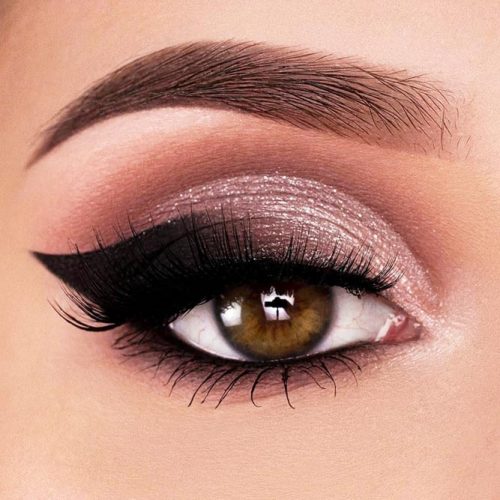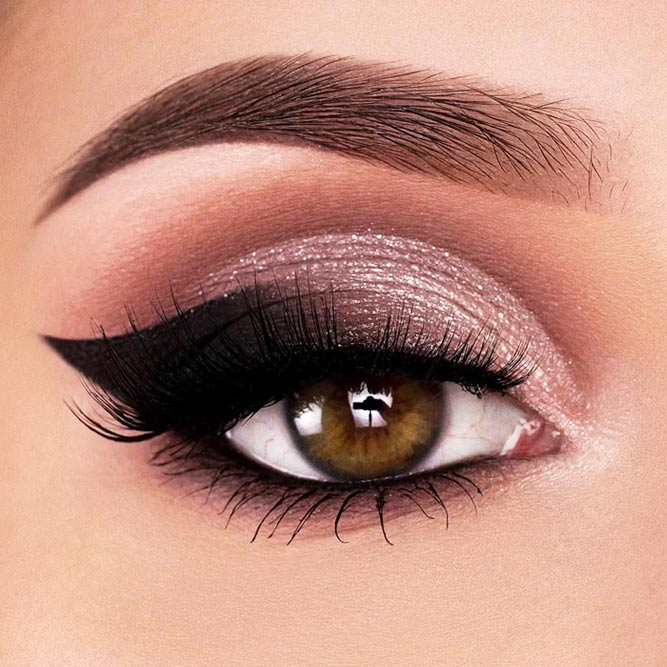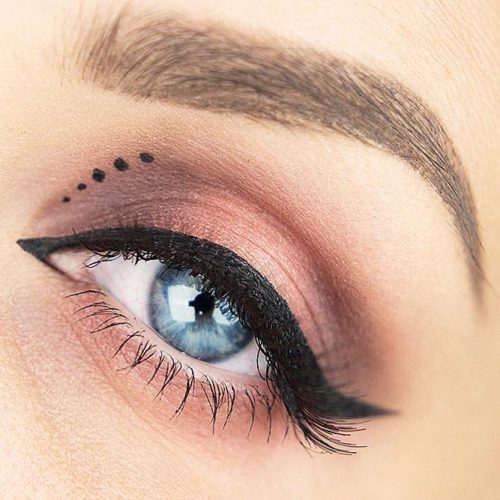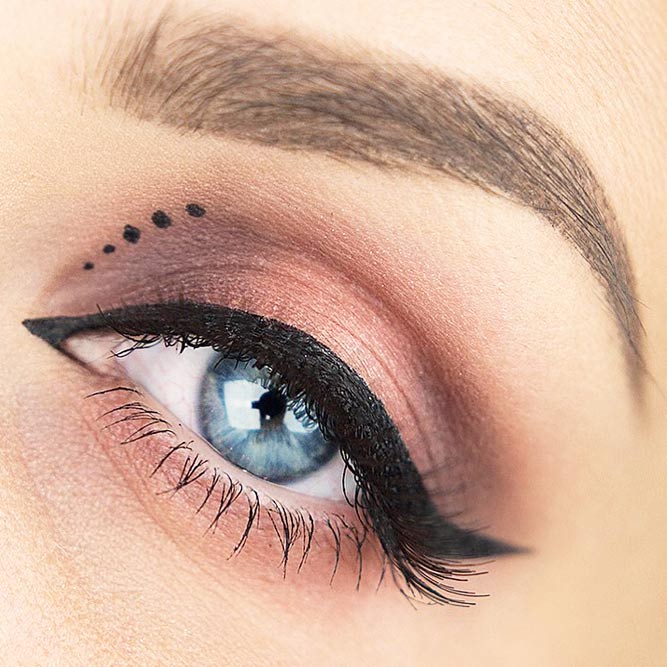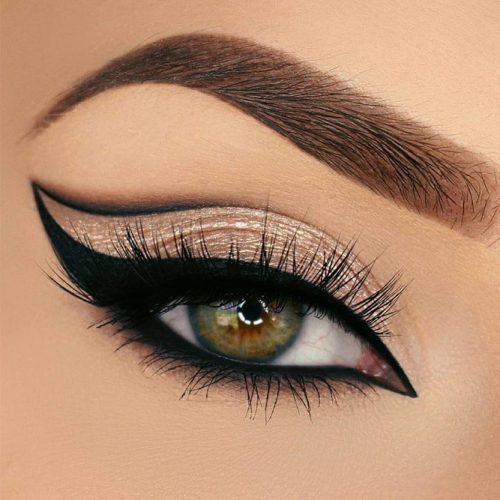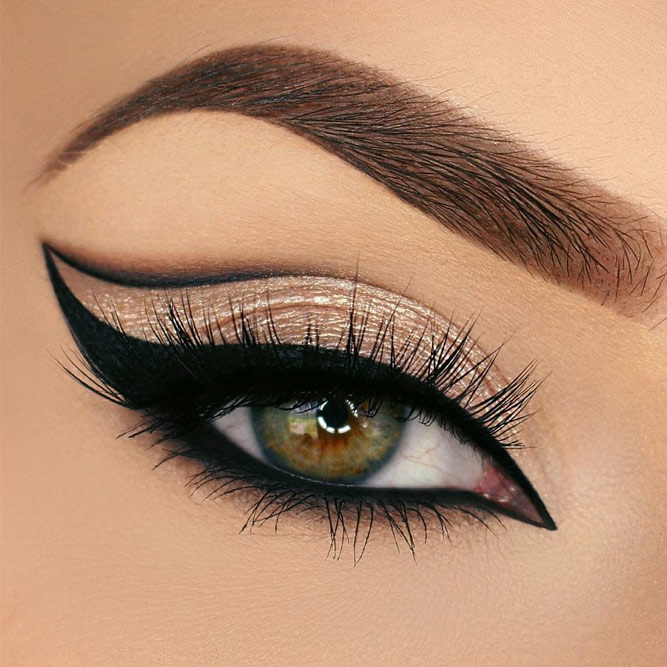 Source: Instagram/vanyxvanja, Instagram/isastarmakeup, Instagram/vanyxvanja
Those of you who are creative and bold enough to experiment with your eyeliner look will surely appreciate these stylish and unusual ideas. Do not limit your imagination, use intricate coloring and various techniques always to look flawless!
Cool Eyeliner Ideas To Inspire You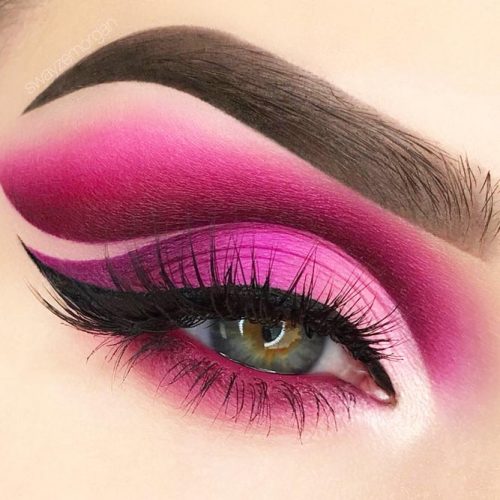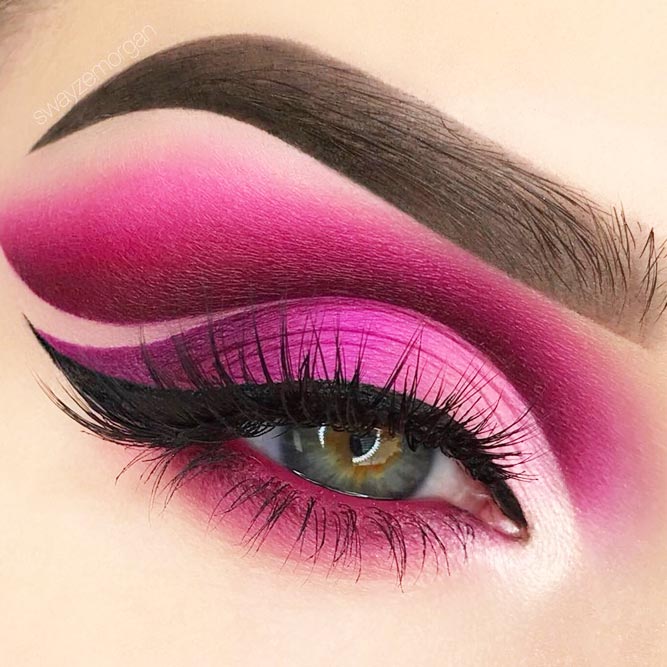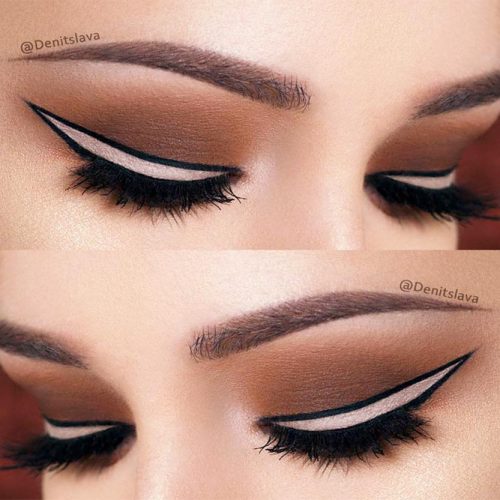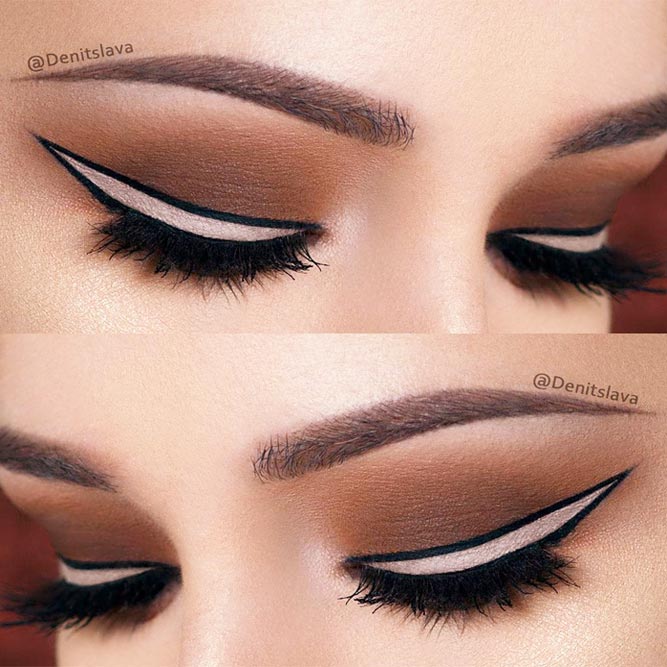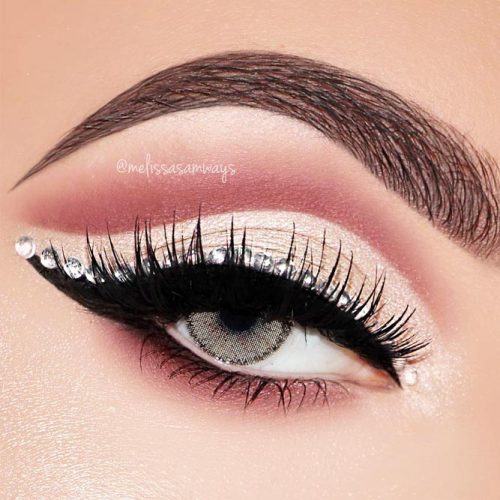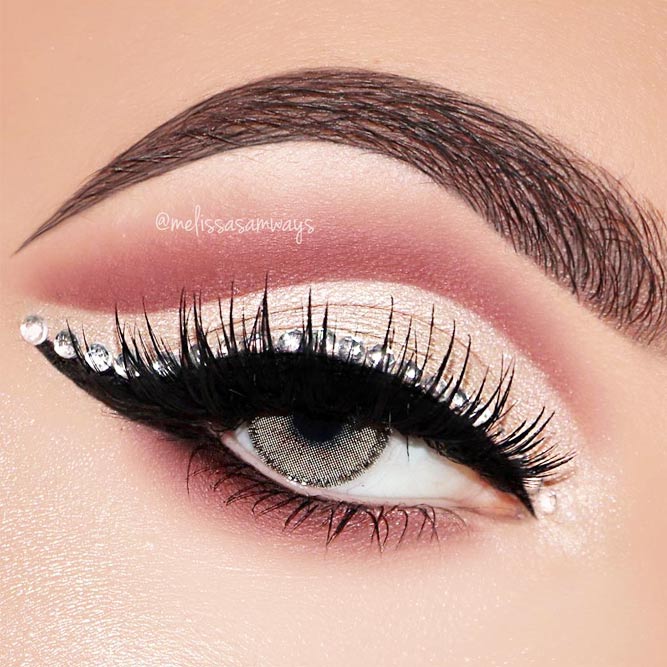 Source: Instagram/swayzemorgan, Instagram/denitslava, Instagram/melissasamways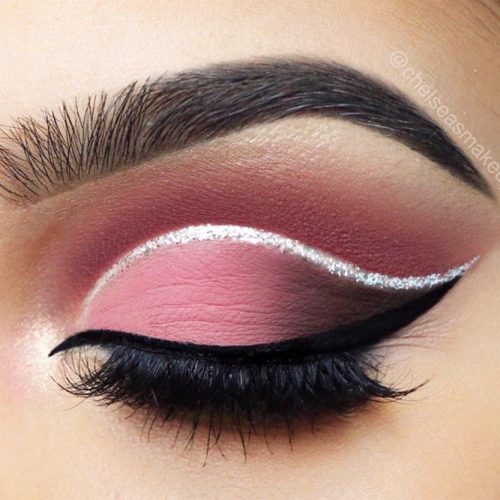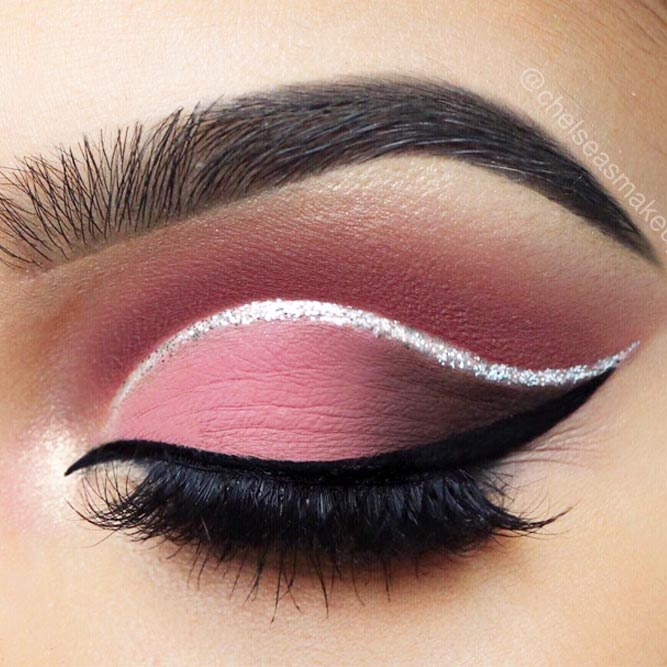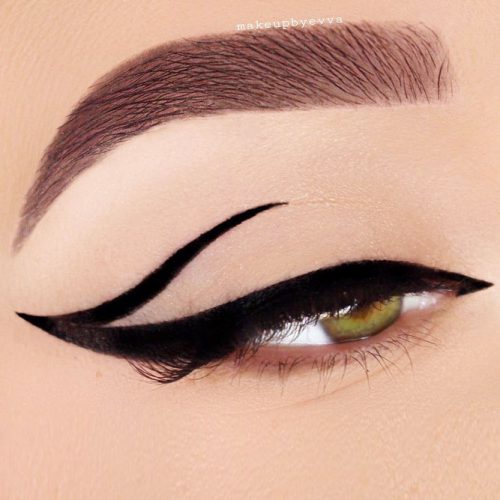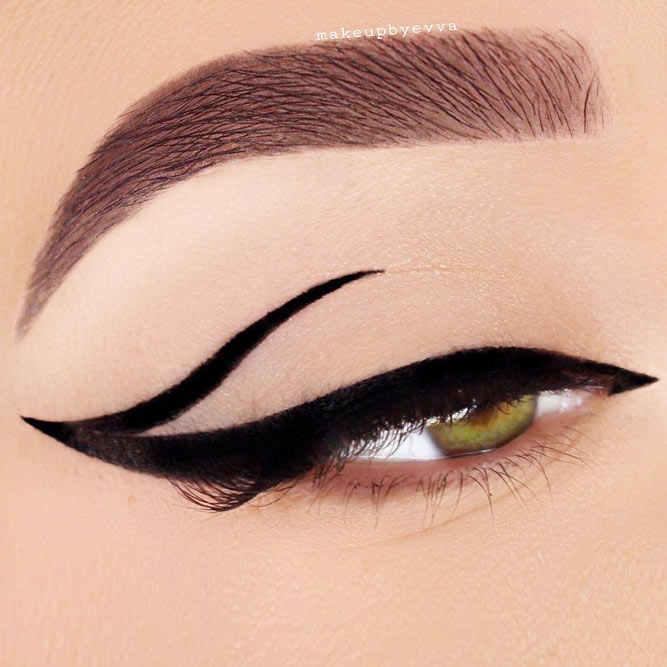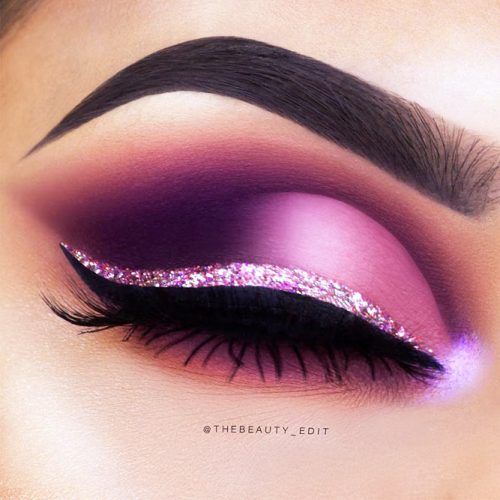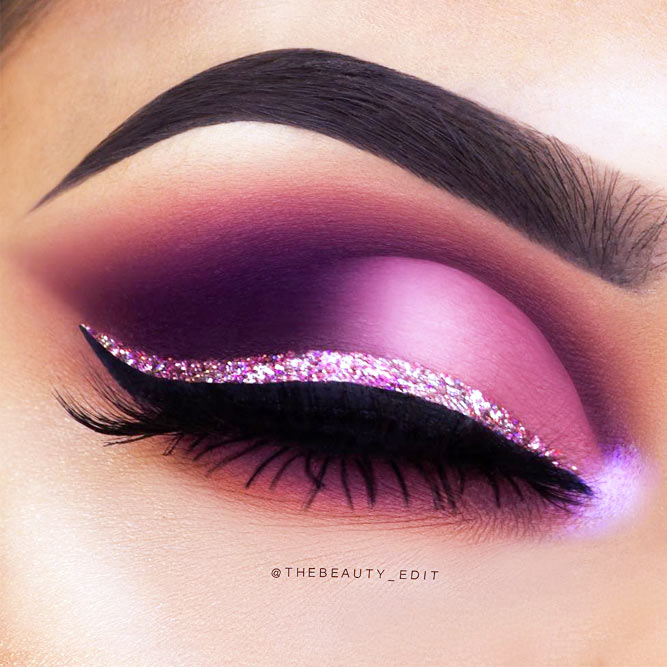 Source: Instagram/chelseasmakeup, Instagram/makeupbyevva, Instagram/thebeauty_edit
These eyeliner ideas take the meaning of the eyeliner to a whole new level. Colorful, sparkly, and crystals - all these designs can be suitable for a formal event or night party.
FAQ: Eyeliner
Should eyeliner go on top or bottom?
Keep your eyeliner on top, applying it to your bottom lash line can make your eyes smaller and make you look older. You can apply a lighter color eyeshadow or eye pencil softly to pull your makeup together without overdrawing your eyes.
Is it safe to put eyeliner on your waterline?
Applying eyeliner to your waterline could cause the openings of Meibomian glands that excrete oil to clog and can be a reason of a dry eye. That is why doctors recommend to limit using eyeliner so close to your eye and if you still do, always thoroughly remove makeup before sleep.
How to get foxy eyes with eyeliner?
While keeping your eyes open, draw a line going towards the end of the brow. It should look like an extension of the lower lash line.
Then draw a thin line starting from the center of the lid and connect the ends together.
Fill in the sparse areas to make the top line straight rather than winged. But remember to keep the line on your lid thin.
The tip should be sharp.
Draw the inner corner liner that will extend both the top and lower lash line.
Finish off with lashes that are longer on the outer corner of your eye.
REFERENCES:
Eye liner or eyeliner is a cosmetic used to define the eyes. It is applied around the contours of the eye(s) to create a variety of aesthetic effects. Source
Learn how to apply eyeliner in 12 different eyeliner styles, from blue to winged liner. Discover the perfect eyeliner look for you with Maybelline. Source
Was this article helpful?