Engagement photo poses are what you should definitely consider before the photoshoot. Location, clothes are important but not as you and your behavior on set. Read our suggestions that will, in the end, help you get the best results in the photos. Such a remarkable touching true love photoshoot should be done the best way possible, so get some inspiration here.
A Romantic Photo Shoot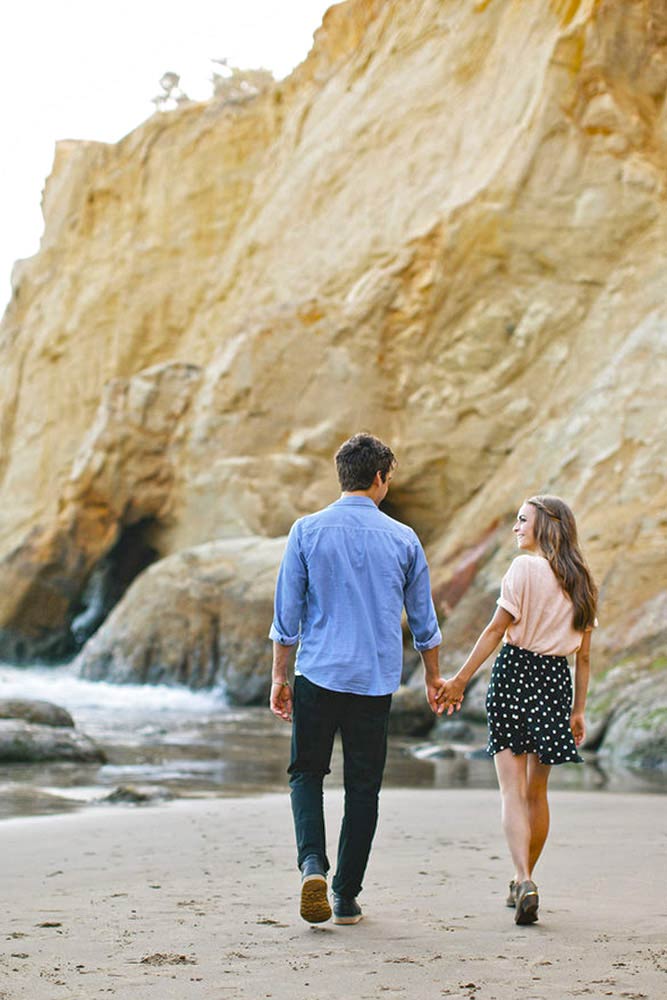 Source: Instagram/jordanvoth
Take a romantic stroll on the beach and we guarantee that the results will impress you. Only you, a loving couple in front of the camera and a beach with the ocean or sea. Isn`t it a perfect combination for incredible photos?
A Sunset Kiss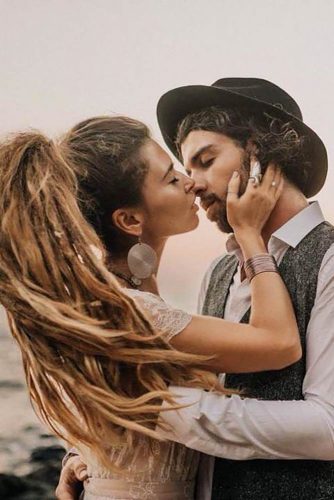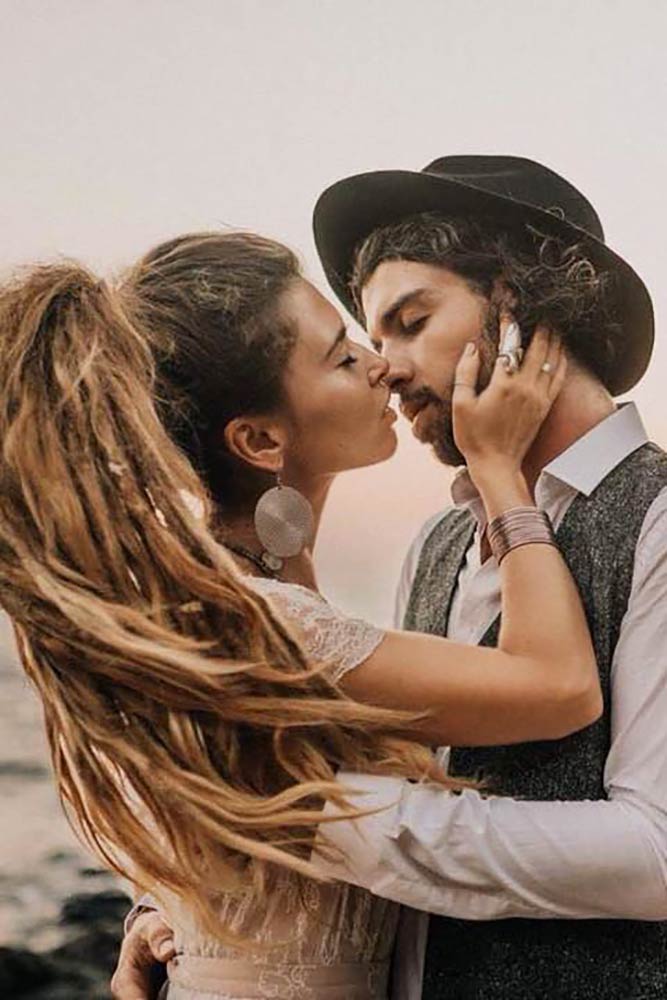 Source: Instagram/alisa.belochkina
Another beach idea for you is a sunset kiss. Two lovebirds share a beautiful moment of kissing, showing the new engagement ring of the bride to be. "Save the date, dear friends!"- that`s exactly what such a romantic photo screams.
A Classical Pose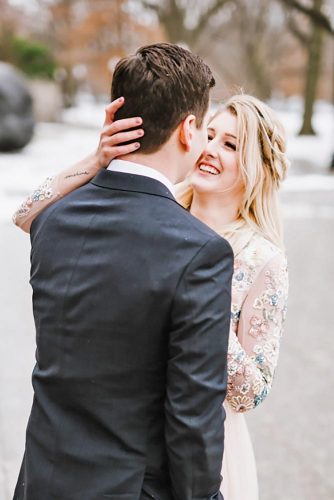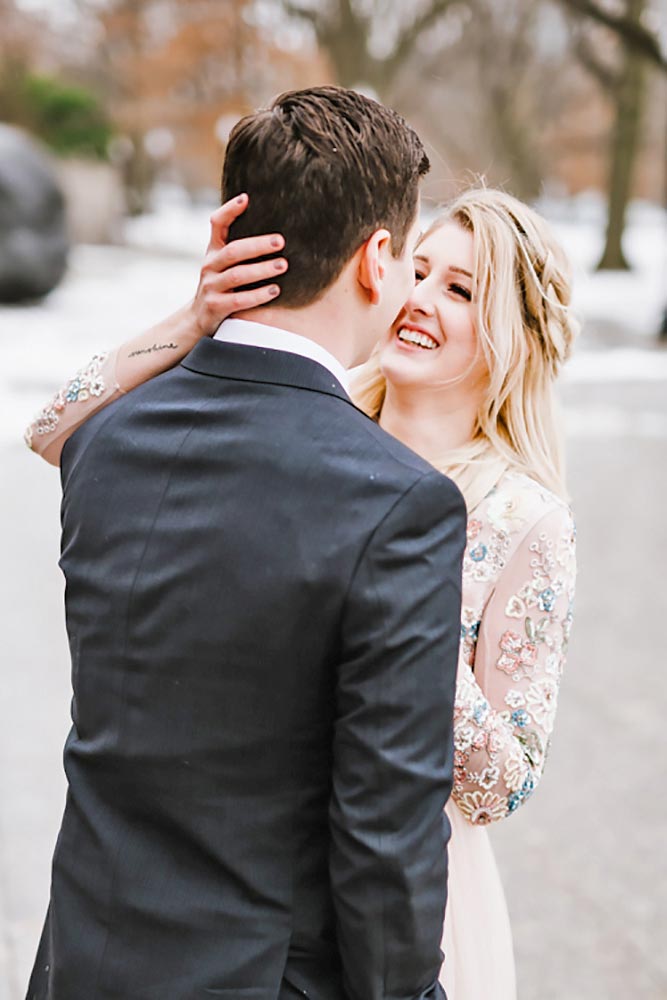 Source: Instagram/annmarie_swift
Classical engagement photo poses for a couple that shows all the love and tenderness you feel for each other. Take your hand up to show the engagement ring and a perfect engagement photo is ready. Happy you and a new small detail on your finger will speak about your upcoming wedding day louder than words for your family and friends.
Add Some Flowers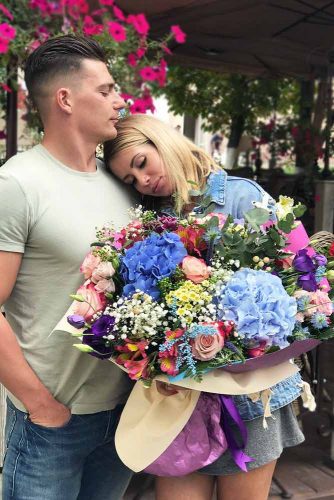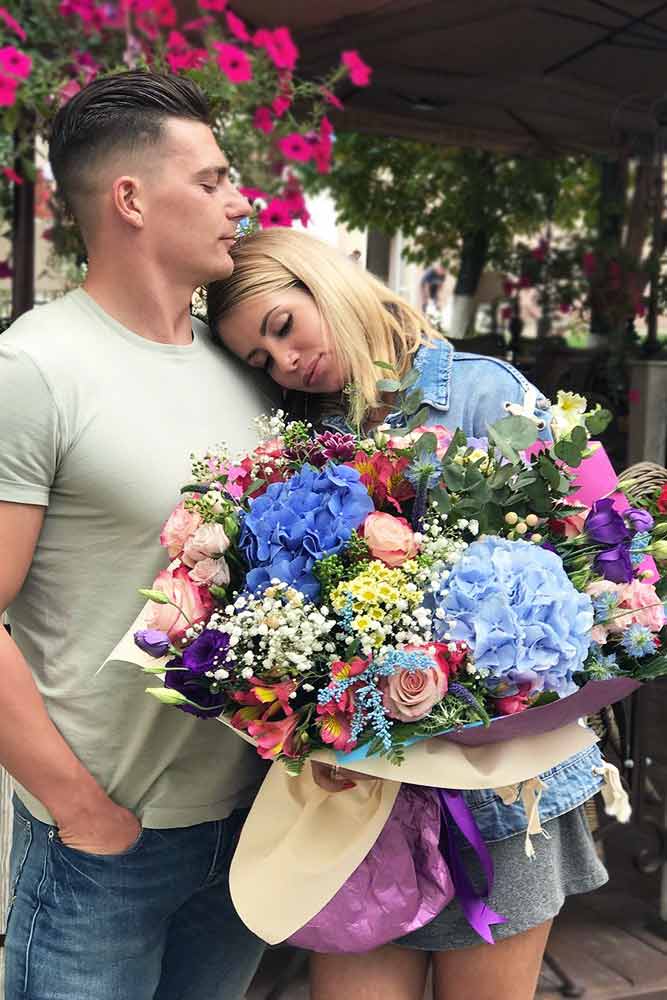 Source: Instagram/roma_maslov_
A floral theme will work for any photo shoot, don`t you think? It is also great to let the world know about your big day. Add some flowers to the photo of you together, and the romantic atmosphere will be right there for incredible results.
Fall-In-Love Dinner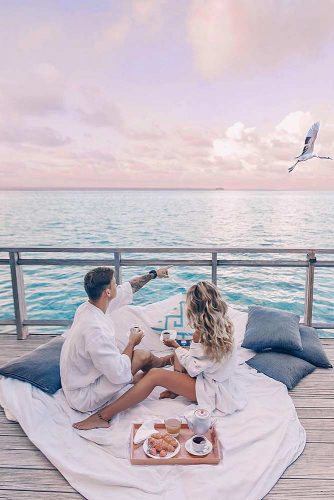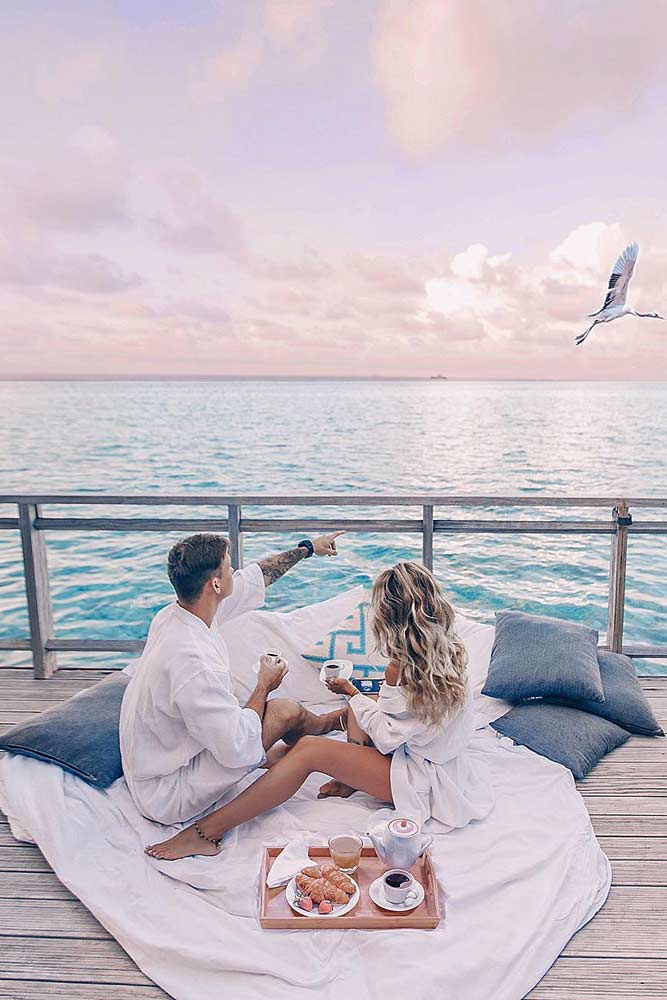 Source: Instagram/yuliyabezdar
What creative and romantic ideas can we think of for an engagement shoot? When we try to think of anything romantic, we instantly imagine a romantic dinner. So why don`t you let it be the set for your photo shoot? It will give the atmosphere of love and romance to the photos.
Tenderness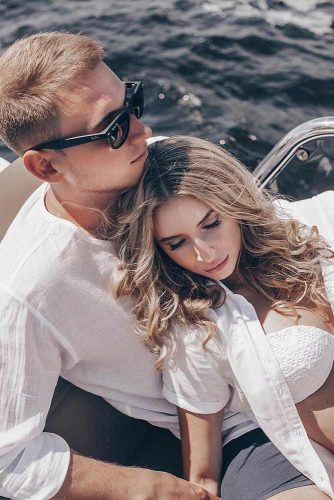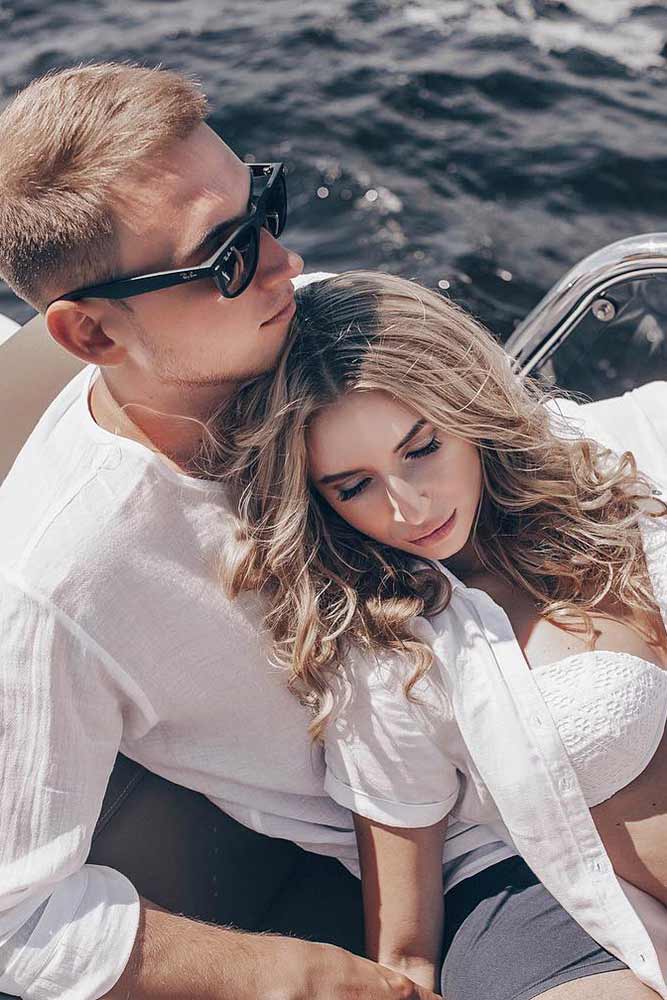 Source: Instagram/yuliyabezdar
It's among the most creative engagement photo ideas. Delicate and romantic, it will show all the feelings you have for each other. A relaxing pose of you holding on to each other.
Reflective Engagement Picture Ideas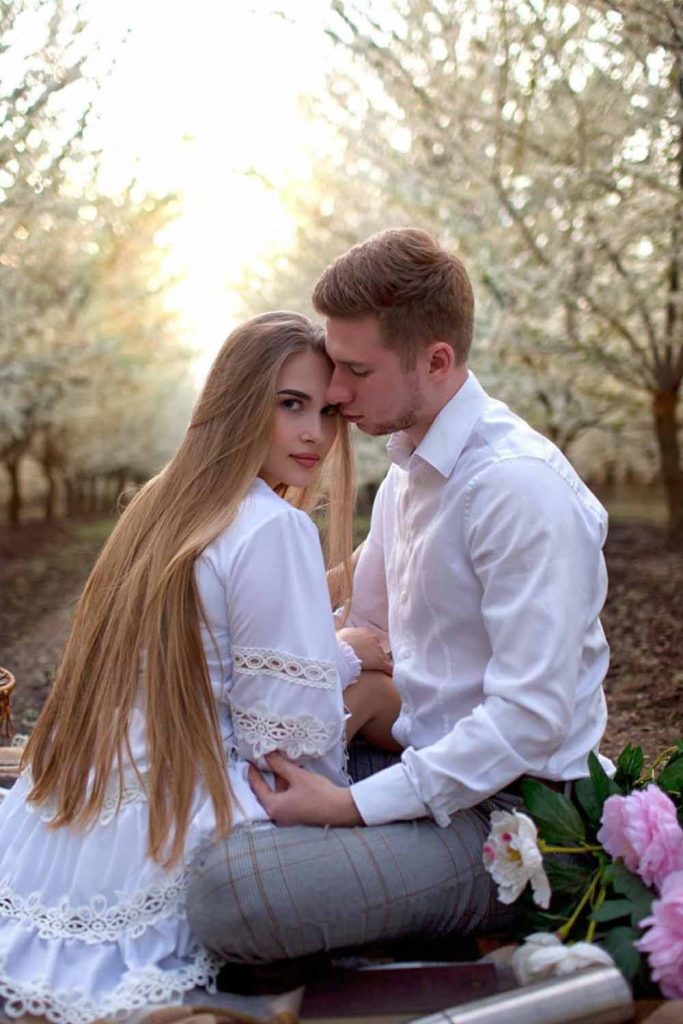 Source: Instagram/svetlana__photo_
If you think of engagement photos what to wear, we have a suggestion. Take a simple white dress and some flowers and, with the help of such a reflective idea, show the world how happy you are to be engaged to the man you love. Kiss or hug in the photo and we promise you, everyone will get what you want to say.
Creative Engagement Photo Session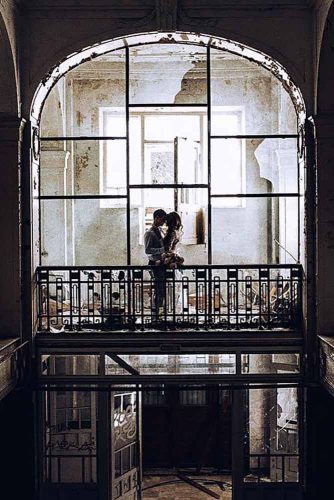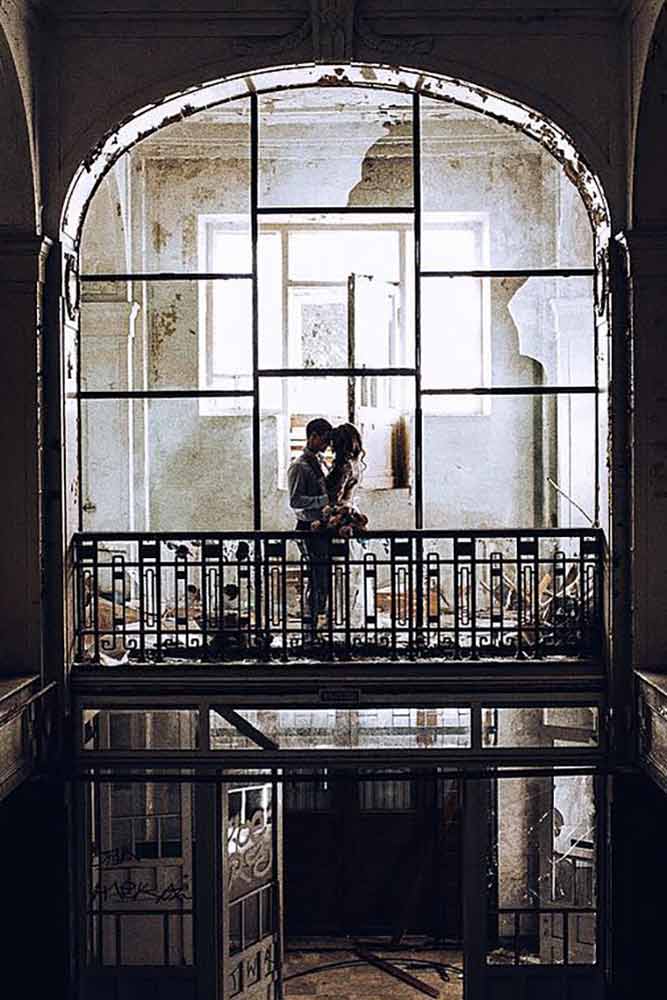 Source: Instagram/yuliyabezdar
An interesting idea for your engagement session is to find a beautiful place with the right atmosphere. Just you two and a simple background that makes you the most important part of the photo. This simplicity is its creativity.
Playful Idea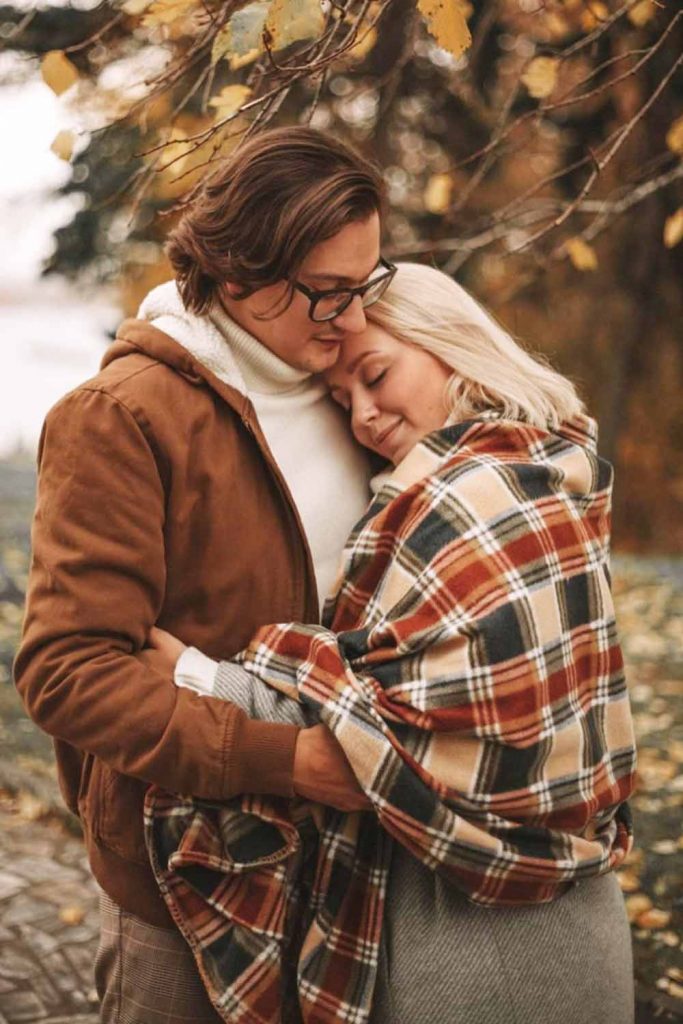 Source: Instagram/ilyashadrunov_photo
A gorgeous playful idea that will grant the romantic mood to the photos. Take a blanket or a scarf and cuddle under it to show your affection and love for each other. A super cute and flirty idea for an engagement photo shoot.
Nature Is Beautiful
Another great suggestion among other outdoor engagement photo ideas that will inspire you is taking a natural background for announcing such news. Just two of you and nobody around you, sharing a romantic moment in a natural place. A wood or a garden can be picked - just have fun, kiss and love each other in the photos, and you will be impressed with what you will get later.
Eye To Eye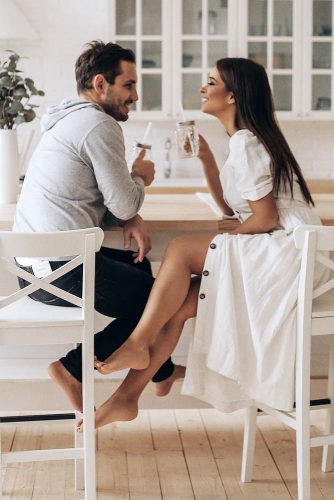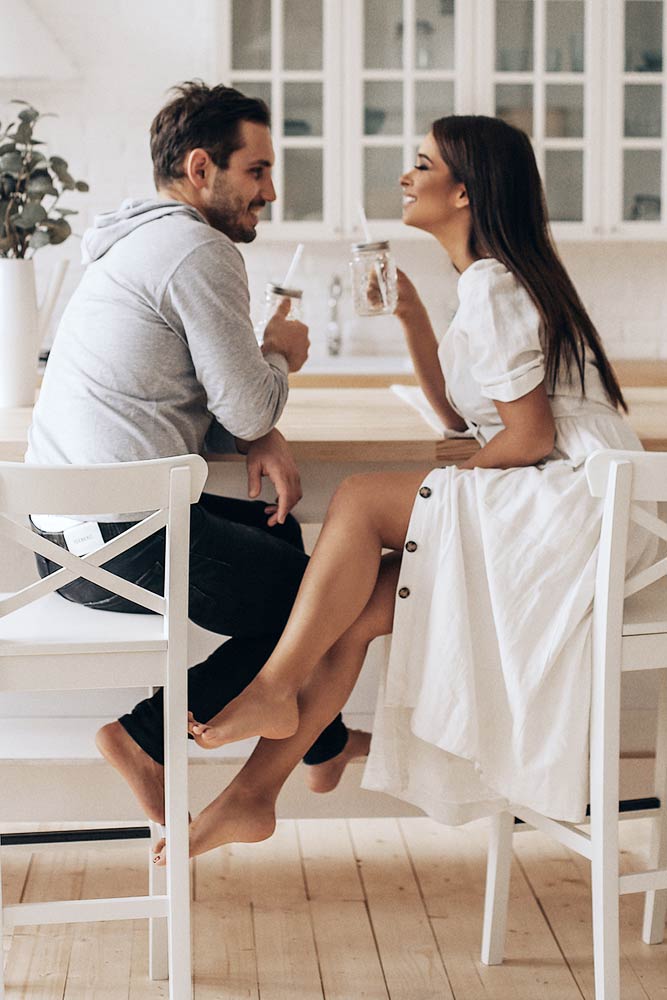 Source: Instagram/alina_akilova
Sit down at the table and get the most romantic photos taken for announcing your engagement. The best pose, as for us, is sitting eye to eye, looking at each other with love and affection. Cozy and sweet, the atmosphere will be the best in the photos.
One-Sided Views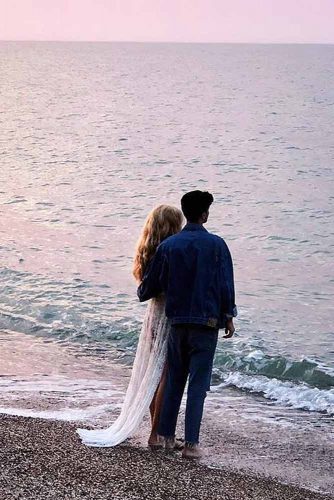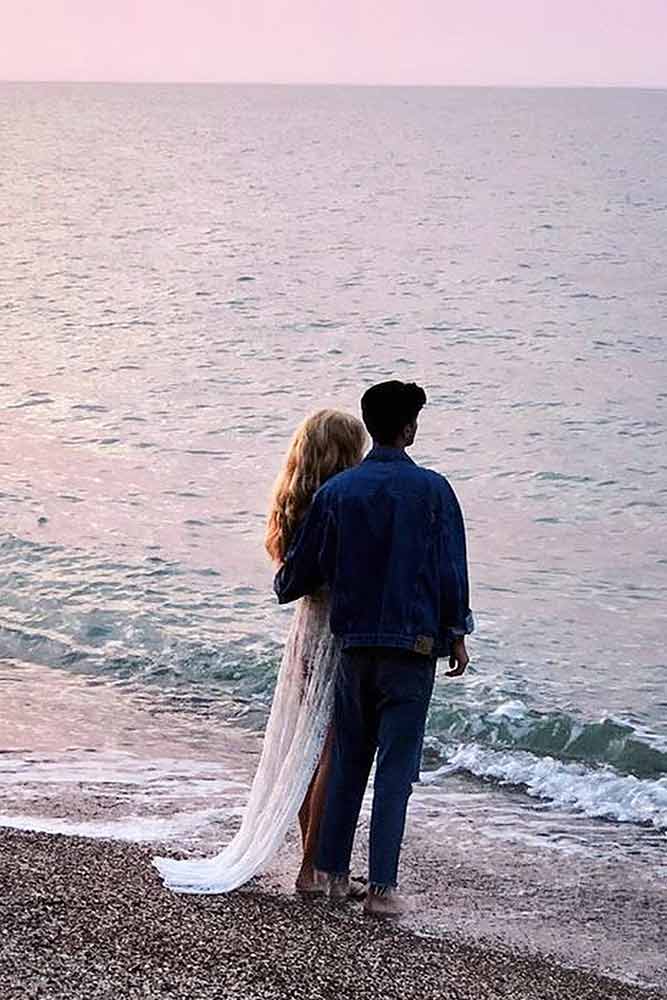 Source: Instagram/igorwinogradow
One-sided views for any engagement photo themes are a great idea. Don`t you think? Just you two holding on to each other while looking at the same direction is what will show that you see your future the same way and together.
Creative Photo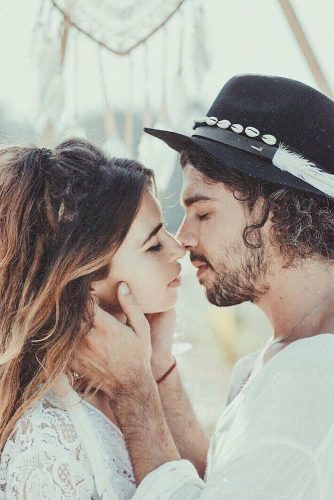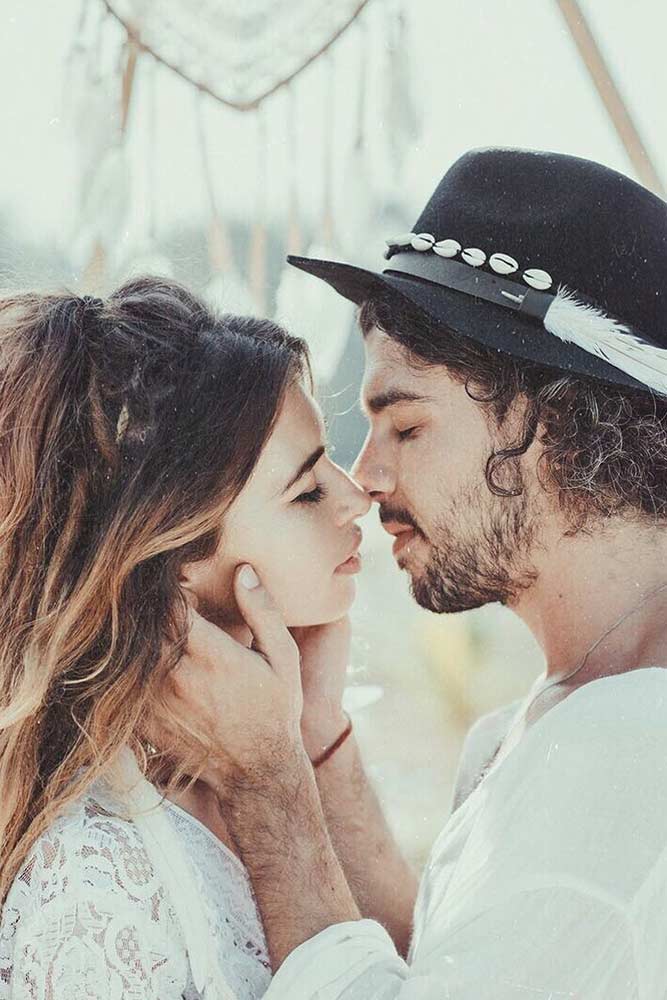 Source: Instagram/alisa.belochkina
It is in the top engagement photo poses list. Just the two of you in an intimate moment of sharing a kiss will be a beautiful photo idea. Ask your partner to gently hold your face and we promise you the atmosphere of love will be there instantly.
Love On The Beach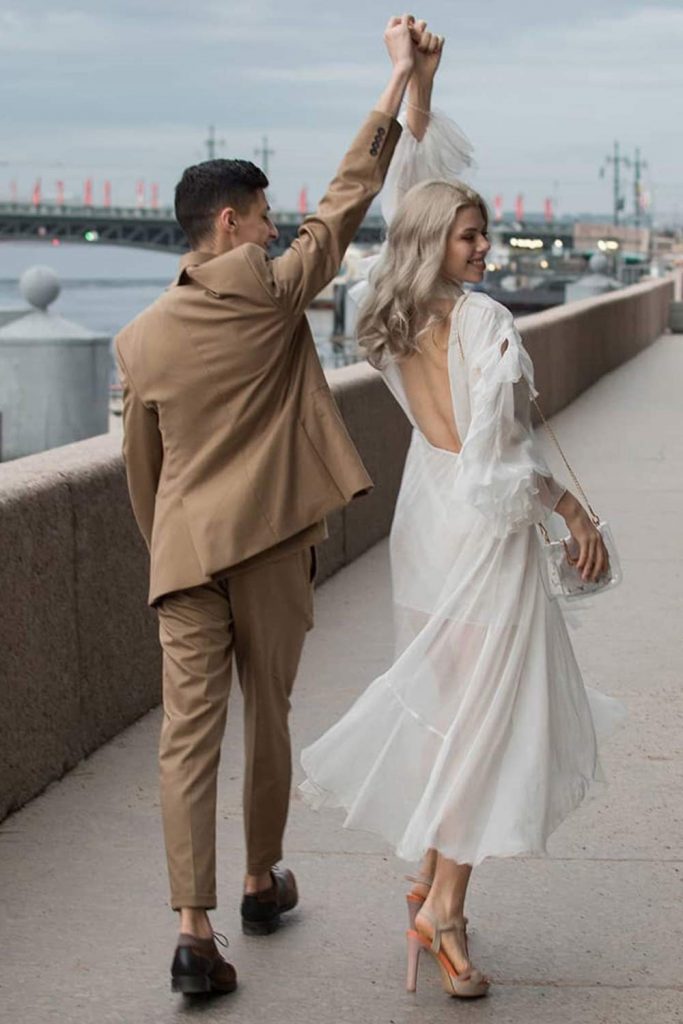 Source: Instagram/polly_corn
As we have already stated, engagement photos on the beach are the most popular and beautiful ones. Just be yourselves and have a great time together. The photos will be the best ever. Simple and full of happiness.
Happiness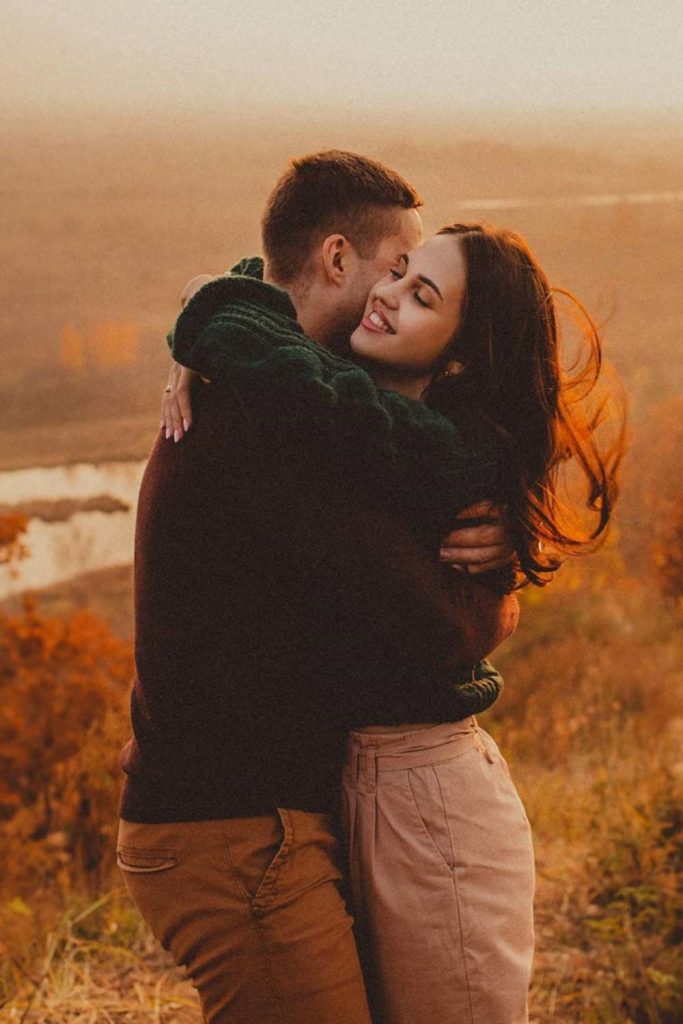 Source: Instagram/anastasiia.polyanskikh
A natural smile is what will definitely show the world how truly happy you are to be with this person and share your heart with him. Show your engagement ring while holding on to each other with a smile, and everything will be understood instantly.
Kiss Me Now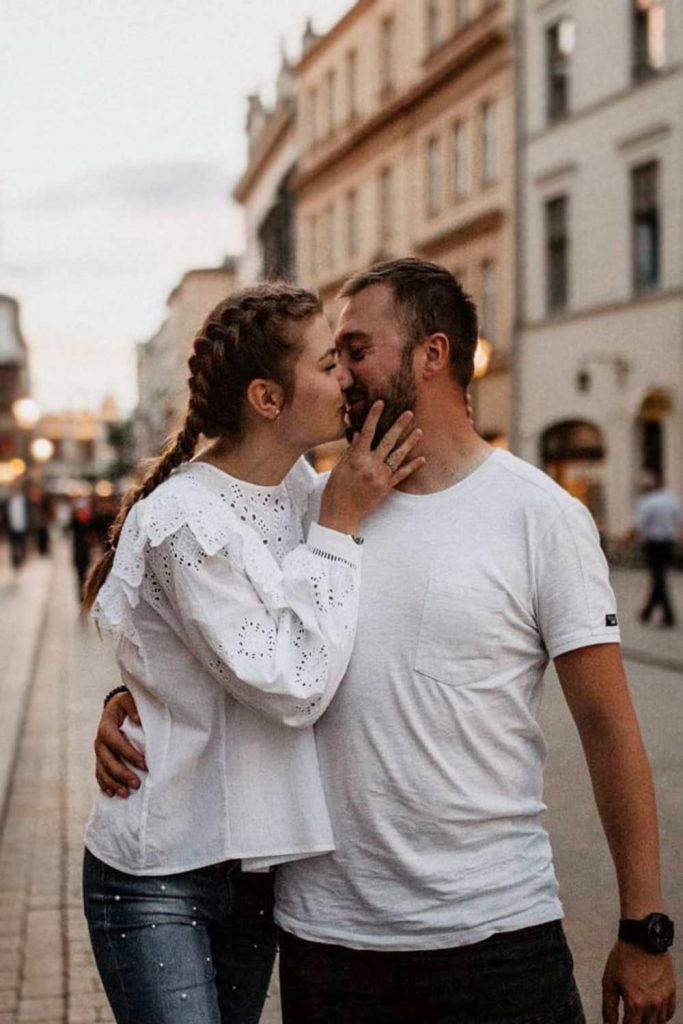 Source: Instagram/photoptashka
Why don`t you choose an interesting background for a romantic kissing pose? This one in a boat is super creative and symbolic at the same time. While you two share a kiss in a boat, it will be obvious that you two are ready for a sail through your life being side by side to each other.
Only Ring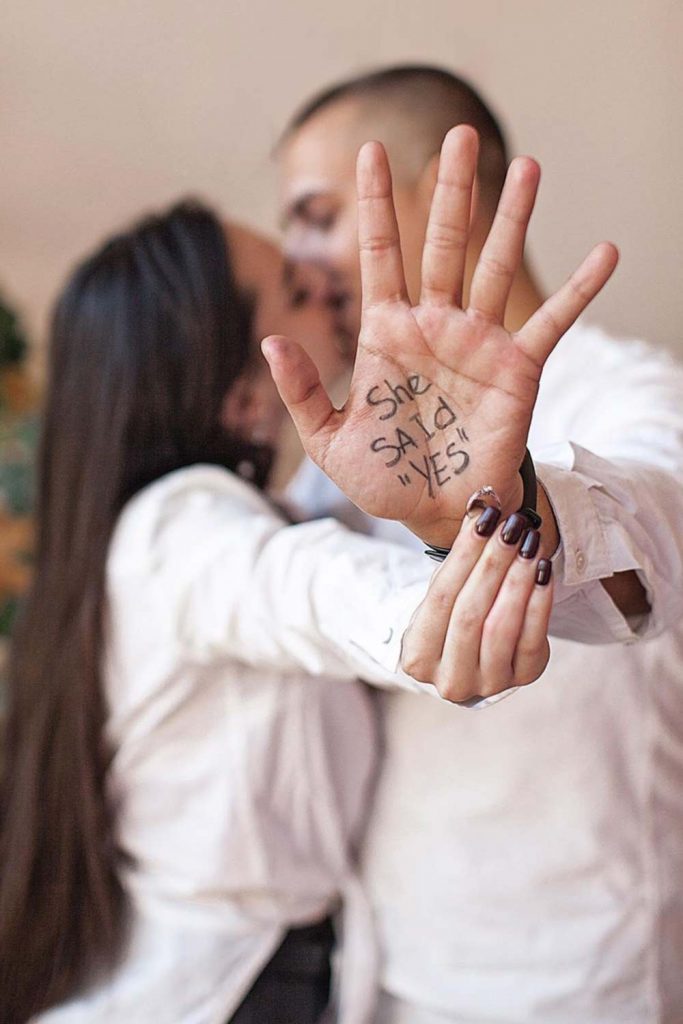 Source: Instagram/inga_mishkina
A ring is one of the most important things for a romantic engagement photo shoot. Show it in a photo, while hugging your partner for capturing the small detail on your finger. A beautiful idea that will make your future plans obvious.
As One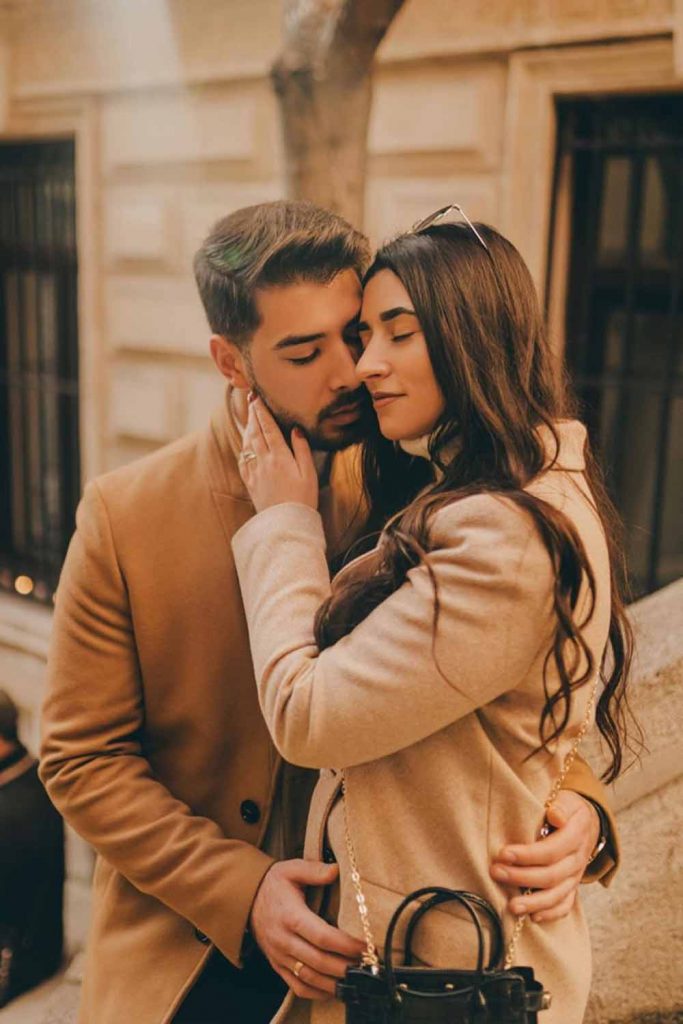 Source: Instagram/buse.oe
Remember that you two together are the most important part of the whole engagement photoset. That is why do whatever you are used to doing when you are alone. Kiss, laugh, hug and don`t be ashamed of showing your emotions and the way you feel about each other. That`s the guarantee of the successful photo shoot.
Romantic Walk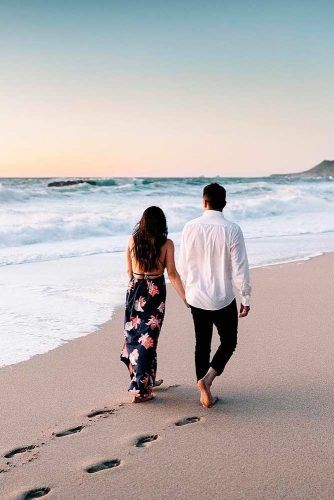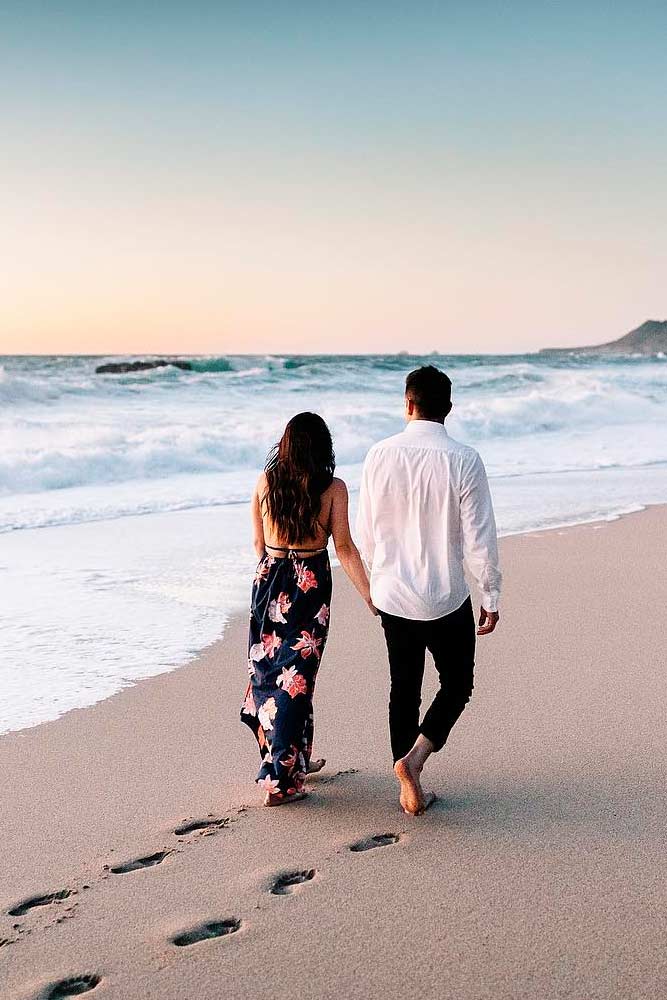 Source: Instagram/maksmaaksphoto
What can be more romantic than an empty beach and an endless ocean in front of you to show off your feelings as well as happiness? Besides, the flawless canvas ahead can be that defining element of your journey together
Rain Of Rose Petals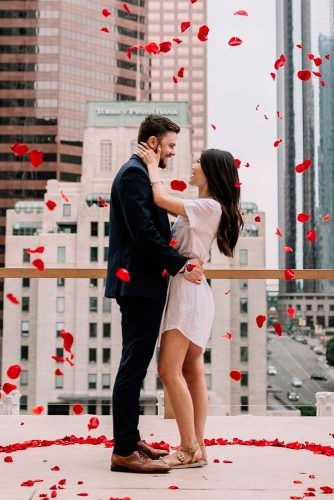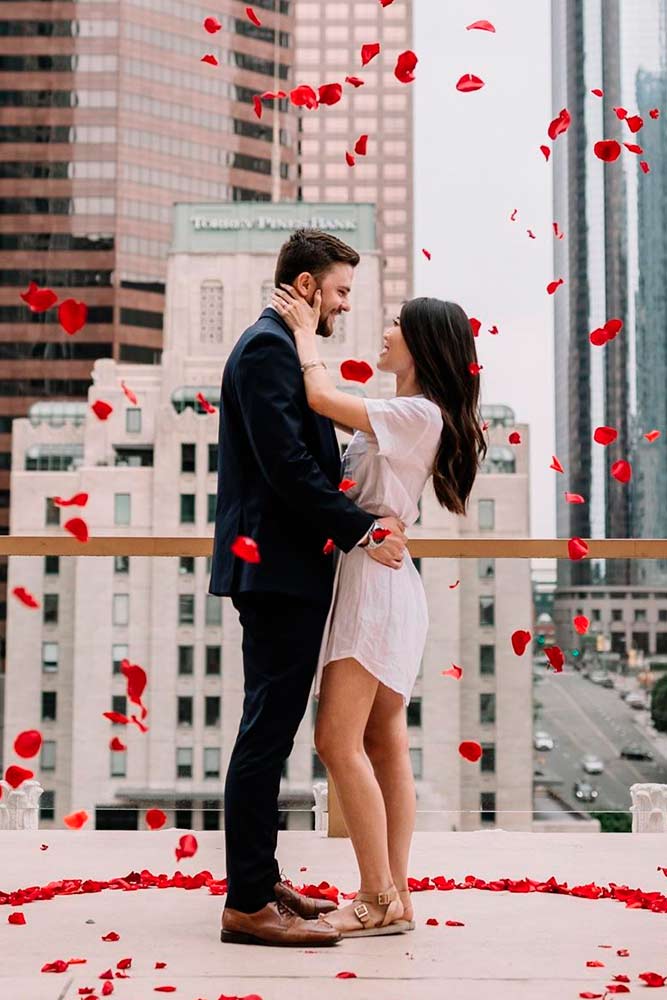 Source: Instagram/maksmaaksphoto
Red roses symbolize eternal and passionate love. That is why standing in the rain of rose petals is one of the best ways to memorize your feelings forever!
Lift Up For More Fun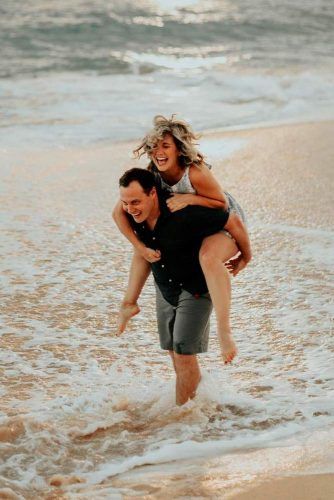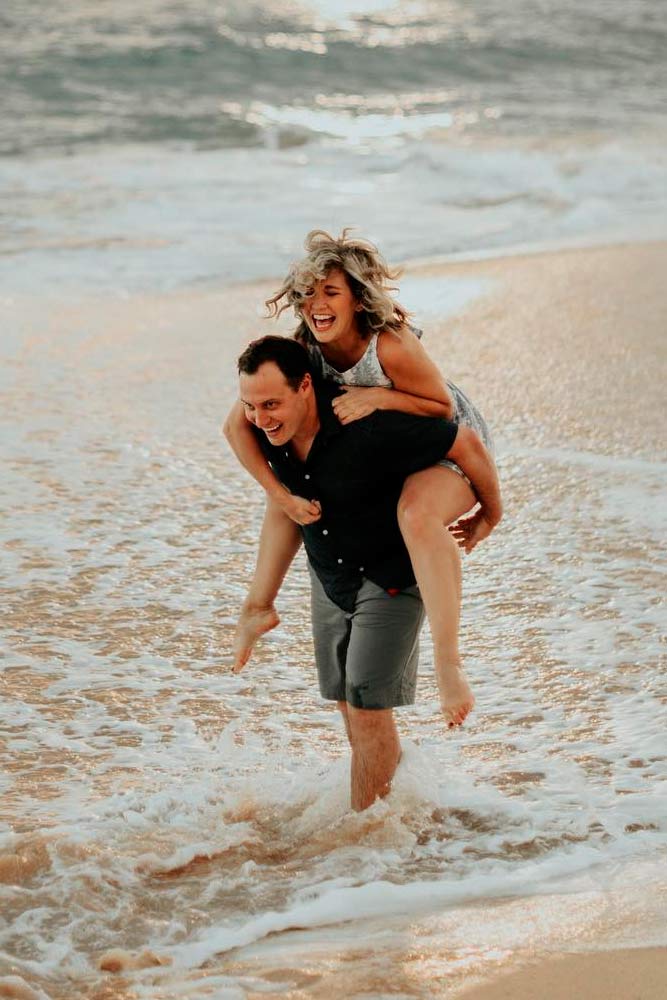 Source: Instagram/toniechristine
If being too serious or over the edge romantic on your engagement photos is not your cup of tea – show the real you! Like to have fun together? Show it off to the photographer!
Gentle Kiss On The Forehead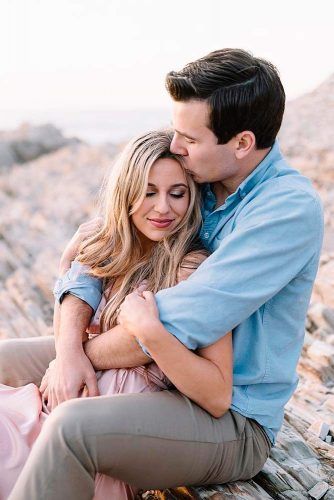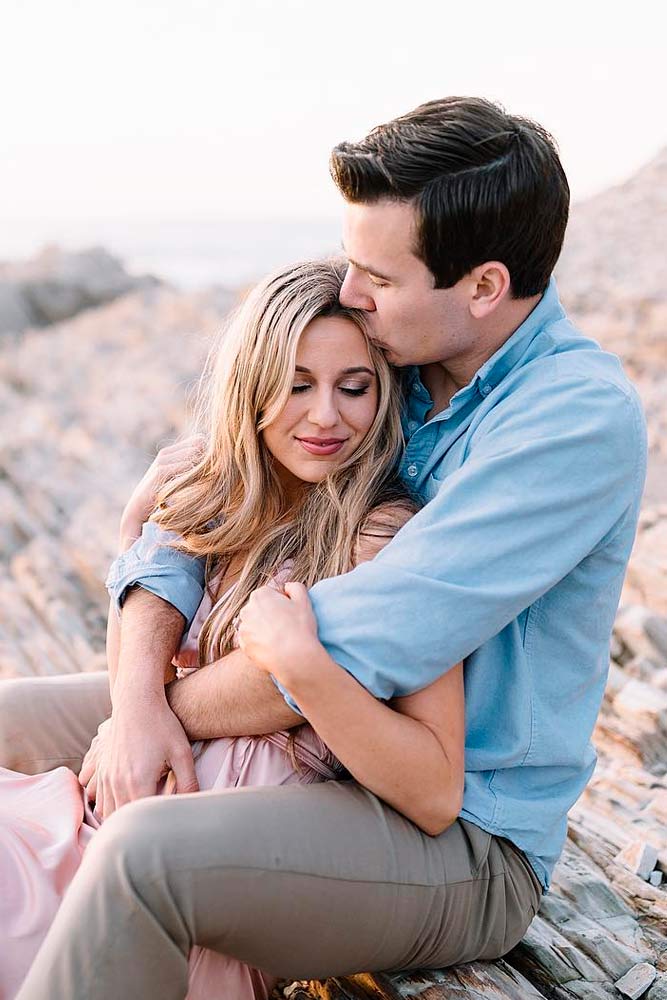 Source: Instagram/maksmaaksphoto
Love is many things, and gentleness is one of them. Do not be afraid to look vulnerable when you are close to each other.
'Follow me!'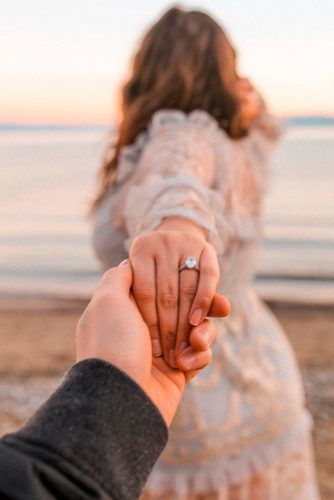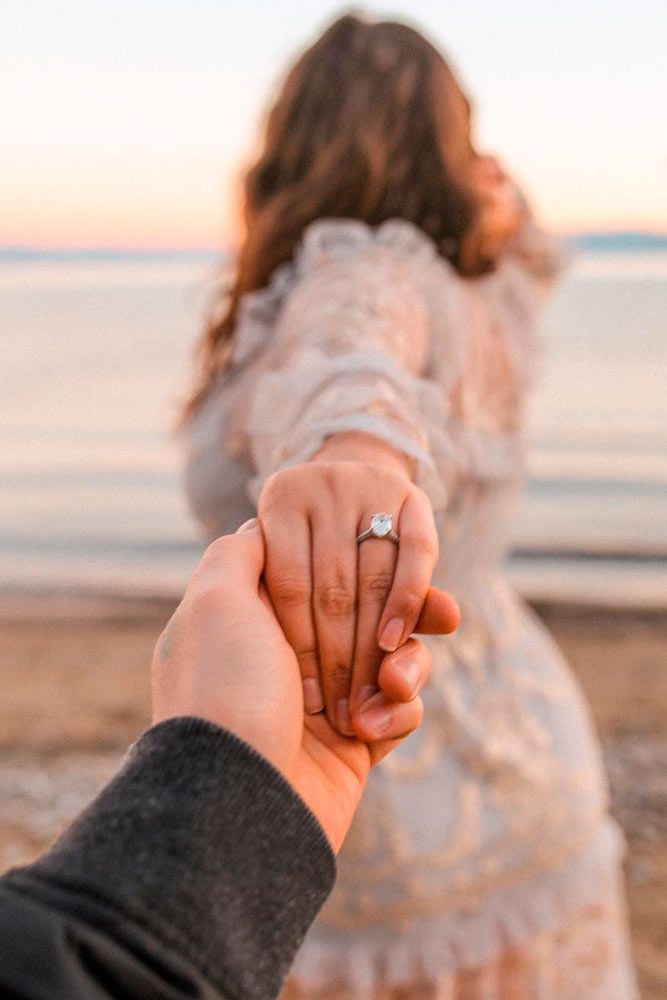 Source: Instagram/julesjetsets
The best way to kill two birds with one stone is to take a 'Follow Me!' photo. You can show your beautiful ring as well as your intention to follow each other, no matter where life takes you.
Lovely Dancing Any Time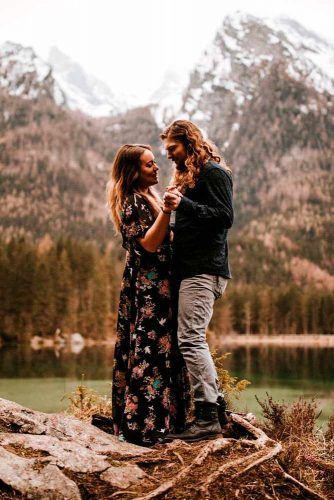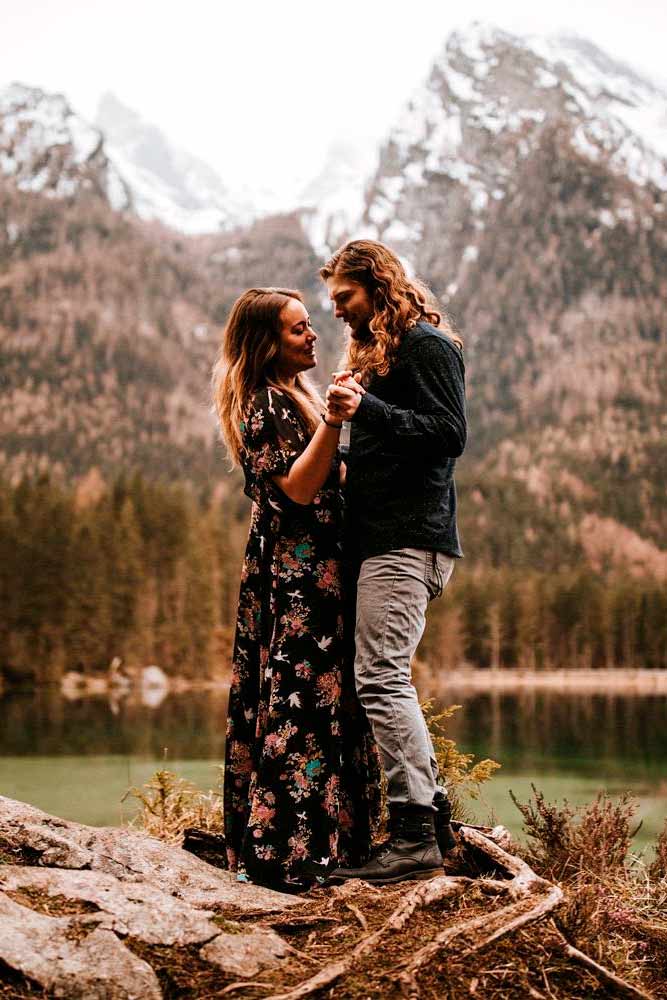 Source: Instagram/lukaspiatekphotography
Your engagement photo should not only represent your passion for each other but also the things that you like to do together. If you like dancing and hiking – combine the two!
FAQ: Engagement Photo Poses
How do you make your engagement pictures not awkward?
Wrap it around your partner's neck or waist and grasp their hands. Put it on your partner's waist, cup his face softly in your hands, run it through his hair, wrap it around the back of his neck or waist. This will provide you with something to hold onto for emotional support, and any form of contact will photograph well.
What month is best for engagement photos?
Summer time. The air is fresh, warm, bright, and pure. Summer, like spring, is a fantastic season to schedule your engagement session. The weather is likely to cooperate, and your photographs will readily fit your summer wedding theme.
Should I tip my engagement photographer?
It is not essential to tip for engagement photos. However, if you feel the service was "above-and-beyond," you would almost certainly leave a tip. The majority of engagement sessions last between 1-2 hours and are held in one place.
REFERENCES:
Want to add some engagement photo poses to your session? We share 30 different poses to try and add a little more variety to the poses you already use! Source
An engagement or betrothal is the relationship between two people who want to get married, and also the period of time between a marriage proposal and a marriage. Source
Was this article helpful?