Draw inspiration from our 4th of July nails ideas and everyone at your Independence Day party will wow. The combination of red, blue, and white is super creative here. Add some stripes and stars to be patriotic from head to toes. You won't resist trying them. But don't forget that your nails have to match with your 4th of July outfits!
Fun Patriotic Nail Designs With Flag Art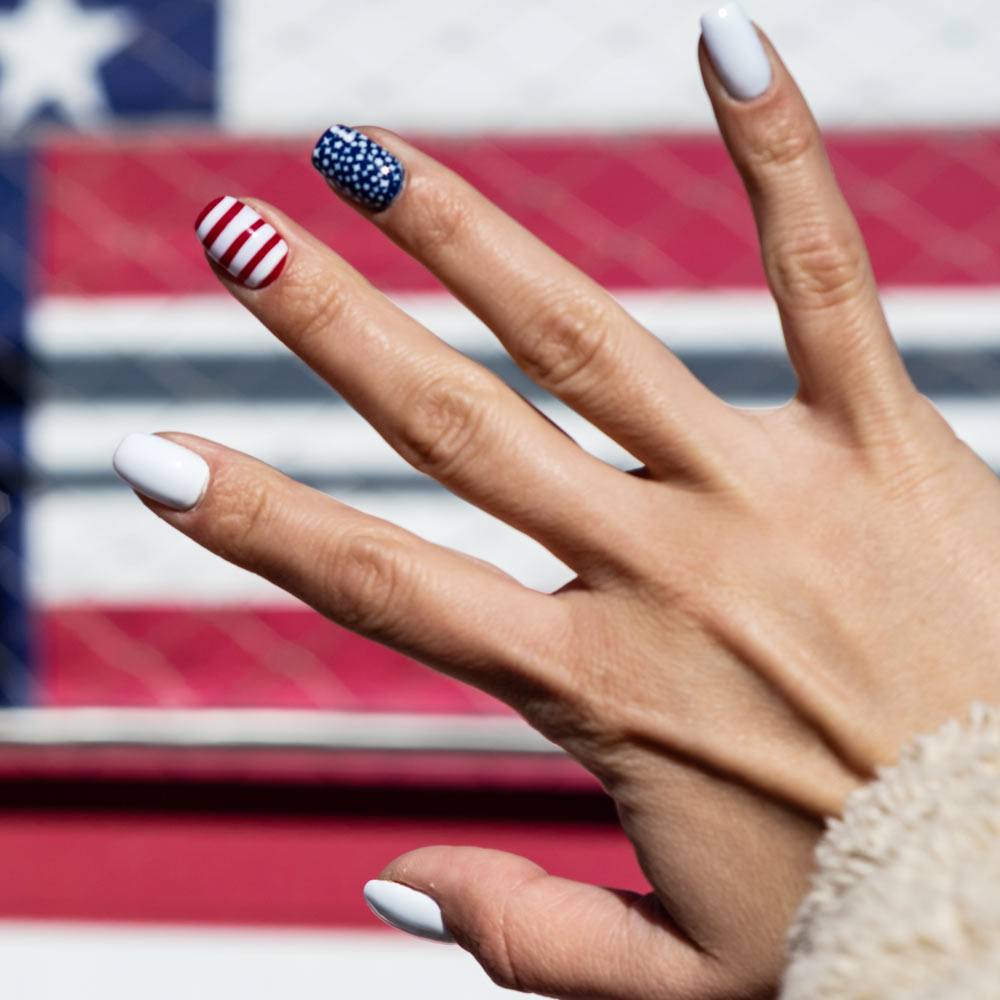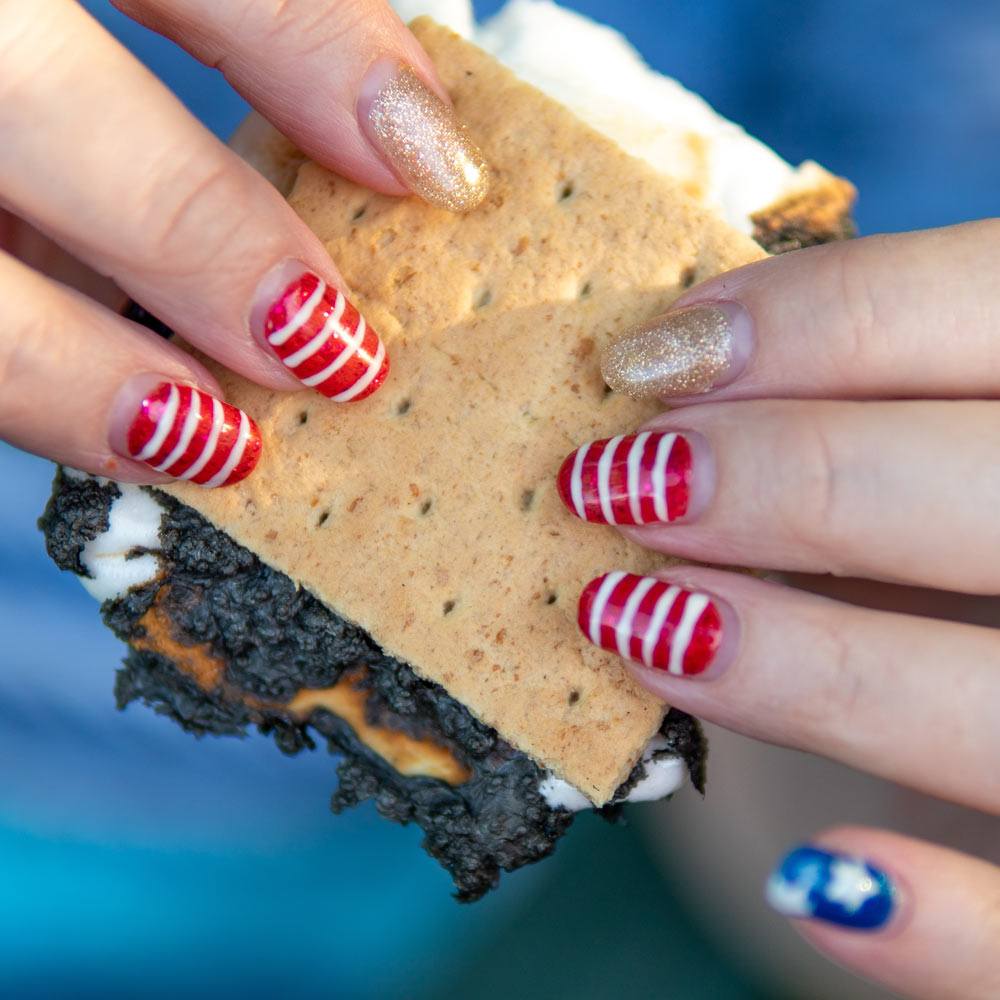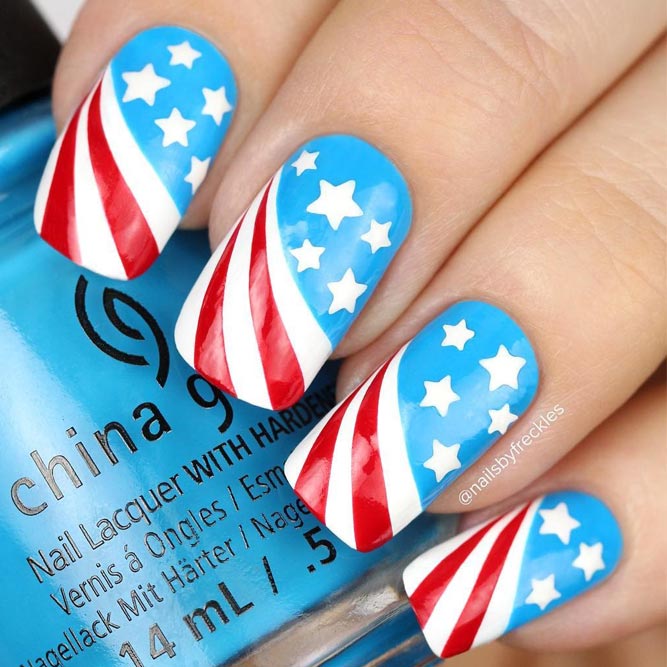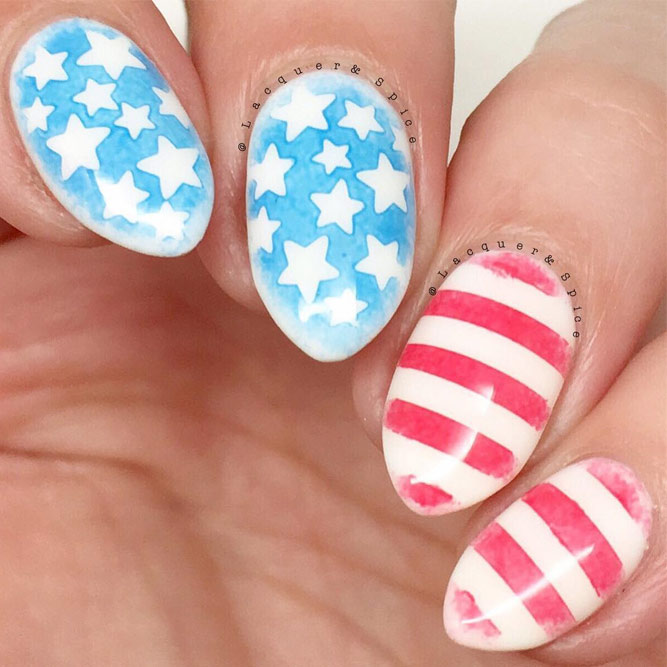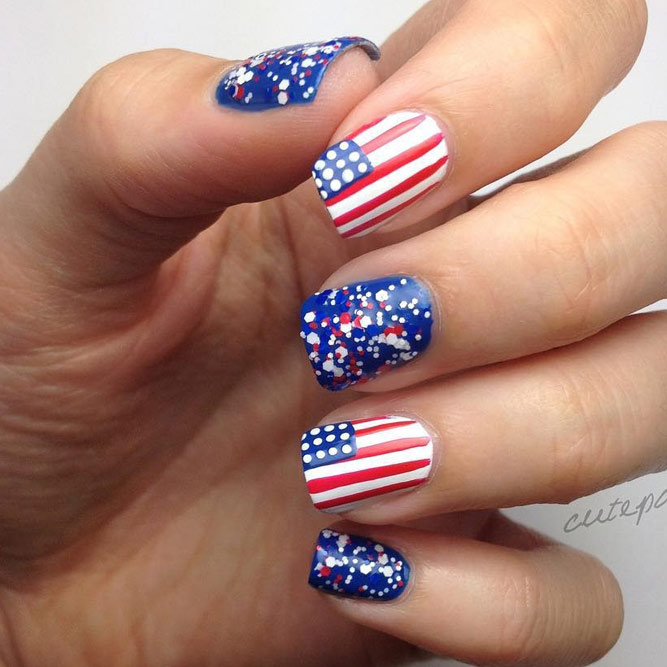 Source: Instagram/nailsbyfreckles, Instagram/lacquerandspice, Instagram/minipolishh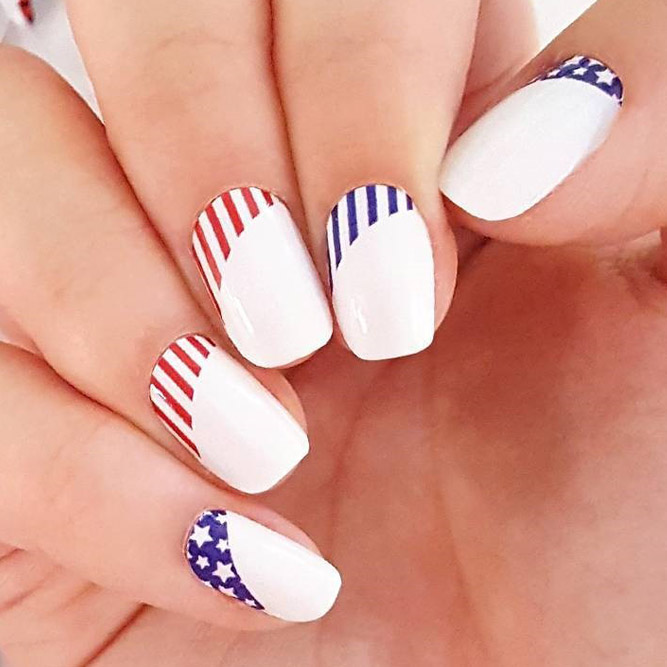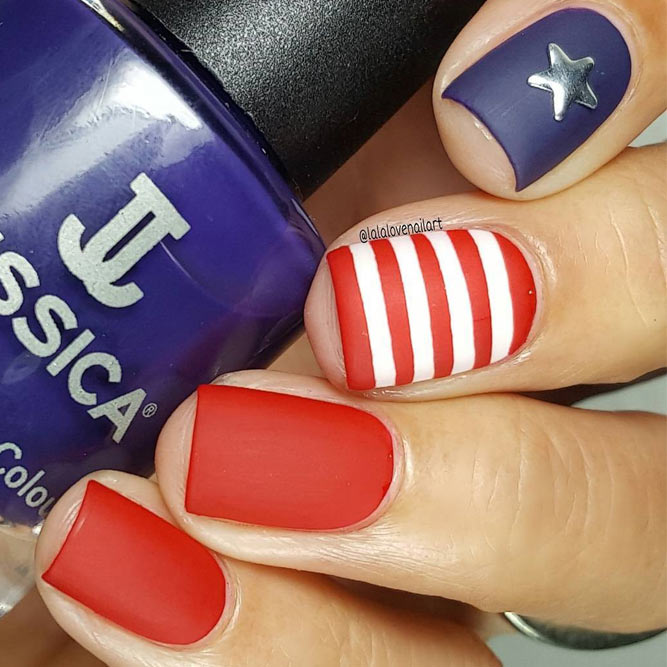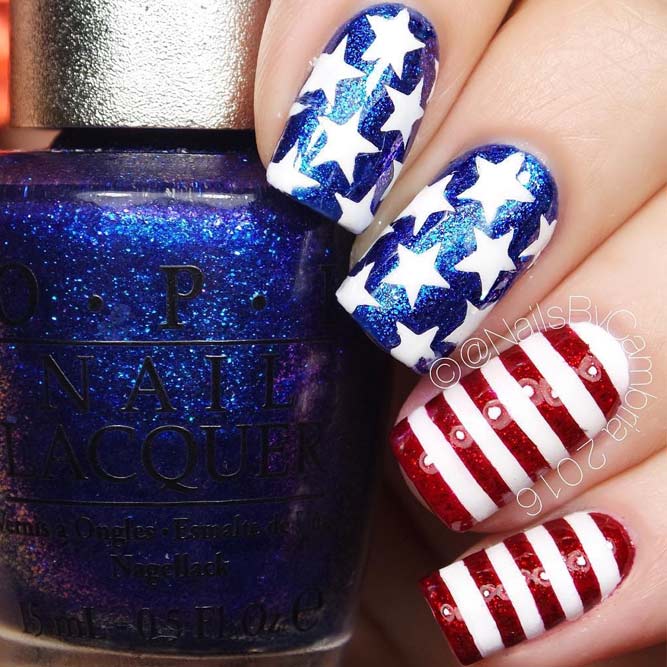 Source: Instagram/incocoproducts, Instagram/lalalovenailart, Instagram/nailsbycambria
These summer nails will be a great addition to all the picnic food and fireworks. We have the biggest variety starting from minimalistic up to the most gorgeous ones.
Painted Nail Designs To Celebrate the 4th of July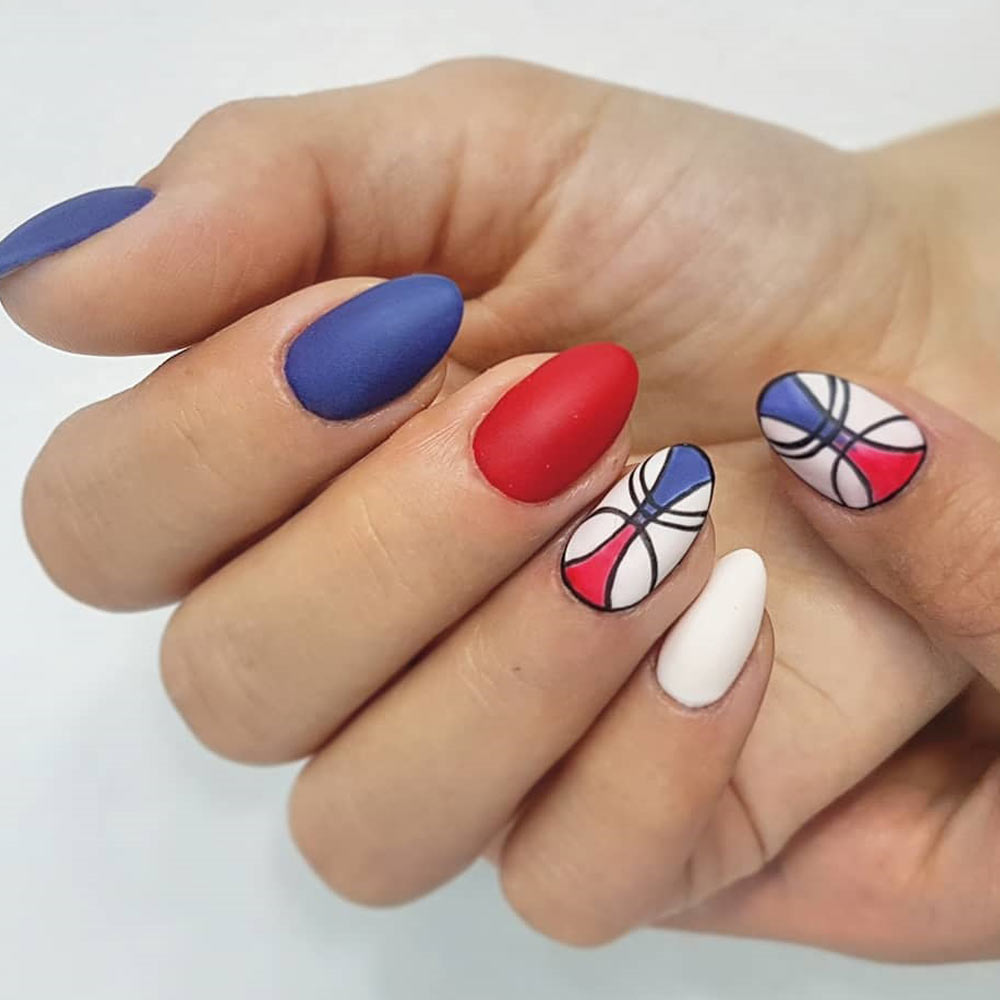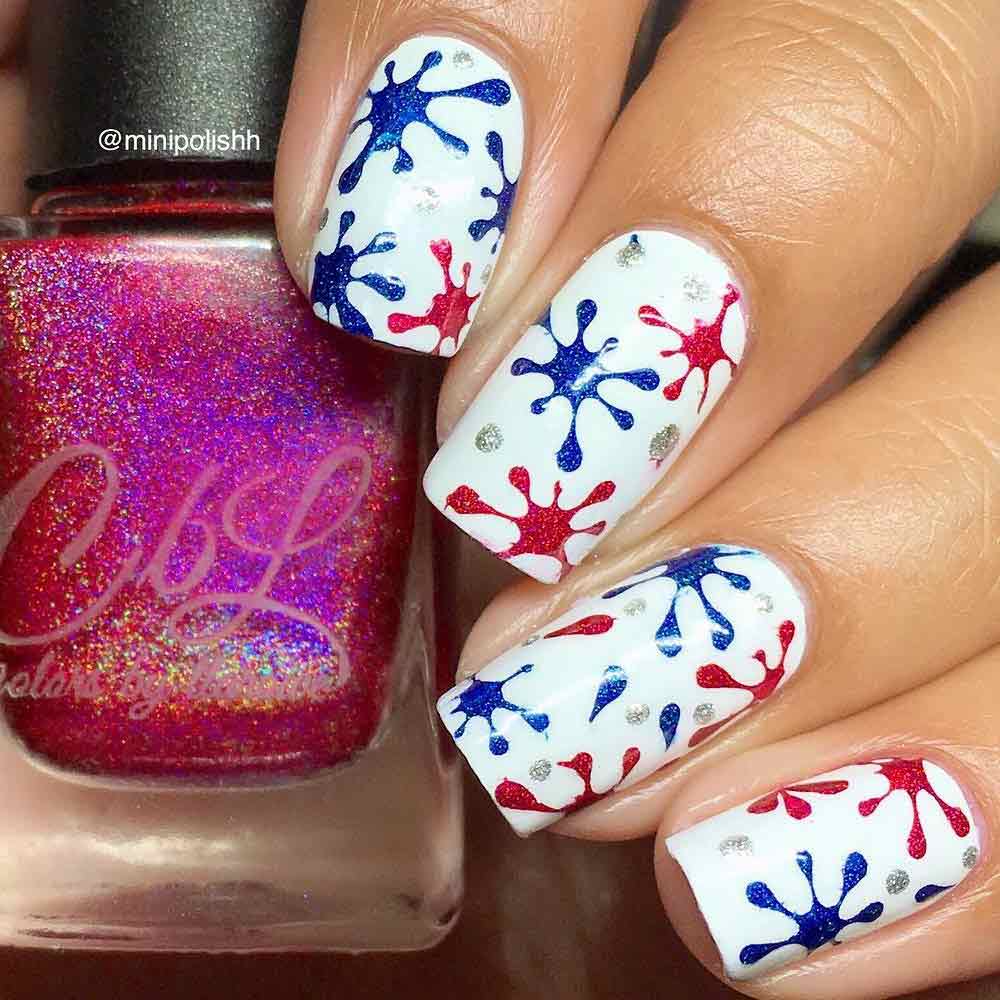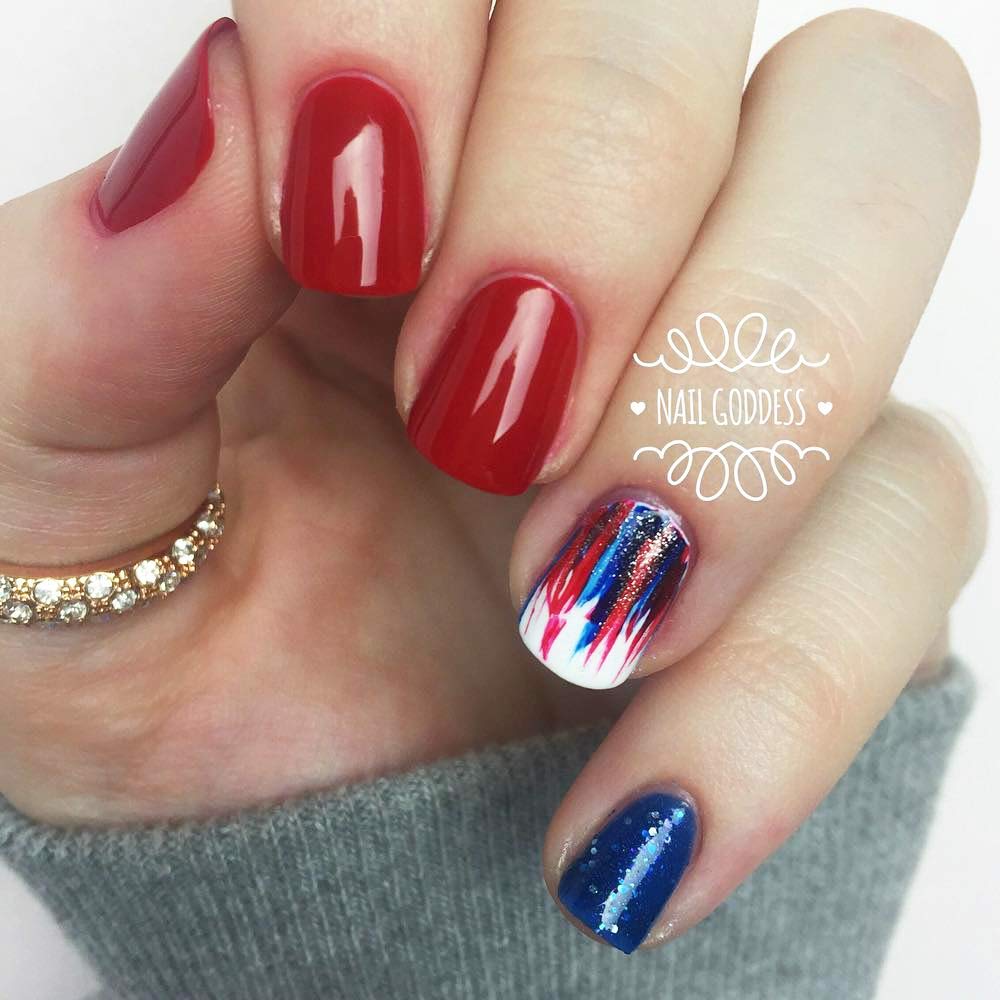 Source: Instagram/justnails.pl, Instagram/cutepolish, Instagram/nail__goddess
One of the easiest things to recreate is a three color tie-dye. What can be more American than a tie-dye? However, the most popular design is a flag recreation.
Patriotic Mani Ideas With Polka Dots Art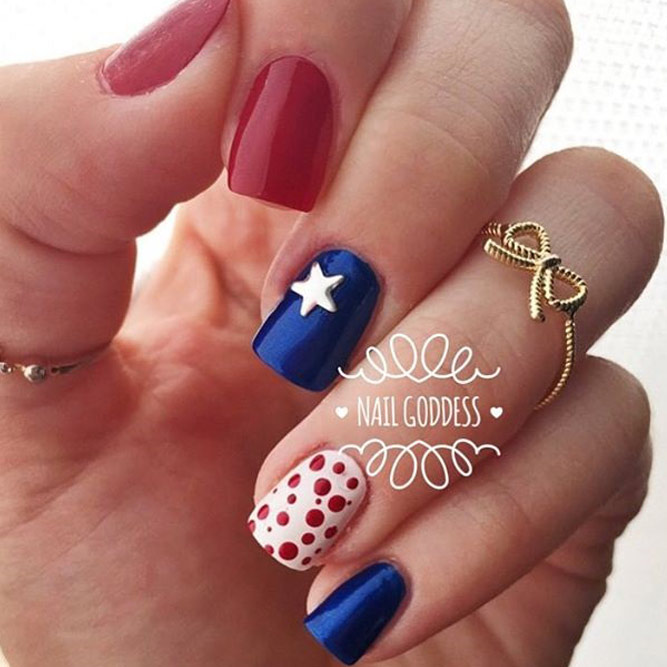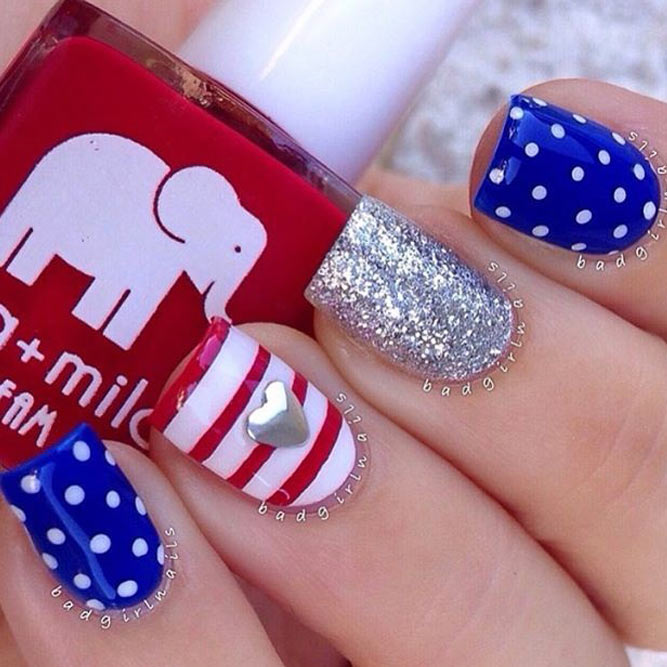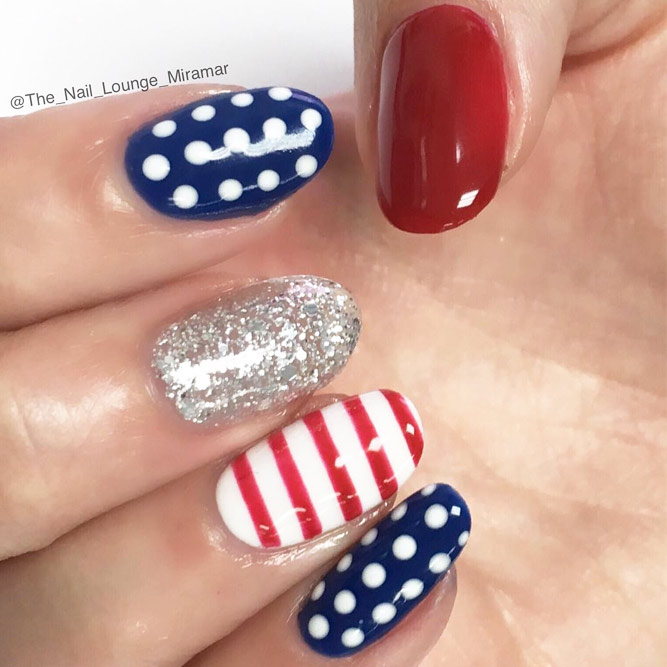 Source: Instagram/nail__goddess, Instagram/badgirlnails, Instagram/the_nail_lounge_miramar
If you think that patriotic nail designs are supposed to be over the edge complex, then you haven't seen these ideas yet. Polka dot is the pattern that can adorn any design, and cute 4th of July nails are surely not the exception!
Classy Colors With Stars Accents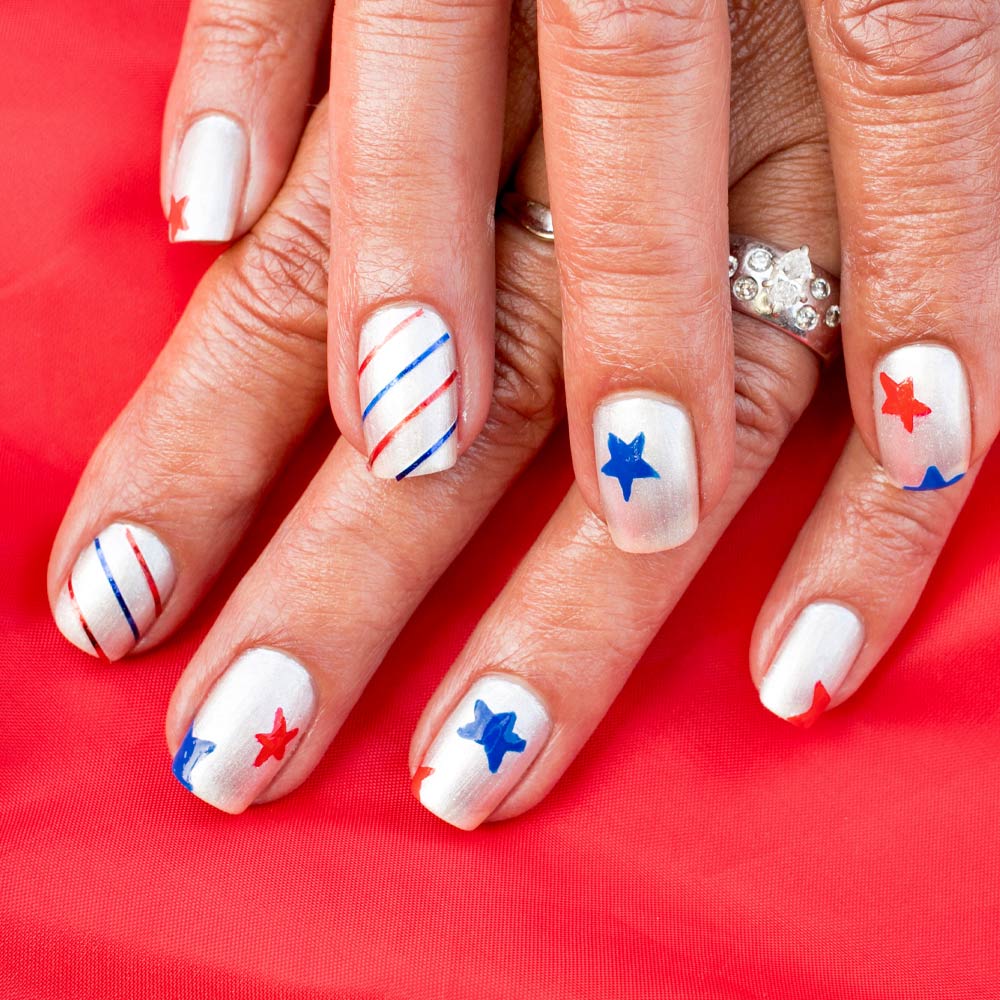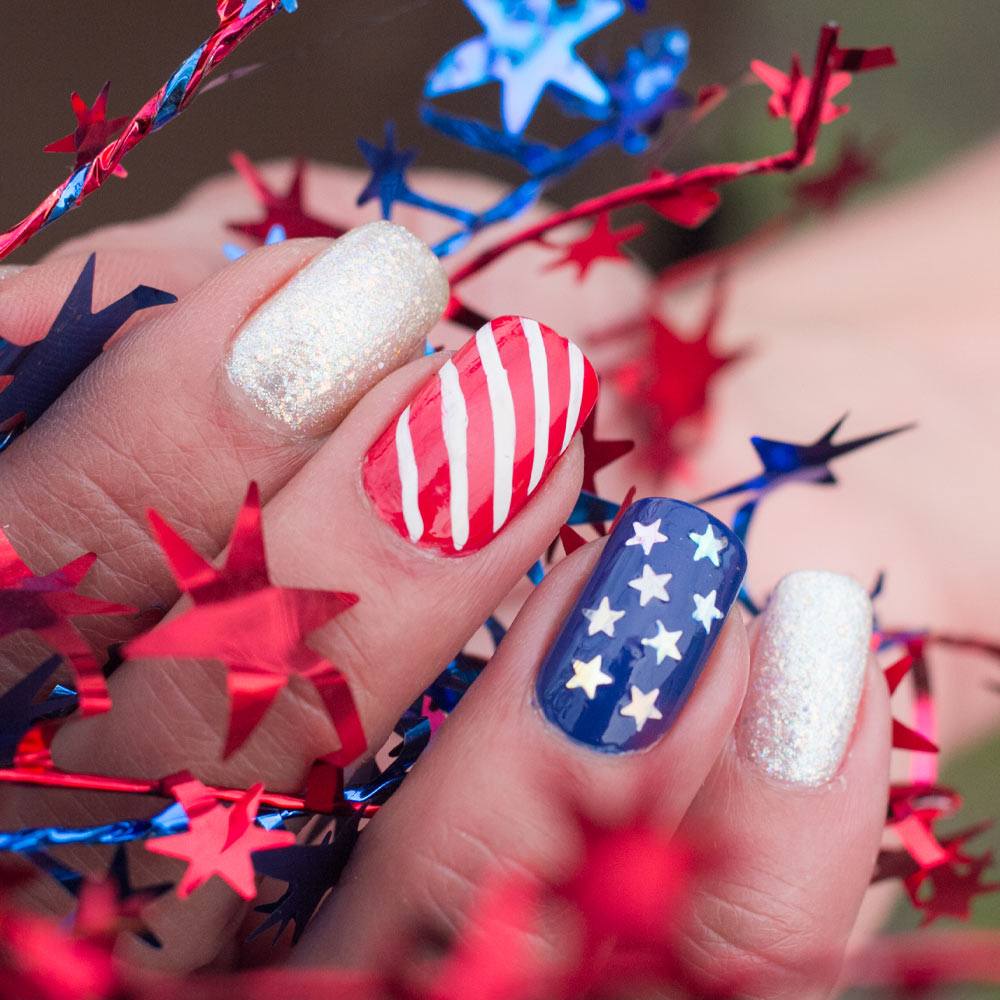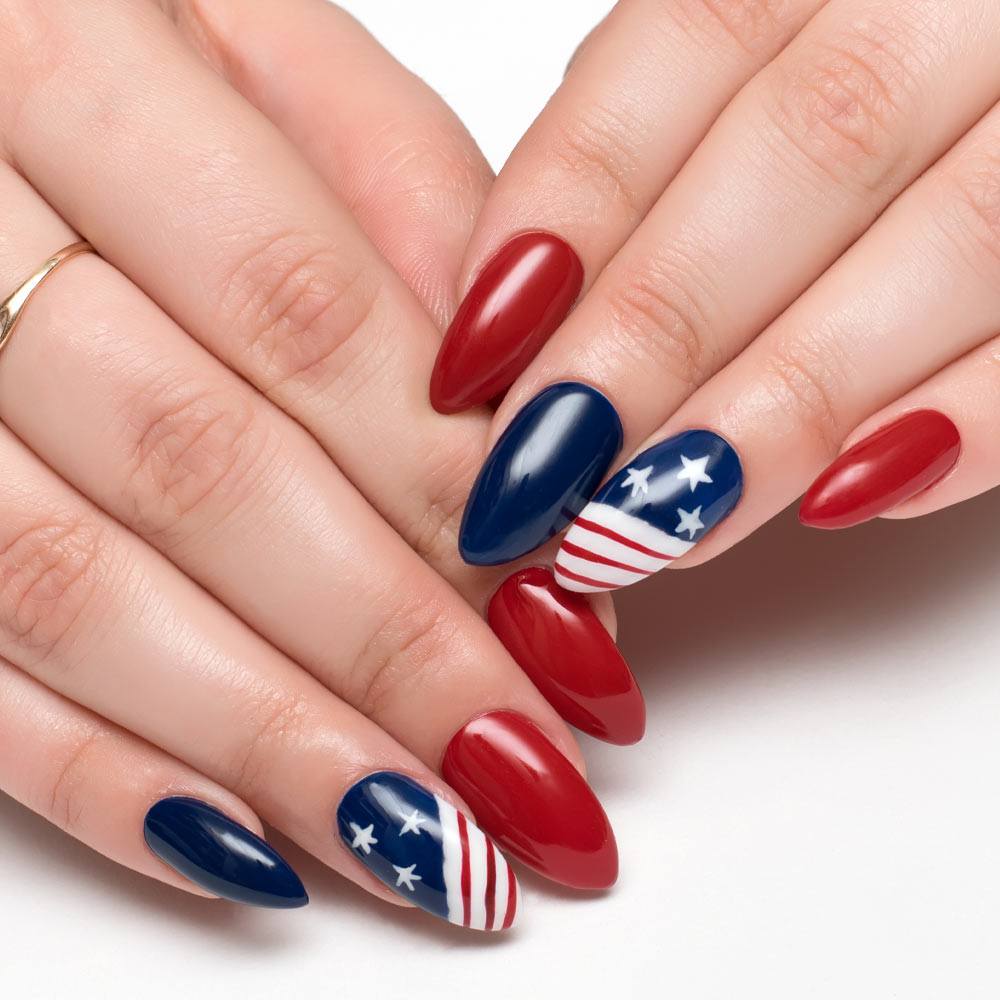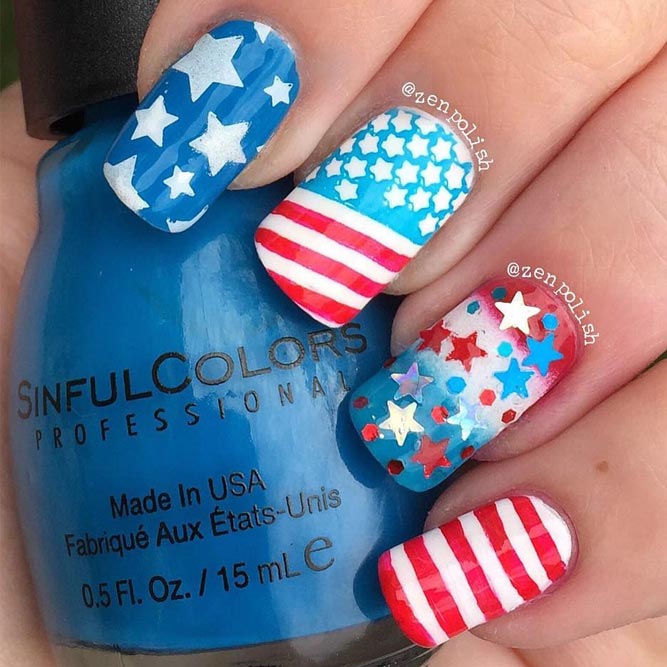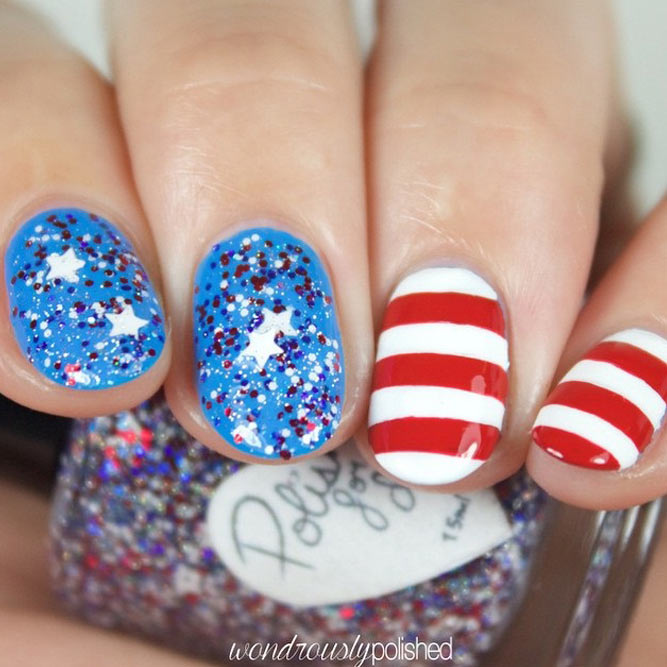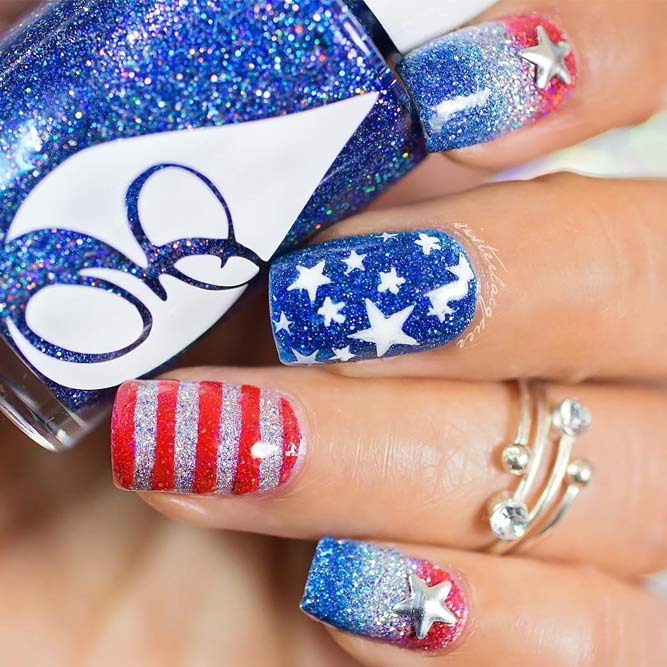 Source: Instagram/zenpolish, Instagram/wondrouslypolished, Instagram/sisterlacquer
In case you are not that skillful or just don't have enough time, there are life savers for you, too. Have a look at minimalistic designs with dots, splashes, and stripes.
Red, White, and Blue Holiday Nail Designs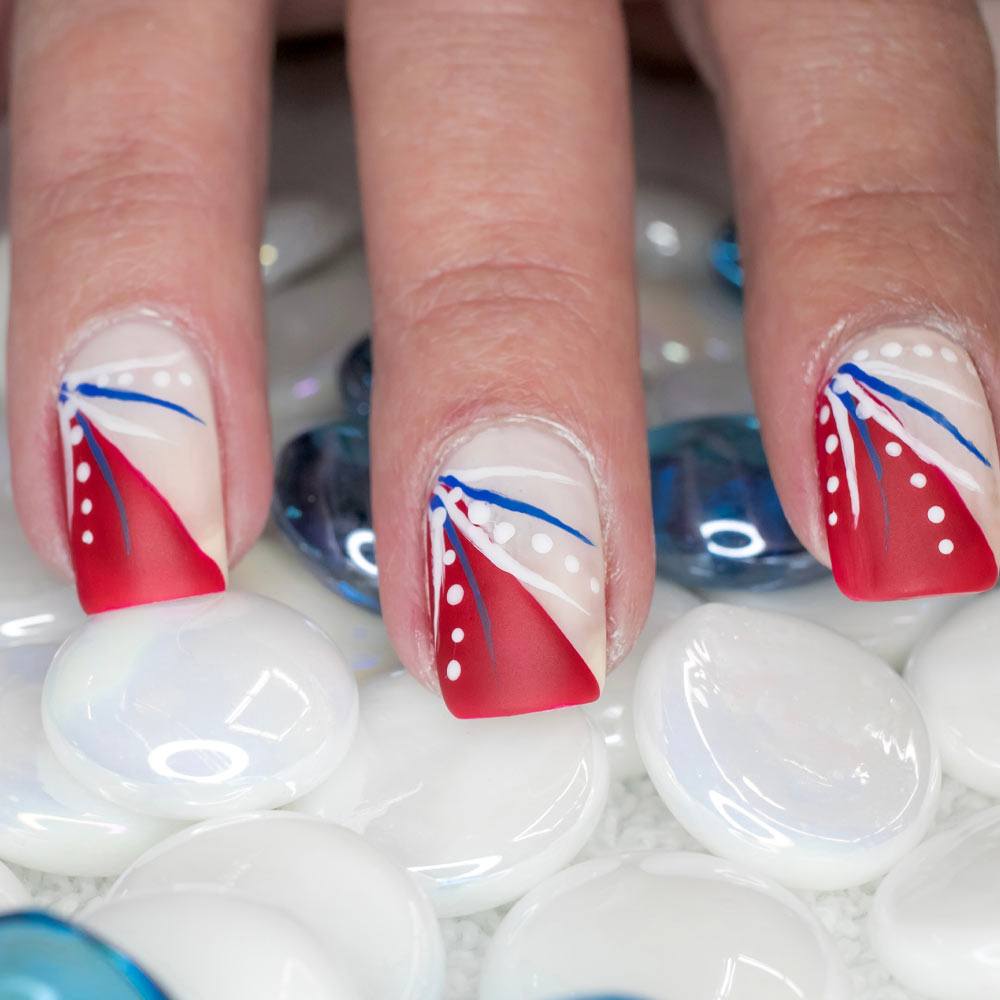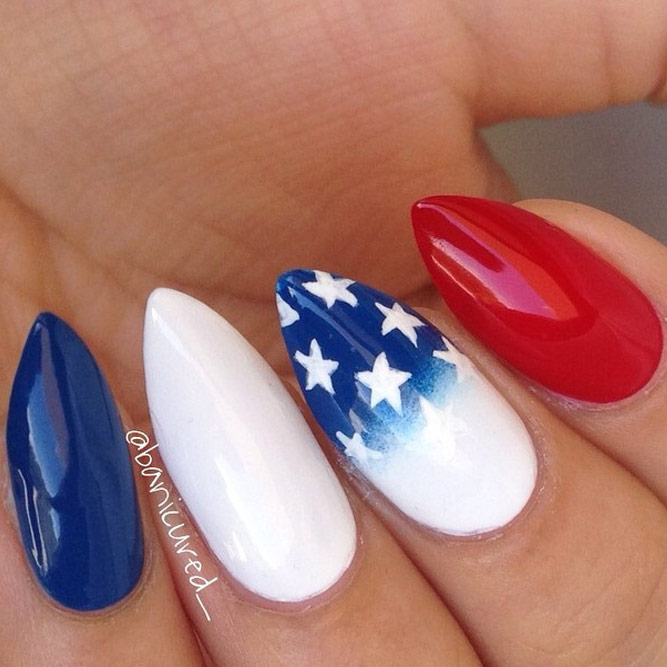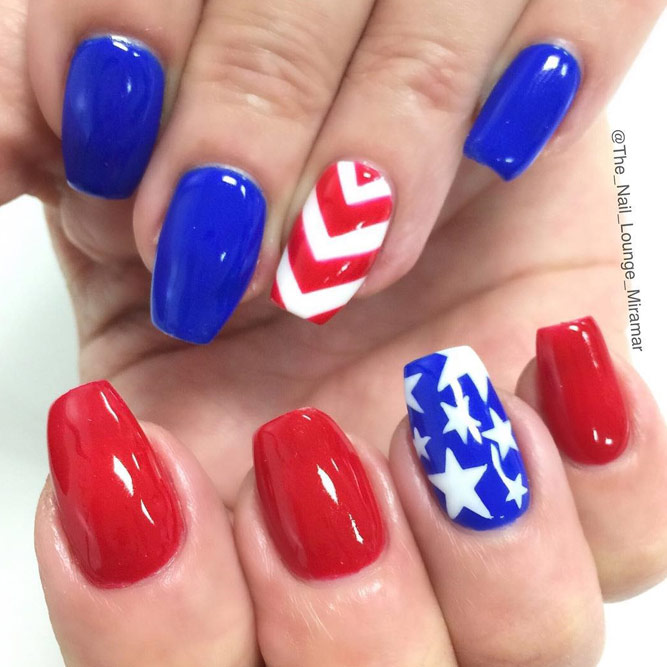 Source: Instagram/banicured_, Instagram/the_nail_lounge_miramar
Your Independence Day nails can not only represent your dedication and love for the country, but they can also embrace your style too. All you need are some cool nails to play around with, and these are the designs you can't merely pass by!
Marble Patriotic Nails Designs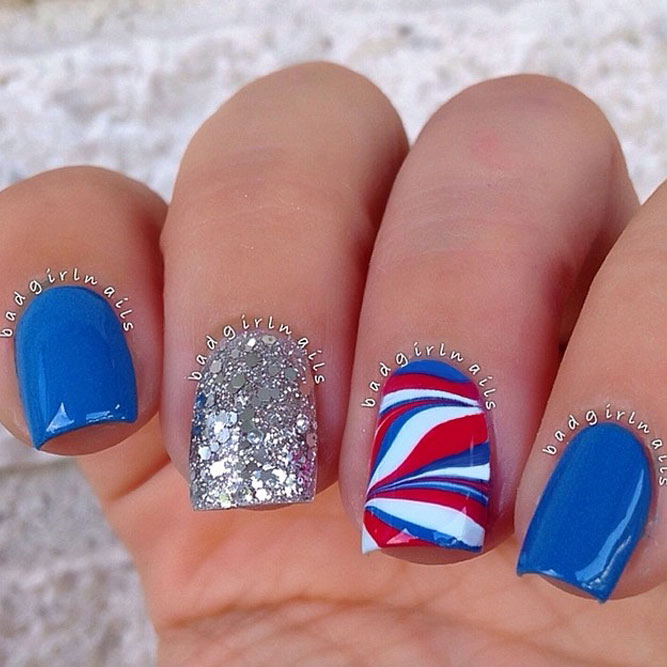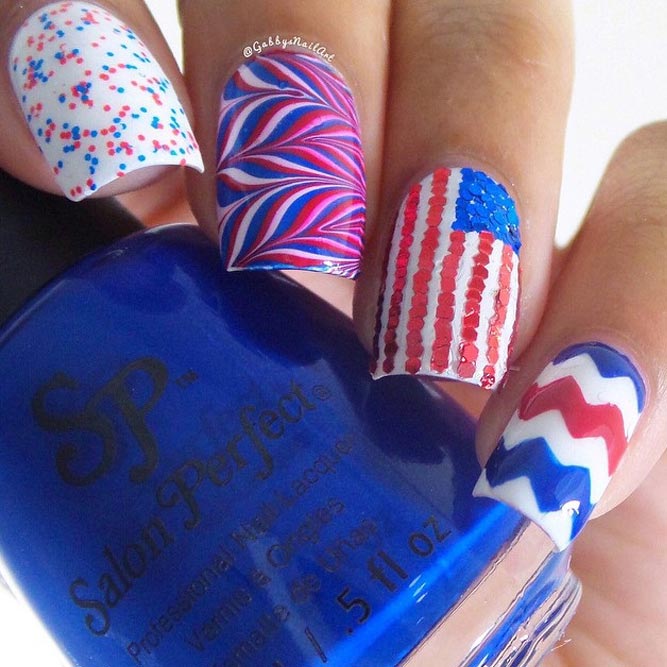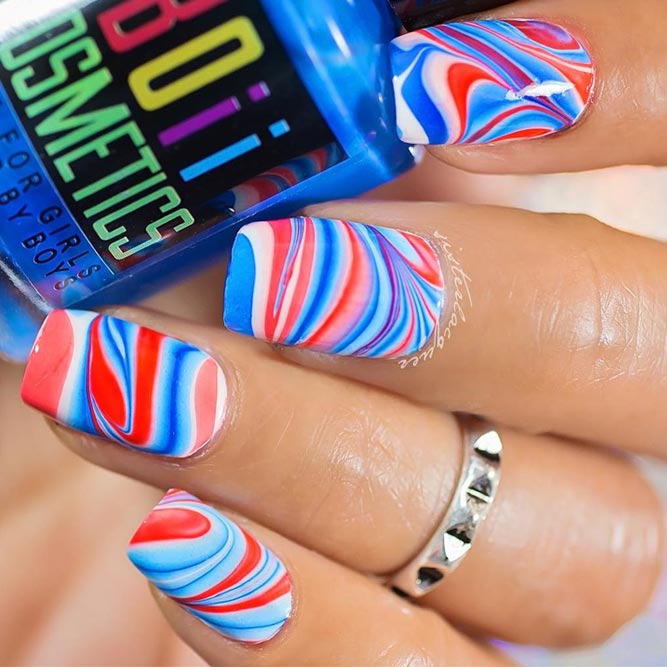 Source: Instagram/badgirlnails, Instagram/gabbysnailart, Instagram/sisterlacquer
Look at our lovely designs! You can choose different techniques, like stamping, taping or water marble.
Red, White And Blue Designs With Silver Glitter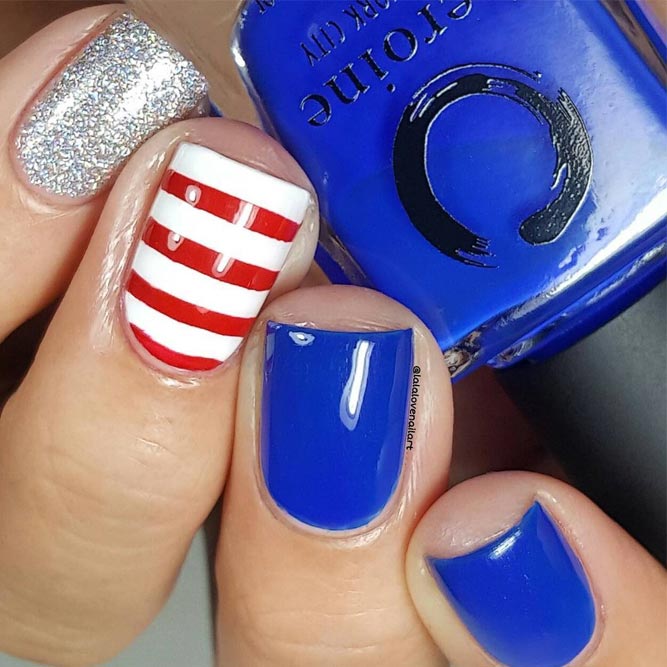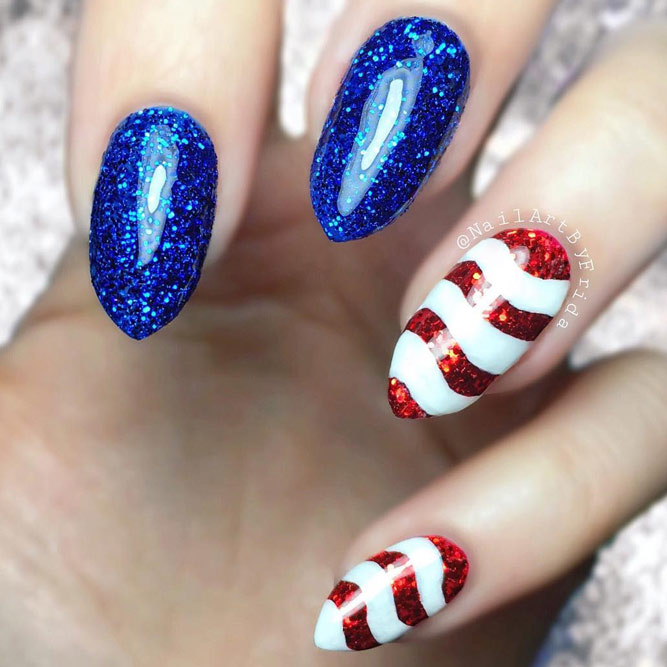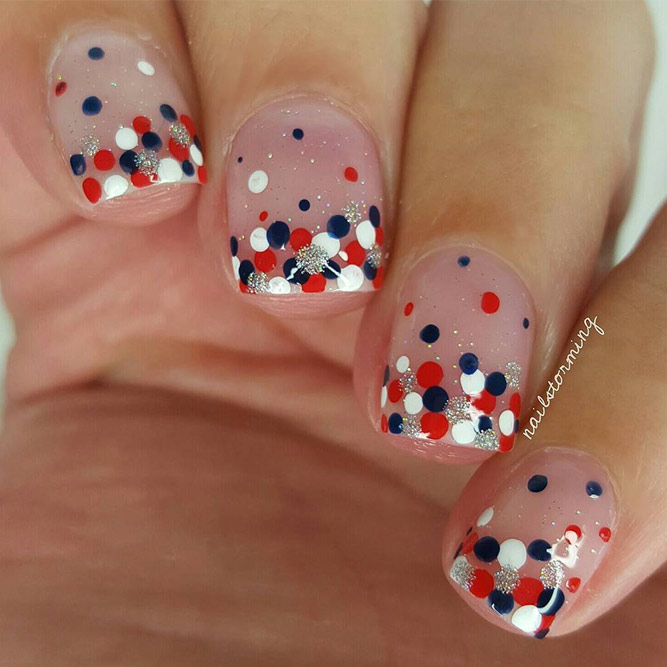 Source: Instagram/lalalovenailart, Instagram/nailartbyfrida, Instagram/nailstorming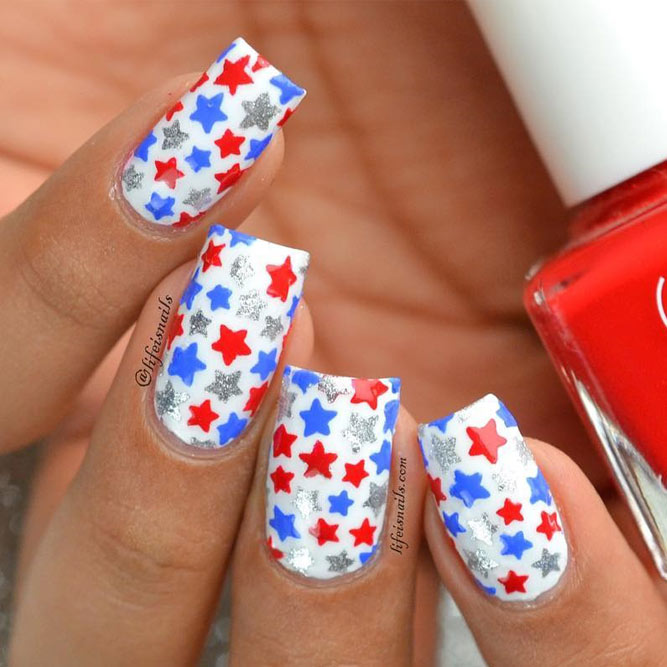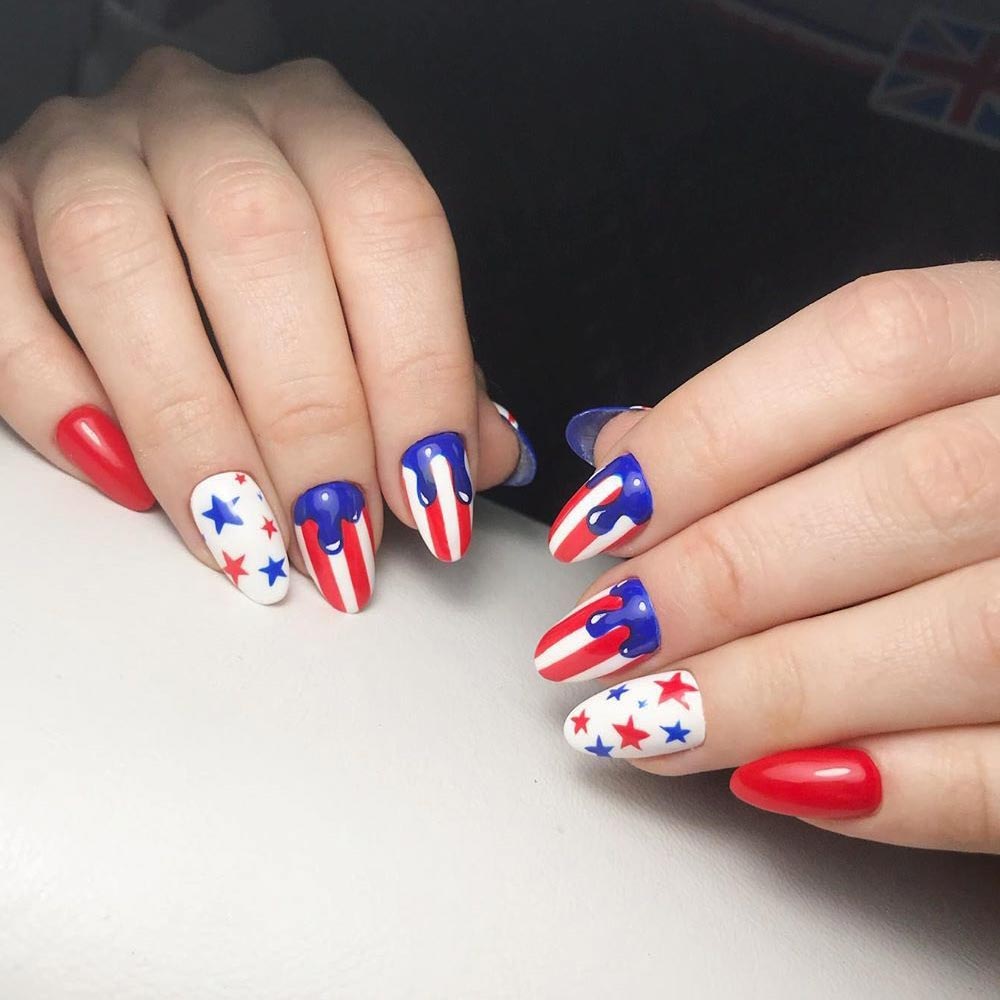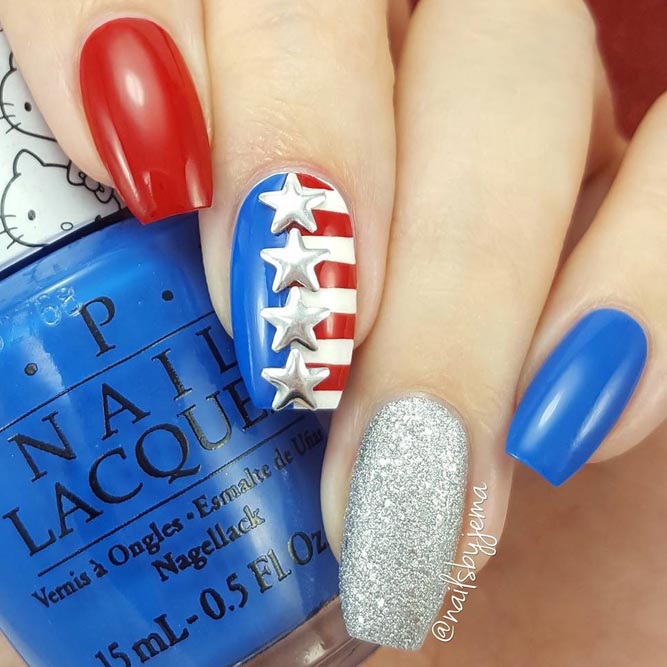 Source: Instagram/lifeisnails, Instagram/nail.yagoda_krd, Instagram/nailsbyjema
Summer nail designs are one of few things in our style and look where we can go as crazy as possible. If you are not that brave, opt for minimalistic and fun nail designs.
French Patriotic Nails Designs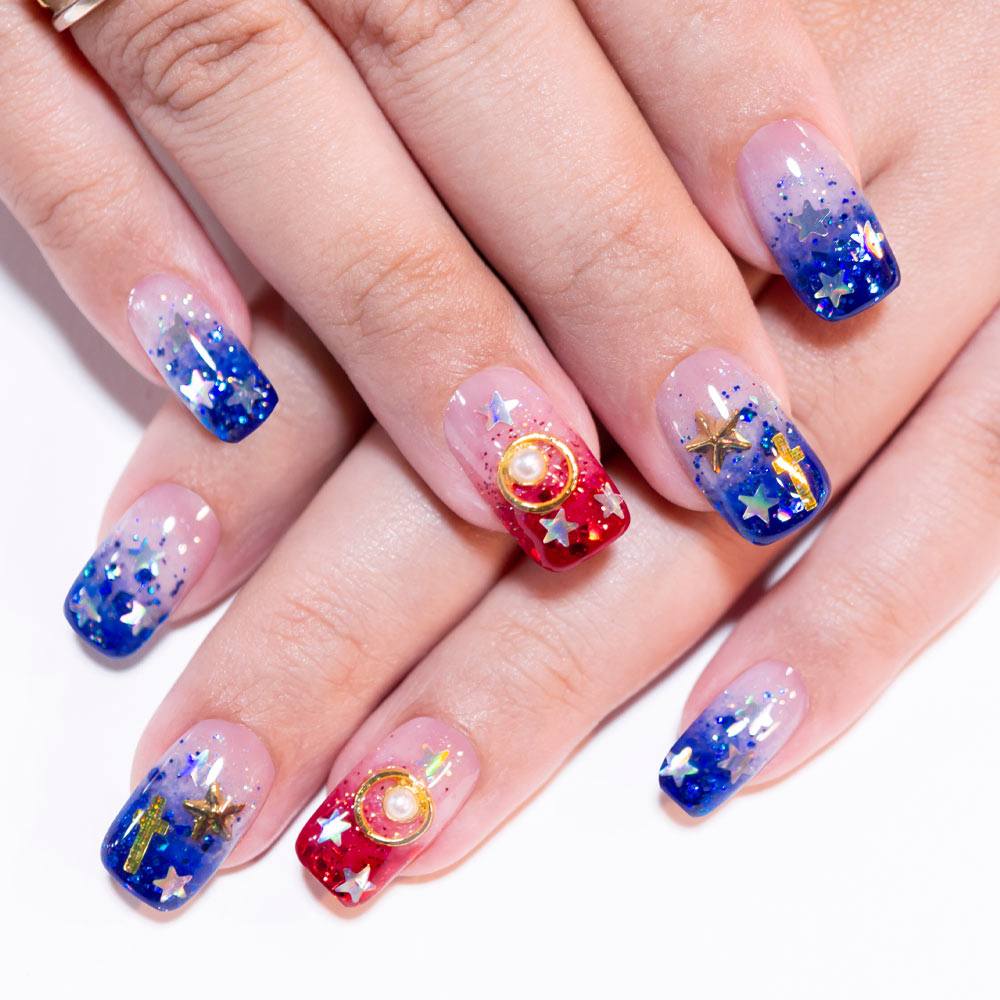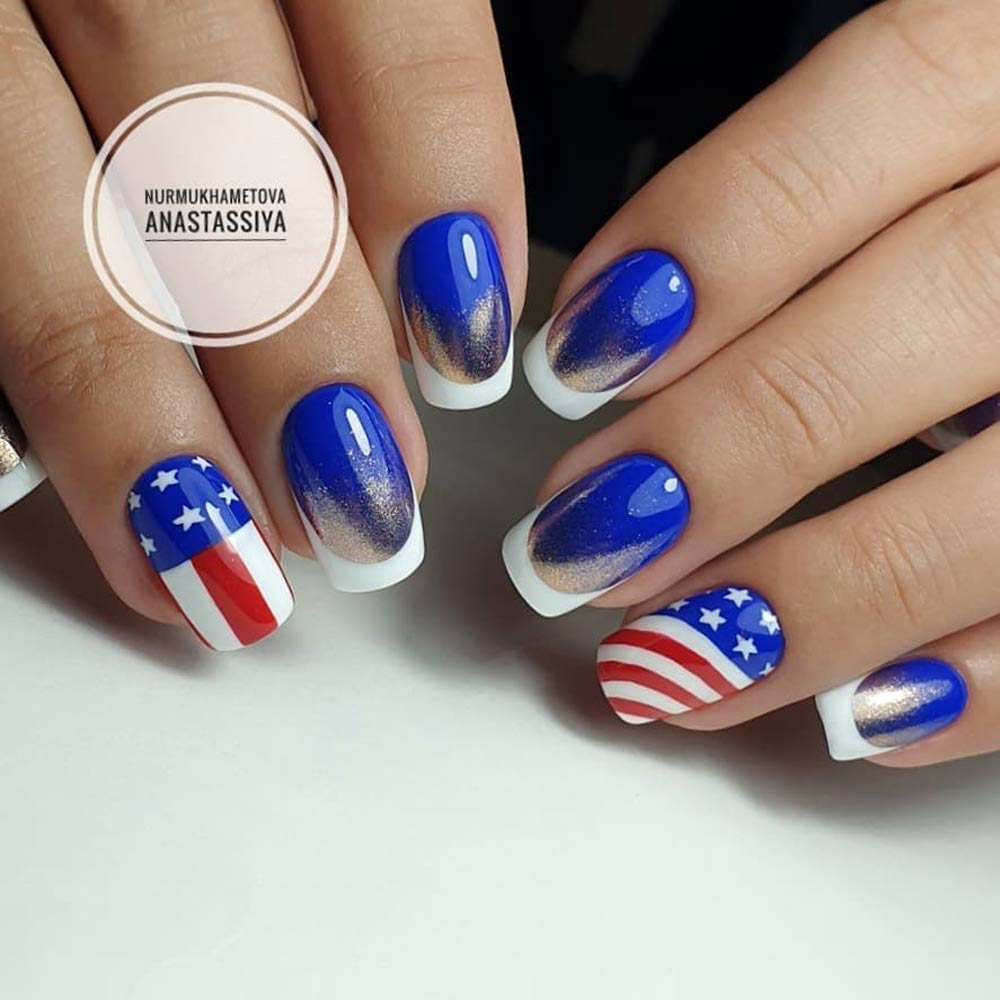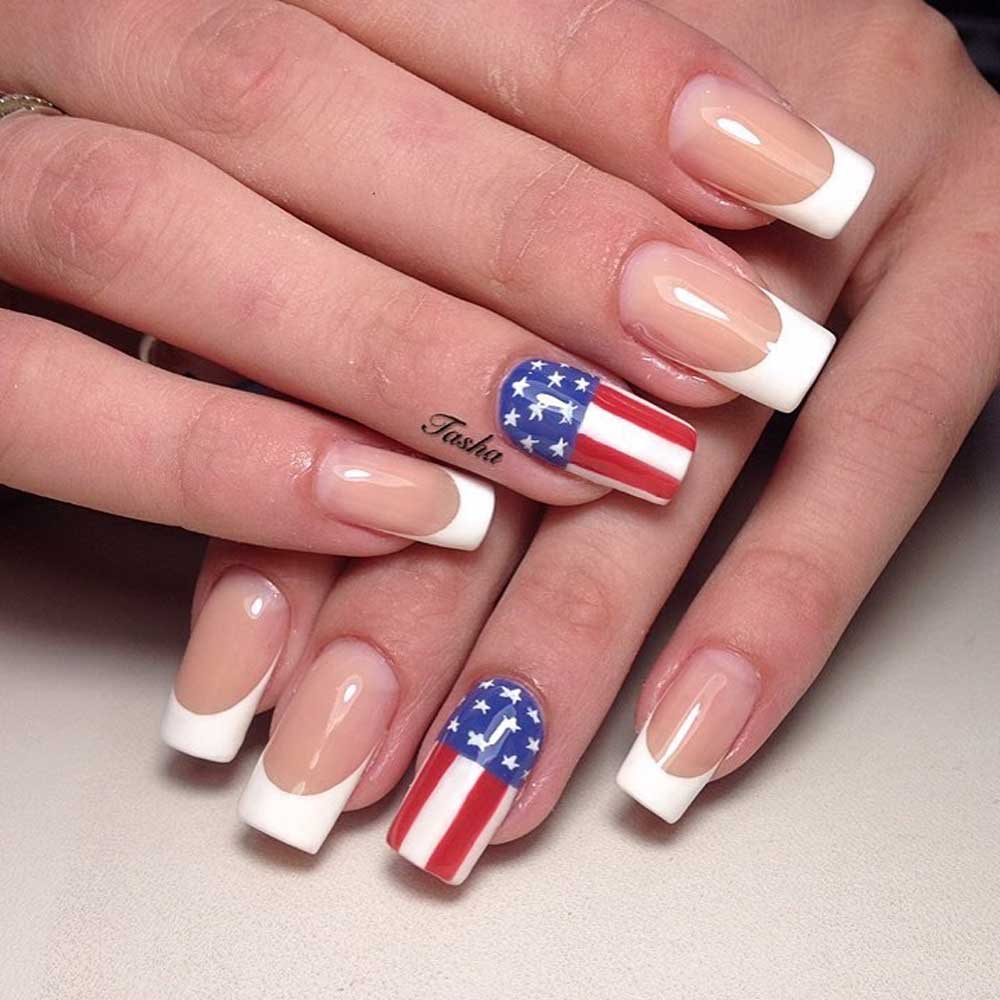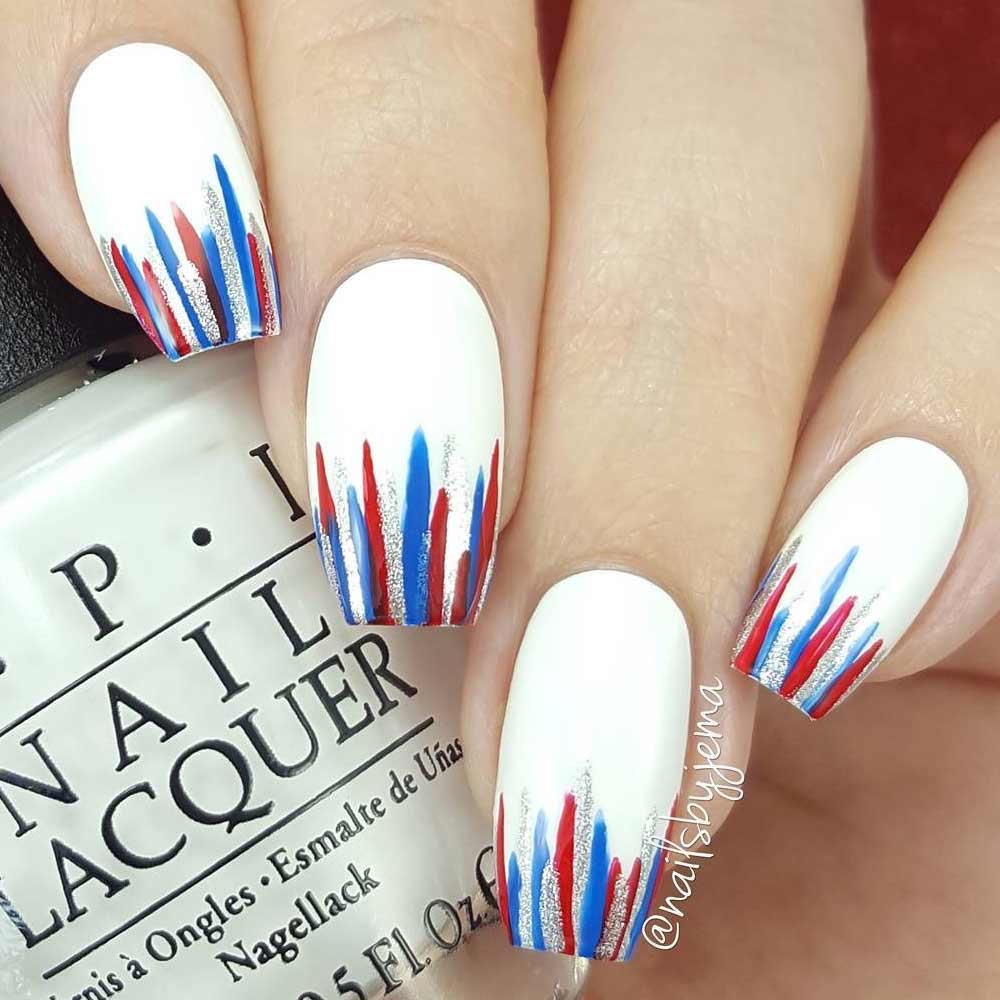 Source: Instagram/nurmukhametova_anastassiya_, Instagram/tasha_kns, Instagram/nailsbyjema
If you are in search of something quite patriotic but classy at the same time, we may have a few ideas to present. The fact is that even the most elegant design there is can be transformed into perfect 4th of July french tip nails with just a pinch of creativity and devotion!
Stunning Nail Art With Rhinestones And Glitter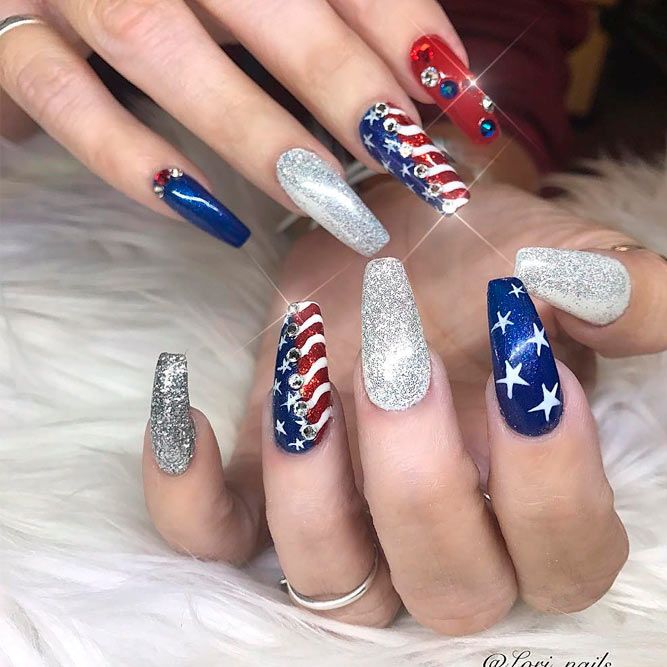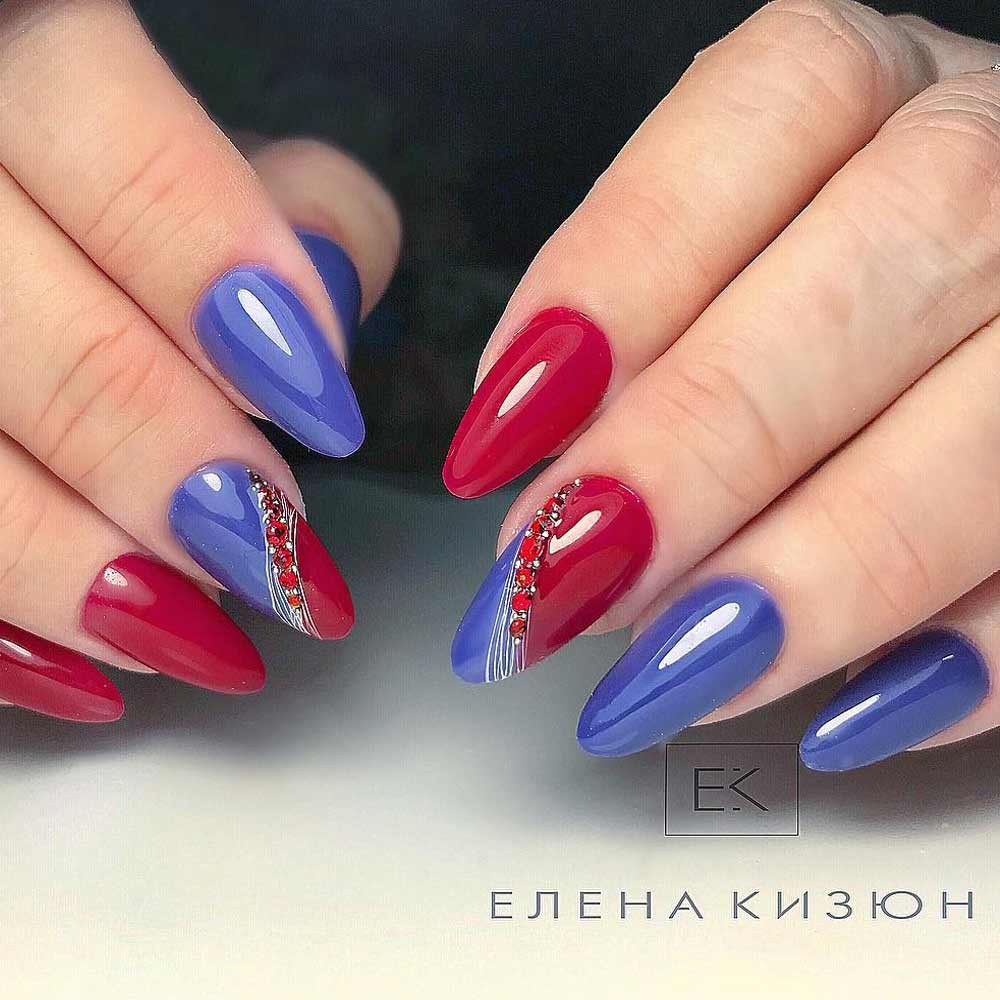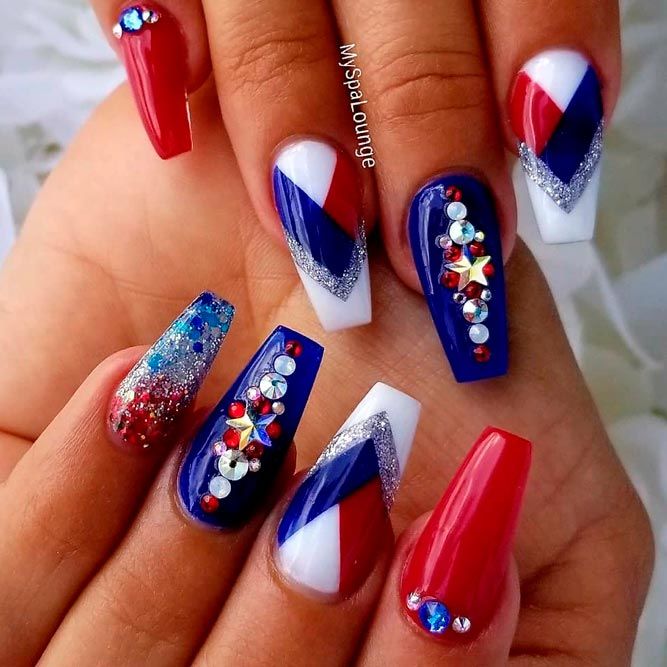 Source: Instagram/lori_nails, Instagram/salon142, Instagram/my_spa_lounge
Your patriotic manicure does not need to be over the edge complex to be suitable for the occasion. There is nothing that appropriate colors and a little bit of glitter and rhinestone wouldn't be able to take care of.
Patriotic Designs With Other Stickers Art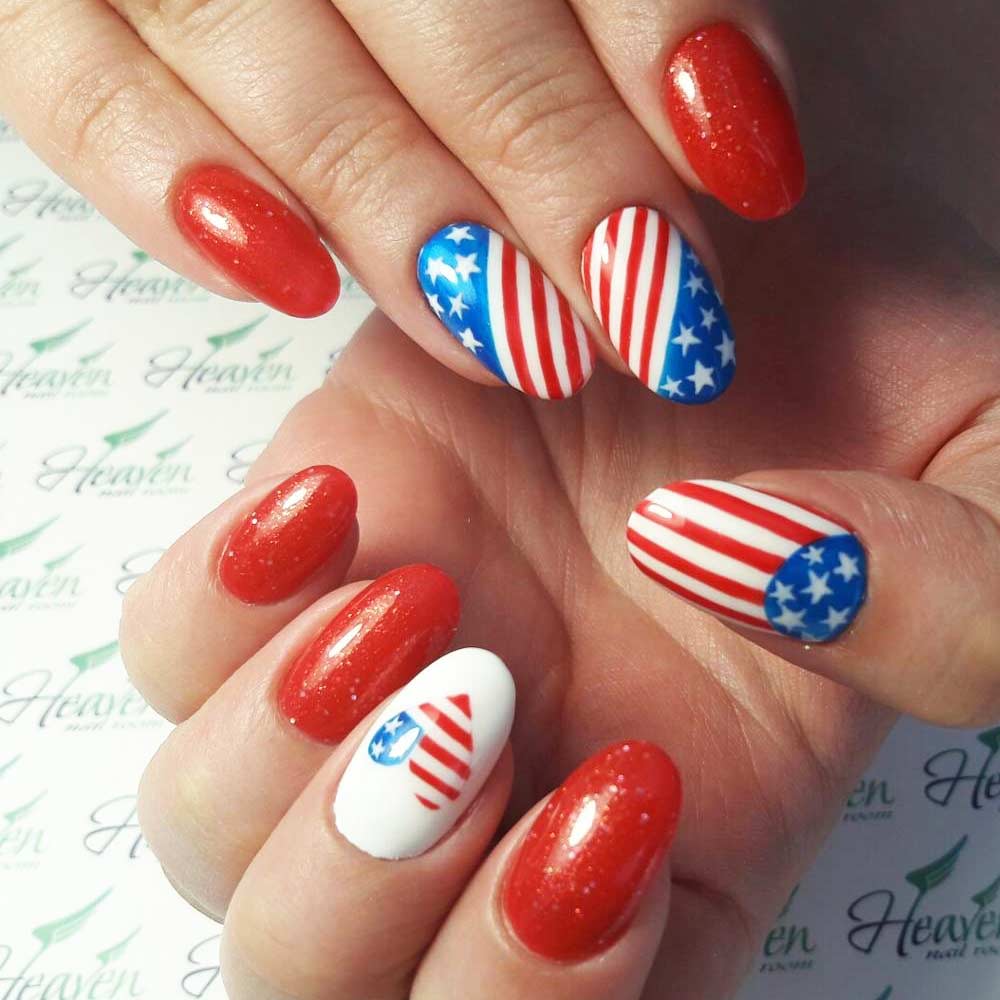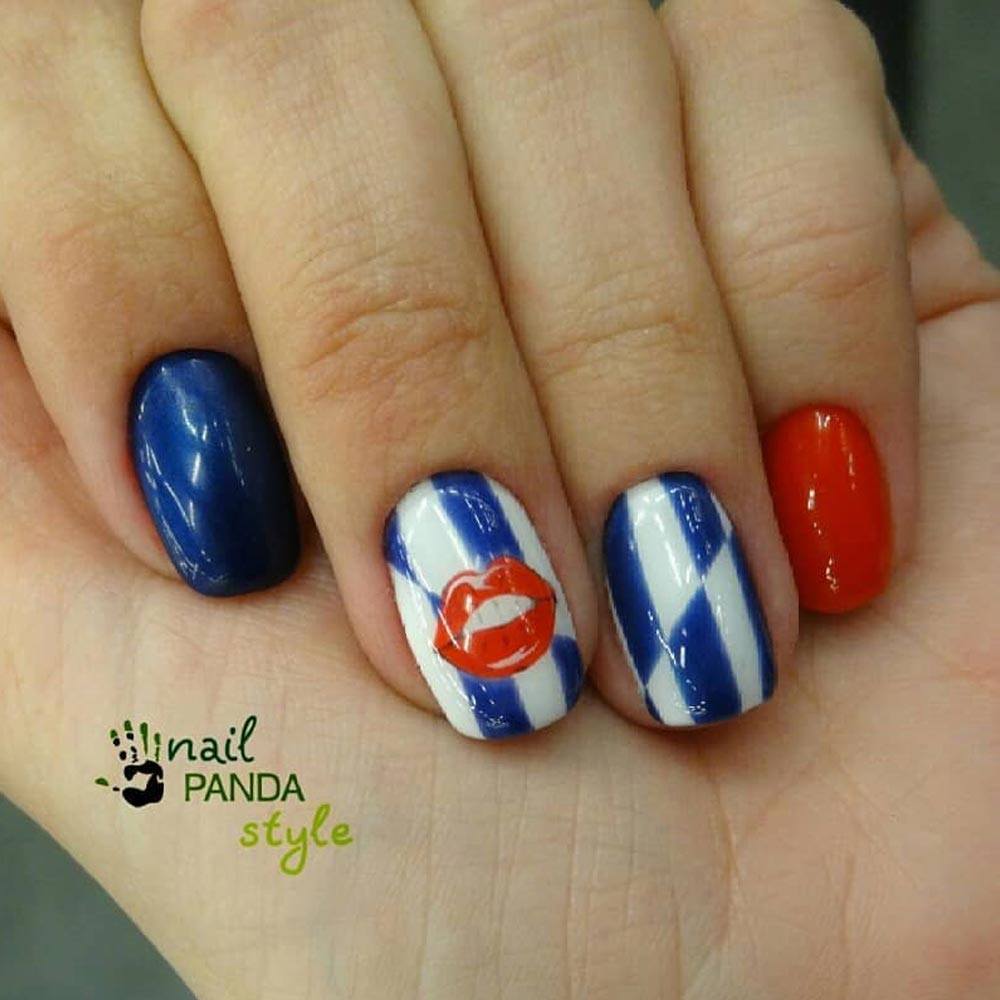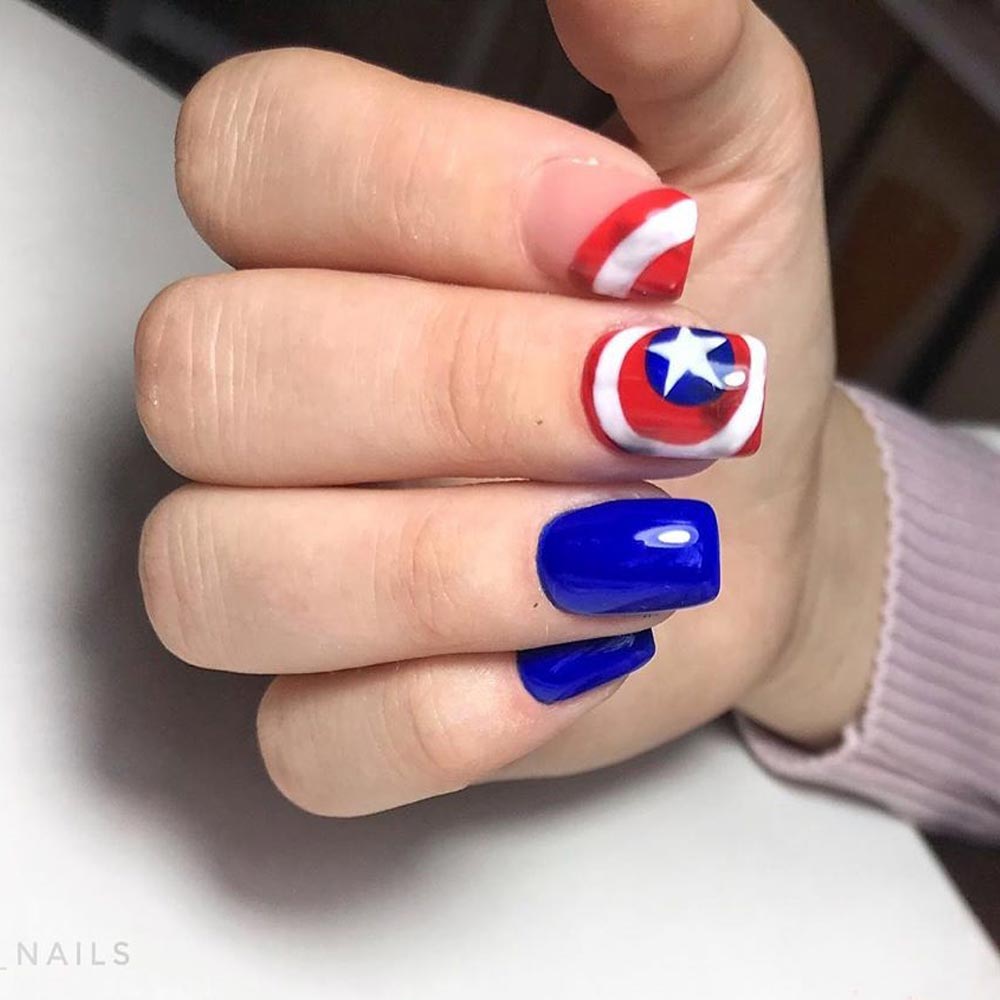 Instagram/heaven_nail_room, Instagram/ira_nails_vlg, Instagram/alena._nails
It is amazing how incredible the manicure designs can get with the use of proper stickers. Embrace your inner patriot with these marvelous fourth of July nails fit for any nail shape.
Patriotic Stars Nail Pattern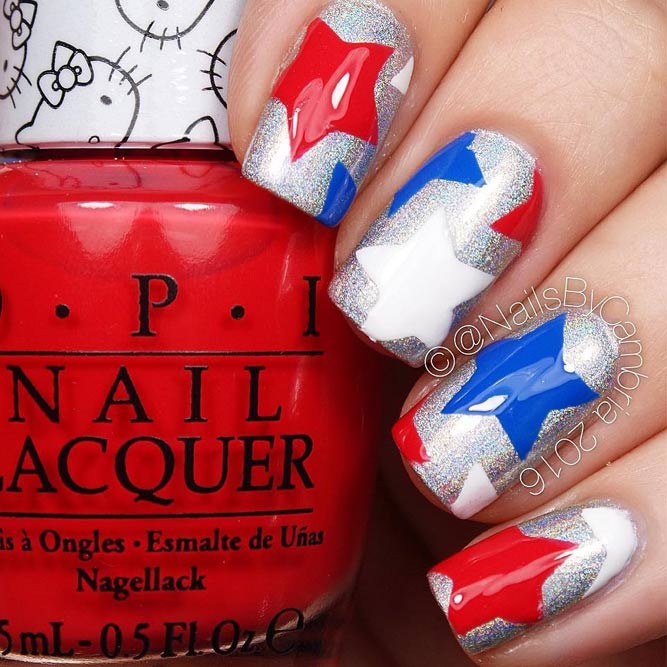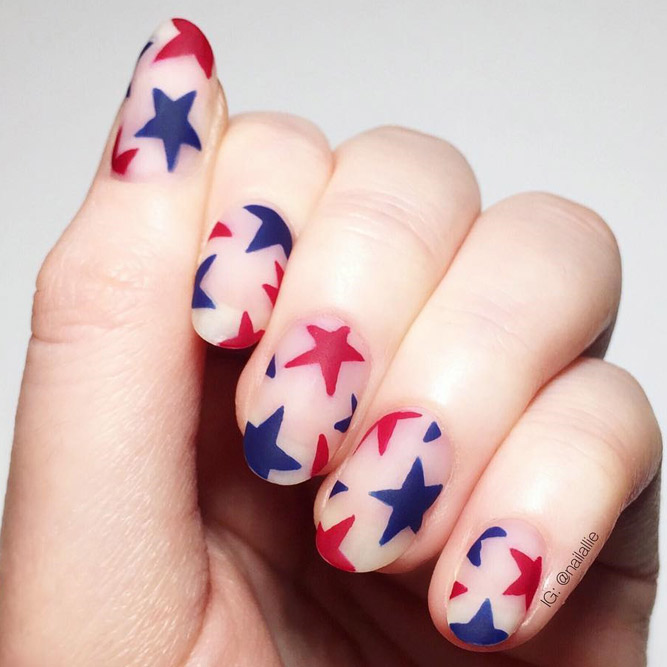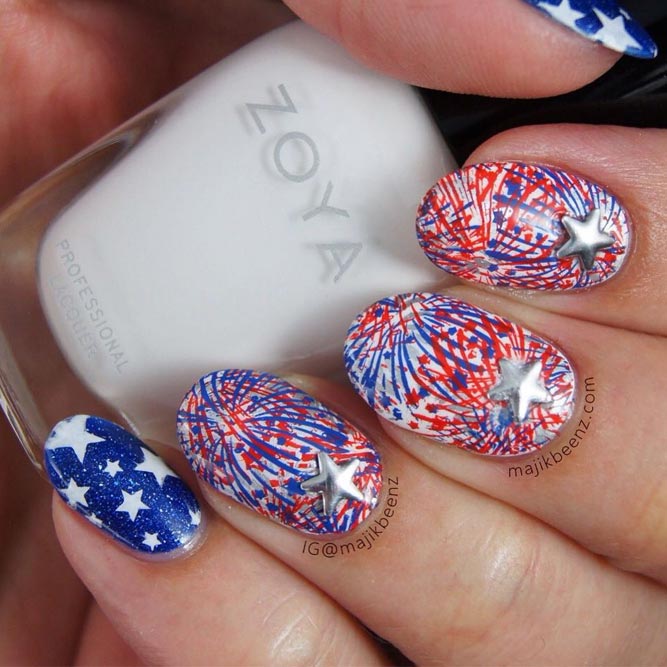 Source: Instagram/nailallie, Instagram/nailsbycambria, Instagram/majikbeenz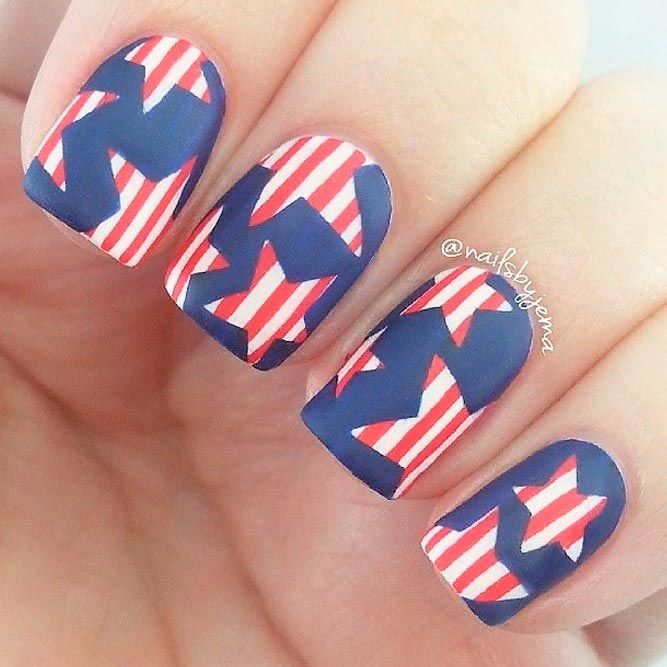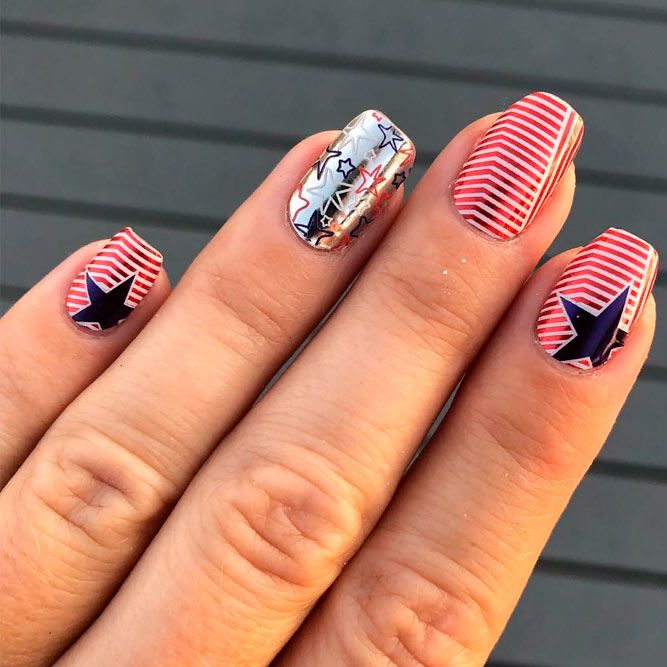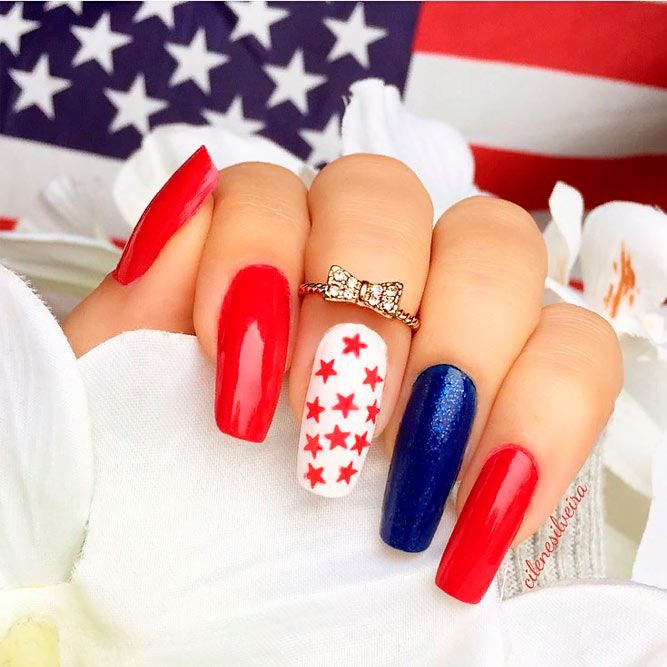 Source: Instagram/nailsbyjema, Instagram/jammin.and.glammin, Instagram/cilenesilveira
No patriotic acrylic nails can fit the event without stars added to them. No matter which types of nail art you prefer – we have all of them covered. Take your pick!
Sparkly Patriotic Nail Designs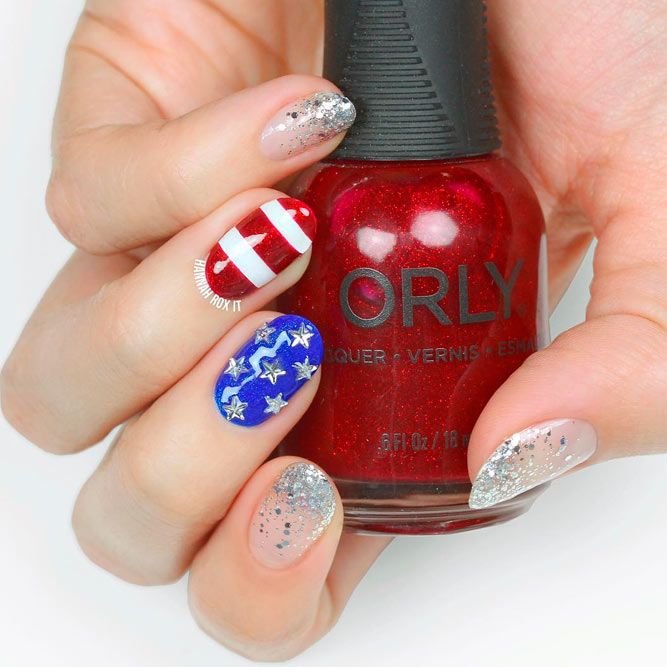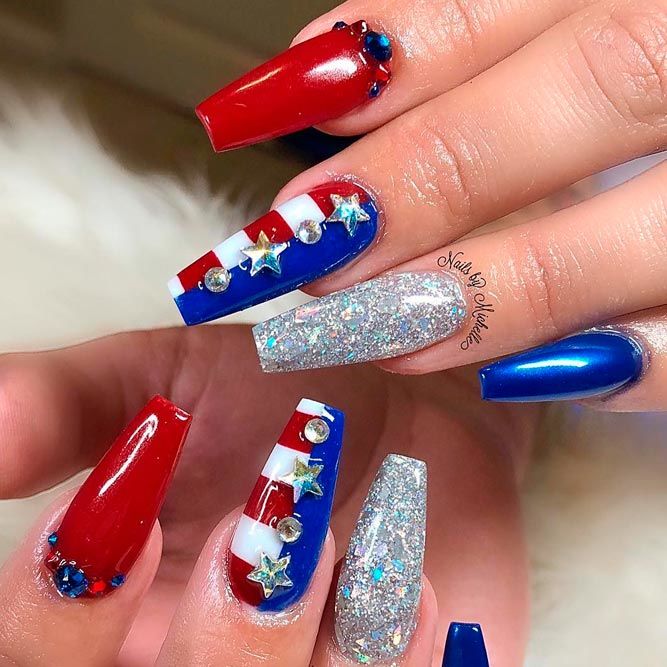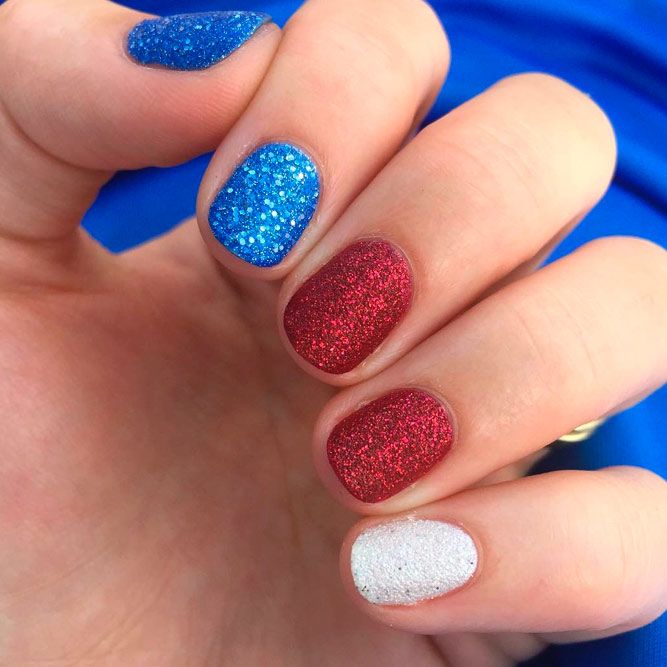 Source: Instagram/hannahroxit, Instagram/mrose_86, Instagram/adventuresinacetone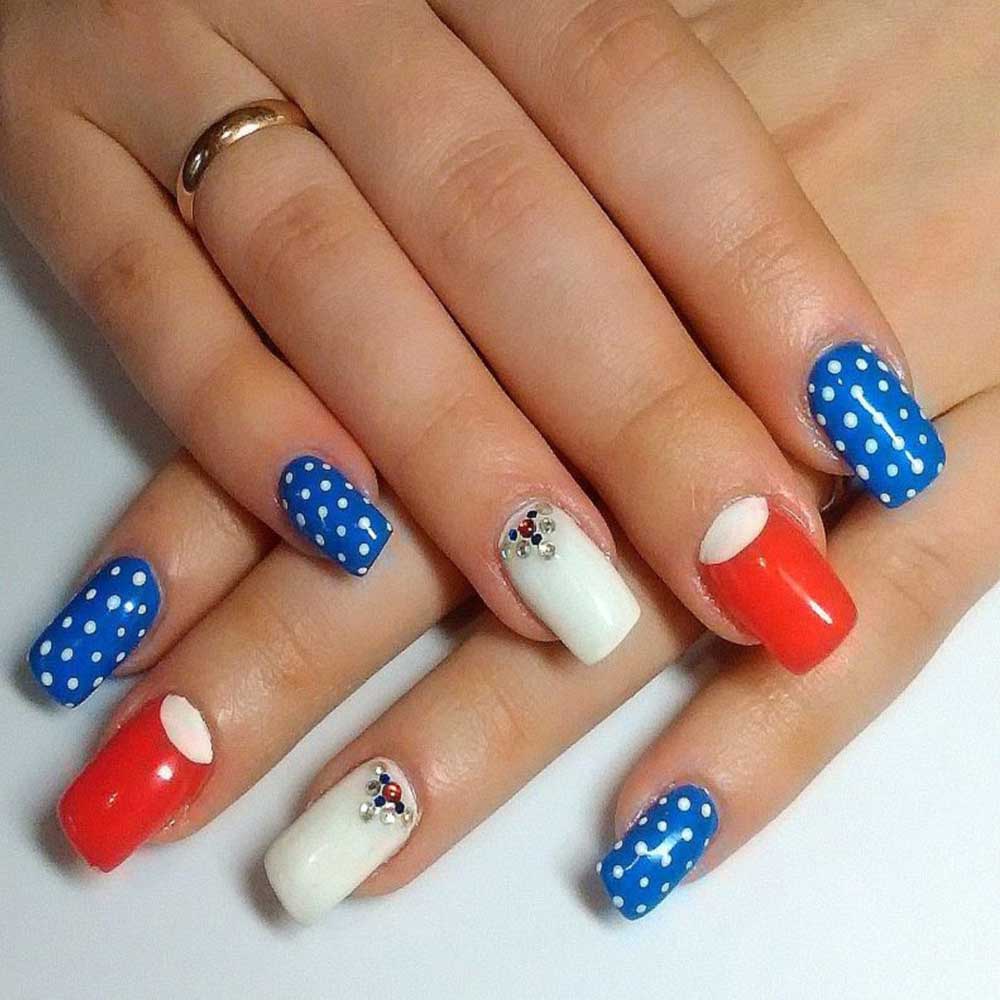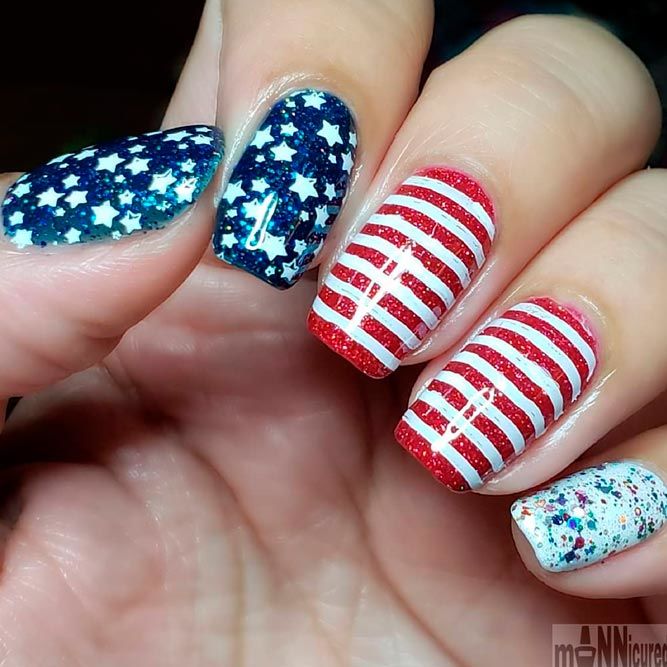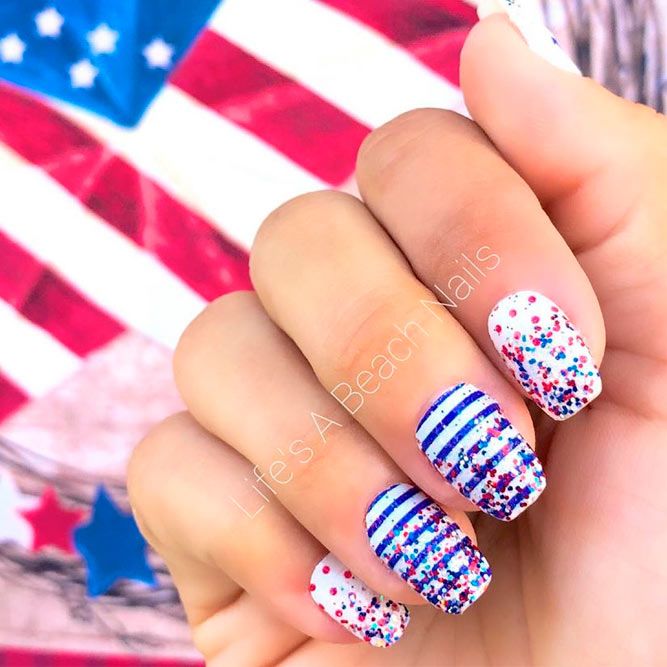 Source: Instagram/olya_nail_smf, Instagram/mannicured, Instagram/lifesabeach_nails
Holidays are always about joy and happiness so that adding sparkles to your 4th of July manicure is clearly a must. Be is a simple, patriotic-hued nail art or something more complex – do not leave the sparkles out!
FAQ: 4th Of July Nails
What can I use instead of nail striping tape?
The best tape to use is the paper masking tape you'd use while painting your house, but bank tape or regular scotch tape are also a good option. Because scotch tape is quite adhesive, it's recommended to apply it on your arm first to make it less sticky.
How do you do stars on your nails?
Apply a base coat or a nail strengthener of your choice.
Apply lavender nail polish in two layers.
Wait until the nail polish has dried fully.
Select the star stickers to use and where they will be placed.
Stick stickers on each nail.
Apply 1–2 layers of a glossy top polish to complete your design.