By:

Glaminati Media

| Updated:

08/23/2018
Pointy Nails With Glitter Design
Source: helennails_yeg via Instagram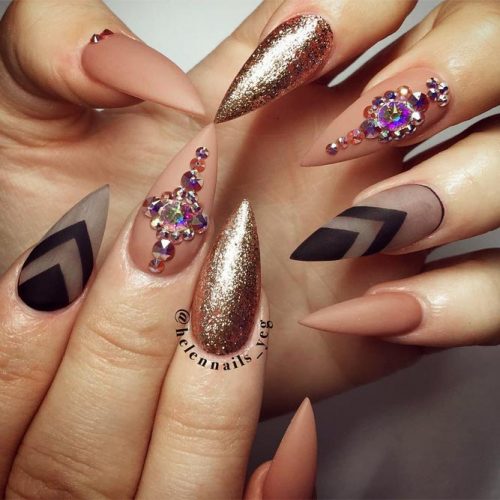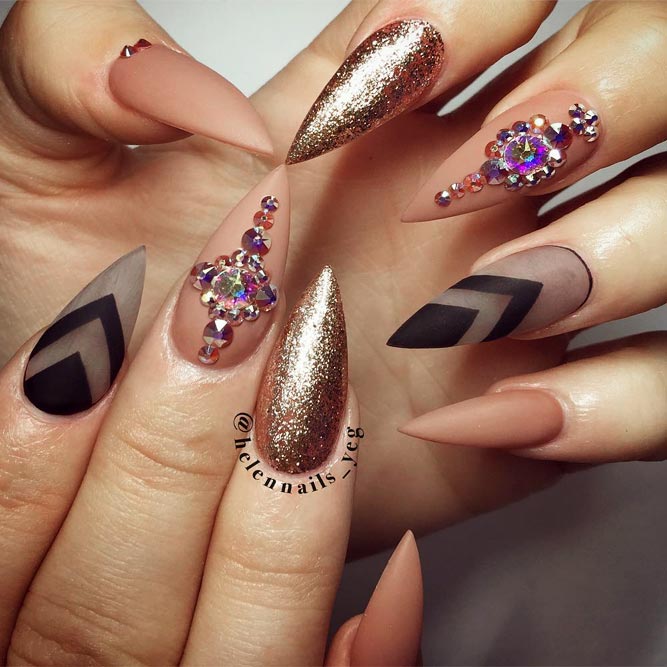 If you want a look for pointy style nails that is a bit more edgy, try combining several nail art designs. You don't have to stick to just one design to have pretty nails. Why not combine a look for both glitter nails and matte nails along with some fun accents? Check out this totally fun mani!
You can totally mix and match multiple designs. This look combines matte nude nails, gold glitter, gemstones and a black and clear matte chevron nail design for a mani that is totally hip and fun. Don't be afraid to mix it up a bit when it comes to nail art! You can get as creative as you want and have fun with it.
Black Pointy Nails Design
Source: aymehnails via Instagram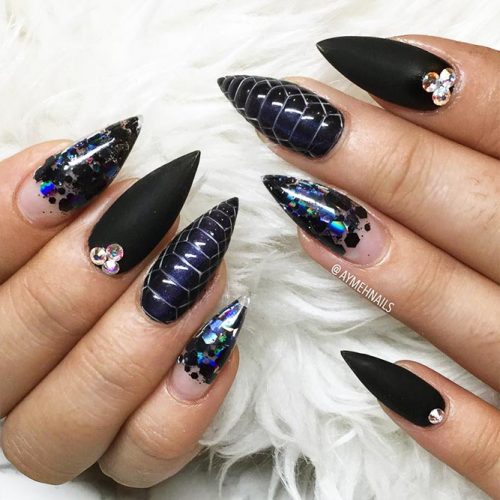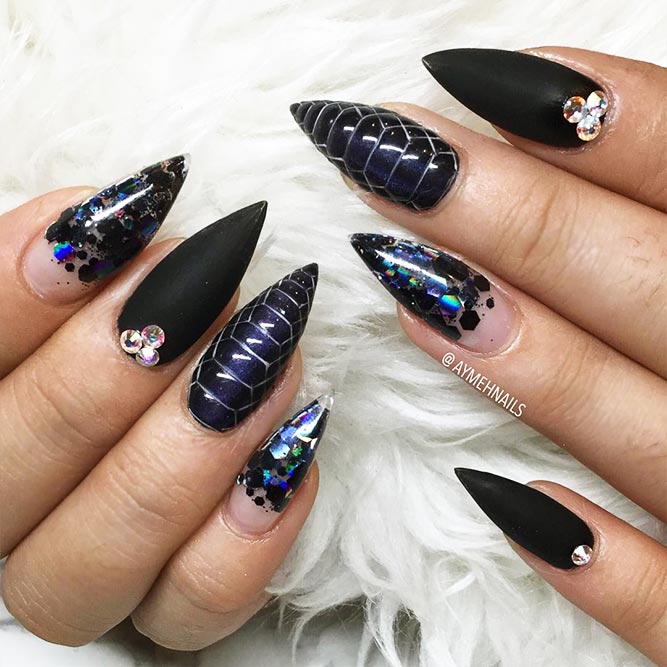 Another great look for black nails is this fun mix and match look that combines gemstones and glitter nail polish. Again, you can get creative with any style and color of nails and express your personal taste and flair.
Black matte nails are the best canvas for nail art. If you want, you can leave one nail clear or nude and use sparkling multi-colored glitter nail polish like the one shown here. Paint a cool geometric design on one nail and adorn another with a few gemstones for a unique look that is out of this world!
Sparkling Long Pointy Nails With Rhinestones
Source: margaritasnailz via Instagram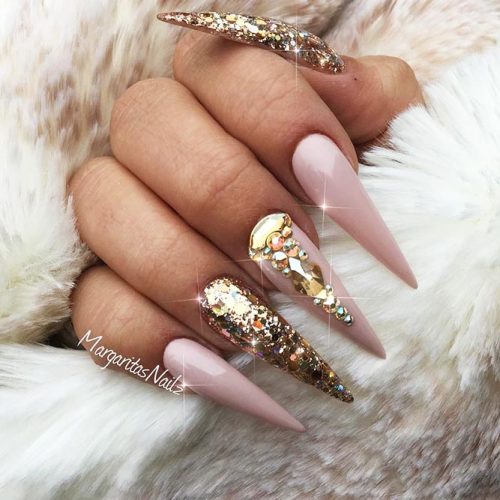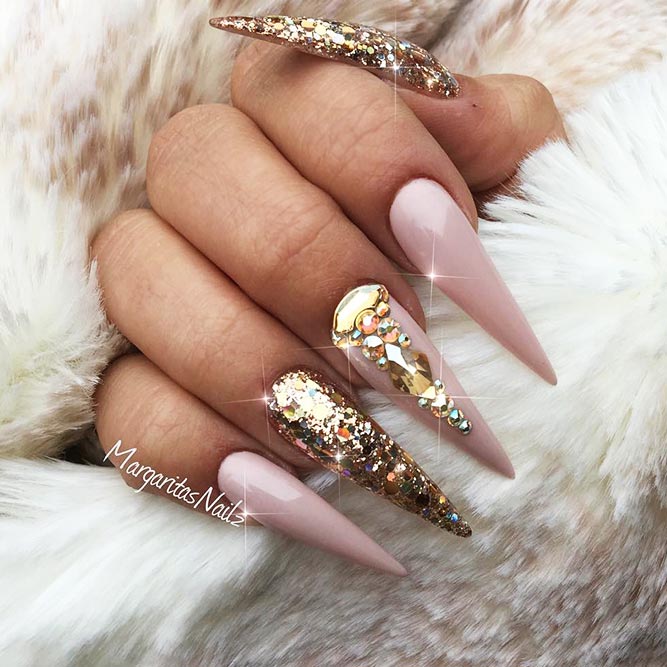 If you are looking for mani that is over the top glamorous, this nail art design for super long pointy nails is right up your alley! Gold glitter nails are always a great way to bring out the glam!
Paint your nails a delicate matte pink color, except your accent finger. Use sparkly gold glitter polish on your accent finger to really add a pop of style! Then, after your nails have dried, apply some gold and multicolored gemstones to one of your other fingers. You will totally feel like a diva with these eye-catching nails.
Pink And White Pointy Nails Fit For A Princess
Source: naild_by_nina via Instagram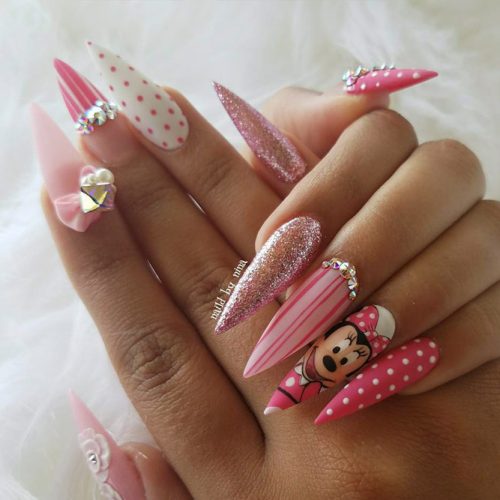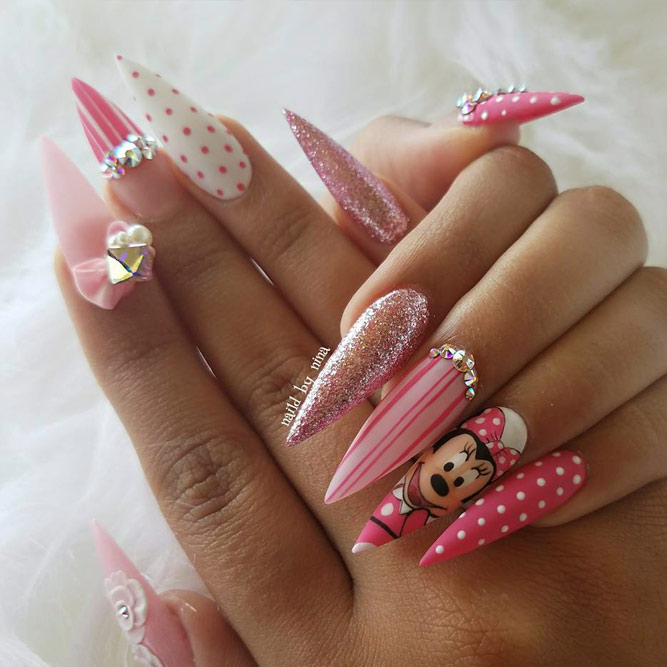 If you want to look like the royal princess, try this fun and elegant pink and white nails design. You will feel totally girly and chic with this super fun look for pointy style nails!
Start with matte pink on your pointer finger and thumb. Adorn them with gemstones, a lace design or a pretty 3D bow. Then apply a polka dot design to one of your other nails. You can even mix it up by reversing the colors of the polka dots. Paint one nail in a French manicure style with pink tips and gemstones. Finally, paint a cute Disney or Princess design on one finger, such as this adorable Minnie Mouse. You will be the envy of all your friends, and they will finally acknowledge that you are indeed a princess!
Pointy Nails With A Pink And White Ombre Design
Source: solinsnaglar via Instagram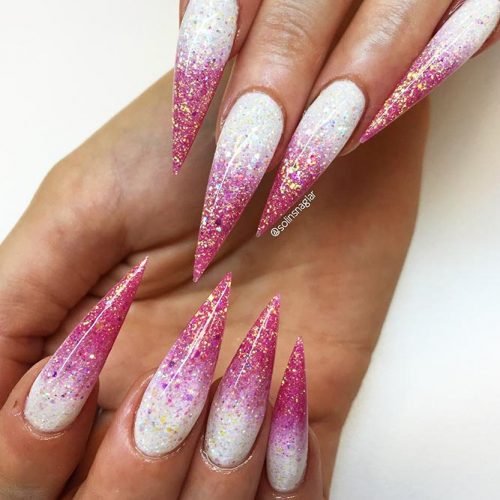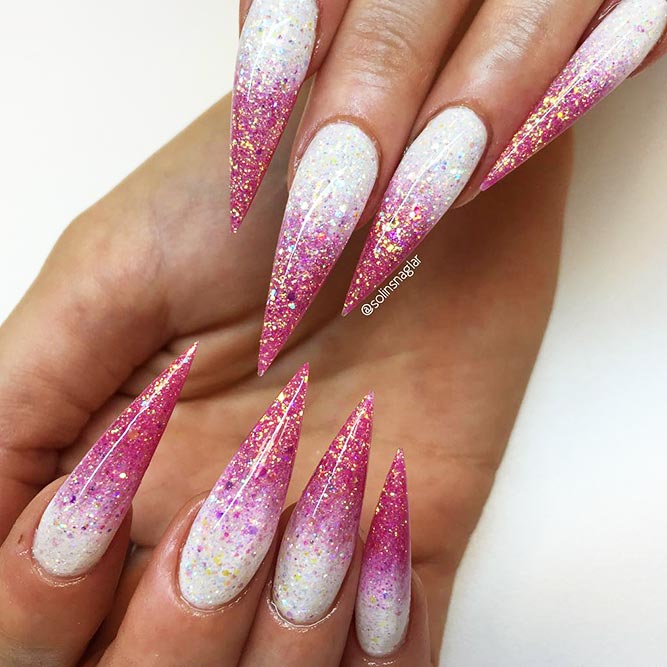 Ombre nails are still very much in vogue and what is prettier than white and pink ombre glitter nails? If you want to bling it up a bit and bring on the glam, this look is screaming your name!
Paint your nails white and allow to dry completely. Next, use pretty dusty rose pink to create an ombre fade. Again, allow to dry totally before finishing it with sparkly clear polish. This style looks pretty on all longer nails, but is especially chic on pointy nails. It is a great look both for work and play, as well as a formal event. So, break out that pretty pink polish and show off your stunning ombre nails.
Nude Pointy Nails With An Ombre Design and Rhinestones
Source: naild_by_nina via Instagram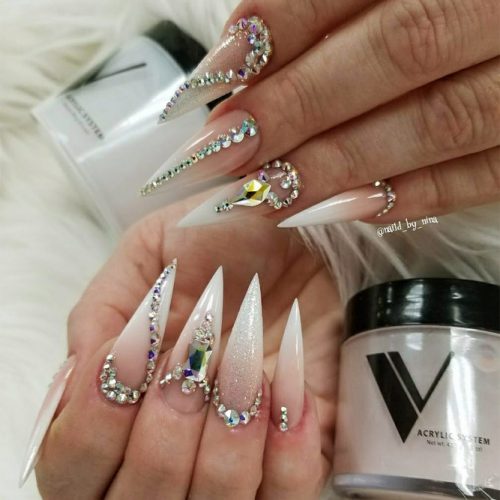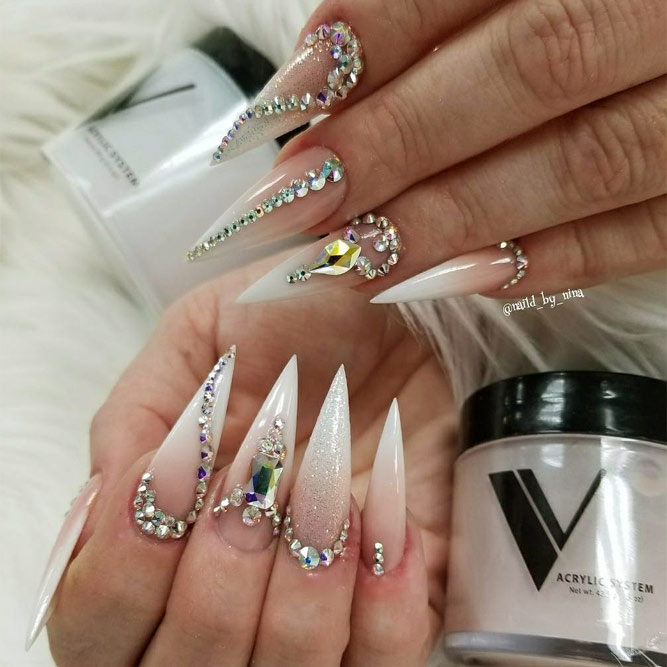 If you are a fan of rhinestones, and who isn't, you will love this pretty nude ombre design adorned with shimmery rhinestones! This look is very pretty with pale peach and white nails.
Paint your nails a very pale peach color for a nude look and allow to dry totally before applying a pale white ombre fade. Allow to dry once again and apply rhinestones in whatever pattern you wish. Don't be afraid to mix it up a bit and really bling it up! Add a few gemstones to complete this glamorous look and you are ready to go show off your inner diva!