People are different, but when it comes to women, one thing remains the same – we all just can't get enough of makeup. You do not really need to be an addict to have piles of makeup products lying around your apartment – something like this happens to most of us, so no worries here. Taking all this into consideration we have come to the conclusion that it may be more than handy to share with you a list of excellent makeup organizer ideas to choose from. We are sure that you will find something special for you here, so let's have a closer look, shall we?
Practical And Beautiful Makeup Case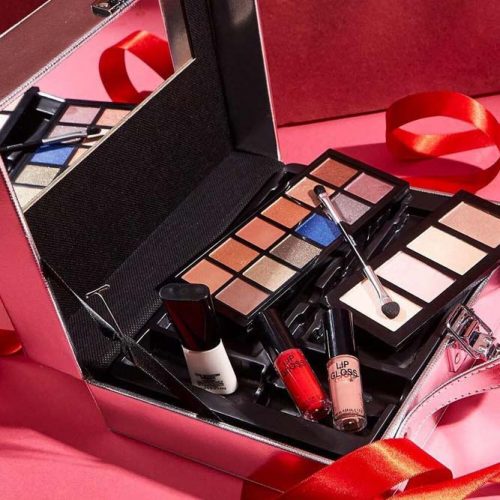 Source: sallybeauty via Instagram
Makeup storage is something that every lady needs to keep all of her makeup belongings organized. However, it is not enough to have some place to keep all of your makeup production in; the place needs to be practical too so that there is all that you need in one place and at hand. In case, this is what you are looking for this gorgeous and practical makeup case will save your day!
Cosmetic Makeup Case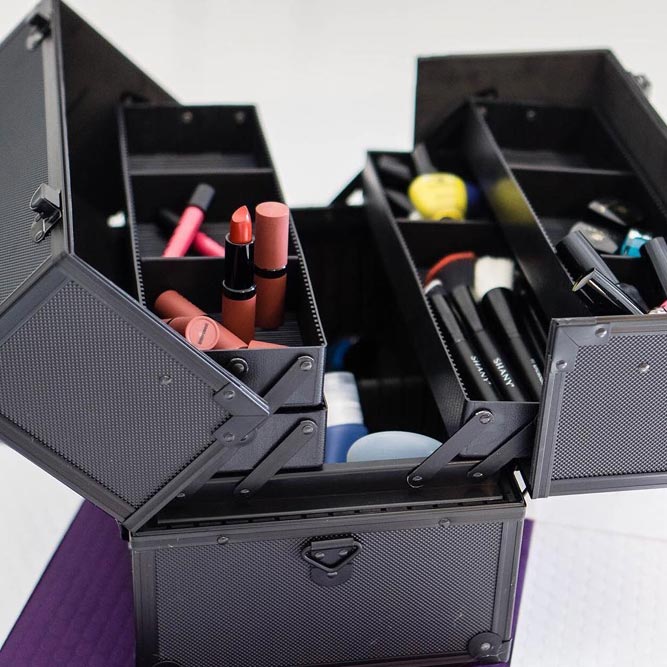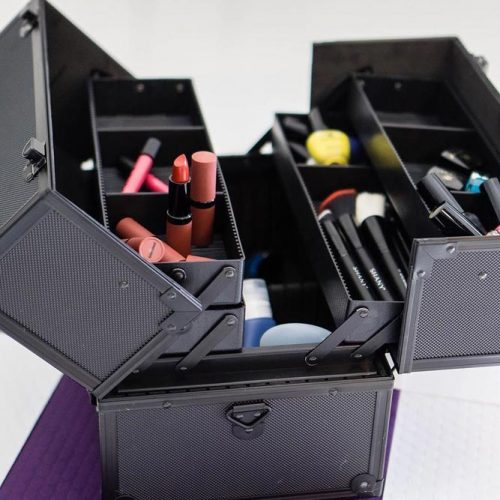 Source: shanycosmetics via Instagram
The best way not to lose any of your makeup tools or brushes is to keep them in one place. Of course, it may be a little bit more difficult than it sounds since sometimes there is a lot of storage room required. In times like these, this spacious cosmetic makeup organizer will come in more than handy.
Makeup Case For Teens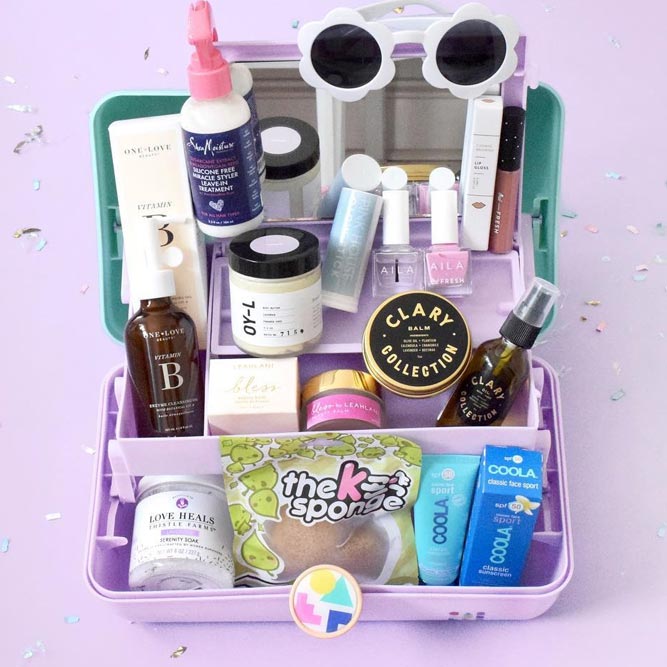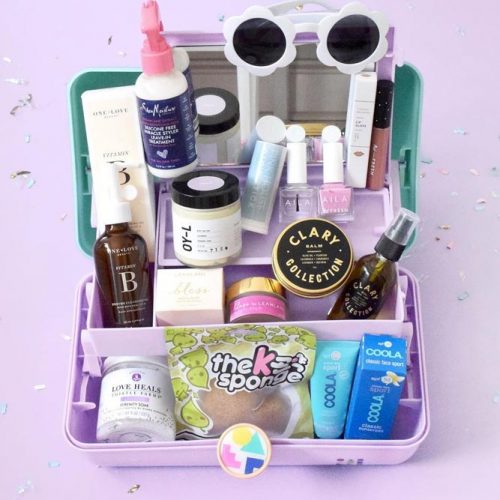 Source: ouifresh via Instagram
It may be true that a modern teenager does not have that many lipsticks or eyeshadow palettes not to mention brushes to use. However, all the cleansing skin care products need a special place to be stored in, and we may have just the perfect idea to share!
Large Makeup Storage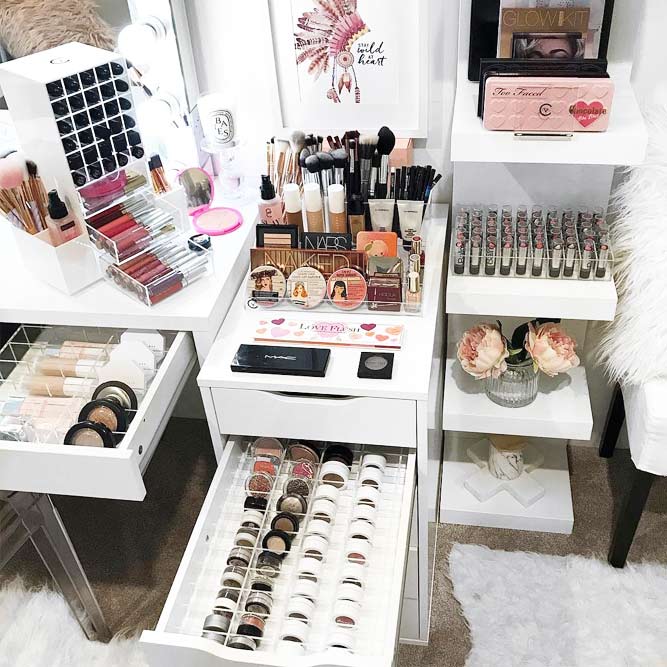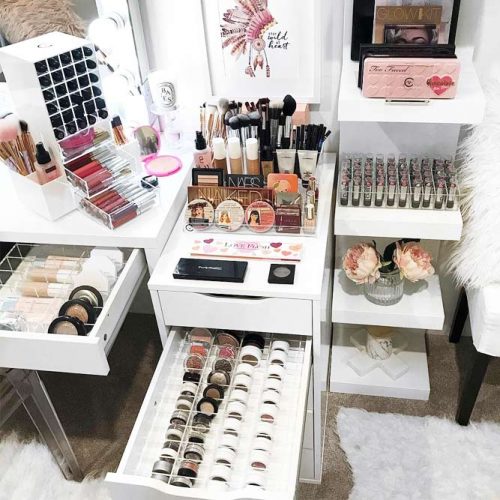 Source: vanitycollections via Instagram
Large makeup organizer is something that many girls dream of, and we happen to know how the best one looks like. The thing is that when there is too much makeup an your disposal it is best you devote enough room for storing it and a beautiful vanity table will do just perfectly.
Lipsticks And Palettes Holders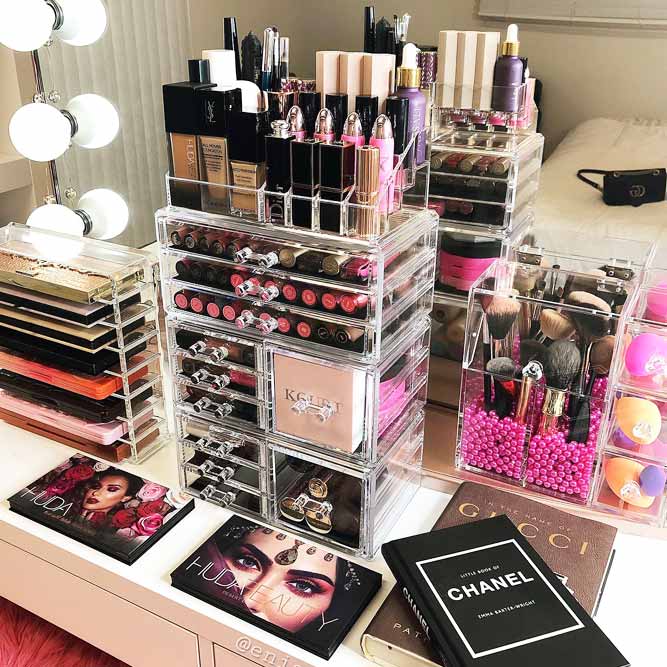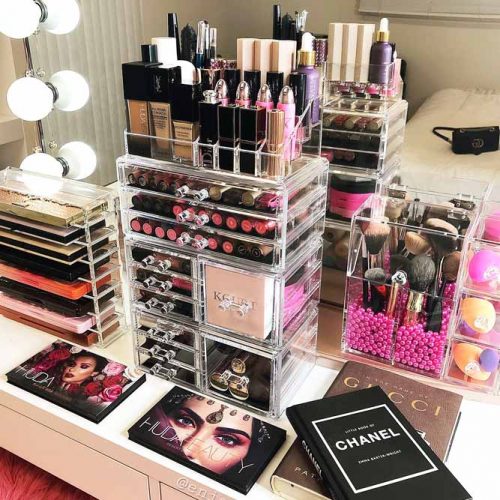 Source: enigma_e via Instagram
It happens so very often that you are in terrible need of that particular eyeshadow palette of that same-colored lipstick and they are just going missing. Does this sound familiar? In case it does, you will undoubtedly appreciate this gorgeous lipstick and eyeshadow organizer.
Palettes And Brushes Holders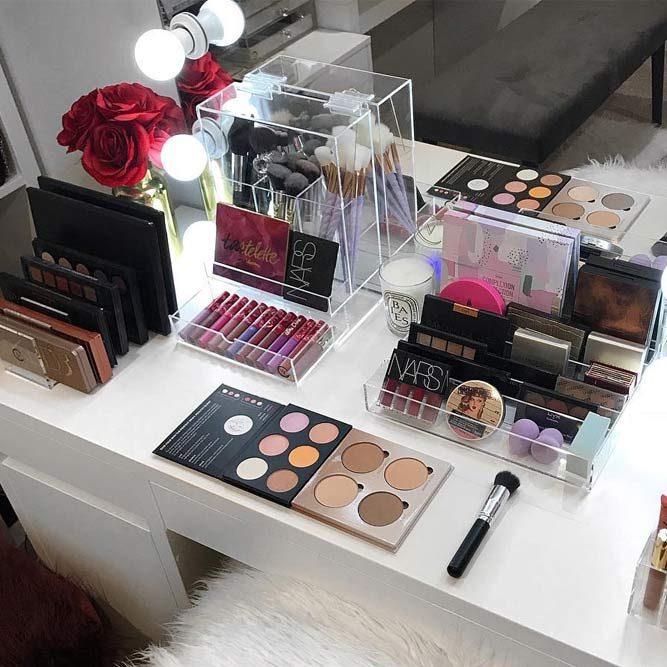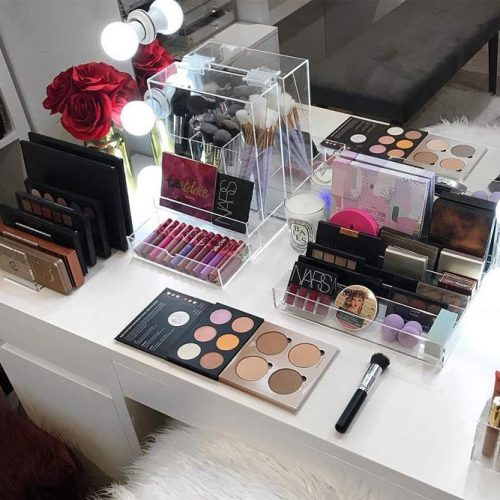 Source: vanitycollections via Instagram
Among all the makeup organizer ideas there are those devoted to the makeup brushes and eyeshadow palettes. The thing is that the better are your organization skills, the better your complete makeup will look like, as simple as that!
Cute Polka Dots Makeup Bag Design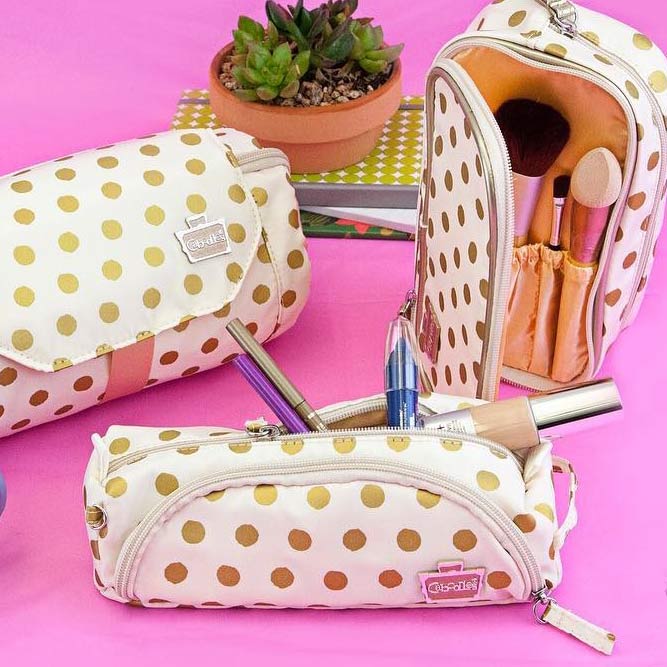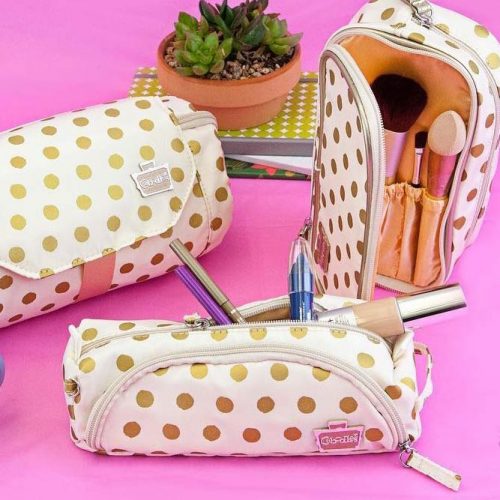 Source: realcaboodles via Instagram
Makeup organizer bag does not necessarily need to be large or expensive to be useful. Very often what we need are just the essentials, and that is when a cute polka dot makeup organizer comes in more than helpful.
Small Makeup Bag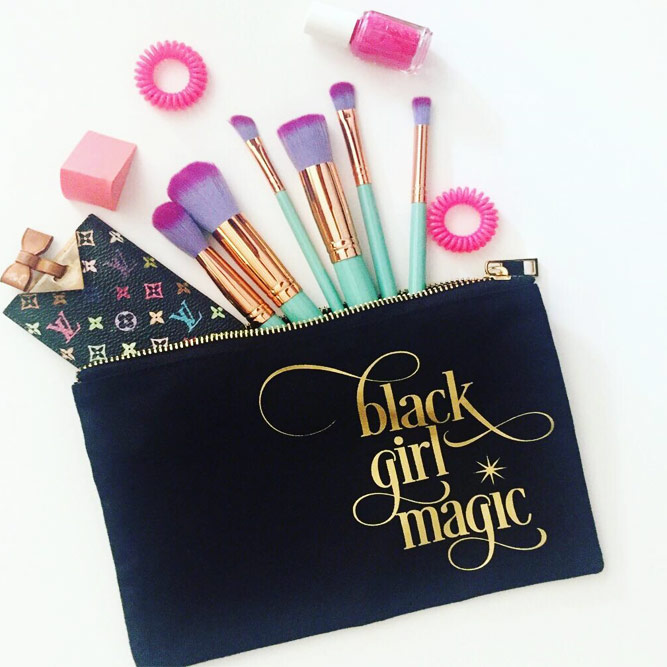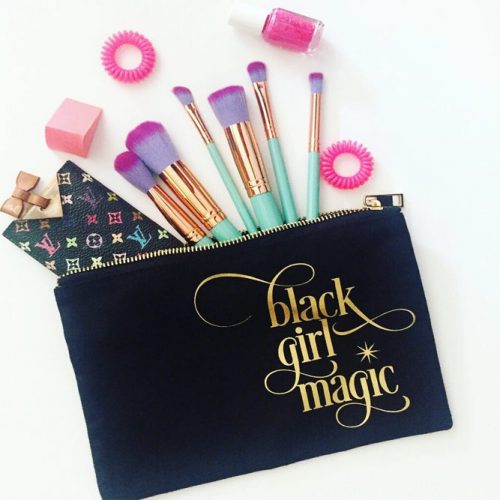 Source: effiespaper.com
Very often, it may seem that the bigger is your makeup bag – the better. It is true if there is a lot of room there, there is a higher chance that all of your belongings will fit in. However, when you are in a rush or traveling at a short distance, you need something compact and useful, and that is what small makeup bags exist for.
Expertly Organized Beauty Bag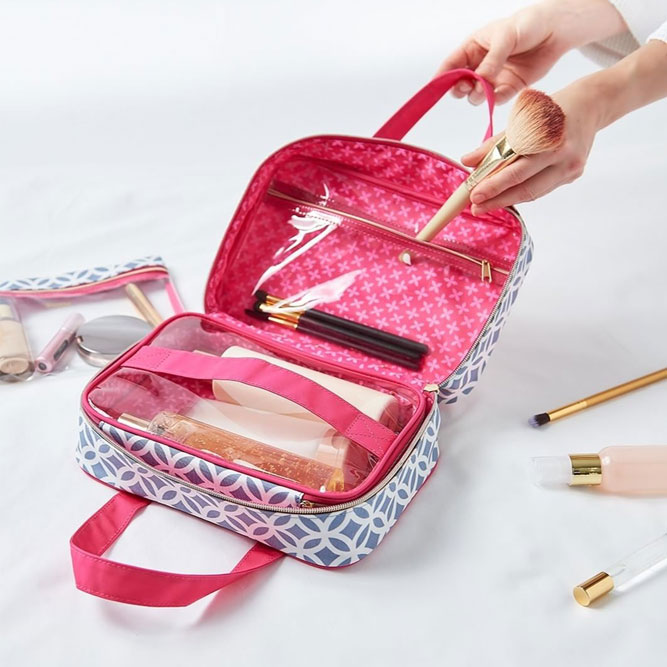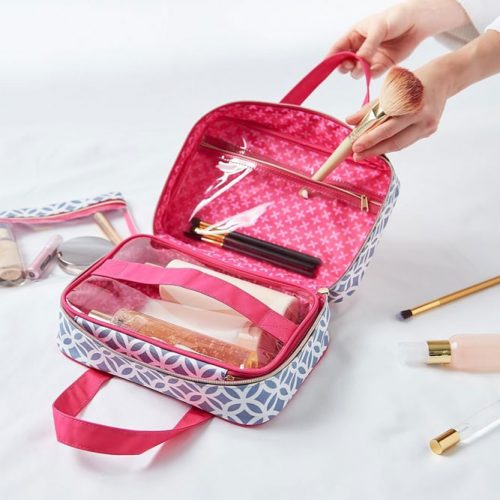 Source: victoriagreenltd via Instagram
When it comes to traveling, you can't leave your house unarmed that is obvious. In order to take your entire makeup weapon with you, you are going to need a proper organizer for it to fit in and not to take up too much space. That is why a makeup organizer case with suitable compartments is precisely what you need, don't you think?
Drawers Makeup Organizer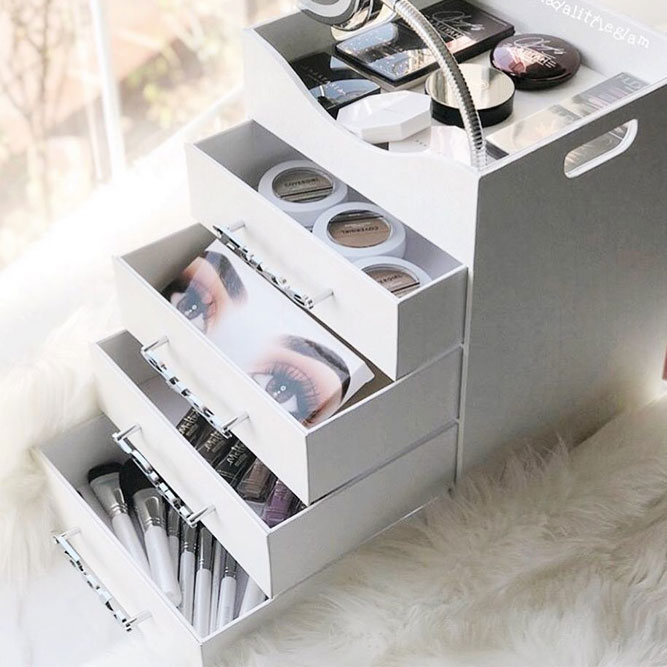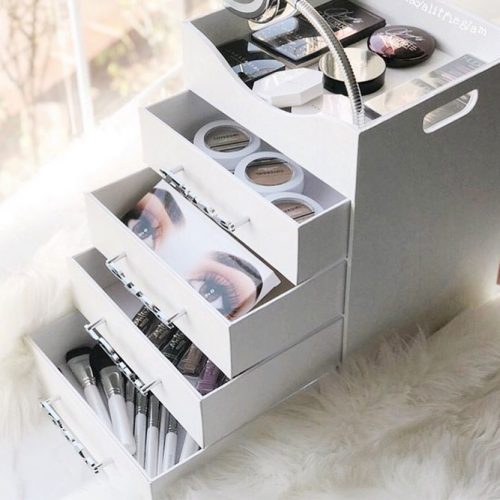 Source: caddy_face via Instagram
When a makeup bag is not an option for you, but the desire to keep your makeup organized is strong, we have a practical way out. The thing is that a chest of drawers filled in with all your makeup products will help you kill two birds with one stone – you will keep your belongings organized as well as you will have a beautiful décor element added to the interior.
Makeup Organizer For Your Brushes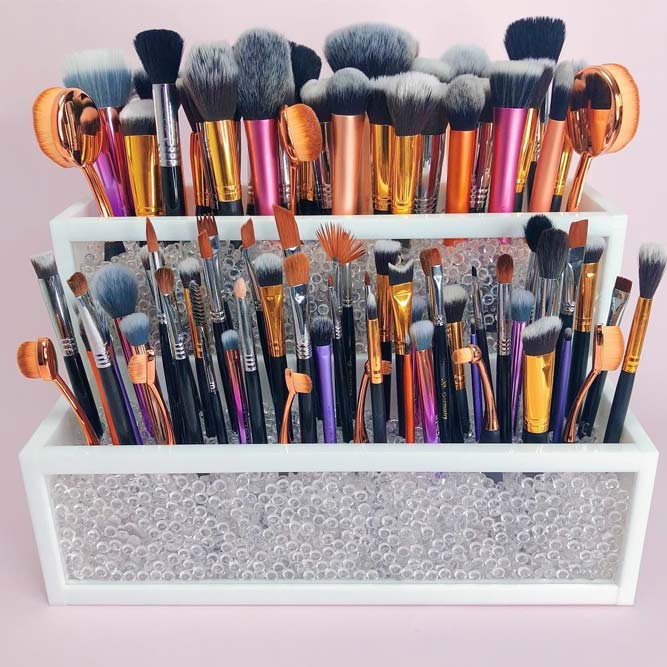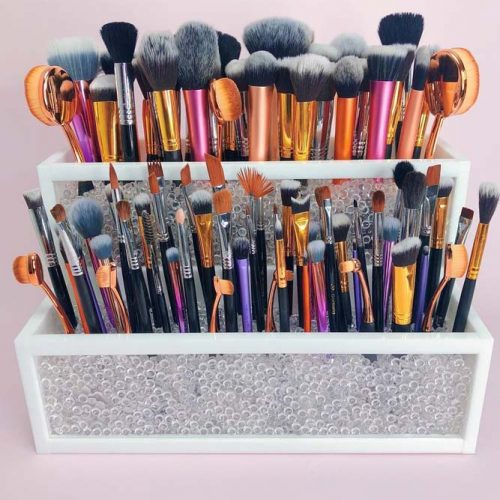 Source: the_cosmetic_archive via Instagram
When it comes to your brushes, we may be stating the obvious – but they are a lot? In case the consumption is true, we know a perfect way how to store your brushes so that they do not get mingled or missing not to mention the fact that they will remain in perfect order no matter what.
Cheap Makeup Organizer For Your Brushes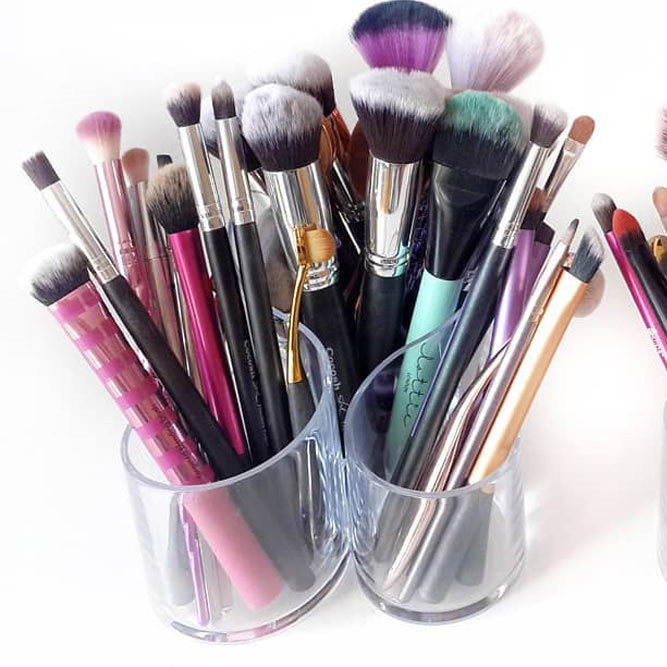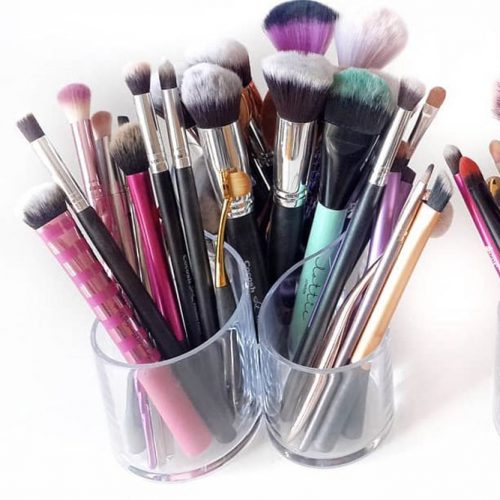 Source: handeileguzellikcepte via Instagram
Cheap makeup organizer does not mean useless or annoying, entirely on the contrary. In case you do not believe us – have a look yourself!
Cheap Way To Organize Your Beauty Items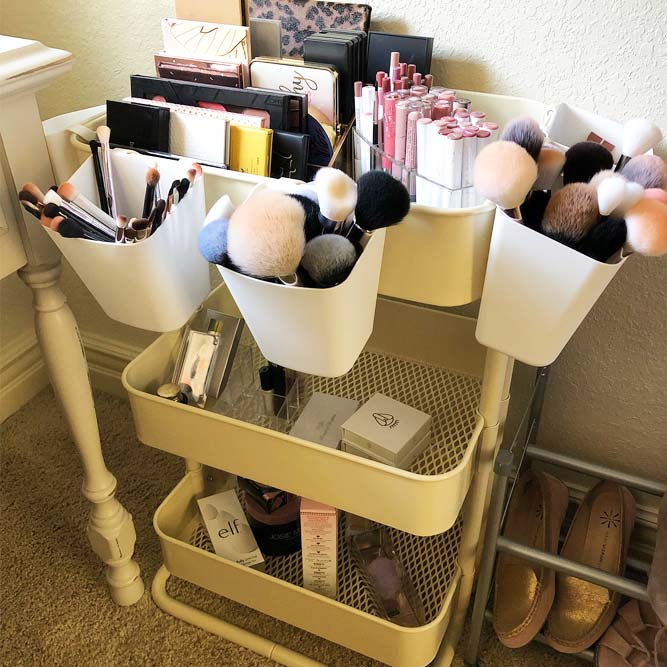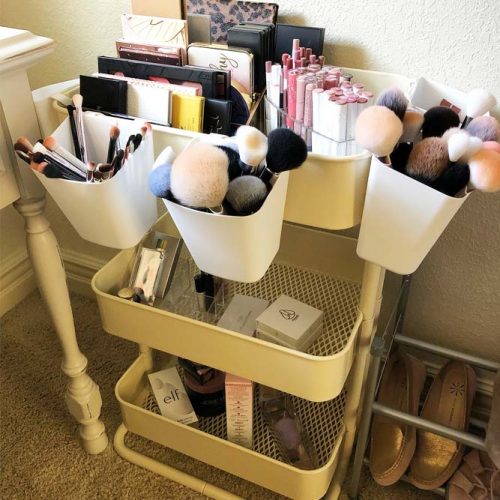 Source: simplescapes76 via Instagram
There are many ways to keep your makeup products in perfect order, and it is true that some of best ones can be pretty costly. However, it does not mean that there is no cheaper alternative to store your tools. We think that the handmade makeup organizer is the best example to support the idea!
Cheap Makeup Holders To Organize Your Beauty Space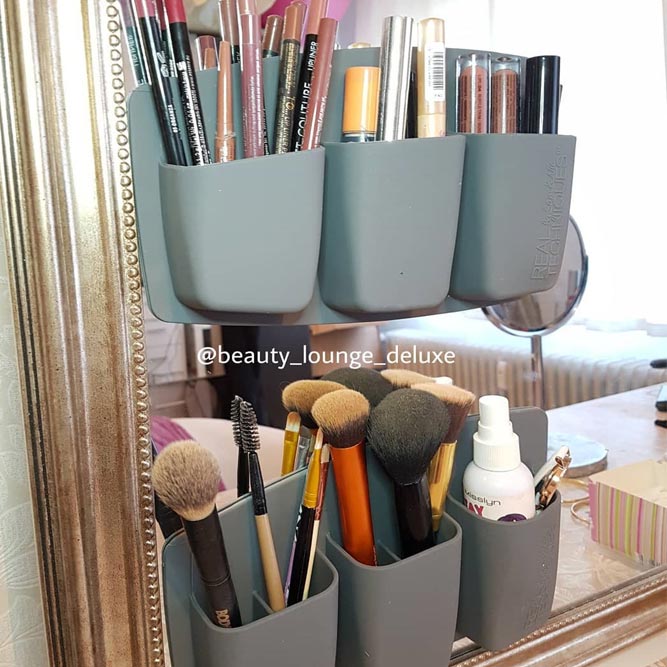 Source: beauty_lounge_deluxe via Instagram
It is true that not all of us can afford a fancy makeup case at the time, but that does not mean that you should leave your makeup tools laying scattered around the flat. Simple and cheap plastic container will help you store all of the production in perfect order no matter what!
Makeup Travel Case With Lights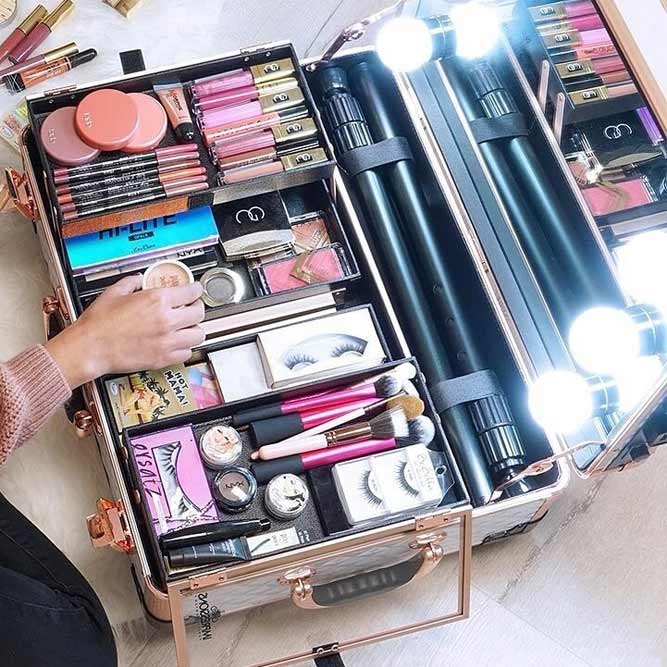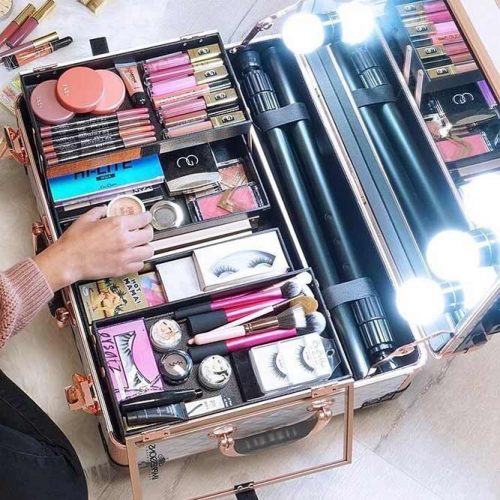 Source: impressionsvanity via Instagram
Precise makeup requests for enough of light and you can effectively ensure that if you get yourself a makeup organizer with built-in lights. Besides, the size of a mirror it comes with is just mesmerizing!
Large Travel Glam Case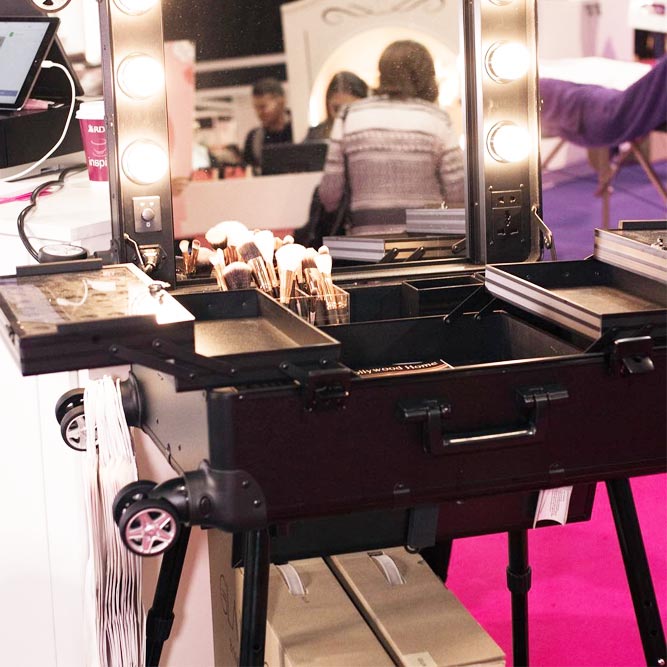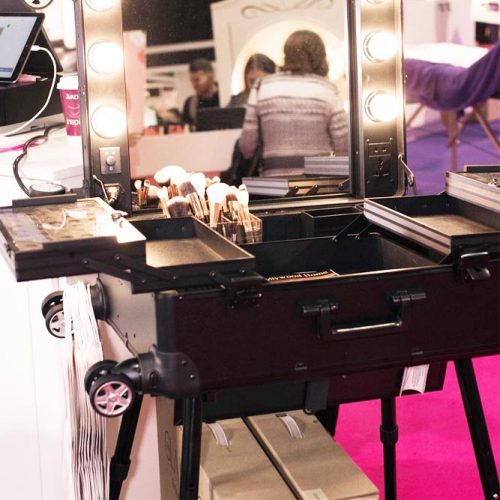 Source: glamdoll.ie via Instagram
Looking perfect requires a lot of effort, and we are sure that you are well aware of that. What is more, your gorgeous outlook involves a lot of details to be considered that is why it is best you never leave any of your tools behind, and this glam case is something that will help you succeed with the purpose.
How To Organize Your Beauty Items For Travel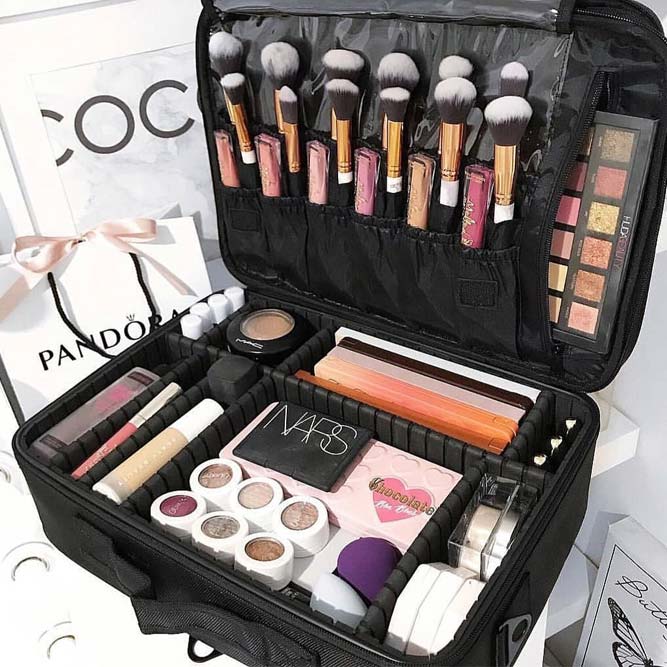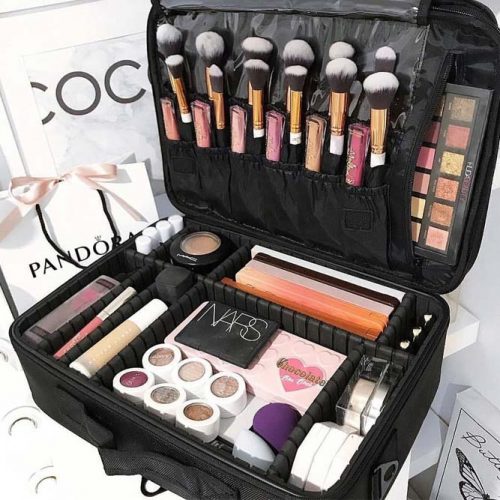 Source: slaymebeautiful__ via Instagram
It is always quite a dilemma what to take with you on vacation. However, when you are not limited in the room, you can quickly fill out this huge makeup bag with all your fav tools and travel safely and always looking your absolute best.
Simple Small Makeup Bag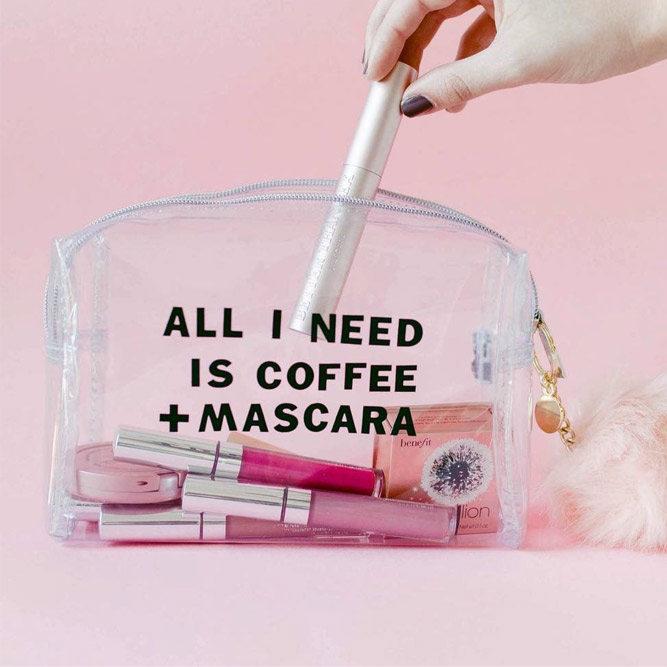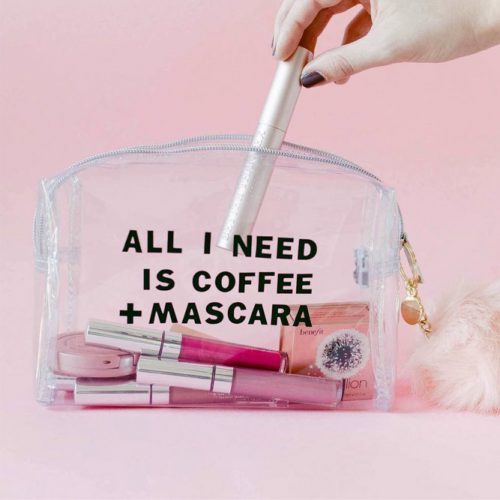 Source: joligracebeauty via Instagram
There are many situations when you don't need a big bag for makeup. That's when this small miracle comes in handy. This transparent bag is simple yet perfect!
Small Black Makeup Bag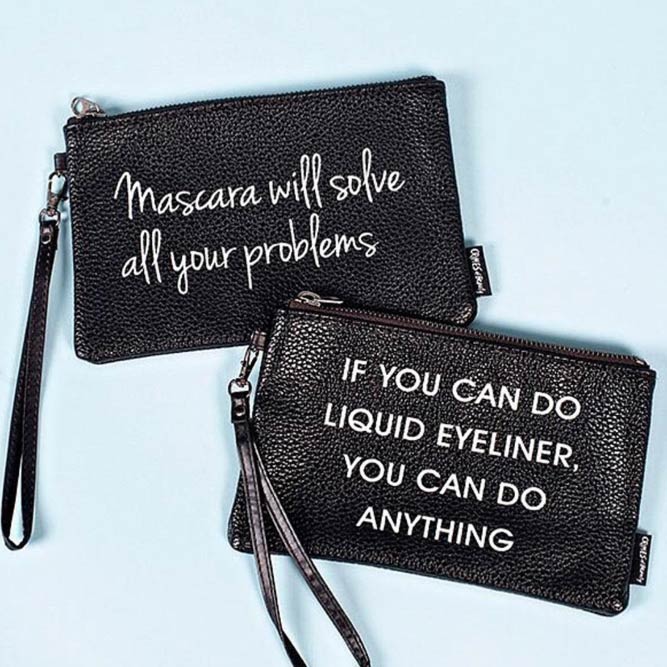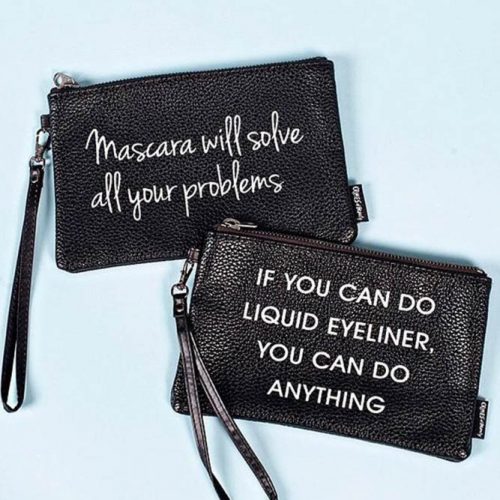 Source: crimesofbeauty via Instagram
A black color is something classic, something that will always remain fashionable. So, picking a makeup bag in a black hue is a win-win. How do you think?
Small Pink And Green Makeup Bags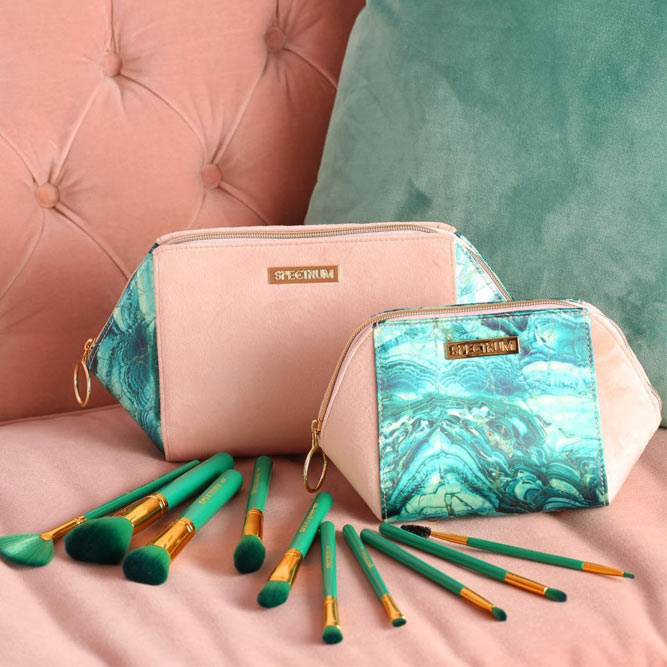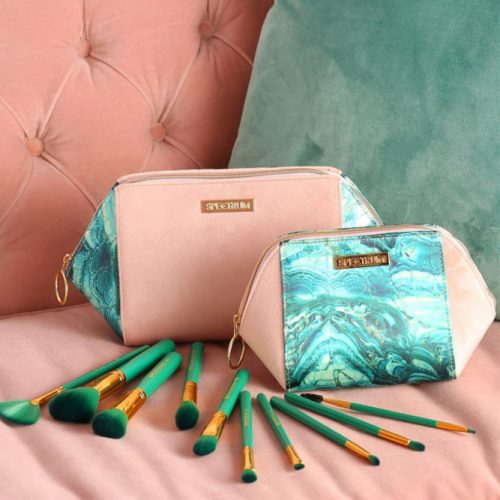 Source: spectrumcollections via Instagram
Pink and green is a fashionable color combination that is interesting and mood boosting. This set of pretty bags consists of a bigger and smaller bag to get you covered wherever you go.
Mermaid Cosmetic Bags Set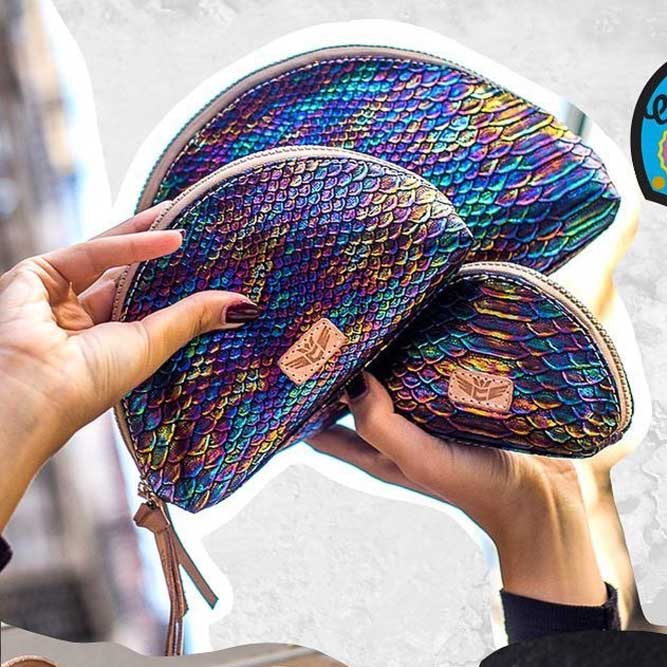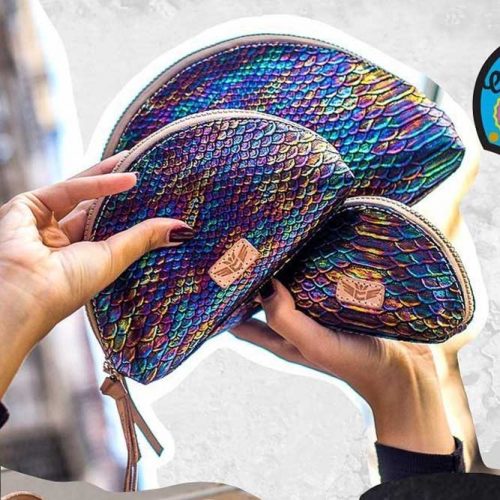 Source: consuelastyle via Instagram
The mermaid things have been in for some time already. And it is not surprising why. We all love something colorful, patterned and shiny. Aren't these colors mesmerizing?
Cosmetic Travel Makeup Case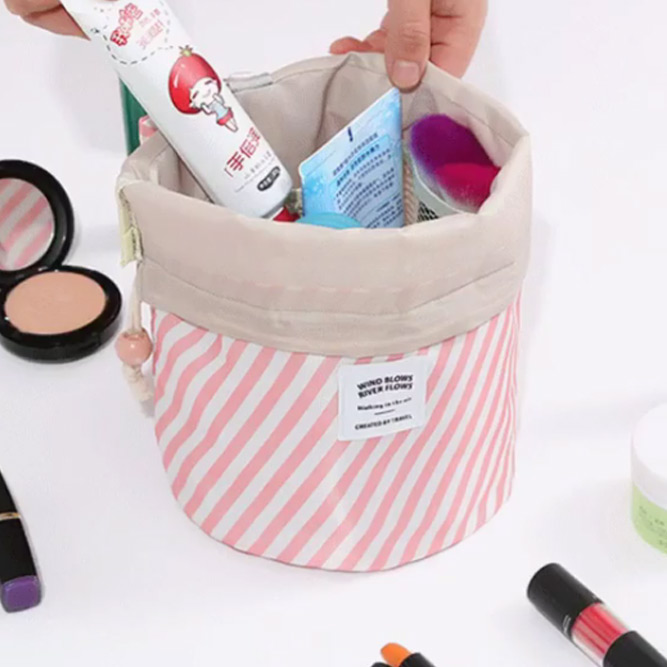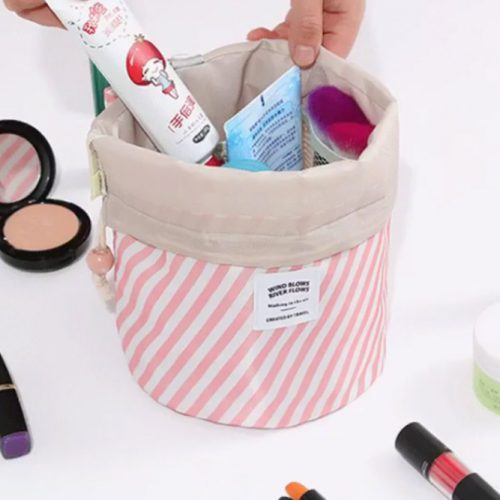 Source: newchic_official via Instagram
This makeup case for traveling can store not only your lipstick and mascara but it is large enough to store your skin care products, as well. How convenient to take such a bag with you!
Perfect Travel Makeup Organizer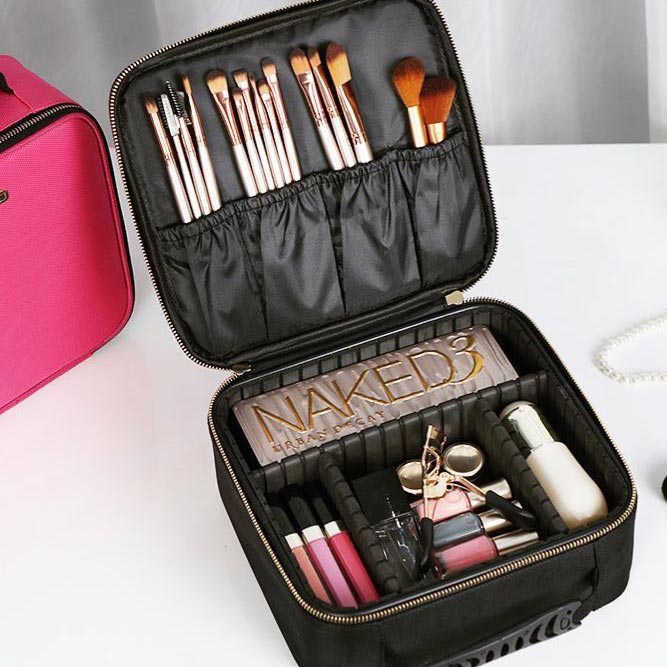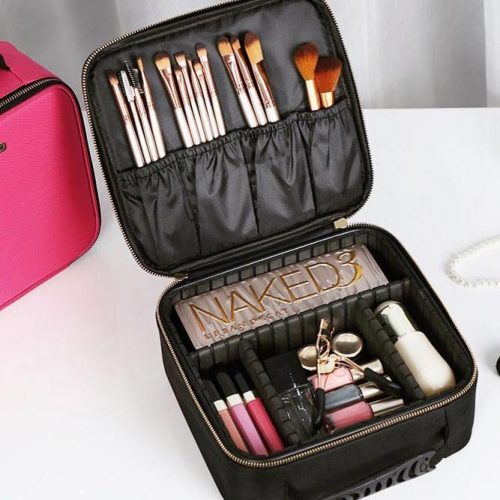 Source: songmics via Instagram
Every fashionista would agree that a makeup organizer is a life savior when it comes to traveling. It can store not only your makeup but also all the brushes you will need. How awesome!
FAQ: Makeup Organizer
Should you put makeup in the fridge?
Simply avoid putting any makeup, scents, or oils in the fridge because they will separate and become difficult to use when exposed to cold temperatures.
Should I keep retinol in the fridge?
To prolong products' life, most vitamin C and retinoid serums are packed in dark vials. They should be kept in the refrigerator at all times, which will not simply make them last longer…This will also keep them effective for longer, with no strange odor. So, store them in a refrigerator.
How do you sort toiletries?
Keep nail polish in a spice rack.
Organize your cosmetics using drawer dividers.
An old pencil box can be used to store toiletries.
Headbands and hair ties should be kept in small drawstring bags.
Store beauty goods in a shoe organizer.
Use an over-the-door basket to keep your hair straightener and dryer.
Keep lotions in the Lucite desk organizers.
Eyeshadow palettes can be stored on a lid rack.
Mason jars are great for storing Q-tips and cotton balls.
Stackable drawers are ideal for storing beauty goods.