Korean makeup has been popular far beyond the borders of a single country. And not for nothing, we must say. With its unbelievable formulas, innovative techniques, and creative ideas, it has exceeded even the grandest expectations. Korean make-up not only makes the skin look out of this world, but it also erases a good couple (or even a dozen) of years from your face. If you want to gain more insight into Korean make-up for asian eyes, keep on reading.
7 Tips On How to Pull Off Korean Makeup
To help you crack the secret of Korean makeup, we've put together seven essential tips to follow.
Shape Your Brows Straight-Across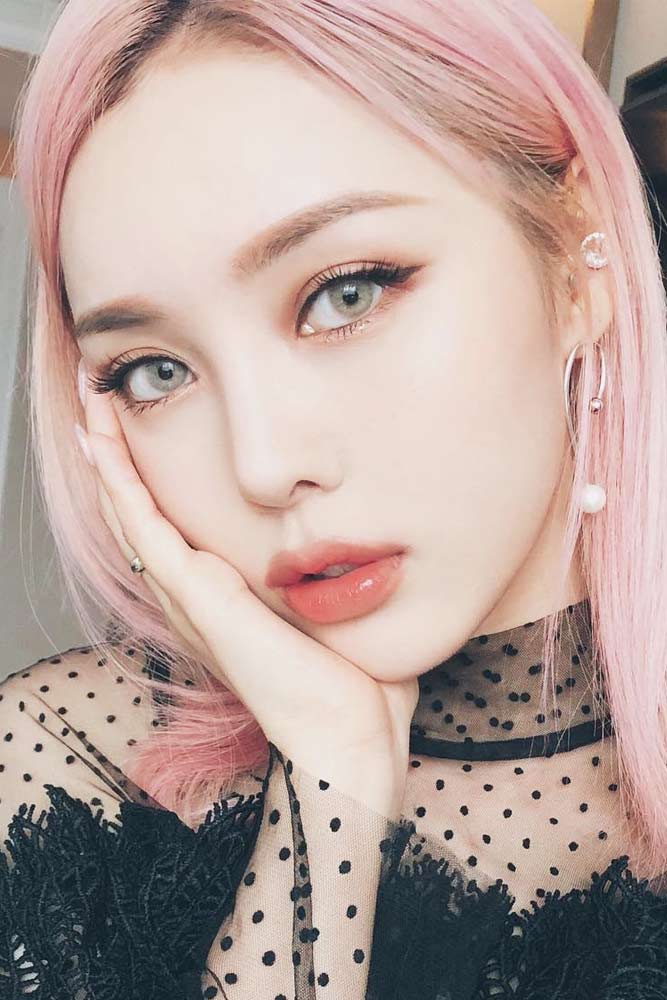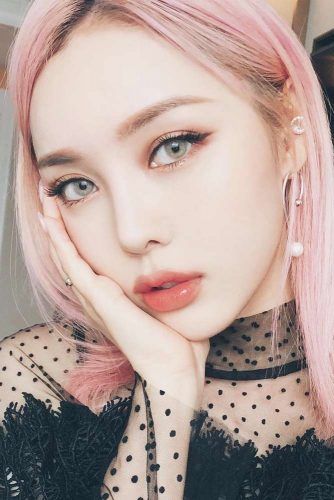 Source: Instagram/ponysmakeup
It's no secret that brows help you frame the face. They're almost decisive when it comes to the impression you give. The brow shape can add mystery, seriousness, softness or even anger to your look. Korean natural makeup fully employs this quality of the brows and instead of making them curved, Korean women get along with a straight-across brow shape. In this way, your face seems more youthful. Maybe, because we're born with such a shape.
Bring Juicy-ism Into Your Makeup Routine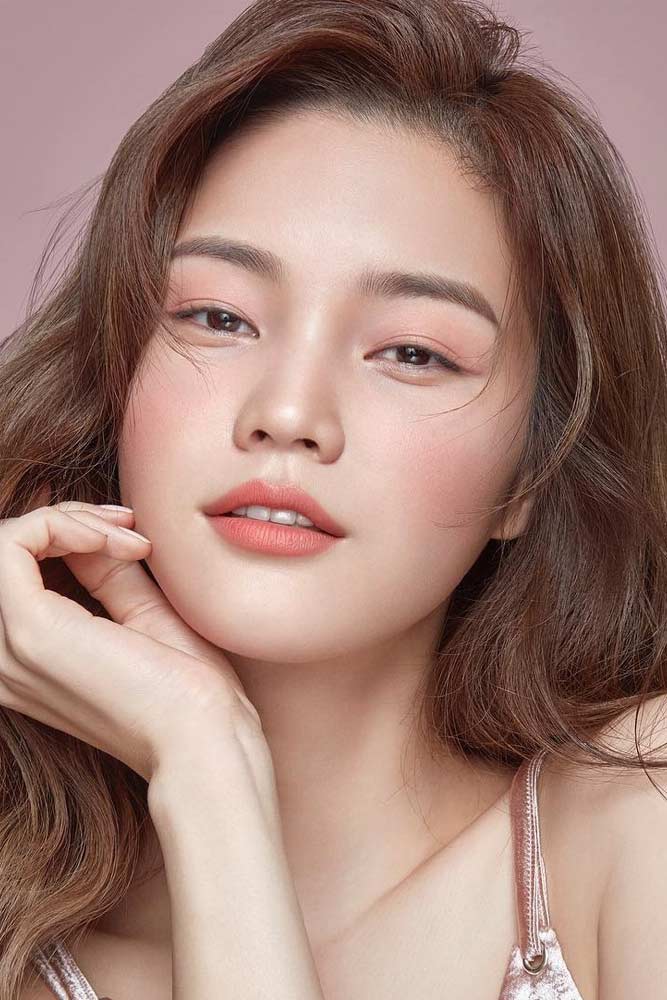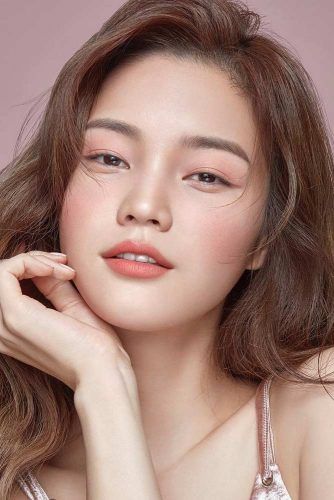 Source: Instagram/makeupforeverkr
One of the latest Korean makeup trends that make you instantly look younger is so-called juicy-ism or simply fruit juice makeup. This aesthetic creates an impression of ripe juicy fruit on your cheeks. To get it right, you need to apply blusher in fruit colors straightly onto the apexes of your cheeks without blending. For added emphasis, touch your lips with lip tint in fruit colors too.
Try On Tearful Or Peach Blossom Eye Makeup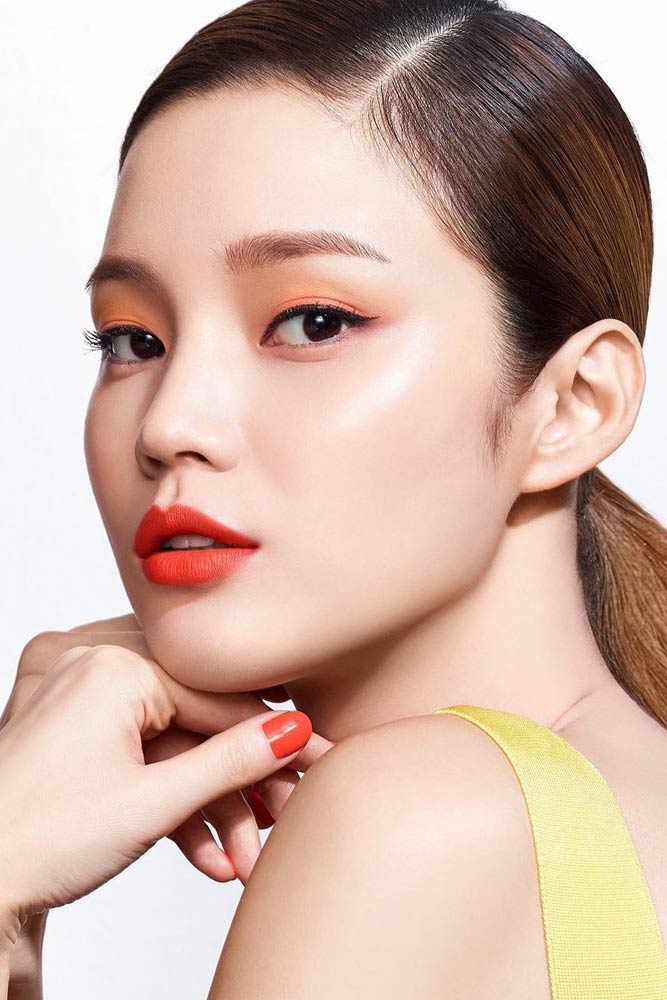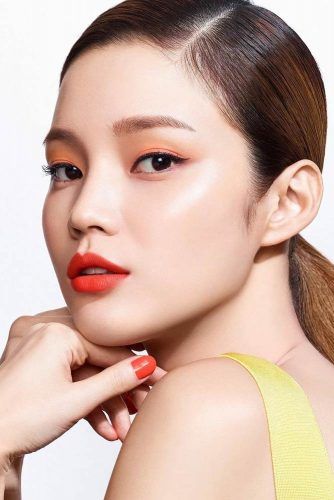 Source: Instagram/makeupforeverkr
Korean makeup look trends are often incomprehensible not only for neophytes but for the majority of stagers too. If you usually want to disguise the fact of being crying, Korean women, even if they weren't, intentionally emphasize their eyes with a peachy or other red-hued eyeshadow making them look tearful. Supposedly, this gives Korean women some special flair.
Achieve A Smiling Eyes Effect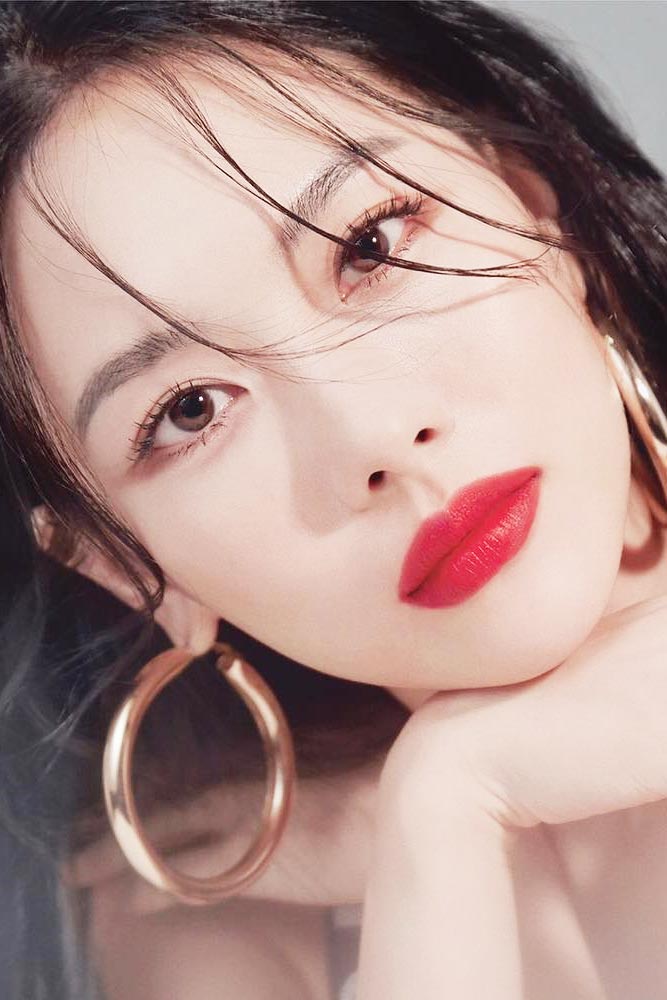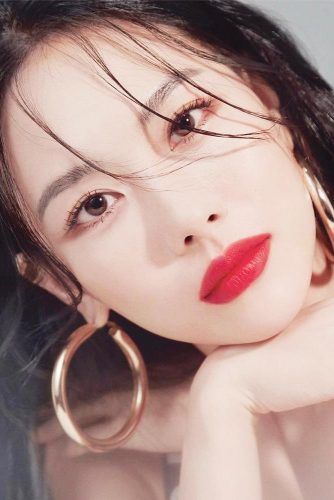 Source: Instagram/nylonkorea
Ironically, Korean eye patches are one of the best at dealing with puffiness, laughing lines, and dark circles. However, it appears that Korean women don't struggle with these issues simply because they don't consider them so. Well, at least what concerns laughing eye bags doesn't seem to bother them at all. Instead, they think of these small under-eye fat pockets that show up when we laugh as cute.
This phenomenon (which is called aegyo-sal, by the way) is so much on a roll now that some Korean women even resort to plastic surgery in pursuit of gaining or enhancing these bags. Good news is if you want to try on this Korean trend, you don't have to go under the knife. Simply by highlighting your under-eye area and creating a shadow underneath it, you will achieve more or less the same effect.
Go On With The Crying Eyes Makeup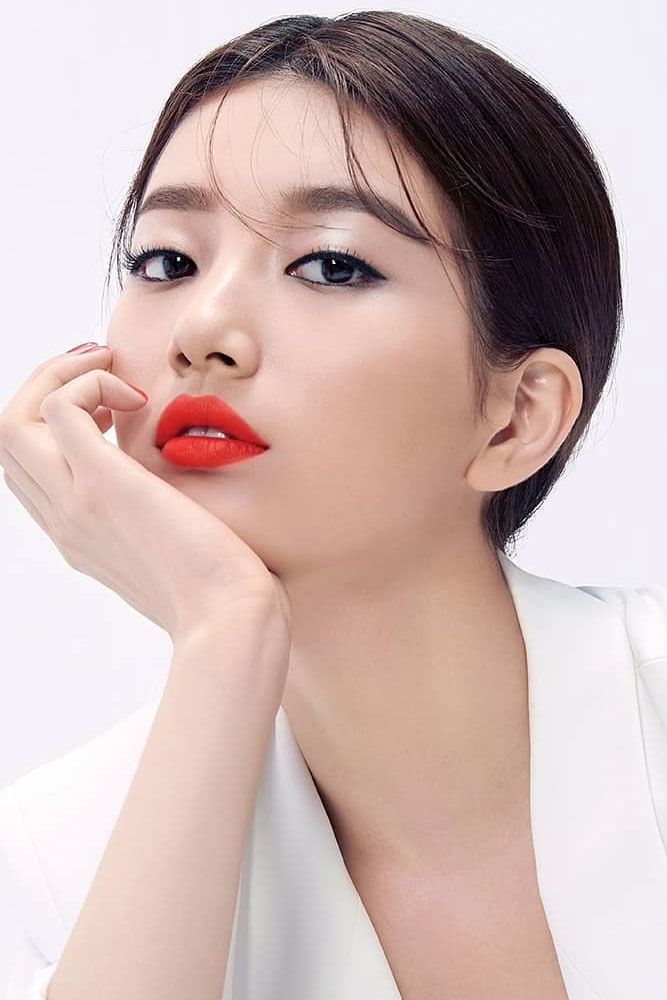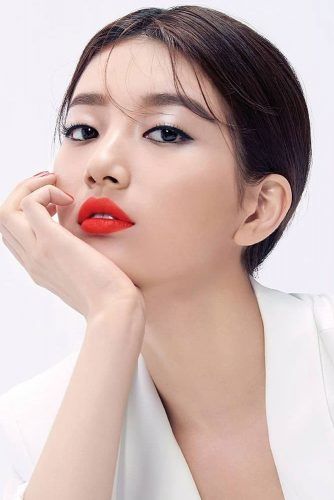 Source: Instagram/nanast1004
Korean style makeup isn't limited to creating an after-crying effect only using peachy-pink eyeshadow. Often, Korean women emphasize their eyes with a tiny amount of glitter. It's so subtle that you barely understand if it's glitter or a real teardrop.
Choose A Puppy Dog Eye Makeup Over A Cat-Eye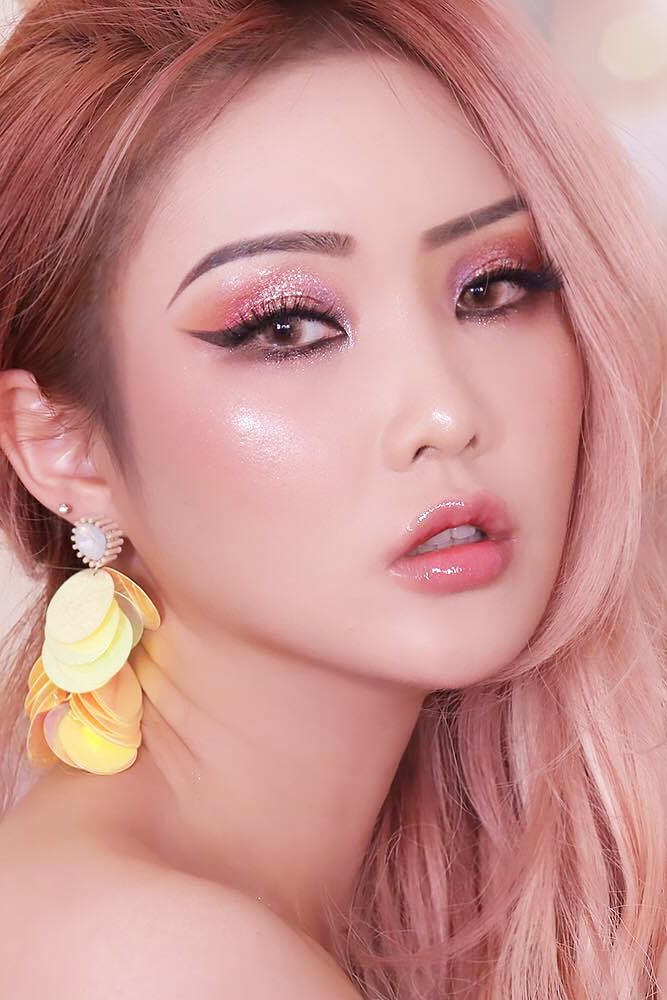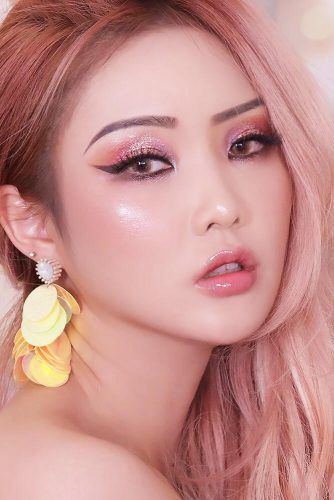 Source: Instagram/girinbt
While Western women are enthusiastically trying to create a cat eye shape with their winged eyeliner, in Korea, puppy dog eyes are all the rage. To nail this cute Korean makeup, you should bring the flick a bit lower than you would normally do with a cat-eye.
Give Cushion A Go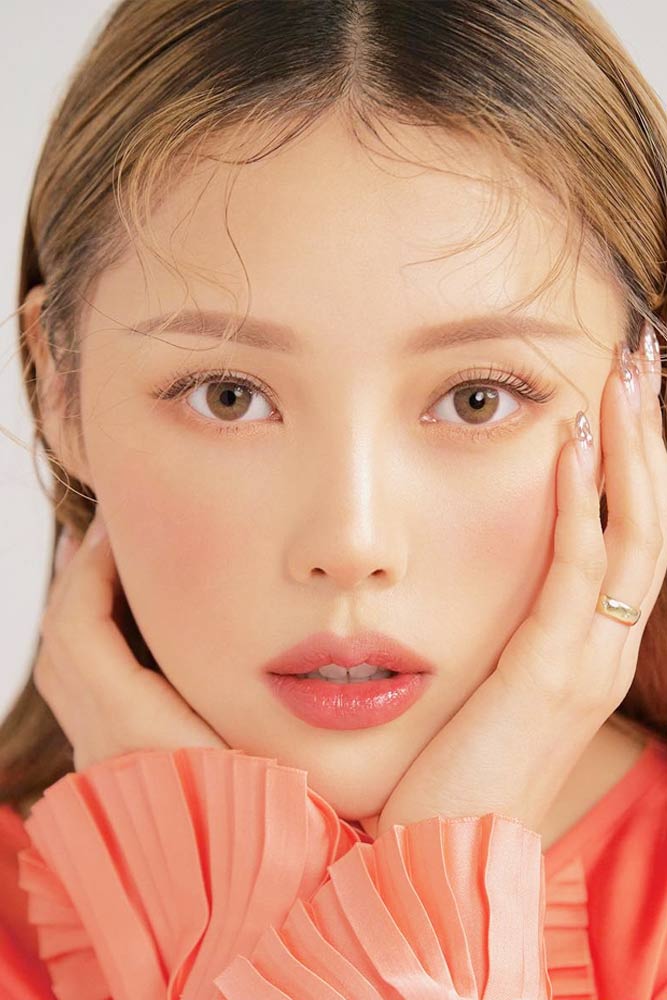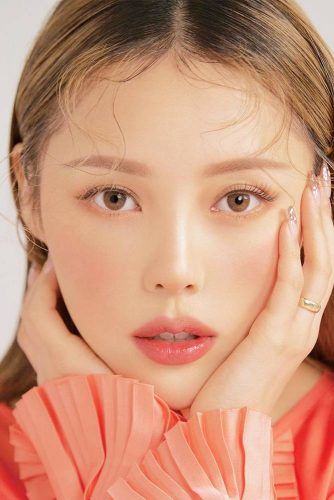 Source: Instagram/ponysmakeup
Thanks to Korean innovations in the beauty industry, now we have cushions almost in all cosmetic products. They're not a simply fun and unusual way to apply makeup. They're a very powerful tool that will help you to achieve luminous glass-looking skin in less than ten minutes (to be exact, seven minutes compared to usual thirteen). Not surprisingly, most Korean women prefer cushion compacts to traditional foundations.
To apply a cushion foundation, you should pump the formula from the compact with the help of the applicator. Place it in the center of the product and press. The dispenser will give you the required amount of the product. Use a dabbing motion to distribute it evenly all over your face with the cushion. In this way, you'll get much more control over the application process rather than when using a makeup sponge. Along with the foundation, Korean makeup suggests using cushions for brows, lips, and cheeks, which is much beneficial than using traditional products.
The Best Korean Makeup Ideas To Try On
To give you some inspiration, we've picked the trendiest ideas for Korean makeup looks that you'll be able to pull off effortlessly.
Red Ombre Lips With Soft Brown Smokey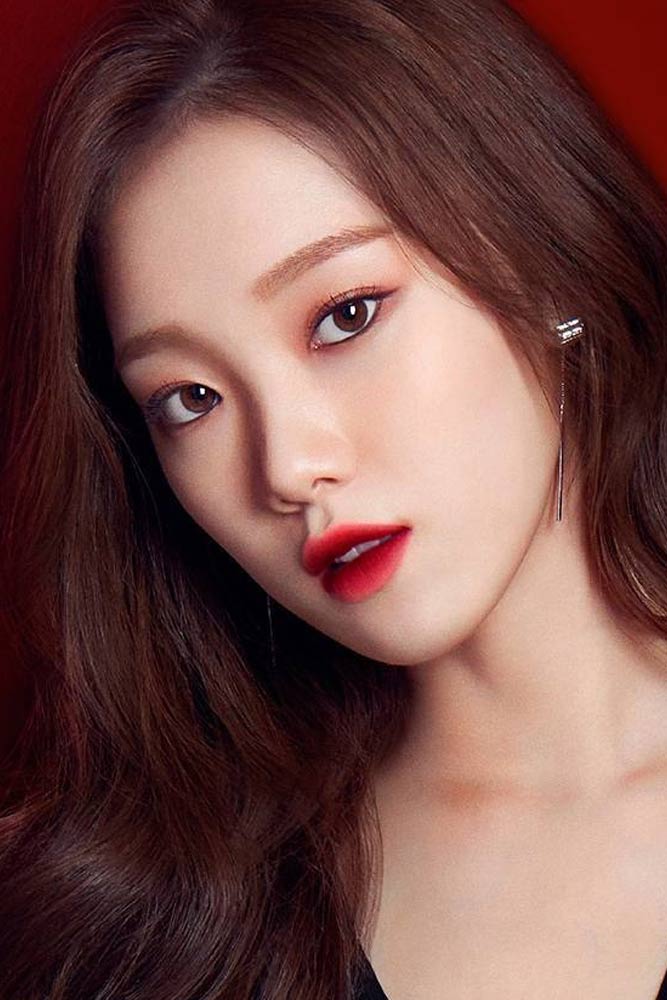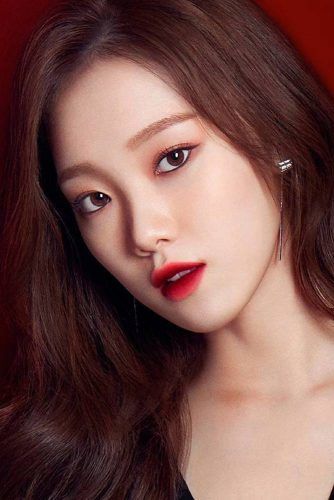 Source: Instagram/laneige_kr
The best Korean makeup will involve several hot trends at once. Take, for instance, the laughing eyes effect and fruit juice lips gradient. So that this makeup keeps in pace with the latest fashion, opt for more intense colors for both eyes and lips.
Deep Blue Smokey With Nude Lips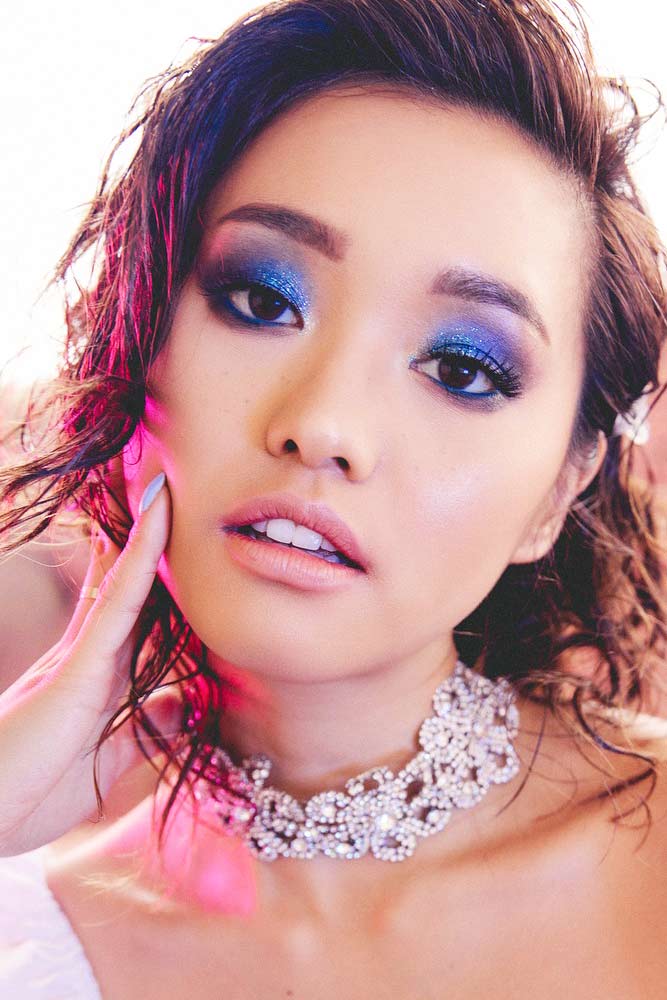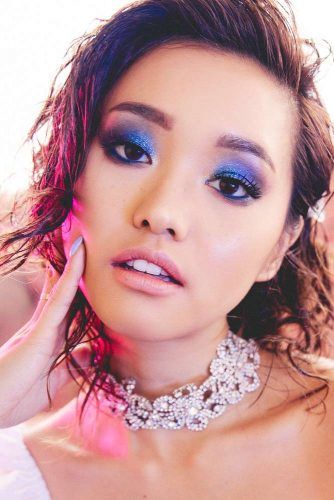 Source: Instagram/imjennim
Smokey eyes makeup is very beneficial for Korean women, as it helps to make the crease more pronounced. Besides, it's a nice way to team a puppy eye makeup with the illusion of crying thanks to the blue glitter spread all over the lid. Because the eye makeup is so bold, keep the lips neutral: a nude lipstick would be a perfect accompaniment.
Pink Ombre Lip Makeup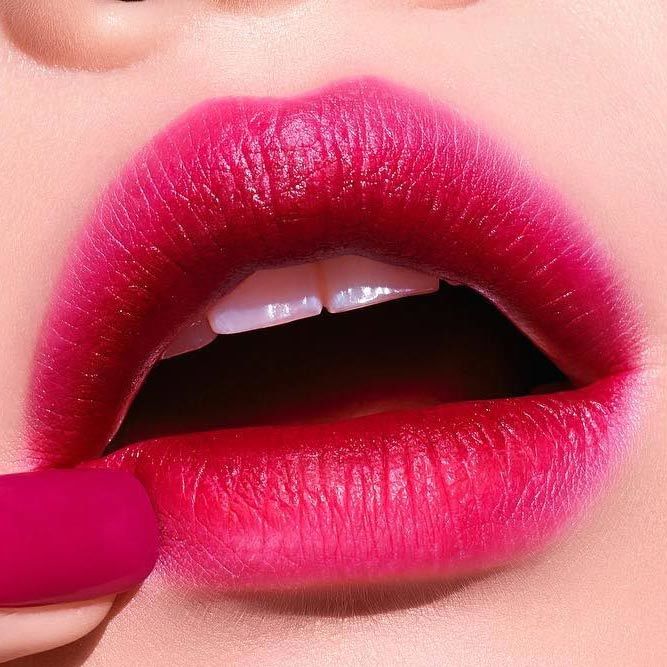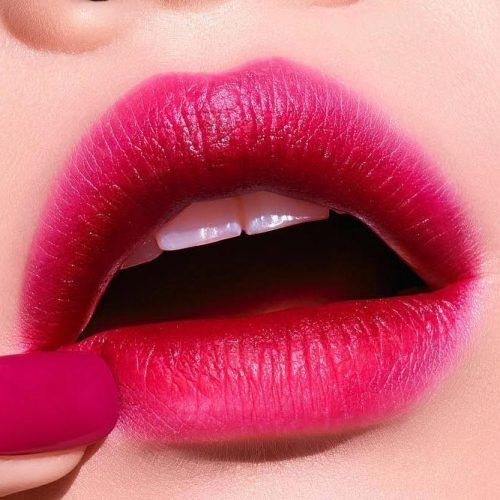 Source: Instagram/makeupforeverkr
You'll hardly ever see a one-colored ripe fruit or berry. Usually, they combine two or even more shades that gradually melt in one another. Apparently, that's where this Korean makeup trend on ombre lip makeup comes from. Use a darker berry-pink color in the inner contour of your lips and blend it with a lighter pink color placed along the outer contour to achieve the look.
Pink Lemonade Gradient Lips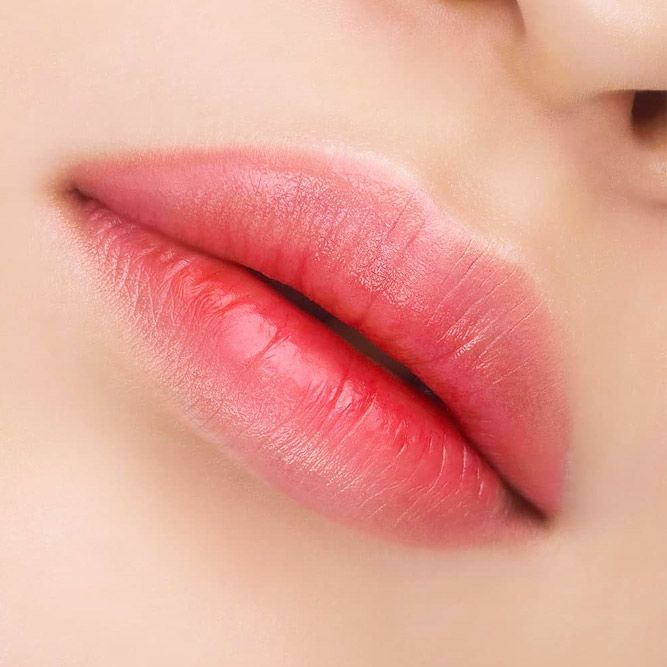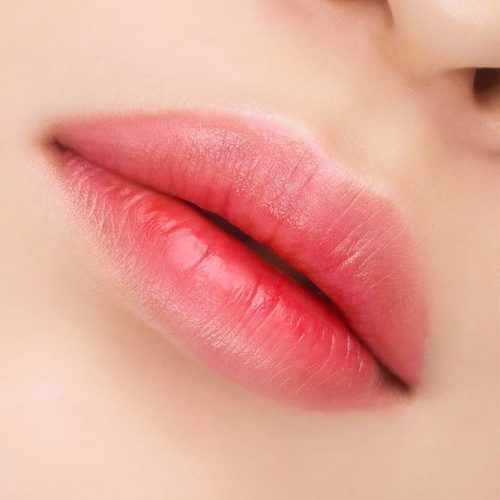 Source: Instagram/shuuemura
The trick with the pink lemonade lip makeup is that the coverage is so sheer you can barely notice it. However, the color fades as it approaches the outer contour of the lips and perfectly blends into your skin tone.
Matte Coral Lips Makeup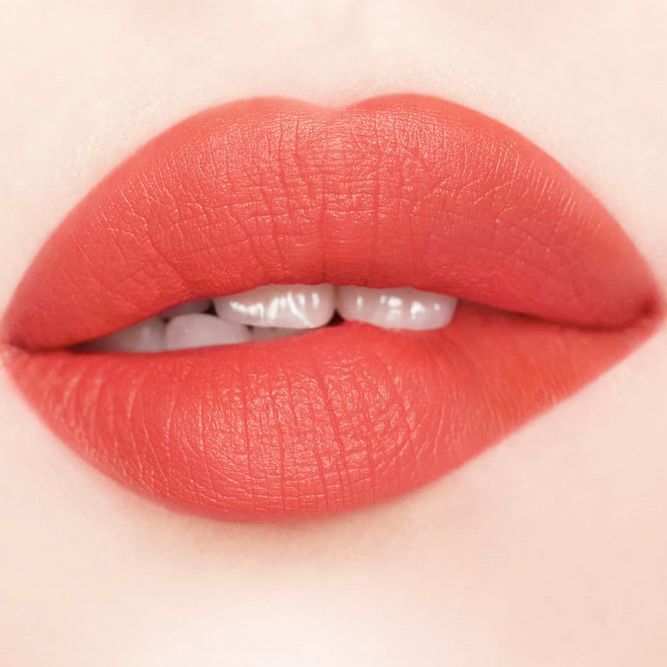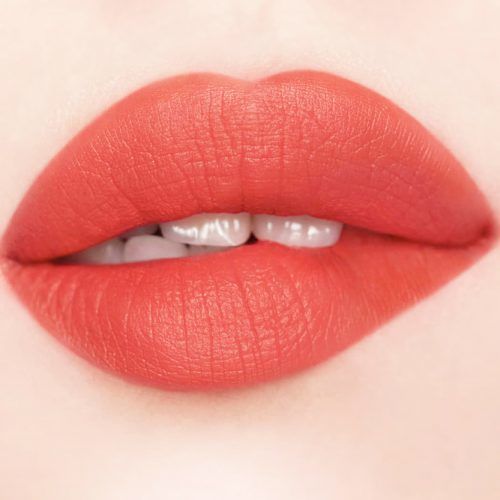 Source: Instagram/immeme_official
Juicy lip makeup shouldn't necessarily be glossy. If you gravitate to a matte finish more, go for it! Just remember about the color code and try to stick to fruit and berry shades. Coral will do too though.
Rose Gold Eyes Makeup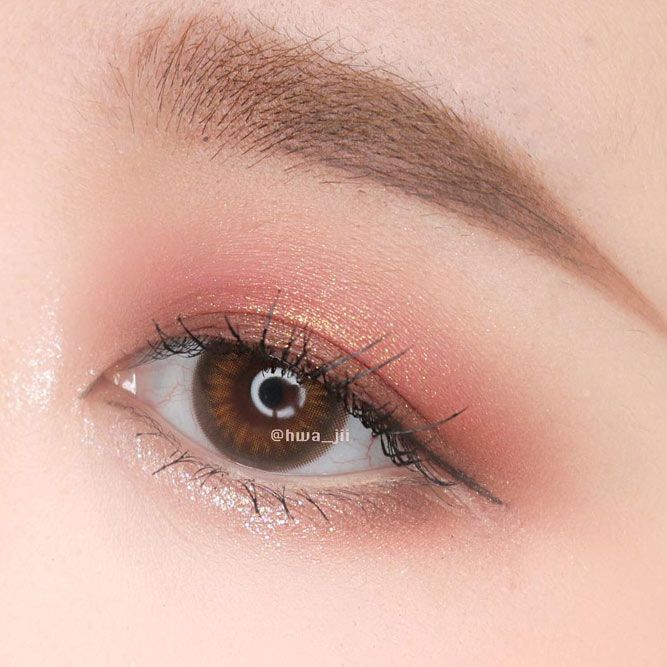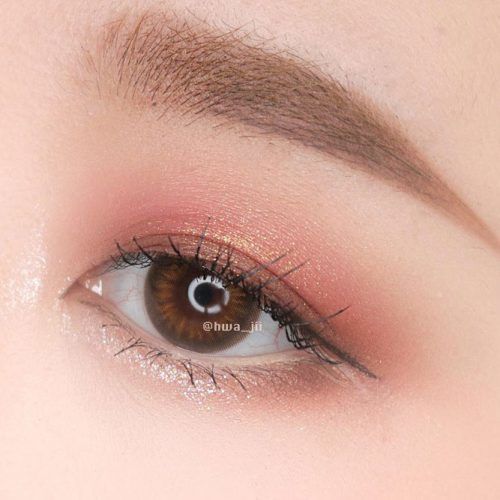 Source: Instagram/hwa_jii
Here, we fully embrace one of the most controversial Korean makeup trends, which is weeping eyes, and flaunt it with two other popular trends, namely, puppy eyes and aegyo-sal. To achieve the look, apply a rosy-pink eyeshadow all over your upper and lower lids. Add a bit of gold glitter to the center of the upper lid and a small amount of the white glitter along the lower lash line.
Shimmery Berry Smokey Eyes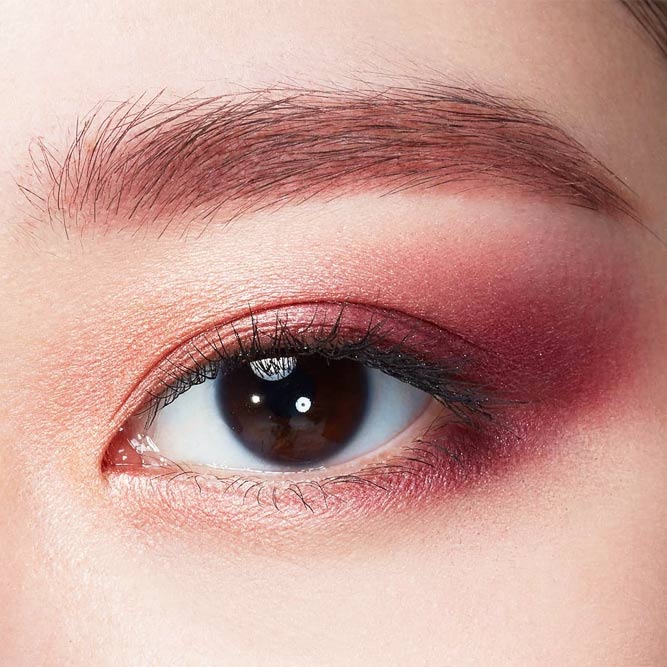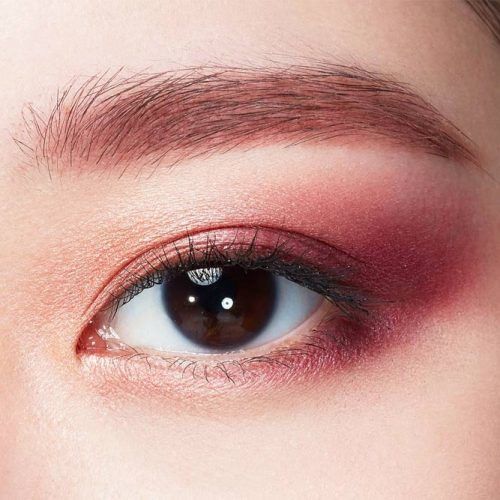 Source: Instagram/kimurajunichiro
You're welcome to try on not only trendy makeup looks but also flattering to your eye shape techniques, such as this shimmery smokey eye makeup in berry shades.
Step-By-Step Korean Makeup Tutorials
Now that you know what's trending in the Korean makeup world, it's time for a little tutorial or better several.
Double Cut Crease Eye Makeup Tutorial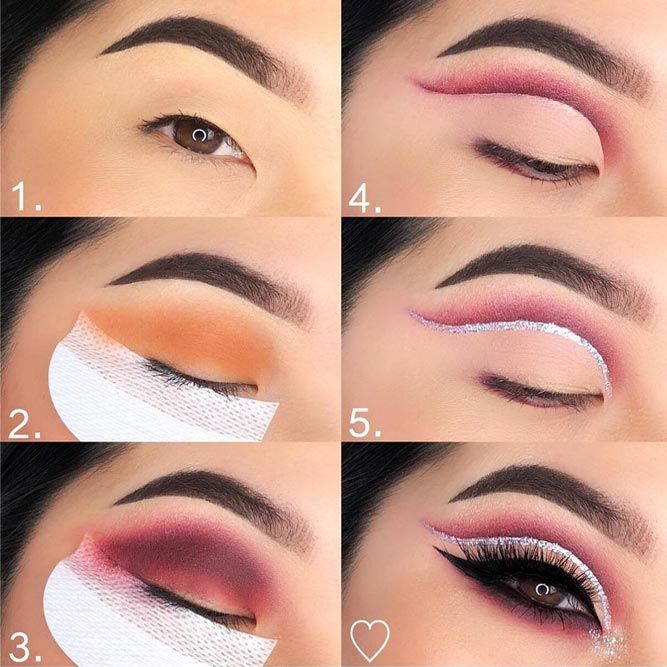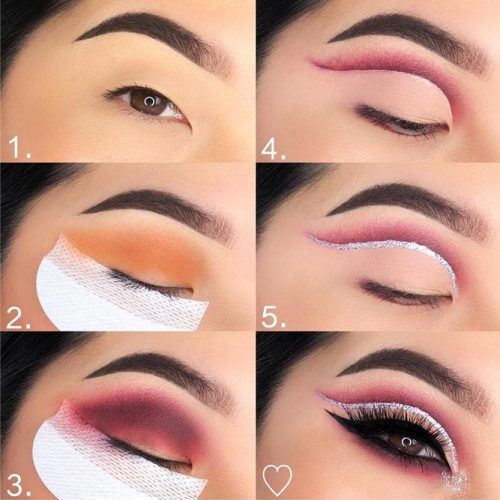 Source: Instagram/brandi.x0
As Korean girls don't have a particularly defined crease, they often resort to a cut crease makeup. Thus, our first Korean makeup tutorial is on a double cut crease eye makeup.
Fill in your brows with a brow pencil and cover the whole upper lid with an eyeshadow base.
Protect yours under eye area from eyeshadow fallout with eyeshadow shield pads. With a fluffy dome brush, apply a matte orange eyeshadow along the crease or the arch where your orbital bone ends.
With a smaller fluffy brush, apply a matte burgundy eyeshadow to the center of the orange color, so that the latter exceeds the former a bit. Blend the edges properly to eliminate any harsh lines.
Apply a very thick nude concealer to the upper lid tracing the crease line and creating a flick at the end.
With a silver glittery eyeliner, draw a winged line along the crease line you created with the eyeshadows and concealer.
To finish off your makeup, apply a winged eyeliner along the upper lash line and false eyelashes. As an embellishment, you can add a bit of sparkling glitter to the inner corner of the eye.
Black Smokey Eyes Tutorial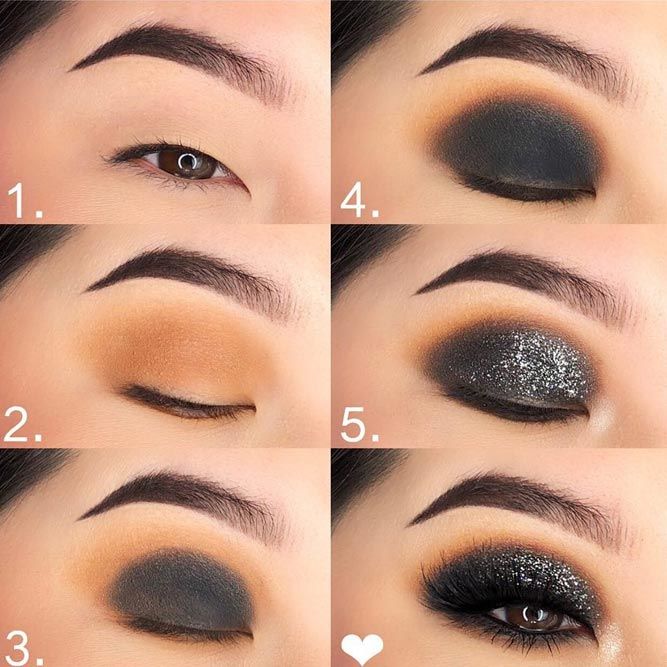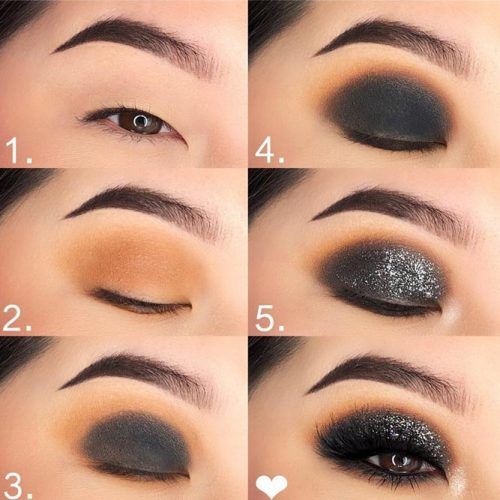 Source: Instagram/brandi.x0
Classic black smokey eyes makeup looks amazing on Korean girls. Follow our next tutorial to find out how to do it.
Shape up the brows with a brow powder and apply an eyeshadow primer over the upper lid.
With a round fluffy brush, apply a matte peachy eyeshadow over the upper lid going above the crease a little.
Apply a black eye pencil with a gel-like formula over the upper lid keeping it within the crease line.
Blend the crease line with the peachy eyeshadow and intensify the eye pencil base with a black eyeshadow.
Add silver glitter to the inner half of the eye.
Wrap up the makeup with false lashes and the black eye pencil smudged along the lower lash line.
Pink Eye Makeup Look With Eyeliner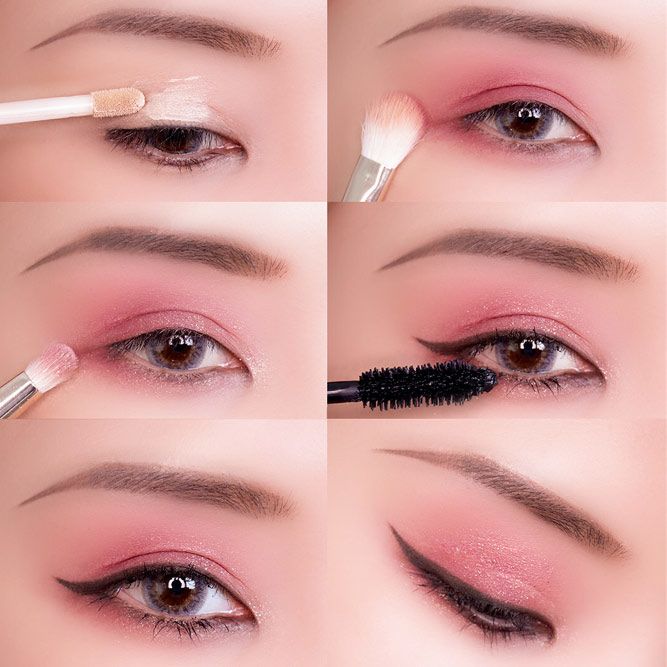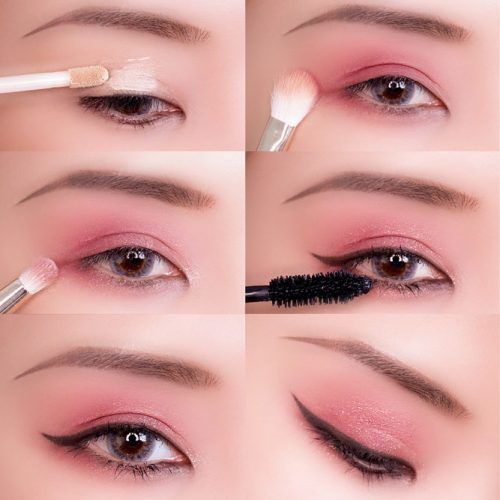 Source: Instagram/girinbt
And finally, here's how to do Korean eye makeup in trendy pink shades:
Prep your eye with an eyeshadow base applied over the upper and lower lids.
With a fluffy brush, apply a matte dark-pink eyeshadow over the upper and lower lids.
Apply a shimmery light-pink eyeshadow over the dark-pink eyeshadow with a pencil brush.
Create a winged eyeliner along the upper lash line and apply mascara.
Enhance the lower lash line with a black eyeshadow.
Blend all the edges thoroughly erasing any harsh lines.
Many Korean makeup trends are warmly welcomed all over the world. The main reason for this isn't that it's just fun, but that Korean beauty techniques allow you to look way much younger. Hopefully, we've given enough insights to inspire you to try one if not all the trends yourself. Read about ulzzang trend to find out more about corean style!
FAQ: Korean Makeup
What does glass skin mean?
Glass skin is a perfectly looking skin, the notion originated in Korea. It describes skin that looks clear, poreless, moisturized, lustrous and reflects light like a piece of glass. The surface of the skin has a perfect texture without pimples or bumps. It is achieved by keeping a consistent skin care routine together with using a cushion foundation rather than a full coverage foundation.
What makes Korean makeup different?
Firstly, Korean makeup is done with a help of Korean cosmetics. The look focuses on naturally looking dewy skin and a bb cream or a cushion foundation tend to make it look luminous and lighter. A gentle touch of blush prevails over bronzer. Eyebrows are straighter, natural looking. There is no heavy eye makeup, just some shimmer eyeshadow over the lid paired with a thin eyeliner. Lips are made to appear thinner, gradient lip is popular.
REFERENCES:
Korean beauty standards have become a well known feature of Korean culture. Source
Cosmetics comprise a range of products that are used to care for the face and body or to enhance or change the appearance of the face or body. The products include skin care, personal care, cosmetics and fragrance. Source