The question how to contour is on everyone's lips these days. There are a ton of YouTube tutorials and more than two million Instagram photos and short video clips on this topic. And no matter how much we talk about it, it remains a mystery. Kardashian clan, especially Kim, who advocated and originated contouring as far back as 2007, maybe called 'queen of contouring' without any doubts. Together with their professional glam squad, they make contouring seem like it's the easiest thing in this world.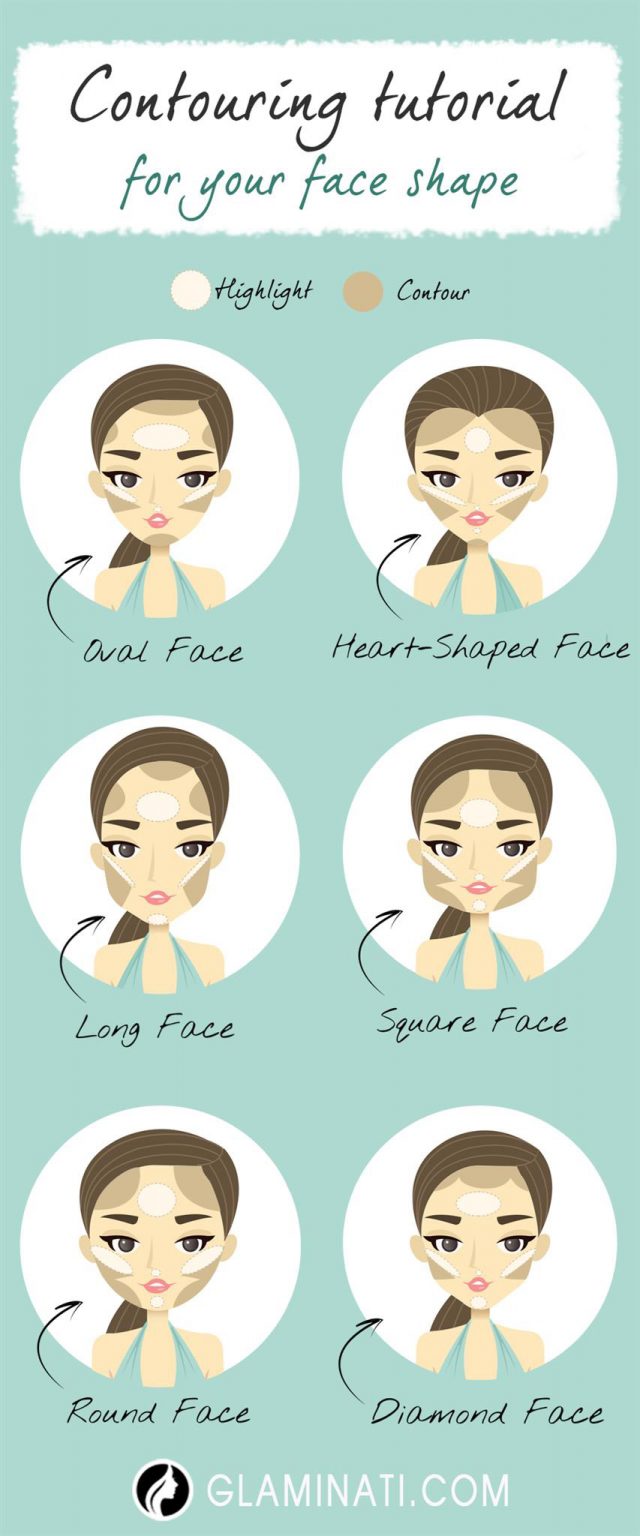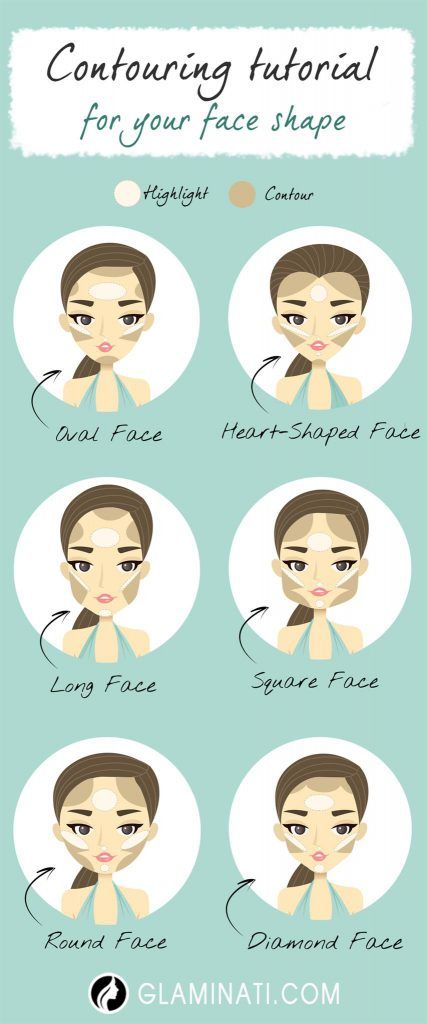 We will introduce you to the world of contouring from A to Z, including all the info about what is contouring in makeup, things needed to contour the face, and how to apply contour and highlight. Read and find out that the devil is not as black as he is painted. With our help, you will never get goosebumps down your spine while hearing the word 'contour.'
Learning How To Contour Can Be Easy And Fun
Makeup Contour Tips
A lot of women do not believe in the power of contouring and ask: Does contouring make a difference and why do people contour their face? Sure, it does. Let alone nose contour. With a couple of right brush touches you look like you just got a nose job. Contouring your whole face makes you look like a different person. In a good sense, of course. Imagine you have spanx for you face.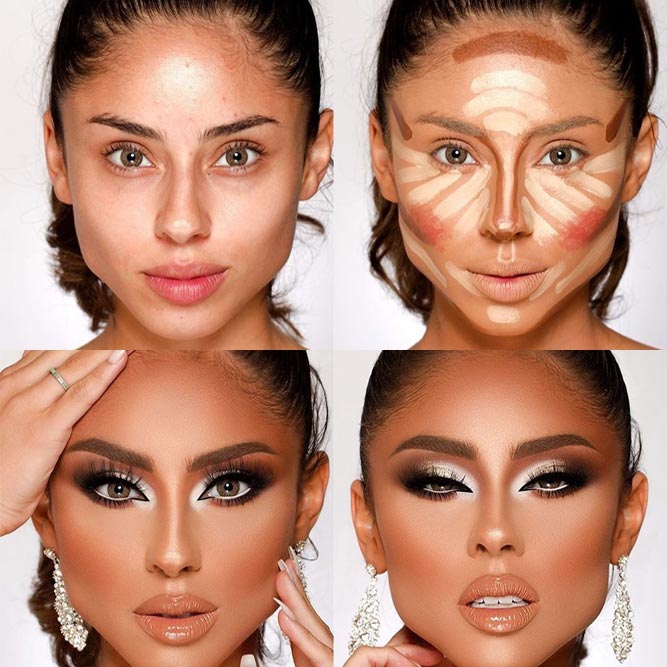 Source: Instagram/raphaeloliverofficial
This is how contour works. It makes your face shaped, and cheek bones appear in that place where there seems to be no hope for them. All the Hollywood stars use it both on red carpets and in daily life. Nina Agdal, a famous super model says: "Contouring is like my favorite things ever because you can get cheek bones even if you don't have them." Isn't it magic outside the Hogwarts or some fairytale? It's the power of makeup. Never underestimate or question contouring.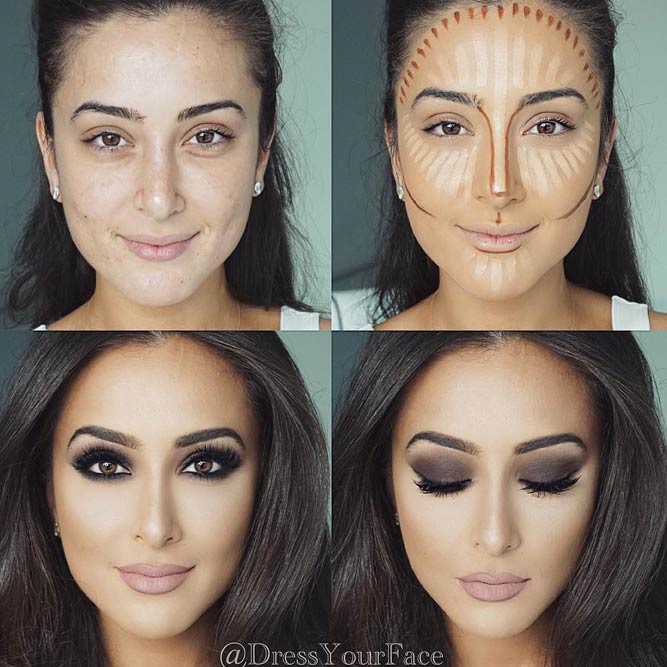 Source: Instagram/dressyourface
Totally green in all the beauty stuff? No problems! Welcome to the course "Contouring 101" in which we will provide you with a step-by-step tutorial on how to contour for beginners to create those sharp as hell Maleficent cheek bones! Today we will take a deep dive into highlighting and contouring for beginners. So, you better take a cup of tea, make yourself comfortable, and follow our tips.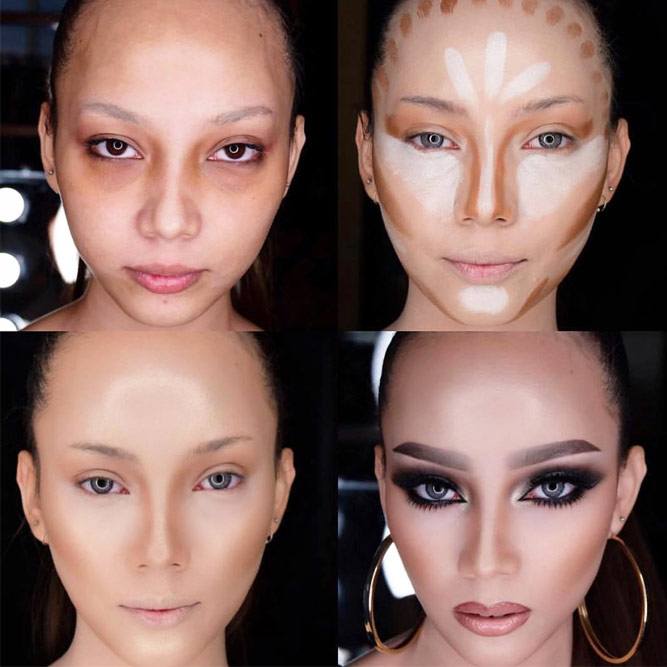 Source: Instagram/samerkhouzami
Actually, to achieve a perfect contour, there is no need to buy huge and expensive contouring palettes with loads of shades. In fact, one decent bronzer is all you need for killer cheekbones. There are 2 types of bronzers: powder and liquid. Powder bronzers are right up your street if you want something light for everyday wear. They will give you a slight natural definition and do not require a lot of blending. For those who are more serious about sharp cheek bones, there is a liquid bronzer. This one is perfect for dry skin. Remember that foundation goes underneath the contour.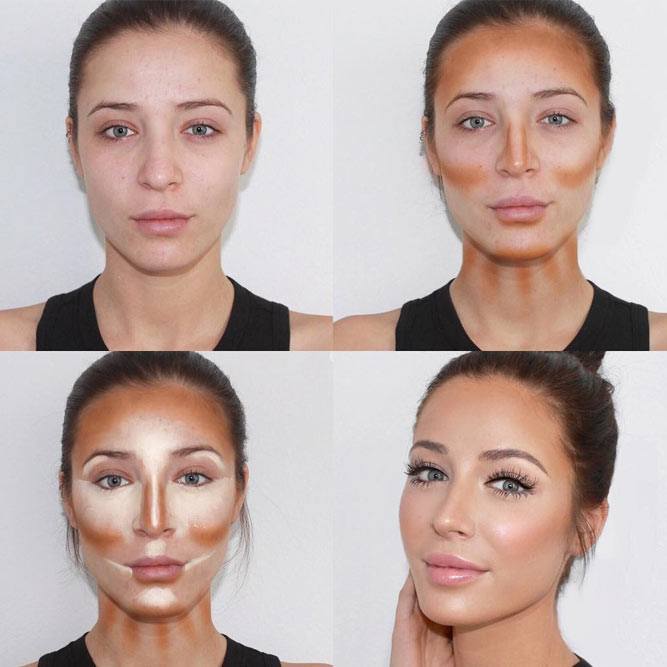 Source: Instagram/paintdatface
The key to natural-looking contour is the appropriate bronzer color. This is of the same importance as the foundation color. There is a great makeup rule to help you choose a bronzer shade. The appropriate bronzer color should be two or three tones darker than your natural skin color. This will look as natural as possible and will allow you to layer your bronzer up. It will also prevent your contour from looking way too orange or cakey.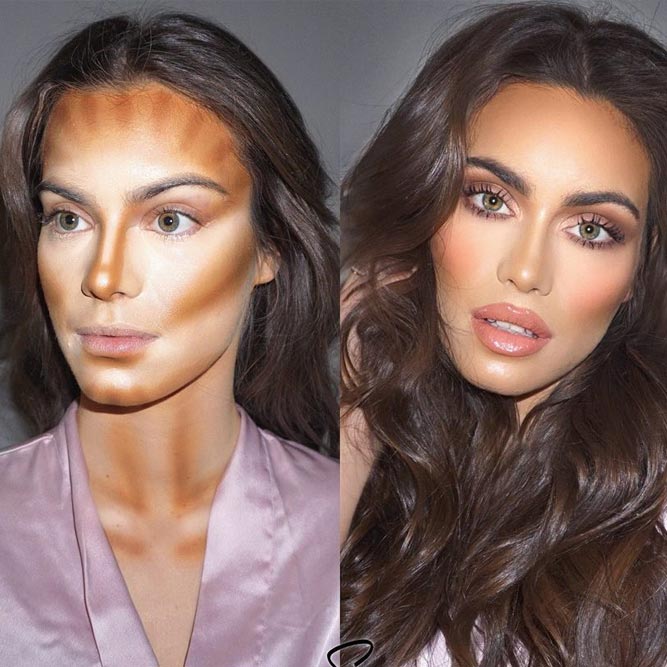 Source: Instagram/paintedbyspencer
As for the tools, there are different ones for different bronzers. A makeup sponge or beauty blender goes with liquid bronzer, and angled or flat brushes go with the powder one. You may also use powder bronzer on top of the liquid one to get that finished look, but it requires a tiny bit of practice to master.
Once you have everything ready, it is time to contour. Find good natural day light and apply bronzer with sweeping strokes to the places that are usually highlighted by the sun – sides of your nose, forehead, cheek bones, and jaw line. The darkest shade of bronzer should be near your hairline. Then you should gradually blend farther up to your cheeks. The most important rule here: less is more. Never take too much product on your brush. Take less and you will always be able to add. The less bronzer, the more sun-kissed you look.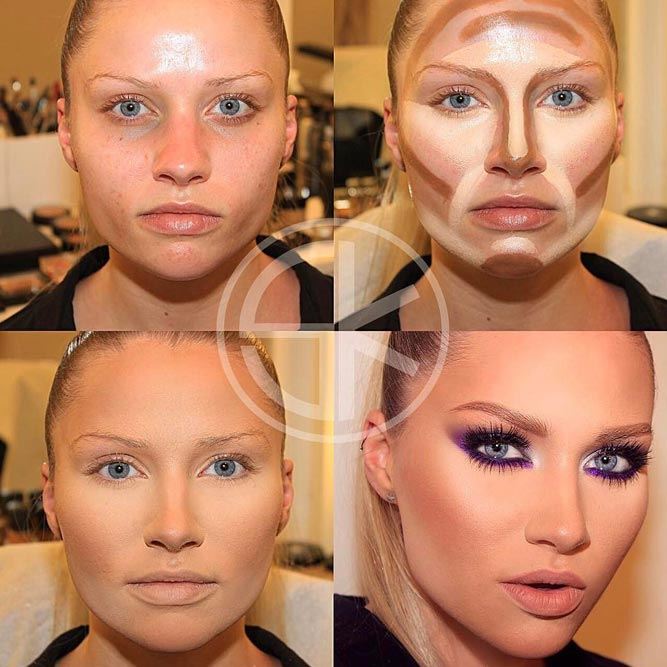 Source: Instagram/samerkhouzami
Blending is another crucial key to the perfect makeup, especially when it comes to contouring. Blend your contour till your hands fall off or as if your life depended on it. In the end, your transition should be seamless and flawless. A little bronzer on the back of the neck is needed when you are sporting an updo.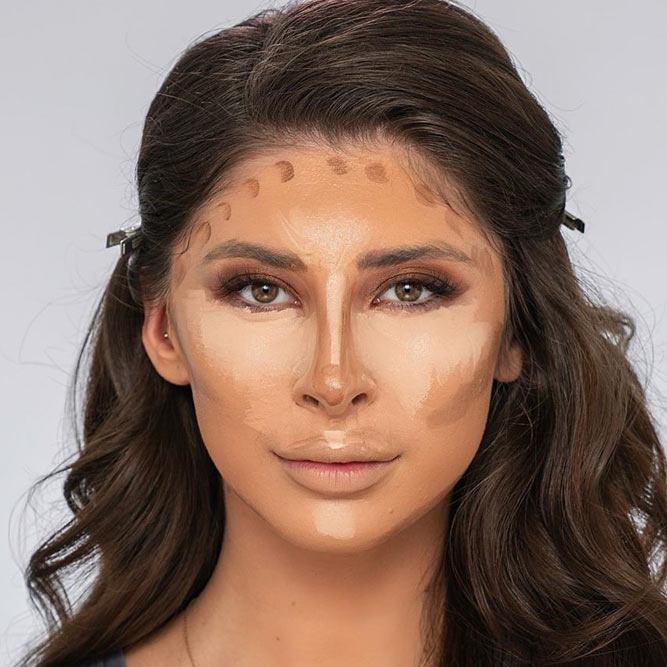 Source: Instagram/brittanybearmakeup
Here are a couple of no-go things every beginner should know. Applying bronzer with circular motions is the first one. It makes your contour patchy. Apply bronzer in sweeping motions instead. Secondly, avoid contour near your eyes. It makes them seem smaller. And who would want that?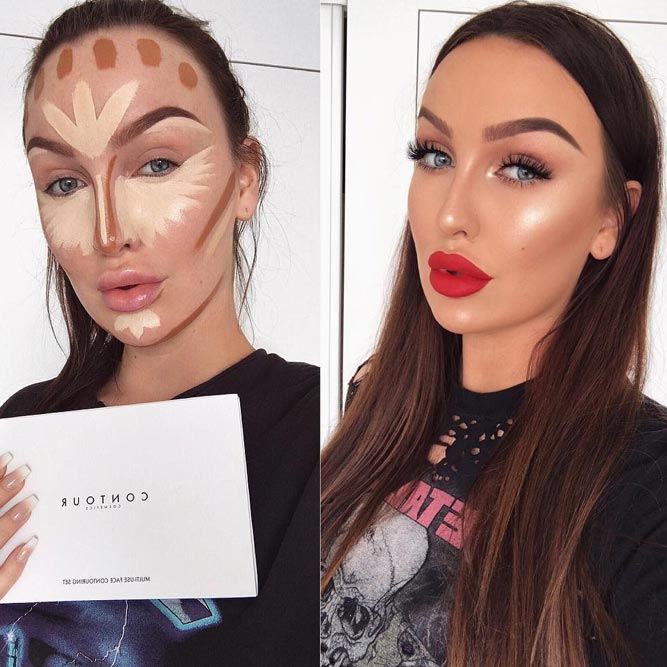 Source: Instagram/laurenmuaxo
Basically, these rules also apply for everyday contouring. But there are a couple of more things you should know if you want to slay your contour on a daily basis.
The trick of sucking in your cheeks actually works. It helps you to define where you should apply bronzer.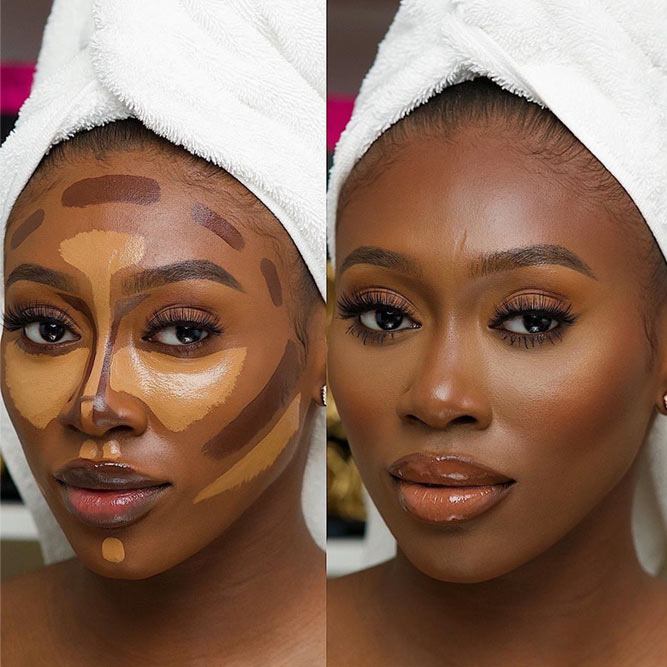 Source: Instagram/naijabestmua
Always tap off the excess from your brush. Too much product on your brush will make your contour super harsh and definitely not for every day.
A lot of contouring palettes for beginners have the light powder in them. It will help you clean the bottom line of your cheek bones and make them sharper.
Easy Contouring For Beginners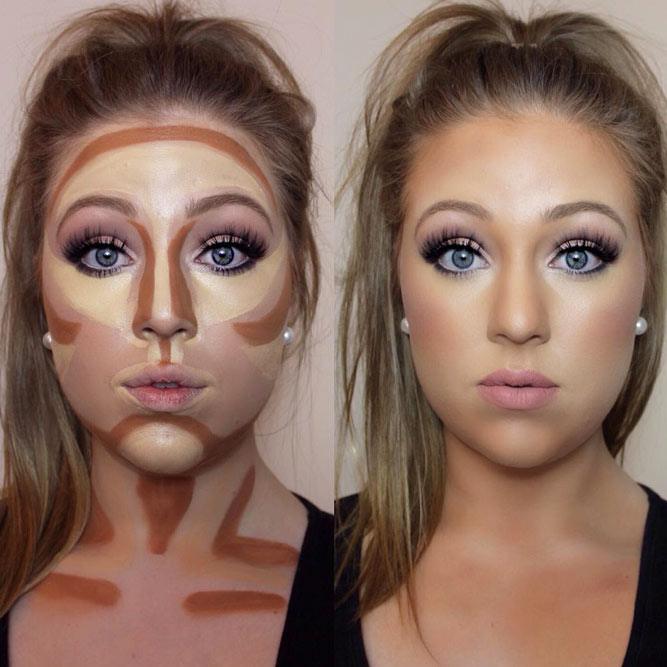 Source: Instagram/emily._.louise
Like every other part of makeup, contouring differs depending on the occasion. It is pretty obvious that your everyday makeup should differ from your night out one. But one thing remains – foundation first no matter what, and then you can take your contouring and highlighting brushes and proceed. Here are some more great tips and tricks on how to contour your face that are must-know for every girl and woman who wants to slay. We hope that our expanded how to contour tutorial will become your guide in this.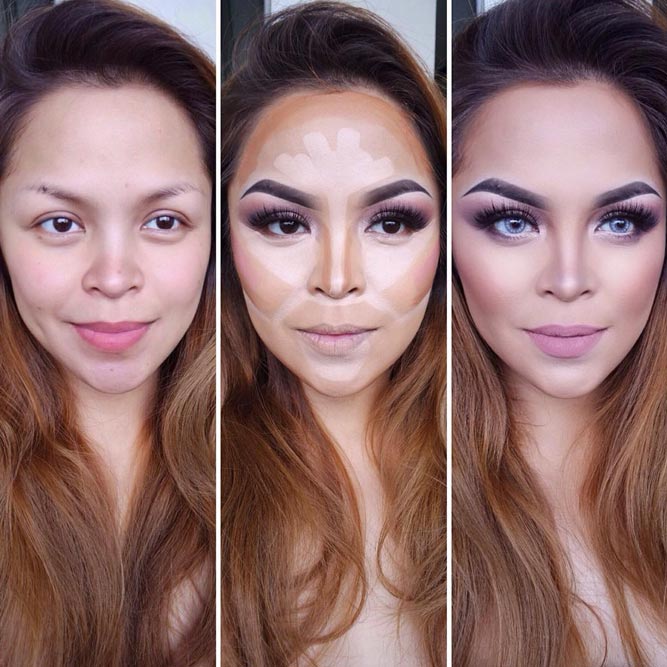 Source: Instagram/imeesitchon
Contouring sticks, cream contour palettes, and other types of non powdery product serve to give you a bold and defined face shape. This is perfect for a dramatic night out or special occasion look that will show up and look great on photos. Powdery makeup will give you a sheer and polished look. This is just what every woman and girl needs for every day. By the way, applying translucent powder before your powder bronzer helps you to make your contour more blended and seamless.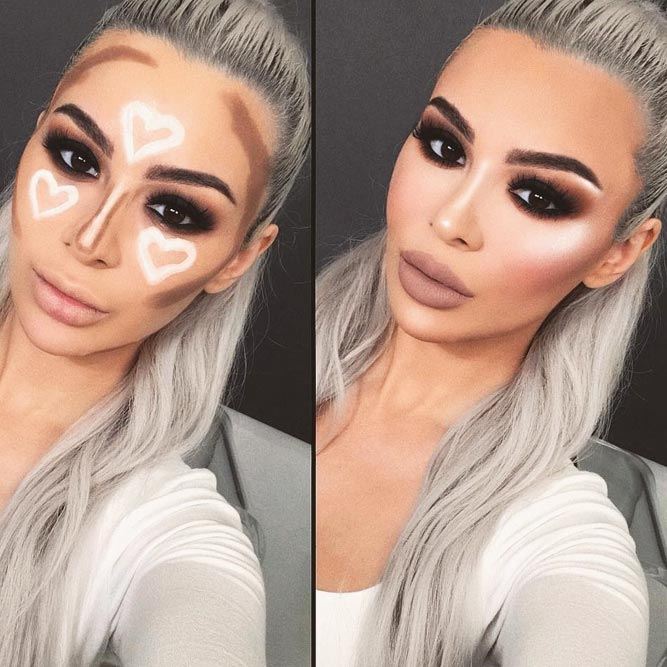 Source: Instagram/vanitymakeup
We will dive deeper into the topic of shades. So, what shades are the most flattering for different skin tones? Light to medium skin toned women should look for a taupe or gray undertone in their bronzer. But no way grayish, otherwise, it will look like mud. And we don't want that for sure. If your skin tone is medium-deep to dark, your perfect bronzer should have a warm undertone.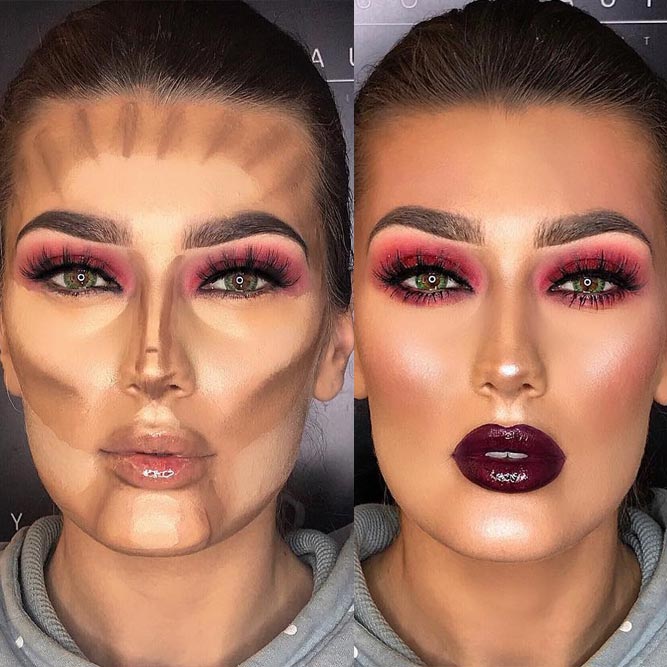 Source: Instagram/duo_beauty_
The thing you should steer clear of in contour makeup is shimmer. Your product has to be completely matte. Shimmer attracts light and brightens up the part of the face where it is applied. As we are trying to hide things, the shimmer is exactly what we should avoid because it gives you the effect that is totally opposite. Highlighter should be the only shimmery thing when it comes to contouring.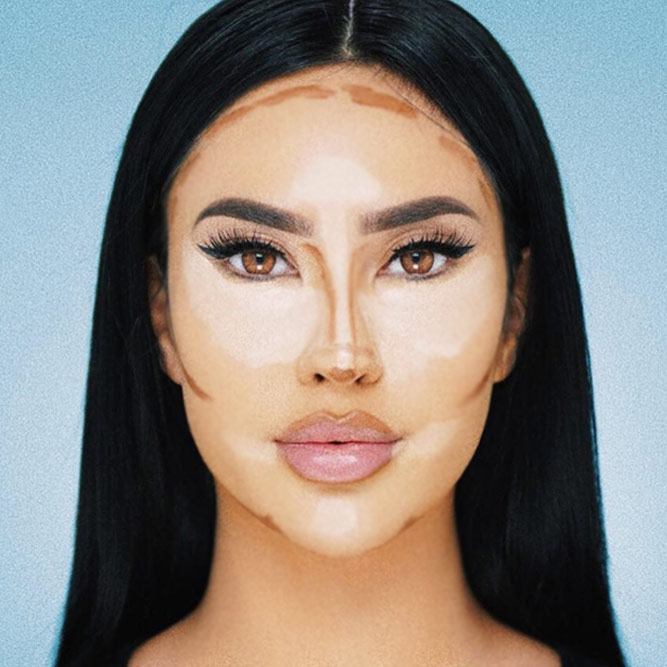 Source: Instagram/brittanybearmakeup
Speaking of the devil, highlighter and blush will help you balance all out. They should be of the same texture as the contouring product. They give you that natural glow from the inside, make your makeup very natural as though you woke up like this. So, don't miss this step in any case. Put the highlighter on the top of the cheek bones, underneath your brow bone, into the inner corners of your eyes, onto the Cupid's bow, and on the bridge of the nose. Do not own a highlighter, a shimmery champagne color from your eye shadow palette will do the job. Want your highlight to be blinding? Use lip balm underneath and your highlight will be seen from outer space. As for the blush, it is applied to the apples of your cheeks. Smile and you will instantly know where to put it.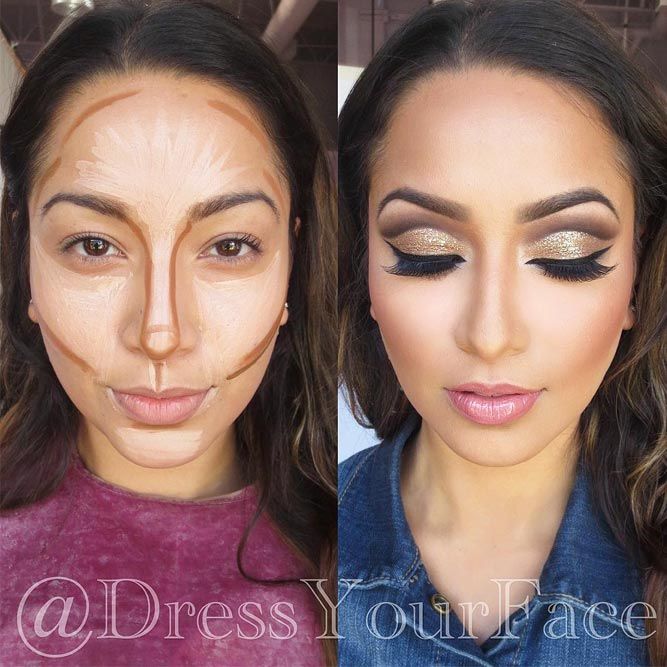 Source: Instagram/dressyourface
Eye makeup is the final step in your contour. It also depends on what you want to achieve. Take some of your bronzer and apply it to your eye crease with a smaller blending brush. This will make your eyes bigger and more defined. There is also a great life hack for those who go for a more extreme version of eye makeup. Do your eye makeup before foundation and contouring. In this way you will be able to clean up all the eye shadow fallout easily and not smudge it all over the face and ruin your hard work of contouring.
Contour Tutorials For Different Face Shapes
How To Contour Oval Face Shape
It is not a secret that contouring depends on the face shape to some extent. Follow our guide to find out how to accentuate your facial features the right way.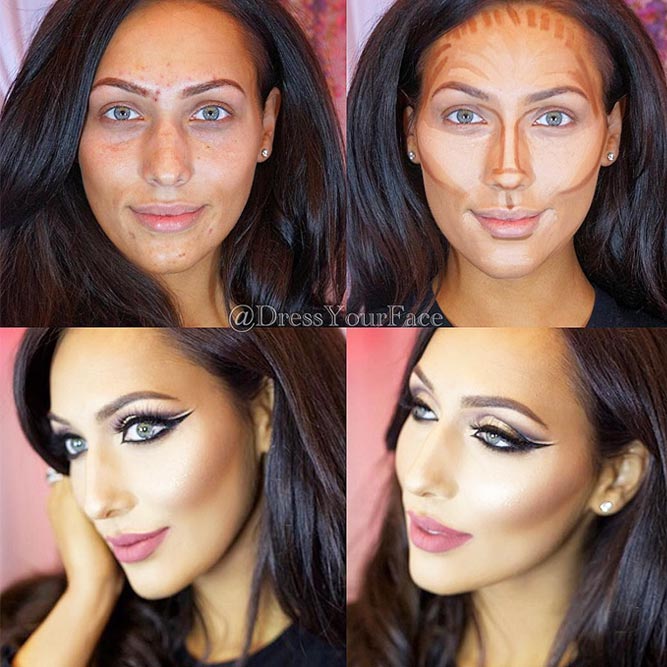 Source: Instagram/dressyourface
An oval face has the following features: it is one and a half times longer than its width, it doesn't have any distinctive points, and it looks like an egg upside down. So, when it comes to the question of how to contour oval face, follow the next tips.
To make your forehead slightly narrower, add a tiny amount of bronzer to its sides.
Contour your cheek bones as usual: from the ears up to your cheeks.
Another thing to remember for oval face shape contouring is highlighting. Matte highlighter should be applied to the middle of forehead, to the middle of the chin, and under the eyes.
Add some shimmering highlighter under the brow bone to make your eyes more defined.
How To Contour Oblong Face Shape
So, how to contour oblong face? This face shape doesn't have any distinctive points like jaw line, hairline, or chin. And it is longer rather than wider.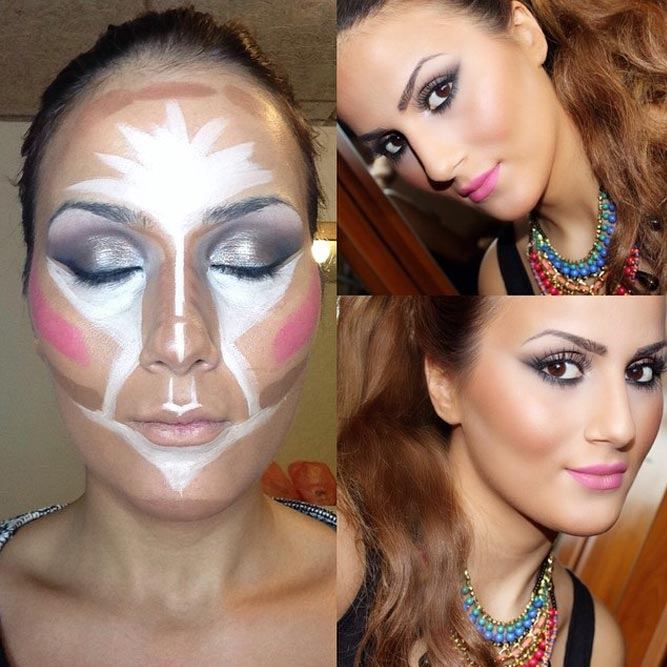 Source: Instagram/acaziabeauty
In case you have this shape and don't know how to highlight and contour your face, there are rules you should keep in mind.
The first part to contour would be the hairline. Blend some bronzer into your hairline and this will make your hairline lower.
Secondly, add some bronzer to your chin. This will create an allusion of a rounder face and bring your oblong face shape closer to the perfect one.
The last thing to contour would be cheekbones. Start blending your bronzer from the ears up to your cheeks to give your face
As for highlighting, apply bright matte highlighting powder under your eyes in the triangular shape.
How To Contour A Round Face
The length of a round face is almost the same as the width. In addition to this, any parts like jaw line, hairline, or chin are not defined. Sounds like your face shape? Have you been wondering how to contour a round face? Our tips will make it crystal clear to you.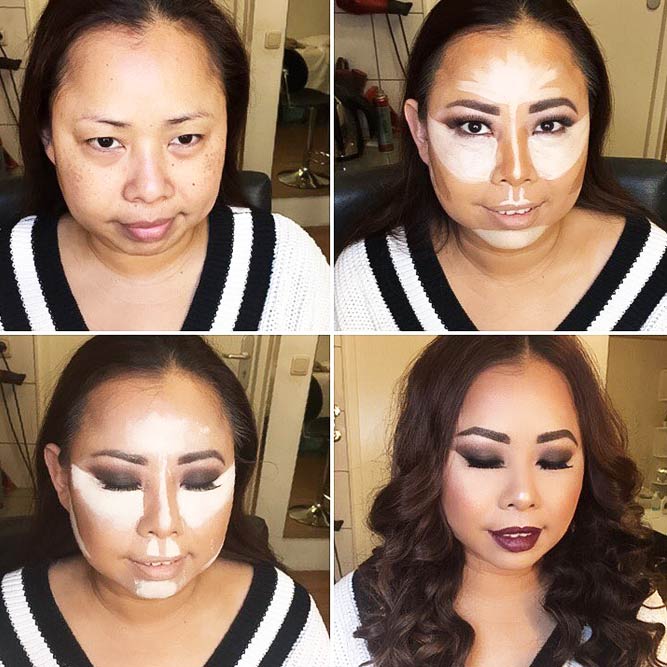 Source: Instagram/acaziabeauty
So, first things first, start applying bronzer to the sides of the forehead and bring it down to the cheek bones.
Then, start blending your bronzer from the ears to cheeks and down to where your chin begins. This technique helps to create an allusion of a longer face which is exactly what we need.
Places to highlight a round face: forehead, chin, underneath the eyes in the upside down triangular shape.
How To Contour Square Face Shape
If you are an owner of a square face shape, the length of your face is about the same as the width. In addition to this, your jaw line and hairline widths are more or less even. Well, do you know how to contour square face? Then keep up with us.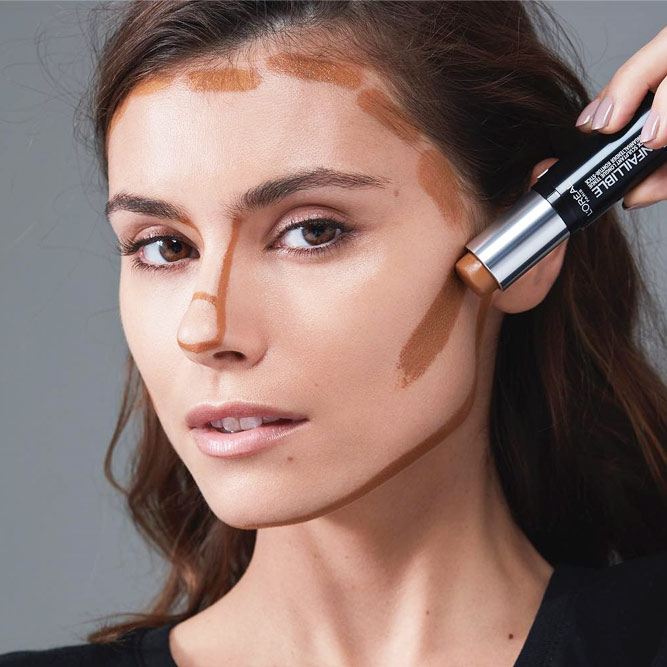 Source: Instagram/lorealmakeup
The first thing to do would be to apply bronzer not along your hairline, bur only to the sides of it. This makes your forehead seem narrower than it actually is.
The next step would be jaw line. Try to blend bronzer under it in order to make it also narrow. And, of course, cheek bones as usual.
Where would you apply highlighter? This is much easier. Add some matte powder to your forehead, chin, and under the eyes.
How To Contour Rectangle Face Shape
A rectangle face shape length is bigger than width. Also, jaw line and hairline are about the same. Want to find out how to contour rectangle face? These tips will be your holy grail.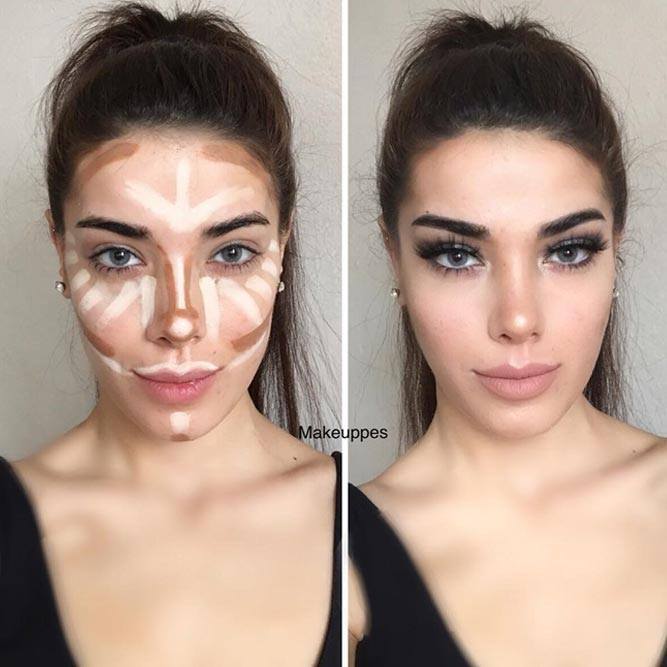 Source: Instagram/makeuppes
Firstly, apply some bronzer along the hairline and to the sides of the forehead. This creates an allusion of a low hair line and a narrow forehead. In order to make the jaw line also narrow, blend your bronzer under it.
Cheek bones are contoured as usual.
Highlighter should be applied to the chin and under the eyes.
Add a bit of shimmering or matte highlighter to the brow bone.
How To Contour Diamond Face Shape
As for a diamond face shape, its hairline is narrower than cheeks. The length of your face is bigger than width and you have a pointed chin. Is this totally describing your face? Then read our tips on how to contour diamond face.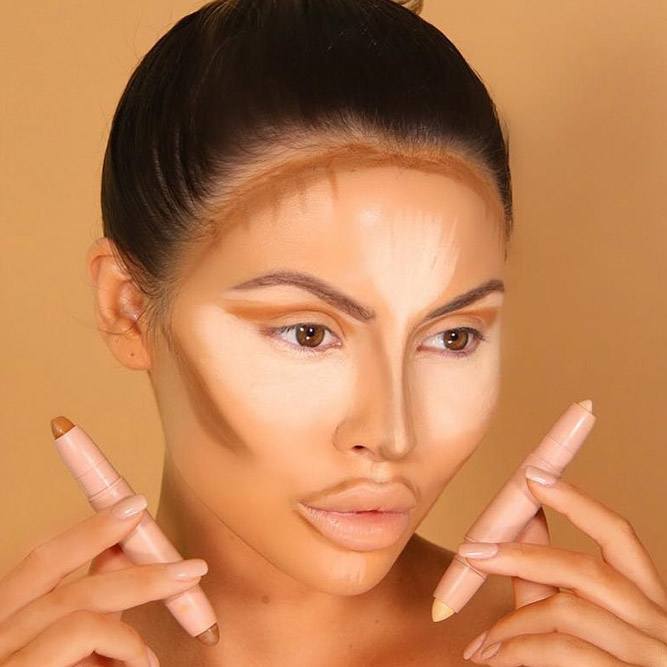 Source: Instagram/jadeywadey180
Contouring this face shape is probably the easiest of all. The only thing you have to contour is cheek bones. Do not even dare to touch your forehead or jaw line with bronzer.
Defined cheek bones are all you need with a diamond face shape. But you require more highlighting. The matte powder should be applied to the following places: the brow bone, under the eyes in the shape of a triangle, centre of the forehead and centre of your chin. This will make your face appear broader in the parts where it needs it.
How To Contour Heart Face Shape
Heart face shape owners have the following features. Your hairline is narrower than your cheeks and you have a pointed chin. You may also have a widow's peak. So, how to contour heart face? We will tell you.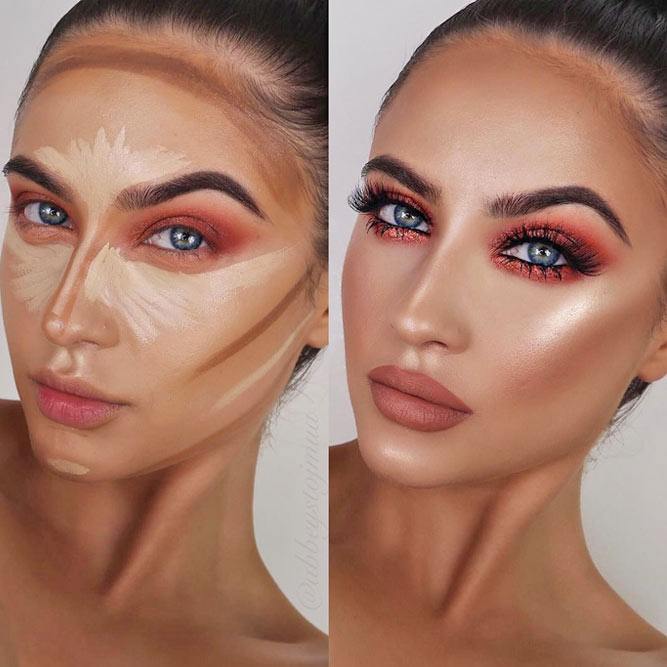 Source: Instagram/abbeystojmua
Start contouring from the sides of the forehead down to your cheek bones.
Then take a bit more bronzer and start defining your cheek bones from the ears to the centre of the cheeks. To make your chin softer, add a bit of bronzer under it.
Apply highlighting powder underneath your eyes in the triangular shape, to the centre of your forehead and to the centre of your chin to make these areas broader than they naturally are.
How Do You Contour Step By Step?
For those who are more advanced in contouring, we compiled professional contouring makeup tips to take their makeup skills to a new level. So, if you want to have your contour at its finest, read our tips on how to apply makeup contour like a professional makeup artist.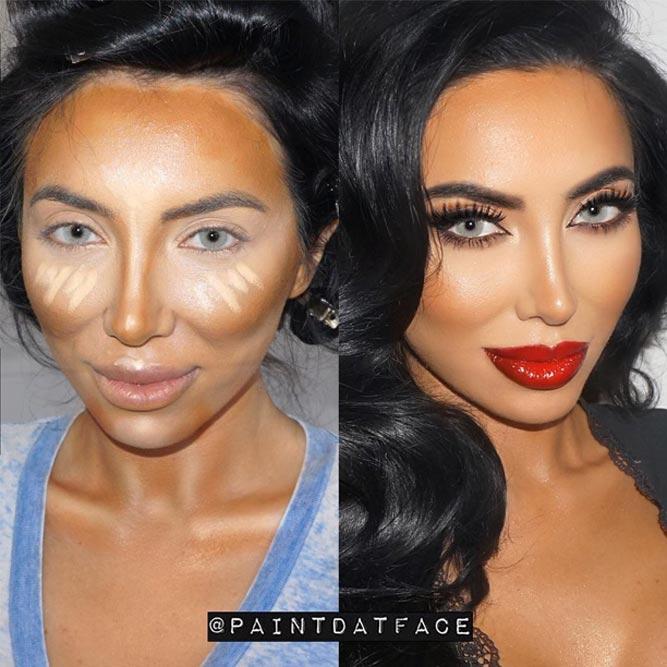 Source: Instagram/paintdatface
1. As a rule, makeup artists also contour noses. This totally changes the way your face look looks. But how to do it and what are the best contouring makeup products for your nose? Here is the only answer – creams. You will also need a small brush to accomplish this. Take some product on your brush and start drawing painting a thin line on the side of your nose. Do the same with the second side. The closer the lines are to each other – the thinner your nose will look. You should also remember to bring the lines up to where your eyebrows begin in order to make your nose contour seamless and unnoticeable.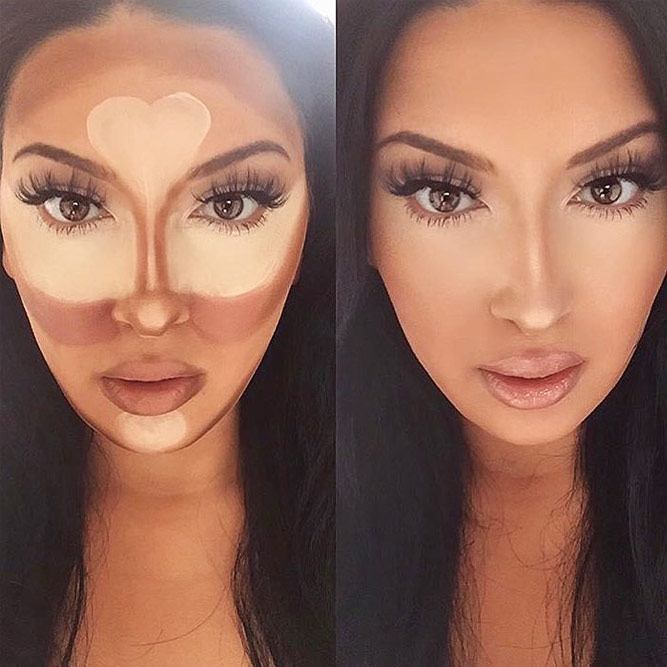 Source: Instagram/kiisbeauty
2. The best way to apply creams would be a flat synthetic brush and not the fluffy one. This kind of brush is densely packed and this is why it doesn't take your product away.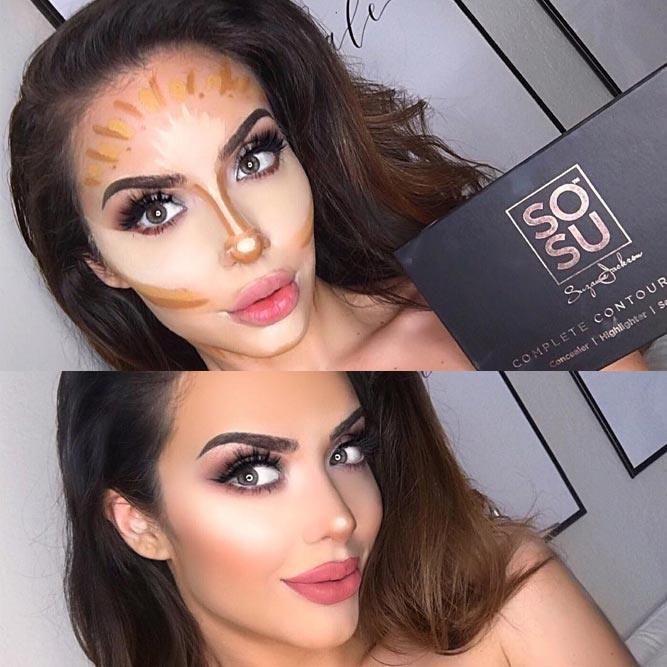 Source: Instagram/jessieann_g
3. Makeup gurus also use a couple of great hacks while blending contour. If you choose to blend your cream or liquid contour with a makeup sponge, dampen it with water and squeeze it out nicely so it doesn't contain any water that can dilute your makeup. Start blending your contour only with tapping motions and not moving. Also, while blending contour, try bringing it up and not down. In this way you will get the most flawless looking contour.
Makeup Artists Pieces Of Advice On How To Contour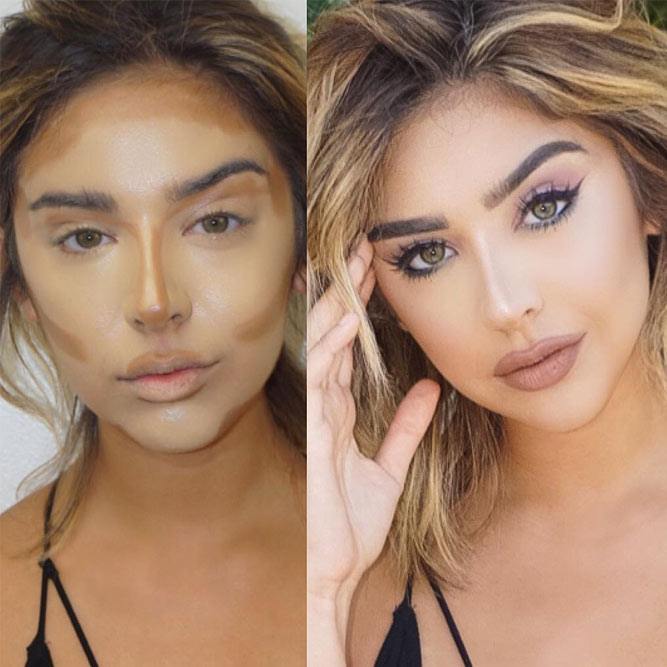 Source: Instagram/brittanybearmakeup
4. Makeup artist artists are involved in creating special event makeup looks most of their time, so they definitely know how to make your contour look good on in the photos. Using two techniques textures in contouring – liquid and powder – is the key to extreme contour. Powder product products over the liquid ones help to intensify them and set them in place.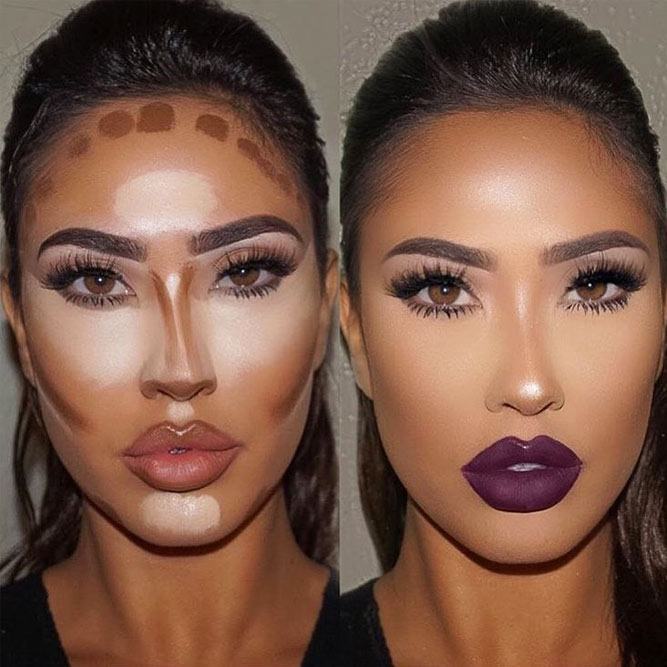 Source: Instagram/brittanybearmakeup
5. Makeup gurus also give advice on how to make your contour stand through the most extreme conditions and last up to 16 hours without touch ups. Backing your face with loose translucent powder is the answer to this question. You need to wait about ten minutes, and your contouring product and powder will melt together and stick to your skin for a long time. Take a fluffy brush and wipe the excess powder away. It is the best way to set your contour in place, and it will definitely stand the test of time.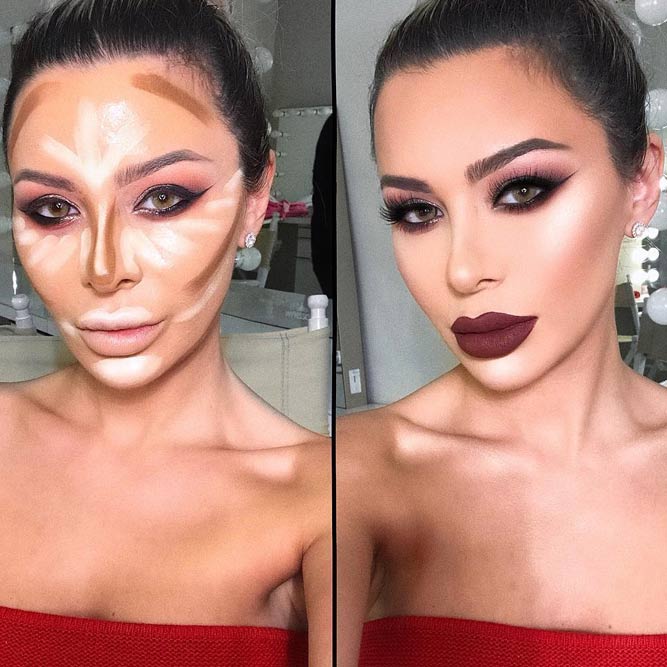 Source: Instagram/vanitymakeup
6. There are also some professional beauty hacks when it comes to backing. Loose translucent powder is applied with a damp sponge. As for the places where it is applied, those are a T-zone, under eyes, and a chin. To put it simply, those are the same places where you applied concealer or a light cream contour.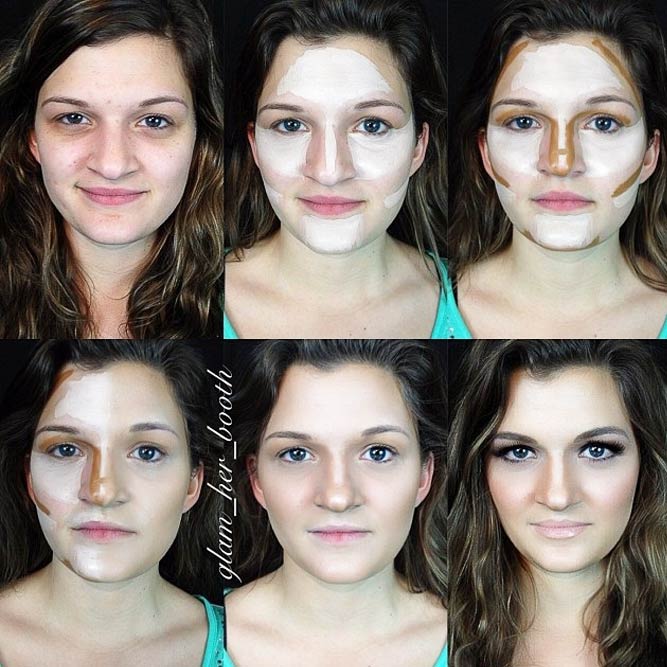 Source: Instagram/glamher_booth
7. Makeup artists also apply shimmering highlighter to the top part of cheek bones, down the bridge of the nose and to its tip in order to make the contour razor sharp. A fan brush is the best makeup tool to do this and prevent fallout.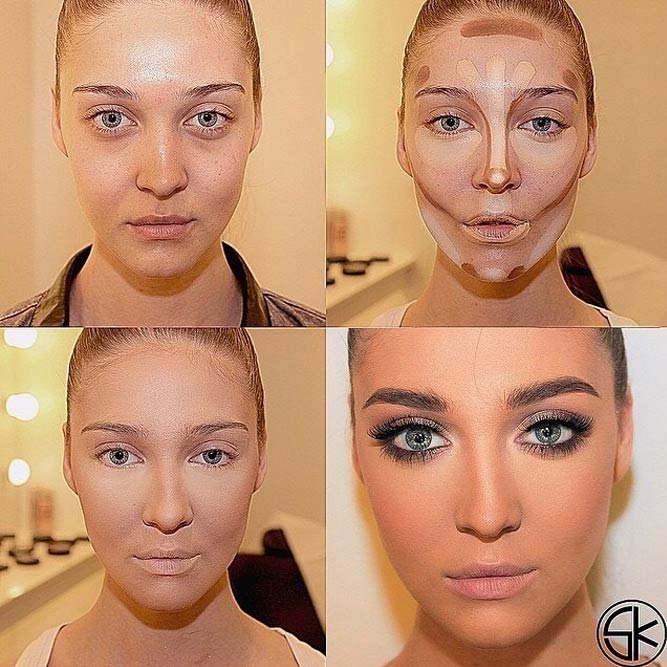 Source: Instagram/samerkhouzami
8. You should always keep in mind that contouring is not about your face only. While you are working on your jaw line, go down a little and slim down your neck. Just add some darker powder along the length of your jaw and around your chin and then blend everything gently not to ruin the look.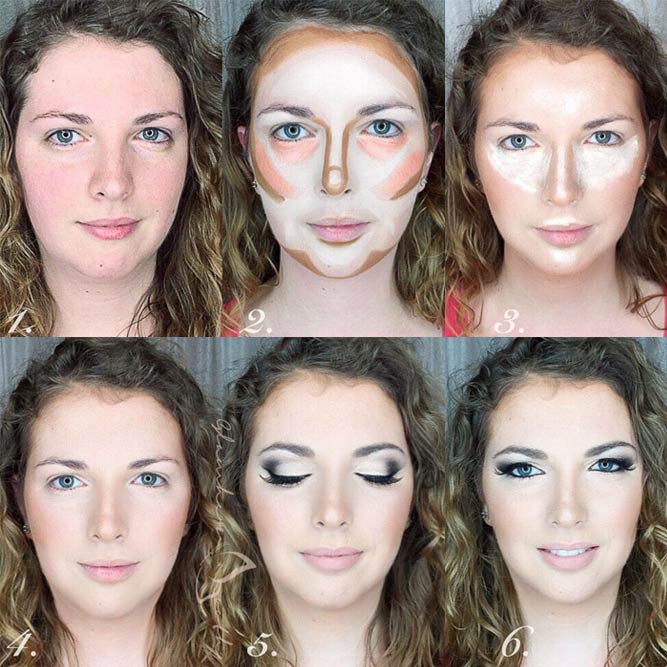 Source: Instagram/glamher_booth
9. Bear in mind that your complexion matters greatly. That is why you should remember that if you have dark skin, you should in no case use anything with yellow undertones to highlight your face with!
10. The same rule applies to a highlighter. Steer clear from opalescent and peach highlighter shades because they will look chalky and ashy on a darker skin tone.
Hope that we have given you all the possible info on how to contour and inspired you to go grab your bronzer and start sculpting your face.
FAQ: How To Contour
What do you use for contouring?
Firstly, you need foundation, which will be a base of your contour.
Next, you will need cream or/and powder bronzer, you can replace it with a foundation that is 1-2 shades darker than your skin tone.
Next on the list is 1-2 shades lighter concealer, that you will use for highlights.
Highlighters for adding glow.
You can use a blending brush or sponge for blending the lines out.
Translucent powder and setting spray to set the look.
Do you contour before or after foundation?
It is generally practiced to apply foundation before contour to create a plain base. However, lately many makeup influencers applied contour first and only after that filed in makeup free areas with foundation and concealer. This alternative method works great for blending everything in smoothly and achieving a more natural look. So there are no strict rules on which goes first: foundation or contour.
REFERENCES:
How to Apply Contour Makeup. Contouring your face helps define your features, creating the appearance of higher cheekbones and a slimmer nose and chin. It's a technique that was popularized by celebrity makeup artists. Source
Use this contouring makeup map and these makeup artist tips to find the most flattering way to contour for your face shape. Source