Holiday nail art tends to include the symbols of particular holidays. For Halloween, these symbols are pumpkins and skulls. For Saint Valentine's Day, these include cupids, arrows, and hearts. And what about Christmas? The truth is that every person has their own way of greeting the festive season. Some people go full-on Christmas approach from day one. They wear ugly Christmas sweaters to work, decorate their homes with all sorts of holiday attributes, and hang a cord of Christmas lights on every vacant space they see. Others prefer their holidays in a more subtle way, without lots of preparation and decoration.
The same goes for your Christmas manicure. You can introduce all the symbols of Christmas, such as presents, Christmas trees, deer, Santa, snow, snowflakes, snowmen, candies, Santa hats, boots, and gloves into your nail art, or you can stick to the basic holiday hues with just a hint of sparkle. In either case, we have something special for you in this collection of stylish holiday nails! All products featured on Glaminati are hand-picked by our devout nail experts!
Minimalist Star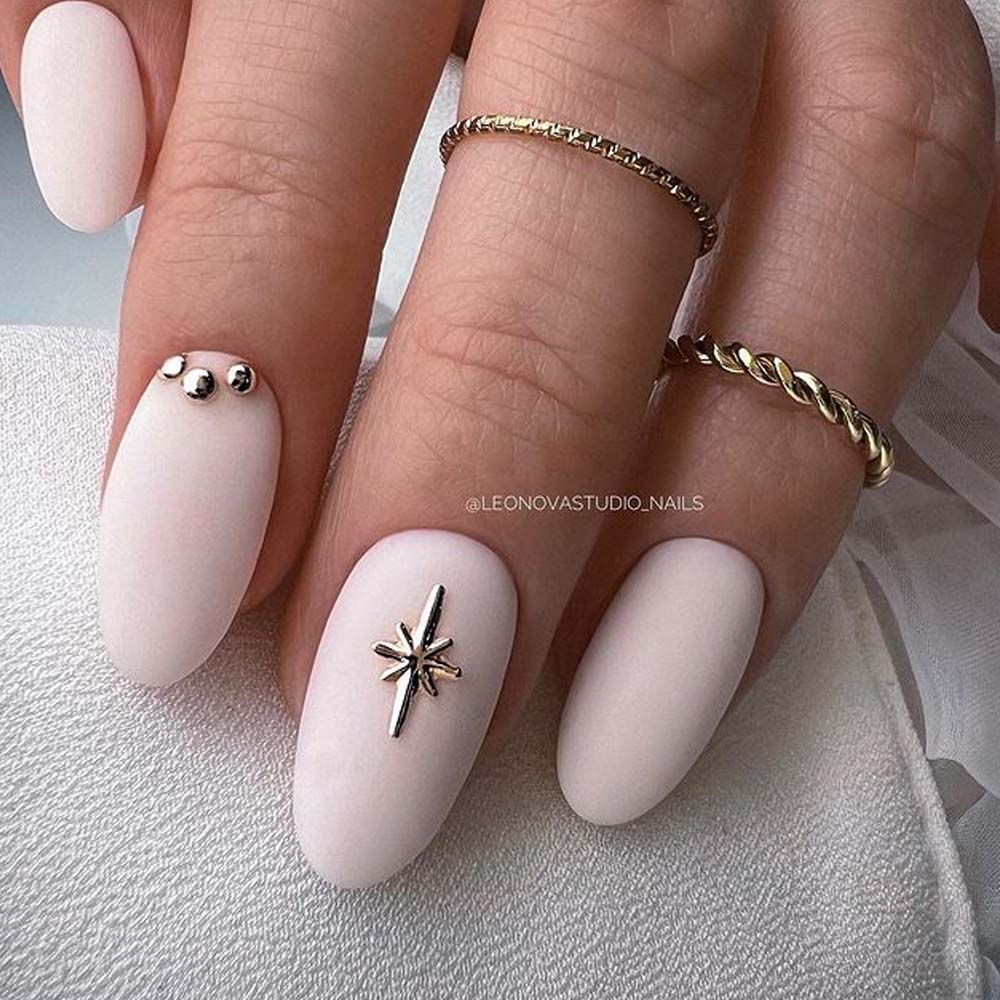 by @leonovastudio_nails
If you care to spice your holiday look with simple holiday nails, a gentle, barely-there pink base with a golden star on it would suffice for your taste perfectly. This captivating design is modern, festive, and chic. You can wear the mani to a Christmas party and work with the same sense of style!
Baby Blue For The Winter Season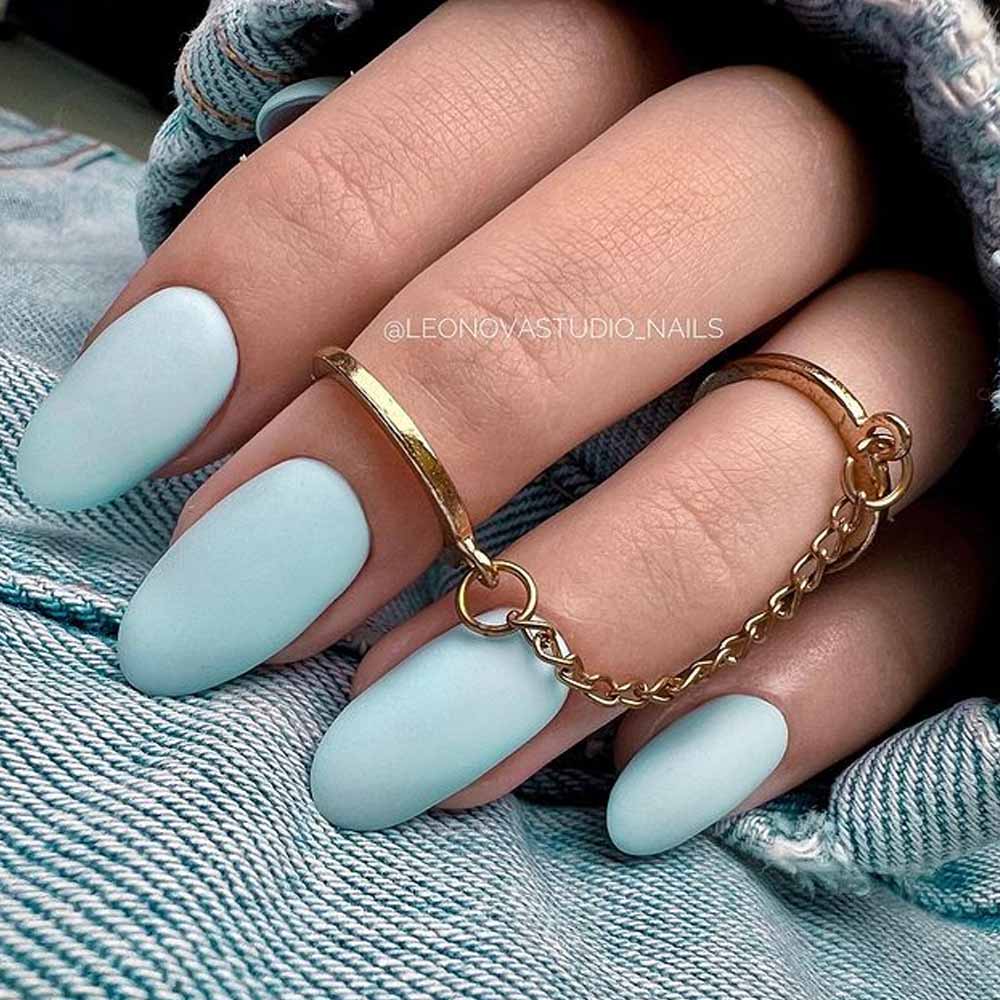 by @leonovastudio_nails
It is hard to coat the serenity of winter in words, but you can express it with a perfect baby blue nail polish base instead. A sheer coat of frostiness and softness is very minimalistic but incredibly festive. Just think of the crispy sky on a Christmas morning to grasp the full scale of elegance this shade would introduce.
In case you are in search of perfect nail polishes for your winter nails, we suggest you pay attention to the following brands:
Essie
JINSoon
Chanel
Deborah Lippmann
China Glaze
Zoya
Gold French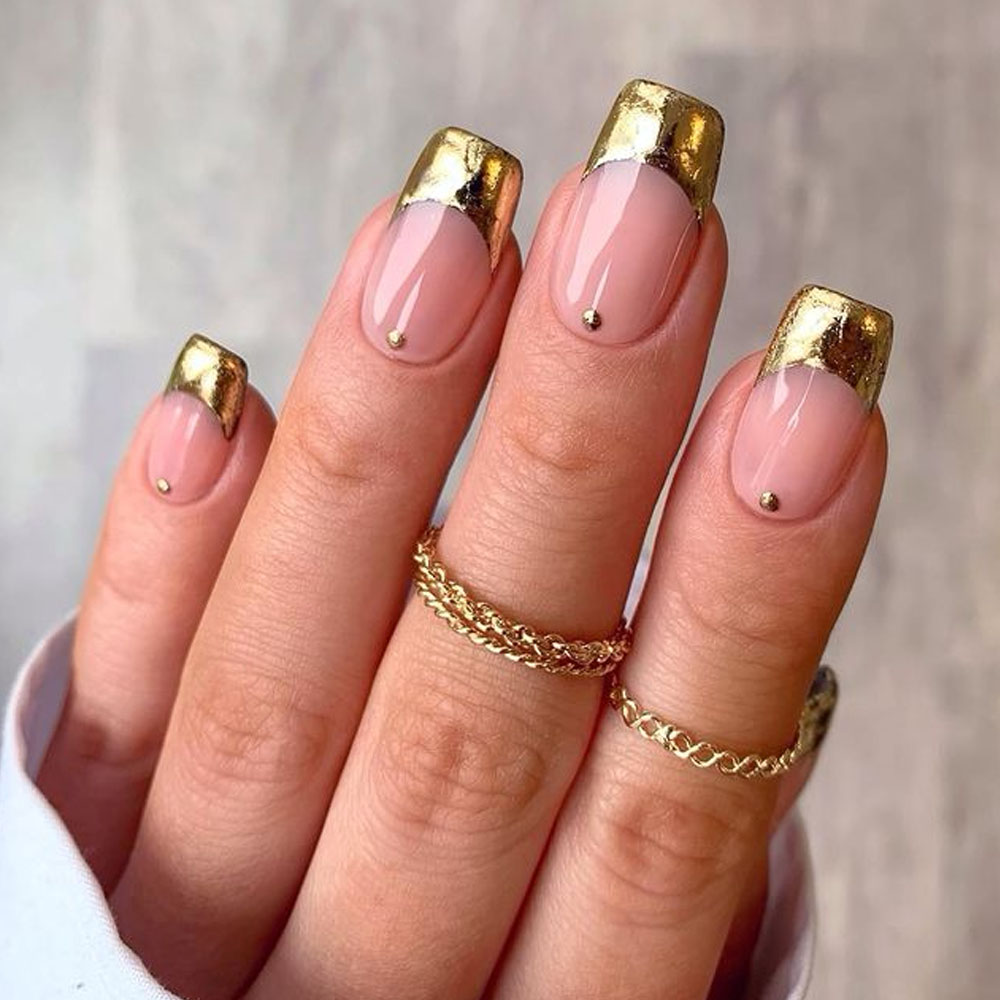 by @charsgelnails_
Dress your nails to impress with this perfect holiday French manicure! The ultimate class of French nails spiced with regal bling of gold tips vibrates with festivities and style. Want to make a statement with every gesture? You know what to opt for!
Pro tip - Gold comes in various tints and hues so that you can choose one that suits your skin tone perfectly. Try the Essie collection to land the best offer.
Christmas Nail Art with Deer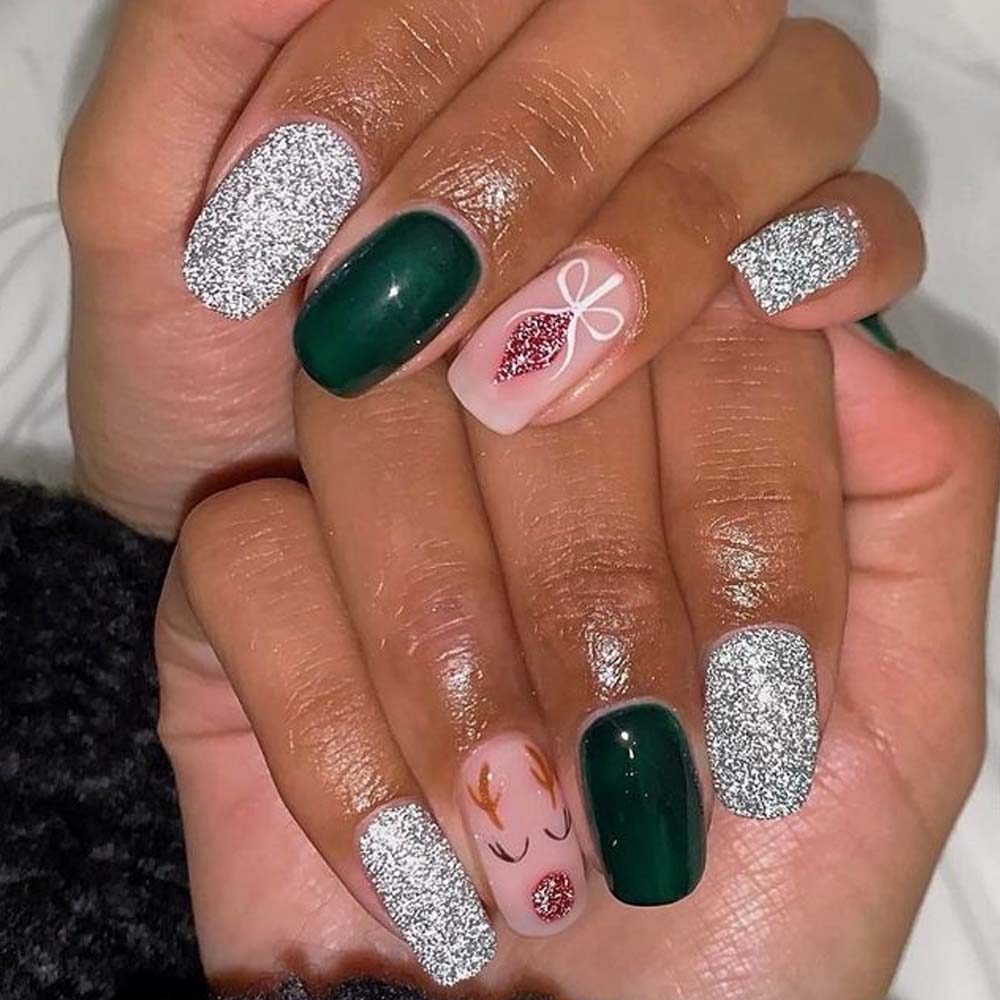 by @charsgelnails_
Care to awaken the season's enchantments with these Christmas nails spiced with graceful deer nail art? The undeniable charm of such a manicure can take you away into the lands of winter fairy tales from a single glance at those tips. Besides, the design is so versatile that it can be incorporated effortlessly into any holiday look.
FYI - While the design looks exceptionally cute on squoval nails, it will look as magical on coffin tips or square nails.
Royal Blue Nails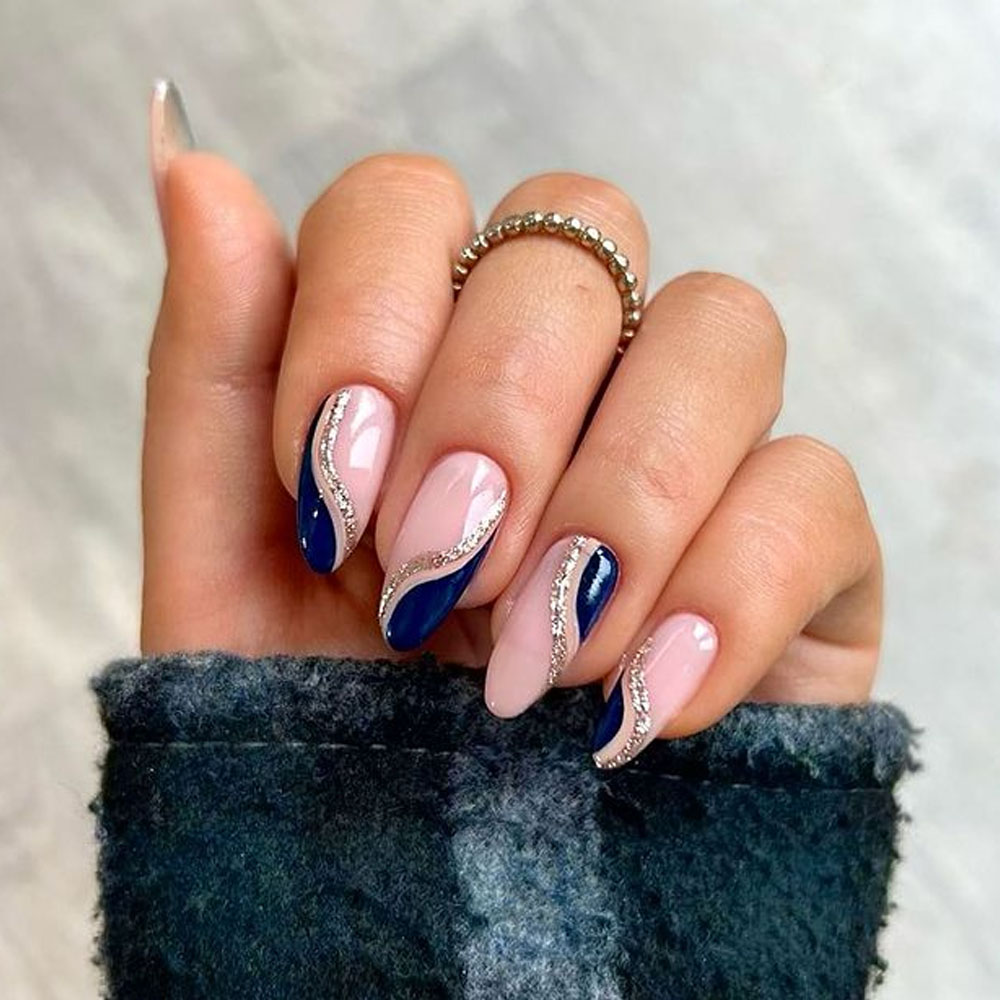 by @charsgelnails_
Your Xmas nails can express the regal vibe through the royal blue shade. There's no need for solid coating. You can use the hue as a part of your customized French manicure. As the profound shade projects charisma and sophistication, a touch of sparkle will be responsible for the holiday flair of your manicure.
Expert advice: Royal blue is a color that pairs well with neutral hues like black, white, beige, and grey. Besides, as white nails look gorgeous combined with royal blue clothes, so will royal blue nails go well with an elegant all-white outfit.
Glossy Pink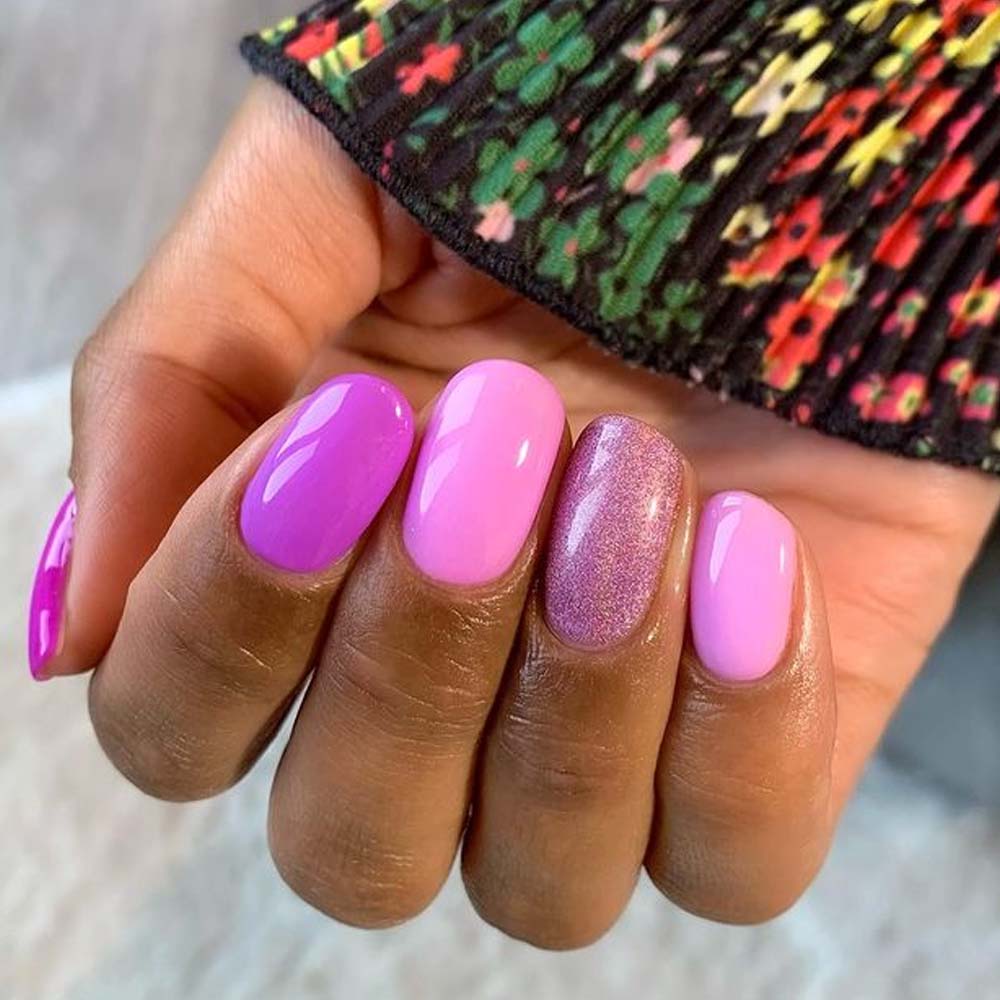 by @charsgelnails_
Red isn't the only color reserved for Valentines Day nails. Glossy pink is another venue to explore during the holiday season. You can play around with different shades, textures, and combinations to create a design that reflects your mood and individuality.
Pink symbolism - Our artists say that pink is the color of cheerfulness and joy. Besides, light pink is the understatement of happiness. So, if you want to emphasize your playful side when the holidays come, you may want to do it through a pink manicure.
Gradient with Gold Glitter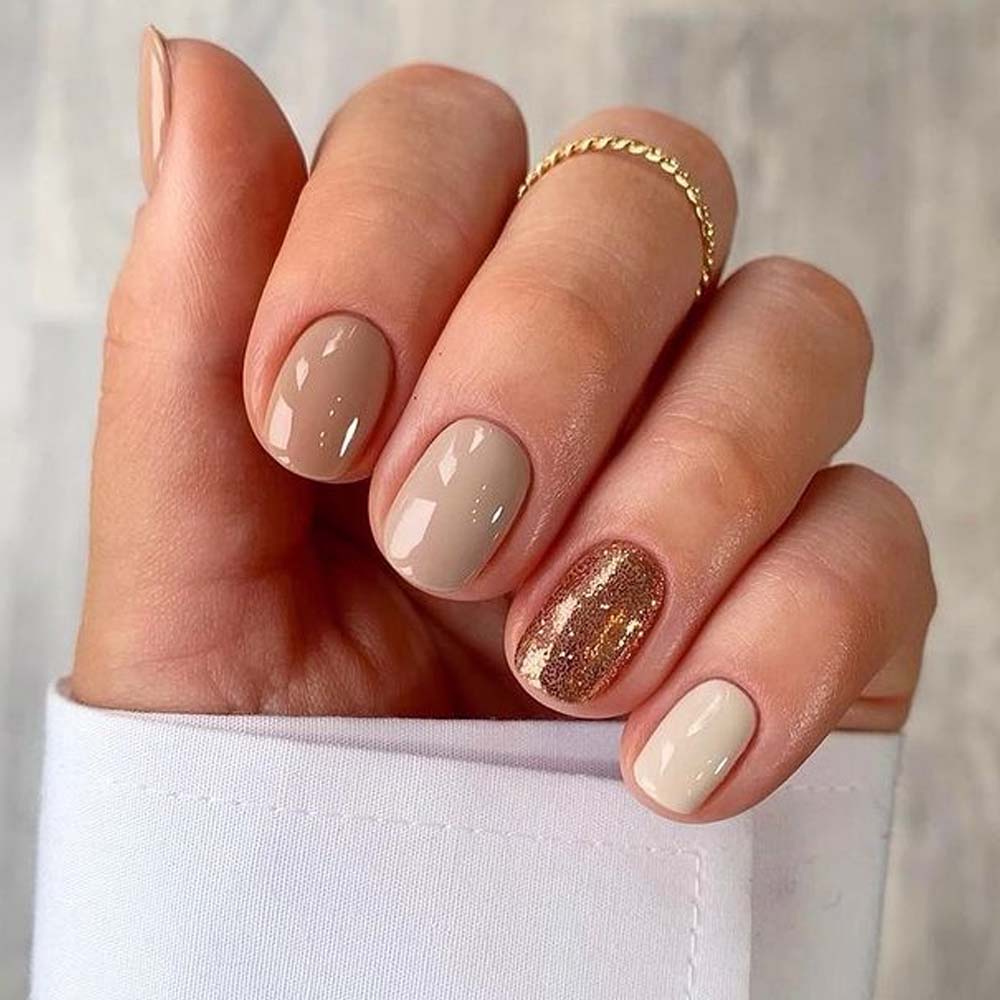 by @charsgelnails_
Let your festive nails dazzle with sophistication and joy. You can succeed with the task by creating an ombre that covers the whole hand rather than just a nail. All it takes is to choose five shades of beige or any other color and coat each fingernail with a separate color so that they transition from light to dark or vice versa. Since the holiday season is knocking at your door, you must consider introducing a glitter accent nail into your gradient manicure.
Expert quote: Sonya Belakhlef, the celebrity nail artist, claims that gold is one of the best colors to go from hot summer vibes to cooler winter nails. All because gold still holds the warmth of the season but also presents the ultimate mood of the upcoming festivities and fun that winter is all about.
Valentines Nails with Hearts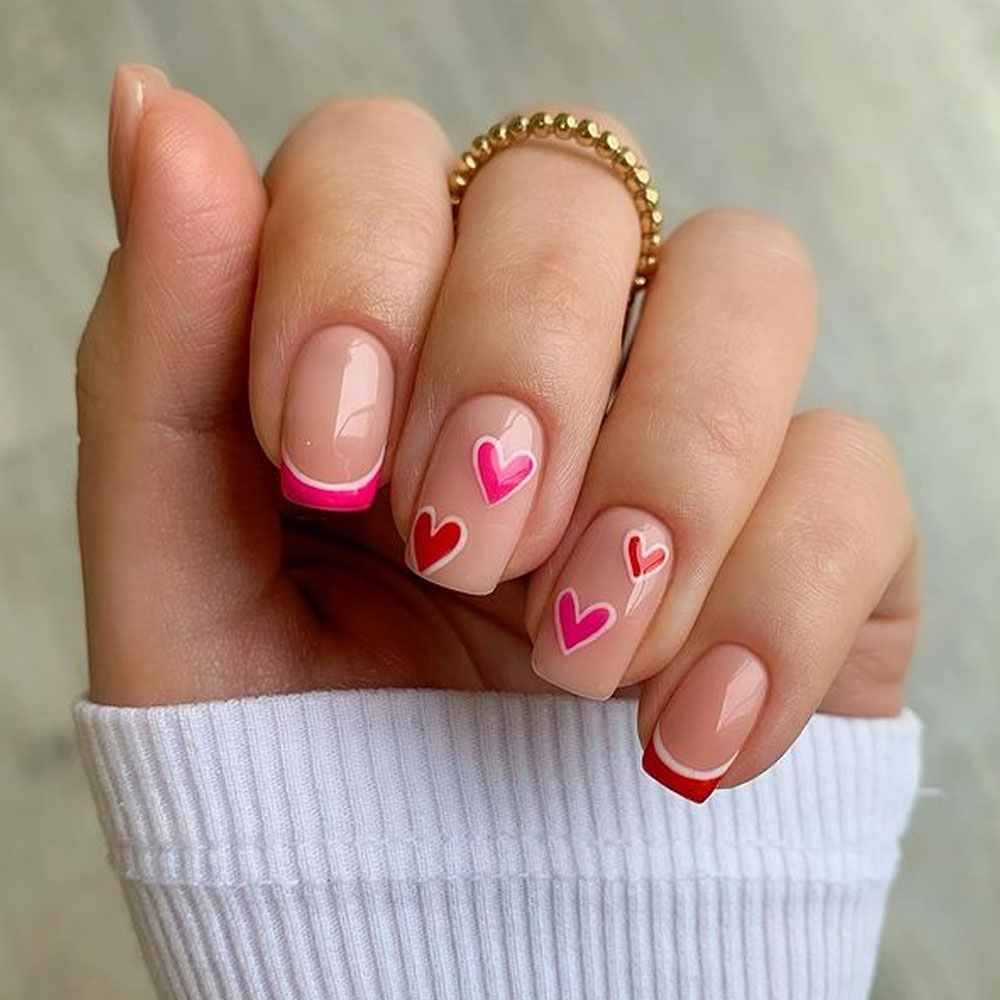 by @charsgelnails_
Red holiday nails aren't the only design to think of when the season hits. You can celebrate Valentine's Day in the Selena Gomez style and opt for red-tip French nail art enhanced with little heart accents. This sweet and playful design will help you embrace the essence of holiday romance and project your affectionate vibe through your manicure.
In case the idea does not resonate with you just yet, our experts have a few ideas up their sleeves. You can encode red and pink nail colors into various designs that involve hearts, kiss prints, or even depict a love-struck Helga Pataki. Use glitter, jelly polish, crystals, and gold foil to intensify the holiday flair and showcase your devotion.
Classic Holiday Designs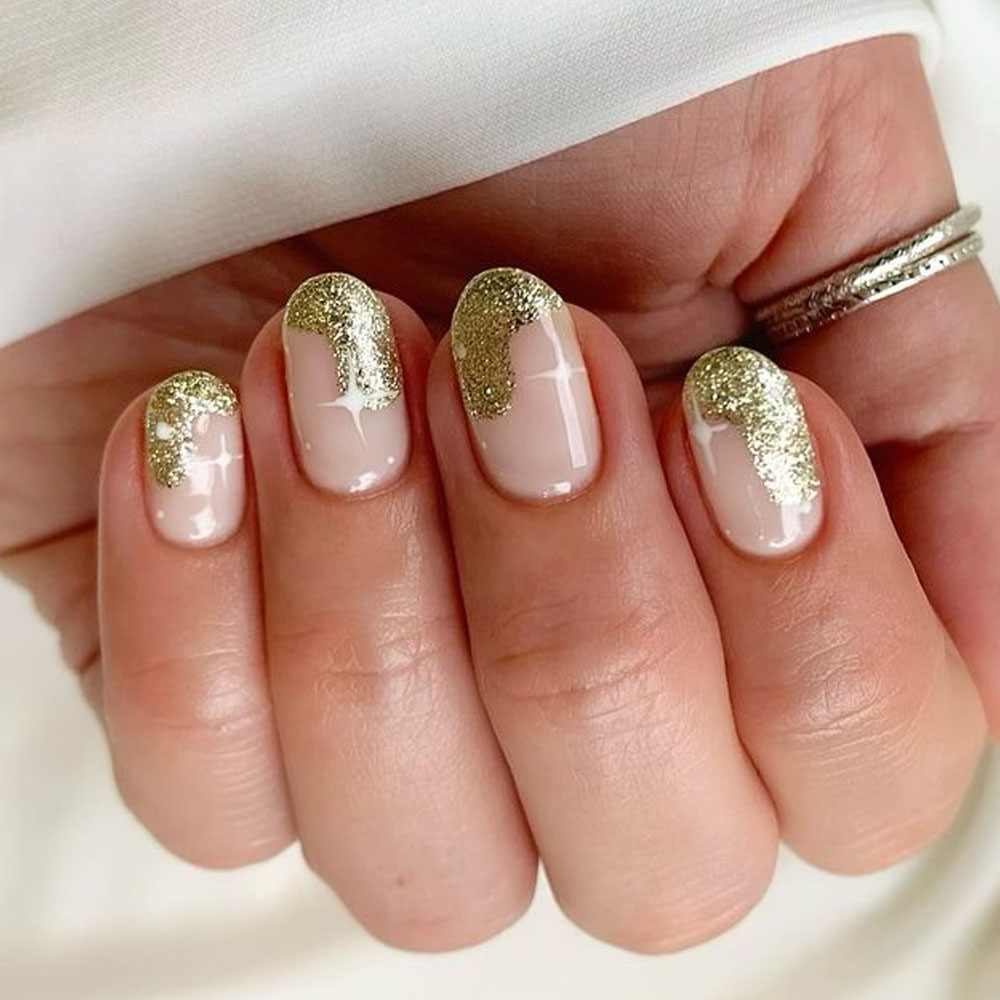 by @charsgelnails_
Those who prefer a more timeless approach to the holiday dress code may want to pay attention to these clear nails with glitter. Something that looks like a glittery French tip that has melted from the festivities' warmth is a classy and unconventional design that captures the joy and spirit of the celebration. Add a few twinkling stars to strengthen the bond with the Christmas tradition.
Belakhlef's masterclass on negative space nail art:
Start with the cuticles and push them back carefully.
Dehydrate your nails.
Apply a base coat.
Coat the nails with the primary base color.
Proceed with the addition of gold details.
Secure the design with a glossy top coat.
Dark Green Nails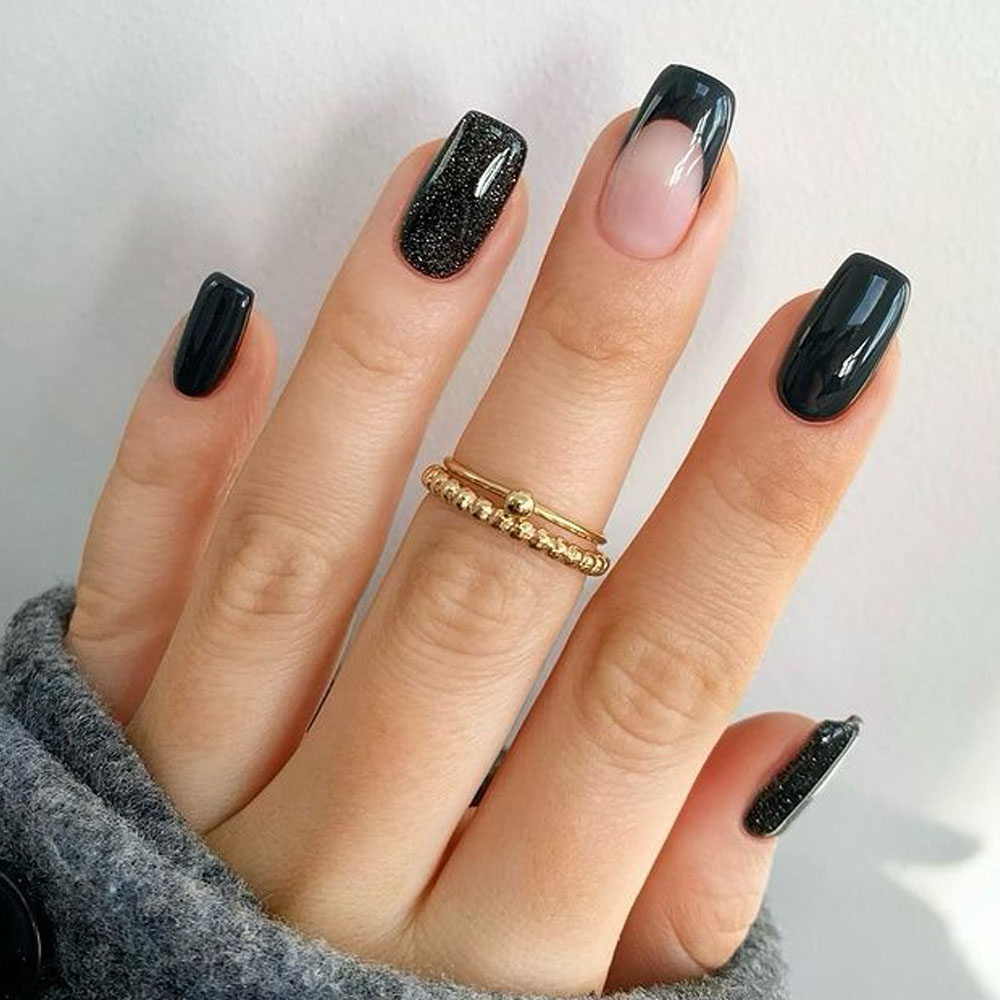 by @charsgelnails_
It is amazing how versatile holiday nail trends are. Dark green nails are an ideal way to introduce some forest-green mystery to your look. Dark green tips are enchanting, commanding, and graceful at the same time. Besides, Deborah Lippmann's collection may list just the right shade you want to acquire for the design.
Moreover, the nail artist herself says that darker shades like purple, red, black, and green will be at the top of popularity this season due to the rise of goth-glam flair throughout the beauty space.
Sweater Nails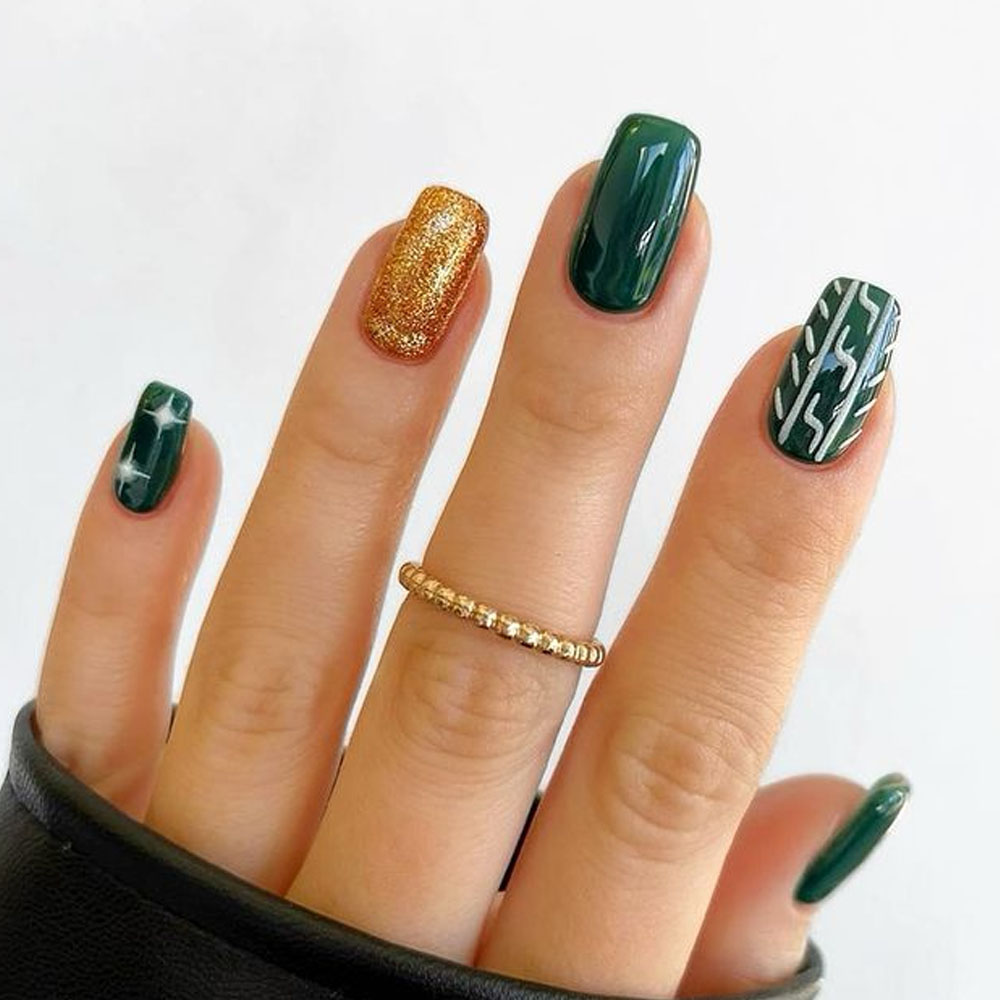 by @charsgelnails_w
Sweater nails are a cozy and charming trend programmed to surround you with the warmth of the holiday season and your favorite knitwear. As you spice your tips with intricate patterns of your winter sweaters, pairing them with deep shades of green and introducing a touch of glitter is a perfect way to finish your festive manicure reflecting your snug style.
Iram Shelton, a nail artist, suggests that as you play around with wintry patterns on the one hand, you can coat the rest of your fingertip in a solid color to reflect the design better.
Chrome for Every Occasion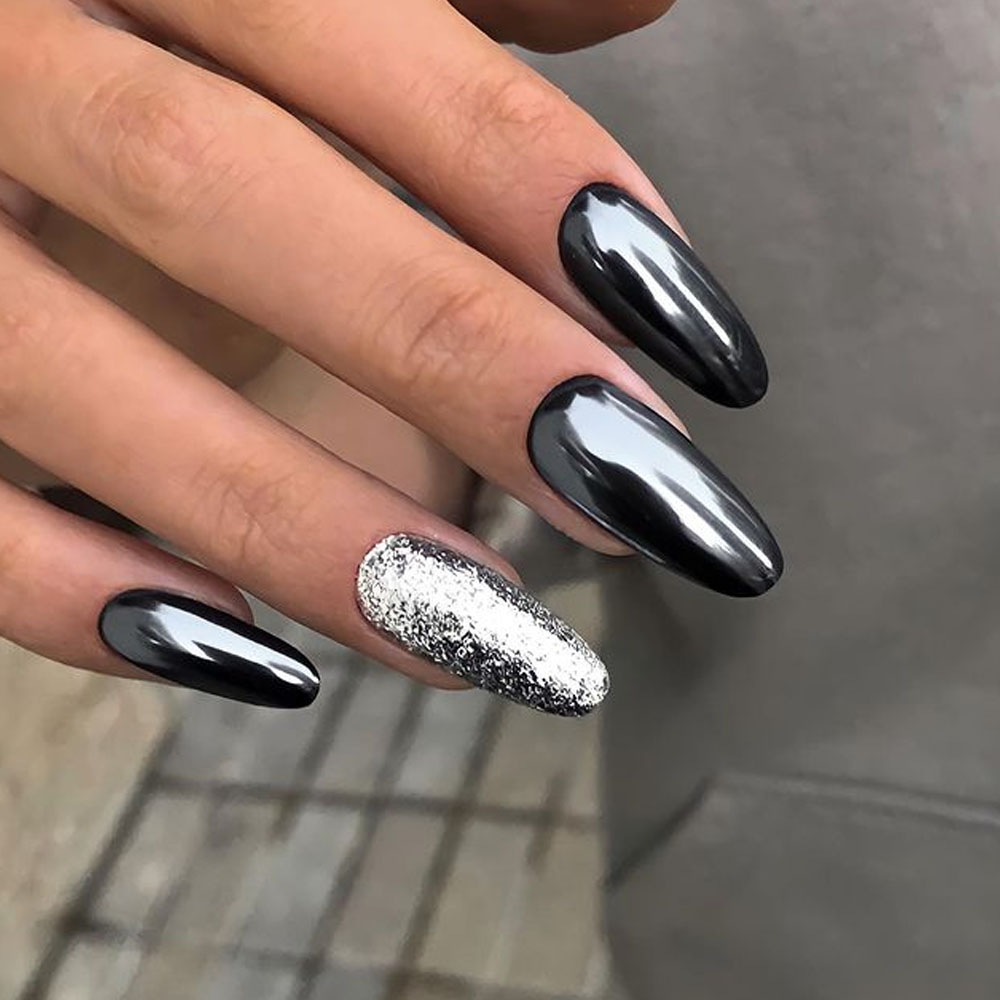 by @mariapro.nails
Chrome nails are that variation of sparkle nails that exude edginess and sophistication at the same time. Celebrities like Lady G seem to have grasped chrome nails' versatility and tend to blend them into various looks and occasions. Keep in mind that the bold mirror effect looks gorgeous when paired with glitter accent nails.
Moreover, an OPI global ambassador – Harriet Westmoreland – predicts that chrome trends will skyrocket in 2024. In case you want to be the first to adopt the upcoming trend, then the Dazzling Disco created by the Townhouse studio is there to start from. The chrome-toped opaque nail design is a fresh take on the fan-favorite doughnut glaze nail trend. We suggest you start with a milky shade, top it with a chrome coating, and rock the holiday season with style.
Minimalist Holiday Nails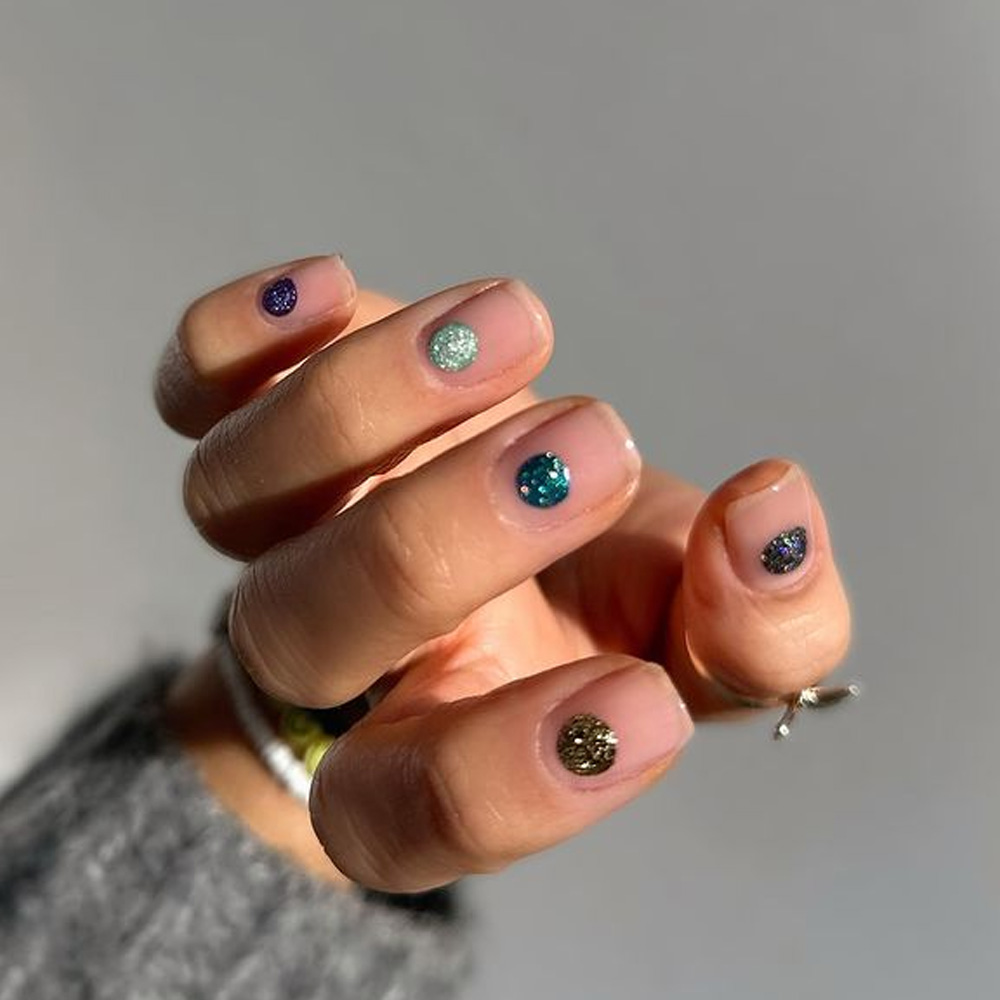 by @thehangedit
Not everyone is fond of going full-scale on holiday nails. Thus, if you are interested in a chic rather than a dramatic twist on your seasonal nail art – we have an idea for you. Why not to spice a negative space base with a glittery blob of different colors placed in the center of each nail? The design's understated elegance and festive aura will play the strings of your soul and spread joy around with the least time and effort required. FYI! Hang Nguyen is the queen of minimalistic and unique nail art.
Stars Nails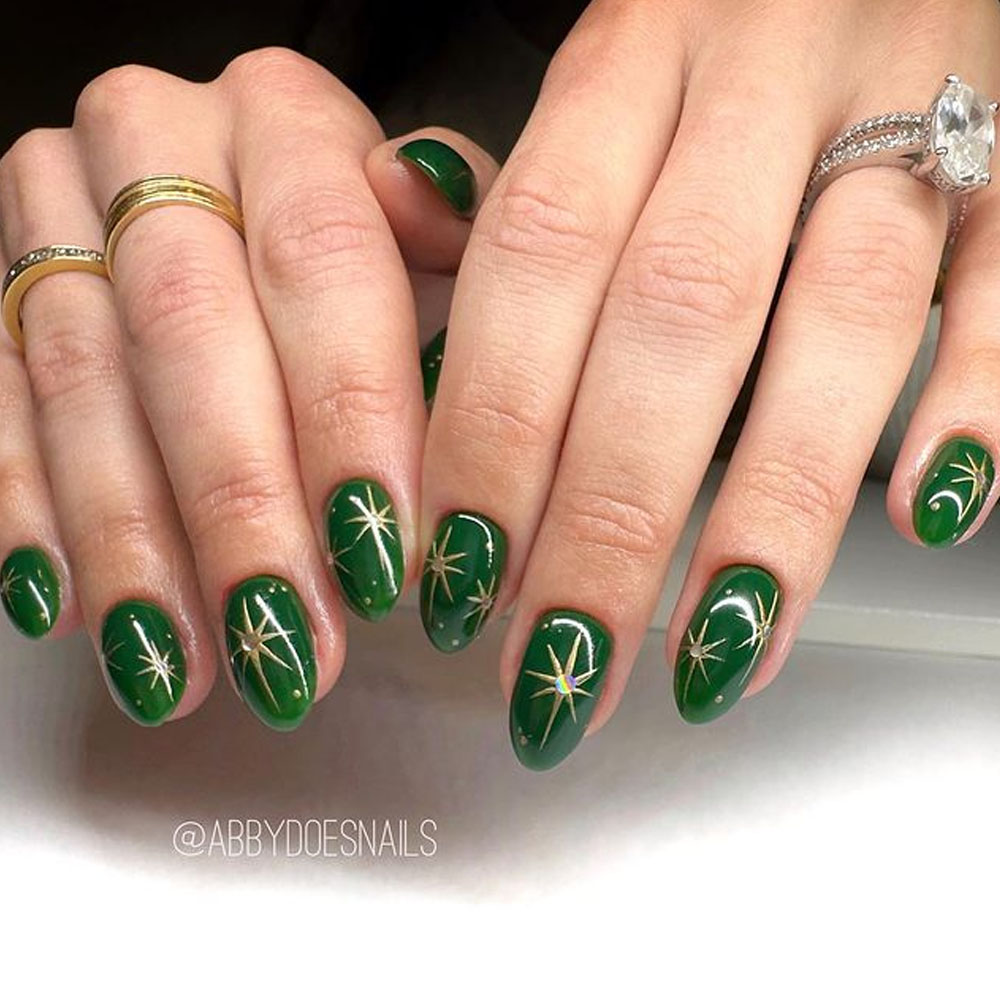 by @abbydoesnails
Care to transform your holiday star design nails into a celestial masterpiece? There's a simple suggestion to consider. All it takes is a forest green base coated with gold twinkling stars to capture the spirit of the celebration in your fingertips. The harmony of the green hues and glistening gold stars projects the vibes of the mystical forest under the night sky. As you can see, navy nail designs aren't the only options to capture the magic of the cosmos.
Expert advice on trendy décor - Our nail artists prophesize that 2024 will be the year of nail piercings and jewelry-inspired decorations. Longer tips will gain popularity once again, but heavily accessorized designs will be replaced with simple manicures so as not to distract attention from statement details such as piercings and other accessories.
Classic Red and White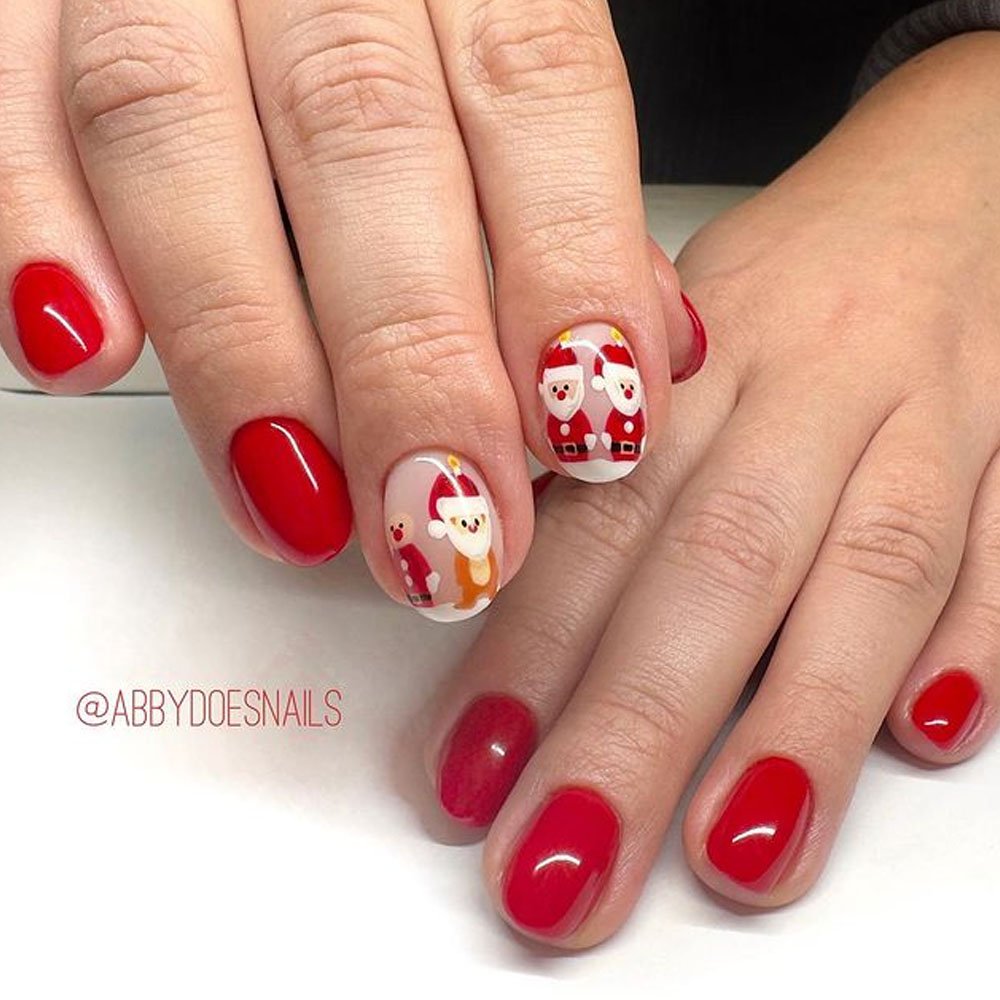 by @abbydoesnails
The festive spirit of Christmas nails red and white palette can't be easily dismissed. The timeless elegance will spread the joy of the season even better if you introduce cute Santa Claus accent nails into the design. Worry not, in case you aren't skilled enough to draw a full-scale Santa figure on your nails. These days, there are countless stickers to make use of.
Snowflake Nails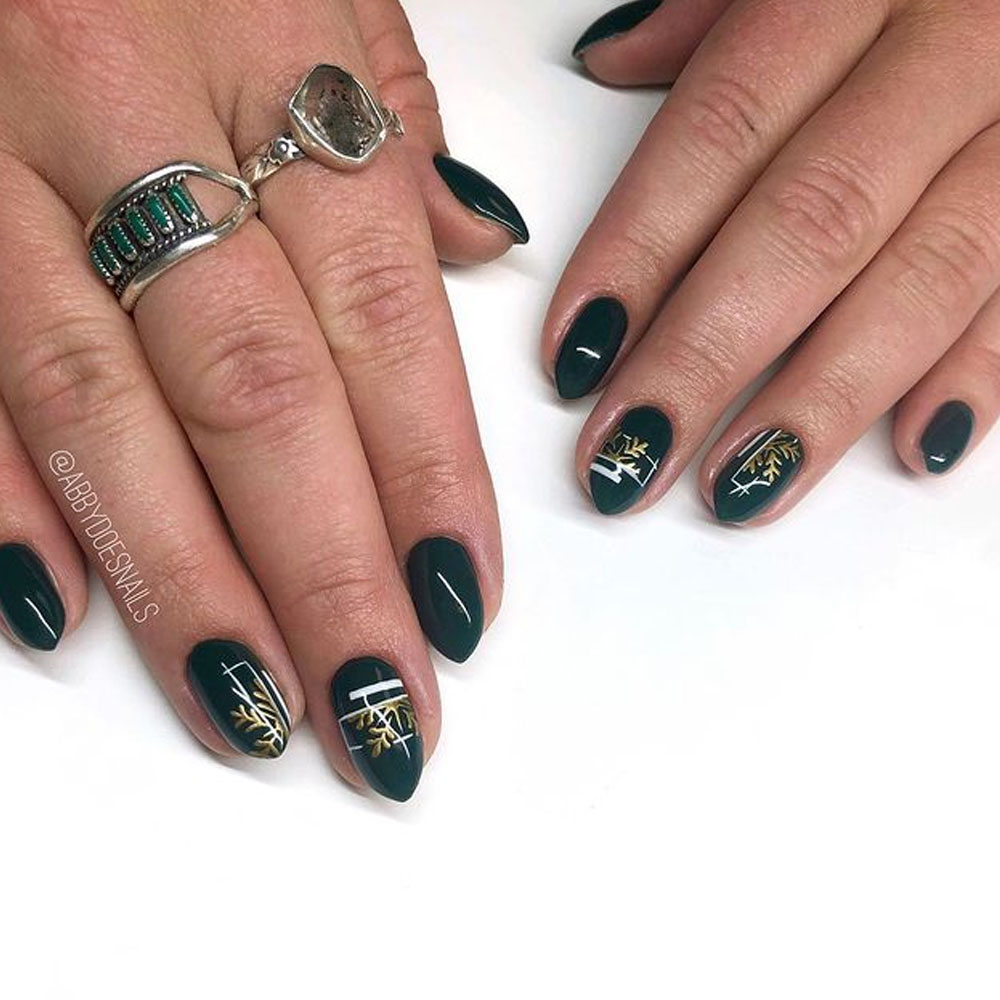 by @abbydoesnails
The delicacy and uniqueness of snowflakes are nothing but inspiring. Thus, snowflake nails are among the most requested designs when the season starts. You don't have to opt for traditional art to seal the festive magic of the winter attributes. The truth is that extraordinary designs, such as a green base with gold snowflakes, will make your tips stand out without losing the holiday cheer. All it takes is a few layers of forest-green base spiced with themed stickers and a quality top coat to secure the design. A masterpiece is ready!
Classic Red Nails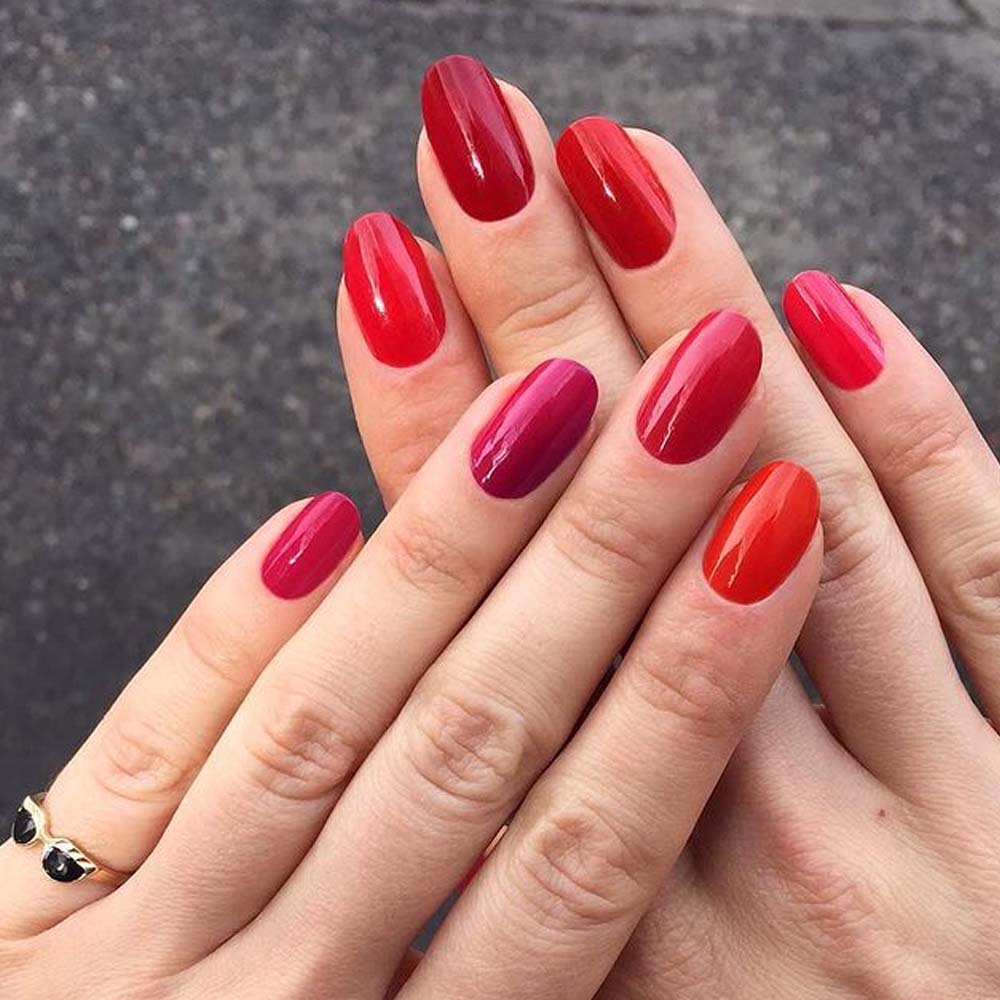 by @jessicawashick
It would be unfair to dismiss the timeless allure of universal red nails. Simple yet bold and passionate, red nails project confidence and power.
Our experts advise to experiment with red nails to explore the ultimate versatility of the art:
Opt for semi-permanent nail polish to secure a lasting effect.
Use a shiny base to play around with festive decorations.
Choose a classy nail polish formula if you want to change between holiday designs quickly.
If you seek a glossy, mirror-like red nail effect, you must coat the tips with a quality top coat.
Holiday Nails with Glitter
Christmas nail art seems to be very easy, but you have so many tasks during holidays. To cook delicious dinner, to decorate your house, it is not easy to find time to take care of your manicure. Use special stripes for your nail designs and save much time!
Holiday Nail Art With Christmas Tree
For example, a Santa's hat design is so hot right now. Paint some of your nails in red, and let others be green. Red nails will be without a pattern, and green ones will sport Christmas trees and funny faces with a red hat.
Patterns Holiday Nail Designs
i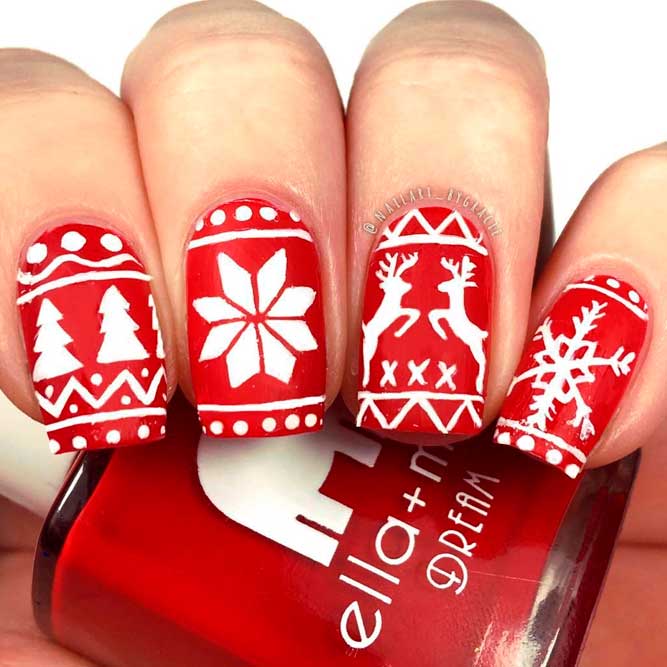 i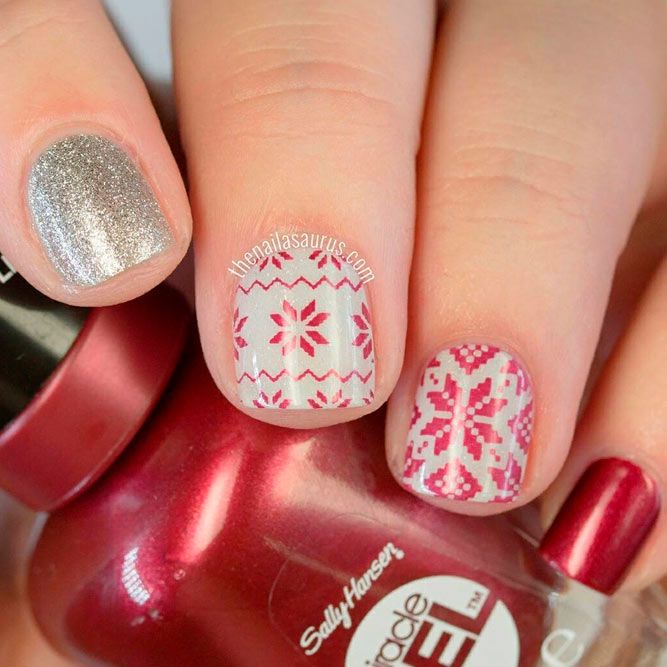 i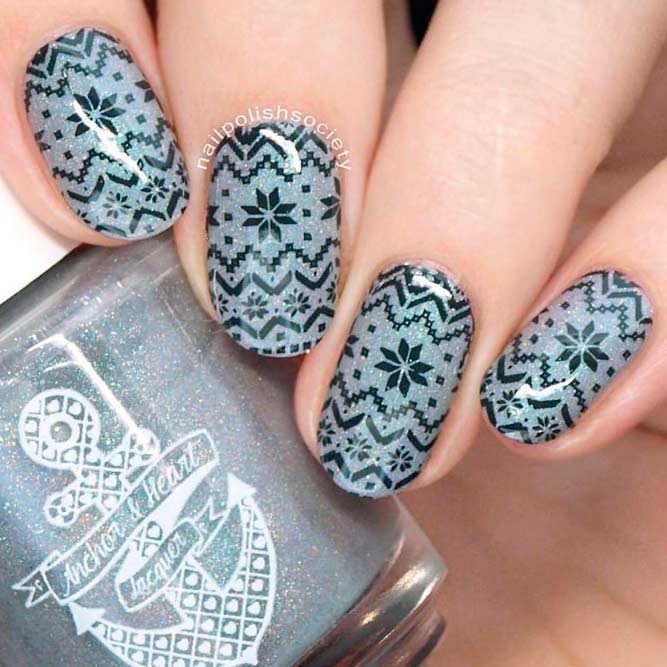 /
Holiday nail designs are fun and elegant same time. It is the time when you can forget about the classic manicure that you pick for the office and opt for something interesting like any patterns you like!.
FAQ: Holiday Nail Art
What is the meaning of nail art?
Nail painting is a fun way to paint, embellish, and enhance your nails. It is a sort of nail art that is applied to the fingernails and toes after they have been manicured or pedicured.
How much does Japanese nail art cost?
A set of gel nails will cost roughly 5000 to 6000 yen, which is 44-54 usd, for first-time guests. The dry care things: filing, shaping the nails and cutting cuticles, are included in this pricing. Customers who return usually spend roughly 8000 yen (around 70 usd) or more.
Was this article helpful?