Do you already use tea tree oil for hair growth? Many women have a problem with the hair growth and thinning hair. Hair loss or thinning hair may result from a variety of issues: aging, per menopause or menopause, health issues, improper diet and nutrition, stress, anxiety and depression and so forth. However, the use of tea tree and other oils can help repair your hair and promote its growth.
There are other things you can use to care for your hair, for example, a lot of women use Aloe Vera gel for hair health. And we can guarantee that tea tree oil is as effective as Aloe Vera gel.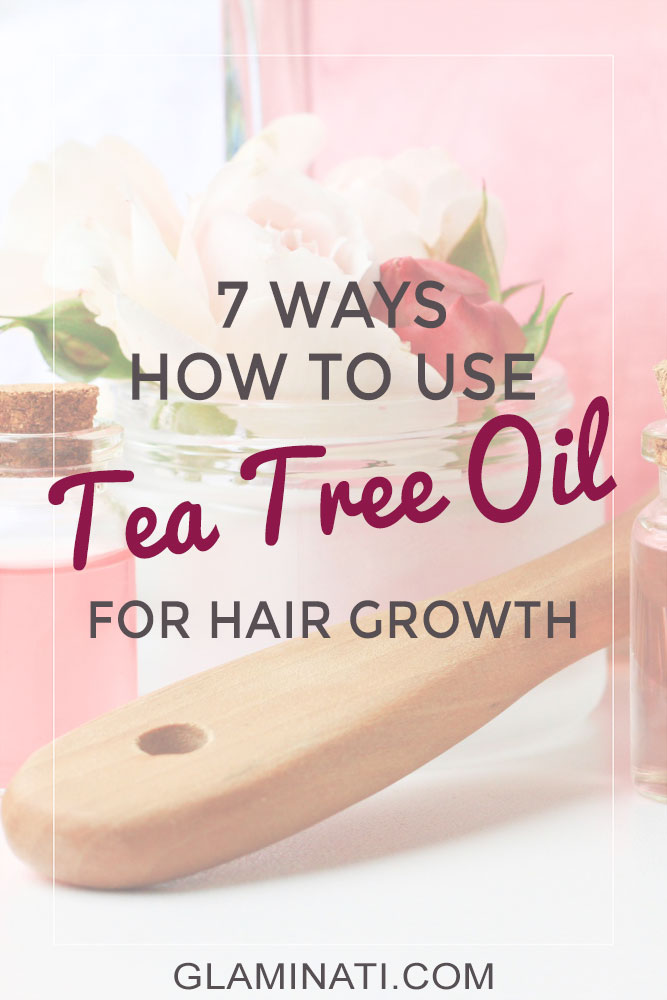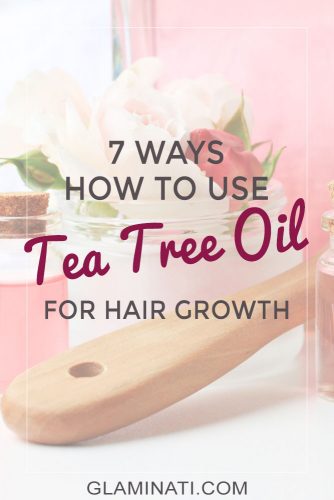 Thus, if you are wondering how to make your hair grow faster, tea tree oil works wonders for healthy and natural hair growth. Moreover, tea tree oil contains antiseptic, anti-inflammatory, antibacterial and antitoxic properties to promote hair growth. The use of tea tree oil for hair growth nourishes and stimulates hair follicles to help your hair grow faster without the use of harsh chemicals that can damage your hair. In addition to helping with hair growth, tea tree oil can help cure lice and dandruff. It also soothes dry and itchy scalps as it helps to reduce the natural pH levels.
How to Use Tea Tree Oil For Hair Growth
Tea Tree Oil for hair growth can be mixed with a variety of carrier and essential oils. It is important to test any mixture first for allergic reactions before using regularly. You can use these remedies up to three times a week, depending on your hair type.
To use, mix 10 drops of tea tree oil with 2 tablespoons of the carrier and 2 to 3 drops of essential oil of your choice (see suggestions below) and heat until slightly warm. It is not recommended to use a microwave to heat the oils as it may make them lose their nutritional benefits. Also, be sure not to overheat as this can cause scalp damage.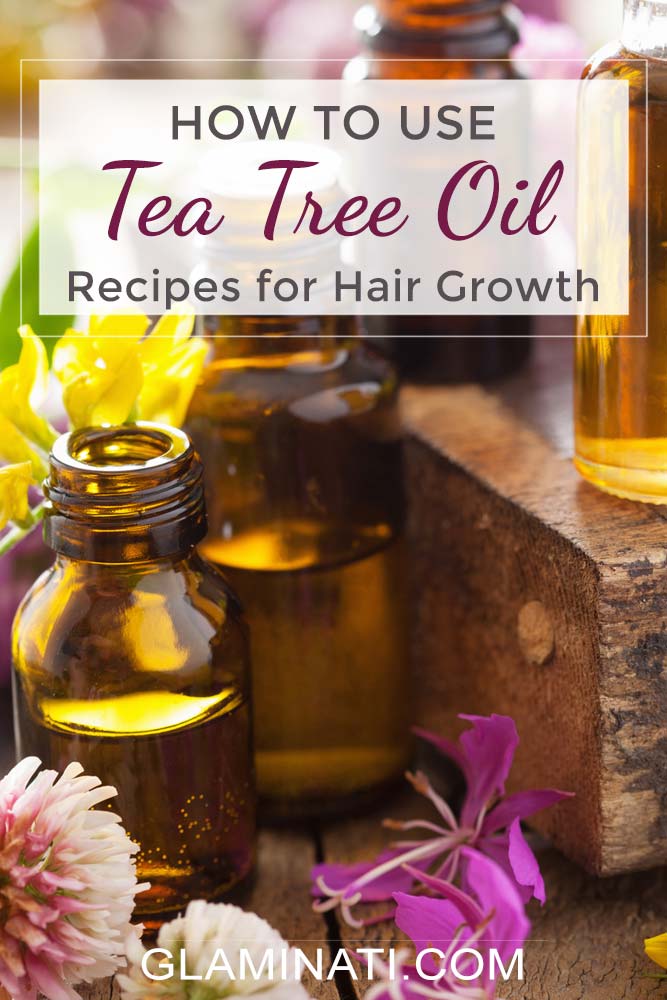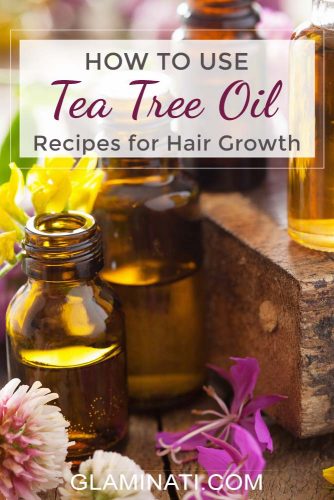 Next, section your hair and massage the heated oil on your scalp and wrap a hot, slightly damp towel around your head to unclog your follicles. Allow the mixture to stay in your hair for up to 20 minutes and then wash and condition as usual.
You can also simply add 10 drops of tea tree oil for every 8 oz of your regular shampoo and then shampoo as usual. This is a great way to prevent hair loss while promoting hair growth. Besides, it is more convenient for those who do not have the time to apply various oil combinations or for those who may have allergic reactions to some of the essential oils.
[ad_post_incontent_pos1]
tea_tree_and_carrier/essential_oil_combinations_to_promote_hair_growth">
Tea Tree and Carrier/Essential Oil Combinations to Promote Hair Growth
Tea Tree Oil and Rosemary Oil
Rosemary Oil is a very popular remedy for hair growth as it greatly improves blood circulation. When combined with tea tree oil, it will thicken your hair and make it more manageable. However, as it has very strong properties, you should only use 2-3 drops of rosemary oil and carrier oil such as olive oil in a combination with the tea tree oil. This solution works for all hair types.
Tea Tree Oil With Jojoba Oil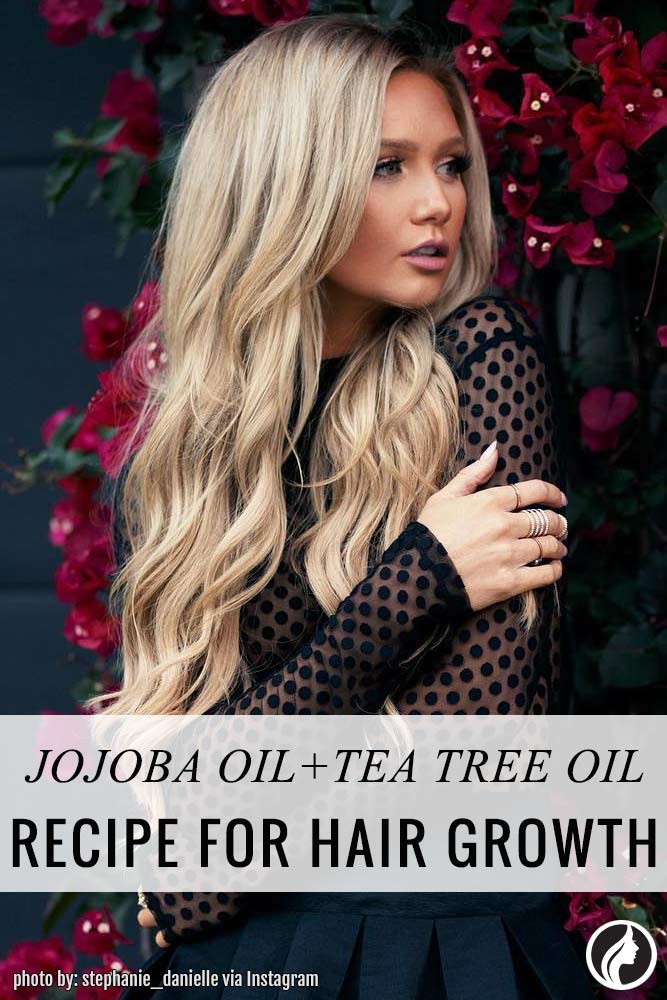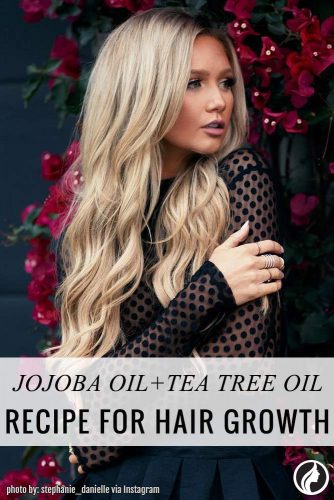 Source: stephanie_danielle via Instagram
Jojoba oil and tea tree oil can help stimulate hair growth and are great for those with oily hair. Jojoba oil clams the sebaceous glands and helps repair hair that has been damaged by the overuse of heat and styling products. This combination will make your hair soft and shiny. It is also good to make your hair grow back fuller and thicker.
Tea Tree Oil and Coconut Oil
Coconut Oil is exceptional for hair growth as it penetrates into the follicles and nourishes your hair at the shaft. It helps prevent your hair from the loss of proteins. The combination of coconut oil and tea tree oil is a great way to improve the health of your scalp while nourishing your hair and stimulating hair growth. It can be used for all hair types.
Tea Tree Oil and Lavender Oil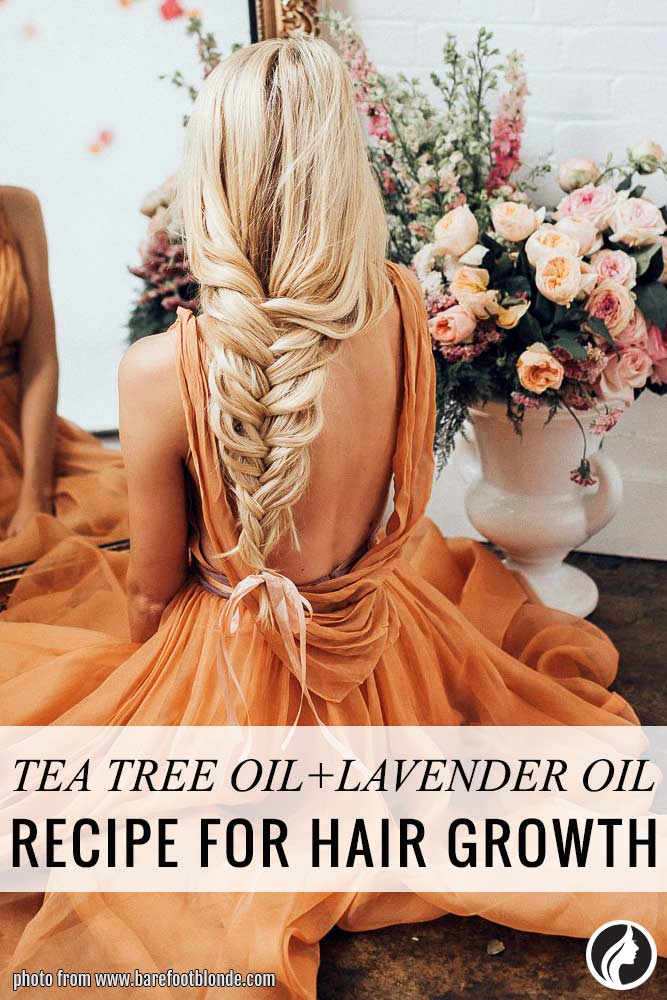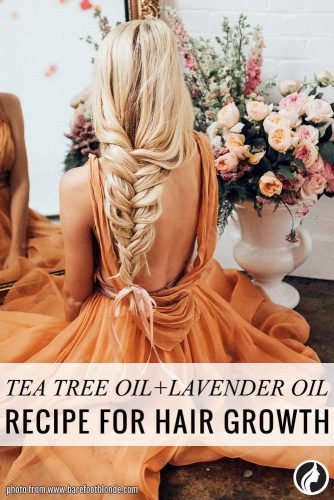 Source: The Barefootblonde
Lavender oil, like tea tree oil, contains antimicrobial properties, which improves the overall health of your scalp. As hair loss can be attributed to stress, lavender essential oils can help reduce stress as it has aromatherapy properties. It is recommended to add a carrier oil to this solution as this combination is quite powerful and a lot of people have adverse reactions to large amounts of lavender oil. As with the rosemary oil solution, you should only use 2 to 3 drops of lavender oil. This combination works for all hair types.
Tea Tree Oil And Castor Oil For Hair
As it contains omega-9 fatty acids, castor oil is ideal to help prevent hair loss. It nourishes and strengthens your hair follicles. However, as it is extremely sticky and thick, you should dilute it with carrier oil such as olive or coconut oil. Mix one part castor oil with two parts of the carrier oil of your choice and 10 drops of tea tree oil as directed above. It is ideal for dry and damaged hair.
Tea Tree Oil With Olive Oil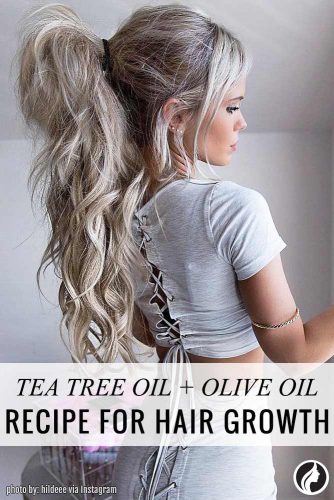 Source: hildeee via Instagram
Olive oil works great on its own merits to condition and improve the elasticity of your hair and prevents breakage. Combined with tea tree oil, olive oil will promote hair growth while hydrating your hair and making it soft and silky. This powerful and healthy combination can be used safely for all hair types.
Tea Tree Oil with Almond Oil
Almond Oil is known for its hydrating properties. It also relaxes your hair while stimulating growth. It aids in both improving blood circulation and unclogging hair follicles. When combined with tea tree oil, it will make your hair smooth and shiny. This solution can be used for all hair types to simulate hair growth naturally.
Aloe Vera And Tea Tree Oil For Hair Growth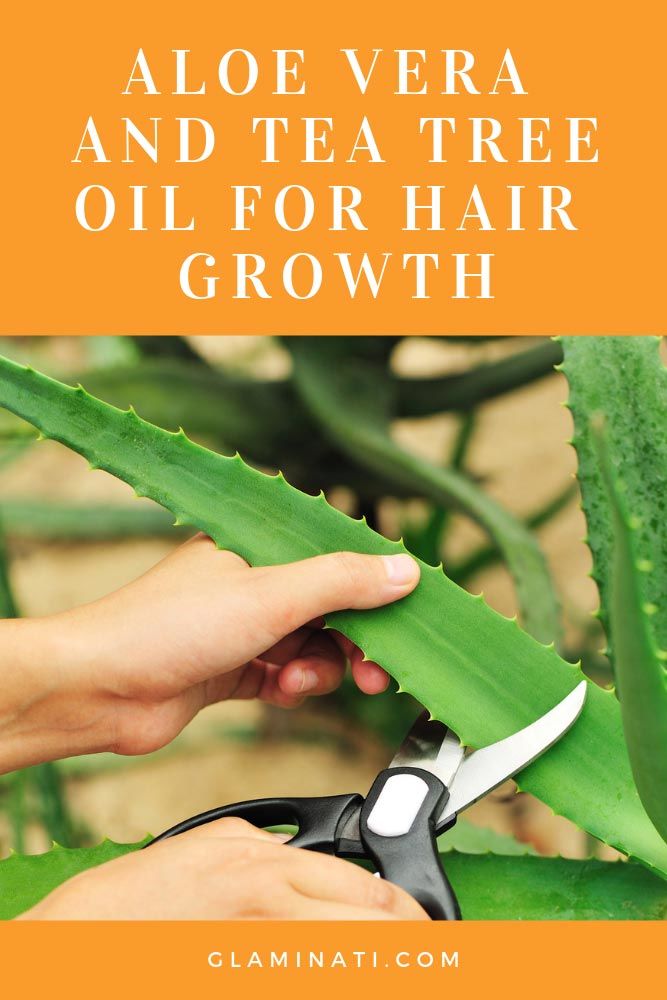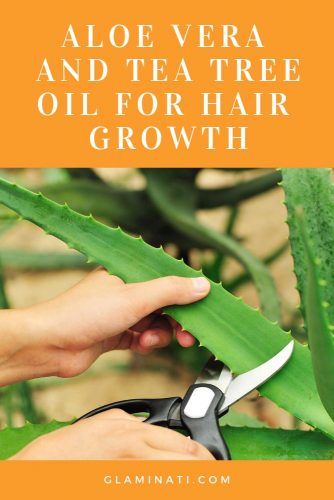 The beauty of tea tree oil for hair growth lies in its ability to combine well with other ingredients that are useful for your hair health. One of those is Aloe Vera. It is certain that you must have heard about the benefits of Aloe Vera. However, it is time you learn how to mix it with tea tree oil to reap all the advantages at once.
The thing is that apart from being filled with all possible minerals and vitamins aloe Vera has hydrating and healing properties. If you suffer from dandruff, then it can become your true friend and savior from the issue. Follow this precise guide, and you will be able to show off your beautiful, shiny and healthy mane in no time!
Supplies:
Tea tree oil
Water
Aloe Vera gel
A bowl
Instructions:
Combine a few drops of tea tree oil, half a cup of water and the same amount of aloe vera gel in a bowl.
Mix it all well.
Once you have a smooth consistency apply it throughout your hair.
Wait up to 45 minutes before you rinse it off.
Rinse your hair with the regular shampoo.
In case you wonder which types of hair this mask is suitable for it is safe to say that all types of it. The fact is that this mask will not only cleanse your scalp but will also moisturize your hair properly. If you use this mask at least once a week your hair will grow out fast and will look shiny and healthy.
Tea Tree Oil And Apple Cider Vinegar Hair Rinse For Hair Growth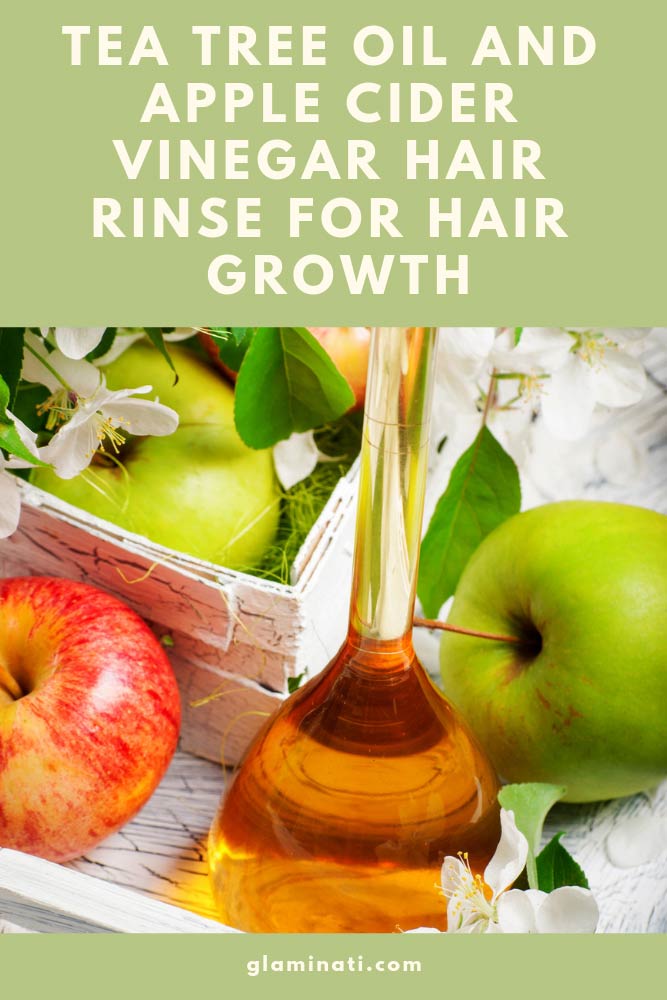 The best way to keep your hair and scalp clean and healthy is to use a proper hair rinse. We happen to have one in mind, and we are going to share the recipe with you.
Supplies:
Apple cider vinegar
Tea tree oil
Water
Instructions:
Combine three tablespoons of apple cider vinegar with a few drops of tea tree oil and two cups of water in a jug.
Wash your hair the usual way.
Rinse your hair with the apple cider vinegar mixture.
Let your hair dry out.
Other Benefits Of Applying Tea Tree Oil On Your Hair
Apart from being familiar with all possible hair growth masks, it is essential that you know about all the benefits of tea tree oil. Here is the list of them:
It has been mentioned that tea tree oil deal well with dandruff, however, the lice issue can be dealt with the help of this oil as well.
Whether dry or oily scalp – tea tree oil can help you restore the pH level in no time.
Itching and irritation will go away after tea tree oil use.
Can You Apply Tea Tree Oil Directly Onto Your Hair?
Some of you may wonder whether it is possible to apply tea tree oil directly onto your hair. The answer is – yes, but you do not really need it. The truth is that while a few drops of tea tree oil can be worked into your scalp directly, it would be a waste to spread it throughout your hair. It is best if you combine the tea tree oil with other carrier oil. The effect will be just the same, but you will significantly save up the essential oil.
FAQ: Oil For Hair Growth
Does oil actually help hair grow?
Oils improve and accelerate blood circulation to the scalp, which aids in the delivery of nutrients to the scalp and ultimately nourishes the hair.
Is daily oiling bad for hair?
Oiling your hair every day is not a good idea because it relaxes your scalp for a short period of time, which can make it more sensitive and increase hair loss. Oiling hair once a week is recommended for those with a dry scalp.
How long should you leave tea tree oil on scalp?
For every ounce of shampoo, add 10 drops of tea tree oil and massage it into the hair. Allow it to sit for at least 5 minutes before properly washing the hair. It will calm the scalp and reduce flakiness by functioning as a natural hair balm.