The days when all the subcultures were quite underground are gone, and these days something that was a taboo for many becomes a mainstream. The thing is that body piercings are not that uncommon nowadays since more and more people are trying to stand out in their own manner. This issue brought us to the conclusion that too many of you may still lack necessary info as for your new piercing and we decided to fill in the gap. Today we are going to talk about nose piercing in particular so that when you choose to get one, you will be fully aware of recent trends, ways of looking after your piercing as well as some other useful info, so read on!
What You Should Know About Nose Piercing
Of course, when you are determined that this is the type of piercing you wish to get you should start with the procedure and we will help you have a closer look into it right now!
Nose Piercing Procedure
First of all the area where the piercing is going to go in is cleansed of all the dirt and oils.
The place of the piercing is marked.
A piece of cork goes inside the nostril.
The needle is placed into round forceps right above the mark.
The needle pierces the nostril.
When the piercing is done, a jewelry piece is pushed through the hole with the help of the same needle.
The needle is removed – body piercing is ready!
Metals To Avoid For First Body Piercings
It is natural that before getting a piercing, you start by looking for the appropriate jewelry to fit it. Even though the design matters significantly you have to be aware of the fact that the metal it is made of matters too. The thing is that sterling silver may be the best-looking material, but it is apparently not the safest for a new wound. Sterling silver may turn black from the interaction with the wound and the tissue around your piercing may go black too in the process, that is why you better try silver piercing out only a year after the piercing itself.
The Best Metals For Nose Piercing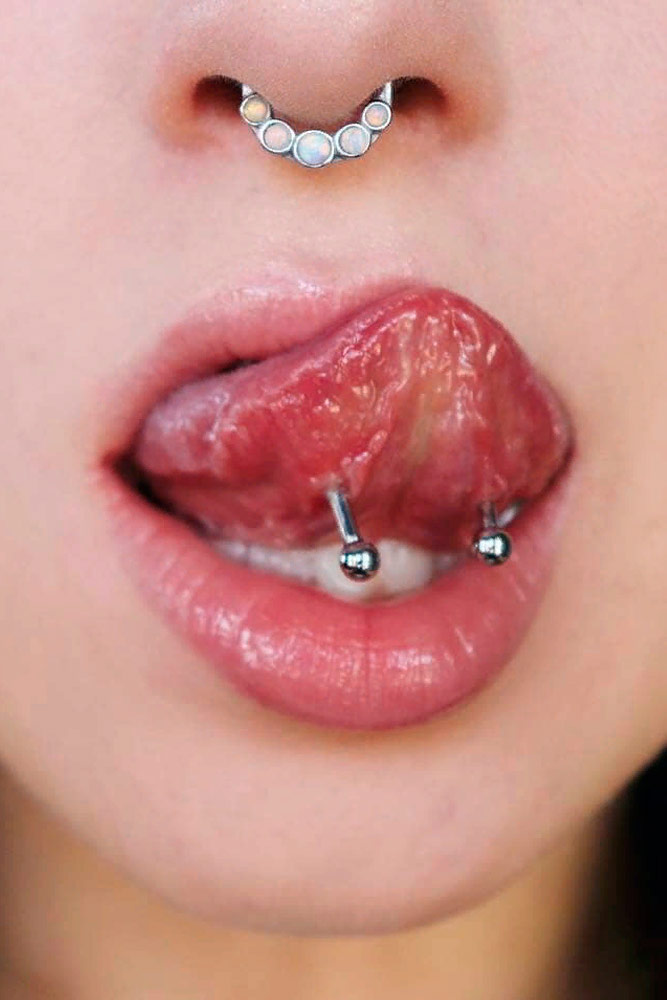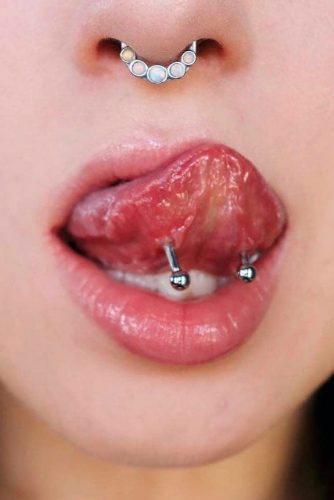 Source: piercingstagram via Instagram
Now when you know which metal is bad for your fresh, it is time you learn about best nose piercing jewelry metals. There are actually three best metals to suit the freshly made piercing – surgical steel, gold or titanium. Either of these will help your piercing heal faster and safer.
Nose Piercing Jewelry
Now, let's have a closer look at the available nose piercing options so that you are able to choose the best for yourself.
Nose Bone And Studs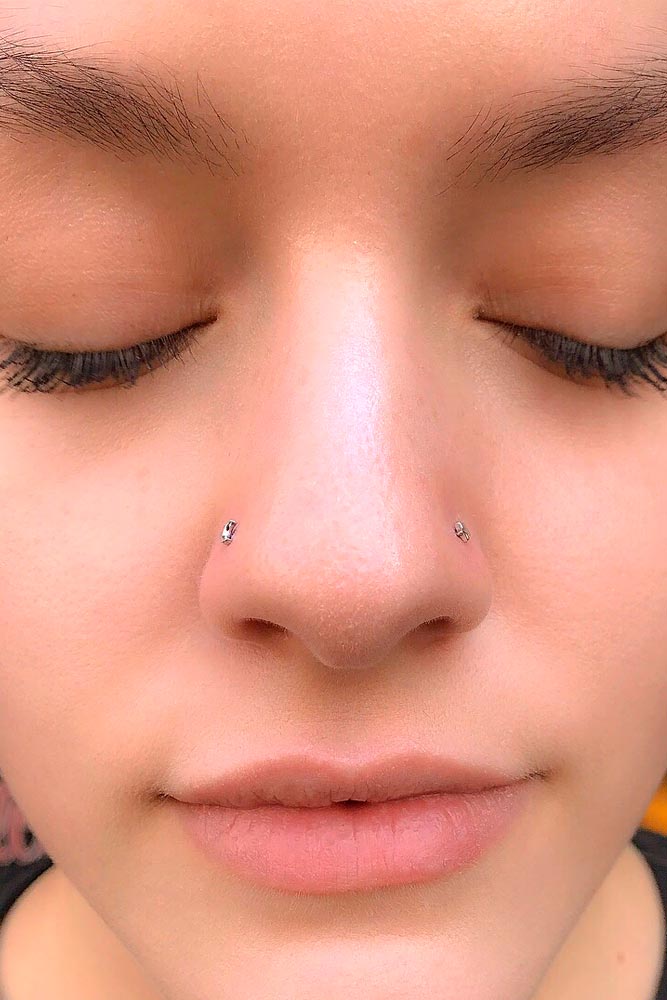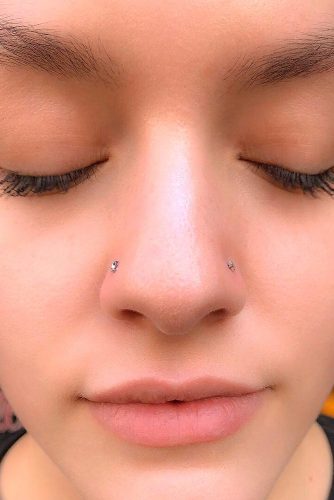 Source: wklp via Instagram
Nose bone piercing or stud is a straight kind of a piercing that goes directly in the hole and is pretty easy to remove. Besides, all nose bones come at a huge variety of designs so that there is certainly something special for each and every one of you. What is more, such a piercing is easy to clean, and if it is your fresh piercing, it is undoubtedly a plus for you.
Nose Rings And Hoops
Another favorite variety of nose piercings would be the nose piercing ring or hoop. They are also suitable for the beginners at body modifications because they do not require a lot of skill to be pulled out or to be cleaned, besides the ring does not pressurize the nostril so that it does not swell badly. However, you need to be careful with choosing a proper size of a ring or hoop so that it is neither too small not too big.
Circular Barbells
Circular barbells are very popular when it comes to septum piercings since they are easy to put in no to mention that they are easy to hide without being taken out. For example, if you are headed to a formal, even all you need to do is to turn your barbell upside down, and no one will even notice that there is a piercing in your nose.
Types Of Nose Piercing You'll Enjoy
In case you are new to the world of nose piercing, you may be still unaware of all possible variations, and that is what we are going to take care of right now!
Septum Nose Piercing
Septum piercing usually goes as a bull-ring piercing too. It means that your septum in the middle of the nose is pierced. In most cases, it does not require the piercing of cartilage itself so that it heals faster and is less painful.
Nostril And High Nostril
Nostril piercing is the most common one and probably the least painful one not to mention that it heals pretty fast, up to 2 months. However, high nostril piercing is slightly different not only due to the position but also due to the complicity, and it takes a real piercing addict to opt for it. High nostril piercing is something in-between a regular one and a bridge one.
Septril Nose Piercing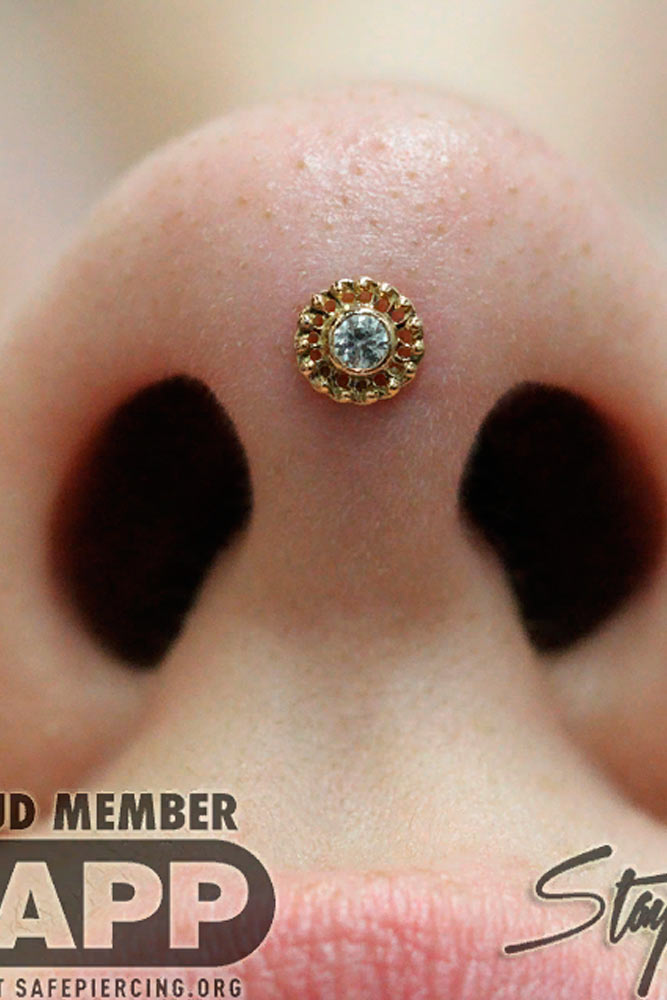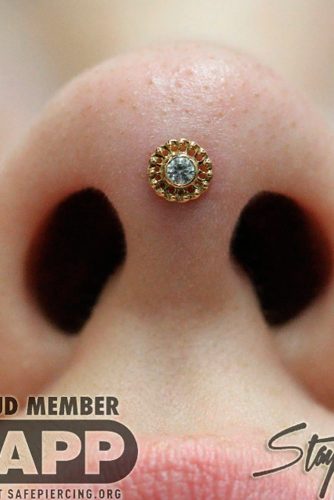 Source: staytruebodypiercing via Instagram
Septril piercing is probably the most complex and the newest type of nose piercing. The thing is that the piercing resides right under the tip of your nose but in order to get there you need to start with the heeled tunnel in your septum. After your tunnel is healed and reaches up to 8mm, then you can opt for a sepril one.
Bridge Piercing Types
As we move on the types of nose piercings, become less and less usual, and this is when we get to the bridge piercing itself.
Bridge Piercing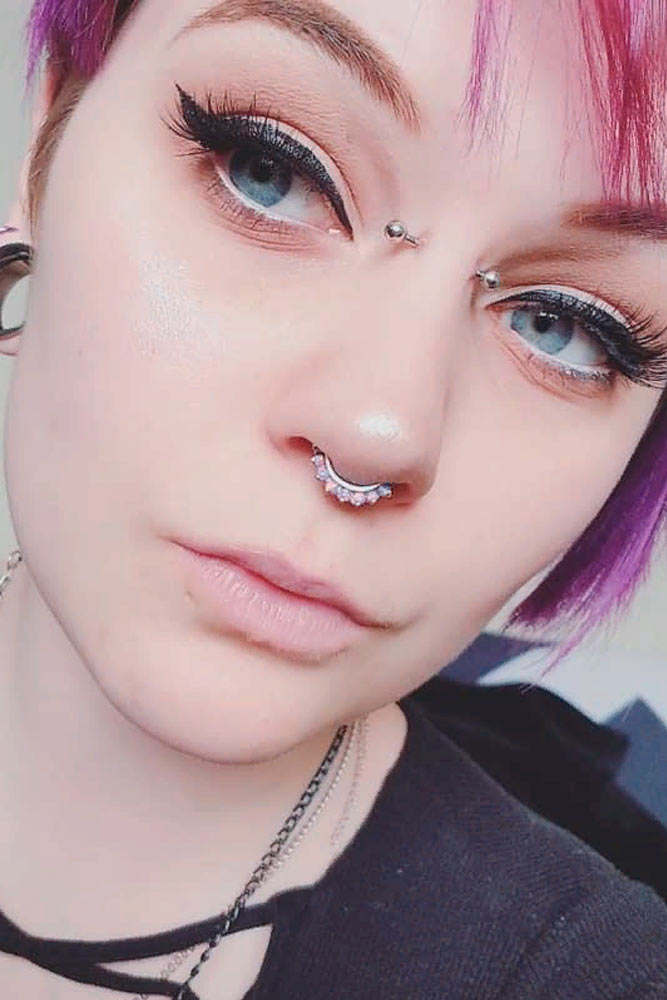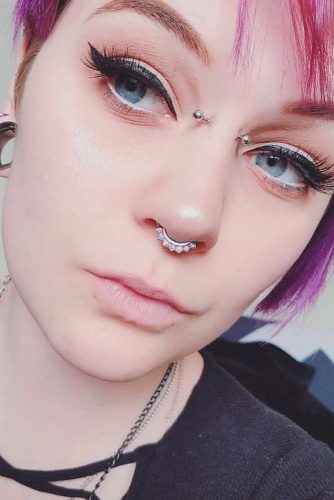 Source: xbeetlejuice via Instagram
The thing is that bridge piercing is the one on the top of your nose right between the eyes. It is true that not all the people will be daring enough to opt for it. Those who take the chance need to know that there are some dangers of getting it especially from the unprofessional source. That is why if you decide to get this horizontal type of nose piercing you have to make sure that you entrust yourself in the hands of a professional.
Third Eye Or Vertical Bridge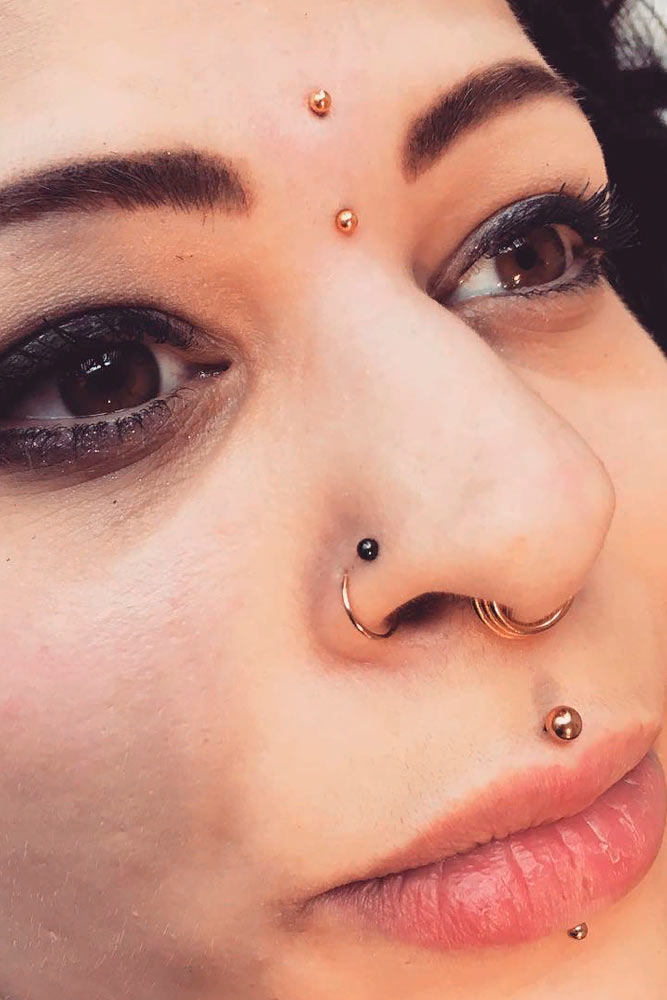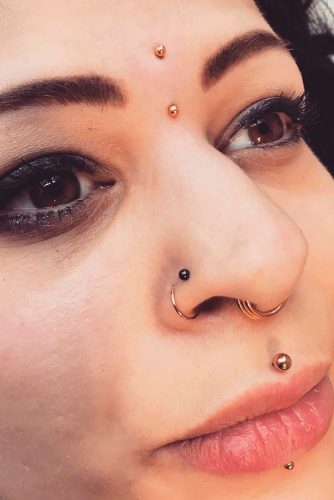 Source: el_mundo_piercing_bern via Instagram
The horizontal bridge has another unusual variation – a vertical one or a third eye one. It is true that it looks impressive and quite other-worldly, but one thing still stands – make sure you have it done by professionals only.
Nasallang Nose Piercing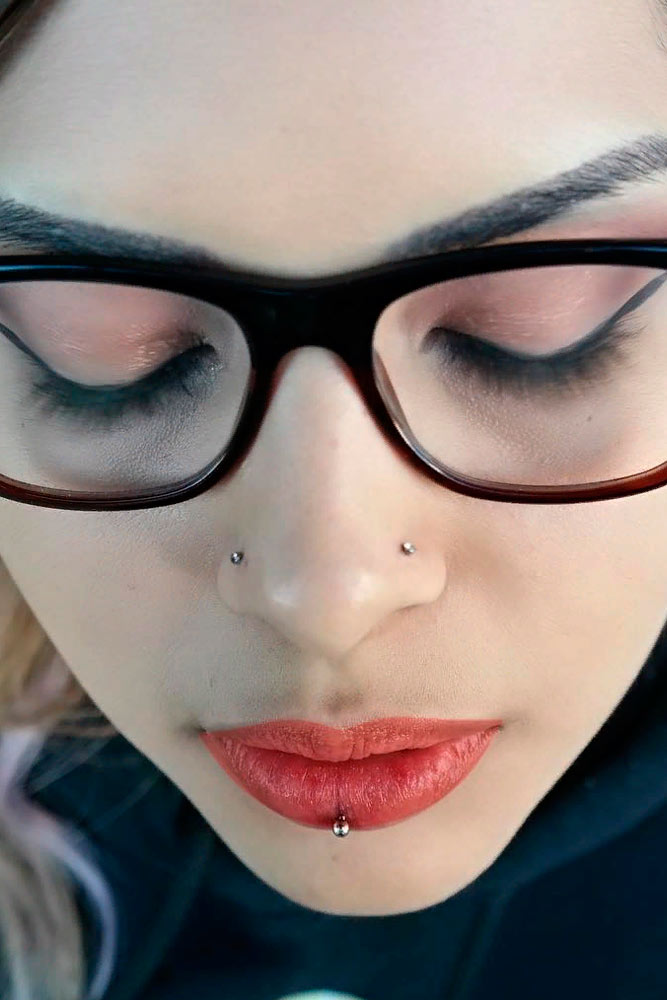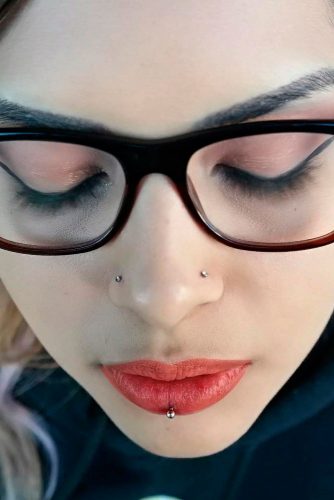 Source: piercings_by_jessenia via Instagram
Very often nasallang nose piercing is confused with double piercing. However, it is one solid piercing going through your nose, not two separate one. That is why it is still qualified as a bridge piercing and lies somewhere in-between a regular bridge and septum.
More Variations Of Nose Piercing
It is true that there are some other unusual types of nose piercings and we will review them too.
Austin Bar Nose Piercing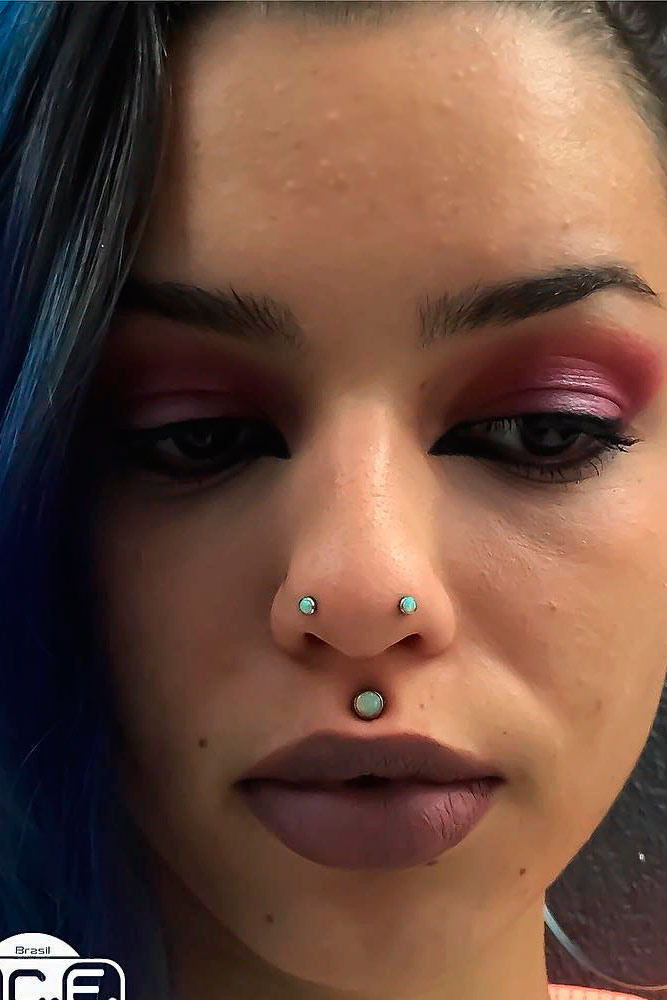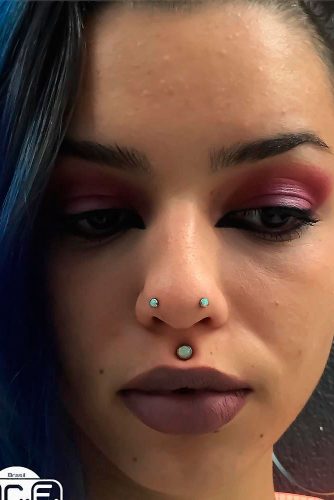 Source: piercersnoopybr via Instagram
This is truly rare kind of nose piercing and is actually named after the first person who got it. The difference between Austin bar and nasallang lies in the fact that does not go through the septum and pierces the nasal tip through the point of nose.
Rhino Nose Piercing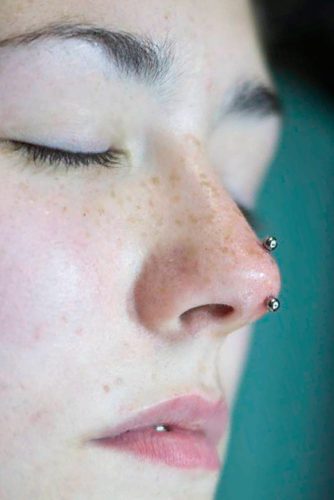 Source: foxtattootexas via Instagram
When you think about the rhino piercing it is quite easy to imagine how it looks like. The truth is that it actually looks like a rhino horn and pierces the tip of your nose literary. The fact is that this type of piercing is still pretty new and not so many people have experimented with it yet.
Double And Multiples Nose Piercing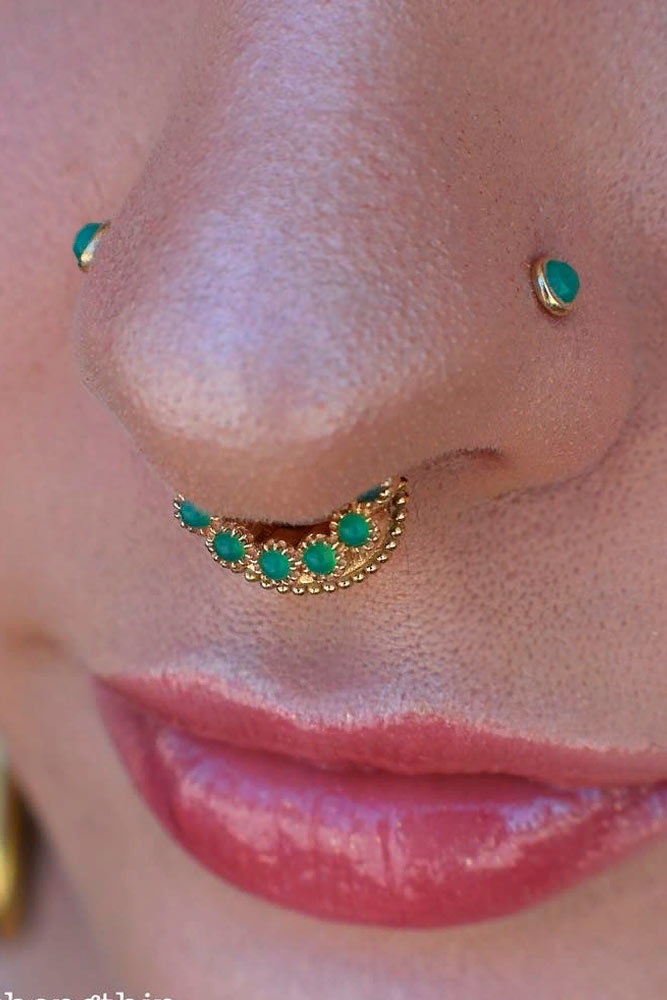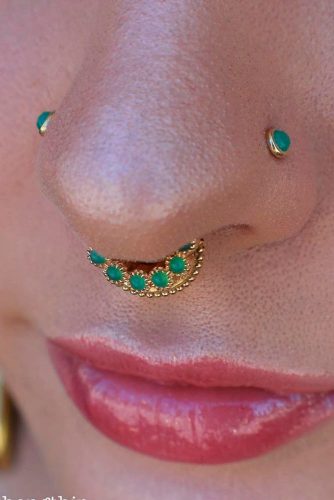 Source: dchanthongthip via Instagram
Last but not least it should be mentioned that there are people who can't get enough h of nose piercings and instead of just one – they take things further and get a few of them. The key point here is to learn how to mix and match them so that they all end up looking cute and unique but not out of place.
Pierced Nose Aftercare
Piercing your nose is just half of a deal. The thing is that every piercing needs proper aftercare and nose one is not the exception.
How To Care For A Newly Pierced Nose? Useful Tips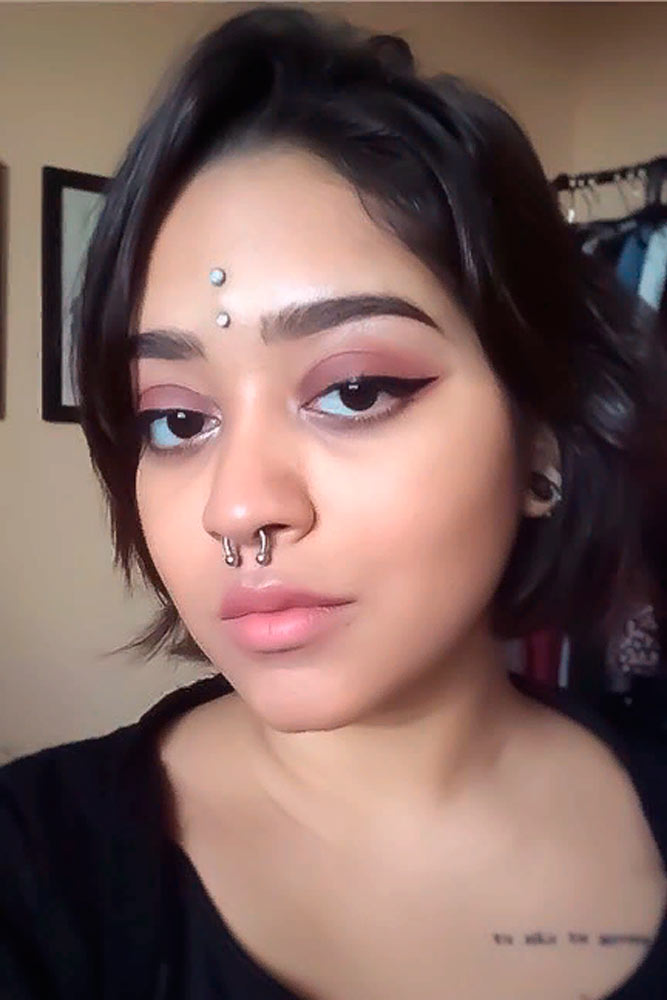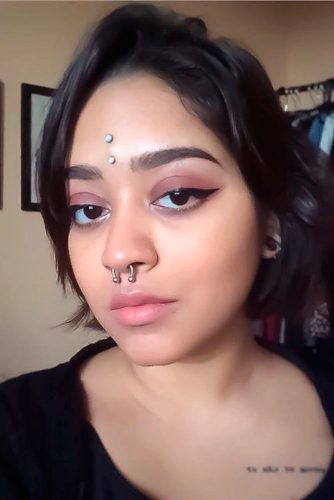 First of all, you need to clean your fresh piercing not less than twice a day.
You can use a store-bought antiseptic, or you can make your own one, all you need to do is to dilute some sea salt in water and clean the piercing with salt water.
Do not forget to wash your hands before the procedure.
Wipe your nose clean and dry with a clean towel.
Soak a Q-tip in the solution and remove all the crust and what not around the piercing, from both sides, make sure you are doing it all gently.
Add some lavender essential oil to the area around the piercing to promote the nose piercing healing.
You Should Avoid To Do These Things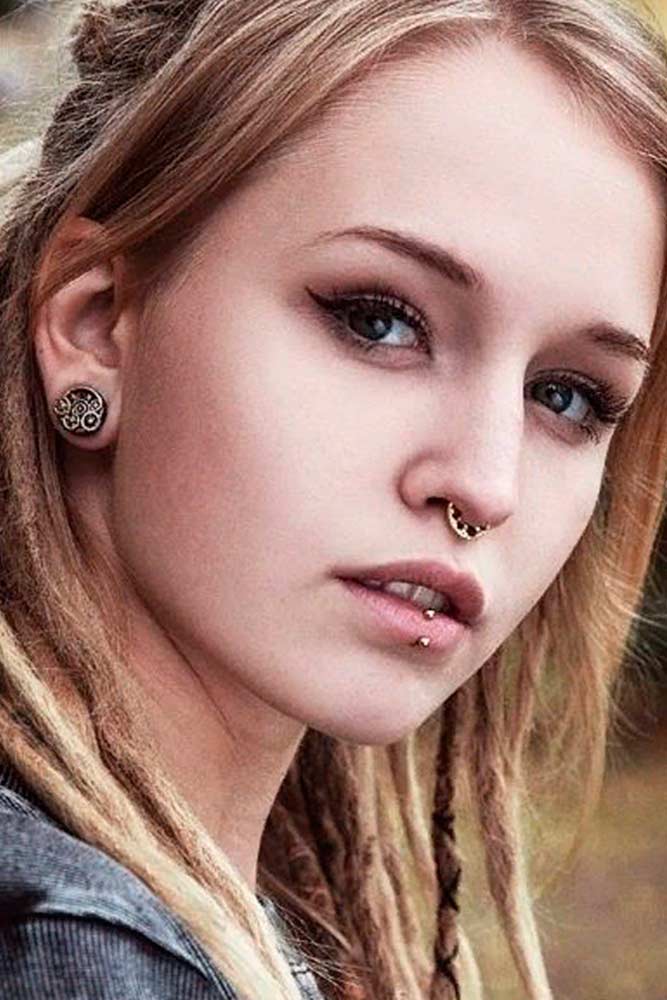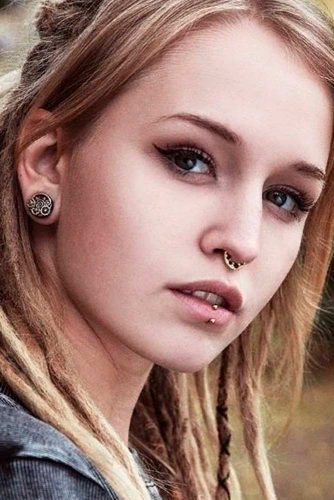 Source: crazyfactorypiercing via Instagram
There is a list of things to avoid too:
Make sure you are sleeping on a clean pillowcase so that bacterial has not a chance to spread.
A hot bath is your enemy for a while, make sure you do not submerge your piercing under hot water in no case.
Do not take the piercing out until it heals in no case.
Do not cover the piercing area with makeup.
Harsh antiseptics should be avoided at all cost too.
Why So Impotant To Care About Your Pierced Nose?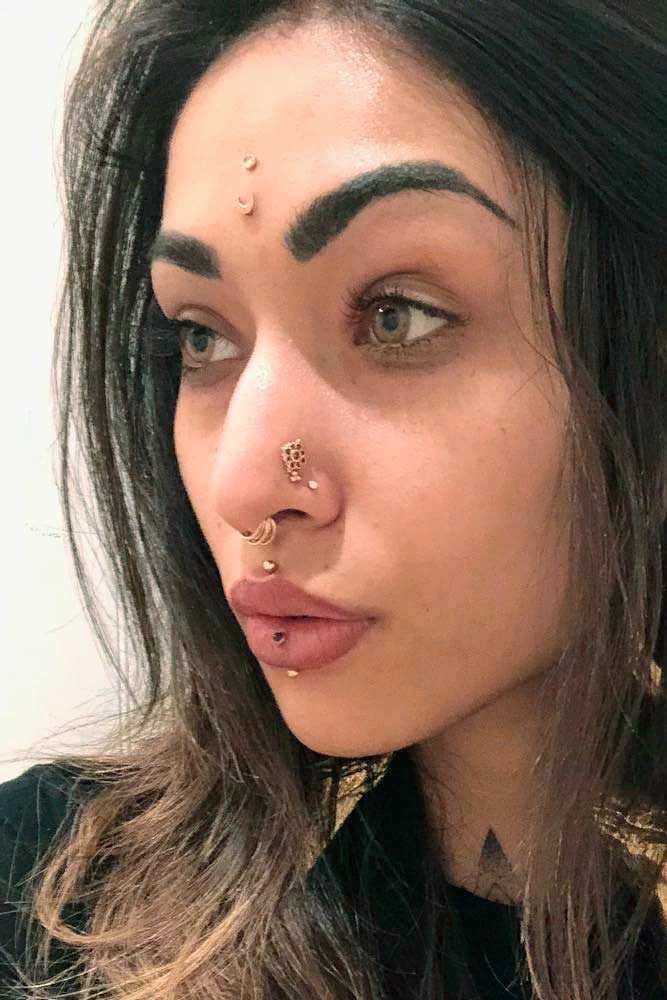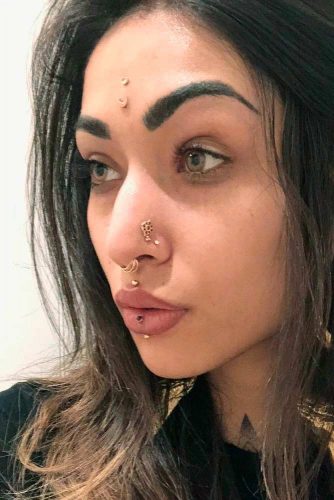 Source: catarinataylor via Instagram
After you undergo all the pains of getting the piercing, it may seem that the worst has passed, but that is not the case. The thing is that if you do not care well for your pierced nose the infection may begin and that will lead to a list of severe and unpleasant consequences, and you surely do not want all that effort to go in vain just because you were lazy enough to clean your piercing twice a day, right? It take up to 4 months for some areas to heal but if you take proper care of the wound you may speed up the process, or it can be vice versa so that you have to be careful and thorough when it comes to any body piercing especially the one like nose piercing.
FAQ: Nose Piercing
What does a nose piercing symbolize?
During the hippie movement it was seen as a sign rebellion and freedom.
In India when a girl got a nose piercing, she was ready to get married. In some parts of Africa, it symbolizes wealth of the family or which tribe a person belongs to.
Nowadays, it its viewed as a stylish accessorize and won't bear any particular symbolism unless you give your meaning to it.
What is the correct side to pierce your nose?
According to Ayurvedic medicine, piercing on the left side connects the mind and body and relieves the labor pain. In Chinese tradition, left side was common to get pierced by women and the right one by men.
The left side is more preferable traditionally, however, it is not a rule. When deciding the side for your nose piercing, take into account other piercings you have, the shape of your face, your hairstyle and figure out which side can flatter you more.