The present generation is infatuated with developing a lighter skin tone. Expensive skin care products do more harm than good to your skin in the long haul leaving you with dry skin. As a result, more people are interested in natural skin care remedies in order to improve their skin tone. In this guide, you can learn how to lighten your skin tone using only natural products.
Yoghurt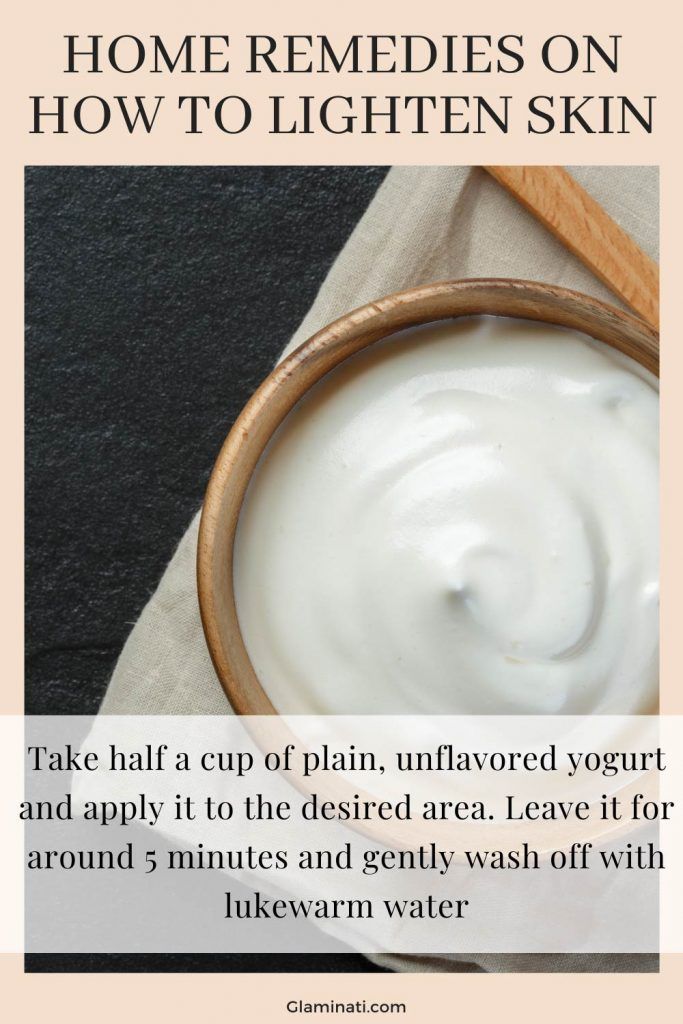 Try yoghurt if you don't know how to naturally lighten skin. Produced by fermenting milk overnight, which gives it the sour taste, yoghurt is rich in lactic acid and is also known for its bleaching properties. Lactic Acid contains alpha hydroxyl acids (AHAs). It acts as an exfoliating agent and gently removes the dead cells from the uppermost layer of the skin. Simply take half a cup of plain, unflavored yoghurt and apply it on the desired area. Leave it for around 5 minutes and gently wash off with lukewarm water. Repeat this process daily for several weeks to notice significant change in skin complexion.
Gram Flour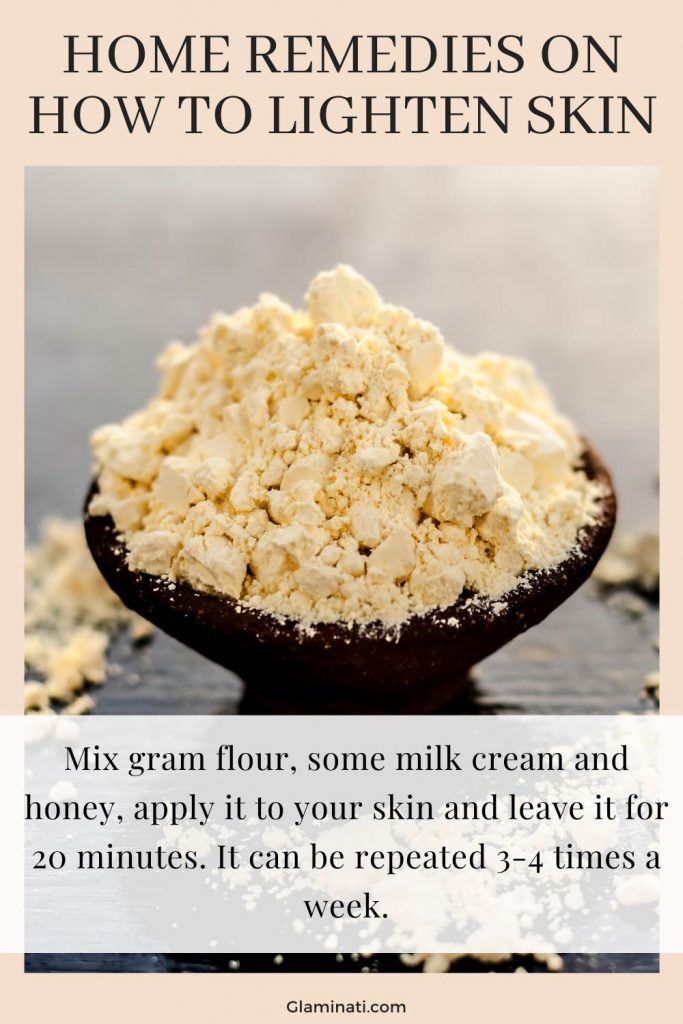 Gram flour is used extensively in Asia as an exfoliating agent. It is also used to lighten the skin tone. It can be applied all over the body to have a gentle message. It helps to remove the dead skin cells and excess oil from your skin and adds essential nutrients. As a result, your skin attains a natural glow. Mix gram flour, some milk cream and honey, apply it to your skin and leave it for 20 minutes. It can be repeated 3-4 times a week.
Lemon
Due to the acidic nature of lemons, it is a powerful bleaching agent and works just as good as any commercial skin bleach cream. However, you need to limit the usage of lemon based skin lightening recipes (no more than 3 times a week) because of their strong ability to bleach which may result in dry skin. The vitamin C content in lemon also helps in the growth of new skin cells, while the antioxidants present in it help to improve the skin complexion. Rub a lemon directly over your face or use a cotton ball, squeeze some juice into it and apply all over. It can be mixed along with turmeric powder, or with milk powder and honey for even better results.
Oranges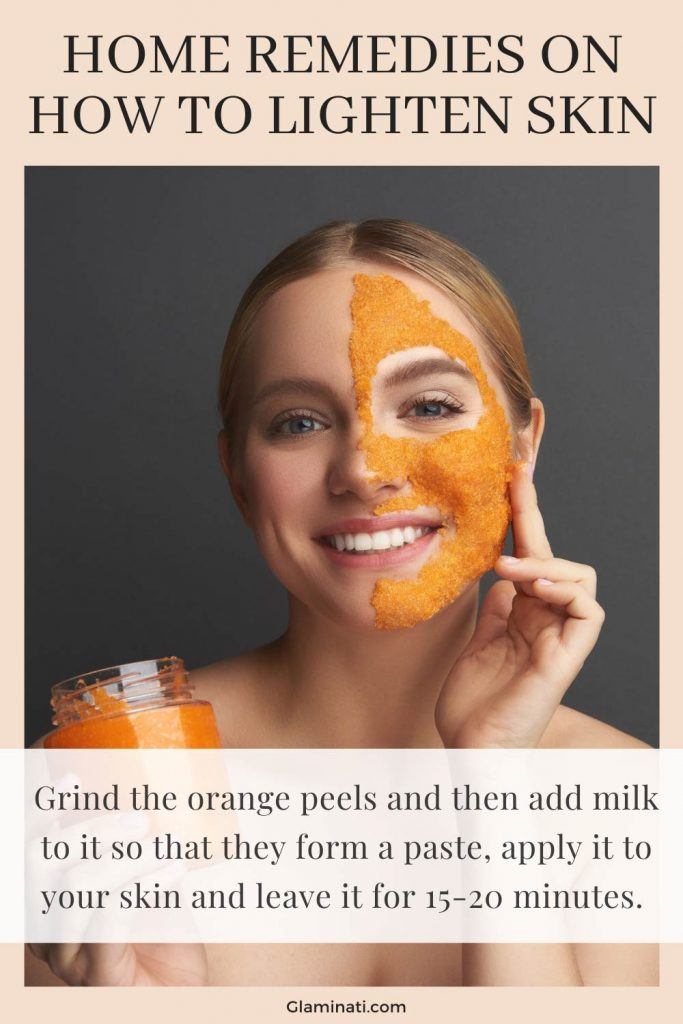 Oranges are a rich source of Vitamin C, an essential nutrient for proper skin care. Plus, it also has bleaching properties like yoghurt which helps in lightening your skin tone. Consuming oranges or the juice regularly will help you improve your skin texture and make it suppler. Another effective way to improve your skin tone is by applying an orange peel and milk paste. Grind the orange peels and then add milk to it so that they form a paste, apply it to your skin and leave it for 15-20 minutes. This process can be done daily.
Honey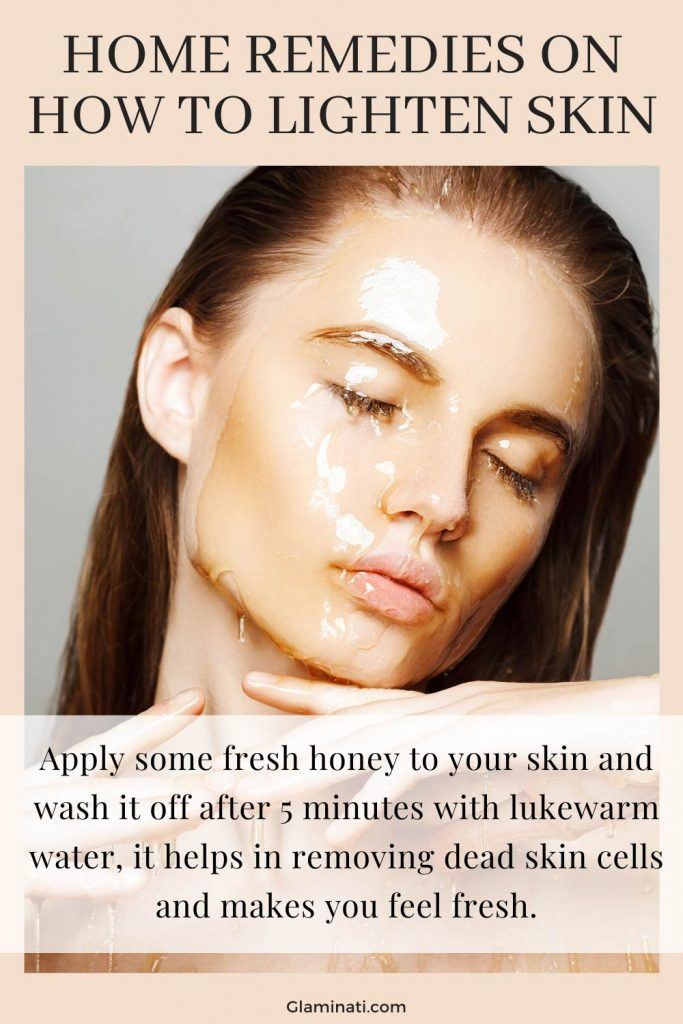 Honey acts as a skin moisturizer as well as a bleaching agent. Proper moisturizing of the skin is necessary as it will help to maintain an even skin tone as well as help fade old scars and pock marks. Always remember to use fresh honey as it always packs in more goodness than the processed honey you get at the store. Simply apply some fresh honey to your skin and wash it off after 5 minutes with lukewarm water, it helps in removing dead skin cells and makes you feel fresh. Honey can be used as a base for many remedies, and you can learn more online on how to apply these to naturally lighten your skin.
Turmeric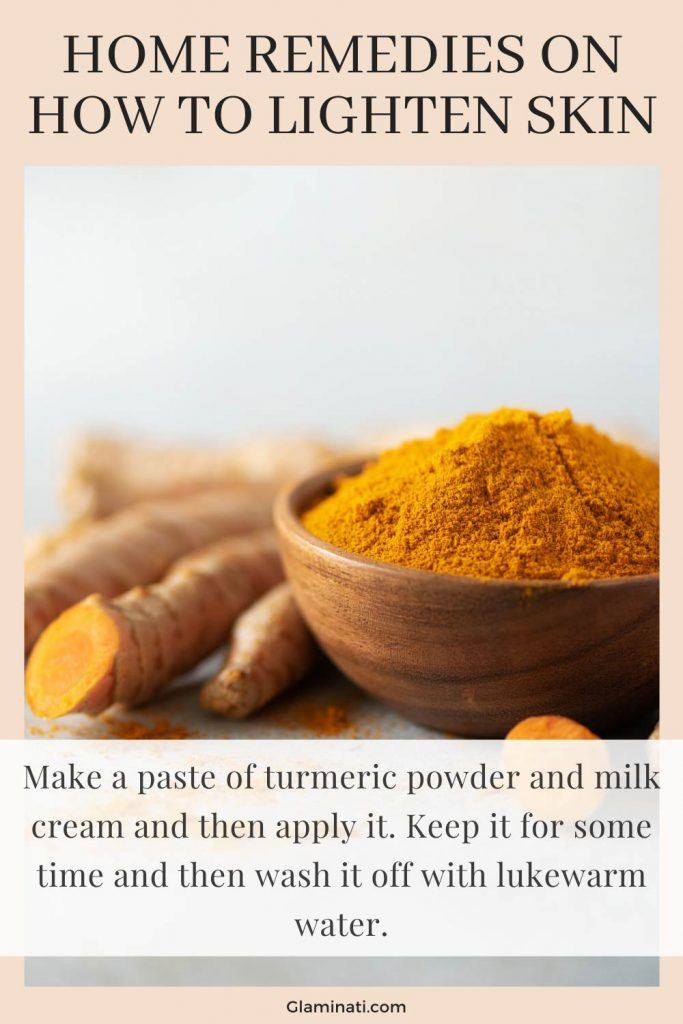 Turmeric has been widely used in India since ancient times in order to get glowing and younger looking skin. Its antiseptic and anti-inflammatory properties also help eliminate uneven skin lines and acne. To benefit from its goodness, make a paste of turmeric powder and milk cream and then apply it. Keep it for some time and then wash it off with lukewarm water. Alternate options for making a paste include mixing gram flour, turmeric powder and lemon juice which needs to be applied and kept on your face for around 20-25 minutes before being rinsed off to get that sublime glow.
Aloe Vera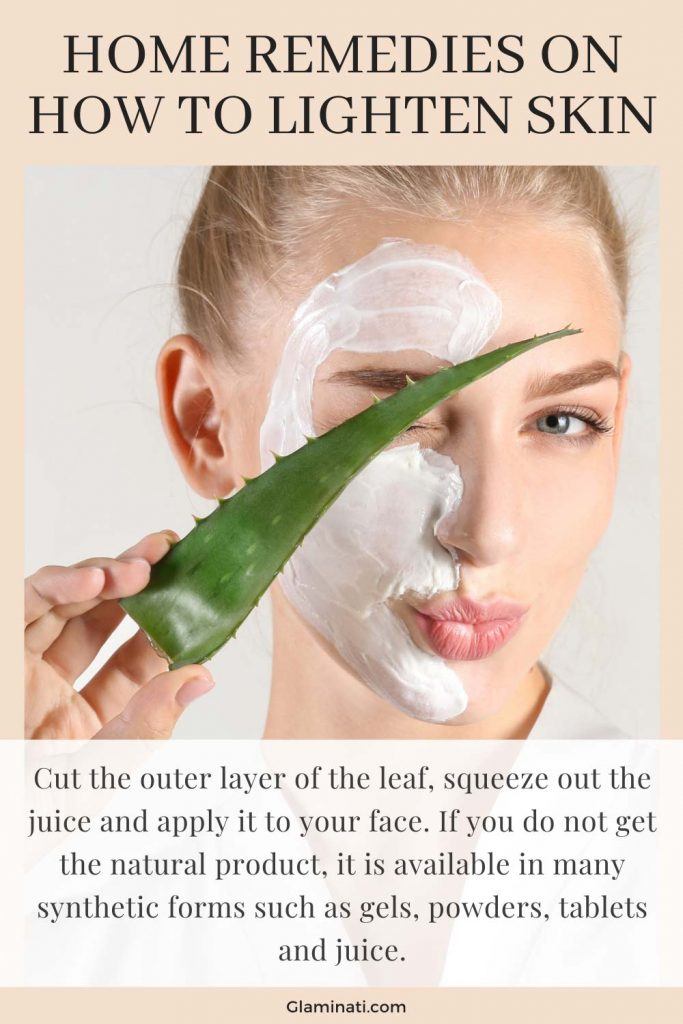 Besides being one of the most effective hair growth treatments, Aloe Vera aids your skin, too. It assists in extensive removal of dark spots on your skin thus giving a lighter complexion. It contains numerous vitamins, enzymes and nutrients which help in dealing with many skin problems. The cooling effect of Aloe Vera also facilitates the process of creating and nurturing new skin cells and rebuilding the damaged ones, which is very important for maintaining healthy skin. Simply cut the outer layer of the leaf, squeeze out the juice and apply it to your face. If you do not get the natural product, it is available in many synthetic forms such as gels, powders, tablets and juice. You can find more tips how to lighten skin tone using the goodness of Aloe Vera online.
Papaya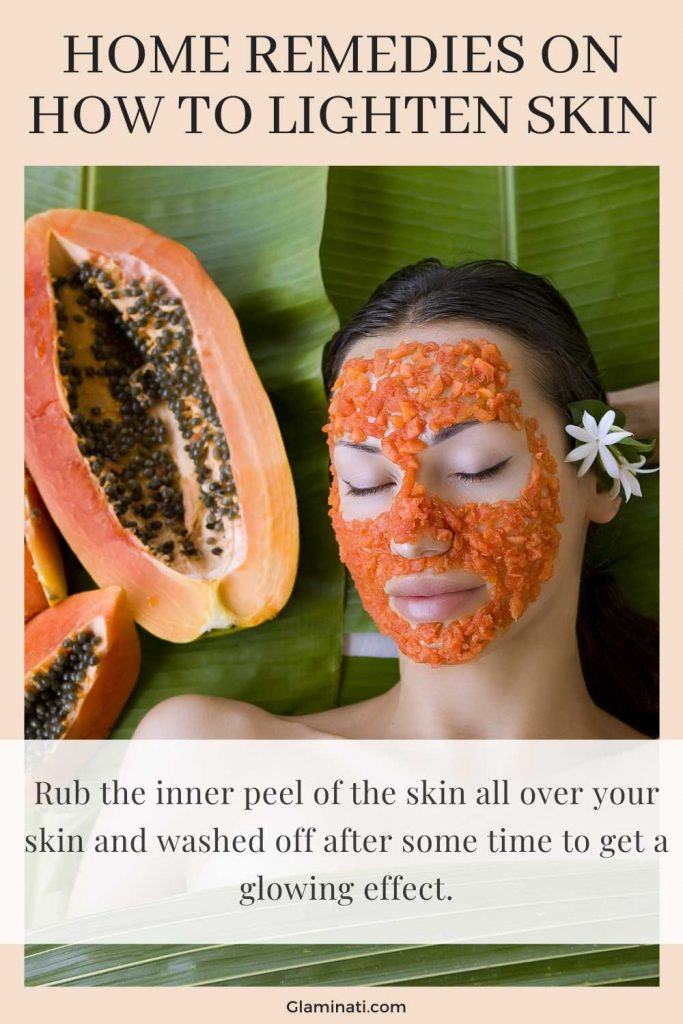 Papaya is rich in anti-oxidants and has numerous benefits to offer. It is regularly used in spas and beauty treatment nowadays to help improve skin complexion. Its natural bleaching properties also make your skin look younger and give out a natural glow. Consuming it is the best way to get all its goodness, or the inner peel of the skin can also be rubbed all over your skin and washed off after some time to get a glowing effect. A paste of papaya and lemon can also be applied to get better results when it comes to improving skin complexion.
Cucumber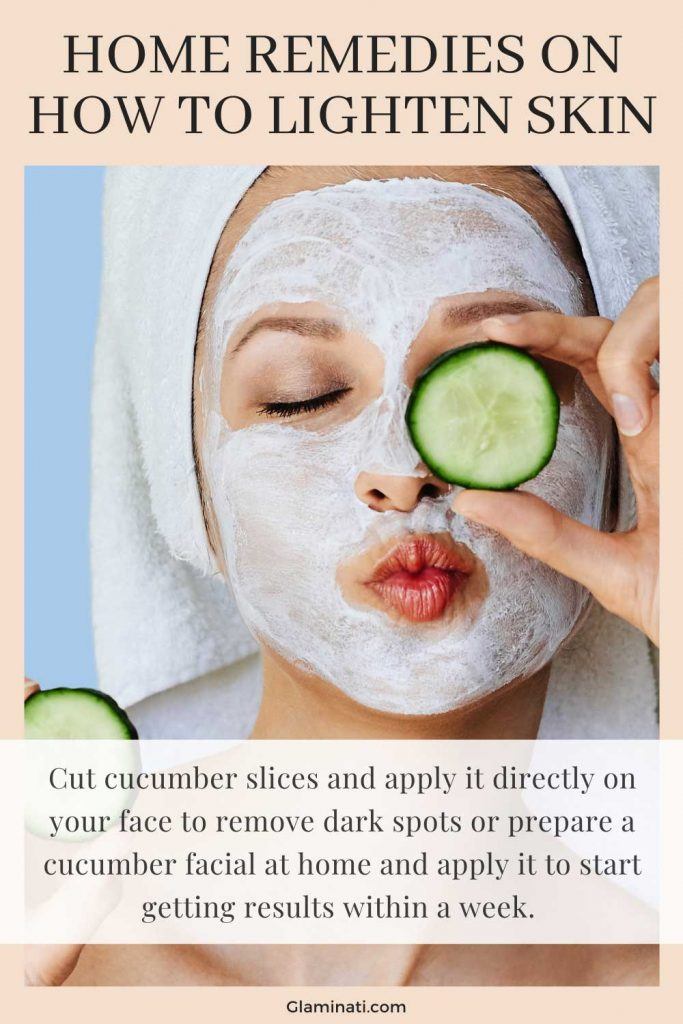 The cooling and soothing effects of cucumbers help in making your skin fair and flawless. Cucumber contains collagen, a type of protein which helps in keeping your skin firm. You can cut cucumber slices and apply it directly on your face to remove dark spots or prepare a cucumber facial at home and apply it to start getting results within a week. Facials can be made using cucumber as the base and mixing it up with honey and lemon juice and then applied on a daily basis in order to get a light skin tone.
Oatmeal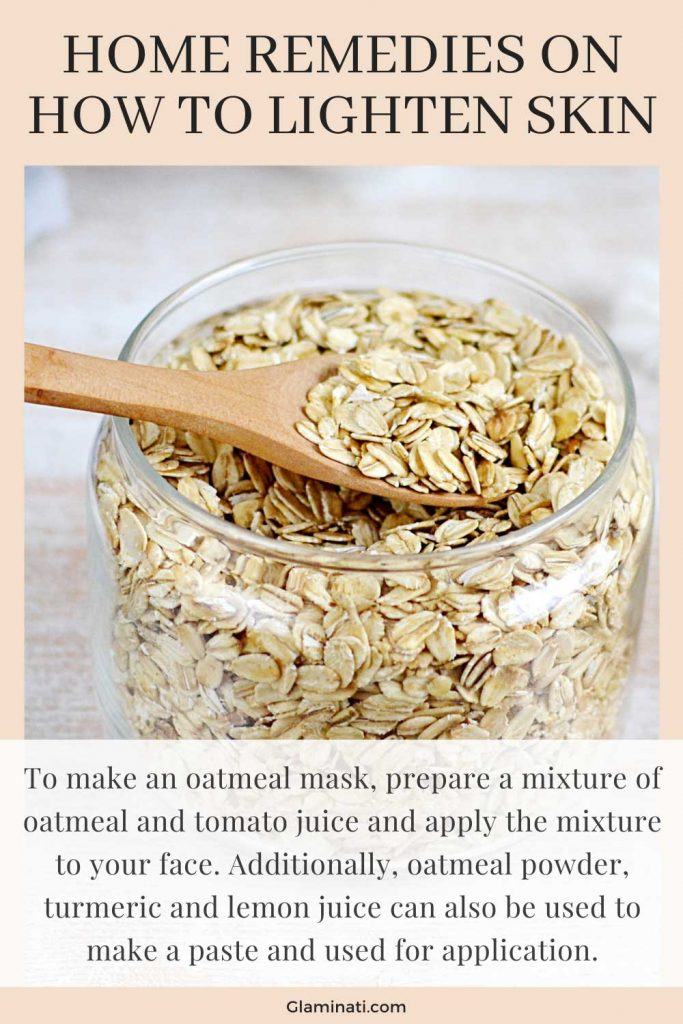 The best way to help regeneration of new skin cells and improve your skin tone is to get rid of old and dead skin cells and an oatmeal mask is one of the best ways to do that. To make an oatmeal mask, prepare a mixture of oatmeal and tomato juice and apply the mixture to your face. Additionally, oatmeal powder, turmeric and lemon juice can also be used to make a paste and used for application. Keep it on for 30 minutes before rinsing it off with cold water.

So these are some of the best skin care tips if you are thinking how to lighten skin tone and make your skin look younger, soft and supple and thus improve your overall appearance. Start applying the products and see visible changes within the first 7 days!
FAQ: How To Lighten Skin
How can I lighten my armpits fast?
For an effective lightening mask mix 3 tbsp baking soda, 1 tbsp turmeric, 1/4 cup of heavy whipping cream, 2 tbsp of honey, 1 squeezed lemon. Stir it well.
Apply it to your underarms with the back of a spoon. Turmeric will stain your clothes, hands.
Leave it for 10 minutes and wipe off afterwards. Repeat for 3 days to see the result.
How can I lighten my dark knees and elbows?
Massage lemon juice on your elbows and knees and leave it on for 15 minutes.Then you can wash it off with water.
Rub a slice of cucumber on your elbows and knees and leave it on for 15 minutes. Then you can rinse it with water.
Take 2 tablespoon oats, add 2 tablespoon honey and juice of half lemon. Mix all the ingredients. Apply it on the knee and elbow in circular motion for 10-15 minutes. Rinse with warm water. Repeat 2-3 times a week.
Aloe Vera & Yogurt or Milk. Take out fresh 2 tablespoon aloe vera gel from an aloe leaf and mix it with two tablespoons of yogurt or milk and half pinch of turmeric powder. Apply it on dark elbows and knees. Massage & leave for 30 minutes. Wash off with water. Repeat on alternate days for best results.