Inexpensive And DIY Fall Decorations: Get Inspired
Fall decorations ooze special mood-boosting vibes that are so necessary when the weather gets cooler. And if you wish to embellish your home, yard or front porch with fall décor pieces, you have two options.
Read on to explore décor ideas with fall-themed elements for the new look of your interior and exterior.
Best Ideas Of Home Decor With Fall Foliage
Think about that time of the year when leaves begin altering their color, and we can observe the real miracle outside. Why not incorporate that beauty of fall foliage in your home décor?
Fall Foliage Arrangement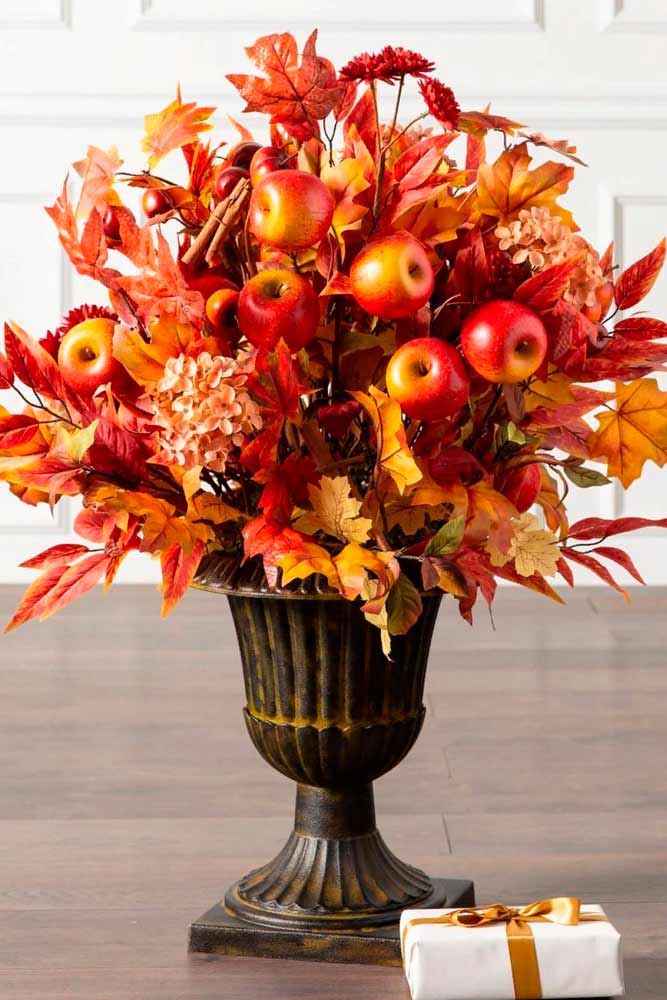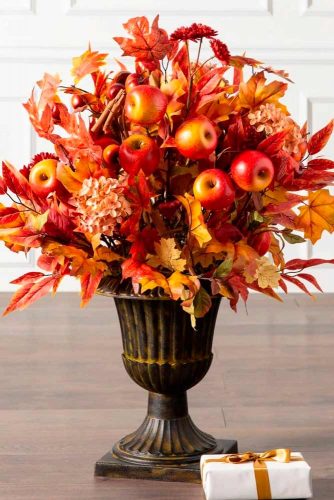 Source: balsamhill via Instagram
Add some fall flair to your room with a boho vase like this, full of colorful fall foliage and apples. The vase is not small, so it will look awesome anywhere, either on the floor or on the table.
Porch Decoration With Leaves And Pumpkins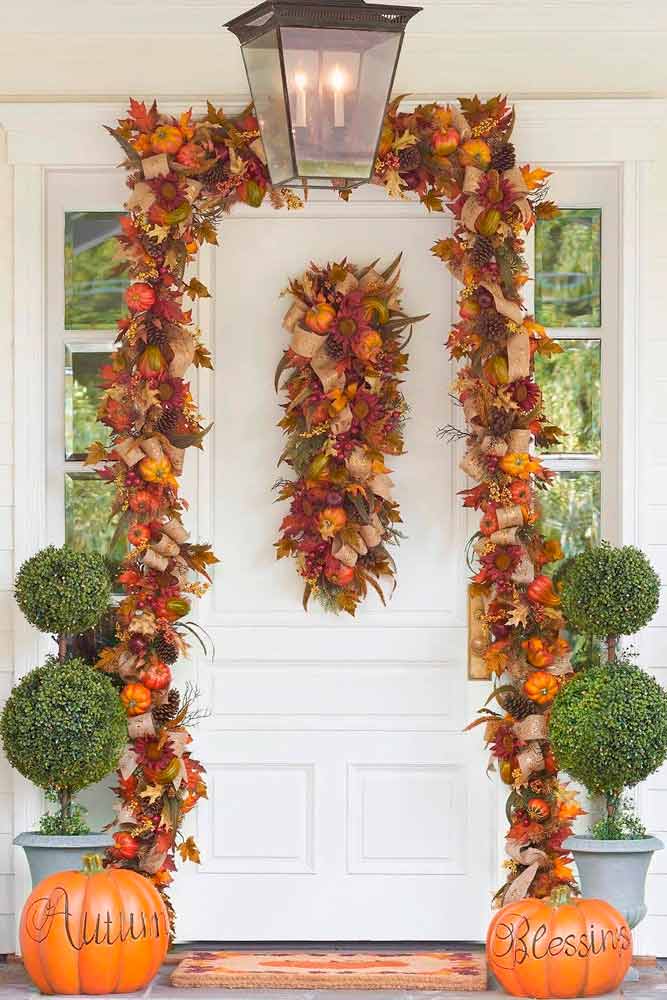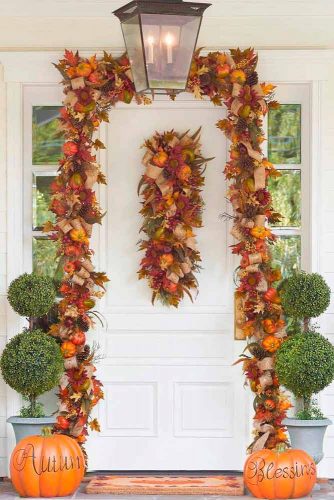 Source: balsamhill via Instagram
Fall decorations for front porch often involve pumpkins and leaves. Just look at these garlands made of leaves, pinecones, and small pumpkins. Aren't they amazing? And bigger pumpkins have such nice carvings.
Fall Foliage Décor For A Dining Room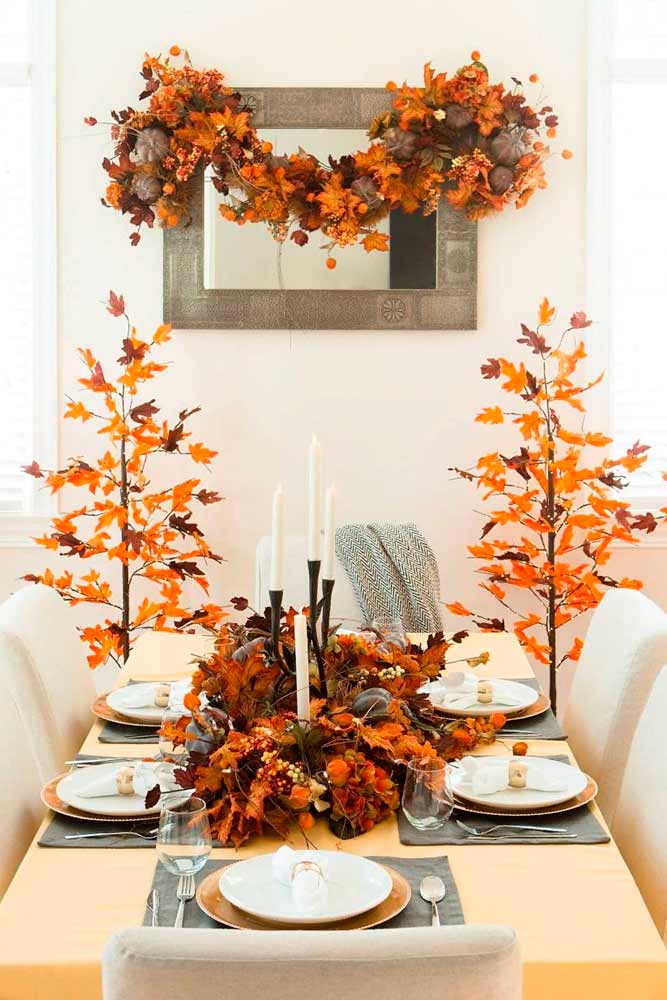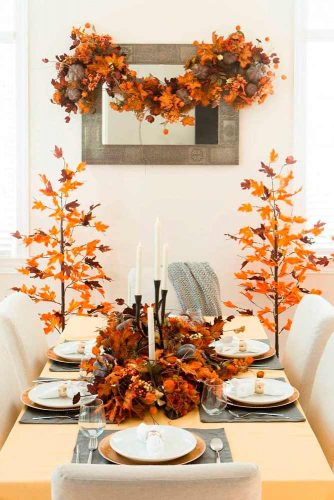 Source: balsamhill via Instagram
This option might be awesome for those who are looking for cheap fall décor ideas. What can be cheaper than foliage? All you need to do is gather the leaves and arrange them in garlands, fake trees, and a centerpiece as shown here.
Fall Candles And Candle Holders Decoration Ideas
Candles are essential for creating the coziest atmosphere in our homes. Imagine relaxing with a book and some hot tea surrounded by candles that are dressed for the fall season. We already envy you!
Elegant Decoration With Leaves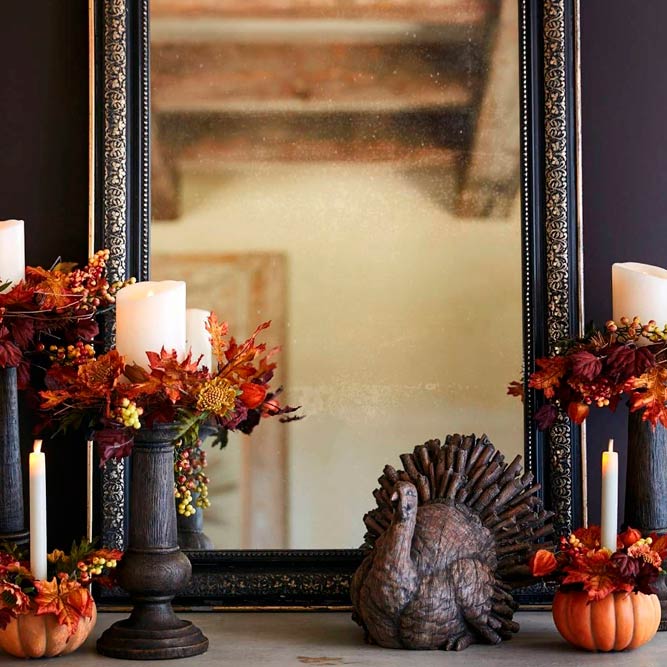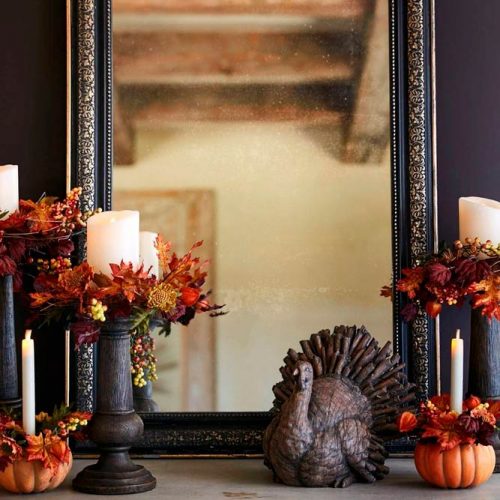 Source: balsamhill via Instagram
Sometimes even subtle indoor fall decorations can do the talking. As you can see here, a pumpkin can serve as the cutest candle holder. And manufactured candle holders can be embellished with foliage, too.
Rustic Candle Holders And Tiny Pumpkins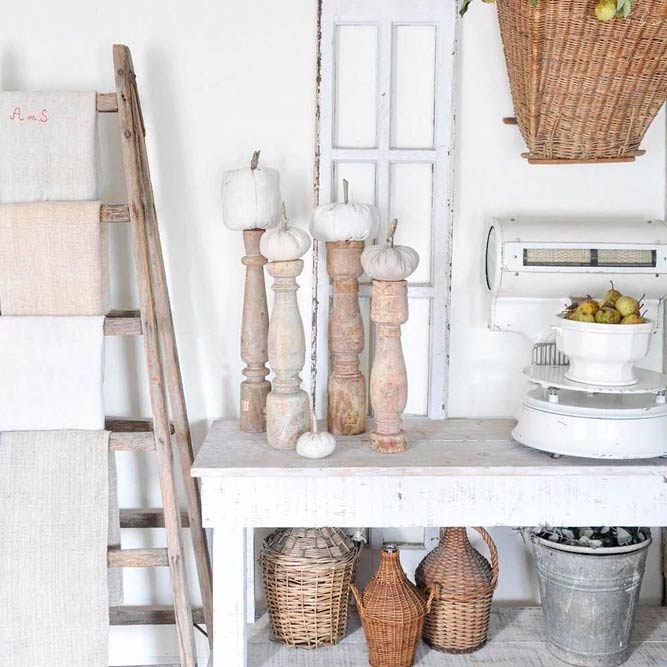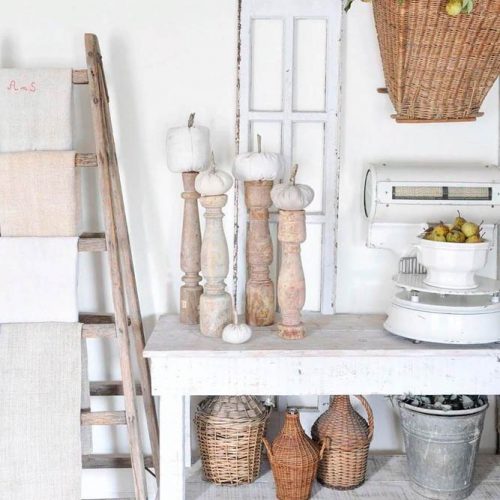 Source: purplerosehome via Instagram
Are you into rustic décor? Then this idea might be exactly what you are looking for. Candleholders made of light-colored wood look so stylish with tiny pumpkins in a similar color on top.
DIY Bottle Candle Holders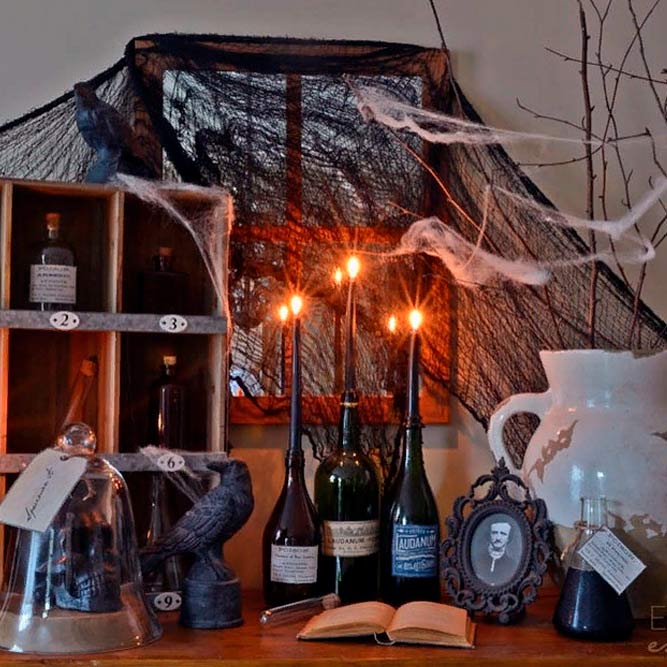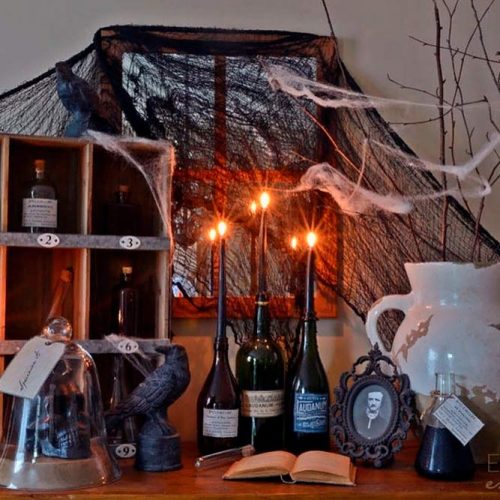 Source: ninahendrickdesign via Instagram
Some things definitely deserve upcycling. Especially if we are talking about bottles where expensive alcohol once lived. Or maybe these are bottles that represent some special moment in your life. Save them and use as décor pieces. As you can see in this pic, you won't need anything special – the bottles are already perfect candle holders.
Cozy Home Décor For Fall
In case you wish to feel super cozy at home, we have some ideas for you. Enjoy every fall day no matter what the weather is like. As they say, your home is your castle.
Greenery Seasonal Centerpiece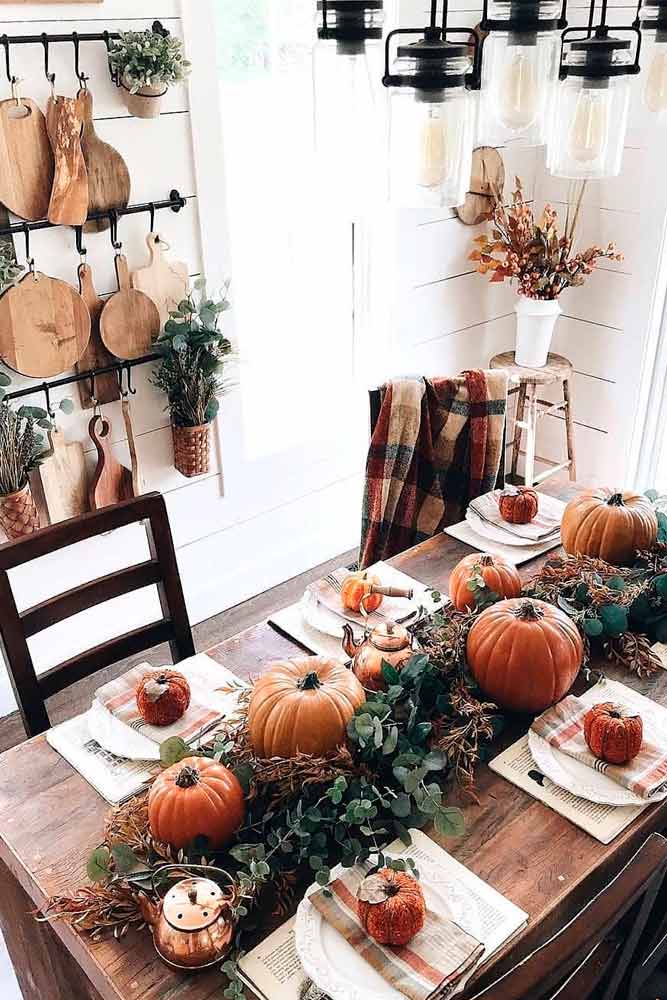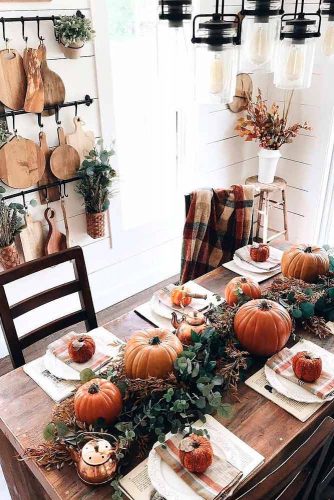 Source: southernjarringco via Instagram
There is something laid back about this dinner table arrangement, how do you think? And truly, why not let your dining space be more casual? This centerpiece is a bit heavy, but no one says that you can ever have enough pumpkins when it comes to décor.
Seasonal Gourds For Home Decoration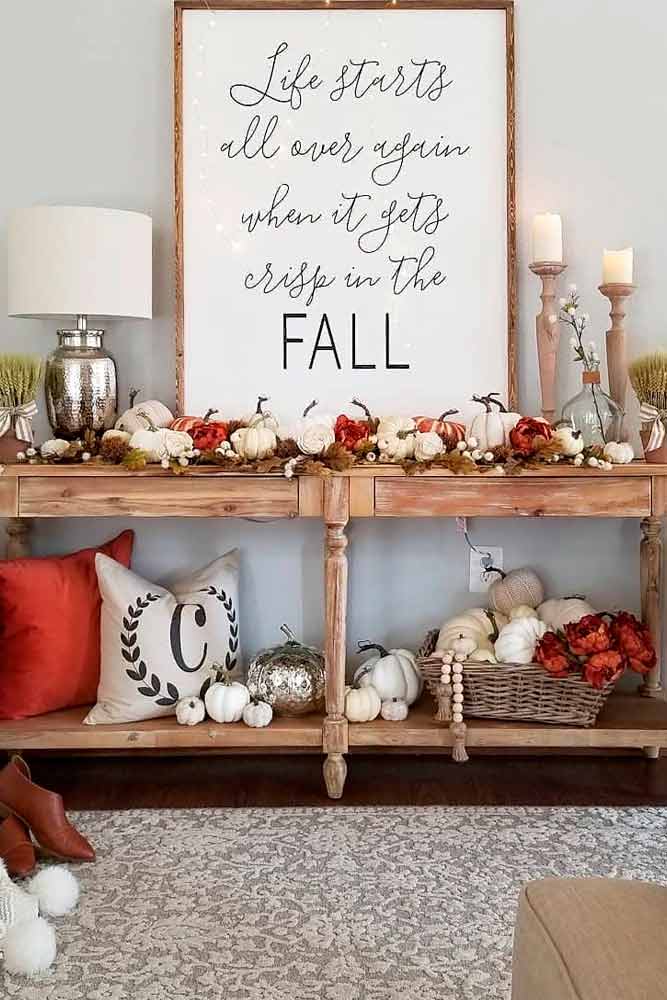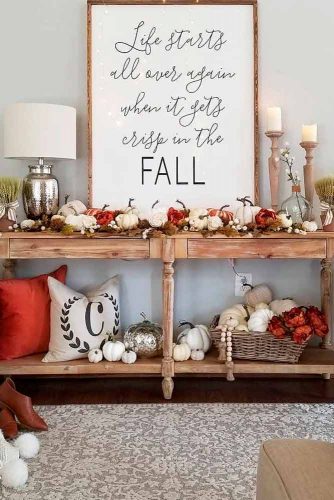 Source: blessedmilhouse via Instagram
As for super simple fall decorating ideas, seasonal vegetables can be just placed here and there in your home. There is no need to arrange them in some intricate way. They are just beautiful as they are.
Spooky Home Décor For Halloween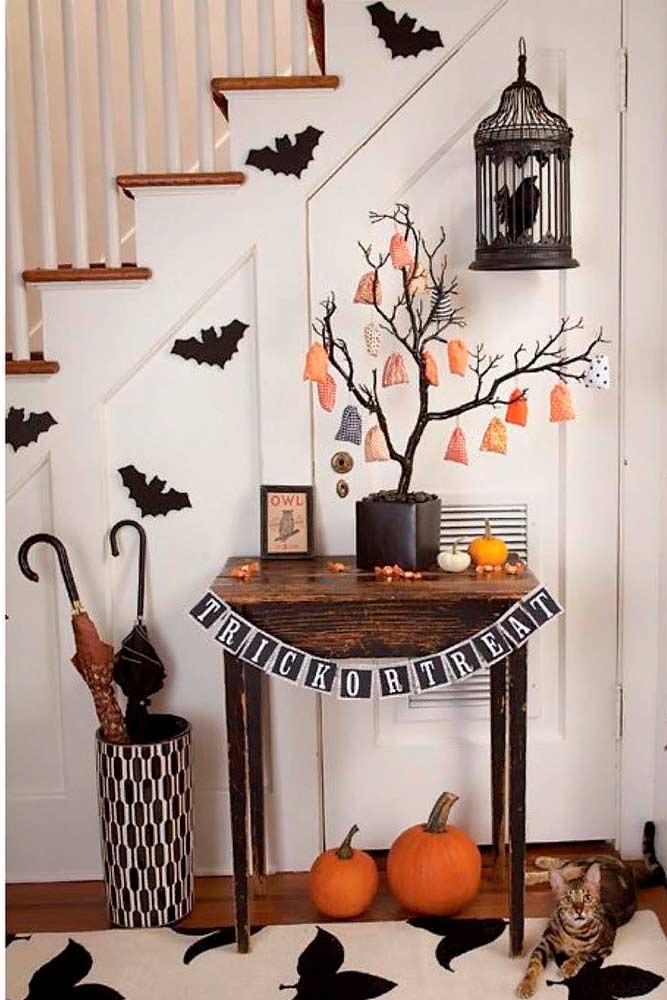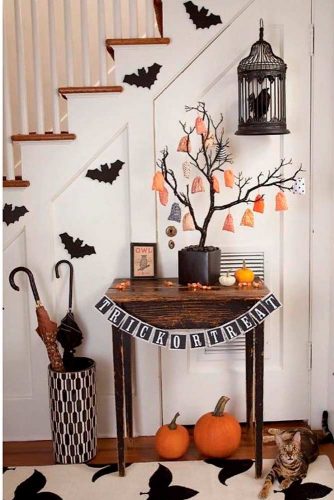 Source: halloweencountdown via Instagram
Halloween décor is something that we can't but mention in this post. This holiday and fall décor come hand in hand. This centerpiece for Halloween is a bit dark with those black elements, but orange hues spice it up.
Bright Fall Outdoor Decorations
There are many ways how to enhance the curb appeal of your home, and we offer you the best options. Just several special touches and your house will stand out in the whole neighborhood.
Scary Pumpkin Topiary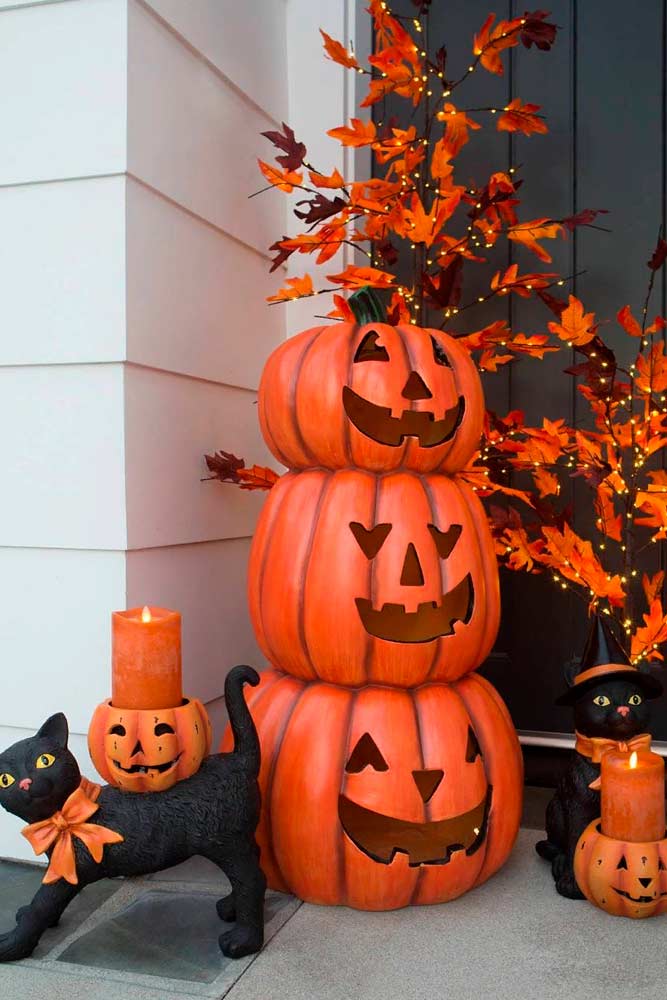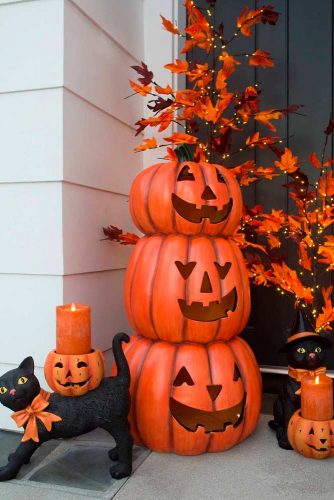 Source: balsamhill via Instagram
Place a vertical display like this in front of your house, and it will definitely make a statement. By the way, orange and black hues pair so fab together. Let outdoor fall decorations show off your exceptional taste.
Alternate Flowers And Gourds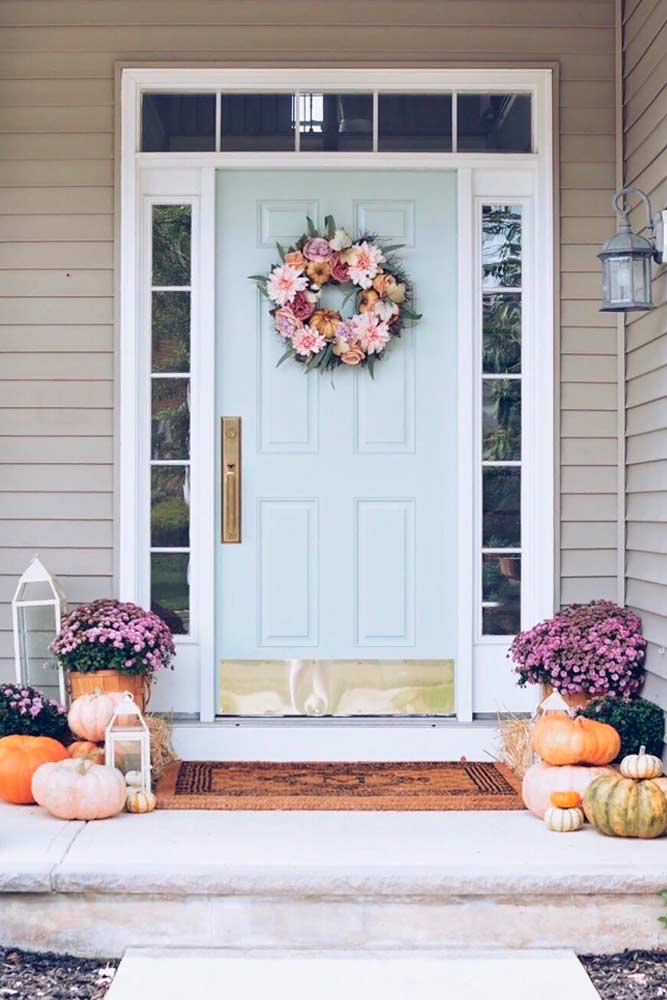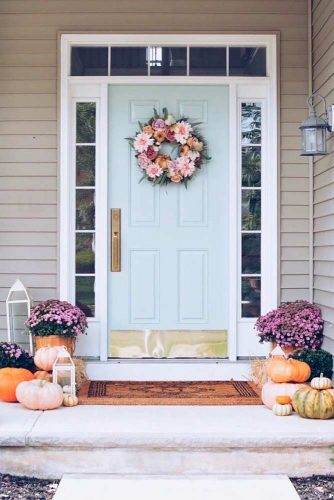 Source: the.pink.dream via Instagram
For a classy fall décor combination for the front porch, embellish the porch with gourds and flowers. You can go as wild with color combos as you wish. But keep this pretty idea in mind.
Outdoor Decoration With Pumpkins And Dried Corn Stalks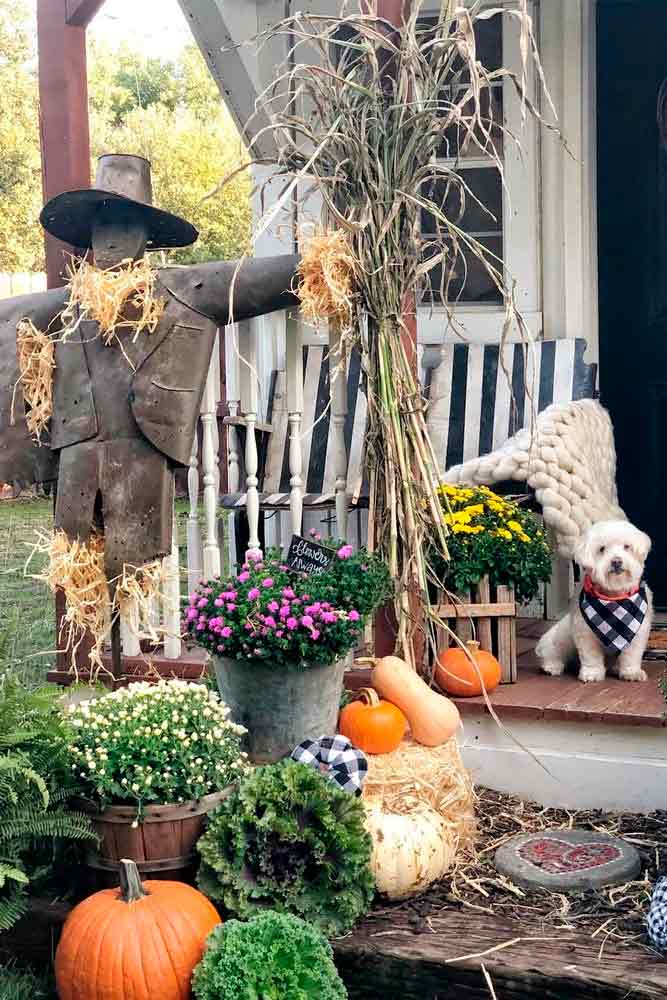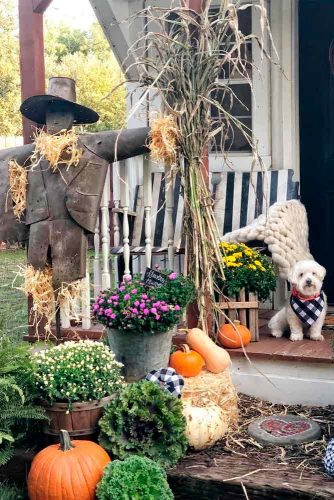 Source: thepickledrose via Instagram
Pumpkins are present in many fall décor ideas for the front porch. To give your décor a somewhat dramatic and totally unique touch, pair the pumpkins with the dried stalks of corn.
Stylish Fall Vessels And Accessories For Home Decor
Your daily routine would be definitely more fun once you start using seasonal accessories and containers as centerpieces in your rooms. Some upgrade never hurts.
Display Fall Gourds Under Glass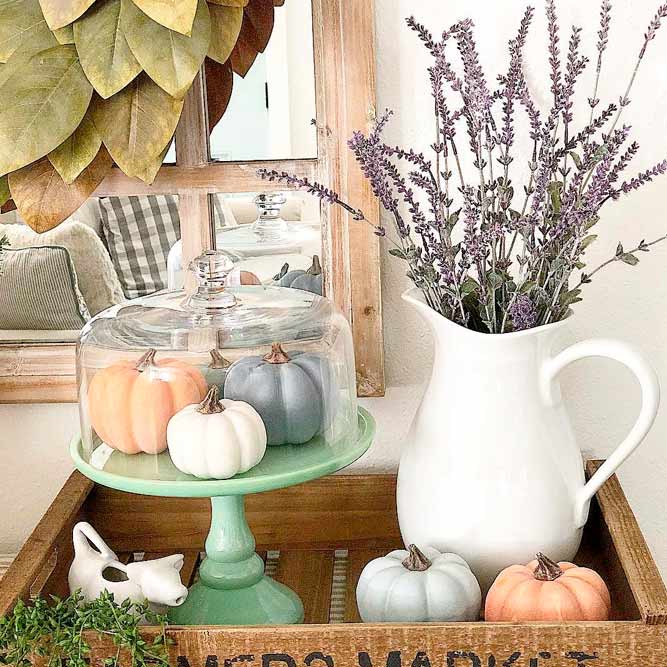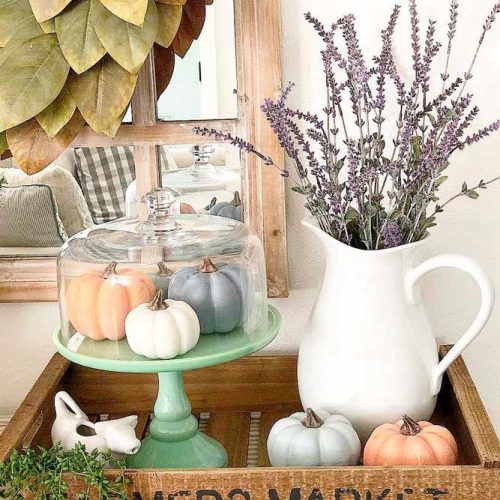 Source: decorismypassion via Instagram
This light-colored centerpiece idea is to live for. Just take a beautiful container like this and put several tiny gourds in it. These are special treats of the fall season. They deserve some respect and admiration.
Buffalo Check Mason Jar Vases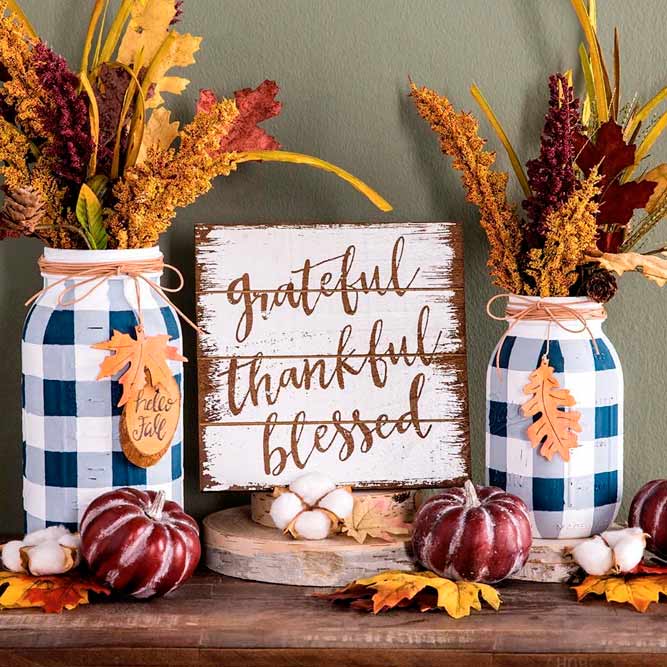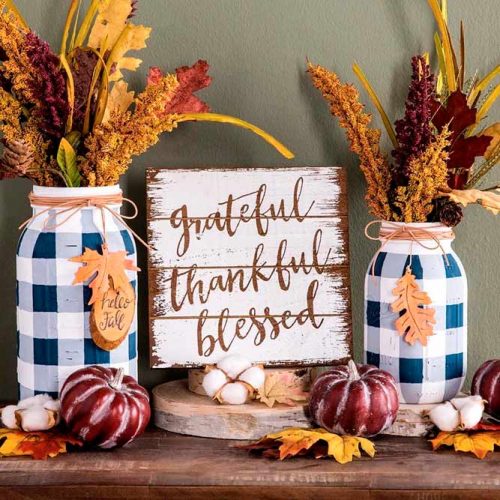 Source: hobbylobby via Instagram
Anyone can paint a plaid pattern, right? You can create these stylish Mason jar vases in a matter of minutes. This DIY décor idea is super simple.
Pretty Velvet Pumpkins And Fall Pillow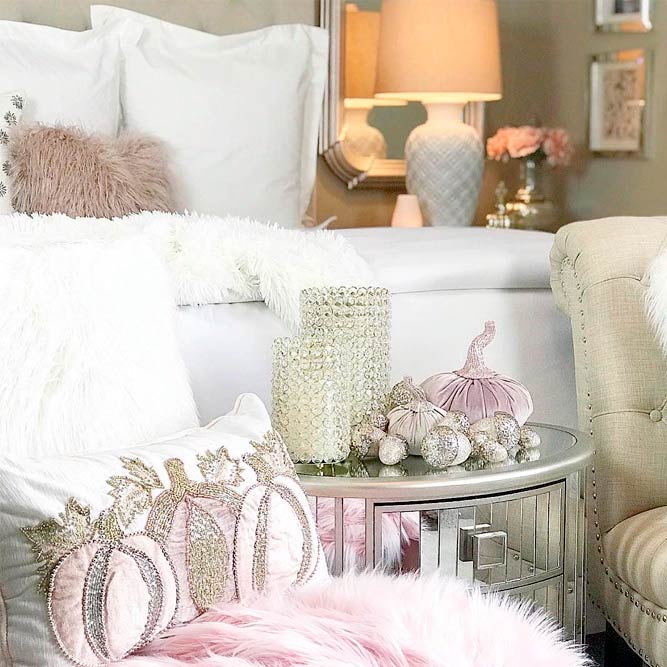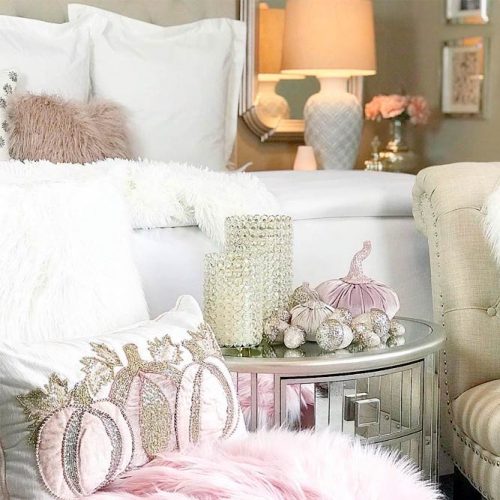 Source: bemyguestwithdenise via Instagram
When the fall season comes, we want to feel cozy and warm. Let your pillows convey the cool season mood. The idea you can see in this pic is so cute.
Fall Flower Arrangements To Refresh Your Home
Fall flowers are so impressive that not using them in your home décor is the real crime. Here are some centerpiece and bouquet ideas with floral elements for your inspiration.
Fall Pumpkin Center Pieces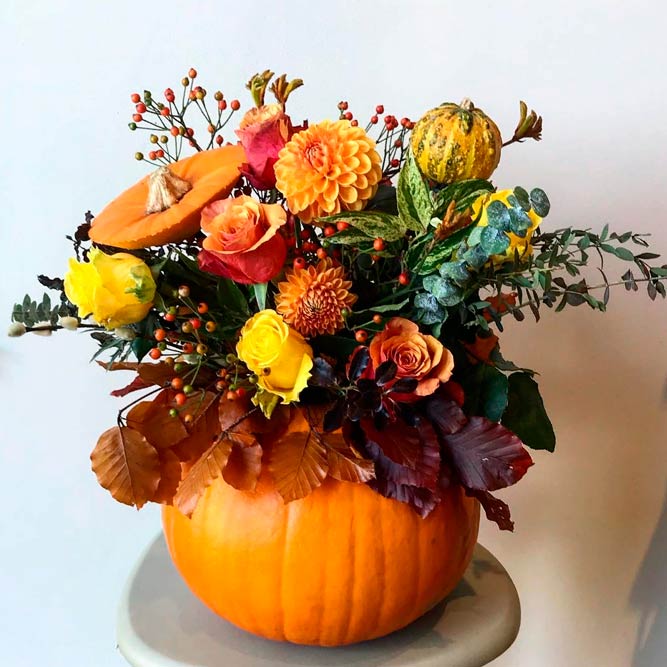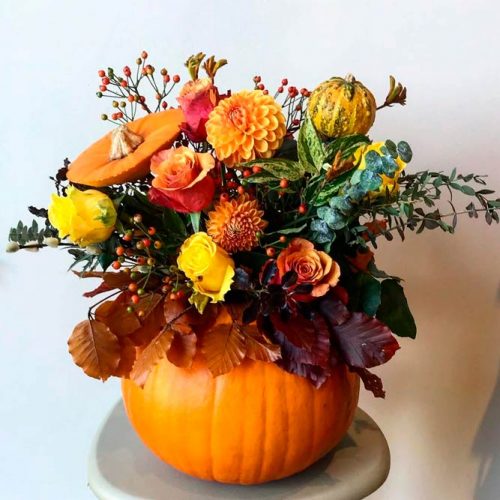 Source: frontrow_london via Instagram
This bouquet oozes fall vibes. And as you can see in this pic, a pumpkin can be a great vase. Alternate the flowers with some foliage and you get a unique décor piece.
Arrange Fall Flowers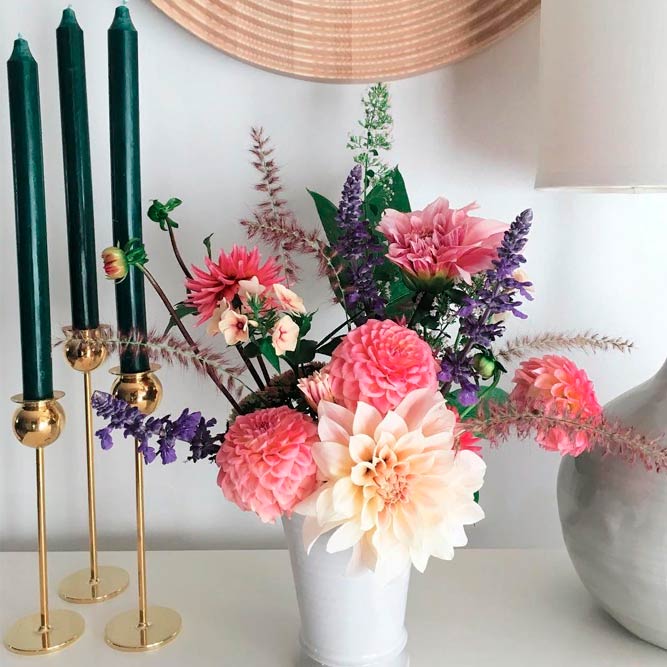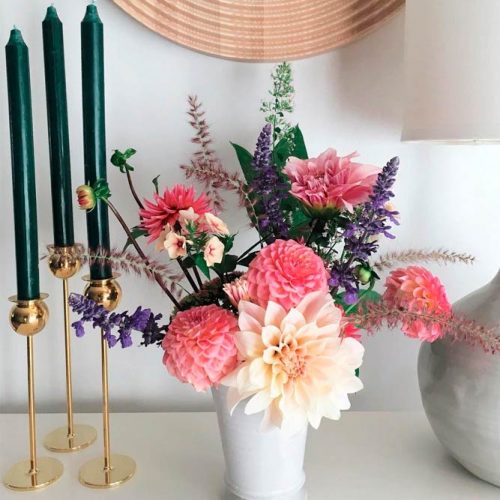 Source: meredithperdue via Instagram
This bouquet consists of pink, creamy, and purple flowers that pair exceptionally together. This arrangement idea is definitely tasteful and stylish.
Cozy Outoor Decor With Lights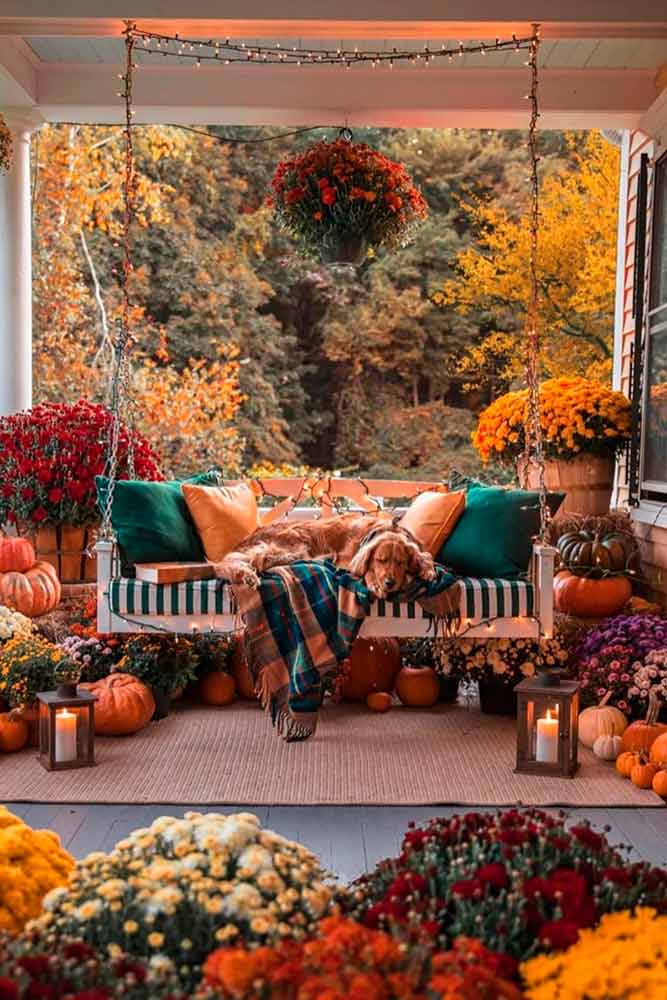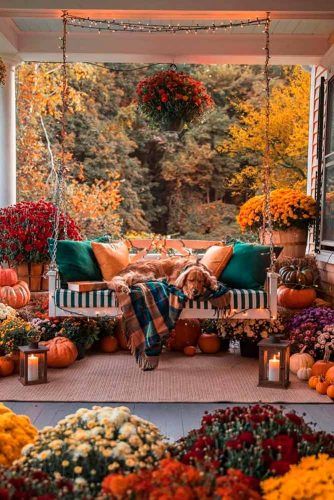 Source: thefarmhousepages via Instagram
Lights can add a warm and cozy feel to any corner of your home, be it outdoor or indoor space. Throw a string of fairy lights across your porch swing for added comfort and snugness
Spooky But Cute Flower Arrangement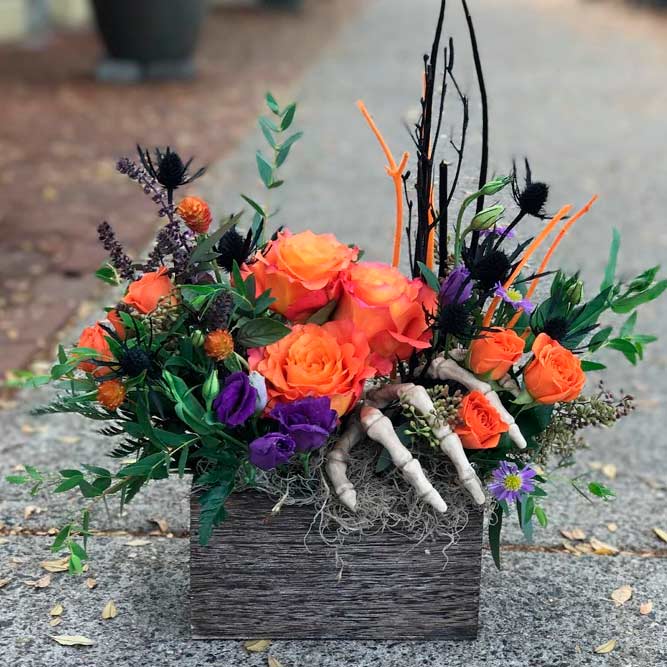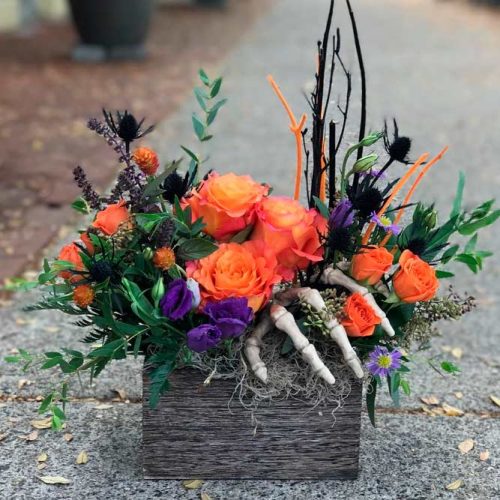 Source: park.florist via Instagram
When Halloween comes, any floral centerpiece can become creepier if you add a plastic skeleton hand crawling through it. Blood runs cold once you see it!
Porch Décor With Pumpkins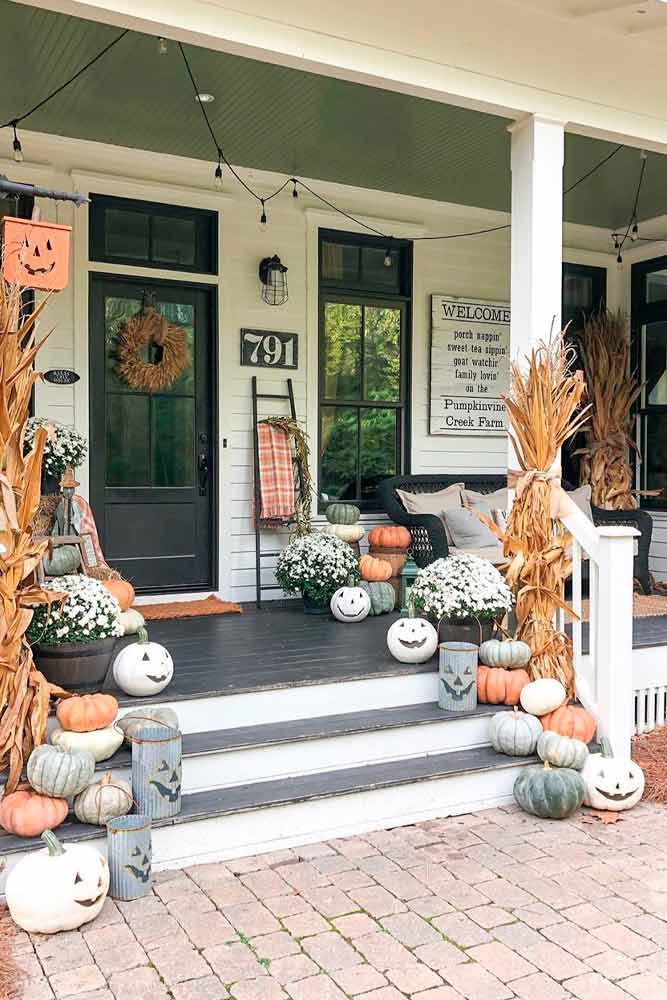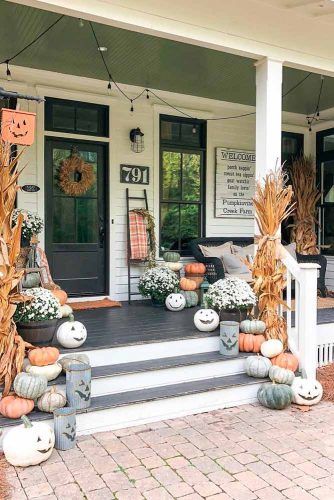 Source: bigfamilylittlefarmhouse via Instagram
A pumpkin is a popular staple of most fall celebrations, such as Halloween and Thanksgiving. Also, it is a very common vegetable that is in season in fall. Thus, it is a great idea to adorn your porch with this versatile in its uses plant.
Fall Floral Décor For Your Porch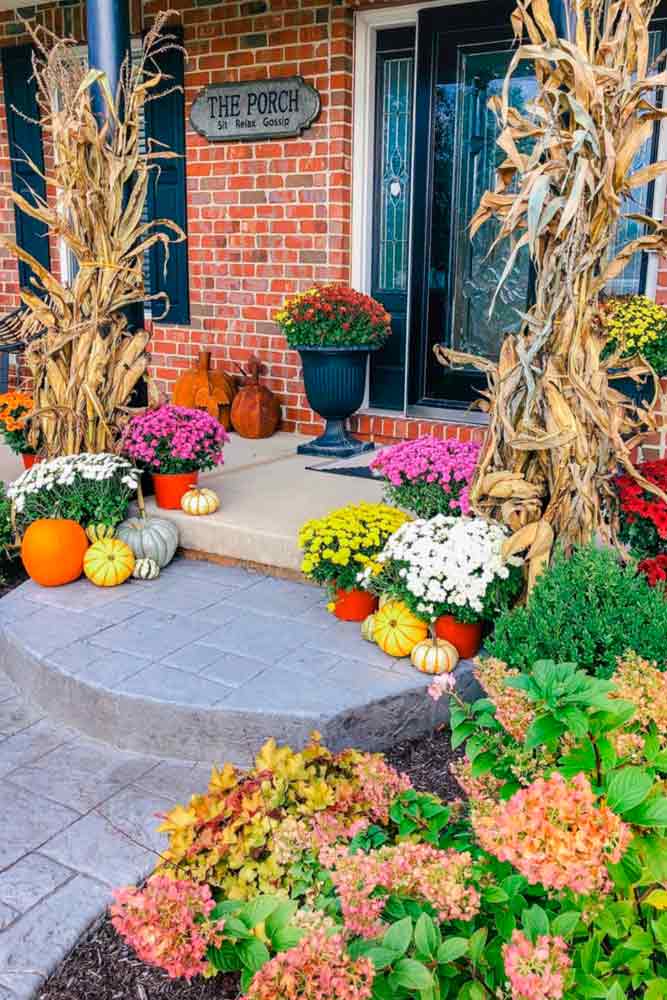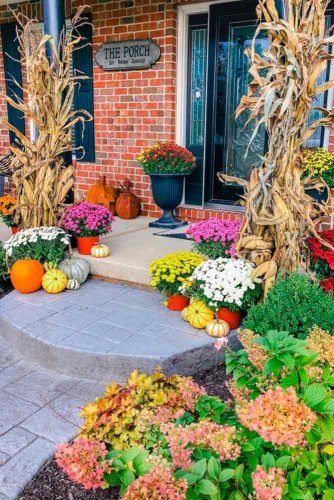 Source: ellerydesigns via Instagram
Flowers can make any place in your house look nice and welcoming, even if it is your porch. Arrange fall seasonal flowers, such as chrysanths, gerberas or roses, next to your front door so that everybody who comes to your house would be able to enjoy their amazing blossom.
Rustic Fall Porch Décor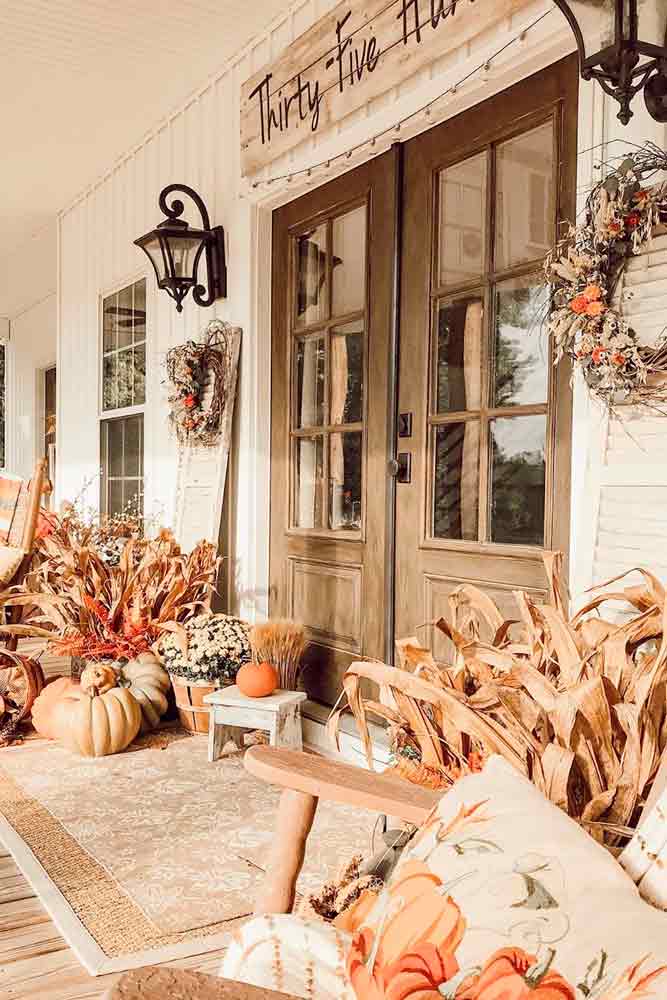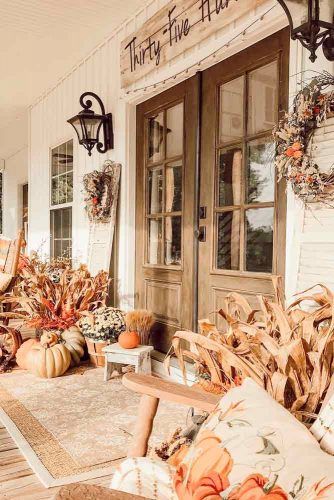 Source: rahrags via Instagram
French country décor is a great source of inspiration for your interior and exterior design. Embellish your porch in a rustic style if you want to give your home that unique French charm.
Sparkly Gold Indoor Décor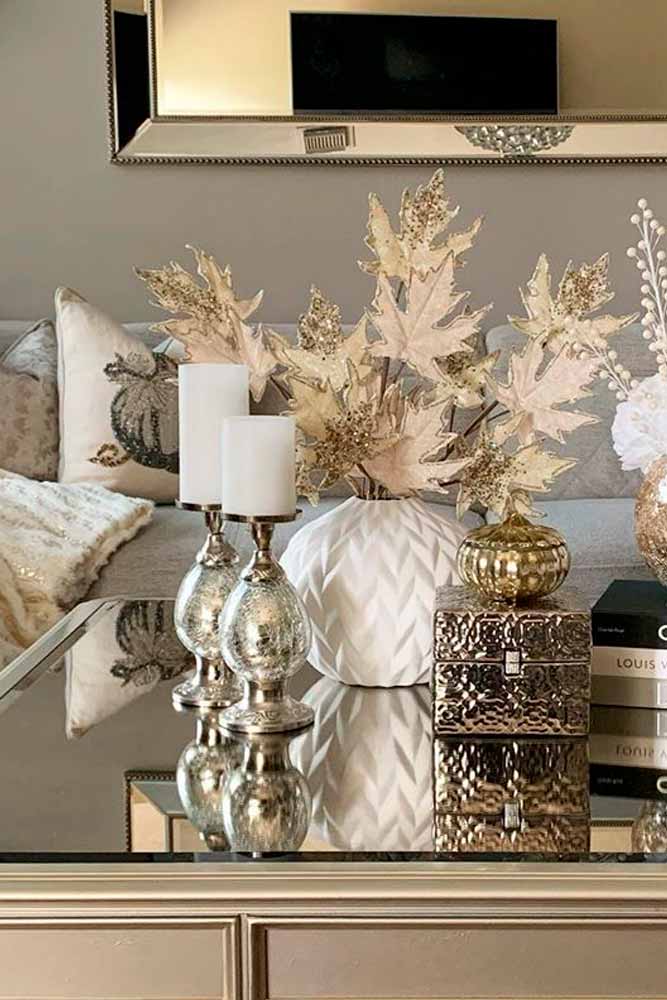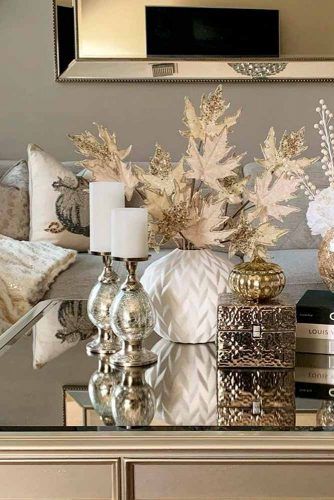 Source: ivonne_homedecor via Instagram
A touch of glam will not hurt anyone, especially if it is added to your interior design. Opt for shiny gold decorations to fill your home with warm and lavish light.
So, aren't these fall decorations 2019 spectacular? Save this article to have much fun with your décor this fall. Explore more inspirational ideas on our blog.