Cat eye makeup is something that will never lose its popularity in the makeup industry. Of course, as those who try it once can't ever stop! It makes women feel sexy, powerful, glamorous and confident. People consider winged liner to be the signature of any makeup routine, even your smokey eye makeup will look complete with it. However, cat eye makeup is not as easy to recreate as it seems at first sight. Eyeliner is what you can run with just one motion, but don`t worry! We are here to help you with cat eye makeup tips and tricks that will let you avoid common mistakes and make you look on fleek. Finish your daily routine or even your prom makeup with perfectly done cat eye makeup, and you will look stunning!
A tutorial on how to do cat eye is one of the most searched ones in Google's history with more than 65, 000,000 results. We know exactly the reason why. It can be a challenge for most of the people who are trying it. However, the people who have mastered this makeup technique can be found everywhere we go.
How Do You Draw The Perfect Cat Eye?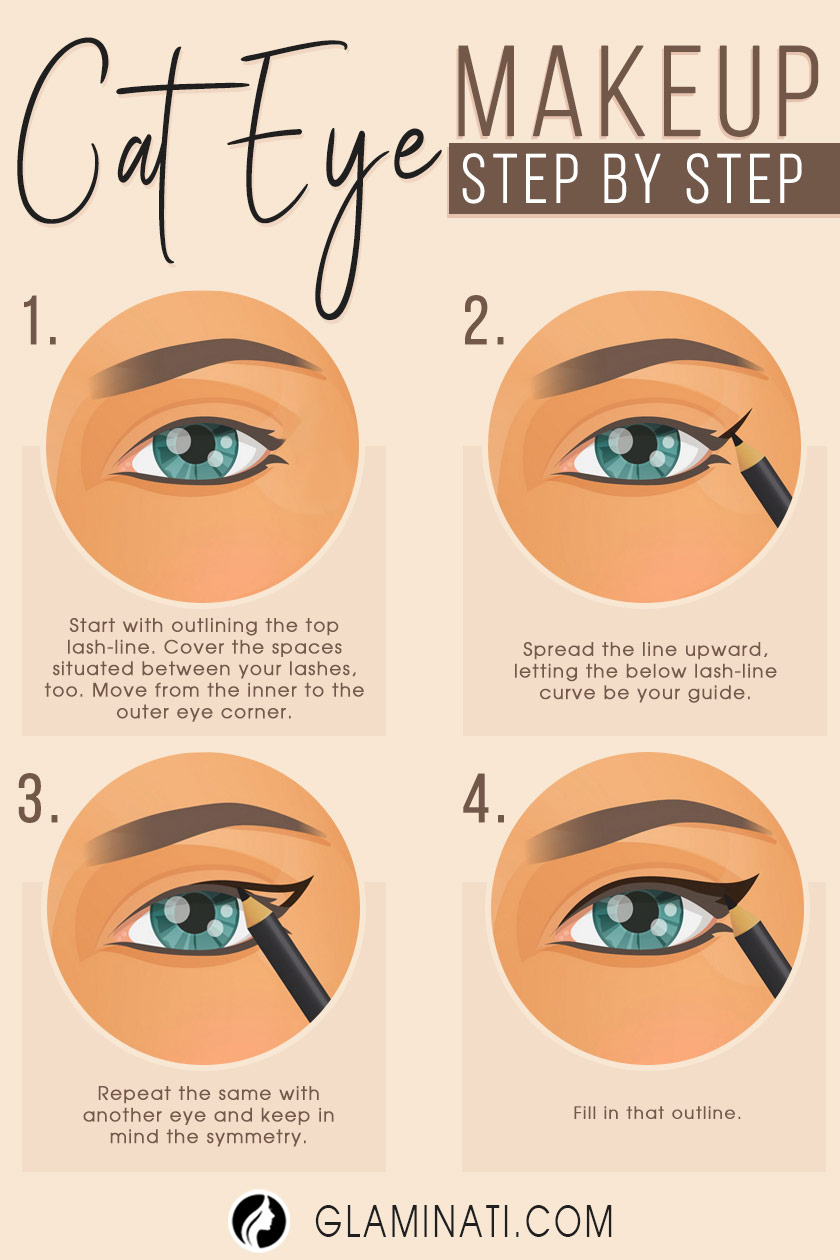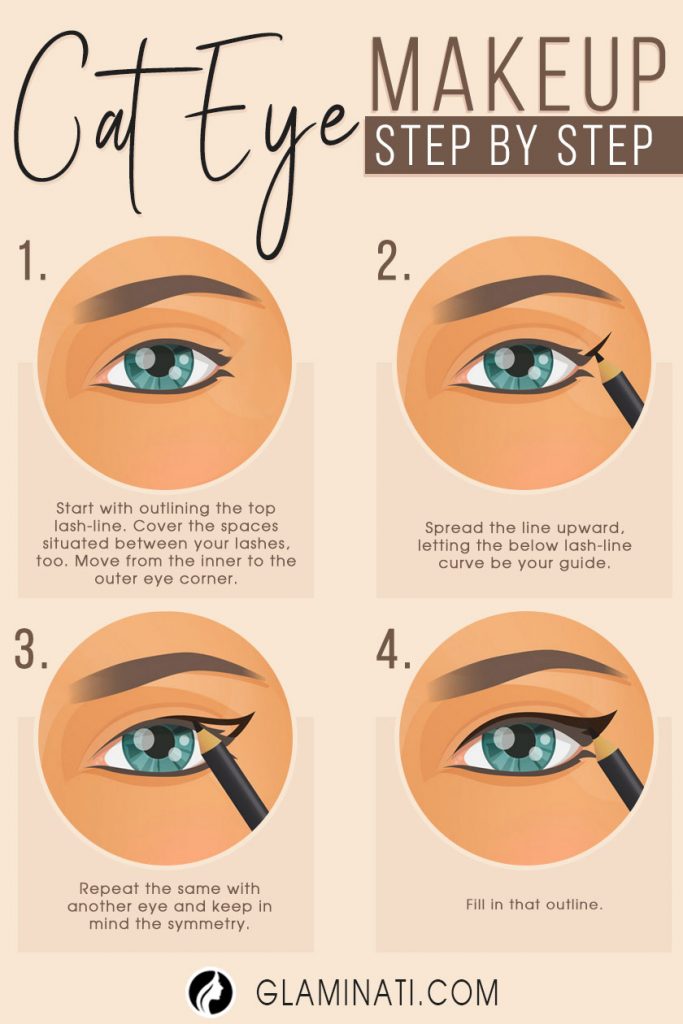 Cat Eyes Idea With Nude Lipstick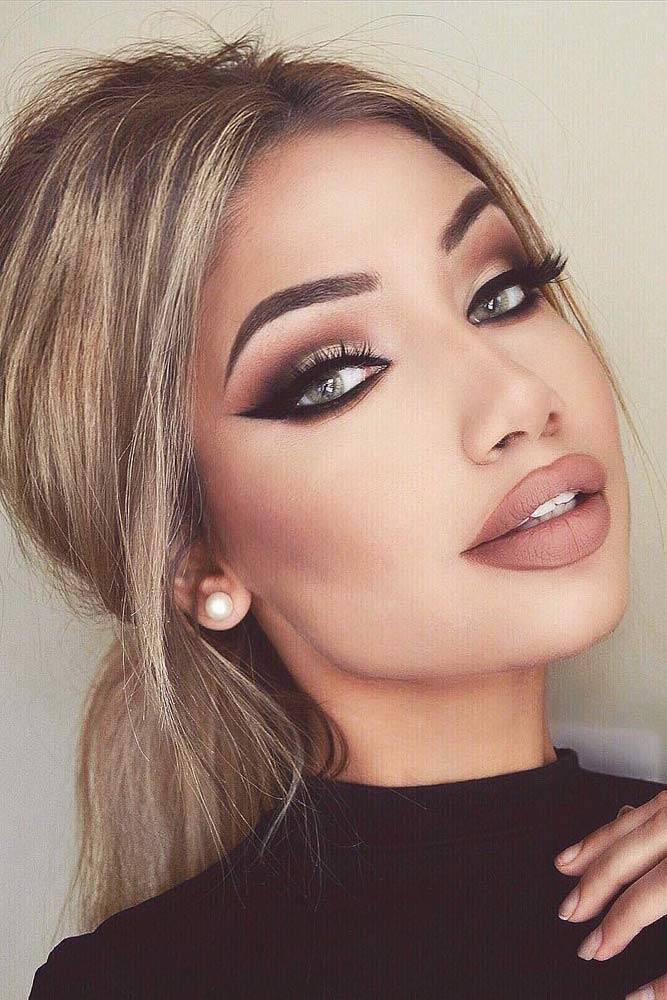 Source: Instagram/makeupbyalinna
This perfect cat eye shadow blend is awesome. The blend features metallic orange and burgundy shadow on the lid. The makeup, as shown here, is sassy and will make heads turn wherever you go. You can achieve this glamorous look with any kind of burgundy shadow, liquid eyeliner, and any metallic tone.
Chic Winged Cat Eyes Makeup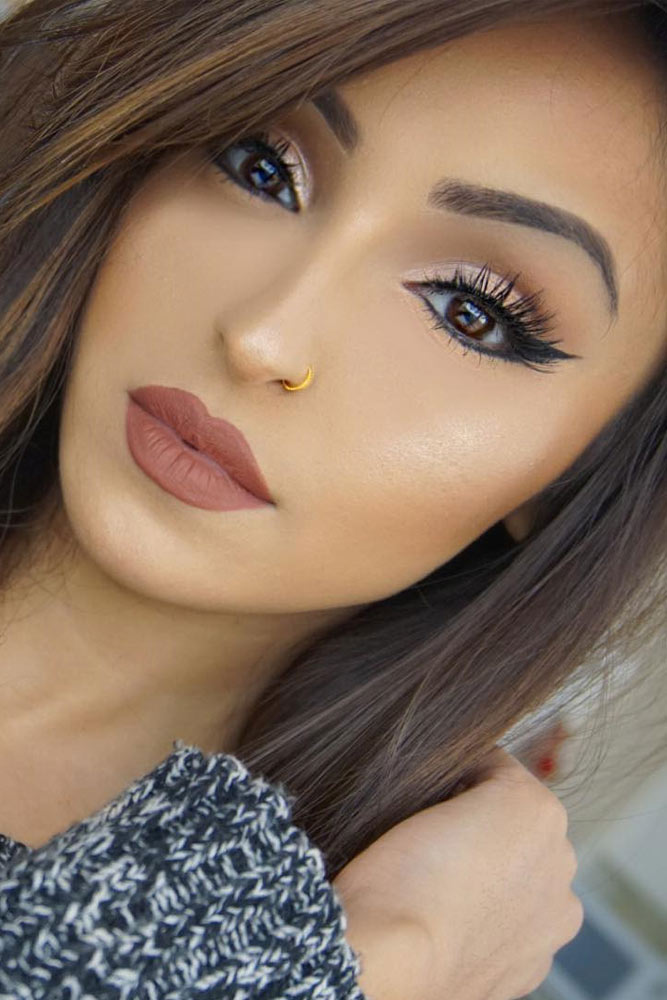 Source: Instagram/rahmanbeauty
Winged liner is an everyday type of makeup, but you can make it stand out by enhancing it with some glitter. The sleek eyeliner gives it some hints of glamour. Makeup like this would be ideal for special events and even nights out. You can pull off this look with any glitter liner and be sure to turn heads.
Natural Cat Eyes Makeup Look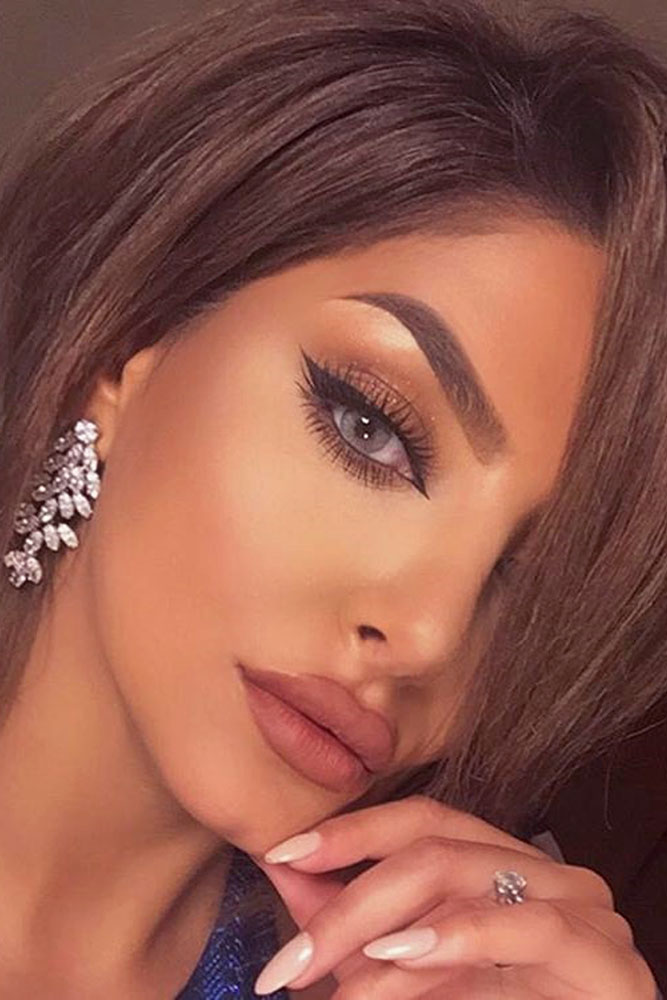 Source: Instagram/sheidafashionista
How to get cat eyes naturally? You can effortlessly recreate this look by using soft, brown matte hues as shown here. Start by dipping the tip of your best blending brush into matte eyeshadow or darker chocolate and carefully draw a V-shape toward the outer corner of your eyes. Match it with brown lips, and you will be ready for any event.
Classic Smokey Cat Eye Makeup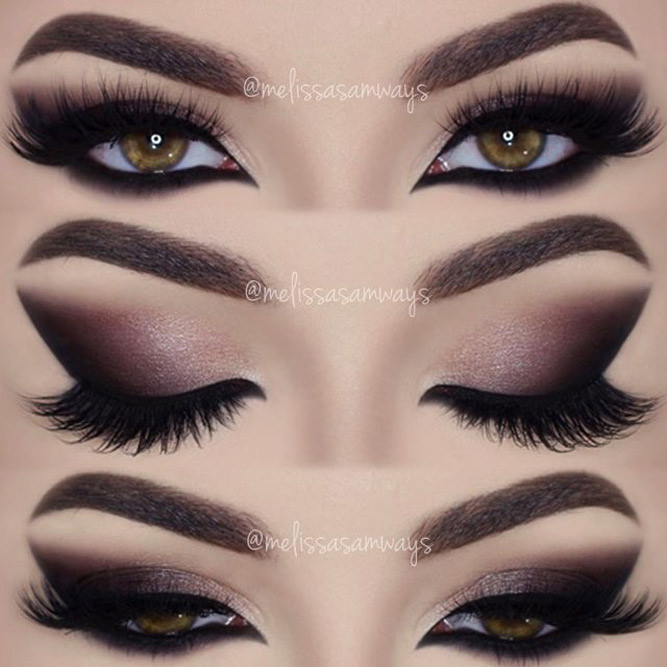 Source: Instagram/melissasamways
This smokey cat eye makeup is dark and melodramatic. It is done with a cat eye makeup tool – a blending brush. The classic look is spiced up with black eyeliner applied to this model's upper lid. The color vanishes lightly near her brow bone for a sleek finish.
Liquid Liner For Cat Eye Makeup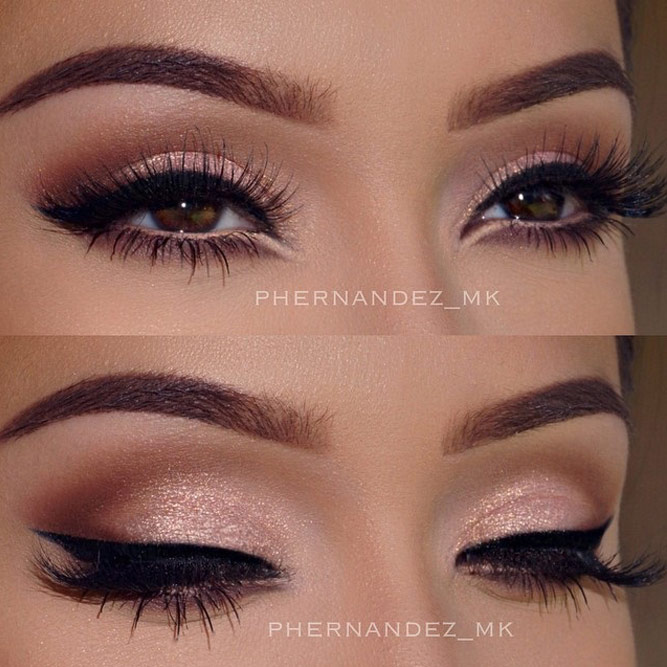 Source: Instagram/priscilla_fhern
This makeup will work for the ladies who don't like loose glitter powder but don't want to give up the sparkle. With these beautiful cat eye makeup stamp ideas, you can go for liquid liner or glitter gel in place of powder. Besides, you can also blend eyelash glue with some glitter and achieve the same results. Don't worry about the glue – it will peel away when you go to bed.
Cat Eye Makeup For Small Eyes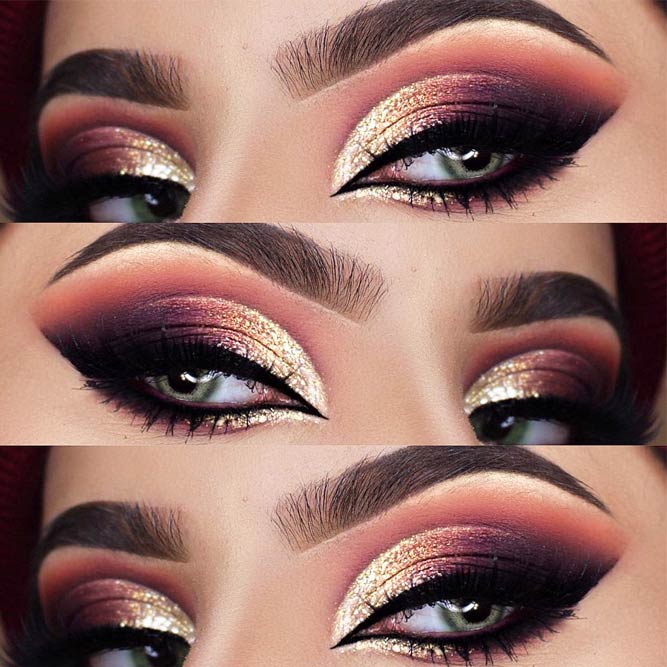 Source: Instagram/ayeeshabx
This is a transitional makeup look that will work great for a party. To achieve it, apply bright and glitter eyeshadow like depicted here. Then add a hint of eyeliner to the lashes at the bottom and add mascara, and you will get quick cat eye makeup for small eyes to rock throughout the entire night. It is as simple as that.
Grey Smokey Eyes Makeup With Eyeliner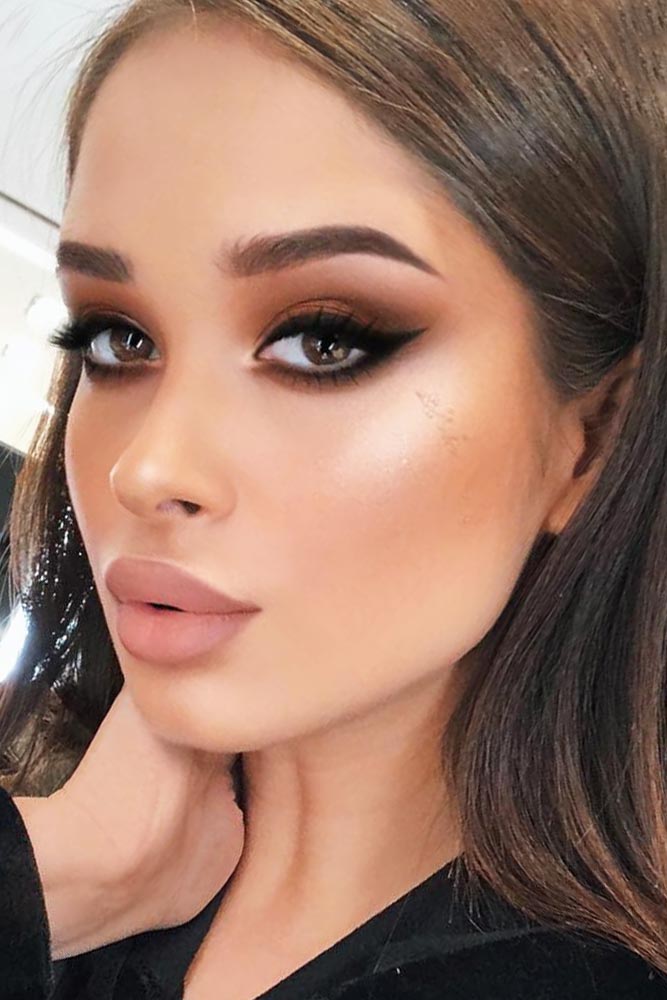 Source: Instagram/sonya_miro
The process of achieving this cat eye makeup look is not complicated as many women would think. Just start with priming the eyelids with concealer. Then apply a brown eyeshadow shade to the top and bottom of the eyelashes. Use black eyeliner for the smoky eye contrast. Use a blending brush to make sure no harsh lines are visible.
Perfect Cat Eye Makeup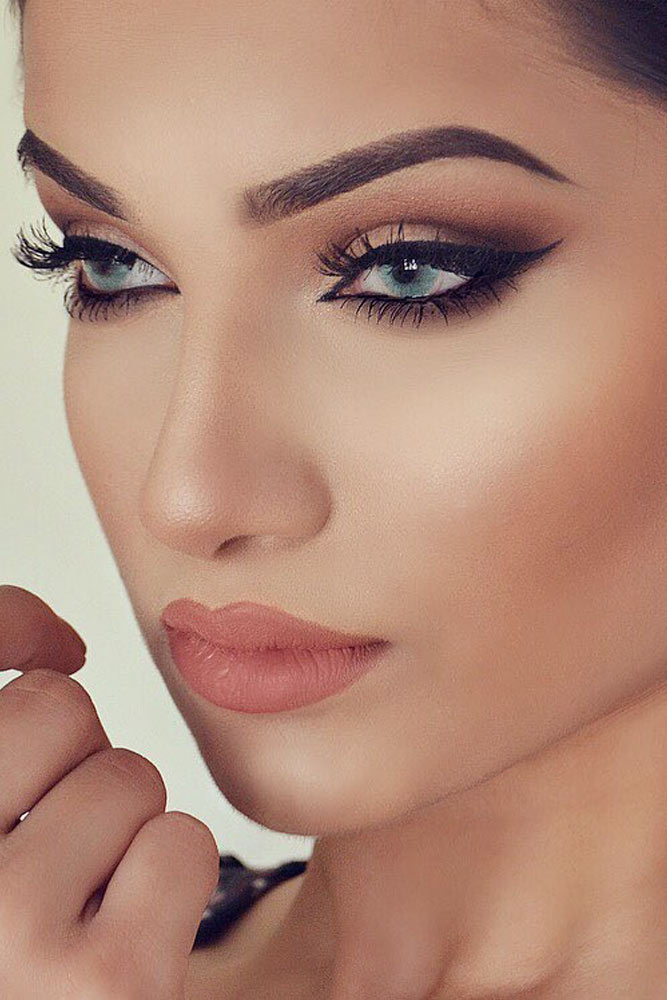 Source: Instagram/cakeyconfessions
If vibrant colors don't impress you anymore, don't worry. We have some glamorous cat eye makeup tips that will be a breakthrough for you. You can create nude makeup, using a nude hue palette. It is an effortless look that can be re-created by anyone. It is seamless makeup that will remain cute and chic all day long.
Cute Cat Eye Makeup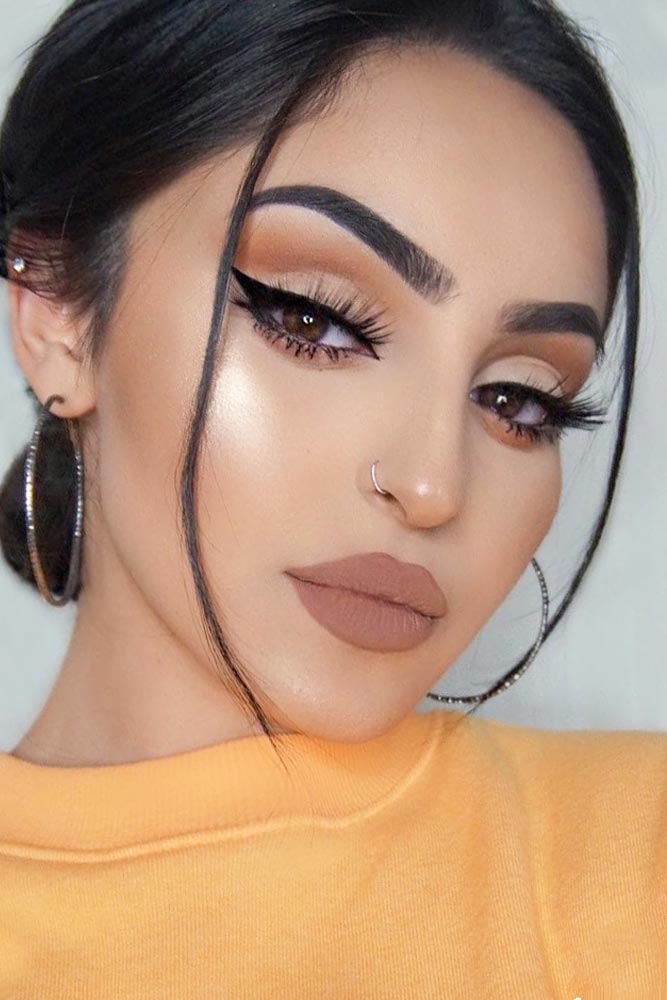 Source: Instagram/rahmanbeauty
This eye makeup has been around for so long already. To create this cut crease look, use a cat eye makeup stencil to make sure you get the exact results you want. Add sparkling champagne eyeshadow to the upper lash line and leave the rest parts untouched. This glittery look appears so soft. Do not add extra synthetic lashes as you need to maintain that soft feel.
What's The Difference Between Winged And Cat Eyeliner?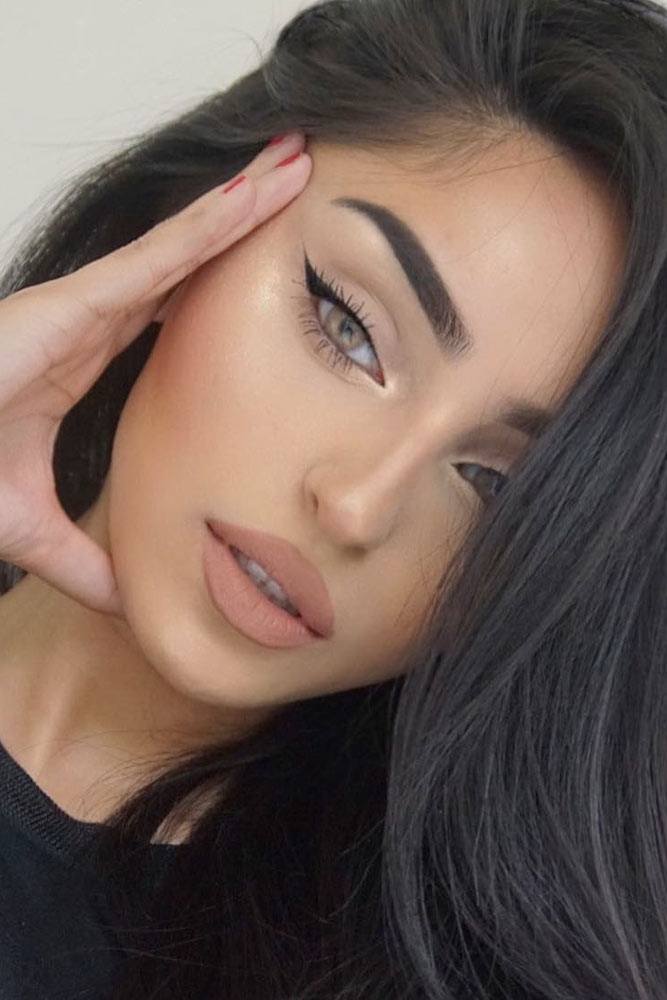 Source: Instagram/rahmanbeauty
There are several distinctive features that will help you to tell the difference between cat and winged eyeliner. The first difference relates to the area of application. If you line both eyelids so that their lines join and as a result, your eye shape resembles the cat's, then you are channeling a cat-eye look. When you only apply liner to the upper lid to create the high contrast between your lids, then you will end up with a winged eyeliner look. The second difference concerns the direction of the eyeliner. The cat eye line expends outward, parallel to your lids, whereas the winged eyeliner looks a little bit up, toward the end of your brow. Last but not list, the winged eye look is suitable for a casual ambiance, as it is more low-key. The cat eyeliner, in its turn, has a bold and dramatic feel, thus should complement a special-occasion makeup look.
Are Cat Eyes Attractive?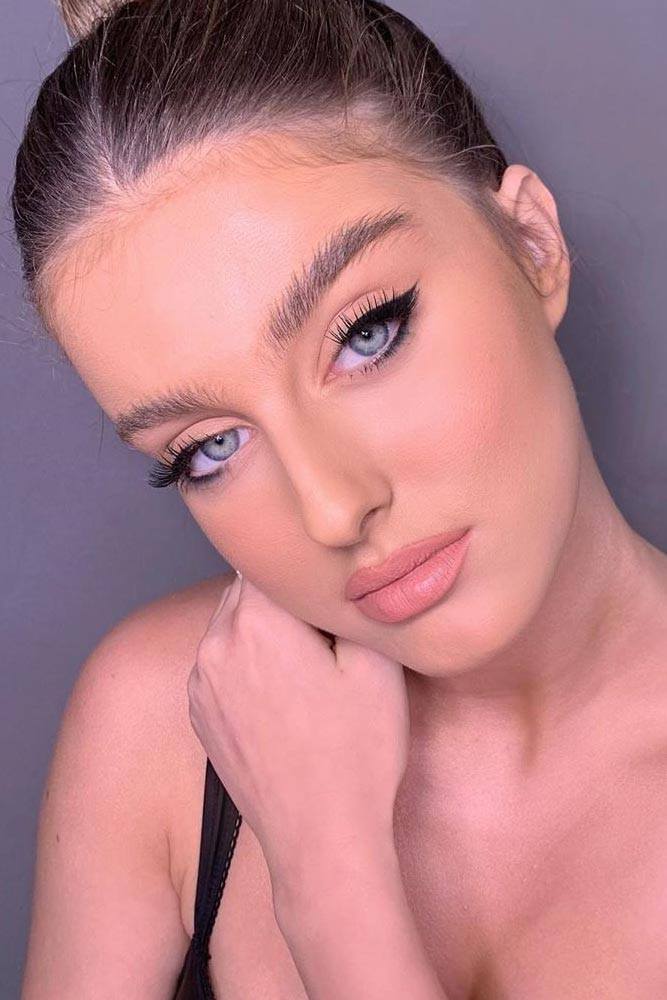 Source: Instagram/inbal_eitan
It is actually just a matter of taste. Though, it is worth to stress that the taste of the majority. The thing is cat eyes are a rare phenomenon among people. And rare things are usually found attractive. On the other hand, those people who possess the traits that we would like to have usually attract us more. So, if you subconsciously or knowingly want your eye shape to look like that of a cat, then you will think of people with such eyes as being attractive.
Does Winged Eyeliner Make Eyes Bigger?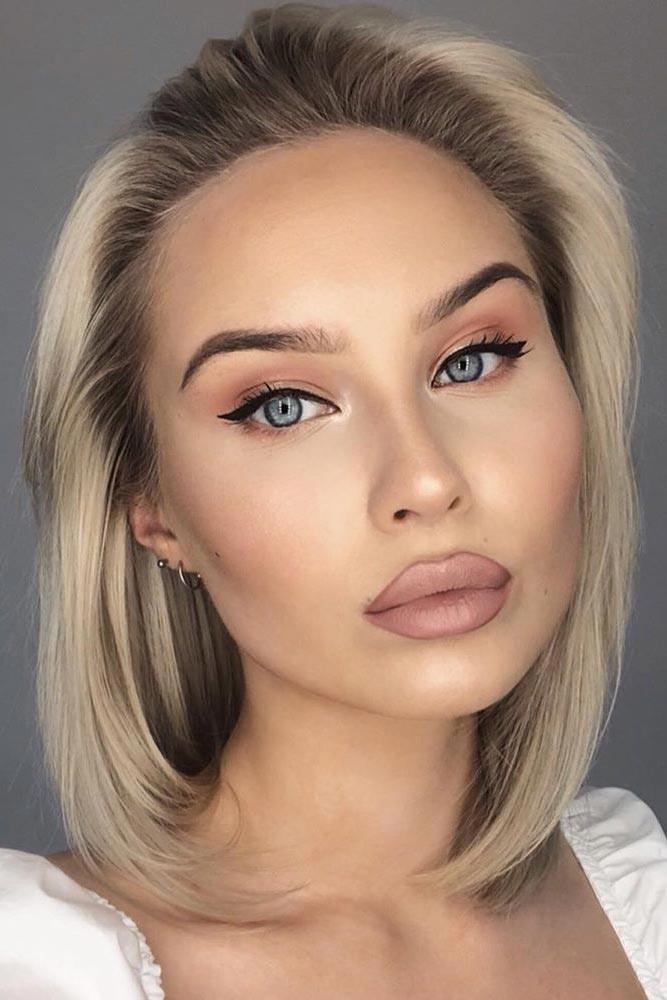 Source: Instagram/nicolebhm
Indeed, if you apply a winged line, it can make your eyes look bigger. However, make sure not to go too heavy on the eyeliner if your eyes are not particularly big because this will only shrink their size. Rather, create a slim line that goes along your upper lash line. Starting from the outer one-third of the eyelid, make it tapered out and flicked up at the end.
Sexy Cat Eyes Look With Nude Lipgloss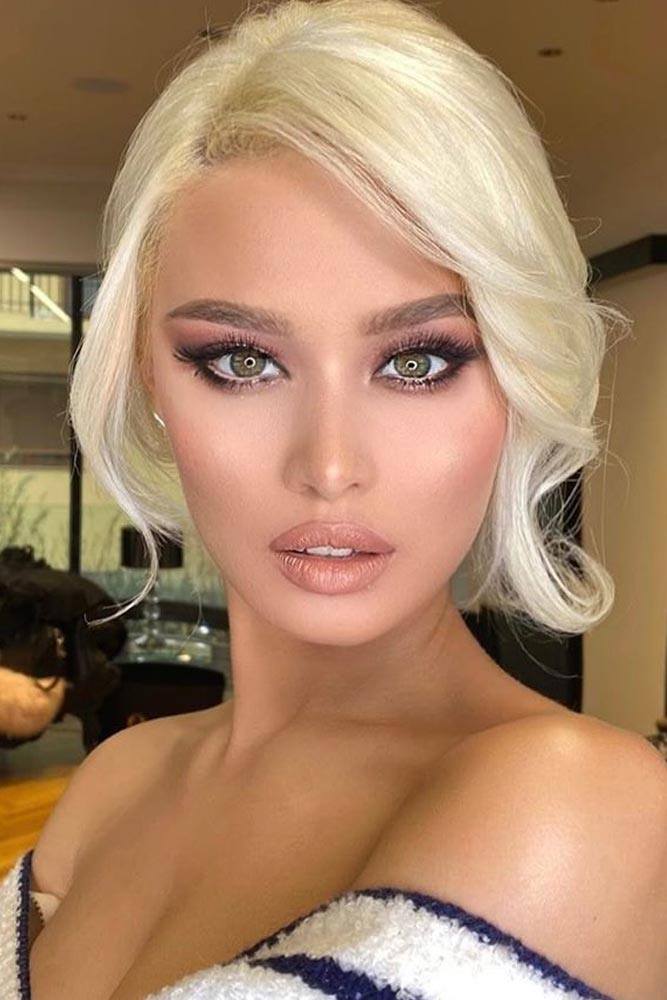 Source: Instagram/arber_bytyqi_mua
Not to go overboard with such bold and dramatic makeup look as a cat-eye, complement it with nude lips. Not only will it restore balance but also add attractive and sensual touch to your whole makeup look. Ensure though to cover up all imperfections should you have any, as your skin needs to look flawless.
Smudge Eyeliner With Pink Lipgloss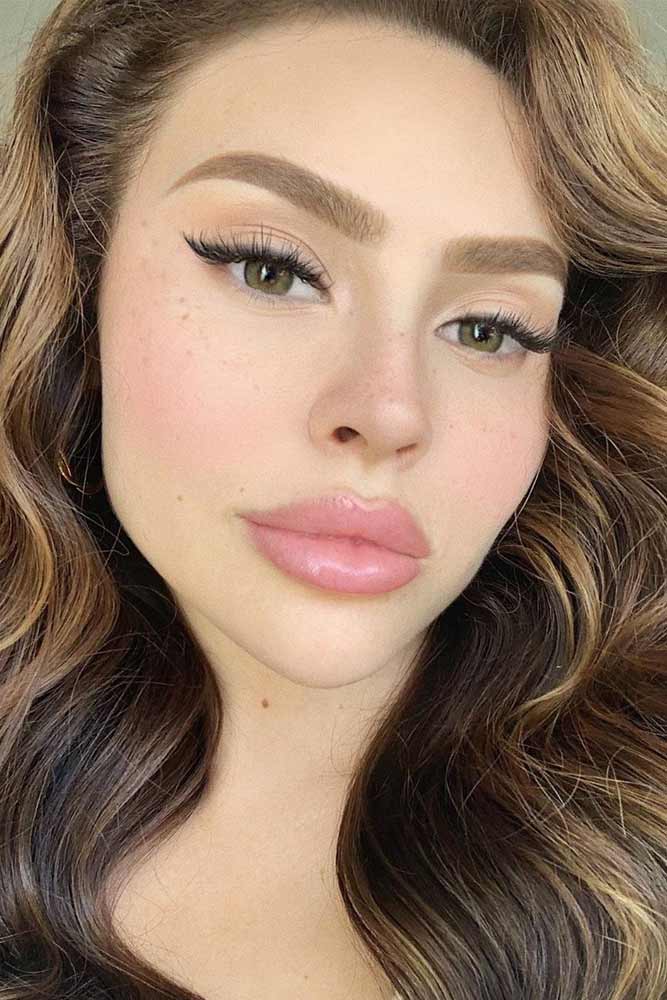 Source: Instagram/jadeywadey180
Do you know that sexy eye look many Hollywood celebrities have when seemingly wearing no makeup? Wanna know their secret? It is smudged eyeliner. As simple as that. To achieve the effect, you need to apply a thick line of either a pencil or gel eyeliner above your upper lashes and smudge it out with a small brush. A pink lip gloss will be a great accompaniment to such an eye makeup look, as it does not clash or draws attention from it.
Mistake 1: Forgetting To Settle Your Eyelids With Powder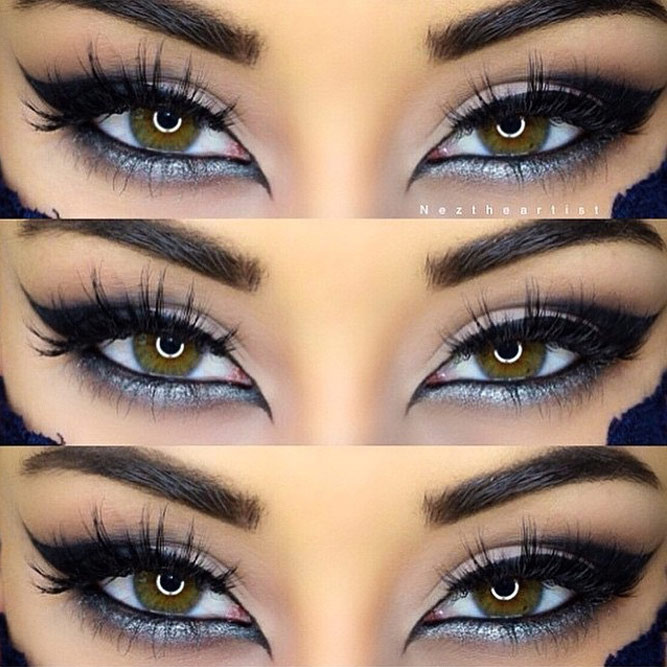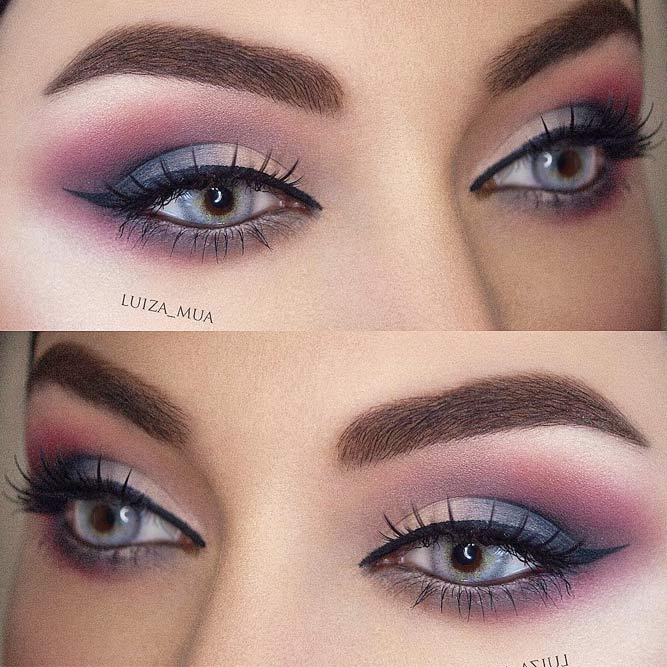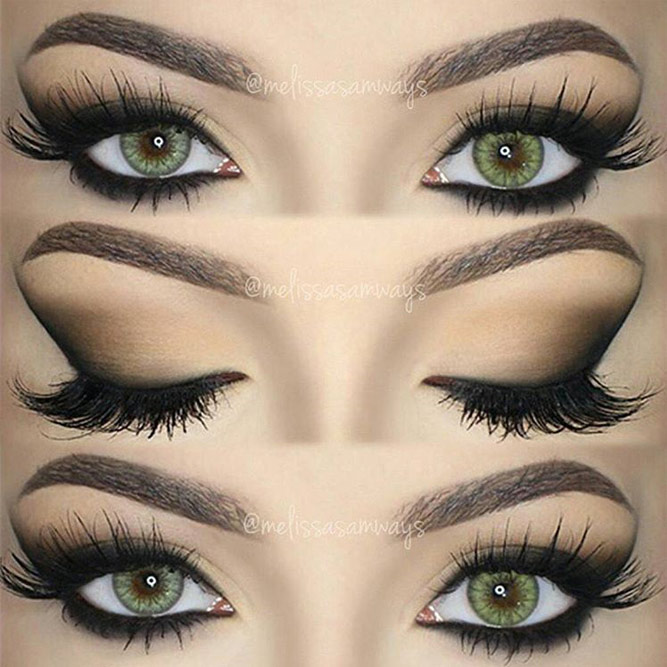 Source: Instagram/neztheartist, Instagram/luiza_mua, Instagram/melissasamways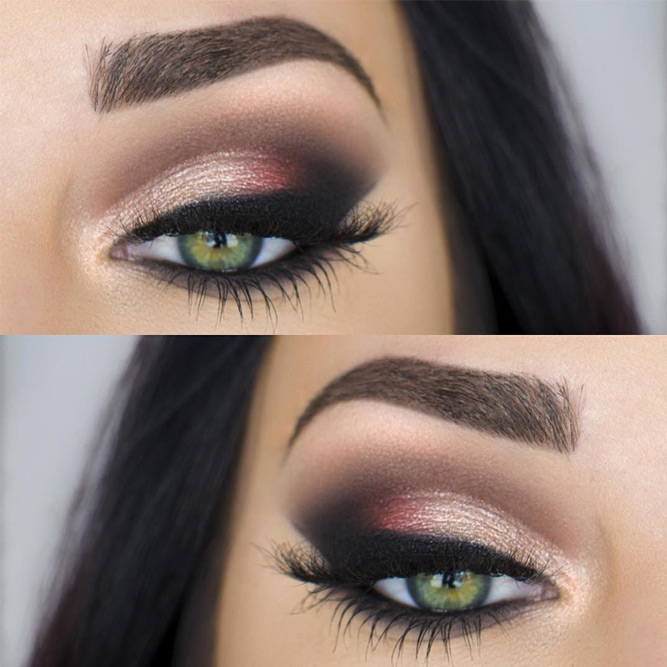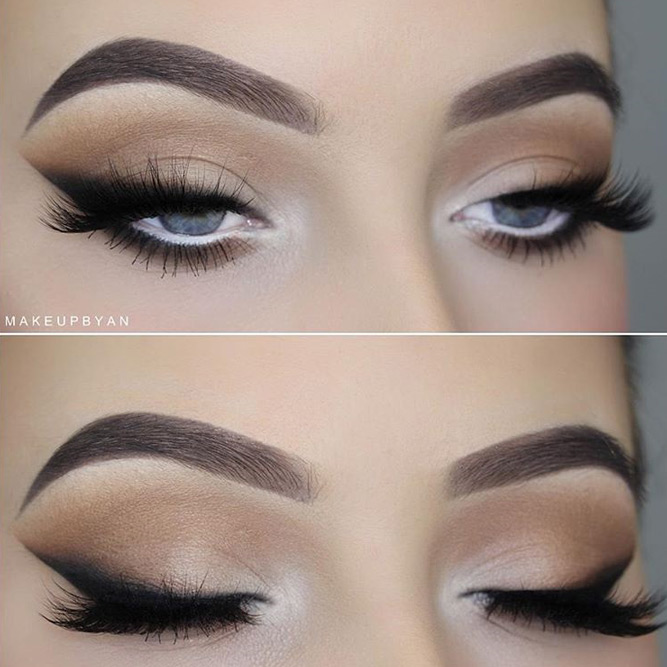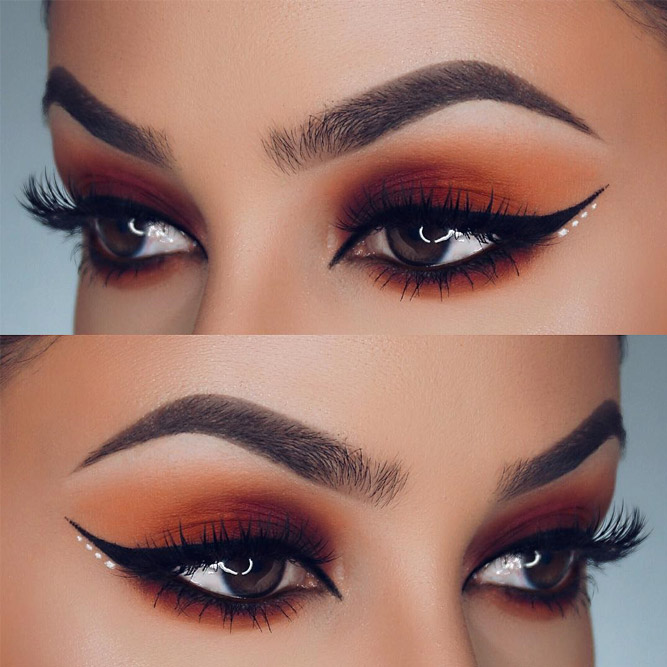 Source: Instagram/makenziewilder, Instagram/makeupbyan, Instagram/dianamaria_mua
Rushing to complete our eyeliner look, we always forget to prep our lids before adding the colorful product. That`s the thing we should always keep in mind before starting. The translucent powder will soak the excess oil from your eyelids, bringing you a perfect canvas for eyeliner of any type.
Mistake 2: Using A Pocket Mirror While Doing Cat Eyeliner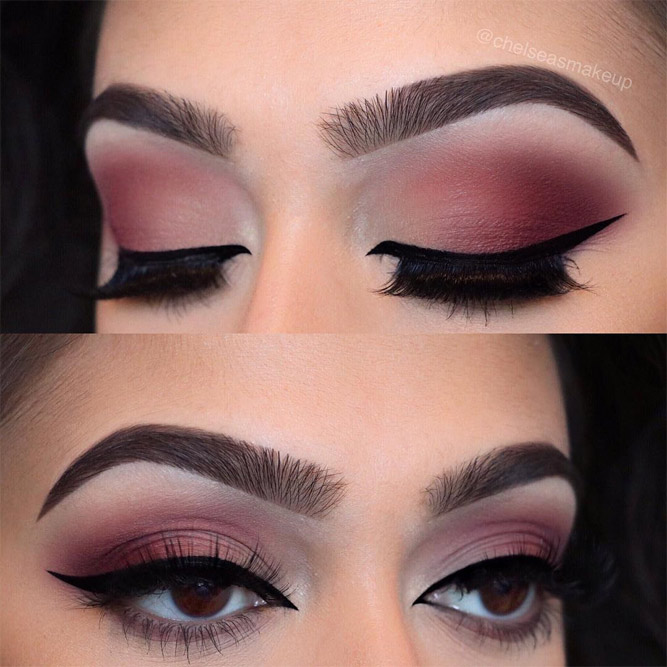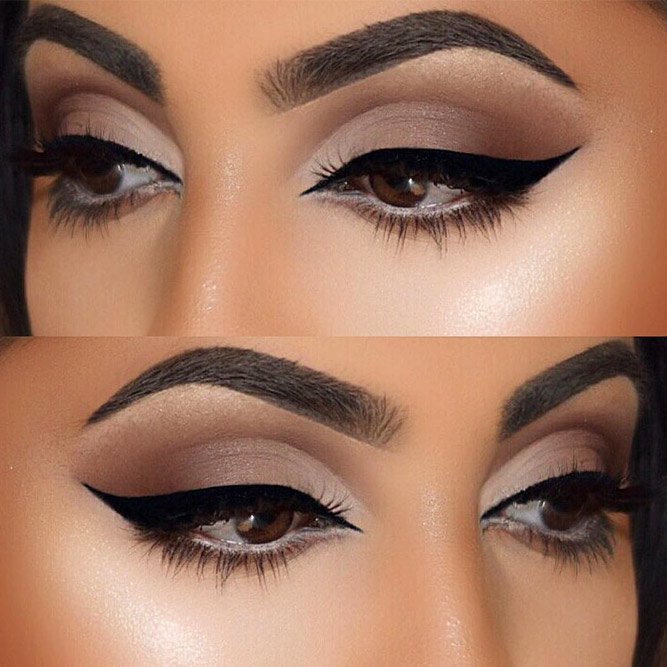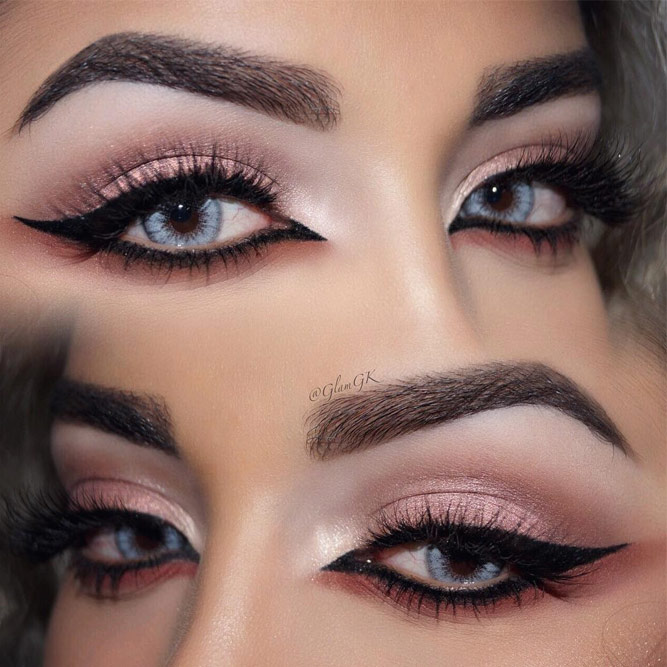 Source: Instagram/chelseasmakeup, Instagram/shivangi.11, Instagram/glamgk
Always have a large mirror in front of you while you put eyeliner on your lids. This will help you to do wings the same for both of your eyes. Remember that symmetricity is important when it comes to such kind of a makeup look, so if you don`t want to make yourself look not good, stop using your little pocket mirror.
Mistake 3: Starting Straight With A Dramatic Look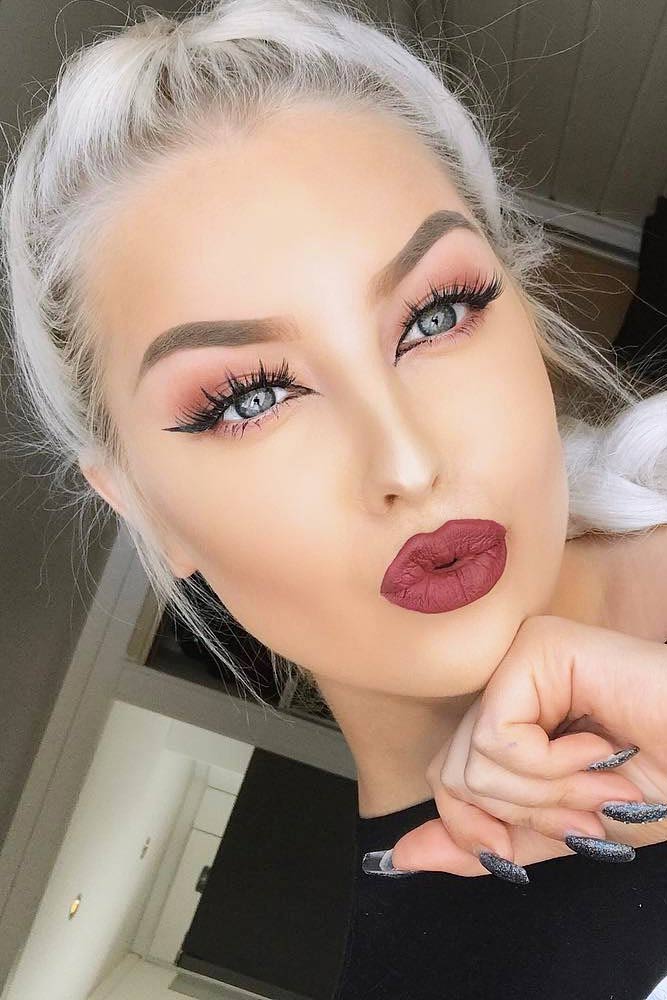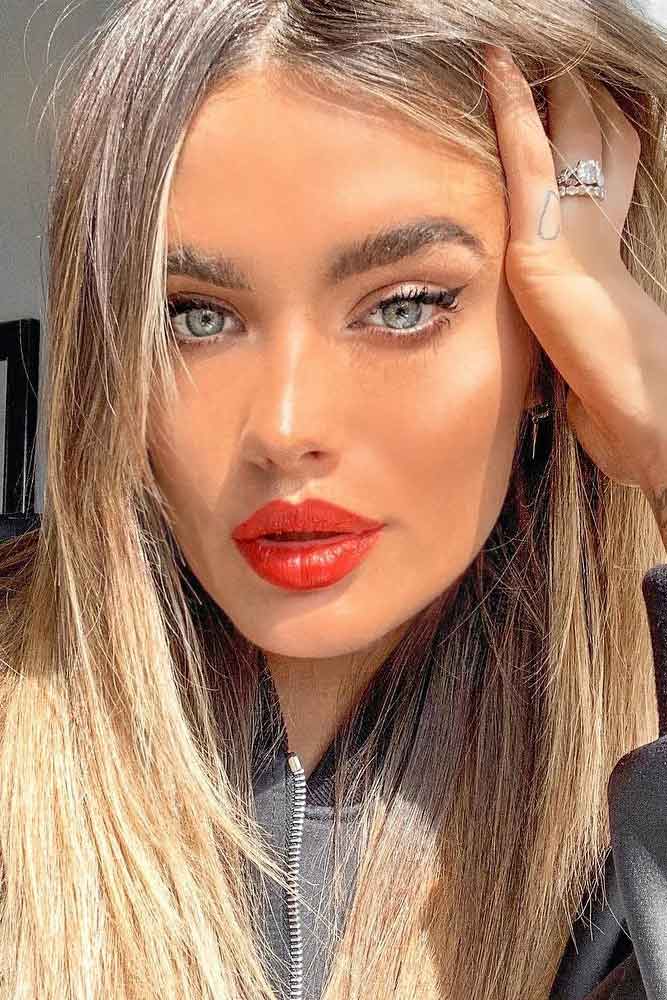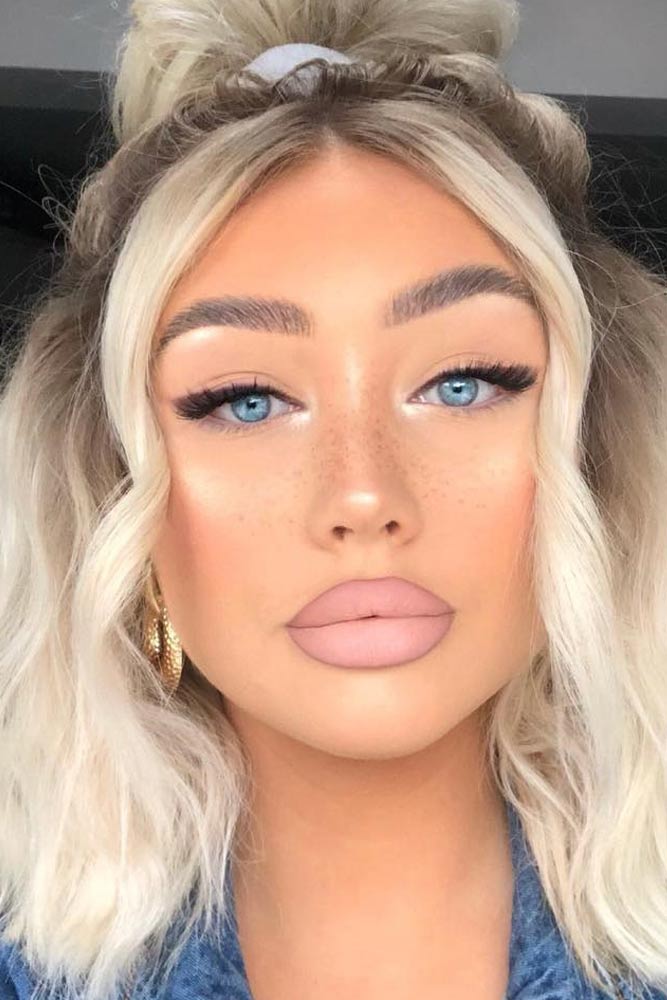 Source: Instagram/andreagladso, Instagram/chloelloyd, Instagram/ohmygeeee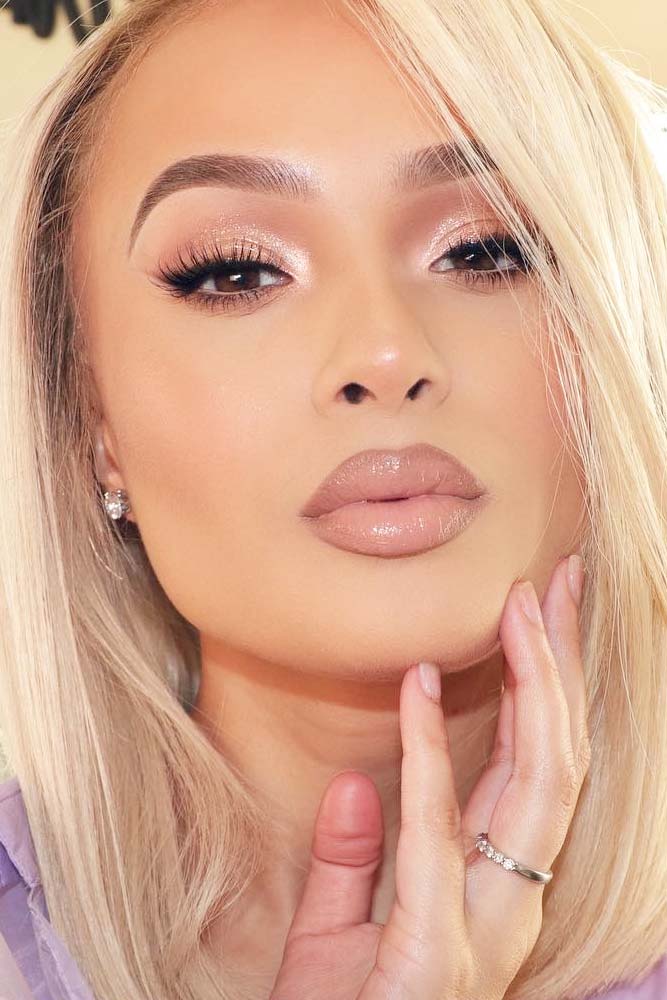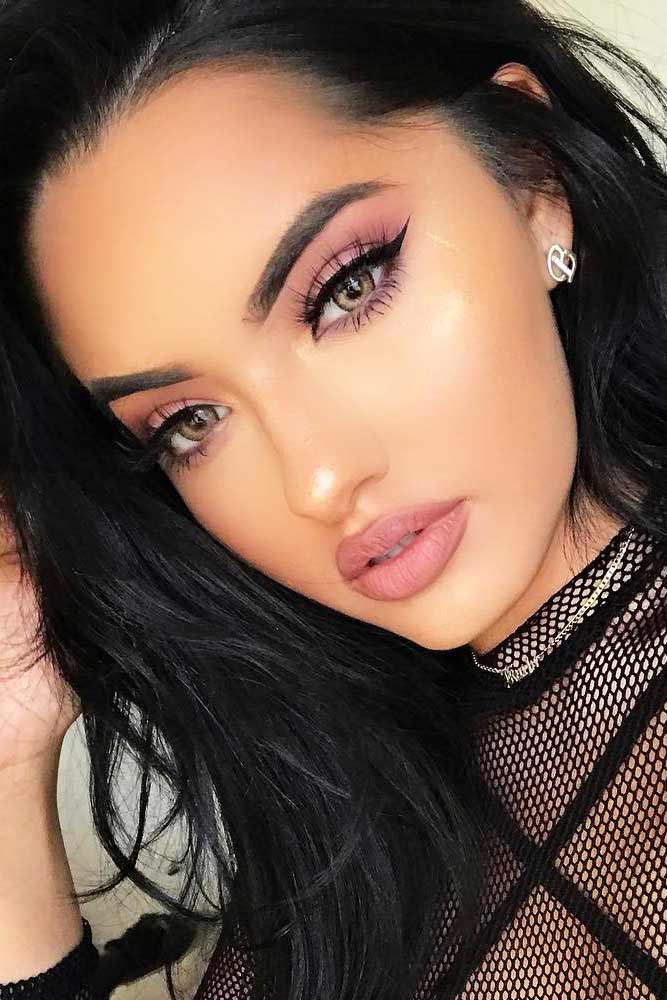 Source: Instagram/makeupbylee, Instagram/theerealkarlaj
Even if you want to have dramatic makeup today, make sure you are moving in the right direction with it by starting with a little wing. Slowly start adding more strokes to build up and voila, your perfect drama queen`s eye makeup is done!
Mistake 4: Using An Old Eyeliner Product And A Dirty Brush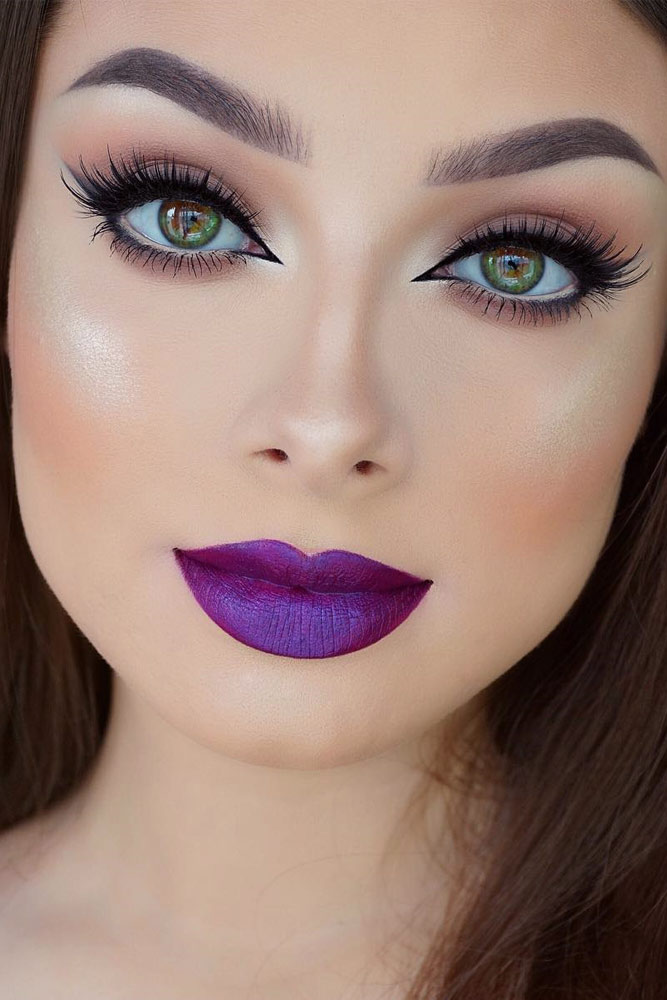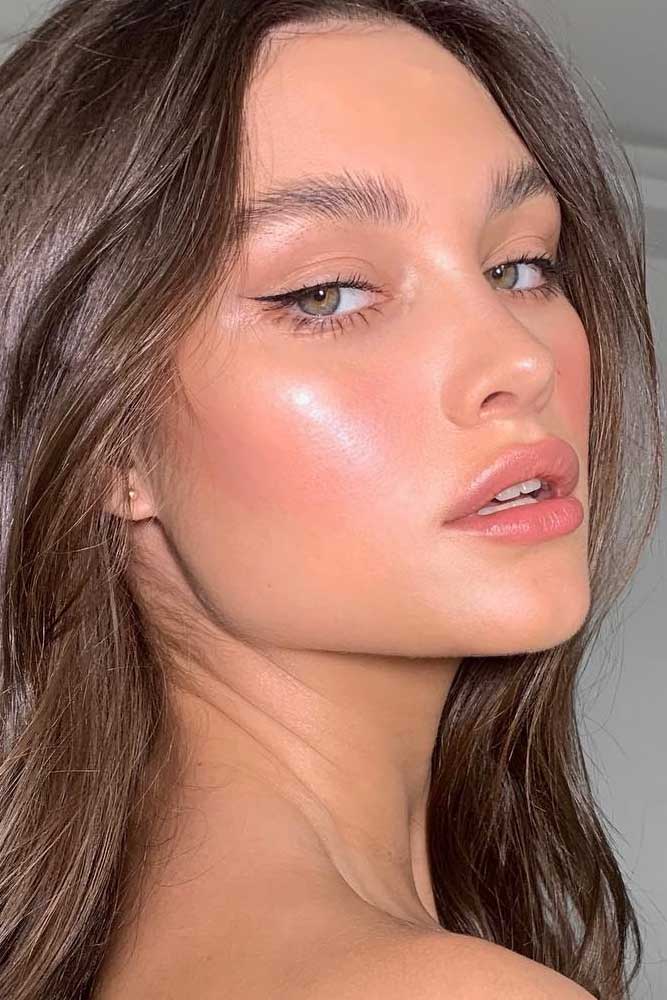 Source: Instagram/jessicarose_makeup, Instagram/sandrakaczorovska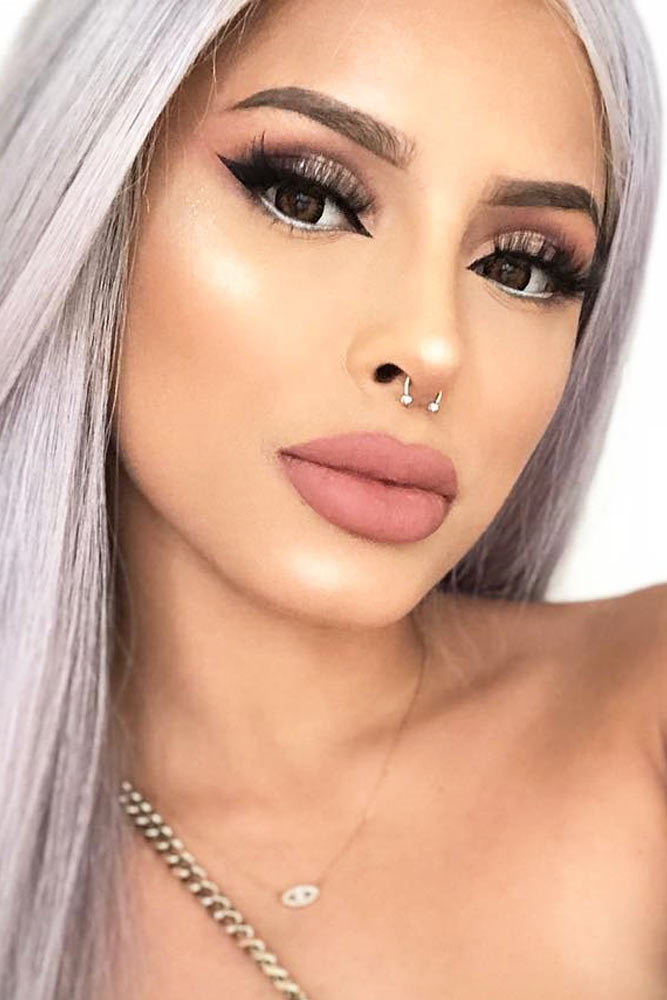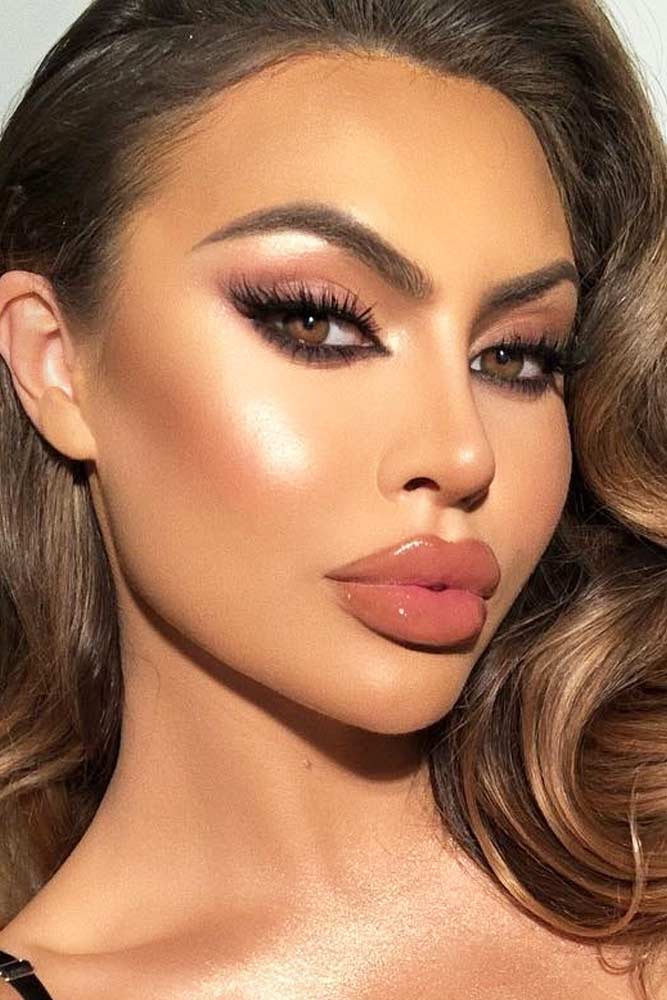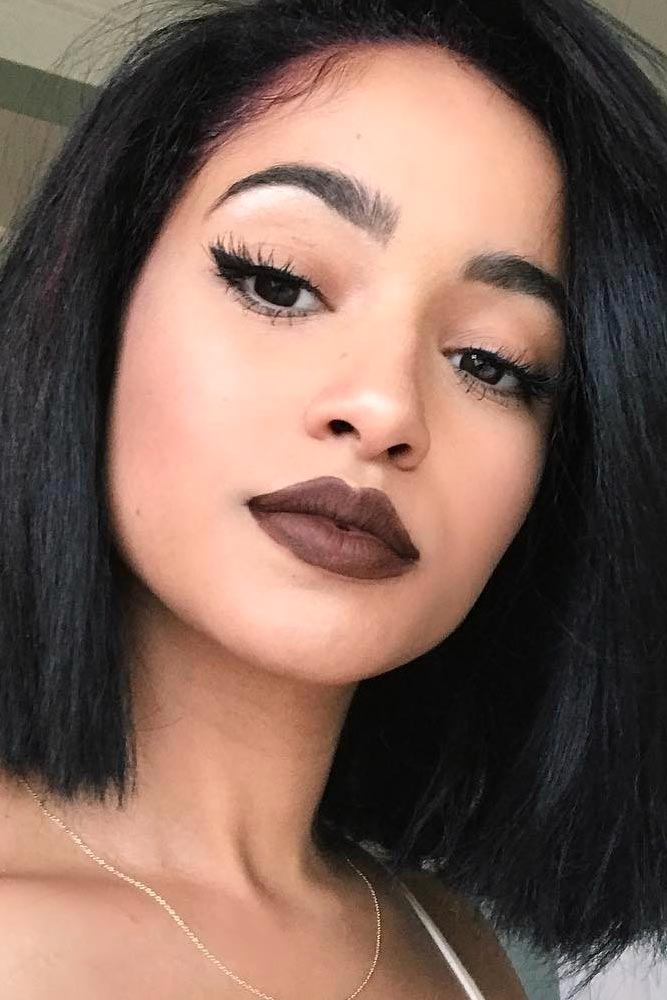 Source: Instagram/itsisabelbedoya, Instagram/jadeywadey180, Instagram/imkaylaphillips
Believe it or not, there is a great difference between using your dirty and clean makeup brush when you do your cat eye makeup. That`s why use only clean brushes to get the desired makeup. The routine will be faster and neater. Applying a fresh product will bring the change, too. A creamy texture will make the application much easier, and your eyeliner will last longer for sure.
Mistake 5: Having Your Eyes Closed While Applying Your Eyeliner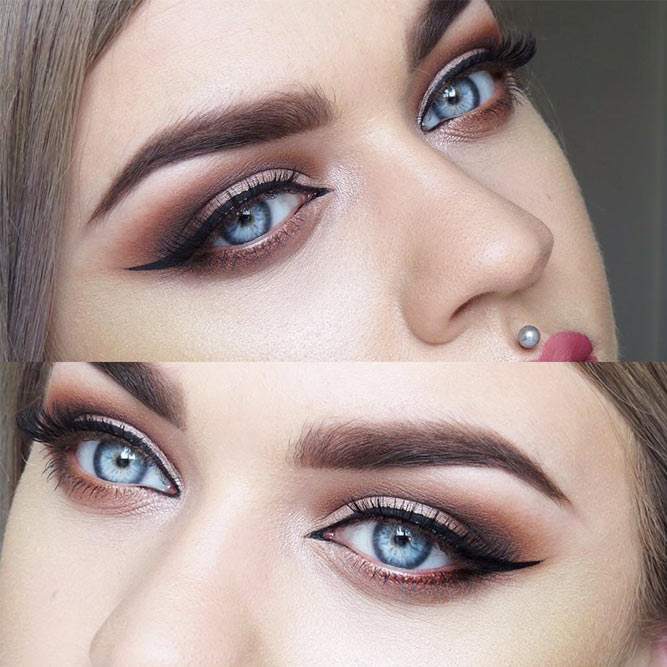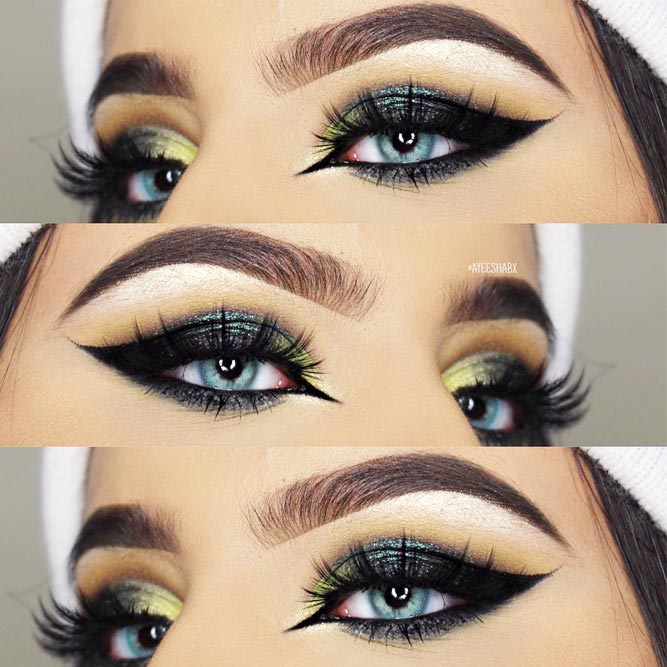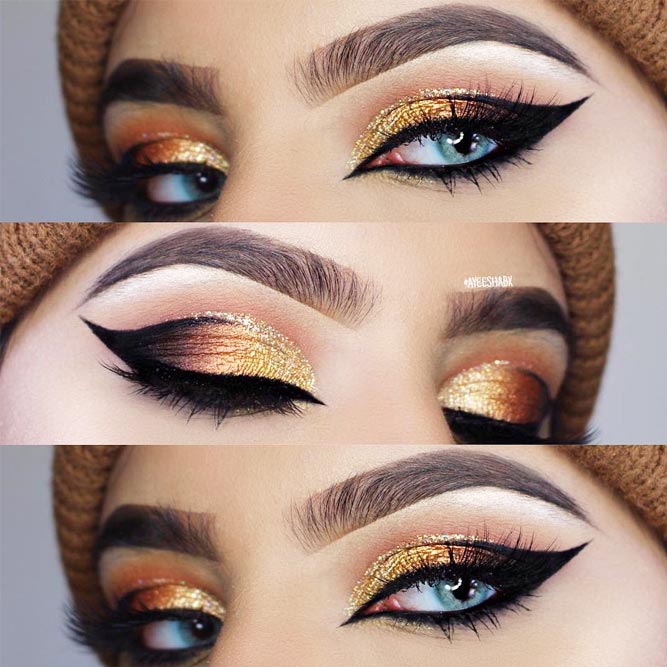 Source: Instagram/sophiecash, Instagram/ayeeshabx, Instagram/ayeeshabx
Opening your eyes is great advice to help you out with having symmetrical wings. Usually, people think differently, but we are here to show you the right way. Slightly open your eyes, look directly at yourself in the mirror, and watch a piece of art being created on your eyelids.
Mistake 6: Taking Off The Eyeliner If You Mess It Up A Bit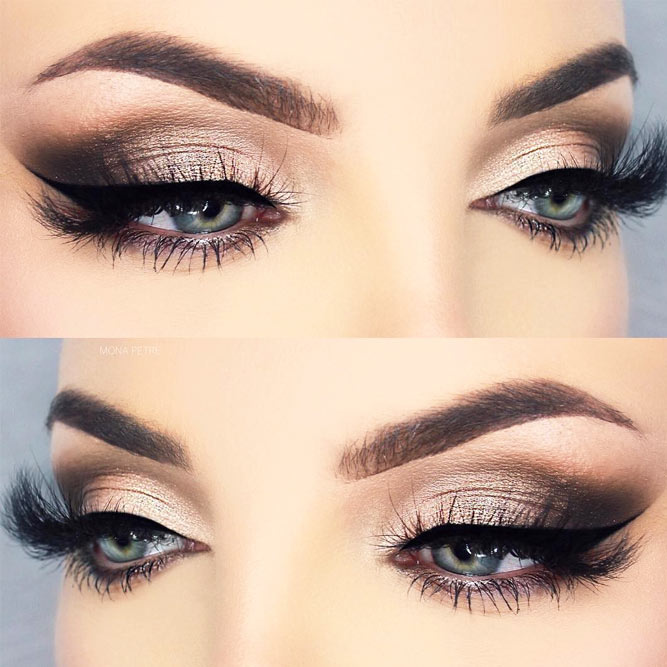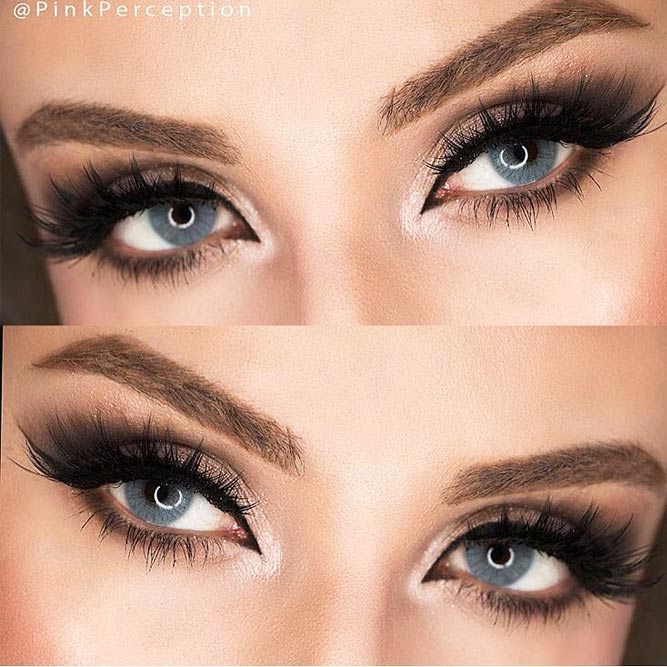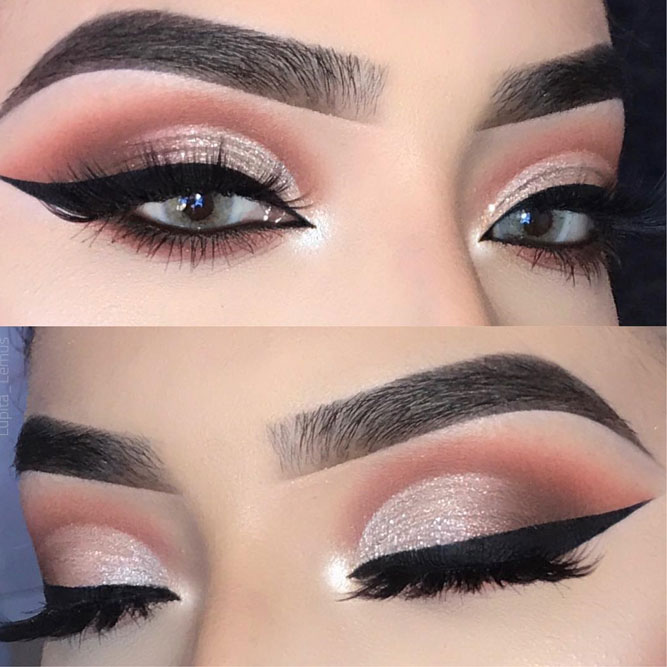 Source: Instagram/monapetre, Instagram/pinkperception, Instagram/lupita_lemus
Making your eyeliner look perfect can be stressful, so don`t panic when you mess it up. Taking the product off won`t be a good idea, honestly. There`s no need to do it, as you can just use a folded makeup wipe or a pointed cotton stick soaked with micellar water to clear the edges and perfect the wing.
Mistake 7: Starting Without Practicing Your Eyeliner Skills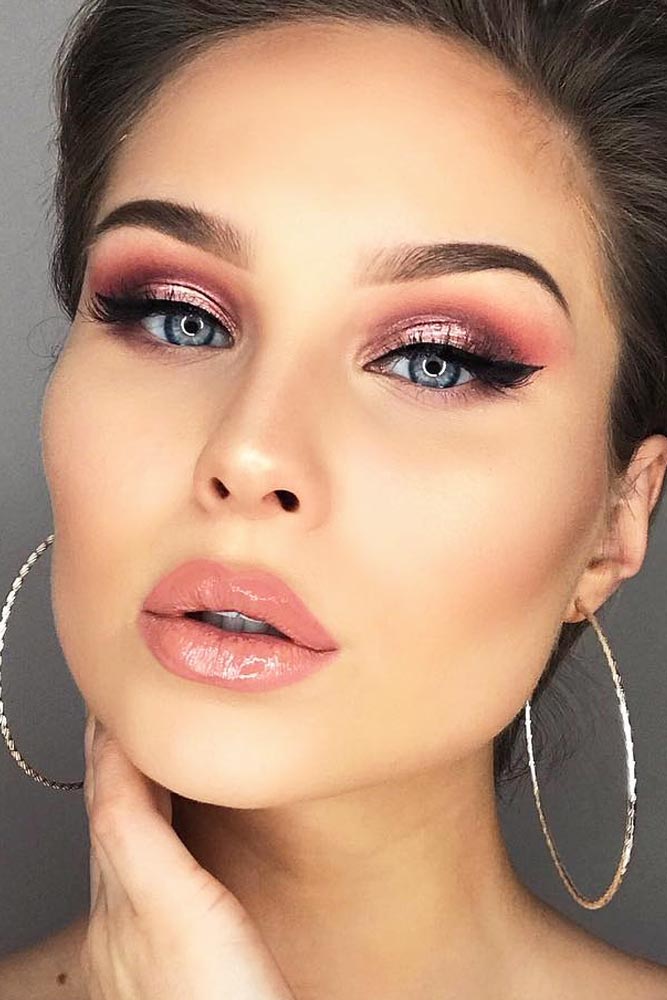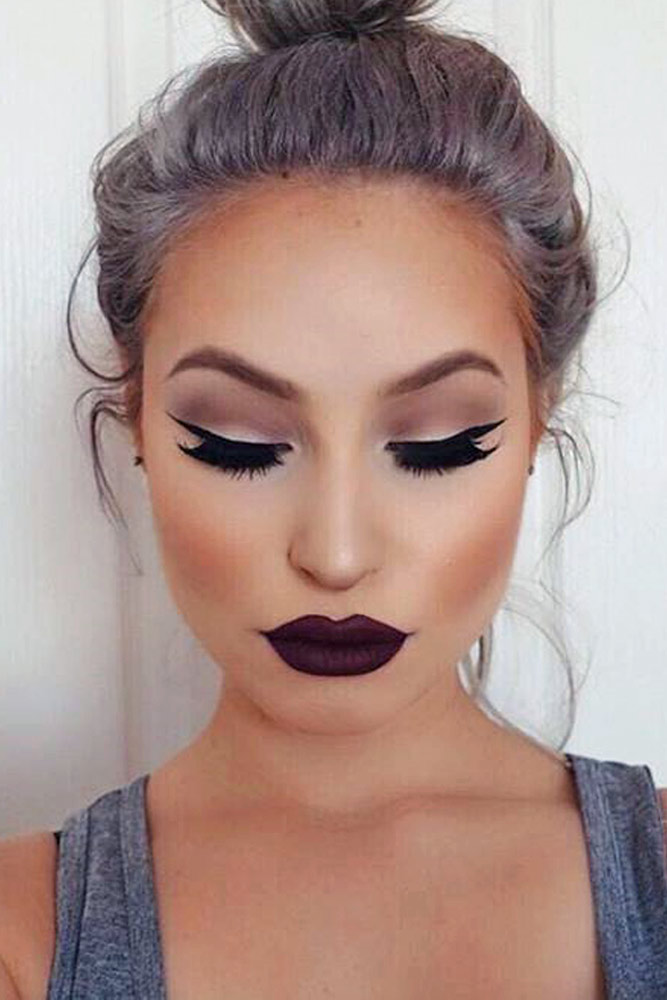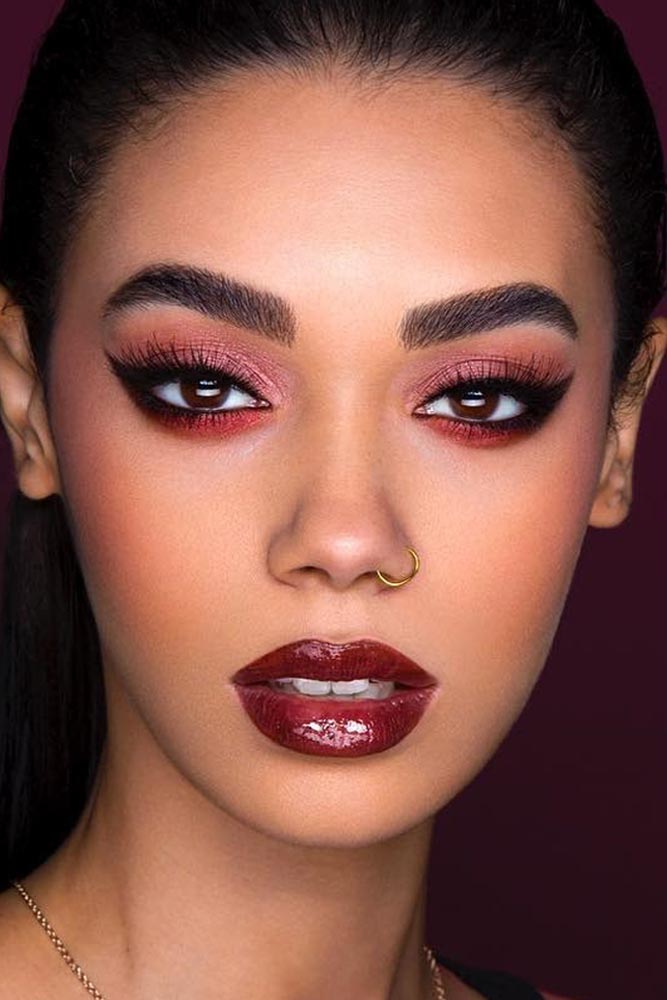 Source: Instagram/nicolebhm, Instagram/ashleyswagnerxo, Instagram/jordanliberty
The more you practice, the better the result is. That`s why to try natural cat eye makeup even on a daily basis, and soon you will be able to do dramatic smoky cat eye makeup for your nights out in under 5 minutes. Also, you can take your time practicing before cleaning your face from makeup before bedtime.
Mistake 8: Not Trying Out Different Products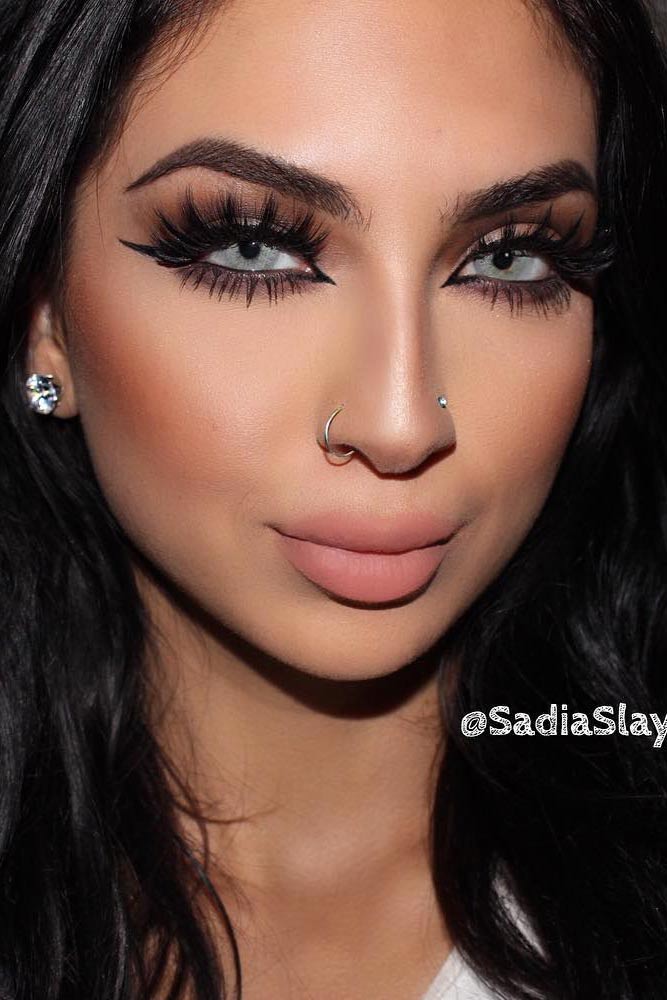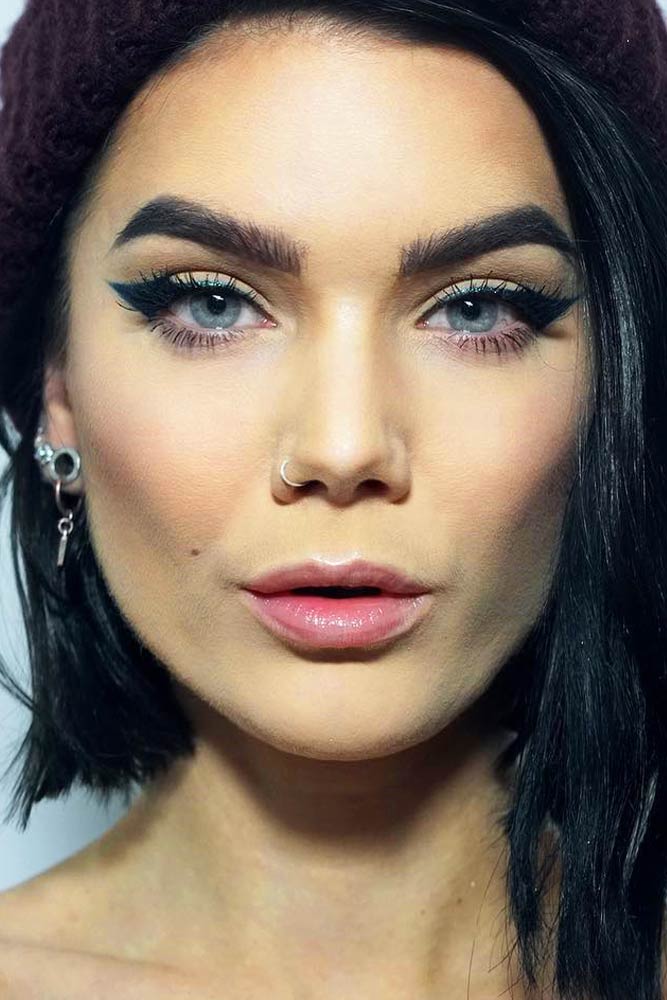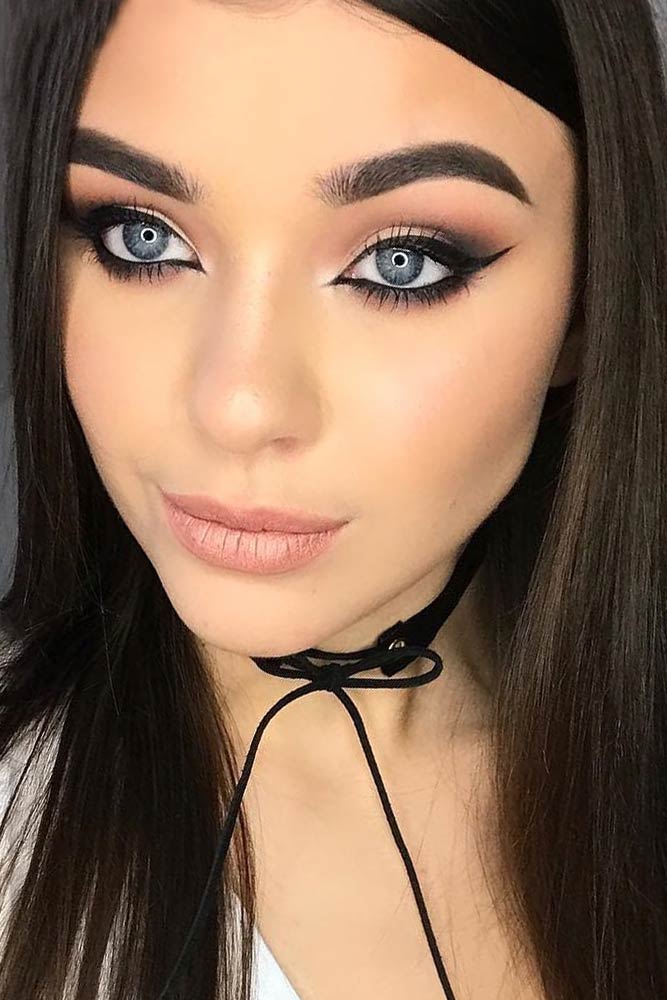 Source: Instagram/sadiaslayy, Instagram/lindahallberg, Instagram/wiskola
Don`t be afraid to experiment with different types of applicators and you will be amazed how easy it can be if you find the right tool. Markers, liquids, mousses and even stickers are present on the market today. Pick the most convenient one for yourself, find the perfect formula that will meet your expectations and enjoy your makeup routine even more.
Mistake 9: Rushing While Creating Eyeliner Looks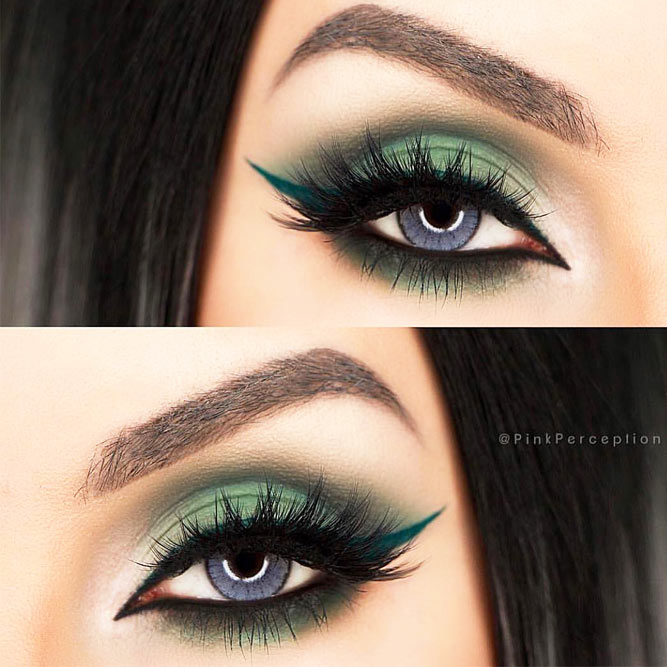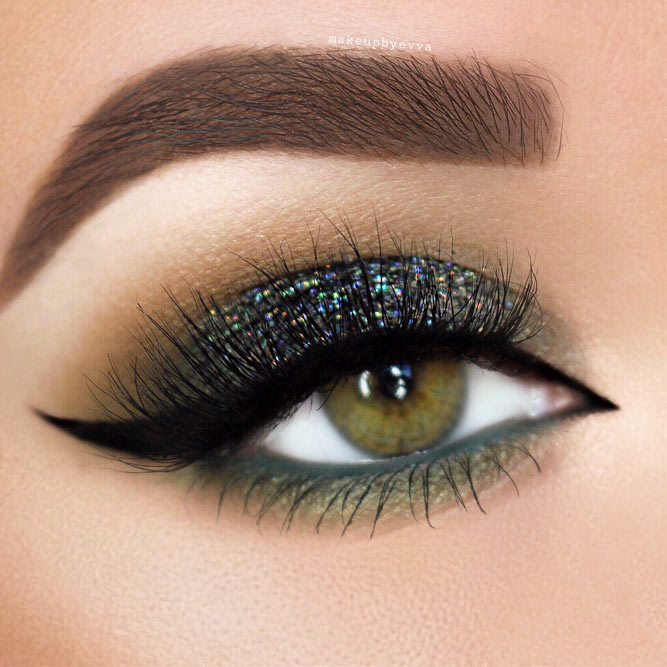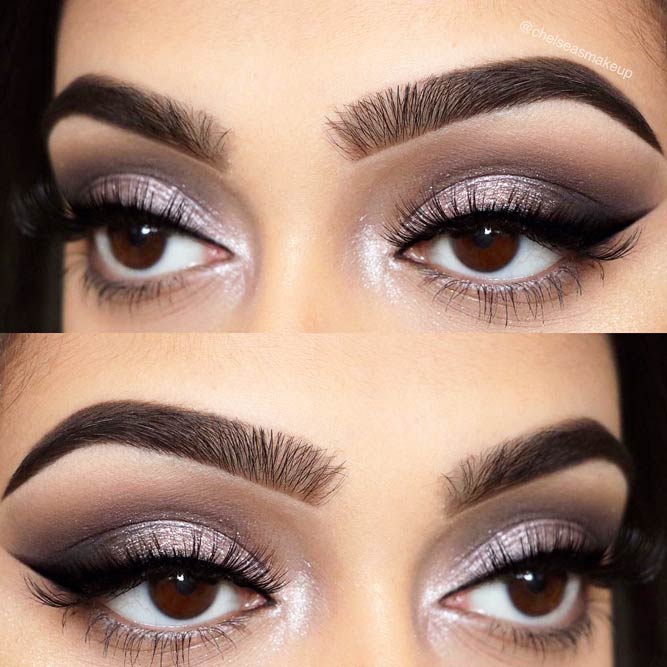 Source: Instagram/pinkperception, Instagram/makeupbyevva, Instagram/chelseasmakeup
If you overslept, then sorry today is definitely not the right day for your cute cat makeup for eyes. That`s a well-known fact that rushing will only mess your wings, so choose something else when you don`t have enough time. At this point, many women start to consider getting permanent makeup to see a perfect cat eye as they wake up. Well, we can't blame them! Still, nothing can compare to the feeling you get when you've made an amazing eyeliner yourself.
We hope these cat eye makeup looks will inspire you and you will choose your favorite makeup to rock on your next occasion. Check out more curious info on our blog.
FAQ: Cat Eye Makeup
How do you apply eyeliner for wrinkled eyelids?
Moisturize your eyelids.
Prime your eyelids.
Draw a thin line starting in the corner of your inner eye, create a "lifting effect by drawing a winged liner at a 45-degree angle. Lifting your eyebrow, tilting your head back slightly will help you flatten the skin. Aim for making your eyes look symmetrical even if you should not follow the natural shape of your eyelid for that.
Apply little eyeshadow to your lower lids.
What color eyeliner should an older woman wear?
Black eyeliner can draw attention to dark circles and wrinkles, opt for brown, navy or plum (choose the one that flatters your eye color better) instead. Moreover, go for a subtle look using powder or gel liner. And do not forget to moisturize your eyelids prior for a flawless application.
REFERENCES:
How to Make Cat Eyes With Eyeliner. Cat eyes give you a dramatic, glamorous look that's both classic and trendy. When you first start doing a cat eye, it's easy to smudge your eyeliner or make it uneven, but you can master the technique. Source
Eye liner was first used in Ancient Egypt and Mesopotamia as a dark black line around the eyes. Source
To figure out how to do cat-eye makeup the easy way, we put the Internet's top tricks to the test. Here's what actually worked for perfect winged liner. Source