Mouth Watering Box Lunch Ideas For Every Day
There is a saying that a healthy breakfast programs a healthy day. However, with our hectic and busy lifestyles, a box lunch may seem impossible to succeed with on a regular basis. That is when you are mistaken! Of course, a take-out may look a lot more appealing and time-saving, but lunch in a box is clearly healthier and easier to afford. Besides, there are so many ideas to experiment with that you will never get bored of eating the same food. Today we are going to review a list of such lunches in a box that will come in more than helpful to the majority. Take your pick!
Vegan Lunch Box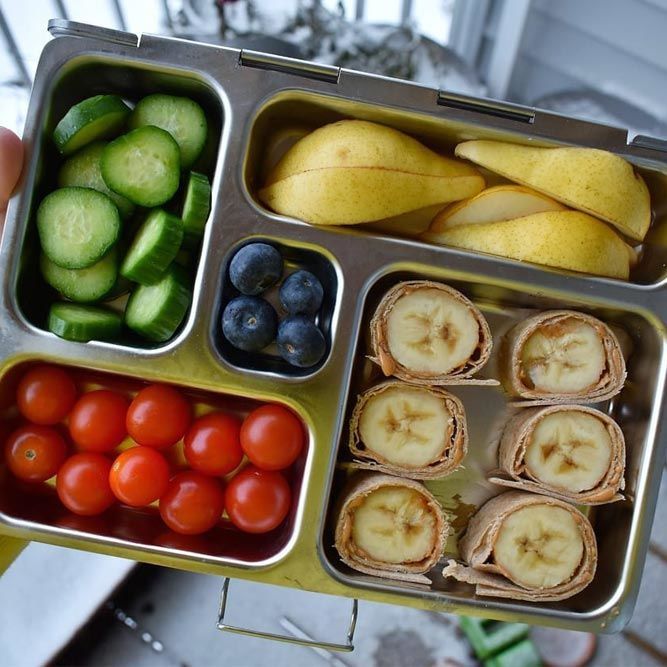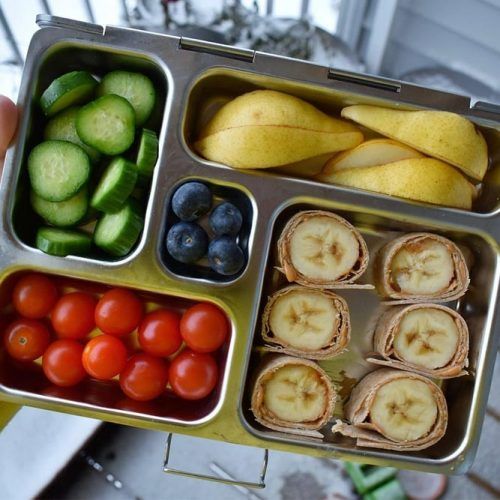 Credit: Instagram/raising_little_foodies
We know that not all of you are equal meat-eaters, that is why we start with a vegan lunch box. The fact is that there are countless vegetarian recipes that can be found online. However, the best and the easiest way to prepare one for yourself is to use fresh products. This box contains:
Sliced cucumbers
Whole cherry tomatoes
Blueberries
Sliced pear
Banana and peanut butter roll-ups
Energy Lunch Box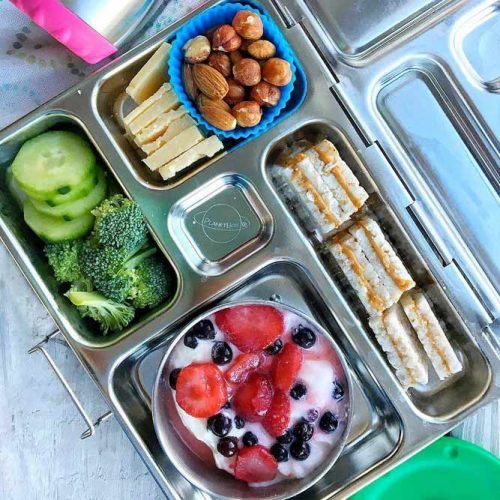 Credit: Instagram/organicfoodforme
If you are looking for the lunch box that will keep you energized throughout the day, we have something in mind. In case you do not know, nuts are the best source of energy, but it is a bad idea to eat nuts all day long. That is why we suggest you add a list of those to your lunch box too:
Fresh cucumbers and broccoli
Grass-fed cheese
Greek yogurt with berries on top
Rice cakes with PB
Soaked nuts
Greek Lunch Box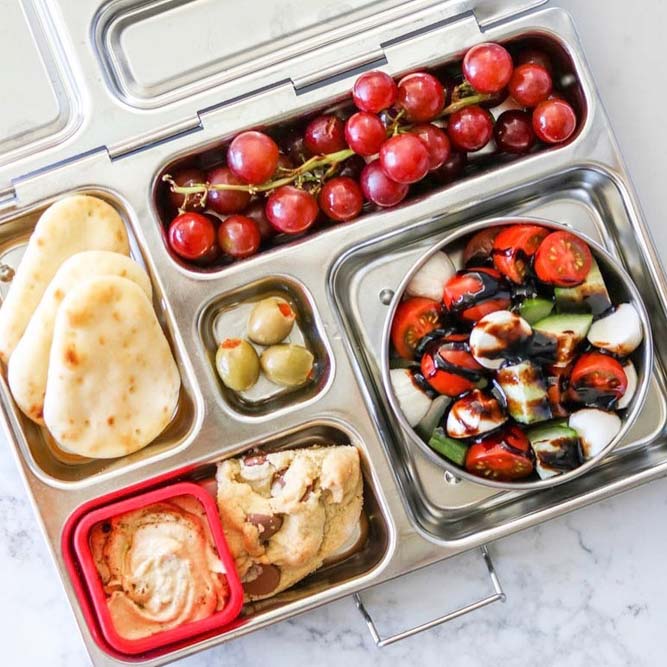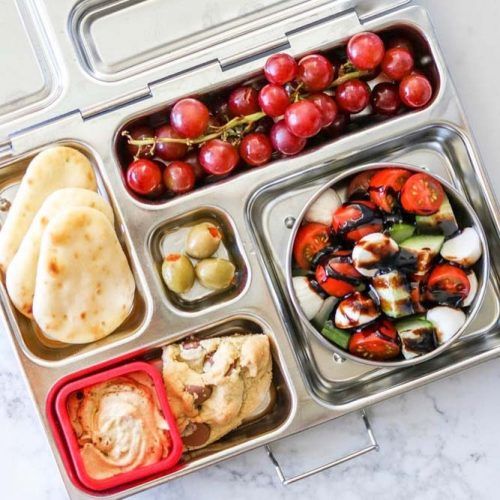 Credit: Instagram/cleaneats_cleantreats
The best lunch idea is the one that takes you the least time to prepare. We happen to have a perfect one in mind.
Salad made of tomatoes, cucumbers, mozzarella, and balsamic sauce.
Grapes
Olives
Mini naan and hummus
Leftover
All these ingredients make a perfect Greek lunch box, don't you think?
Chicken Lunch Idea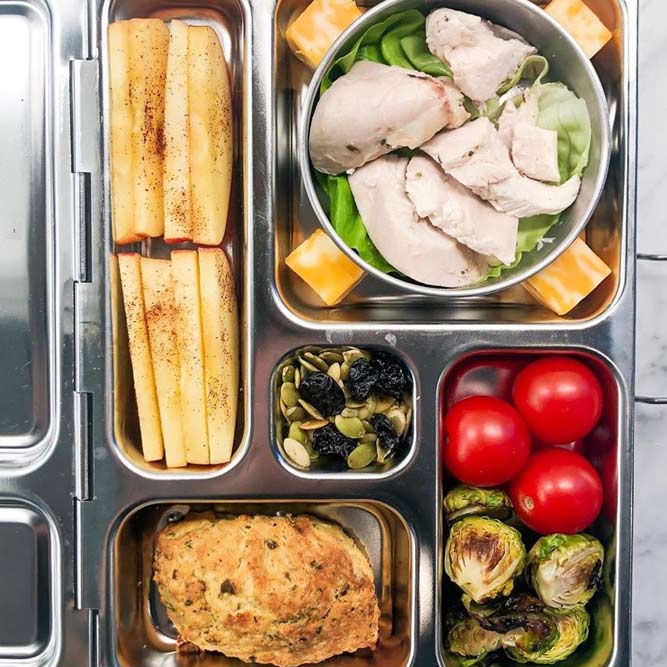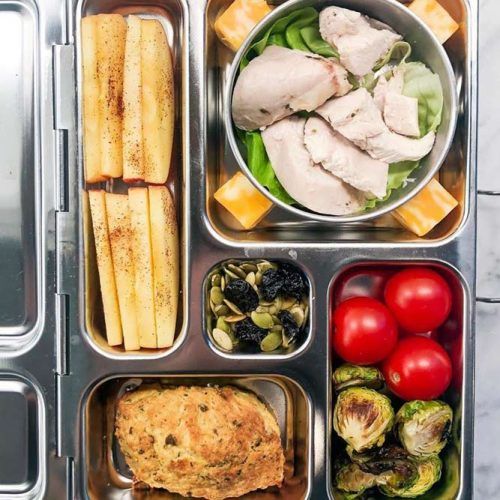 Credit: Instagram/lazylunchboxlady
There are many lunch box ideas, but if you like meat, you will love this one. It is well-balances and delicious so that you will not only feel full but also energized and relaxed.
Chicken with lettuce
A few cubes of cheese
Grilled Brussel sprout and fresh tomatoes
Apple with some cinnamon
Pumpkin seed with dried berries
White cheddar scone with seasoning
Fruit Lunch Idea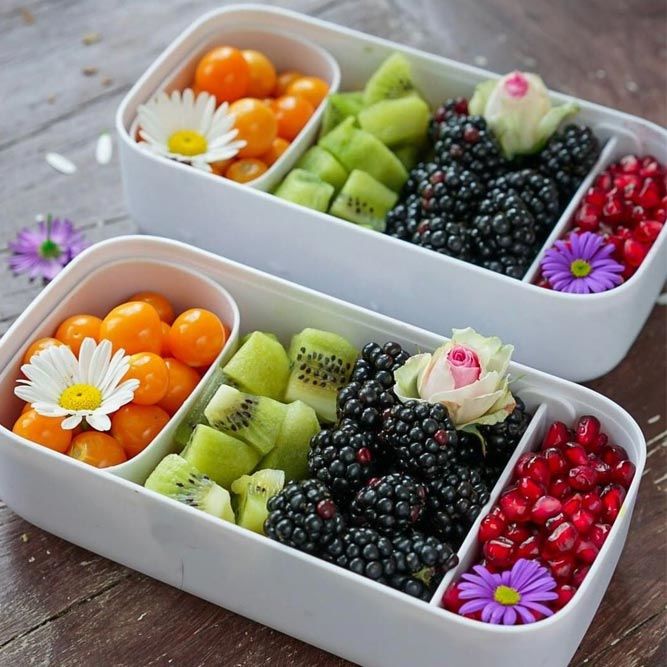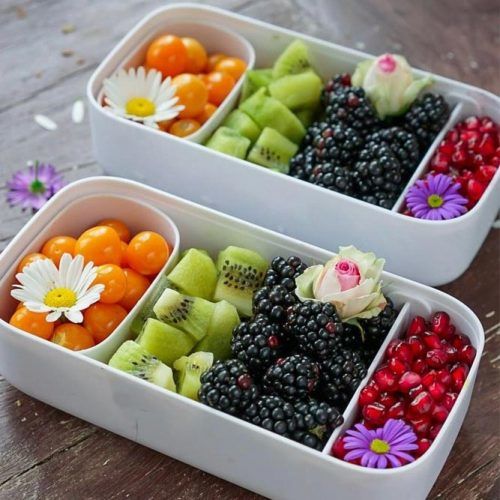 Credit: Instagram/karmabento
There are times when all that you need is a lunch box full of healthy snacks. In times like this, that gorgeous fruit lunch box is merely irreplaceable. You can add the fruits and berries that you like most, but we are going to list the products that we used:
Blackberry
Kiwi cubes
Pomegranate seeds
Physalis fruit
No Cooking Lunch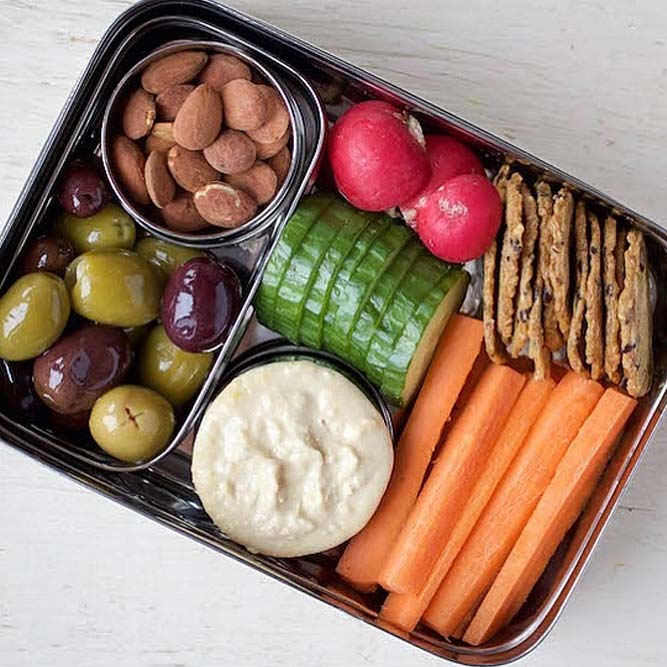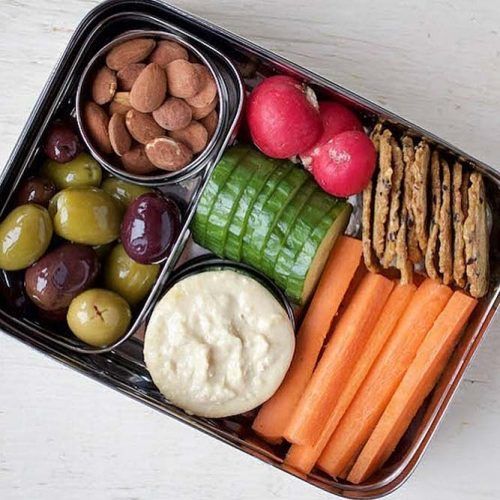 Credit: Instagram/stephaniekaynutrition
The thing that dreads most people is the time spent cooking when you decide to pack an adult lunch box. Good new here – with a box like this, you do not need to spend a minute near the stove!
Almonds
Olives
Carrots
Cucumber
Humus
Reddish
Crackers
We are more than sure that you can find all the ingredients in an average fridge!
Lunch Idea With Sangers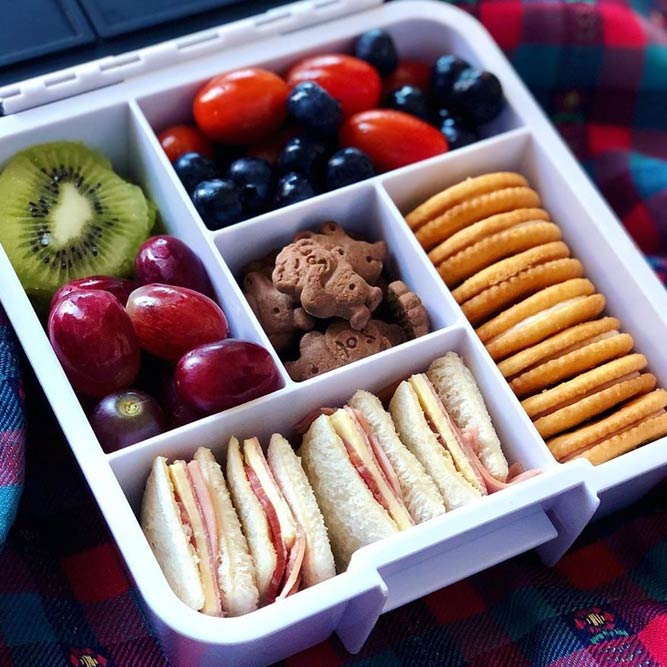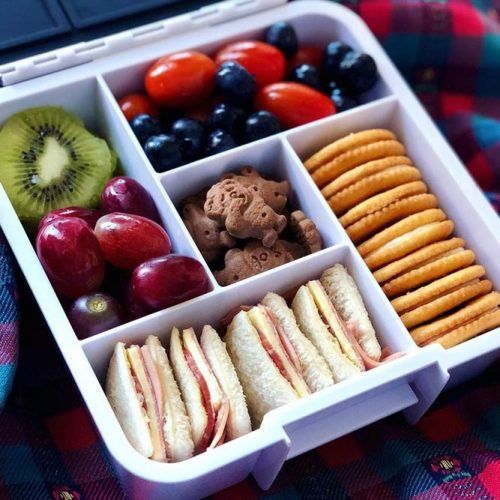 Credit: Instagram/thelunchboxgrind
Add some sangers to your box menu, and you will be amazed at how tasty and versatile it turns out to be.
These particular sangers contain ham, pepperoni, and cheese, but you are allowed to experiment.
Tomatoes
Blueberries
Grapes
Crackers
Cookie snacks
Kiwi
Lunch Box With Cucumber Sandwiches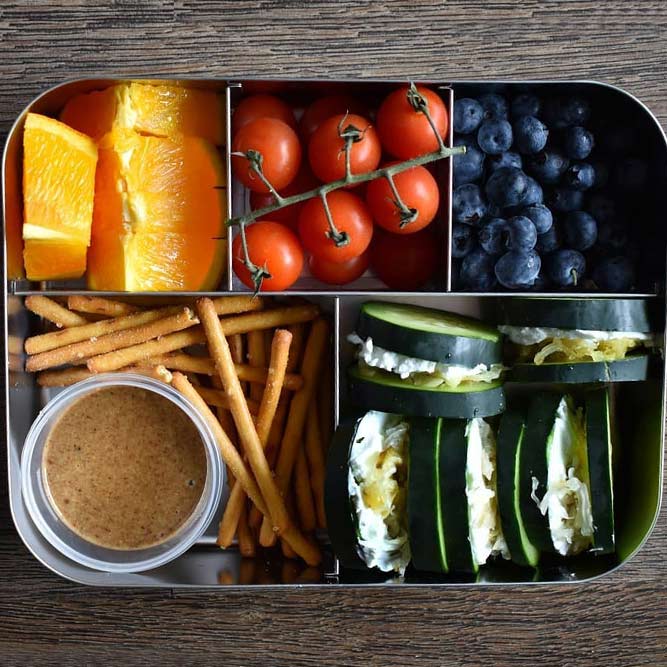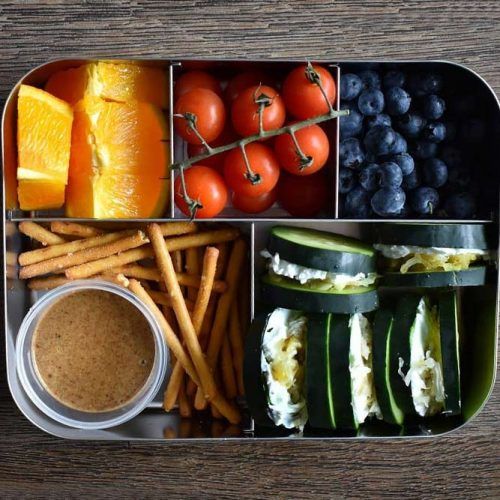 Credit: Instagram/raising_little_foodies
Did you know that you can make sandwiches not out of bread only? This time for the particular personalized lunch box, we used cucumbers instead. Mix cream cheese and garlic to make a tasty spread.
Cucumber sandwiches
Oranges
Tomatoes
Blueberries
Pretzels and granola butter
Lunch Idea With Rainbow Salad Wraps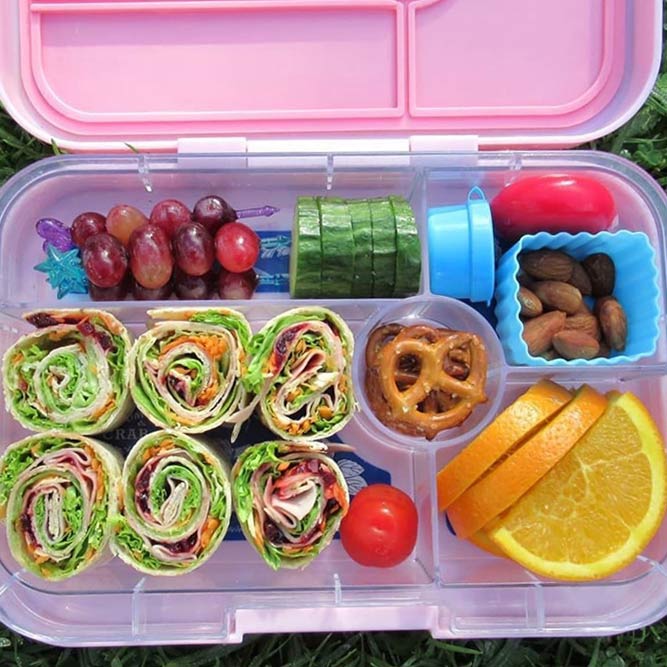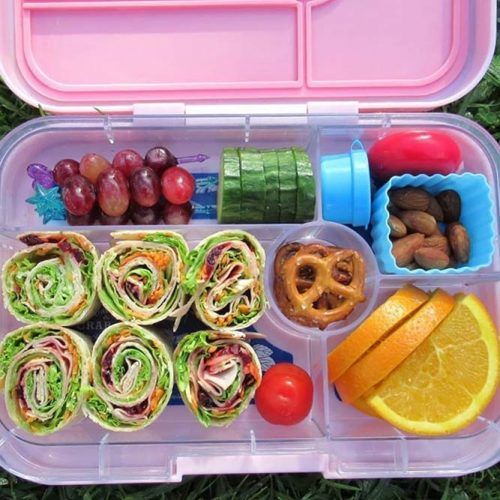 Credit: Instagram/the_lunchbox_queen
Kids lunch box is not less interesting than those for adults. Here you can find:
Tomato
Baby bell
Salad wraps
Grapes
Oranges
Cucumbers
Crackers
Almonds
There is also a small blue container that you can use for school money.
Glutenfree Box Idea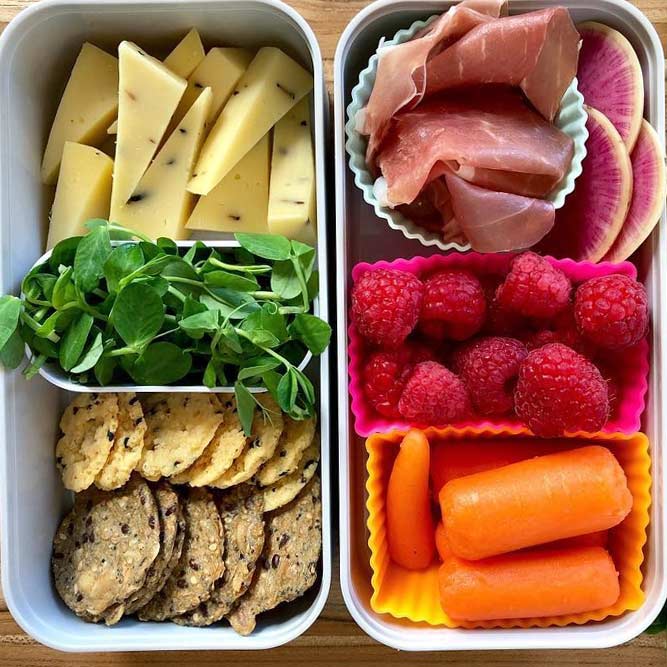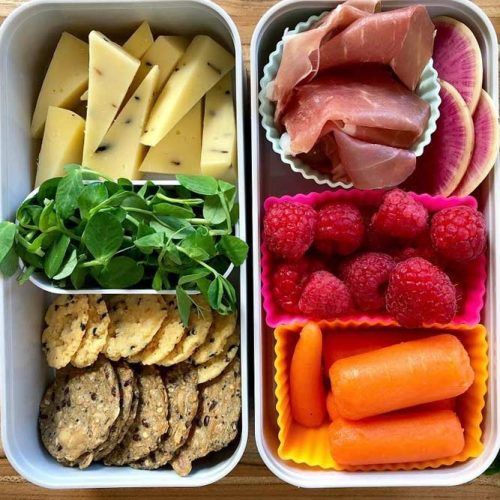 Credit: Instagram/lalalunchbox
If you are gluten-intolerant, it may be quite difficult to come up with a box that would fit the requirements. However, we managed. Here is what should be on your list if you want your box to be gluten-free:
Prosciutto
Cheese
Crackers
Carrots
Greens
Raspberries
You are welcome!
Eating healthy is important. However, when people think that it is time-consuming and hard to afford – we are going to prove them wrong. These box lunch ideas will take you minutes to complete and will result in your improved health in no time!