Recipes Of Healthy Breakfast For a Flat Stomach
A healthy breakfast does not only bring you energy for the whole day, but it also guarantees that you will have fewer snacks during the day and, consequently, consume fewer calories. We know that you don't always have enough time in the morning to have breakfast, but being healthy is more important than anything.
We can advise you what to eat to stay healthy and lose your belly fat, too.
Apple Pie Quinoa Oatmeal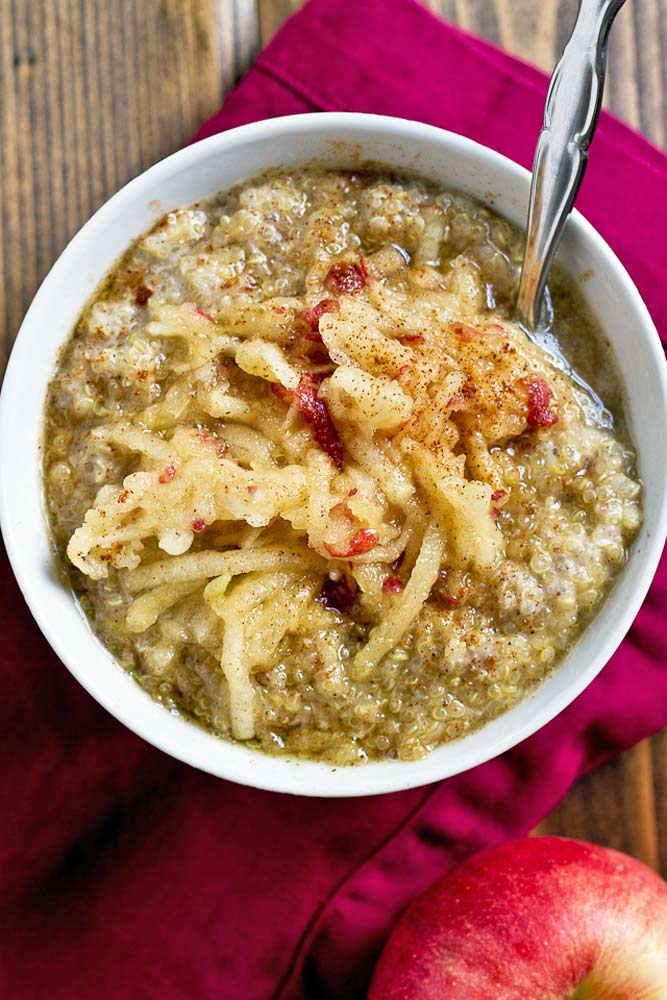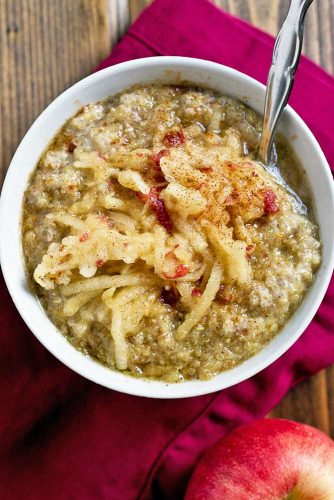 Source: Healthy Aperture
Ingredients:
Rinsed quinoa (1 cup)
Unsweetened applesauce (1/4 cup)
Vanilla extract (1/4 teaspoon)
Shredded medium apples (2)
Unsweetened almond milk, preferably vanilla (2 cups)
Apple pie spice (1/2 teaspoon)
Salt (1 pinch)
Maple syrup, 100%
Instructions. To make this healthy breakfast, take a medium pot and boil applesauce, quinoa, and almond milk. Reduce heat and cook for about 15 minutes till the absorption of liquid. Add salt, apple pie spice, and vanilla. Pour the mixture into bowls and serve with maple syrup and shredded apples on top.
Tomato, Artichoke, and Feta Frittata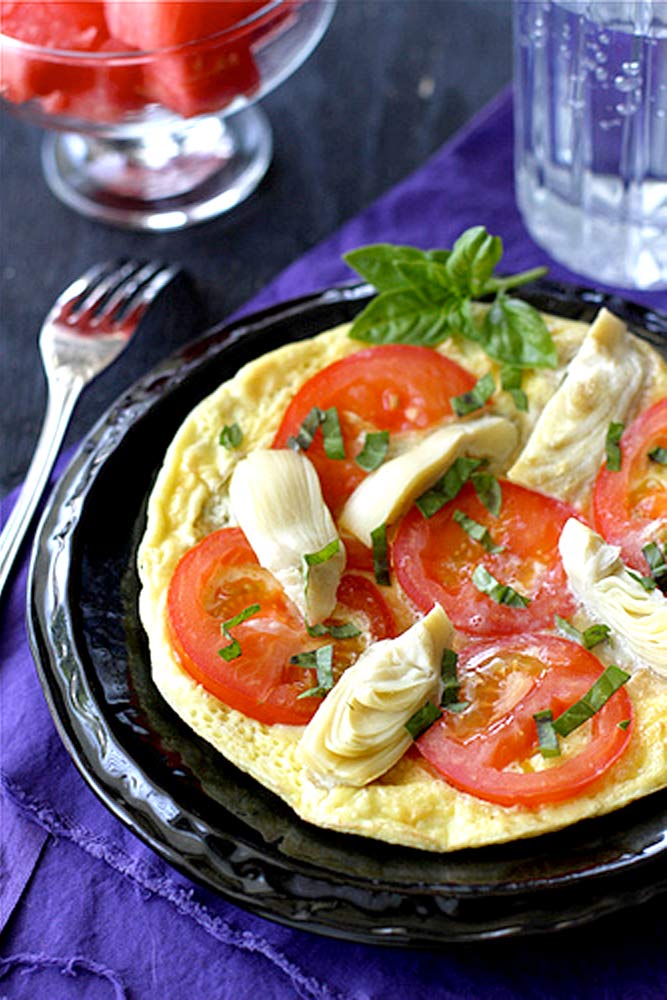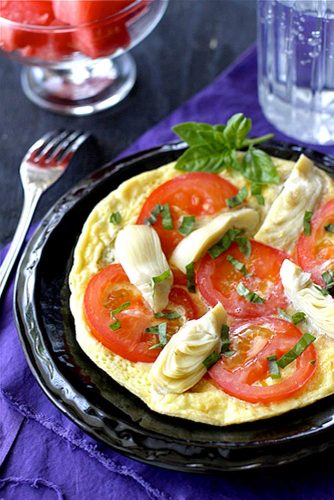 Recipe from Rodale Wellness, Photo from Cookin Canuck
Ingredients:
Egg (1)
Cooking spray
Chopped canned artichoke hearts (1/2 cup)
Feta cheese (3 tablespoons)
Egg white (1)
Chopped tomato (1/4 cup)
Chopped shallot (1 teaspoon)
Toasted whole-grain bread (1 slice)
Instructions. To prepare this healthy breakfast, whisk egg white and egg. Mist a skillet with the help of a cooking spray. Put there tomato, shallot, and artichoke, and cook for about two minutes. Reduce heat and add whisked eggs. Cover a skillet and cook for about 3 minutes till eggs become firm. Use feta as a topping and serve with toasted bread.
Strawberry Almond Breakfast Quinoa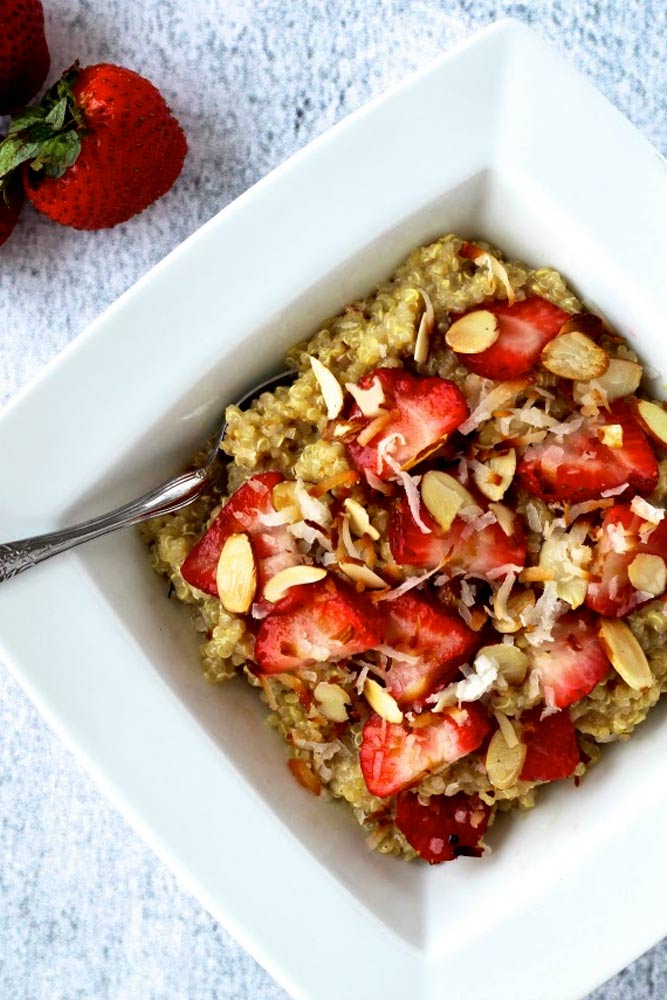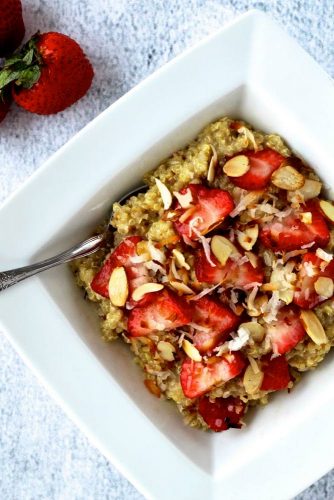 Recipe from Jeanette's Healthy Living, Photo from The Foodie Physician
Ingredients:
Rinsed quinoa (1 cup)
Maple syrup, pure (2 tablespoons)
Sliced strawberries (1 cup)
Unsweetened coconut, shredded (2 tablespoons)
Unsweetened almond milk (divided into 2 cups and 2 tablespoons)
Cinnamon (1/4 teaspoon)
Toasted sliced almonds (2 tablespoons)
Instructions. To cook this healthy breakfast, take a pot and boil almond milk and quinoa. Reduce heat, cover, and simmer for about 15 minutes. Don't let quinoa dry out. Add cinnamon, maple syrup, and the remaining almond milk. Take four bowls and place quinoa in them. Top with coconut, strawberries, and almonds.
Peanut Butter Banana Baked Oatmeal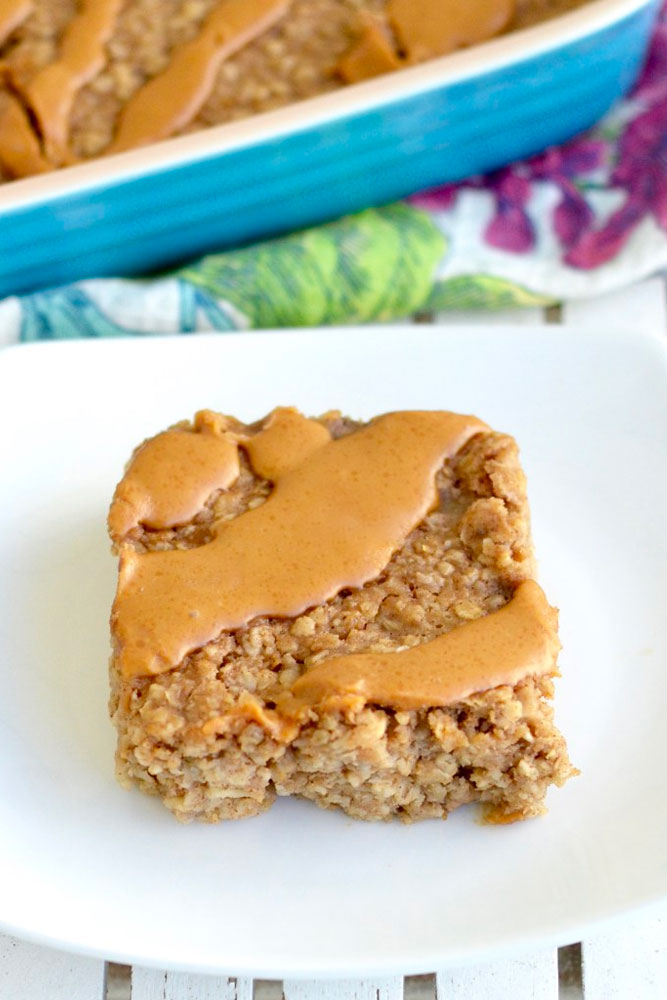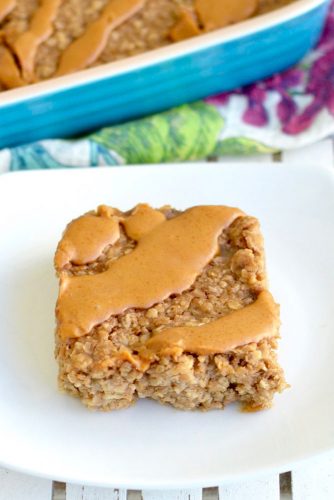 Source: Joy. Food. Sunshine.
Ingredients:
Quick cooking oats (1 ½ cups)
Sea salt (1/2 teaspoon)
Mashed overripe bananas (2)
Vanilla extract (1teaspoon)
Lightly beaten egg (1)
Baking powder (1 teaspoon)
Ground cinnamon (1 teaspoon)
Peanut butter, creamy (1/4 cup)
Maple syrup, pure (1/4 cup)
Unsweetened almond milk, preferably vanilla (3/4 cup)
Instructions. Oven should be preheated to roughly 350 degrees F. Take a baking pan, preferably in a square shape, grease it, and then set aside. Take a bowl and mix sea salt, quick cooking oats, ground cinnamon, and baking powder. Set this mixture aside. Take another bowl and mix thoroughly peanut butter and banana. Add maple syrup, egg, and vanilla extract to the bowl and mix thoroughly. Then add almond milk and make sure that the butter becomes homogenous. Next, pour the two mixtures into one large bowl and mix until combined. Bake for about 25 minutes, cut, and serve.
Salad With Soft Boiled Eggs and Avocado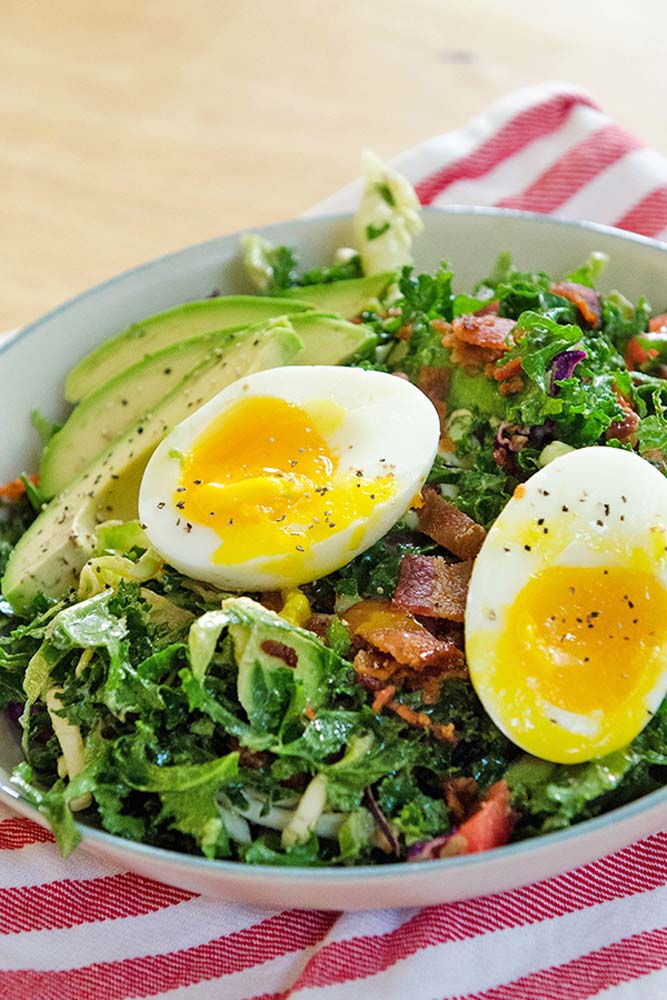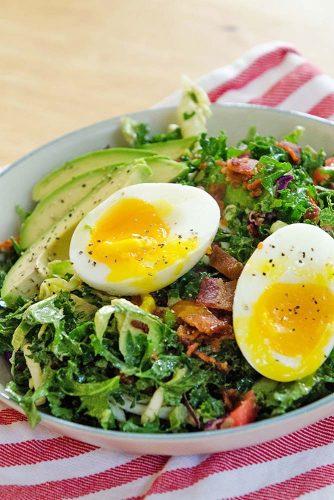 Source: So Let's Hangout
Ingredients:
Salad
Diced red onion (1/4)
Sunflower seeds, roasted (1/3 cup)
Sliced ripe avocado (1)
Pepper and salt
Cruciferous greens blend (1 bag)
Diced tomato (1)
Cooked bacon, chopped (6 pieces)
Soft boiled eggs (2)
Dressing
Apple cider vinegar (3 tablespoons)
Lemon, squeezed (1)
Olive oil (1/4 cup)
Dijon mustard (1 tablespoon)
Instructions. Take a large bowl and combine bacon, tomato, cruciferous greens blend, sunflower seeds, and onion. Take a mason jar and shake the dressing ingredients until well combined. Pour it over the salad and set aside. Top it with sliced eggs and avocado, and serve.
Spinach Feta Egg White Wrap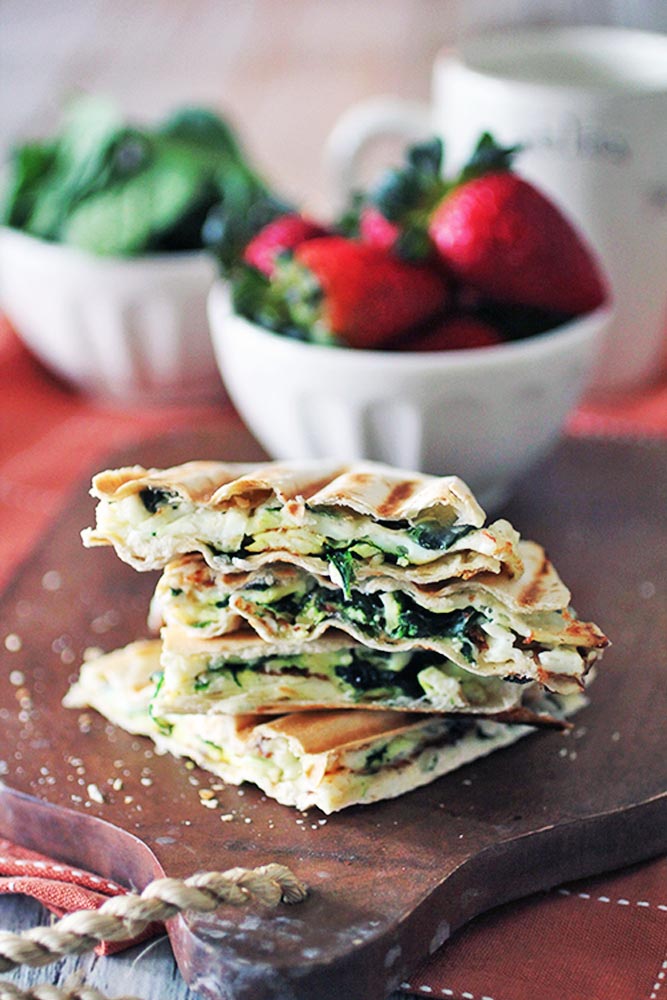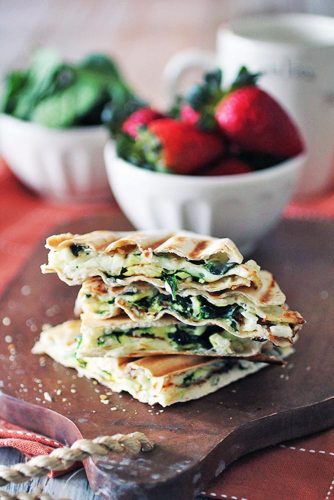 Source: Dashing Dish
Ingredients:
Egg whites (6)
Pepper and salt (1 pinch)
Tortillas, low carb (2)
Fresh spinach (2 cups)
Crumbled feta cheese (1/2 cup)
Instructions. Take a cooking spray and spray a skillet. Cook egg whites on medium heat till they are almost cooked. One minute before turning off heat, add pepper, salt, and feta cheese. Put tortillas in a microwave to warm for about half a minute. Place egg mixture in two wraps and serve.
Eggs Baked in Portobello Mushrooms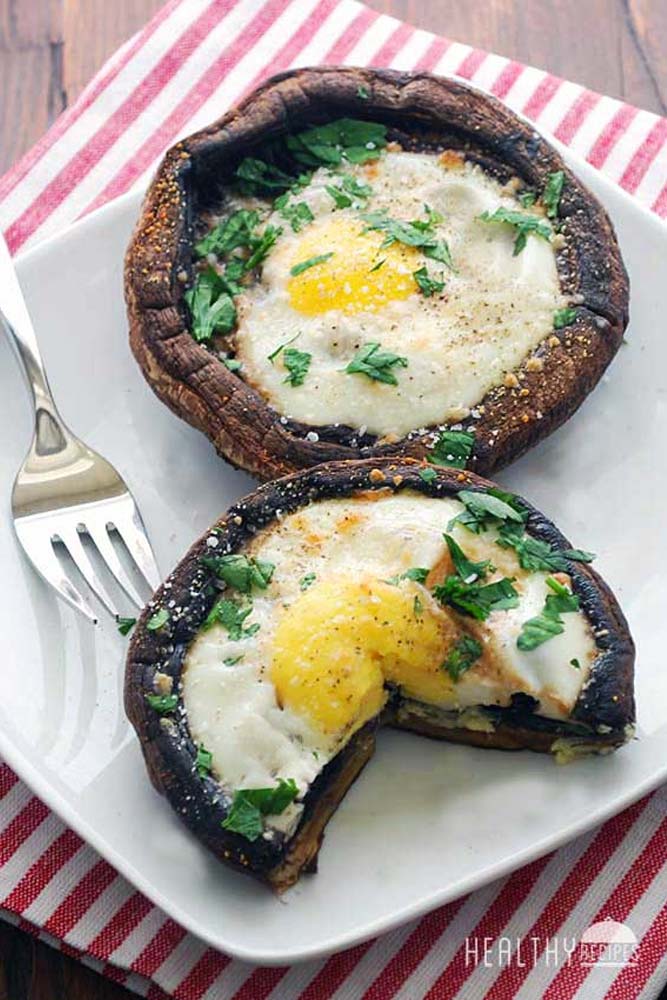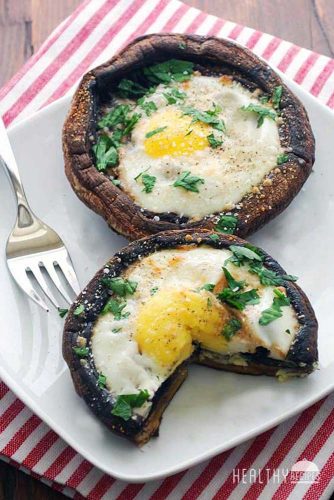 Source: Healthy Recipes
Ingredients:
Wiped clean portobello mushrooms, stem removed (4)
Kosher salt (1/2 teaspoon)
Garlic powder (1/2 teaspoon)
Parmesan cheese, grated (2 tablespoons)
Olive oil spray
Black pepper (1/2 teaspoon)
Eggs (4)
Chopped parsley (4 tablespoons)
Instructions. Turn your broiler on high and preheat it. Take foil and cover a baking sheet with it. Take olive oil spray and spray both sides of mushroom caps. Sprinkle with garlic powder (1/4 tsp), kosher salt (1/4 tsp), and pepper (1/8 tsp). Broil for about 5 minutes till they become tender, and take them out of the oven. Switch the oven to bake and set it to 400 degrees F. Take an egg and break it into a mushroom. Repeat 4 times. Sprinkle each mushroom with some cheese and bake for about 15 minutes. Egg whites must be cooked. Sprinkle eggs with salt and pepper that remained, top with parsley, and serve.
Baked Blueberry Oatmeal Cups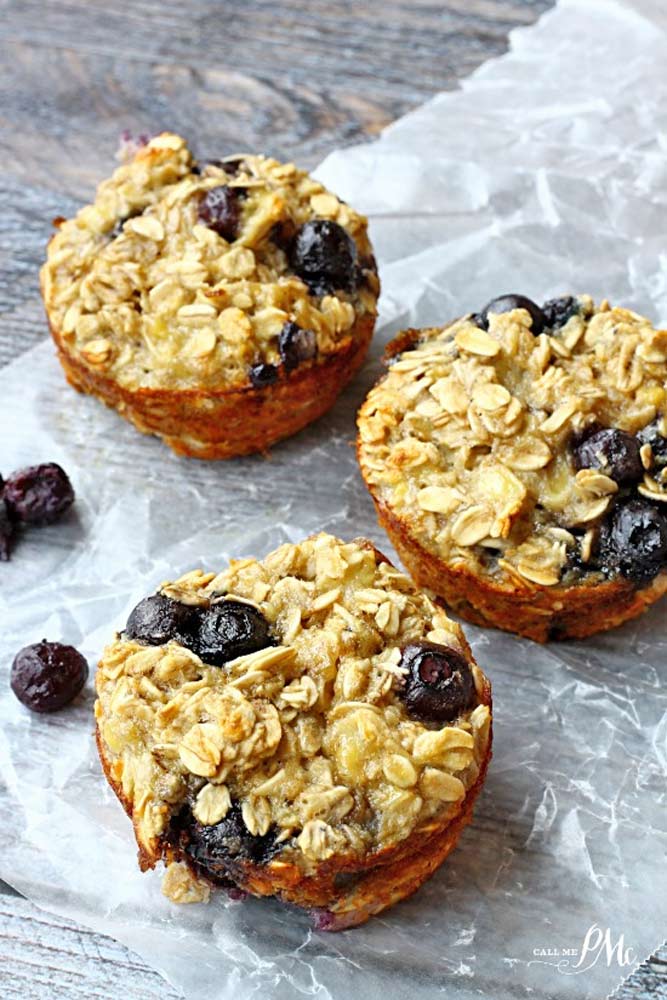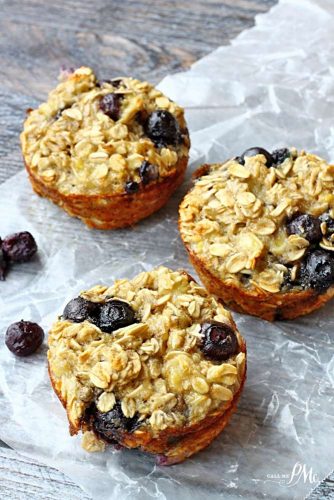 Source: Call Me PMC
Ingredients:
1 cup old-fashioned rolled oats, uncooked
1 egg
1 teaspoon baking powder
1 teaspoon vanilla
1/2 cup blueberries, fresh or frozen
Instructions. Preheat oven to 425 degrees Fahrenheit. Spray large muffin tin with non-stick spray. Mash banana until smooth. Add banana, oats, beaten egg, baking powder and vanilla to a bowl. Stir until just combined. Stir in blueberries. Using a large spring-release scoop fill muffin tins with batter. I fill to the top, these muffins do not rise very much. Bake at 425 degrees for 5 minutes, then decrease oven temperature to 375 and continue baking for 12 more minutes. Allow muffins to cool slightly in muffin tin a few minutes. Removing them while hot will likely cause the muffins to break apart as they are very moist.
Mini Egg Frittatas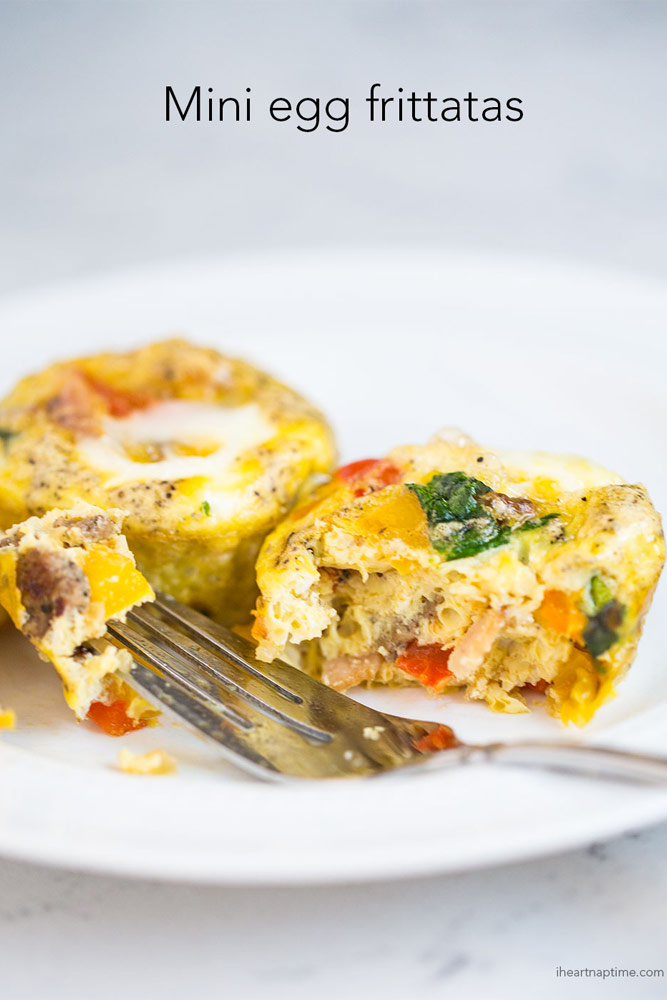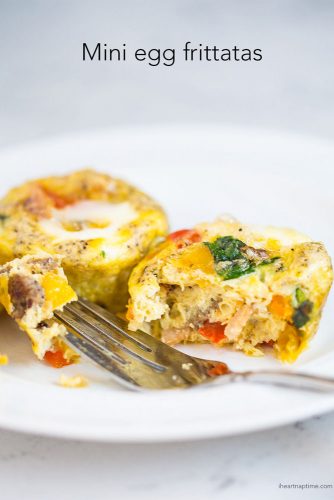 Source: I Heart Naptime
Ingredients:
10 large eggs
1 cup chopped bell peppers
1/2 cup chopped onion
1 cup cooked crumbled breakfast sausage, bacon or diced ham
1 cup chopped spinach
1 teaspoon kosher salt
1/2 teaspoon ground black pepper
Instructions. Preheat oven to 350°F. Spray a non-stick or silicone muffin tin with nonstick cooking spray. Heat olive oil into a a non-stick frying pan over medium high heat. Add the bell pepper and onion and saute for 2 to 3 minutes. Stir in the meat and spinach and cook an additional 2 minutes. Place 1 heaping Tablespoon into each muffin cup. Next whisk the eggs into a medium size bowl. Stir in the salt and pepper. Then pour over the meat mixture in the muffin tin, leaving 1/4" from the top. Cook for 23 to 25 minutes, or until the egg has puffed and comes clean with a toothpick. Run a knife around the edges to pop the egg frittatas out. Enjoy while hot. Store in the an air tight container in the refrigerator. Eat within 5 days.
Pumpkin Pie Smoothie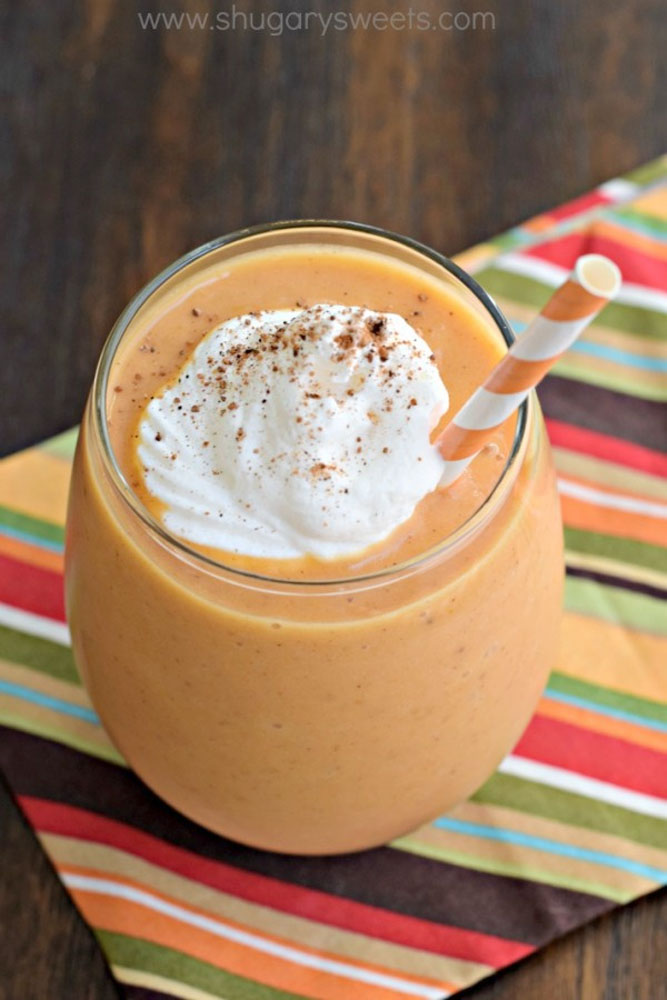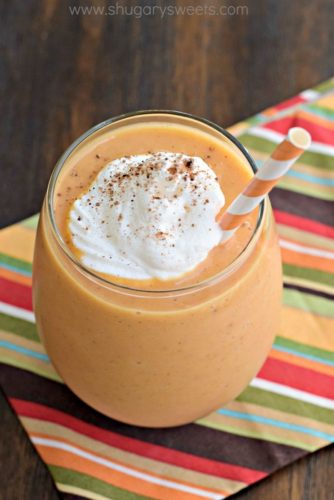 Source: Shugary Sweets
Ingredients:
1/2 cup pure pumpkin puree
1 large banana
6-8 ice cubes
6 oz vanilla yogurt
1/2 tsp pumpkin pie spice
1 tsp agave nectar (or honey would work too)
3 Tbsp milk
pinch nutmeg and whipped cream, optional garnish
Instructions. In a blender (I love this one, it does a great job crushing the ice), combine pumpkin, banana, ice, yogurt, spice, agave nectar and milk. Pulse until smooth! Pour into a glass and top with whipped cream and pinch of nutmeg. ENJOY!
Avocado Breakfast Flatbreads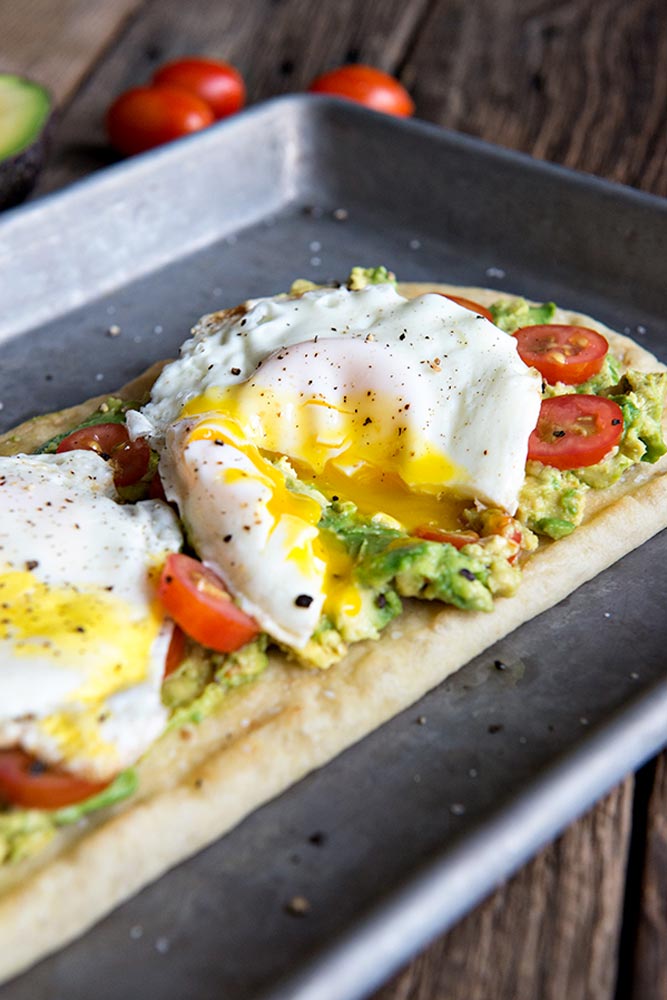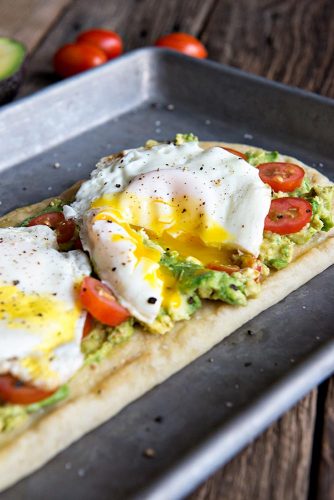 Recipe from The Cafe Sucrefarine, Photo from Dine and Dish
Ingredients:
Flatbreads (4)
Ripe avocados (2)
Sea salt
Butter (2 teaspoons)
Green onions, sliced
Black pepper
Olive oil, extra virgin (4 teaspoons)
Squeezed lime (1)
Sliced Roma tomatoes (2)
Eggs (4)
Fresh herbs
Instructions. Take a sauté pan, pour olive oil and heat each slice of flatbread for about a minute. Let its both sides turn fragrant and golden. Set aside when it's ready. Next, take a fork and mash avocado. Put avocado in the slices of flatbread and then put tomatoes on top. Heat the pan again and add butter. The pan must be coated with butter. Now crack one egg, add water (1 tsp), reduce heat, and cover. Cook it for about one minute and slide the egg on top of a slice of flatbread. Season with pepper and salt. Garnish with fresh herbs and green onions. Serve with lime.
Breakfast Banana Split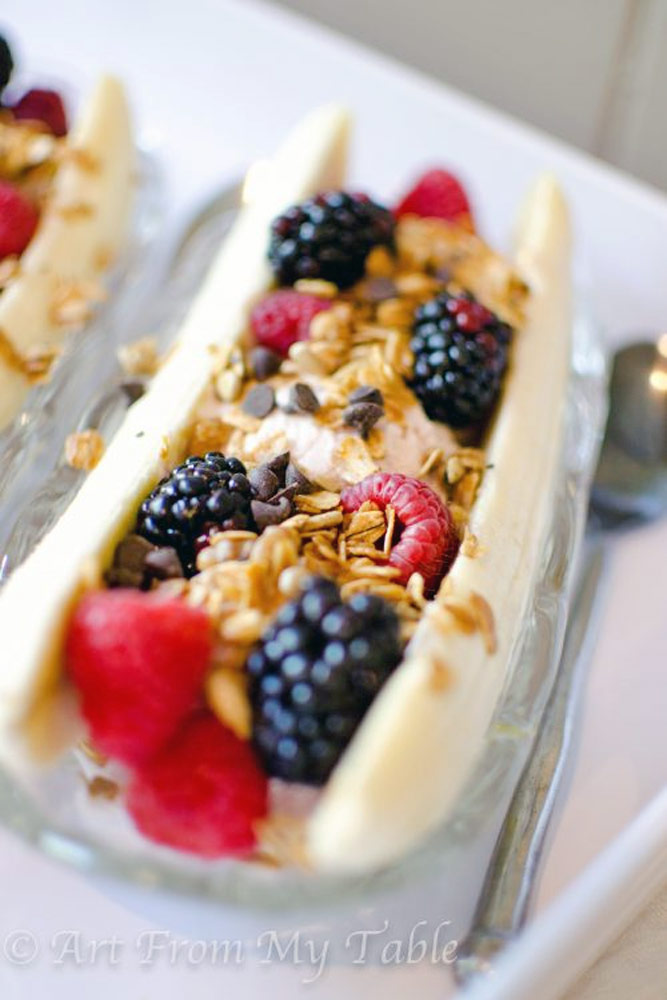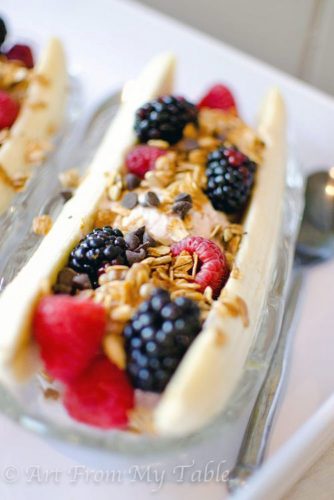 Source: Art From My Table
Ingredients:
Banana (1)
Blackberries (1/4 cup)
Granola (1/2 cup)
Strawberry Greek yoghurt (1/2 cup)
Raspberries (1/4 cup)
Chocolate chips, mini
Instructions. Freeze yoghurt until firm. Next, take a paper muffin liner and put yoghurt (a scoop) in it. Repeat one more time. Freeze till it is ready. Divide banana in 2 halves. Next, add frozen yoghurt, chocolate chips, berries, and granola. Serve and enjoy!
Vanilla Overnight Oat Breakfast Bowl with Fruit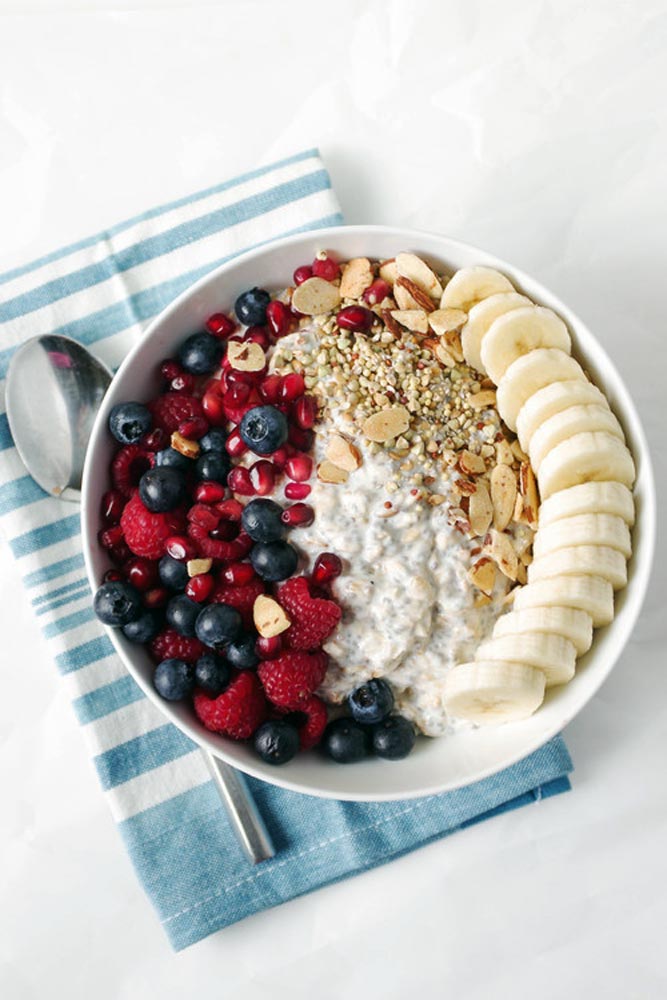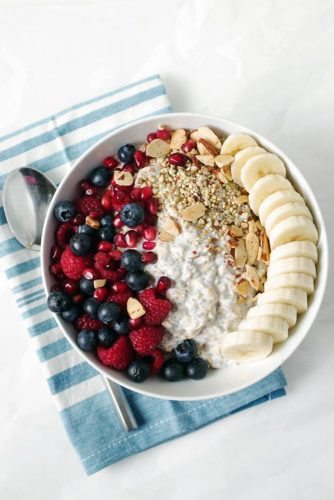 Source: Coffee and Crayons
Ingredients:
Oats (1 cup)
Milk (1 cup)
Vanilla extract (1/2 teaspoon)
Greek yoghurt, preferably vanilla (1 cup)
Chia seeds (2 tablespoons)
For toppings
Any fruit
Any nuts
Any seeds
Any dried fruit
Instructions. Take a mason jar and mix thoroughly milk, vanilla extract, oats, chia seeds, and yoghurt. Refrigerate overnight or for no less than 4 hours. Add toppings and enjoy!
Healthy Breakfast Fruit Pizza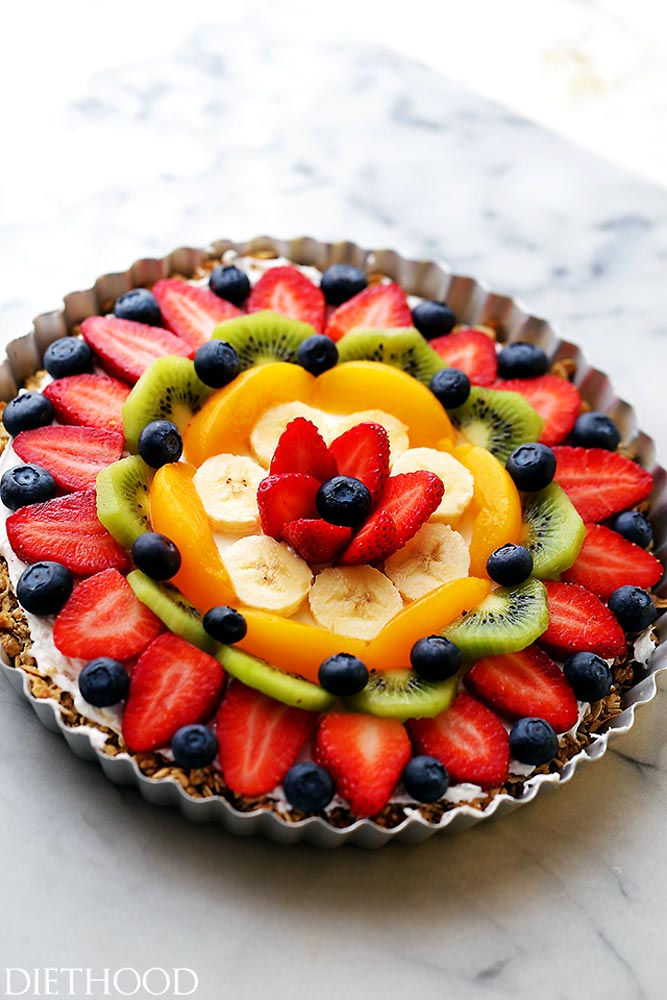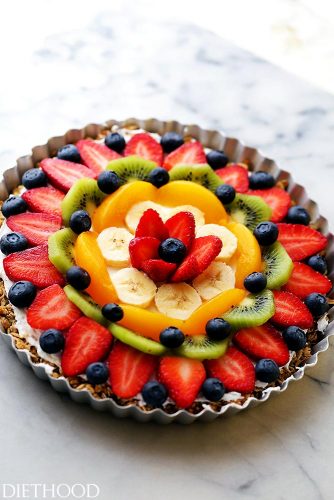 Source: Diethood
Ingredients:
The crust
Cereal flakes with chocolate and strawberry (1 cup)
Sweetened coconut (1 cup)
Rolled oats (1 cup)
Maple syrup or honey (3/4 cup)
The cream cheese frosting
Neufchatel cheese (8 ounces)
Vanilla extract, pure (1 teaspoon)
Powdered sugar (1 cup)
The fruit
Strawberry slices
Banana slices
Blueberries
Kiwi slices
Instructions. Preheat the oven to 375 degrees F. Take baking spray and grease a tart pan with it. Set aside. Crush cereal and put it in a bowl. Add maple or coconut syrup and oats, and blend until combined. Next, take a buttered spatula and press this mixture into a tart pan. Bake for about 10 minutes. Let it cool. Now make the cream cheese frosting. To do it, mix cheese, vanilla, and powdered sugar until well combined. Next, spread the frosting over the prepared crust. Refrigerate for about 10 minutes. Arrange fruits on top of the frosting and refrigerate for about 20 minutes. Let it warm up for several minutes, cut into pieces and serve.
Egg Muffin with Cottage Cheese and Fruit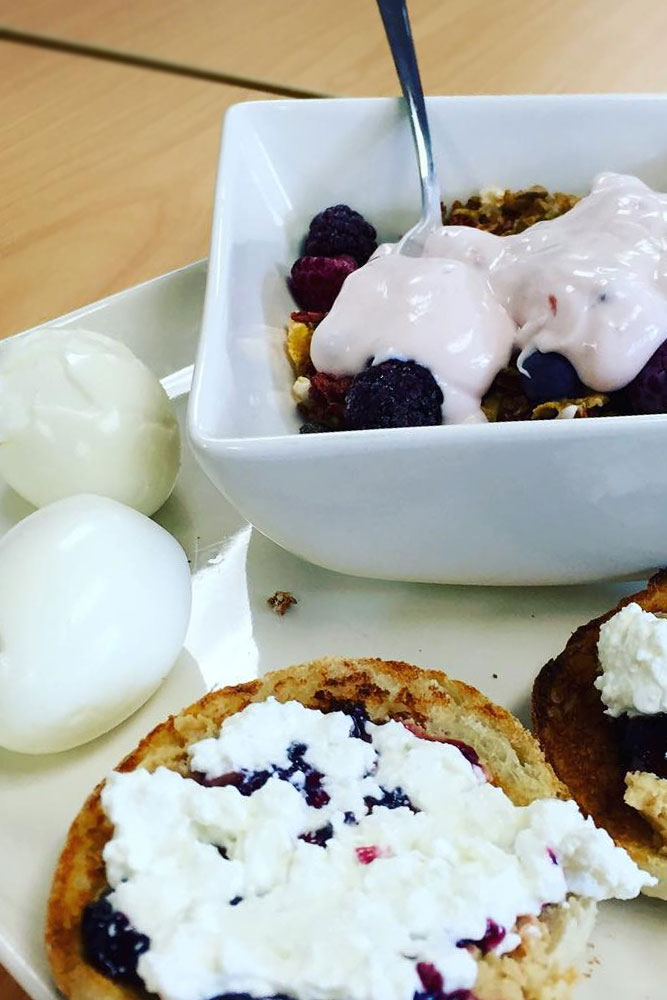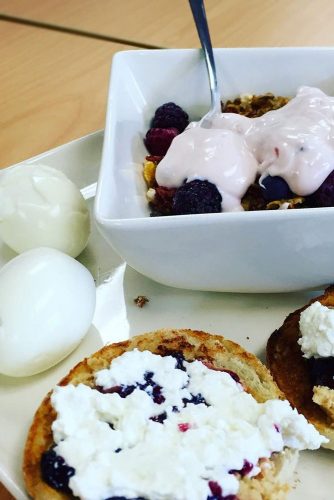 Source: nicco_bolo88 via Instagram
Ingredients:
English muffin, whole-wheat (1)
Cottage cheese, nonfat (1 cup)
Sliced egg, hard-boiled (1)
Grapefruit (1/2)
Instructions. Split an English muffin and toast it. Take sliced egg and top the halves of the muffin. Next, top the muffin with cottage cheese and grapefruit. Enjoy!