Modern women face a lot of challenges these days when it comes to looking flawless. The thing is that even something as simple as getting your nails done is not that easy, as it may seem. The truth is that apart from choosing the color, the style you need to come up with proper nail shape as well. That is why our Glaminati.com team figured that it might be more than useful to share with you all the information that we possess on the matter. All the most popular nail shapes are now gathered in one place! Let's have a closer look!
Long Square Nails – Popular Classical Manicure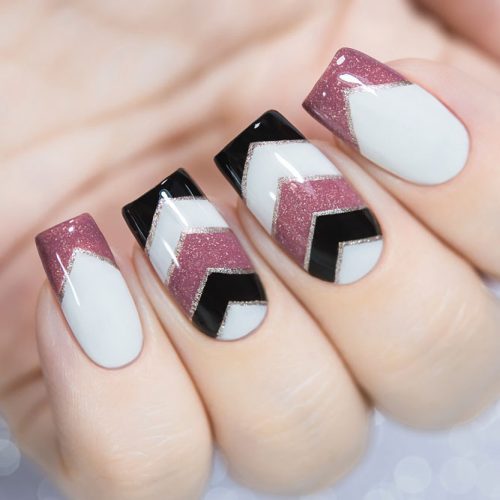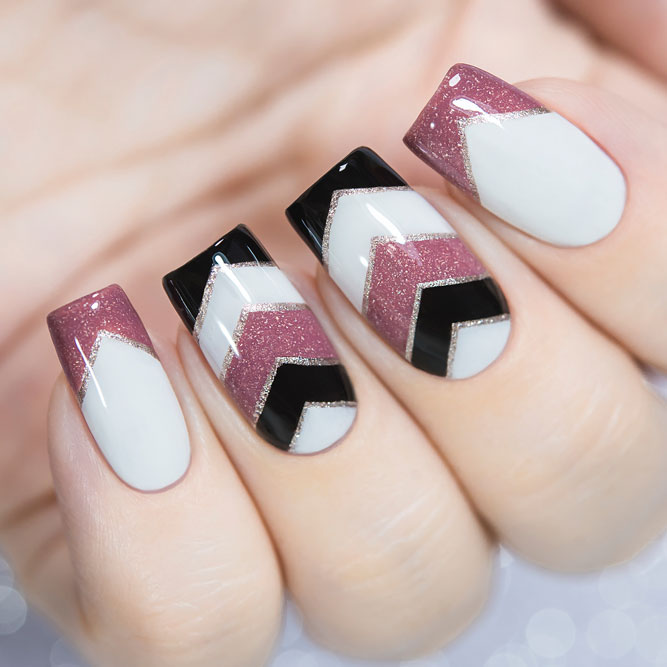 Source: sveta_sanders via Instagram
If you are looking for something classy and sassy, the square nails are there for you. With this nail shape, you will look equally elegant whether you are headed to the office or a party. Besides, there is a vast variety of designs to choose from, not to mention the fact that this shape is quite durable and stylish.
Short Square Shape For Those Who Don't Like Longer Nails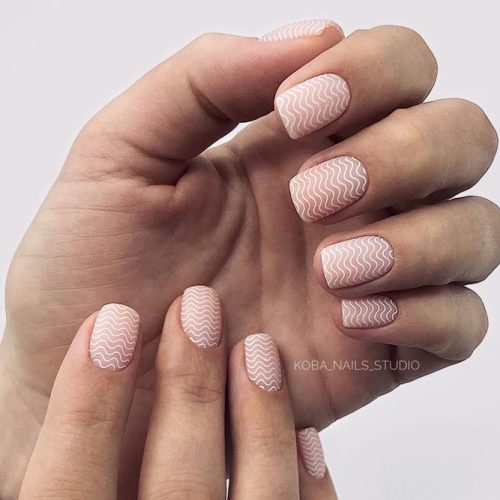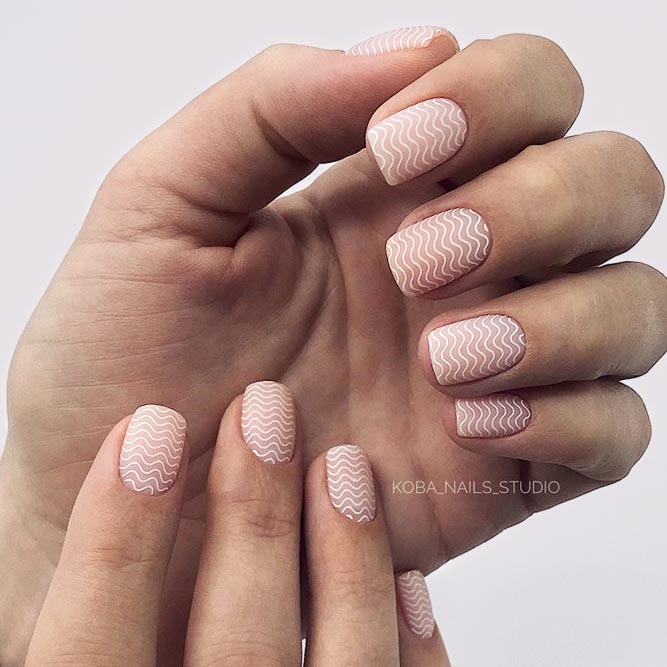 Source: koba_nails_studio via Instagram
It is true that not all the ladies are equally fond of long nails. In case you fall into the category we have something special for you – short square shape! It is a stylish shape that does not require a lot of length or care, what is more, there are lots of trendy designs to pull off with such a short shape, and all of them are very pretty not to mention elegant.
Squoval Nails For Practical Women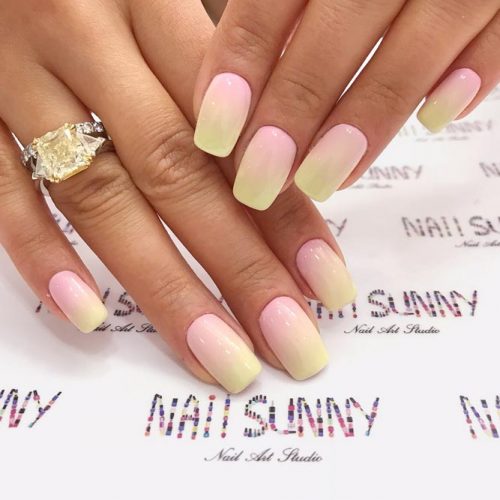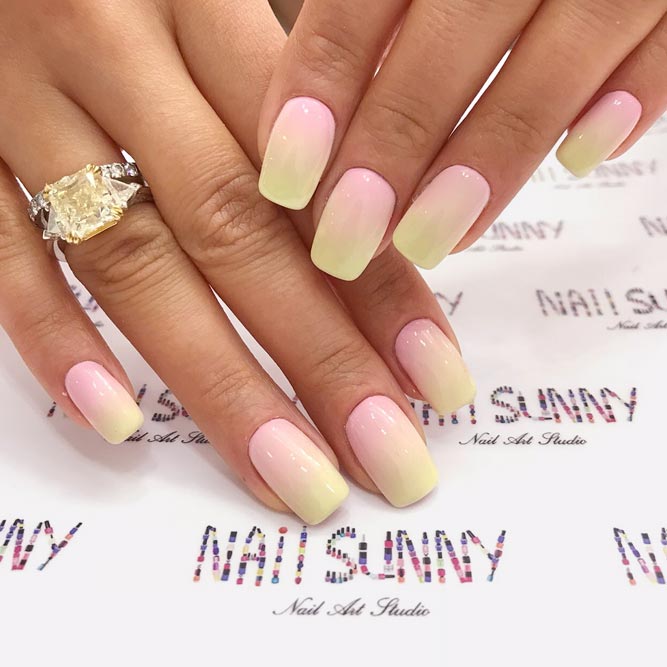 Source: nail_sunny via Instagram
Squoval nails are all about the practicality. They do not chip or break due to the softly rounded edges even though the square shape is still preserved. That is why if you are looking for something that is universally flattering and withstanding – squoval would be your best bet.
Short Squoval For Those Who Hates Sharp Edges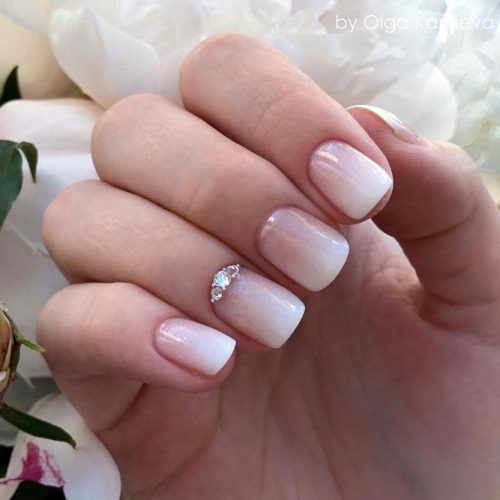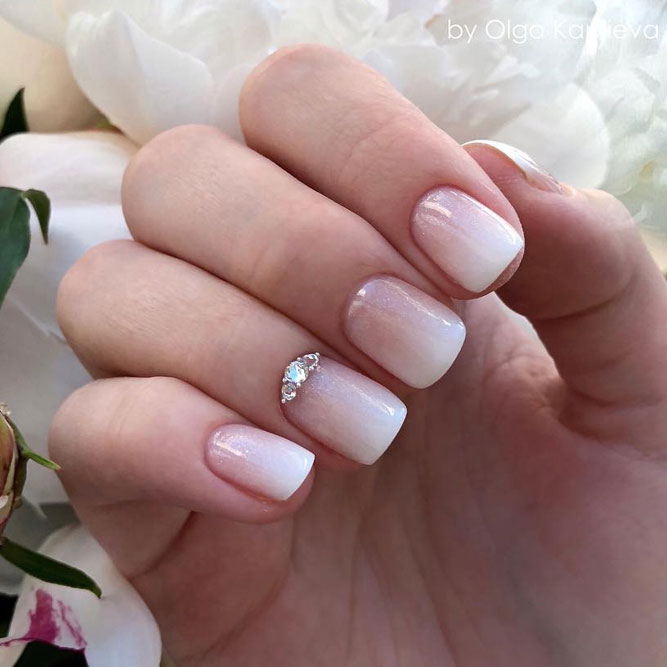 Source: 1masternails via Instagram
Sharp edges are not for everyone and in case you are the one who hates sharp edges but would like your nails to look trimmed and stylish – short squoval nails are there for you! Short squoval nails are all about the neat look and elegance; if you are a fan of short length, then you will certainly appreciate the option.
Short Rounded Nails To Maintain The Natural Nail Shape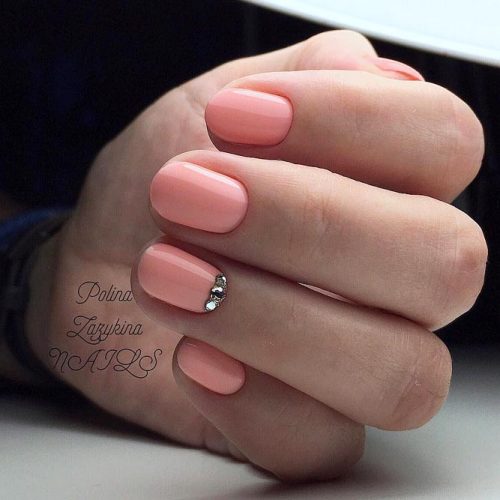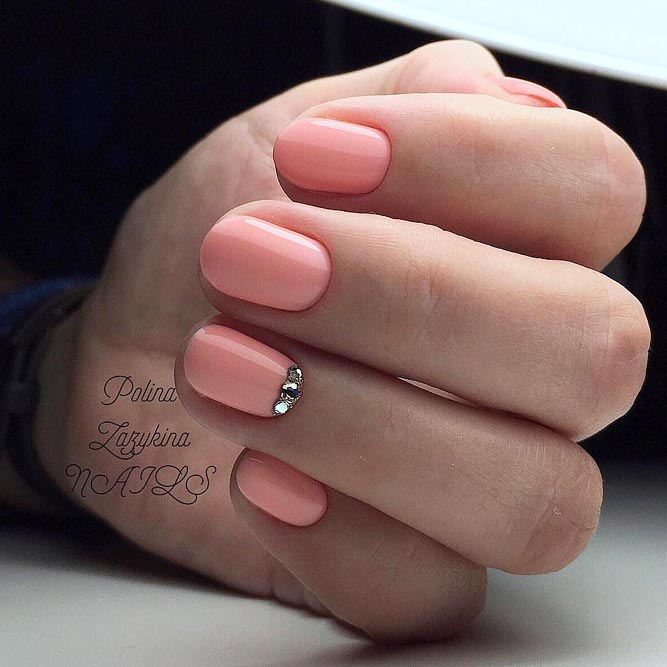 Source: nails_by_pauline_nn via Instagram
It is never a bad idea to keep up with a natural look. Rounded nails resemble the natural shape best, but apart from that, they add some length to your fingers, which is great in case you think of your fingers as chubby. Among natural nail shapes, short rounded ones are the actual winners!
Timeless Classics - Oval Nails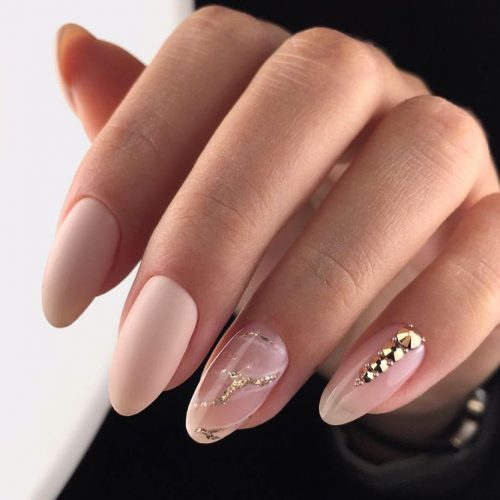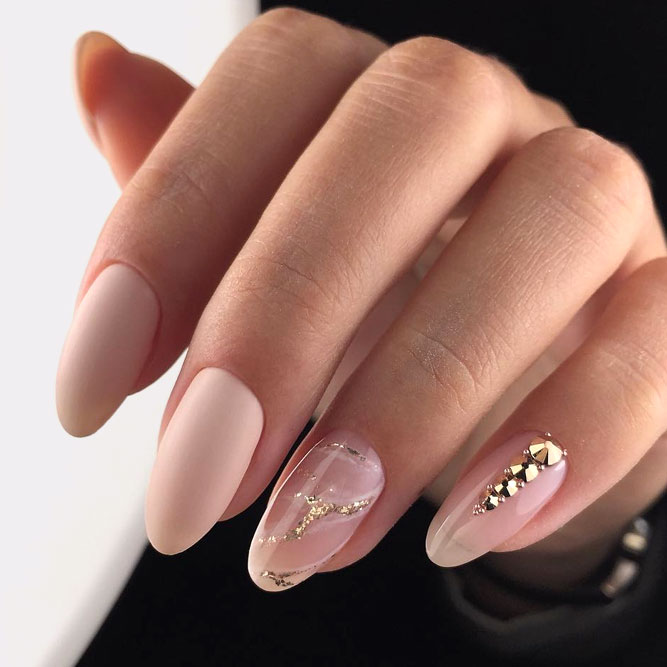 Source: mariapro.nails via Instagram
There are nail shapes that are simply timeless and oval nails are exactly the shape. That is why if you wish your nails to be elegantly trimmed and look stylish at the same time – oval nails is what you need to try out. There are soft edges which will help you elongate the fingers, and they are also very feminine and gentle looking, not to mention the variety of looks to pull off with this shape.
Short Oval - One Of The Best Nail Shapes For Short Fingers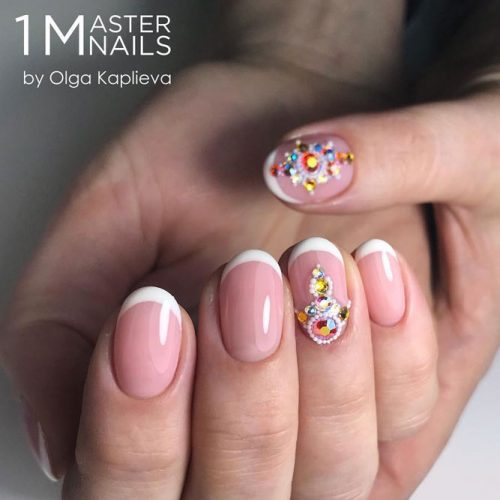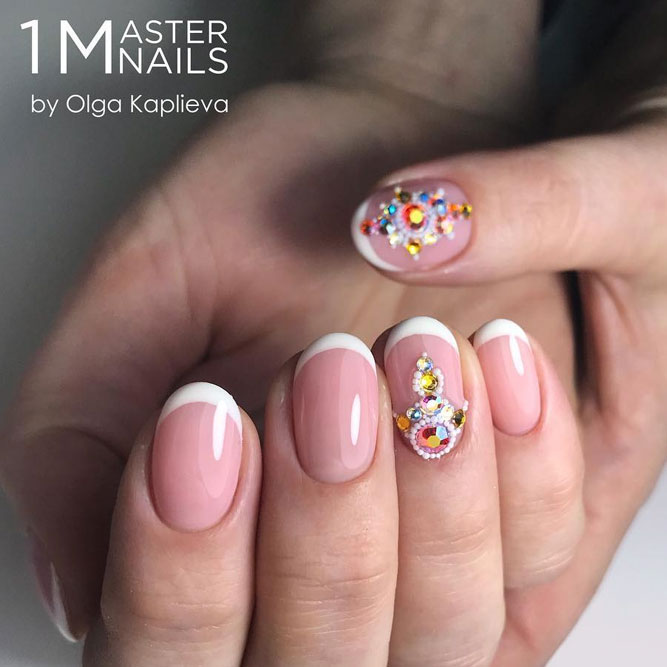 Source: 1masternails via Instagram
There are some nail shapes for short fingers only, and the short oval is the shape that will grant your nails that pretty vibe without making it look out of place. Even though the length itself is not that great, there is still enough of room left for the experimentation. Try it out!
Marvelous Almond Nail Shape For Extra Chic Manicure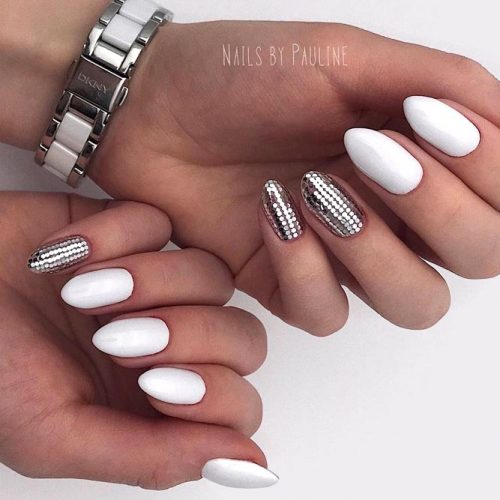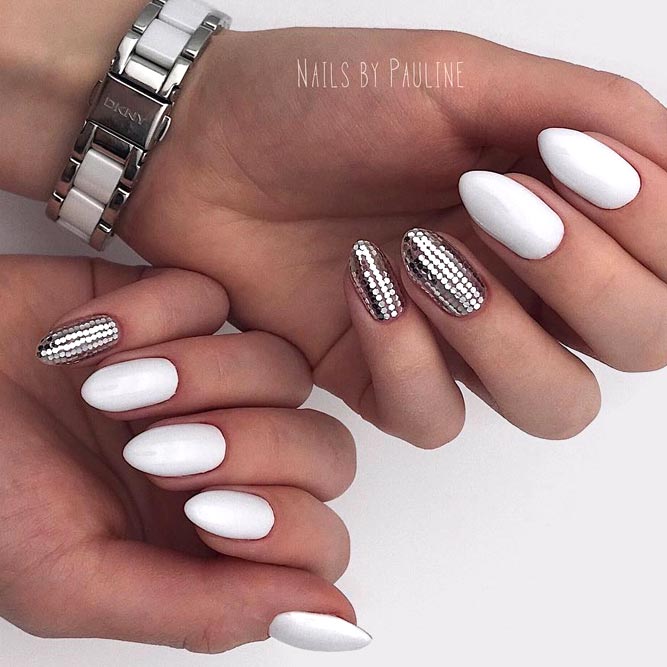 Source: nails_by_pauline_nn via Instagram
Longer nails such as almond nails are usually reinforced with the help of gel nail polish or acrylic. However, no matter the time and means spent this shape is totally worth it. The thing is that the shape itself resembles an actual almond and looks simply gorgeous even if your nailbeds are pretty narrow, not to mention that this shape adds length to your fingers which makes it even greater.
Coffin Nails – Most Popular Nail Shape Of Last Years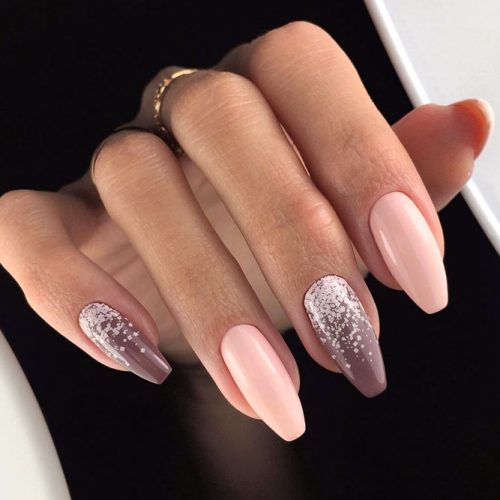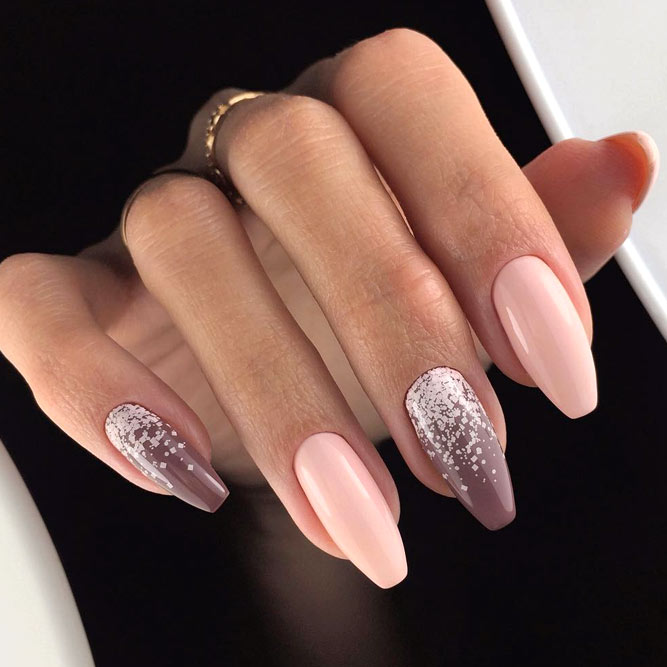 Source: mariapro.nails via Instagram
Despite the name, coffin nails are very popular these days. If you are looking for something that will grant that unforgettable touch to your look then coffin nails it is! The thing is that due to the length this shape may be a little impractical, but when it comes to the choice of designs for this shape, it is safe to say that the range is limitless. It should also be mentioned that very often ballerina nails are fake nails since your natural nail may not withstand the length. If all this is fine with you, then you should give coffin nails a try!
Short Coffins: Bold But Not Too Extravagant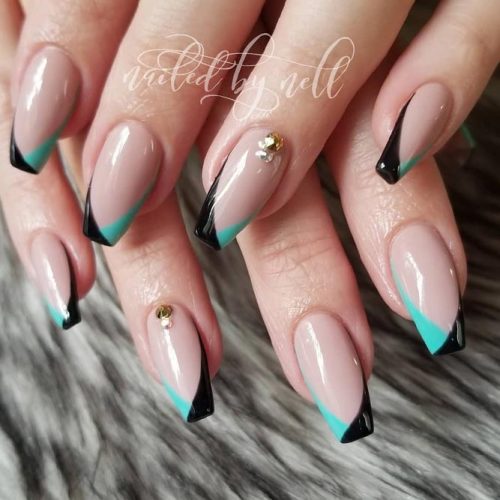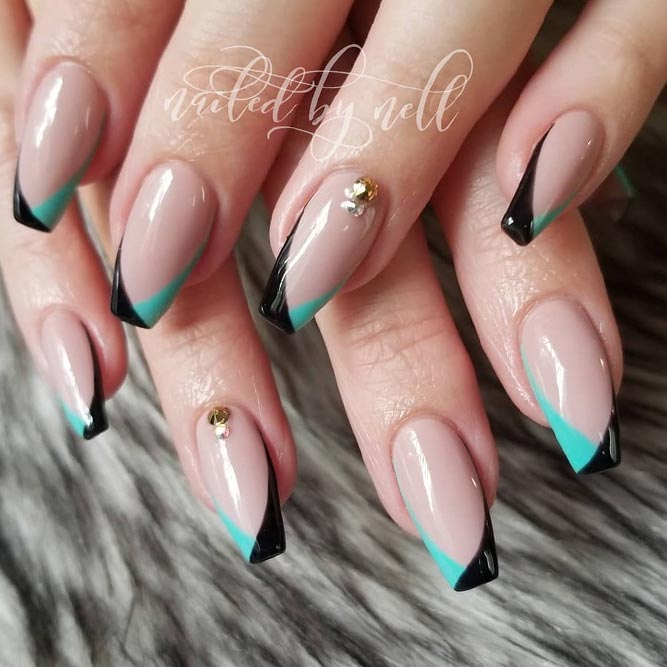 Source: nailedbynell via Instagram
It is believed that coffin nails come with length only. However, it is not true there are also short coffin nails, that is why if you are willing to give this shape a try but are afraid of length – rest assure, you can always go short with this shape. Yet, not too short, because there is still some length required to succeed with the shape itself.
Long Stiletto Nails For Daring Girls Who Not Afraid To Experiment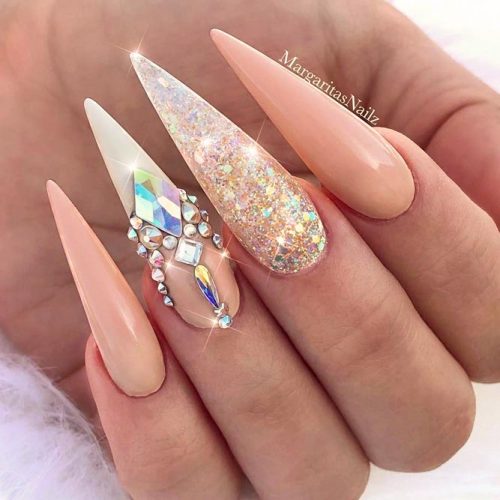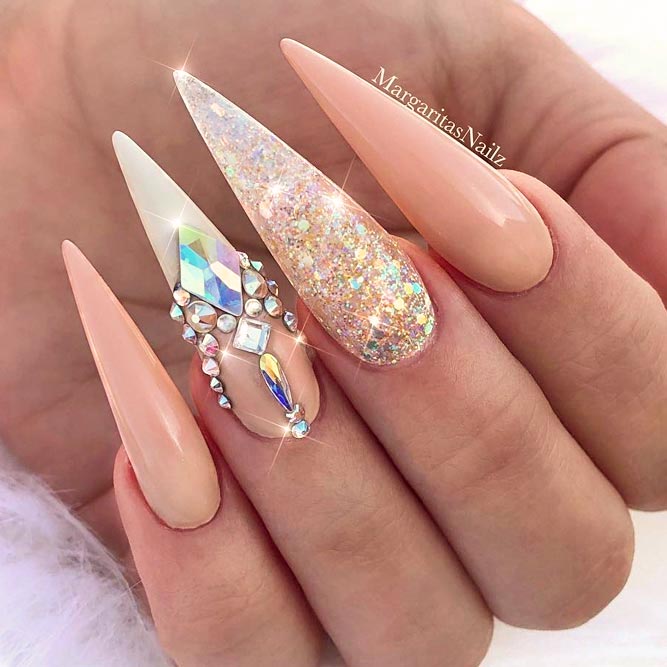 Source: margaritasnailz via Instagram
Stiletto nails are for bold and daring ladies only and not only due to the intricate designs you can pull off with this shape. The thing is that stilettos are very pointy and it may happen so that you can accidentally hurt someone or even yourself at that point if you are not careful enough. Apart from that risk of injury, there should be nothing that can stop you from opting for this shape.
Trendy Short Stiletto: Stylish & Comfortable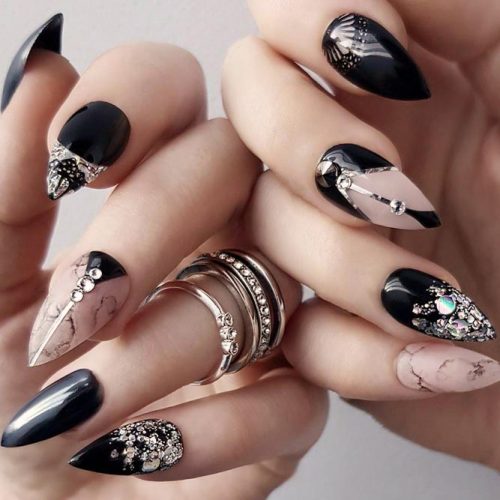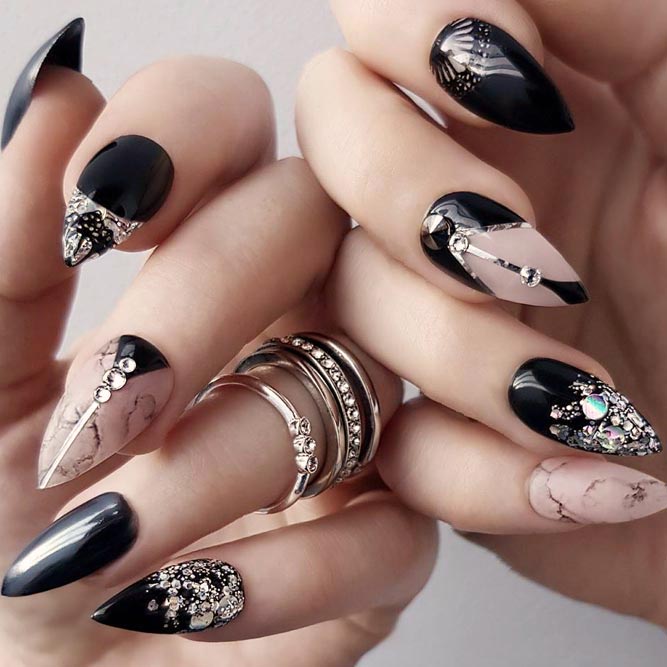 Source: perfect10customnails via Instagram
As well as with coffin nails there is also a shorter version of stilettos. Even though this shape is considerably shorter than regular stilettos you still need some length to pull this shape off otherwise, it will look simply out of place.
Mountain Peak - Shape For Fashionable Ladies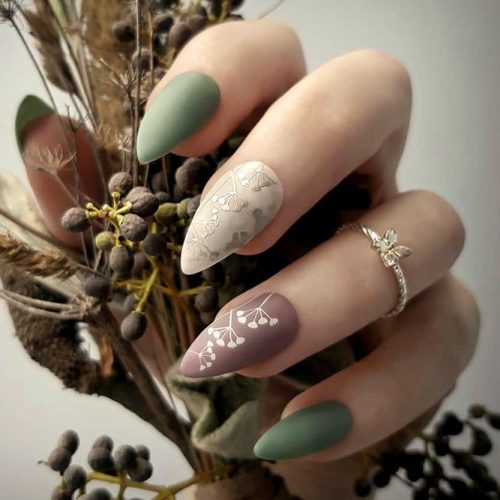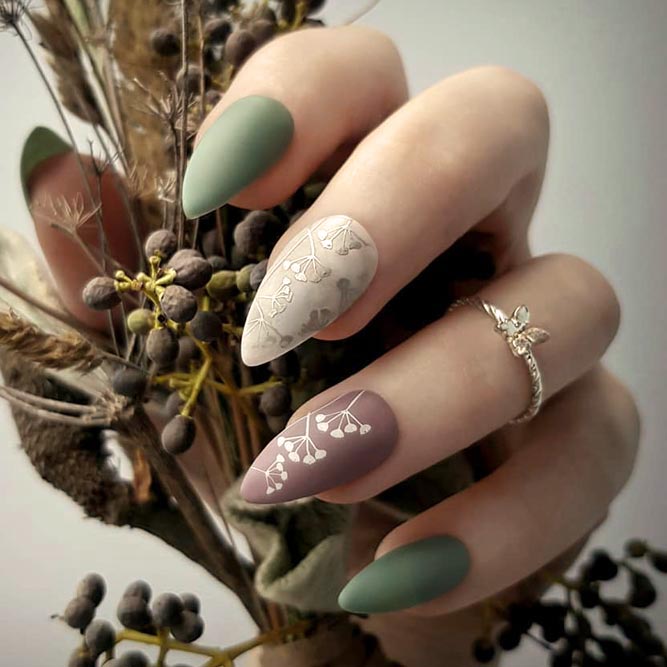 Source: perfect10customnails via Instagram
When it comes to mountain peak nails, you need to be aware of the fact that this shape is as long as stilettos but less pointy. However, in general, this nail shape looks awesome and allows you to experiment with lots of nail art ideas.
Extraordinary Edge-Shaped Nails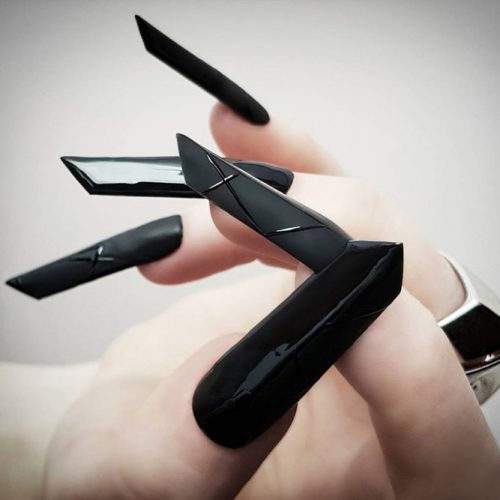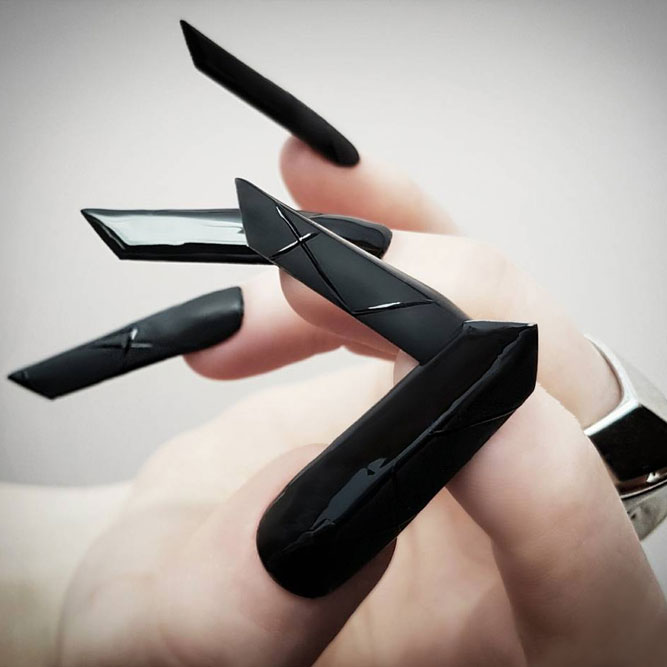 Source: perfect10customnails via Instagram
All the fashionable ladies know how intricate edge nails are, however not that practical in real life. You have to consider all the pros and cons before opting for. First of all, you should consider the length and the edginess since a formal look wouldn't fit in with such a nail shape. Yet, if there are no boundaries – go for it, girl!
Arrowhead Nails To Subdue Human's Hearts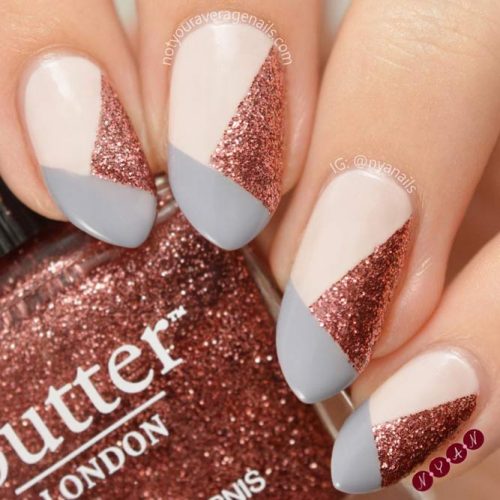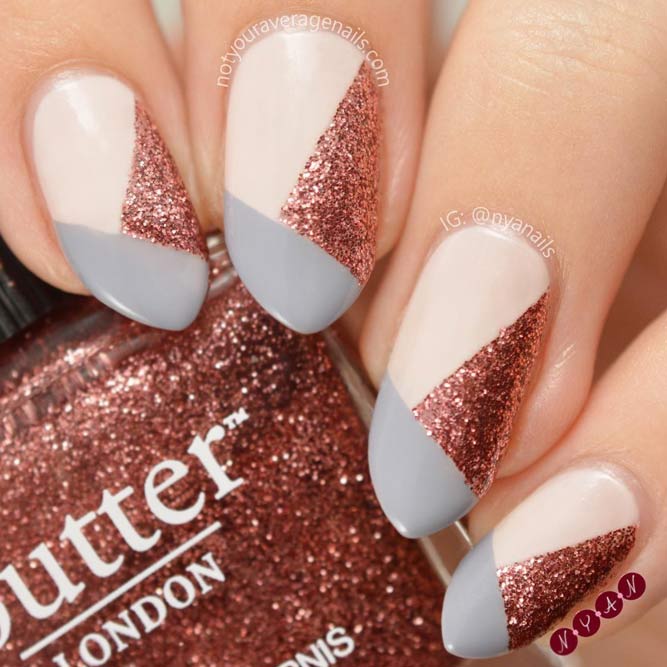 Source: nyanails via Instagram
Arrowhead nails are something in between stilettos and mountain peak nail shapes. The shape itself is a lot shorter which makes it already safer not to mention that it looks cute and feminine despite the pretty sharp tip, not to mention that the range of ideas to pull off is also impressive.
Unusual Lipstick Nail Shape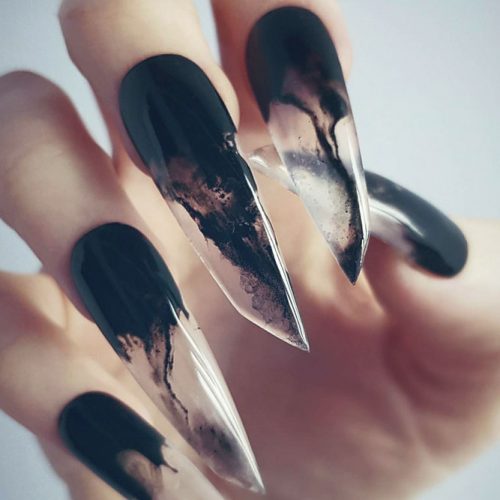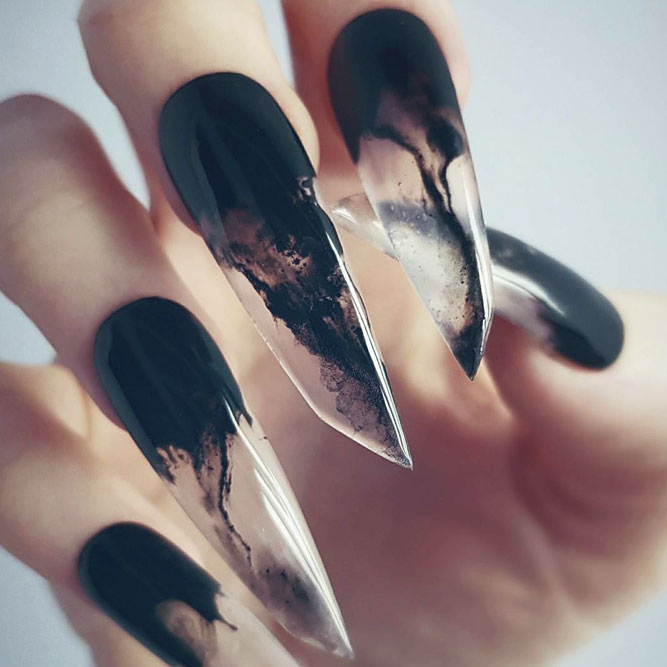 Source: perfect10customnails via Instagram
Lipstick nails look exactly as they sound – lipstick-shaped. This ail shape is also very sharp since the tips are filed diagonally not to mention the fact that such nails look anything but ordinary. If you are not afraid of attention, then this is the shape for you to try out next.
Fun Flare Nails To Surprise Anyone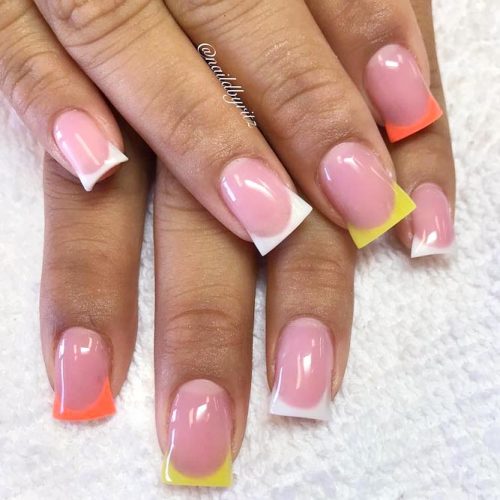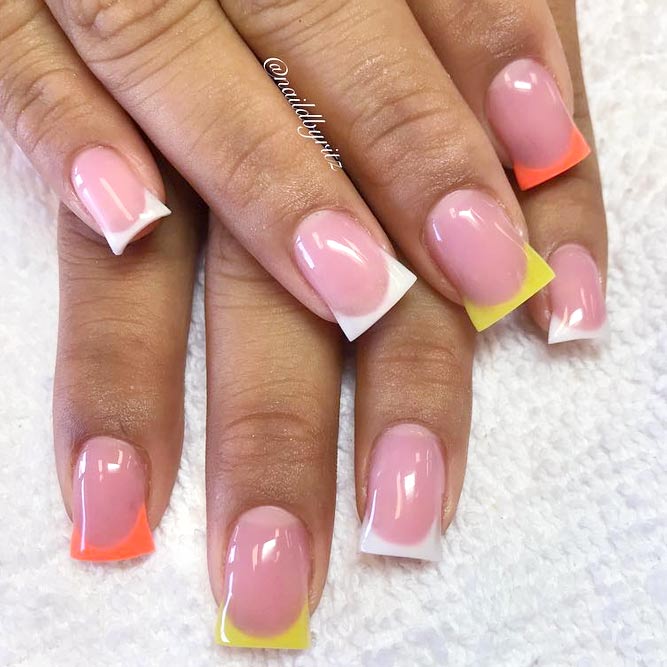 Source: naildbyritz via Instagram
Even though there are no sharp angles or pointy tips but flare nails are anything but ordinary. The thing is that the tip as the name suggests spreads sideways which makes it resemble the flare. If you are looking for something as extraordinary as the flare – why not give this shape a try?
Fabulous Squareletto Shape For Those Who Wants Something Special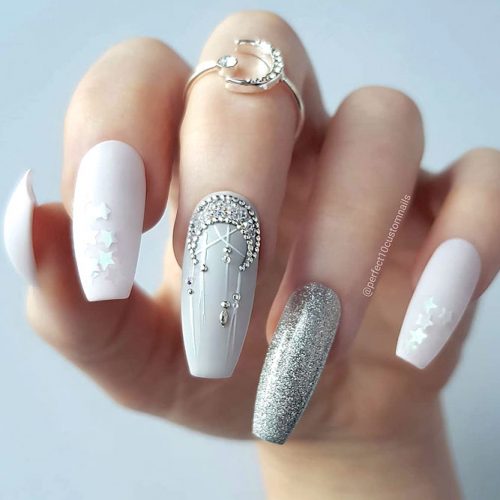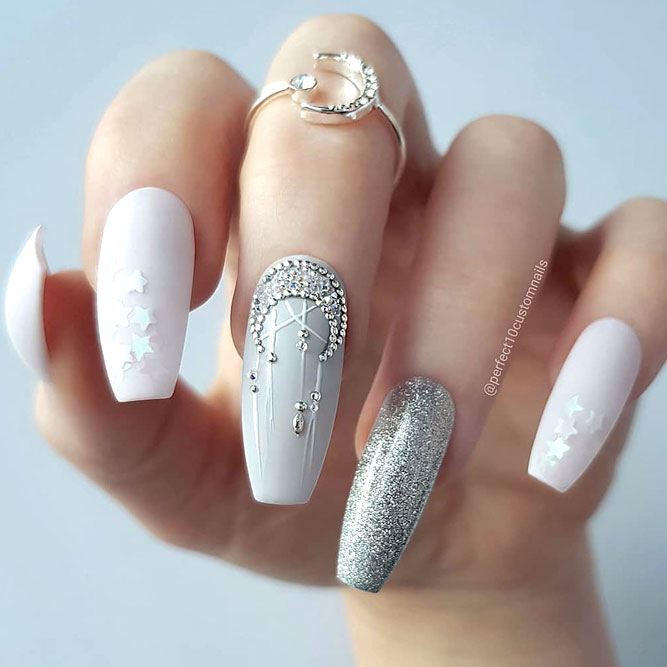 Source: perfect10customnails via Instagram
If you combine the best things about stiletto and coffin shape, the outcome will be squaraletto nail shape. It is quite unusual but gorgeous at the same time. Those of you who are not afraid of length should definitely try this shape out.
Best Nail Art Ideas For Square And Squoval Nail Shapes
Squoval nail shape is one of the most requested ones these days. That is why countless new designs are appearing on a regular basis. If you wonder what is on the edge of popularity now, look at these few intricate ideas. Whether unicorns or starts you prefer – there is a fitting example for you!
Gold Glitter Stars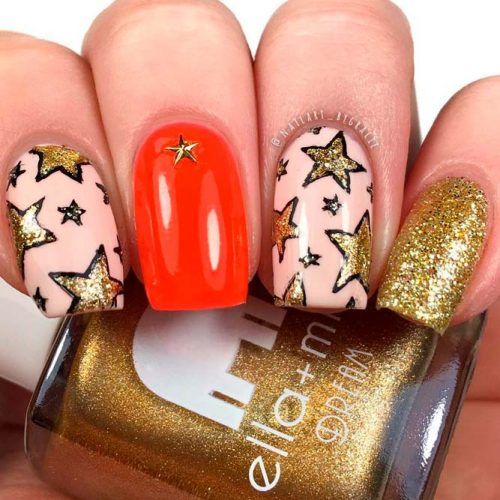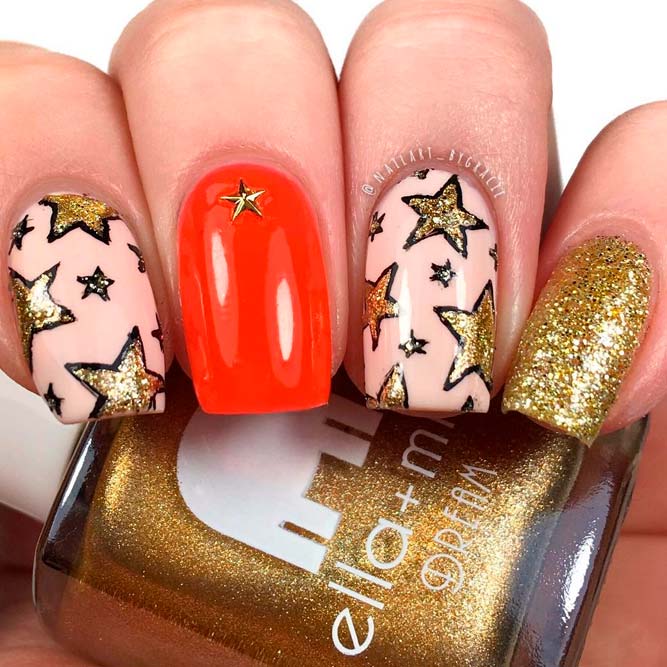 Source: nailart_bygracie via Instagram
Spicing up the routine with a little bit of glitter is always a nice idea. However, when solid glitter is too dull, we recommend you opt for stars. Do not forget about the accent finger. Choosing red is always classy and sassy!
Gold Unicorn Nail Art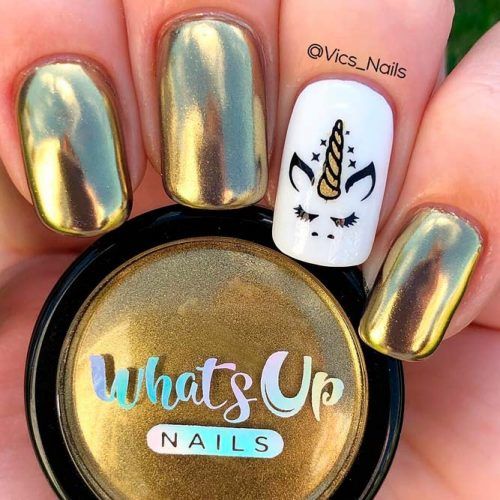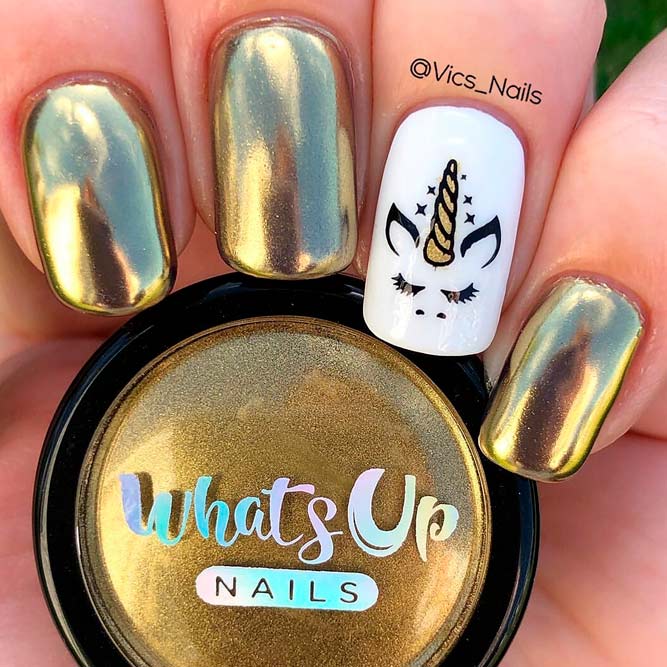 Source: vics_nails via Instagram
Metallic gold is still on the edge of glory. Yet, this season unicorns rule too. To kill two birds with one stone – combine the two and get your perfect ticket out of boring reality into an entertaining fairytale!
Flying In The Sky Nail Design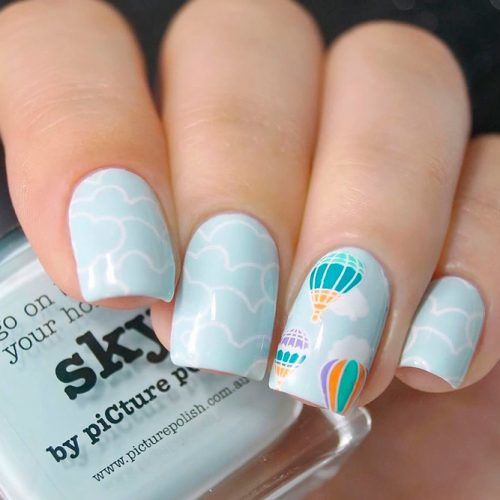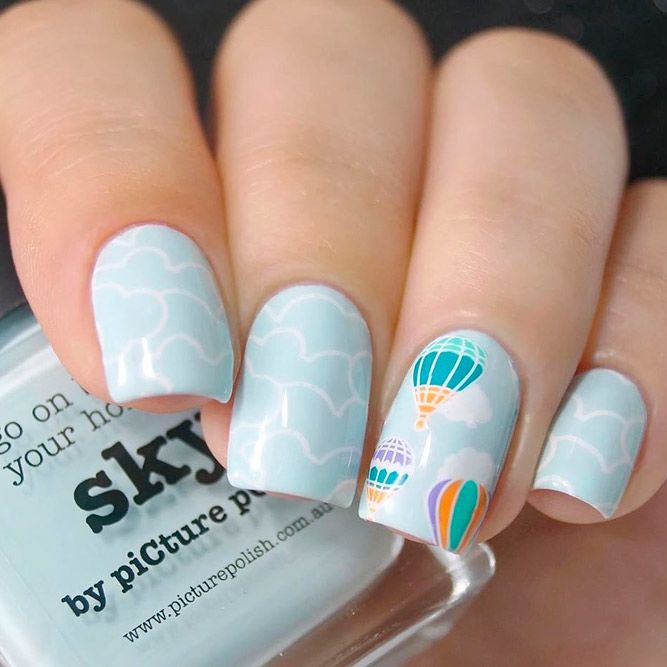 Source: caramelka_93 via Instagram
If you are looking for some gentle but interesting manicure idea for your squoval nails – we have it covered for you. The fact is that little fluffy clouds spiced up with some hot air balloons is what you need!
Fresh Nail Design For Coffins
Coffin nails have been trending for a while now. If you are a devoted fan of the shape, you may think that you have tried it all already. However, there is a bunch of fresh ideas we suggest you give a try to!
Bright Floral Nail Design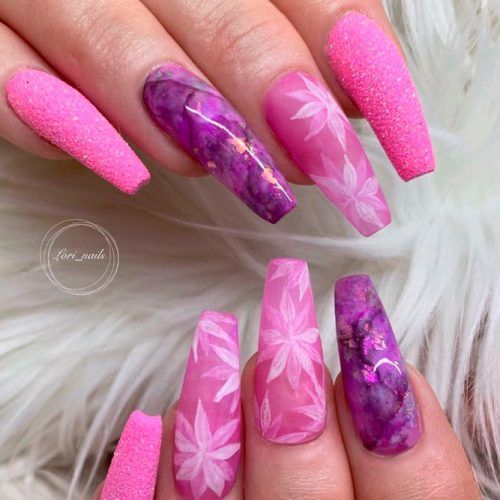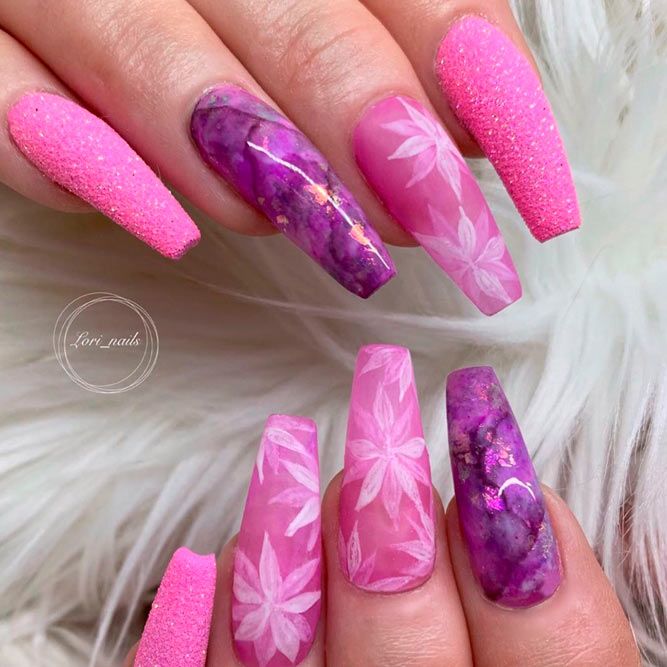 Source: lori_nails via Instagram
Do you lack some brightness when it comes to your seasonal look? Worry no, we have the design at hand that will help you overcome that. This hot pink mani for coffin nails will save the day!
Pink Flamingo Nail Art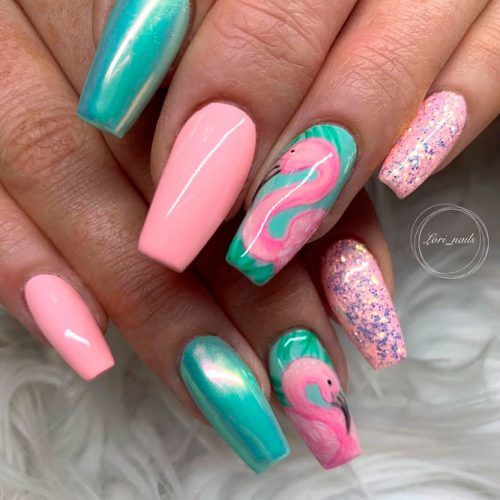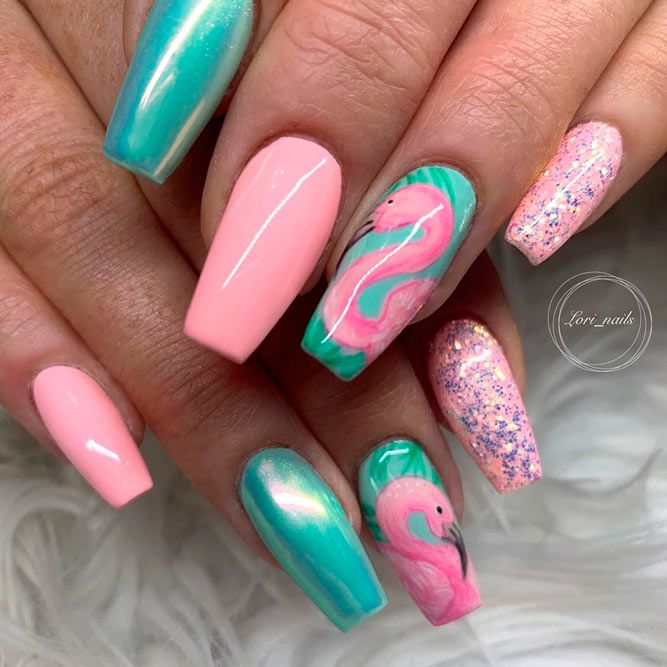 Source: lori_nails via Instagram
Hot pink is not for everyone; we know that. However, that does not mean that you can't opt for something subtler, sweeter and one of a kind. How about this flamingo nail art?
Marble Nail Design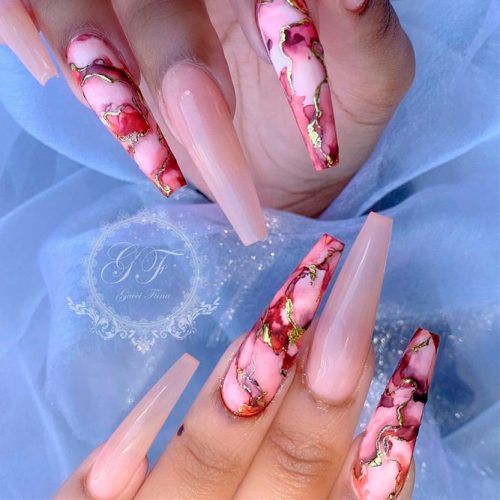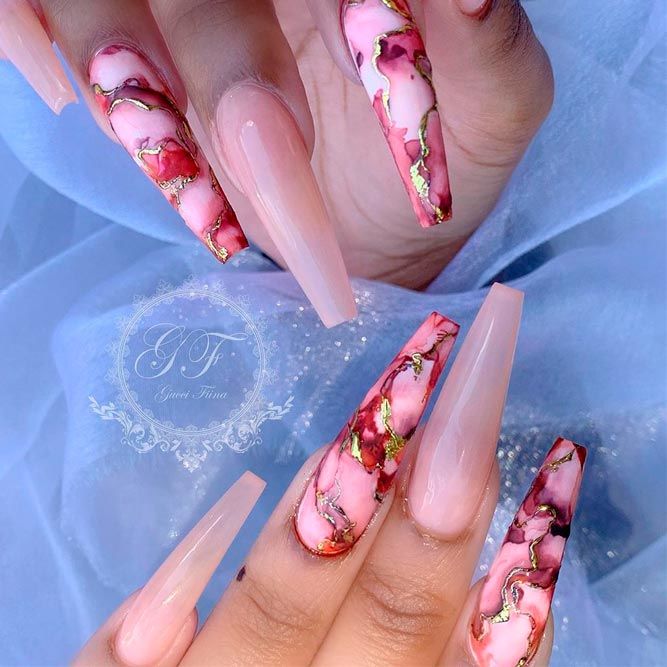 Source: fiina_naillounge via Instagram
Marble stone patters are still conquering the hearts of many women around the globe. Once you see this spicy, both natural and bright nail design, you may fall victim to the trend too. There is nothing to be ashamed of; the manicure is merely fab!
FAQ: Nail Shapes
Which nail shape is most natural?
The squoval is the shape that is considered to be most natural (square tip with gently rounded edges), it imitates the shape of your cuticle: soft rounded edges and flat. This form looks good particularly on short nails. It is a shape that will always be in style and is easy to maintain at home.
What nail shape is easiest to type with?
The easiest shape nail to type with are shorter length square and round nails. Those shapes are less likely to hurt performance. They won't make as much of a clacking sound as you type. Start with a shorter lengths and gradually move onto longer ones.
Was this article helpful?