The world has gone crazy over contour makeup these days. And there is no wonder why. There is no need to go for plastic surgery to sculpt your face the way you always wanted it to look. The thing is that all the contour lines are your perfect helpers to define your face, so that only prominent features stand out, and all the unwanted is carefully hidden. To prove our point, we have gathered here some useful info and examples that will become more than helpful for you in your everyday life. Hop in!
If you are wondering how to contour, you are not alone. It is not a talent that comes as easily to some as is does others. However, this does not mean that it cannot be learned. And that's where we come in. In the following article, we shall give you some helpful tips on how to contour your face step by step and well as helpful tips for contouring and highlighting. As well, we will tell you how to apply contour makeup properly according to your facial structure and skin tone.
First of all, if you are new to the world of cosmetics, you might be asking yourself "What exactly is contouring?" However, if you are a fashionista, you have not only heard of contouring, you have probably already tried this new trend in makeup. Either way, it helps to have a bit of understanding the nature of contour makeup.
Essentially, contouring is a makeup technique that is used to enhance the natural structure and beauty of your face. With contouring, you would highlight areas such as the bridge of your nose and tops of your cheekbones. At the same time, you would then shadow areas such as puffed cheeks of your jawline. However, what makes contouring stand out as a premier makeup trend is that fact that it is very subtle and complimentary.
So stay tuned and follow along with us as we give you helpful tips on what makeup products you should use, basic contouring tutorial for beginners and how to apply contour makeup per your skin type and facial structure!
Contouring Makeup Products
Now that you have some understanding about contour makeup, we shall discuss contouring makeup products. If you are going to contour properly, it pays to use the right products for your skin type, as well as high-quality products.
If you are new to contouring, you might be wondering what products to use. We can give you some tip on how to choose the best contouring kit for beginners as well as what other contouring products you should use to get the best effect.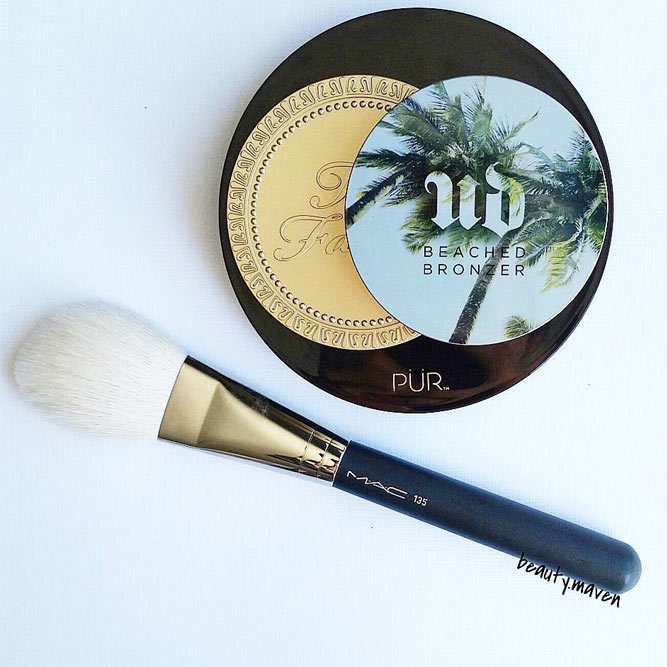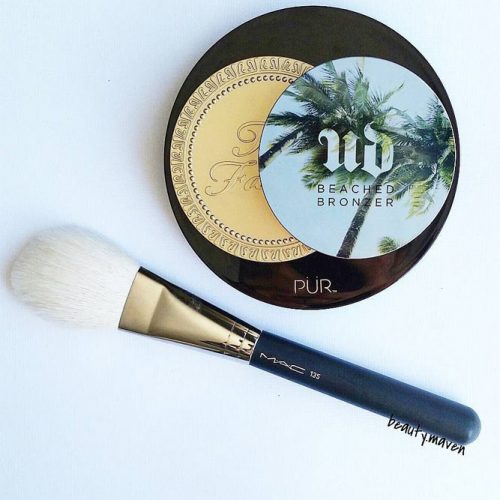 Source: beauty.maven via Instagram
The proper way to choose the best contour stick for your skin tone is to actually go a makeup store (or the makeup counter at a department store) and try samples. If you want to find the contour stick that best matches your natural skin tone you should apply a small amount to the back of your hand and rub it in. As well, this will also help determine if you have any allergies to that particular brand.
If you have a darker complexion, you are all too familiar with the struggles of finding the right foundation and makeup to match your skin tone. The same applies to contour makeup so it is crucial that you select only the best contouring products for dark skin. You should always test your contour stick or powder to make certain that it matches your skin tone perfectly. As well, when it comes to choosing other colors, it is best to go with shades such as deep purple or warm cocoa.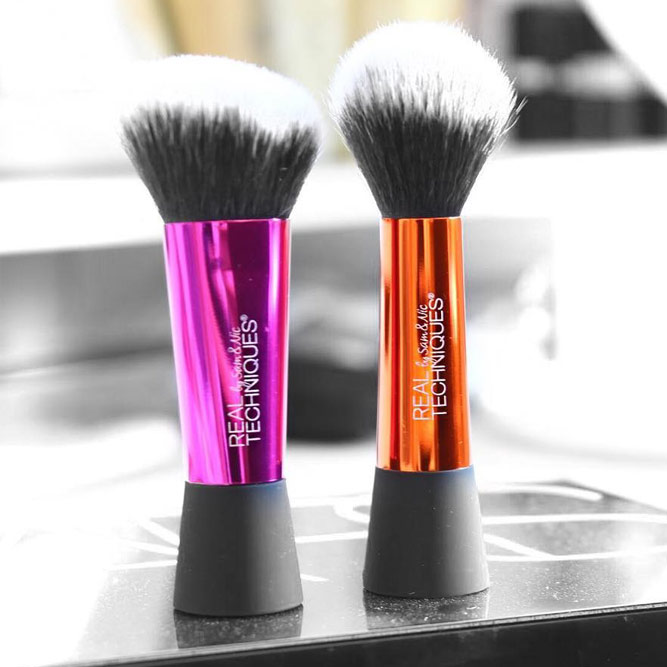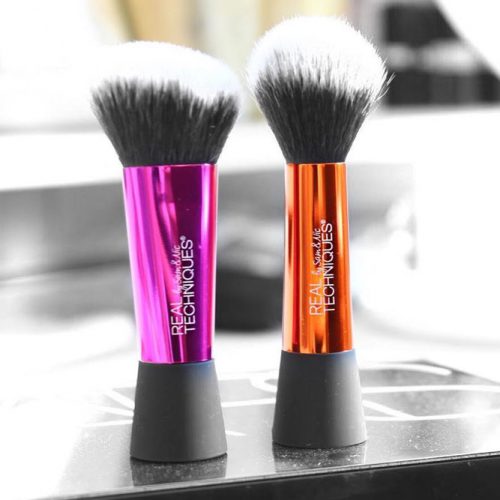 Source: heytherejacquelyn via Instagram
Not only is important to choose the right shade of contouring makeup, it is also imperative to choose the best contouring and highlighting brushes. As blending is an integral part of the contouring process, it is essential to have the proper brushes. Even if you spend a great deal of money on the most popular makeup brands, the effects will be lost if you do not have the best contour brush as well as the other essential tools necessary for flawless contour makeup application.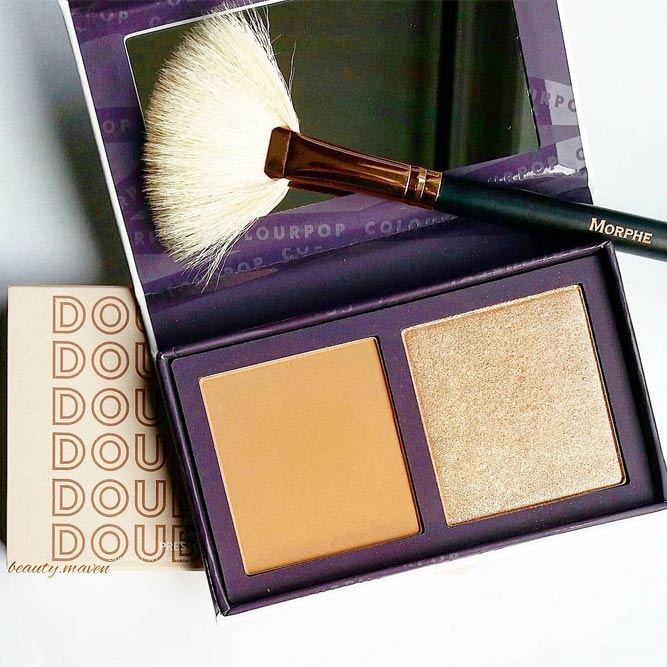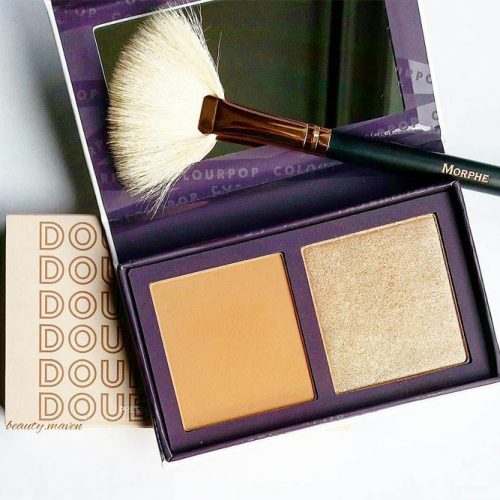 Source: beauty.maven via Instagram
Contouring Brush
It is best to use an angular brush for applying bronzer to your face, cheeks, and neck as these are normally the areas that we wish to appear slimmer.
Highlighter Brush
It is recommended to use a brush with a flat, circular tip for highlighting. This allows for a direct and concise application of highlighting creams and powders.
Blender Brush
Blending is perhaps the most critical part of contouring, as we want it to look as natural and flawless as possible. Always use a blender bush that will smooth and blend any harsh lines while perfectly blending any remaining color. However, if you don't like blender brushes, you can just as easily use a blender sponge. Use upward strokes to ensure that there are no visible lines.
How to Create Contour Lines in the Right Way
Now we shall discuss what you really want to know: how to contour your face properly. We shall give you some helpful tips on how to contour makeup step by step.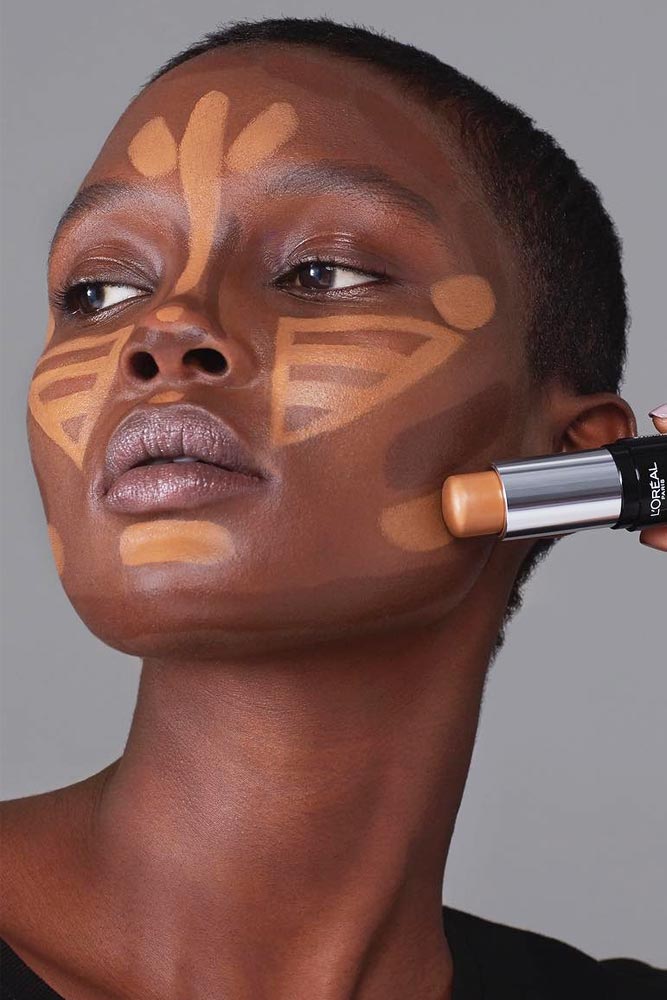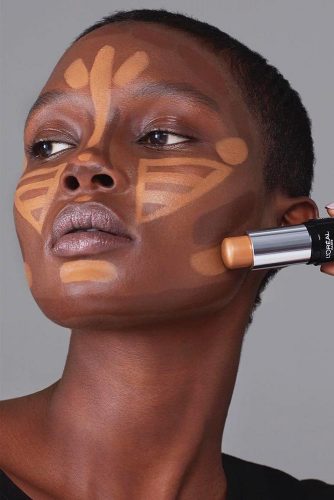 Source: lorealmakeup via Instagram
First of all, let us give you some general tips, and then we shall discuss contouring tutorial step by step to help you get started, and then we shall get into some basics. Of course, you can always look for additional help by looking online for contouring makeup tutorial videos on sites such as YouTube or Pinterest.
Choose the texture and shade that best matches your skin tone
You should choose products that are no more than two shades deeper than your natural complexion. If you have a lighter complexion, opt for greyish browns and taupes. If your skin is darker, use warmer cognac shades.
Do not contour your entire face
Remember the general rule when it comes to makeup: Less is more! This is true with contour makeup as well. It is best just to focus on your jawline, nose, forehead, and cheeks. Start from the middle of your ear and then go outward toward the covers your mouth, stopping around mid-check.
Source: AOMcosmetics via Instagram, brittanybearmakeup via Instagram, makeupby_elliee via Instagram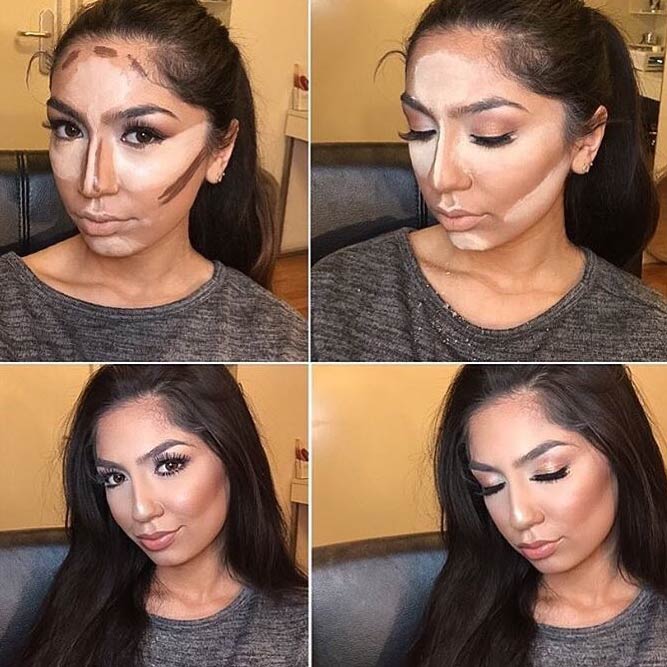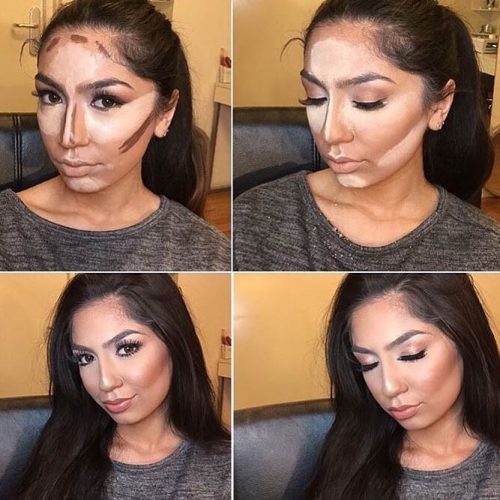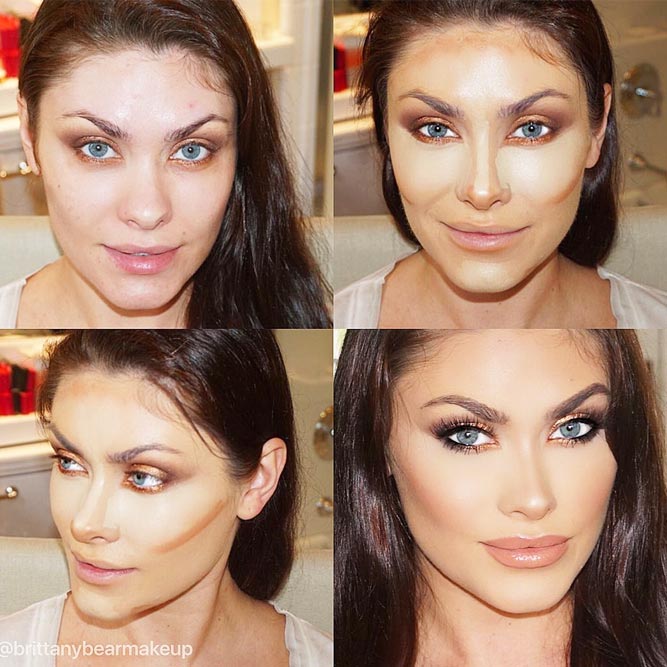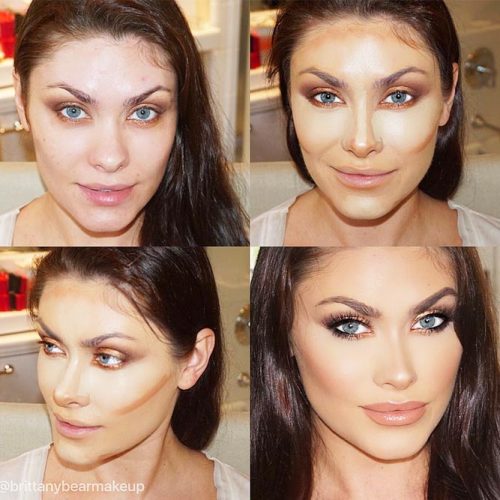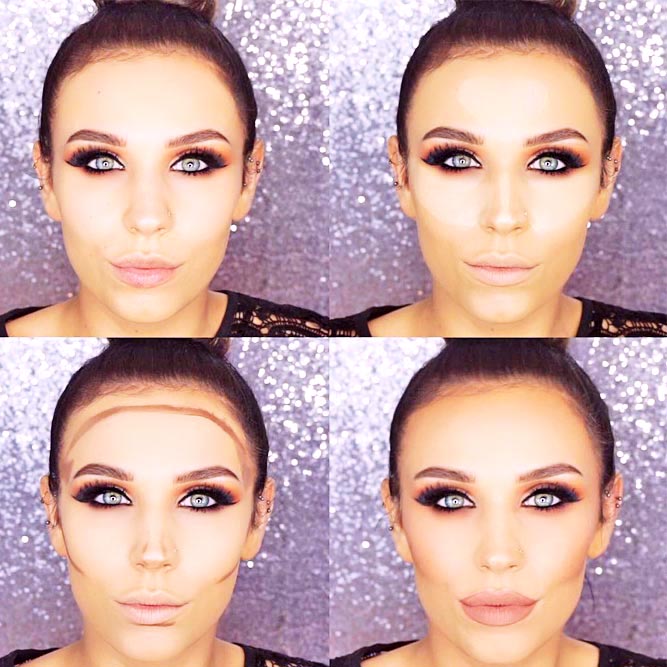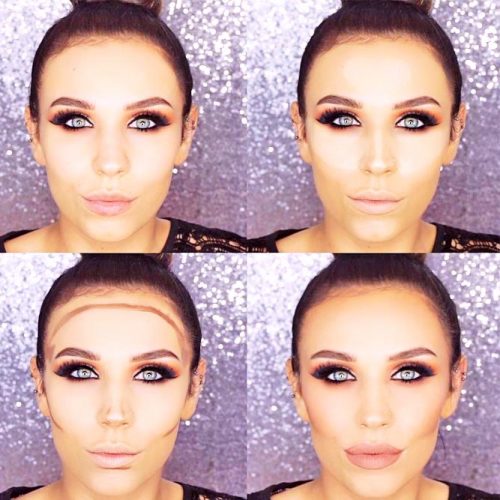 Layer your contour makeup properly
Start with a light application and then add color until you have achieved your desired look. Contour makeup is about the overall look, not the amount of product you use.
Make sure everything is properly balanced and blended
If your makeup is not blended properly, you could end up literally looking like a clown, or at least like you are wearing stage makeup. Placement is crucial when it comes to contouring! Finish off your look with the right eye makeup and lip gloss! Compliment your look with the proper eye makeup and lip shade and you're good to go!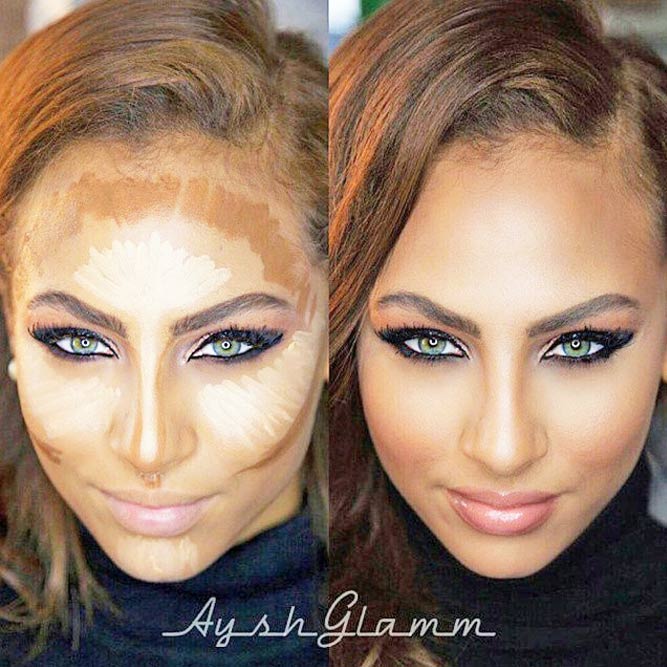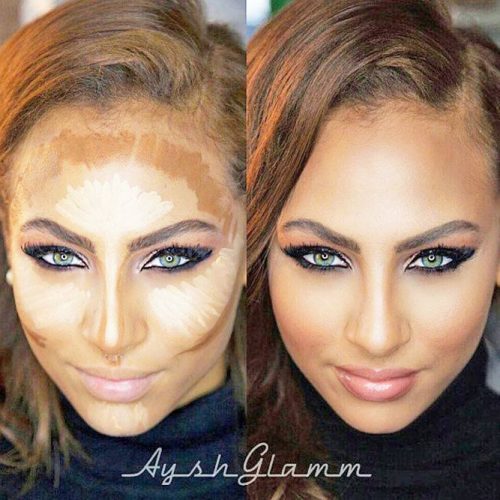 Source: ayshglamm via Instagram
Now that we have given you some basic tips here is a brief how to contour tutorial in a few easy steps:
Using a soft, angled brush, sweep the contour color along your cheekbone. Then, use your fingers to blend the line upward.
To get a healthy glow, blend the contour color into your hairline.
Next, using your fingers, rub a little contour powder along the side of your nose.
Sweep a touch of contour powder under your jawline.
Next comes highlighting: sweep the highlighter just above the cheekbone, down the center of your nose and along your brow line. Finally, dab a bit on the lower dip of your upper lip.
There you have it! A simple contour makeup tutorial for beginners! Next, we shall discuss how to contour according to your face shape!
How to Contour an Oblong Face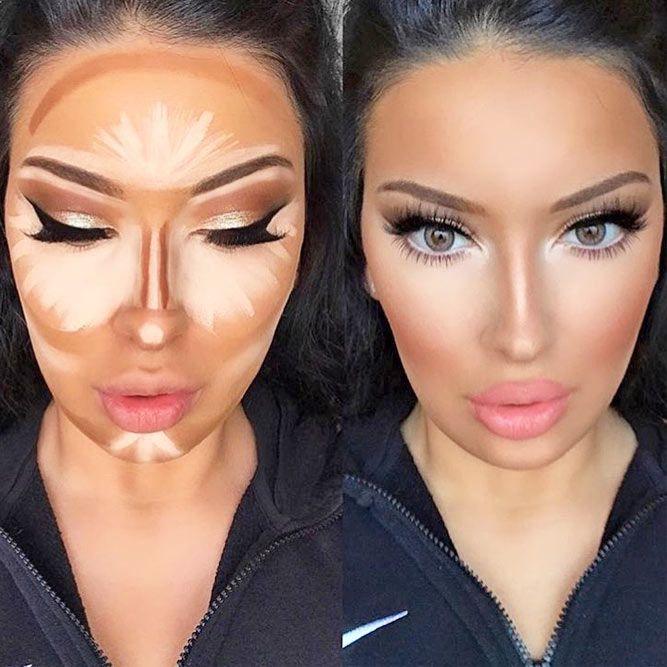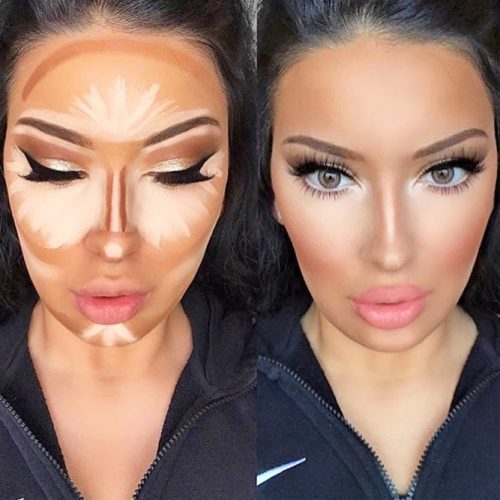 Source: kiisbeauty via Instagram
First, contour the corners of your face as this will make it appear less angular, this giving it a softer edge. Then apply highlighter to your chin and forward to add more dimension to your face.
How to Contour a Heart Face Shape / How to Contour a Square Face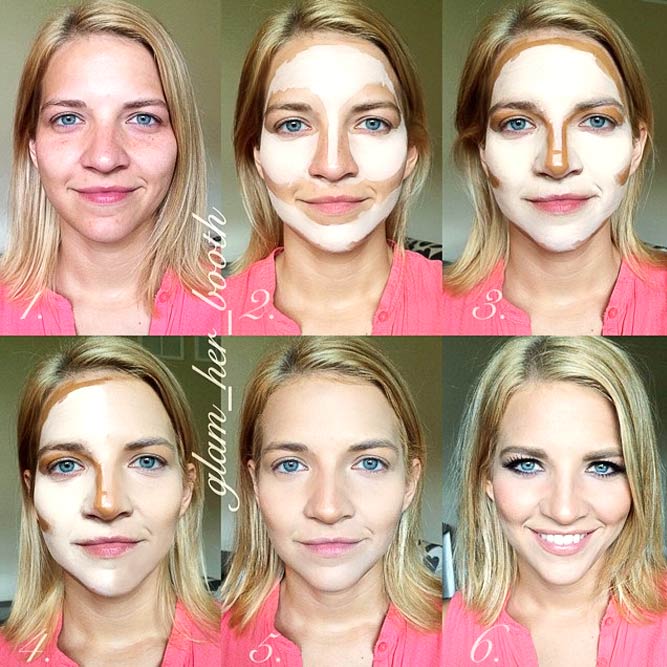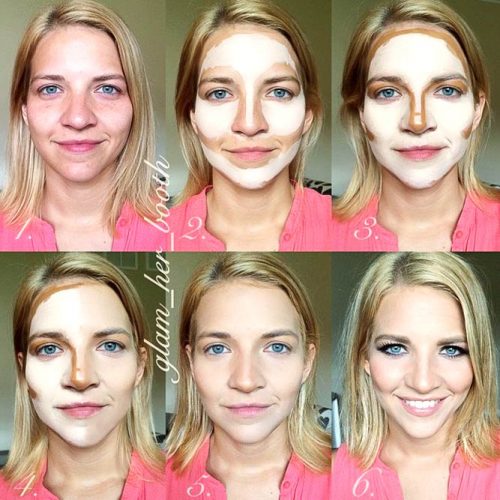 Source: glamher_booth via Instagram
Highlight the area under your eyes thus enhancing your cheekbones. Next, highlight your chin and forehead to add more definition.
How to Contour a Triangular Face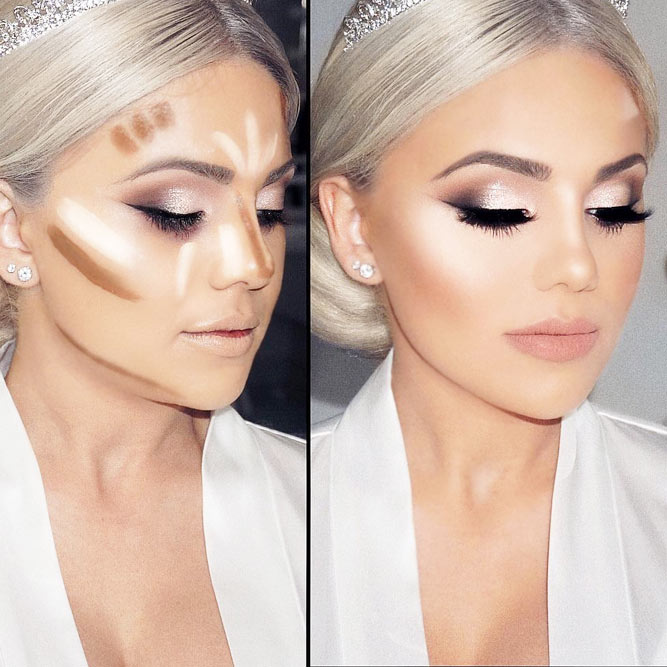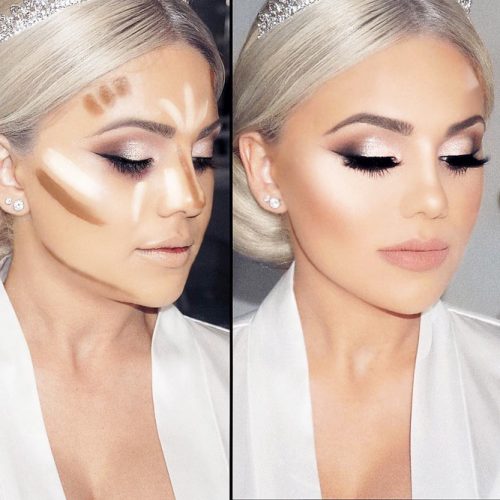 Source: vanitymakeup via Instagram
Contour along your jawline to make it more prominent. As well, you should highlight your temples. This will help balance out the middle of your face. Finally, highlight near the eyes to make your cheekbones appear fuller.
How to Contour a Round Face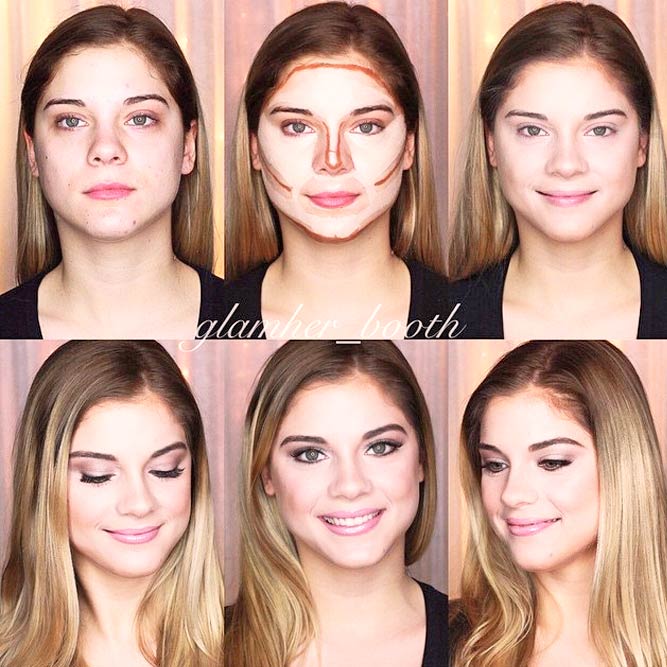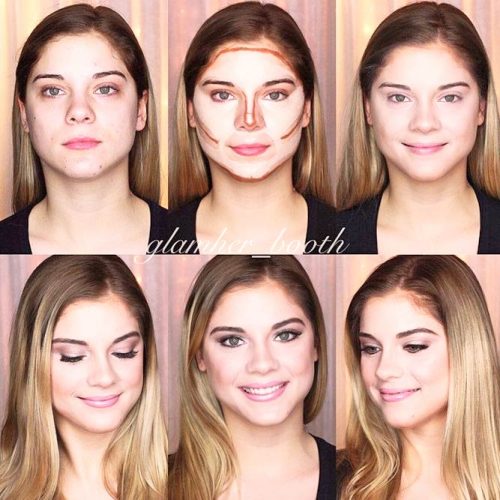 Source: glamher_booth via Instagram
To create more angles, use your highlighter on your forehead and chin. Also, contour your cheekbones the sides of your jawline and your temples. There you have it a simple contouring tutorial step by step! Next, we shall discuss how to contour based upon your skin tone.
Types of Skin Tones
Now that you have some basic tips on how to contour, we shall discuss how to contour based upon our skin tone. First of all, we need to discuss the different types of skin tones and how to determine your specific skin tone.
Source: samerkhouzami via Instagram, glamher_booth via Instagram, samerkhouzami via Instagram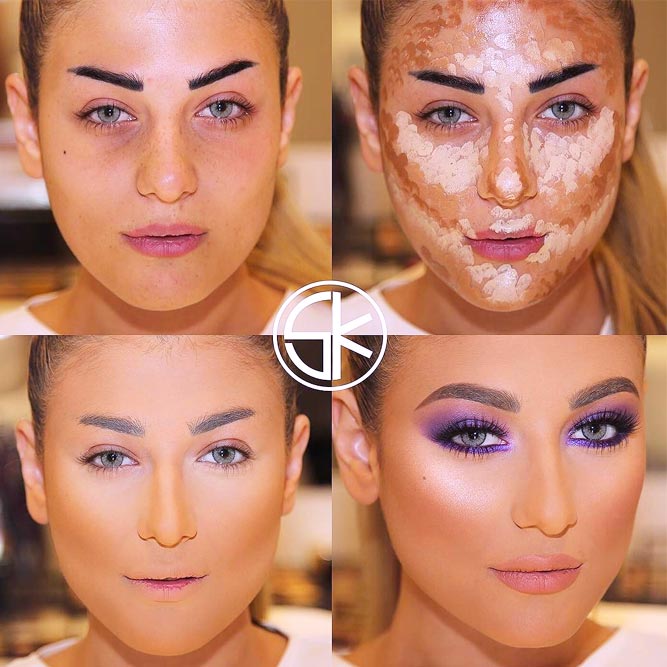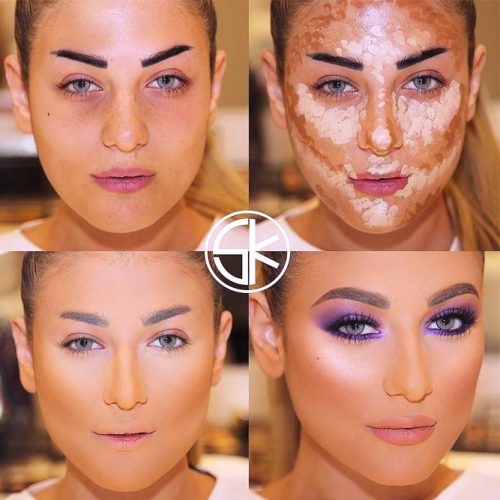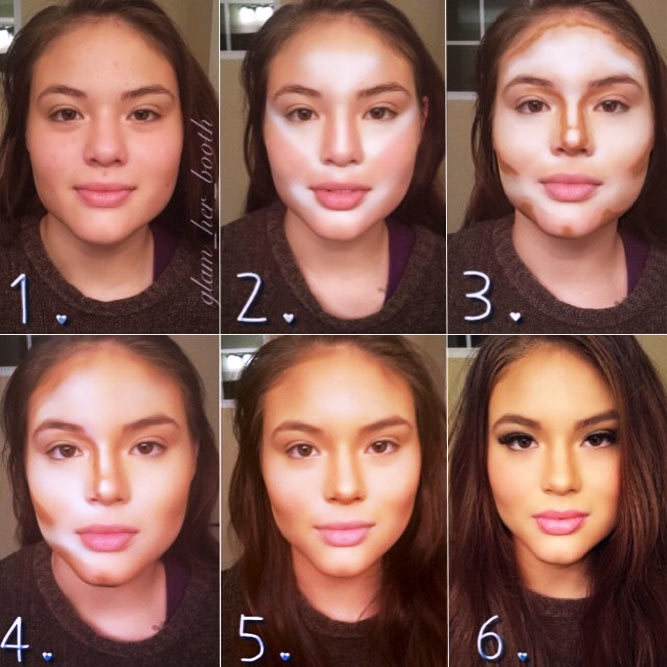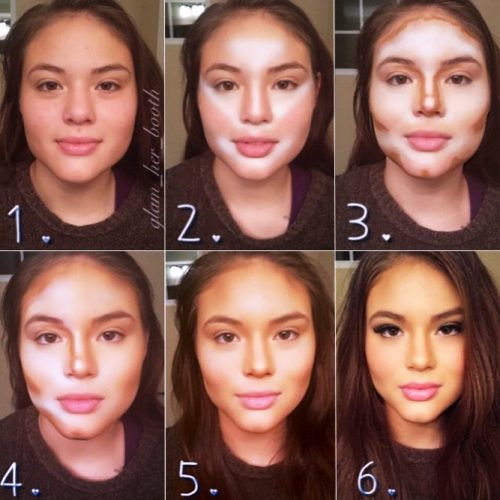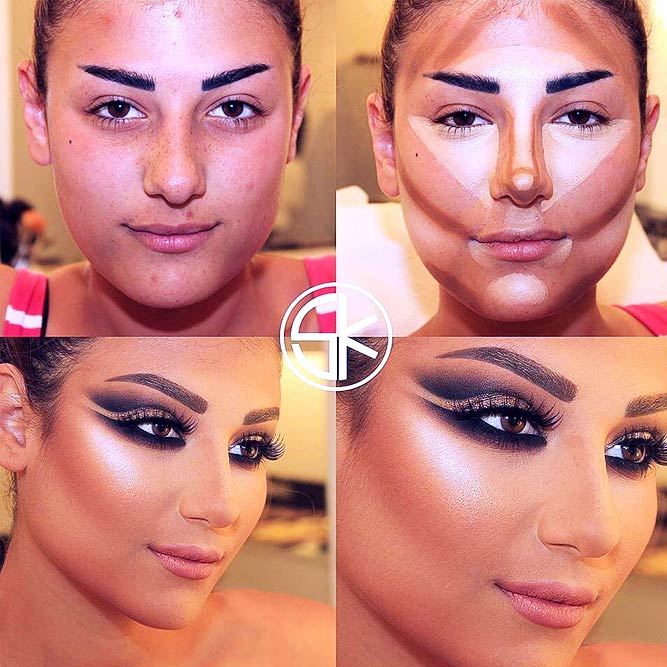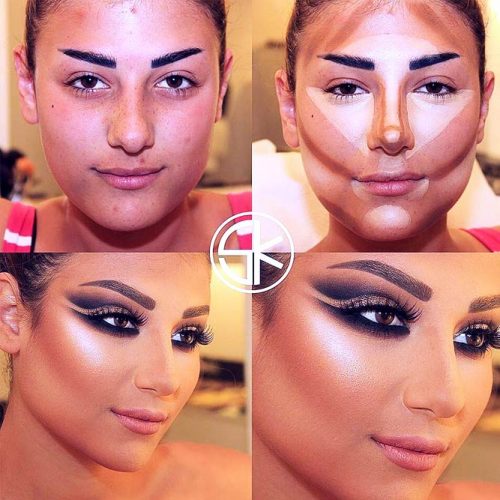 What is your skin tone?
Essentially if you are fair skinned, you tend to burn very easily. Those who have light-colored skin have more of a yellowish undertone. If you are medium skinned, you tend to have an olive undertone. If you are darker skinned, you have a darker overall complexion and do not burn easily.
To best discover your surface tone, look at your jawline as this is the area of your face that changes less than the other areas. As well, you can pretty much tell your skin tone by the way other people have described you throughout your life. Here are some other tips to help you figure out your skin tone.
If you have hints of pink or bluish in your skin, you have a cool complexion.
If you have yellow, golden or peach hues, your skin tone is warm.
If no obvious hues or overtones, then your skin is neutral.
If your veins are blue or deep purple you are cool toned.
If your veins are greenish, you are warm toned.
If you sunburn easily you are warm toned.
Now that we have helped you determine your skin tone, let's discuss how to contour according to your complexion!
How to Contour for Light Skin Tones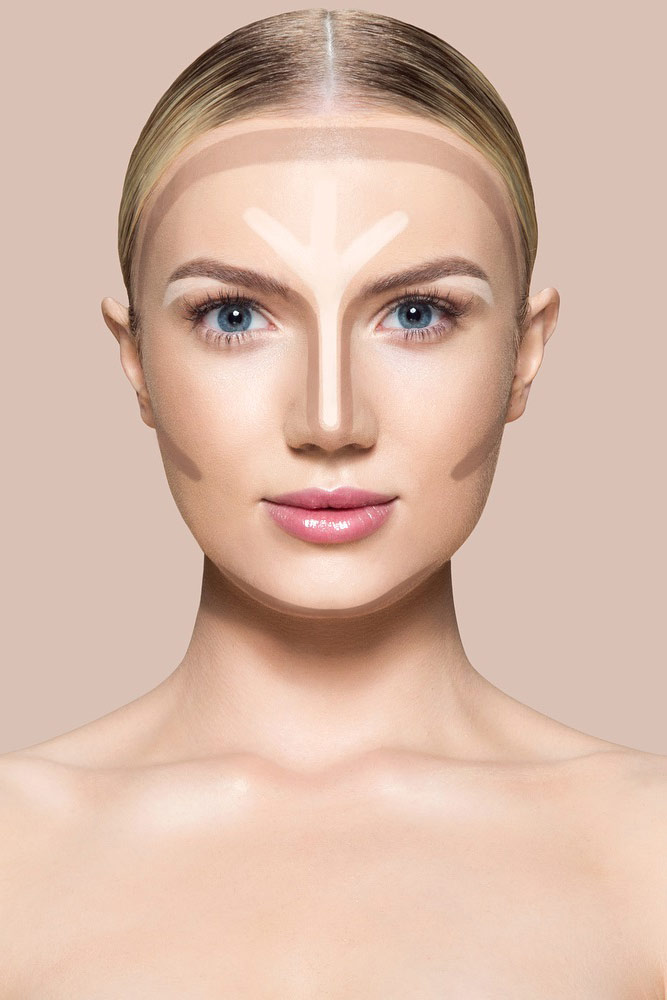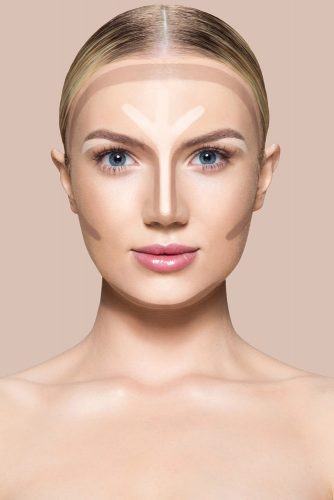 Source: kkwbeauty via Instagram
If you are of fair or light complexion, we shall now give you some advice on how to contour light skin.
As we previously discussed types of skin tones and you have now determined that you have light or pale skin, you need to follow these tips on how to contour pale skin.
Use a medium-sized brush and apply either a cool taupe or warm brown contour to the areas that need to be contoured.
Start from your ear and brush to the middle of your cheek.
Use a subtle bronzing powder and apply along your temple cheekbones and the side of your nose.
To highlight, use a rose or golden bronze iridescent lotion and use a flat contour brush to sweep along your cheekbones, down the center or your nose and above your lips.
We hope you have found our tips on contour make for pale and light skin tones to be helpful!
How to Contour for Medium and Dark Skin Tones
Source: kkwbeauty via Instagram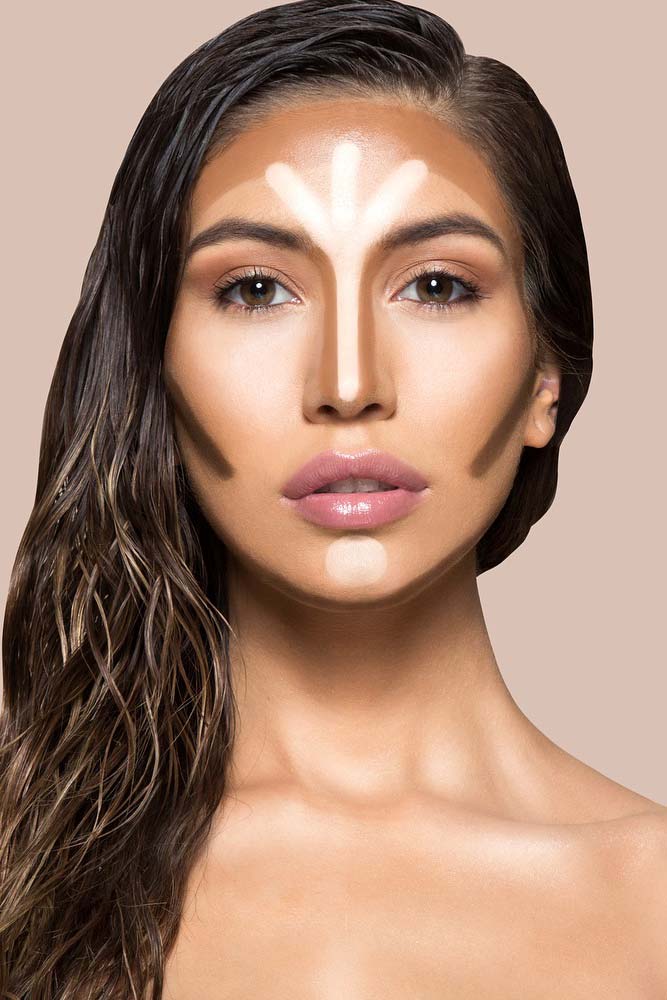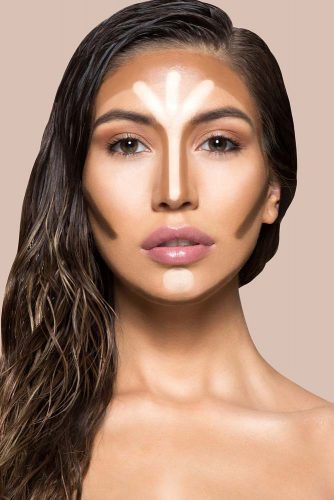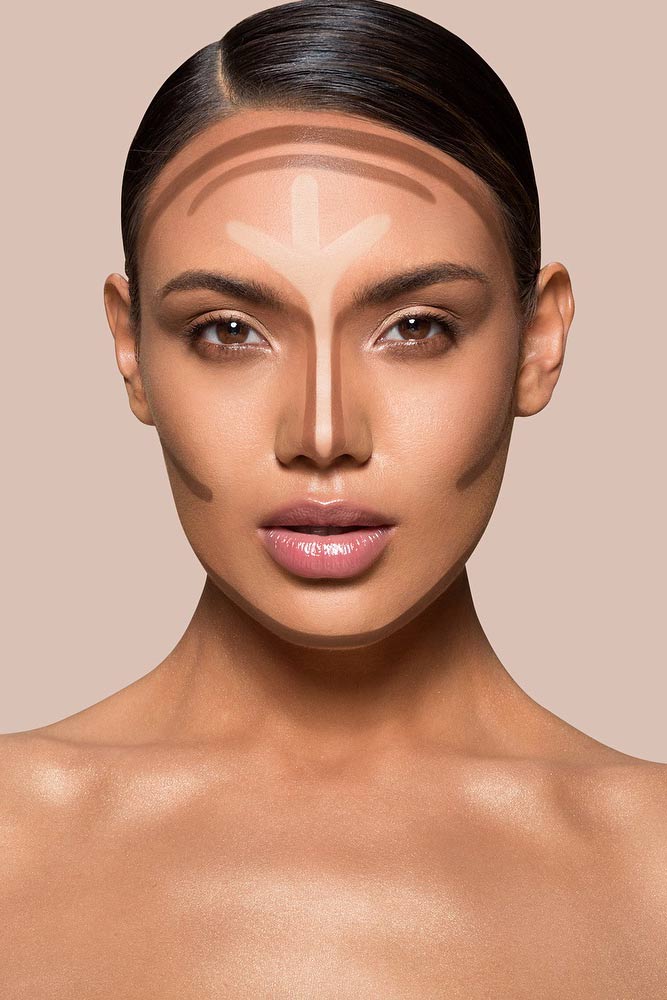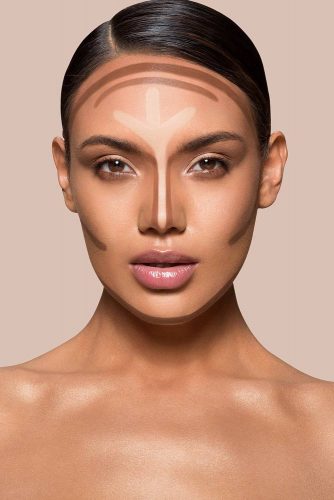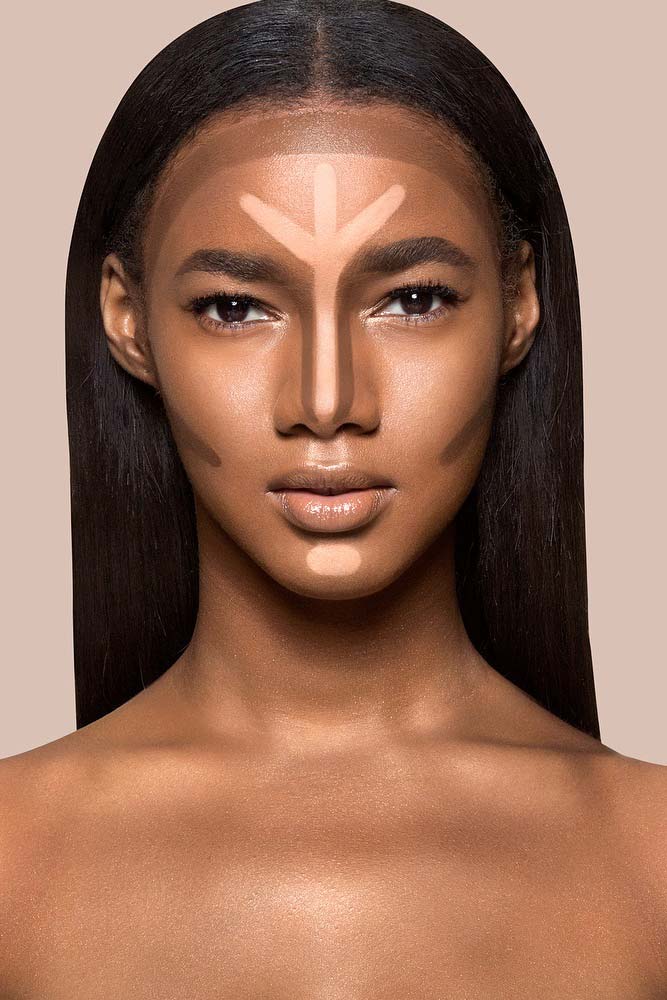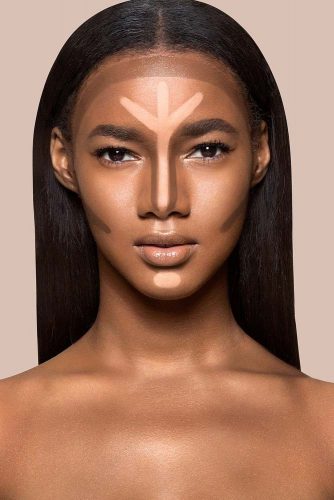 Next, we shall discuss how to contour dark skin. If you have determined that you have a medium to dark complexion, then these tips are for you! As well, these tips also apply on how to contour very dark skin.
Here is some advice on contouring makeup for dark skin tones:
First, use a moisturizer and primer to cover your face.
Then use a striping brush to apply your foundation.
Bland with a blender sponge for a flawless look and feel.
Apply concealer to the areas that you wish to emphasize.
Blend with a translucent powder to add brightness.
Brush off the excess powder.
Contour desired areas with a dark bronzer.
Highlight your cheekbones, your cupid's bow and the middle of your nose with a shimmery golden bronze shade. This is the best way to highlight for dark skin tones

There you go: simple tips for contouring for brown skin!