It is true that there is no such a thing as universal makeup since there are certain types of makeup that suit specific face shapes, skin tones, and eye shapes. Today we are going to talk about best eye makeup suitable for almond eyes and in case that is your eye shape then you should better dive in and discover new makeup horizons!
Smudge Bold Eyeliner Makeup Idea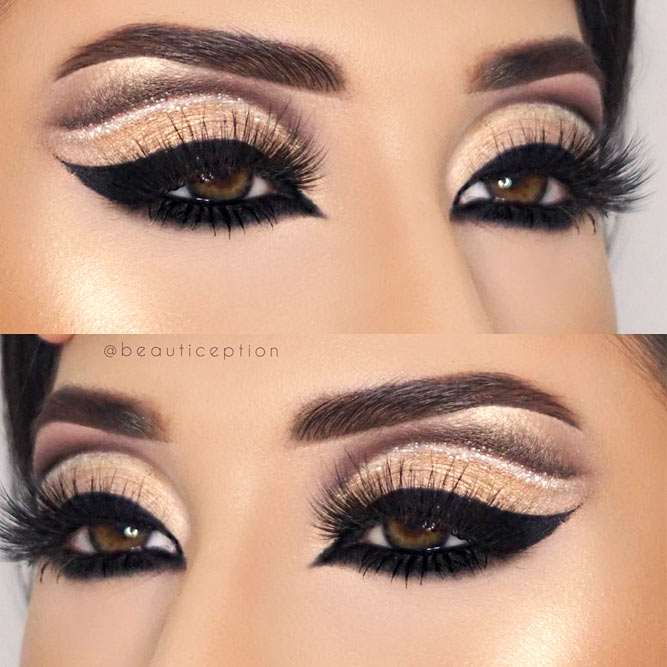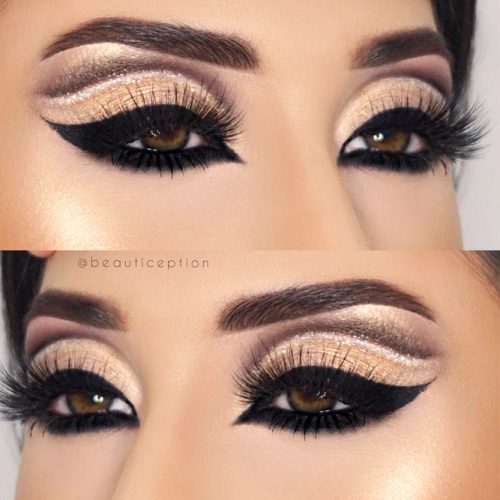 Credit: Instagram/shivangi.11
Playing around with eyeliner is never easy since it takes time and precision to master it. However, the best tip for almond eyes would be to follow the contour of your eyes. Outline the corner of the eye on the top and then repeat the same at the bottom, but smudge the bottom line a little, the outline does not have to be perfectly precise all the time. Highlight the inner corners and the waterline to make your eyes stand out even more. Check!
Bold Eyeliner Eyes Makeup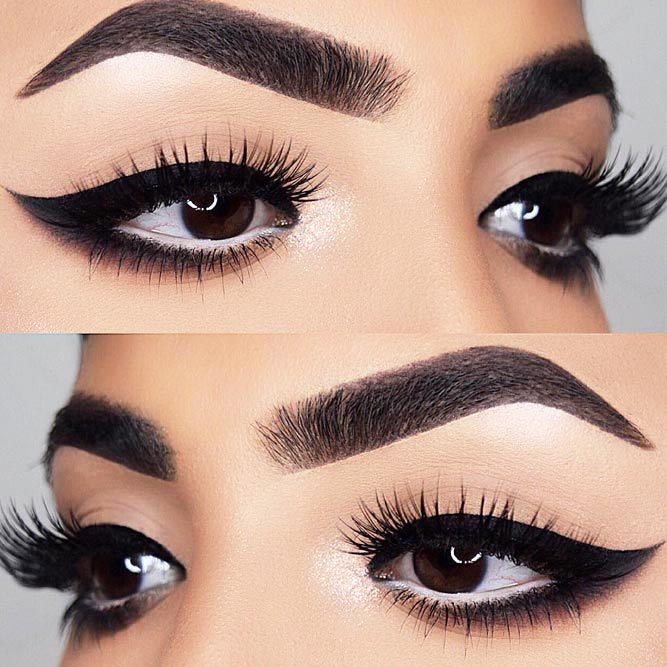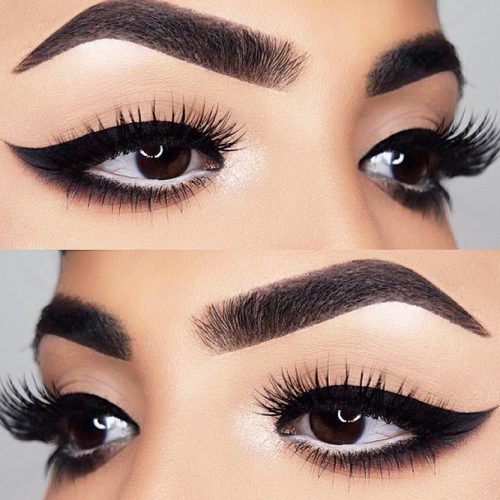 Credit: Instagram/beautiception
Adding thicker and bolder eyeliner to your makeup is a great idea especially if you are the owner of almond shaped eyes. Yet, there is one thing to keep in mind; you should always rely on the size of your eyes so that you do not go over the edge with thickness. In addition, you should bear it in mind that thick eyeliner is suitable for the nighttime mostly.
Simple Makeup For Almond Eyes With Eyeliner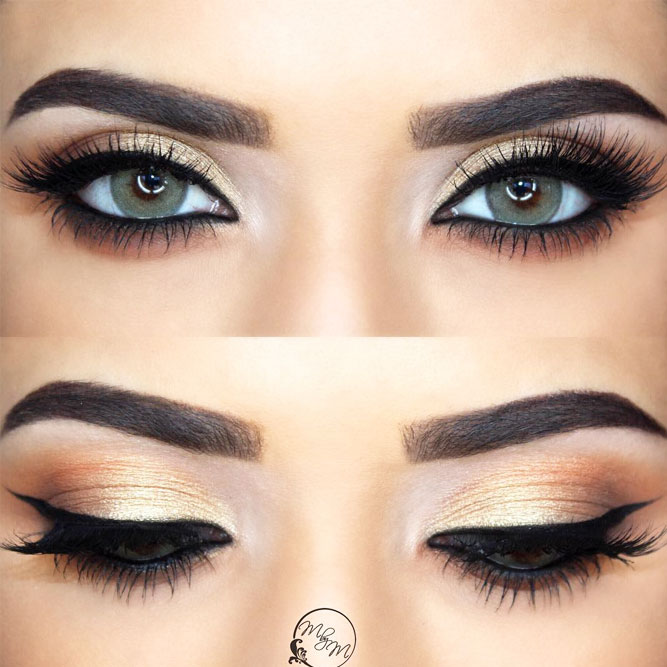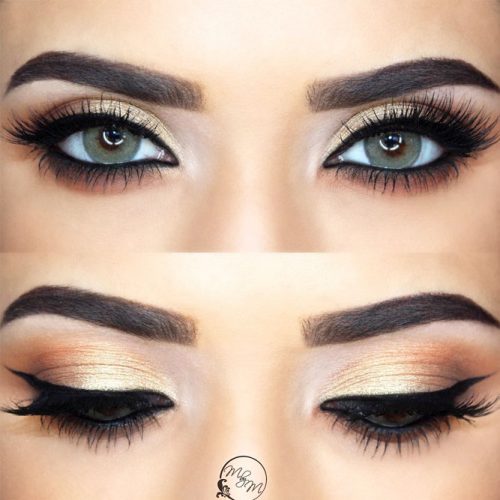 Credit: Instagram/makeupbymeggan
In case you are looking for a daytime makeup option, we have an idea for you. Just like thick eyeliner suits nighttime, so does thin liner fit the daytime. You can even add some neutral -shaded eye shadows to upgrade your liner look. It is always easy to make your eyes stand out with the help of liner!
Yellow Eyeliner Makeup For Almond Eyes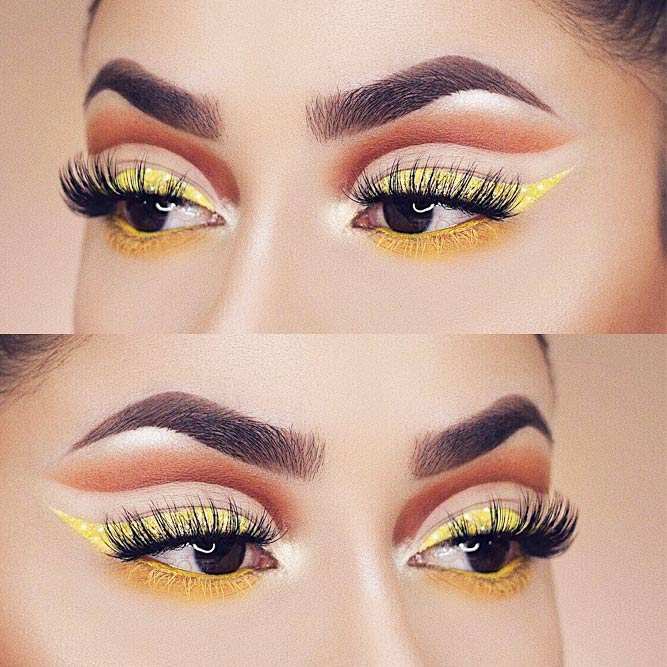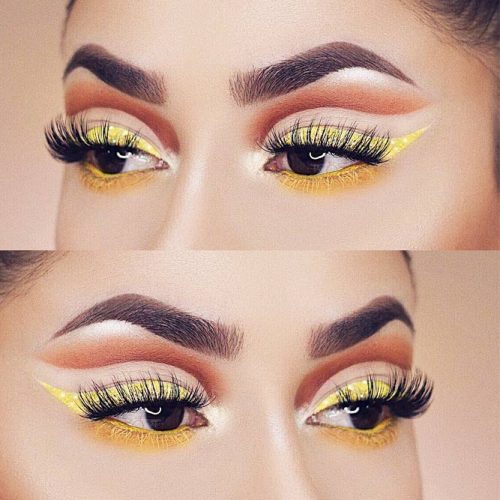 Credit: Instagram/dianamaria_mua
It is true that winged eyeliner seems to be invented for almond eye shape. However, when you get bored with the regular black liner, it is time to experiment. As you can see, adding a yellow winged liner to your look grants it that necessary extra spice. Try it out, and you will not regret it!
Double Winged Pink Eyeliner For Almond Eyes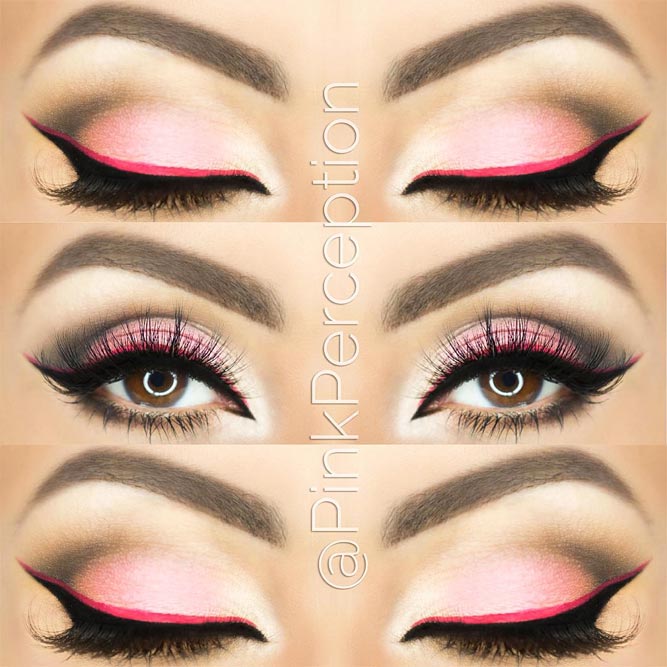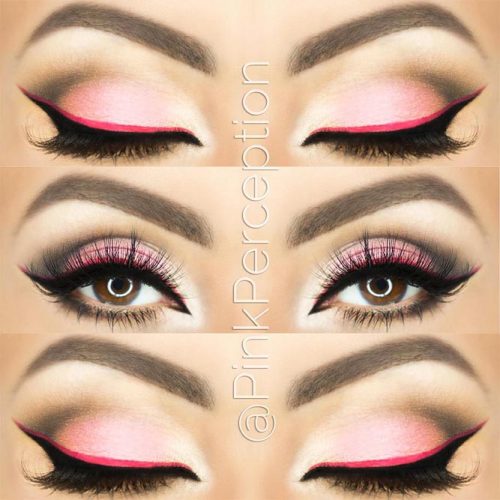 Credit: Instagram/pinkperception
When one liner is not enough, you can always introduce some more. For example, the combo of black thin line and a pink one on top looks marvelous and extraordinary together. Besides such a look is not too bold to pull off even when you are headed to the office or an interview.
Festive Eyes Makeup With Green Eyeliner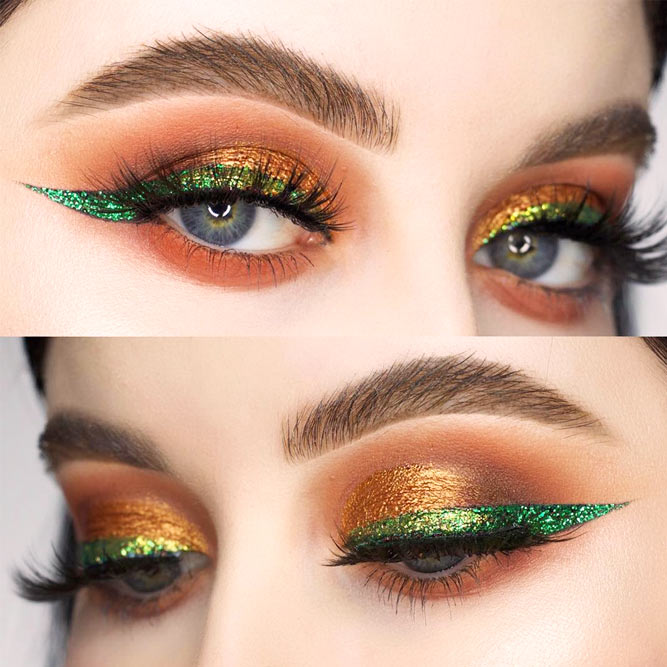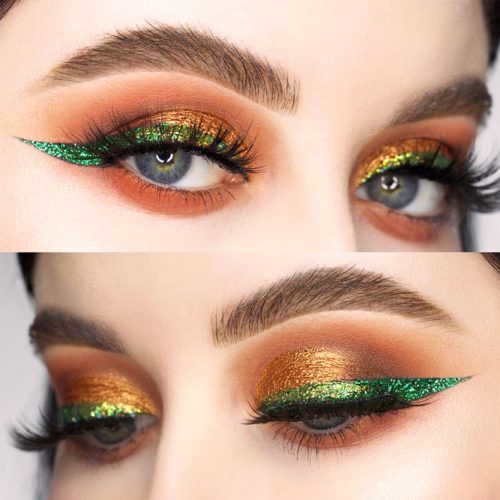 Credit: Instagram/paisleymattes
Holiday makeup is undoubtedly bound to be special, and that is when you do not have to restrain yourself and go as creative with your makeup as you want. For example, sparkly green liner with copper eyeshadow complete each other perfectly and result in great festive makeup. See for yourself!
Eyeliner Tutorials
Of course, no one is born a talented artist. There are things to learn and master at first, and we are more than willing to help you succeed with perfect eyeliner creation!
Drama Eyeliner Tutorial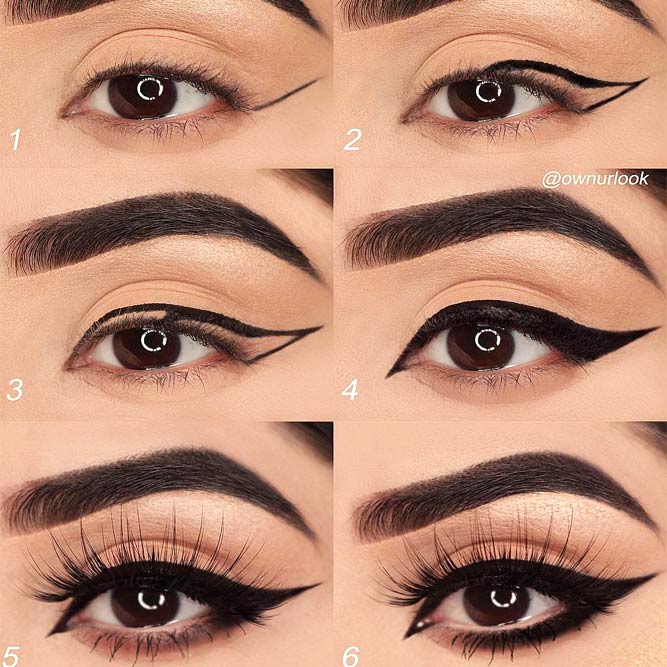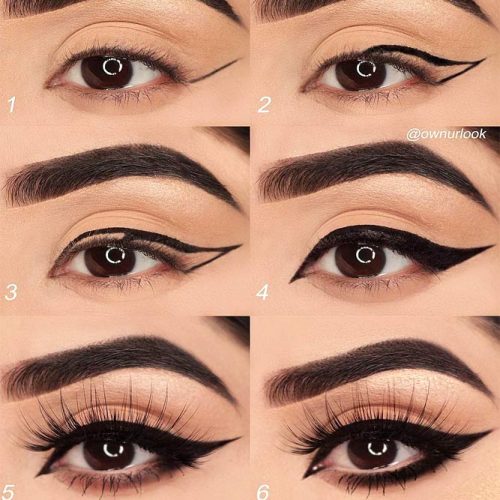 Credit: Instagram/ownurlook
Precision is essential while applying eye makeup especially when we are talking about bold eyeliner. That is why we would advise you to take your time and to start with the outline of your perfect winged eye as shown in the tutorial, then slowly fill it in, and finish the look off with the smudged bottom line.
Classy Eyeliner Tutorial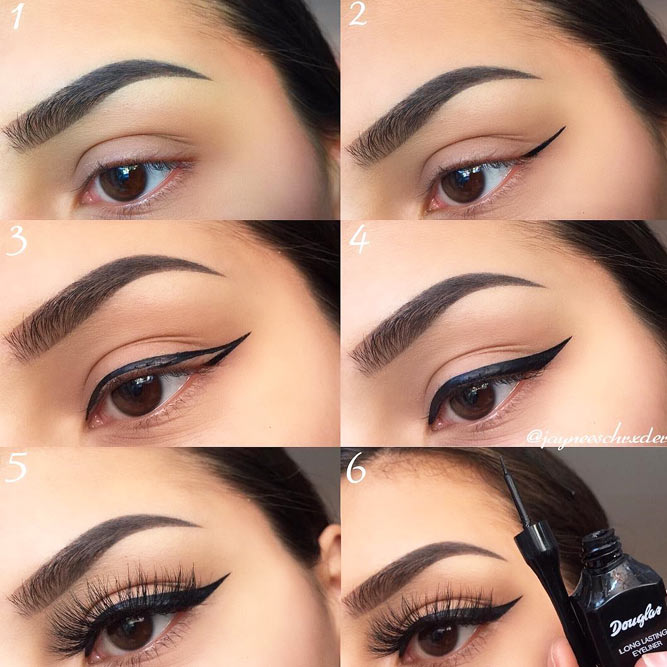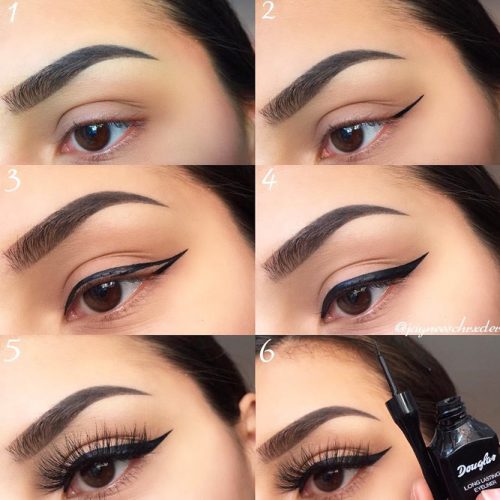 Credit: Instagram/jayneeschrxder
Your upper lash line is your best guide when working on classy eyeliner look. The thing is that almond eyes and eyeliner go hand-in-hand and that will make your task a lot easier. While working on classic liner look, make sure that the line you create is not too thick neither too thin just in the middle and you will create a masterpiece!
Cat Eyeliner Tutorial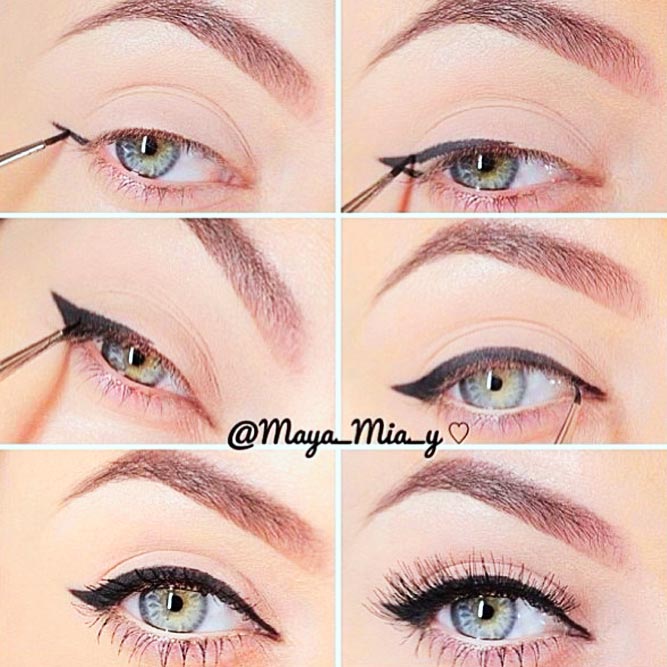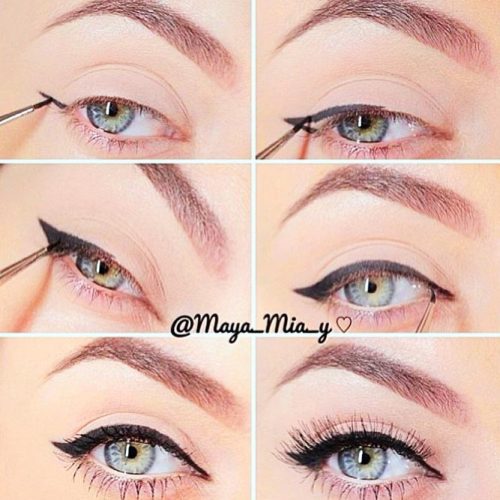 Credit: Instagram/maya_mia_y
Cat eye look is that type of makeup that will make your eyes appear more prominent. In case that is your primary intention then follow the steps shown in the tutorial and you will surely come up with a gorgeous result. One more thing, the trick is to start off in the corner of your eye and then proceed to the middle of your upper lid and only then outline the inner corners.
Black Smokey For Almond Eyes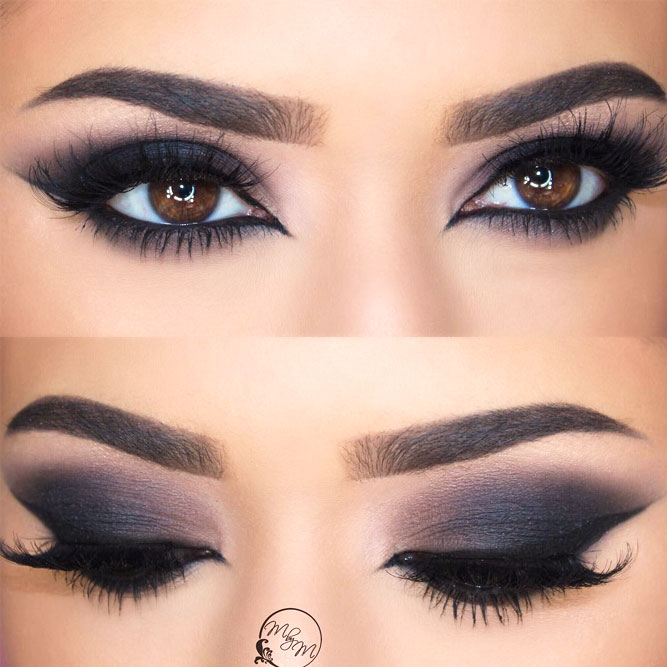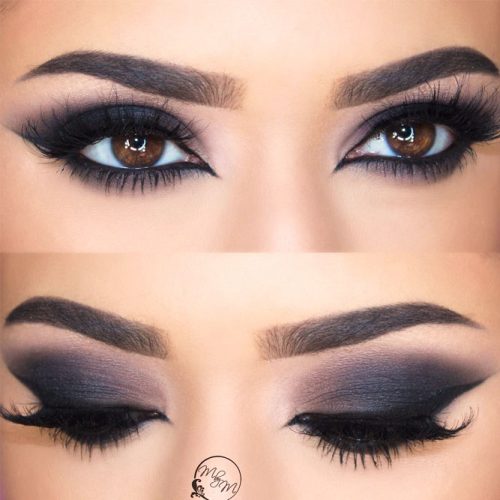 Credit: Instagram/makeupbymeggan
Of course, the main component of the smokey eye look is dark shades. However, apart from that you can always use your own creativity and introduce something new to the look. For example, adding the liner to your smokey make will only add better definition and depth to your eyes, but you should be careful with the occasion to pull it off to. The thing is that such a dark smokey look will certainly not fit the regular day at the office image but will undoubtedly suit the night out one.
Smokey Wings For Almond Eyes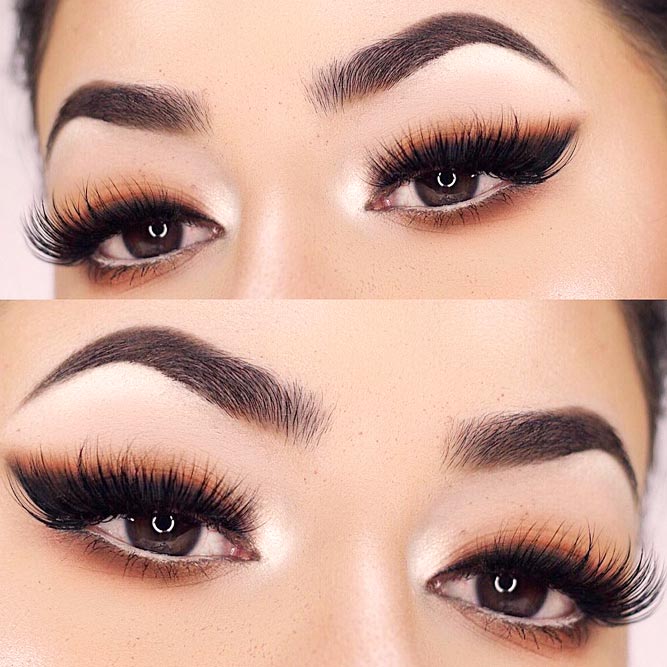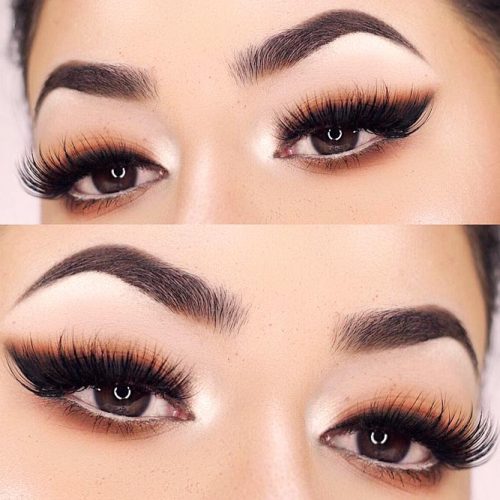 Credit: Instagram/dianamaria_mua
Winged look can be created not only with the help of your eyeliner but also with the help of eyeshadow. All you need to do is to aim at your outer part of the eye and do a smokey eye look in a shape of the winged eye. The outcome will undoubtedly be unusual and stunning!
Gold – Burgundy Smokey For Almond Eyes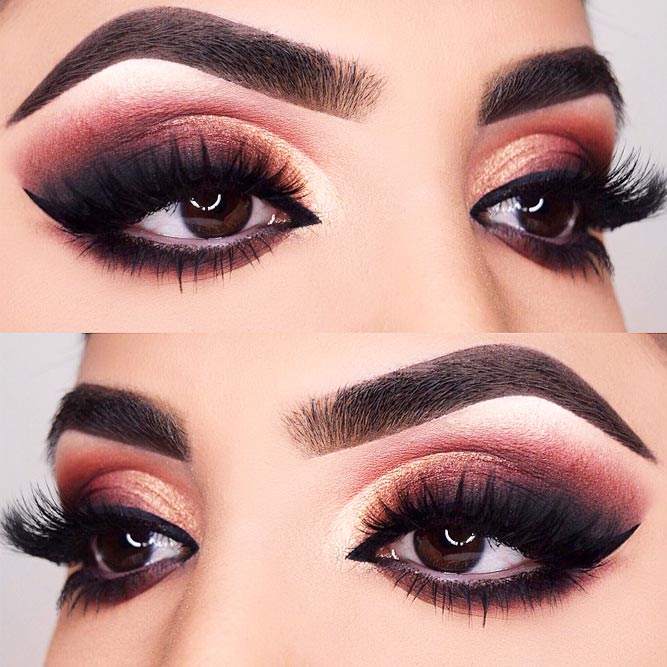 Credit: Instagram/shivangi.11
Before you decide to apply makeup, it is also essential to learn which shades works with your eye color best. In case you are a dark-eyed beauty then the combo of gold and burgundy shadows together with black ones will fit in just perfectly. Do not forget to outline the eyes and to highlight the inner corner!
Smokey Eyes Makeup Tutorials
If you are still unaware how to create the perfect smokey look for your almond eyes, we are here to help!
Smokey Almond Eyes Tutorial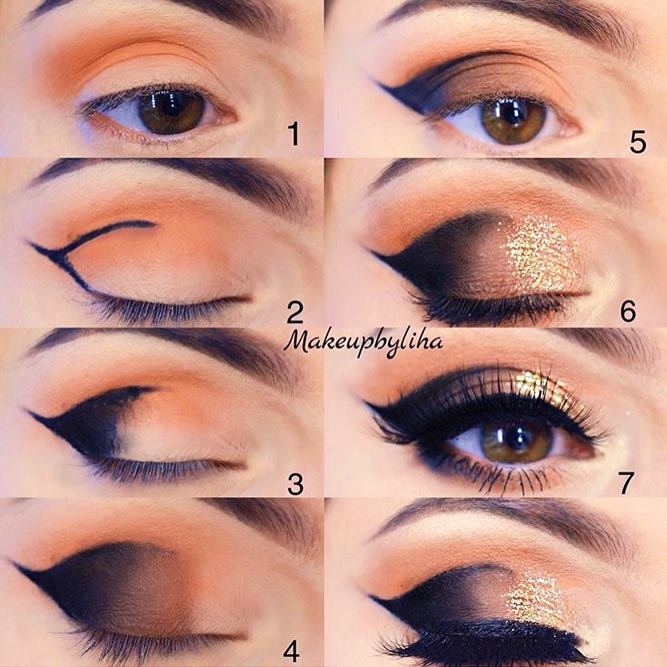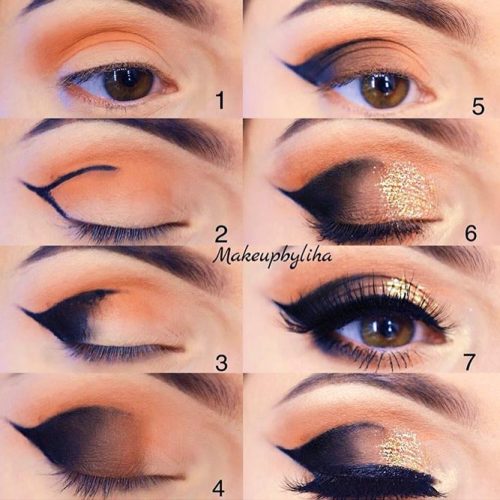 Credit: Instagram/makeupbyliha
As every makeup tutorial, the smokey one starts with the application of primer. The thing is that if you forget to apply some primer your makeup may melt and that is unacceptable. After that, you can proceed to your favorite dark shadows to create the smokey effect, make sure that you spread them on the outer corners only. Every smokey look requires highlighting, and the one for almond eyes is not the exception that is why you can add some shimmering gold eyeshadow to the lid. If you are still missing the necessary definition, you can add some liner to the upper lid. Finish the look off with mascara, and you are ready to rock!
Sunset Almond Eyes Makeup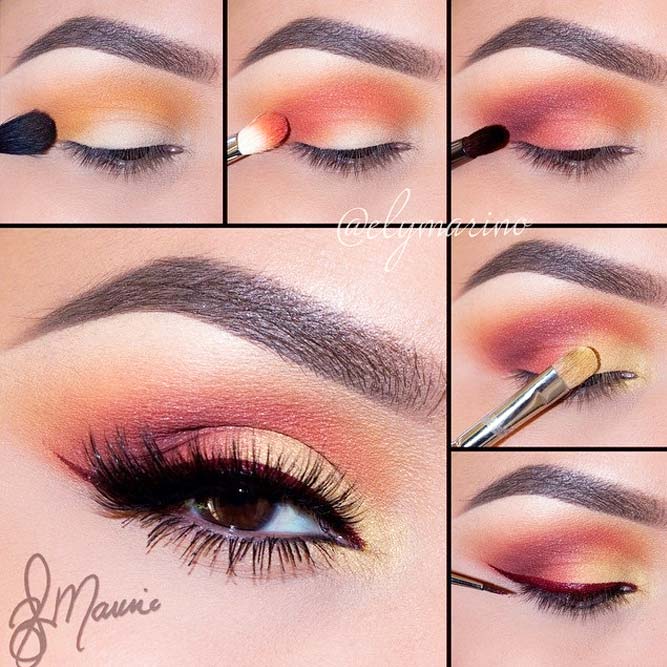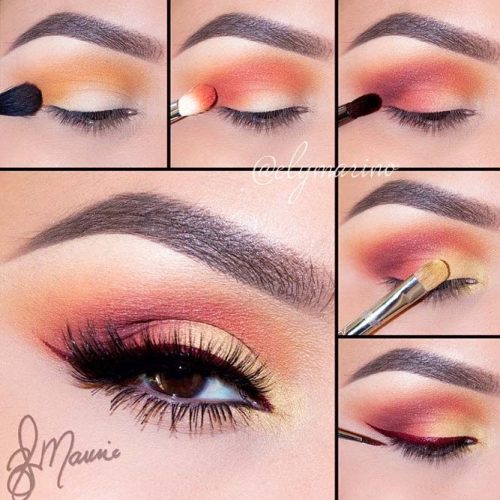 Credit: Instagram/elymarino
Not all the smokey looks involve dark shadows; there are also neutral smokey looks which you can easily pull off during the daytime. Start off with a primer, then add the base shadow to the whole lid and proceed with the addition of the darker shadow to the outer corner of your eye. It is crucial to highlight too, so that, adds some definition to your brow bone. Winged liner and a swipe of mascara will help you finish this marvelous look.
Glitter Smokey Tutorial For Almond Eyes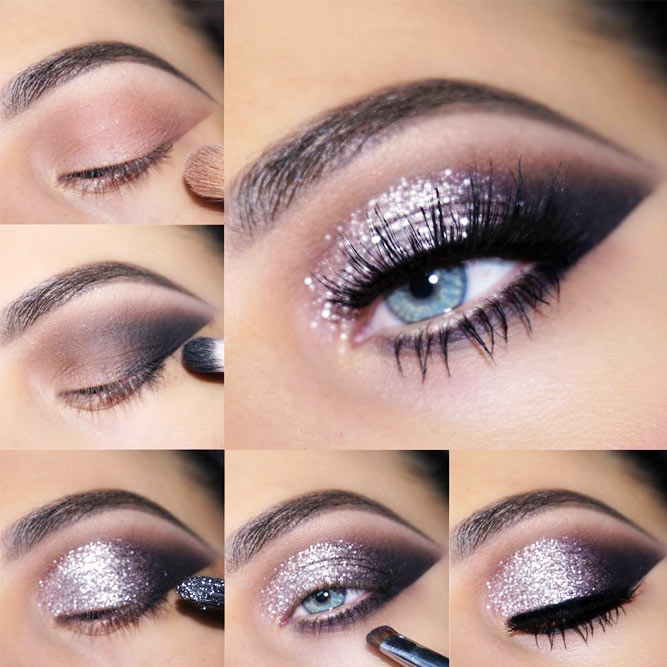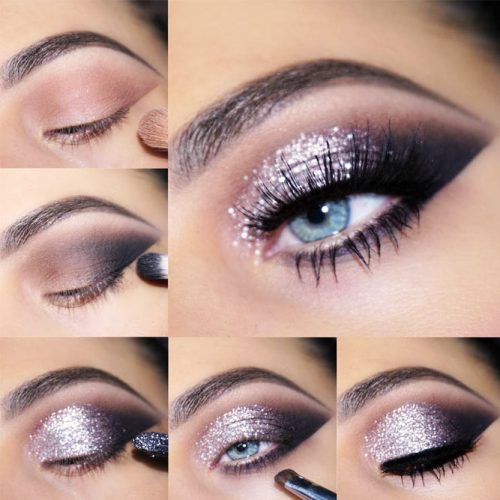 Credit: Instagram/theamazingworldofj
There are days when you have to look your best, and that is when glittery shades come in more than handy. To succeed with this outstanding look, all you need to do is to create a regular smokey makeup and then add glitter to it. Do not forget to outline the top and bottom of your eye to look extra magnificent!
Smokey Cat Eyes Makeup For Almond Eyes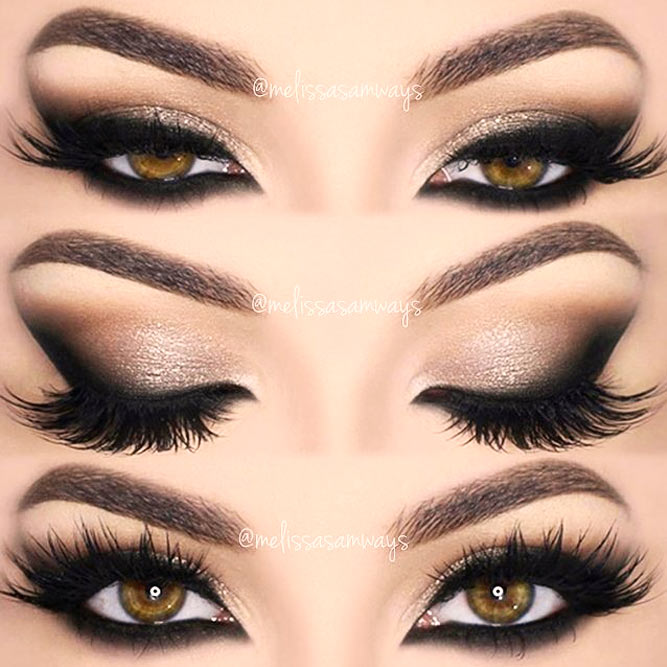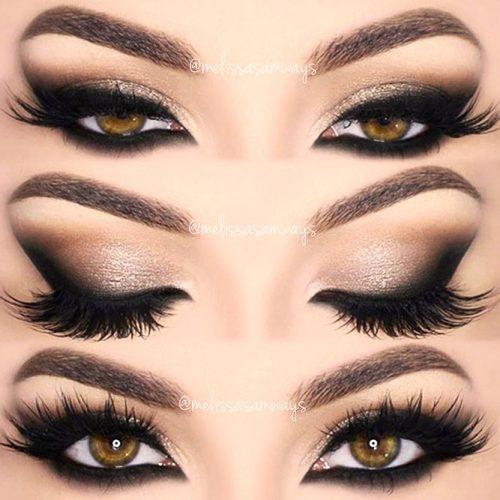 Credit: Instagram/melissasamways
Almond eyes makeup ideas seem to be limitless; however if you are looking for something both dramatic and sexy, then we may have an idea in mind. The thing is that the combination of smokey eye and cat eye is indeed a killer one. However, the addition of shimmery shades keeps this look from going over the edge. What do you think?
Cat Eyeliner On Glitter Shadow Base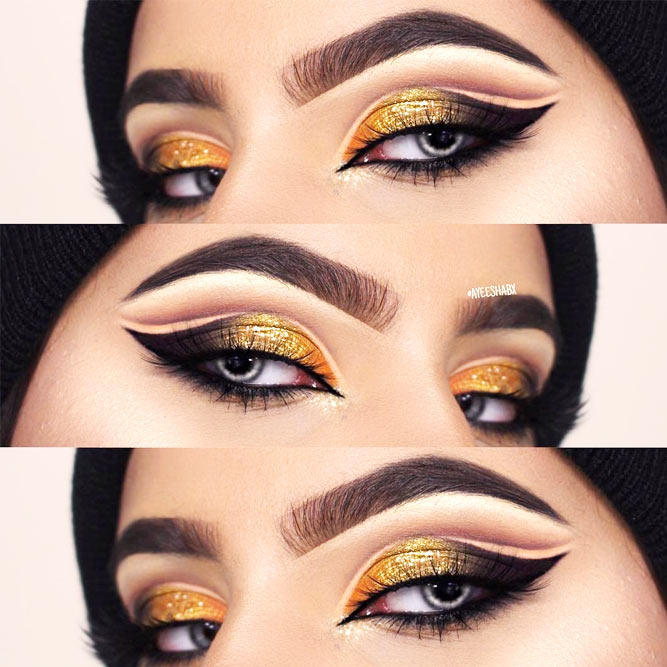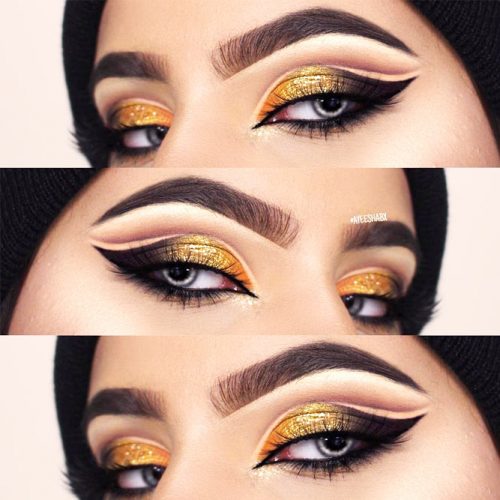 Credit: Instagram/ayeeshabx
Honestly, the cat eye makeup is very magnetic and unique on its own, but there are always ways to take things to the whole new level. The thing is that cat eye makeup works perfectly with glittery shadows. Do not be afraid to be a little be more creative with the choice of shades to play around with.
Cat Eyeliner On Matte Shadow Base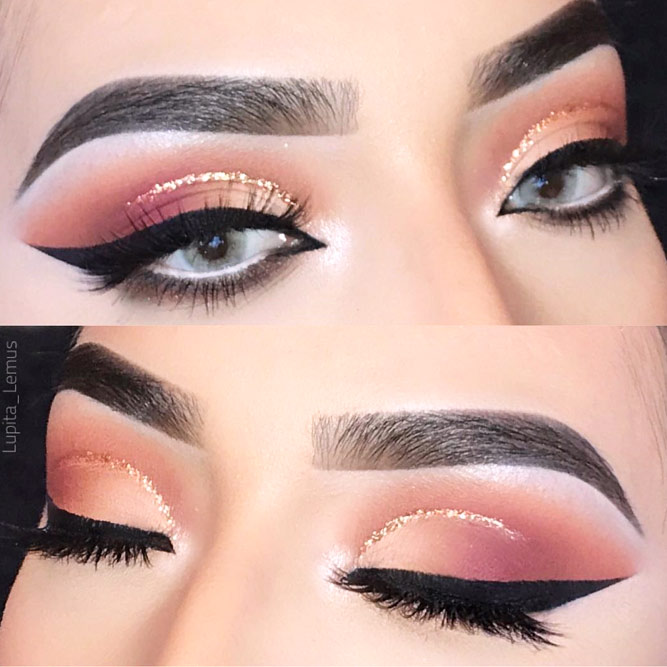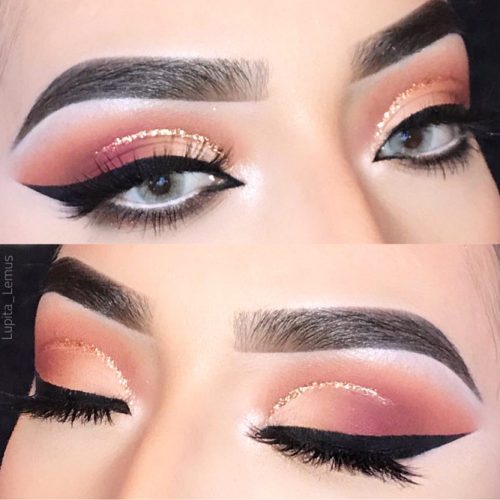 Credit: Instagram/lupita_lemus
In case too much glitter is not your cup of tea, and you do not wish to go too bold with your eye makeup there is a way out. All you need to do is to opt for nude matte eyeshadow and then upgrade it with a perfectly even cat eye. What is more, you can accent the look just with a slight touch of glitter, and there will be no rivals to your beauty!
Gold And Gray Smokey Eyes Makeup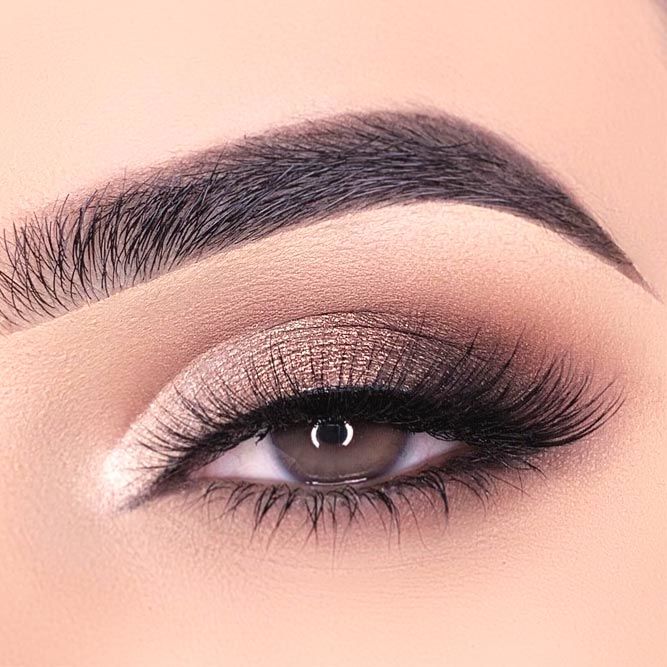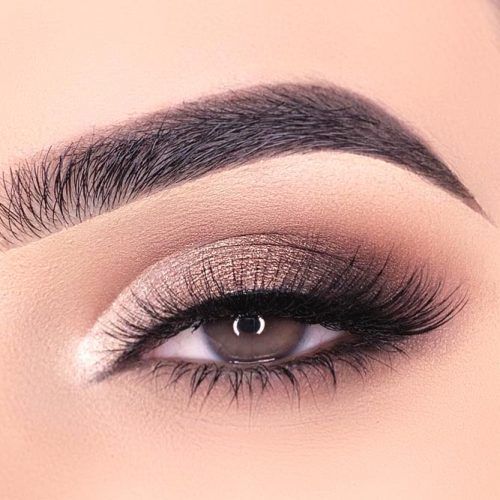 Credit: Instagram/zadojn
Pink Glitter Eyes Makeup With Black Eyeliner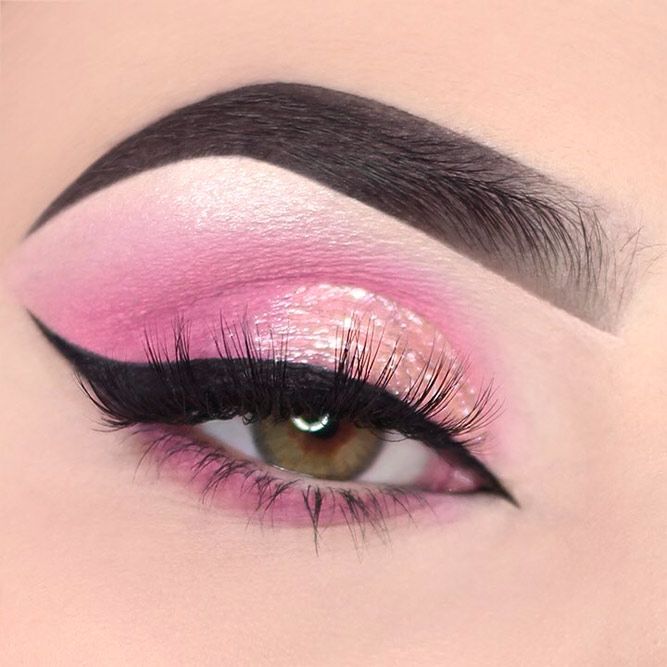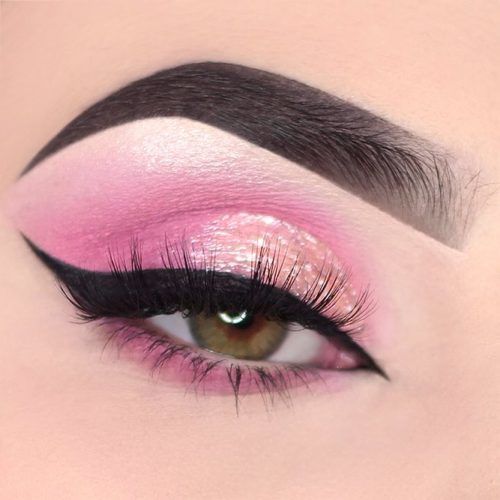 Credit: Instagram/sylvesterdani
Glitter Shadow For Purple Smokey Makeup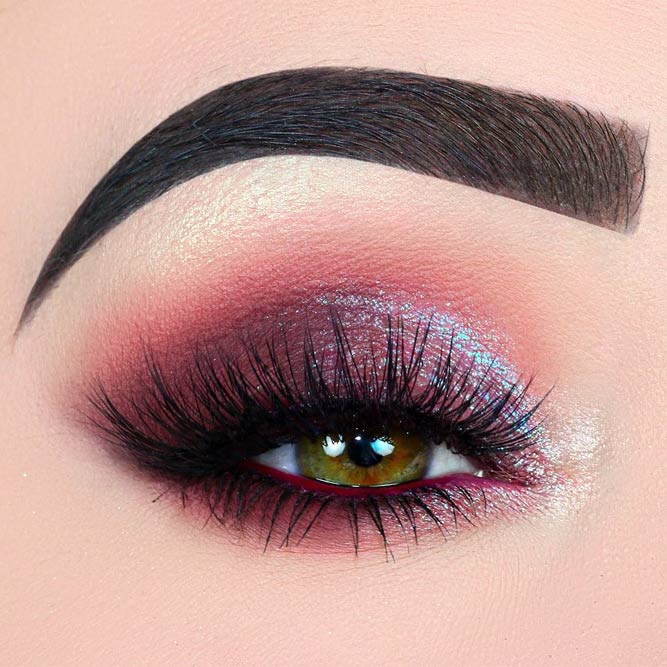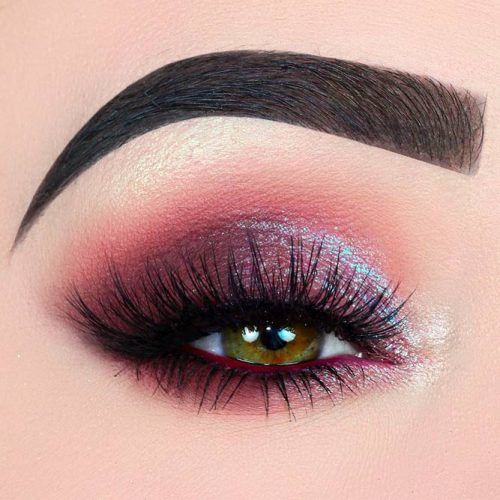 Credit: Instagram/1500px
Cut Crease With Glitter And Black Eyeliners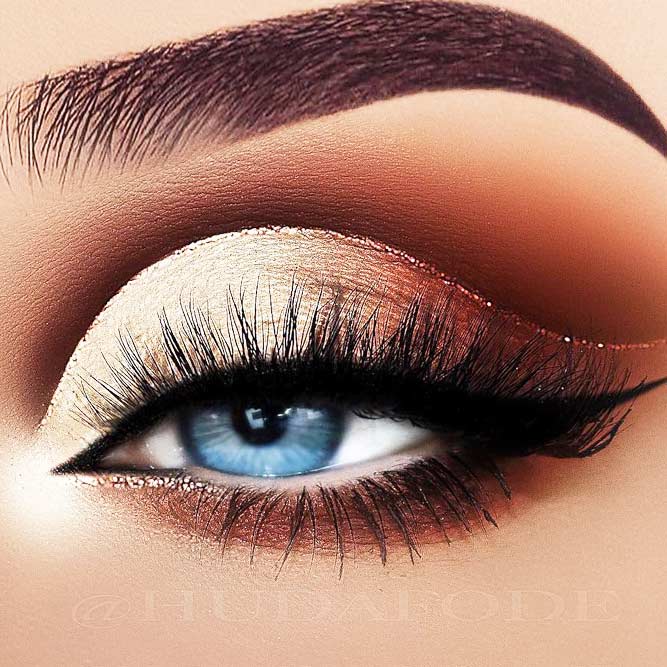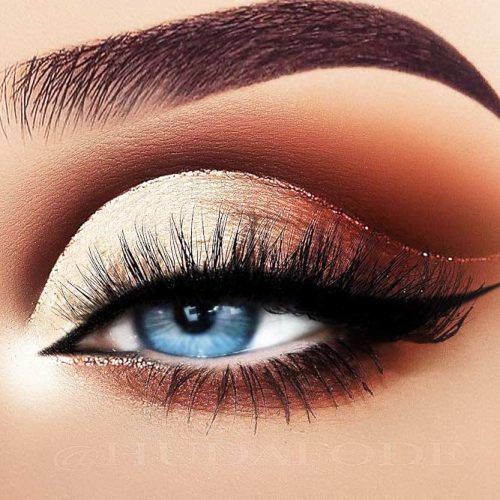 Credit: Instagram/hudafode
Smokey Eyes Makeup With Cat Eyeliner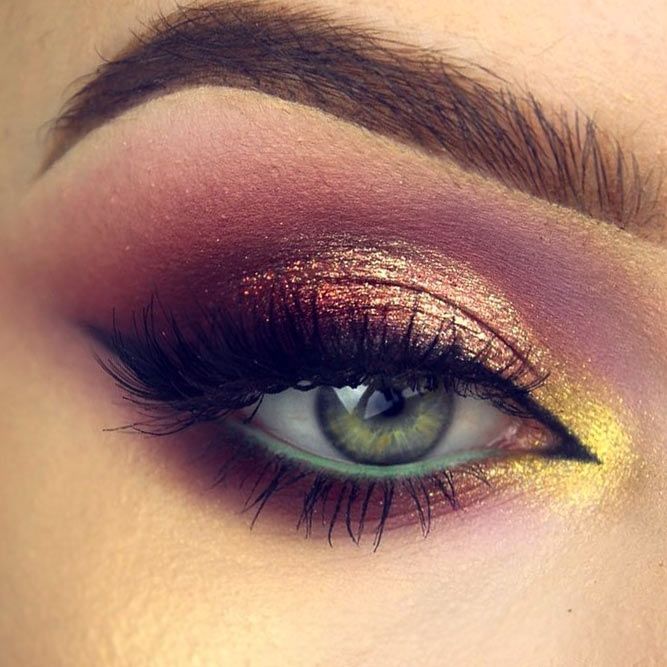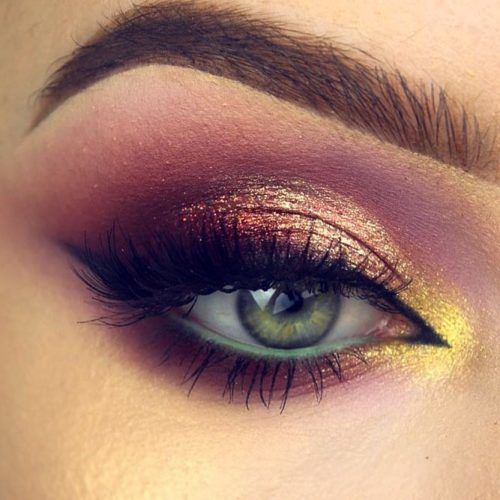 Credit: Instagram/alicjajmakeup
Gold Glitter Shadow With Black Eyeliner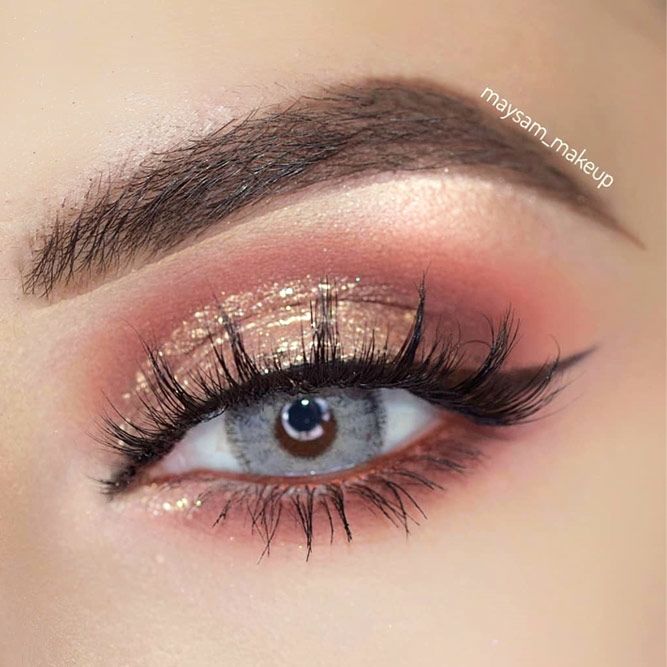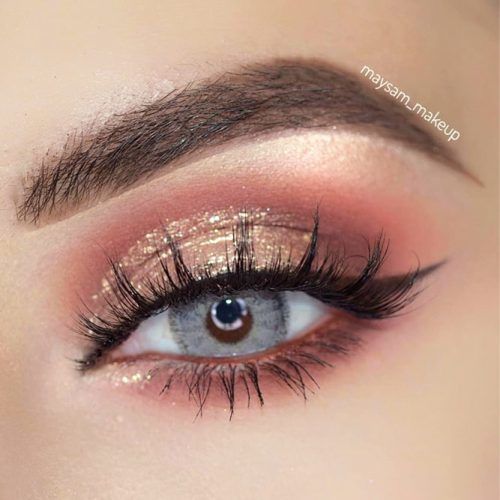 Credit: Instagram/maysam_makeup
Almond eyes are considered to be the most flattering and universal of all shape. But, even such a perfect shape needs proper makeup, and that is something that we are going to discuss in this article. All the best makeup looks and tutorials for almond eye shape are at your disposal now!
Purple And Blue Smokey Eyes Makeup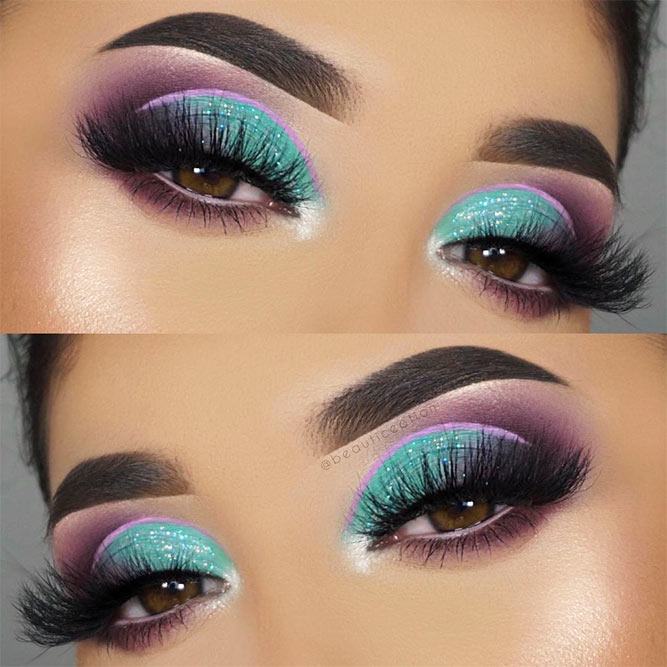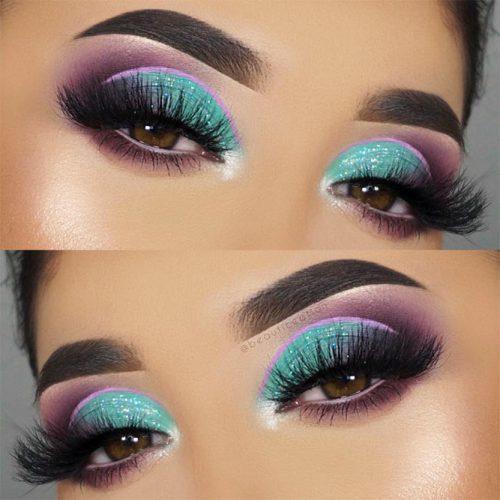 Credit: Instagram/beautiception
Orange Smokey Eyes With Festive Eyeliner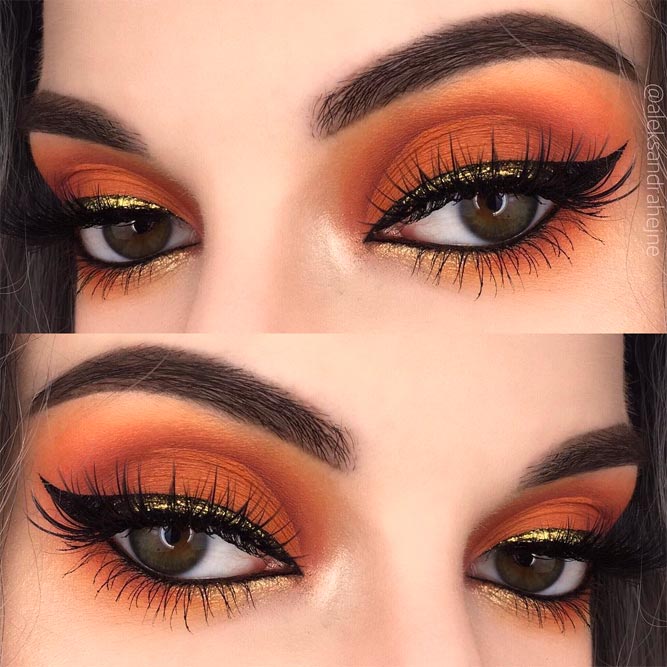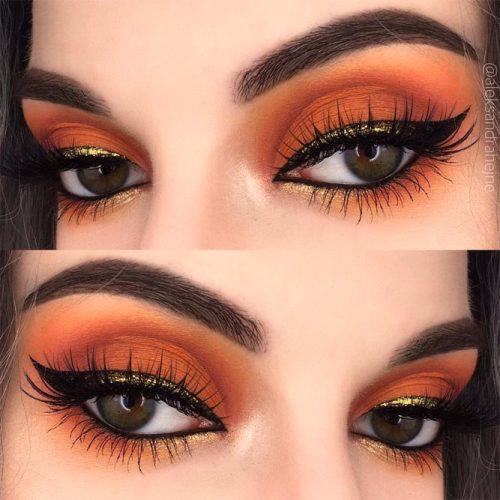 Credit: Instagram/aleksandrahejne
Brown Glitter Smokey Eyes Makeup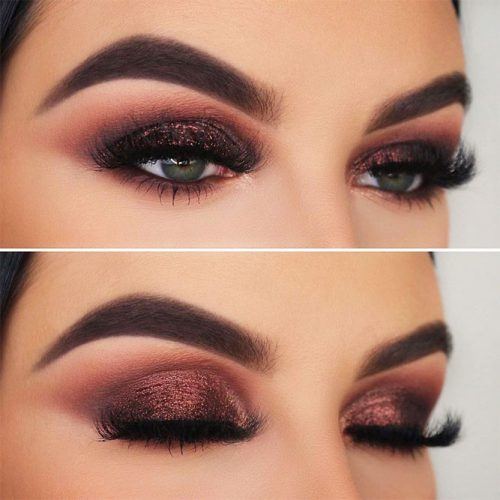 Credit: Instagram/makeupbyserenacleary
Pink And Purple Smokey Eyes Makeup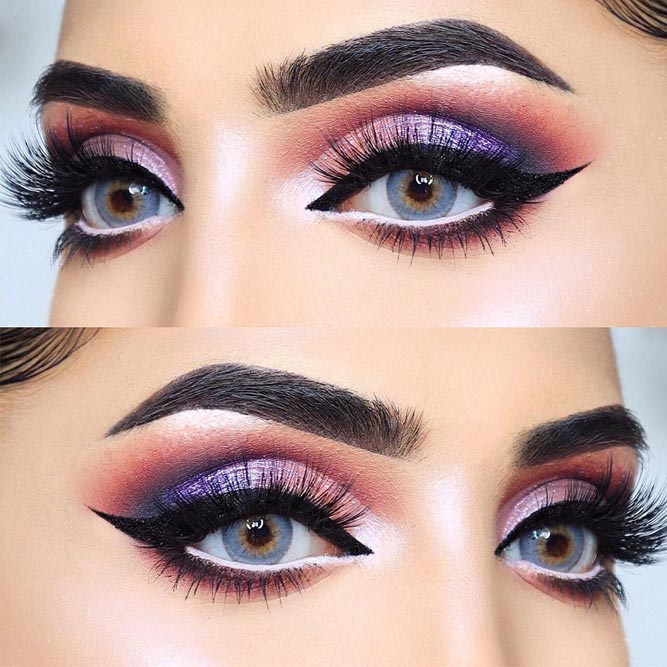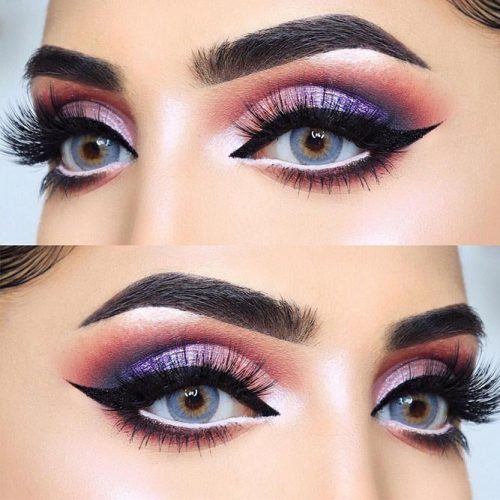 Credit: Instagram/shivangi.11
Smokey eye makeup is one of the most commonly used techniques for all the eye shapes, but here we are going to concentrate on everything you need to know while creating the smokey eye effect for almond eyes. Enjoy!
Almond Eyes Makeup With Double Eyeliner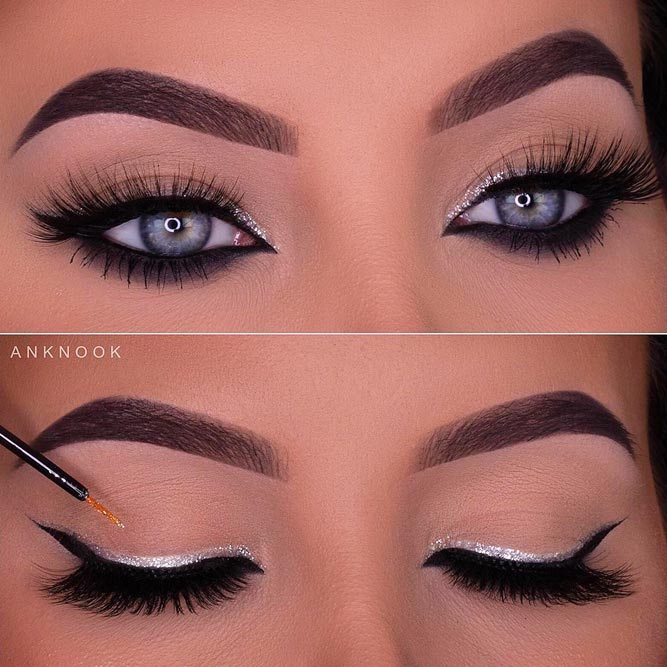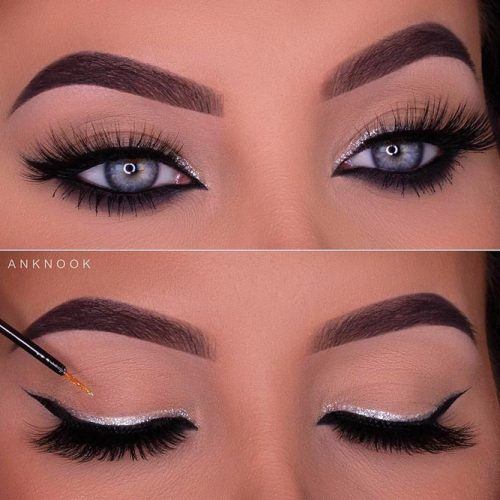 Credit: Instagram/anknook
Eyeliner is not bound to black color only. And today we are going to show you how to play around with colorful liner to make your almond eyes glow with perfection!
Smokey Eyes With Bold Arabian Eyeliner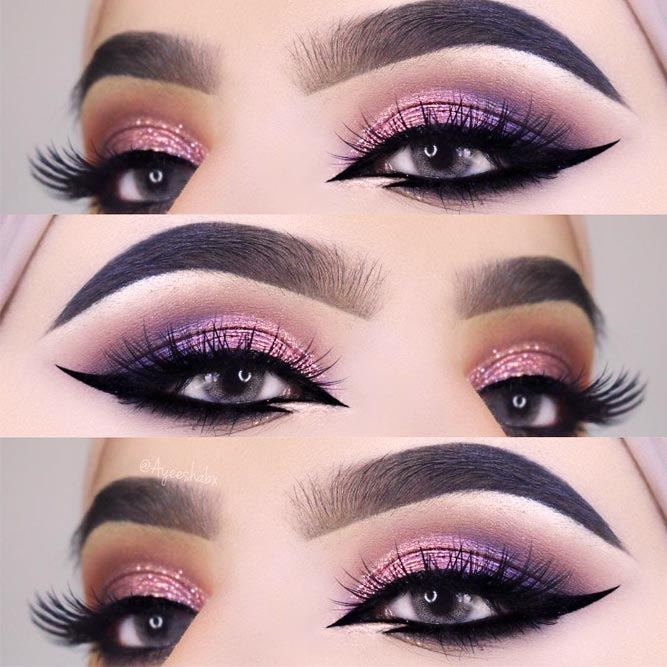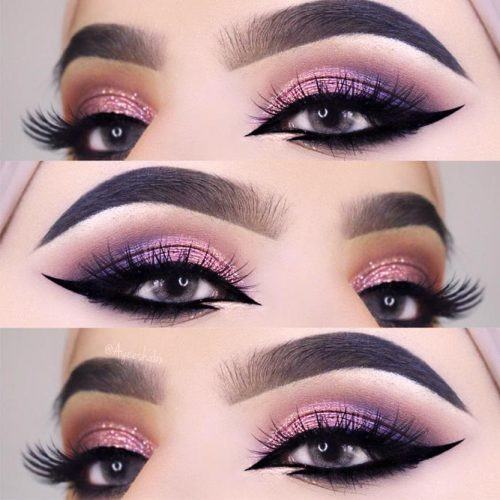 Credit: Instagram/ayeeshabx
Black eyeliner look is undoubtedly the classiest one. However, there are some tips and tricks for almond eyes you are bound to know, and we are more than willing to share!
FAQ: Almond Eyes
How do I know if I have almond eyes?
Almond eyes are long, narrow looking eyes that turn slightly upward in the outer corners. People who have almond shaped eyes have a visible crease, the iris of such eyes touches white on both top and bottom.
How to enhance your almond shape eye?
Apply eyeliner making it gradually thicker at the very end, your wing should be pointing the direction of the end of your brow, do not make it thick just above your pupil, this will make a more rounded shape. Wing off the inner corner if you wish to create a narrower look.
Applying eyeshadow at the outer corner blending it outwards will also elongate the shape. Follow the same principle placing eyeshadow underneath, don't thicken it up below the pupil.
Put on mascara in an outward direction, coat lashes on your outer corner more.