Some people say that 90s makeup has always been there. Others believe that it made a huge comeback as a fashion trend. No matter who's right or wrong, one thing's for sure, it's very much here to stay. We've compiled the 90s maquillage guide to immerse you into this epoch of grunge and glitter. So, whether you feel nostalgic or you just like following the current tendencies, here are some ideas for your inspiration.
Soft Shimmer Eyeshadow With Berry Lipstick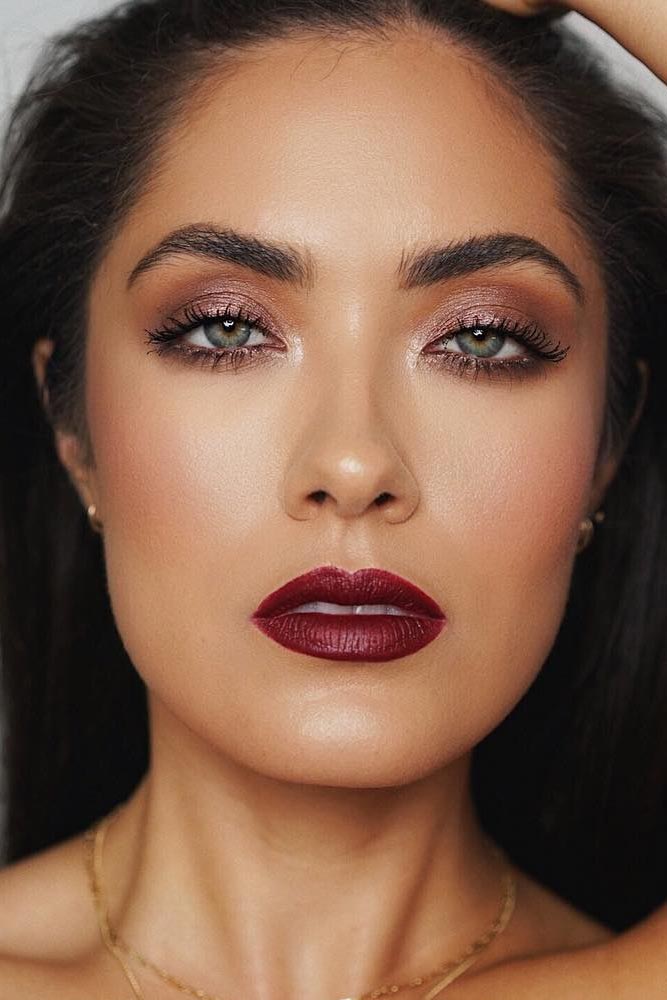 Source: Instagram/alatorreee
For a more glowy 90s makeup look, stick to shimmery eyeshadows in neutral tones applied to the upper and lower lids. As for the lips, choose a gorgeous wine-red lipstick with a subtle metallic sheen.
Ombre Lips With Smokey Eyeliner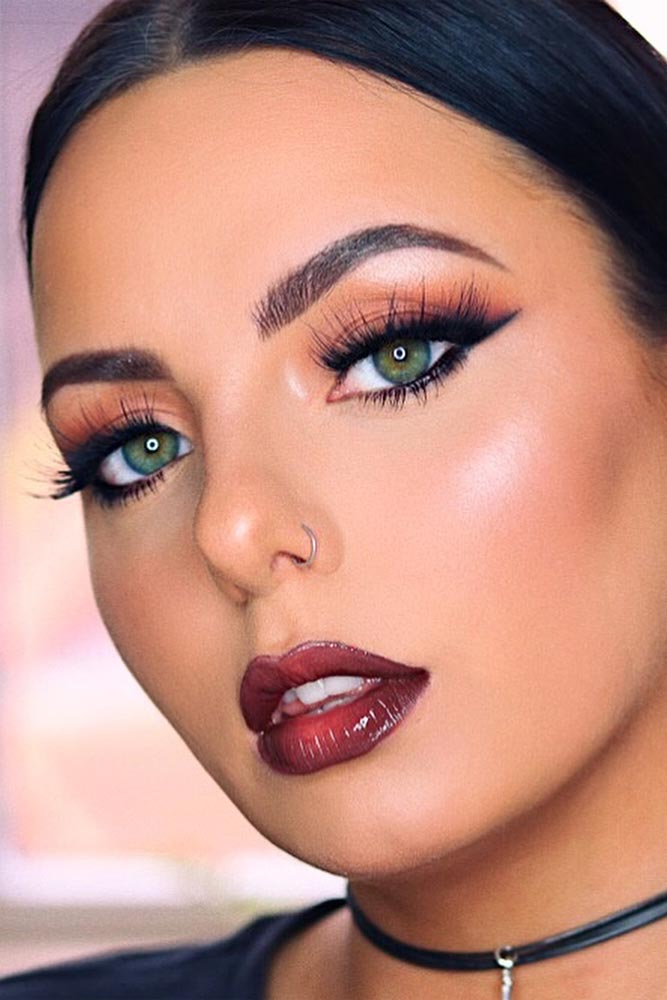 Source: Instagram/chloevivaci
This 90s inspired makeup lends the idea of a dark lip liner and transforms it into the modern ombre. The eyes are lined with black eyeliner as a tribute to the past. However, its edges are smoked out in accordance with the current trends.
Bold Purple Lipstick For 90s Makeup Trend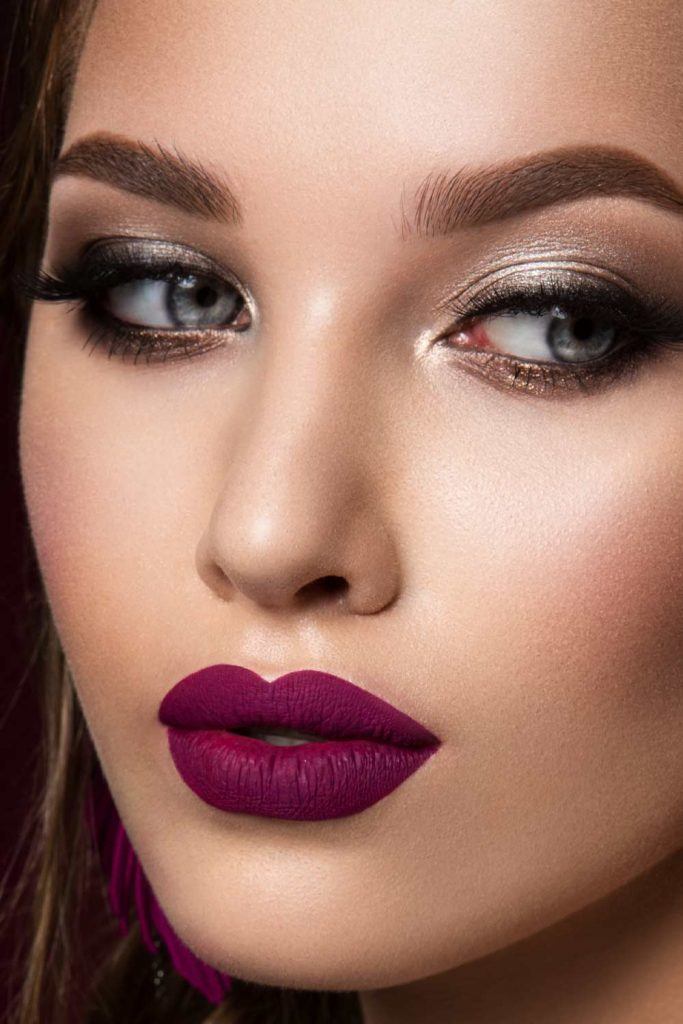 The 90s were all about statements and bold expressions. That is why wine-purple lipstick combined with gold top and silver down eyeshadows on top define the epoch.
Grunge Makeup With Smokey Eyes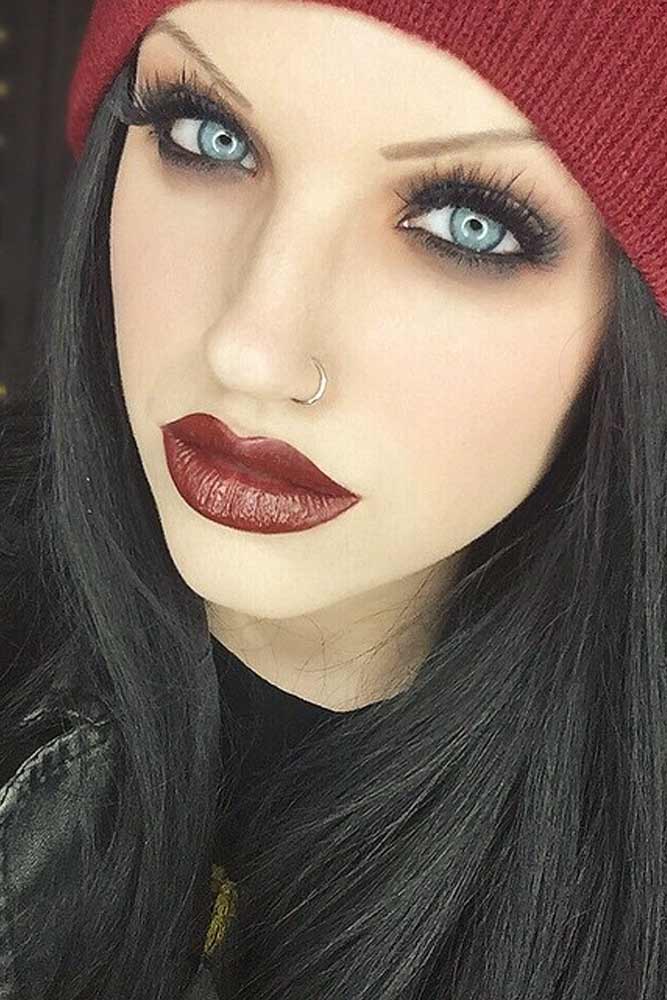 Source: Instagram/mykie
For more daring ladies, here comes grunge. This moody and dark makeup combines dark red lips with flawless matte skin and smokey eyes. How can you not fall in love with it?
Dark Eyes With Brown Lips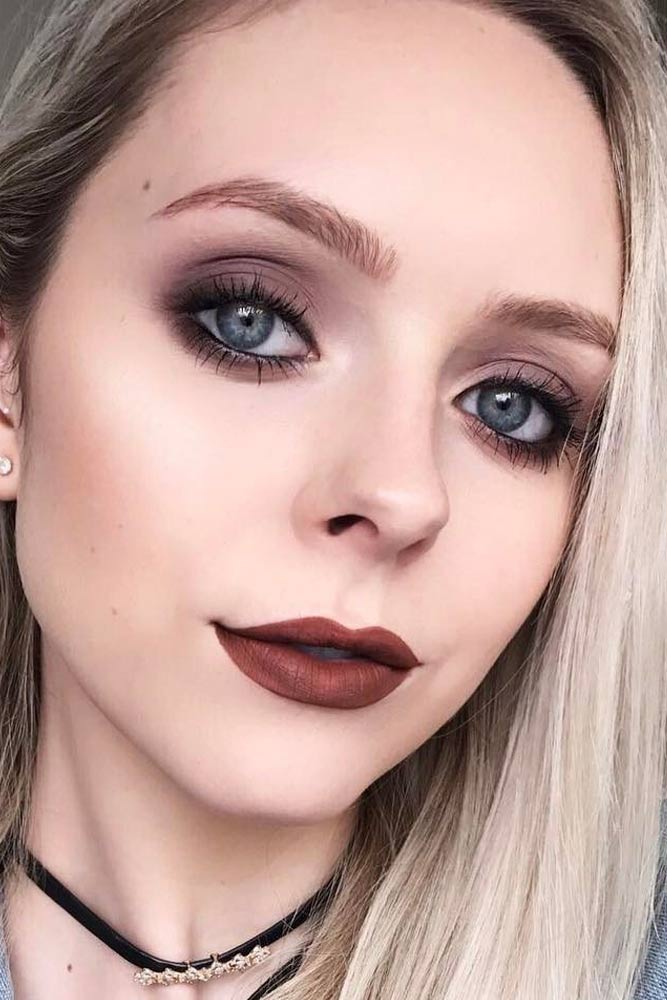 Source: Instagram/cosmobyhaley
Brown smokey eyes and rusty matte lips look softer than the 90s grunge makeup, thus blondes would highly appreciate this combination. Also, you can easily sport it in the daytime without excessive staring from the people who are out of step.
Bold Grunge Look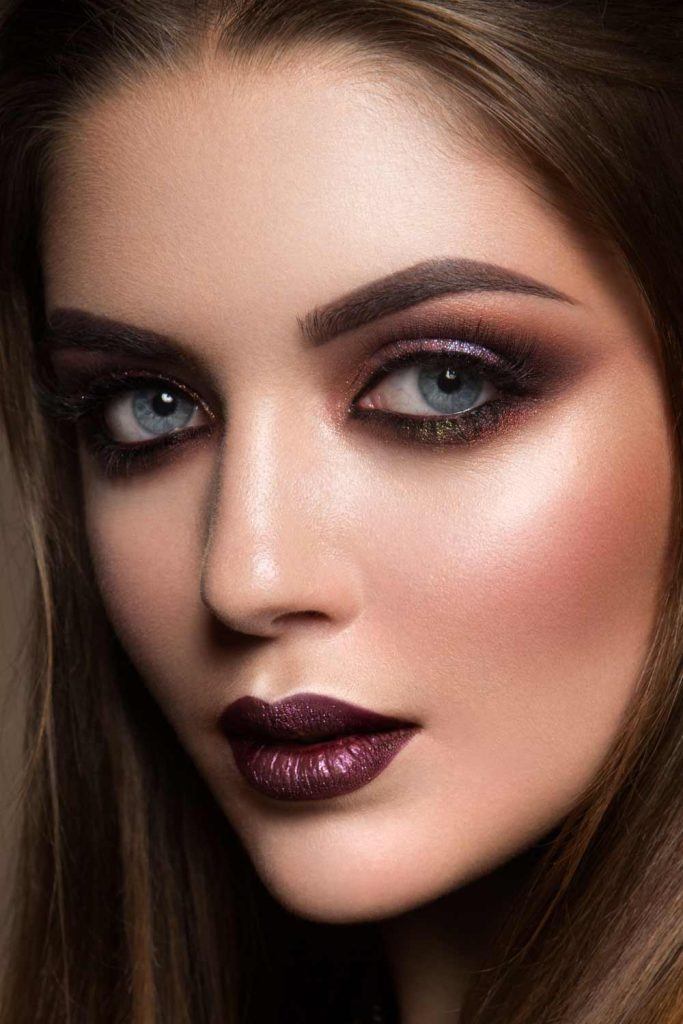 Now, this 90s goth makeup won't let you unnoticed for sure. Following the 90s makeup trends of a dark moody look, we suggest opting for a vampy pout joined with the black smokey eye. It looks unbelievably grunge with pale matte skin and dark hair.
Grunge Makeup With Glossy Eyeshadow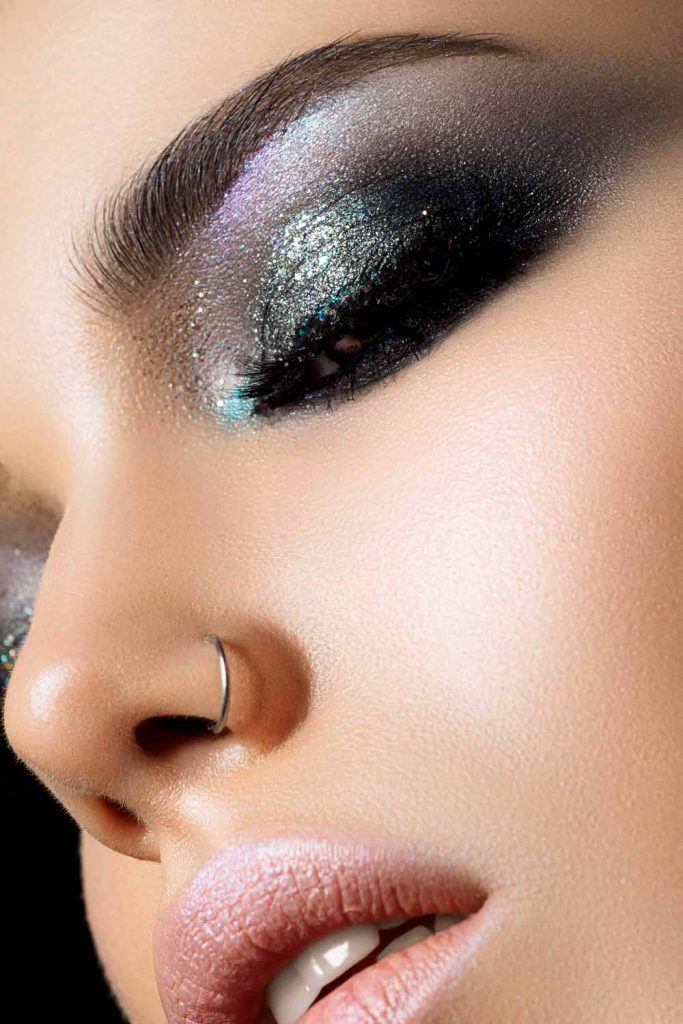 If you are looking for a makeup idea to help you stand out from the crowd, we may have something in store. The thing is that bold, glossy eyeshadow combined with nude lips will result in a super grunge look that will make you noticeable no matter where you go.
Soft Smokey With Nude Lips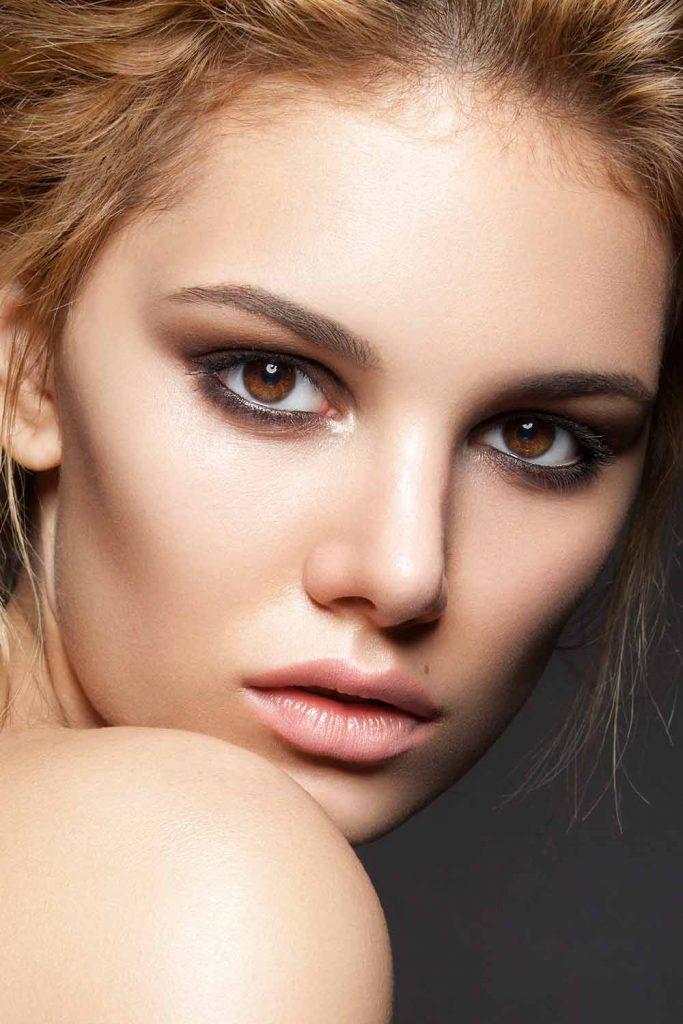 Supermodels were real trend-setters of the 90s style makeup. This variation of a glamorous nude makeup has lived to this day. It's not a "no makeup" look, which is so popular nowadays. Instead, it's a full face makeup with soft smokey eye and nude lipgloss. The 90s makeup chic as it is.
Black Eyeliner With Nude Lips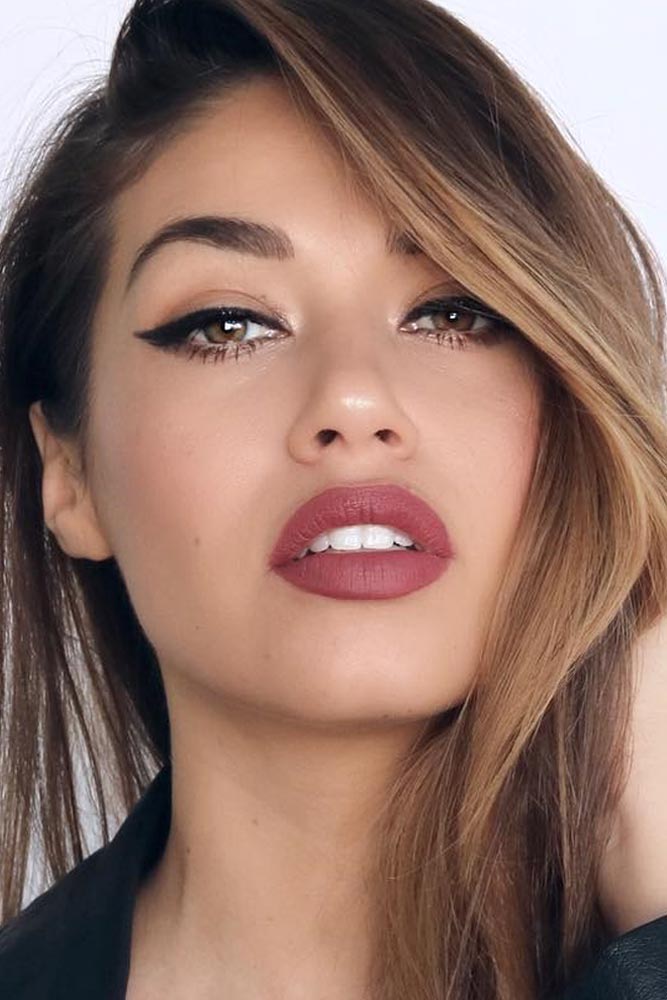 Source: Instagram/eman
A bold black cat eye makeup partnered with matte nude lipstick looks sexy and appealing. An immortal classic of the 90s makeup.
Classic Eyes With Pink Makeup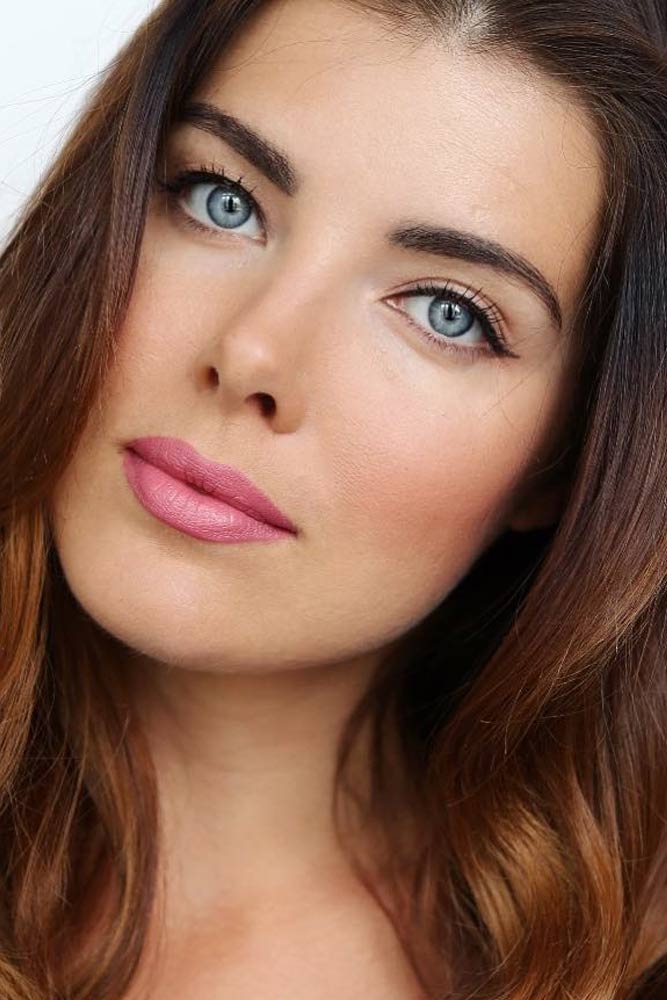 Source: Instagram/ditagraudamakeuplooks
This is probably the most low-key 90s supermodel makeup. Simple yet elegant winged eyeliner complemented with soft pink opaque lipstick for a pure beauty enhancing look.
Pink Glitter Eyeshadow With Frozen Lips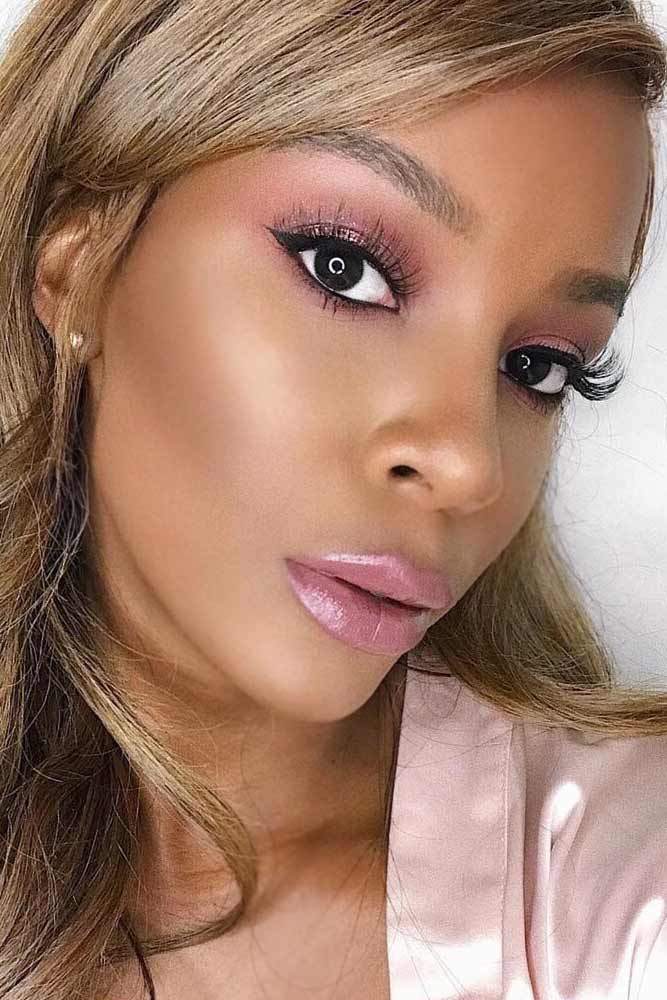 Source: Instagram/hudabeautyshop
Not all the look in the 90s were too daring. After all, there should be something to wear on a daily basis, right? That is when glittery pink eyeshadow, simple cat eye, and gentle pink lips come in.
Pink And Blue Shadows For Bright Makeup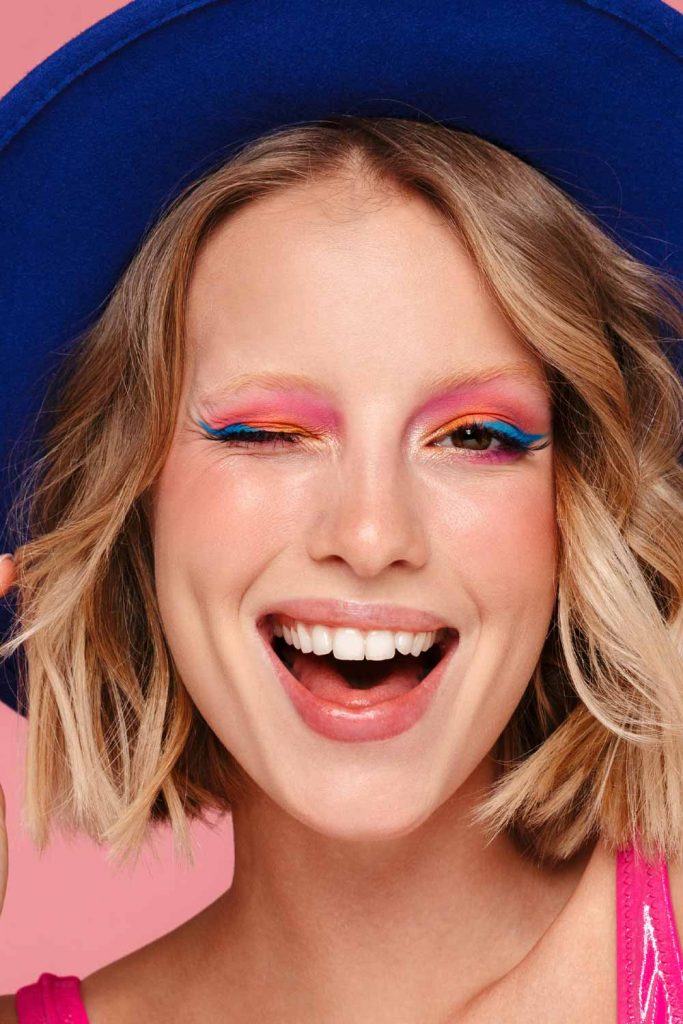 Makeup from the 90s involves a lot of bright and shimmer eyeshadows, sometimes separately, sometimes pulled off in one look. Bright pink and orange eyeshadows and blue frosty eyeliner are harmonized as never. For an added sheen, apply a moonlight illuminizer to the cheekbones and nose tip.
Glossy Blue Eyeshadow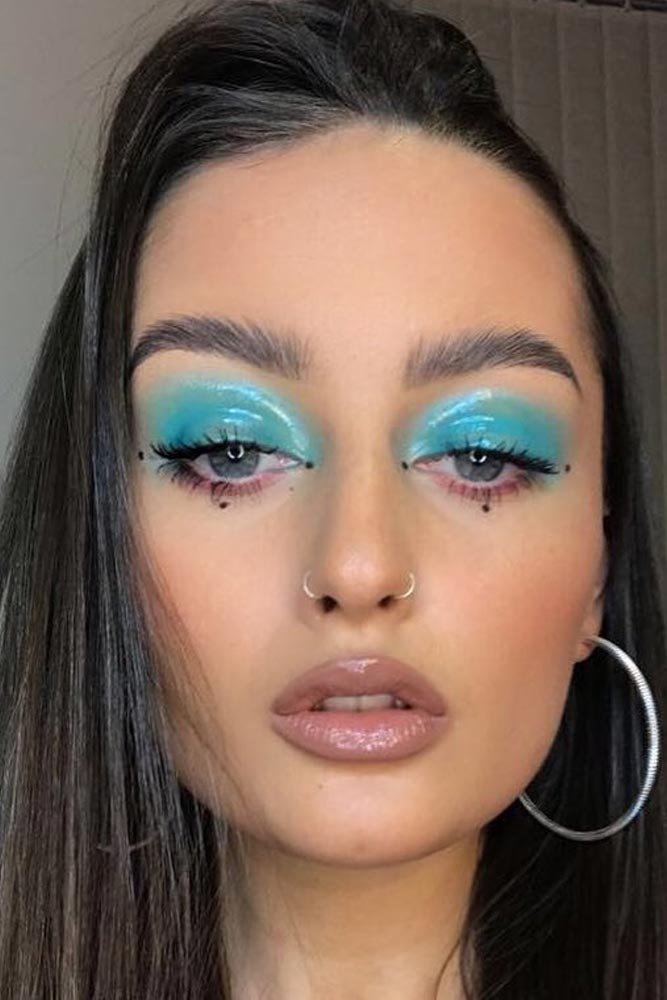 Source: Instagram/frankiepdarling
Another signature makeup look of the 90s is blue eyeshadow. Today though, we resort to two extremes, either a matte or glossy finish, no shimmer allowed. If you opt for the glossy eyeshadow, ensure that you use a really high-quality one. Otherwise, it'll crease in the blink of an eye.
Color Shadow Makeup For Dark Skin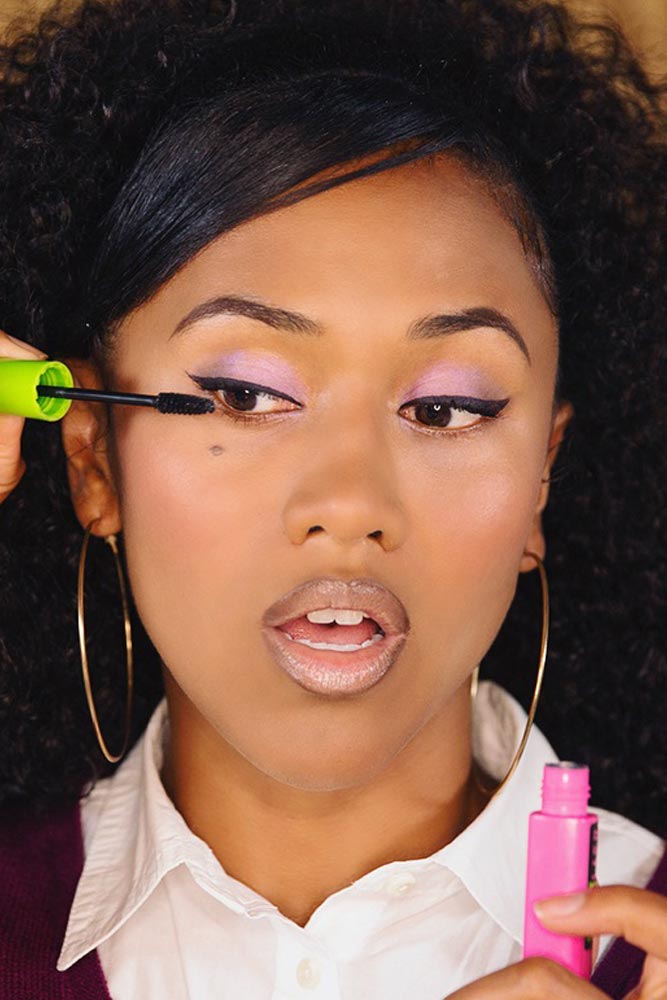 Source: Instagram/mayasworld
A flamboyant eyeshadow looks really flattering for darker skin tones because the colors appear even brighter. For the perfect 90s black girl makeup look, go with nude ombre glossy lips.
Blue Smokey With Pink Blush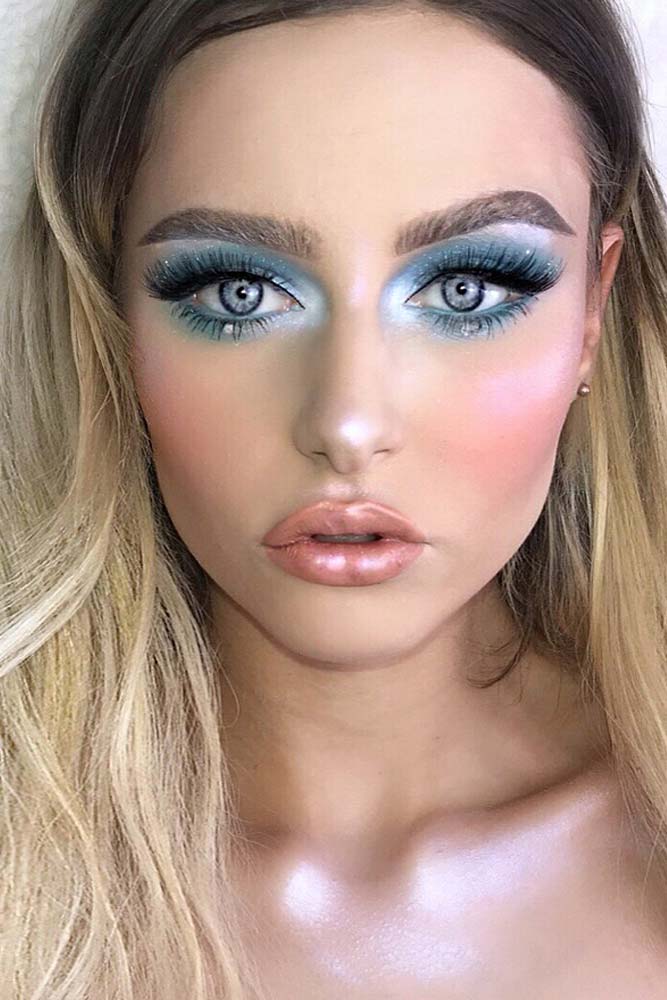 Source: Instagram/amelia.szczepaniak
Surely, blue shadows were on the edge of popularity during the 90s. That is why if you would like to look like a princess from Frozen movie, such a look is more than appropriate. Besides, pink blush only intensifies the impression that you have come in from the frosty walk outside.
Yellow And Blue Shadow
You may think that only 80s involved toxic colors. However, the trend traveled through the 90s too. That is why a combo of blue and yellow shimmery shadows completed by a bold wing is a look to try out.
Red Lips With Pink And Orange Glitter Shadow Makeup Idea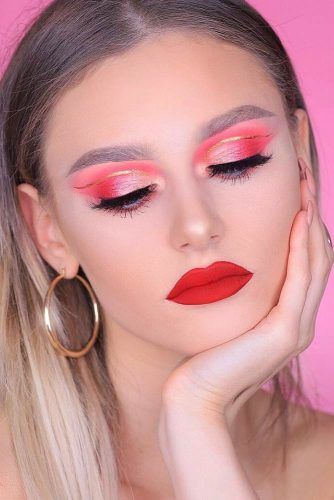 Source: Instagram/amelia.szczepaniak
Red lips are classy; no one is going to disagree upon that. However, bright pink glossy eyeshadow is something that only 90s could have allowed. Pair the two, and you will get an outstanding makeup look.
90s Eyes Makeup Ideas And Tutorials
Blue And Purple Glitter Shadow Makeup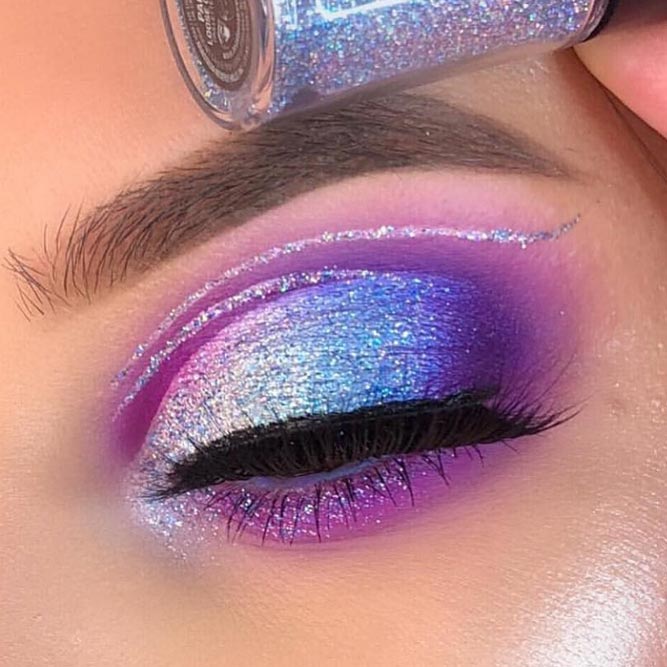 Source: Instagram/_makeup_by_aleks
Almost every 90s eye makeup is getting into glitter territory. It'd be a real lapse not to make use of it. The same concerns the combo of blue and purple colors in the makeup, which really complement each other. Don't forget to cover everything with matching glitter.
Silver Glitter With Color Eyeliner Look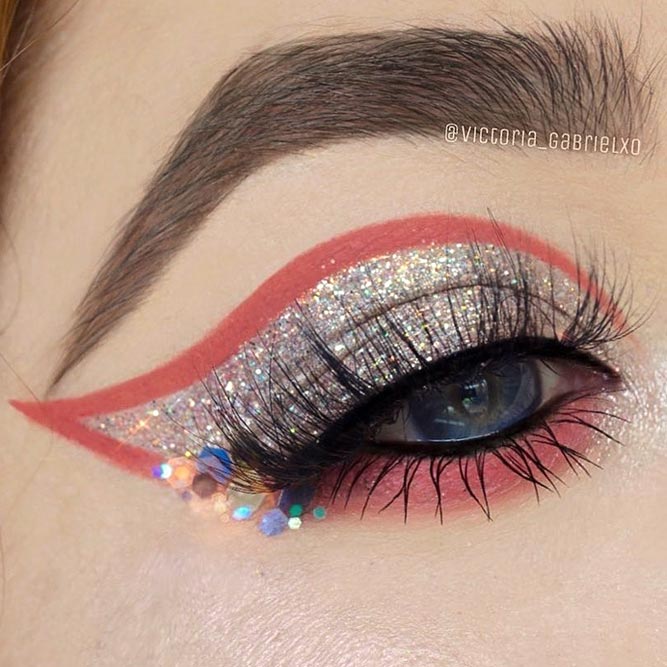 Source: Instagram/victoria_gabrielxo
This silver glitter winged eye makeup with a terracotta outline is a real incarnation of the most popular 90s makeup trends. The black eyeliner on both waterlines and false eyelashes finishes the look.
Smokey Eye Tutorial For Grunge Makeup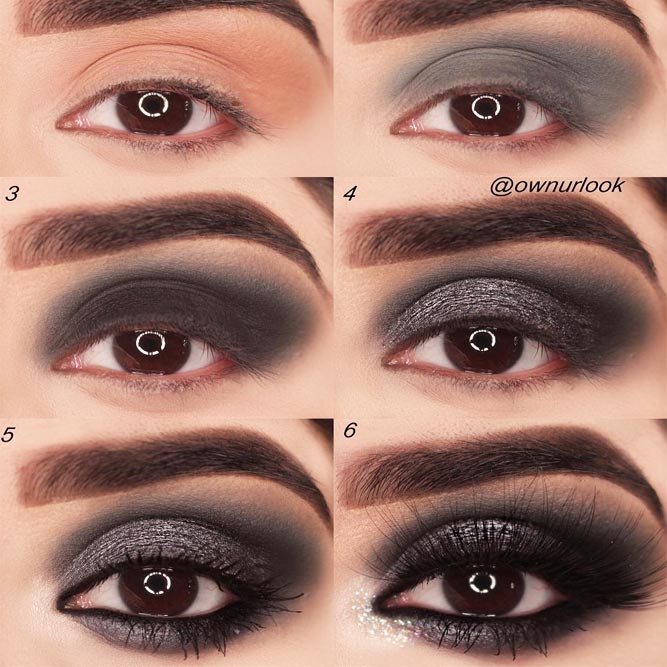 Source: Instagram/ownurlook
Now, when you have plenty of ideas to choose from, it's time to learn how to create your very own 90s colors makeup. Lucky for us, the 90s eyebrows aren't back, so do your brow game strong anytime you like.
To achieve the flawless smokey eye grunge makeup, follow the next steps:
Prime your eyelids to create the base for the long-lasting makeup.
Apply a light gray eyeshadow all over the upper lid, going above the crease a little. Blend the edges outward thoroughly.
Apply a black eyeshadow to the upper lid and the crease, not going above it.
Apply a coal-gray shimmer eyeshadow to the upper lid, staying below the crease.
Mirror everything that you've got so far on the lower eyelid, without going too low. Drag a black gel eyeliner or kajal along your upper and lower waterlines and add intense black mascara.
Highlight the inner corner with a white shimmery eyeshadow and apply false lashes.
Glitter Eyes Tutorial For Festive Look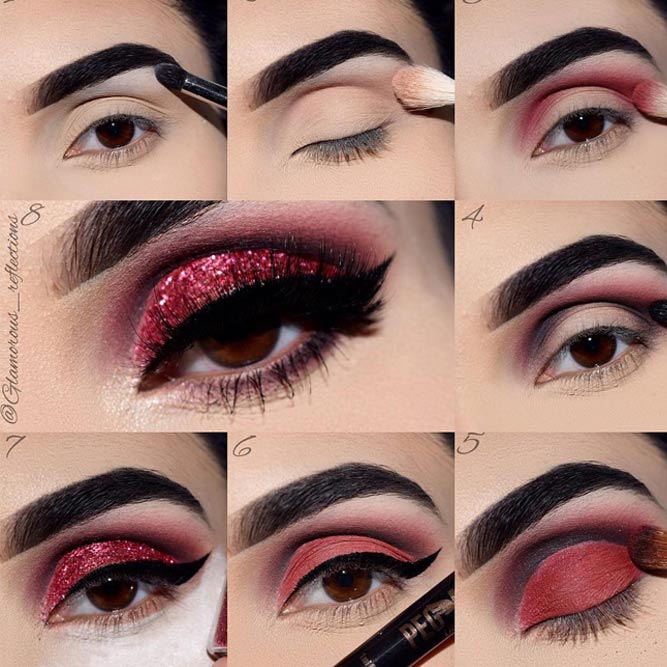 Source: Instagram/glamorousreflections
Here's another 90s makeup tutorial with a cut crease and glitter for the upcoming festive season:
After you've primed your upper lid, apply an off-white eyeshadow to the eyebrow area.
Use a warm neutral eyeshadow to define the crease.
Duplicate the previous step with a wine-red eyeshadow. Blend everything out thoroughly.
Apply a dark taupe eyeshadow directly to the crease.
Apply the same wine-red eyeshadow all over the upper lid.
Use a black liquid eyeliner to create a winged eye.
Cover the upper lid with the red glitter to match the eyeshadow. Clean off any flaws, like the eyeshadow or glitter fallout.
Define the lower lashline with the taupe eyeshadow. Apply intense black mascara and false eyelashes.
Bright Color Eyeshadow Makeup Tutorial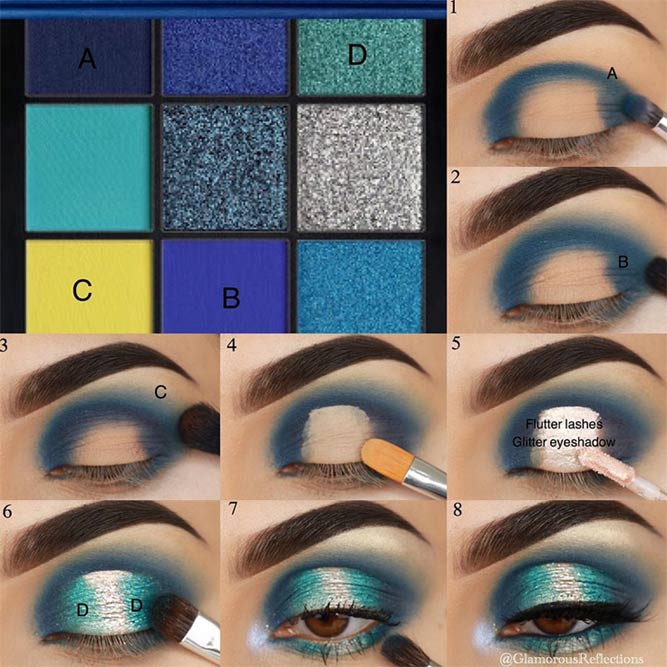 Source: Instagram/glamorousreflections
And our final tutorial on how to do bright color 90s makeup is as follows:
Prime your lids first. With a pencil brush, apply a dark blue matte eyeshadow to the outer and inner corners of the eye and through the crease.
Apply a brighter blue eyeshadow to the inner edges of the dark blue eyeshadow with a domed brush.
Buff out the crease line with yellow eyeshadow.
Apply concealer or foundation to the center of the lid.
Duplicate the previous step with white glitter eyeshadow.
Apply a teal shimmer eyeshadow as a transitional color between the bright blue and white eyeshadows.
Recreate the same pattern along the lower lashline.
Apply eyeliner to the upper lashline and false lashes.
Makeup Ideas With Brown Lipstick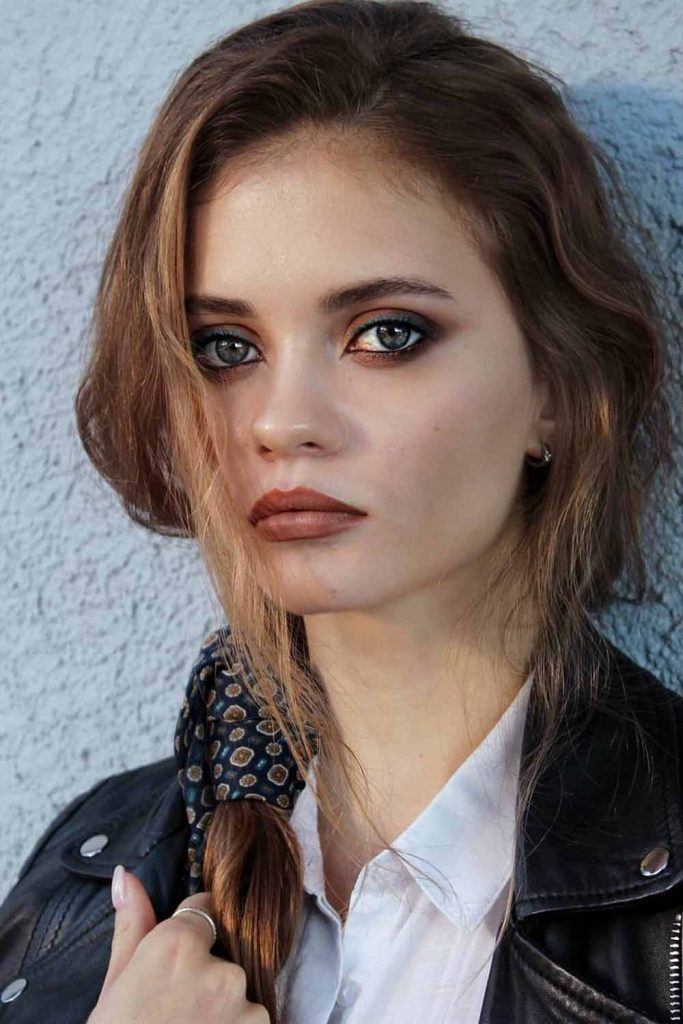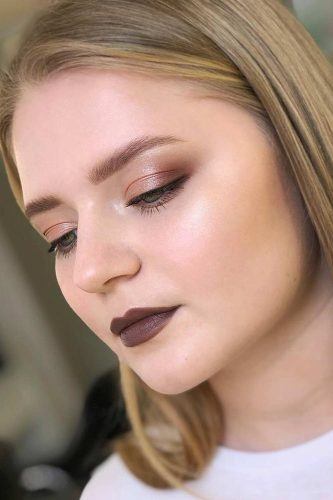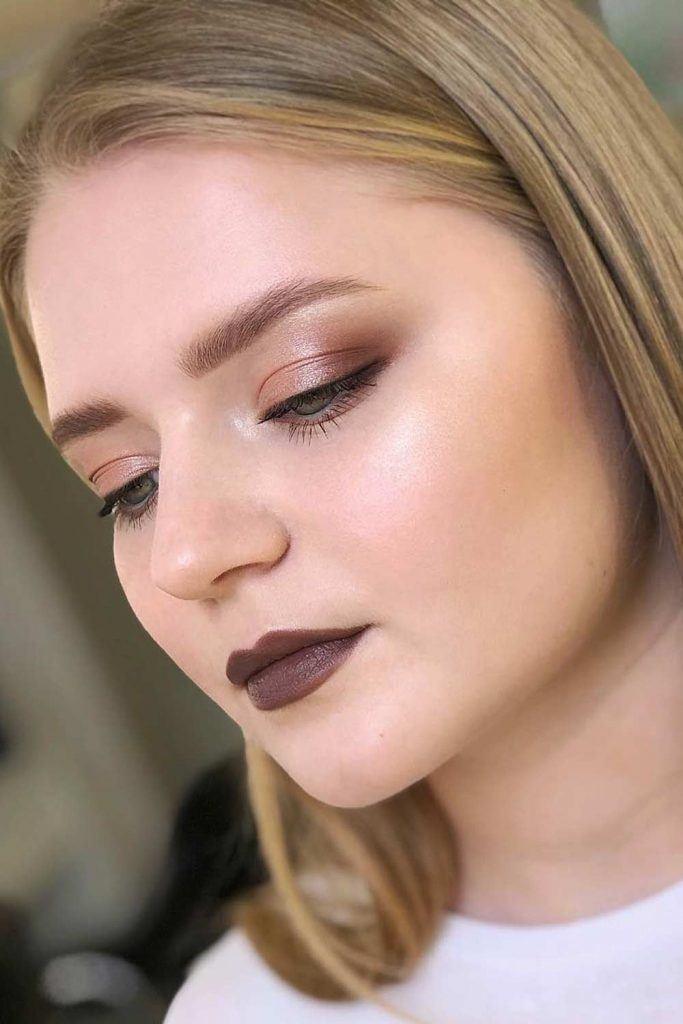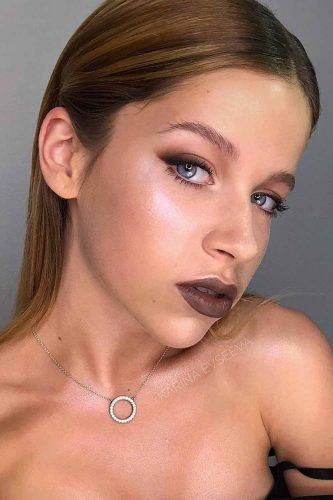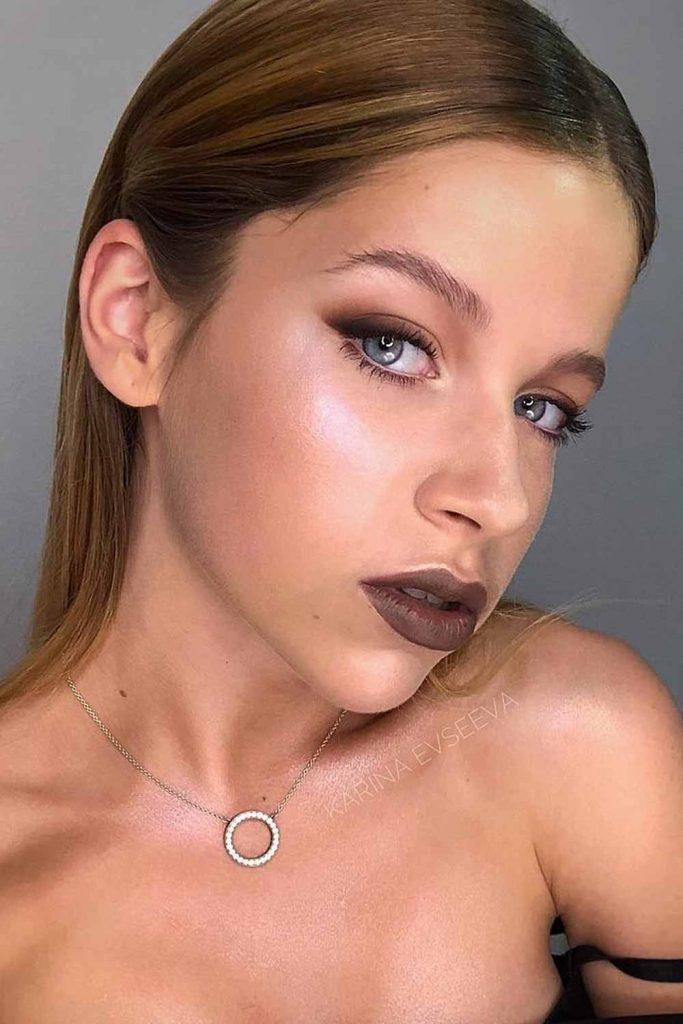 Source: Instagram/imhostyle, Instagram/karina_kotik_makeup, Instagram/karina_kotik_makeup
Some ladies think that bold brown lips are not something they can actually add to the daily makeup routine. There is nothing wrong with that, but you should not forget that beige is a tint of brown too. So, instead of throwing your fav nude lipstick out – it is best that you fit it to the recent trends born in the 90s, as simple as that! Besides, those of you who are all about daring and dashing looks will certainly appreciate another, brownish, possibility of rocking that edgy look of yours out!
Makeup Ideas With Blue Eyeshadow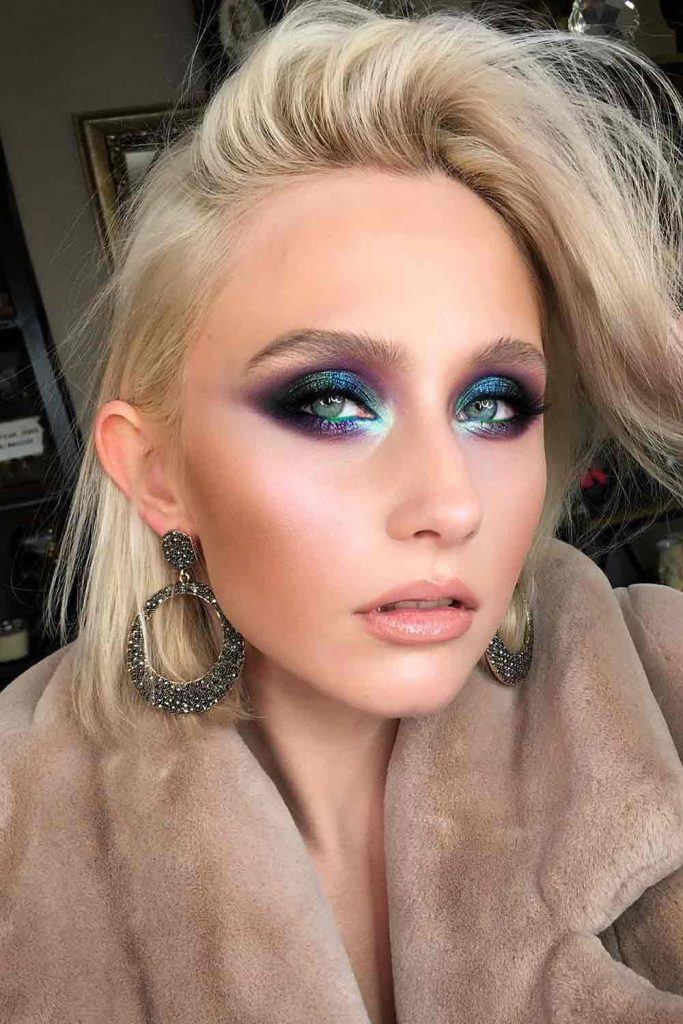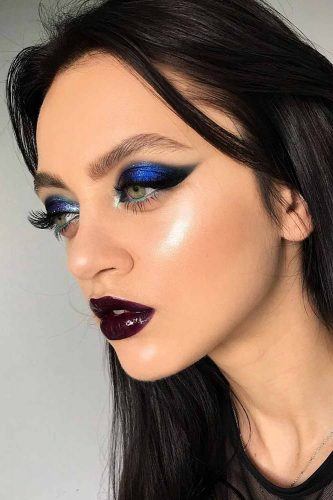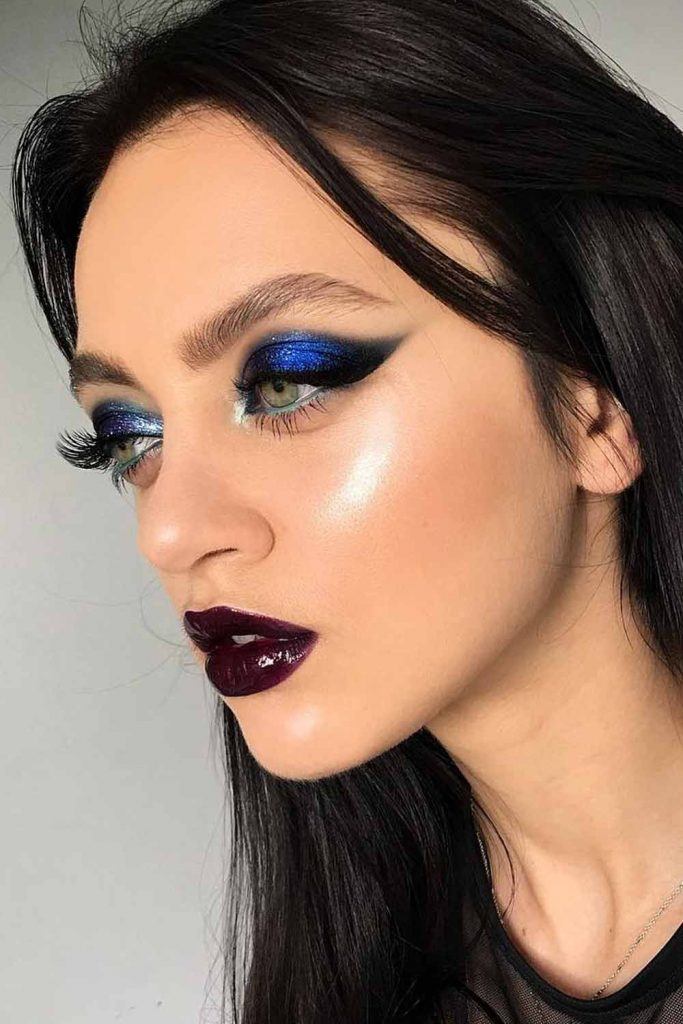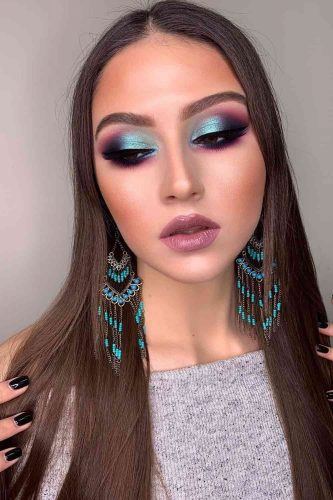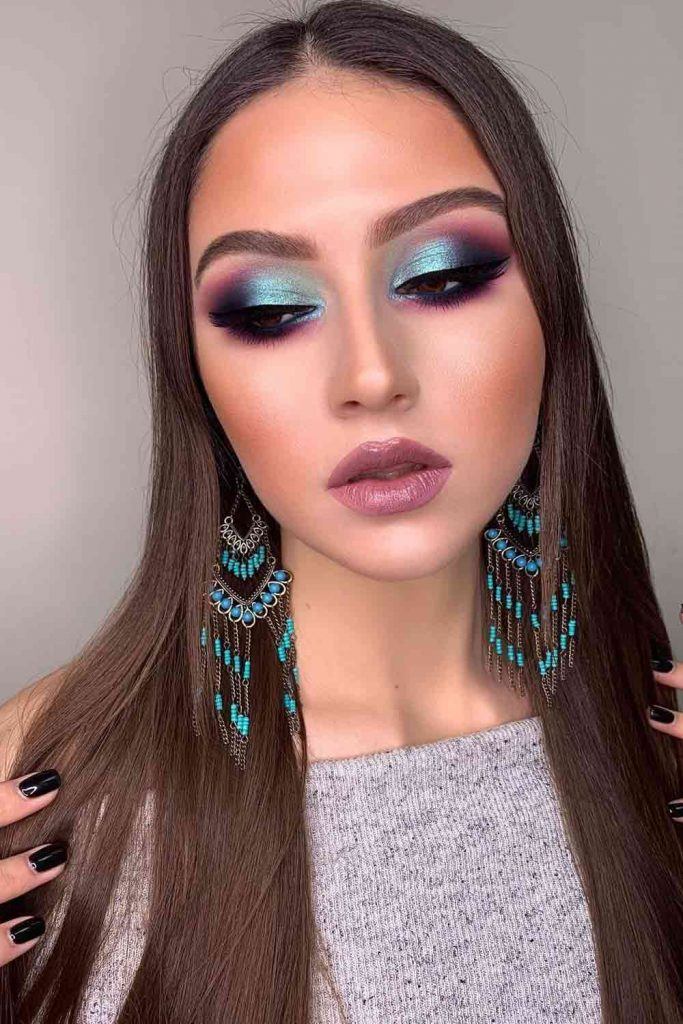 Source: Instagram/tominamakeup, Instagram/tominamakeup, Instagram/elena_sanko_make_up
We know that it may seem quite outraging even to consider covering the whole lid of yours with sky blue eyeshadow and stroll into your daily routine. Times have changed, and there is no use denying it. The fact that the trends are making their way back does not mean that you can't alter them according to your needs and preferences. Be it a bolder night sky smokey eye or navy-blue eyeshadow accents – all fit into the modern trend category! See for yourself!
No Makeup Makeup Ideas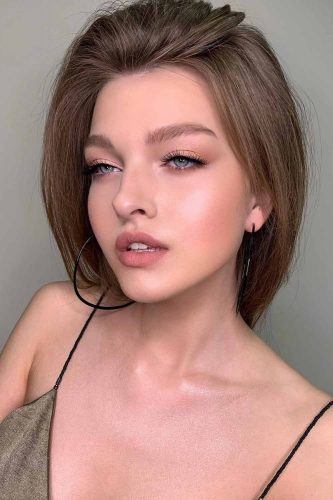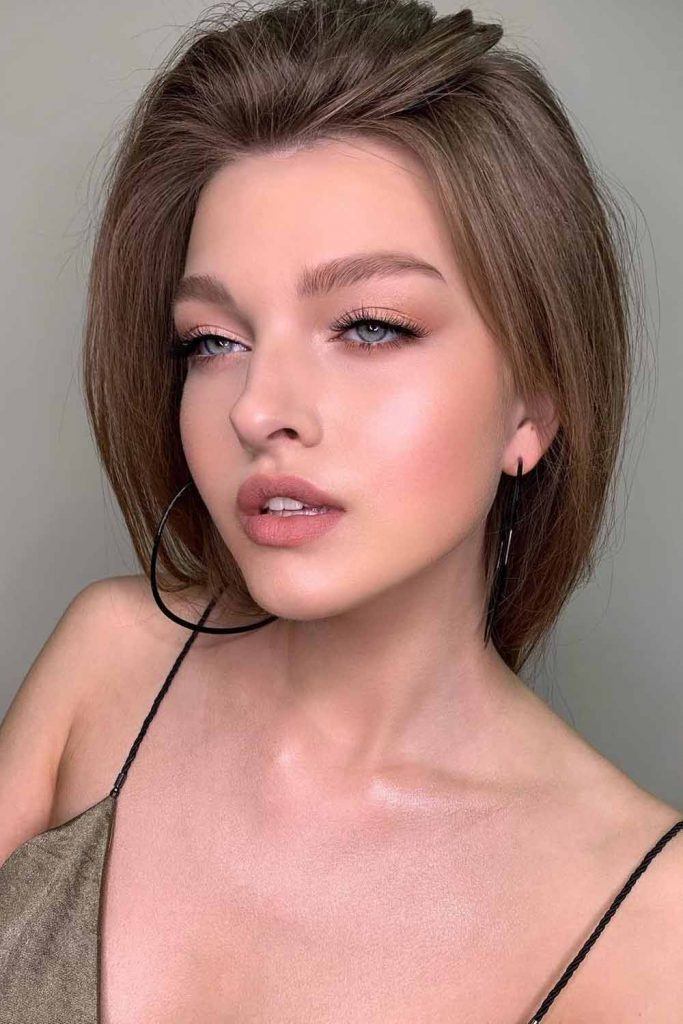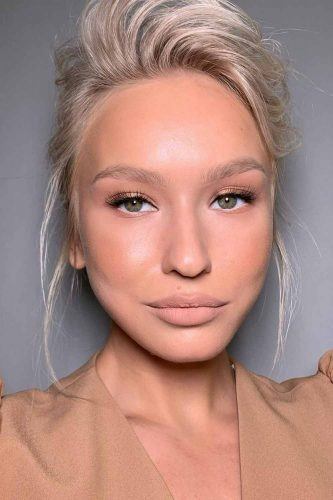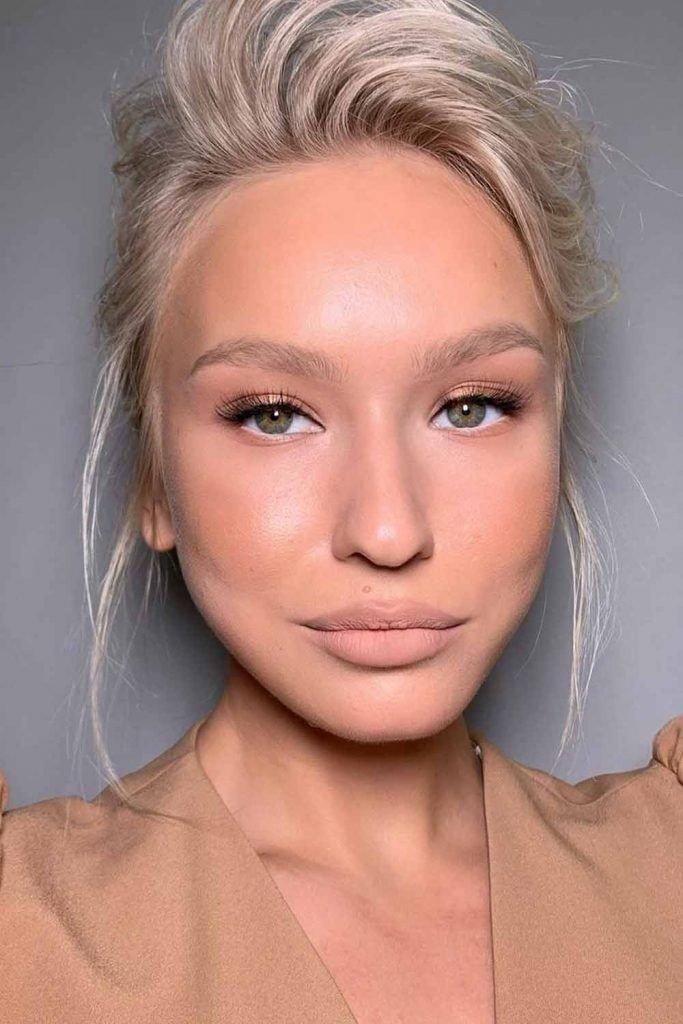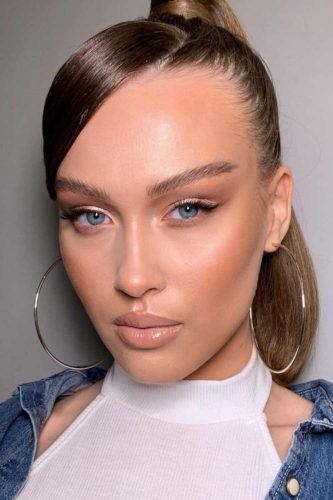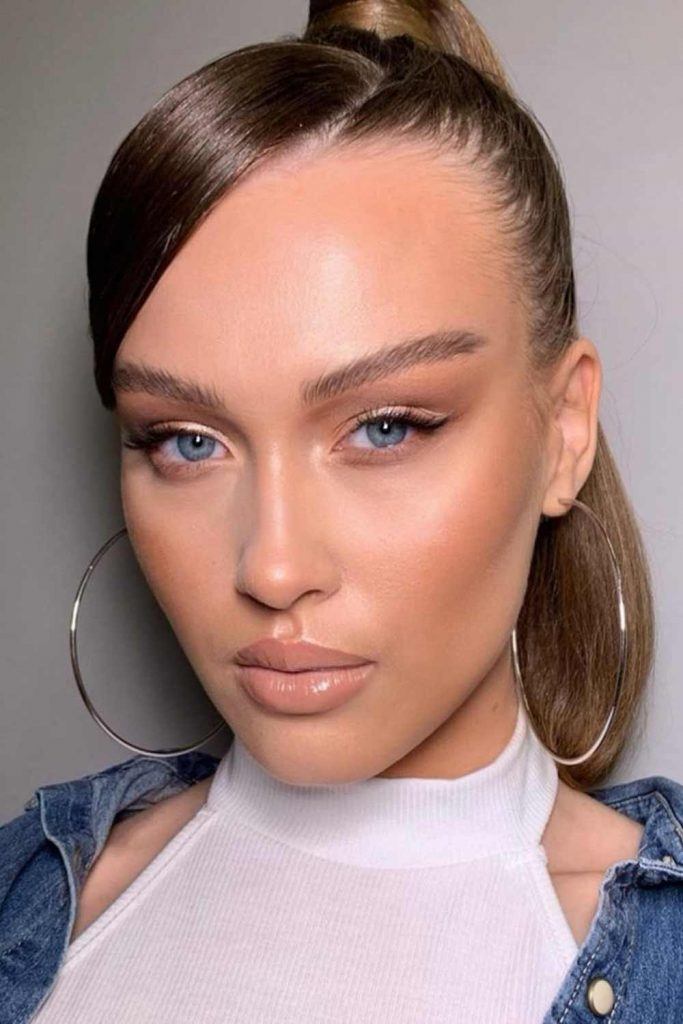 Source: Instagram/elena_sanko_make_up, Instagram/yana_panfilovskaya, Instagram/yana_panfilovskaya
It would be unfair to state that there was no room for neutral tones in the 90s makeup. On the contrary – there certainly was. So, if you are a devoted nude makeup fan, there is nothing much that you are bound to change about your current routine. A touch of nude shadow, a swipe of neutral lipstick complemented with a smudged liner and natural-effect mascara, and you are ready to roll!
The 90s makeup is one of the biggest beauty trends to make a comeback. It was definitely worth all the hype. And we hope you've enjoyed our modernized retrospective of the 90s looks so much that you've picked up one for yourself. You can also look for the inspirational ideas of 80s makeup.
REFERENCES:
Grunge fashion is the clothing, accessories and hairstyles of the grunge music genre and subculture which emerged in mid-1980s Seattle, and had reached wide popularity by the early 2000s. Source
Fashion in the 1990s was defined by a return to minimalist fashion,[1] in contrast to the more elaborate and flashy trends of the 1980s. Source
FAQ: 90s Makeup
What was makeup like in the 90s?
Dark lip colors like cherry-red, burgundy, brown prevailed in the 90s, lips were overlined with a darker lip liner completed with a gloss or left matte. Blue or any pastel eyeshadow was in, applied up to the brow. Eye makeup was completed with a heavy mascara achieving that "spider lashes" look. As for brows: thin, over-plucked eyebrows were trendy.
Did they wear eyeliner in the 90s?
Eyeliner was popular in the 90s. Thin liner was applied to both upper and bottom lash lines and blended a little with a dark eyeshadow. Graphic liner was another trend.
Was this article helpful?