A healthy lifestyle is all the rage, and there is nothing wrong with it. While some people focus on their physical fitness, others realize that their mental state is of utmost importance too. Thus, a physical activity that benefits both is highly requested, and yoga suits all the descriptions, if not more. Unlike many sports and healthy activities, yoga does not require much room or gear, not to mention that even a 15-minute session provides more advantages than you can reap. A comfortable yoga mat is that one requirement that you can't discard. Yet, as the industry grows in popularity, many options and varieties hit the market, and some people find it more than challenging to buy the best yoga mat these days. Should you belong to the category – you have come to the right place. We will disclose all the vital points so you can find the most suitable option in a few clicks!
How to Choose a Yoga Mat
The variety of good yoga mats is impressive. However, that does not mean that each available option suits your needs and preferences. There is a list of things to consider before you finalize your decision. Let's review them in detail.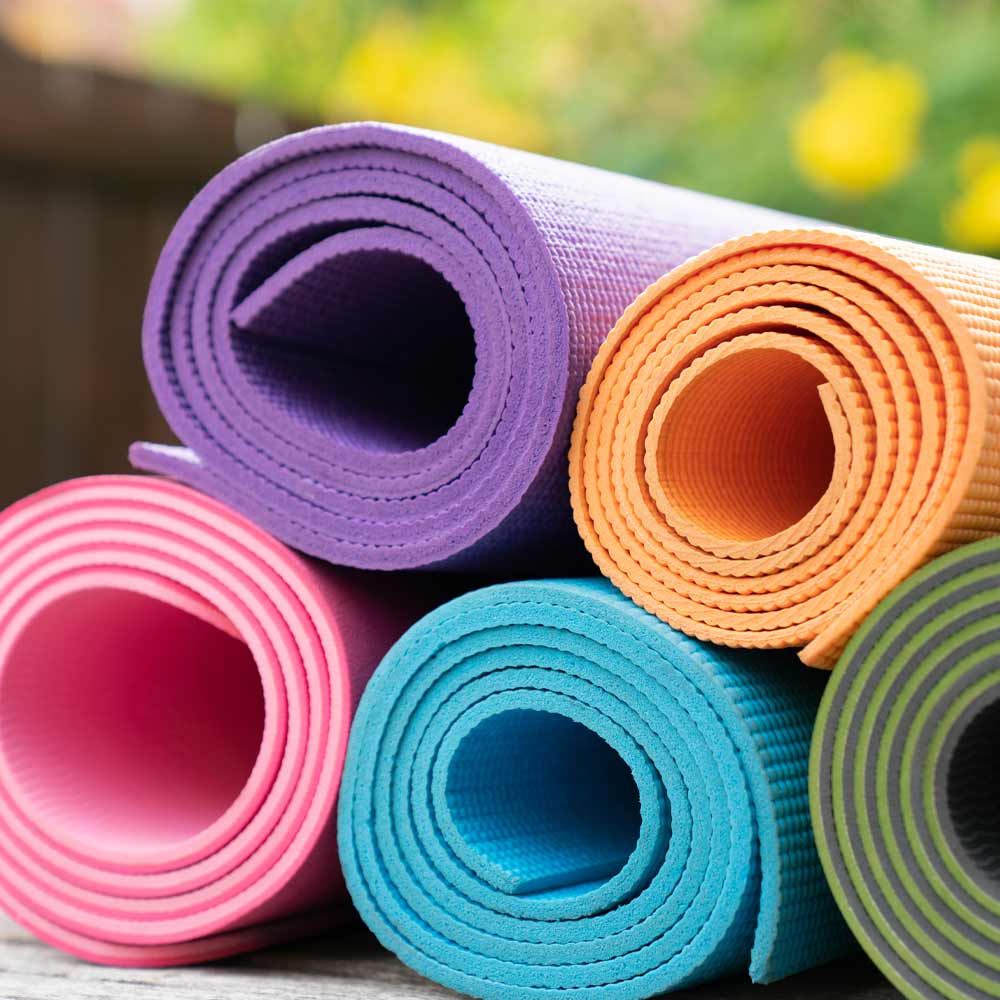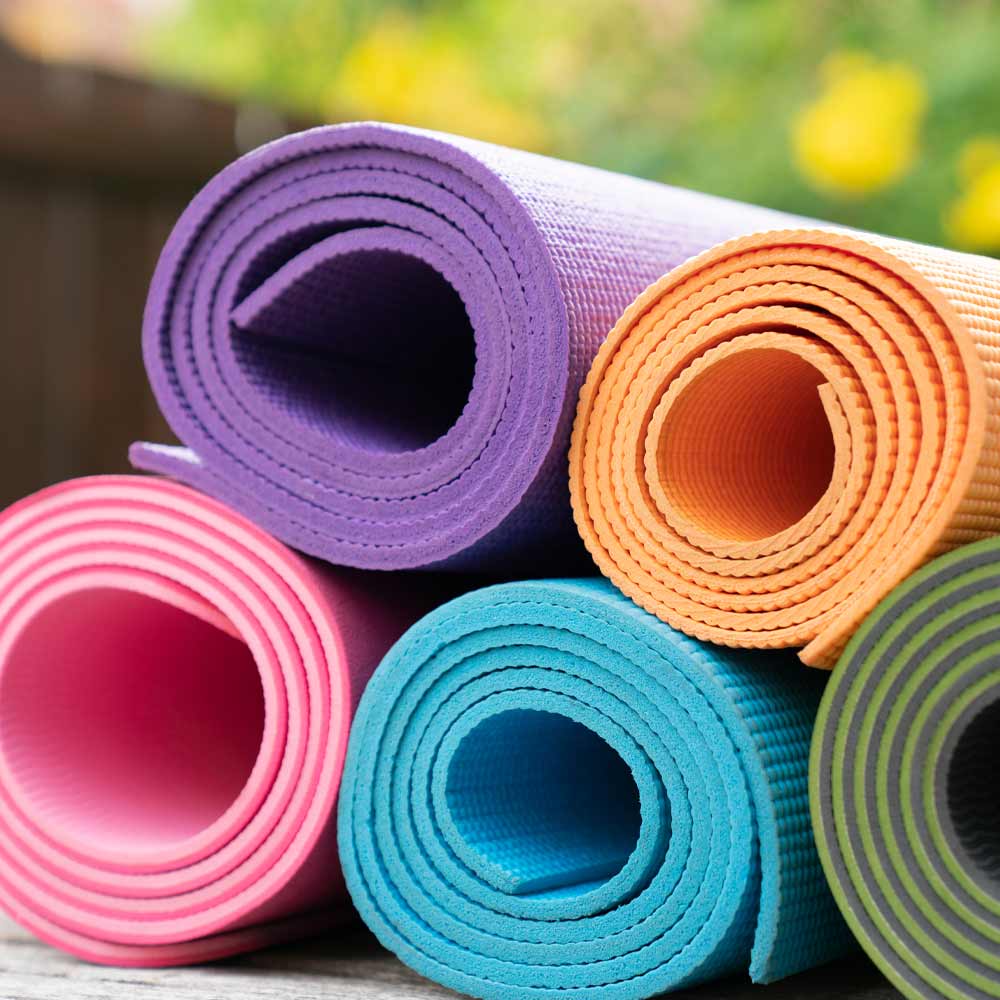 Start with your needs
Body type. People are different, and that is the beauty of this world. However, your body type can pre-determine the type of yoga mat you require.
For instance, a thick yoga mat is an excellent option for those who suffer from joint pain. An average mat is 1/8-inch thick. If your joints get sore easily, you may want to consider ¼-inch options instead. In case you feel that it isn't enough, some mats provide even more cushioning.
Tall people should pay increased attention to the length of their mats. While a standard mat is 68 inches long, it may not be enough for your height. That is why considering a larger mat is a great idea.
Yoga type. Should you be new to the field, you may falsely assume that all yoga is the same. However, that is not true. There are different types of practice to participate in. That is why you should choose a fitting mat for the activity.
At the beginning of their yoga training, people may want to start with simple, 20-dollar mats. Such an approach ensures that you don't overinvest in the activity you may not like by the end of the day. What is more, as you get on with the activity, you will learn what your body needs most so that you can get the best yoga mats later on.
Flow yoga is more complex than most yoga training, which is why you are going to need a mat that stays in place as you proceed with the activity.
At the same time, yin classes are more focused on relaxation, and you will spend a lot of time sitting on your mat. Thus, thick yoga mats come in handy with this type of activity.
Lastly, the notion of hot yoga(yoga in a heated room) gets more requested by the day, and thus a mat that features an anti-slippery surface would come in useful in this case.
Location. You may not think about it at once, but as you continue with yoga activities, you will soon realize that training at home differs from training in the studio. We are not talking about the results of the complexity of the routine – simple mat transportation comes of importance here. If you hit the studio often, a travel yoga mat is what you should opt for. Usually, such mats are lightweight and compact, while you can acquire a large yoga mat for home use. Besides, a yoga mat bag may come of use when you take it out often.
Yoga mat thickness and weight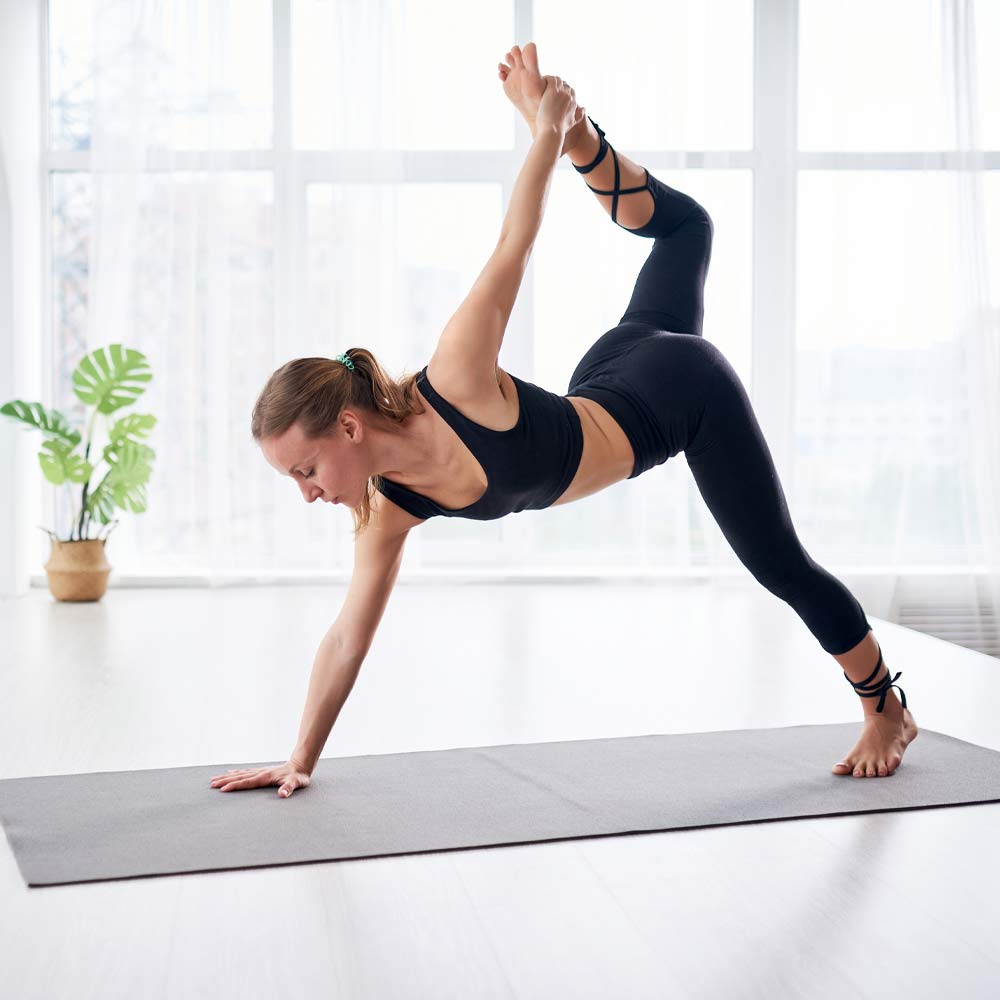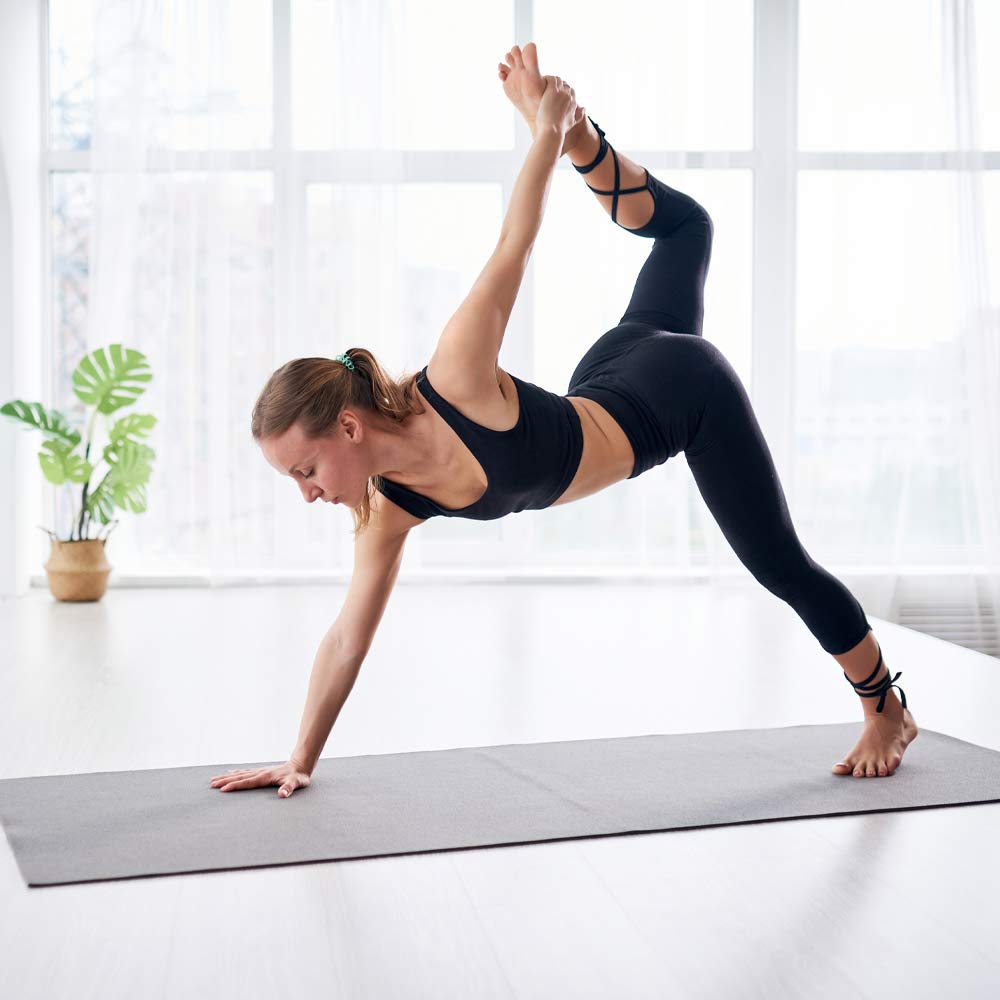 It's already been mentioned that depending on your personal needs and preferences. You should pick lighter or thicker mats. Yet, we should discuss the matter more profoundly for you to grasp the aspect fully.
Thinner mats. If you are into more active yoga, a thinner yoga mat will help you ensure reliable stability. Mats with textured surfaces provide supreme grip so that you keep your balance and focus without the fear of slipping and injuring yourself in the process.
Thicker yoga mats. Such mats come with extra cushioning so that if you try restorative yoga, you will feel as safe and comfortable as possible. On a slightly less bright side, such mats may prove to be useless when it comes to standing poses since they provide lesser grip.
Travel mats. One of the unique features of travel yoga mats is their compactness and lightweight design. You can take such a mat literary anywhere without compromising your luggage. Yet, such mats usually provide as little cushioning as possible.
Yoga mat materials and durability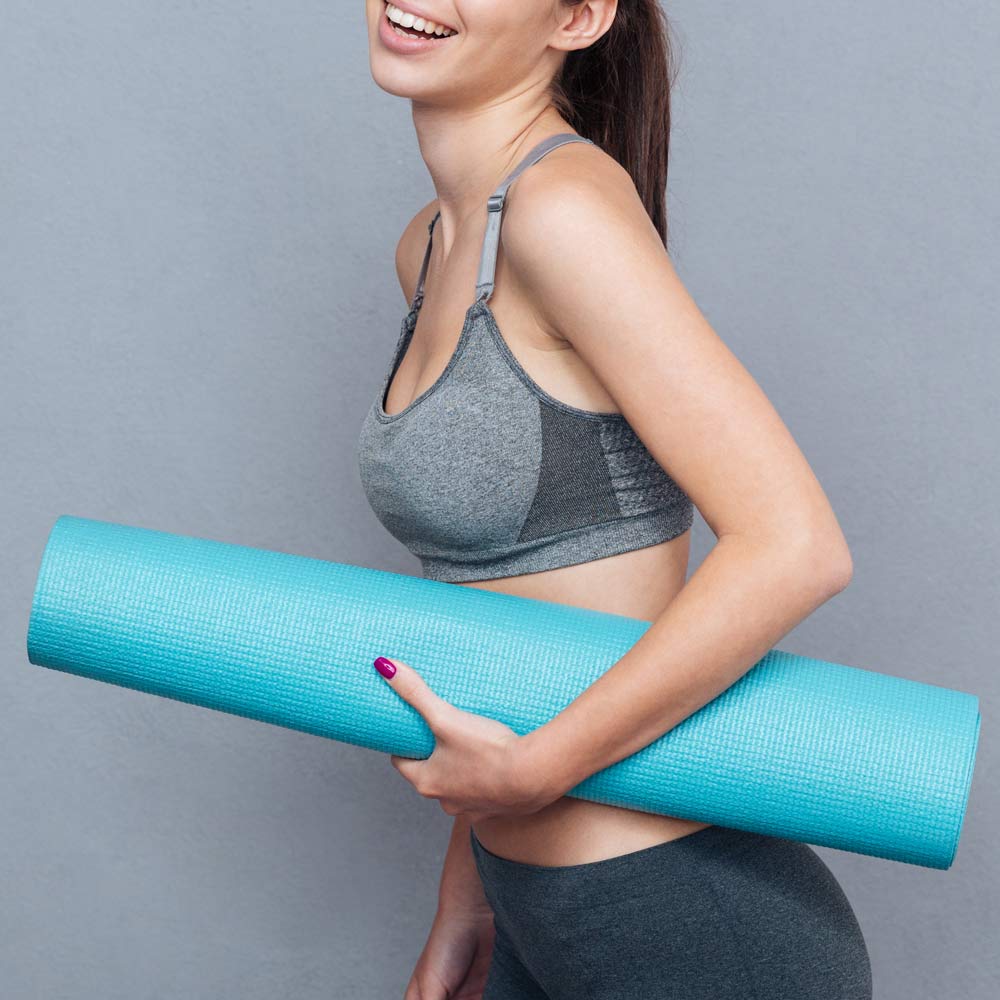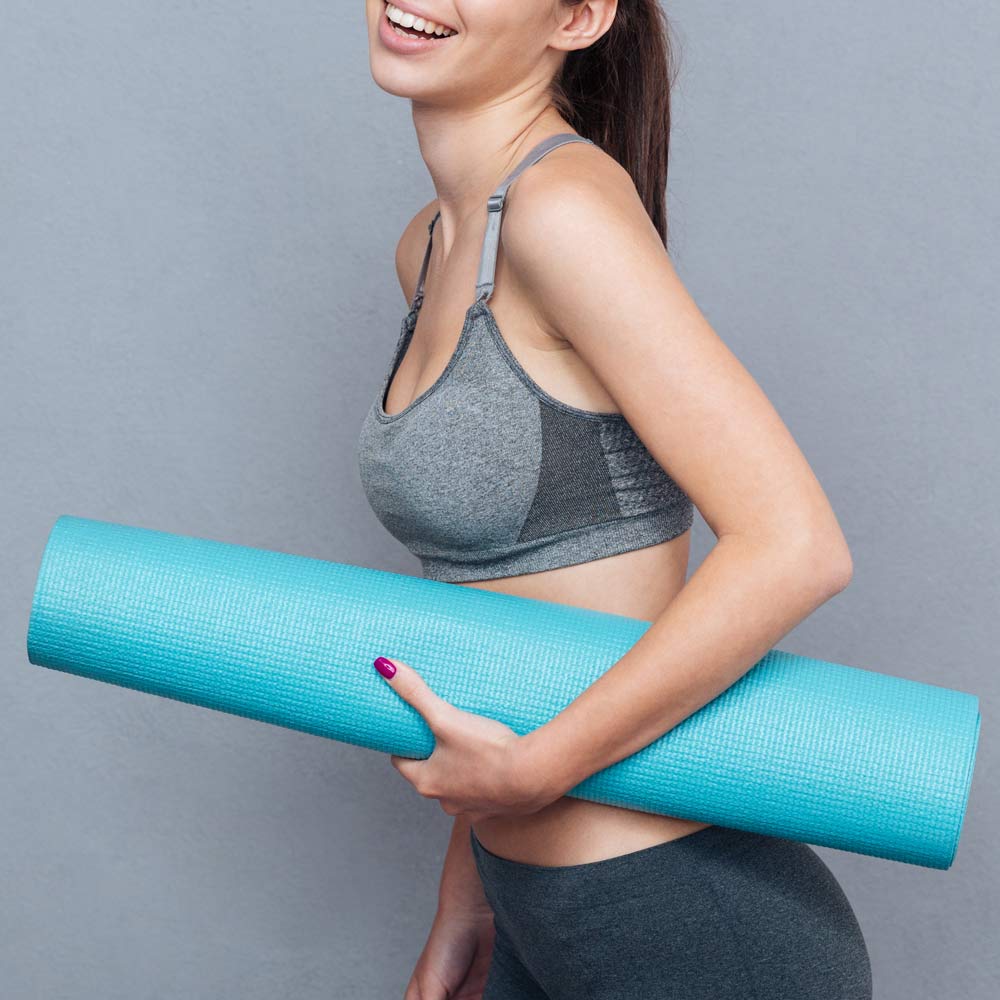 Whether it is a round yoga mat that you prefer or a standard one, the price policy will be the feature to consider. What is more, the mat material, longevity, and eco-friendliness will affect the cost too. Let's discuss the primary materials used for mats these days.
PVC – one of the most durable materials in the industry would be plastic-based one. Mats made of PVC are lasting and provide supreme grip. Besides, such mats are super easy to clean. Yet, you should keep in mind that the mentioned material lacks proper absorbing functions. That is why it may get quite slippery during a hot yoga session. Moreover, the material isn't biodegradable, posing an environmental threat.
TPE – thermoplastic elastomer is a mixture of plastic and rubber polymers. Such mats are more eco-friendly than PVC ones but are certainly less durable. Yet, the thickness and traction provided are still worth your attention.
Natural yoga mats – such mats are usually made of natural rubber, cotton, or jute. While these mats are utterly eco-friendly, they provide lesser grip and a limited lifetime.
Eco-friendliness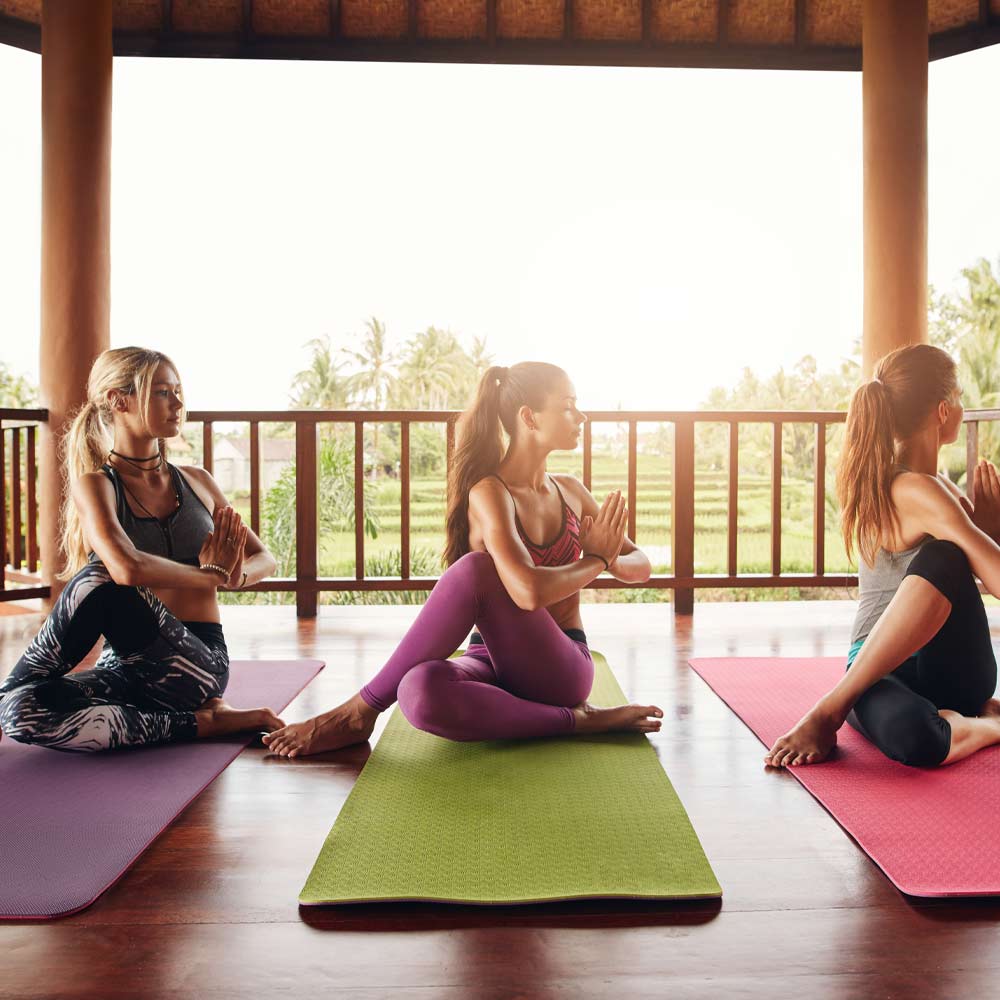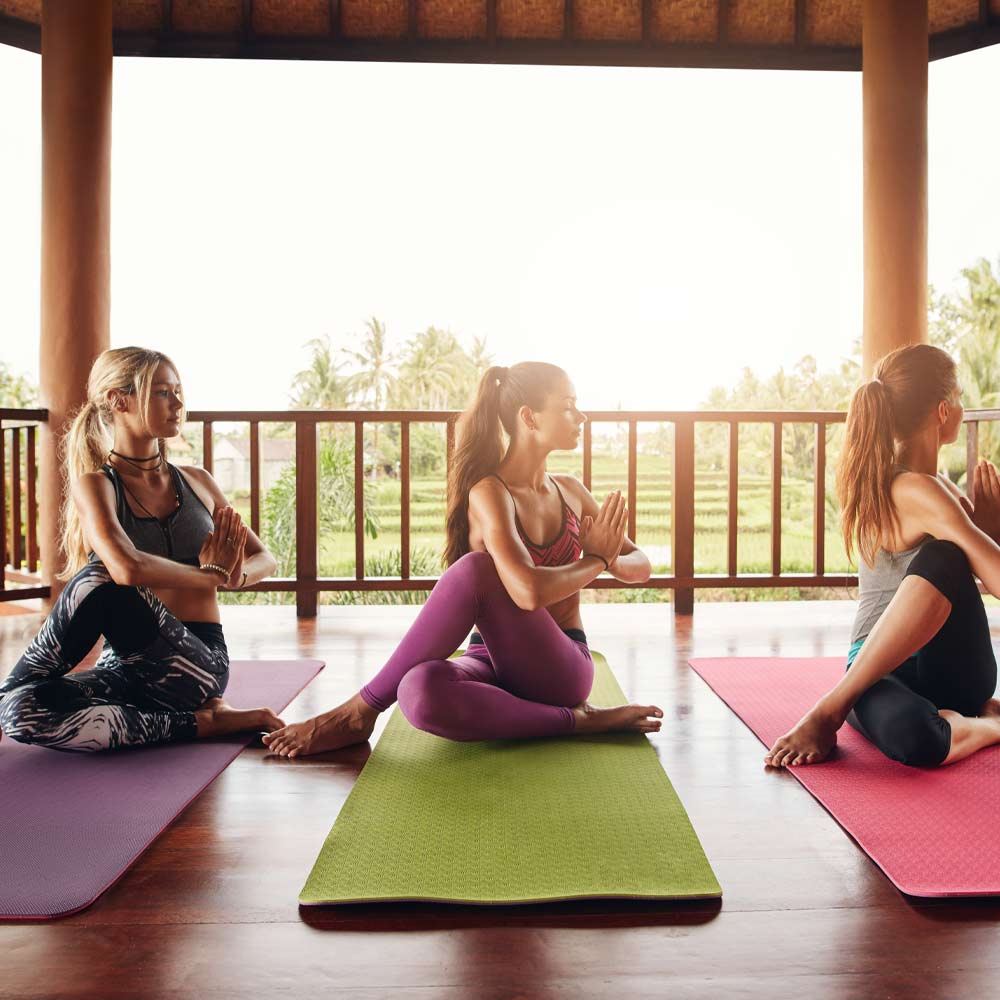 Yoga isn't only about your physical and mental fitness. It is also about a certain worldview. That is why the notion of eco-friendliness is so essential when it comes to choosing the fittest yoga mat. Should you care for the planet deeply, you may want to skip mats made of PVC. Mats made of organic cotton, juke, or recycled rubber would be your best bet. Besides, the variety of those isn't limited, contrary to popular options. Although organic yoga mats are usually costlier than the rest.
Best Yoga Mats to Buy
It is not enough to be aware of the most critical stats of available yoga mats. You may want to start your search with the trending yoga exercise mats. With that in mind, our yoga experts have decided to point you in the right direction.
Lululemon's The Reversible Mat 5mm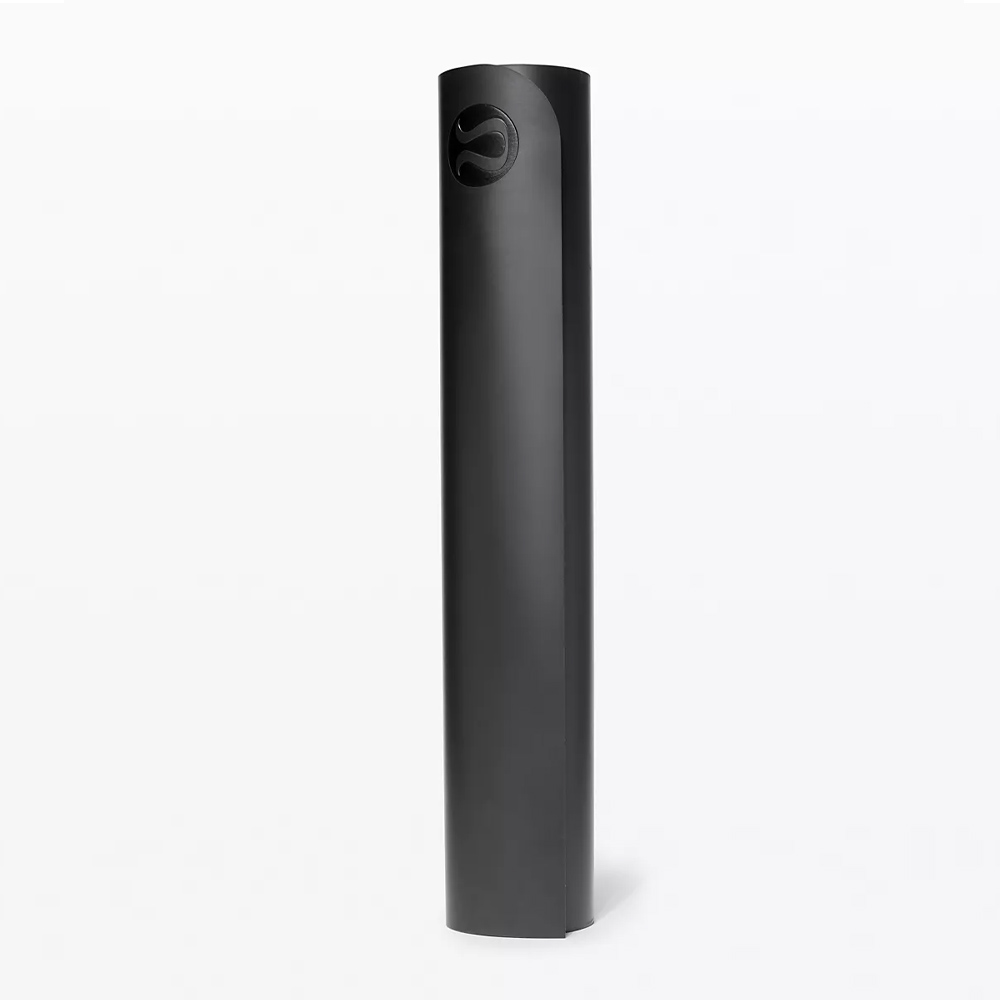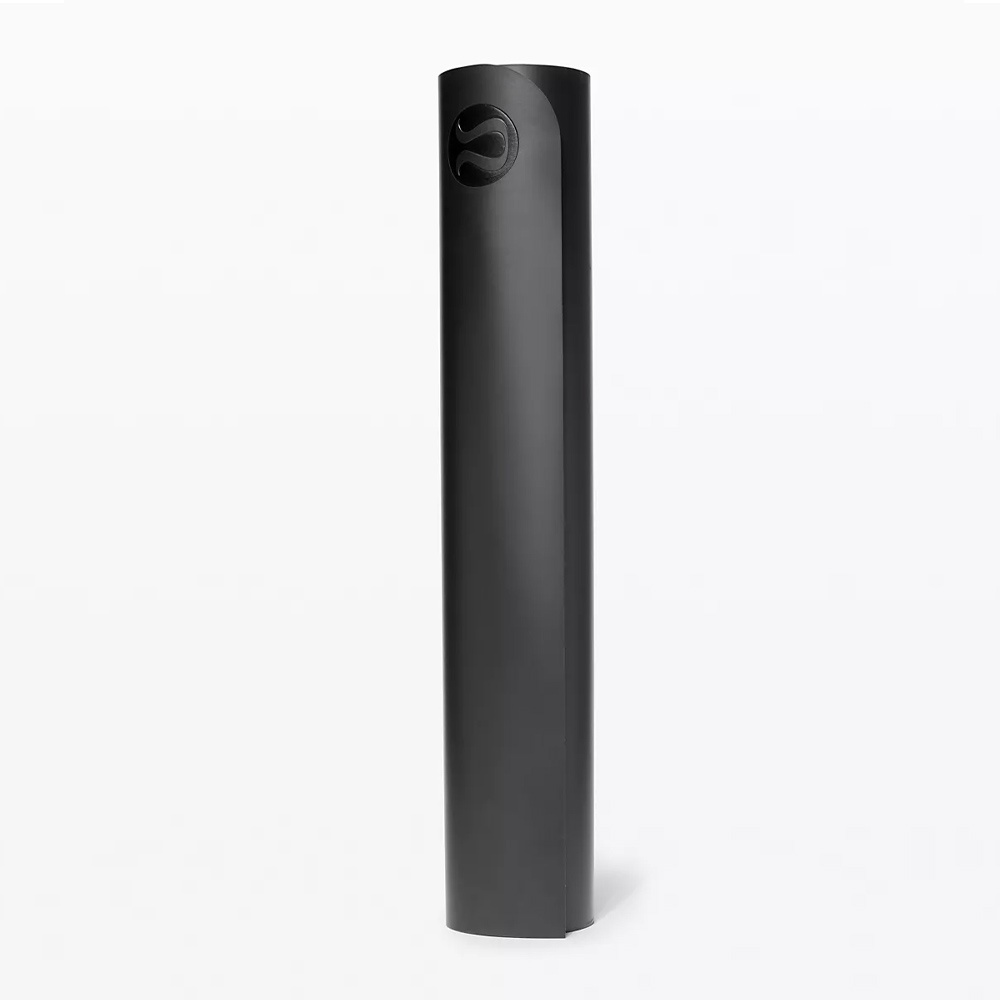 Credit photo: shop.lululemon.com
The Reversible Mat is the first on our list due to a variety of reasons. The mat has proved to be an ideal representative of weight, thickness, stickiness, and durability balance. It is made of natural rubber and provides a firm grip on the floor. However, the smooth front side of the mat ensures that your hands and feet also stick to it. While 5 millimeters make the mat suitable for your knees and elbows, you may want to extend your search if you suffer from joint pains. On the bright side, the mat is larger than most standard options – imagine a mat the size of a door. However, such size makes the mat slightly heavier than most and rather unsuitable for frequent transportation.
JadeYoga Harmony Mat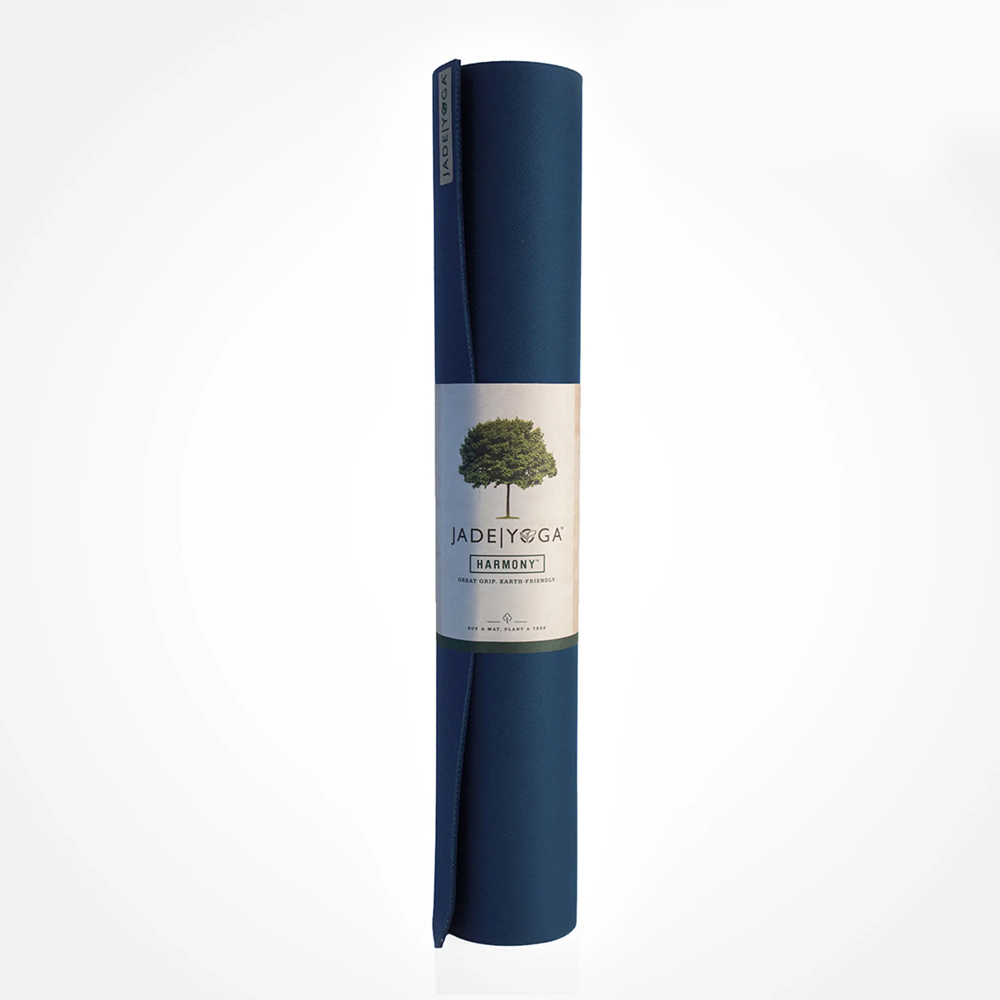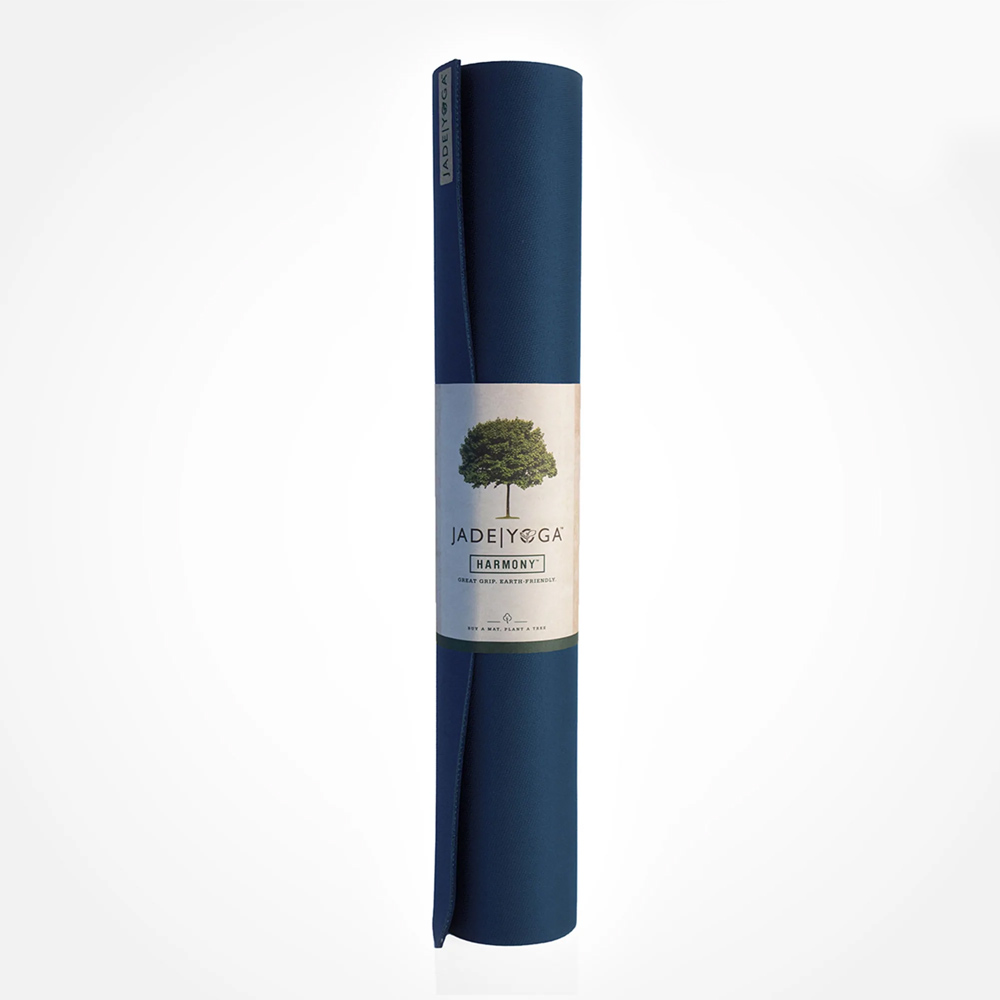 Credit photo: jadeyoga.com
JadeYoga Harmony Mat is a 100%-rubber mat. The material is known to absorb moisture well and provide a reliable grip even during the sweatiest sessions. It is thinner than most but is still quite spongy and supportive. One of the main advantages of the brand is the variety of sizes to choose from. There are four sizes on offer, but as the size increases, the mat becomes heavier, and you should consider this fact. On the slightly less bright side, the mat will smell of rubber, at least for some time. If you are allergic to latex, it is best to reconsider the purchase.
Manduka PRO Yoga Mat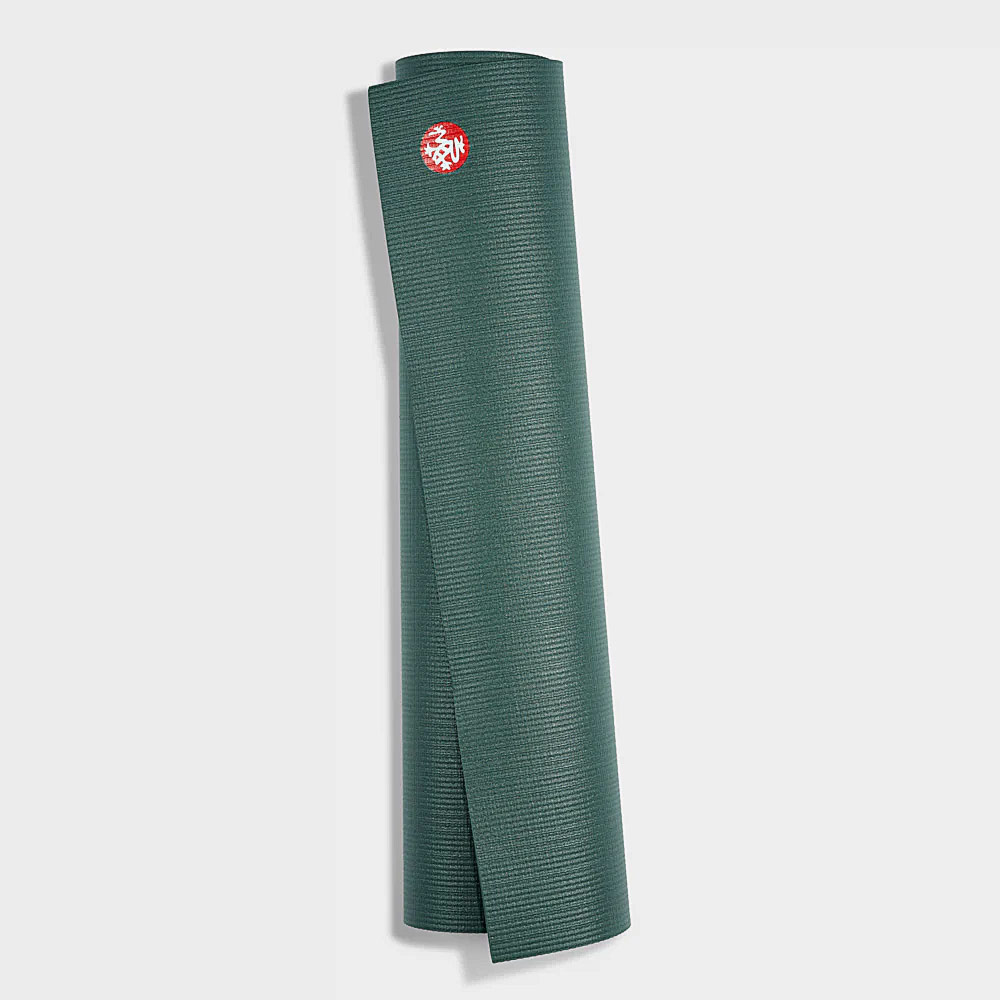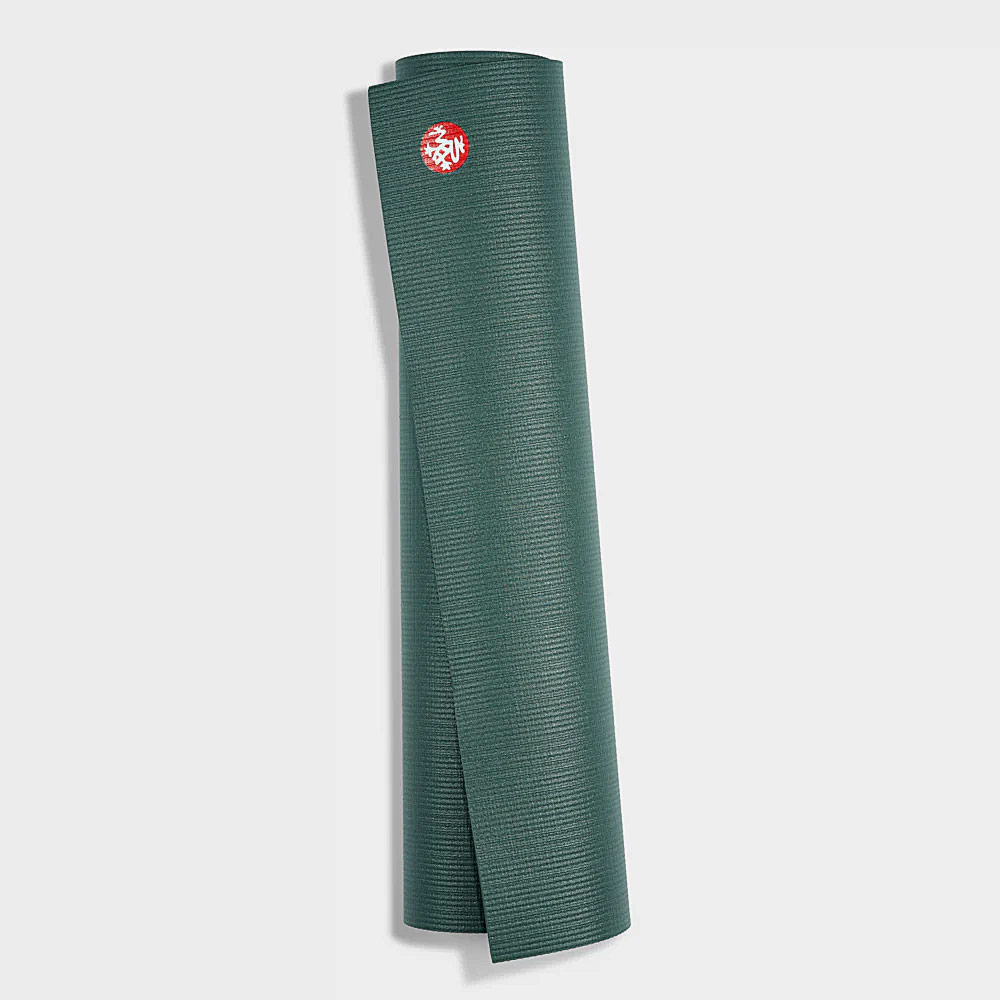 Credit photo: manduka.com
Manduka PRO Yoga Mat can be your best bet if you are looking for a mat that will last you for a while. The supreme quality of the line deserves all the rep it gets. The mat comes in two sizes and absorbs moisture well. However, it is heavier and pricier than most. Besides, if you are interested in a yoga mat strap so that you can transport it easily, Manduka PRO wouldn't be the option to choose. The mat is perfect for home use but does not suit traveling purposes.
BalanceFrom GoYoga All-Purpose Yoga Mat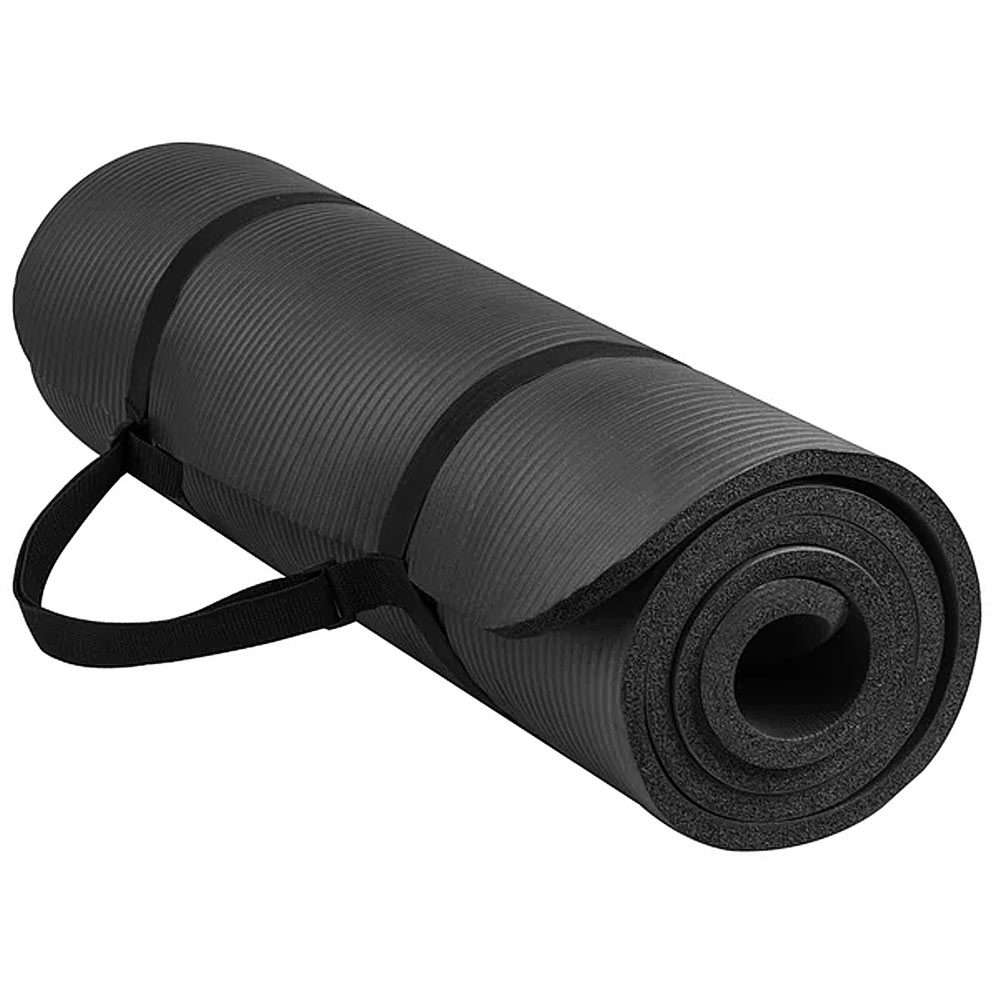 Credit photo: balancefrom.com
BalanceFrom GoYoga All-Purpose Yoga Mat is one of the thickest on the market. It is 13-millimeter thick. Thus, it would be your best bet if you are searching for a cushioning mat. Yet, it helps to mention that along with improved padding. The mat loses its stability and support. If you plan to get into some complex yoga poses, you may consider another variant. Keep in mind that while the mat provides excellent grip, it makes squawking noises during the pose transitions and may be pretty distracting.
Gaiam Performance Dry-Grip Yoga Mat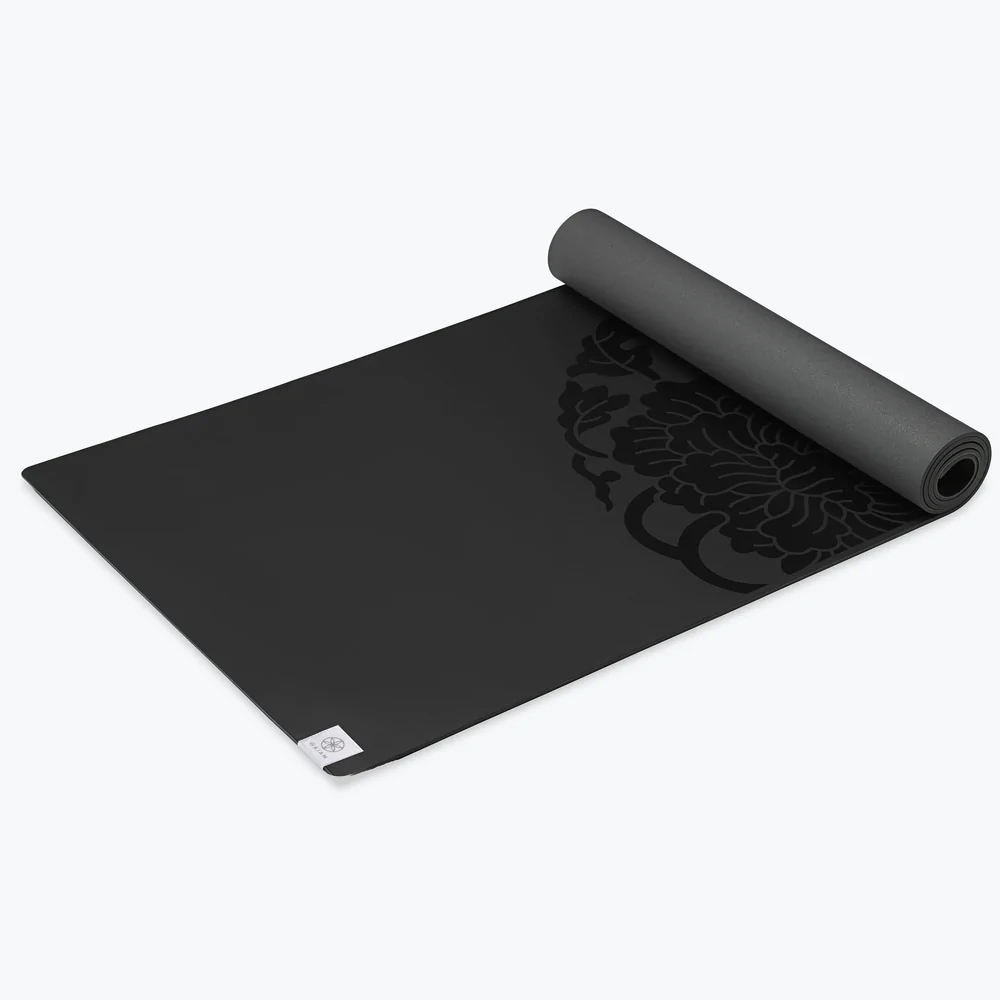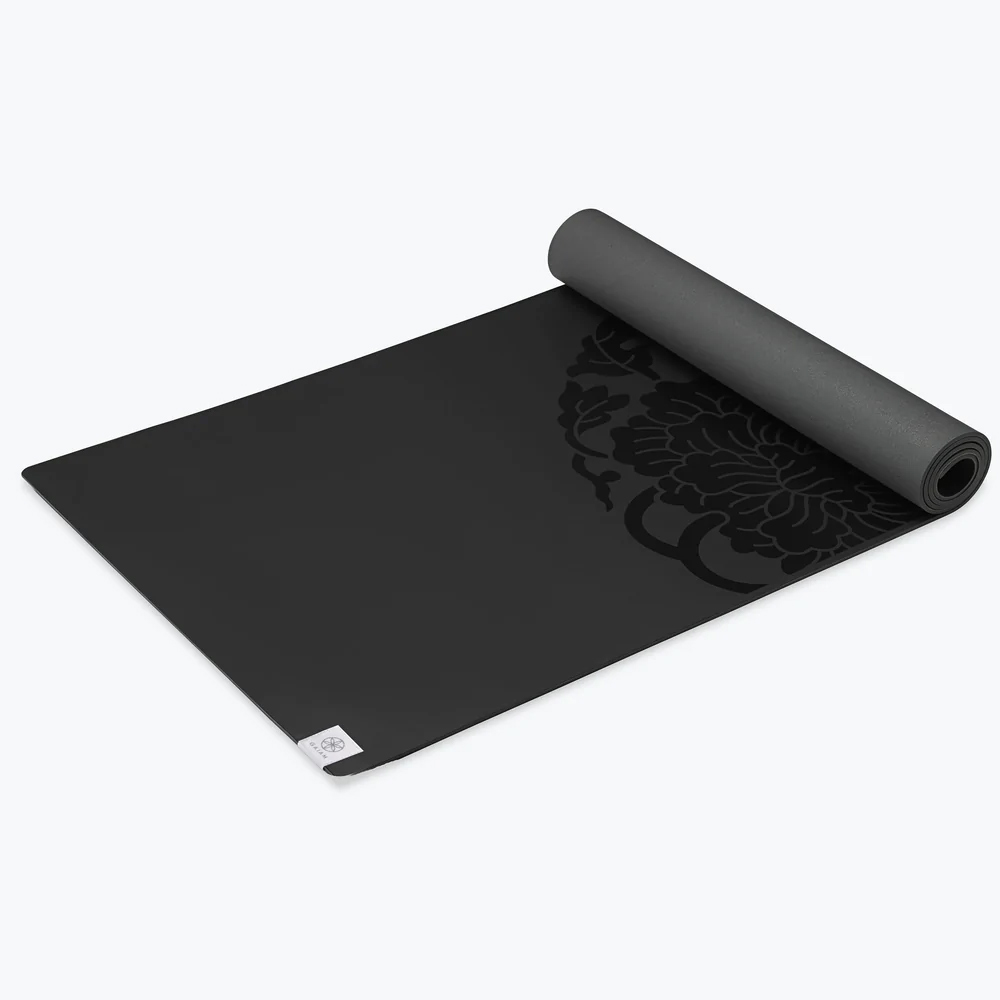 Credit photo: gaiam.com
Gaiam Performance Dry-Grip Yoga Mat will suit those allergic to latex or who find the rubber smell repellent. It is a 5-millimeter mat made of PVC and designed to rid you of a slippery, sweat-covered surface once and for all. Moreover, weighing as much as 4¼ pounds, the yoga mat is lighter than most.
JadeYoga Voyager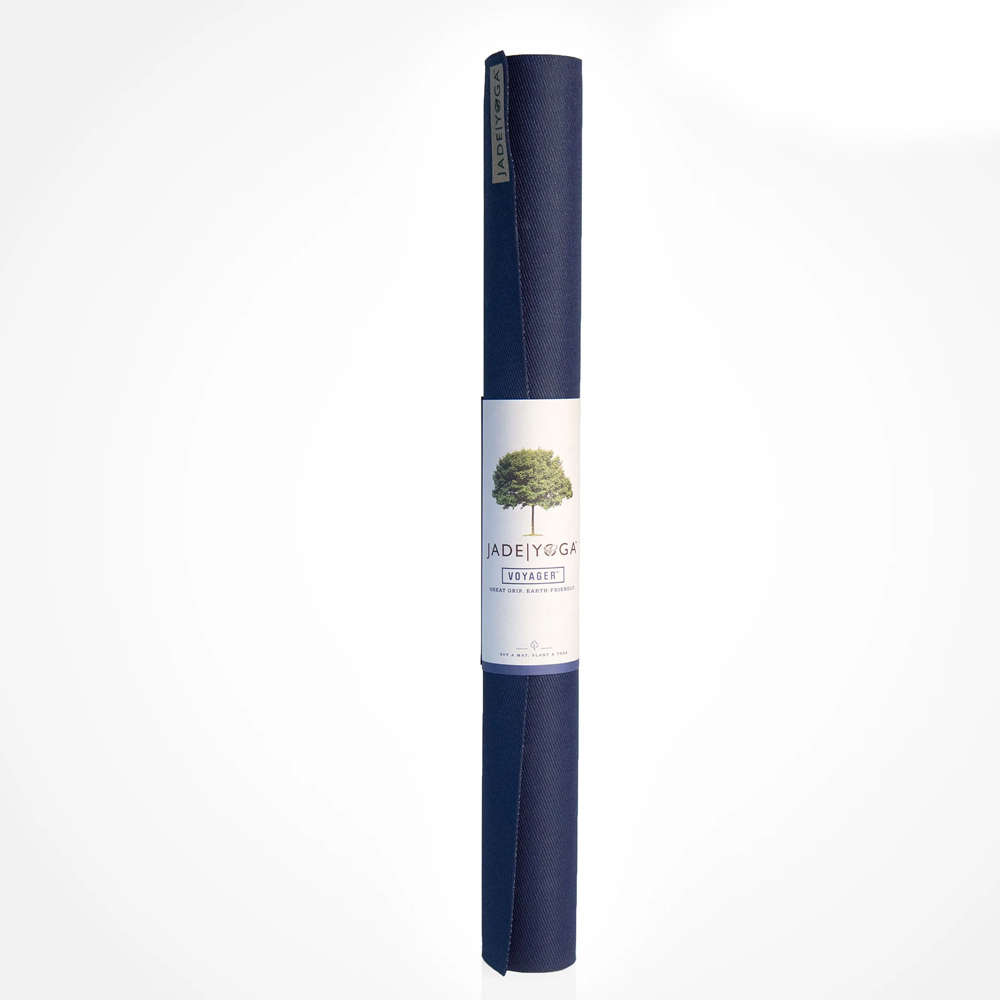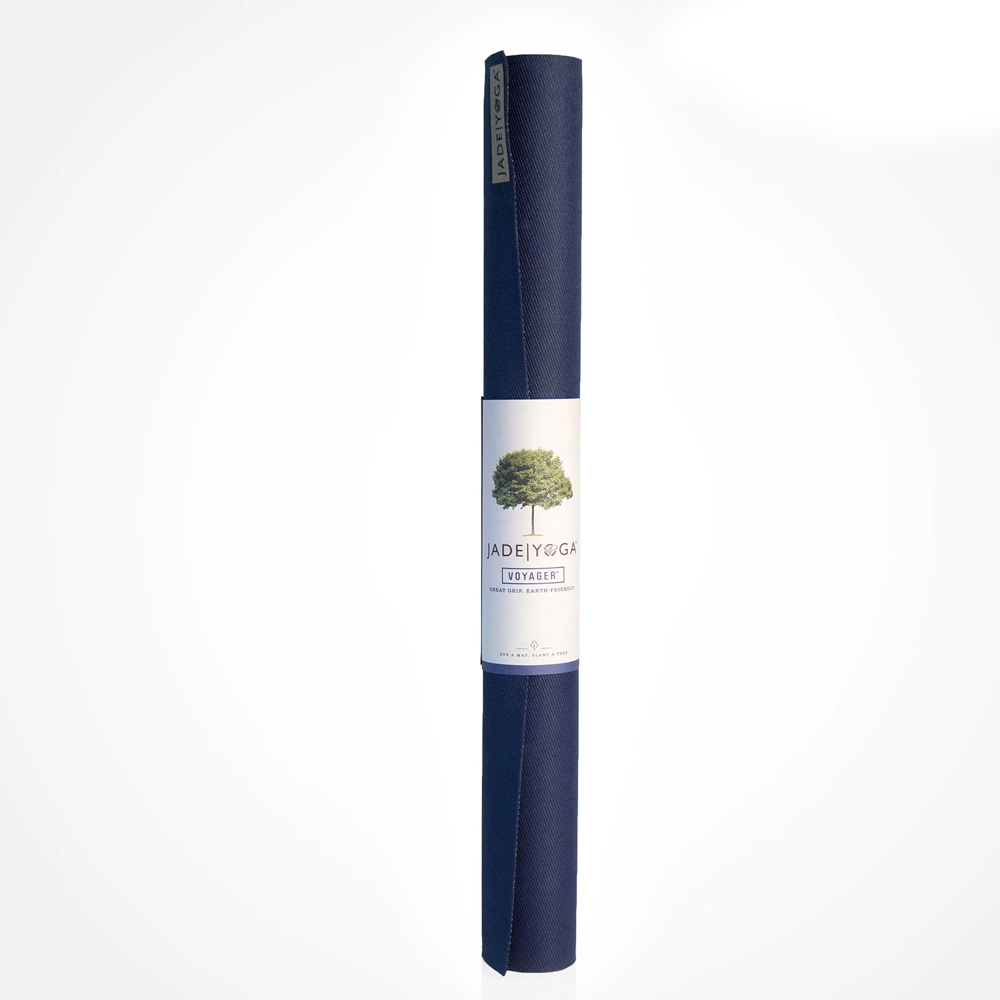 Credit photo: jadeyoga.com
JadeYoga Voyager is a perfect traveling option. The mat is thin and light. Moreover, it is compact and provides a firm grip. The only downside would be the lack of cushioning, but most travel variants are thinner for transportation's sake.
Bala the Play mat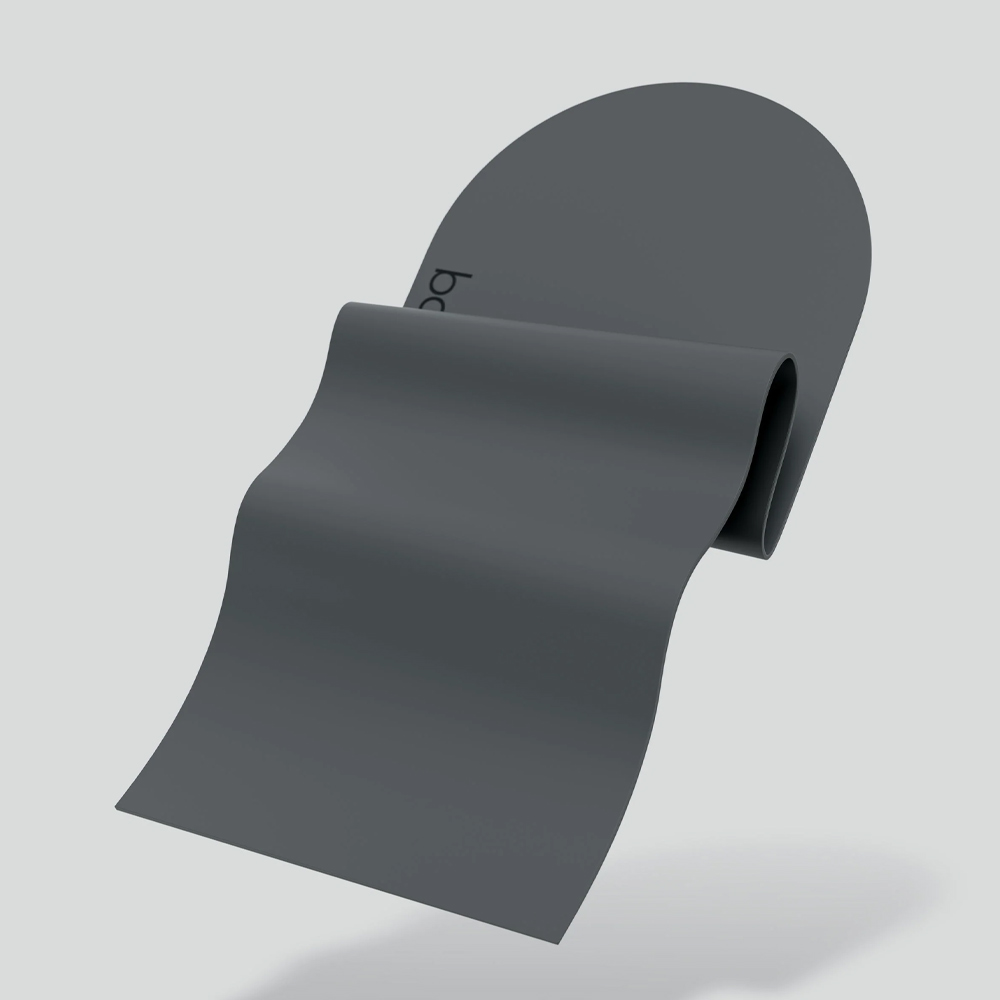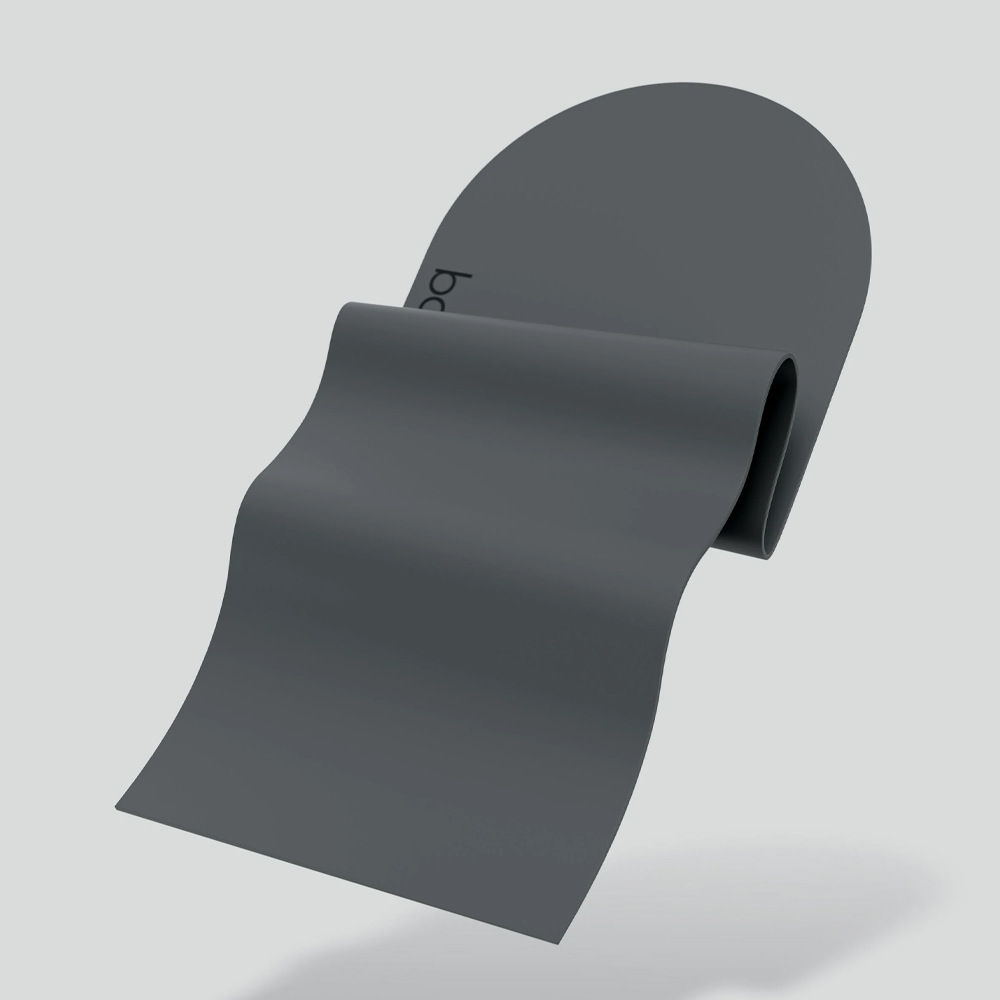 Credit photo: shopbala.com
Bala the Play mat is one of the thickest in the industry. If you plan to practice yoga in the safety of your home and seek enhanced cushioning due to personal reasons – Bala's mat should be on the list. Besides, the unique, portal-like shape of the mat makes it twice as appealing and desirable.
IUGA Pro Non-Slip Yoga Mat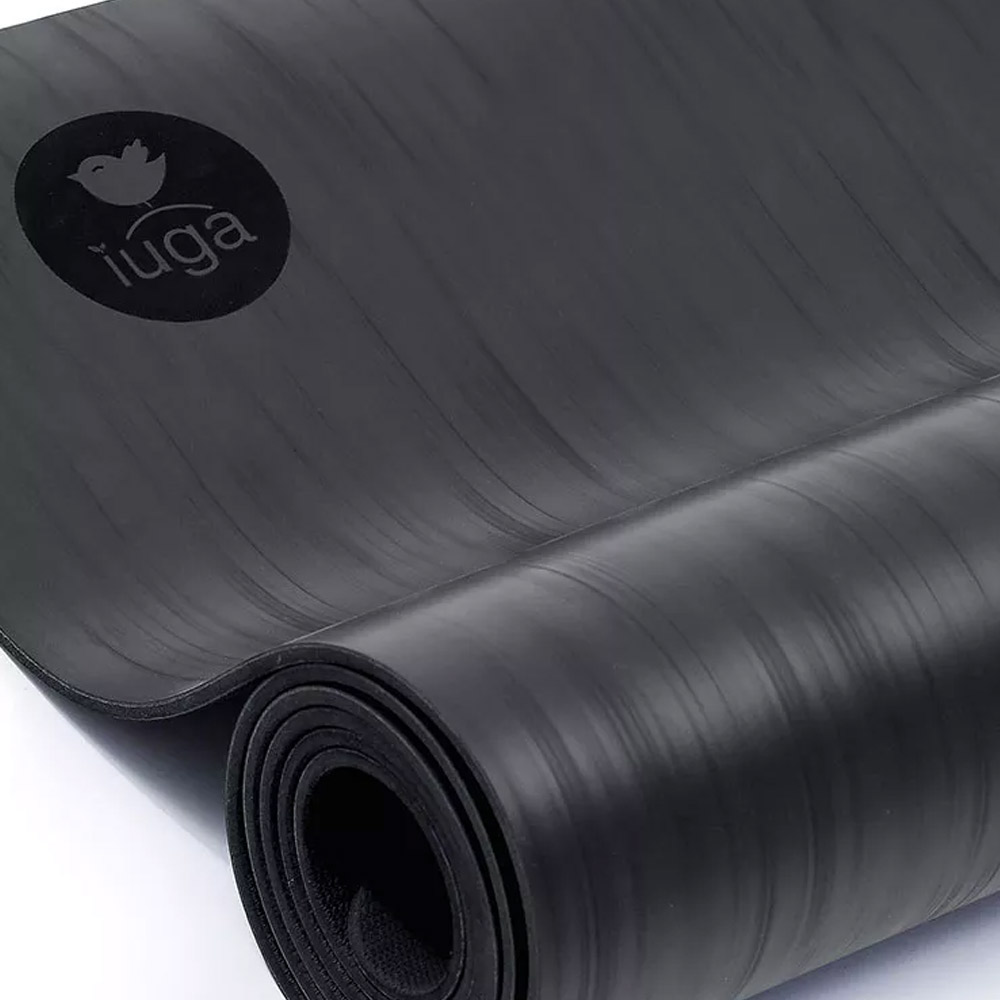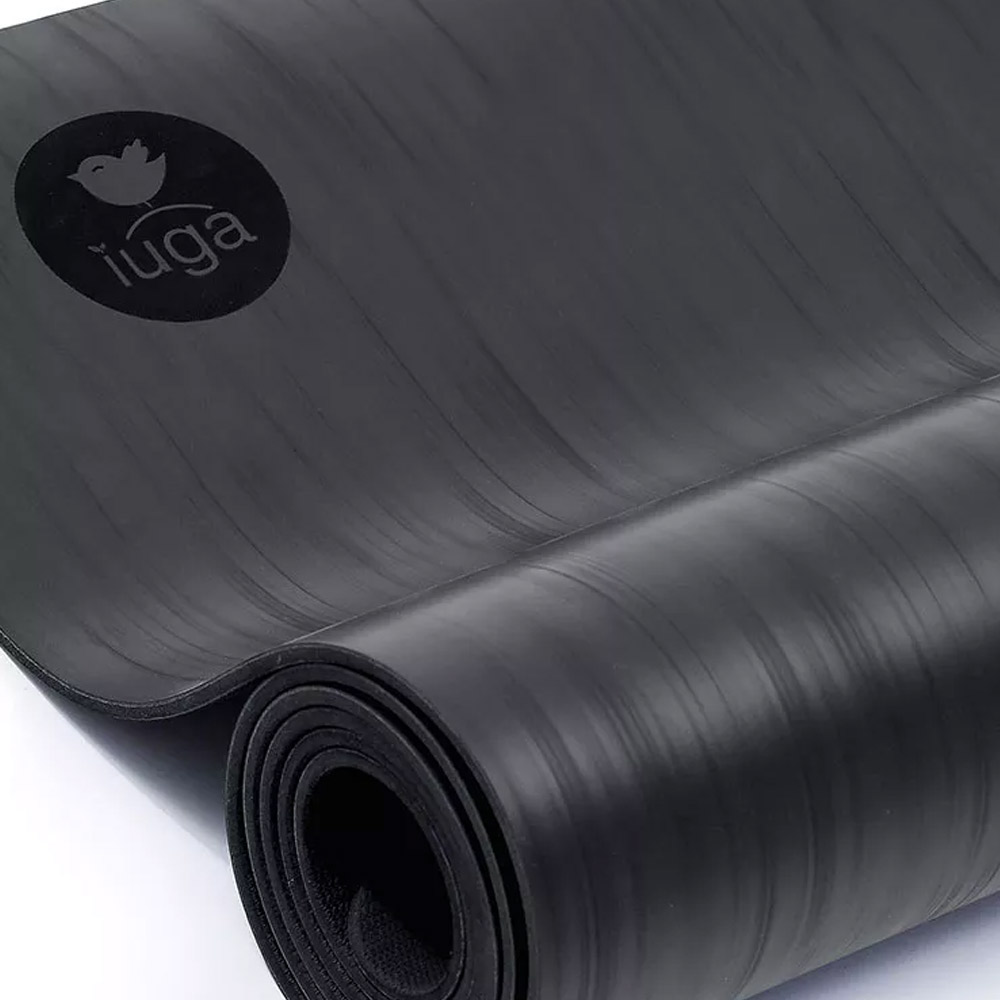 Credit photo: iuga.us
IUGA Pro Non-Slip Yoga Mat is another natural-rubber mat, but it is different from the rest. The material it is made of does not make it heavy – it weighs around 2.2 pounds and can be transported almost anywhere. A handy yoga mat holder in the form of a strap adds up to that. While the mat is relatively grippy, its weight isn't enough for it to lay perfectly on the floor. While that is a minor disadvantage, you should know that a slight rubber smell is still detectable.
Liforme Original Yoga Mat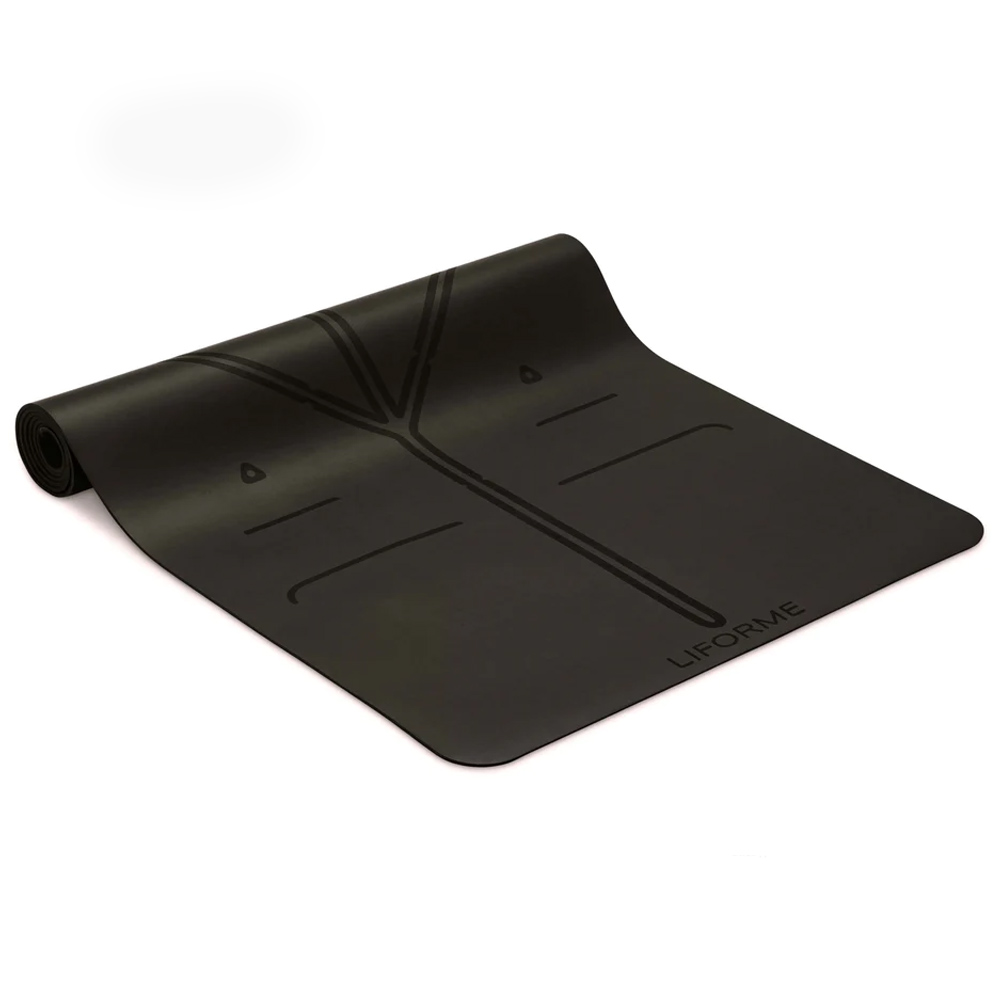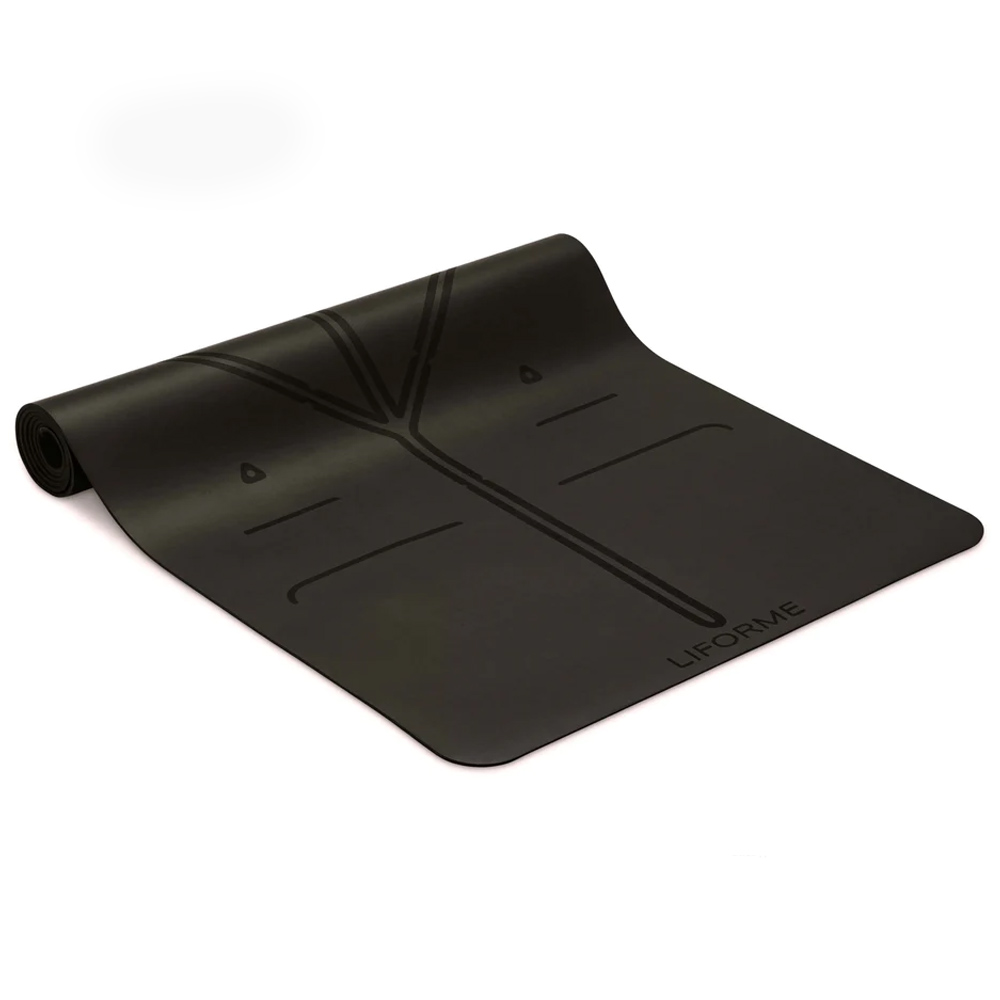 Credit photo: liforme.com
Liforme Original Yoga Mat stands out from the rest due to its "AlignForMe" system. The system is etched in the top layer of the mat. Such an approach ensures that you can adjust your form while practicing at home without the professional assistance of an instructor. Besides, there is a guidebook that comes with the set along with the storage bag, so you are absolutely sure how to exploit your mat to the fullest. Aside from the peculiar alignment system, the unusual length and width of the mat make it even more unique and desirable. Lastly, proper cushioning and firm grip make the option irreplaceable when you dive into yoga practice.
Manduka eKO Superlite Yoga Travel Mat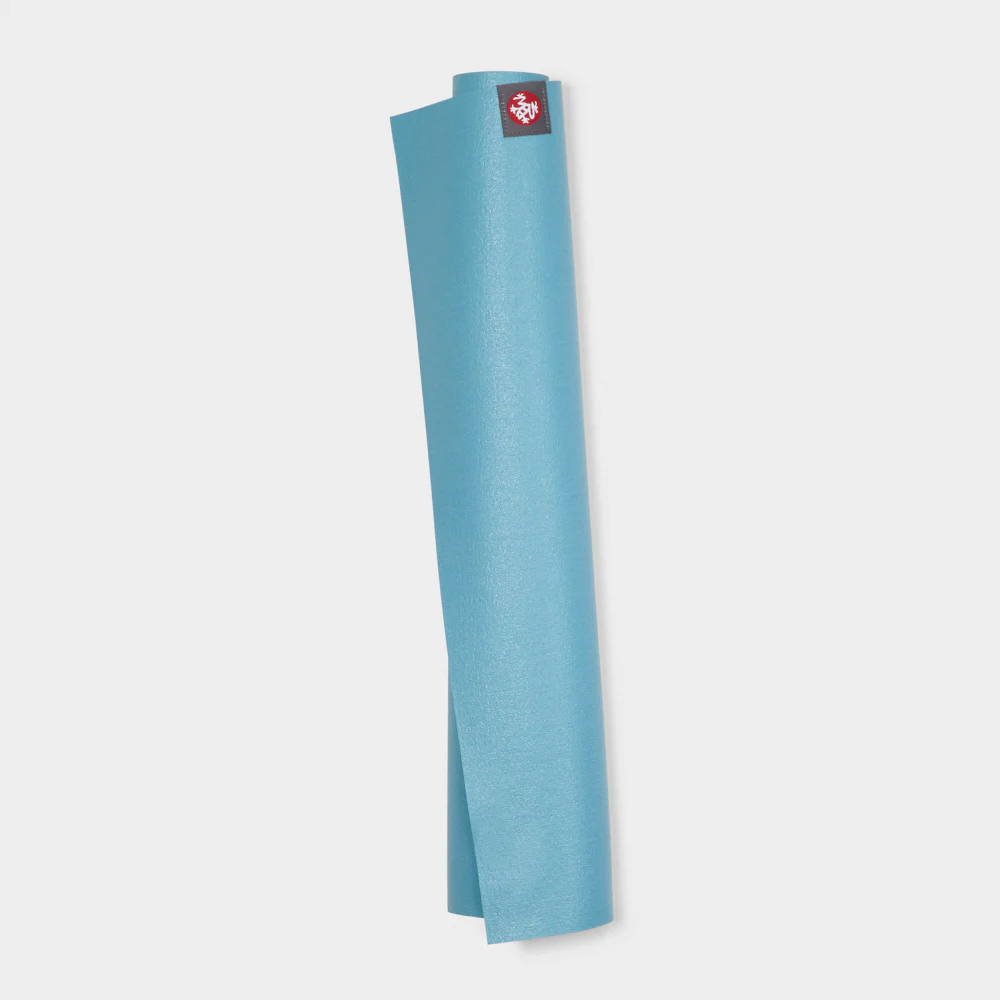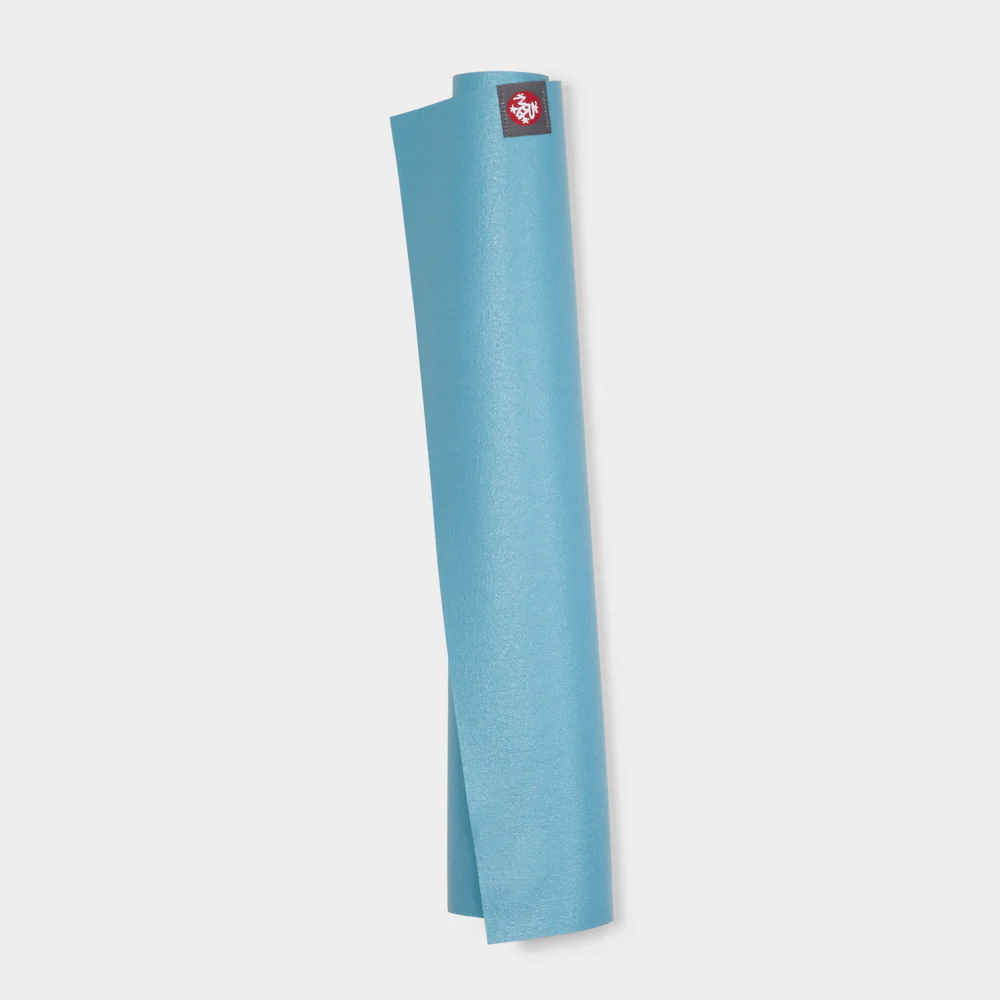 Credit photo: manduka.com
Manduka eKO Superlite Yoga Travel Mat is a travel-friendly variant that features all the perks of home-use mats. The mat is very lightweight – 2.2 pounds – but quite large. The thickness of the yoga mat may lack proper cushioning since it is only 1.5 millimeters thick, but the thickness is sacrificed for the sake of portability. You may acquire the option as a purely traveling item and have a thicker version at home.
Casall Foldable Speckled Rubber Yoga Mat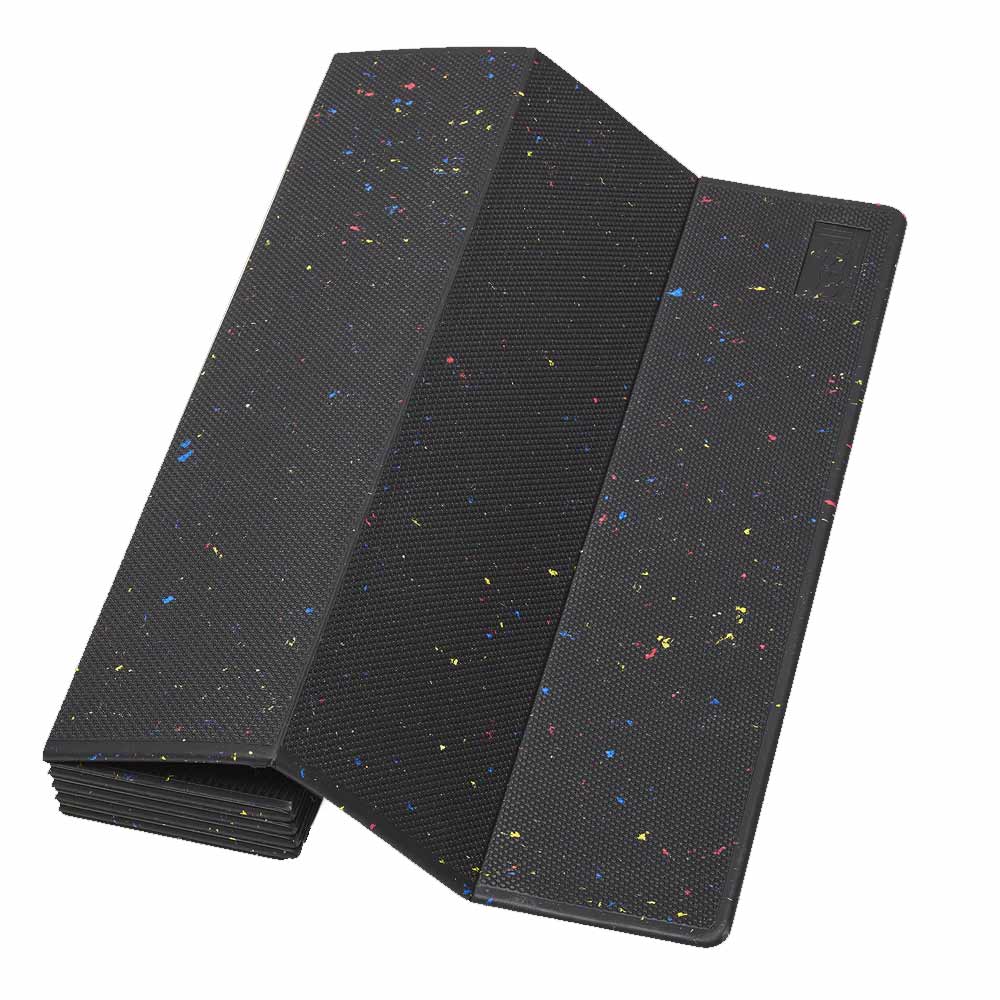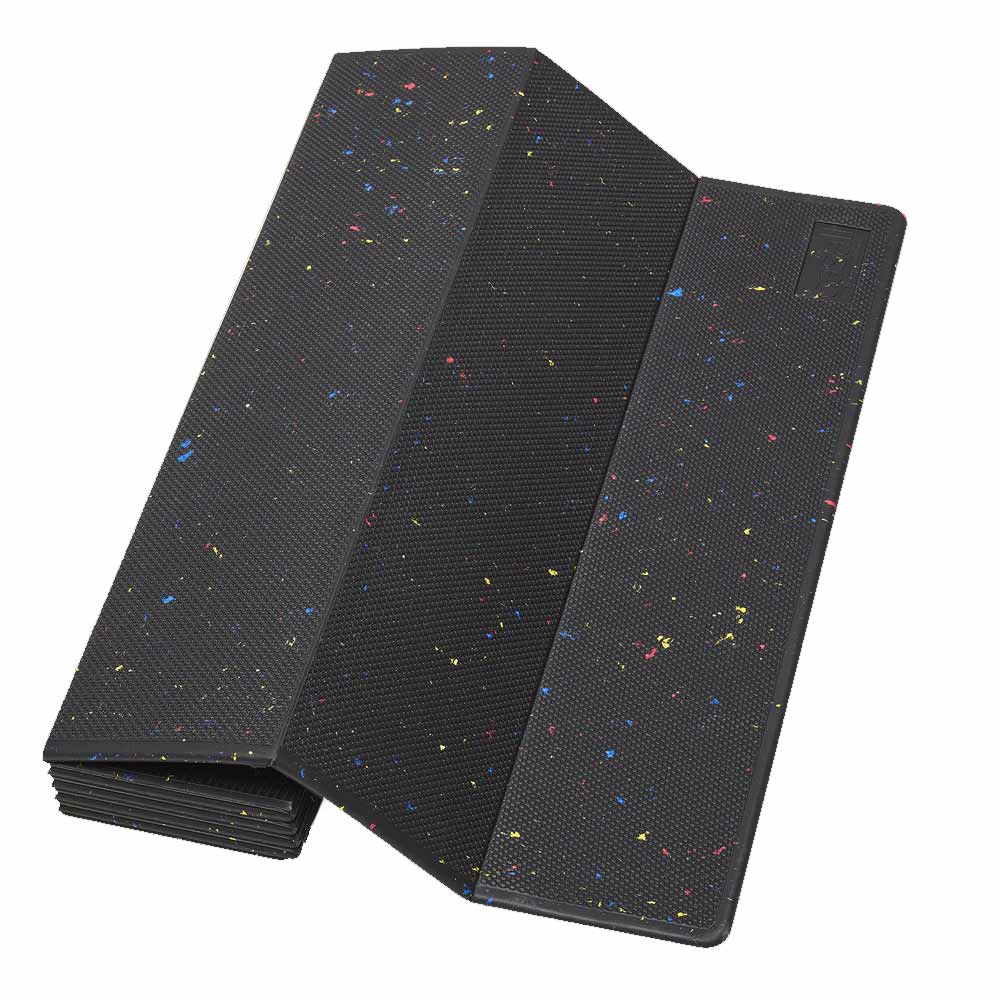 Credit photo: casall.com
Casall foldable speckled rubber yoga mat is made of 30% recycled rubber, so it is safe to claim it is more eco-friendly than most. The mat is quite large, so you can fold it when you require additional thickness. Other than that, the yoga mat is a universal item that comes for a great price.
Nike Mastery Yoga Mat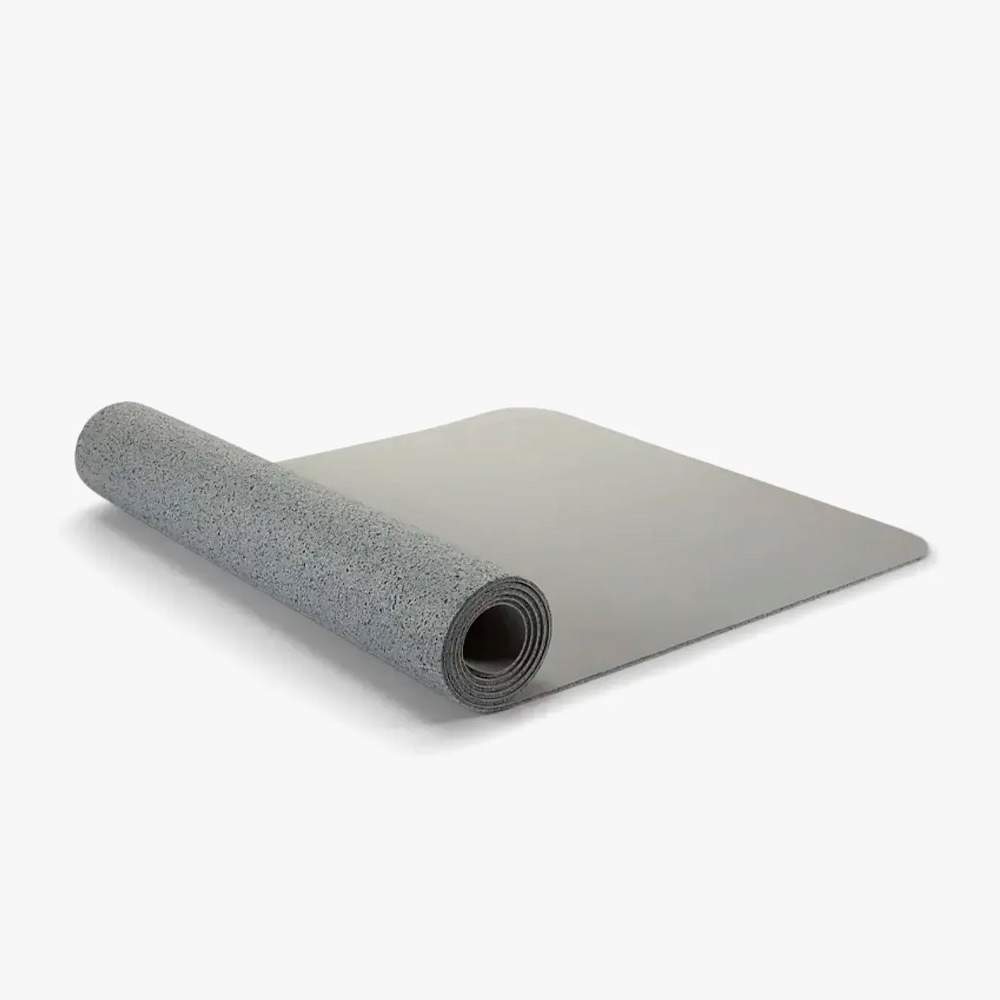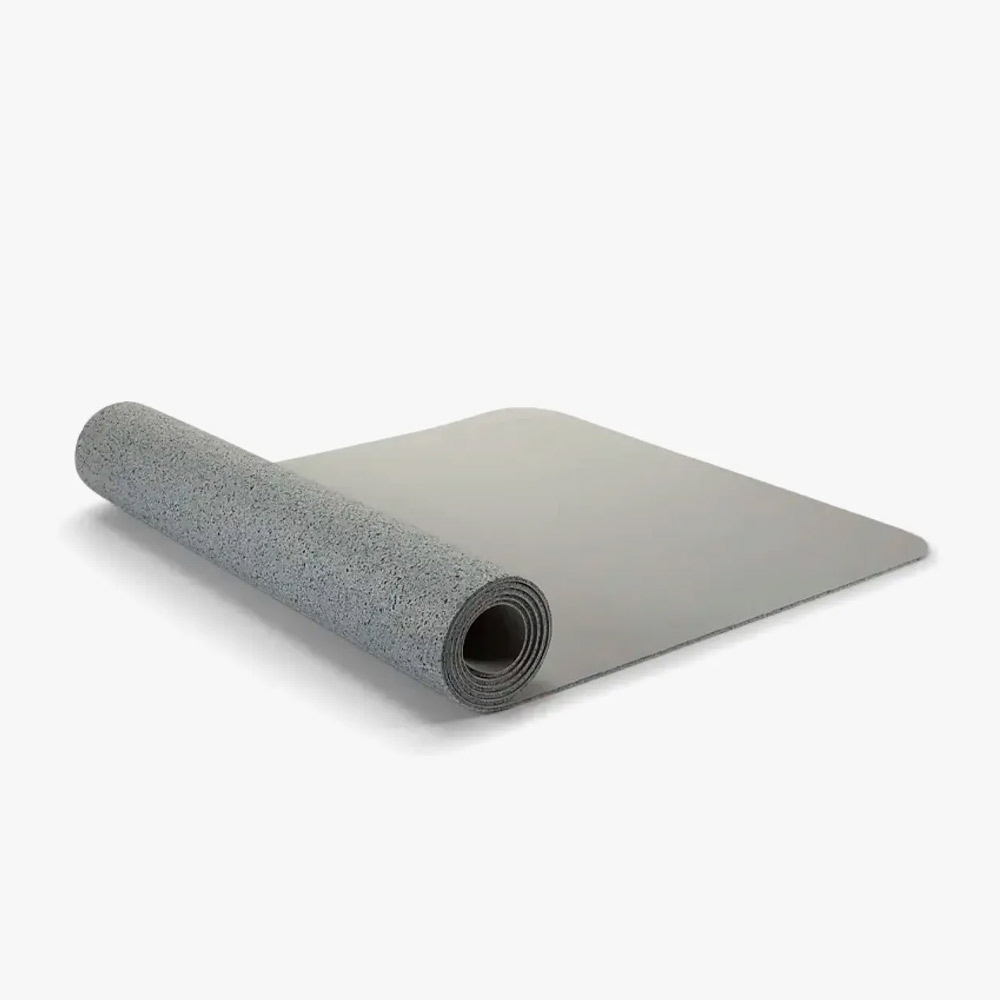 Credit photo: nike.com
The Nike Mastery yoga mat will suit those of you who prefer multitasking to focus on a single task. The mat is a little longer than most, so you can use it for stretching, yoga, or Pilates. Besides, the mat is odor-free, so nothing will distract you during the yoga session.
Yogi Bare Paws Extreme Grip Yoga Exercise Mat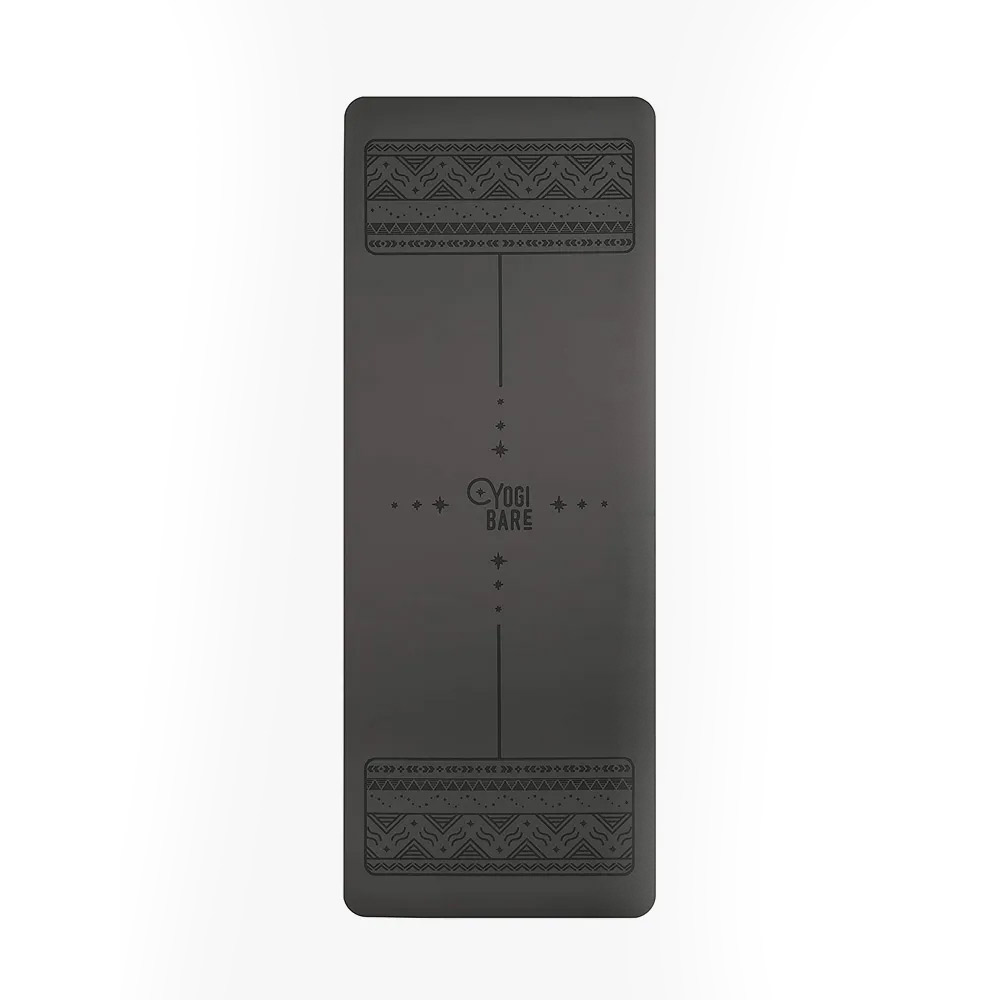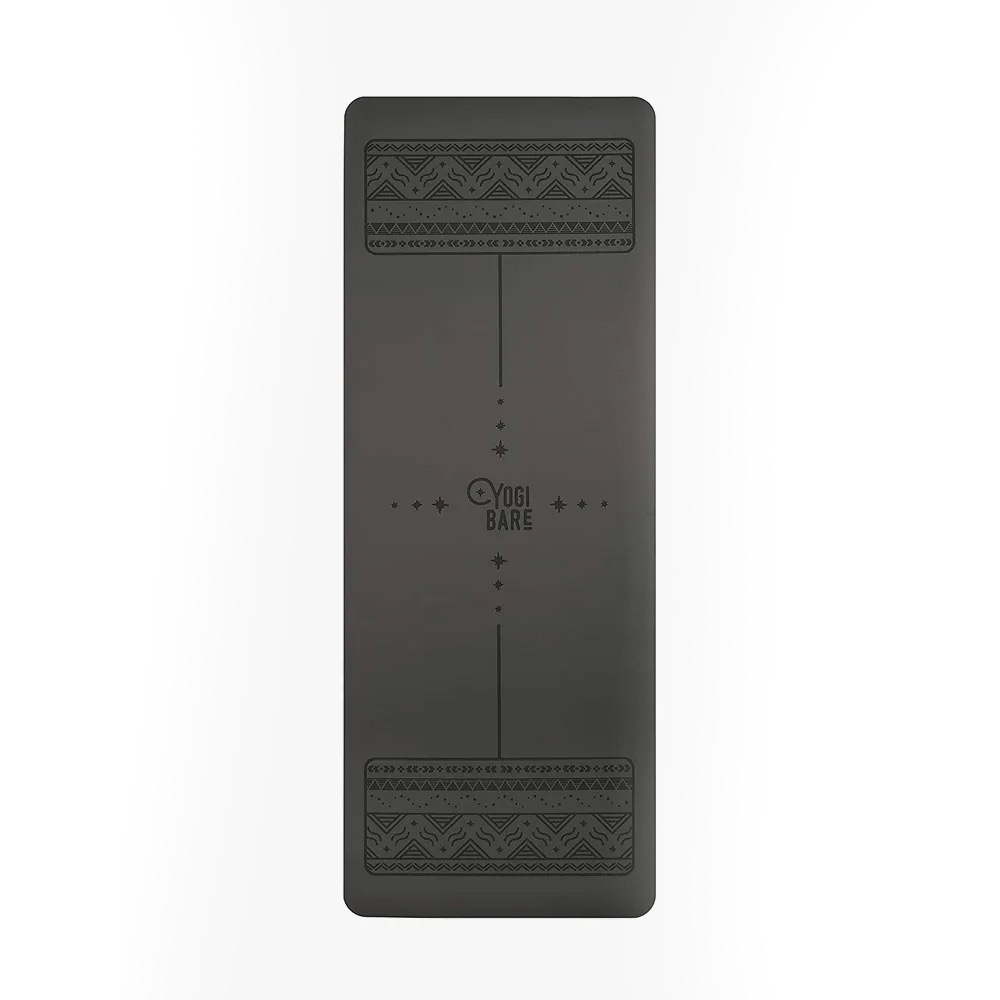 Credit photo: yogi-bare.co.uk
Yogi Bare Paws extreme grip yoga exercise mat features additional alignment lines so that your hands and feet remain in the correct positions. Such a design makes the mat perfect for home use when there is no trainer to help you out. You won't suffer from related misalignment injuries when you align your body well. Moreover, the mat is very adjustable, so you can tune it to your personal needs in no time.
How to Clean Yoga Mat?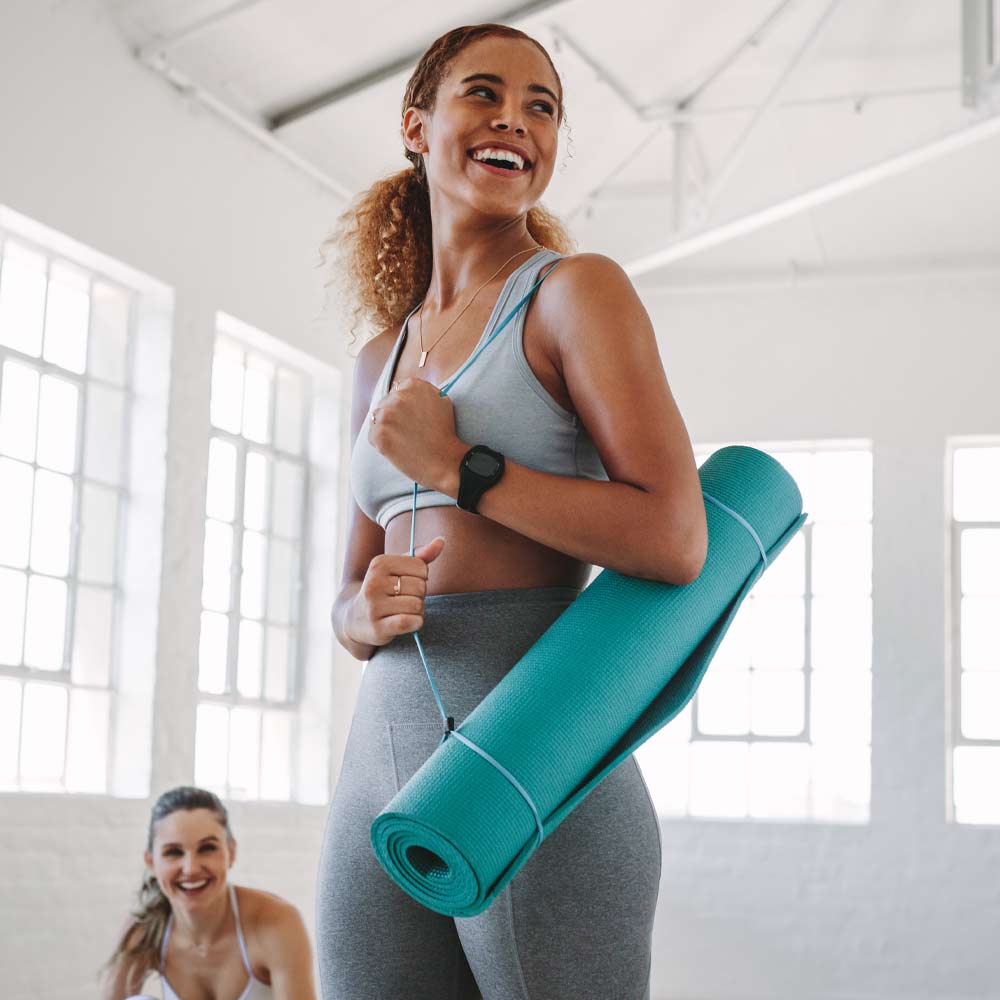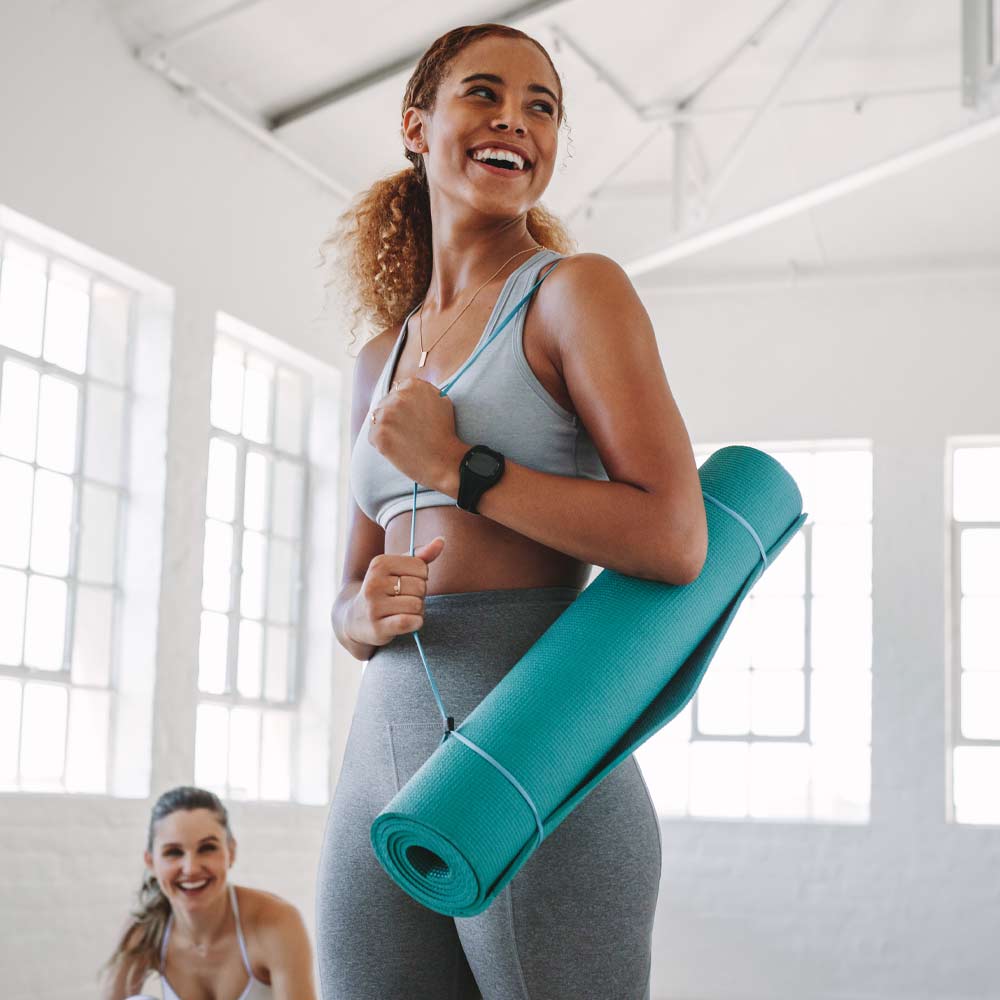 Many of you may wonder how to clean a yoga mat since it will stain over time of dedicated exercise. Follow these simple steps and become a professional yoga mat cleaner in no time:
Take a spray bottle and fill it with some warm water.
Add a few drops of dish soap to it.
Spritz the mat with the solution and let it sit for a few minutes.
Take a microfiber cloth and scrub the mat firmly.
Spray and scrub both sides of the mat.
Rinse the mat with warm water and let it dry.
Now that you know how to clean a yoga mat, you should do it at least once a month. However, pay attention to the visual appeal as well as the mat's smell to decide when it requires cleaning.
Which yoga mat is the best? There is a list of factors to consider before you buy a suitable option. However, with this practical guide at hand, you will know which direction to hit to succeed with the best outcome.
FAQ:
What is a good thickness for a yoga mat?
If you are not sure as to how thick a mat you need, start with a standard variation – a 1/8-inch mat. As you keep practicing, you will figure out whether you need to swap it for a thicker or thinner alternative.
What is the difference between a Pilates mat and a yoga mat?
Usually, a Pilates mat is thicker than a yoga mat. Because yoga is all about balance and stability, while Pilates mats are focused on providing the utmost body support.
What are the benefits of a yoga mat?
When you start practicing yoga, you will realize that proper balance and a firm grip on the surface are of crucial value. That is where a dedicated yoga mat comes of use. A quality yoga mat will help you keep your balance and stand firm during the training. Besides, unhindered thermoregulation comes as an additional perk of practicing with a yoga mat.
Was this article helpful?