By:

Glaminati Media

| Updated:

05/24/2018
Classic White Dress With A Bow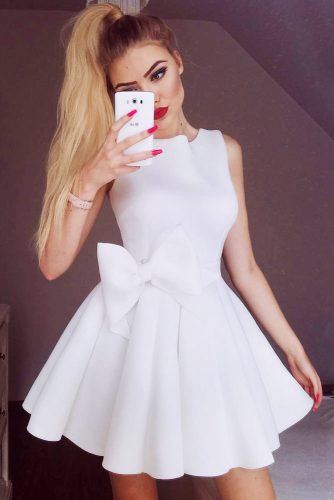 In case you wonder what you should wear to your high school graduation, almost every school has its dress code. But there are some general guidelines.
A dress may involve spaghetti straps or be strapless (only if it fits properly).
It is allowed to put on a backless dress as long as it isn't cut below a navel.
If a dress is 2-piece, it is a must that the pieces overlap at its waist. In other words, there must be no bare skin on a belly.
A Midriff mustn't be exposed.
No visible undergarments.
Overall, go for something conservative and sassy at the same time. Because your task is to impress! And here you can see how a relatively short length can be balanced out with a closed top.
Knee Length White Prom Dress With Pockets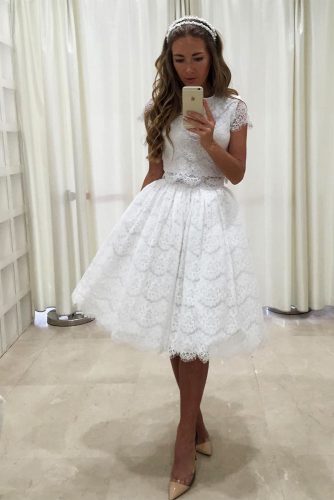 Do you know why white graduation dresses with pockets are especially popular? It's because pockets make our lives much easier! Believe us, you would thank us for this tip afterwards. If you carry a purse while marching the procession, it may appear a bit strange. Leave the wallet and other things in the car or give them to your parents. Keep the looking glass, phone, and keys with you. By the way, there are dress designs with barely noticeable pockets. So, don't worry they will spoil the look.
White Short Graduation Dress With A Double Skirt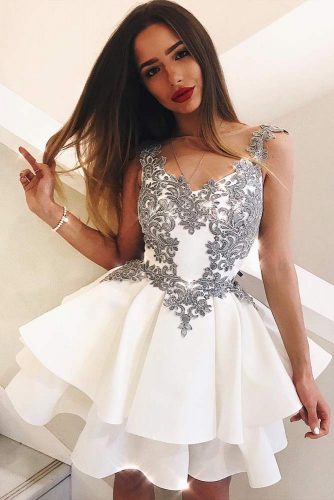 Every girl wants to find the perfect graduation dress. But how to do that?
Well, it all depends on many factors. Some girls base their choice on the current fashion, others search for a particular design and shade. The length, type of neck are also taken into consideration. What's perfect for one babe may not be to someone else's taste.
And once you find the dress that is true to you, remember that it's a must to try it on. It should fit perfectly. This occasion is too important to wear something that won't fit or won't flatter you. Plus, make sure it is comfortable enough for you to spend the whole day wearing it. The white dress you can see here won't restrict your moves throughout the day.
White Short Dress With Black Belt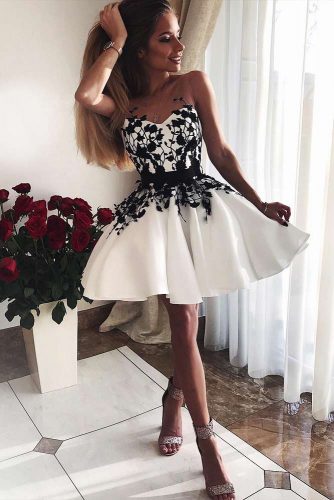 If you still think that white graduation dresses to wear under the gown appear too wedding-like, you can always spice up white with gorgeous black elements. White and black is a classy, perfect match. So, you will look ultimately elegant in a dress like that. And here you can see how nicely the black belt accentuates the waist.
White Lace Basic Dress With A High Neck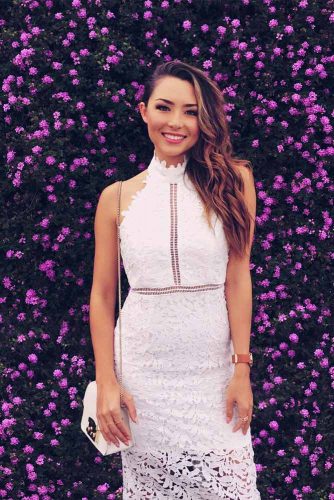 When considering white graduation dresses 2018, why not go for the one with a high neckline? Despite the popular belief, it's not outdated. Pick it properly, and you will look chic.
Go for a high neckline with some delicate details to avoid looking severe. Delicate details will soften it. Crochet or lace detailing is especially complimenting.
Choose some delicate fabric. The delicate fabric can also help to soften the look and balance the high neckline. For example, pick a silk, cotton voile, rayon, or chiffon dress.
White Floral Knee Length Dress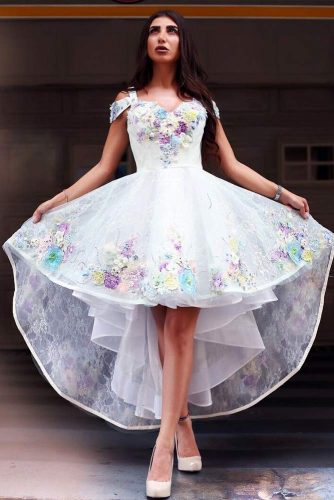 When thinking about white graduation dresses, why don't you go for a knee length party dress with a floral pattern? First of all, knee-length dresses experience a comeback these days. Plus, you will appear classy and sassy at the same time. It's a good combo, how do you think?
But the key to pulling off the knee length is to choose the length flattering to your height. If your height is short, go for the dress that falls right below your knees. And in case you are tall, a mid-calf length will compliment you.