By:

Glaminati Media

| Updated:

08/23/2018
Pointy Nails With A Blue Marble Stone Design
Source: lauren_marshmallow via Instagram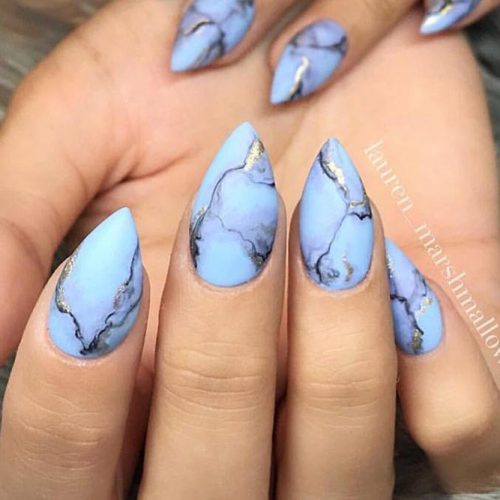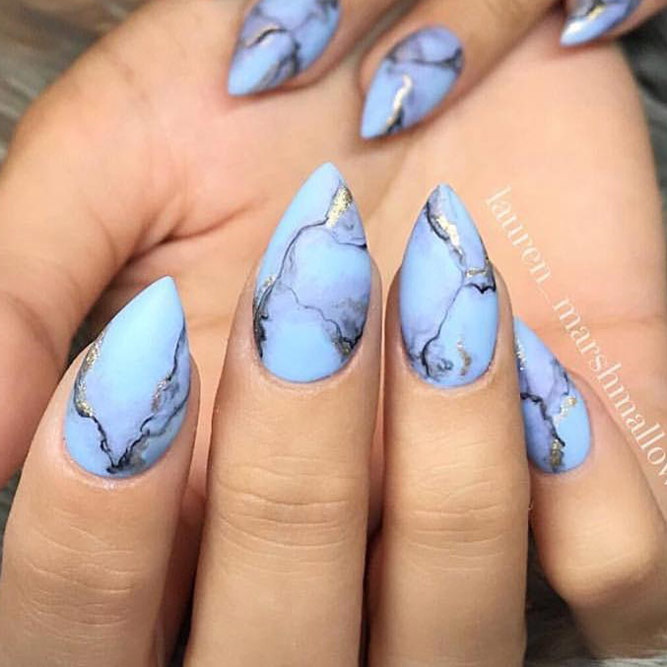 Not all pointy nail art designs have to be done on super long nails. These shorter nails still have pointy tips. And they are a bit more rounded than some of the other pointy nails, so they won't break as easily.
There are plenty of tutorials online on how to do marble art for nails. Or if you aren't quite skilled at nail design, you can easily go to your favorite nail salon for this really pretty marble stone nail art. It looks especially pretty on blue nails like the ones shown below. Also, it's an elegant look for both every day and formal events.
Pink And Red Glitter Pointy Nails
Source: solinsnaglar via Instagram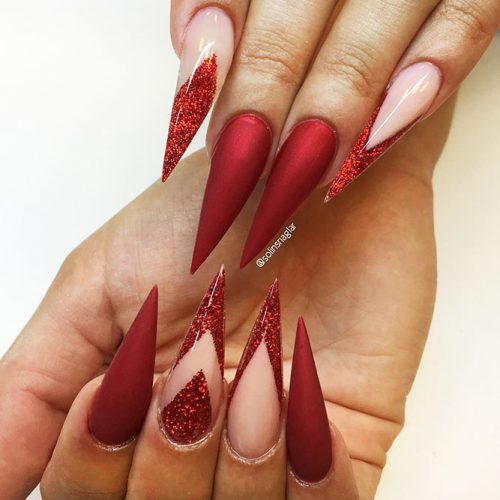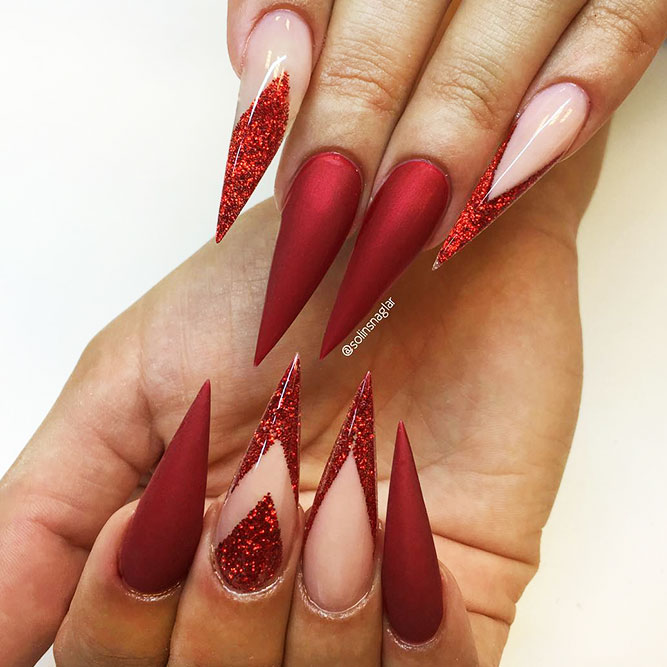 Glitter nails are always a fun and elegant choice. This pink and red sparkle nail art design is so pretty and perfect for any season. However, this mani is ideal for a date night.
This French manicure done on long pointy nails is something you could easily pull off at home if you are skilled at nail art. Paint a few of your nails with bright matte red and then create some fun geometric designs such as diamonds on triangles like the ones shown here with pale matte pink and red glitter nail polish. Just be careful, these nails are super pointy so you could hurt someone!
Black Pointy Nails Design With Gemstones
Source: margaritasnailz via Instagram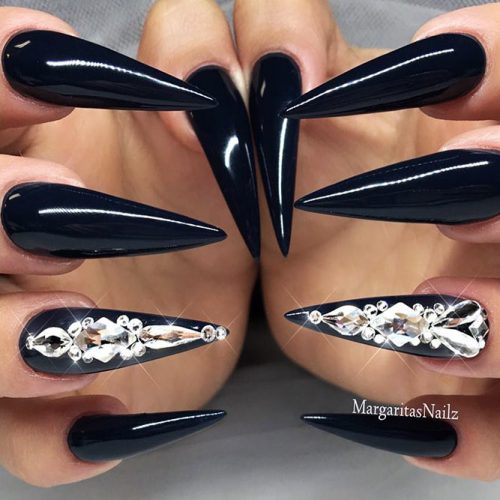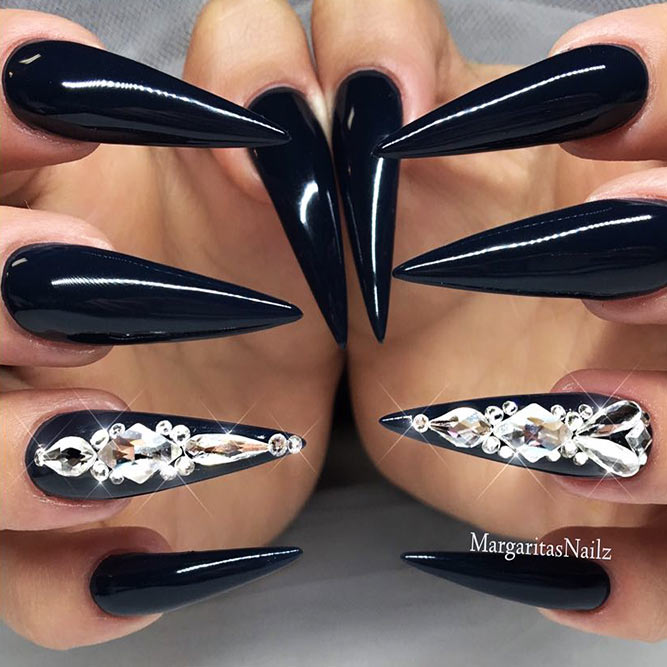 Of course, if you prefer black nails you can find a ton of pointy nail art designs. Black nail polish is perfect for any occasion and is very elegant when paired with pretty gemstones like the ones shown here.
This shiny black nail polish is super pretty on long nails but, of course, you can also sport black nail art designs with shorter nails. The best thing about this particular design is that it's easy for beginners. Simply paint your nails black and then apply gemstones and allow to dry. Don't forget the clear topcoat to make your black nails shimmer.
Nude Matte Pointy Nails With Gold Accents And Glitter
Source: helennails_yeg via Instagram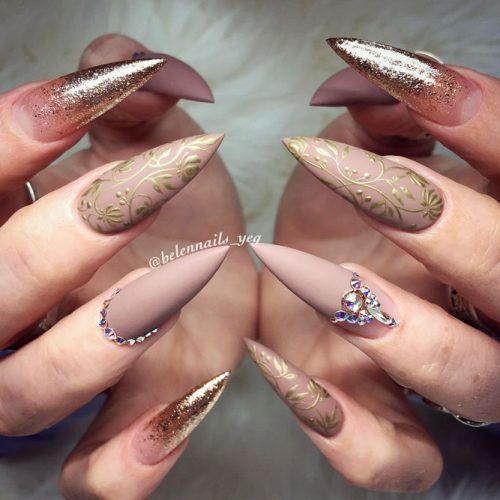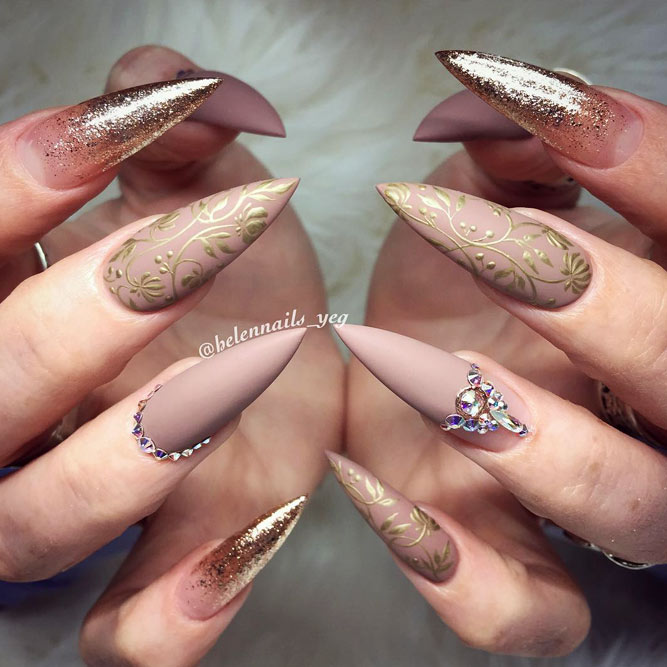 Matte nail polish is so elegant and classy if you are looking for a fancier nail design for your pointy nails. So are nude nails, as they are chic and sophisticated for a formal event.
This design is really pretty, but a bit more intricate so unless you have the proper nail art tools, you may want to get them done professionally. Paint your nails a matte nude and allow to dry. Use gold glitter on your pointer and pinky finger and then a gold stamp art design on your middle finger. Use pretty gemstones on your thumbs and ring fingers to finish this fabulous look for pointy style nails.
Pale Peach Long Pointy Nails With Glitter
Source: chellys_nails via Instagram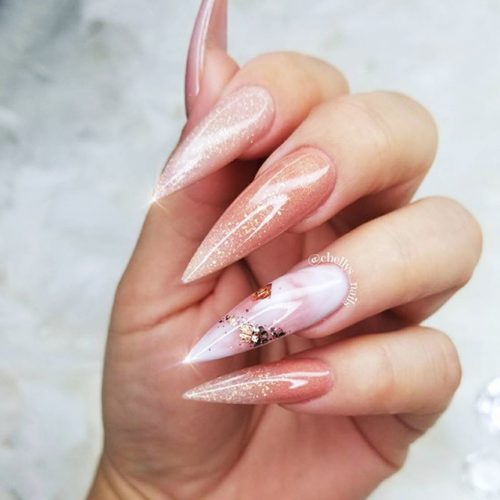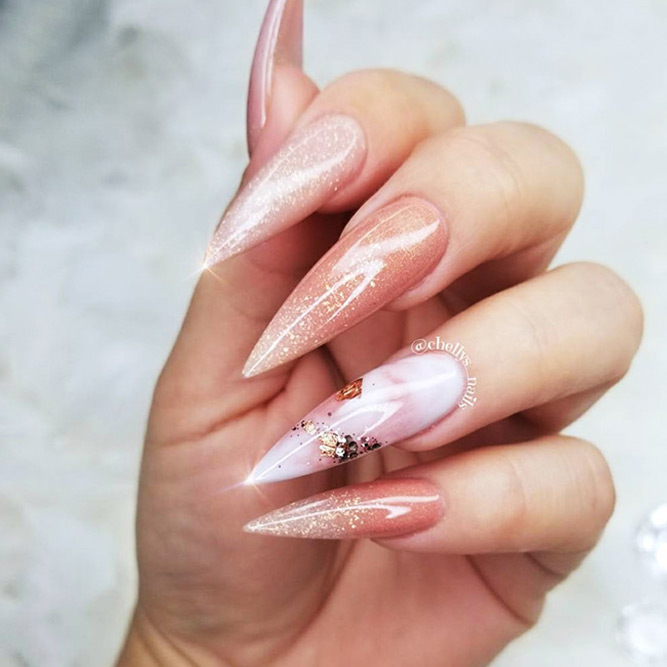 If you love glitter nails but prefer a look that is more demure and girly, this pretty peach color is a great option. This mani is ideal for a wedding, prom or other formal event as it is very soft and delicate. It is also pretty for everyday wear for long nails.
Paint your pointy nails with a pale peach color. Allow to dry completely. Then apply clear glitter nail polish to all of your nails except your ring finger. Put some pretty gemstones on your accent finger and allow to dry. The finished look is so feminine and chic.
Pink Colored Pointy Nails With Glitter And Gemstones
Source: margaritasnailz via Instagram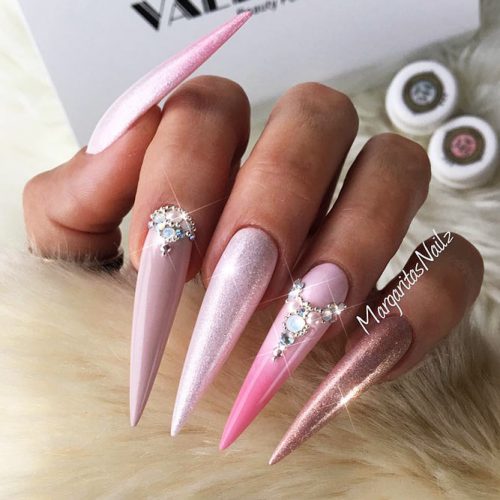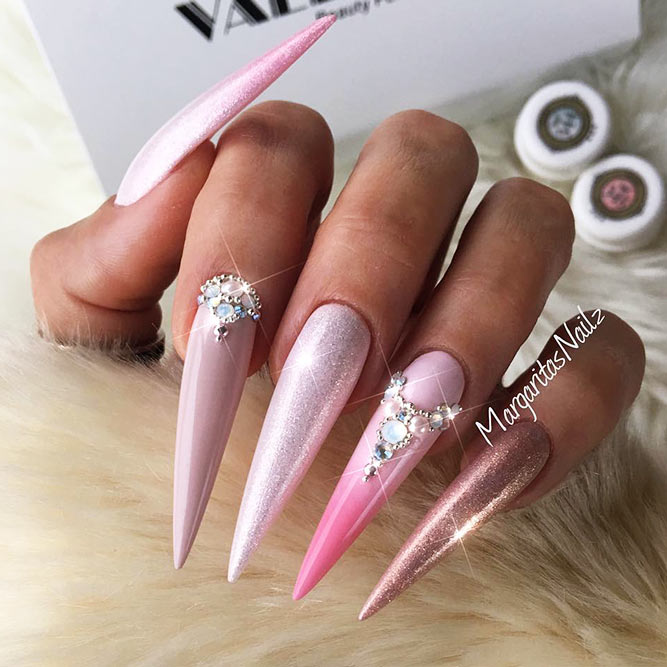 If you are a fan of both pink nails and glitter nails, then this look was made with you in mind! And it looks so glamorous and chic on really long pointy nails. You'll need to be extra careful with these daggers, but they are so pretty that you won't mind being a little more cautious.
Use a very pale pink glitter nail color on all of your nails except your pinky and ring finger. Paint your pinky finger with pretty glitter nail polish and then paint a pink ombre nail design on your accent finger. Allow to dry and then complete this look with some white and silver gemstones on your pointer and ring finger for a look that is tres chic!