Exquisite And Elegant Nursery Ideas That Every Mother Will Adore
The modern world is changing at a rapid speed. That is why the ideas that were classic for a while tend to achieve new twists. The very same goes for nursery ideas. The fact is that there is no need to stick to the tradition if it does not appeal to you – there are so many designs and ideas to give a try to. To prove the point we have gathered here all the best nursery room ideas to introduce into your house when the baby is coming. Be it a boy, a girl or twins – you will find something special for yourself here.
Nursery Ideas For Girls
Pink With Flowers Design For Girl Nursery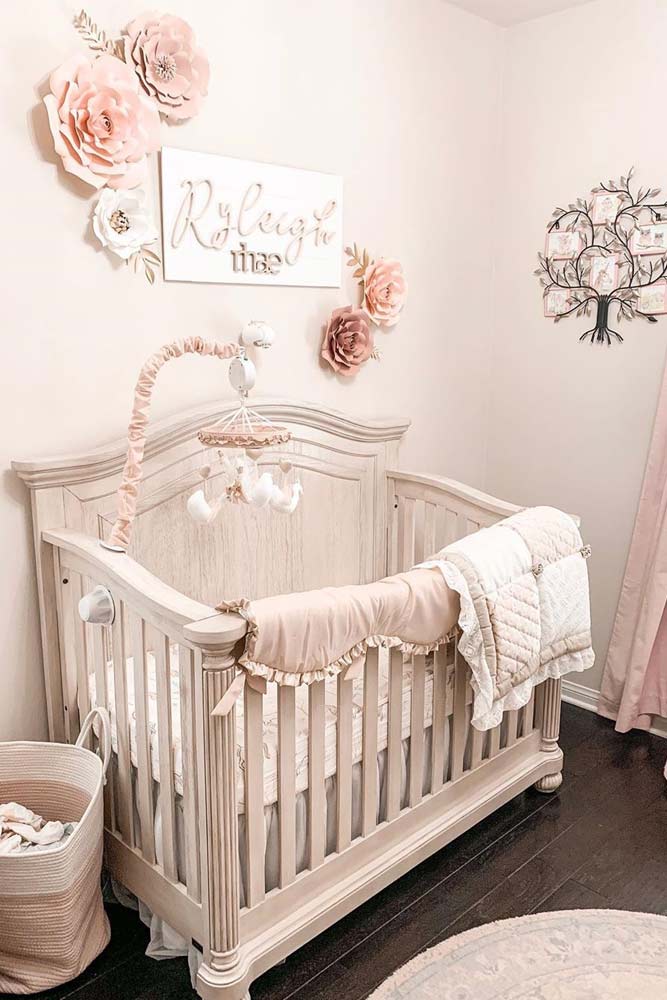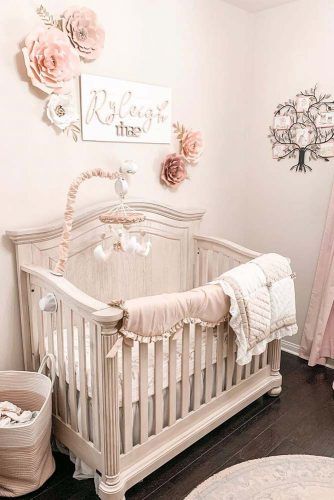 Source: ryleighrhaemiller via Instagram
Among all the baby nursery ideas that are suitable for girls, mothers tend to opt for pink ones. There is nothing strange about that, and we have a lovely design to offer. However, instead of regular pink, we think that pastel pink nursery with large flowers on the walls is the one you need. It is super girly and over the edge, cute. Just perfect!
Nursery Idea For Girl With Pink Painted Wall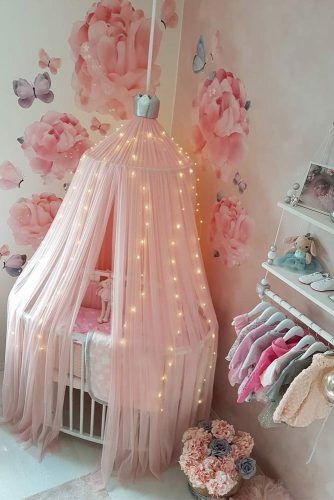 If you do not like pale pastels, then we have a little brighter idea in mind. When it comes to baby girl nursery ideas, you need to take your preferences into consideration as well. The thing is that apart from your baby girl you are going to be the one to spend the most time in there. That is why you need to be in complete awe with the design you have come with, and this one may be a suitable idea to consider.
Source: pynttariheli via Instagram
Modern Nursery Idea For Girl With String Lights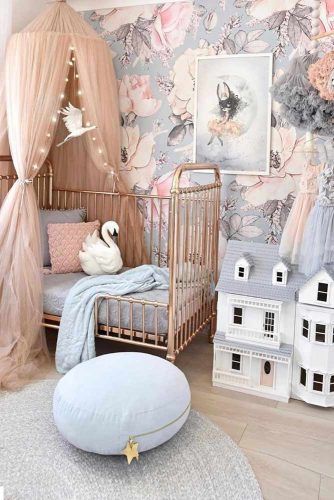 Many mothers are looking for something completely modern when it comes to their future baby's room. There is no wonder why, since modern nursery ideas are thought to help your baby develop a good sense of style. Such an intricate nursery with lots of light in it may be the one that will help you bring up a talented interior designer.
Source: minnieandmeinteriors via Instagram
Nursery For Girl With Dark Wall And Flower Rings Accent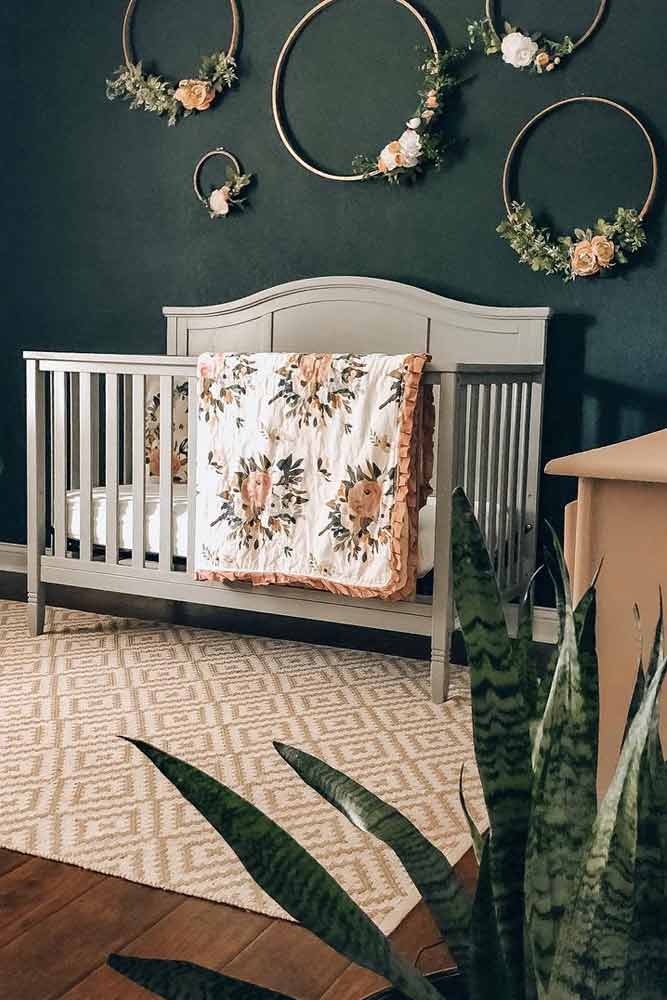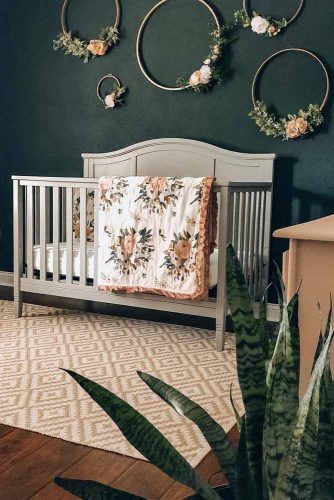 Source: allison_trammell via Instagram
Not so long ago, it was considered that a darker nursery is a bad taste. However, times have changed, and deep colored nursery decor ideas are on the edge of glory. That is why such a rich green wall introduced into the nursery is a good idea. To add some girliness to the design, you can use floral accents and leave the rest as simple as possible.
Small Nursery Idea For Girl With Canopy Accent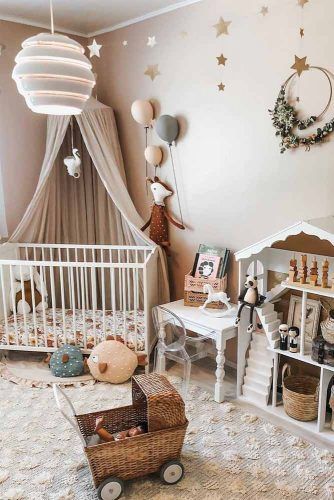 There are times when you are limited in room, and you cannot afford a large nursery. No worries here, since until your baby girl grow up a little – all she is going to need is her bed. That is why you can easily turn her crib into a stylish nursery accent by adding a nude-shaded canopy to it. Besides, a canopy is always practical, especially when it comes to babies.
Source: a.parikka via Instagram
Vintage Style For Girl's Nursery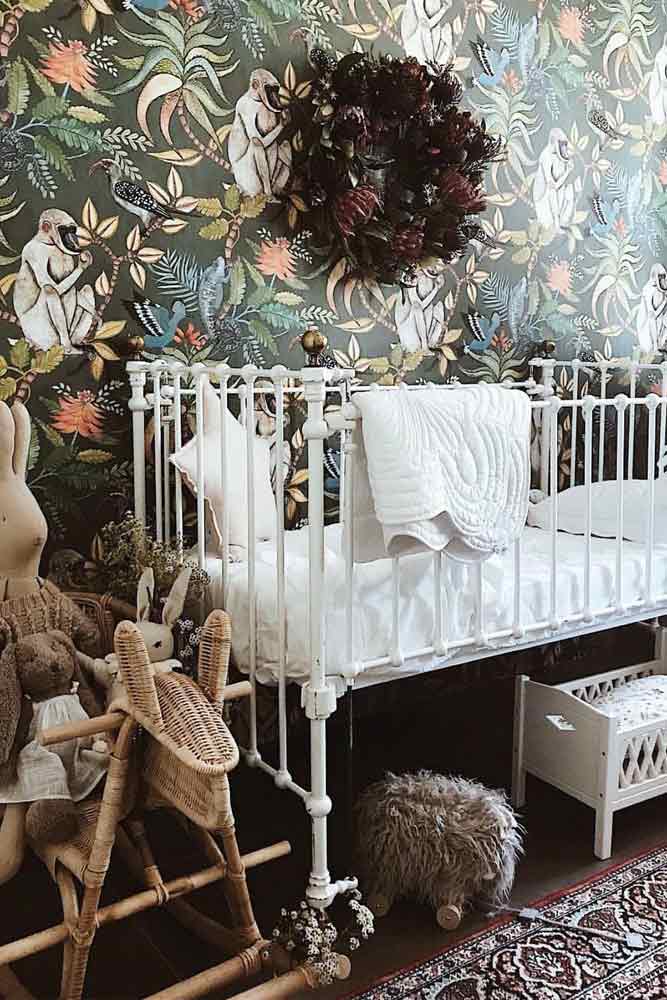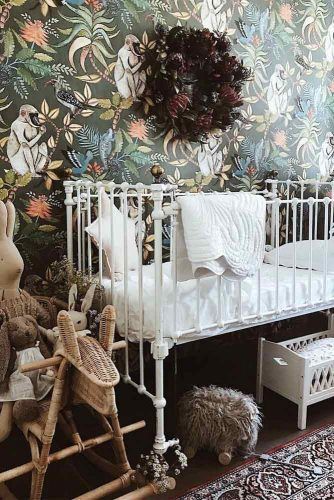 Source: nattyandpolly via Instagram
To tell you the truth there are thousands of nursery theme ideas, but you are supposed to choose one. That is why you should keep two things in mind – the general décor and your likes and preferences. If you are head over heels about vintage décor – why not to add it to your nursery? After all, the rustic interior is always cozy and simple looking.
Nursery Design With Painted Walls For Girls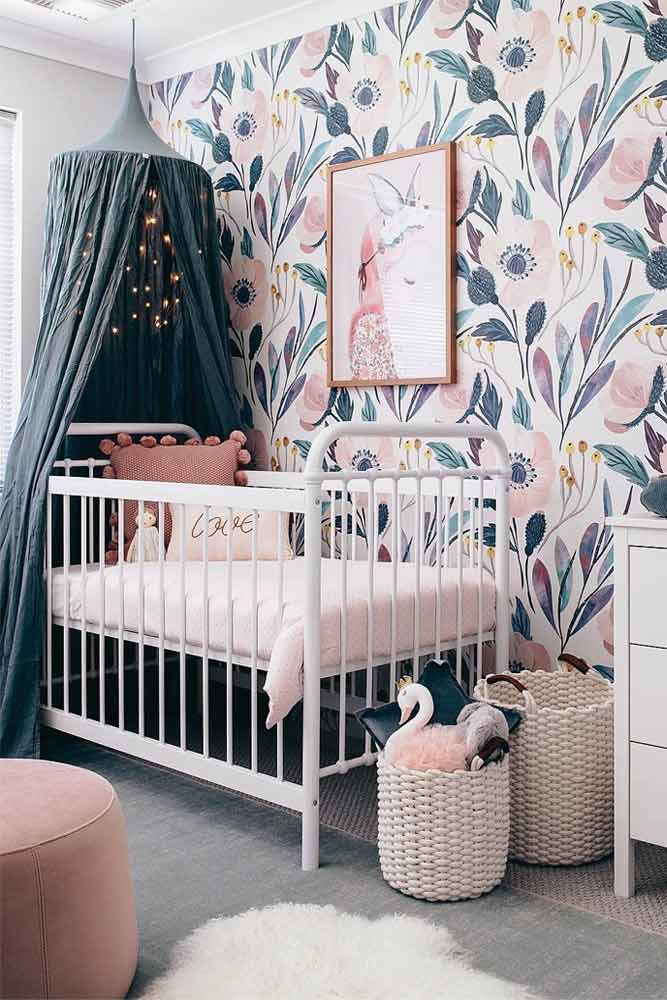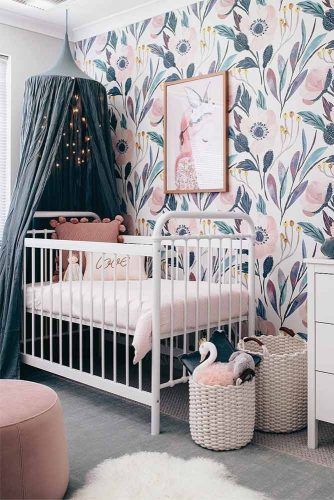 Source: oh.eight.oh.nine via Instagram
Girls' nursery can be quite neutral too, all that you need to come up with is a suitable wall print. Floral print with prevailing blue hues and the same shaded canopy will create an unforgettable atmosphere.
French Style Accent For Girl's Nursery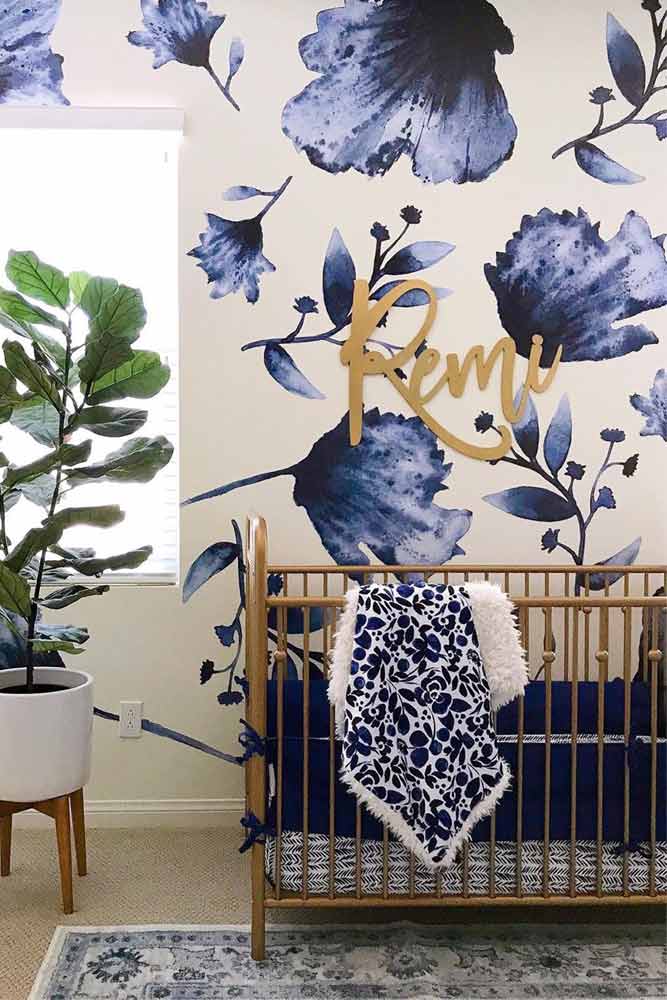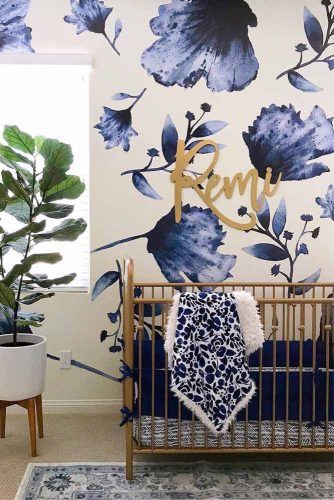 Source: houseofhanesinteriors via Instagram
French style décor is on the edge of popularity these days. That is why if you are still thinking about the themes to introduce into your nursery, French-style accents are worthy of your consideration that is for sure.
Nursery For Girls In Black And White Colors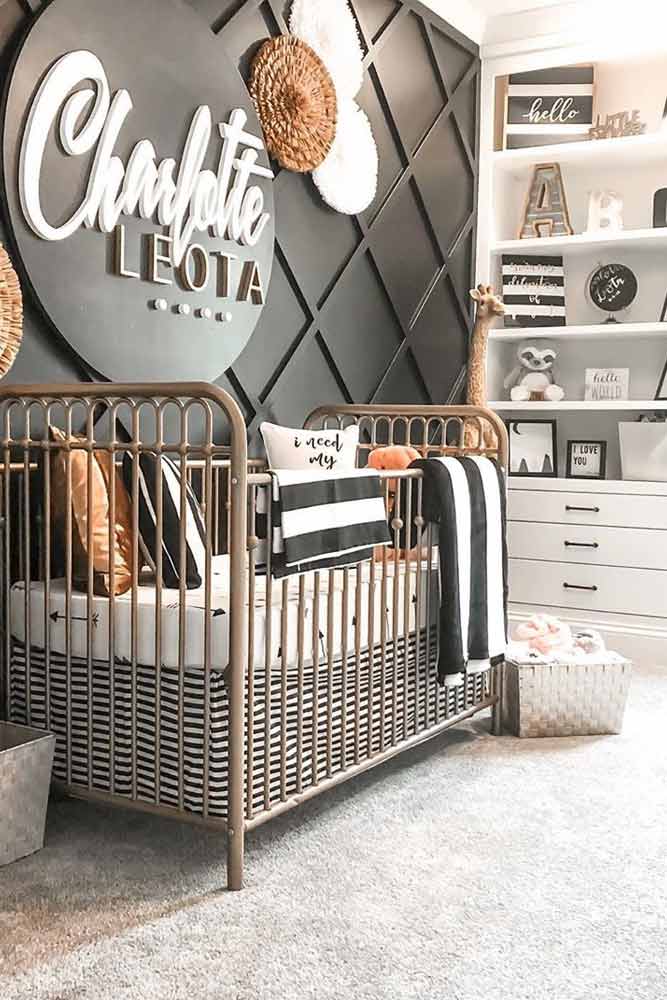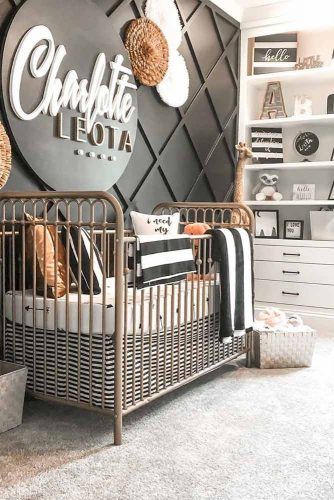 Source: jfandcompany via Instagram
The fact is that not all the parents are that into pink and other bright colors when it comes to home décor. If you do not want anything too catchy and vibrant then contrasting and classy black and white nursery décor is your best bet.
Boho Nursery Design For Girls With Wicker Chair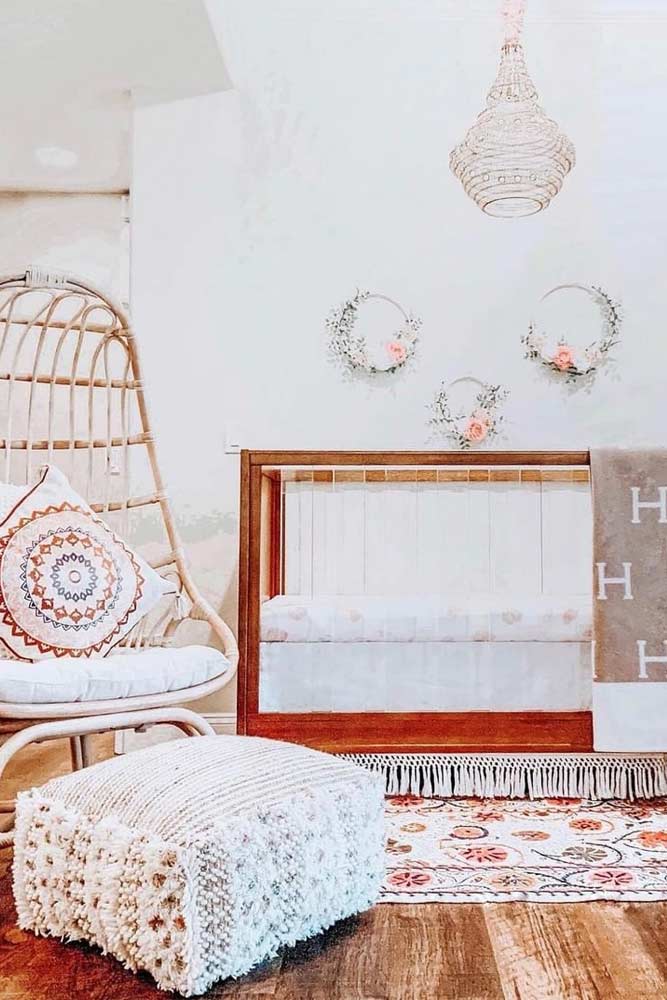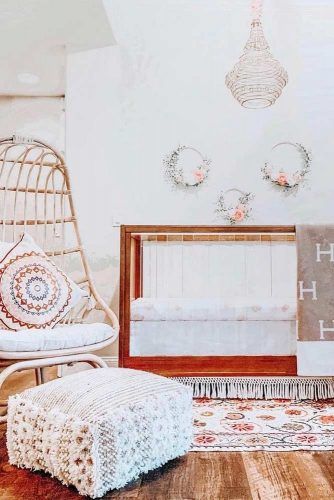 Source: littlemissfashionqueen via Instagram
Every mother wants her baby to develop the best sense of style when he or she grows up. This means that the nursery style is more important than you think. If you want to add a classy touch to your little one's taste of style, we advise you to pay your attention to the boho trend.
Girly Nursery Idea With Floral Wall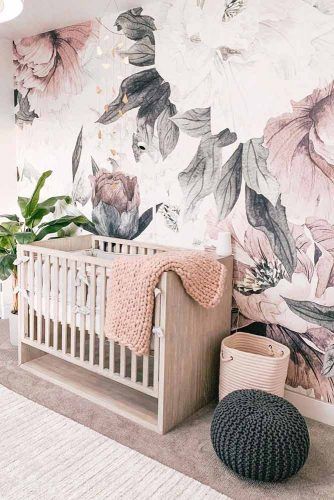 Source: anewalldecor via Instagram
The nursery room should contain the most essential things only. The crib and a few puffs will look harmonic close to a tasteful floral wall.
Nursery Ideas For Boys
Nursery Idea For Boys With Painted Wall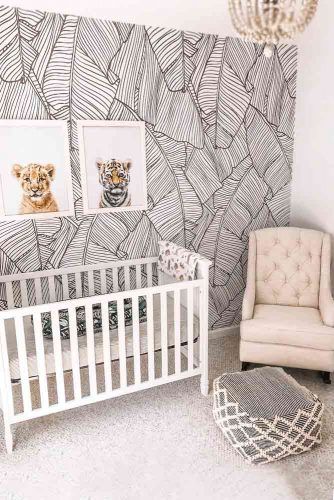 Source: smitteninthecity via Instagram
Coming up with a boy's nursery interior may be quite a challenge for some of you. That is why we are offering a helping hand. The thing is that animal images, as well as printed walls, will help you succeed with the best boy nursery décor ever.
Nursery Idea For Boy In Bright Colors And Funny Paint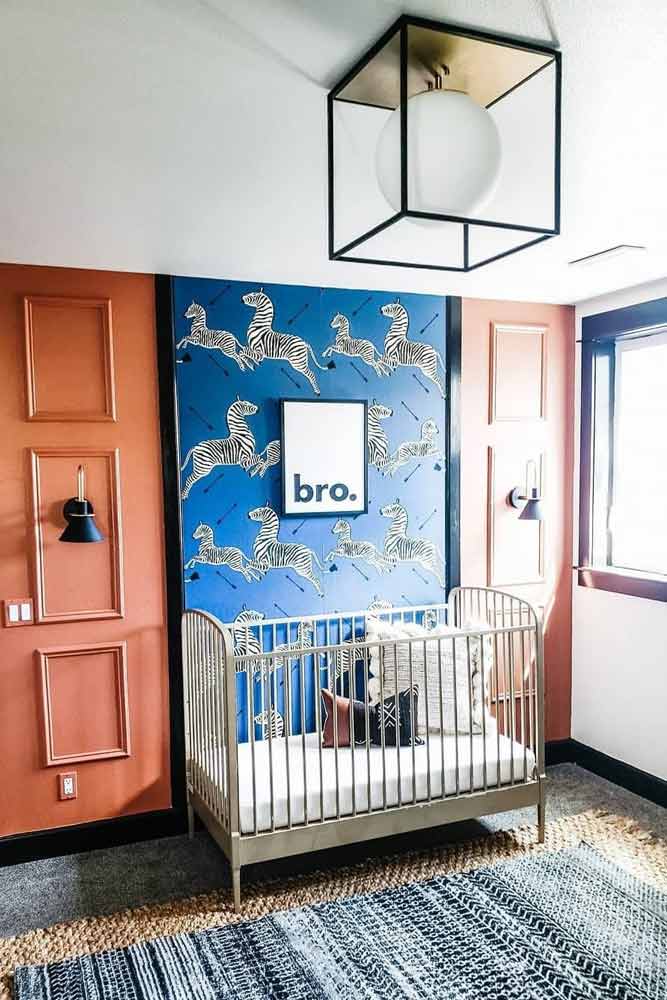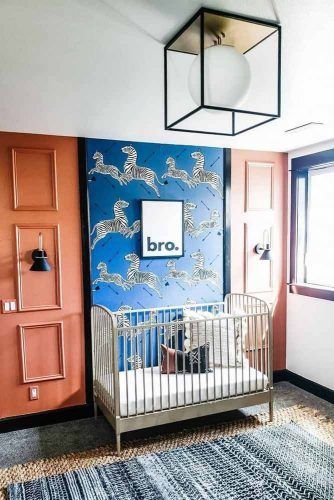 Source: craven_haven via Instagram
There is a general stereotype that when you are considering boy nursery ideas, you should center your attention on baby blue hues. We beg to differ. Times have changed, so have the kids. That is why a royal blue screen with horses all over will complete a simple nursery for your baby boy perfectly.
Neutral Colors With Black Crib Nursery Design For Boy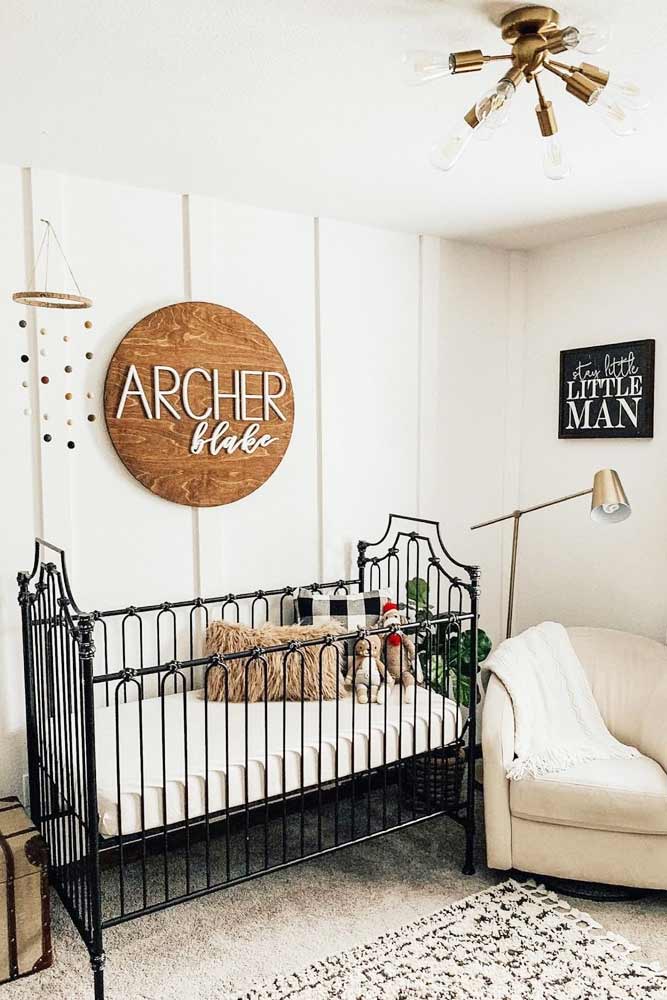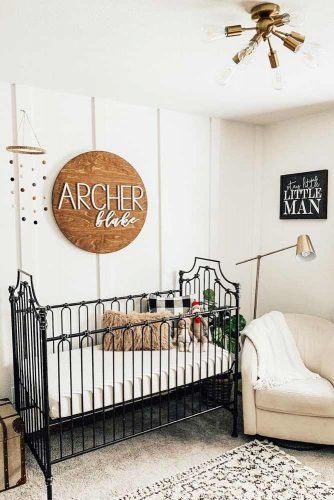 Source: heykailymae via Instagram
If there is the slightest chance that the boy nursery can turn into girl nursery in the future, it is best to choose a neutral design for it. Worry not, there is a huge list of ideas to select from too.
Nursery Design For Boy With Canopy Crib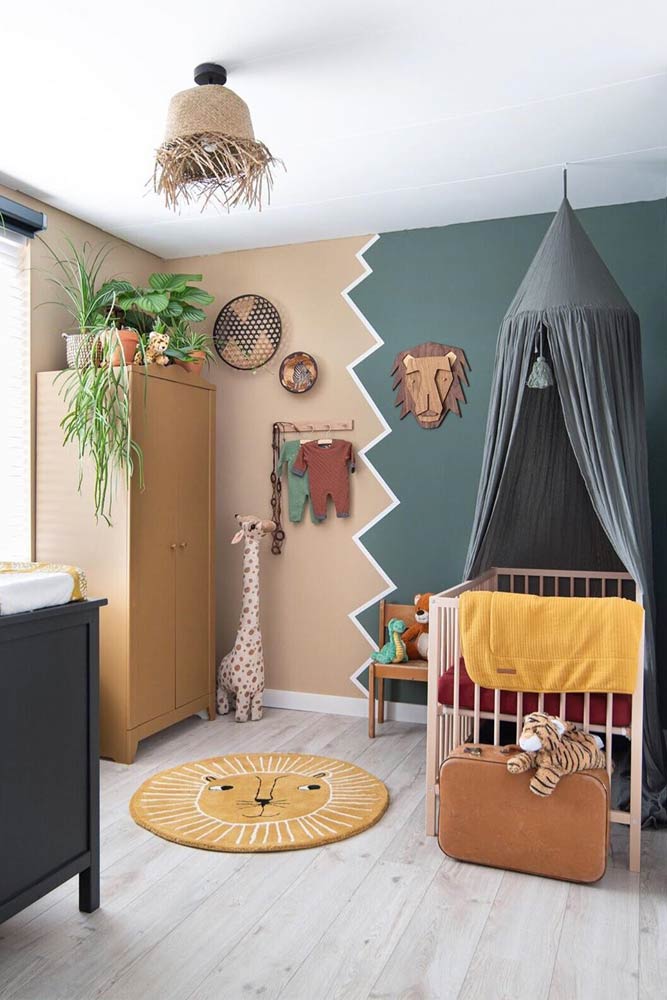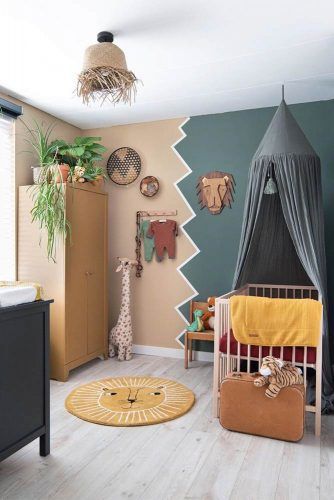 Source: keeelly91 via Instagram
Apart from all the essential in the nursery room, it is important that your baby gets enough of quality sleep. To achieve the goal, we suggest you pick a canopy bed in darker hues.
Nursery Idea With Painted Wall For Boy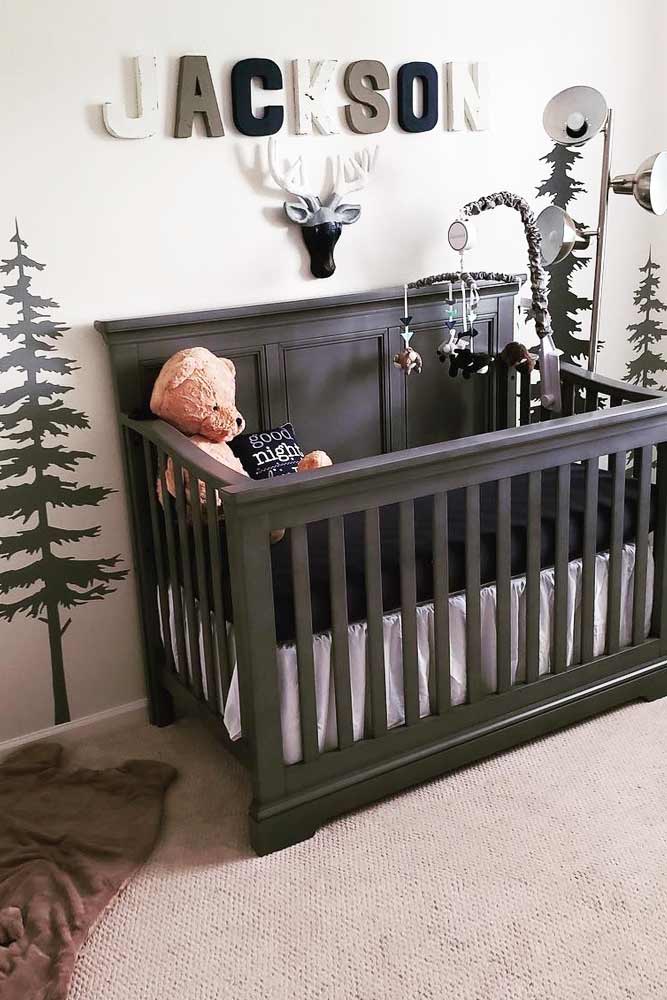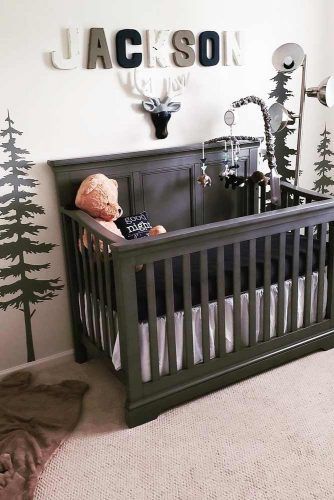 Source: houseofcrazi via Instagram
There are many minimalistic nursery room ideas, and when it comes to choosing the design for a boy, they come in more than handy. Reserved colors, such as ivory and black suit the goal well. Besides, to add some personal touch to the nursery, you can paint tree outlines over the walls as well as add your boy's name to the décor.
Personalized Nursery For Boy With Baby House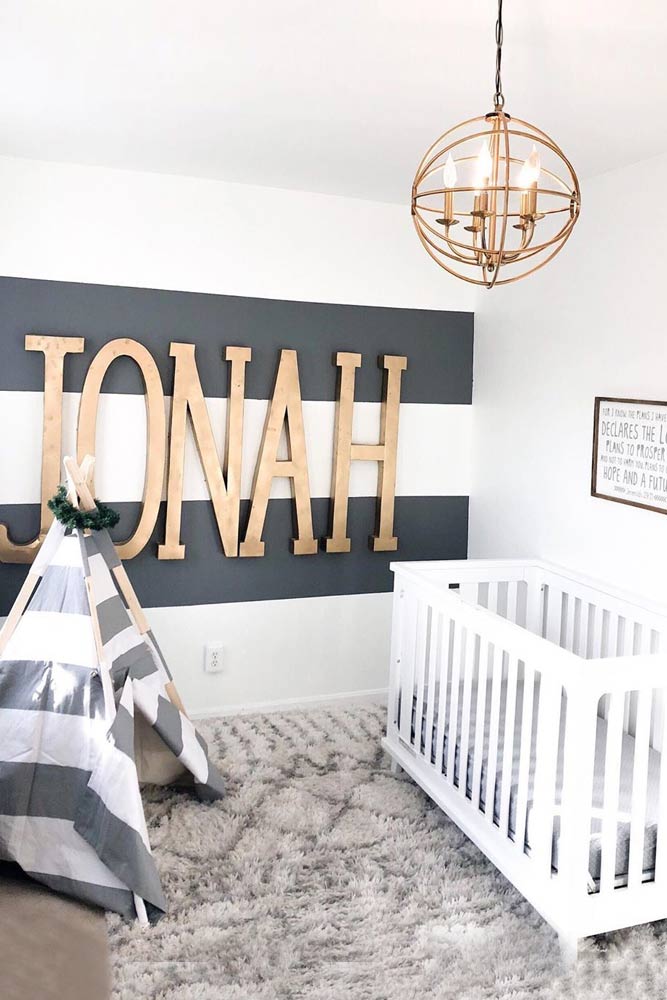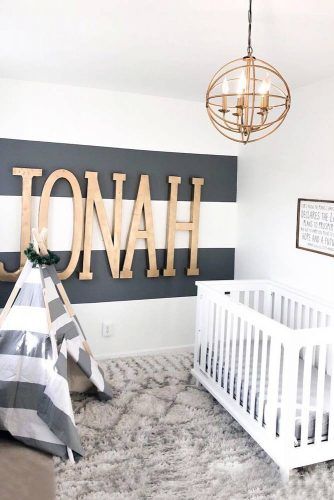 Source: polishedplayhouse via Instagram
Some people may say that a small nursery idea is not worth your attention since there is no room for anything but a crib. However, there is not that much that your boy is going to need when he is born, is there? That is why a simplistic nursery in calm shades with a crib and baby tent in it, is all that you need when you are limited in a room. The fact is that such a tiny nursery looks no worse than any larger one.
Boho Nursery Design For Boy In Neutral Colors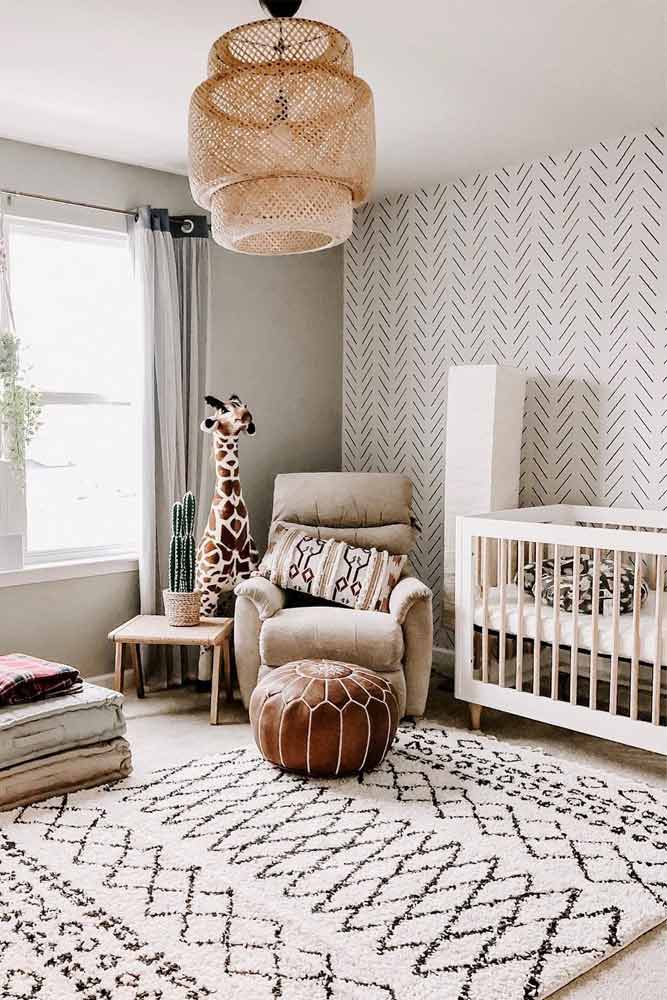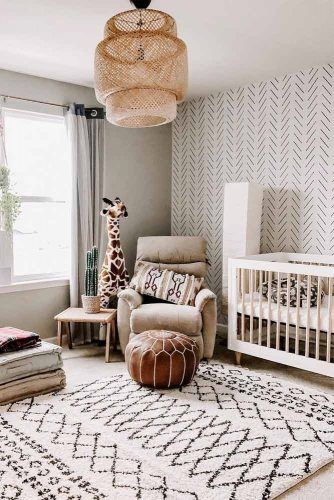 Source: sandiessi via Instagram
Many mothers fear that if they involve some bright colors into the nursery, they may overwhelm the child. To help you feel safer, we suggest you this boho nursery. Unlike many other nursery design ideas, it is all in neutral hues and patterns, but it has all the essentials that a mother and newborn baby may need. Besides, the boho style is clearly one of the most popular decoration styles nowadays.
Modern Nursery For Boy In Black And White Colors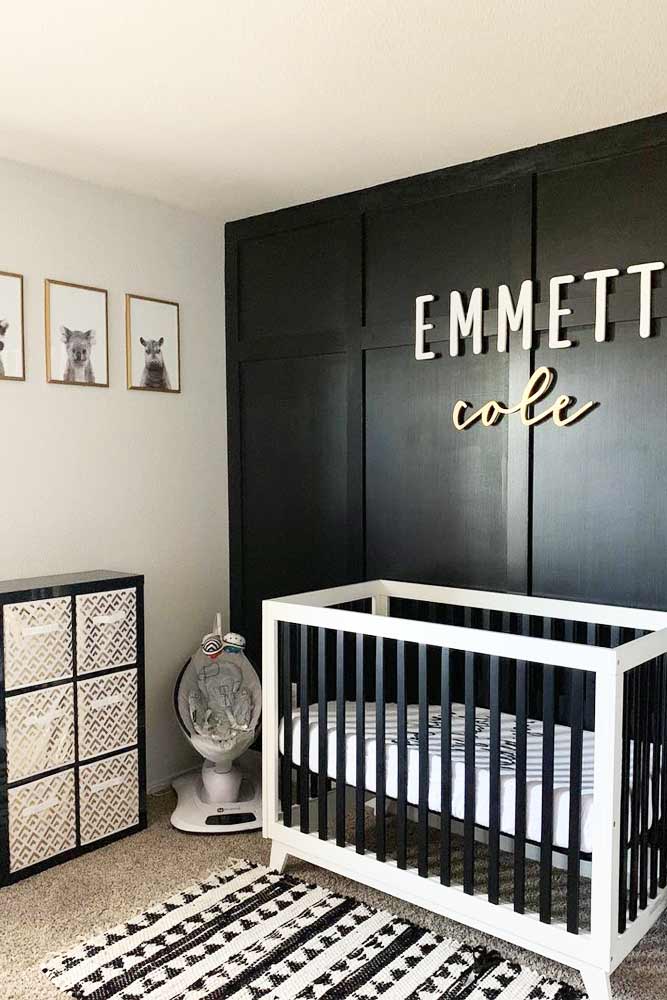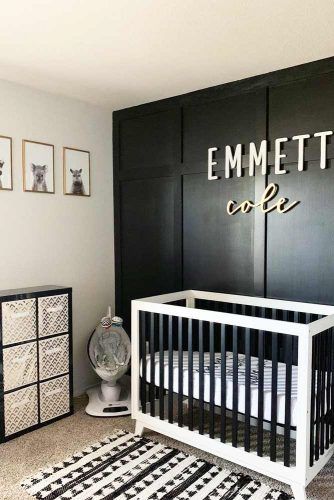 Source: modwoodco via Instagram
There were times when contrasting colors, especially black and white, were a taboo when it concerned a nursery. We say that these days there is no need to limit yourself or your baby boy. What is more, it has been proved that black and white décor fits both a baby and a little boy. So, if you wish to kill two birds with one stone, you should better opt for a similar nursery idea.
Rustic Nursery With Metallic Crib For A Boy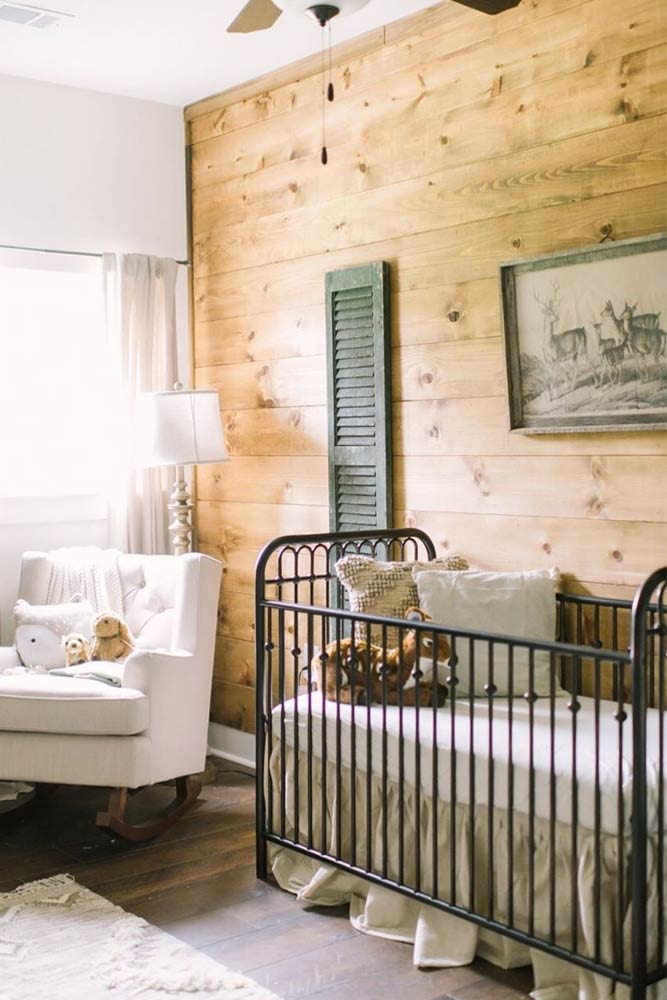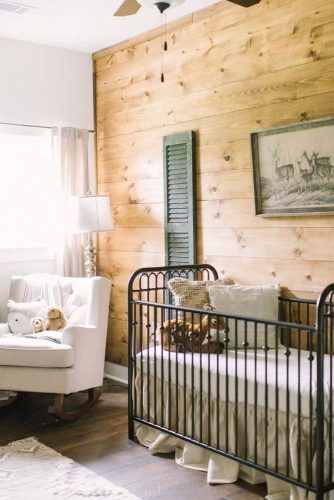 Source: whitneymrhodes via Instagram
Rustic décor usually involves wood panels, vintage paintings, and simple furniture. Taking all the described into consideration it is safe to say that such décor is totally suitable for a boy nursery room. One look at the provided design and you will fall in love with the idea. Besides, the metallic crib is not only rustic enough looking to suit the design but also quite convenient for active and energetic boys.
Twin Nursery Ideas
Neutral Colors For Twin Nursery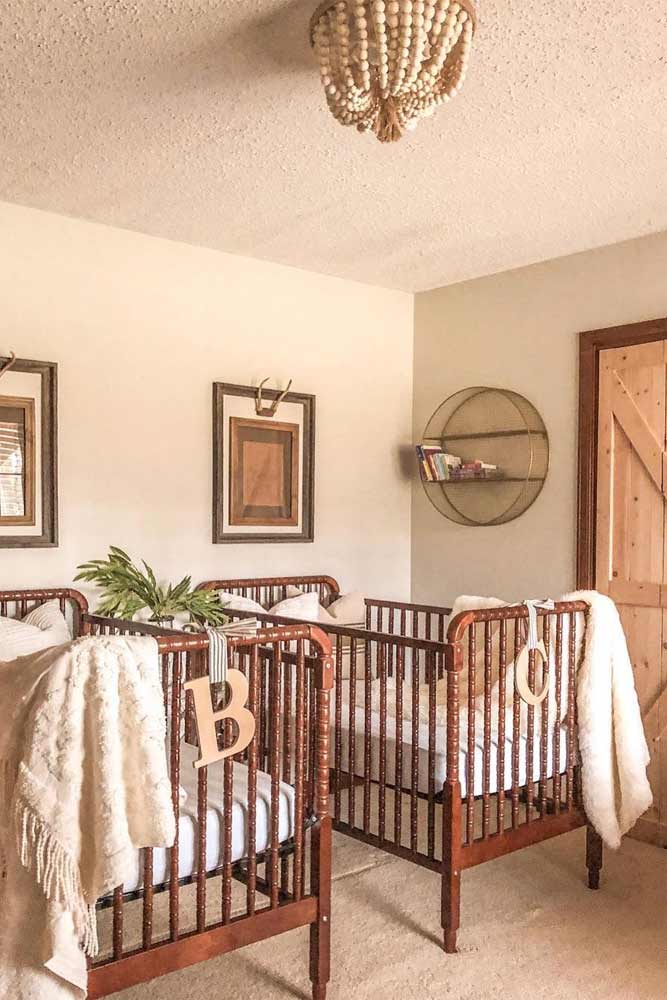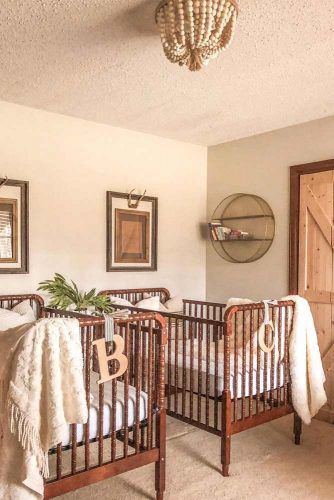 Source: tootietrouy via Instagram
There are times when a boy or a girl only nursery room ideas is not your cup of tea simply because you are having twins. If your twins are of different gender, then we may have some gender neutral nursery ideas to offer. For instance, this neutral nursery for two will not dominate over one of your baby's gender but will suit them both equally.
Vintage Nursery Idea For Twin Girls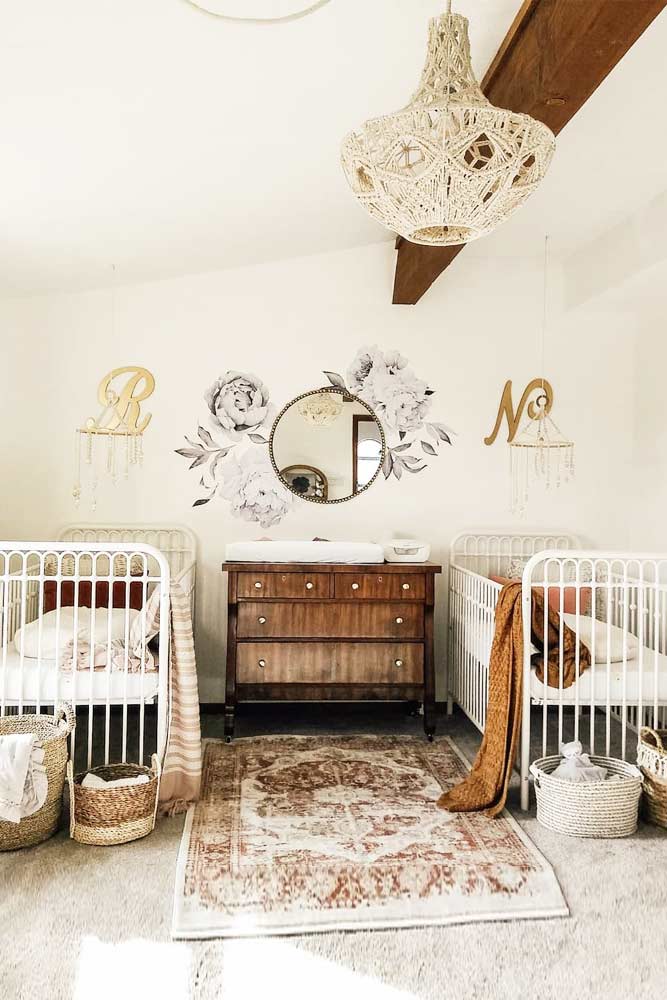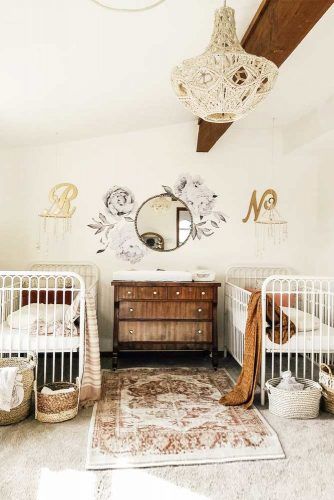 Source: repurposedecor via Instagram
If you are looking for same-gender twin nursery ideas – we have it covered as well. Such a vintage nursery will surely be unlike any other available. The rustic vibe that is present in every detail will add up to that elegant sense of style of the general atmosphere so that your babies will grow up with a perfect taste for stylish things. If that is what you would wish them to own – then you should definitely consider the idea.
Classic Nursery Design For Twins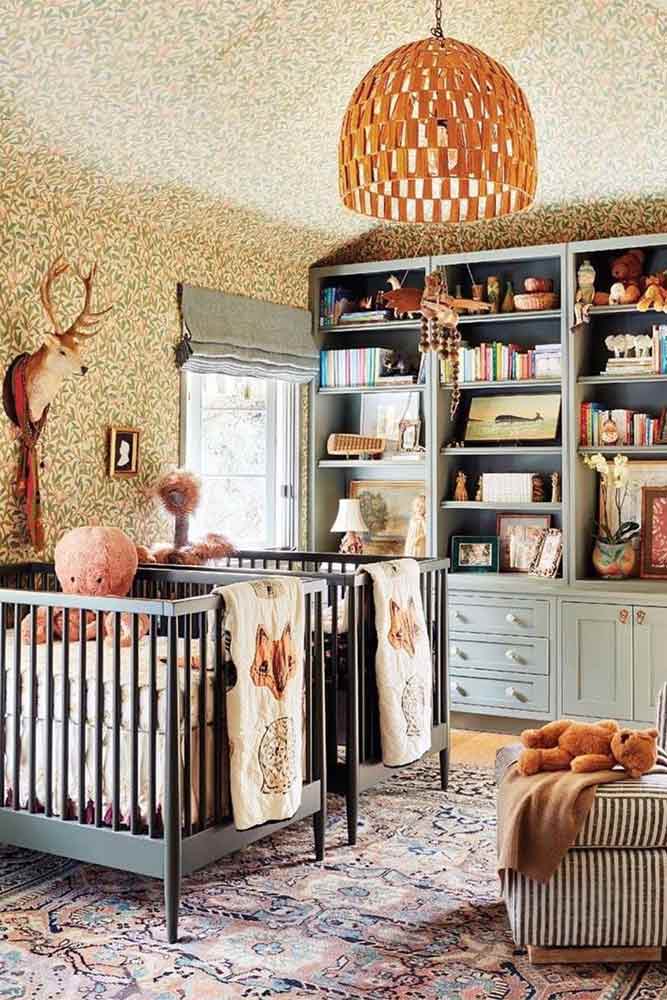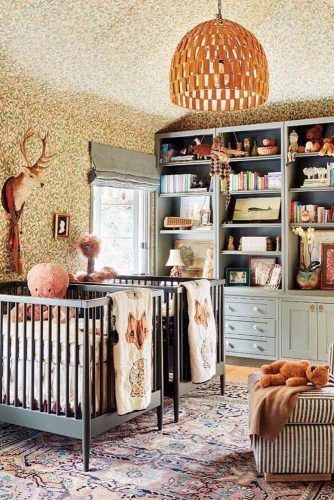 Source: pierceandward via Instagram
No matter what some people may say, there are mothers who prefer to stick to the tradition in everything. In case you belong to the category, then among all the cute nursery ideas, this classic one for twins will win your heart. Besides, from a cozy nursery, such a room will easily be transferred into a stylish twin bedroom later on.
Neutral Nursery Ideas
Neutral Nursery Idea In Boho Style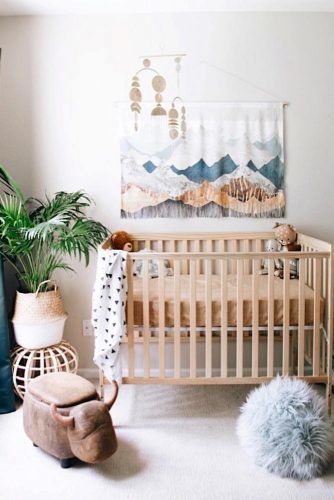 Source: nest.out.west via Instagram
If you are 100% sure that neutral is the type of nursery that you want, we say that you decorate it in boho style. While being completely neutral, such a nursery will look ultra-stylish and cozy at the same time.
Neutral Nursery With Simple Wall Decor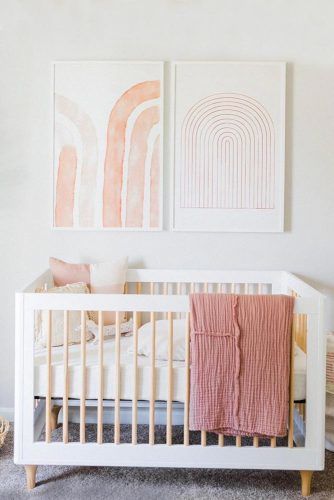 Source: danielle_landers via Instagram
It is easy to introduce some neutral vibes into the nursery with the help of proper wall decorations. A set of neutral pictures will help you succeed with the goal in no time.
Nursery Idea With Cute Animals Wallpaper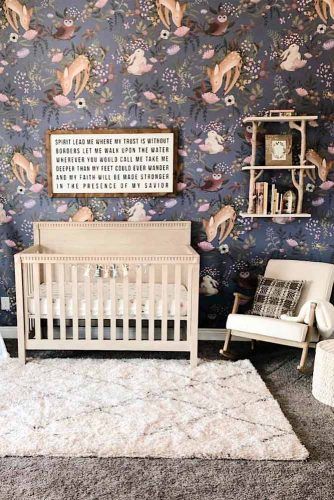 Source: anewalldecor via Instagram
The best way to make the fairytale you read to your baby become more realist is to use a visual aid. Wallpapers with magical animals on them can come in more than helpful too.
Neutral Nursery Idea With Floral Wall Decor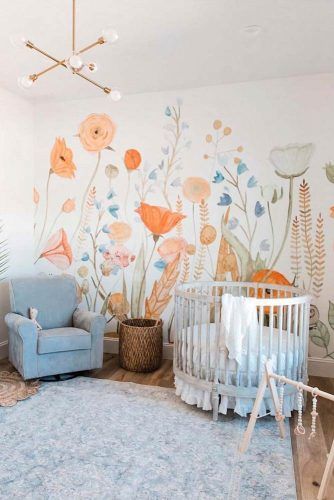 Source: anewalldecor via Instagram
We all know that flowers are bright and sweet, but dilute the paint a little, and you will come up with perfect neutral wall décor for your nursery.
Nursery Organizers Ideas
Crib Design With Baby Changing Table And Drawers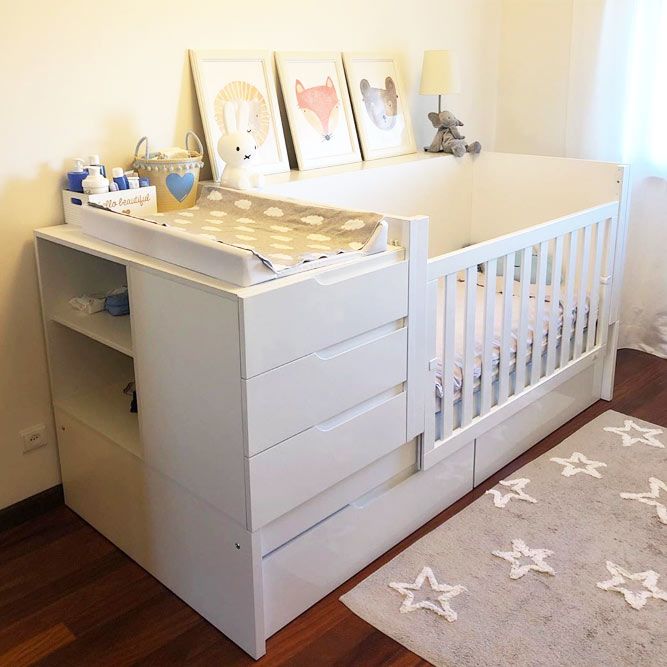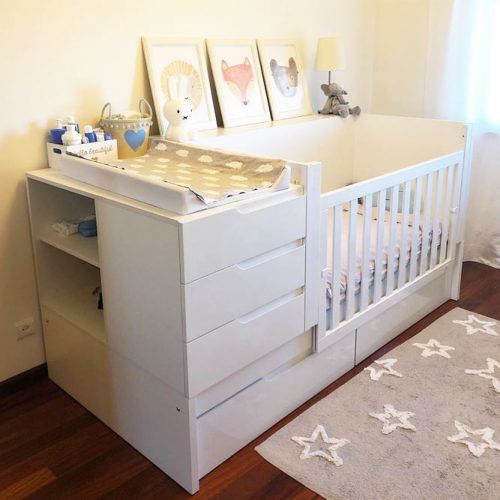 Source: alondrababyrooms via Instagram
When you are looking through all the nursery designs, you should not forget that every nursery needs a changing table. If you are considering all-in-one nursery storage ideas, then this crib combined with a changing table design is precisely what you need. What is more, the table comes with drawers so that all the necessary items will be in reach when you need them.
Closed Nursery Organizer System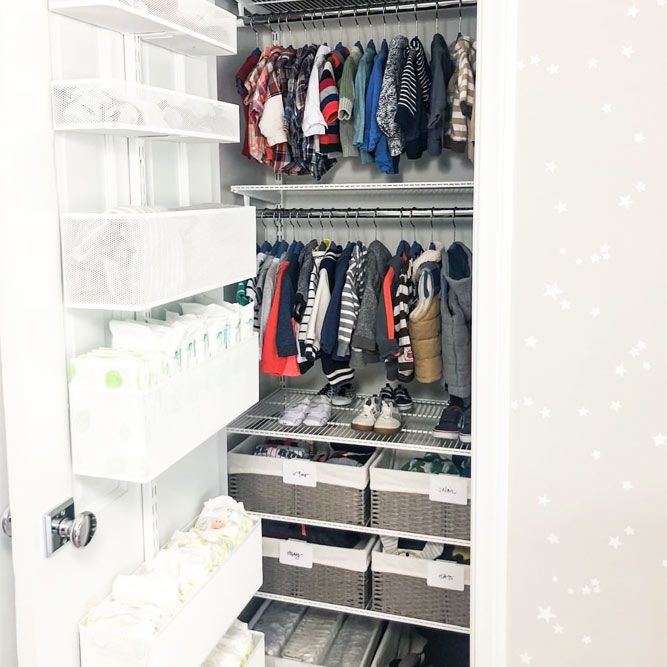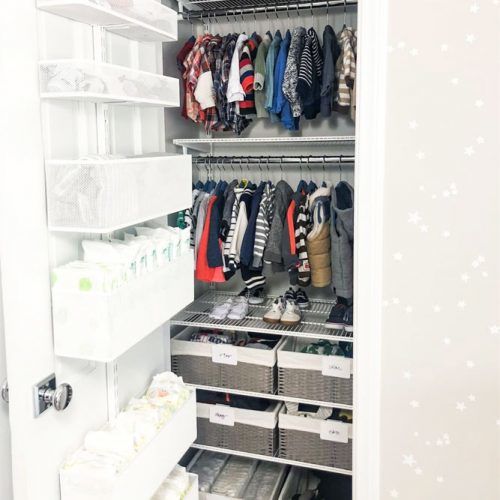 Source: lifeinjeneral via Instagram
The fact that your baby is just a couple of months old does not mean that he or she does not need a private closet. Surely, there are many cute outfits that you have already purchased, and there are many to come. However, when choosing a suitable closet, it is best if you consider closet nursery organization ideas too. The fact is that a closet that contains everything your baby may need, including diapers and wet wipes is purely practical.
Metallic Baskets Organizer For Baby's Needs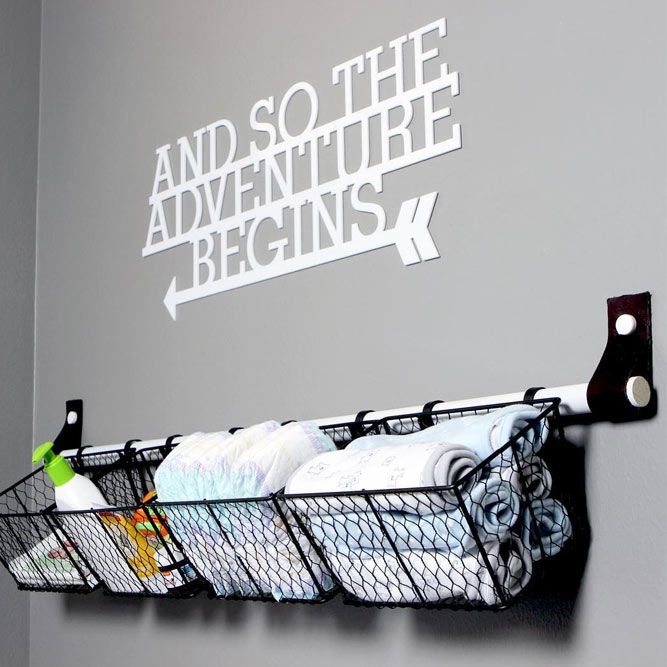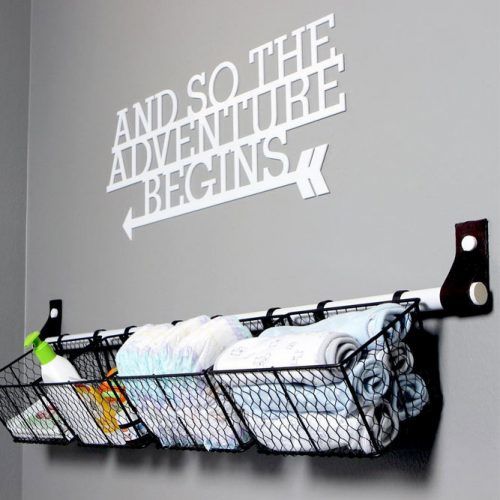 Source: grayhousestudio via Instagram
Small and simple organizers are a must when it comes to dealing with your new family member. If you are limited in space, you can use metallic baskets that can be hanged on the wall, to save up some room. They are simple but convenient – what else is needed?
If you are in search of modern nursery ideas – you have come to the right place. We have compiled here the designs that will fit any style, so all that you need to do it is to pick yours!