All of us like to receive presents, and most of us love to make them. However when there is everything clear about the gifts you get it may get quite confusing when it comes to how to wrap presents you are going to give. We have given this idea a thought and figured that with the holidays approaching it would be nice not only to supply you with the list of wrapping gifts ideas but also to help you master the art of wrapping yourself. That is why today aside from a whole lot of interesting ideas on how to wrap your presents we are going to actually show you how it is done with the help of easy tutorials!
Tutorial on How to Wrap Presents
Easy Tutorial How To Wrap Presents
Credit photo: Instagram.com/SophiesWorldVideo via Youtube
In case you still do not know how to wrap big presents – you have come to the right place!
To begin with, you need to measure how much of wrapping paper you are going to need, make sure that it is neither too much nor too little.
The wrapping on the sides of your present should reach at least half the height of it. When you find a suitable height – cut the paper.
Center the present and fold the longer pieces of the wrap up and down so that they meet in the middle.
Secure the ends with a piece of scotch tape.
Crease the top part of the wrap on the other side along the box.
Do the same with appearing triangles on the sides.
Fold the triangles inwards and crease them along the box as well.
It is time to fold the bottom part of the wrap up and secure it with some tape.
Repeat on the other side.
How To Wrap Cylinder Box
Credit photo: Instagram.com/Ibiza Moraless via Youtube
If you happen to have to wrap a gift of cylindrical form we are going to help you master the art of how to wrap presents perfectly here!
Place the present in the center so that the top of it touches the top of the wrap paper.
Fold a small piece of wrapping paper on the bottom and add a piece of two-sided tape to it.
Turn the wrapping around so that the bottom part becomes the side one.
Put the present at the center and roll it in so that the folded side touches the other.
The double tape you added, in the beginning, will help you secure the side.
Gently fold the wrapping paper on the top.
Secure the top with tape and repeat the process on the other side.
Add the bow to the top.
How To Tie A Bow On Presents
Credit photo: Instagram.com/MADE Everyday via Youtube
Those of you who wish to learn how to wrap presents like a professional – we have something in store for you! Not everyone is able to succeed with a perfect bow on a present box, but with our help, you will become a bow pro!
To start with, you need to place the ribbon in the middle of the box horizontally so that the left end of the ribbon is hanging there loose.
Hold the ribbon on the box in place with your left hand.
Lift the box and pull the ribbon around horizontally.
Now, pull the ribbon to the top of the box and around vertically.
With your left hand, shift everything close to the middle without letting go of either side of the ribbon.
Place the bottom ribbon piece diagonally and then pull it under so that the two loose parts of the ribbon face each other diagonally.
Make a loop out of the top part of the ribbon.
With the right string go around the loop, stick it through, and flip the top left string over to the middle of the bow.
Tighten up the bow.
Box Ideas for Christmas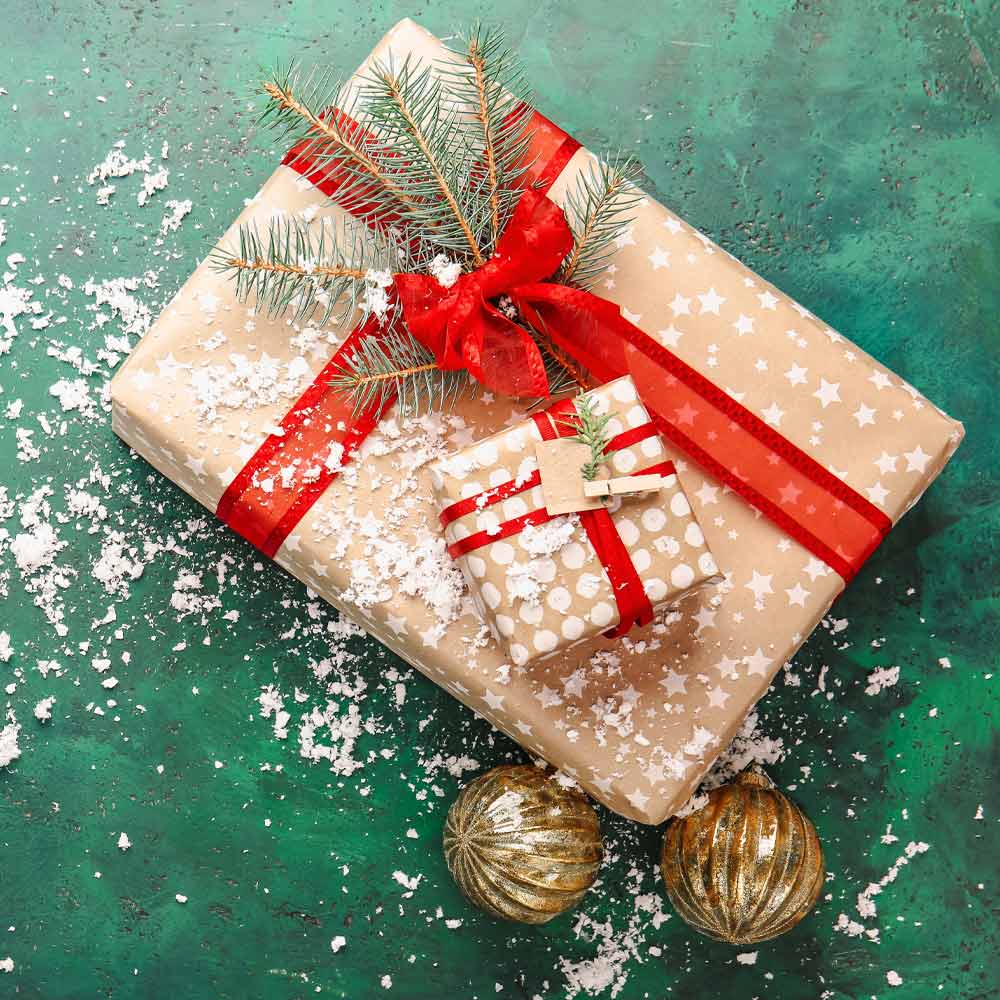 Credit photo: Instagram.com/thesefourwallsblog
If you are still wondering how to wrap Christmas presents – we have an unusual idea in mind! You may not bother about the wrapping itself but more about the decorative elements. The addition of Christmas tree piece will surely add that exciting vibe to your present!
Credit photo: Instagram.com/wrappily
It is true that there are lots of wrapping presents ideas, but admittedly the best ones are created on your own. That is why you can easily come up with a fun idea and have it printed on a wrapping paper so that your present becomes even more unique-looking.
Newspaper Wrapping Paper With A Plaid Ribbon
Credit photo: Instagram.com/northeasternnautical
When it comes to wrapping a present, you need to be not only skillful but also creative. When there is no wrapping paper at hand – that is not the problem, your presents will look as fabulous wrapped in old newspapers, just make sure you do it neatly. What is more, when newspapers are too simple to play around with – newspaper-like wrapping paper will surely fit in. Do not forget about a stylish red plaid ribbon!
Box Ideas for Kids
Wrap Ideas For Children With Fun Animals
Credit photo: Instagram.com/annapyssling
Very often the way we pack the present matters more than what is inside of it, especially when we think about kids. That is why if you really want the child to remember your present, wrap it in a lovely animal shaped package!
Patterned Wrap Paper For Cylinder Kids Gift
Credit photo: Instagram.com/brendawalton
When usual gift wrap shape does not fit your present – it is time to switch on your imagination. For example, a beautiful colorful cylinder wrap may be precisely what you are looking for!
3D Gift Wrap For Child Present
Credit photo: Instagram.com/theknot_pk via Instagram
Gifts for children are bound to be unique that is why wrapping a present so that the gift wrap is another present itself is indeed the best plan there is. Besides, it looks unique and heart-warming.
Girlish Box Ideas for Women
Pink Wrapping Paper With Bow And Flowers For Her
Credit photo: Instagram.com/theknot_pk via Instagram
Girly gift wrapping always looks extremely cute, and this pink paper with gold dots on it is the best proof to the point. What is more, a sweet bow and gorgeous roses complete the picture the best!
Bloom Wrap Paper With DIY Dip Dyed Tassels For Her
Credit photo: Instagram.com/inkyco via Instagram
There are times when nothing comes to your taste – that is high time you get super creative and do your present print on your own. Using flowers to make the print look over the edge cute is a great idea, keep it in mind!
Fun Girly Wrap With Marilyn Monroe Print
Credit photo: Instagram.com/raumzucker via Instagram
Girls value above all funny wrapping paper ideas that is why there is a vast range of ideas to choose for. For instance, this pink Marilyn Monroe wrapping paper idea seems more than worthy!
Classy Box Ideas for Any Holiday
Wrap Idea For Him With Bow And Cone
Credit photo: Instagram.com/omslag.se via Instagram
It may seem that there are a lot fewer ideas for him when it comes to present wrapping. However, that is not entirely true. All you need is subtly shaded paper, and a bow on the same color palette, the addition of a cone is optional, but it will grant the present that special charm.
Japanese Wrapping Ideas For Him
Credit photo: Instagram.com/shihomasuda_giftwrapping via Instagram
Japanese always feel different about the things we are used to considering normal. For example, this Japanese style wrapped presents look intricate and unique to the point when it is painful to ruin such a masterpiece!
Balls Galore Wrapping Paper For Him
Credit photo: Instagram.com/inkyco via Instagram
Most men are alike – they like to play games and the ones involving balls the most. That is why a piece of wrapping with balls printed on it will fit in to pack any present you have ready for him. Try it!
It may seem like an impossible task to learn how to wrap presents, but we made sure that this process becomes easier than easy with our tutorials. What is more, there is a list of fresh ideas for anyone, so you should better try them out faster!
FAQ: How To Wrap Presents
Why do we need to wrap a gift?
Many ancient tribes had various holidays in which presents were exchanged. People have wrapped gifts for centuries out of a desire to keep the identity of a gift hidden until just the right moment. Scientists believe that wrapping gifts in paper began not long after the invention of paper, thousands of years ago.
How do you gift wrap a book creatively?
Consider the first paragraph.
Roses formed from recycled book pages can be used as decorations.
Try something lovely and easy.
Create a lovely winter scene.
Decorate with festive, seasonal items.
How do you avoid wasting materials in wrapping gift?
Wrapping paper, boxes, bags and tissue paper can all be reused or recycled. Also, remember about the shopping waste. When doing your holiday shopping, use a reusable tote bag, which can be found at most supermarkets and grocery stores.