French nails have become such a popular design in the nails industry that its success is hard to deny. That is why a lot of nail artists have come up with creative ideas and designs that will make each of them unique, pretty and different from each other. Glitter, small pictures and details help us to decorate our beautiful French nails of any form. Whether you have short or long, natural or acrylic nails, you should definitely try it.
Classical French Manicure With Tiny Rhinestones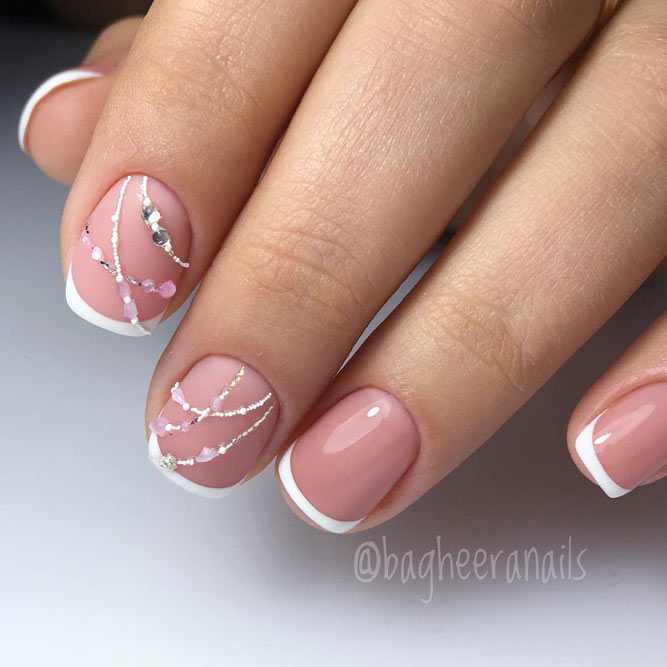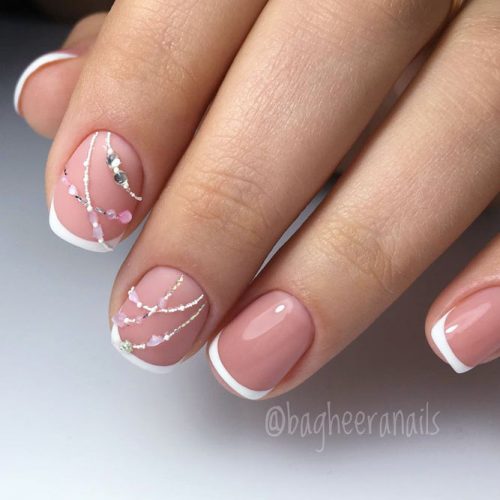 Source: bagheeranails via Instagram
A true classical French nails design is what you can rock any time. However, if you would like to decorate them a bit more, we have an idea for you. Add little rhinestones in any form you prefer. These accurate thin lines are a true example of how beautiful and minimalistic at the same time a design can be.
French Nails With Holo Sequins Accent Nail
Source: 1masternails via Instagram
Another creative option is to make an accent on the ring finger. Adding holo sequins is a cool idea, don`t you think? A great combination with French nails. A gorgeous idea for natural short nails.
Beautiful Flowers In A Combination With White French Manicure
Source: amur_nails via Instagram
Decorating a ring finger is a great idea that will freshen up such a classical variation of nails design. Putting on some floral pictures will add some charm, making your manicure look soft and interesting with a combination of French nails.
Classical French Nails With Dazzling Crystals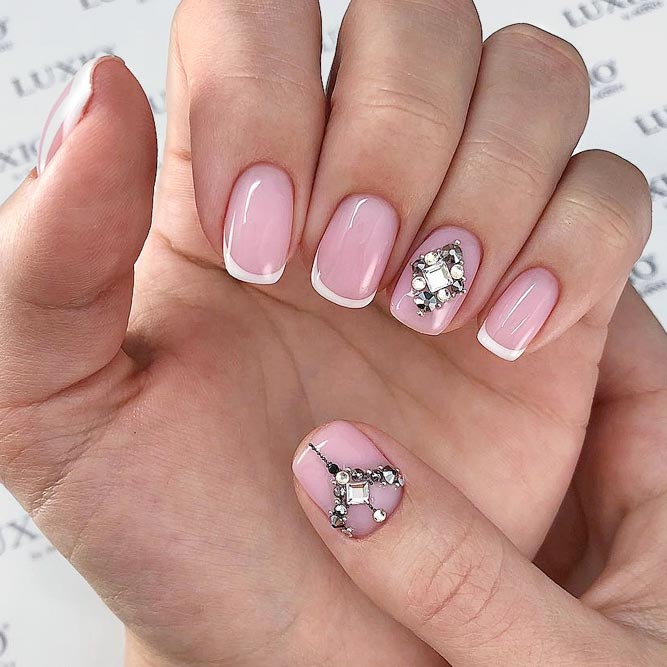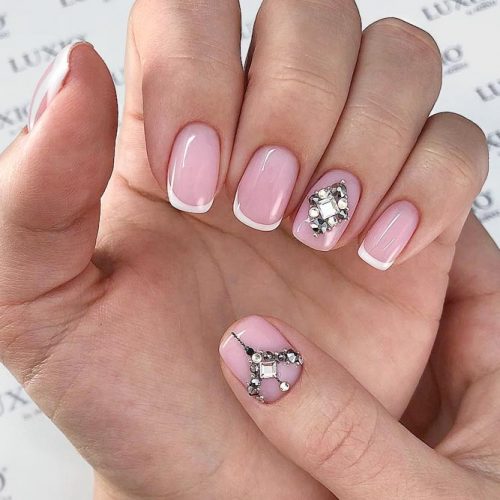 Source: amur_nails via Instagram
As we have already suggested, adding crystals and rhinestones is a gorgeous option. Why don`t you put on some little crystals that will add some spiciness to the whole design? Get creative with different forms and colors of crystals and do anything your heart desires.
Feminine French Manicure With A Lace Accent
Source: nails_irinamarten via Instagram
Lace is a fabric that is associated with femininity and tenderness, and we believe these words are also the ones that can be referred to the French nails. Put on some white color before adding a lace detail to any finger where you would like to place it and enjoy the beautiful results!
Fantastic Holo Gold French Nails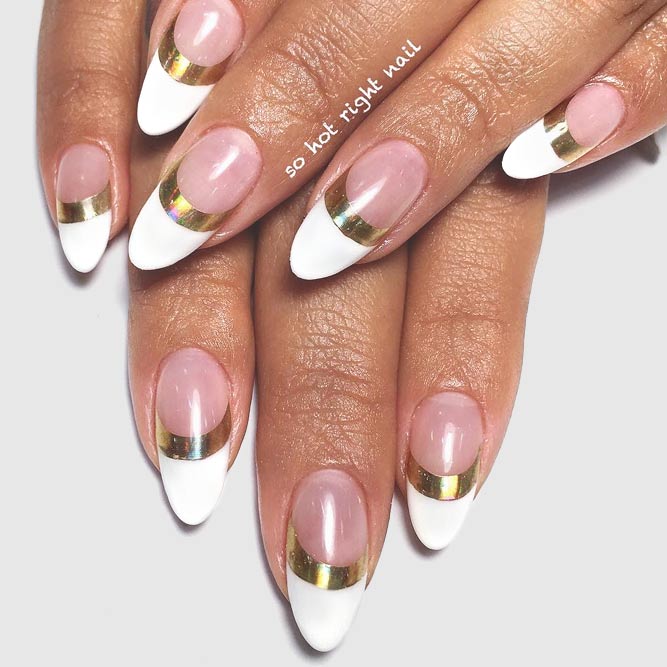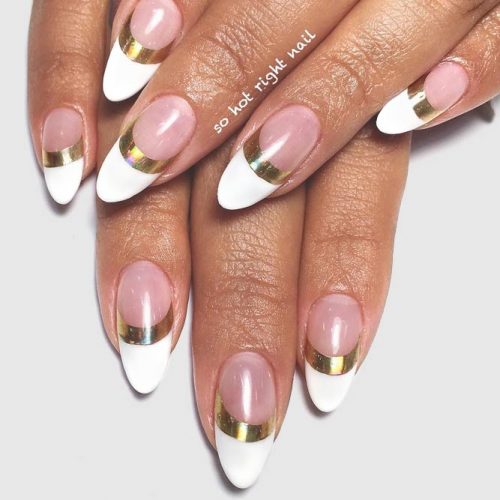 Source: sohotrightnail via Instagram
If you have an almond shape of nails, we think this idea is the one for you! Shining holo gold lines can be the details that will spice up your manicure design! Make them thick or thin and place close to the white lines of your French nails design.
Lined French Manicure On Nude Nails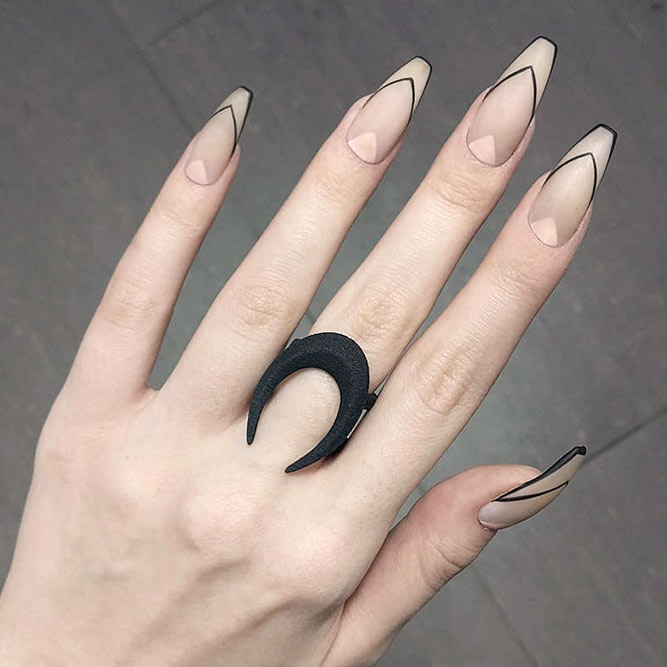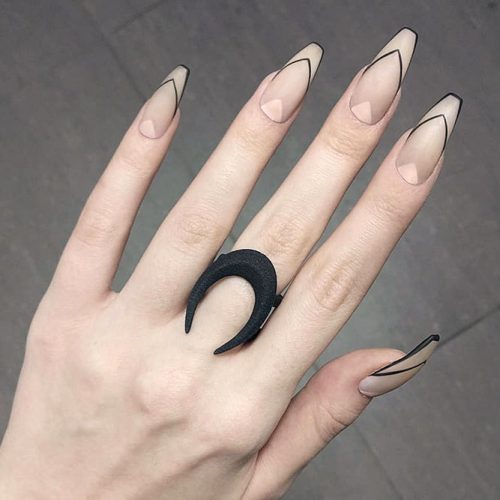 Source: myblackempire via Instagram
Are you a bit bored with a classical variant of French nails? Would you like to try something really different? Then this black lined French manicure idea is for you. Thin and neat black lines will make your nails appear longer, while a combination of nude and black will make the design pop.
Lovely French Nails: Acrylic Transparent Tips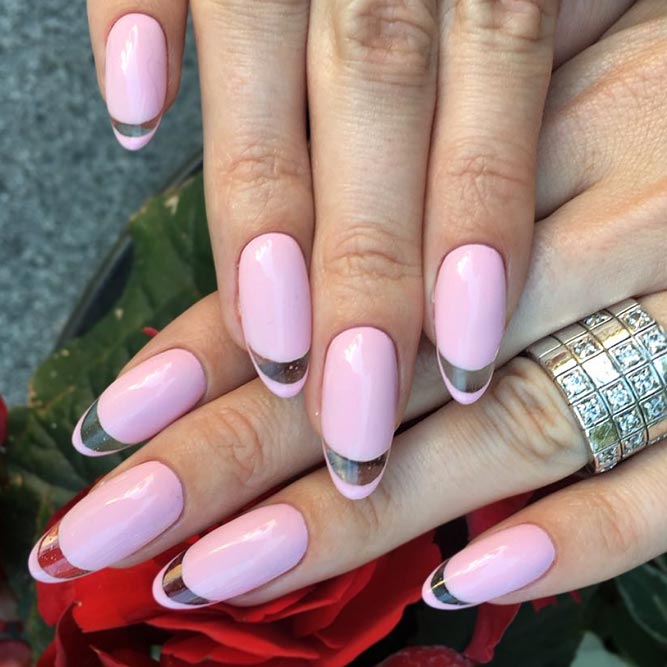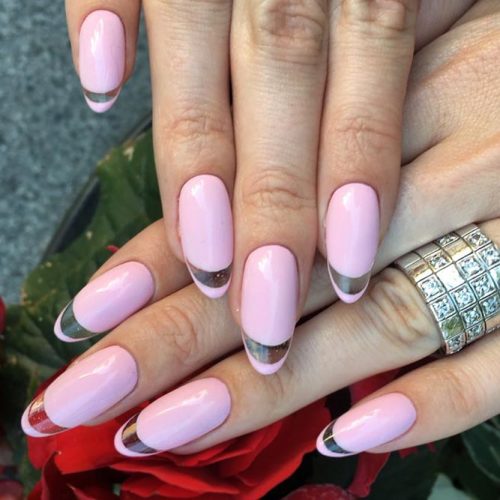 Source: nail_sunny via Instagram
Are you looking for a French design idea for acrylic nails? A pink color all over the nails with a combo of transparent thin lines will look super unusual and creative, don`t you think? Elegant, delicate and gorgeous, it will bring out tenderness to your nail design.
Elegant French Nails With Glitter For Every Day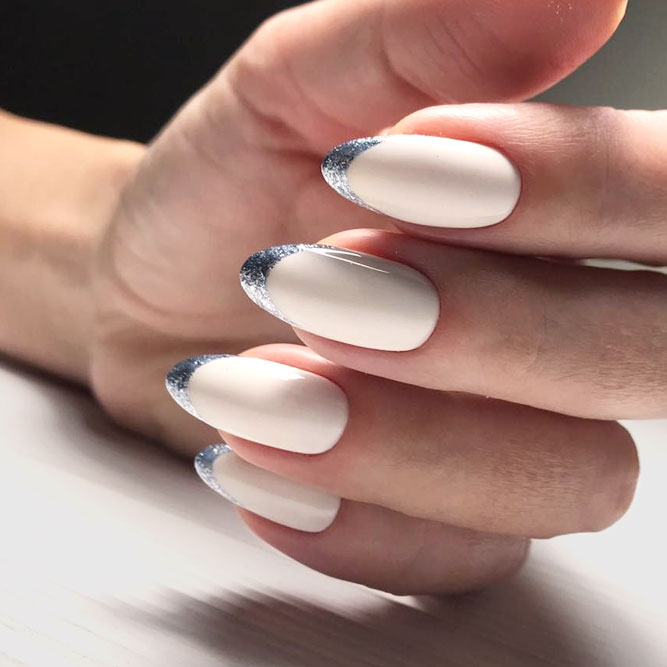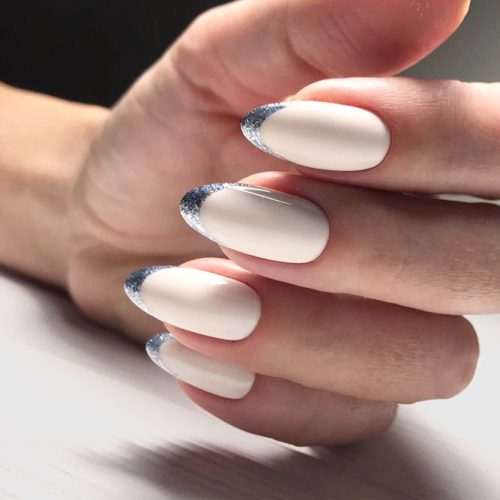 Source: svetlana_stanovaya via Instagram
French nails have become a truly classy manicure design, don`t you agree? However, sometimes we would like to freshen it up a bit. These glitter French nails with a milky shade are the option that will bring something new to your nails.
Half & Half: Modern French Tips For Being In Trend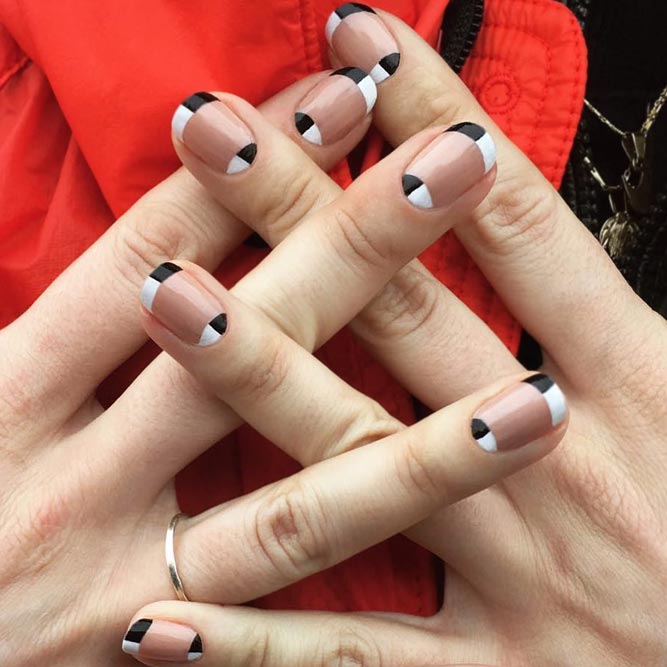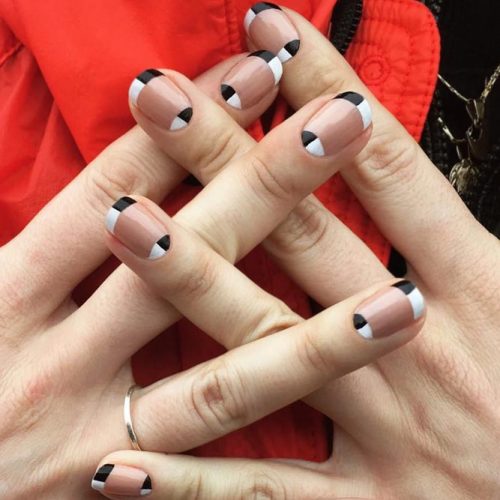 Source: jessicawashick via Instagram
The most trendy idea of this season is a must for you to try! A combination of black and white is the one that will never die, so imagine it together in a French nails design. Instead of white lines we are all used to, let`s get creative and add a great combo to your manicure.
Matte French Nails With Gold Foil For A Glamorous Look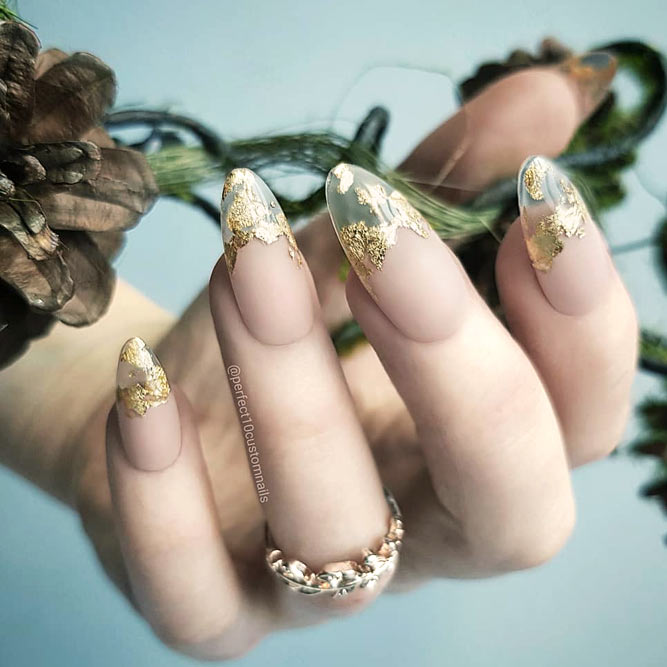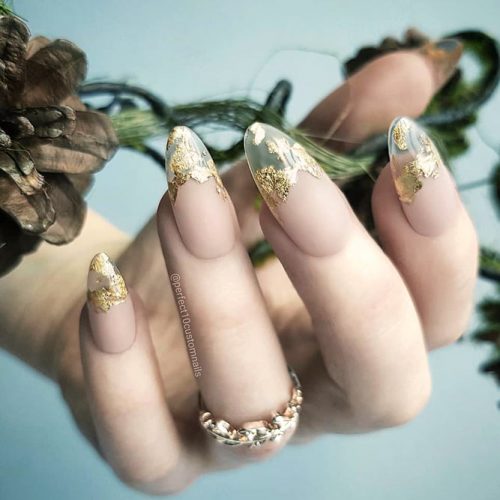 Source: perfect10customnails via Instagram
Gold foil is an interesting décor idea for any nails design. So why don`t you try adding it to your French nails? Creative and beautiful, it will look gorgeous in pieces with a matte nude color and transparent tips.
Modern Minimalistic Lines To Accentuate The Nail Form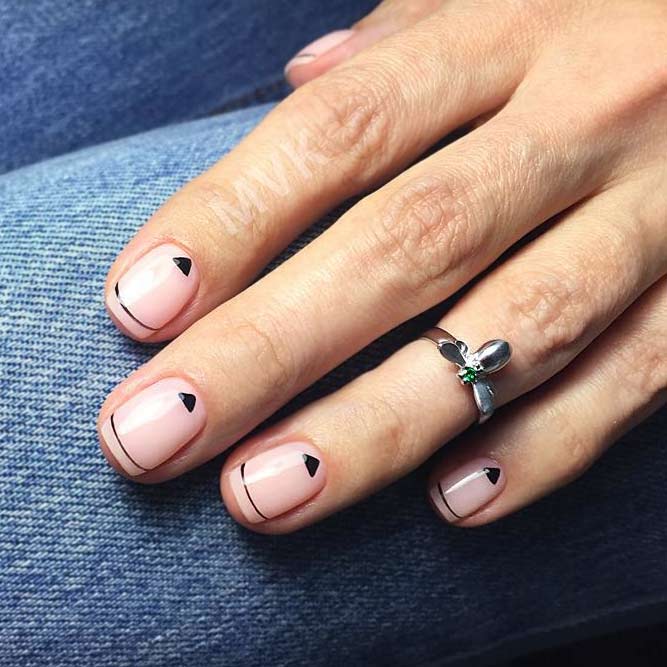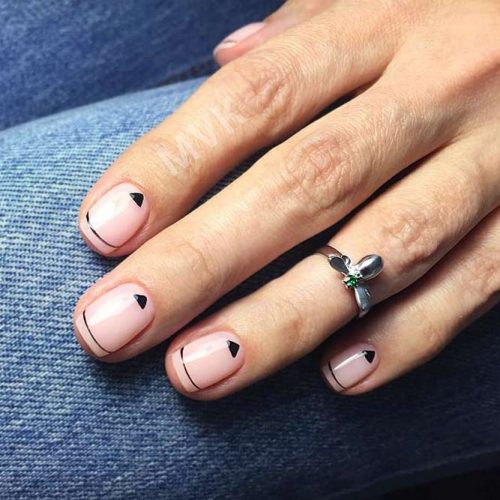 Source: mvk.ua via Instagram
If you prefer minimalistic designs but still adore the French nails ideas, we would like to suggest you try this one! Thin lines on a nude color will not only look interesting but will also accentuate your nail form and length.
French Nails 2018: Rainbow On A Black Base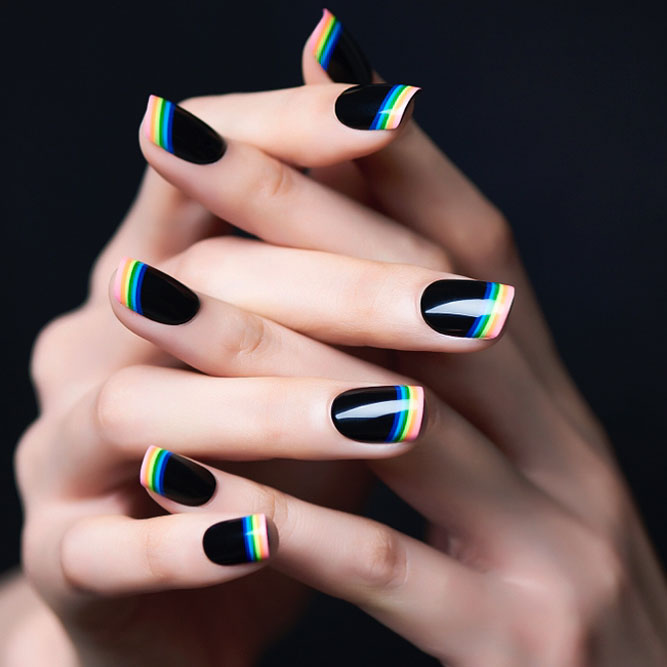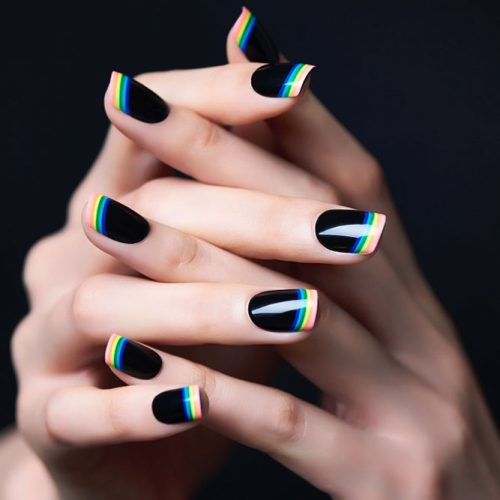 Source: nail_unistella via Instagram
2018 is a year of creativity and color. More and more trends come in different colorful variations and French nails are not an exception. Dark black nails with rainbow tips will make your manicure look unforgettable. So, get ready to get as many compliments as possible.
Delicate Yellow French Tip Nails
Source: murievamadina via Instagram
A great summer nails idea to bring in a sunny mood. Colorful yellow tips will not only look delicate, they will also be classy for every day and appropriate for any occasion you will have.
Trendy Colors Of French Tips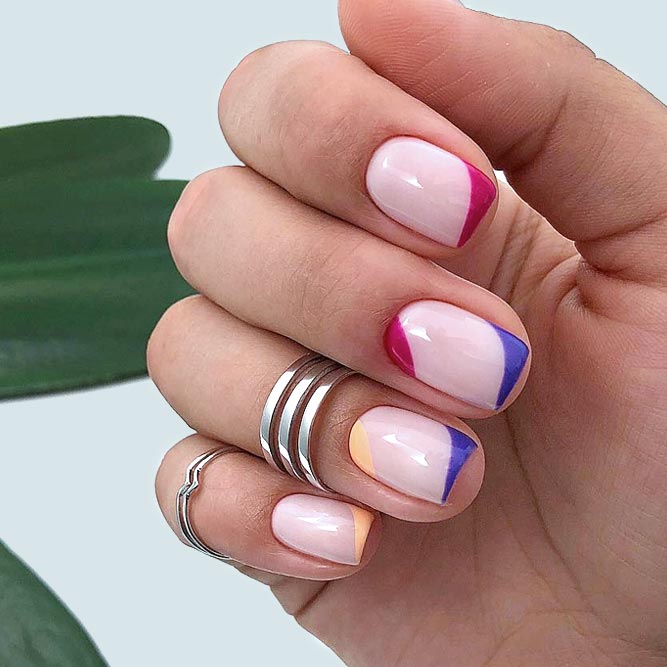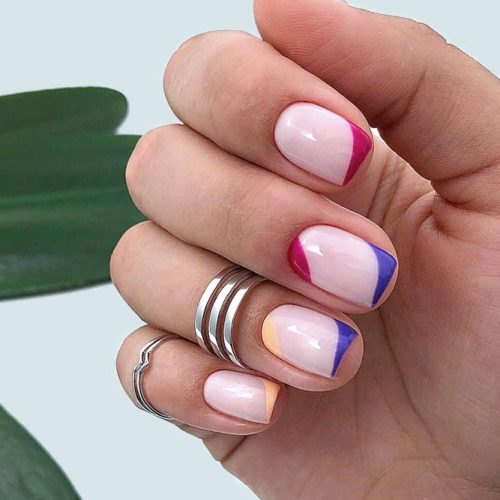 Source: amur_nails via Instagram
Who has said that white is the only option for French tips? Different colors will look super trendy and gorgeous, whether you have long or short nails. Pick your favorite ones and do a stylish summer manicure.
Bold Matte Neon Tips To Rock The Summer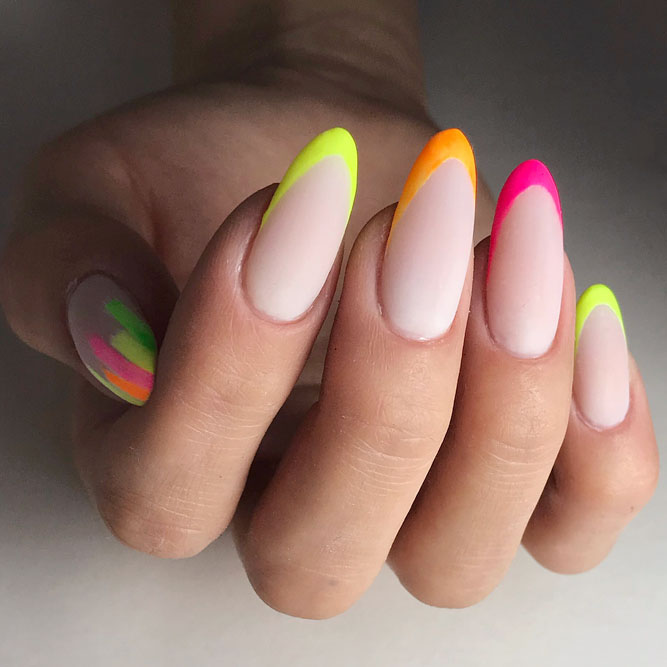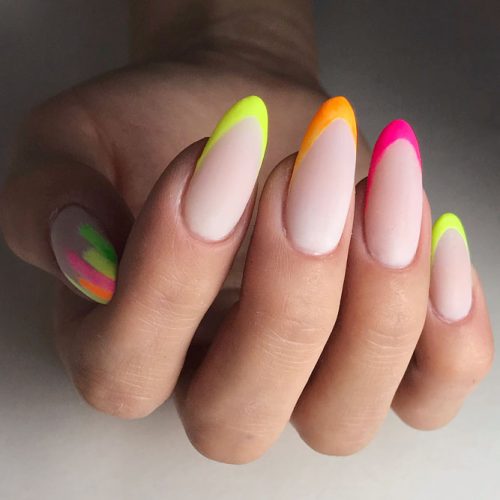 Source: murievamadina via Instagram
What if you choose neon shades for colorful tips of your French nails? A creative and bright idea for the summer. A matte effect will make them look appropriate for any occasion you will have. Pick this design idea to match your great summer mood.
Play With The Contrast: Bright French Tips On A White Base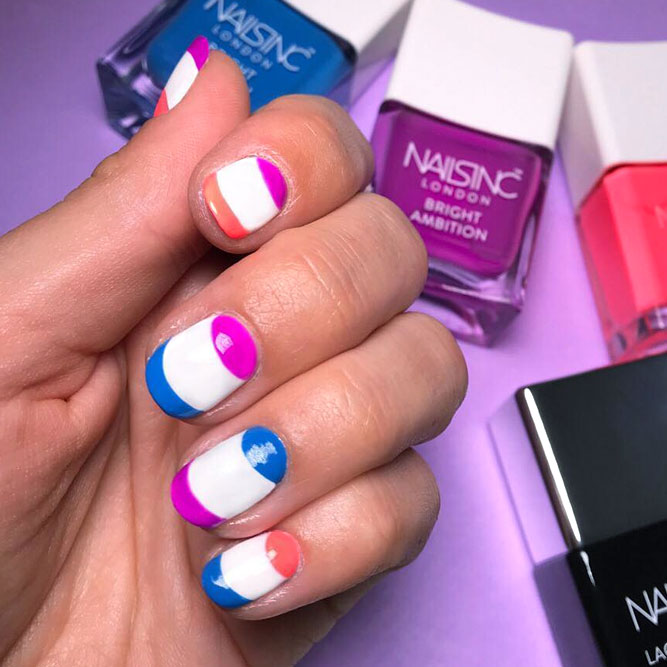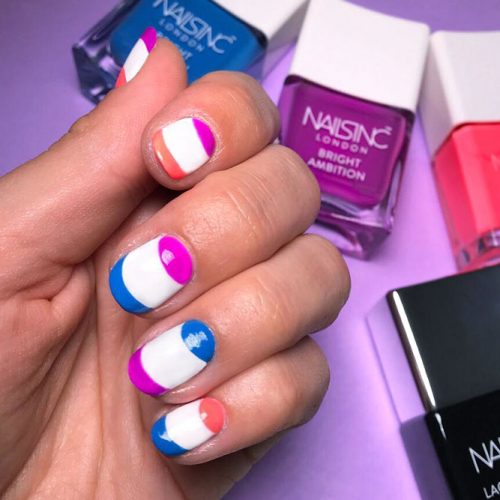 Source: nailsinc via Instagram
Contrast is what makes the colors work together for this season! A white base used with other bold colors will make them pop even more. Colorful and bright, it is a beautiful design idea to match the summer mood.
Neon Pink Tips You'll Want To Try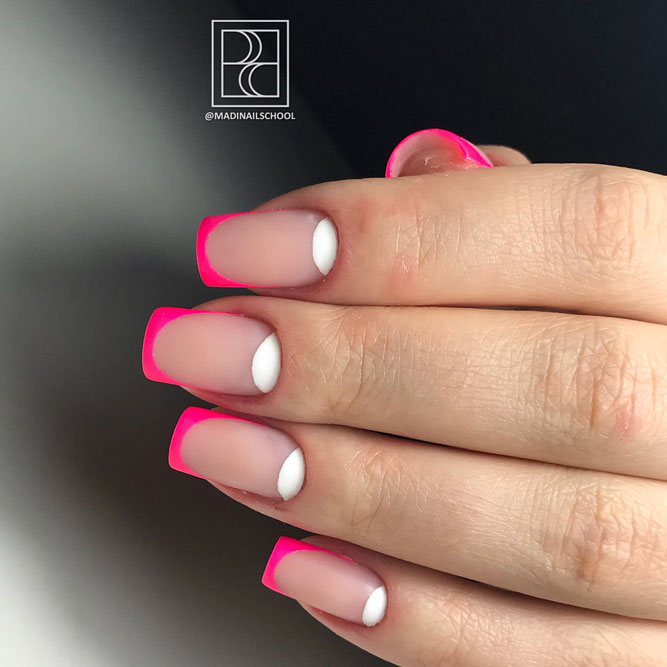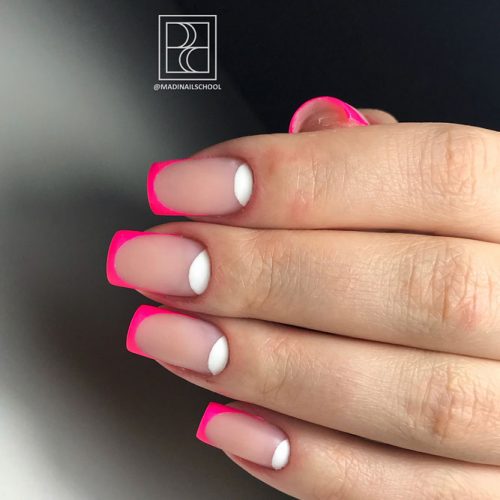 Source: murievamadina via Instagram
Do you like our neon French tips idea? Then why don`t you consider trying pink as the color for them? Bright and soft at the same time, this neon pink will become your favorite option for creative nails.
As you can see, French nails designs can be so different. Going well with different details and colors, it will become your favorite one for any occasion.