French manicure designs are perfect for a classic look. But with all of the styles available today, a French mani is getting a much needed makeover.
Whether you prefer cute nail designs or classic French manis, there are plenty of styles to choose from. And the best part is that all of these looks are simple enough for you to copy at home. All you need is your favorite colors of nail polish and a few nail art tools, and you're all set!
Purple Passion
Source: yagala via Instagram
Purple is such a pretty color, but we especially love this light purple base with white tips. If you feel so inclined, you can paint a purple flower on your accent fingers to make this already elegant manicure stand out.
Black and White Mod Mani
Source: annet_leto via Instagram
This look is perfect for an evening out. With a shiny black base and delicate white swirls on the one finger, your nails will look polished and sophisticated for any occasion.
Spotted Mani
Source: badgirlnails via Instagram
This manicure is so simple yet so striking. Apply a pretty nude base and use a dotting tool to make white dots on the tips. You can use pretty any color combination to fit any occasion or match your current mood.
Trendy Triangles
Source: aliciatnails via Instagram
Geometric nail art is all the rage. We think these pretty rainbow tips are a fun twist on the classic French manicure. But what really catches the eye is the gold triangle at the nail bed.
Dark Diva
Source: nails_pro_nails via Instagram
If you prefer darker shades of polish, try this deep midnight black base with delicate blue tips for a dramatic look and feel. Also you can accent your ring finger.
Classy Bling
Source: madina_nails via Instagram
The nude base manicure with black tips is very sleek and stylish, but the addition of sparkly gemstones on the ring finger will really set this look apart from all the rest.
Scalloped Hearts
Source: frenchmanic via Instagram
Pink scalloped heart tips are so dainty and demure. But if you add some sparkly design on the one tip, you'll feel extra girly and chic!
Half Moon Tips
Source: laura_nails_studio via Instagram
If you want a simple look, try these black half moon tips on a nude base for a look that's simple yet ultra-modern.
Snowy Tips
Source: anna_baklanova_nails via Instagram
This look is perfect for wintertime with its natural base and smoky black tips adorned with chunks of glitter that resemble clusters of snow on a cold winter's day!
Barely There Ombre
Source: naturelle_nails via Instagram
If you love both the traditional French manicure and ombre, why not combine the two for an ultra-modern look? This chic manicure fades from delicate pink to snowy white for a twist of two of the most popular styles of nail art.
Classic Red & White Mani
Source: kate_tetereva via Instagram
Red and white nails are timeless, and this modern take with short red nails with a thin white tip is super!
Silver and Black Moons
Source: luck_nail_studio_khv via Instagram
This look is pure elegance with a natural base and silver designs at the tips with thin black moons at the nail bed.
Sexy Cat Claws
Source: netta2hot via Instagram
If you love stiletto or coffin nails, you'll love these fierce kitty claws with thick black tips on a nude base and small black crystals at the nail bed. This look is sexy and edgy, show 'em you're not afraid to use your claws if necessary!
Marble Art
Source: yagala via Instagram
Splatter or marble art nail designs are ultra-trendy at the moment. This twist on the French mani is about marble painted tips on a clear base for a totally funky look that's hip and girly at the same time!
Rose and Gold Mani
Source: novosadova_nail_ekb via Instagram
If you prefer pink for a feminine look but want a bit of glam as well, try this pretty pale pink base with golden glitter tips for a sexy and shimmery look!
Pastel Rainbow
Source: opi_products via Instagram
If you love pastels, these pretty alternating pastel tips are the perfect choice for a simple yet colorful manicure.
Messy Mani
Source: sarahlounails via Instagram
This look is perfect for those who don't have a steady hand. Simply apply your favorite shade as a base and then paint the tips a messy blend of either one color or several colors for a look that's intentionally messy but still cute!
Golden Glam
Source: amur_nails via Instagram
If you want to shine like a rock star but don't know what color to choose, simply add glittery golden tips to a nude or light colored base, and you're ready to rock!
Spectrum of Color
Source: julia1885 via Instagram
Can't decide on just two colors for your manicure? Why not copy this fun look with two-toned rainbows? Use the entire spectrum of colors for a truly inspiring look!
Glorious Glitter
Source: frenchmanic via Instagram
This style is perfection with a nude base and bright blue tips adorned with golden gemstones.
Midnight Mani
Source: denisova_studio via Instagram
This look is daring yet still sophisticated with shiny deep purple tips on a matte purple base. Ideal if you want to show off your darker side.
We hope you enjoyed our selection of French manicure nail art! Remember to pin your favorites.
Bright Neon
Source: stefany_nails_ via Instagram
We love a classic French manicure but in the summer it's great to funk it up a little bit and create something brightly. Choose your favorite neon color, some fingers you can also accent with sparkly charms or pattern nail art.
Metallic Tips
Source: budda_nails via Instagram
Play with more metallic colors with your French tip manicure. Start off with a plain white polish as your base. Then thinly tip your nails with metallic purple polish to complete the elegant look.
Half Moon Flowers
Source: nune_khalachyan via Instagram
Half-moon nail art is actually much easier than it looks if you know the tricks of the trade! If you use sticky hole reinforcers to create your half-moons. And your mani will be look perfect every time.
Gentle Dandelion Nail Art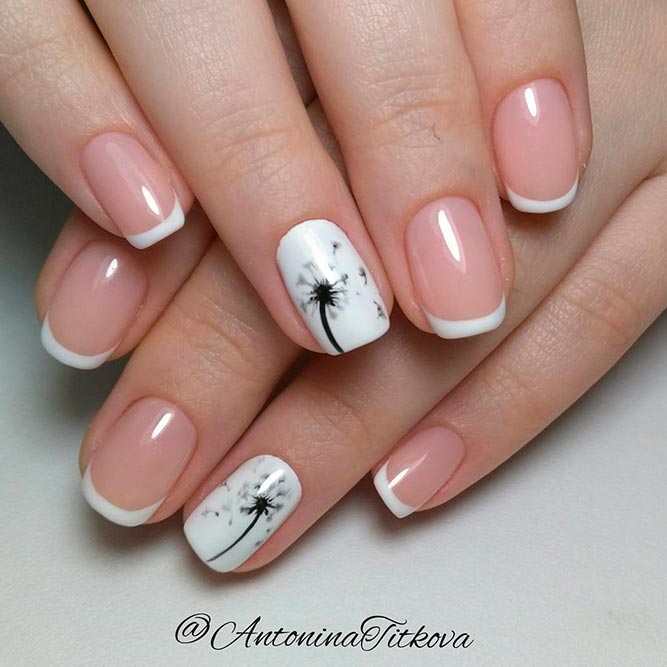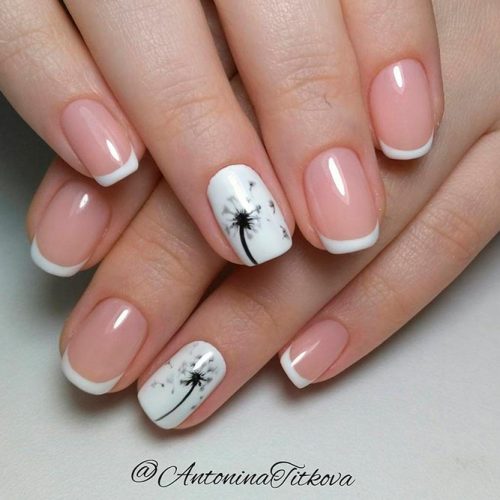 Source: antoninatitkova via Instagram
Stepping away from the tradition is not always a suitable option, however, there is still a way to upgrade the classy look with something. What we have in mind is this perfectly gentle and sweet dandelion accent added to the regular French tip manicure.
Fresh Nail Art With French Tips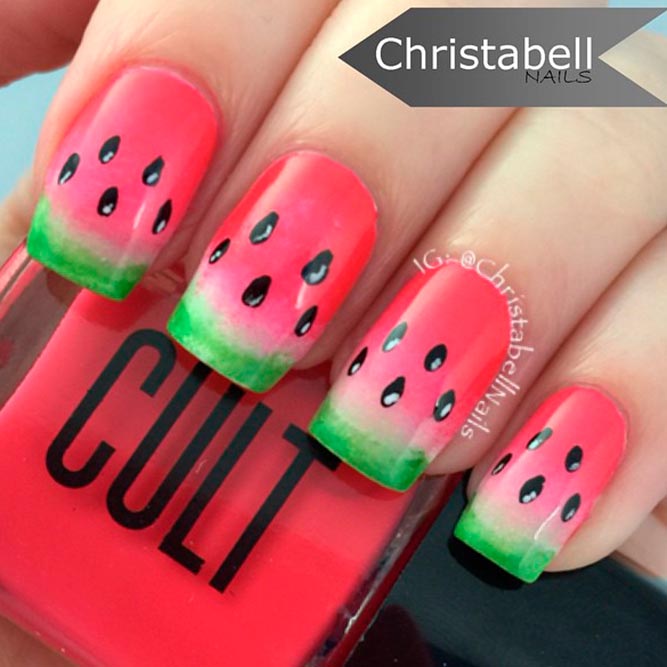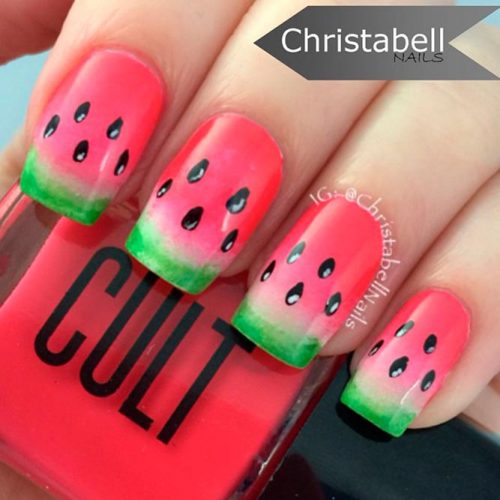 Source: christabellnails via Instagram
In case you a fan of juicy colors and fruits at that point you will surely appreciate this watermelon French tip nail art. Just one look at it makes you crave watermelon, is that correct?
Stunning Yellow French Mani With Sparkly Accents
Source: solinsnaglar via Instagram
The thing is that the whole concept of French tips is that your nails look classy and elegant without going too bright. Yet, we think that mixing classic French mani with some bold colors is never a bad idea. See for yourself since this yellow manicure with French tips looks gorgeous and sassy!
Cute French Fade For Perfect Mani
Source: didoline via Instagram
Keeping things sweet and simple is not a sin that is something we are sure about. Simple but gentle French fade is what you need to embrace your femininity and to glow gentleness wherever you go.
Trendy Revers French Nails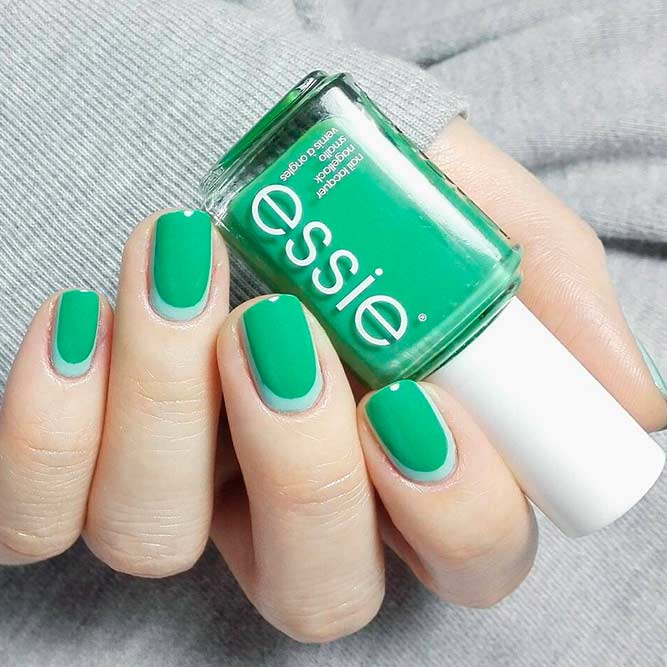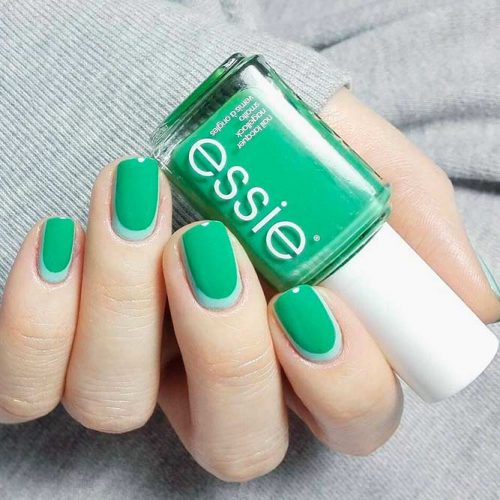 Source: lenareitz via Instagram
Tired of regular French nail art? It is time you experiment with both the shading and the position. Bright green reversed French tip can be your perfect start!
Stylish Alternative: Blocked-Off Nails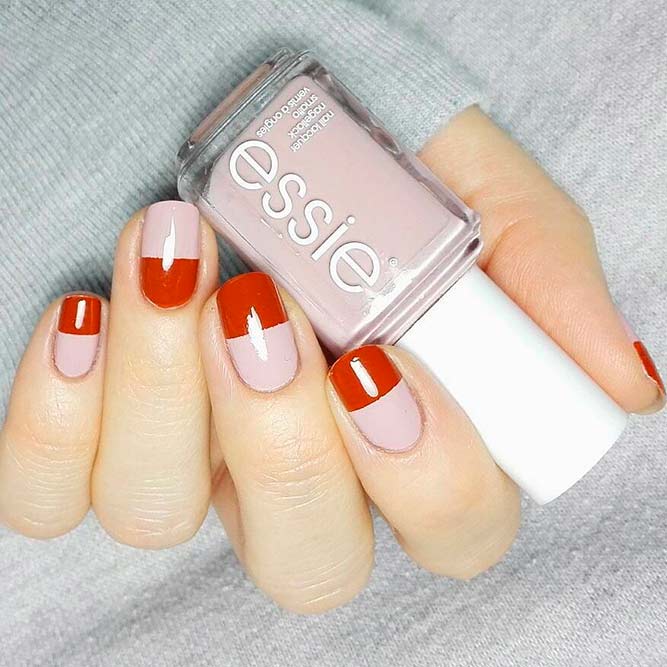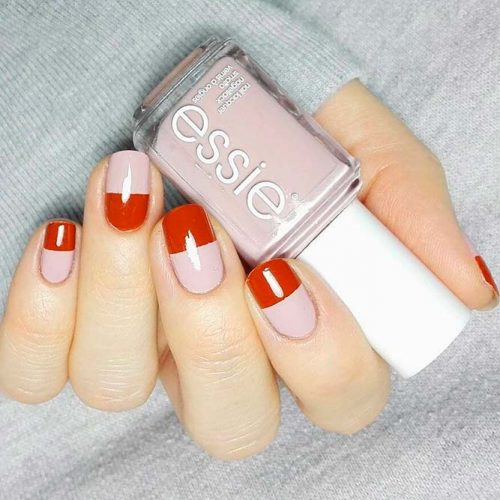 Source: lenareitz via Instagram
French manicure does not mean that you shouldn't use your imagination. How about fun and alternative red and pink blocked-off nails? We think that you look beautiful and rebellious at the same time.
Black And White French Fade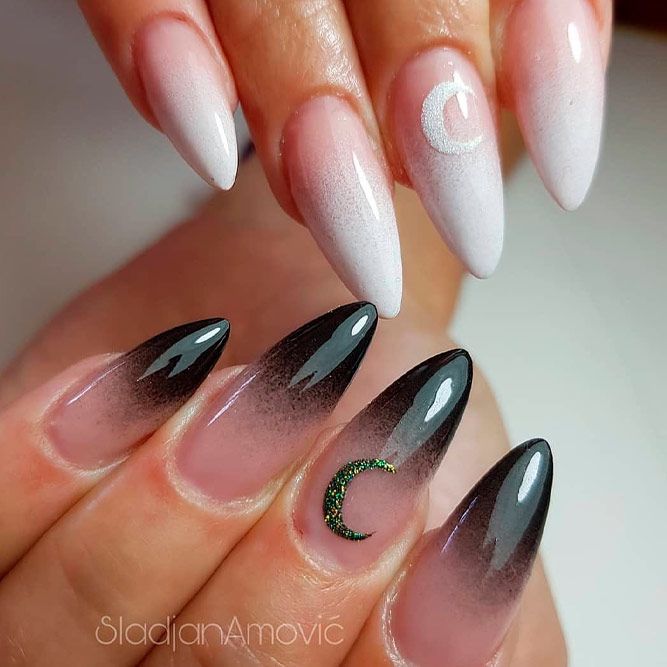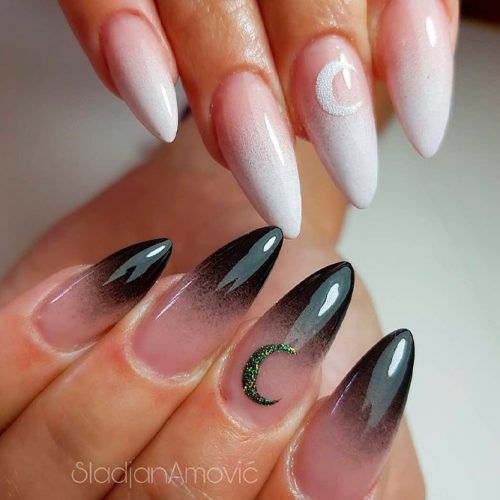 Source: nailpromagazine via Instagram
Are you feeling like a black French fade or white one today? There is no need to decide since you can easily pull off both combine in one mani. Besides, a stylish moon accent will introduce that exquisite charm to your nails.
Classic French And Shiny Red Nail Design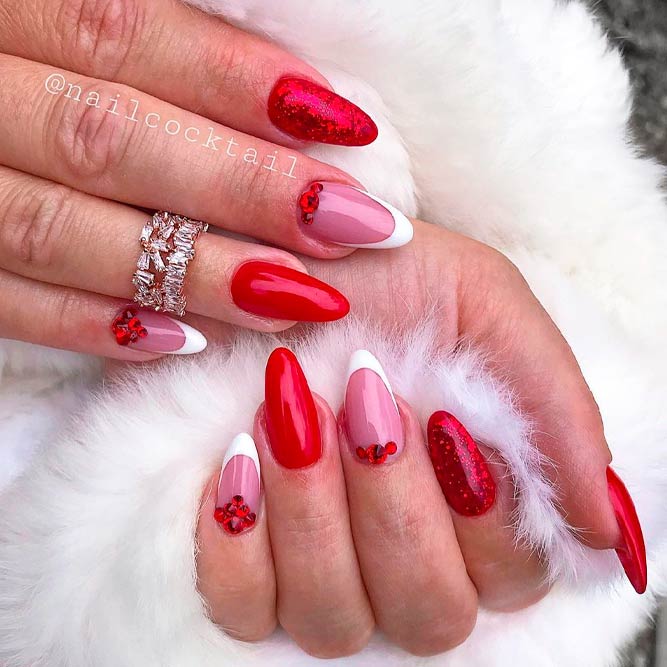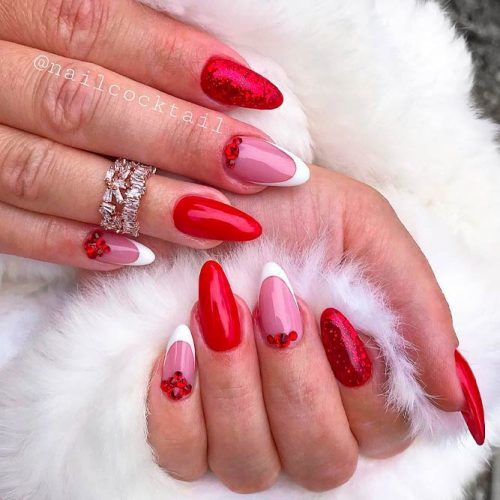 Source: nailcocktail via Instagram
Some people say that classy nail art lacks that vibrant statement that makes it unique. We beg to differ! One look at this gorgeous classic French manicure with vibrant red to it, and you will also change your mind!
Fresh Square French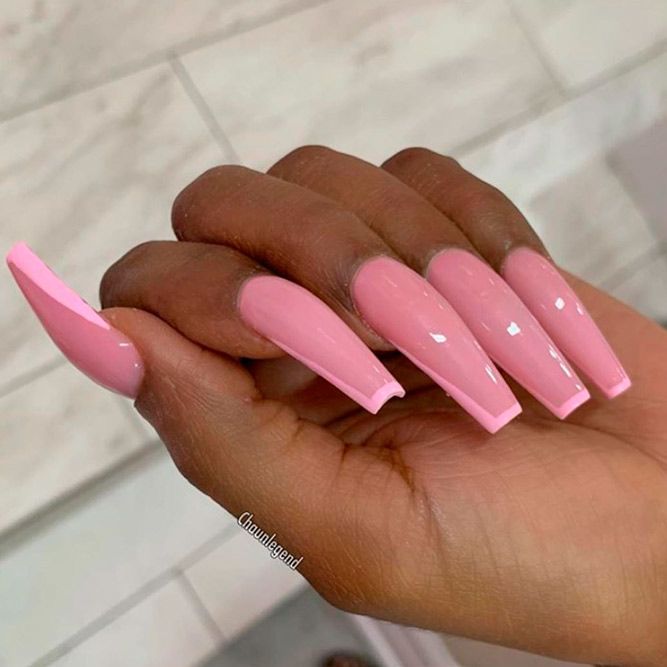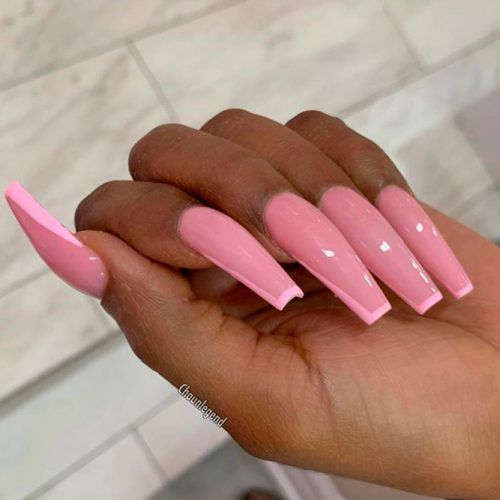 Source: chaunlegend via Instagram
You may already know by this time that bold nail shape requires fitting manicure. However, it is easier than easy to go over the edge here, and you certainly wouldn't want that. Here is what we offer – spice your coffin shape with two-shaded French mani, but make sure the hues are of the same color palette.
Thick French Tips With Rhinestones
Source: _glitzandnails via Instagram
You can make a statement with a classy nail design too. All you need is an appropriate idea to get inspired from. What we suggest are bold, thick tips upgraded with rhinestones. As you can see such a nail art looks simply marvelous!
Sparkly Black French Tips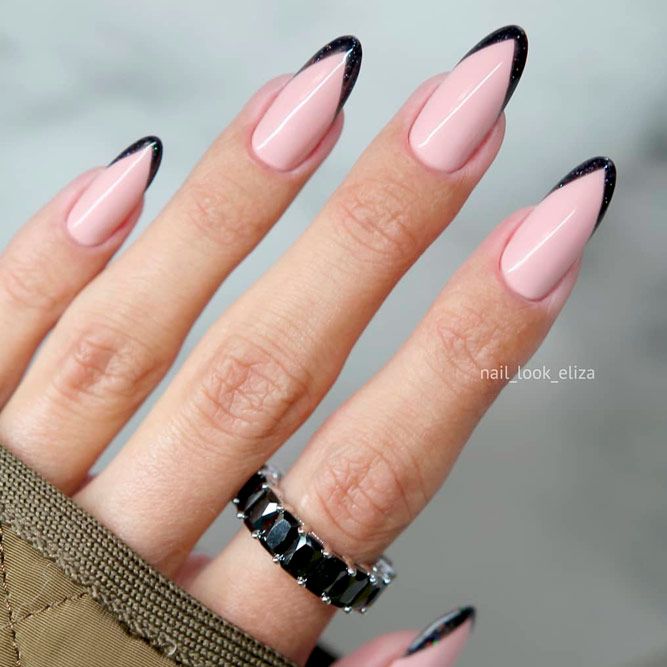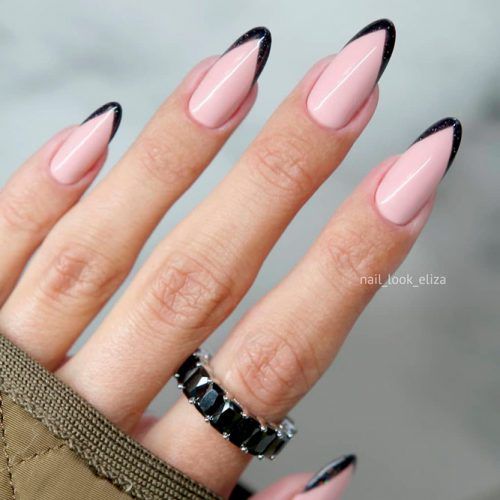 Source: nail_look_eliza via Instagram
If you still think that white is the only color for the French tip – you are deeply mistaken. In case light hues are not your cup of tea, you can merely go for dark ones without the loss of style or elegant. Just look at this perfect black sparkly tip to get the point!