By:

Glaminati Media

| Updated:

02/06/2019
DIY And Cheap Farmhouse Décor Ideas
Would you like to save some money while bringing your favorite farmhouse décor style to life? Then we have three DIY lessons that will help you with that task. These pieces of décor will not only bring a great accent to the room, but it will also have some special vibe from being done by you.
DIY Rustic Entryway Coat Rack
Source: lizmariegalvan via Instagram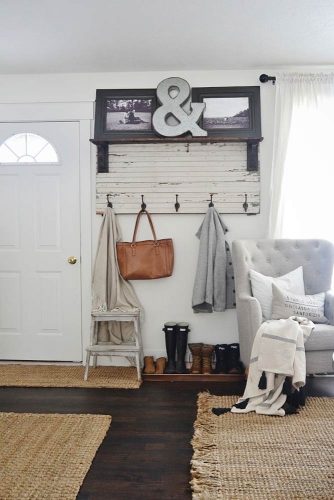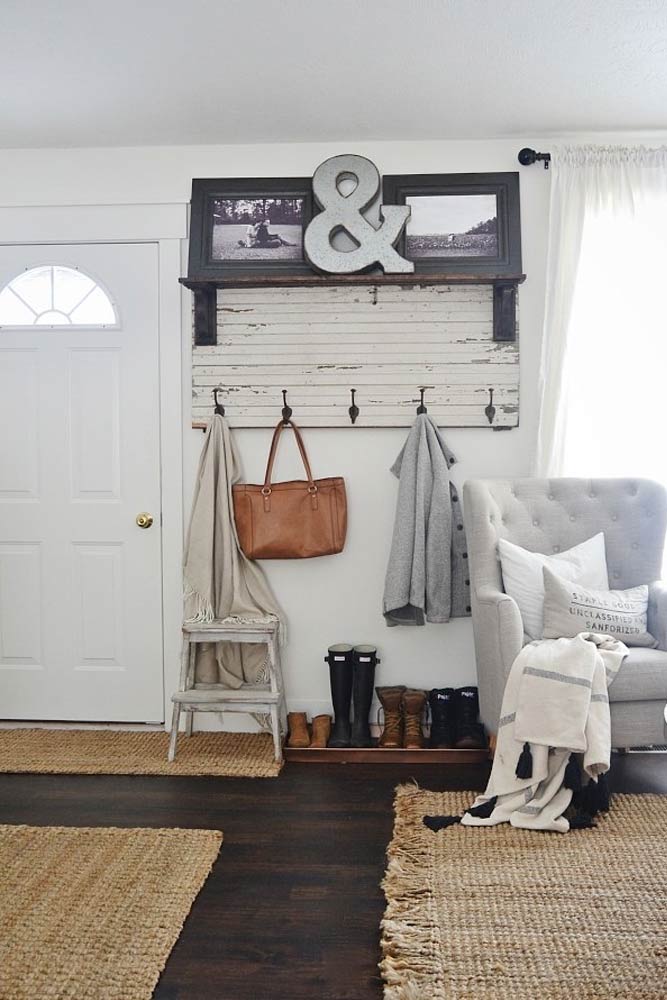 This farmhouse décor DIY piece will be looking great near your entrance door. How can it be done by yourself? Easily. Find an old wooden door and paint it white if necessary using a technique to make it look a bit older than it is in reality. Add a wooden board at the top to create a shelf for your accessories and fix it with some wood brackets. Buy some hooks and put them on and voila! A great coat rack is done!
DIY Mini Wooden Ladder
Source: cherishedbliss via Instagram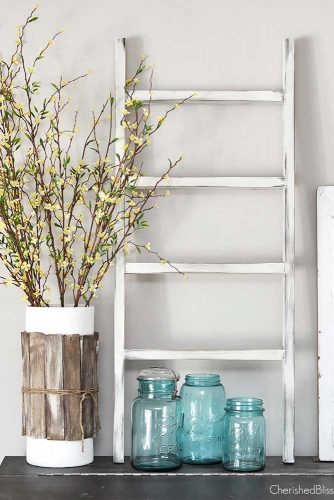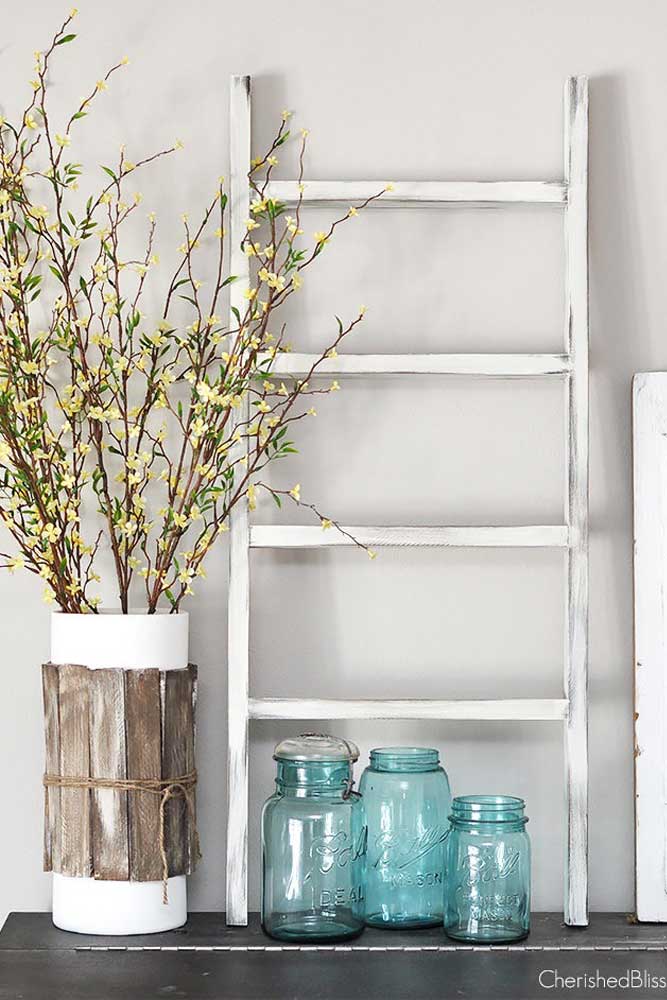 A great piece of décor can be done so easily with just some wood and white paint. Take 2 long pieces of wood and 4 of short ones that will be holding the construction together. Make sure the rungs are of the same size. Nail the details all together to get a little ladder. Put on some Minwax's Dark Walnut Stain and let it dry before painting the ladder white. You don`t have to make it perfect. Leave some uncovered spots to create an old-fashioned style.
DIY Farmhouse Bench
Source: lizlovegrowswild via Instagram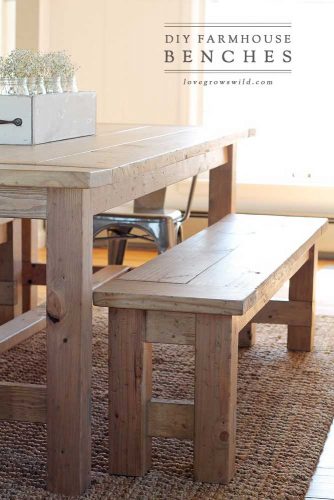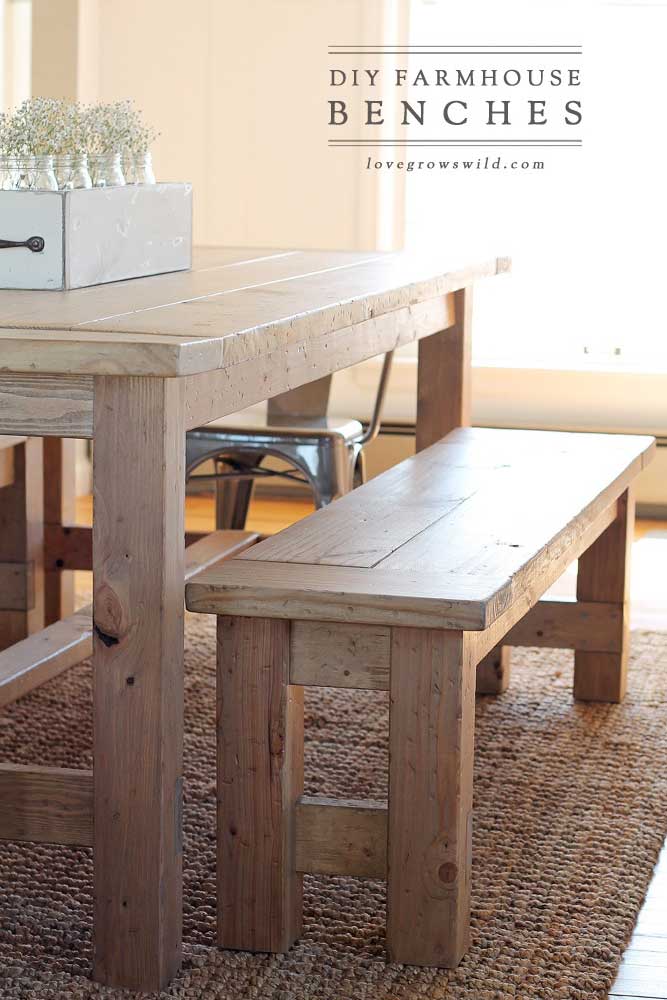 Are you dreaming of having a wooden bench in your house? Then make it yourself? You will need:
4 pieces of 4×4 cut to 16 1/2″ (to create legs)
2 pieces of 2×8 cut to 49 1/2″ (to get a long bench top)
2 pieces of 2×8 cut to 14 1/2″ (for the short bench top ends)
2 pieces of 2×4 cut to 54 1/2″ (to have a long apron)
2 pieces of 2×4 cut to 5″ (for the short apron)
2 pieces of 2×4 cut to 12″ (to support)
Take two legs and attach them to the support board with some screws. Repeat with another side. Add a support to two legs and add a short apron in between them. Put a scrap piece of 1×4 below the apron. Repeat the same process with the other two legs. Put on both long aprons to the bench so they connect the legs from different sides together. Take two long boards and connect them on the long sides together with a drill. Add some screws all along the longboard parts to fix the bench. After you are able to decorate the bench in any way, you would like it. We would recommend smoothing the material and putting some color to the wood to match your table.
DIY Apple Wreath
Source: woodgraincottage via Instagram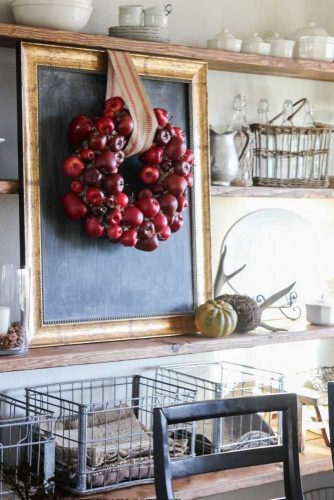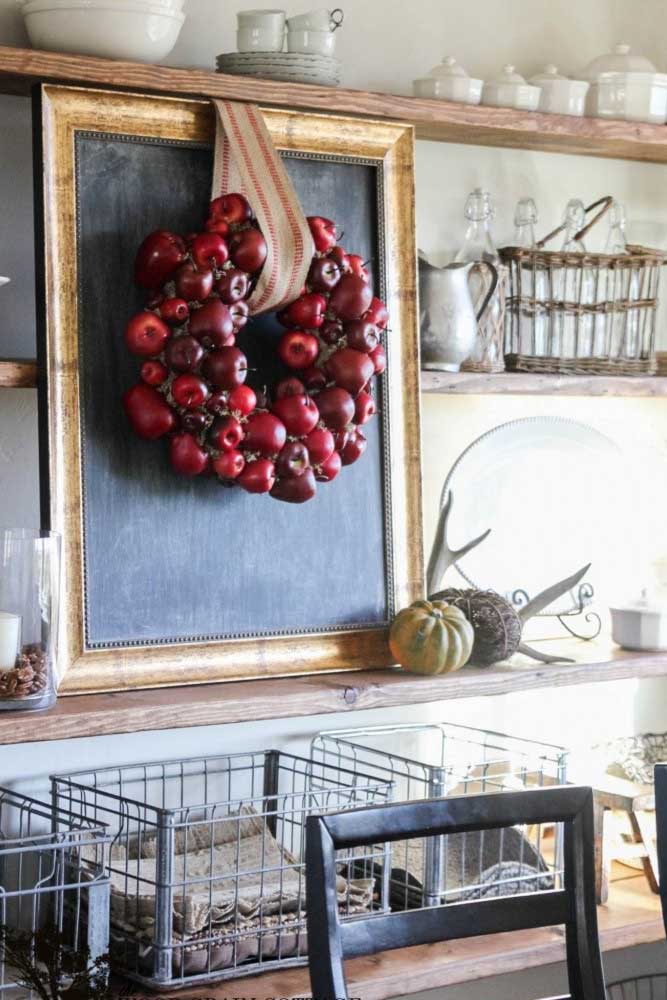 A great piece of décor will be made with your own hands. Are you intrigued? Then let`s do it!
Take a Styrofoam wreath and wrap the burlap strings around it, fixing it with some hot glue. Take some red apples of different sizes and put them on to the form with the same hot glue. To get rid of the spaces between the apples you can add some moss. Add it with a string or piece of cloth to a frame and a great decoration for your home is done! Super stylish!
DIY Driftwood Mirror
Source: sustainmycrafthabit via Instagram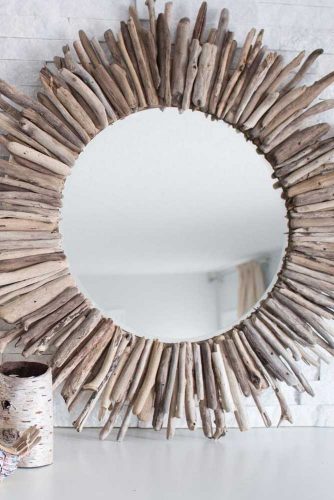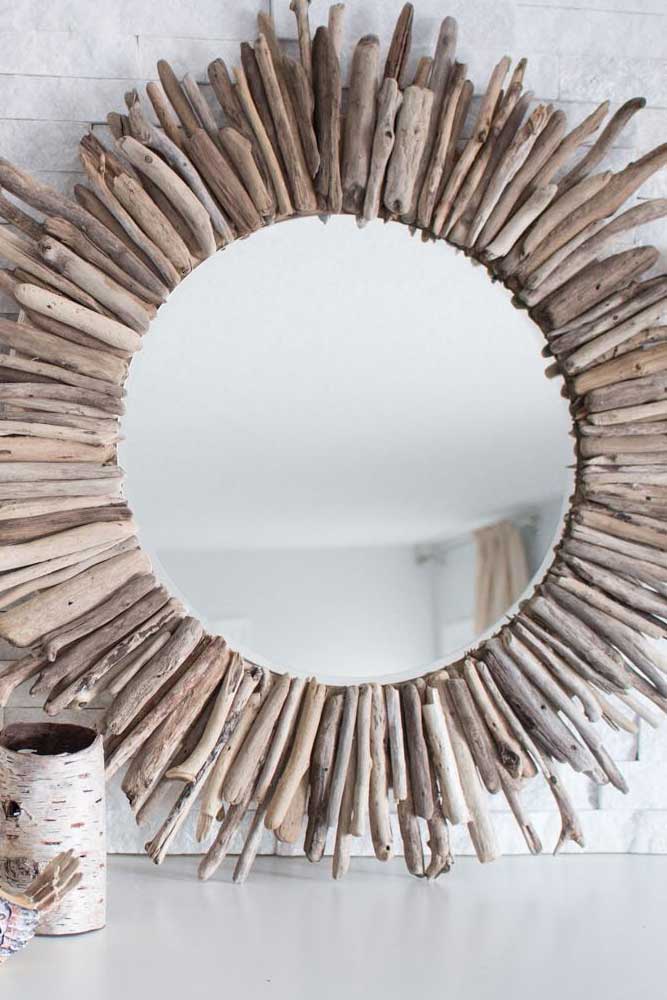 A mirror of an interesting design is what every house needs! Take a round piece of wood that will be slightly bigger than your round mirror or cut it out yourself. Spread the glue all over the back of the mirror and place it to the wood. Leave and let it dry for a few days. Get some driftwood pieces of different sizes and start gluing them with some hot glue to the wooden surface the way it is not visible from underneath.
DIY Orb Chandelier
Source: wuhs via Instagram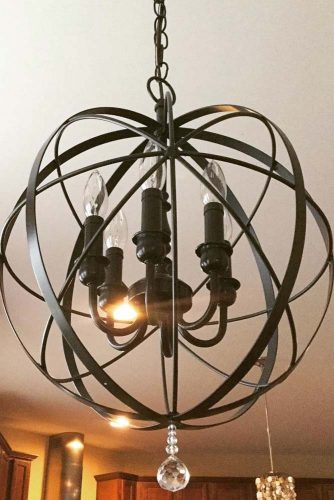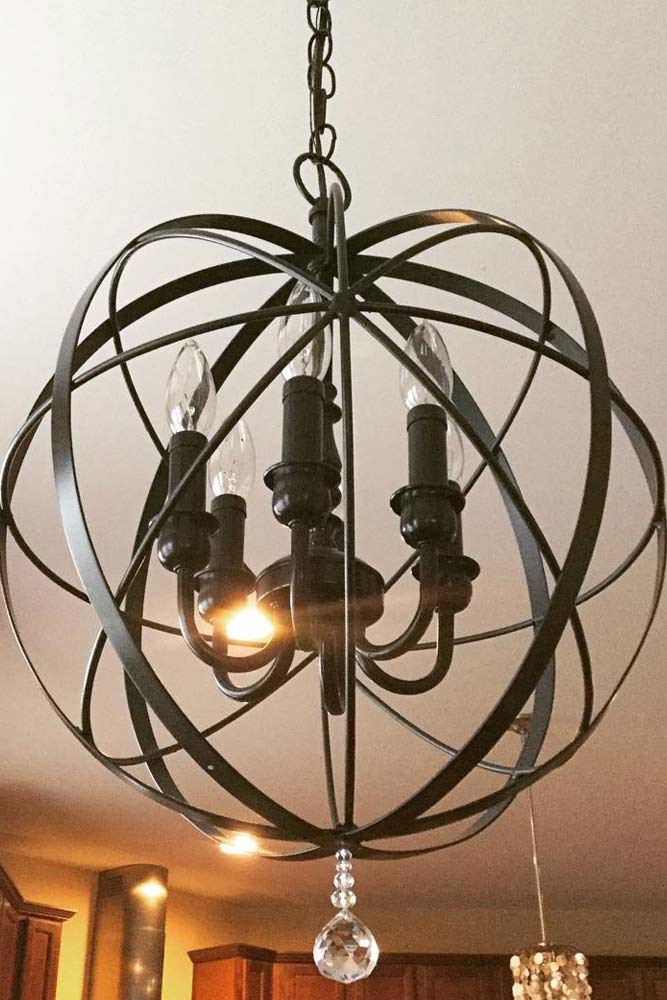 A fancy chandelier can be a great addition to any room, so why not make it by yourself? Buy an orb in the local decor store and a chandelier that will fit inside if you need a new one. Measure how long the connecting rod should be. Rewire and rechain your chandelier if it is needed. Pain the pieces with some spray paint to the same color. When the orb is dry, make a hole for the wire on top of it with the drill, put on two nuts on each end of the nipple, and get the wire through it. Carefully put the chandelier inside with the nipple. The rod has to be long so that it screws into the mechanism with the hook. Secure the rod with two nuts on the outside. Screw the nipple to the hanging hook and you`re done.
A well-design home is a necessity for all of us. It brings a great atmosphere and a sense of coziness. We should always pick what our heart desires and for sure the style we will pick will be the best possible.
Main photo rainandpineblog