By:

Glaminati Media

| Updated:

01/10/2018
4. Homemade Banana Face Mask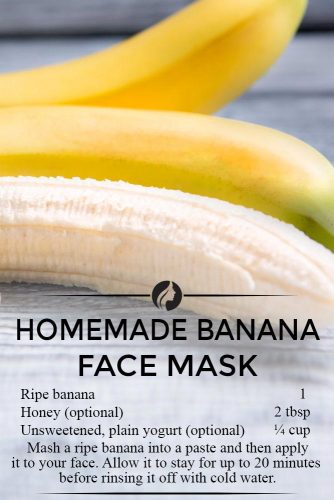 You need:
1 ripe banana
2 tbsp honey (optional)
¼ cup unsweetened, plain yogurt (optional)
Recipe: Of course, everyone loves bananas. Moreover, they have so many health benefits including moisturizing properties to make your skin feel soft and smooth. Simply mash a ripe banana into a paste and then apply it to your face. Allow it to stay for up to 20 minutes before rinsing it off with cold water. And if you want to make it a little for like a spa treatment, mix in 2 tbsp honey and ¼ cup unsweetened, plain yogurt. This is also an excellent and completely natural acne remedy.
5. Vinegar Face Rinse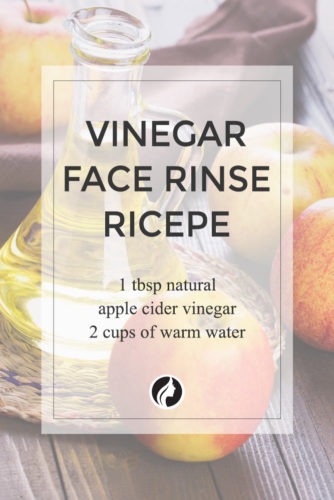 You need:
1 tbsp natural apple cider vinegar
2 cups of warm water
Recipe: Apple cider vinegar has many benefits, including a very effective skin cleanser. After washing your face before bed, simply mix 1 tbsp natural apple cider vinegar with 2 cups of warm water and rinse your skin with the mixture to properly clean your skin and tighten your pores, too. But if you have dry skin, you might want to do this treatment only once or twice a week as too much vinegar can dry your skin.
6. Simple Mayonnaise Facial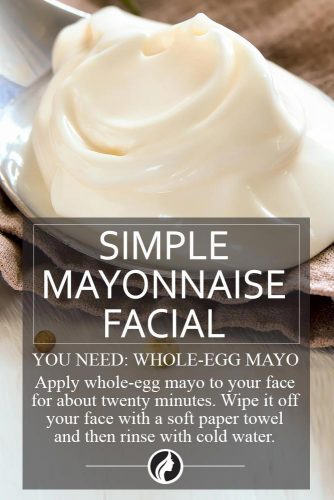 You need:
Recipe: Mayonnaise will leave your skin looking and feeling clean and smooth. All you need to do is apply whole-egg mayo to your face for about twenty minutes. If you can't stand the cold, let it stay for a few minutes until it reaches room temperature. Wipe it off your face with a soft paper towel and then rinse with cold water.