By: Glaminati Media | Updated: 10/25/2016
Top 10 Easy Hairstyles for Long Hair That Will Glam You Up
Are you searching for easy quick hairstyles? Your hairstyle is a part of your personality. With some creativity, you can style your long tresses beautifully. The best part of having long hair is that you can choose from numerous hairstyles. So why stick to the same hairstyle every day? You can manage to do easy quick hairstyles even in the morning. We have put together some very creative hairstyles that will give your hair a new look. Here are 10 easy hairstyles for long hair: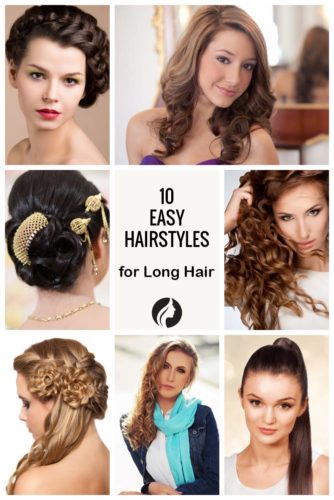 1. A Classy Pony
A classy pony is among the prettiest easy quick hairstyles. If you like your hair tied, then there is no better way to do it. One of the most popular quick easy hairstyles is the classy pony.
Divide your hair equally so you have a section of your front hair and a section of the back hair.
Tie the back hair into a ponytail.
Separate the front section into two, and pull the right half to the back of your head and over your ponytail. The intention is to cover the hair tie. Secure this section with pins.
Now pull the left section of the front hair and drape it over your ponytail. Use pins to secure it into position.